Introduction
This TR will include the following flight segments:
- B6 64 TPA-JFK (A320)
- AI 102 JFK-DEL (B77L)
This Trip Report is the first of a few involving our journey to Bhutan. We chose DEL as a connection point to a Drukair (KB) flight from DEL to PBH (Paro, Bhutan) which departed the following day. We could have gone through BKK, however, this would require 2 more days, which would not have worked. Therefore, we had to find the fastest way to get to Bhutan. A trip report will follow shortly for the KB flight!
The two segments were booked separately as B6 and AI do not have an interline agreement that I am aware of. We would have liked to have taken DL to JFK (who interlines with AI), however, the earliest DL flight arrives less than 2 hours before the AI flight departs, which would be risking it considering we have to change terminals and such. It would fantastic if B6 started interlining or codesharing with international carriers out of JFK besides LH and EI. Anyway, we figured a 4 hour connection in JFK should be more than enough especially since T5 and T4 are right next to each other.
There were a couple of reasons we chose AI over CO and AA. One reason was because I've read great things about AI's "Nonstop" product from these fantastic Trip Reports:
AI 77L BOM-JFK-BOM (with Pics/vis)
(by
AirIndiaOne
Aug 17 2008 in Trip Reports)
Air India AI 102: 14/FEB/08: JFK-DEL: Y Cabin
(by
Abrelosojos
May 4 2008 in Trip Reports)
AI 77L JFK-BOM With Pics
(by
The777Man
Nov 15 2007 in Trip Reports)
Also, we were able to get seats in C for around $2,000 less per person than AA and CO on their ORD-DEL and EWR-DEL routes. Lastly, a ride on the 77L was WAY to hard to resist!
I easily booked an e-ticket for B6 on JetBlue's website. Unfortunately, I cannot same the same about AI's website. While the homepage looks nice, the booking process is very strange and unusual. You have to create some kind of account with them and it seemed like too much of a hassle. Therefore we decided to just skip out on using AI's website. We usually use AMEX for international flights so we just used AMEX to book the AI flights. However, this proved to be a bit of a challenge as well. We tried to book the flights a little less than two months out and we were having problems with getting seats on the return flight on 05Jan09 (AI101). I checked the flight availability with
KVS Availability Tool
and the return flight was zero'd out except for First Class. So I basically repeatedly checked the flight availability for like 5 days until two seats opened up in J class on AI101. We immediately called AMEX and they were able to reserve the seats.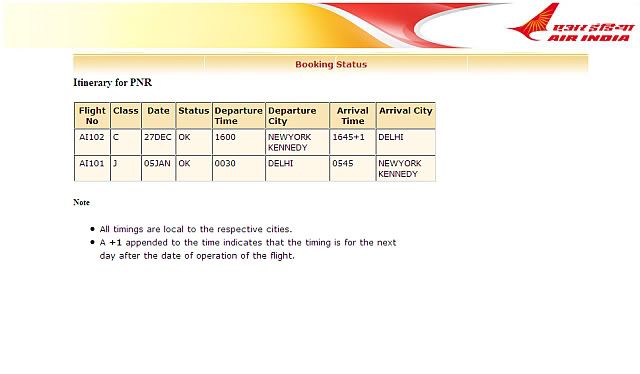 I called AI and the friendly agent was easily able to assign seats for my father and I. I later found out that seat selection can actually be done on AI's website; however, the assignments cannot be changed after they've been selected. The seat map is one of the strangest I've every seen.
JetBlue B6 64
Online check-in was easy and convenient for JetBlue. We arrived at TPA about and hour and fifteen minutes before our flight and checking our bags was once again very simple. At TPA, you must take automated trams to each airside. B6 operates out of Airside A along with FL, NW, CO, and F9. The security line was longer than usual but didn't take too long thankfully. Once through, we had about half an hour before our flight was scheduled to board at gate A14.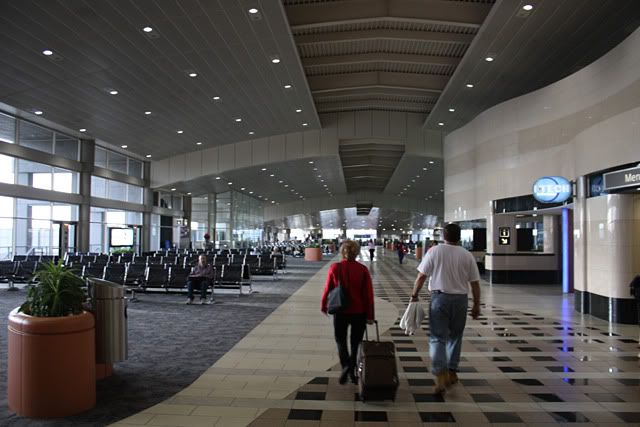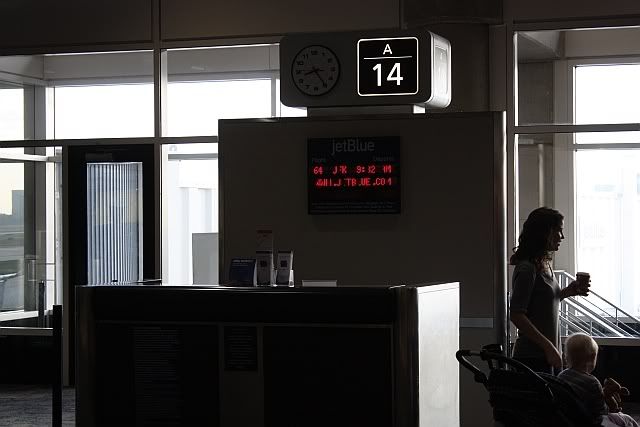 B6's new flight to CUN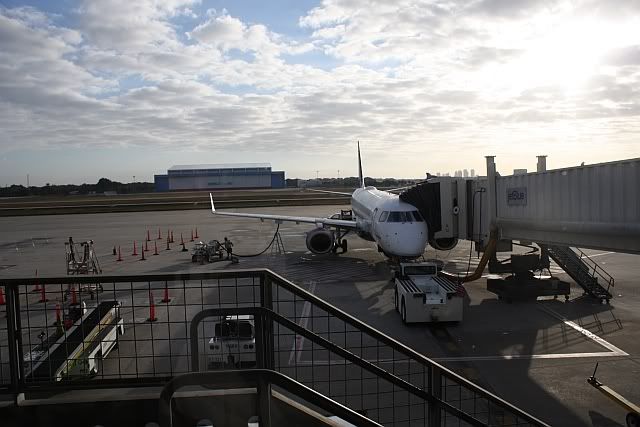 Our A320 to JFK

Airline:
JetBlue Airways
Aircraft:
Airbus A320-232
Flight:
B6 64
Date:
27-Dec-08
Departure Airport:
Tampa International Airport (TPA/KTPA)
Arrival Airport:
New York John F. Kennedy Airport (JFK/KJFK)
Scheduled Departure Time:
09:32
Actual Departure Time:
09:28
Scheduled Arrival Time:
12:00
Actual Arrival Time:
12:19
Departure Terminal:
Airside A
Arrival Terminal:
Terminal 5
Class:
Economy
Seat:
19F
Registration:
N564JB
Estimated Load Factor:
98% Full
Boarding pass printed from my house
Typically B6 boards the back half of the aircraft through the rear stairs and the front half through the jetway in TPA. For some reason, they didn't do this today even though airstairs were attached to the rear door. Anyway, we were among the first to board and were welcomed on board by a very friendly cabin crew member. I believe there was a total of three cabin crew on today's flight. From what I understand, B6 configured their A320's in a lower-density configuration so they could have only 3 cabin crew members on each flight.
The captain welcomed us on board giving us some brief details about the flight to JFK.
Pushback was a couple minutes early and we were somewhat relieved as we would have been completely screwed if we missed our AI flight.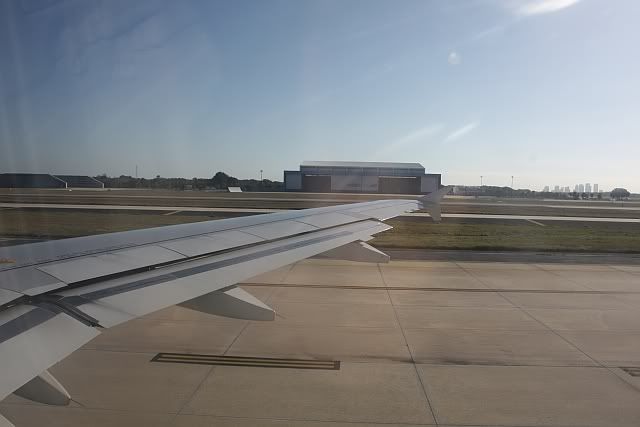 A Hawaiian 767-300 parked at Airside C after flying OAK-TPA.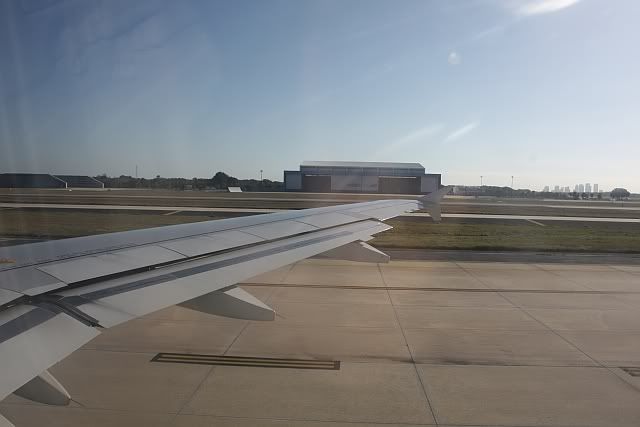 Takeoff did not seem powerful at all.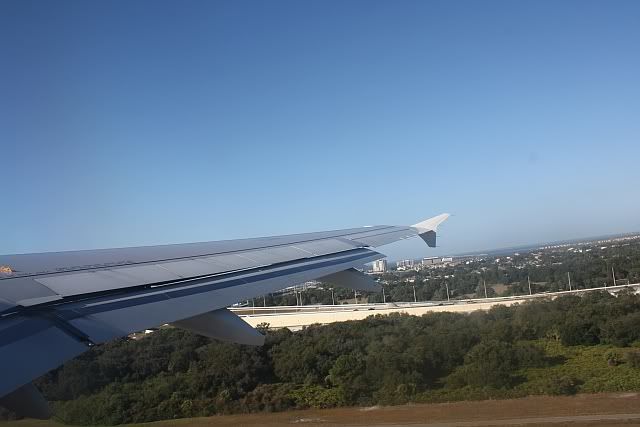 Right turn after departure
Unfortunately, the Live TV wasn't working on the flight. However, the XM radio was working along with the live map display so it wasn't a total loss. The F/A's tried re-setting the system but it didn't fix the problem.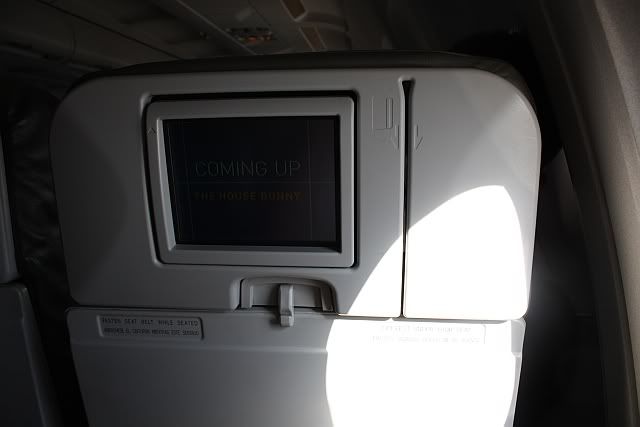 XM Radio. This is a fantastic feature.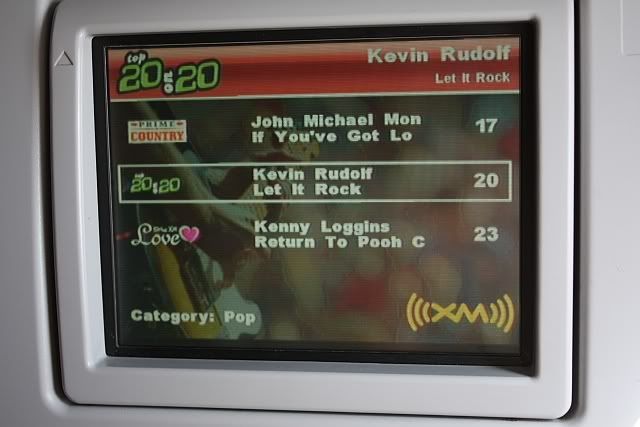 Cruising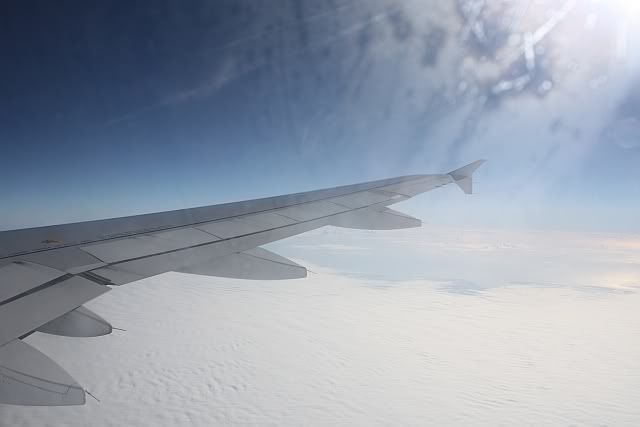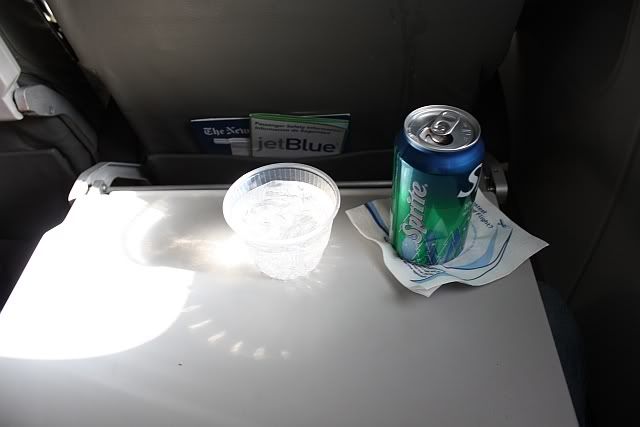 Cabin shot. This is one B6's newer A320's with the new style overhead bins and PTV screens.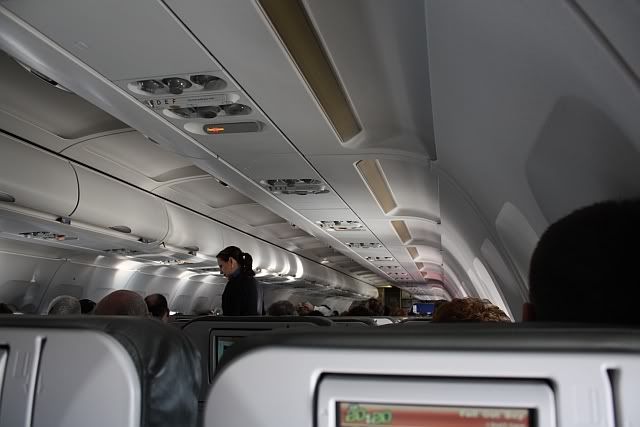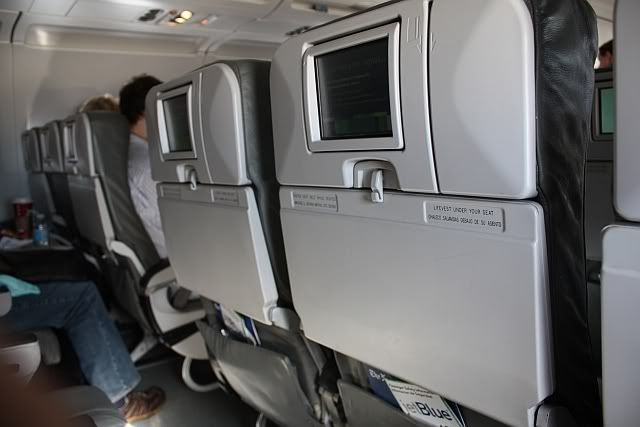 We then found ourselves holding for a bit, probably related to the very low visibility and cloud cover at JFK. Finally I noticed the flaps being deployed and we began our approach to runway 22L. I could not see the ground at 1,000 ft as a result of the clouds.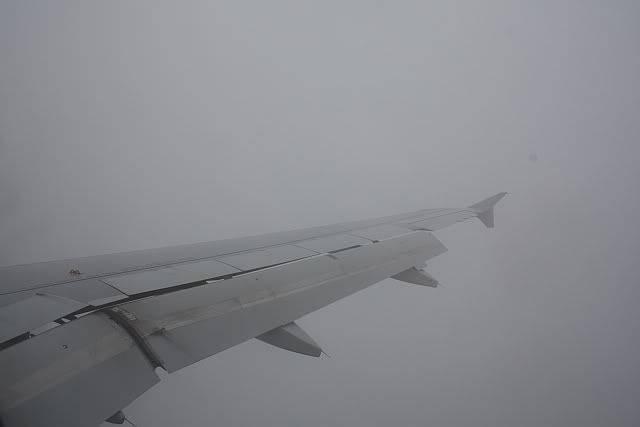 The flight crew did an excellent job putting the Airbus down smoothly and applause could be heard throughout the cabin, which is a rare event on U.S. domestic flights.
I thought it was great how during the arrival announcement, the crew said "Thank you for jetting with JetBlue".
Taxi to T5 was quick and we held for an AA 777 departing from 22R.
B6's new terminal is truly fantastic. It has a great selection of food and is nicely designed. What a contrast to JetBlue's old T6!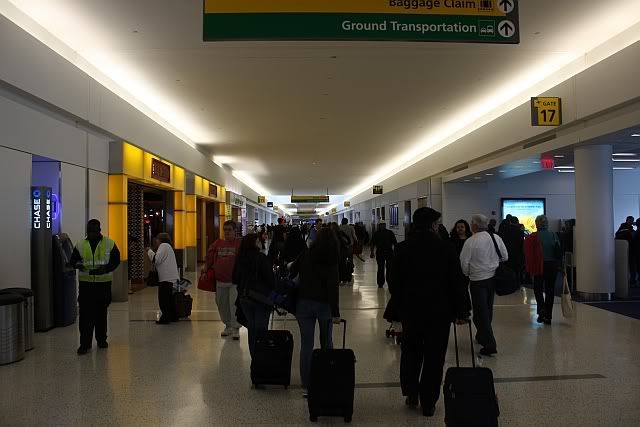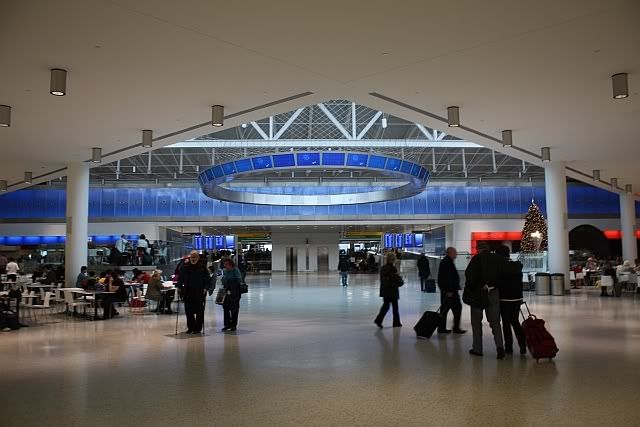 It took us a while to get our bags, but we had 4 hours to spare so it wasn't a huge issue.
This flight, even without the LiveTV working, still has me convinced that B6 (along with F9 and WN) are by far the best U.S. domestic carriers. Very friendly crew, new planes, PTV's, and an overall great product put B6 at the top IMHO. Well done, JetBlue!
As far as I'm aware, the only way to get from T5 to T4 (where AI operates from) is to take the airtrain. I don't think there are any sidewalks, but in retrospect we should have just walked on the road. B6 still uses the old airtrain station that served T6. Unfortunately, this requires a LONG walk. Fortunately, we got to walk across that huge "bridge" that connects T5 with the airtrain station, which is really cool. Once at the station, we had to wait for two trains to go through before the terminal loop train arrived. This took about 15 minutes. Once on the train, we realized that we were getting a nice tour of JFK as it was going the long way around. This is when I began to think about how JFK is probably one of the most inconvenient airports in the United States. I still love it though, just because it's JFK.
One of these birds will be taking us to DEL. They sit in JFK for about 10 to 12 hours!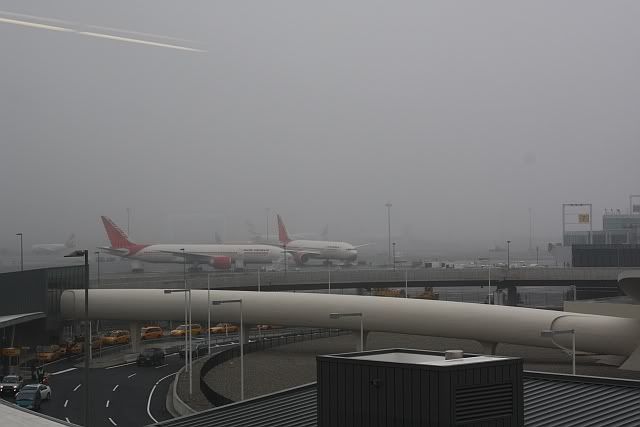 Anyway, we finally arrived at T4. It took us about 30 to get from the gate of our B6 flight to the AI check-in.
The airtrain actually arrives in the terminal. All you have to do is exit the train, go up an escalator and you are in the check-in area.
Air India AI 102
My attempts to use AI's "E-Check-in" feature on their website proved to be futile. Every time I would get an error page that said "seat map failure". Not a huge deal because I really wasn't expecting it to work anyway.
Interestingly, AI completely separates their First and Executive class check-in area from the economy class area. F and C checks in at a remote stand next to where EOS used to be where there are two desks. Both the desks were staffed by outsourced workers along with an AI agent that seemed to be overseeing the check-in process.
The AI agent welcomed us and asked if we were flying to DEL in Executive class. She then tagged our carry on bags with Executive Class tags, that interestingly enough had the old logo.
There were two people checking-in in front of us and as soon as one of the desks opened and we tried to move our bags, the AI agent came over and told us not to worry and that we should not have to lift our bags. She informed that once they were tagged to DEL, the porters would take it over to be screened by security. How nice! Anyway, the check-in agent only required us to give him our passports and he checked to make sure we had visas. He was able to print our boarding pass very quickly and we were set. Also, he handed us an invitation to the Maharaja lounge. Our bags were tagged to DEL with a priority label on them, which had the new AI logo.
As were walking away, the AI agent said that if needed, she would be happy to escort us through security to lounge. So far, AI is looking really good!
Economy class check-in. The line was LONG. Before departing, I checked availability for Y and it was completely sold out.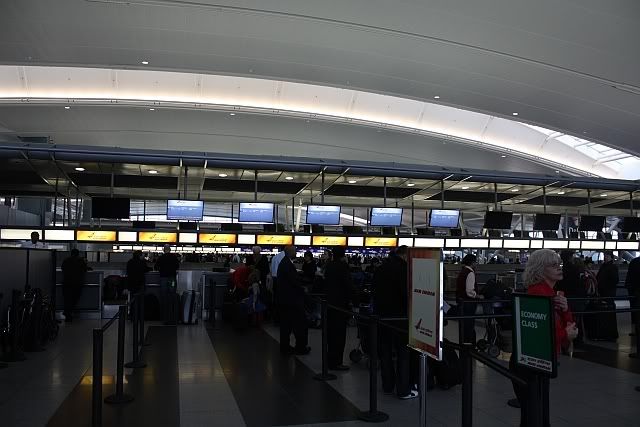 T4 pre-security. Really nice, almost like a small shopping mall.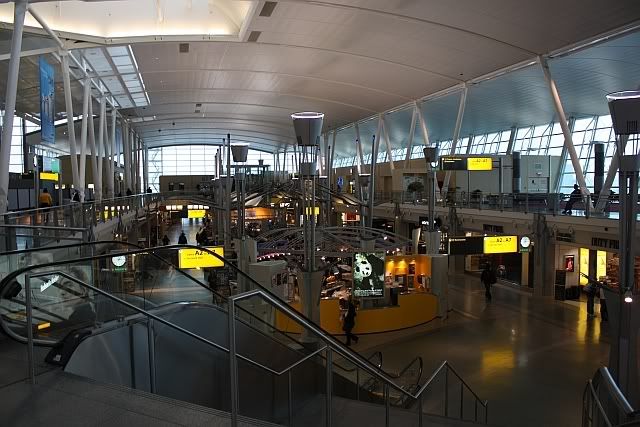 After having a slice of pizza, we headed through security to the lounge. Security was very quick and they have a separate line for F and C passengers, which is nice.
VT-ALC (going to DEL) on the left and VT-ALA (going to BOM) on the right with an SQ 747-400 departing to FRA later that night.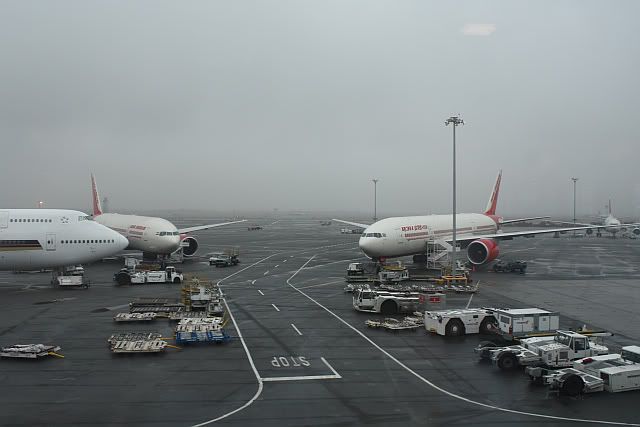 The old AI logo again lol. The new AI logo was used for the regular FIDS so this is interesting. Cool screens nonetheless.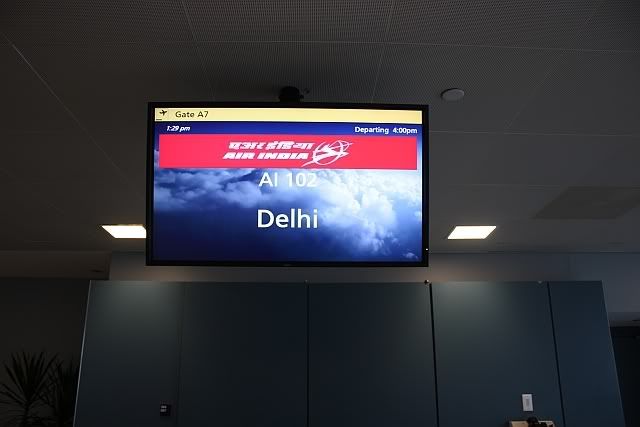 The AI lounge is upstairs right next to EK's lounge.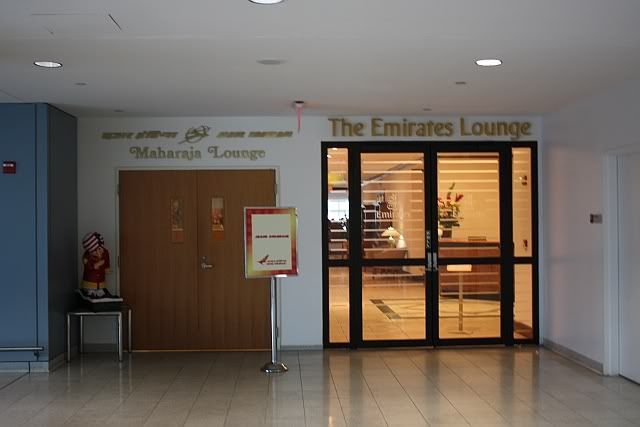 As we walked in, we were welcomed by a very friendly lounge attendant who took our invitation. AI's lounge is very simple but nice considering they only have two daily flights to JFK and their premium cabins are relatively small.
One nice feature of the lounge is the great views it offers of the ramp.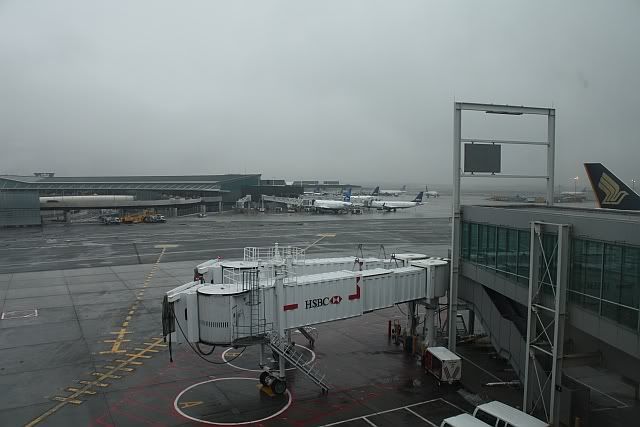 AI mascot
At first, we were the only people in the lounge, however, more people arrived later.
JM A320 next to an NW 752.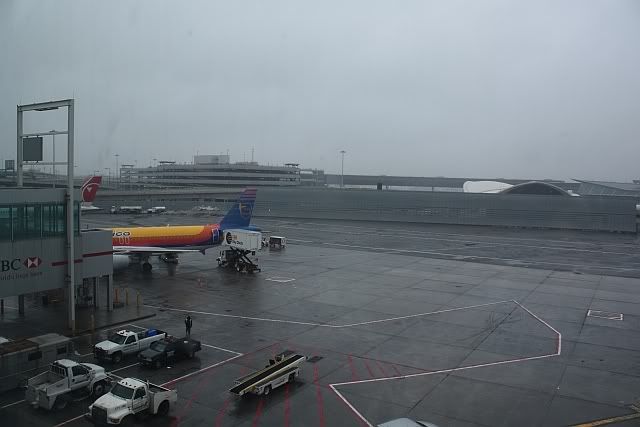 At about 14:15, VT-ALC was towed to the gate.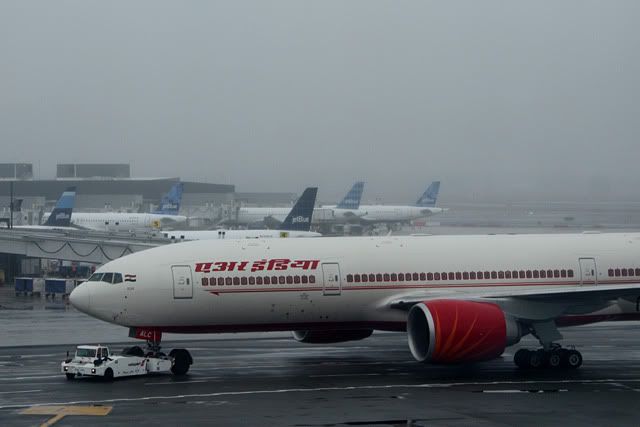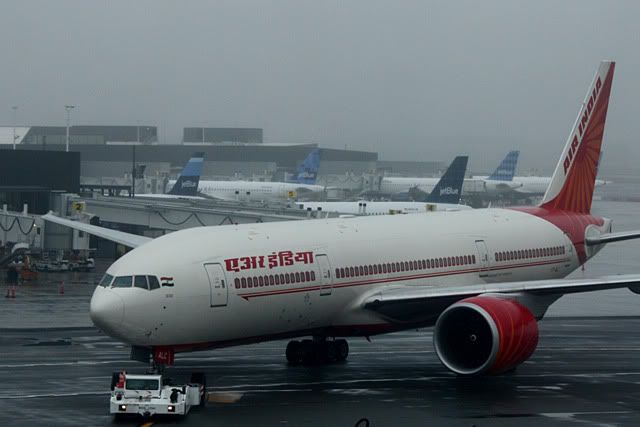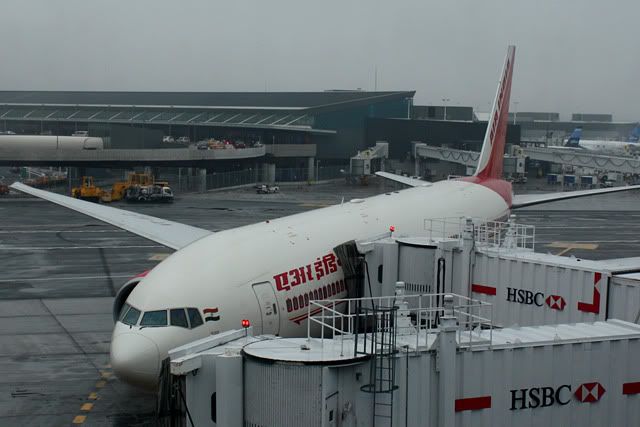 I decided to leave my father in the lounge and walk around the terminal as I enjoy watching airport activity much more than sitting in lounges.
It was the final call for a JM flight to KIN I believe.
Boarding for our flight was called at about 15:00. The boarding pass said 14:30 but I knew that wouldn't happen. An hour prior to departure is more than enough anyway.
Airline:
Air India
Aircraft:
Boeing 777-237/LR
Flight:
AI 102
Date:
27-Dec-08
Departure Airport:
New York John F. Kennedy Airport (JFK/KJFK)
Arrival Airport:
Delhi Indira Gandhi Airport (DEL/VIDP)
Scheduled Departure Time:
16:00
Actual Departure Time:
16:00
Scheduled Arrival Time:
16:45 +1
Actual Arrival Time:
16:28 +1
Departure Terminal:
Terminal 4
Arrival Terminal:
Terminal 2
Class:
Executive (C)
Seat:
14A later moved to 12A
Registration:
VT-ALC
Estimated Load Factor:
F: Unknown C: 40% Y: 98% (Only a few free seats)
Ticket jacket with new logo. Many airlines don't use ticket jackets anymore, so this was nice.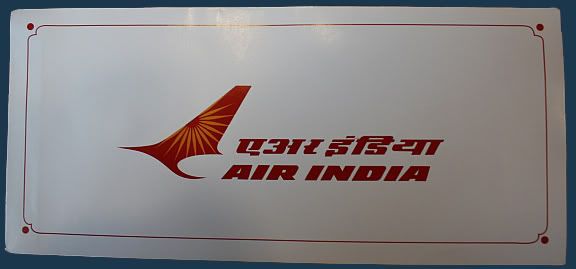 Boarding pass with old logo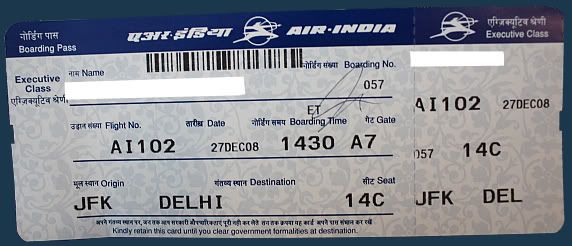 While walking down the jetway, I managed to get a nice picture of the EK A380. This is the first time I've ever seen the A380 and it's impressive but ugly!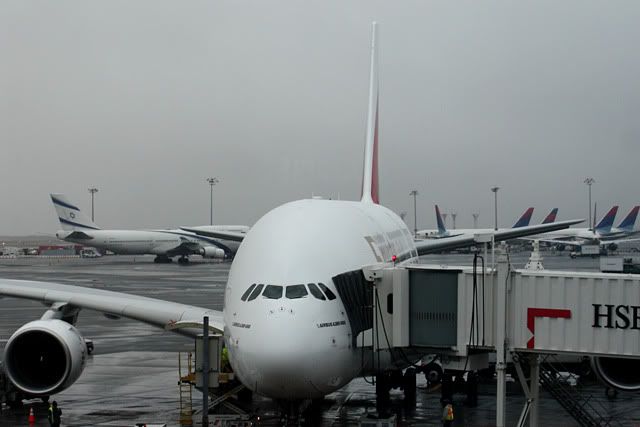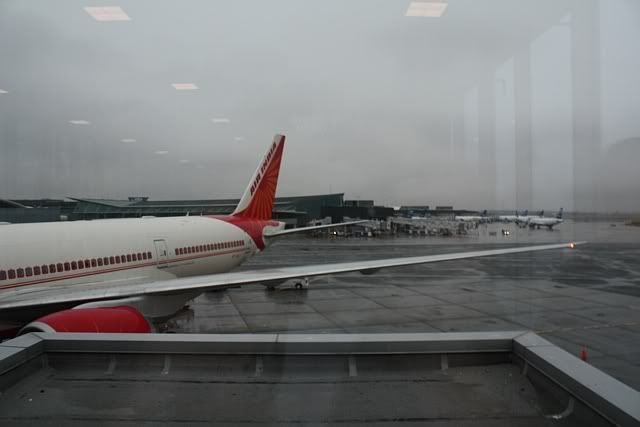 As we entered the immaculate 77L, we were welcomed on board by some friendly cabin crew members and they directed us to our seats. It seemed that AI 102 was to be a predominately male cabin crew. I must say that I was secretly hoping for something like this:
But I soon found out the service would be fantastic nonetheless.
But first, here are two pix of F. Very nice, but probably not as good as 9W, EK, SQ, and CX.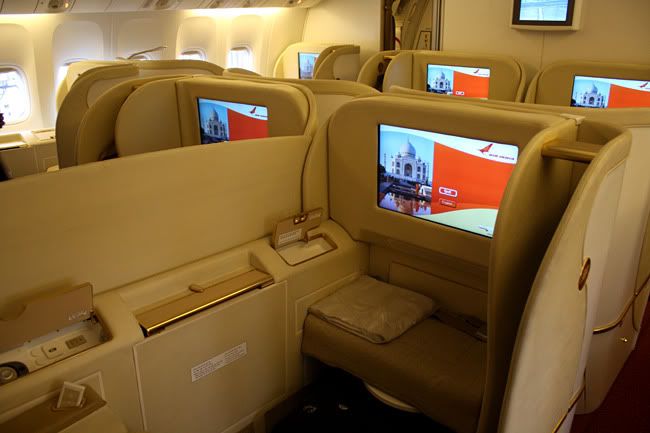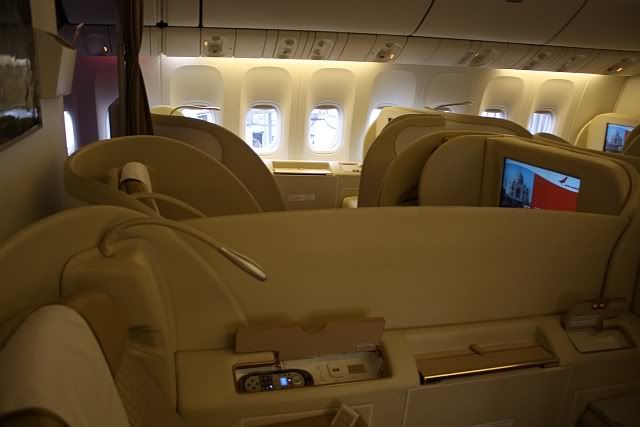 The mood lighting was already on as we boarded, which was great and very soothing.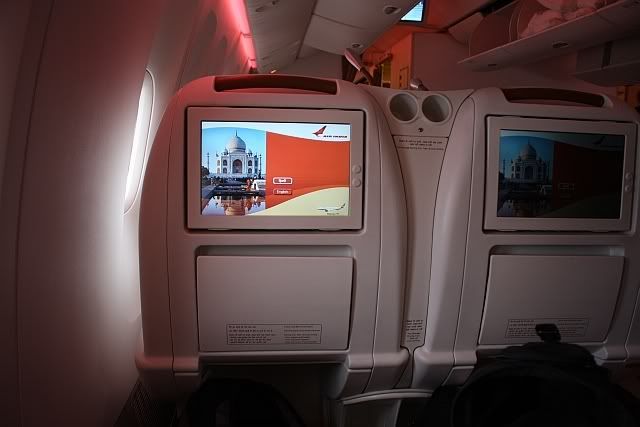 The SQ 744 and the other AI 77L VT-ALA.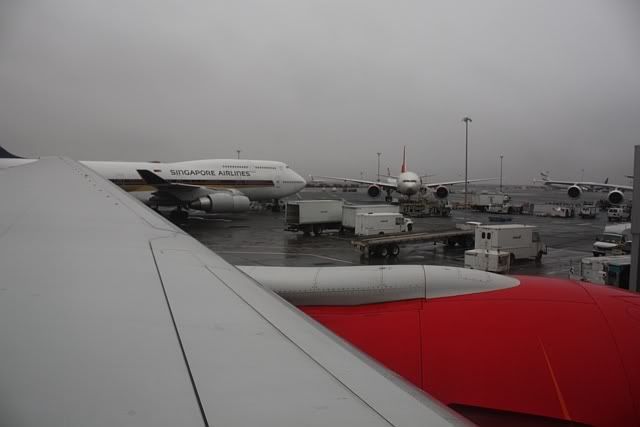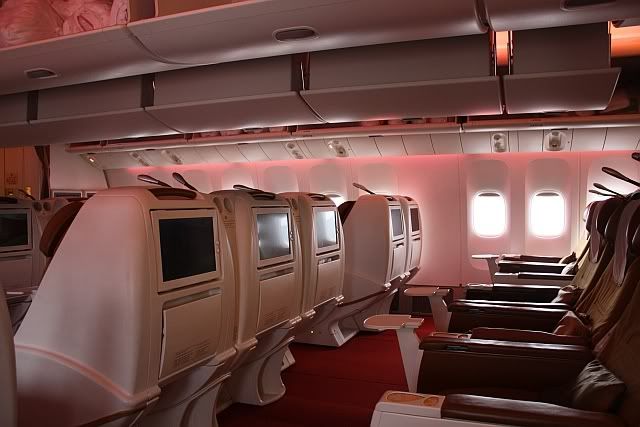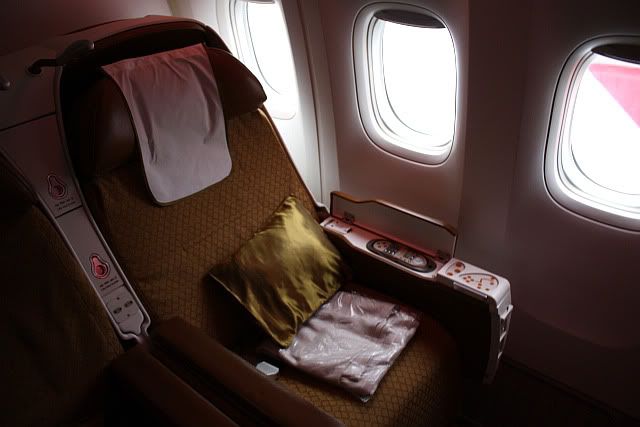 My first impression of the cabin was great. The colors were very well chosen IMO.
As passengers boarded, I could hear many of them remarking on how nice the plane was. I could not agree more!
We were offered a choice of orange, apple, or pineapple juice before departure. Note the old logo on the glasses.
The overhead monitors displayed a nose camera view during takeoff and landing. During the flight, they were not used. Also, right before departure the F/A's turned off the IFE screens of all the seats not in use.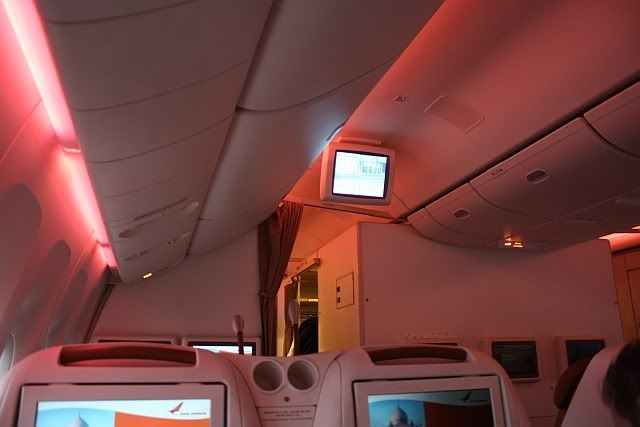 During pushback, the F/A's handed us some very nice slippers along with an amenity kit. They also gave us gigantic water bottles and some very thick hot towels to clean our hands.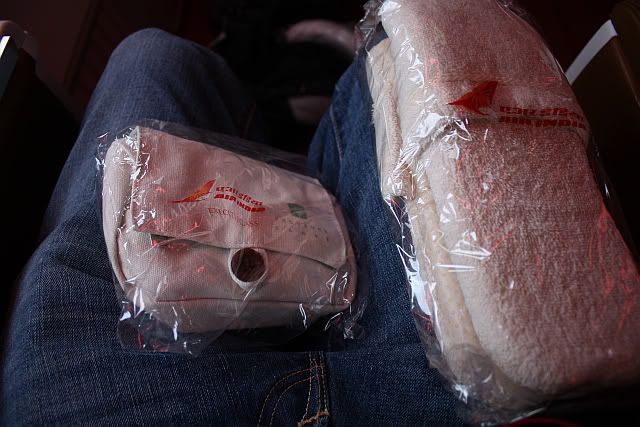 We were later given pajamas, which is not something most airlines do in C (old logo again).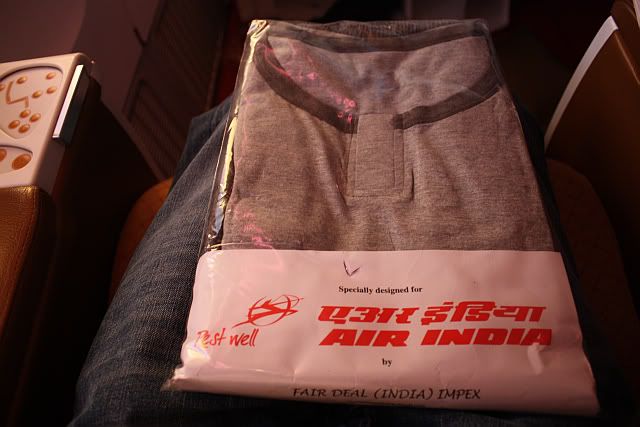 The EK A380 again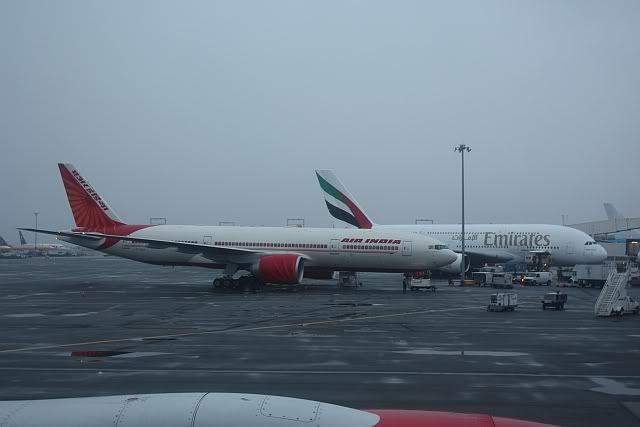 The engines were soon started, which was very loud and powerful as the 77L should be. After waiting for an EI A330 to taxi in front of us, we began the short taxi to 22R.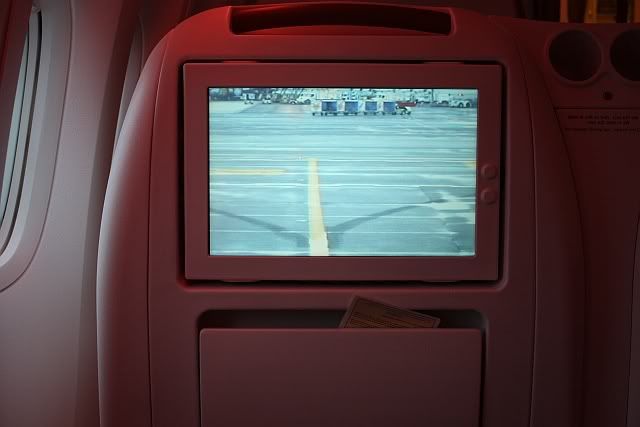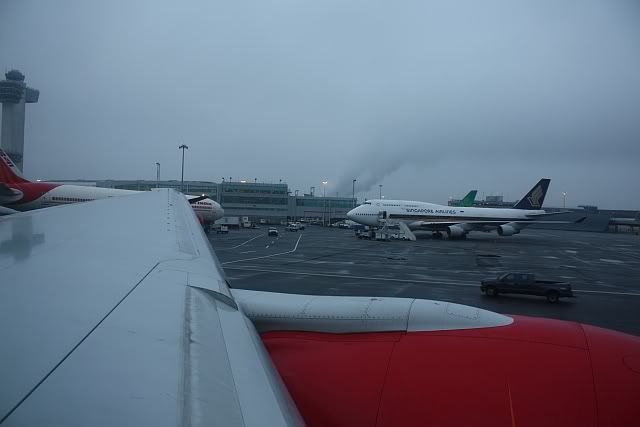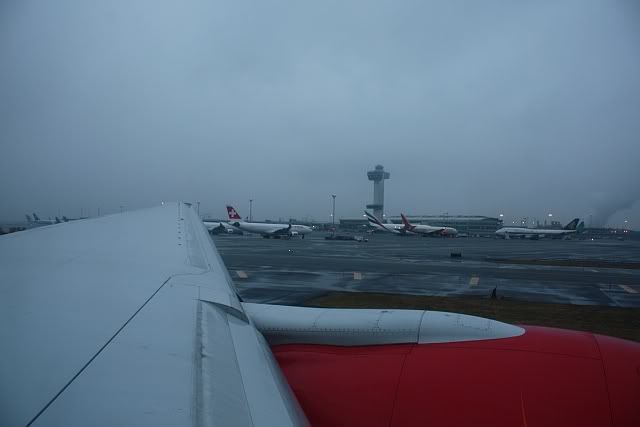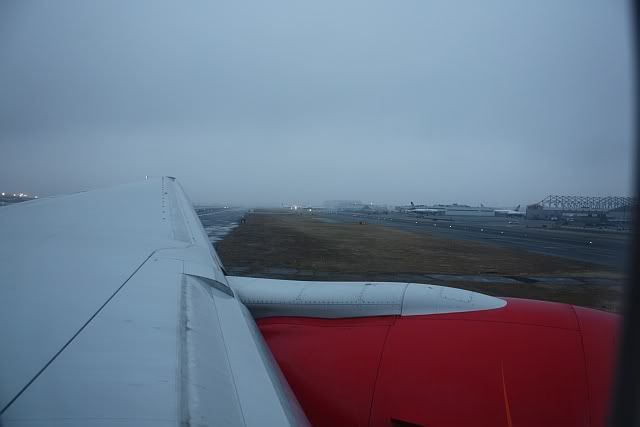 Boarding announcement and takeoff video. There was a ton of condensation on the wing which was cool.
Click
here
to view the video.
Cabin shortly after takeoff. The rear business class section only had about five people. The forward cabin had more people.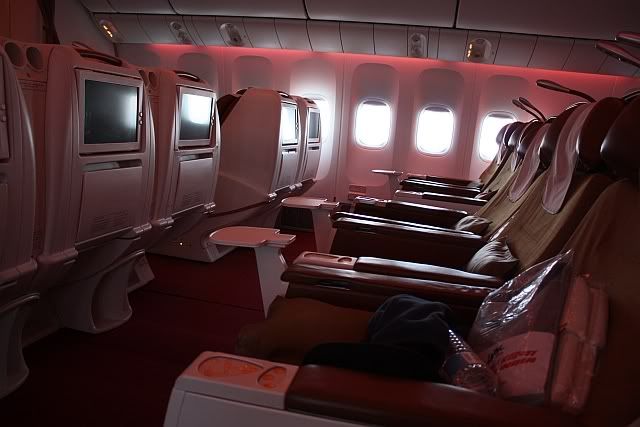 Above the clouds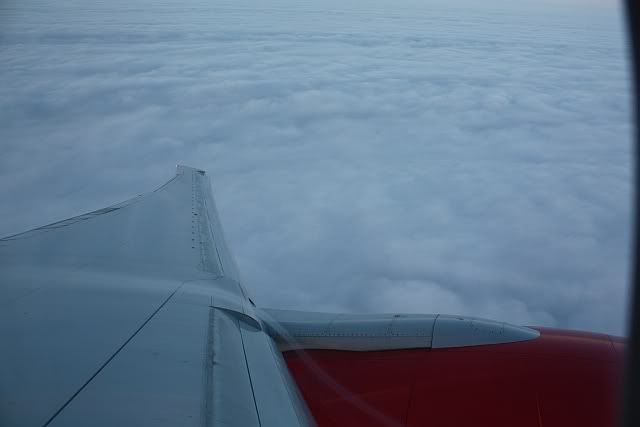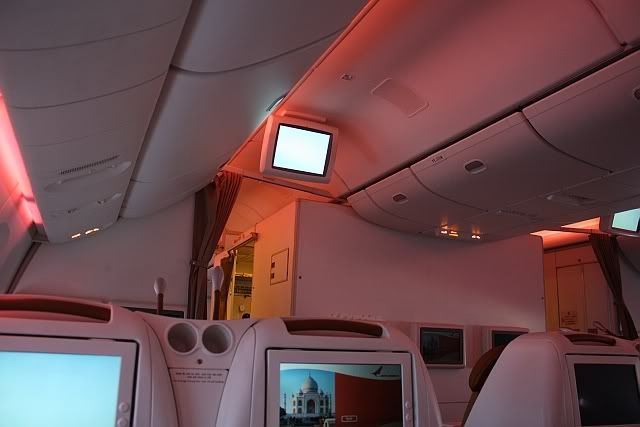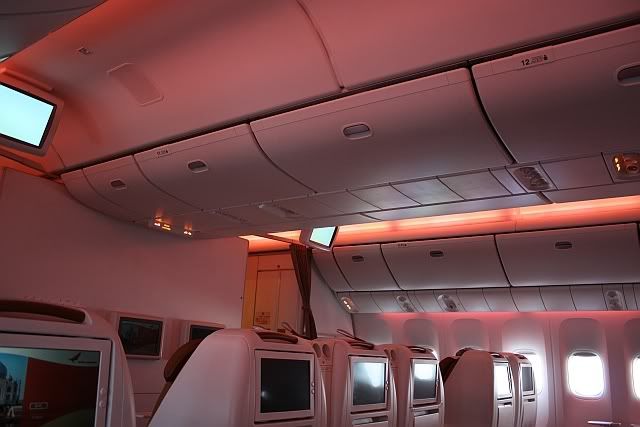 Sun beginning to set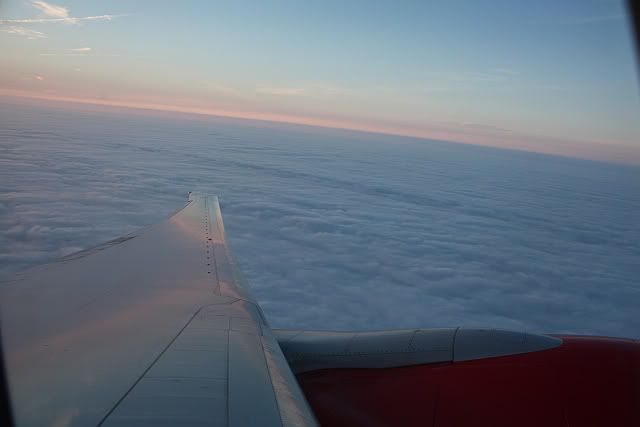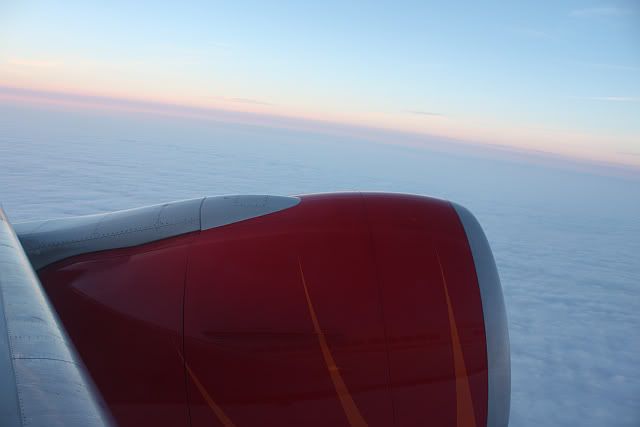 A F/A then came over the P/A and welcomed us on board AI and gave us some advice about staying healthy on the long flight to DEL.
IFE remote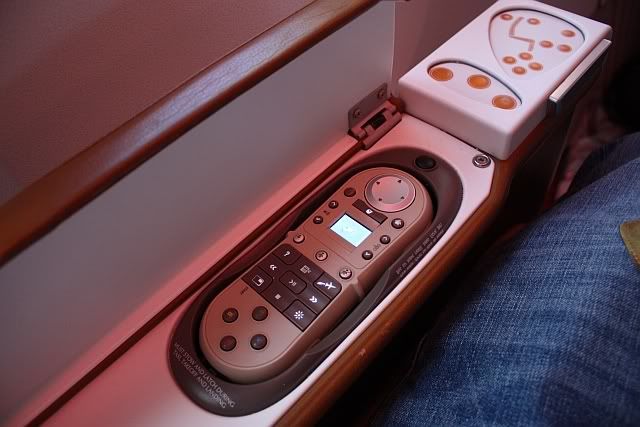 Executive seat fully reclined (the leg rest extends more). It's completely flat (parallel to the floor) except for the leg rest which angles down a bit. Overall, a VERY comfortable seat.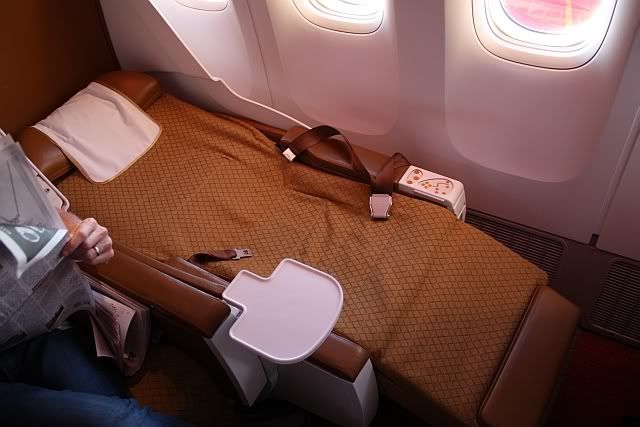 Soon, an F/A handed us a pair of Bose noise cancellation headphones, which was fantastic.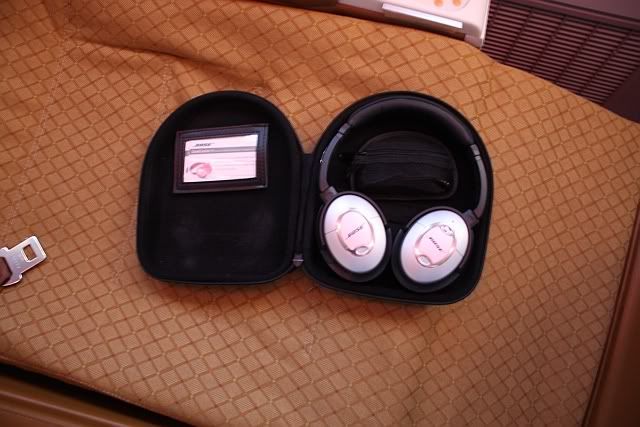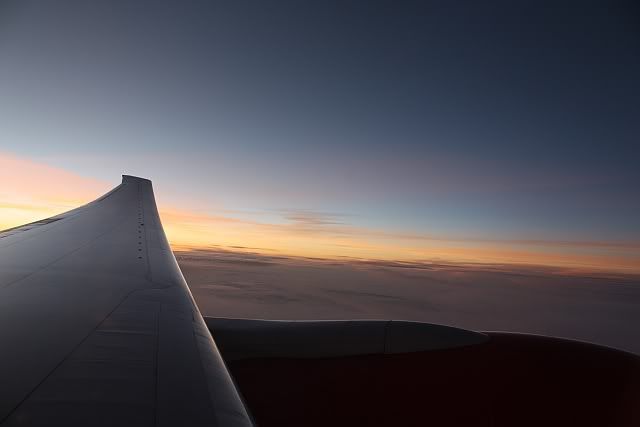 I then decided that I would test out the IFE. The system is AVOD and kept me entertained for the duration of the flight, however, the movie choices are somewhat limited considering the long flights the 77L flies. Also, the moving map display was in metrics only, which was disappointing. It's comparable with 9W's system on their 77W's but 9W has a better choice of music.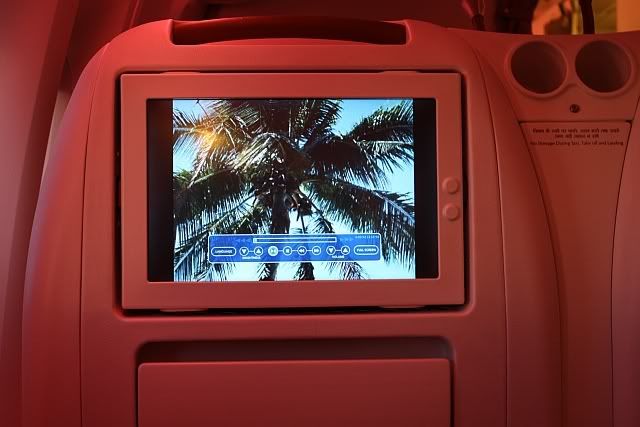 The meal service began about an hour after departure. Also during the time, the F/A's came around and closed the window shades. I suppose this is to make the mood lighting more effective as the sun rises.
First, we received a snack before the actual meal began. This consisted of curry chicken along with something else I can't remember.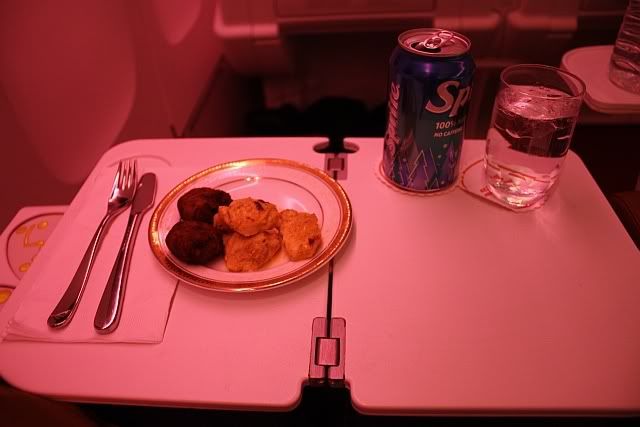 As I was finishing this snack, we were handed menus.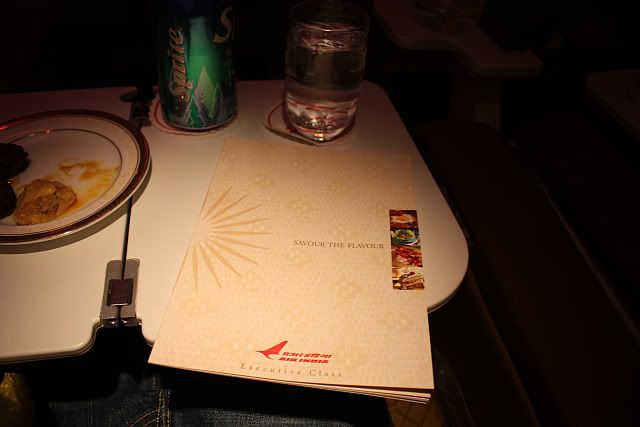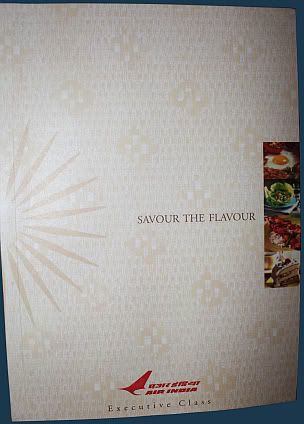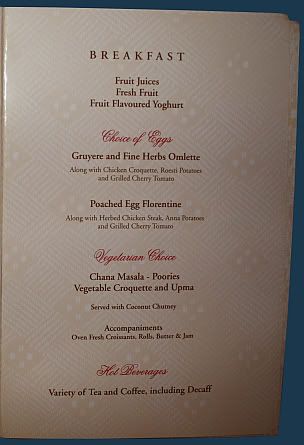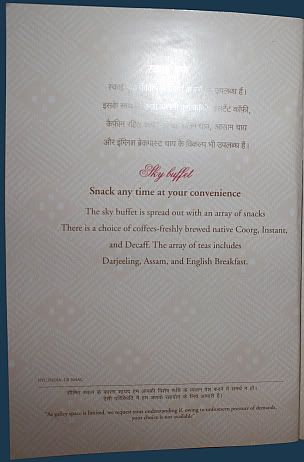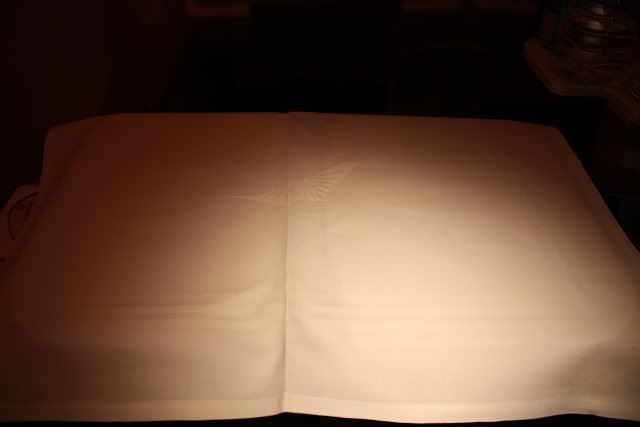 Starter: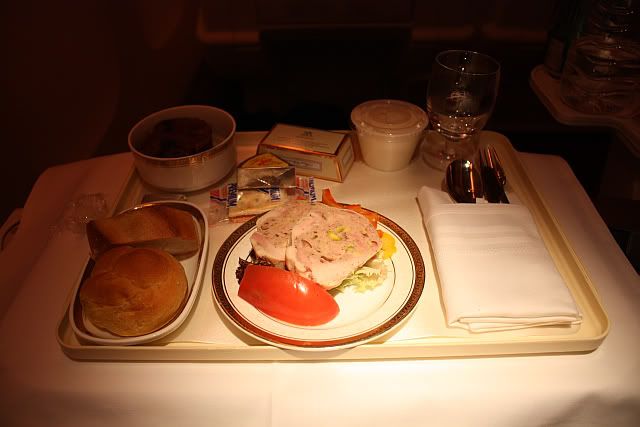 Main course. I chose the chicken curry and it was excellent. Possibly one of the best meals I've ever had on an airplane. After the meal service, the mood lighting switched over to blue.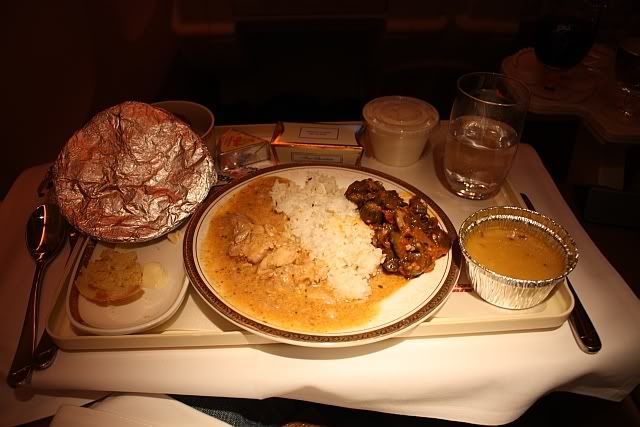 As we were eating, we had a nice conversation the F/A serving us about India, Indian aviation and how 9W and IT seem to be in trouble. He said that the terrorist attacks in BOM have thankfully not had a huge effect on load factors into India, which was nice to hear.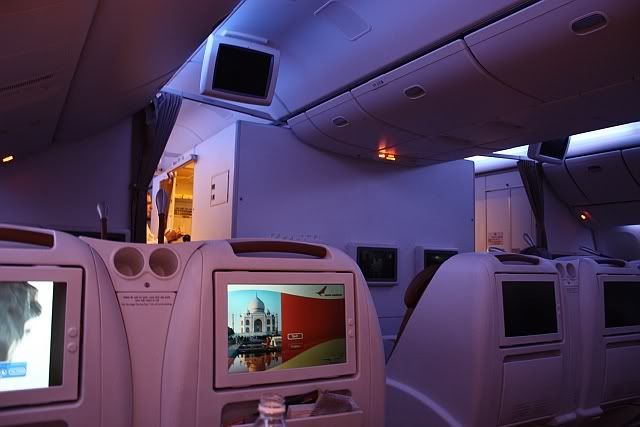 Later, the cabin was darkened even more to a point where there was only subtle blue light. Shortly after this process, the F/A's presented us with duvet covers and another pillow, which was bigger than the one on our seat before takeoff.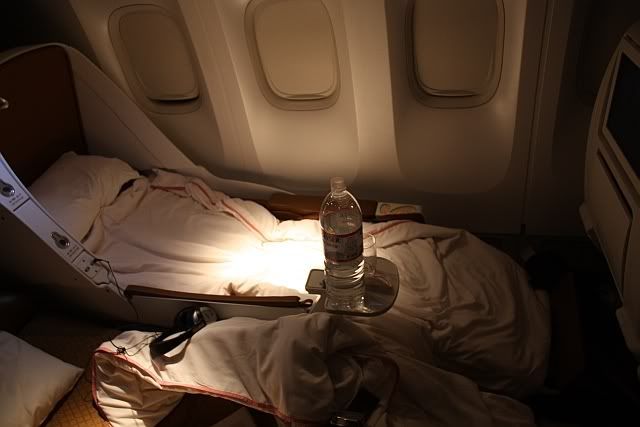 I was able to sleep comfortably for a couple of hours when I woke up and realized I was no longer tired. The F/A that we had talked with saw us walking around and offered us a mid-flight snack of Oreos and milk. Truly excellent service on today's flight!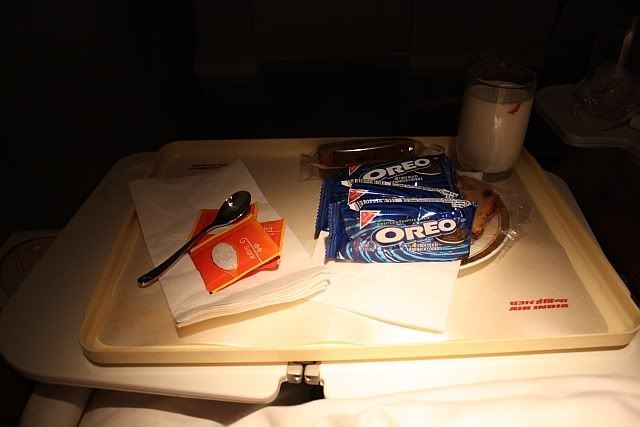 He also gave us sandwiches.
I slept a few more hours and watched another movie until the sun began to rise.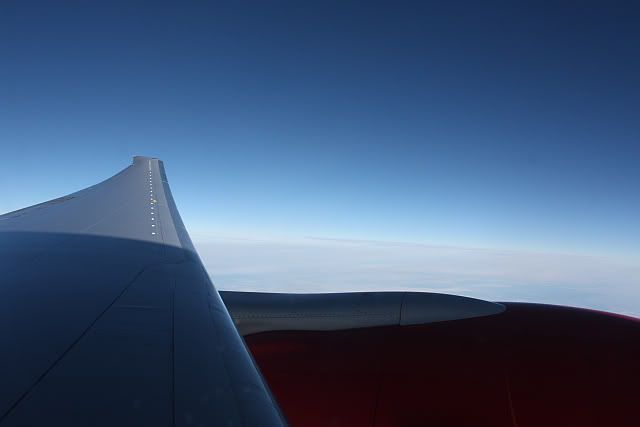 Some pics of the IFE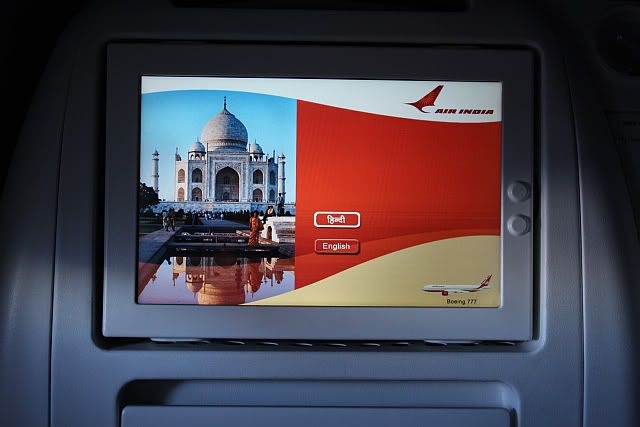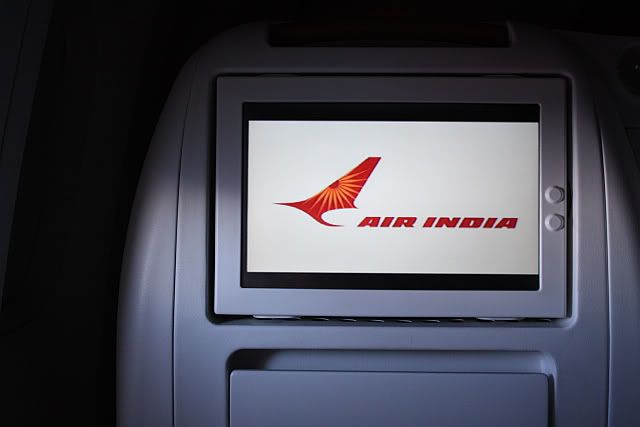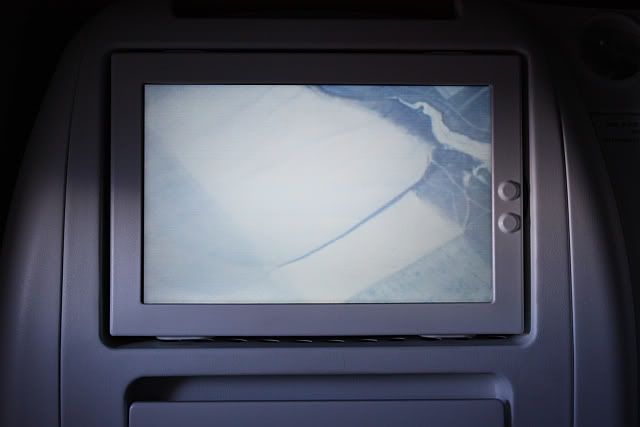 The F/A's then came around with a drink service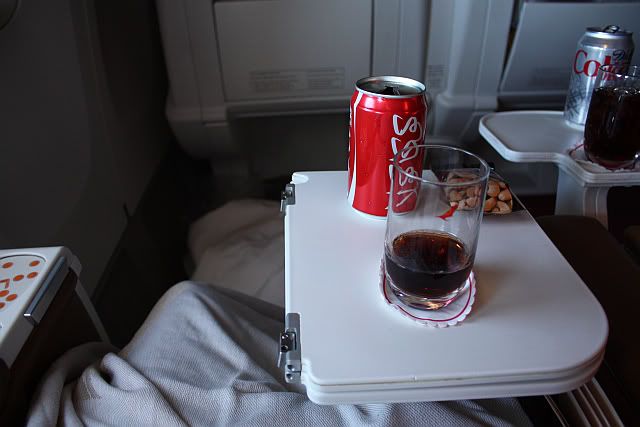 For some reason, the safety card in my seat pocket was for the 77W, not the 77L. Also interesting to note was that there was no in-flight magazine on the flight. I'm pretty sure AI does have an in-flight magazine so perhaps they forgot to load it on board.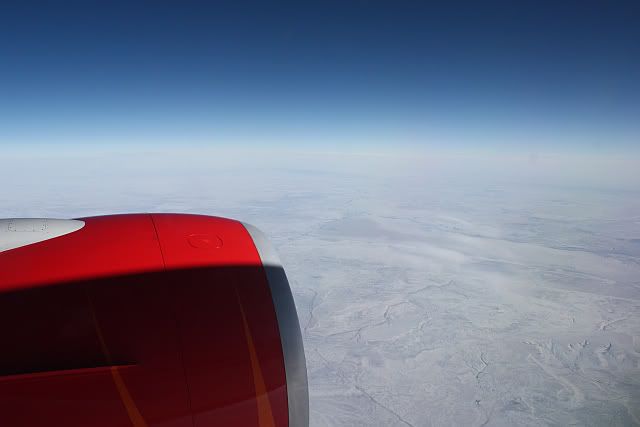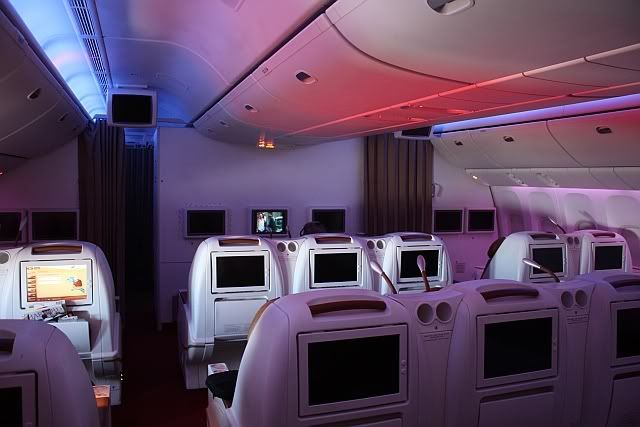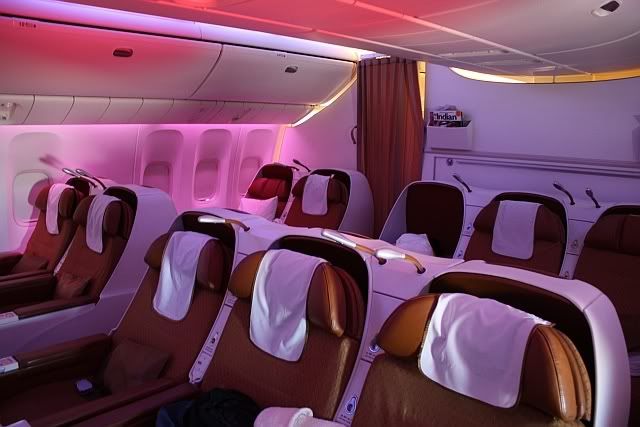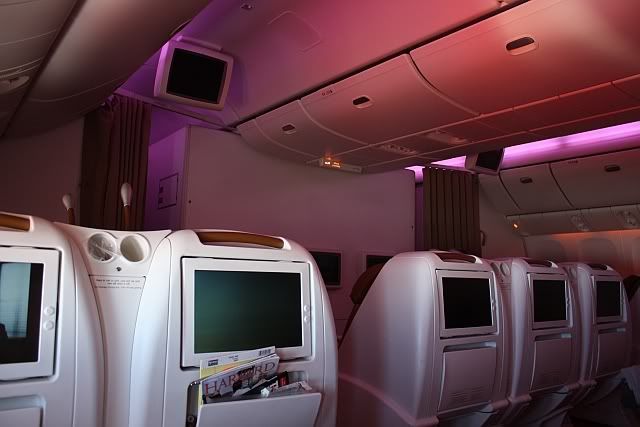 Breakfast was served approximately 2 hours before arrival.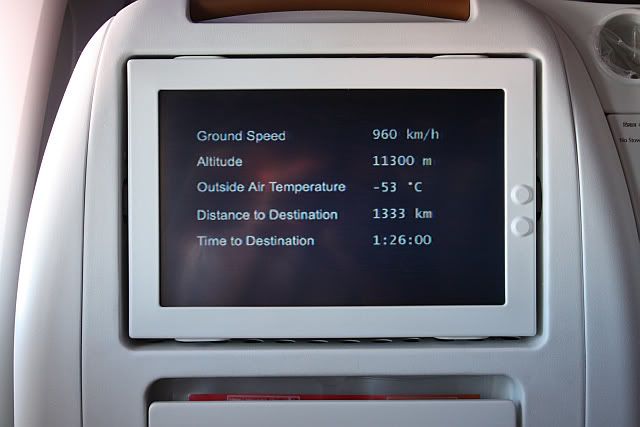 We then flew over some mountains as we overflew Afghanistan.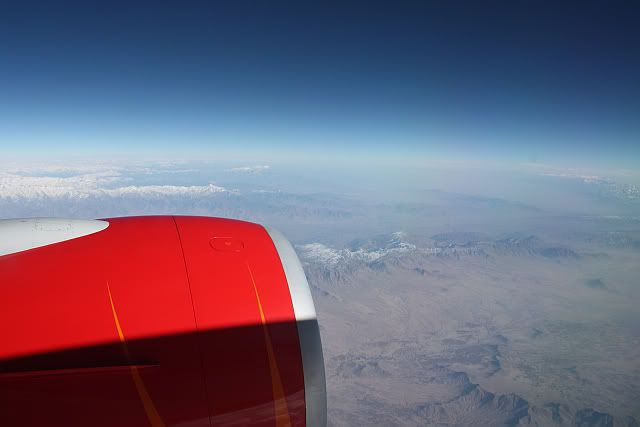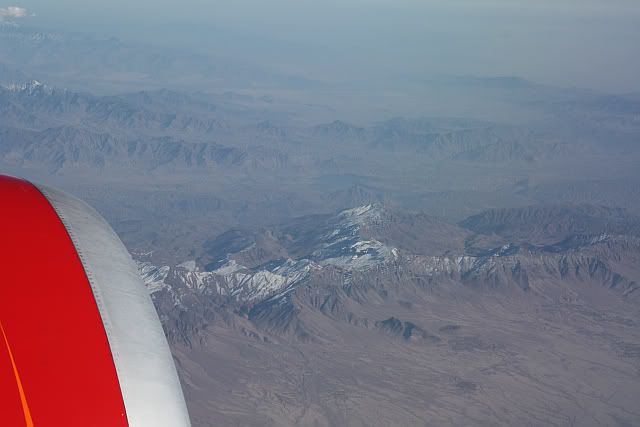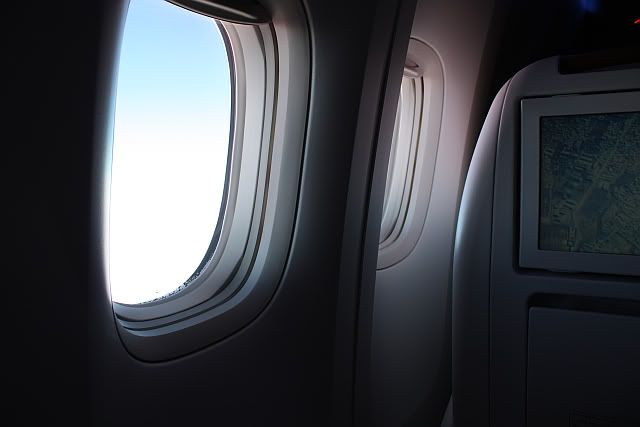 Mood lighting!
Camera facing down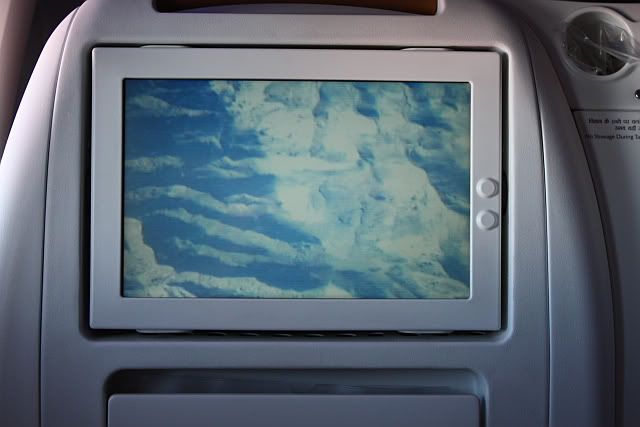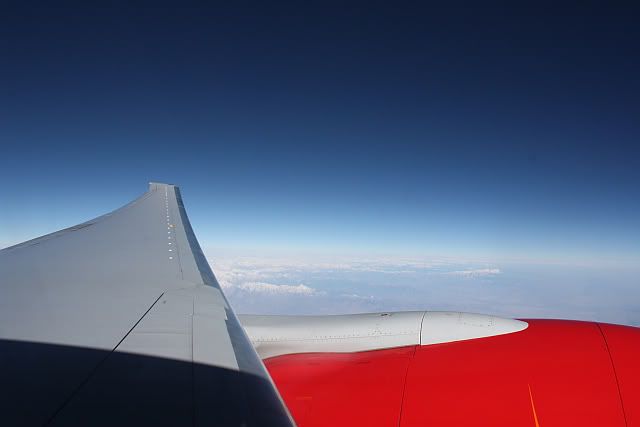 I decided that I would venture into the economy cabin before arrival and I have to say it looked very nice. It was almost completely full in Y, which was a good sign.
We began our descent about 30 minutes before landing. We landed on the new runway in DEL, 29L, and the landing was very smooth.
Click
here
to view the video.
We taxied by the new terminal at DEL. Unfortunately, it could only been seen from the other side of the aircraft so I could not get a picture of it.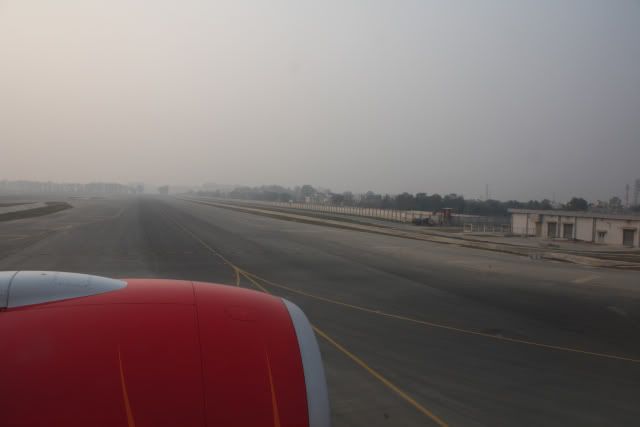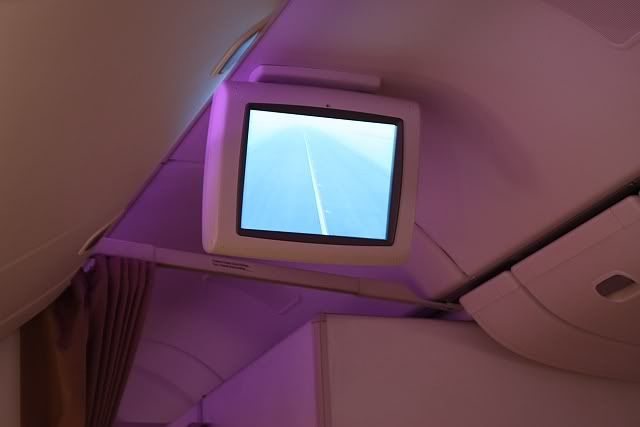 An AI 77W.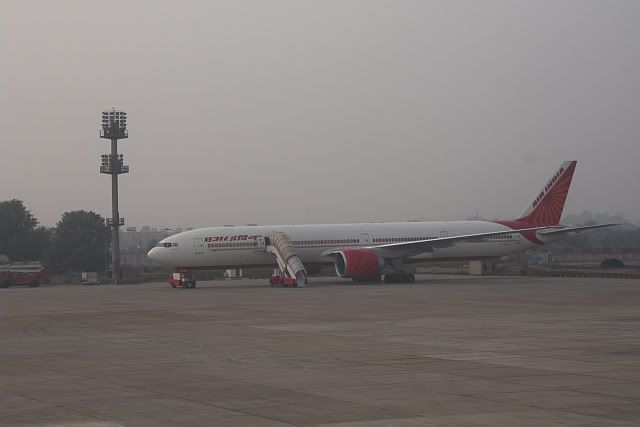 This looks like a B3 737 but I don't know why it's here.
SG 737-900ER. I had no clue they had this aircraft. It looks great in their colors.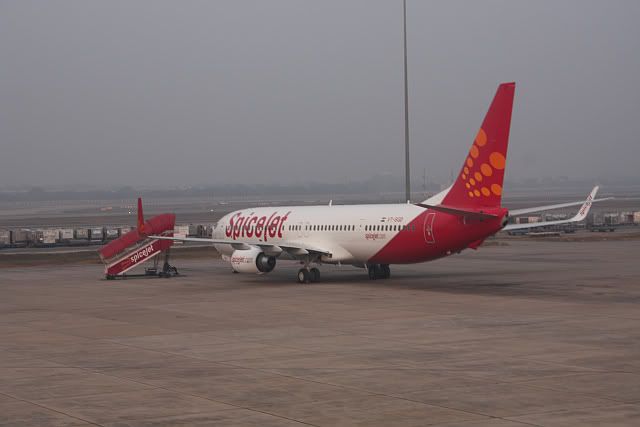 FG 727 from Kabul. A very rare sighting!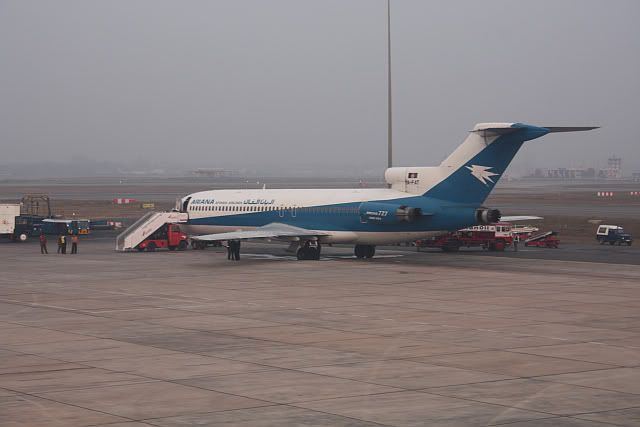 It looks like you could just drive on to the ramp lol.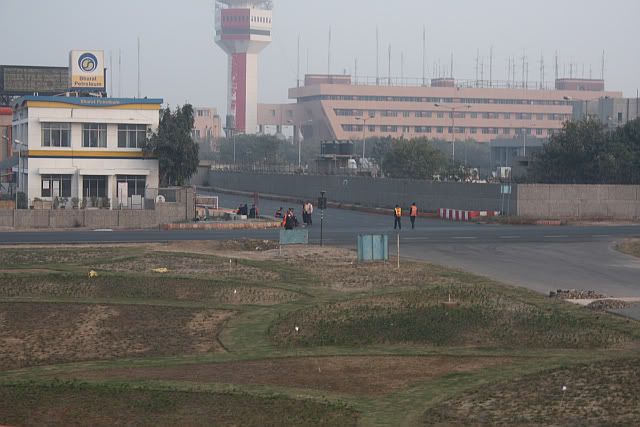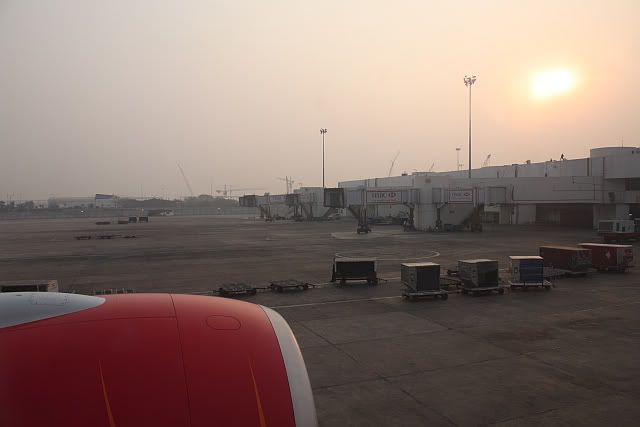 Thankfully, Indira Ghandi airport was actually very efficient this time though. They've done some renovations since I was there last March that seem to have helped a lot. It's still no world class airport but at least the lines aren't atrocious anymore.
Our bags came out quickly and we were soon on our way to the Trident Hotel in Gurgaon.
Conclusion
:
AI was truly a great experience! This was by far the most comfortable flight I've ever experienced with great service, in-flight amenities, and food. The seat was among the best I've ever used as well. It was comfortable both sleeping on my back and on my side. My return flight is scheduled to be completely full in J so we'll see if AI can keep up the same level of service with more people. Also, this was by far the smoothest flight I've ever had. The seat belt sign wasn't turned on once throughout the duration of the flight!
Just some things I noticed, however:
The only place AI falls behind when compared to other Indian carriers is their cabin crew uniforms. The 9W and IT crews look much sharper than the AI crews but that's just my opinion
Also, it was slightly annoying that the old logo was still vastly used nearly a year and half after the new one was introduced. This isn't a huge deal at all but the new logo is so much better than the old one IMHO that it's a little disappointing to still the see the old one still in use.
Overall though, a truly great experience. Nice job, AI!
Hope you enjoyed!
Feel free to take a look at my other Trip Reports:
Delta 767-400ER JNB-ATL In J W/Pix
(by
MHTripple7
Aug 1 2008 in Trip Reports)
South African 737-800 JNB-CPT In C W/Pix
(by
MHTripple7
Sep 21 2008 in Trip Reports)
South African BAe 146-200 LVI-JNB In Y W/Pix
(by
MHTripple7
Aug 14 2008 in Trip Reports)
Air Botswana BAe 146-100 JNB-MUB In Y W/Pix
(by
MHTripple7
Jul 23 2008 in Trip Reports)
Air France 777-300ER CDG-JNB In J W/Pix
(by
MHTripple7
Jul 23 2008 in Trip Reports)
Air France A330-200 DTW-CDG In J W/Pix
(by
MHTripple7
Jul 22 2008 in Trip Reports)
Delta 737-800 JFK-TPA (Pix And Vid)
(by
MHTripple7
Apr 18 2008 in Trip Reports)
Jet Airways 777 DEL-JFK Mar 28 2008 Pix
(by
MHTripple7
Mar 29 2008 in Trip Reports)
Jet Airways 9W707 W/Diversion (Pix)
(by
MHTripple7
Mar 22 2008 in Trip Reports)
Jet Airways 777-300ER JFK-DEL ( Pix)
(by
MHTripple7
Mar 21 2008 in Trip Reports)
Delta DL1836 TPA-JFK 17Mar08
(by
MHTripple7
Mar 22 2008 in Trip Reports)
[Edited 2009-01-05 21:44:11]