pre-history
Once upon a time, dinosaurs roamed the earth, and Emirates did not exist. In those far simpler days, only one airline would have come to mind if you were asked to name the best carrier in the Middle East. It ruled the roost in not one, but four countries along the Arabian Gulf – offering (had the term been in vogue then) cutting edge technology, superlative service by exotic air hostesses, gourmet cuisine, and the luxurious comfort of wide-cabin Lockheed L-1011 Tristar planes. As a kid, I imagined what a treat it must be to fly this airline with the golden falcon on its tail, and marveled at the unique multi-colored livery it applied to its nose. Award-winning Gulf Air was the envy of many.
Fast forward to the last remaining days of 2008, and the airline industry is deep in turmoil. No longer glamorous, airlines are best known for bleeding money and squeezing passengers into ever tinier spaces. It is a brutal industry that is totally unforgiving of the slow, lame or cumbersome. Make a mistake at your peril: the predators – hungry, lean and agile beasts run by bean counters - will serve you up for breakfast. Dinosaurs do not last.
A prehistoric pictorial book - a cherished Christmas present which fueled my early interest in aviation - features Gulf Air prominently, including on the cover.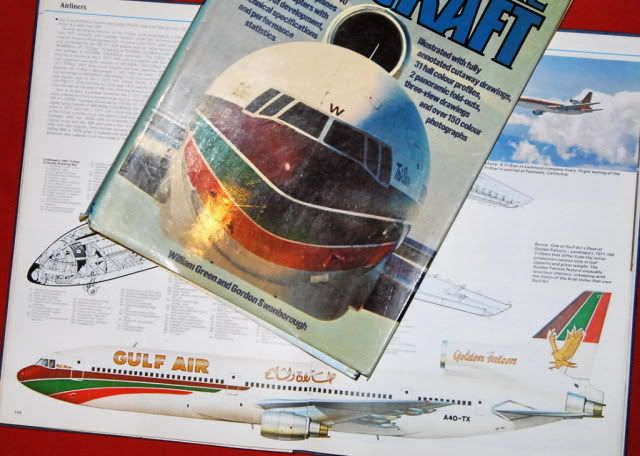 Before this trip, I tried researching previous reports on Gulf Air in this forum. There haven't been many: using the search engine, I found a total of three GF trip reports since January 2007, against more than 20 for Emirates. A friend living in the Gulf States hearing I was booked on the airline said:
Gulf Air? But why?
That question wouldn't have arisen had I been flying EY or QR. There was something sad about it all - it seemed as if nobody of consequence wanted to be associated with GF anymore. It was no longer sexy; it was passé. Even shareholders abandoned ship, as one oil-rich emirate after another decided this airline just didn't quite fit the progressive image they wanted to project.
The good old days at Gulf Air when it was the pride of the Middle East.
Today, Gulf Air seldom registers on the radar, even for people thinking about Middle East airlines. To be honest, it didn't register on mine either when I was considering options for my Christmas trip to London. If not for Miss Ho, my faithful travel agent who knows I am always on the lookout for unique experiences on the cheap, I wouldn't have been aboard this series of flights. So it wasn't sentiment or nostalgia, but price that clinched the deal: I paid less than half of the MH Business Class fare to fly First Class on GF from Kuala Lumpur to London. Now, that's what I would call a
real
five-star, value carrier.
christmas day 2008
KUL-BAH-LHR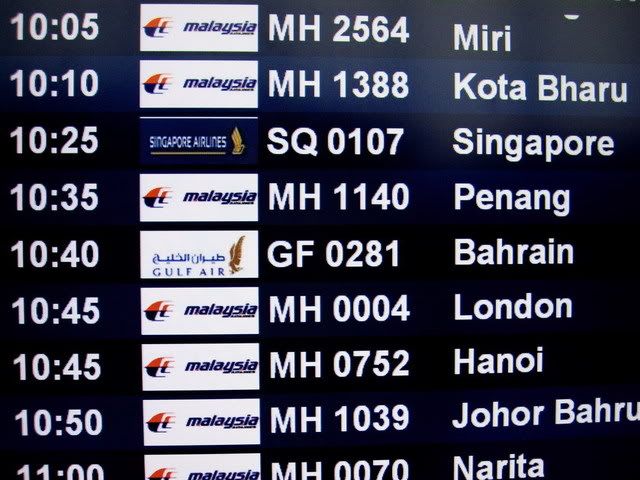 So who hadn't been a good boy this year? In early December, Santa delivers an early Christmas present: I am downgraded. The flight – booked and paid for five months earlier – will now no longer feature First Class on the KUL/BAH/KUL legs. I am told a two-class A330-200 (a configuration GF does not have) would be deployed on the route – it later emerges that a last-minute, wet-lease of two Jet Airways machines had been arranged, and I am 'lucky' enough to be among the first to experience them. Owing to the rock bottom fare I paid, up until the day of departure, Gulf Air still does not know how much of a refund I will get for the downgrade: I fear the quantum (if there's a refund at all) will not even pay for a taxi ride from Heathrow into central London. It's complicated; we will have to wait for advice from Bahrain, was the ominous message conveyed by the KUL GF office to Miss Ho.
The flight seems a lot busier than I expect for Christmas Day. The four Economy check-in desks are crowded with tour groups, and there's even a queue at Business Class. Still, it moves quickly and I am promptly served. I feign ignorance as I present my e-ticket print-out that's still showing "A" class for the KUL/BAH sector: my travel agent tells me there's no First Class, is that right?
"Yes, there's a change of aircraft, there is no First Class to Bahrain," says the check-in agent nonchalantly. "We will stamp your boarding pass to say you've been downgraded." That's it: the briefest of explanations. The whole encounter is not unpleasant, but that's only because this passenger has chosen not to make a fuss about the fact that half the First Class trip he paid for is now going to be made in Business. Aircraft substitutions happen; downgrades happen – I may not like them but can accept them as operational anomalies. However, I am surprised at how much is taken for granted by this airline. A quick apology "for the inconvenience" wouldn't go amiss. And wouldn't a passenger expecting a Gulf Air service be surprised to find a Jet Airways plane and crew? Apparently, GF doesn't deem it important enough to let him know.
"Gulf Air 281" at KLIA's gate C32. Many passengers are genuinely surprised when they reach the gate: huh, I thought we were flying Gulf Air?!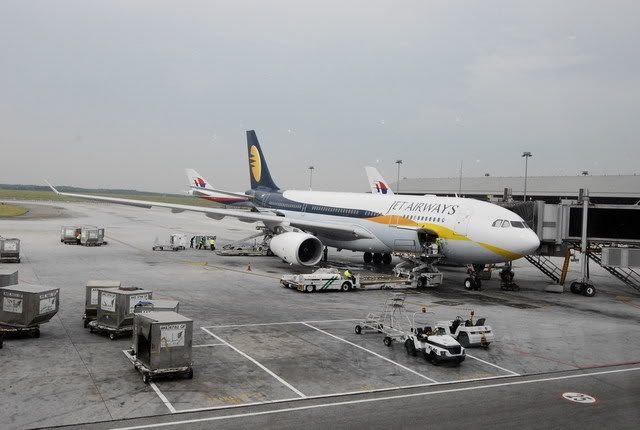 Like most non-aligned airlines flying into KLIA, Gulf Air sends its premium passengers to the Plaza Premium Lounge that's unmistakable for the series of cut-out stewardesses from half a dozen airlines on display outside. It's a decent place, but lacks the finesse of the airline-operated lounges at the airport. A recent upgrade has improved the previously tacky interior. There's a small buffet area serving hot and cold dishes but nothing compels me touch them.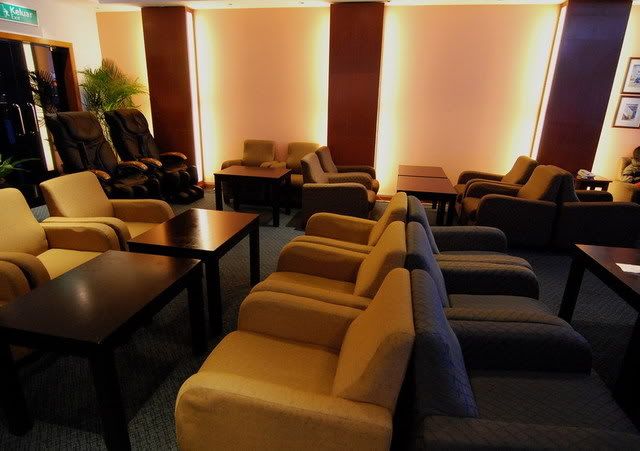 kuala Lumpur to bahrain
Gulf Air flight GF 281 in Business Class
Airbus A330-200 registered VT-JWE, leased from Jet Airways
Dept: 10.41 Arrv: 13.21 (on time)
Good Morning Sir! A steward in a smart black suit greets me cheerfully at door 1L. I catch a glimpse in the galley of a bright canary yellow outfit of a female colleague that literally shouts Jet Airways. Just in case you missed it, the TV screens proudly display the Jet Airways logo, the pre-recorded announcements and safety videos start in Hindi, while application forms for Jet Airways' frequent flier program fill the magazine racks. Welcome aboard… ahem, Gulf Air.
VT-JWE is one of the two Jet A332s leased by Gulf Air, at least for the next few months, but likely longer. Unlike most of 9W's other wide-bodies, these two aren't equipped with the airline's new herringbone J class cabin. But one can hardly complain for the lack of space: there's simply acres and acres of room. It's not a bad looking cabin too. The seats look like the same ones installed on South African Airways, though I can't be sure.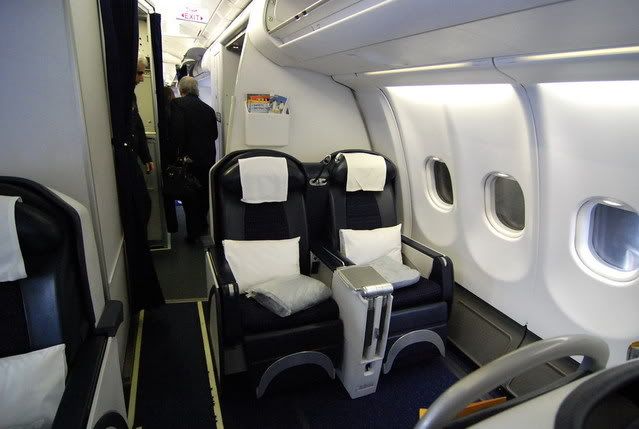 I am sat at 3A in the back of the first Business Class cabin, directly ahead of door 2L. There are a further two rows behind doors 2, making a total of 30 seats in J. The load in the premium class is about 80% but I get an empty seat next to me today, which is a nice bonus. But the seat and head rest are rock hard: I wonder if that's the compromise that must be made for a flat bed; for I haven't a clue why someone would deliberately design such a hard seat. (To be fair, the seat gets better when reclined and yes, it does go fully horizontal.)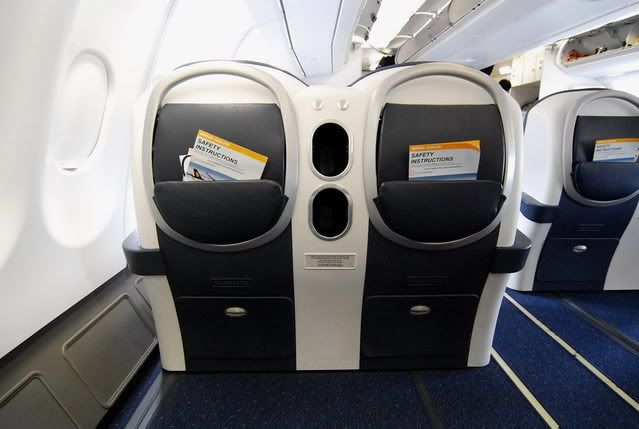 The seat in front is so far ahead of me I need to unbuckle my seat belt to get at the inflight magazine,
Gulf Life
. That, incidentally, is the first evidence that I am aboard Gulf Air. Or am I? In the same seat pocket, the IFE guide tells me I am aboard Jet Airways – with a generous selection of Bollywood hit movies, all available on-demand. The compartment under the seat pocket is for storing your shoes. A noise-cancelling headphone is already at my seat, together with a pillow, grey woolen blanket and a Gulf Air comfort kit.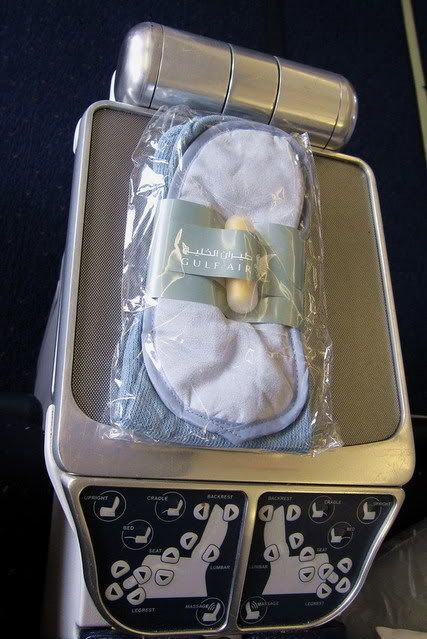 As we push back, Gulf Air starts manifesting itself. Welcome announcements are done in Arabic first – GF has two senior-looking male crews aboard who dispense the obligatory Arabic coffee and dates at departure, and douse passengers with rose water just before landing, but otherwise they're invisible for most of the 7 hours in between. The enthusiastic Jet crews make the English language announcements, serve welcome drinks, distribute menus, take drink and meal orders, and pretty much do everything else, all this while pretending no one notices they have Jet Airways name tags on. A steward offering newspapers from a trolley is caught in galley traffic while by my side, so I take the opportunity to ask what it's like to be now based in Bahrain, instead of India. His response – sounding like I exposed his secret identity – tickled me. "Oh, you noticed. You do know we're from
Jet Airways
," he says, the last two words uttered almost in a whisper, as if it's some subversive, secret society. "We're being leased out."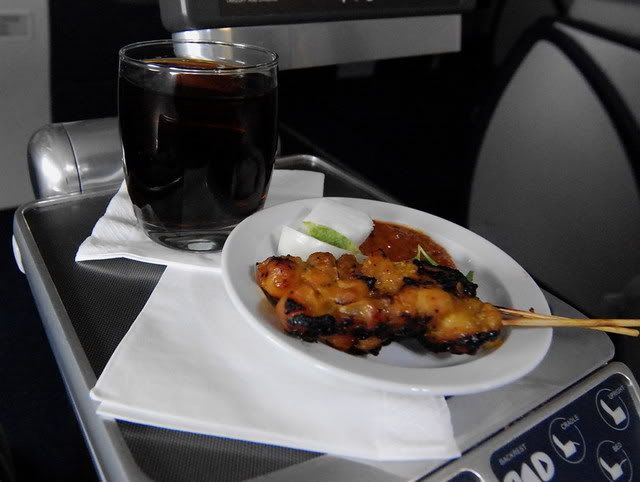 With air traffic light, we roll onto 32R and are airborne in no time. As we head out over the Straits of Malacca, the weather becomes increasingly poorer and the seat belt sign stays on. Chicken satay accompanies drinks after take-off.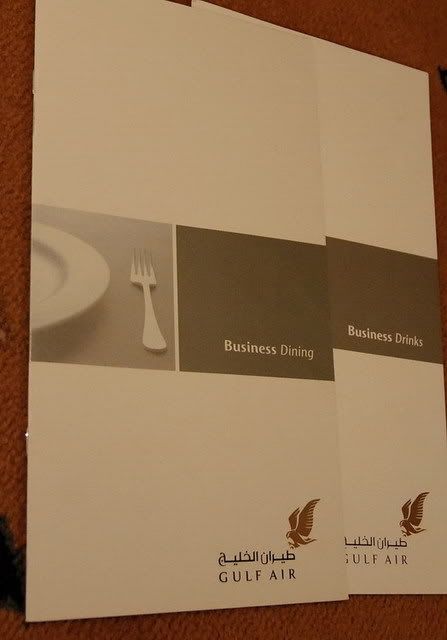 It may just be mid morning but the menu, strangely, lists the first meal as dinner. Gulf Air has an a la carte style of dining, meaning meals can be ordered for anytime during the flight. It's a nice touch: most other airlines reserve this type of on-demand meal service for First only. Having not had breakfast I am famished, so I order "dinner" early – as do a number of fellow passengers.
The weather turns choppy over the Bay of Bengal. Lucky we have a long flight ahead of us – an already leisurely meal service is interrupted a number of times when turbulence forces the crew to be strapped in. A meal that gets going just off Sumatra, Indonesia, eventually gets done as we close in on the Indian coast near Chennai. (What you see here is the 'express' version.)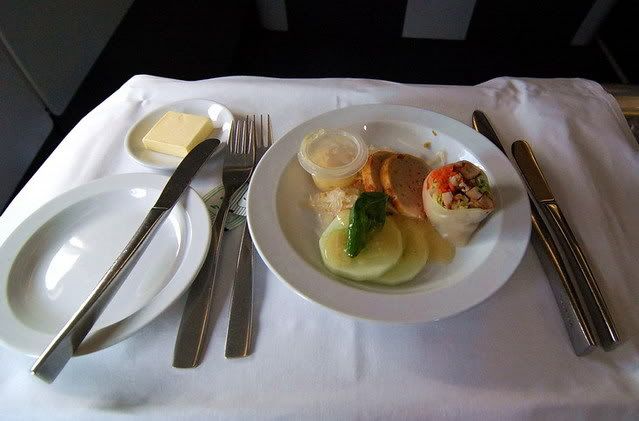 Leisurely is the way to go for a Christmas lunch in the clouds. Above is the smoked chicken starter, which I don't remember ordering. This is followed by a very delicious mushroom soup.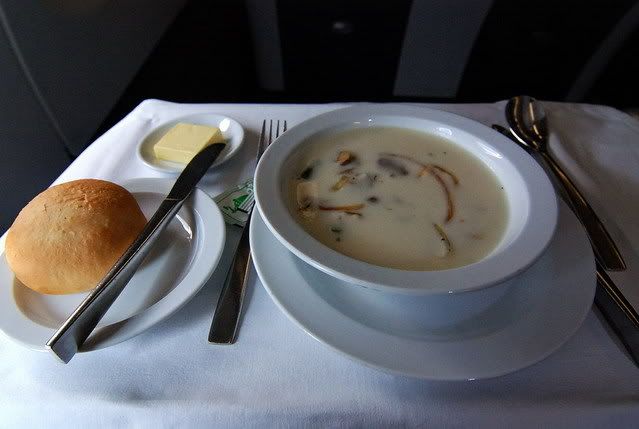 This is the "Chef's Selection" honey glazed chicken as my main course.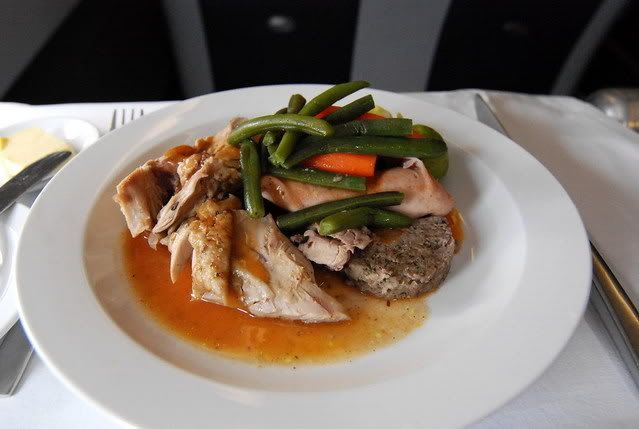 The lemon and meringue pie, served nearly two hours after the starter, finishes off the meal. But that doesn't bother me. I have time on my hands; and my travel staples with me. I have the luxury of reading from cover to cover The Economist's Christmas Double Issue: it's become a sort of year-end holiday flying ritual for some years now.
And then there's my dog eared, yellowing paperback edition of
Beyond The Blue Horizon
by Alexander Frater, which I dig up from the archives to reread. Mr. Frater retraces the original Imperial Airways route from London to Brisbane, and rich in historical detail, it always puts me in the right mood to truly appreciate the miracle that is our common interest here on A.net. It starts:
My first love affair began early on the morning of 31 December 1946, a few days before my ninth birthday. It was with an aeroplane…
Trust me, it's the sort of book many of us on this forum will identify with.
The fact that the PTV at my seat is out of order hardly matters (though I imagine it would have had the flight been fuller, and I was without my favorite books). I set the screen in the adjacent seat on the moving map as background for most of the flight, but am only swayed to fiddle the AVOD knobs for
Hart to Hart
– the 1980s TV series of a wealthy Beverly Hills couple-turned-detective that today looks bizarrely innocent, and totally suited for my flight down memory lane.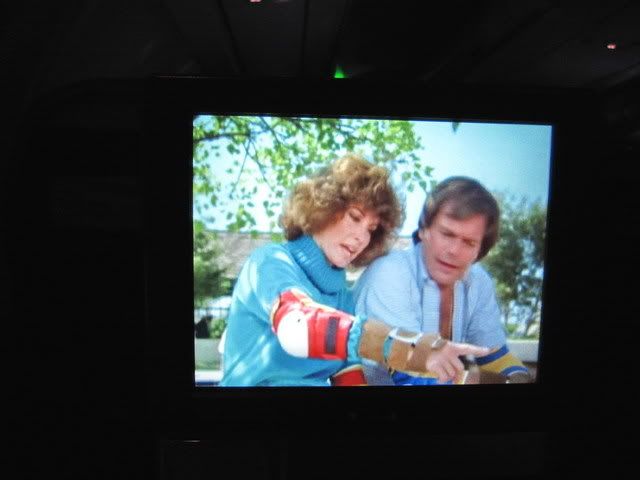 There's bright sunshine outside but you wouldn't know it looking at these photos. Most of the passengers on this flight take advantage of the dark-as-night cabin and flat bed for a snooze. The Jet Airways crews work hard throughout – there's an impressive, almost continuous patrolling of the cabin and the on-demand meal service means someone, somewhere is being served lunch or a snack. I get talking to some of the crew and am told that there's going to be up to 150 Jet Airways staff based in Bahrain owing to the leases. There could be more coming too if the leases for an additional 2-3 aircraft materialize.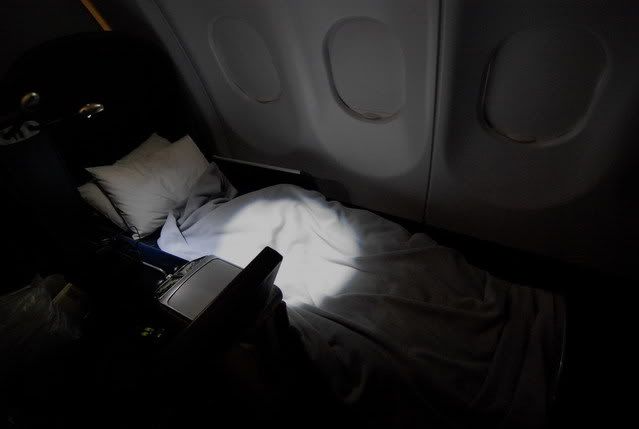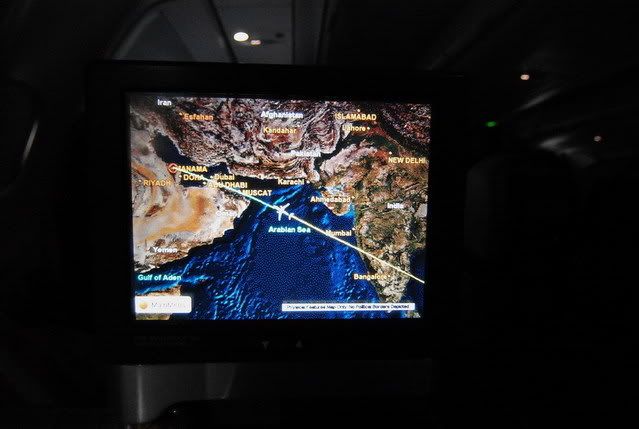 We have long crossed the Indian subcontinent. The going gets a lot smoother over the Arabian Sea when I am asked if I'd like a snack. I opt for a cheese baguette – but would rather have the off-the-menu Indian meal, the enticing aroma wafting from the galley as it is prepared. I later see a crew member carrying a tray of the special meal into the flight deck.
I raise the window shades briefly – the sudden glare no doubt unappreciated by my fellow passengers – to see cloudless skies as we make landfall over the Arabian Peninsula at the rugged Omani coastline.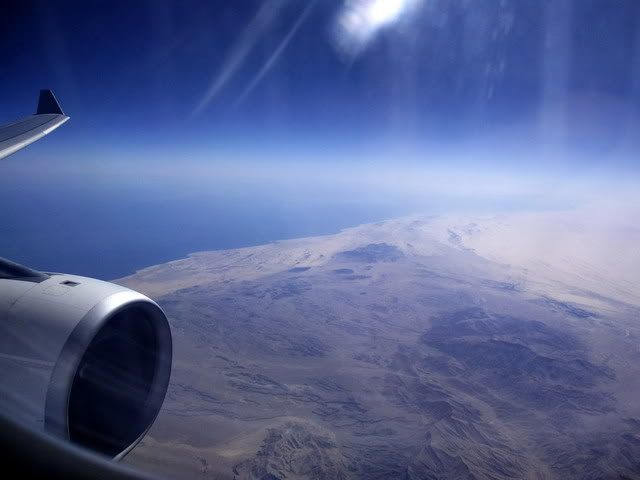 Heading directly northwest, we enter UAE airspace and fly overhead the emirate of Abu Dhabi, still confidently building outwards and upwards, even as the rest of us recoil and contract.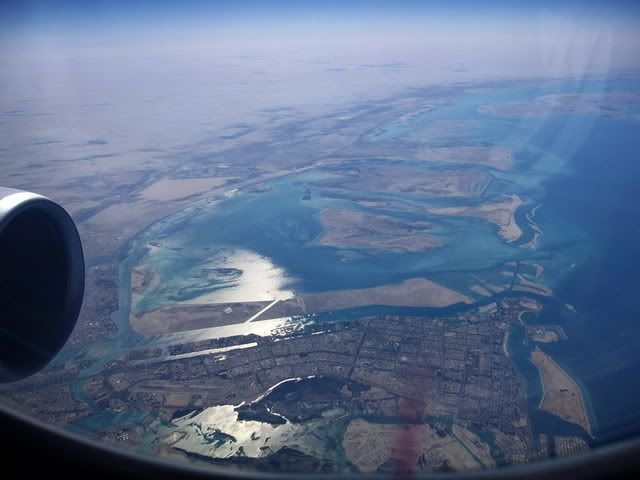 Skirting the northern tip of Qatar, we are afforded a distant, hazy, early afternoon view of Bahrain's capital Manama before coasting in for a smooth landing at runway 30R.
On-chocks 24 minutes ahead of schedule, VT-JWE gets a well-deserved rest at gate 14 of its adopted temporary home. The aircraft is next scheduled for a short hop to Dubai at 1530. The only hint that this Airbus is not quite what it seems is the presence of a tiny golden falcon at door 1R.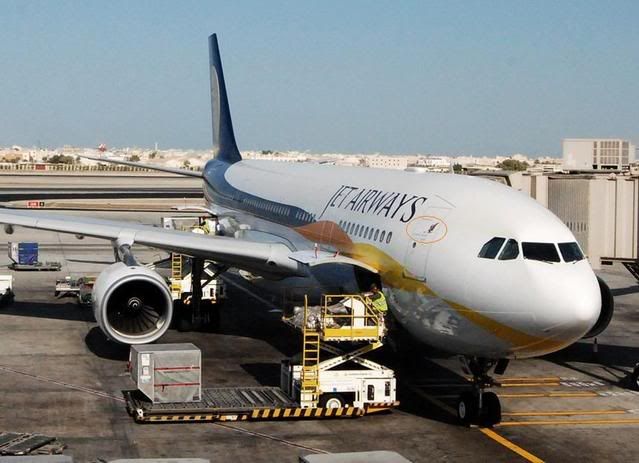 transit
After a quick security scan, and with no need to check-in again (my onward boarding pass having been issued at KUL) I climb the stairs to the departure level. Bahrain International Airport is small by today's Middle East hub standards and its design – though old – is straight-forward but, most importantly, there are great views of the airfield from the terminal. Among my pet peeves are some of these flashy new airports looking like shopping shrines that somehow feel the need to shield you, as much as possible, from the flying experience: Thou shalt not see the plane. Go forth and shop!
The view from the Bahrain terminal of a short-haul Gulf Air runaround. Behind, activity (or the lack thereof) along runway 30R is clearly visible. Hard to imagine it now, but Bahrain was one of a handful of airports around the world to see regular supersonic travel. It was the first British Airways Concorde destination, and the rare hybrid BA/SQ Concorde used to be a common sight here for a while.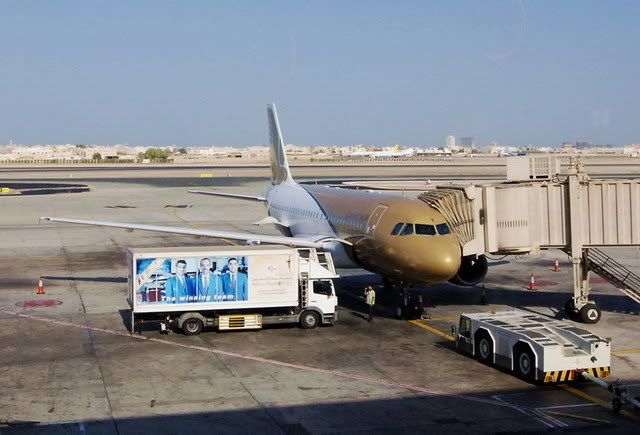 Bahrain, of course, is also one of the pioneers of the transit shopping experience and, together with Dubai, was an early specialist in catering to the bleary-eyed as they wander aimlessly among the duty-free booze on their hour-long refueling stops half-way between Europe and the Far East. The introduction of longer-range planes in the late 1980s made the previously crucial Gulf stops redundant. Dubai responded by going on the offensive: feeding and growing the monster we now know as Emirates that forces us to continue stopping and shopping at its monstrous hub. (There was an old joke that said in order to get to Heaven, one needed to change planes in Atlanta. I guess a revised globalized version now would likely substitute Atlanta with Dubai.) Slower on the uptake and with GF's resources initially divided among so many Gulf "hubs", Bahrain fell further and further behind Dubai as a rival air hub. Sadly, today, it's not even seen as a serious contender.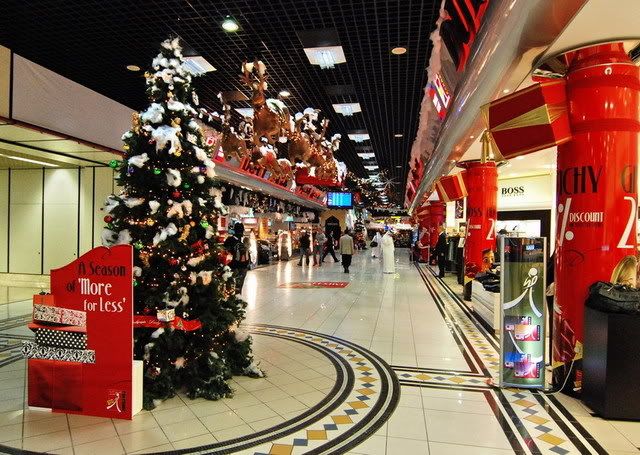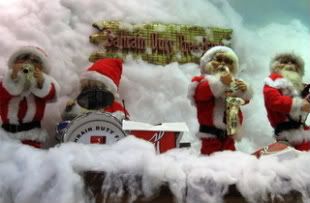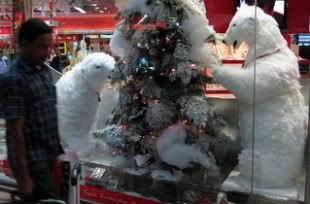 The duty free shop at Bahrain airport entices passengers with fake snow, reindeers, polar bears, Christmas trees and Santa: how's that for a totally surreal experience in the Arabian desert.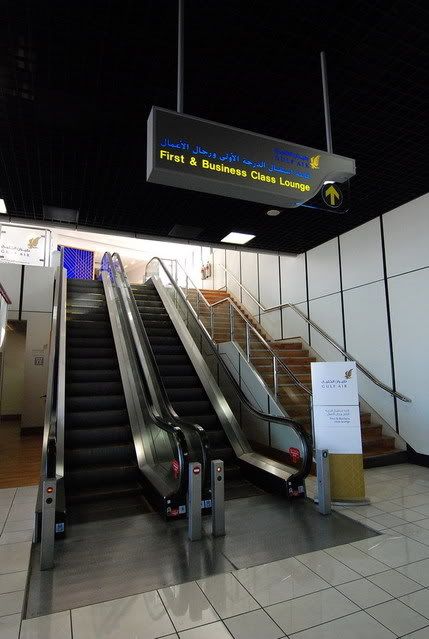 Premium class passengers on Gulf Air can escape the musical Santas by making their way upstairs. There is a single entrance to what's essentially two-lounges-in-one. The First Class Lounge, to which I am invited, is a private enclave located within the Business Class Lounge. Both lounges look very similar. I recognize a number of passengers from the KUL flight already here, awaiting their onward connections.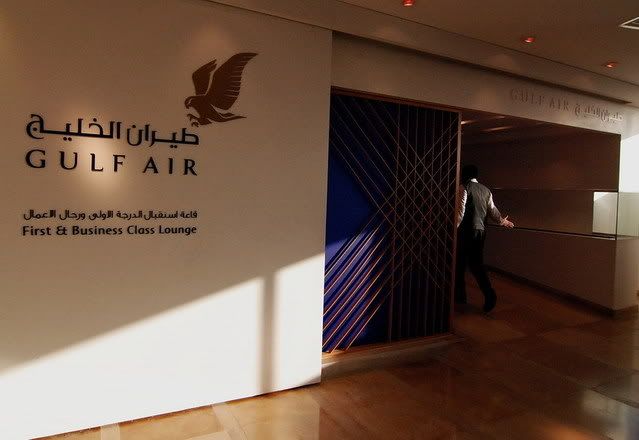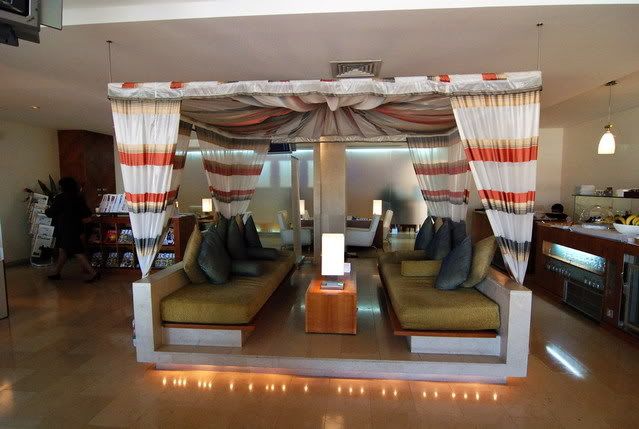 Going back to its Bedouin roots, a sheik's tent is apparently the inspiration: full marks to GF for trying something different. It may not be the place you or I would necessarily choose to sit, but it is popular with large families traveling together, and Gulf Air knows its demographics well. This is the F section of the lounge – a very quiet place this Christmas Day.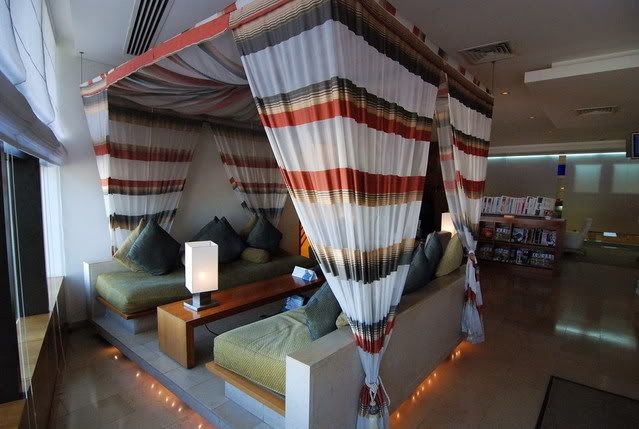 I take a seat by the window, order a coffee from an affable Filipino waiter but decline the offer of food: there's just no end to all this eating in these premium classes! With a fast and reliable wifi connection, I happily spend the next two hours on my laptop. The décor has a retro chic to it – one that wouldn't look out of place when such places were called "The VIP Lounge" and passengers were dressed in suits and silks; not like now when a strange man attired in T-shirt and unwashed jeans is seen taking photos of his coffee. Just not our sort of chap, is he? Alas, how the standards have fallen.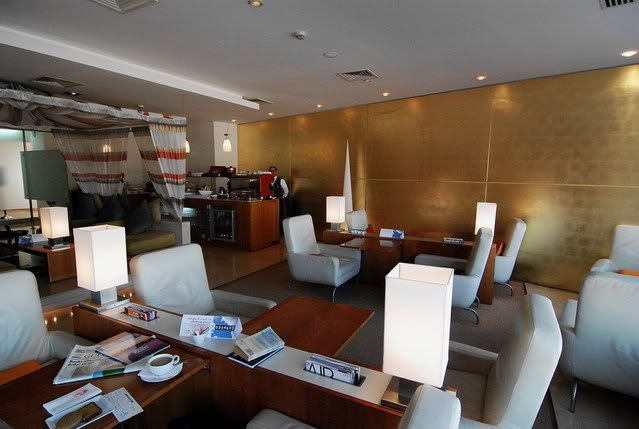 A Cathay Pacific A340-300 is towed into the gate right under me. (Like all the best "VIP" lounges, this one has an excellent view of the airfield.) I am intrigued: mid-afternoon is an unusual departure time for Far East-bound flights. I look-up cathaypacific.com and discover this machine will soon be leaving for Dubai and then onto Hong Kong, where it's scheduled to arrive at 6 a.m. Boxing Day. Cathay's history in Bahrain stretches back to the days when the airport was the busy refueling stop for its flagship CX201 to London. The one-stop route no longer exists, but at least the airline stayed on – unlike QF and SQ which pulled out from Bahrain once their B744s were delivered.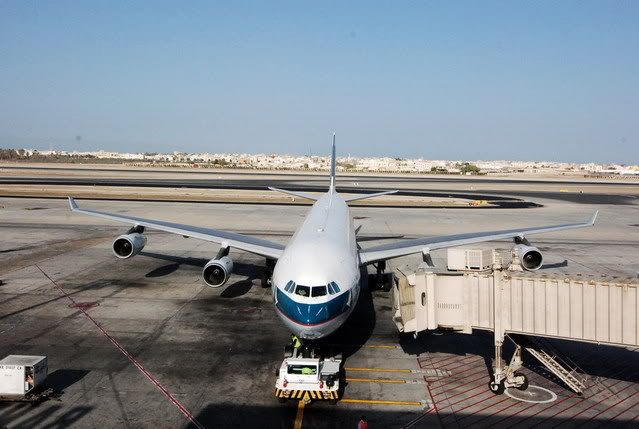 I leave the lounge early to make my usual meandering way to the gate. One of the first things you see when leaving the GF lounge are two billboard-sized adverts for the splendors one can expect aboard First Class. Now, I may not be a marketing expert but this baffles me: an advert at this point is surely pointless. It would not sell tickets (we have them already), but worse, it can raise expectations. Superlative service, comfy beds, and freshly cooked meals prepared by on-board chefs who buy the produce themselves? I don't envy the GF crews, who have a lot to live up to!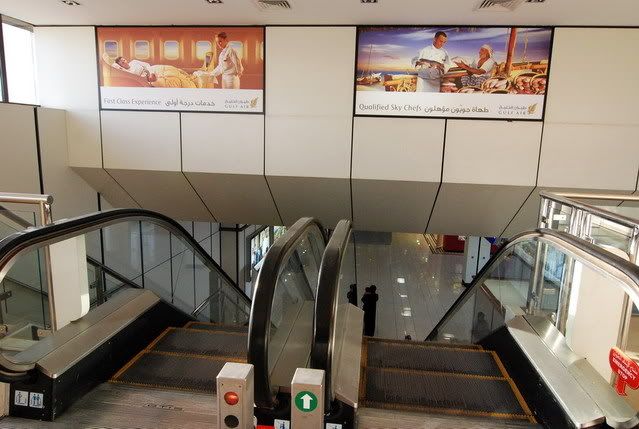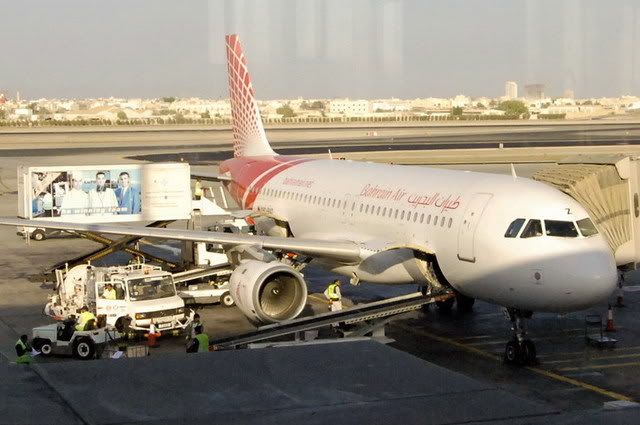 Bahrain doesn't yield very much for spotters this time of the afternoon. The only plane of interest is this A320 belonging to Bahrain Air, a low cost airline that flies to more than a dozen regional destinations from here.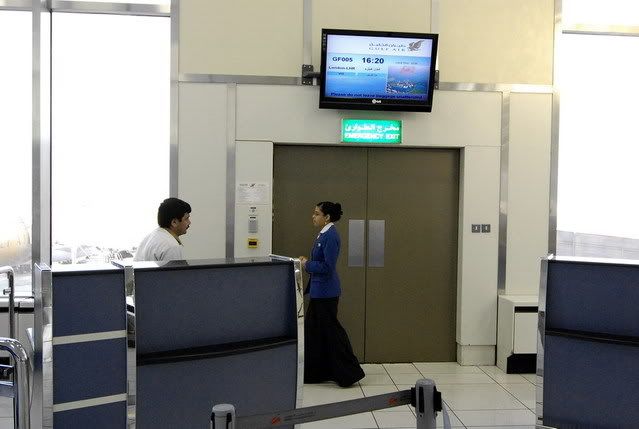 I arrive at gate 12 for the departure of GF005 to London Heathrow some 40 minutes before departure. Just about right, I think, not too early, and not too late. But something's wrong with this scene: where are all the passengers?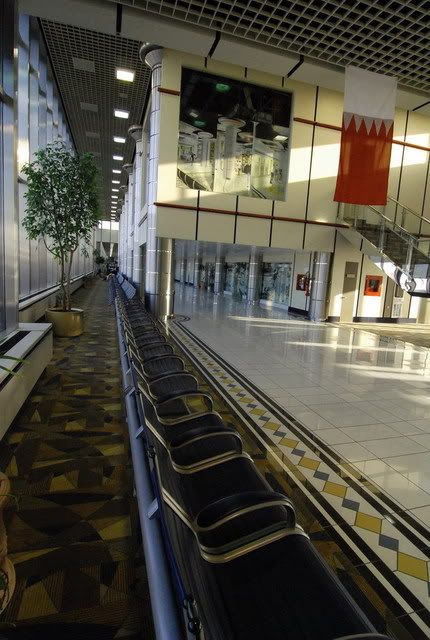 I check with the agent that there hasn't been a last minute gate change. No sir, this is the London flight: we'll be boarding shortly. Please take a seat, she says. Of course, there are plenty of seats to choose from.
Outside, a Gulf Air A340-313 is being prepared for the routine London run – this is the latest of three GF flights every day. Registered A9C-LH, she was previously 9V-SJM in a short-lived career as a Singapore Airlines Celestar. Passengers start trickling in as the departure time draws closer. I count maybe 30 passengers in all; and recognize a surprisingly large proportion as being fellow travelers from KUL on GF281. Boarding is late and leisurely – no one pushes, rushes, or needs to queue. Ah, if only flying could
always
be like this.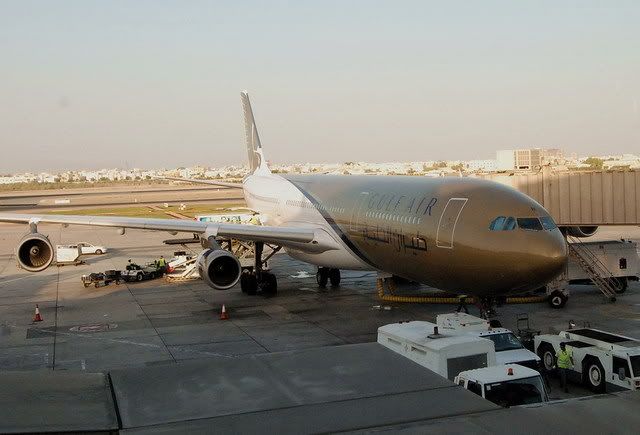 bahrain to london heathrow
Gulf Air flight GF 005 in First Class
Airbus A340-300 registered A9C-LH
Dept: 16.49 Arrv: 20.55 (on time)
Boarding at door 2L, I am greeted by the inflight service manager as if I was the only person he'd been waiting for, and personally escorted through J class to my seat at the starboard side of the First Class cabin. Simple as it may seem, a genuinely warm welcome sets the tone for the rest of the flight. Here you are Sir, welcome to Gulf Air. Nice to have you aboard.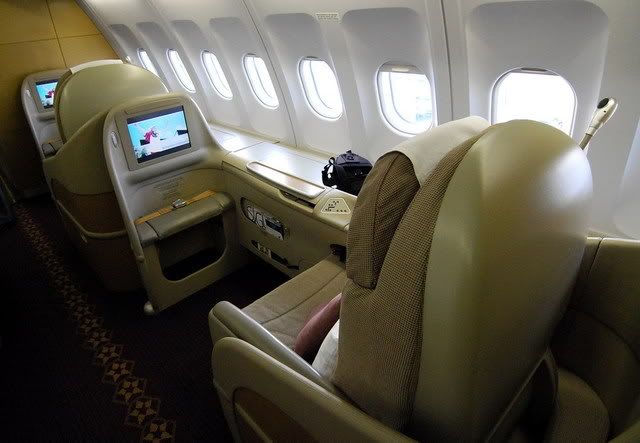 Sometimes when you board a plane, things just fall into place, and you know it'll be a great flight. This is one of those occasions. Pretty Diana from Indonesia, who is put in charge of the First Class cabin this evening, says hello and offers to bring me a pre-takeoff drink. Next, Fadly from Malaysia – employed as a 'Sky Chef' and looking the part – comes over to introduce himself, hands out the menu, and tells me of the special Christmas dinner option which I might like trying. The crews are friendly and chatty, and yet highly professional: managing one of those tough balancing acts which I've only consistently seen aboard CX's premium classes (what a shameless plug for my former favorite airline!) The fact that the load is light on a holiday may have had a bearing on everyone's moods, but the good natured banter could not be faked.
For an empty flight, First Class is running busy. Of course, we're talking relative terms here. Including me, there are three passengers in the F cabin making a load factor of 37.5% - substantially higher than in both J and Y. My traveling companions, a couple seated together in row 1, also flew in from KUL today.
The Gulf Air First Class cabin is a handsome one. Configured 1-2-1, it has a total of eight seats in two rows. Seat belts fitted on the leg rests allow two passengers to dine at the same table together. Notice also how the purple First Class carpets stop abruptly at the "border".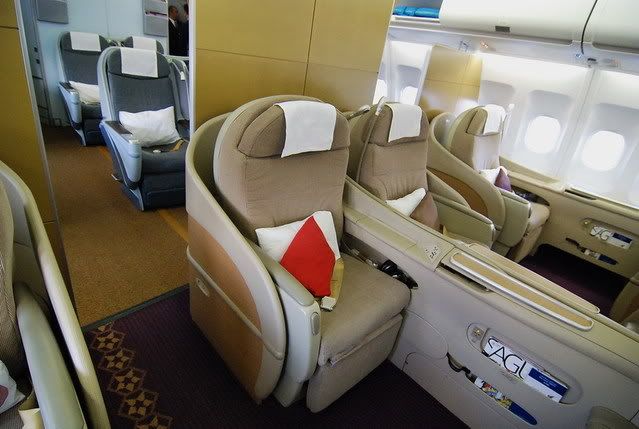 Sitting so close to Business Class and with the cabin largely empty, I could not resist popping back for a quick snap. The place actually doesn't look half bad.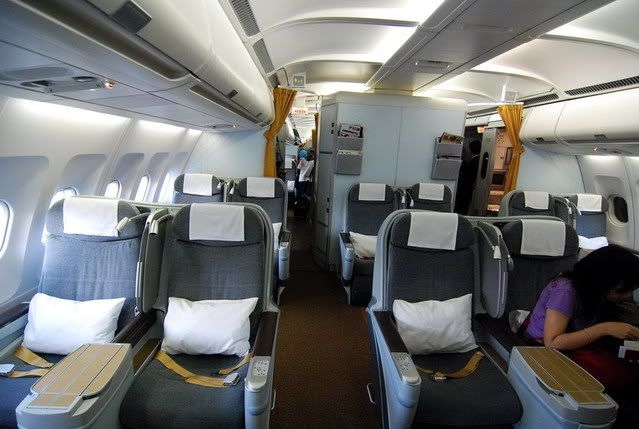 Below, the First Class cabin, as seen from the rear, shows off the spaciousness of this section without the clutter of center overhead baggage compartments.
Window-seat passengers in First enjoy a wide flat surface next to them. There's also additional storage room hidden underneath. Both come in very handy. The only downside to this arrangement is that the windows are now a fair distance away from the seat.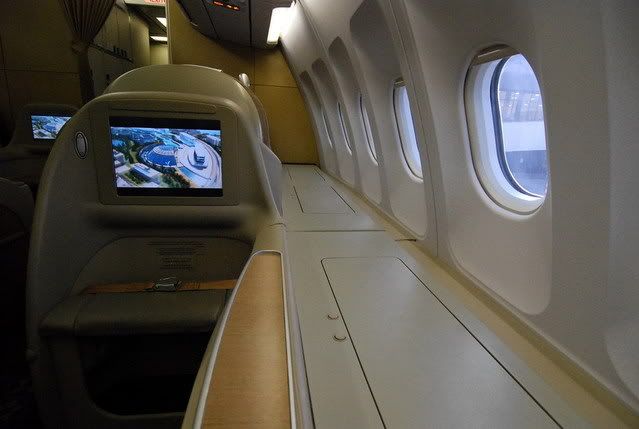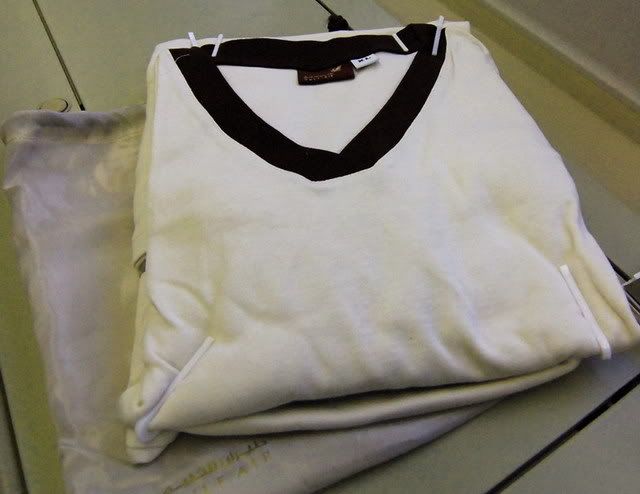 While still on the ground, Diana distributes the cream colored pyjamas and a dark blue duvet, while Fadly takes the meal orders. And to drink after take-off? Well, one surely cannot refuse the offer of champagne in this season of indulgence, so a suitably bubbly start it is to this 6 hour 45 minute flight to Heathrow. We had pushed back a little late and are assured we'd make up time on the way. But, of course, keeping to a schedule is not too high on the priority list for the passenger at 2K today. Cheers!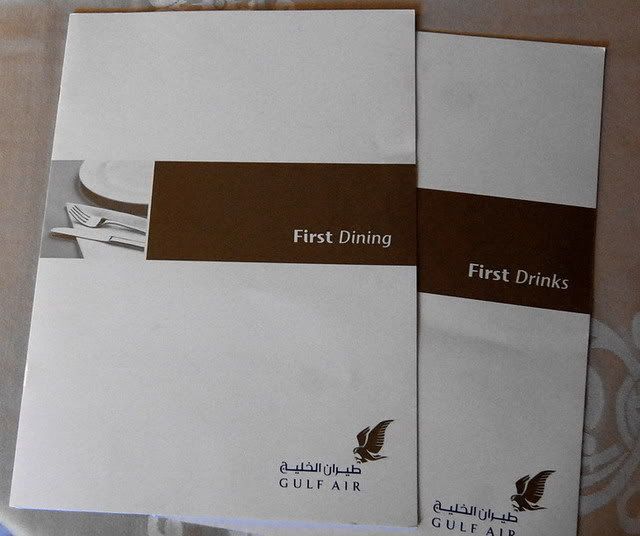 Here's the menu for this evening's flight. The regular dinner selections are supplemented by a special Christmas menu tonight.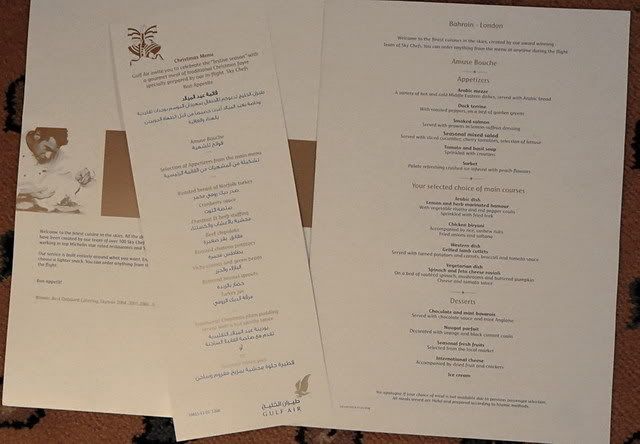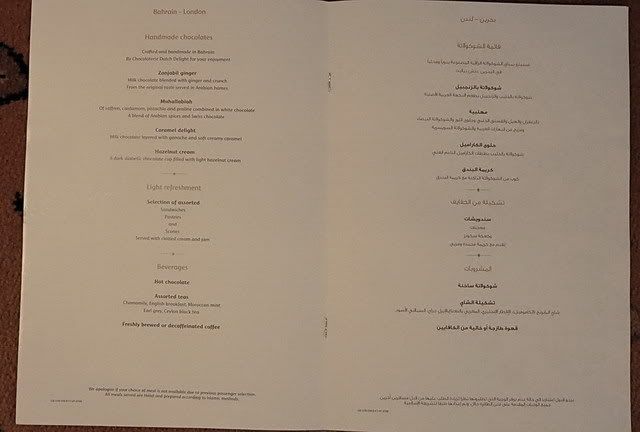 Dinner starts promptly after we reach cruise. The sun has begun to set as we head in a north-westerly direction over the Saudi desert. I opt for the Christmas menu but start with an Arabic Mezze.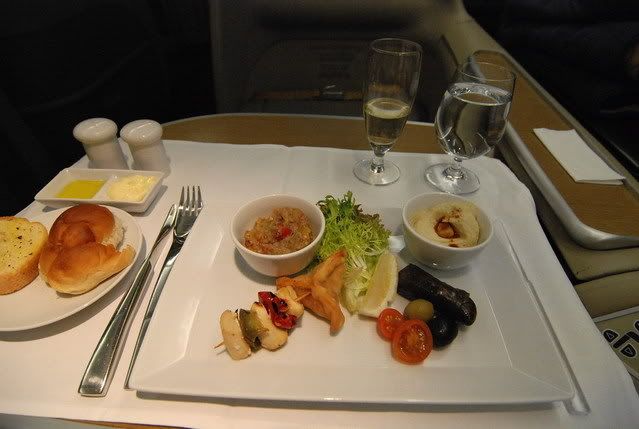 Seeing that I'm running low on champagne, Diana comes round with Belle Epoque's unmistakable art nouveau engraved bottle for a refill. In a moment of madness, I ask if I can photograph her "in action"; then immediately feel silly and foolish, like a high school geek who asks the prettiest girl in class for a date. "Yes, of course," says Diana beaming. The geek's over the moon.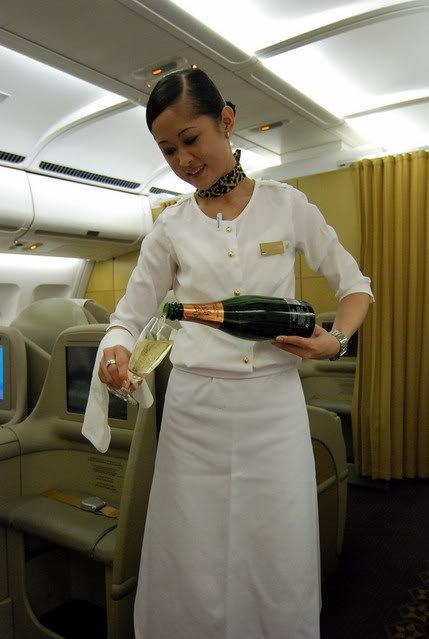 Christmas dinner continues with a large helping of roasted breast of Norfolk turkey, chestnut stuffing and a halal chipolata.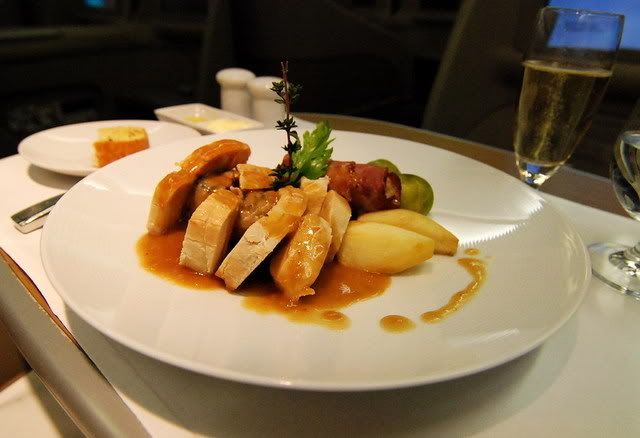 This is followed by a rich Christmas plum pudding served with vanilla sauce and ice cream, after which I am well and truly stuffed. Compared to the last meal I had aboard Jet, Diana served dinner with much greater speed, but no less graciously. My fellow passengers in F have also finished their meals. We are barely an hour and a half from Bahrain and still in Saudi airspace when the lights are dimmed for us to get some shut eye.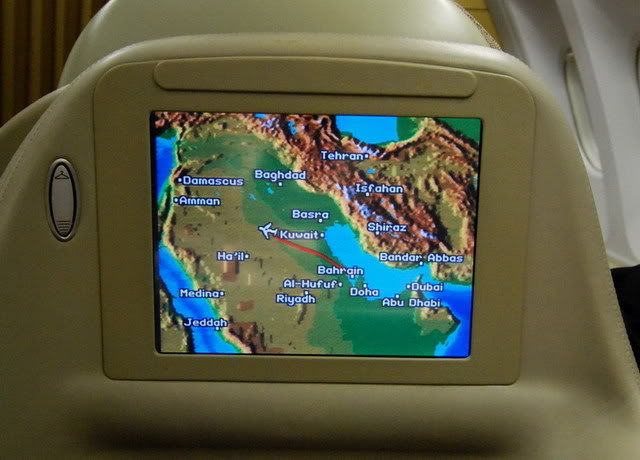 I decide to continue my reading, determined to stay awake all the way to London – which isn't easy when my body clock says its past midnight, and my head swims in Belle Epoque. On another carrier, I might have been tempted to test out the PTV offerings so that I can add another flick to my growing collection of half-watched movies. But Gulf Air still operates an archaic 24 channel loop-system for its movies and TV, so I don't even bother to remove the noise-cancelling headphone from its pack. The IFE on GF is clearly light years behind Emirates.
I turn back to Alexander Frater who's been a faithful traveling companion: he's just landed at Bahrain's Muharraq Airport on a Gulf Air B737-200 from Kuwait. I read that the very same airport I had just departed from on this fly-by-wire Airbus 340-313X began life as a "lunch stop" for Imperial Airways' Handley Page HP. 42
Hannibal
(registered G-AAGX, sadly lost over the Gulf of Oman March 1, 1940) while traveling between Cairo and India in the 1930s. But the terminal building that greeted Hannibal's passengers was a little different: "A thatched palm shack, with a signpost outside, one arm pointing to London and the other to Karachi. Imperial's big brass bell hung outside with a plaited rope lanyard. Four bells meant an aircraft was approaching, six that it was ready to depart."
Meanwhile aboard GF 005 cruising along at 38,000 feet on Christmas Day, the crews are dispensing exemplary service. In fact, they're as good as any I have experienced. It's hard to pinpoint what exactly it is that makes the service so good: I wonder if it's just as simple as genuine pride in work well done. Both Diana and Fadly drop by regularly to check if I need anything. "How about some coffee?" Diana asks for the second time in the darkened cabin. Surely one can't refuse again – so it is served, together with an interesting selection of chocolates blended with Arabian spices. "Please try them and let me know what you think, okay?" Fadly later comes round with a comment form – which I happily complete – then suggests I should try the Moroccan mint tea. Yeah, why not, I say, finally succumbing to being spoilt rotten.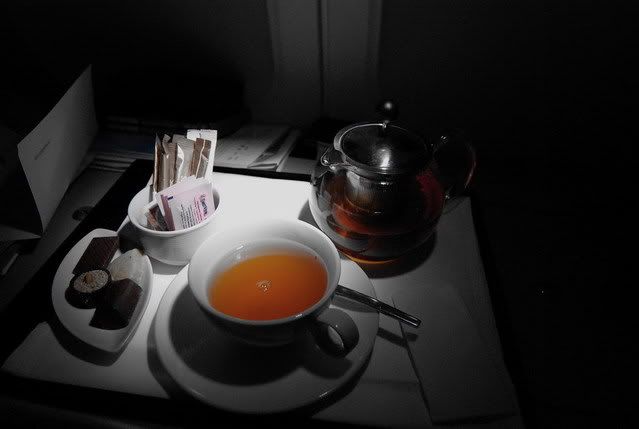 I sit back and reflect on a column I read in today's IHT penned by Ann Hood, a former TWA flight attendant, who remembers with great fondness the good old days of aviation, and wonders why flying has become so unpleasant in the U.S. today.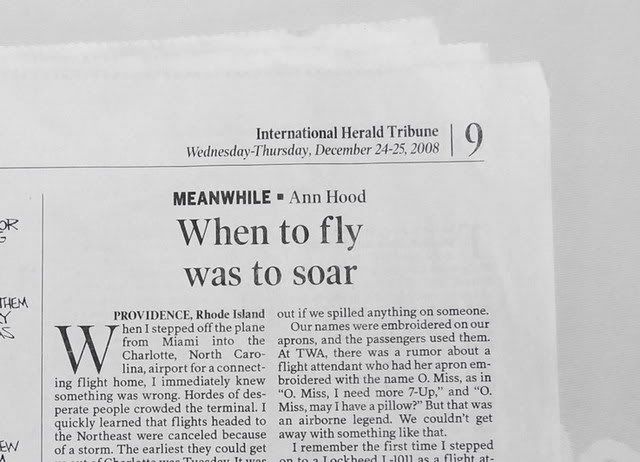 Ms Hood writes: "I remember the first time I stepped on to a Lockheed L-1011 as a flight attendant in 1979. I marveled at the beauty of that plane. I put on my apron with my name across the top, and I smiled at the people who had saved up their money, put on their Sunday best, and chosen TWA. It is not so long ago that flying had that civility, that glamour, when flying through the sky really felt like something special… we remember the service we provided – dare I say cheerfully? Proudly?"
Had she been aboard, I think Ms Hood would have enjoyed this flight. And I am quite sure she would have approved of the service provided by Diana and Fadly. There's civility, glamour and it feels special: we are truly soaring here.
We are over Germany now and will soon be descending for Heathrow. It looks like we'll be there on time, as promised. I thank Diana and Fadly for the wonderful flight, but they shrug it off as "normal". When I suggest that they were perhaps over-doing it with the hot drinks service, Fadly laughs out loud. "Ah yes," says Diana, with a cheeky smile. "We were bored and needed something to do. You were the only one awake!" It is a great end to one of the most enjoyable Christmas Days I've had in a long time.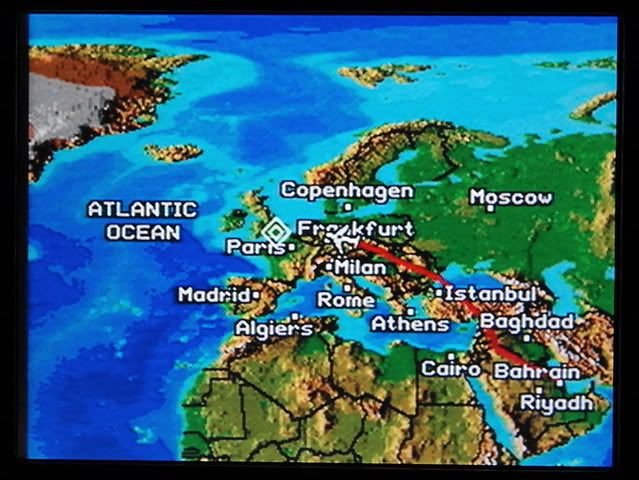 ~~~~~~~~~~~~~~~~~~~~~~~~~~~~~~~~~~~~~~~~~~~~~~~~~~
london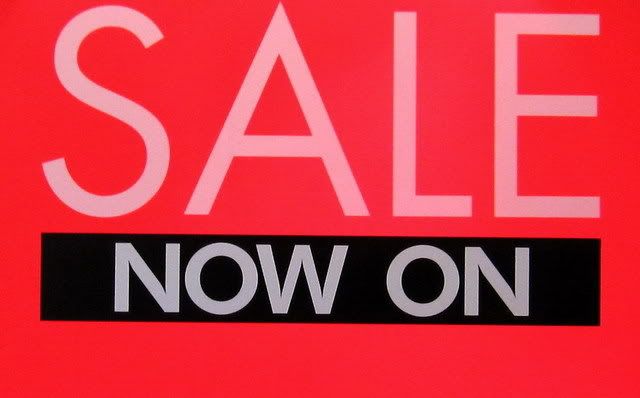 … pretty much describes the mood in the UK at this time. The whole country seems to be preoccupied with bargains.
~~~~~~~~~~~~~~~~~~~~~~~~~~~~~~~~~~~~~~~~~~~~~~~~~~
the return on new year's eve
LHR-BAH-KUL
The best holidays are ones where there's nothing you absolutely have to do. A few days of catching up with old friends over a meal or drinks was what I needed after such a crazy, tumultuous year. "And where are you celebrating New Years?" I am asked. When I tell them, there are frowns of pity: oh you poor thing! It is true, I
do
have to be aboard a flight on Dec 31 if I am to make it back to work on the morning of Jan 2. But the words of comfort are undeserved: it is by choice rather than design that I am at Heathrow on New Year's Eve awaiting a flight to Bahrain. When I booked it more than five months earlier, it seemed like a good idea. Nobody likes to ring in a new year on the plane: it'll be nice and empty, ideal for sleeping off the excesses of the year-end festivities. Or so I thought.
It's 7.30 am and not yet dawn when I reach Heathrow's Terminal 3 for my scheduled 9.30 am departure. The building has undergone a bit of a transformation since I was here last, or maybe it's just the mood lighting making everything look more attractive than they actually are. At one end is a place looking like a trendy cocktail bar – it turns out to be the check-in area for Virgin Atlantic's Upper Class that's a sharp contrast to the fluorescent-lit utilitarian counters used by the other airlines. What a crafty ploy to win converts to the airline! Even hardened cynics traveling Gulf Air look over enviously from their First Class check-in desks and think to themselves: hmmm, maybe I should give VS a try next time…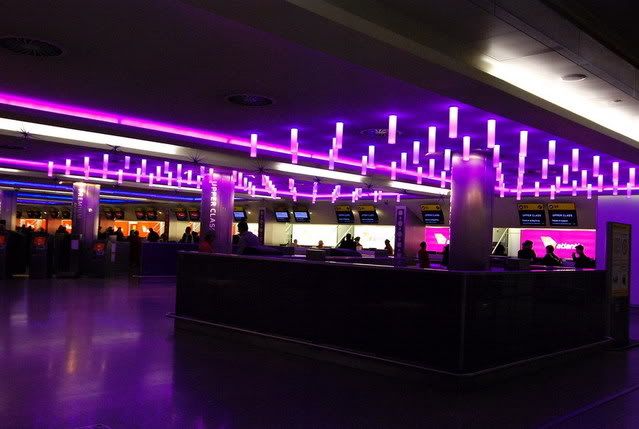 Gulf Air First Class check-in is a painless affair – you should join our frequent flyer program, I am told – and sent on my way with a chirpy new year's greeting. There's only a short queue at Fast Track and in no time at all, I am hit with the maze of people and shops that is the Terminal 3 departures lounge, not unlike a busy mall during the Sales. The departure screens are the only hint that planes – quite a number of them actually – also use this crowded facility.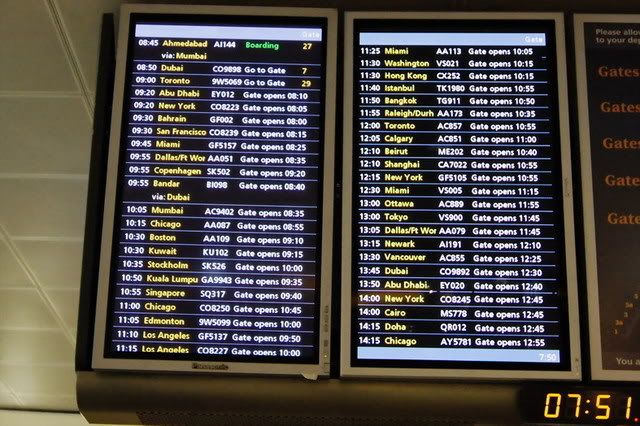 I escape the crowds by visiting the Gulf Air Lounge. The smallish lounge that's a spitting image of the one in Bahrain is not overly busy today. There's no separate First Class section. Through the windows outside, the slowly brightening skies reveal the outline of a Boeing 767-300ER belonging to Royal Brunei parked next door.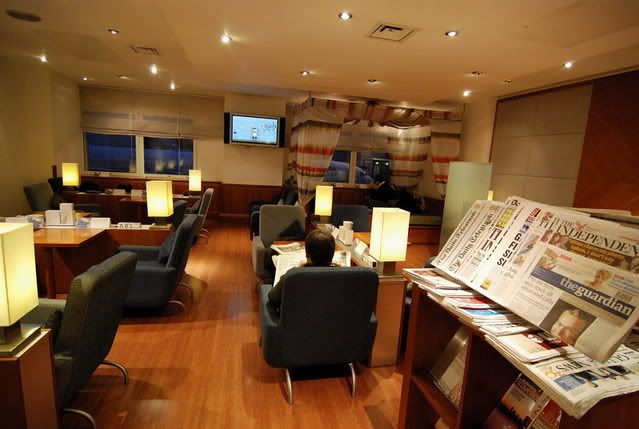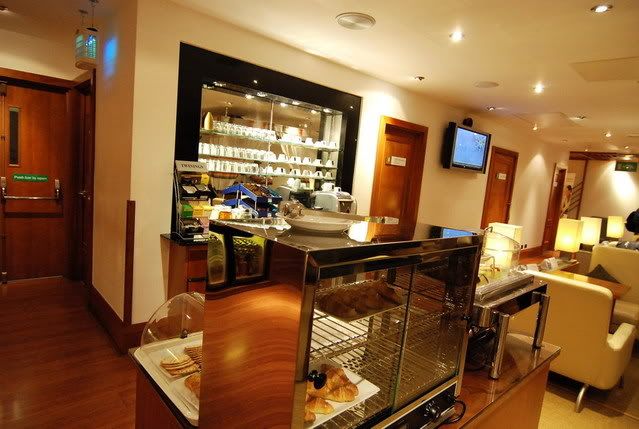 I find myself a corner seat by the window where I see the tails of AI, VS, AA, AC and 9W close to the BI B763. It may not be overly fancy, but there's a nice clubby feel to this place I rather like.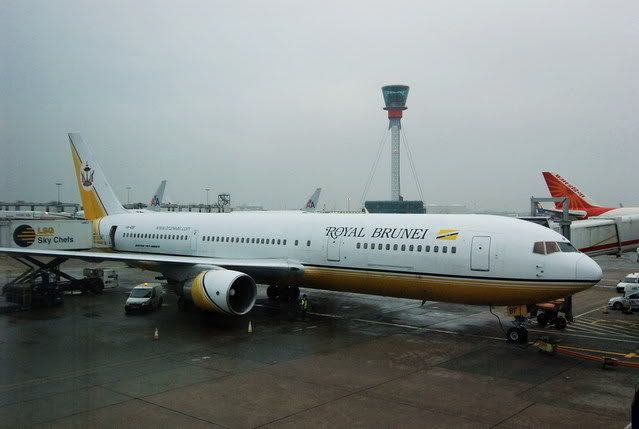 When I leave the lounge, slightly less than an hour before scheduled departure, the boards are already indicating the gate is closing for GF 002 to Bahrain. I am not particularly alarmed: Heathrow has a tendency to do very early gate calls, even if boarding does not necessarily happen earlier than elsewhere. On the way, I pass an enticing poster of the overly plush interiors of the Virgin Clubhouse that, in the brash style of its founder, shows me what I'm missing out on by not choosing Virgin Atlantic.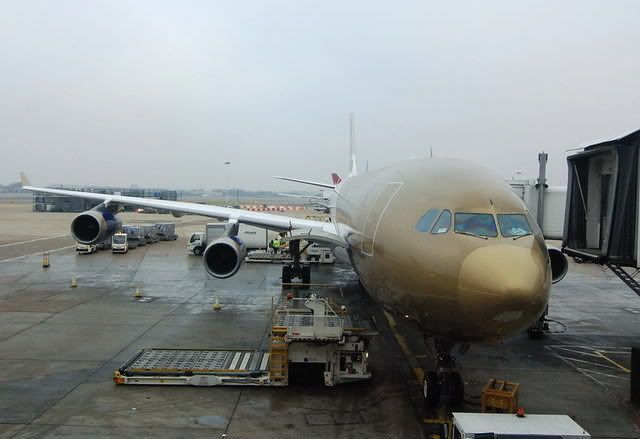 An Airbus A340-313X with its uniquely golden nose and registered A9C-LI sits looking almost ready at gate 28 when I arrive. Despite what the departure board says, passengers have not yet boarded and the crowded gate is far from "closing". From the look and sounds of my fellow passengers, quite a number must be in transit for Manila or, like me, to KUL. A surly looking girl dressed in olive green from Alitalia Airport Handling checks my passport, tears off my boarding pass and hands me the stub without a word. There are no more seats so I find some carpet space by the window and am as happy as a lark watching the goings on airside.
london heathrow to bahrain
Gulf Air flight GF 002 in First Class
Airbus A340-300 registered A9C-LI
Dept: 09.20 Arrv: 18.59 (on time)
There's a warm welcome at door 2L but the busier flight means that this time, no one escorts me to my seat.
(Damn these expectations!)
I am the first passenger to turn up in First Class. Mariko, a friendly and easy going Japanese girl in a Sky Chef's uniform, is working in the galley but rushes out to say hello when she sees me. She waits to hang my coat and offers to bring me a drink. Champagne, perhaps? It may be coming up to new years, but having over-indulged in the past few days, I thought a little bit of balance was in order.
This is my seat 1K on the starboard side. There are as yet no other passengers in the cabin, which is one of the reasons why I like to board early – for the pics. But basically it's the same type cabin as on my Christmas Day flight, you've seen it before.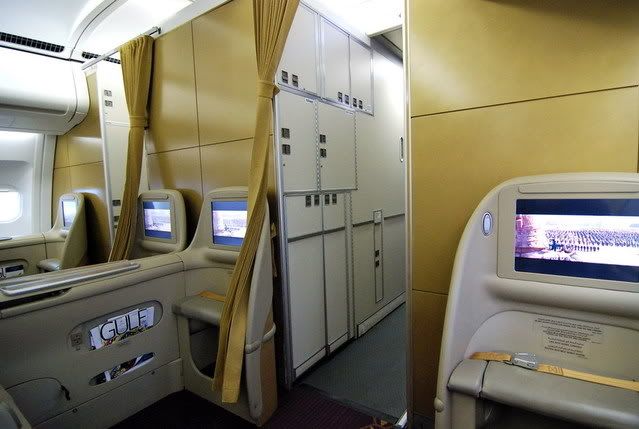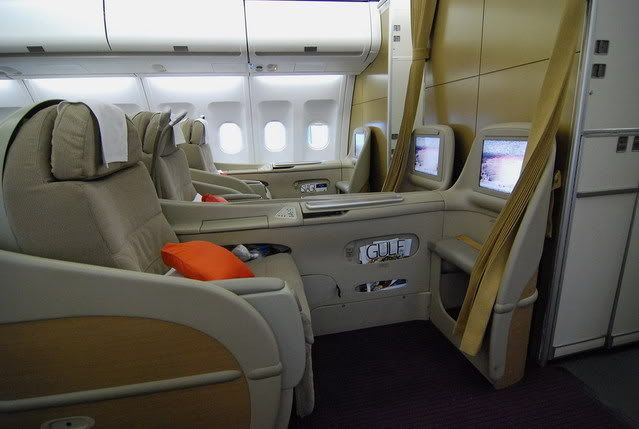 I am the only one in First Class for quite a while – starting to wonder if I'd be getting a cabin all to myself. But no such luck: my fellow passengers suddenly all turn up at once. Seven of the eight seats are occupied on this flight to Bahrain – three from the same Bahraini family including a remarkably well behaved little girl – are seated across from me in row 1, and another three passengers in row 2 who turn out to be headed for KUL as well.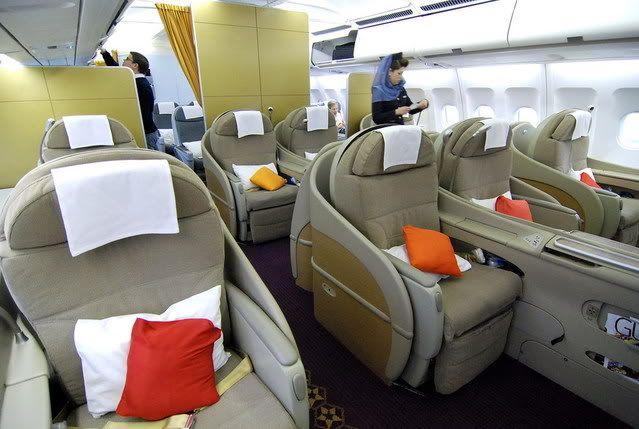 With the cabin getting busier, Mariko's colleague, stewardess Orporn from Thailand joins her in serving drinks and offering newspapers, hot towels and menus. Interestingly, pyjamas are not distributed – perhaps because it's a fully daytime service. (There are also no branded amenity kits on offer on this or any of the GF flights I was on.) The division of labor between the Sky Chef (who's recruited not from other airlines but directly from restaurants) and flight attendant intrigues me. Meal orders are naturally taken by the chef, but meals are mostly served by the f.a. – in the case of my BAH/LHR flight, stewardess Diana did all the serving at dinner. On both GF flights, it is the Sky Chefs who perform the manual safety demonstration!
We push back ten minutes ahead of schedule and are soon taxiing close to gigantic Terminal 5, home to the BA Royal Widebody Regiment, today perfectly aligned in a guard of honor. As we get there, one flashing airport fire engine after another rush past us and make for a parked BA 744 in the distance. It may just have been a drill; or was it just precautionary, perhaps there was an incident? I can't be sure. Whatever it was, it added a bit of excitement to our taxi. (Apologies for the poor picture quality – it was a distance away taken with a camera with limited zoom.)
Mariko takes lunch orders as we are climbing over the Kent countryside. She starts with seat 1A working in a clockwise direction which means that by the time she reaches me at 1K, the beef fillets as a main course are all gone. She apologizes profusely and seemed so distraught that I have to say: No, it's fine – I can have the fish, it's okay, really!
I start with the Arabic Mezze again, only this time, it's a little different.
After the starter is cleared, Mariko comes round to say she has "some news". Apparently more beef had somehow been located as we cleared 37,000 feet, and would I like that instead of the fish. I say alright and she apologizes again for the inconvenience caused.
We are making good progress. Our route across Europe from Heathrow to directly overhead Brussels, then over Frankfurt, and Budapest is starting to look like a join the dots game. What a shame the thick blanket of cloud enveloping the continent means I get to see none of them out my window.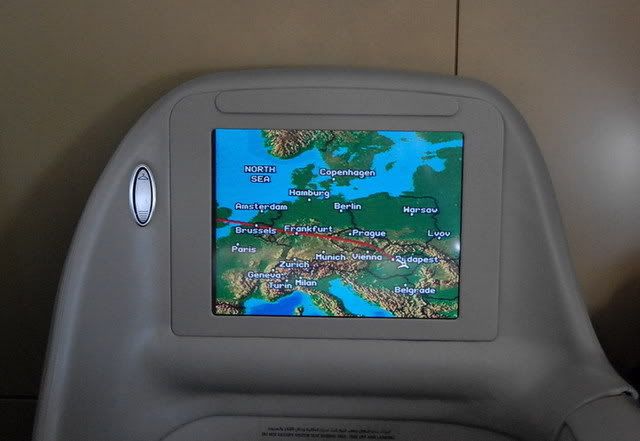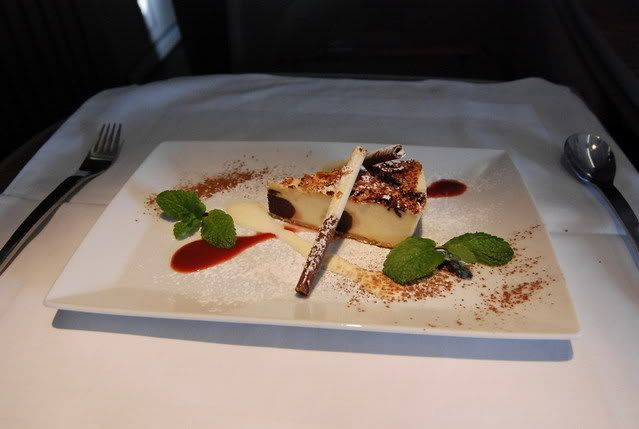 This is what Gulf Air calls its "Chocolate Explosion" as decorated by Mariko. It is a sinfully delicious dessert.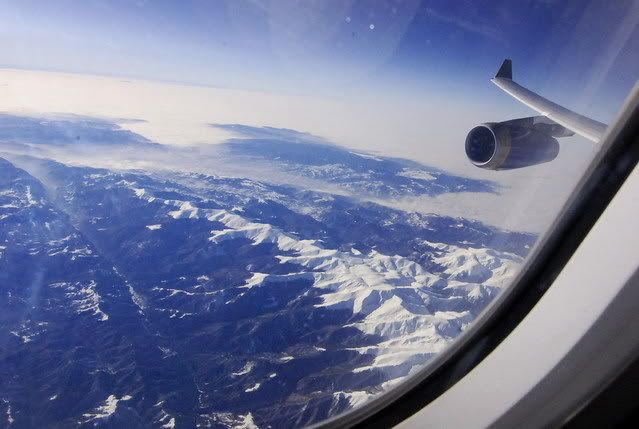 The skies clear momentarily as lunch service is completed to reveal snow-capped mountains as we fly over Bulgaria before another bank of cloud shuts off the views again. Most of the passengers are already in snooze mode or are watching a movie. I, meanwhile, take advantage of the in-seat laptop power to start on this trip report. I am not expecting – and in fact, do not get – the same level of personalized service I received on the Christmas Day London-bound flight. Not that there's anything wrong with Mariko and Orporn, both are fine crew – it's just a matter of ratios I guess, the fuller the flight, the less attention that will be lavished on you.
Our route takes us just west of Istanbul, over northern Cyprus and into Lebanon and Syria.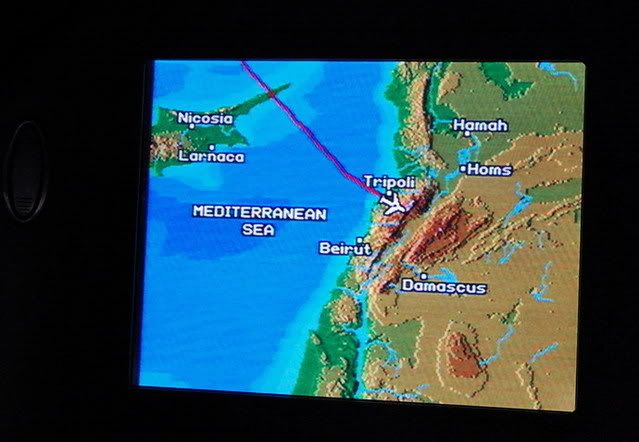 The First Class seat in the fully flat mode which I don't get to enjoy for too long.
As the sun starts to fade and with just over an hour to go, afternoon tea comprising delicate finger sandwiches and scones and clotted cream is served.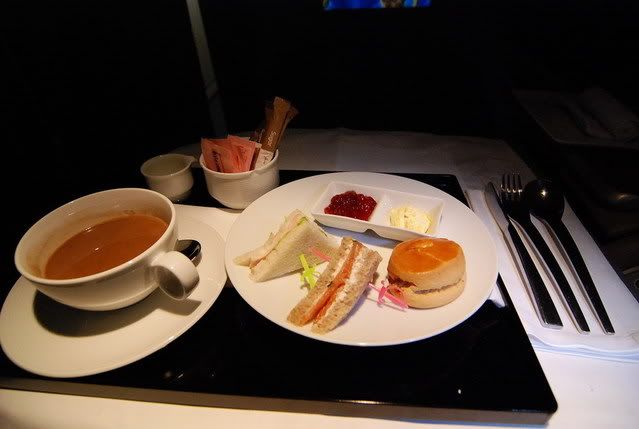 The flight seems to be ending far too quickly and with it, my holiday. In a couple of hours, the year 2008 would have ended too. Savoring the last sunset of the year over Arabia on a plane in the comfort of a First Class seat, I am suddenly feeling very privileged indeed.

transit
Back at Bahrain International Airport, where we arrive 10 minutes ahead of schedule, passengers are bussed to the airport. (First and Business Class travel in a separate mini coach that gets to the terminal before the rest.) It is now early evening and the airport is a hive of activity. I have a little over an hour to connect to the KUL flight while all around, other GF flights are being called for Bangkok, Manila, Abu Dhabi and others.
Flight GF 280 to Kuala Lumpur is departing from bus gate no 34, which is located in an annex of the airport. When I get there some 30 minutes before scheduled departure, this is what I see. Ever wondered what a fully loaded A330-200 would look like if all its passengers were forced to stand up in one room? Well, wonder no more:
The few chairs that are available are painfully inadequate for one full flight, much less for a lounge serving six gates. So, almost nobody gets to sit down. But that is not the main concern. The passengers – mainly Malaysian holidaymakers returning home after the year-end holidays – queue anxiously as hassled airline staff slowly and painfully explain to confirmed travelers why they do not have a seat on the plane. GF has over-booked the flight, and some of these passengers will not be aboard tonight.
I take my time and am resolved to be on the very last bus to the plane. It's going to take some time. As the lounge slowly starts to clear, I find an empty seat – and, next to me, Kumar who's on his way to Cochin with three duty-free bags laden with Scotch. Kumar had been working in Bahrain for 20 years. Still, there's not much savings, he says, almost everything is sent home to sustain his wife and two daughters in Kerala. He hasn't seen them for over a year. "But I am happy today," he beams. "I am going home… it will be a happy new year for me. In a few days, my daughter will be married." I leave Kumar with the promise that I'll visit Kerala one day, and feel a little uplifted by our brief meeting.
I get on the last bus. A short ride away on the tarmac is the other half of a pair of leased Jet Airways A332s. VT-JWD will be operating GF280 to Kuala Lumpur tonight.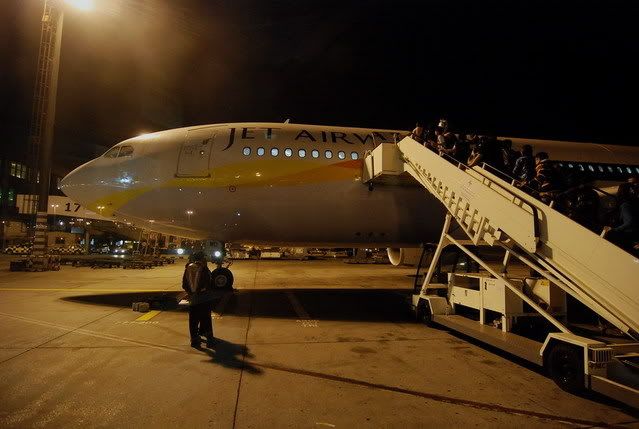 The passengers take their time, which is fine with me. Boarding a widebody by stairs is a real luxury these days, and I intend to savor every moment.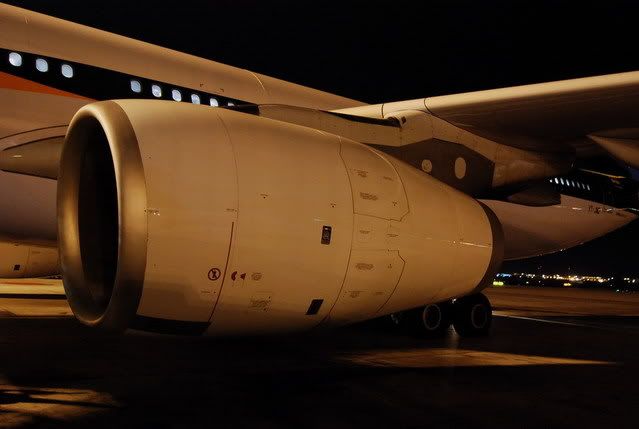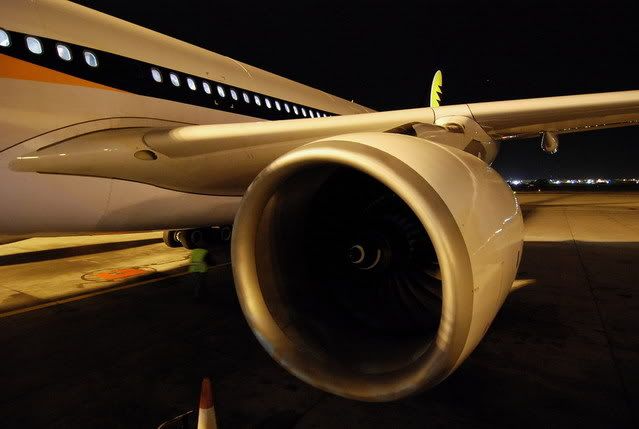 I go into a little snapping frenzy with the camera at this stage. Which is probably why I miss the beginnings of a small crisis brewing at the bottom of the stairs. A woman has dropped her cabin bags in a heap on the tarmac. Her young daughter has gone ahead of her, but she stands at the foot of the stairs, calling out in a mildly hysterical manner. A Gulf Air ground staff rushes over in her direction, but before he can reach, she announces: "I am a Business Class passenger. Do you expect
me
to carry these bags up the stairs?" My offer of help is ignored. A lady of some means, she is not talking to me, but addressing 'the staff'. "So, do you or do you not have someone to help me carry these onto the plane?" she commands.
As my help is obviously not required, I squeeze past with an "excuse me", smile broadly as I climb the stairs, and can't help thinking I'd just met one of Alexander Frater's Imperial Airways passengers.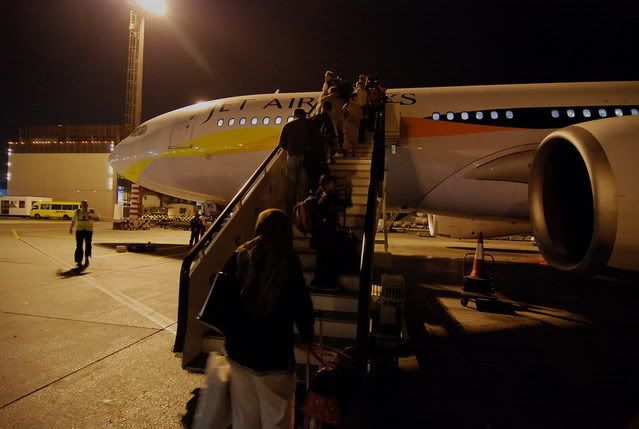 My attempt at photographing everything in sight was too good to last. Someone was bound to notice. As I snap the nice looking SriLankan A332 (headed for CMB via DOH) from the stairs, what I take to be a friendly wave from the bus driver (I give him the thumbs up back) turns out to a warning. At the plane door, a ground staff member tells me photography is forbidden. I don't protest and obediently say okay, but think: too late, I'm all done!
bahrain to kuala lumpur
Gulf Air flight GF 280 in Business Class
A330-200 registered VT-JWD, leased from Jet Airways
Dept: 20.33 Arrv: 08.59 (next day, on time)
Aboard, every seat is taken. On this flight, I am seated in the second Business Class cabin behind doors 2. A number of passengers around me have been upgraded from an over-flowing Y class. A delayed boarding on an over-booked flight is always chaotic, but the crew – stunningly beautiful Jet Airways stewardesses in long yellow coats – manage to get everyone seated and strapped in with relative ease. As the usual welcome drinks, literature and menus are distributed, we push back – remarkably just a few minutes behind schedule.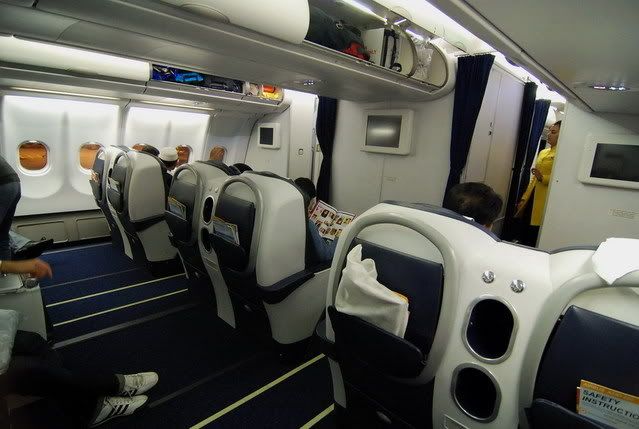 Soon we're speeding down runway 12L, and when we level off, the Jet service swings into action. The announcements may say "Welcome aboard Gulf Air" but the service is clearly Jet Airways, which must have the most attractive flight attendants I've ever seen. A stewardess, dressed in a black pant suit and looking like the perfect seductress in a James Bond movie, asks me if I would like champagne. How could I refuse?
The eastbound service takes us over the city over Dubai. At 37,000 ft and rushing along at a brisk 1,032 km/hr, we see the city below lit up like a Christmas tree as it prepares to celebrate the New Year. Even a blur attempt at a picture can make out the Palm islands offshore, while the Burj Dubai – the world's tallest building bar none – is clearly visible to the naked eye.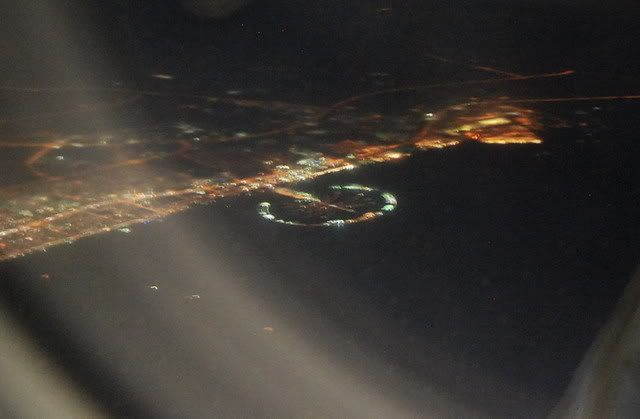 Dinner orders are taken. Having eaten more than I should since I left London, I am not too hungry, but look at the GF menu anyway. And boy, am I impressed. On a 7 hour overnight flight between Bahrain and Kuala Lumpur, the airline serves supper followed by a full breakfast. Two hot meals: amazing! (I can think of a number of so-called premium airlines which will serve one light snack on an overnight flight of the same duration "because that is what our customers prefer.")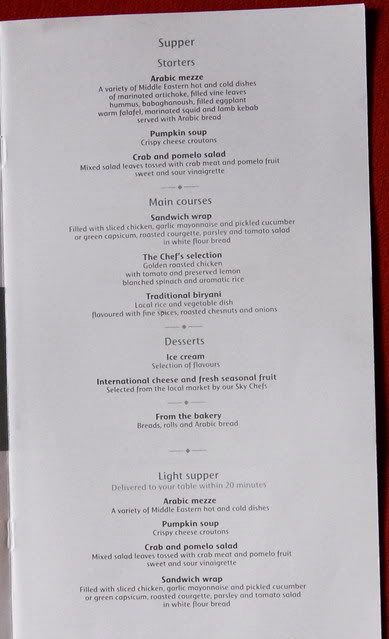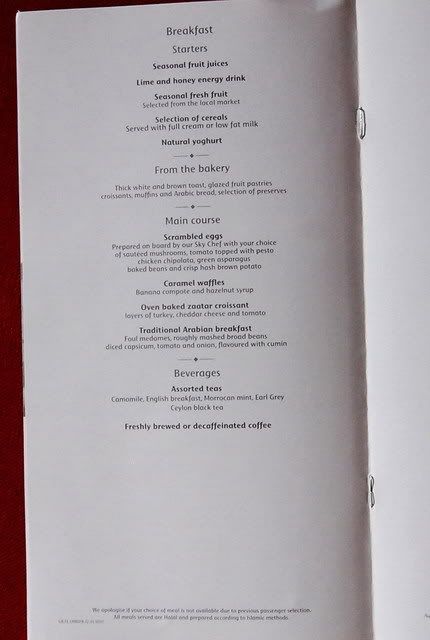 Of course, this customer did choose something light (soup and sandwich wrap; and passing on breakfast) in the end. But it is really nice to have had a choice.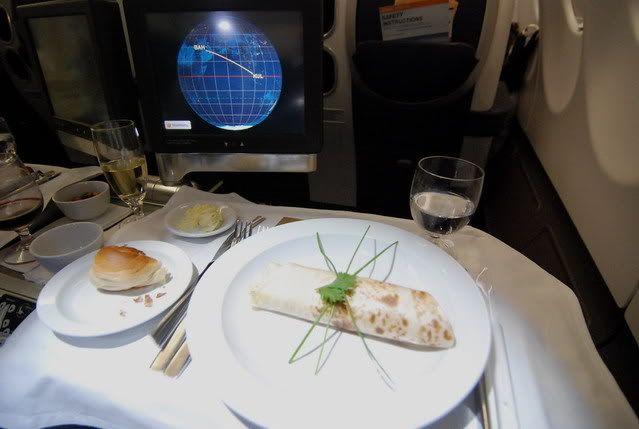 Although it is New Year's Eve most passengers, probably already too tired, just nod off in their seats. I admit to be among them. If there had been any celebrations at midnight, it would have been over the Arabian Sea, probably somewhere south of Karachi. I sleep right through it.
By the time I awake, it is already 2009, and the plane pitching and rolling as it negotiates the rough air over the Bay of Bengal. We are a just over an hour from landing and, I realize, it is the end of my journey. A Miss India contender, seeing that I am awake, bends over, and with the sweetest of smiles wishes me a happy new year. What a great start to the year.
last words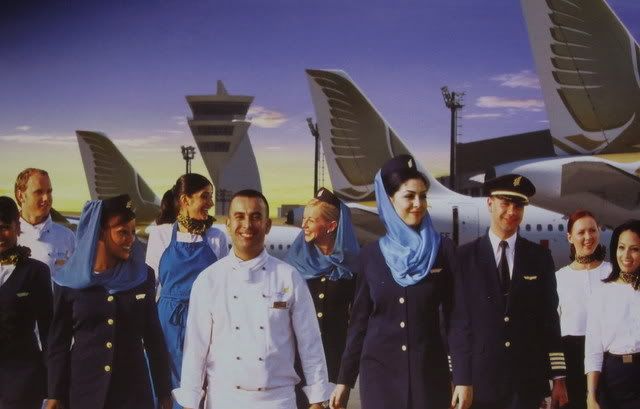 Need I say more? What a pleasant surprise this trip turned out to be. I had expected - and was quite prepared for - mediocrity from this forgotten airline from the Gulf but instead received excellence. I guess the service made all the difference. The crews aboard the two flights on GF First were top class – as good as the best out there. Was I just lucky? I really can't say; but I'd happily give Gulf Air another try. Of course, there are elements of the product which are in need of overhaul, most notably the IFE. But in the end, it bothered me less than I thought.
Finally (phew) here's wishing you a fantastic year ahead filled with lots of flying! Thanks for reading.