Well how could I miss the opportunity to fly in Turkish Airlines ( operated by Jet Airways ) First class suites on the B777-300ER .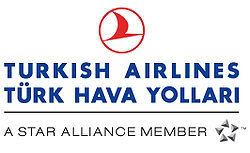 DATE : 07JAN2009
FLIGHT : TK 1980
ROUTE: LHR-IST
AIRLINE : TURKISH AIRLINES
A/C: BOEING 777-300ER
REG: VT - JEE ( WET LEASED FROM JET AIRWAYS )
NAME : KARADENIZ
http://www.thy.com/en-INT/corporate/skylife/article.aspx?mkl=304
COCKPIT CREW : JET AIRWAYS
CABIN CREW : TURKISH AIRLINES AND JET AIRWAYS
SEAT : SUITE 1A
CLASS: FIRST CLASS SUITES
The First Class advert is here :::
http://www.youtube.com/watch?v=HarvvawM45I
My journey started when I left my Mums house at 6am.
I got the train to Wimbledon and changed to the Disctrict line at Earls Court. Then I got the Piccadilly Line to Heathrow. I thought it would take alot longer than it did so I arrived at LHR very early.
Terminal 3 entrance
I saw that the TK check in was closed and went to the ticket desk.
I went to the guy at the desk and asked him when the First Class counter would open.
He straight away said '' are you Mr ...........'' I smiled and said yes. He said the check in normally opens 2hrs 30mins prior to departure but he would get someone to open up and check me in so I could go to the lounge. I thanked him and he asked me to wait for a few minutes. He ran over to the girls on the desk and then came back. He told me that they would be with me in a few mins. He appologised for the delay and I told him it was fine as I was quite early.
Then a lady from SAS handling came over to me at the desk and said ''Hello Mr ......., sorry to have kept you. Would you like to come with me and we will check you in ''. Certainly I said.
Anyway we got to the desk and another lady greeted me. Checked and my passport and tried to issue a boarding pass . Then the problem arose. The BP would not issue. They both appologised and I said it was ok not to worry. They then said this is the first time they had done it as I was the first , 1st class passenger on the LHR-IST route. I laughed and said thats nice to be the first. Anyway we chatted whilst they tried to sort out my BP. Then it was decided that they would have to manually do one and get it stamped by TK ticket desk to please BAA security.
After that the lady who was a supervisor wished me a great flight and thanked me for my patience. The other lady would be escorting me to the SAS lounge. I then said I wold like to go to the SQ lounge if that was ok. They said yes ofcourse and we made our way through security to the SQ 1st Class lounge. The lady was very nice and we chatted about aviation related things along the way.
We arrived at the SQ lounge and the lady said ''This is Mr ........'' he is our first 1st class passenger. The lady at the SQ desk smiled and said ' Thats nice , your manager was in yesterday and advised us of the new service''. The lady who escorted me then said it was a pleasure meeting me and to have a great flight. I thanked her and said I was impressed so far. She smiled and thanked me back.
I approached the bar and was asked what I would like to drink. I said a glass of Champagne and the lady said please take a seat I will bring it over to you.
Boarding pass. Also I was issued with my C class for IST-DUB the next day. Seems like the bug was the new F class codes .
Ok so after a few hours it was time to head to the gate. I had been offered a escort from the lounge to the aircraft but I said I was ok. I wanted to do my own thing. The SQ lounge was nice but not amazing. I was thinking they would have a hot buffet or something. If I was flying on SQ First Class suites I would expect more!
I approached the gate area and gave my boarding card and passport to the agent. She imediately called a guy over dressed in a suit from Turkish Airlines. He was the duty manager and the agent said ''This is Mr ......... our First Class passenger''. He introduced himself and welcomed me. He said he would be boarding me first in a few minutes. I took the opportunity to take some photos .
So after a few minutes the duty manager came to me and asked me to go with him. As we walked to the aircraft he said I will like this flight. I said Im sure I will. We approached the aircraft and were greeted by one TK and one 9W crew. He introduced me again by name and told them I was their first 1st class passenger. Smiles all round . I was taken to my suite 1A. I was amazed and trying to take everything all in. After I had been seated the duty officer came and said goodbye , we shook hands and I thanked him for everything.
Wardrobe
A TK Male FA called Cem came to me and welcomed me aboard and gave me a choice of drinks. I opted for the Lemon.
Then after that a 9W Female FA came and gave me my headset.
Storage space
Then Cem came and gave me this ::
WOW leather slippers ....Nice gift.
Then to my amazement an American guy with a 9W lanyard and Pilots uniform came to my seat and welcomed me onboard!! WOW it was the pilot . I was really impressed. He wished me a pleasant flight and said that if there was anything I needed just let the cabin crew know. I thanked him very much. So far I was just on cloud 9 !! I couldnt believe what was happening.
Indian writing
We pushed back from the gate and made our way to the runway, at this point Cem and the 9W crew member came and gave me a safety demo. Was quite funny.
Then I saw an SQ A380 in front of us. Crew were seated and I looked out of my suite and saw the 9W FA strapped in. I said im on the wrong side!! She looked puzzled , I said there is a SQ A380 in front of us and I want to take pics. ''Can I move?'' She smiled and looked around we were not moving and said yes ok if your quick. I hurried and said thanks. I quickly sat down and took my pics.
After take off I moved back to 1A and said thanks again. She smiled and said its only better from the outside , this is better from the inside. I smiled.
Soon Cem gave me the menu and wine list. And a hot towel .
I couldnt believe the menu , it was a really good selection and certainly First Class.
The Champagne was the best I have tasted and I must get myself a few bottles.
Then my table was laid .
I was constantly being topped up with Champagne and Water and making sure I had everything I wanted. The service was carried out jointly by 9W and TK crew. 9W are training
TK and you know that the Indian crew just have the edge with attention to detail but I guess thats why they are being trained.
This was one of the best Cappuchinos ever
After all this the crew asked me if there was anything else I would like. I just said no thanks I need to go for a walk as Im so full LOL... They said well its a long aircraft so feel free. I said I wanted to take photos of the different classes and they said feel free and smiled.
My suite
Bar between F and J class
Business class. Very nice
I tried the seat and it was very comfortable and spacious.
Then it was time to go into the unknown LOL...
I tried the seats and PTVs and have to say I was very impressed. Economy would suit me fine in this A/C anyday.
I then got talking to the crew and I have to say they were lovely and so nice to talk to.
Back through to Business class
Then I got chatting to Cem and another FA who was attending to J class. We had a good chat. He told me that when they get the 3rd 777 it will be on the JFK route.
He was due to work a HKG flight also. They loved the new A/C and said it was nice to have so much space and upgraded product. They also said it was great to work with the Jet Airways crew and had made good friends. The Jet Airways crew are only temporary until TK get familiarised with the A/C.
Bathrooms
The subject of Cherry Juice came up when chatting to the crew about similar things in Greece and Turkey and after I had sat down back in 1A , Cem brought me a glass. I laughed and said thanks alot. Was a nice touch. He was telling me places to go in Turkey in future. Pamukalle,Cappodochia are now on the list!!
He also told me about the stars at night on the ceiling in the cabin and as we started to make our decent they came on .
Reminded me of my 777 trip on EK a few years back. Nice touch.
Soon it was time for landing and the crew made the cabin ready.
I thanked the crew and asked them if I could take a pic. I wanted to get 9W and TK photo.
The crew were all so friendly and made my flight so special. Cem asked me if everything had been ok because it was his first time doing first class service. I said '' You were all 100% 10/10 and the service was fantastic'' His face lit up and I could see he was happy to hear that. I thanked all of them for the best flight in my life !! We said goodbye and they took me to the door and shook hands. The door opened and standing there was a model looking lady from TK with a sign with my name on it. I said my name and she welcomed me to Istanbul and told me to follow her. I was surprised as I did not expect that. At the top of the jetway was a buggy which took me to passport control. She hopped out took my passport and got me a Visa GBP10 or €15 which I had given her. She then drove me to the fast channel for passport control which was only meters away from the Visa desk. She told me she would meet me on the other side.
I passed through in minutes and she told me my car was waiting to take me to the hotel. She called on her mobile as we walked towards the exit. A black luxury car pulled up and the lady from TK said goodbye and asked if everything had been ok. I said it was an amazing experience and she thanked me .
I was to my hotel in around 20 minutes and checked in met my friend before taking a taxi into Sultanahmet for the evening. Istanbul is magical at night. Agia Sophia and Topkapi all lit up.
Anyway thats the end of my first part of my trip. What can I say , the photos speak for themselves. Turkish Airlines with the help of Jet Airways exceeded all expectations and all I can say is that if TK provide this type of service on HKG/SIN/JFK etc... then some airlines need to watch their heels!!
You know when you see a video of an airline for First Class you think, ''If only it was like that in real life''. To me the advert was how I felt at the end of my flight.
In 33 years of flying this was the best experience of my life . Well done Turkish Airlines you have one mega fan now . To the crew , I hope I get a flight with you all onboard sometime in the future.
---------------------------------------------
I took some videos of all classes and they can be found here ::
http://s488.photobucket.com/albums/rr244/tktrvids2009/
I hope you all enjoyed this report and comments appreciated as usual.
OA260