The short hop home in Singapore Airlines Business Class: Singapore Changi Airport (SIN) to Penang International Airport (PEN)
Two days after arriving in Germany on SQ26, it was time to head back to Malaysia. This is the return journey of the two part "Singapore Airlines Business: PEN-SIN-FRA" trip report, which can be found in respective order
here
and
here
.
This is the follow up to the 'The Good Old Days Revived: SQ Business' trip report, which can be found
here
. Enjoy.
Introduction
Having just come off one of the best flights in my life, my short hop back home to Penang did not really matter much anymore. It was more like a little shuttle service the Singapore Airlines way. Nevertheless, the PEN-SIN-PEN route is very important to Singapore Airlines and with Air Asia slowly being allowed to enter the highly profitable Malaysia-Singapore market, I was keen to see if the airline was still on top of its game.
General Flight Overview
Airline:
Singapore Airlines (SQ)
Flight number:
SQ 192
Origin:
Singapore Changi Airport (SIN)
Destination:
Penang International Airport (PEN)
Distance:
373 miles
Scheduled departure time:
08:05
Scheduled flight time:
1 hour 25 minutes
Class of Travel:
Business Class
Seat:
11A
Aircraft:
777-212/ER
Registration:
9V-SVG
Departure Airport
After travelling on a 12 hour flight from Germany, it was now time to take a nice hot shower in the new Sliver Kris Lounge. As I entered the bathroom and approached the shower section, a very friendly assistant asked me if I wanted to take a shower. As I confirmed my intentions, he gave me a towel and led me to my room.
The showers were still gleaming as if they were brand new and were impeccably clean. In addition, I liked the layout, with the separate showering area behind the large metal screen. The entire experience was one of quality and it was obvious that a great deal of thought had gone into the design of the little shower rooms. There was everything one could ever want and more.
One of the little shower rooms in the Silver Kris lounge.
The stylish sink and the amenities on the right hand side.
The very powerful and slightly complicated showerhead.
After a very rejuvenating hot shower I barely had enough time to grab a drink before proceeding to Terminal 2. The new Silver Kris lounge was very empty this morning and I was trying very hard to maximize my time in this beautiful place. The buffet was, as usual, very well stocked, but I knew I had to resist as there was more food to come. Instead, I settled for some sparkling mineral water while checking my email using the
free wireless internet
– Lufthansa, take note!
The very empty and slightly subdued Silver Kris lounge in Terminal 3.
My glass of Gerolsteiner sparkling mineral water.
The very well stocked buffet section in the early hours of the morning.
If there is one aspect of Changi Airport I dislike, it would have to be the absurdity of the information screens. They frequently display 'final call' even before boarding has begun! Now I know it is all about making sure passengers get to their flight on time, but I think the information screens are a over the top with their remarks at Changi Airport. My onward flight to Penang, SQ192, was scheduled to depart at 8:05. The remark on the information screens was already 'boarding' as I was about to leave the lounge behind. The time was 7:10.
The view from my seat in the Silver Kris Lounge.
The bright orange pillars lighting up their surroundings.
The main corridor leading into the Business Class section of the Silver Kris lounge.
Even though I knew I still had ample time left, the 'boarding' remark on the information screens always trends to get the better of me. This time was no different and I quickly proceeded towards the Skytrain to Terminal 2. My gate for SQ192 was F50, which is relatively close to the Skytrain station, so before long I had arrived at the security check. The time was now 7:25. There was no boarding going on whatsoever.
The vast expanse of the now 'old' Terminal 2.
One of the several green areas inside the Changi Airport Terminal complex.
My Gate for SQ192 to Penang today: F50.
At the gate security check I was met by a small queue, but it was moved forward relatively quickly. A friendly Singapore Airlines agent then checked my boarding pass and wished me a pleasant flight. The time was now 7:30 and the 'boarding' remark for SQ192 had changed to 'final call', even though we were not even boarding yet. Typical. With nothing else to do, I sat down in the waiting hall and grumbled at myself for falling for the 'boarding' remark yet again. Believe me, this was not the first time!
9V-SVG waiting at gate F50 for the short flight to PEN.
The rising sun over a rather sleepy Changi Airport.
The waiting hall at gate F50 just before the first boarding call was made.
Thankfully, my wait did not last long and boarding for Business class passengers as well as PPS club members was called a little less than half an hour before scheduled departure. Only one or two passengers stood up for this announcement, which would once again mean a very light load in Business today.
After a brisk walk down the jetway I was onboard SQ192 to Penang at 7:40, 25 minutes before scheduled departure.
The jetway leading onto SQ192
Aircraft
Singapore Airlines has the largest fleet of 777s in the world at 76 aircraft. This includes 46 777-200/200ERs and 30 777-300/300ERs. Singapore Airlines uses the 777 on every possible route imaginable, from the extremely short hop to KUL to long transpacific flights. Usually, 777-200/200ERs are used on the short Penang - Singapore route and today was no different. The aircraft normally used for the early morning flight to Penang is the long haul 777-200ER from the MAN-SIN flight a few hours before. This means that it is equipped with the SpaceBeds, which are a complete overkill for a one hour flight. Not that I am complaining.
My aircraft today, 9V-SVG, looked as if it had just been delivered yesterday. The cabin was impeccably clean and very well maintained. This 777-200ER could carry 285 passengers in a two class configuration – 30 in Business Class and 255 in Economy Class. The Business Class cabin is set out in a 2-2-2 layout, which felt extremely spacious. In fact, it felt even more roomy than the 747-400 I had previously flown with to Singapore all the way from Germany. Ironic, don't you think?
9V-SVG:
This 777-212/ER had its maiden flight in April 2002. The aircraft is owned by Singapore Airlines and the first flight in Singapore Airlines colors was also in April 2002.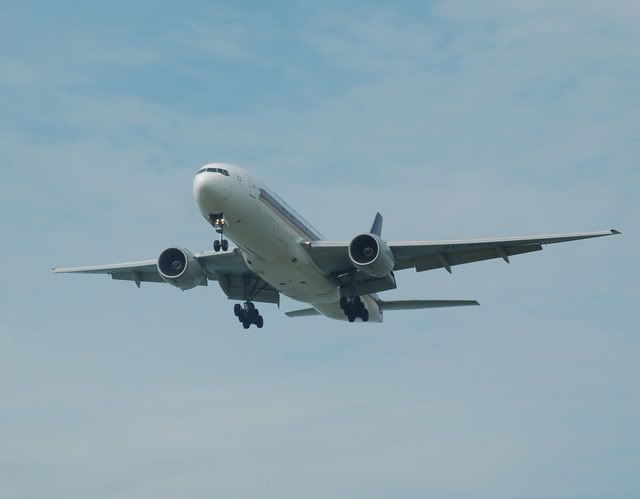 9V-SVG landing at PEN.
Flight
My boarding pass for SQ192 from SIN to PEN.
At the door, I was welcomed by the cheerful in-flight supervisor who proceeded to take me to my seat personally. After a quick chat with him, my suspicions were confirmed: today would be a very empty flight. I was the only passenger in the Business Class cabin for over ten minutes, so without any hesitation I did what any A.netter would do - I reached for my camera!
The Business Class cabin of this SQ 777-200ER.
The very spacious cabin with the generous 2-2-2 layout.
The first row, featuring a little bit of additional legroom.
As soon as had I recovered from my photo-mania and settled back down in my seat, one of the Singapore Girls came to offer me pre-departure drinks. Having lost all sense of time after traveling for so long, I decided to scrap the "12 noon first drink" rule and I opted for the Champagne. The remainder of the boarding process moved along swiftly and four other passengers joined me in the cabin just before pushback.
My amazing seat for this one hour flight: 11A.
The more than sufficient legroom onboard SQ192.
My pre-departure drink: a glass of Charles Heidsieck Brut Reserve.
It was not long before the doors were shut and SQ192 commenced pushback at 8am sharp, five minutes before scheduled departure. Not surprisingly, this would be another punctual Singapore Airlines flight. The safety video was then shown as my glass was collected and the cabin was prepared for takeoff.
Another SQ 777-200ER parked at the gate next to us.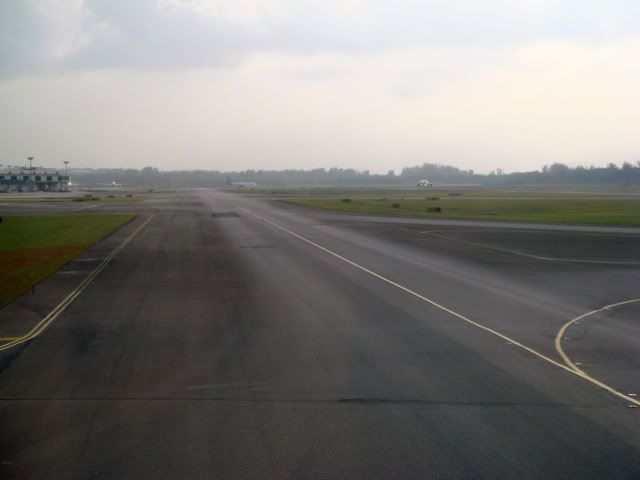 The long and empty taxiway at Changi Airport.
Yet more Singapore Airlines 777s parked at Terminal 2.
The long taxi to runway 20C would take us down almost the entire length of runway 02C/20C and the terminal buildings. At this time of the day there was very little activity on the tarmac – it was the complete opposite to the hustle and bustle I had witnessed at Frankfurt a few days before. Even so, the enormous presence of widebodies at Changi was breathtaking as usual.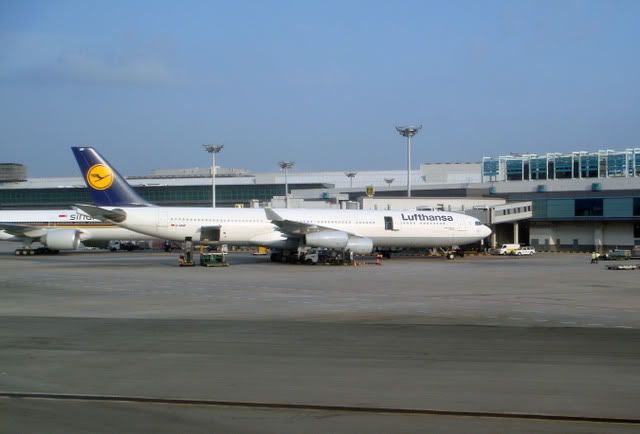 A Lufthansa A340-300 from Munich.
A Cathay Pacific 777 and A330 bound for Hong Kong.
A Philippines Airlines A340-300 flanked by a Fedex MD11F and Brunei Airlines A320.
With so few movements on the tarmac, SQ192 rolled onto runway 20C straight away. With five passengers in Business and a load of 60% in Economy the 777-200ER blasted down the runway and lifted off before we had even passed all of the terminal buildings. Then again, a 370 mile hop is hardly noteworthy for an aircraft designed to fly almost 6000 miles at maximum payload. After takeoff the aircraft preformed a series of sharp left turns, giving excellent views of Changi Airport below.
Liftoff from Changi Airport at 8:10am.
Changi Airbase (East) as well as runway 02R/20L in the hazy morning sun.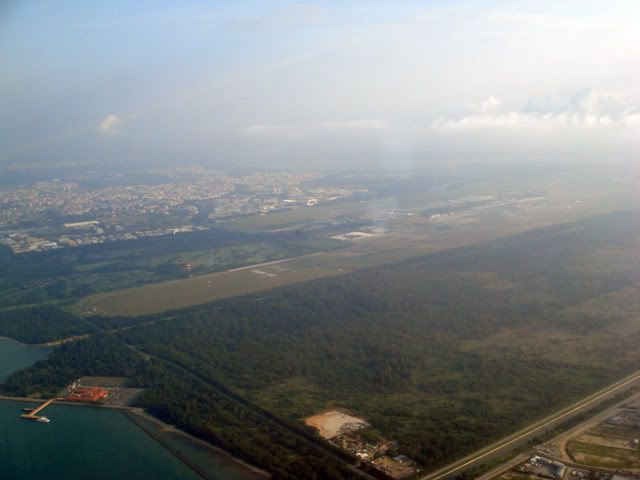 Runway 02C/20C from which SQ192 had just departed.
As the aircraft climbed rapidly, I took some time to reflect on how lucky passengers flying these short hops in Asia actually are. Sitting in a massive Spacebed with practically endless legroom on such a short flight would be unheard of in Europe or America on a scheduled service. Yes, there are the odd equipment changes there as well, but Singapore Airlines sends three 777s to Penang every day. (Two of them, the early morning and evening flight, feature the SpaceBeds and the afternoon flight has the Ultimo seats instead.) However, I do have some doubts as to whether this amazing service will be around for much longer. With Silk Air soon beginning flights to Kuala Lumpur and SQ cutting back its operations there, Penang may be next in line to receive some cutbacks. Business Class is, in my experience, always less than half full and I fly this route quite frequently. Nevertheless, Economy does seem to perform far better with flights often leaving almost completely full.
Changi Airport and Changi Airbase (East) below.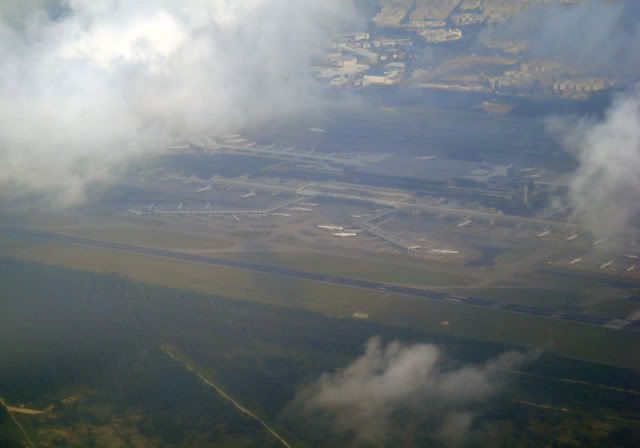 Terminals 1 and 3 clearly visible between the clouds.
A rare sight: the shadow of the aircraft in the clouds below.
As soon as the seatbelt sign was extinguished the crew began preparing breakfast. The flight time today was just 55 minutes so this called for some efficient service and fast eating on my part. Luckily I knew that I would not have to wait long until the food would be ready. Within ten minutes my Asian breakfast was served.
My breakfast tray including some fruits, water, a Diet Coke and the Asian breakfast.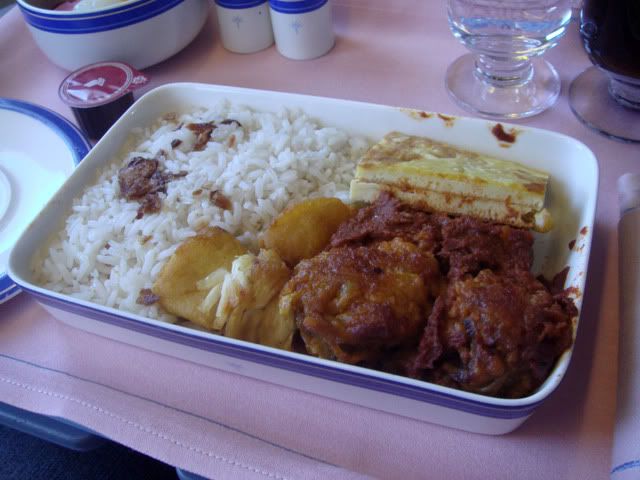 The tasty Asian breakfast, consisting of rice, fish, chicken and egg.
In my opinion, some of the best Asian food comes from the SATS inflight catering in Singapore, so when it came down to choosing between a boring omelette and an Asian breakfast, my choice was simple. Surely enough, I was not disappointed. The fish was very smooth and the chicken was nice and spicy – in other words, a perfect welcome back to Asian cuisine!
Before I had even managed to finish my breakfast, the captain had already turned the seatbelt sign back on and was announcing our decent into PEN.
I missed my obligatory walk around the cabin. Maybe I should have eaten faster.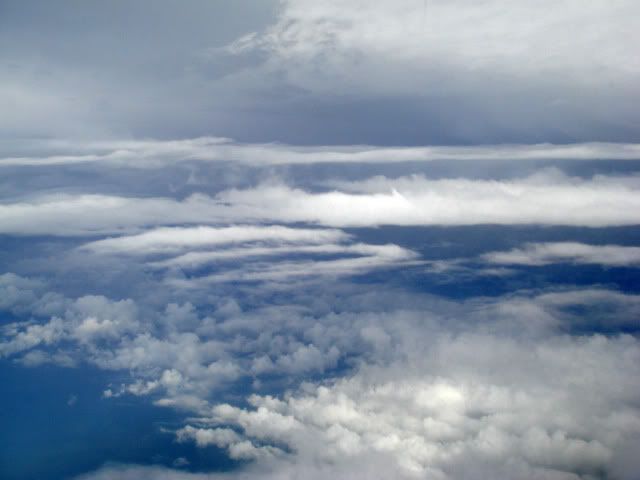 SQ192 descending through the clouds as we approached Penang.
The first sight of a very gloomy looking Penang Island.
One of the few uninhabited Islands surrounding Penang.
As the cabin crew prepared the aircraft for landing, the inflight supervisor came around to personally thank the passengers in Business for flying with Singapore Airlines. Well, I guess there were only five of us, but it was still a nice gesture anyway. Once again, the crew had been flawless. However, they did not leave the same lasting impression that the crew on my previous flight had left - then again, I had probably been spoilt beyond repair.
The PTV showing the short flight path between SIN and PEN.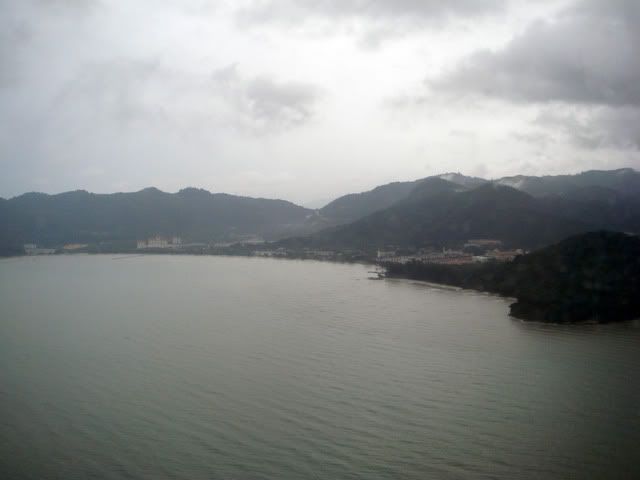 The first signs of civilization on Penang.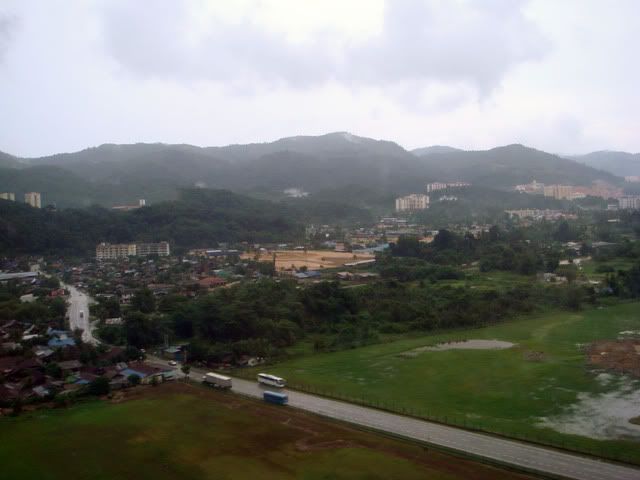 One of the Kampungs either side of the bottom of the runway 04 in PEN.
After spending just 50 minutes in the air, SQ192 lined up with runway 04. The final descent was very bumpy, probably owing to the massive thunderstorm which had ranged over the island the night before. Nevertheless, at 9:00am, 30 minutes ahead of the scheduled arrival, SQ192 performed a very smooth landing at Penang International Airport. My four day expedition to Europe had come to an end.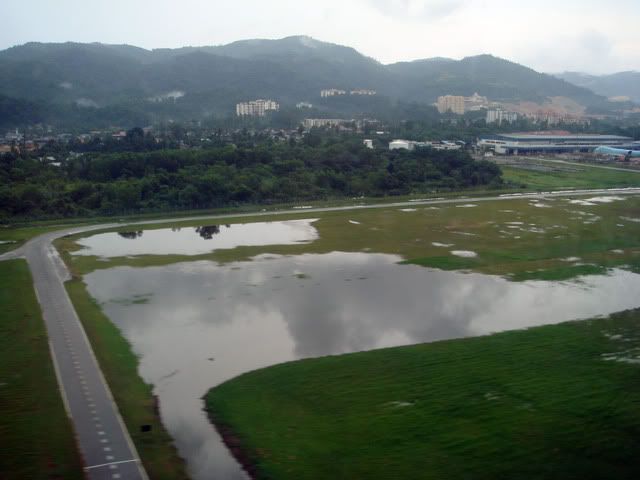 The remains of the powerful thunderstorm the night before.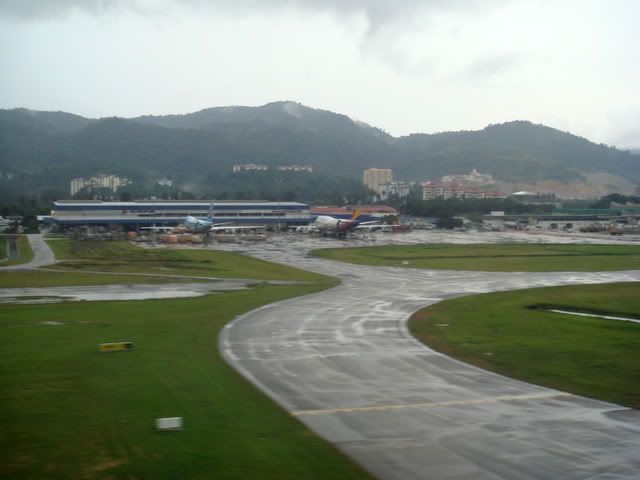 An Asiana and Korean Air 747-400F at the cargo stand in Penang.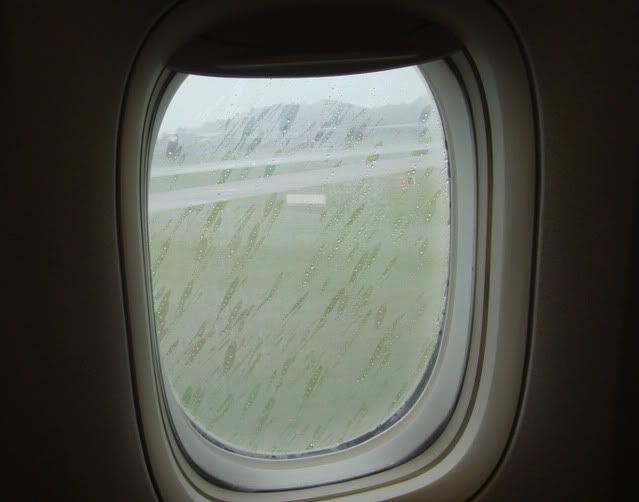 The rain had obviously not quite stopped yet.
The taxi to the gate was swift as usual and by 9:10am it was time to gather my belongings and say goodbye to the crew.
Arrival Airport
I thanked the crew for another great flight and legged it to immigration before all the other passengers arrived. In the past, I have had to wait in line for quite a while, but today I was one of the first people to arrive. To be fair: I did have a head start.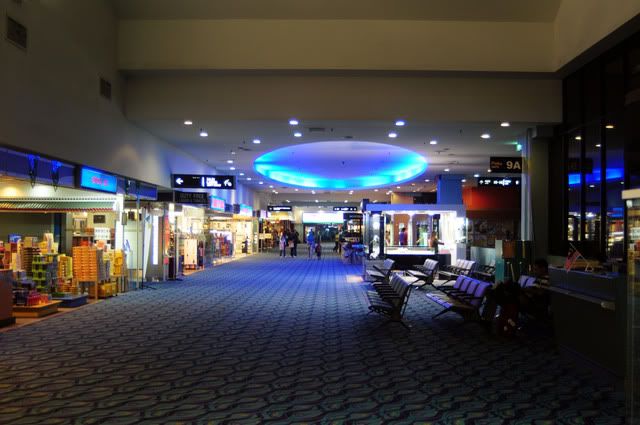 The very quite terminal building as I headed for immigration.
The empty immigration hall at PEN.
And so my travels had come to an end. I had never flown so many miles in such a short time, but I did not feel the least strained or tired – in fact I was rather disappointed that it was all over. Even though I could console myself with another trip to Germany in just three weeks time, I knew that I would not have an experience quite like this for a long time to come. Only time will tell.
Overall Impression
In Business Class, Singapore Airlines has no competition to worry about between Singapore and Penang. Their product, and their equipment in particular, is exemplary – if not a little excessive – for such a short flight. The crew was excellent and the food was delicious as well. In fact, throughout this entire trip Singapore Airlines has once again shown that half the reason why it is such a world class carrier is because it is consistently excellent. Not once did I encounter a fault with the equipment or an unpleasant member of the crew, which is quite remarkable in this day and age of cost cutting and financial turmoil. Once again, I would unconditionally recommend flying Singapore Airlines between Singapore and Penang.
(2.0) Booking & Reservation: 10.0
(1.0) Check-in: 8.5
(1.0) Airline Airport Facilities: 9.5
(0.5) Boarding: 9.0
(2.0) Seat: 10.0
(1.0) Entertainment System: 7.0
(2.0) Crew: 9.0
(2.0) Food and Beverages: 9.0
(0.5) Amenity kits and other freebies: N/A
(0.5) Arrival: 9.0
(1.0) On-time performance: 10.0
Overall weighted score: 8.89
Thank you for taking the time to read the final part of this trip report. As always, any comments and opinions are welcome and much appreciated.
Upcoming trip reports will feature flights with QR from KUL via DOH to FRA, flights with Air Berlin and FlyGlobespan within Europe as well as flights with SQ between MAN and SIN. Then, in Easter, I will attempt one of the craziest trips yet to be featured on Airliners.net: Four long haul and ultra long haul flights, including some on the A380, one after the other. Ever wondered how to add a little adventure to the hop across the Atlantic? Find out in Easter!
If you liked this report, you may also be interested in my recent six part trip report from Penang to Muscat.
PEN to MCT via KUL and DXB with EK and MH:
1. Penang - Kuala Lumpur
,
2. Kuala Lumpur - Dubai
,
3. Dubai - Muscat
.
MCT to PEN via DXB, SIN and KUL with EK and MH:
1. Muscat - Dubai
,
2. Dubai - Singapore - Kuala Lumpur
,
3. Kuala Lumpur - Penang
As always, safe flying.
Globetraveller