Before starting, I would just like briefly list some historical facts about Drukair:
- Its first revenue flight occurred on Feb 11 1983 as KB 101 to CCU from PBH.
- KB began flights to DAC on Oct 30 1986.
- A BAe 146 was ordered in 1987 and it was delivered on Nov 21 1988.
- Service to DEL, BKK, and KTM began in 1988 and 1989.
- A second BAe 146 entered service in 1992.
- Two brand new A319's were delivered in late 2004 making it the largest single purchase Bhutan had ever made. Buddhist astrologists were consulted to make sure the aircrafts were delivered on an auspicious day, Oct 19 2004.
- Drukair is currently the only airline aloud into Bhutan and is based at Bhutan's only international airport, Paro Airport.
This TR with include the following flight:
- KB 204 PBH-KTM-DEL (A319)
I had originally intended to do a TR on the DEL-PBH sector, however I discovered that my camera battery was dead as I arrived to check-in at DEL. Thankfully my video camera was still working, so I was able to capture the world famous approach into PBH. This is arguably the most dangerous approach in the world that commercial jets fly.
Click
here
to view the arrival video into PBH.
Also I'll add a quick summary of KB 205 (DEL-KTM-PBH) before I begin this TR.
Due to the fog delayed in DEL, the flight was delayed for about 4 hours. KB didn't really communicate too well about the delay in DEL but it was obvious that the fog was preventing any aircraft from departing or arriving. After about 2 hours into the delay, KB bought subway sandwiches for everyone on the flight, which was very nice. Something a U.S. carrier would probably never do. Anyway, we boarded at about 11:30, push backed at about 12:10, and took off at about 12:45. I was worried about making the curfew into PBH, which is 16:30, but we made it in with 30 minutes to spare thankfully.
Anyway, back to this TR. After a FANTASTIC trip throughout Bhutan (Thimphu, Punakha, and Paro) it was time to return back to the U.S.
Purchasing tickets for Drukair is very challenging. They are not in any GDS (that I'm aware of) and the time table on their website is not accurate. A travel company in India who arranged our trip to Bhutan issued the tickets for Drukair and handled the visas. I was shocked to see that we had received e-tickets via e-mail and to discover Drukair doesn't issue paper tickets at all.
Drukair KB 204
We were driven to Paro International Airport and arrived about 2:30 before our flight. This airport is very cool looking with traditional Bhutanese architecture.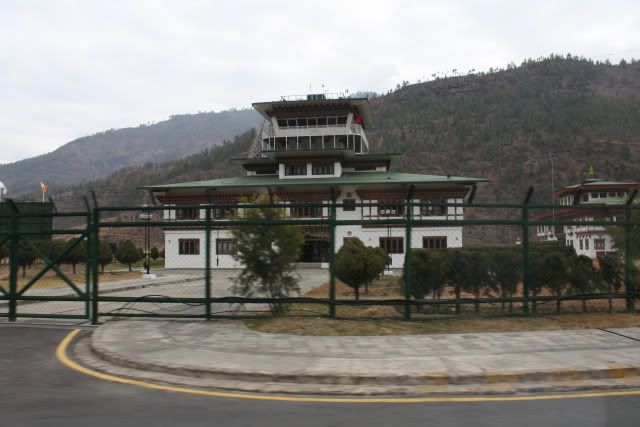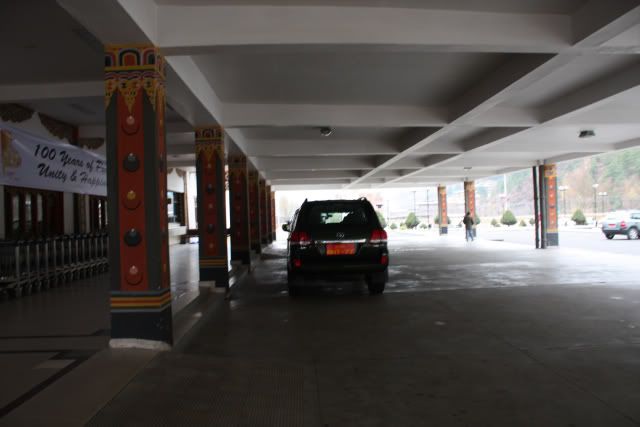 As we entered the terminal, there were two security agents sitting at a desk next to the door. They didn't seem to take any notice of our entrance so we just continued towards the check-in desks. Shortly after, we realized the check-in desks were behind a security checkpoint that people were freely walking past. There was also a way to walk around the checkpoint completely by going through a set of doors. Before checking-in my dad walked freely past security and then past immigration without be checked by anyone because he was looking for a shop to buy some last-minute souvenirs.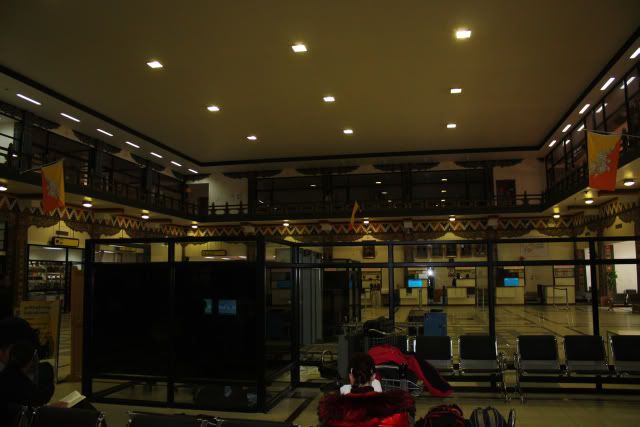 Anyway, at about 12:00 the check-in desks opened and the security checkpoint "opened" and they began to actually scan bags. People were still avoiding this checkpoint completely by walking around through that set of doors I mentioned earlier.
After being x-rayed, our bags were tagged with a "Security Checked" label.
After we arrived at the check-in desk, we waited about 10 minutes until an agent appeared and began the check-in process. The check-in process was completely manual here. I don't believe any computers were being used and the lady was holding a printed manifest and wrote down our seat number on them. As we were checking-in, we asked for two window seats behind each other behind the wing. The check-in agent did not seem too fond of this idea and gave us a center and window in row 12, which is over the wing. My father tried to ask again and she did give us two windows, however, still over the wing. I was hoping for seats behind the wing so I could take pictures of the mountains without the wing obstructing it.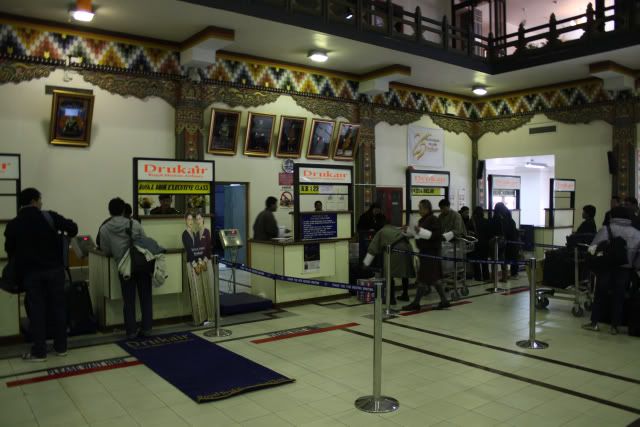 After checking-in, we went pass immigration for real this time and waited in this holding area.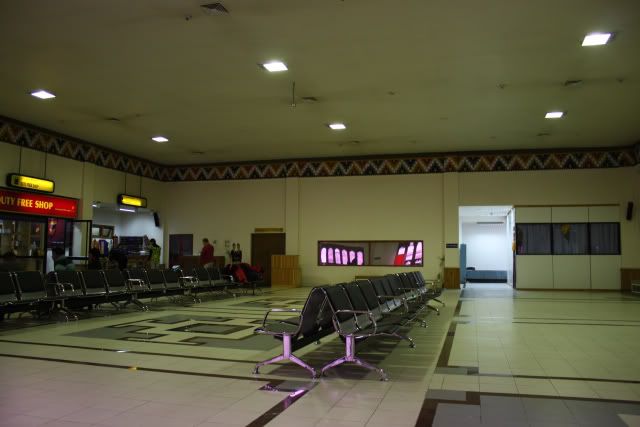 C class lounge.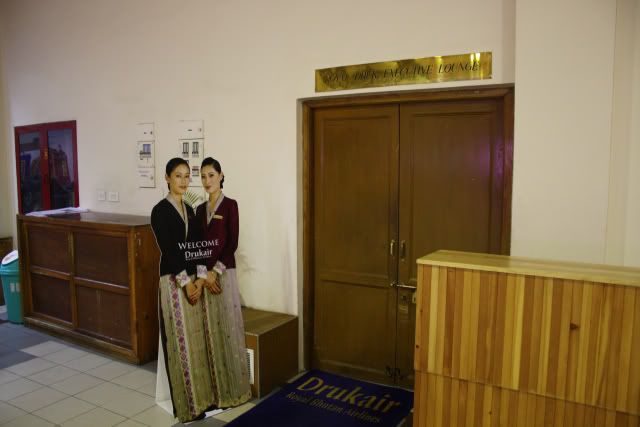 As I was exploring the holding area, I noticed this conveyor belt down a hallway so I wondered over to see what it was. It turned out this was the belt that transferred checked baggage from the check-in desk to the location where it is then loaded on to the aircraft. Is it not a security problem that anyone can just walk up to this un-guarded belt? It seems that it would be easy for someone to put something in someone else's checked baggage. I seriously doubt there are any terrorist intentions in the country of Bhutan, but still.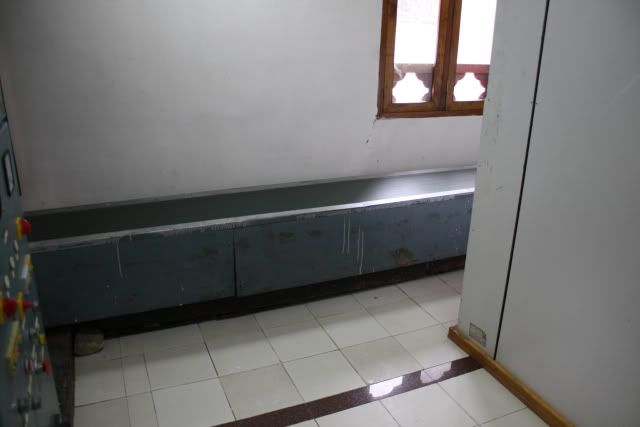 After more waiting, we were told to proceed through another security checkpoint to another holding area. As I entered the second holding area, I discovered a bunch of people sitting there. There were still a bunch of people in the other holding room so this was confusing because it seemed like too many people to fit on one A319 to KTM and DEL.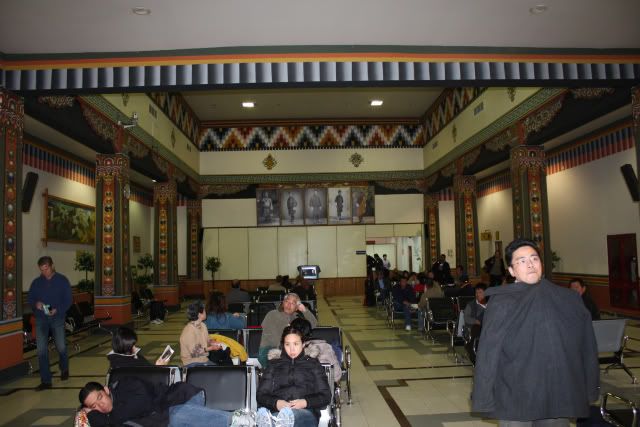 The aircraft I thought would taking us to DEL, A5-RGF.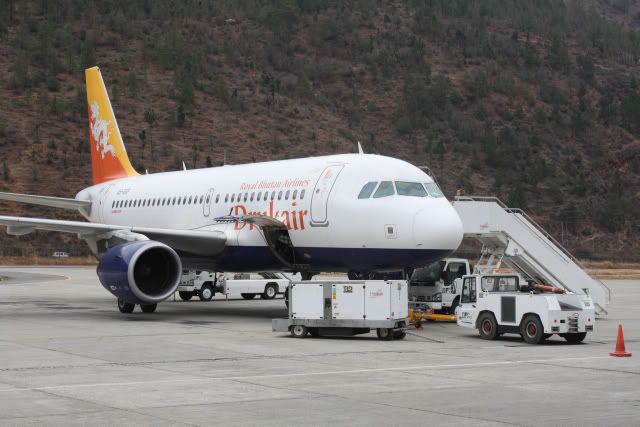 At about 12:30, a bunch of people lined up at the boarding door. As I approached the door and the agent looked at my boarding pass, she yelled "WRONG FLIGHT! THIS ONE TO BANGKOK, NOT DELHI!" Oops! The BKK flight was supposed to leave a 09:00. I wonder where our aircraft was then…
I then began to worry because our aircraft was not on the ground when it was supposed to arrive into PBH at 10:00. Plus, we had to connect to AI 102 to JFK at 00:30. To my relief, A5-RGG landed at about 12:45!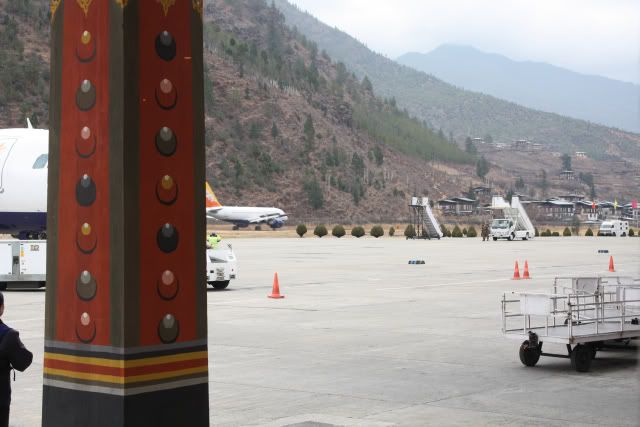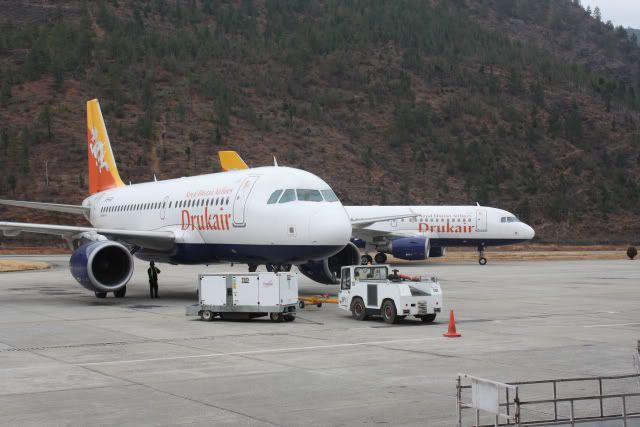 And just as A5-RGG parked, A5-RGF pushed back.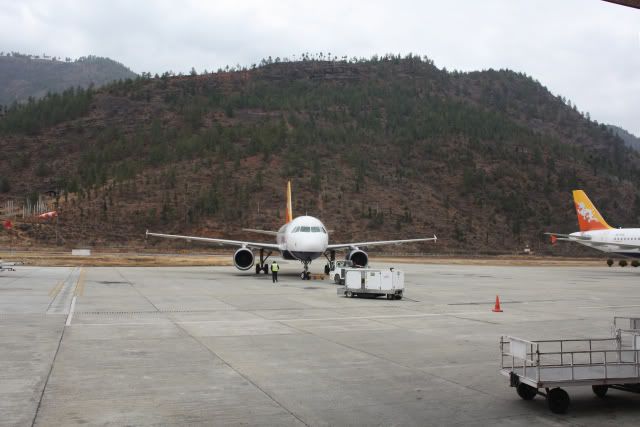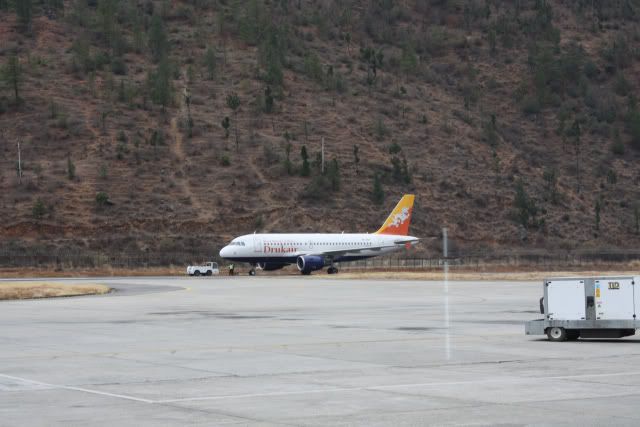 Airline:
Drukair – Royal Bhutan Airlines
Aircraft:
Airbus A319-115
Flight:
KB 204
Date:
04-Jan-09
Departure Airport:
Paro Airport (PBH/VQPR)
Arrival Airport:
Delhi Indira Gandhi International Airport (DEL/VIDP)
Stops:
Kathmandu Tribhuvan International Airport (KTM/VNKT)
Scheduled Departure Time:
13:55
Actual Departure Time:
14:17
Scheduled Arrival Time:
17:00
Actual Arrival Time:
17:33
Departure Terminal:
N/A
Arrival Terminal:
Terminal 2
Class:
Economy (Y)
Seat:
12F moved to 22F then back to 12F
Registration:
A5-RGG
Estimated Load Factor:
60-70%
At about 11:55, boarding began. There was no boarding call or anything. People just began boarding when they noticed the door was opened.
Boarding pass. My name was not written on it.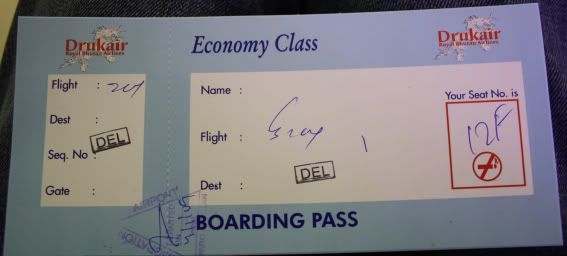 Some pics I got walking across the ramp towards our aircraft.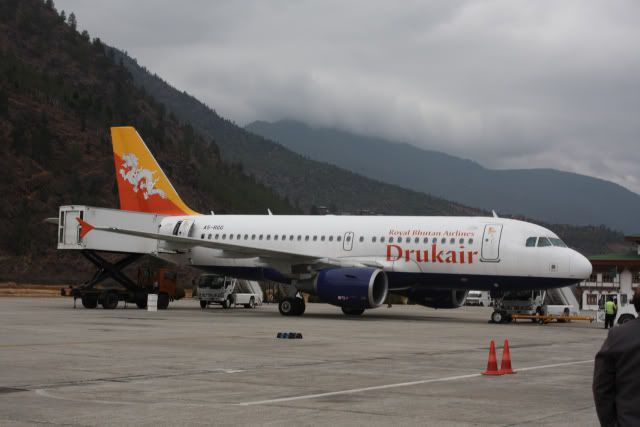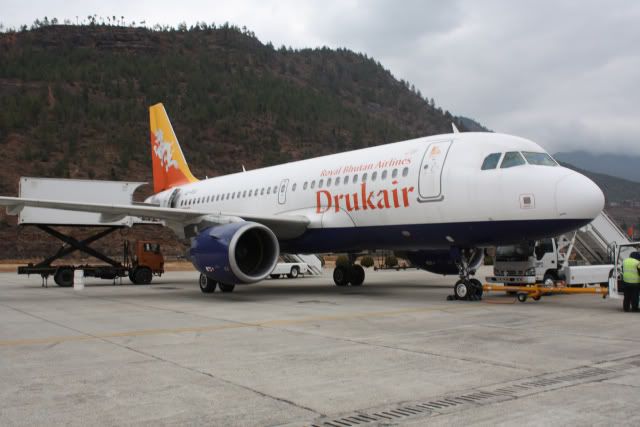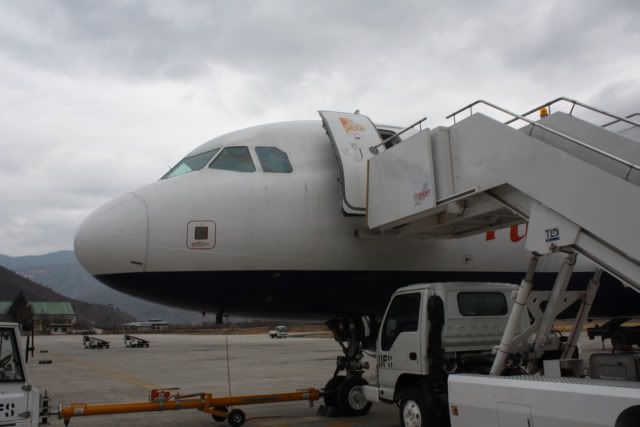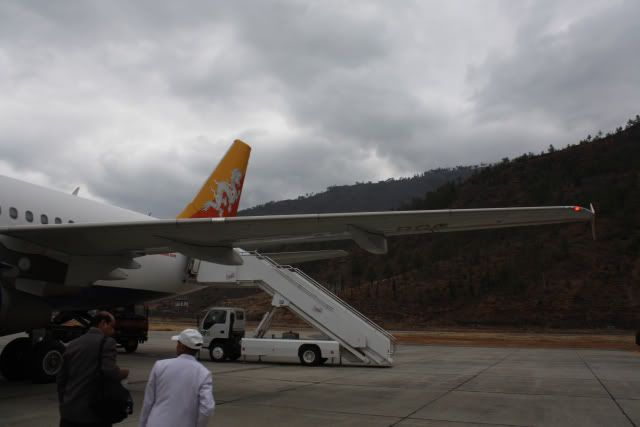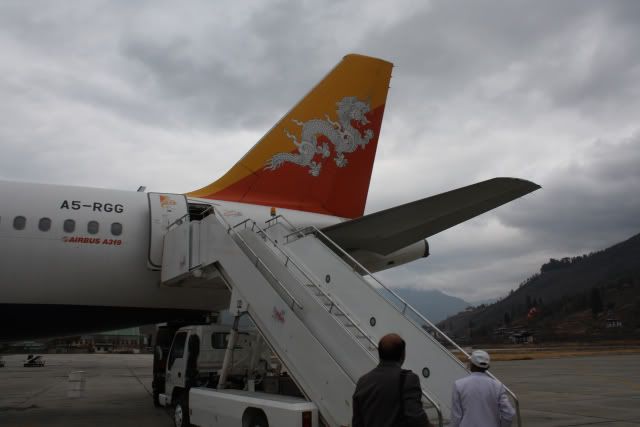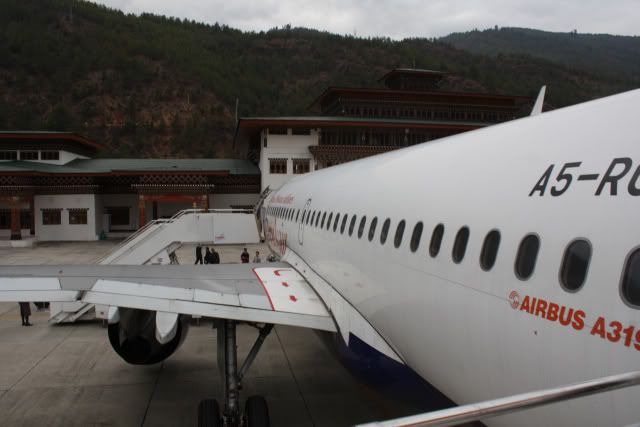 All economy PAX are board from the rear airtairs only. C class PAX get to use the front airstaris exclusively.
We were welcomed on board the new and clean A319 by some of the most beautiful F/A's I've ever seen and I made my way to 12F.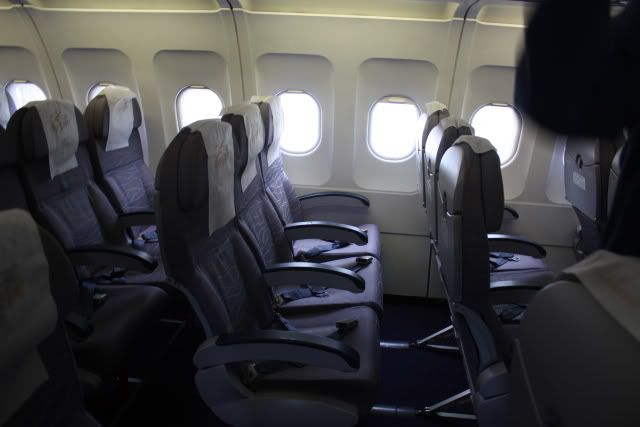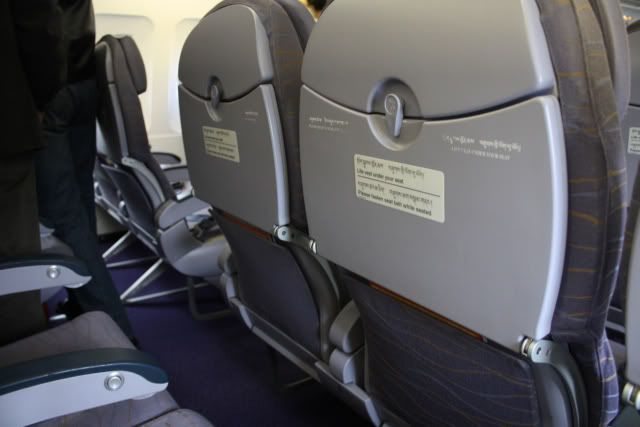 Pitch was a bit tight.
Just as the door closed, I noticed that the last row was unoccupied so I ran back there and was extremely happy that I managed to secure a seat behind the wing. Unfortunately, the window was very dirty but it would have to do.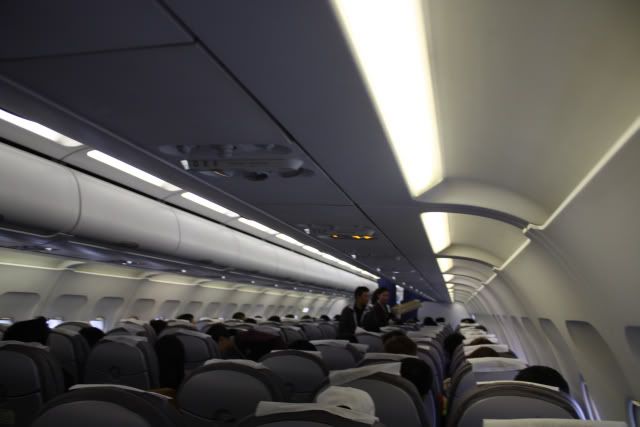 The cabin crew apologized for the delay and any inconvenience that it may have caused us. Pushback commenced at about 14:17.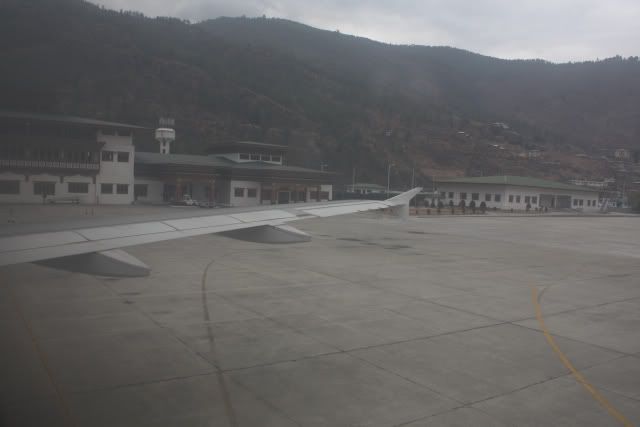 We were pushed back right onto the runway.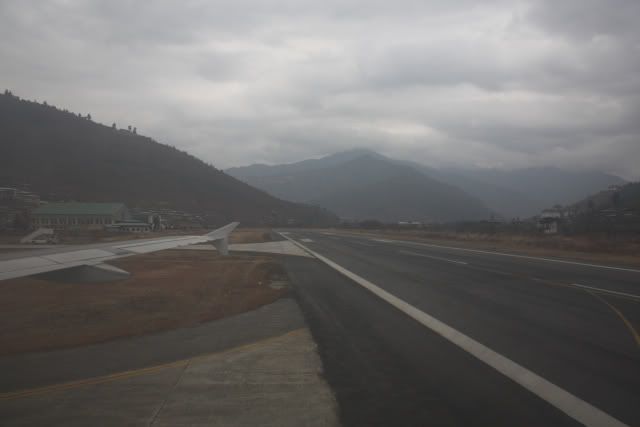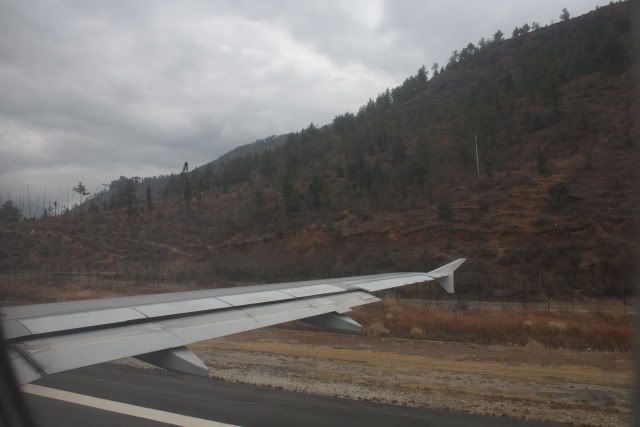 This was by far the most powerful takeoff I've ever experienced on a commercial aircraft. This takeoff gives me a whole new respect for Airbus and the A319. Truly amazing!
Click
here
to view the takeoff video.
Passing through the clouds.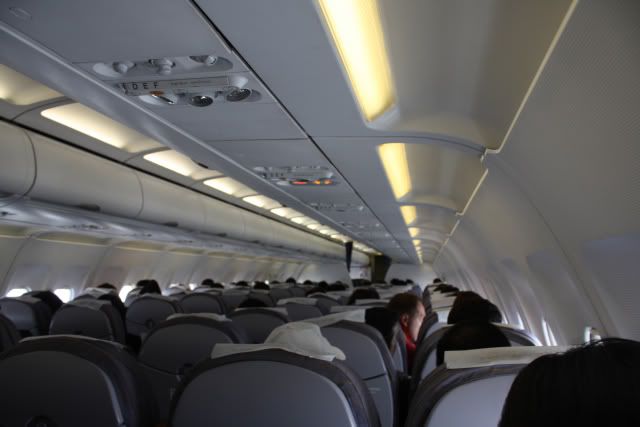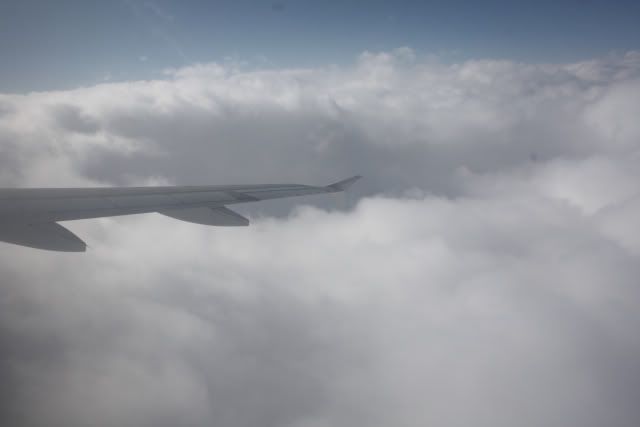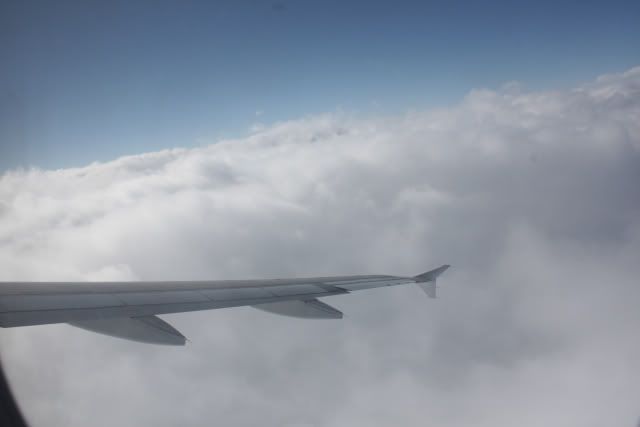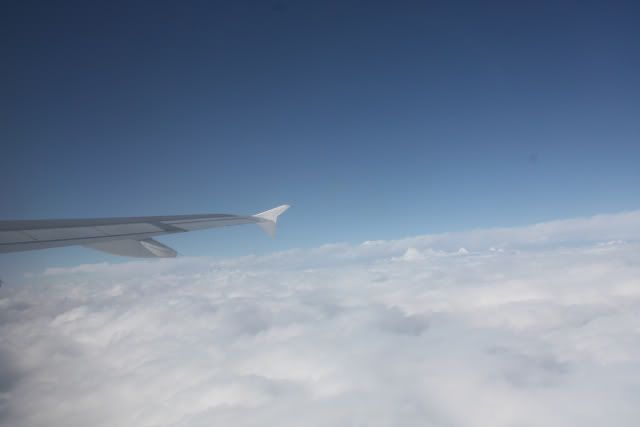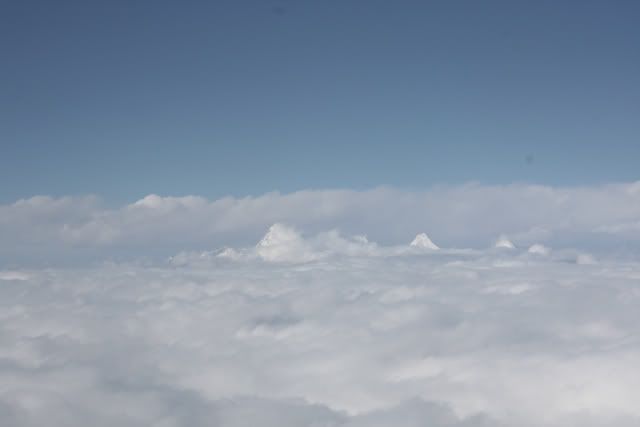 As we leveled off, a small meal service began, which was nice considering the short duration of the flight.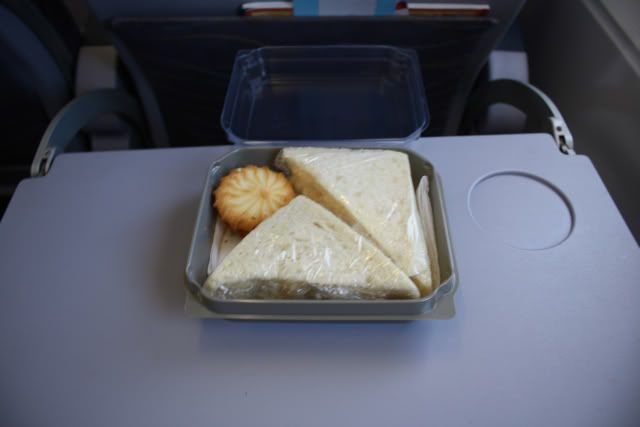 Anyway, I will let the pics do the talking as this was a truly amazing flight.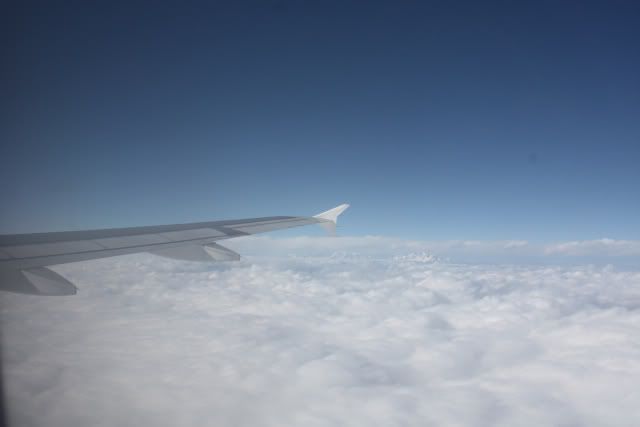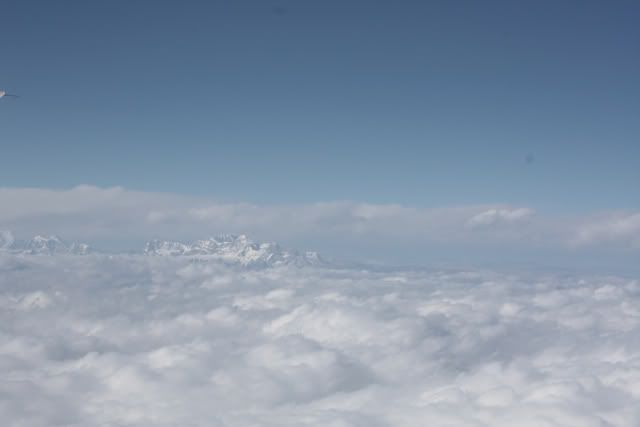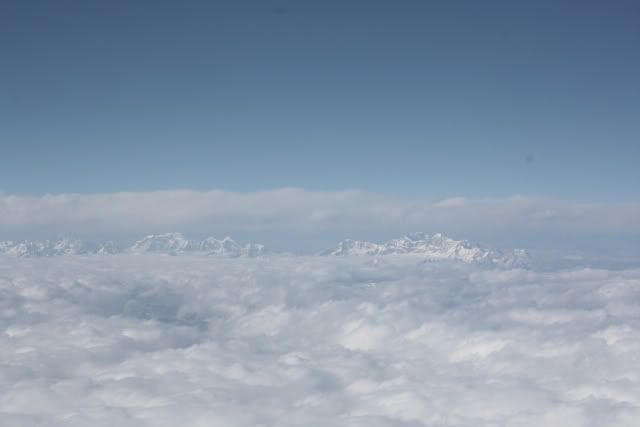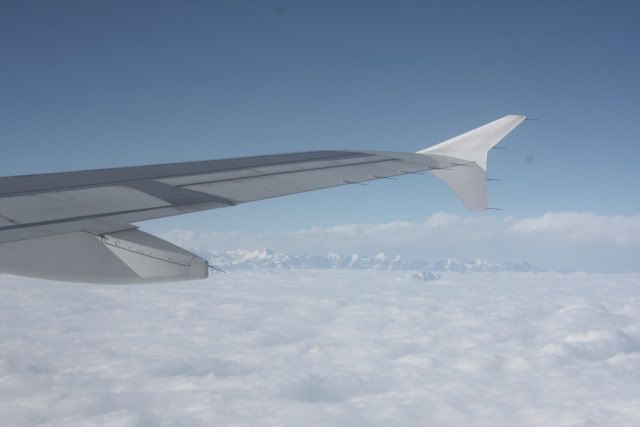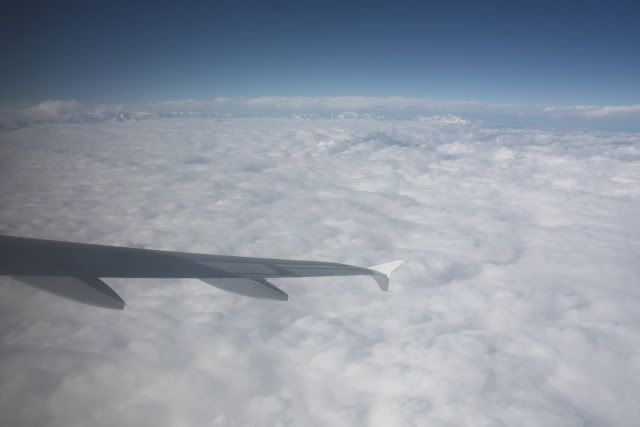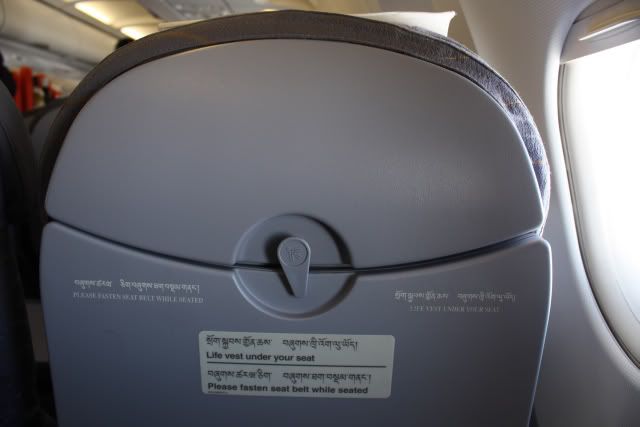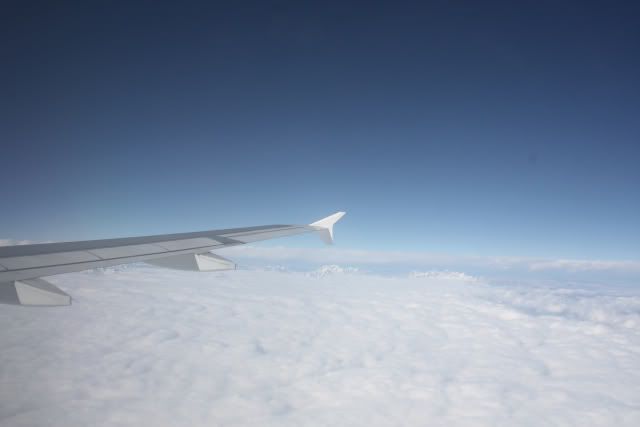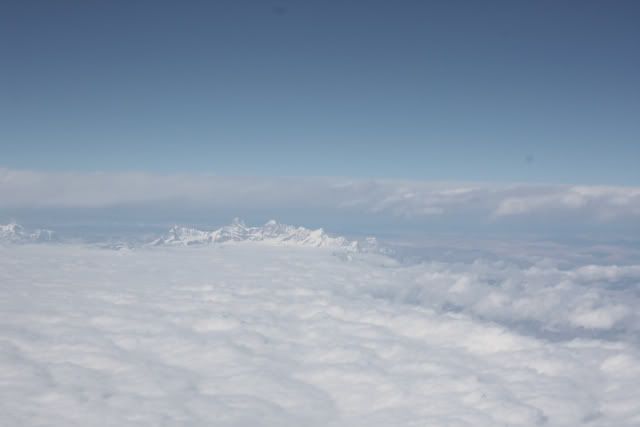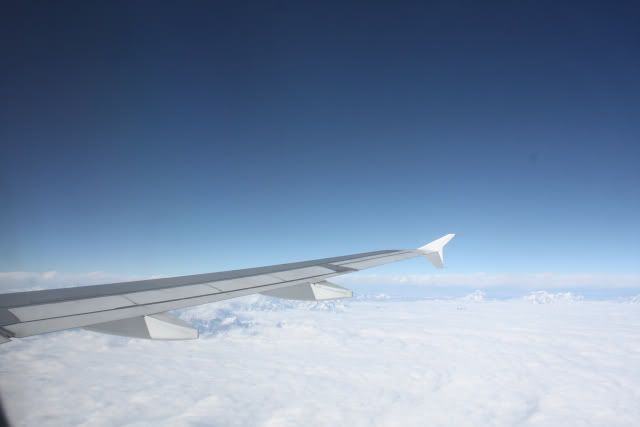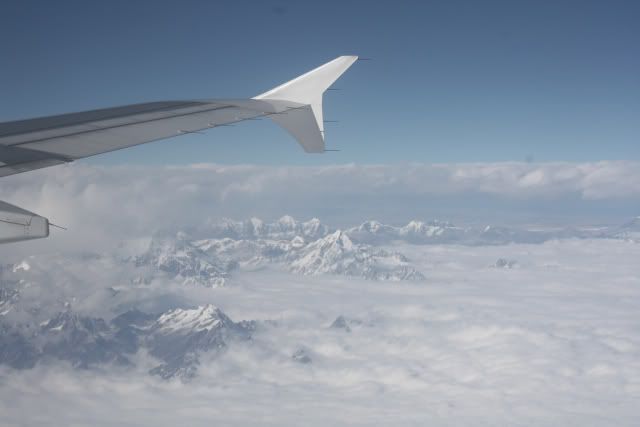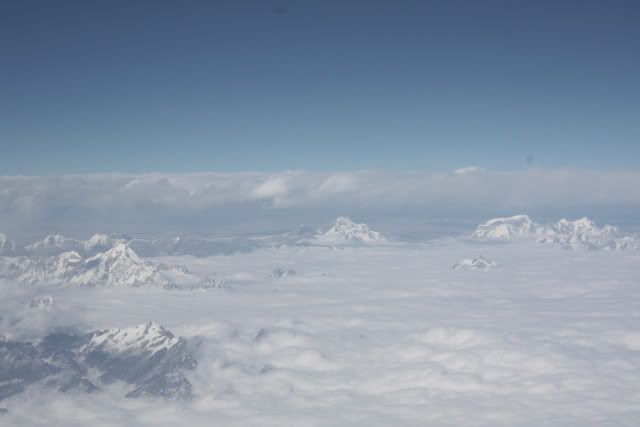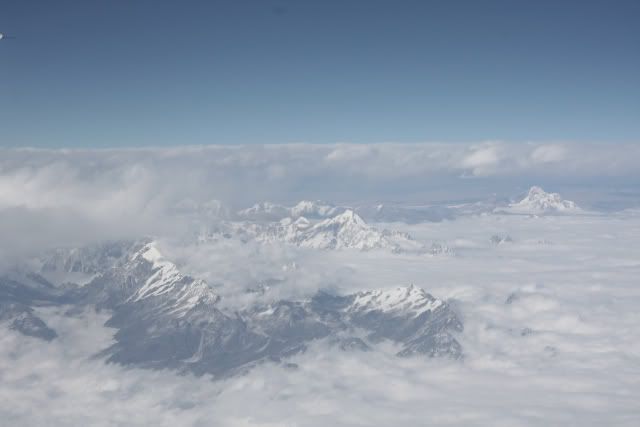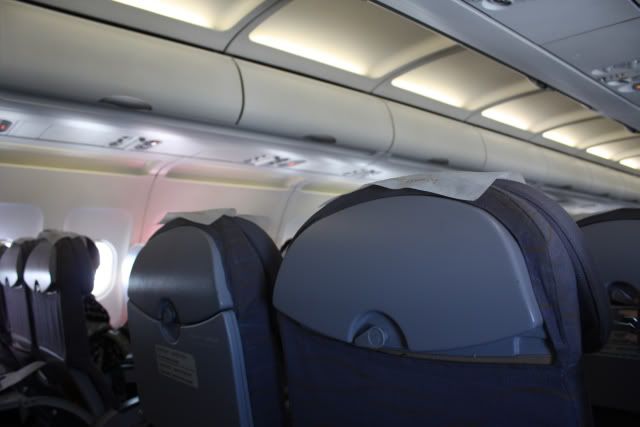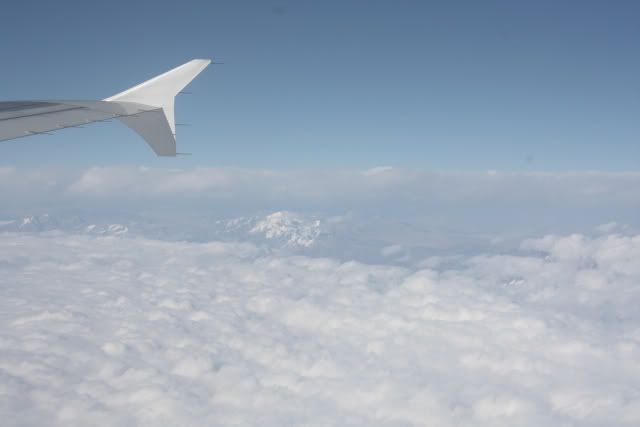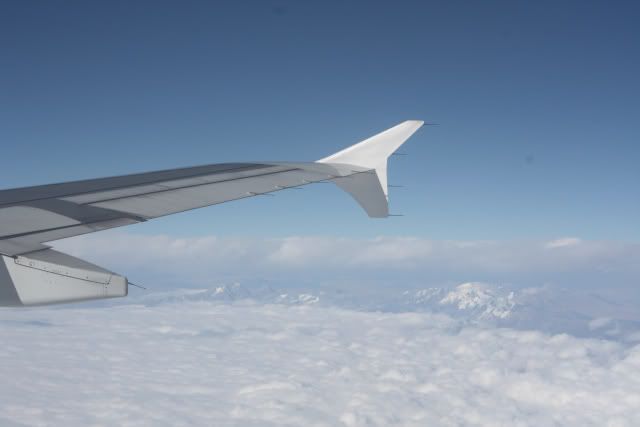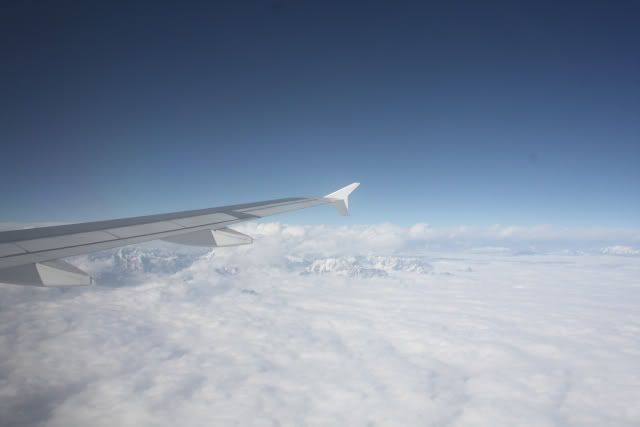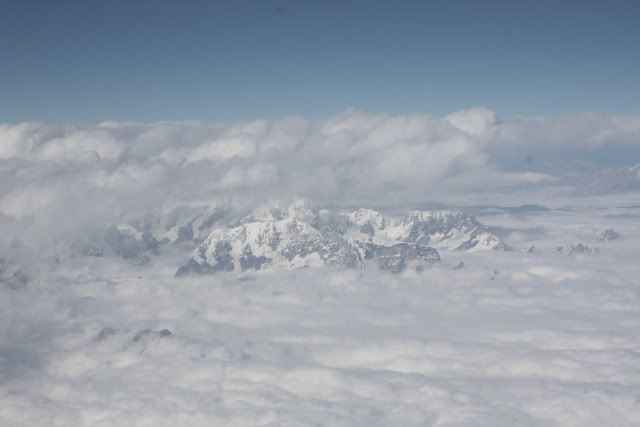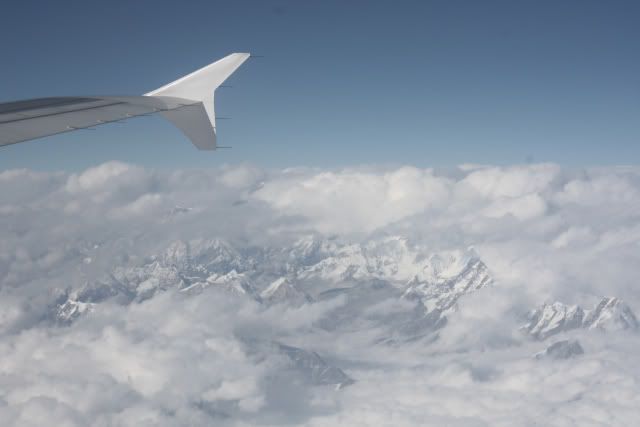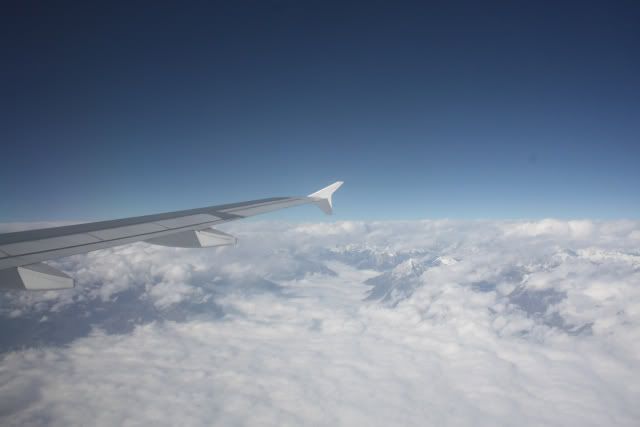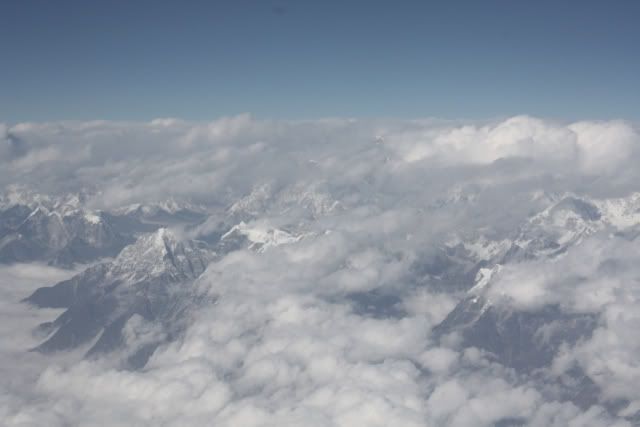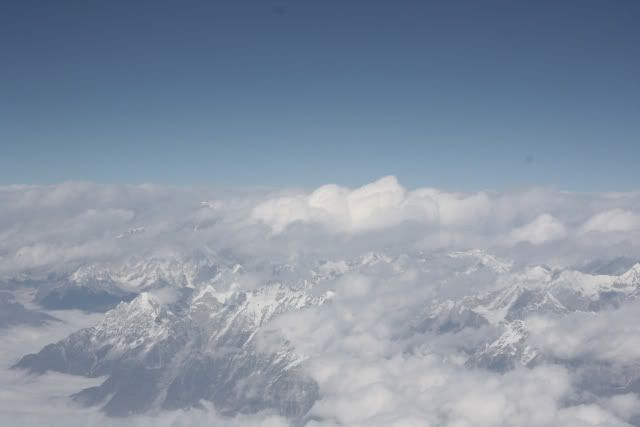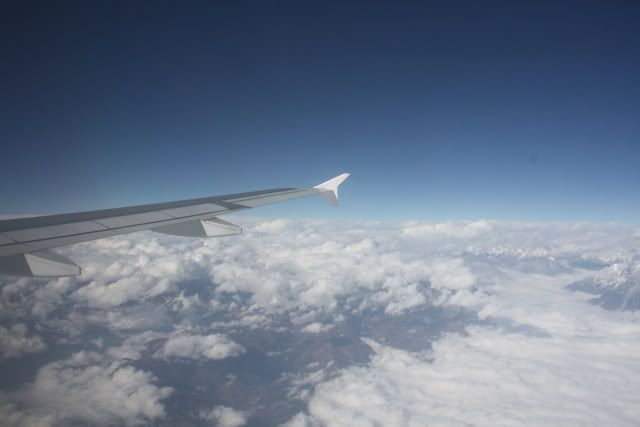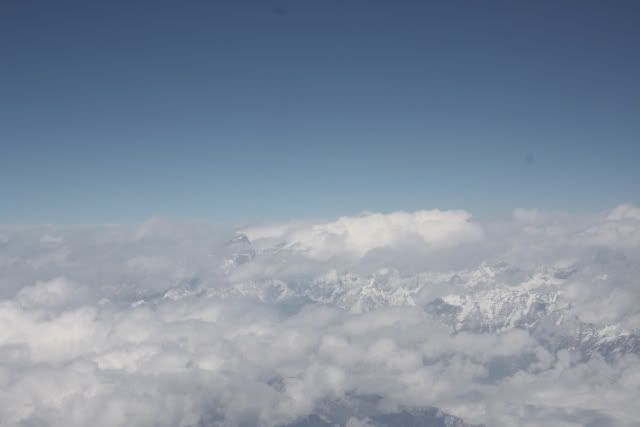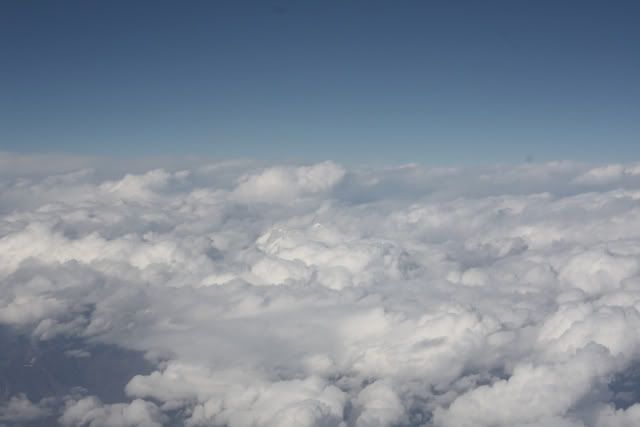 I decided to get a cabin shot as there VERY few pictures of KB cabins on the internet.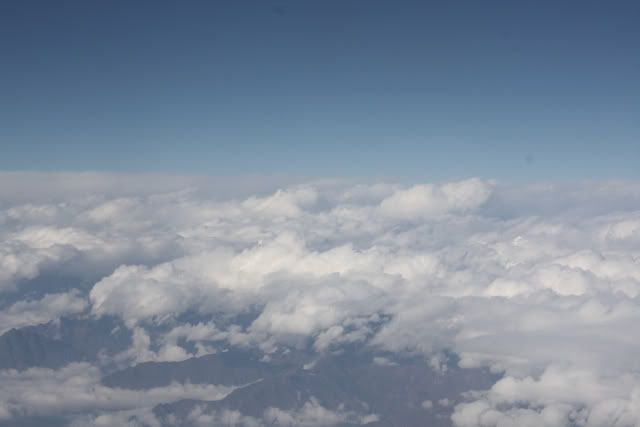 KB economy class seats.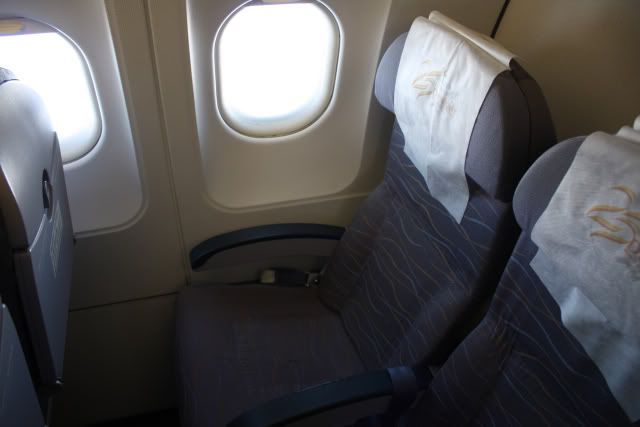 Unfortunately, our descent soon began into KTM. The beautiful F/A's then handed out candy that was supposed to ease the pressure in the ears. A very nice gesture if you ask me.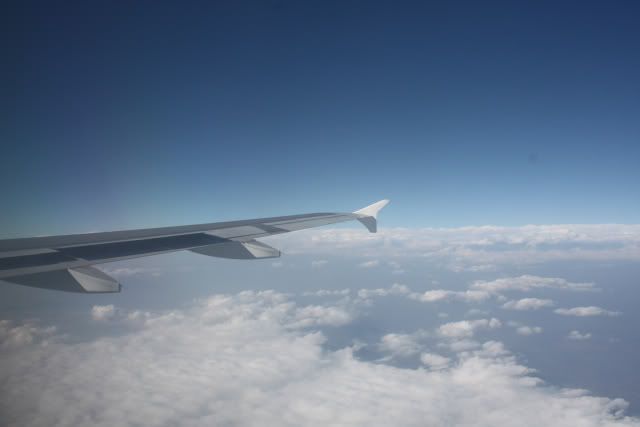 The flaps were extended very early while we were still very high.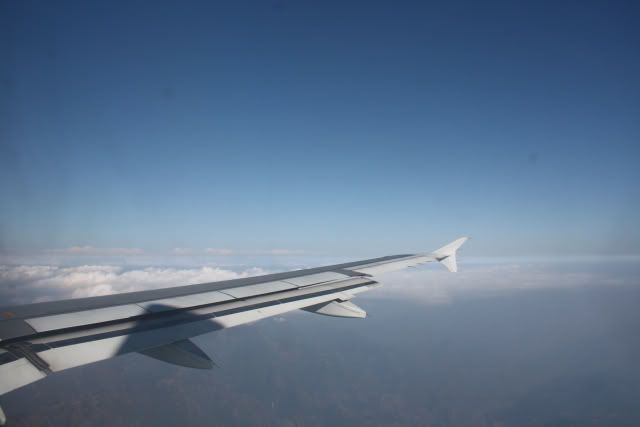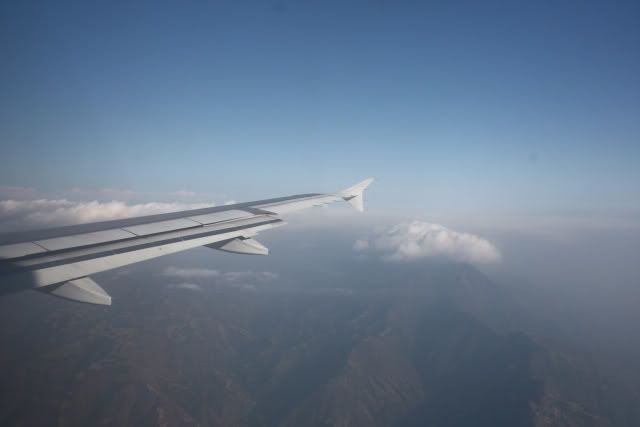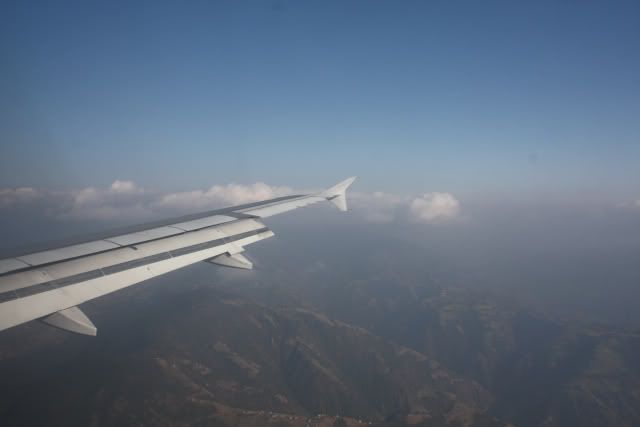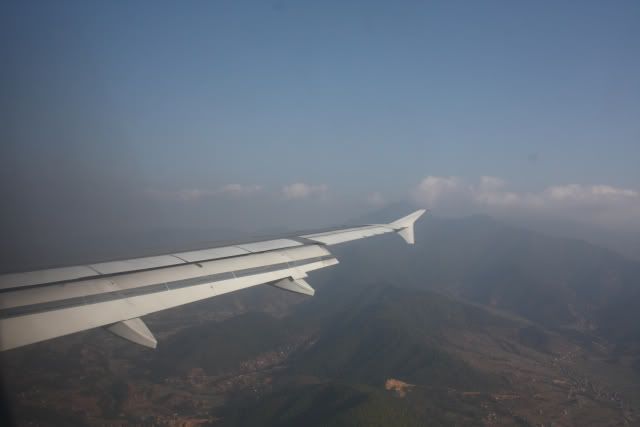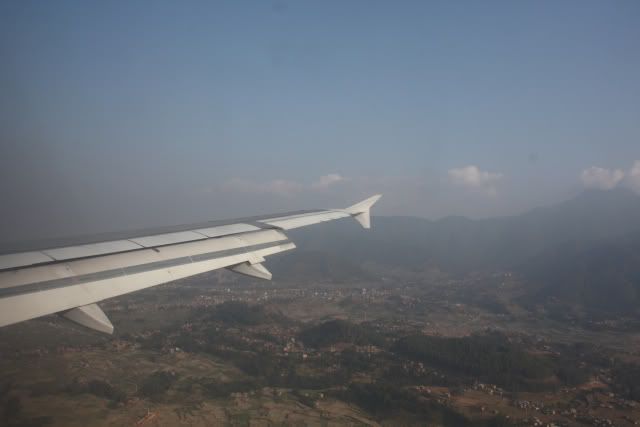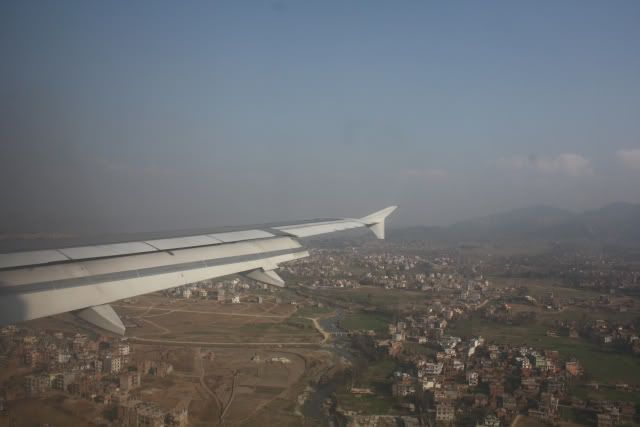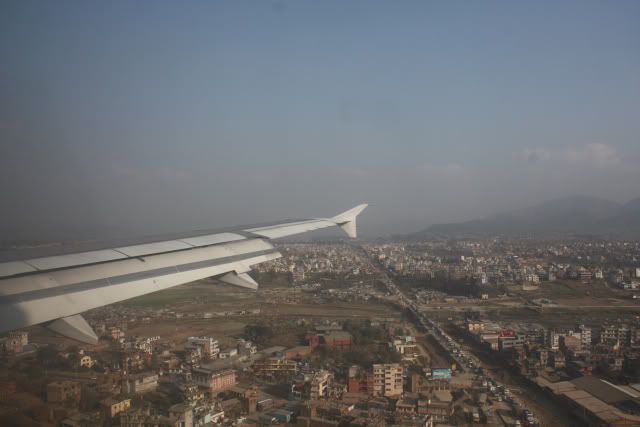 The landing itself was smooth but there was some very heavy breaking shortly after.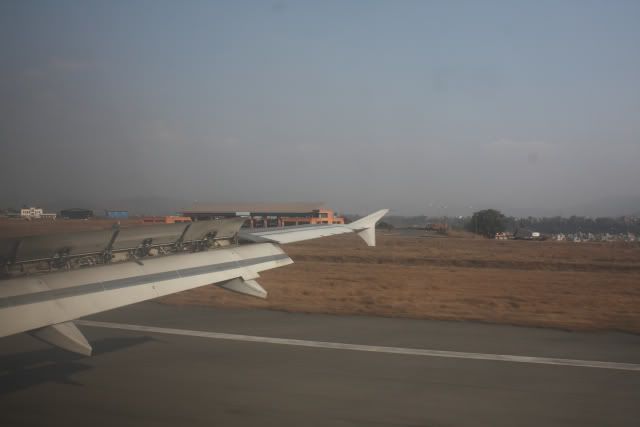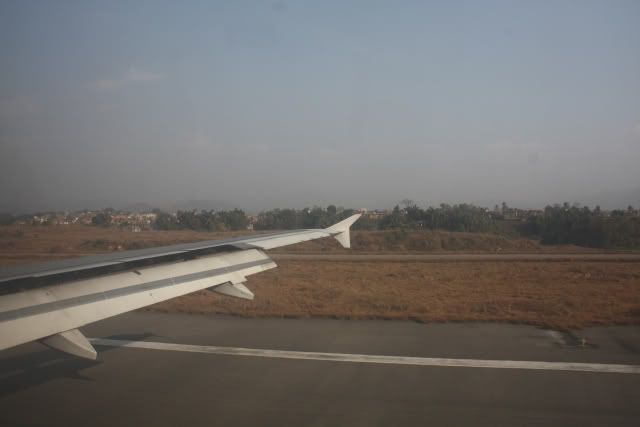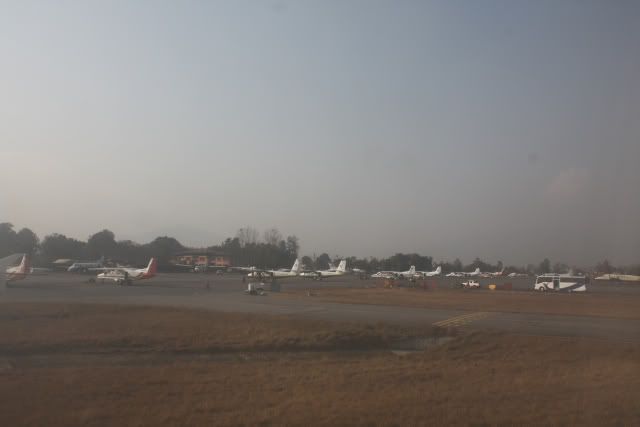 RA 752.
Cosmic Air Fokker 100. This is the airline's only aircraft.
We parked next to a BG Fokker as well. On my way to PBH via KTM there was a BG DC-10 in KTM so they must send a variety of aircraft here.
An IC A320 landed.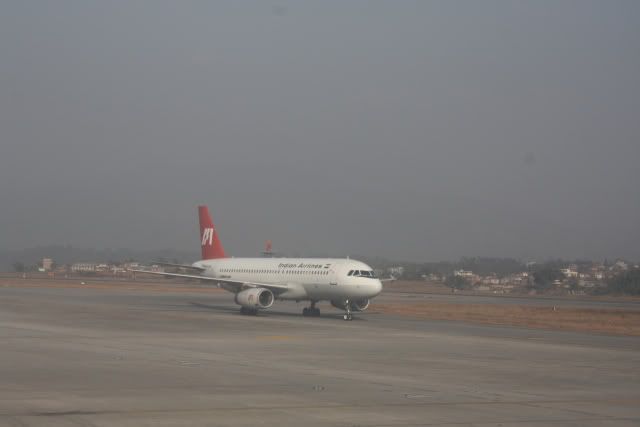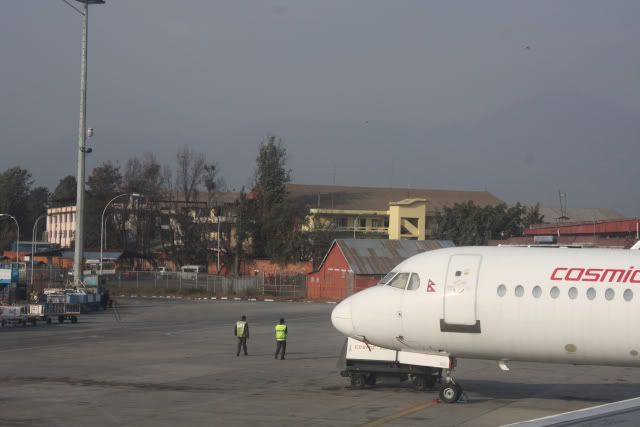 We pushed after about 30 minutes of sitting on the ground. Passengers can buy tickets from PBH to KTM and they can originate in KTM to DEL as well. Unfortunately, there were PAX getting on in KTM that had seats in the last row window seat so I was forced to return to 12F. This wasn't a big deal because the best views were on the PBH-DEL flight.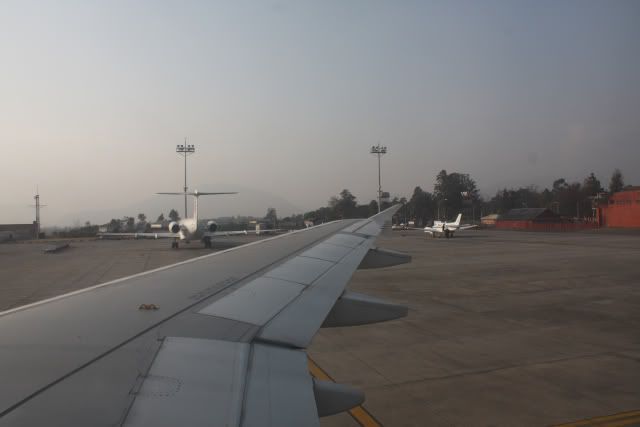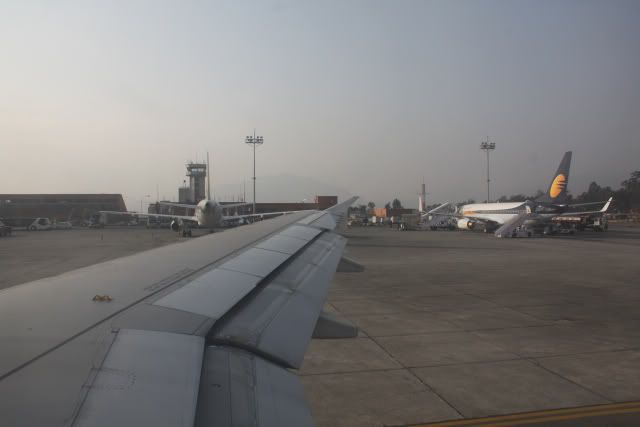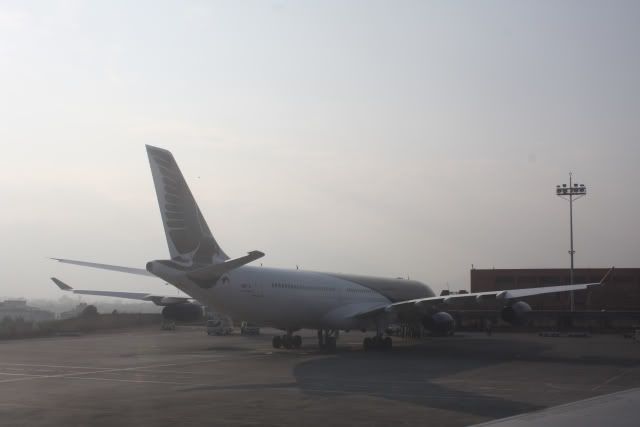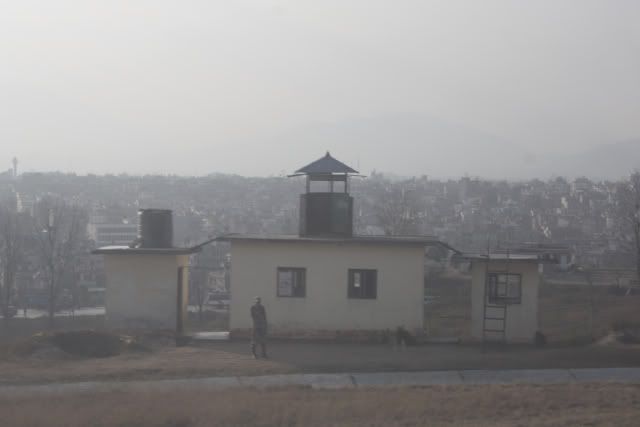 Takeoff was very powerful again and we turned left almost immediately after departure.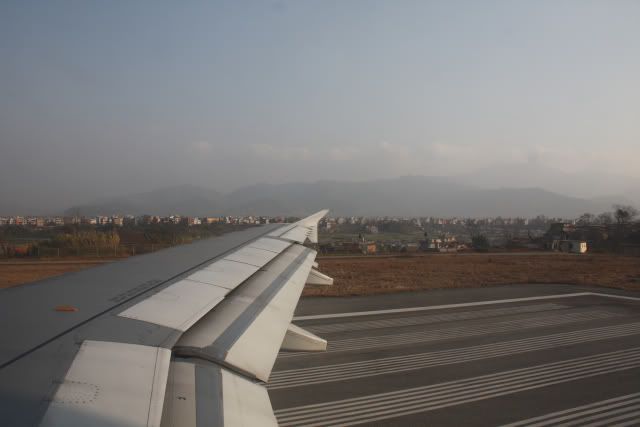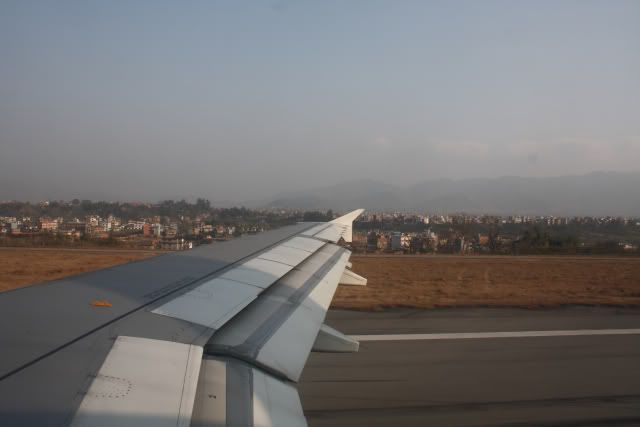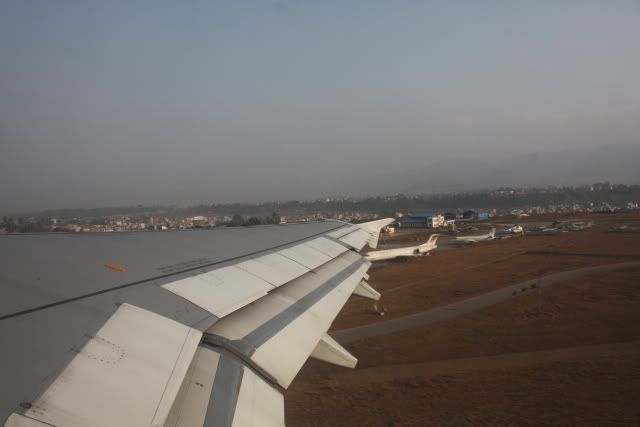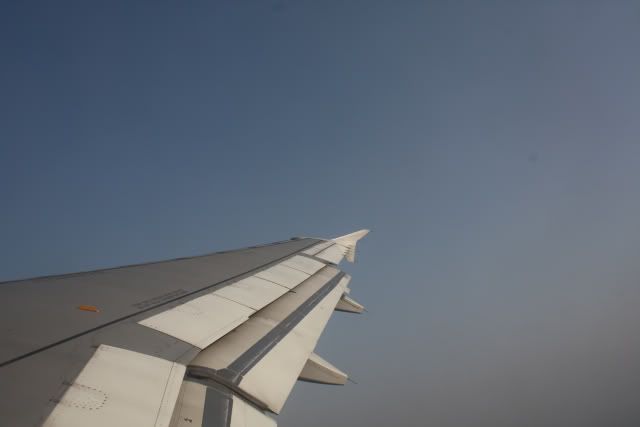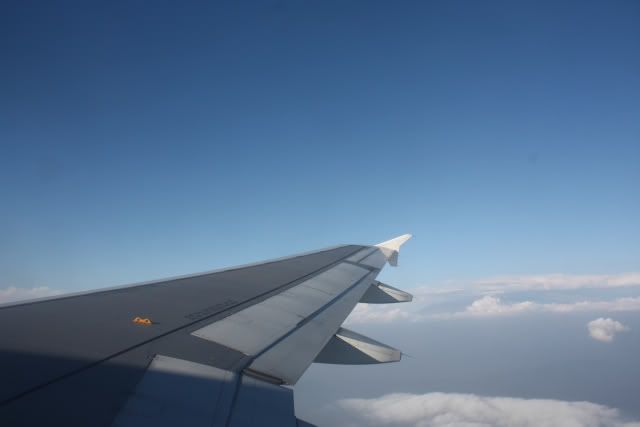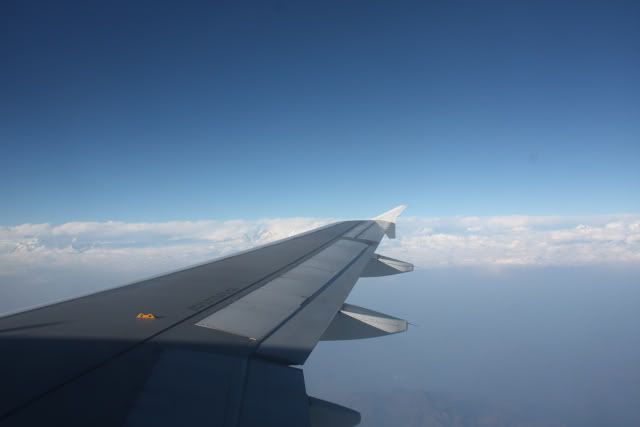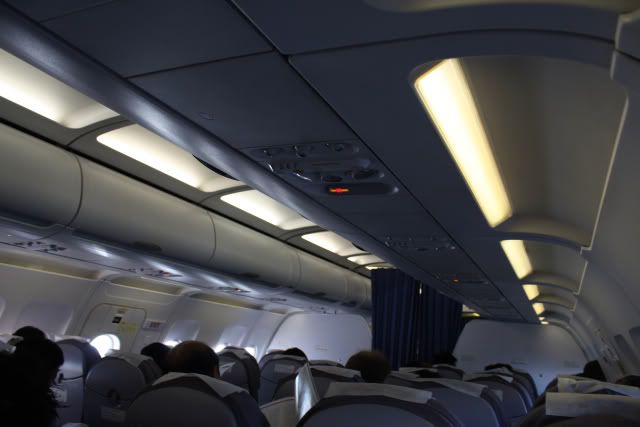 On this flight, we were actually served a hot meal!
I was surprised to see the KB actually has a in-flight magazine. It was actually interesting and had a lot of cool information about Bhutan.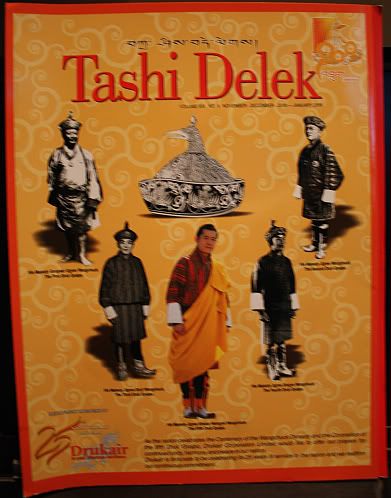 Also, here's a picture of the safety card.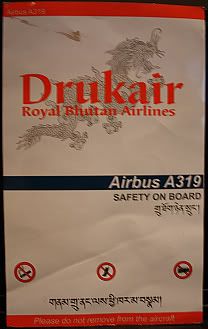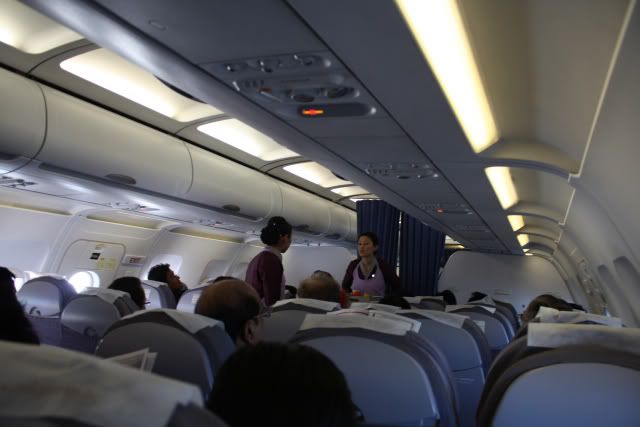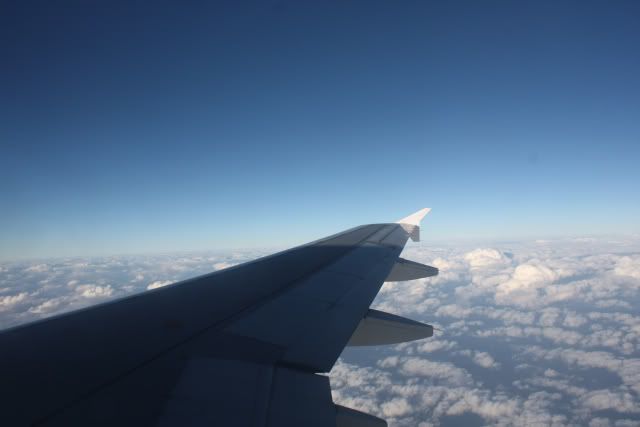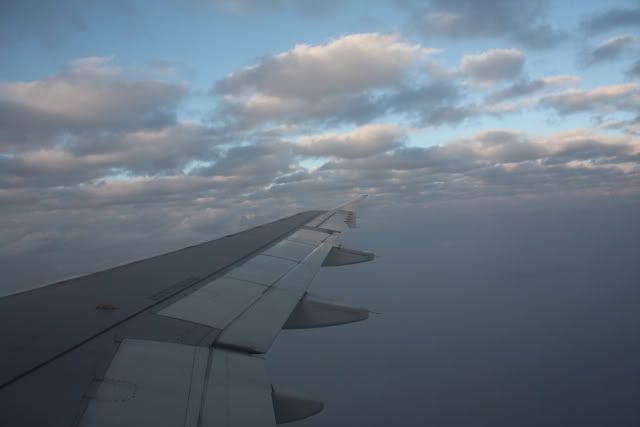 At about 16:30, the pilot came over the P/A and stated that since DEL was so congested that our arrival would be delayed by 30 minutes. Lukily, we managed to arrive at about 17:30, which was only 30 minutes late.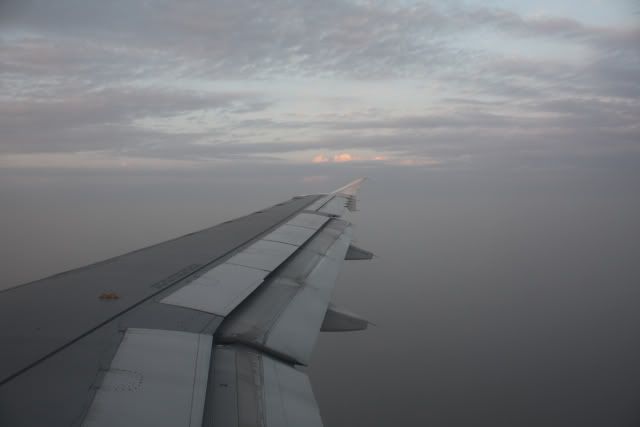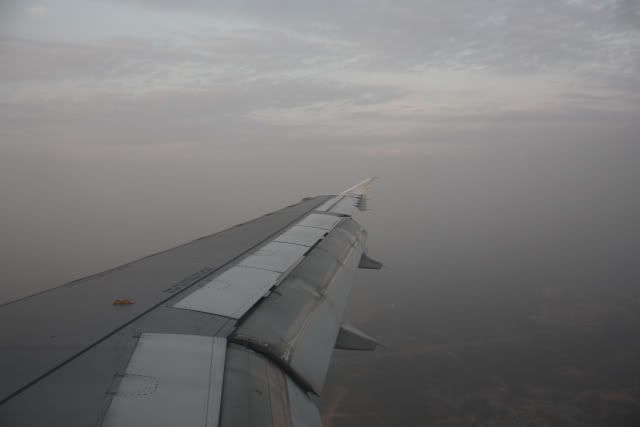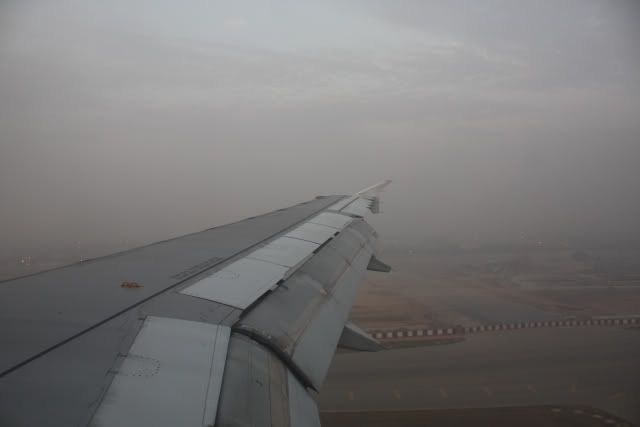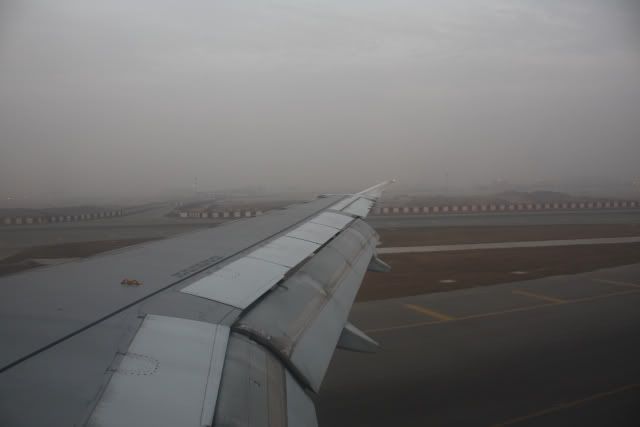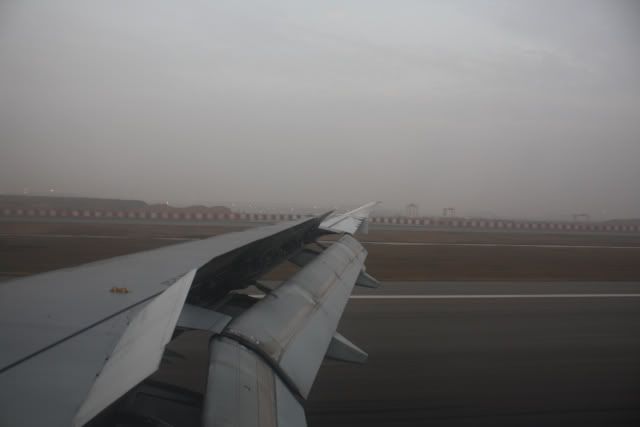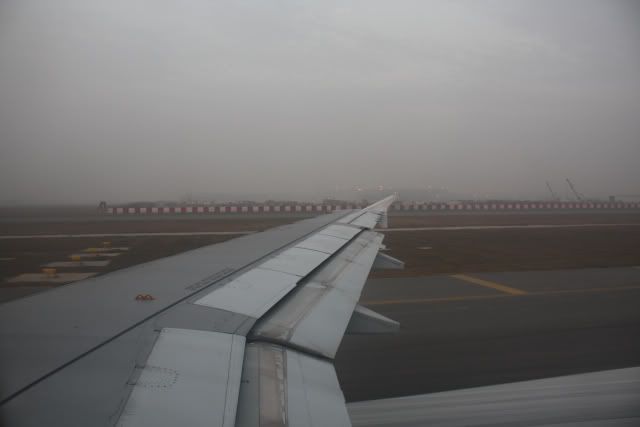 New terminal construction. It looks huge! DEL will easily be a world class airport once the construction is finished.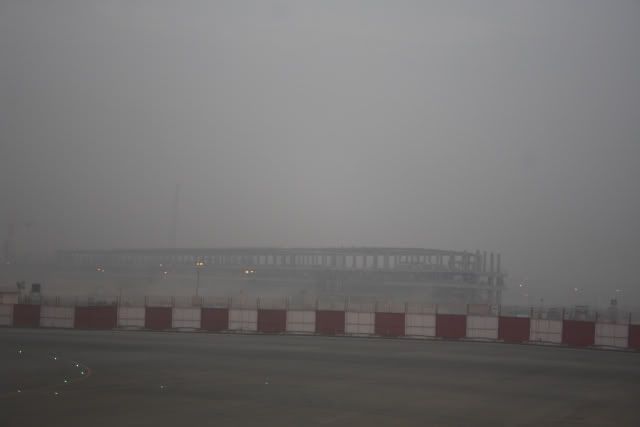 The aircraft parked at a hardstand where an AI bus took us to the international arrivals area. Immigration and bag collection was again fast.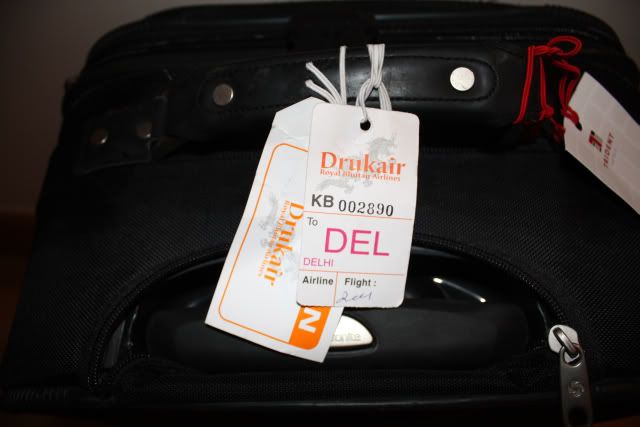 Conclusion:
Drukair proved to be a nice experience overall. The views were amazing from the aircraft and the approach and departure into and from PBH is spectacular. The ground handling in PBH was somewhat unorganized, but the in-flight service was fantastic with very friendly crew. There are not too many airlines remaining that offer a hot meal service on such a short flight.
Hope you enjoyed!
Feel free to take a look at my other TR's:
Air India 777-200LR JFK-DEL In C W/Pix
(by
MHTripple7
Jan 6 2009 in Trip Reports)
Delta 767-400ER JNB-ATL In J W/Pix
(by
MHTripple7
Aug 1 2008 in Trip Reports)
South African 737-800 JNB-CPT In C W/Pix
(by
MHTripple7
Sep 21 2008 in Trip Reports)
South African BAe 146-200 LVI-JNB In Y W/Pix
(by
MHTripple7
Aug 14 2008 in Trip Reports)
Air Botswana BAe 146-100 JNB-MUB In Y W/Pix
(by
MHTripple7
Jul 23 2008 in Trip Reports)
Air France 777-300ER CDG-JNB In J W/Pix
(by
MHTripple7
Jul 23 2008 in Trip Reports)
Air France A330-200 DTW-CDG In J W/Pix
(by
MHTripple7
Jul 22 2008 in Trip Reports)
Delta 737-800 JFK-TPA (Pix And Vid)
(by
MHTripple7
Apr 18 2008 in Trip Reports)
Jet Airways 777 DEL-JFK Mar 28 2008 Pix
(by
MHTripple7
Mar 29 2008 in Trip Reports)
Jet Airways 9W707 W/Diversion (Pix)
(by
MHTripple7
Mar 22 2008 in Trip Reports)
Jet Airways 777-300ER JFK-DEL ( Pix)
(by
MHTripple7
Mar 21 2008 in Trip Reports)
Delta DL1836 TPA-JFK 17Mar08
(by
MHTripple7
Mar 22 2008 in Trip Reports)