Flight Info:
AA977
Origin: JFK
Destination: GIG
Aircraft: Boeing 767-300ER
Dec 23, 2008
ETD: 21h25
Push Back: 21h25
Departure: 21h45
ETA: 10h25
Landed: 10h02
Load C: 27/28 (2 used by crew)
Load Y: 195/195
As i got the day off on Dec 24, i decided to book a trip to Rio (one more). First i was scheduled and confirmed for a DL flight thru ATL, but with the new non-stop service AA begin to offer (TAM does not fly JFK-GIG on Tuesdays) i postpone my DL flight (no fee because of the class) to be used as my return from vacation on January and issued a full fare Y on AA using FF miles for upgrade (in this concern, it's perfect a new flight
)
As the first customer to book for this flight on C, was easy to got the upgrade immediately.
Dec 23.... i left my office in Manhattan by 18:05 (yes... crazy... ) pass very quickly at my house to get my bag and take a shower as i already arranged a car to take me to JFK. Traffic was very good because of the fact many people departed early (thanks!) and i was able to get to JFK at 19:45. Check-in on Premium area of AA TPS8 helps a lot !
Check-in was not so quick but the agent was very nice. It took me around 20 minutes to get my boarding pass and to dispatch the bags.
AA Terminal 8 view
(c) American Airlines
Check-in area (coach)
http://www.dmjmhn.aecom.com/media/4715.jpg
In the opposite, check-point was easy to clear and 5 minutes later i was going to the AA lounge. Today very convenient as my flight departs from gate 43, very close to one of the lounges.
As i'm too close to departure time, i was able to stay there for around 30 minutes.
Lounge view
Another view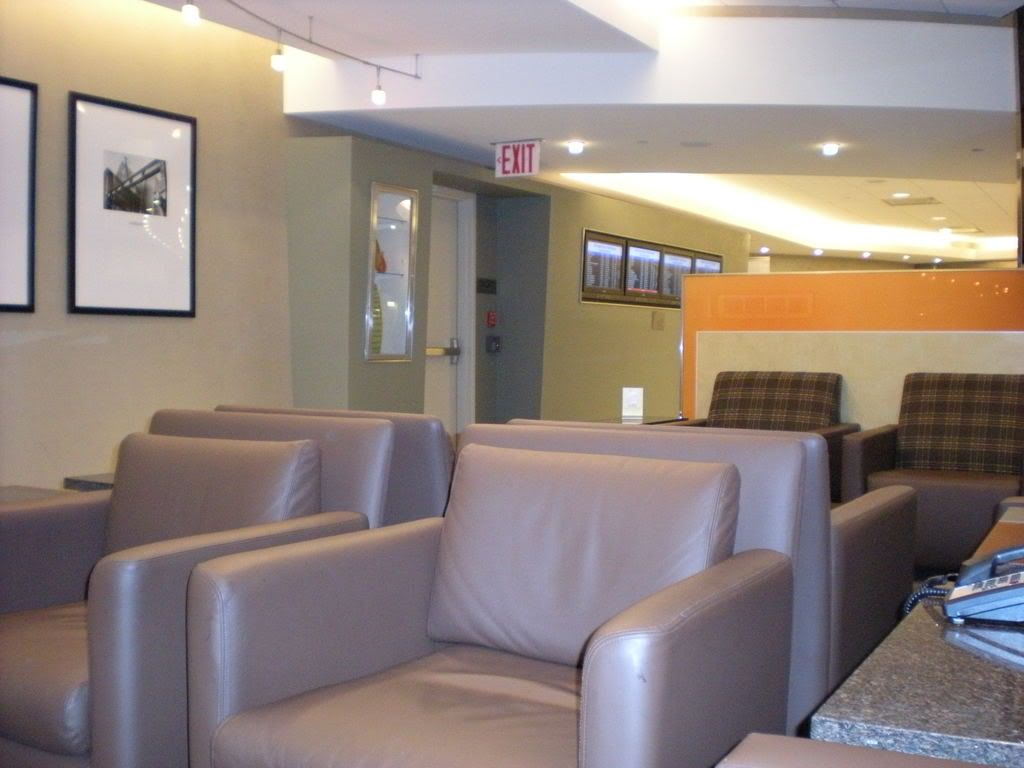 At 20:48 AA staff invited us to board and i was able to get a last pic from the screens on Admirals Club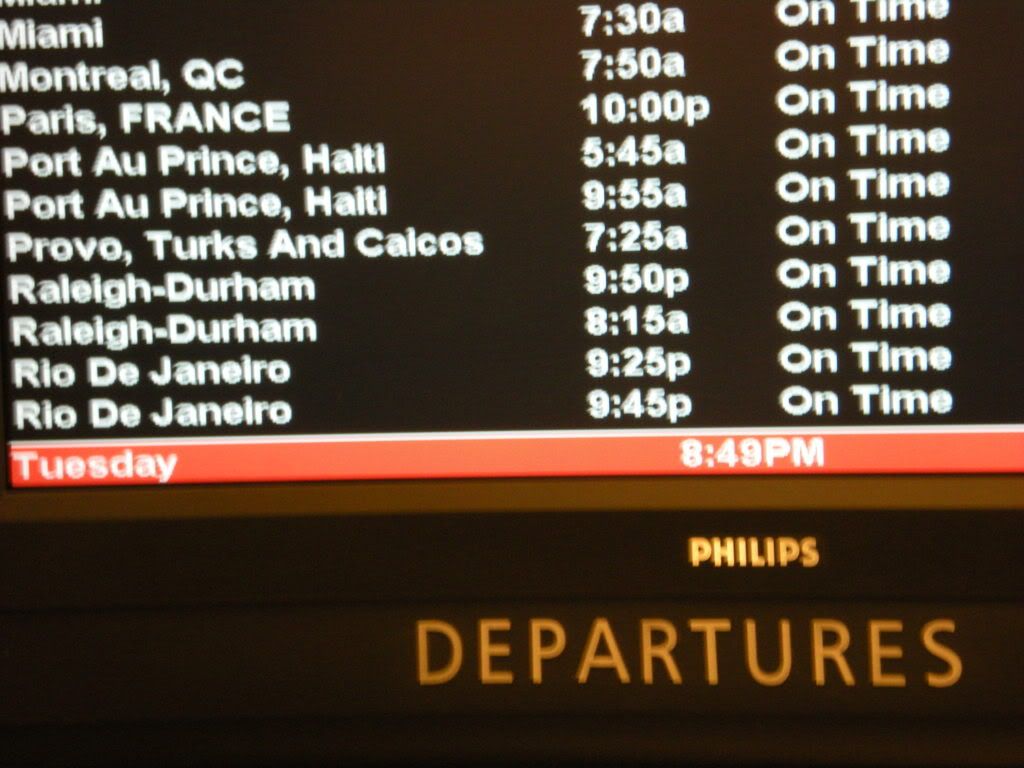 Funny...two flights
but only the first one is non-stop
The sort walk helps and by the time i got to the gate i wait for 1 or 2 minutes and them they announce boarding. As no one take the iniciative i was the first one to board.
Since it was my first flight on a AA 767 Business Class i got surprised about how updated it was compared to other airlines. LCD screens, 777 type overhead bins, and for sure, a very comfortable seat !
cabin view
Bins
Good space
Seat controls
During boarding, F/As offered a welcome drink, and after a busy day, i prefer to have just an orange juice. I always ask why US airlines does not provide such drink in glassware instead of plastic cups!
Boading process was quick and by 20:18 the door was closed and we just wait more 5-7 minutes for the cargo door to be closed also. The plane was closer to full, with just 1C available (thanks, closer to me)
The crew also offer us newspapers, the menus and the same necessary i got two years ago flying F JFK-LHR, so nothing new.
The push back begins by 20:25 exactly on time and taxi was longer, but the departure line was short (just 3 planes ahead of us) and the capitain announced we shall take off in a few minutes.
At 21:45 full power and the 767 departed JFK for the 10h flight to Rio de Janeiro.
As soon as the crew was able to take care of us, they come to get our selections of dinner and wine, that's the main page menu for this flight:
[/img]http://i193.photobucket.com/albums/z293/andrefelipe-rio/JFKGIG017.jpg[/img]
I selected a Bordeaux wine also and a grilled chicken with the smoked salmon as appetizer.
Also, they offer us immigration/customs forms for Brazil and the nice Bose... one of the nice advantages of AA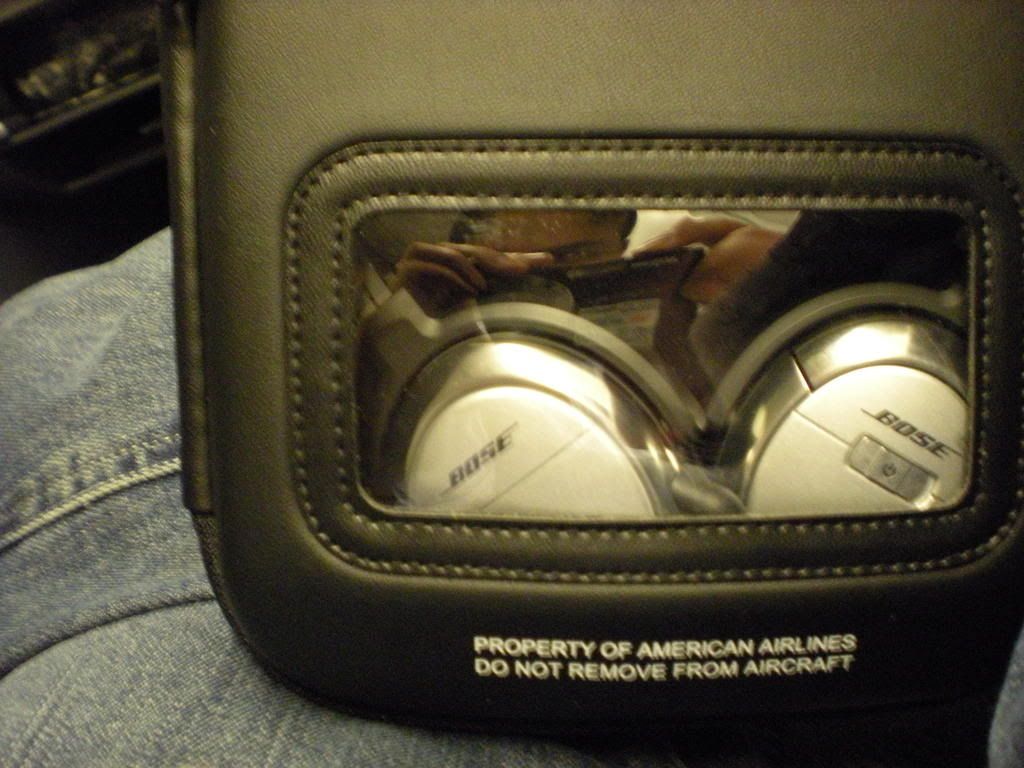 After, they installed the entertainment (i'm asking why they do not install the PTV even with a bigger screen)
to compare..this is the view of the seat without the PTV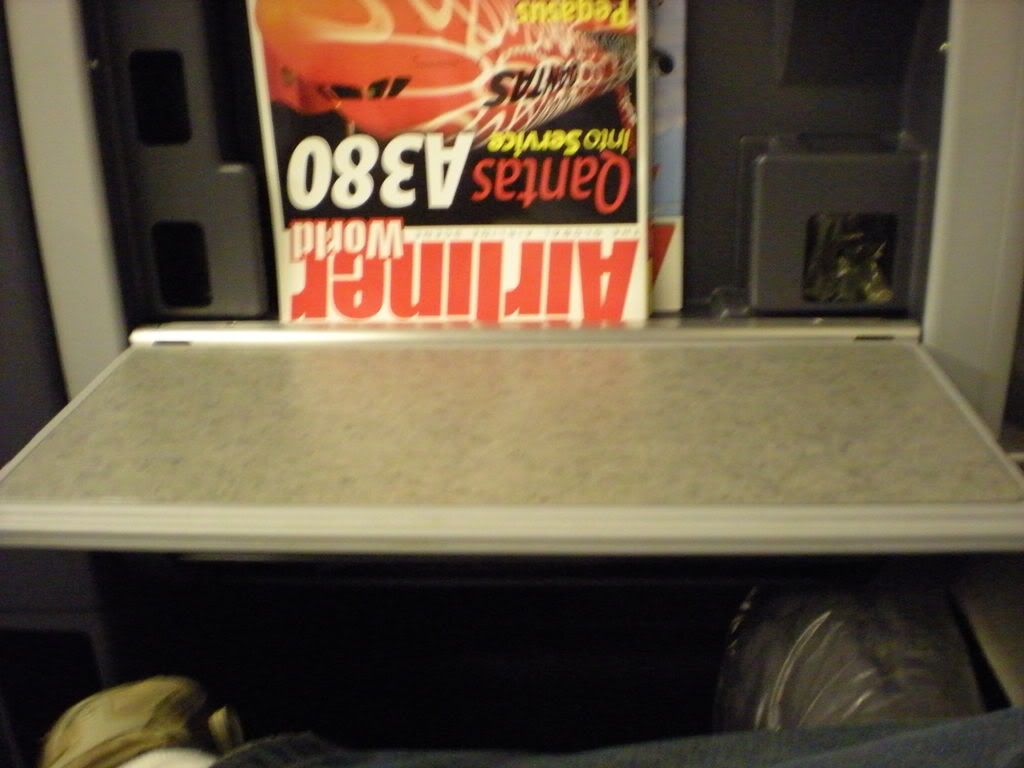 The magazine allows a comparison about the size available for the PTV
PTV working...
There's a big selection of movies, songs, tv series and games. I counted about 35 movies which is more than enough for a 10h flight !
Some good movies others not so good.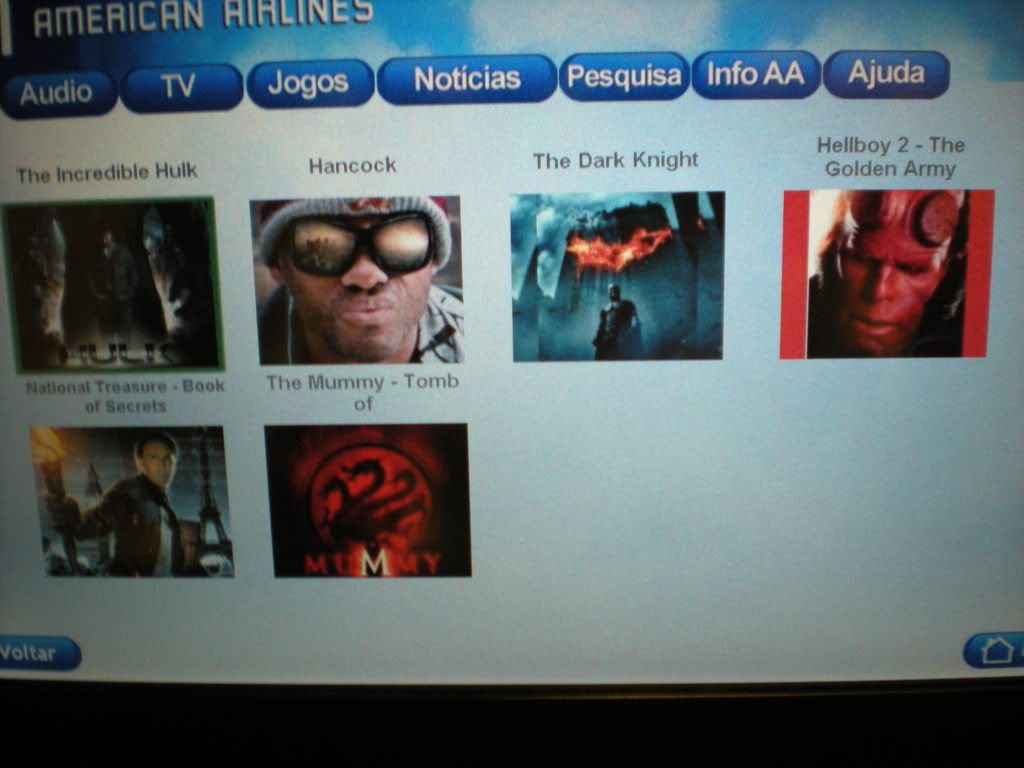 Then the crew begin to pass with refreshing towels to prepare us for the dinner.
So it comes wifh wine....
Appetizer...
and main ...
I have to say, food was very good, very taste, and it surprises me as i heard several bad comments in the past about AA. Up to this moment, they keep surprising me (doing very good)
Also, they offer desert, and i asked for an ice-cream which was also good. After, to help getting sleep i asked for a tea and this is something AA may improve. There's only one tea available while airlines like TAM come with a full selection of 8-12 different teas. It's not expensive to offer this but is very kindly to have choices.
I asked not to be called for breakfast (unless i wake up by my self)
The seat is very comfortable and i was able to sleep for about 6 hours.
I wake up about 1:20 from departure in Rio, able to have breakfast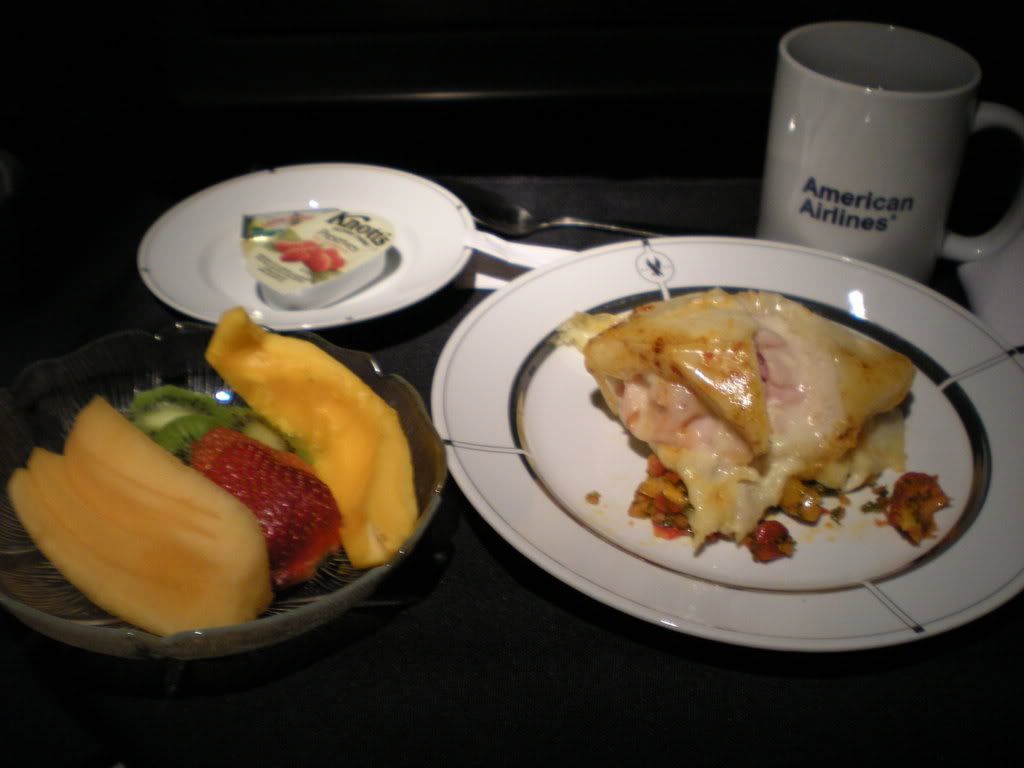 The crew passed thru the aisle collecting the Bose and the PTV (that's a negative point compared to other airlines where you can use the PTV until landing procedure). I have to say, the crew was always very nice!
View of Minas Gerais state while approaching GIG
Over Petropolis/Teresopolis area, closer to Rio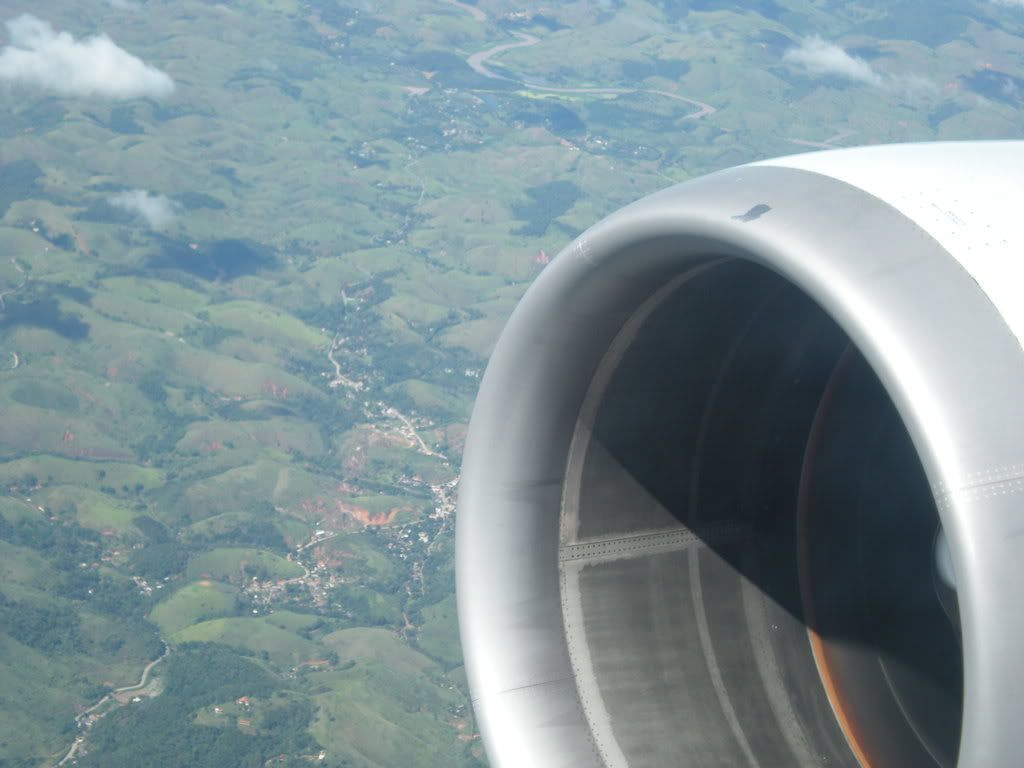 Nova Iguaçu Airport
Finals to GIG rw 15, Caxias town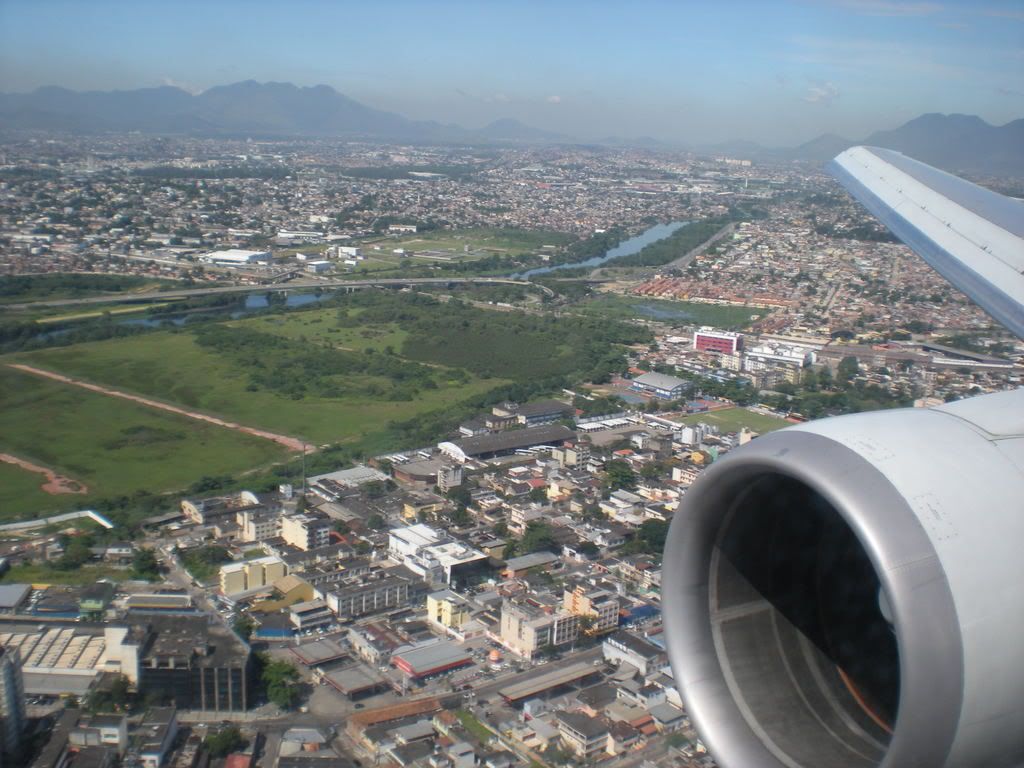 Welcome to Rio's city airspace
We landed 20 minutes ahead of schedule, and exactly 10:25 i was moving out of GIG after getting my bag, passing immigration and customs (as well as purchasing some duty free items)
In general i was surprised about AA product. They made it a very nice 767 and now just need some small improvements to provide even a better product. Hope AA ask for the rights to fly this route year-round and i may become an Exec Plat.