Feedback always appreciated.
Trip Report: 062
Flight Category: Y-IMR (See Report End)
Date: 21 Dec-08 (See Report End)
SDT/SAT/Dur/Delay: 1915/0445+1/07:30 hrs (Delayed 01:40)
Flight:
Sri Lankan UL 228
, 2572 miles
Routing: KWI-CMB (1 stop: DXB)
Aircraft: 332
Seat: Economy, 50K
I > Background:
I had been in Damman (Saudi Arabia) for work and needed to seriously escape south for some beach time. The cheapest option was a quick getaway to Sri Lanka and my agent arranged for some cheap tickets using KWI-CMB-MAA-KWI … they were dirt cheap and I was excited about the road trip between Damman and KWI. Since I had never flown with Sri Lankan or with Air India Express, they were an added bonus.
Sri Lankan had been covered on a few trip reports on A.Net, and their service was generally well-regarded. However, I believe this is the first TR on the KWI-CMB (via DXB) route, and one of the first to feature pictures of KWI.
II > Pre-Flight:
a) Before Airport:
Sri Lankan Airlines is the national airline of Sri Lanka and operates 320/330/340 to destinations in Asia, Europe, and Mid East from their CMB hub. It had a partnership with EK that expired on April 2008 and many have wondered if the airline would go back to being a mediocre airline … a reputation that it had during its Air Lanka days.
Ticketing for the flight was done through my travel agent in Saudi Arabia. However, Sri Lankan's own website at
www.srilankan.aero
is very functional and all the functions such as buying tickets, choosing seats, modifying requests can be done there. Moreover, you can technically view your booking and use online check-in. I was not able to do either. One thing I liked was that it took a simple call to their efficient call center in Colombo to have my exit row seat instantly confirmed. I even got a personal email follow-up. Not bad!
b) At Airport:
Sri Lankan uses check-in zone 4 at KWI – an airport which has improved significantly since my visit in 2001 when it was absolutely disastrous. Check-in opens 3 hours prior to departure and is in a restricted area. You basically hang out in the "mall" until your boarding opens. Now, none of the FIDS actually told me when check-in opened and you just basically go with the crowd. Like other Gulf airports, the crowd of well-wisher just hangs out at the entry to the check-in security … so you have no idea if check-in has started. The security guy was hopeless and since I did not want to take any chances, I just went through and became the first guy at check-in.
Check-in took forever as the under-empowered outsourced ground agents had no clue what they were doing. Moreover, the Sri Lankan representative at KWI was an obnoxious man who was more intent on giving his relatives J upgrades than actually help the outsourced agent. It took 41 minutes to check in! I kid you not. When I went to complain, the guy basically told me that he "doesn't have time for Y pax as J check-in was going on." WTF! I was very close to buying an upgrade to rub it on his face … but then again, I am super broke and decided against it.
While KWI has improved, it is still a primitive airport. Even though there are additional shops and the "dingy factor" has significantly decreased, there still is very little to do. It did not help that my flight got progressively delayed due to "delay in incoming aircraft." I tried to go to the "Star Alliance Lounge" of Egypt Air to be told by a rude Pinoy women to get lost as it was "not a Star Alliance Lounge" despite having the sign. I did not want to argue as I was flying UL and technically did not qualify for lounge access … but why call it a Star lounge? She said I could only use it if flying UA and MS … but not any of the other Star carriers?!
Boarding was announced 45 minutes prior. After an additional security check by an extremely hot Kuwati (they are rare), I waited for 15 minutes before actual boarding commenced. Boarding was surprisingly organized and I was soon onboard and greeted by the purser. Boarding happened quickly and was aided and abated by all crew who were smiling and helping passengers with their luggage. Very cool. Moreover, the captain profusely apologized for the delay. There was even a welcome drink and hot towel. Was I in Y?! I mean, Etihad couldn't get hot towels and welcome drinks done in J on a flagship flight and here we have UL off to a great start. Y load was 100% from KWI to DXB and again 100% from DXB to CMB. Interestingly, 85% of the pax disembarked at DXB and we got a whole new bunch. It is rare for a tag flight to do this well! Also, DXB is completely in line with the KWI-CMB great circle route.
Airport - External:
(Kuwait Airport)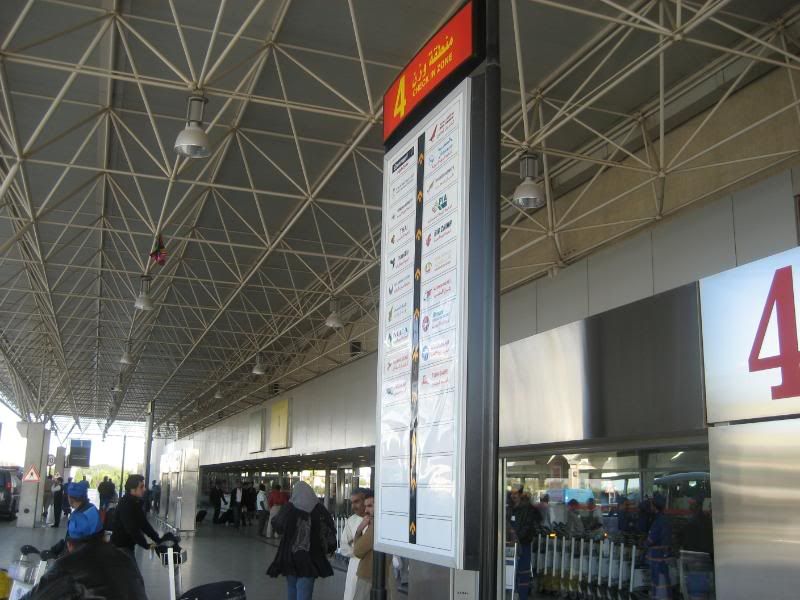 Check-in:
(People just hanging around pre-check in Entrance)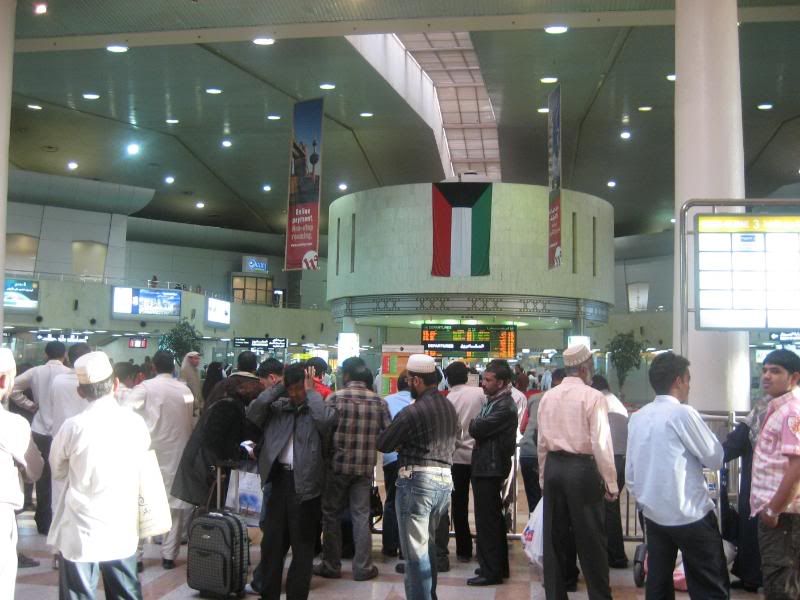 (Check-in)
Airport - Internal:
("Mall" prior to check-in)
(Internal – much improved, but still really nothing to do – sort of like KWI?)
(FIDS)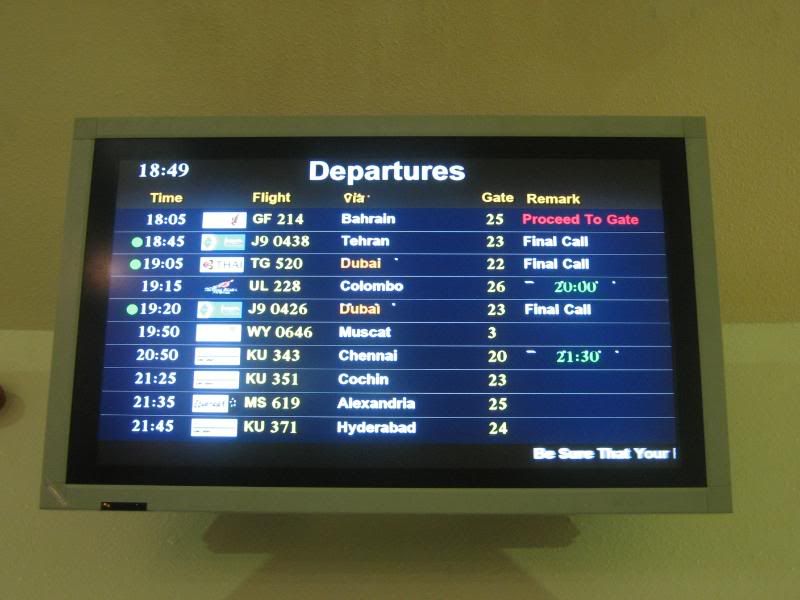 (Star Lounge – apparently)
Scenes of the tarmac:
NONE
Lounge
NONE
Boarding:
(Gate Area)
(Boarding Hold Area/Boarding)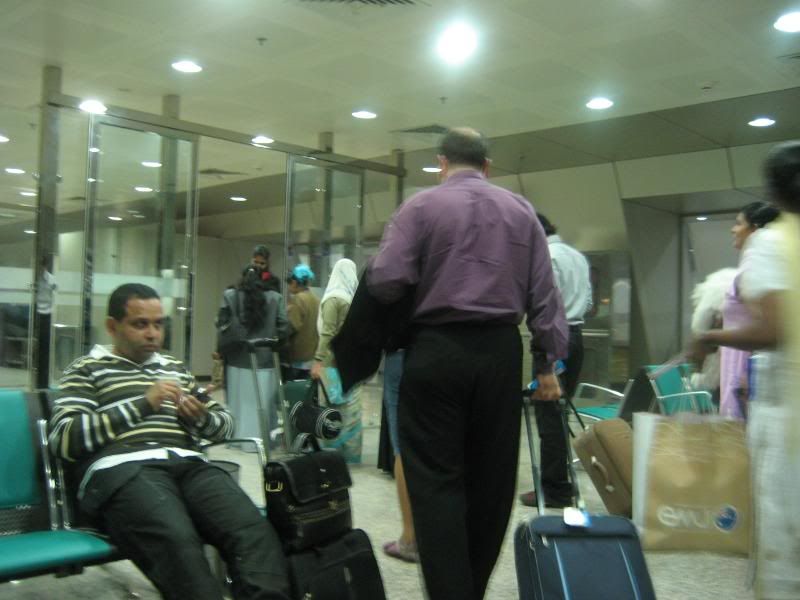 III> In-Flight:
a) Service Schedule + Impressions:
I had to pinch and remind myself that I was flying in Y. On the 1 hour KWI-DXB run, you get a proper meal. From DXB to CMB, you get another full meal and a very generous drink run. Duty free is done soon thereafter and then lights are dimmed. Prior to arrival, another drink run. Water runs throughout the flight on both sectors.
Ok. I must now comment on the absolutely obnoxious family from Dubai who sat next to me. There was this huge dad (who should have had 2 seats) who seated next to me … his wife … their maid … and 10 kids(!!!) scattered on the entire row and then some. Now, the kids were the MOST obnoxious people I have encountered in a while. Of course, Papa did nothing to stop this. During active taxiing, they decided to run around the aircraft and had to be chased by the crew! At landing, the Papa refused to let go of his 8 year old daughter who ultimately sat on his lap next to me without seat belts! The FA's were helpless. This guy was huge … and treated the FA's as his personal slave. I have always had a poor opinion about many Gulf residents, and this was further consolidated by this (and other experiences). Later in the flight, I had an earnest conversation with the FA who had the jump-seat across from me … and her story was sad. The U.A.E. authorities never take complaints by UL seriously … especially against a citizen of U.A.E. Pretty sad.
b) Aircraft + Seats:
Sri Lankan's 332 reminded me how important lighting is. While they are comfortable and relatively decently well maintained, the old-school lighting made the aircraft looked dingy. Perhaps, PlaneHunter can help … but it seemed that this was probably the oldest 332 I had ever been on. The seats were comfortable, and the non-exit row had average legroom. Seat recline was definitely above industry average. Overall, a pretty impressive for Y. One thing … major props to the cabin crew for working overtime to keep the lavs clean.
Aircraft:
(Beautiful 332)
Views from Aircraft:
(Strange seeing these 2 @ DXB)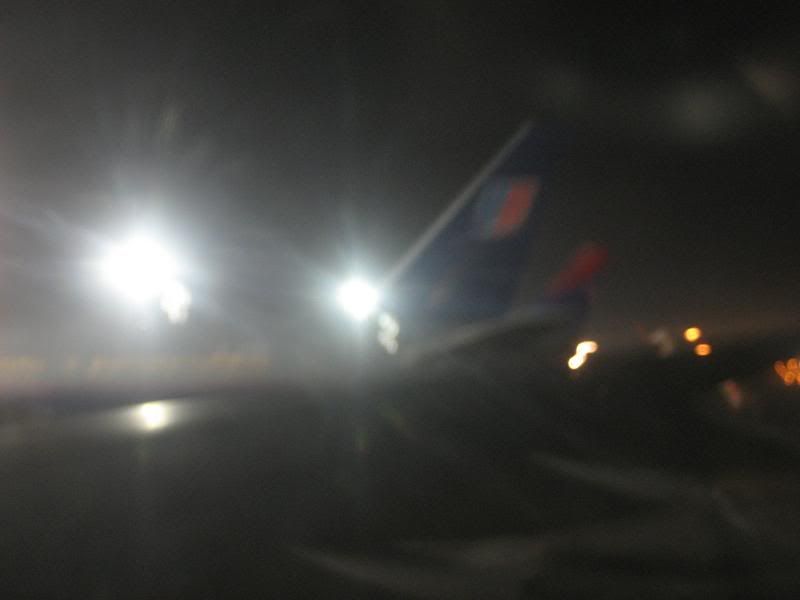 General Seat Views + Seat Legroom
(Seat)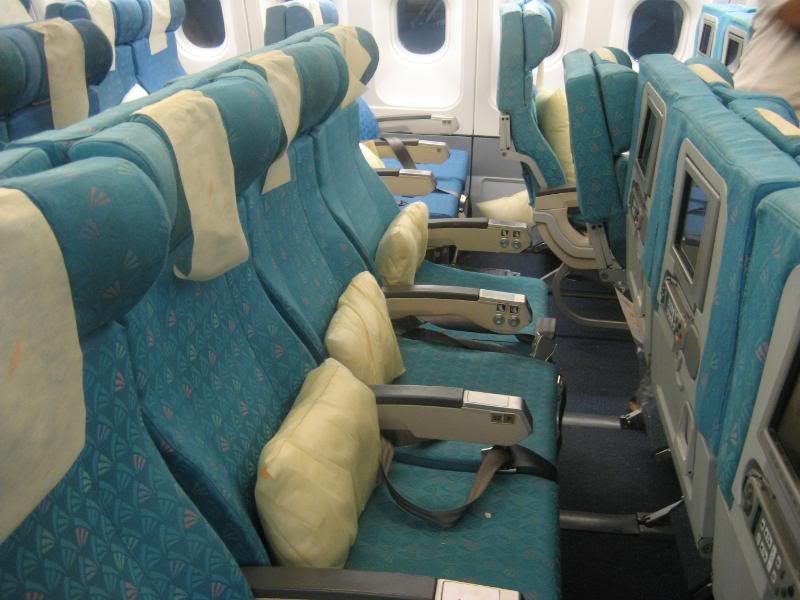 (Seat Controls)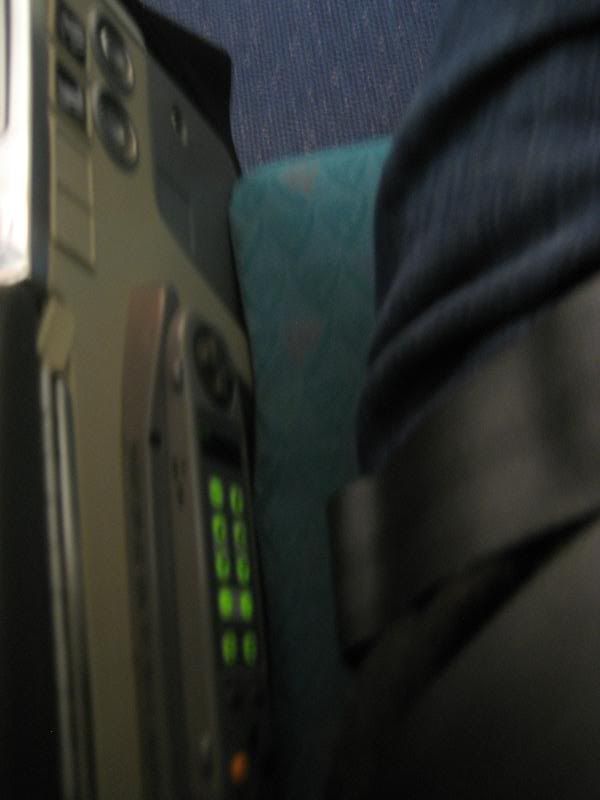 (Generous Exit Seat)
Seat Recline + Angle View:
(Not shabby))
(Obnoxious family I was speaking with – some of the kids)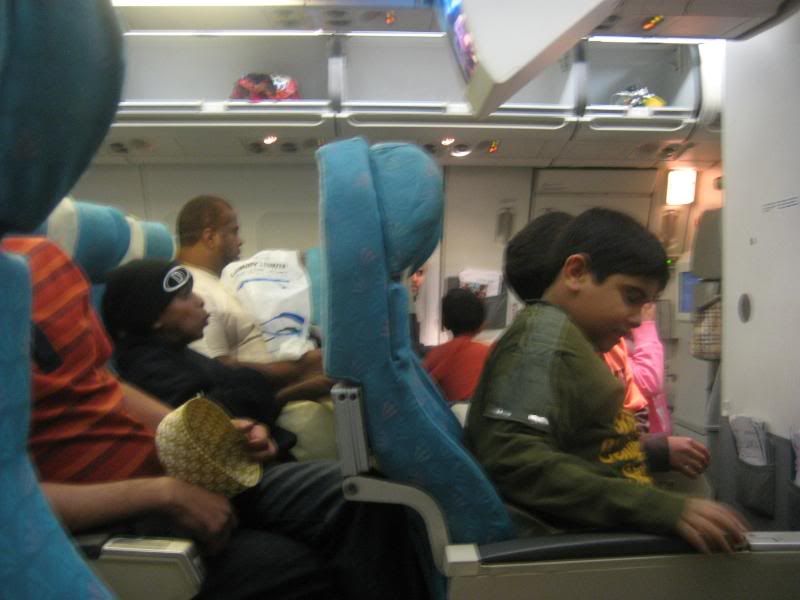 Cabin: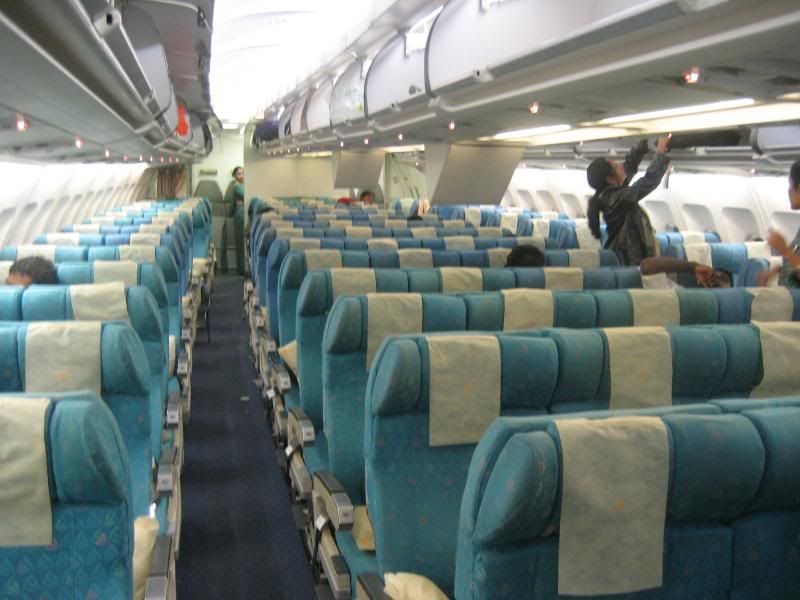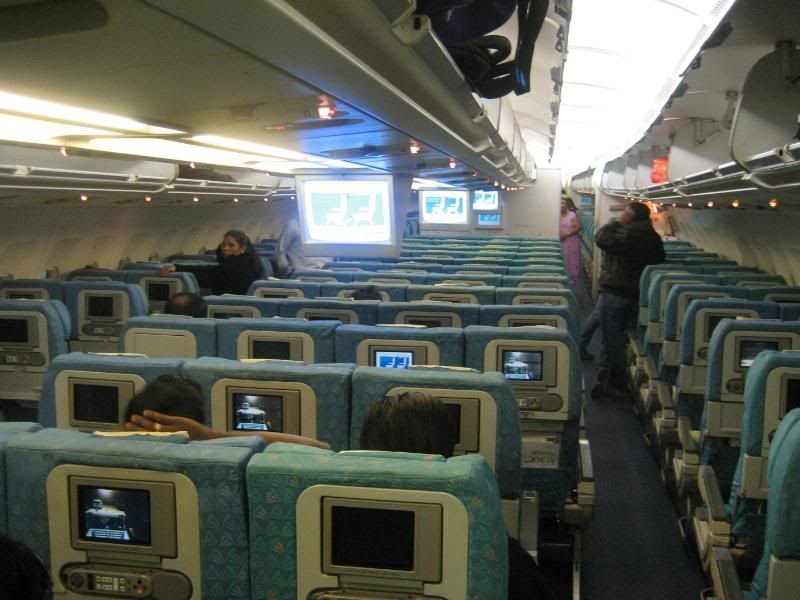 (Bathroom)
c) Meal + Beverage:
Now. Keep in mind this was a Y ticket. It got me an excellent Indian style Biriyani with chicken on the 1 hour flight to DXB … they even had a fancy menu and options! On the DXB-CMB segment, there were generous beverage runs including my JW Black and local Sri Lankan booze made of coconut (name anyone?). Again, there were selections … and I chose the rather delicious lamb with rice and Indian soup (dal/dhall?). The desserts were nothing special … but I wasn't complaining. Also, prior to dinner, there was more alcohol and snacks. Wow. More food than J in many airlines in same stage lengths.
Water and other beverage runs consistently maintained.
(Menu – now this is a Y menu-card of a low-yield VFR route! Better than MANY J carriers … and there are even choices!)
(Meal: KWI-DXB)
(Drink brought to me during taxiing at DXB)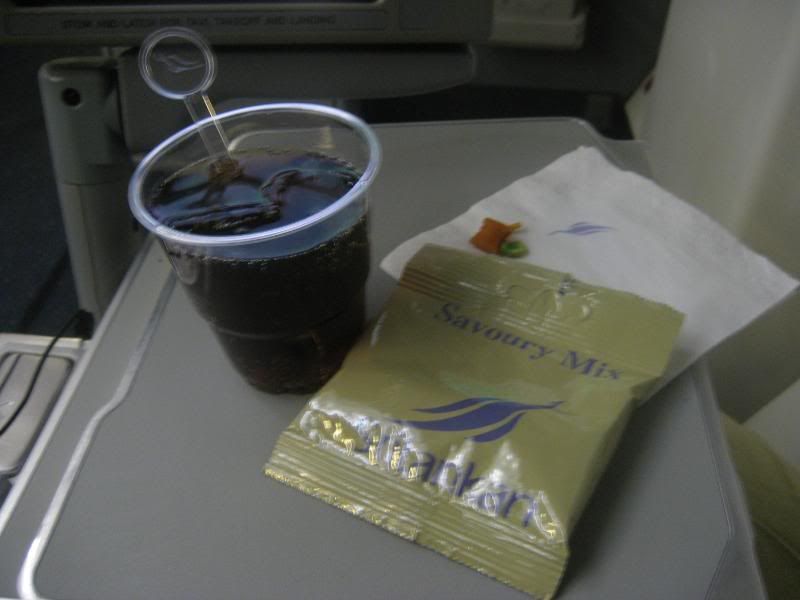 (Main)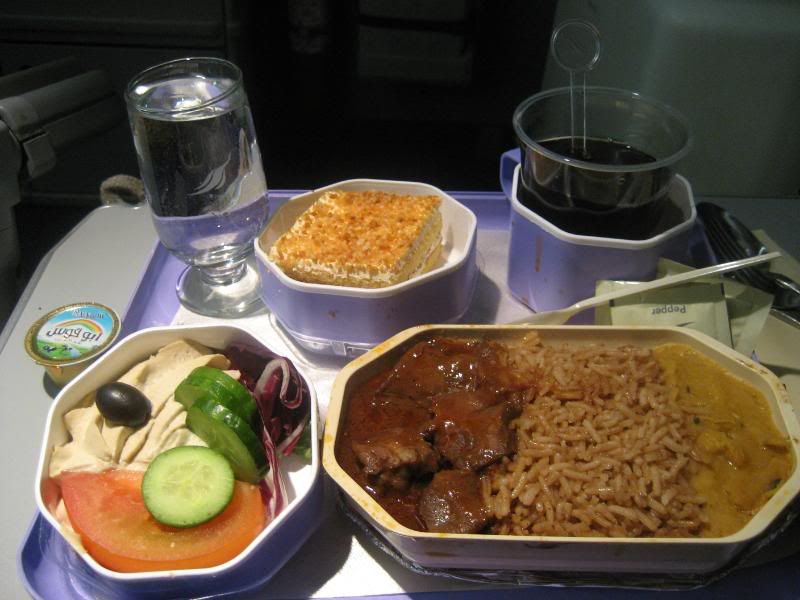 (More alcohol)
d) Inflight Entertainment:
Sri Lankan has old generation personal IFE systems. These were showing their age. The 12 channels did have movies, TV, etc. in a few languages … but its perhaps time for an upgrade? The in-flight magazine was superb also.
(IFE system)
(Camera)
(Lots of ads on service to India)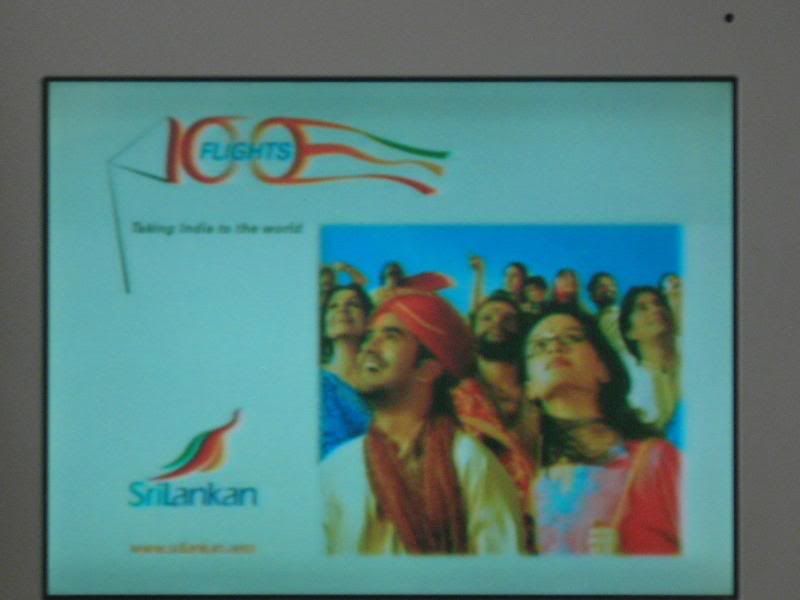 ("In-flight magazines", Boarding Passes, etc.)
e) Crew:
Ok. I simply must rave on about their crew. More than ever, I am convinced that the best cabin staff comes from South Asia! The crew on board Sri Lankan was just superb … and I will share a few anecdotes that showed that the service came with genuine smiles and really from their heart.
There was the obvious smiling presence throughout the cabin during boarding/ in flight / at disembarkation. I don't remember a flight were so many water-runs had been done. Moreover, any service request was responded promptly. They were pro-active in keeping the bathrooms clean and joked with the passengers and amongst themselves. Seriously, I have not encountered such a friendly crew since my Air India trip earlier in 2008. Finally, they handled the situation with the Dubai family well … and having a few crew trained as "special children trained" definitely added a touch of class in their service delivery.
Ok, now the anecdotes which propelled this crew from being great to being just fantastic.
1/ On several carriers, during a transit stop, crew disappear on go on with their duties. Not this UL crew. They actively talked to each and every passenger on board asking them about the journey thus far, asking about their health, smiling, joking, teasing a newly wed couple on what they wanted to do on their honeymoon, etc. Just fantastic!
2/ Upon arrival at DXB, I had gone back and asked the galley whether they would soon have a drink service – I was starved of alcohol (Saudi Arabia + Kuwait) and needed a drink fast. One of the crew members volunteered to make me a drink – since boarding started soon thereafter, I said it was OK, but I loved my scotch. There was an ATC delay and we were on taxiway for a while … this woman comes to me with 2 bottles of Mr. Walker, smiles, and says, "I cannot bear to see you suffer until we are off ground". WOW! Now, that is hospitality. Needless to say, she kept me well "fed" during the flight.
3/ Since I was in an exit row, I managed to talk to another crew member and was telling her about my job and love for airlines. Prior to disembarkation, this crew member comes to me, gives me a UL duty free bag filled with UL playing cards, stationary, pens, etc. She even wrote a note on the post card saying, "Always inspiring to see someone do something they love … keep flying, and do not forget the little airline south of India!"
Seriously, I was blown away. What an impressive an amazing group of flight attendants. On arrival, each and every of the crew I had interacted with wished me good luck and that I see them the next time in CMB. Now, this is what service should be like! Impressive stuff for sure.
IV> Post-Flight:
Baggage took forever at CMB airport. Post arrival facilities are rudimentary and the only ATM was not working … thankfully I managed to convince some random dude waiting to pick her daughter to convert some USDs to LKR's for me. He probably did not want some white guy off in Sri Lanka by himself. LOL.
(CMB Arrivals)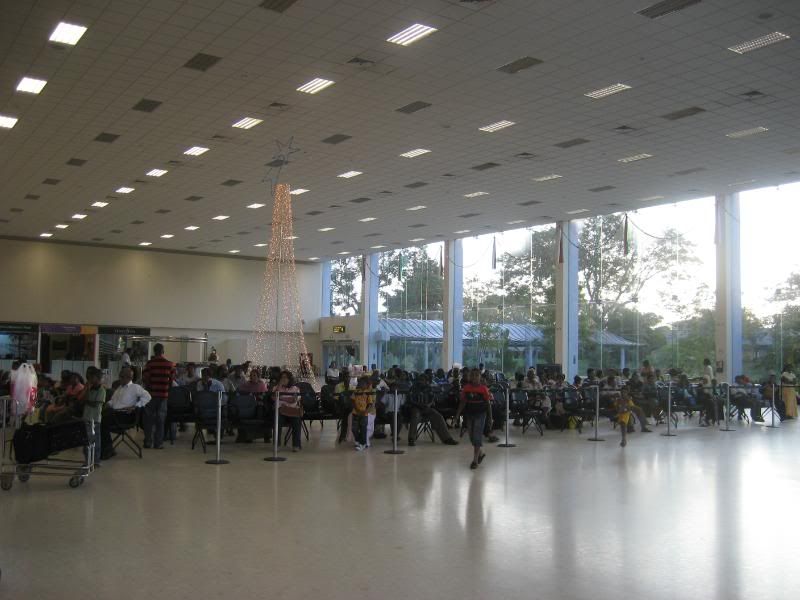 V> Impressions + Scores:
Truly great airlines are made by the people that work for them. I have always said that poor hardware could easily be compensated by excellent software. Sri Lankan has an excellent group of individuals working for them – led by a fantastic crew that went above and beyond their call of duty. Moreover, an excellent reservation desk ensured positive reinforcement in its human resources. True, ground check-in at KWI was bad … but, this experience is proof-positive that a trip can be "saved" even after a poor start (unlike my LH/Privatair report). Of course, there are things were age is beginning to show, and baggage handling could be improved. But these minor things do not take away from the excellent job that UL crew did ensuring a truly memorable experience. I would fly UL in a heartbeat and recommend them with two over enthusiastic thumbs up based on this experience. If any UL staff is reading this, a big positive letter is already en route.
1.0 > RESERVATION: 8.5
2.0 > CHECK-IN: 3.0
0.5 > LOUNGE: N/A
0.5 > BOARDING: 8.0
2.0 > SEAT: 7.0
0.5 > AIRCRAFT OVERALL AMBIENCE: 7.0
1.0 > IFE: 7.0
2.0 > CREW: 10.0
2.0 > FOOD: 7.5
0.5 > BEVERAGES: 8.0
0.5 > A.KITS + OTHER FREEBIES: 6.0
0.5 > DISEMBARKATION: 7.0
1.0 > ON-TIME RECORD: 7.0
WEIGHTED OVERALL IMPRESSION (WOI): 7.07
(Pre-flight WOI of all reviews: 6.47)
* Weighted Overall Impression (WOI) aligns scores with what matters most. Weights are indicated alongside each category.
(Scores are based on comparison with other airlines in THAT class of service – No comparison of Y vs. F for example)
VI> Other Trip Reports:
PREMIUM:
8.64:
Turkish Airlines (59): JFK-IST: 11/2008
8.61:
Air Canada (49): YYZ-SCL: 06/2008
8.11:
Aeroflot (33): MOW-DEL: 09/2007
8.04:
Korean Air (40): NRT-ICN: 10/2007
8.02:
Delta Airlines (24): JFK-CDG: 08/2007
7.46:
LAN (55): YYZ-JFK: 09/2008
7.82:
Singapore Airlines (06): EWR-SIN: 09/2006
7.14:
Swiss (52): SCL-GRU: 06/2008
6.96:
Etihad (61): JFK-AUH: 12/2008
6.93:
Delta Airlines (18): SEA-JFK: 11/2006
6.81:
Air Canada (17): ICN-YYZ: 10/2006
6.70:
KLM (32): EBB-AMS: 08/2007
6.36:
Privatair (60): MUC-BOS: 12/2008
6.25:
Korean Air (45): NAN-ICN: 10/2007
6.11:
TAP Portugal (53): GRU-OPO: 06/2008
5.75:
Singapore Airlines (16): CCU-SIN: 10/2006
5.64:
NorthWest (46): ICN-NRT-SEA: 10/2007
5.39:
LOT (54): WAW-JFK: 06/2008
4.42:
Air France: CDG-JNB (25): 08/2007
ECONOMY: Long + Medium:
9.26:
Air India (48): JFK-DEL: 02/2008
7.38:
Avianca (01): BOG-LIM: 07/2006
7.07: Sri Lankan Airlines (62): KWI-(DXB)-CMB: 12/2008
6.41:
American Airlines (58): LHR-BOS: 11/2008
6.26:
Jet Blue (21): CUN-JFK: 02/2007
6.06:
Air Canada (04): YYZ-YVR: 09/2006
5.89:
USA 3000 (19): PUJ-BDL: 01/2007
5.79:
Air New Zealand (42): RAR-NAN: 10/2007
5.46:
TAP Air Portugal (23): OSL-LIS: 05/2007
ECONOMY: Short
8.56:
Paramount Airways (38): BLR-MAA: 09/2007
8.24:
Kingfisher (14): IXA-GAU: 10/2006
7.87:
Indian (34): BOM-MAA: 09/2007
7.72:
Alliance Air (13): CCU-IXA: 10/2006
7.57:
Indian Airlines (10): DEL-CCU: 09/2006
7.23:
West Jet (03): YYC-YVR: 09/2006
7.15:
JetLite (37): BOM-GOI: 09/2007
6.70:
Spice Jet (09): CCU-DEL: 09/2006
6.63:
Air Fiji (44): NAN-SUV: 10/2007
6.58:
Air Tran (02): EWR-MDW: 08/2006
6.44:
CO Micronesia (39): ROR-YAP: 10/2007
6.41:
Pacific Sun (43): NAN-SUV: 10/2007
6.37:
Skybus (47): SWF-CMH: 02/2008
6.33:
Kenya Airways (29): NBO-BJM: 08/2007
6.33:
Sky Europe (56): LTN-BTS: 10/2008
6.31:
Indigo (15): GAU-CCU: 10/2006
6.31:
easyJet (57): BUD-LTN: 11/2008
6.22:
Air Link Swazi (28): MTS-JNB: 08/2007
6.22:
Air India (36): HYD-BOM: 09/2007
6.13:
Adam Air (07): SIN-CGK: 09/2006
6.13:
Air Rarotonga (41): RAR-AIT: 10/2007
6.00:
Transairways (27): INH-MPM: 08/2007
5.95:
Air Canada (05): ALB-YYZ: 09/2006
5.85:
SAS Norge (22): OSL-AES: 05/2007
5.81:
LAM Mozambique (26): JNB-MPM: 08/2007
5.69:
Air Deccan (12): IXZ-CCU: 10/2006
5.67:
Rwanda Air Exp (30): KGL-NBO: 08/2007
5.07:
Go Air (35): MAA-HYD: 09/2007
5.00:
Sky Airline (51): IQQ-SCL: 06/2008
4.96:
Valuair (08): CGK-SIN: 09/2006
4.78:
Air Comet Chile (50): SCL-IQQ: 06/2008
4.74:
Fly 540 (31): MYD-LAU: 08/2007
4.33:
Viva Aerobus (20): ELP-MTY: 02/2007
4.11:
Air Sahara (11): CCU-BOM: 09/2006
(Note on Codes: Y – Economy, J – Business, F – First :: I/D – International/Domestic :: SR/MR/LR – Short/Medium/Long Haul)
(Note on Date: Dates are modified to be +/- 3 days from actual flight date to not reveal actual flight pattern)
VII> Other Pictures:
(Look at the goodies I got … and the playing cards with images of various UL people and operations were truly unique and one of the best I have seen)
(Sri Lankan beach)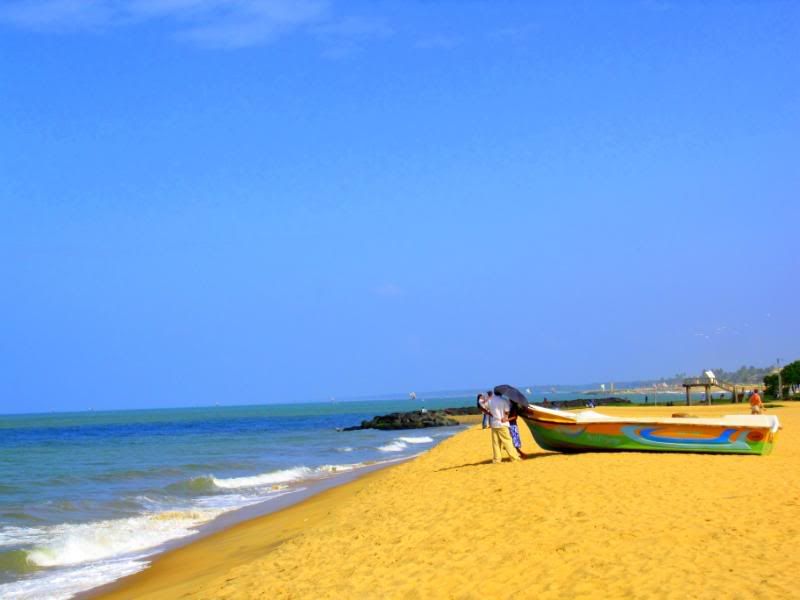 (Crazy Sri Lankan towns … LOVE IT!)