Welcome to my Second Trip Report everyone!
In November, I decided to go to London for a night during the Christmas holidays. I was curious to see what Heathrow Terminal 5 was like in reality, since it has been the topic of much discussion during the year. In order to do this, I had to come up with some alternative flights.
Date
: 28 December 2008
Flight
: EI132
Route
: SNN-DUB
Aircraft
: A330-202 (24J/251Y)
Reg
: EI-EWR
Aircraft Name
: Saint Laurence O'Toole
Seat
: 31A
Class
: Economy
Load Factor
: 85%
Scheduled Dept Time
: 07:00
Actual Dept Time
: 07:15
Scheduled Arrival Time
: 07:45
Actual Arrival Time
: 07:50
I arrived at Shannon Airport at 05:15. The airport was busy and nicely decorated.
I went straight over to the Aer Lingus desks to check-in. I recognised most of the EI staff and the check-in agent was very friendly, and greeted me by my first name, which I thought was nice. He gave me the boarding passes for both flights, SNN-DUB and DUB-LHR and he checked my bag through to LHR.
The new terminal in Shannon was opened in 2000. I took some of these pics the night I came back, when the terminal was deserted.
Aer Lingus Ticket Desk
Fastpass
Ryanair Ticket Desk
Delta Ticket Desk
I then proceeded to security screening, and had a quick look at the Duty Free store. I didn't spend long in the Departure Lounge.
Shortly afterwards, I went to the departure gate. EI132 was departing from Gate 8 this morning. I like this gate area, it's very spacious there's plenty of seating available.
Boarding commenced at 06:40. I knew the gate agent, she lives near me and has worked for Aer Lingus for nearly 20 years.
My aircraft today, EI-EWR, delivered to Aer Lingus in May 2000. I was happy to be on this A330 to DUB, as it will be leaving the fleet in a few months and I hadn't been on it before.
As it turned out, I had caught this aircraft climbing out of SNN the day before heading to BOS. I'll include the photo here:
We were greeted at the door by two cabin crew. EI132 routes BOS-SNN-DUB so there were a lot of passengers sleeping throughout the cabin. There was a passenger sleeping in seat 13A, my assigned seat. I didn't want to disturb them so I asked one of the cabin crew should I sit anywhere. She brought me to seat 31A, an exit row. Nobody sat in the seat beside me so I had plenty room.
I'd recommend this window seat on an EI A330-200. Plenty of legroom and there is a small TV screen directly in front. Unfortunately I didn't get any cabin photos on this flight, but there is one here on a.net:
View Large
View Medium


Photo © EDDL Photography
All the seats have green seat covers now however.
It was a very cold morning so the aircraft had to be de-iced. The safety video was shown and the captain welcomed us on board. We pushed back shortly afterwards and departed from RWY06.
It was a short flight, just over 30 mins. Due to the short flight duration, there is no service. The FA seated opposite me was very friendly and I chatted to her for a while. She was Dublin based and worked part-time. Her husband was a captain at Aer Lingus. We chatted about the return of SNN/LHR and some of the long-haul flights that EI had cut. She was hopeful that LAX would return soon. For east-coast flights, some crews are getting 2 night layovers in the US at the moment instead of just the one, due to the reduction in SNN flights.
We began our descent into DUB shortly afterwards and touched down on RWY 10. We taxied to Pier D. When we landed I asked her could I see the flight deck, as I had already mentioned my flight training. There wasn't any problem and one of the male cabin crew took me up. The best part of the flight of course
He showed me around and I talked to him for a small while. He told me to ask to see the cockpit whenever I was flying with EI, as there was never a problem. I thanked the crew and said goodbye to them.
EI-EWR at Pier D
At this stage it was 08:05, and as my flight to LHR was departing at 09:00, I had little time to spare.
Date
: 28 December 2008
Flight
: EI156
Route
: DUB-LHR
Aircraft
: A321-211 (212Y)
Reg
: EI-CPG
Aircraft Name
: Saint Aidan
Seat
: 3A
Class
: Economy
Load Factor
: 83% (175 pax)
Scheduled Dept Time
: 09:00
Actual Dept Time
: 09:05
Scheduled Arrival Time
: 10:15
Actual Arrival Time
: 10:20
I headed to the baggage hall from Pier D and went straight to the transfer area. This page from the Aer Lingus in-flight magazine shows how to transfer to another flight at DUB.
Boarding card for EI156
Boarding commenced at 08:35 at Gate C42 for the flight to LHR. On reaching the aircraft, the senior cabin crew member greeted us at the door and I took my seat.
EI A321 cabin. The cabin was clean and in good condition. These rows were previously fitted in the old Premier configuration, 3 + 2 across.
Safety card
Seat back
The first officer welcomed us on board. The crew performed the safety demonstration and we pushed back shortly afterwards. We then began the long taxi to RWY10 and took off.
Legroom - ample room for short flights.
The crew then began the service. On all EI morning flights that I've been on, there's always a shortage of breakfasts. By the time the crew reached my row, only row 3, the 2 cabin crew serving the upper rows of the aircraft had already run out of breakfasts. There was a family in Rows 1 and 2 who had ordered 5 breakfasts so there was none left for me. Luckily, the crew at the rear of the aircraft still had some left, so I was able to get my hands on one
The breakfast costs 9EUR. In it, there's 2 sausages, 1 slice of bacon, 2 pudding, and tomato. Also included are 2 slices of bread, orange juice and tea or coffee. Very tasty!
SkyCafe menu
Cara - December 2008
The flight was uneventful after that, apart from an old woman sitting near me in 3C constantly complaining about having to pay for the food. She had already made it quite clear to both the gate agent and 2 cabin crew that she had been charged £120 to change her flight the day before.Then when I got the breakfast, she asked the crew for the same thing, except she didn't want the tea, juice or bread with it. The crew gave her the breakfast for a fiver just to keep the peace.
More in-flight pics
About 45 mins later, we began our descent into LHR.
BA 744 in the distance
On approach to RWY 06L
Touchdown
Renaissance Hotel where I would be staying
Another BA 744
BD A319 at T1
LH A321
LHR Terminal 1
BD, BA, AY tails
The crew welcomed us to LHR and I said goodbye to them. It took over 15 mins for the baggage to come through on the carosoul. I then headed out to Arrivals and took the hoppa bus to the Renaissance Hotel.
The Renaissance hotel is located just 2-3 miles away from Terminal 1 and offers great views of the airport. When aircraft are departing from 27R, it's possible to get some great photos. I paid £96 for the night, included is breakfast, free hoppa bus tickets to LHR, access to the Club Lounge and most importantly a guaranteed room with airport views.
Some pics taken from the room:
QF 744
EK A380
LX A321
BA 777
NW A330 - didn't see that last year of course.....
Some photos I took whilst in London:
Trafalgar Square
Tube
It was just a short stay in London, and on Monday it was time to head home again.
Date
: 29 December 2008
Flight
: BA1398
Route
: LHR-MAN
Aircraft
: A319-131
Reg
: G-EUOF
Seat
: 15F
Class
: UK Domestic
Load Factor
: 65%
Scheduled Dept Time
: 17:00
Actual Dept Time
: 17:00
Scheduled Arrival Time
: 18:00
Actual Arrival Time
: 17:45
At 14:15 I took the hoppa bus to Terminal 5 for my flight to MAN. This was my first time in the new terminal and I was very impressed. By taking the lift up to the departures level, I really got to see how magnificent the building really is. The check-in area was so calm and quiet. The whole area was very spacious and the atmosphere was very relaxed, unlike Terminal 4.
Terminal 5 Departures
Very nice.....
I checked in using the SSK and got my boarding pass. After dropping my bag off at the desk to be tagged, I looked around for another while and then headed to the security screening area.
Airside
Look, there's my car
You need to be careful in Terminal 5, the place could fool you into thinking you were in a shopping centre, and not in an airport at all. The amount of shops was unbelievable. I strolled around for a while, the best shop being the chocolate store, the only shop I actually bought something in. Of course, the line of BA tails parked outside quickly reminded me where I was, and it wasn't a shopping centre.....
After a quick cup of tea, I headed off to the gate. BA1398 was departing from Gate A3, just a short walk away.
BA1398/CX/AA/IB LHR-MAN
Boarding commenced at 16:35. There were complimentary newspapers available to take in the airbridge which was a nice touch. I was welcomed at the door by 2 cabin crew who were very friendly, and I took my seat, 15F
BA A319 cabin. The seats were very comfortable, with plenty legroom and good recline. The cabin was in good condition as always.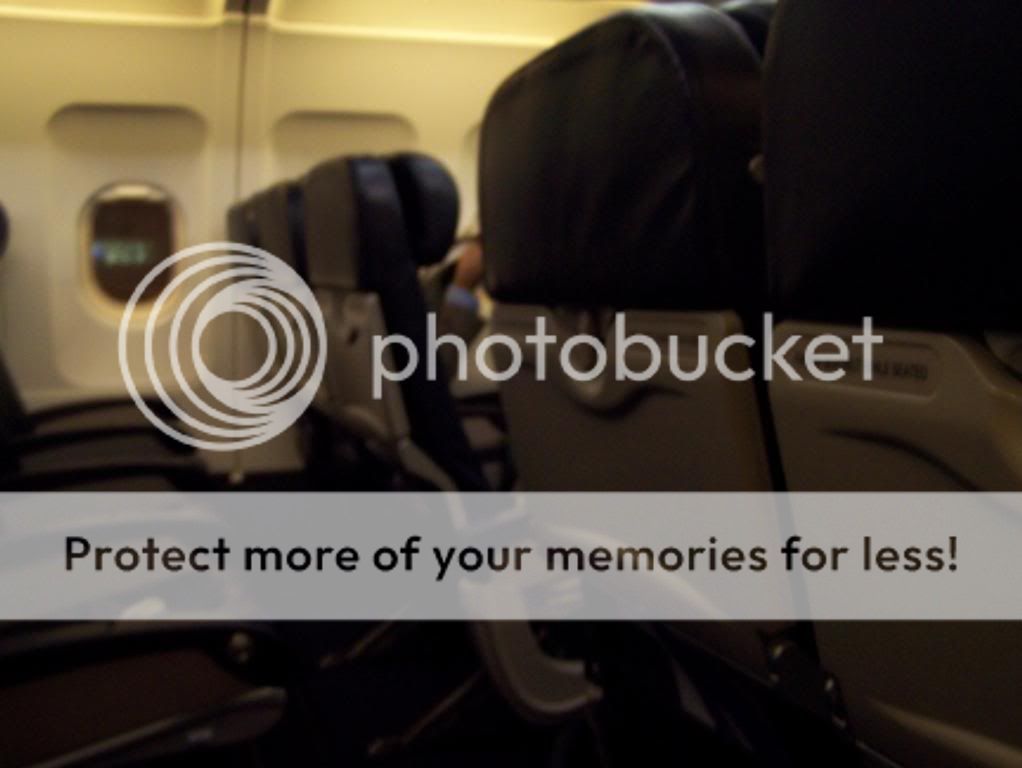 Safety card
The captain welcomed us onboard, and informed us that he was trying to get a slightly earlier slot as we were ready to depart.
As it was dark, it was difficult to get some pics of the terminal and other traffic
At 17:00 we began the take-off roll and departed from RWY 09R
There were 6 cabin crew onboard, quite a lot for a lightly loaded A319. The service began immediately due to the short flight duration and I got a chicken sandwich, a chocolate bar and tea. It was very tasty.
Airshow
25 mins later, we began our our descent towards Manchester and landed shortly afterwards on RWY 06R
.
On arrival at the gate, I said goodbye to the crew and proceeded to the baggage hall to collect my bag.
BA use Terminal 3 at MAN, so I had to walk over to Terminal 1 for my flight back to Shannon. It was almost 10 years since I had last used T3 at MAN and when I walked outside and looked over towards the newer T3 Departures building, it had changed slightly. The large "British Airways" sign on the front of the building was missing, and it had lost that shine it used to have! It no longer looked like this:
Date
: 29 December 2008
Flight
: FR149
Route
: MAN-SNN
Aircraft
: B737-800
Reg
: EI-?
Seat
: 30F
Class
: Y
Load Factor
: 90%
Scheduled Dept Time
: 20:45
Actual Departure Time
: 21:15
Scheduled Arrival Time
: 21:50
Actual Arrival Time
: 22:10
After the short walk to T1, I joined the long queue for check-in. It took almost 30 mins to reach the top of the queue and I got my boarding pass. After that I went straight to security screening and sat down for a while afterwards. There have been improvements made to T1 recently, but some areas are still in need of a facelift. It's also not as easy to view the aircraft anymore as some of the window area has been blocked off.
Restaurant
Thomas Cook 757
After a while it was time to head to the gate, which was very busy. It was another almost full FR flight. Luckily I had priority boarding so I was able to avoid the crush. Boarding was delayed, and no explanation for this was given. Finally at 20:45, boarding commenced. Surprisingly, we used an airbridge.
. This was only my second time using an airbridge on FR, I wasn't expecting this...
On boarding, I headed towards the rear of the aircraft and took seat 30F.
Ryanair cabin
I haven't seen these ads on the seat backs before. The cabin was crowded with advertisements, both on the seat backs and the overhead lockers.
Wing view
The crew apologised for the delay, and we were on our way shortly afterwards. Take-off was from RWY 06L. Basically, the flight was uneventful for the most part and I slept until we were approaching SNN.
On approach over the estuary to RWY 06 at SNN, I noticed something unusual. There was a stream of fluid flowing back from the wingtip. I guessed it might be fuel. A few minutes later we landed on RWY 06 and the normal announcements were made. Although when we did arrive on stand, it was clear there was a fuel leak. It was dark but from the window, fuel appeared to be flowing from the right wing tank. There was a strong smell of fuel when I left the aircraft. Unfortunately it was too dark to get any pictures, but hopefully you get the idea.
I then headed in to the baggage hall to collect my bag.
Arrivals
Well those were my last flights of 2008, and it will be a few months before I get a chance to to fly again. All the flights were enjoyable, the best being the A330 up to DUB, despite it's shortness. It was great to experience LHR Terminal 5 as well.
I hope you enjoyed reading it. Any comments and feedback would be appreciated!
EI320