Please find parts I and II here:
http://www.airliners.net/aviation-fo...ums/trip_reports/read.main/140668/
http://www.airliners.net/aviation-fo...ums/trip_reports/read.main/140672/
Third leg
HKG – MEL: January 7th, QF 030. B747-400. Seat 18A.
I have to say I am suffering from the worst case of jet lag in my young life (not so young). I could not sleep at all while in Hong Kong, and although my meetings went decently, I will remember the stay as a very exhausting experience. Anyways, I woke up at 6AM (I had felt asleep at 4AM finally) and I wished I was dead. I took a shower, checked out and met my coworker to take a taxi to the Airport Express station downtown. We actually checked in at the station and it was kind of funny. We thought we were flying on the same flight to Melbourne, but he actually was flying on Cathay. The arrival time was the same, but since he was flying in an A330, his departure time was a little earlier.
We arrived around 8 to the airport, and I was so sleepy I panicked when I could not find my luggage in the train (I forgot I had checked in already). My friend wanted to do some shopping, and I wanted to have some breakfast. We parted and I walked to the Qantas lounge. Hong Kong airport is really beautiful. Perhaps the signs could be clearer, since it took me some 15 minutes to find the lounge. But maybe I was too sleepy.
Hong Kong airport:
The lounge is nice, nothing too great. It has nice views of the planes, though. I actually saw my plane arrive from London.
Views from and of the lounge:
My ride arriving from London:
After a while, I decided to take some pictures of more planes and headed to my gate.
Some of the pictures I took then:
My friend was on this plane:
My ride:
To Sydney (I don't like the new livery, it looks low cost):
There was already people waiting by the gate and the screen said we would be boarding soon. Not true… we boarded close to departure time (we started boarding after 9:40 and departure was supposed to be at 9:50).
I walked to my seat which was also in the upper deck. I like the upper deck. It feels very private. I know there has been some arguments in this website on whether flying a narrow body across the pond feels too small or not. Some people have argued that flying on the upper deck of the 747 is similar and people seem to like it. Well, I don't think it's that simple. I am flying today with no more than 10 people up here. So THAT'S why it feels nice. So having over 150 people like in a 757 would not achieve the same. But, that's just my opinion.
View from my seat:
Take off from Hong Kong:
http://www.youtube.com/watch?v=eSd3r0nE7UY
I am writing this part as I am currently flying over Brunei. Take off was delayed a lot. Both the captain and the chief flight attendant informed us continuously of the reasons of the delay: cargo hold not loaded yet; then missing passengers and finally the entertainment system not working and someone working on it. We ended up taking off after 10:30. I know my friend will be pissed off since we agreed to share a cab to the hotel once in Melbourne so he will have to wait a little bit. He he.
We took off to the south and were offered drinks. I am very sleepy so I took some pictures of the service and I have forgotten to take some others. The flight attendants were really nice again, but female ones this time around (LHR-HKG were all male). I asked one of them for a set of pajamas even though this was a day flight and they didn't load them in Hongkong; however, she got them for me. Lunch started with a really nice tomato soup, and then I chose the chicken. Honestly, the very few times I have spent at a hospital I have tasted tastier chicken than this one. Rice was undercooked. So the main course was a mess. The wine was nice again, though. I chose fruit for the dessert, which was Ok.
What was left of the tomato soup:
The entertainment system never got repaired, so we all were shown the same two movies. I have spent the last 15 seconds trying to remember which movie I just saw… Ah! I am tired. I don't want to sleep, though, I want to try to sleep tonight in Melbourne. I have meetings all day tomorrow and on Friday. Which movie was it, damn it???? Ah… it took a while, it was the last Indiana Jones one, which I think we all agree it sucks. Now it finished and I am watching the last Die Hard movie, more out of my crush on Bruce Willis… it is kinda sucky.
I don't remember eating this: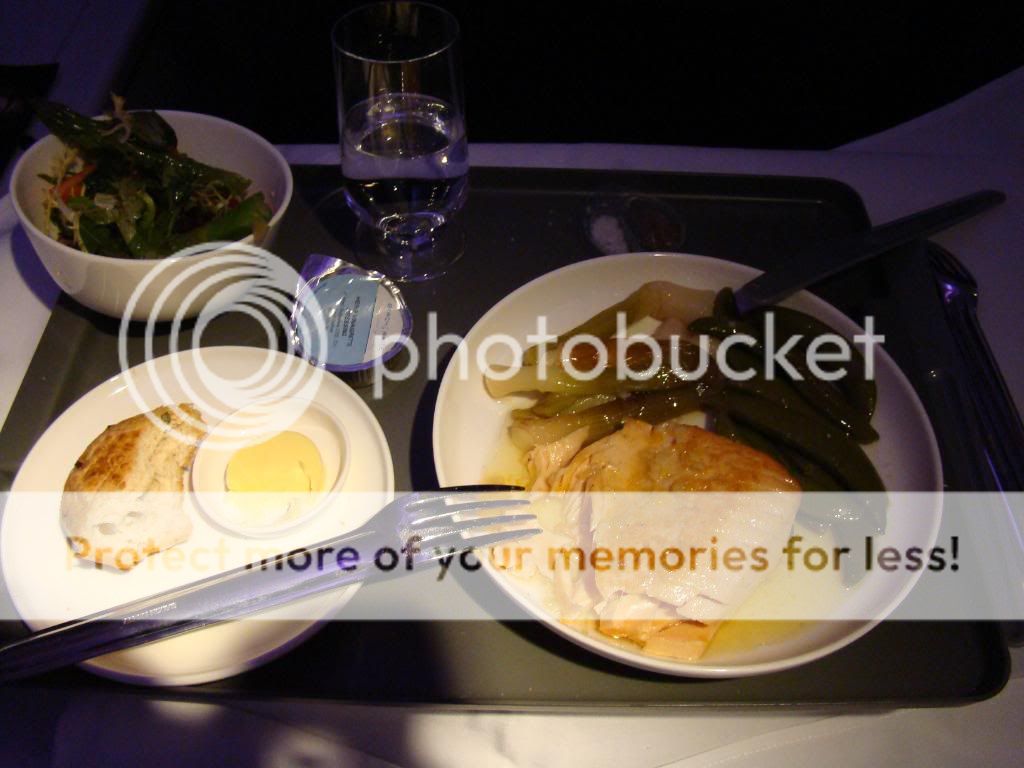 Ok back on again, we ended up landing in Melbourne close to 11PM. After landing, we were held up while waiting for a gate to open up, and this took an extra 15 minutes. It was my first time in Australia and I was a little amused at how protective they are regarding people bringing food or related items into the country. I am not saying it's wrong, but you should see how many signs, announcements, etc. you find at the airport.
Landing in Melbourne:
http://www.youtube.com/watch?v=sl_IGOzPSb4
Getting a taxi was easy and I headed for my hotel. I had an 8 o'clock meeting the next morning and I got to the hotel at midnight.
Pictures of melbourne. You guys should try the ride on tope of the tallest building.
Giant bee:
Other views from Melbourne:
Stay tuned for part IV