Date: 12 Jan 2009
Route: DUB-SNN
Flight: EI133
Aircraft: EI-EWR - A330-200
Seat: 12K assigned, 13A
Dep: 1130 Arr: 1215
I had to go to Shannon for work and of course I decided to fly, as one does. As I am being made redundant from work in 2 months, I thought I should get in all the flying I can before I go...
So I arrived at the airport in Dublin at around 9:45... I got my Boarding Pass from the FastPass (having checked in online the day before)... proceeded through the Domestic/Fast Track and was through and into the lounge in seconds.
There are some changes... the original door to enter the lounge is now closed and you enter through the next door... the lounge has been halved!
Yes, true - it's been halved! This is now the lounge...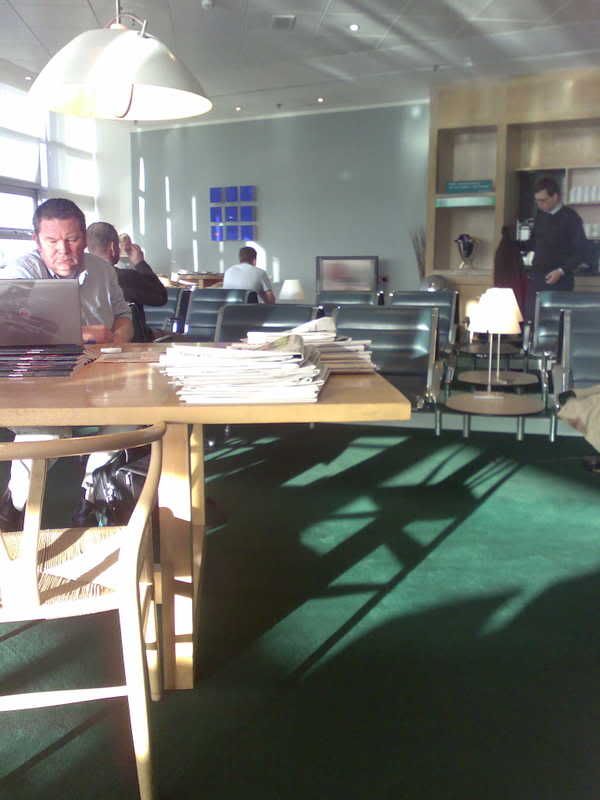 They have removed "the crappy little desks" as I once described in a report, and they have also removed the shitty Internet pay terminal.
On the table are...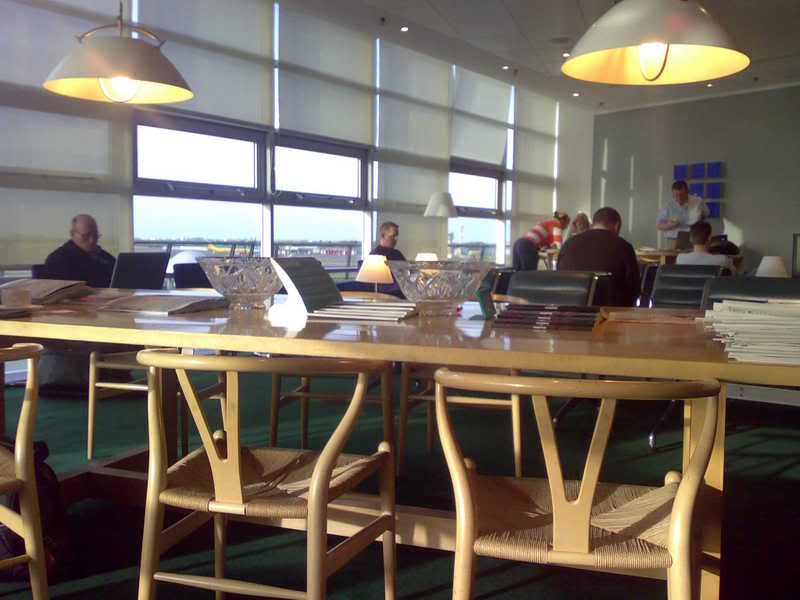 There are crystal bowls... one would suggest they put fruit in them. At the moment the only snacks in the lounge are calorie inducing chocolates. Since the bowls are empty and decorative, fruit might be a good idea. Listening EI?
Meanwhile I worked out my favourite gripe with the Dublin Gold Circle Lounge...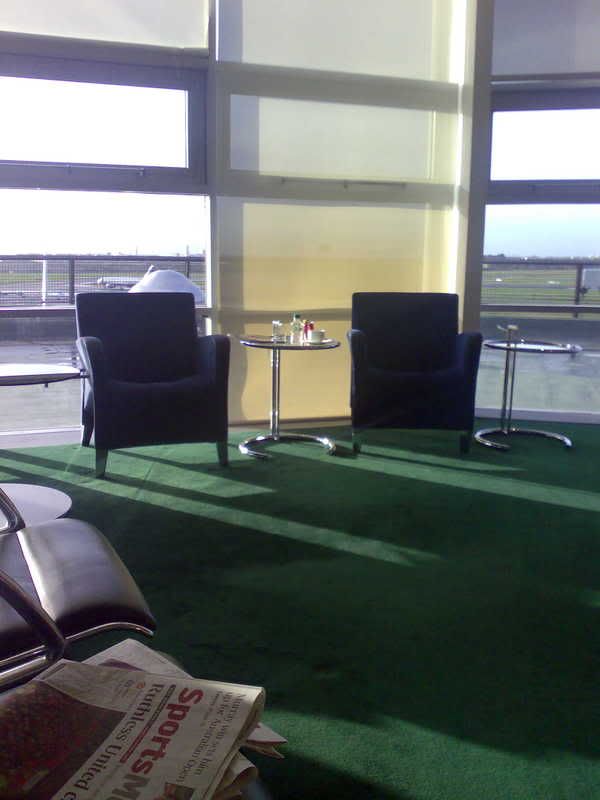 There is an amazing view out over the apron. All the Gold Circle Lounge seats face inwards. It would be a hell of a lot better if they were arranged so that people were seated side to the window so they could look out at the tarmac action, a la BA in Gatwick. It makes sense. I don't know why the GC lounges are inward looking, it is bad...
Anyway, soon it was time to leave...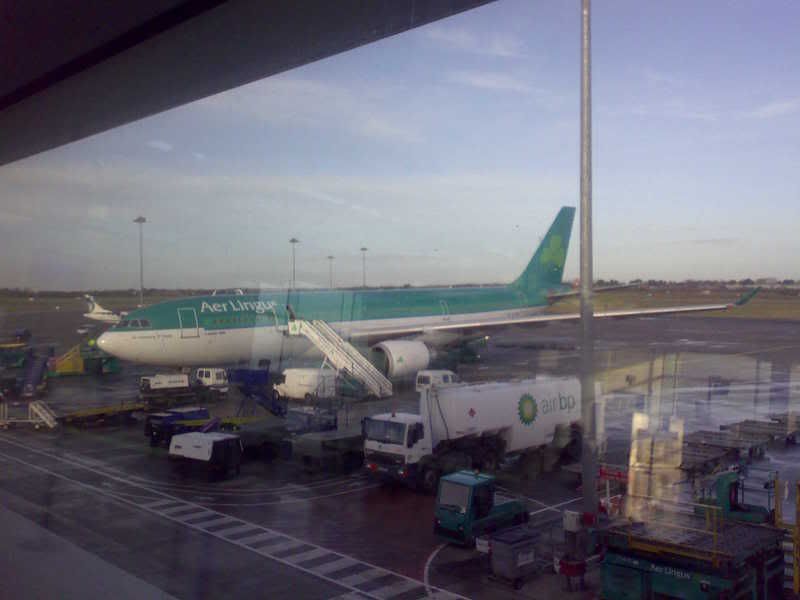 I boarded my aircraft, the A330-200, and seated myself in 12K. Alas, it has no window, which I had forgotten about.
Anyway, I told the F/A I was in 12K and I had no window. She said, "Oh, it does!" - and I showed here and she was like, "Oh, it doesn't... you can sit anywhere once we're closed up" - and so I did. She saw me again and said, "I think it's okay to move now" - so I thumbed towards Premier Class and said, "Premier?" with a big grin and she said, "Ahh no - you're very cheeky for asking!!" - to which I agreed, and sat in 13A.
It was an old aircraft so no PTV and no new seats... so nothing special to report on the 25 minute flight.
We took off, we landed - it's a quick flight to Shannon. Deplaned and I went to work...
Date: 13 Jan 2009
Route: SNN-DUB
Flight: EI125
Aircraft: EI-LAX - A330-200
Seat: 15A
Dep: 1140 Arr: 1225
I left the hotel and arrived at the airport at about 10am. Proceeded to the Rineanna Lounge as I have done before, and have more to share... I had to sign in as I was on a Bank of Ireland Gold Visa, and was one of three people in the lounge. This is the only EI lounge with free Internet (courtesy of Shannon airport) so I hit the net...
One thing that is good is that it has showers!
The "toilets" / bathroom...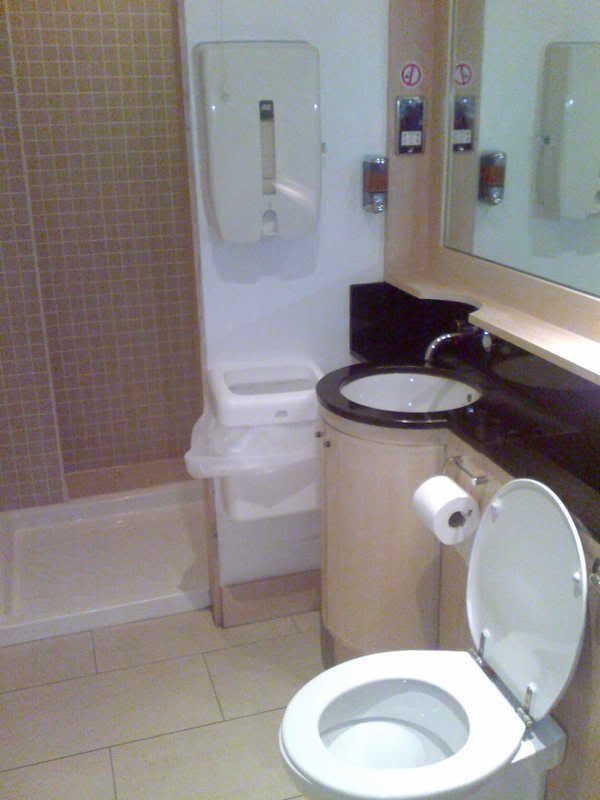 With power shower...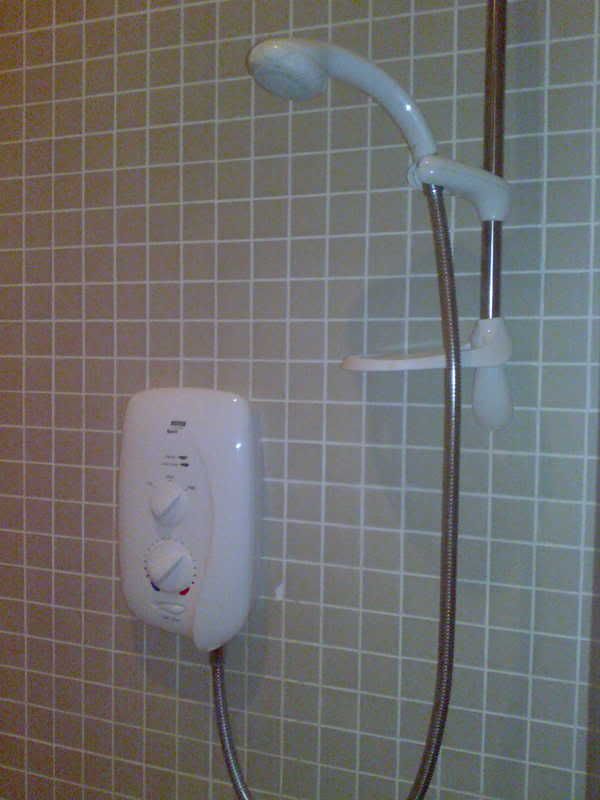 The lounge...
The single computer terminal thanks to Shannon airport...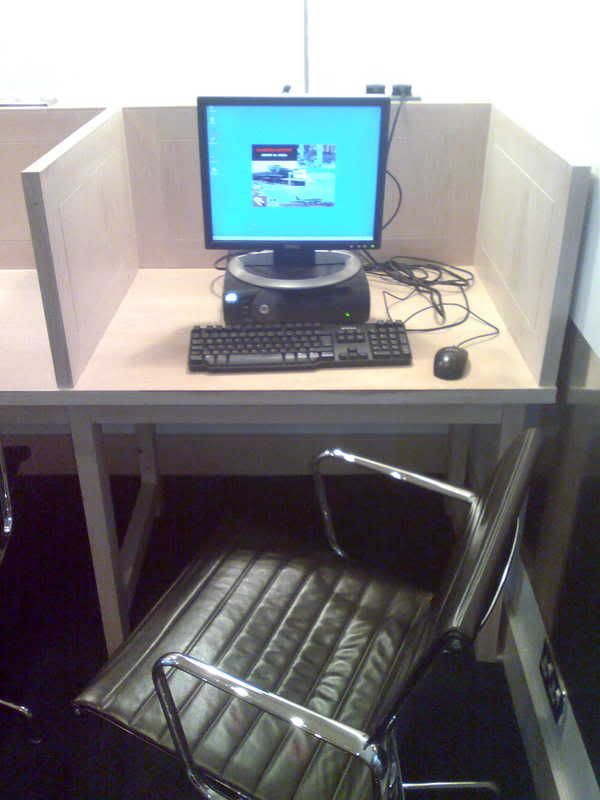 The frosted glass like the Dublin lounge...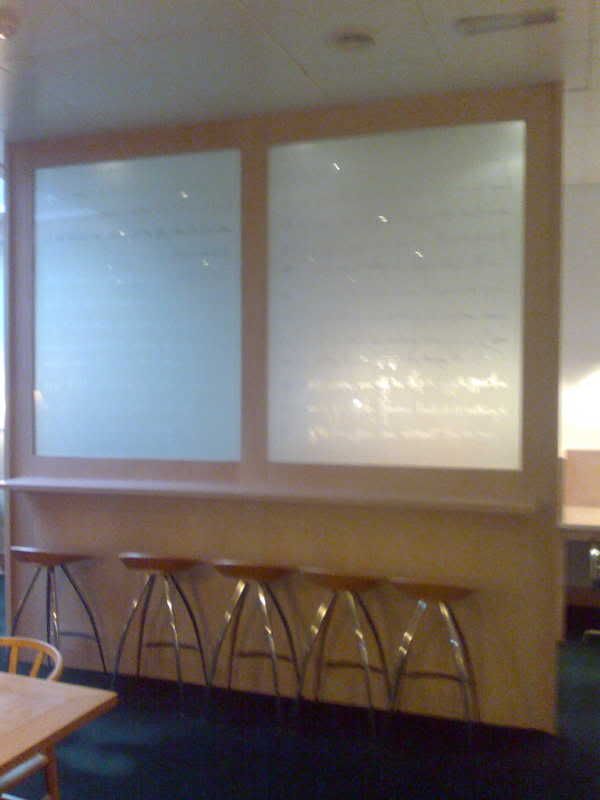 Looking towards the bar...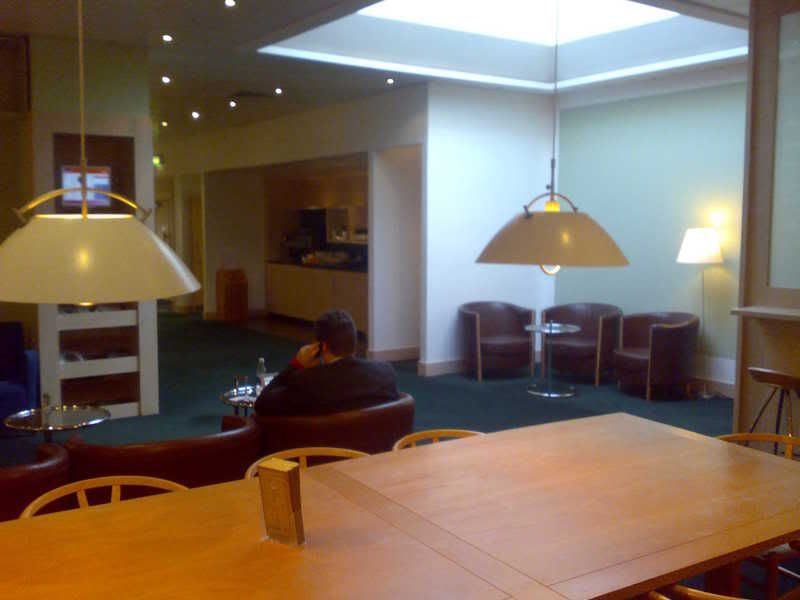 As nice as the lounge was, my seat had obviously had something spilt on it before as it was quite skanky...
They even have a separate TV room!
Anyway, I soon proceeded to Gate 6, for my bag search and then we boarded. Unlike the previous flight, the Safety Demo was on Video, through old school video screens...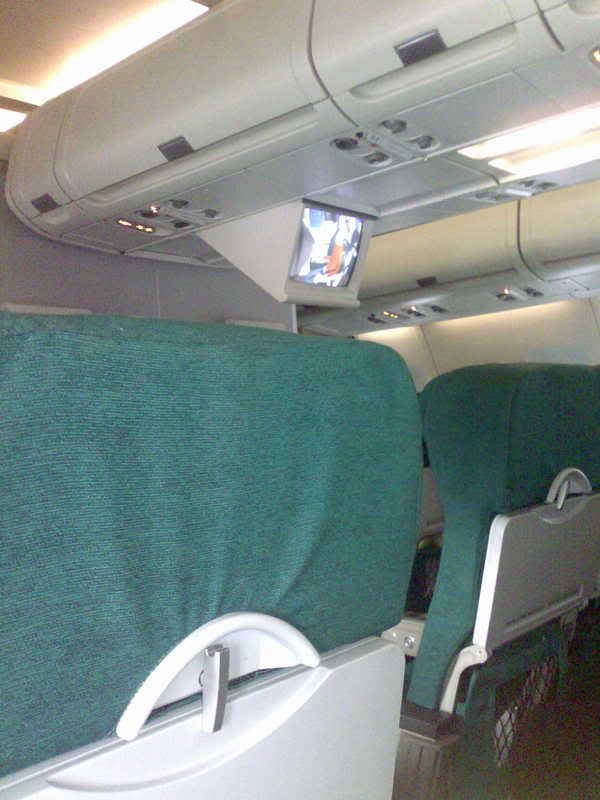 Gotta love a TV that appears where the oxygen masks should be
Anyway, the pilots made an announcement that no-one could hear and off we went... flying to Dublin!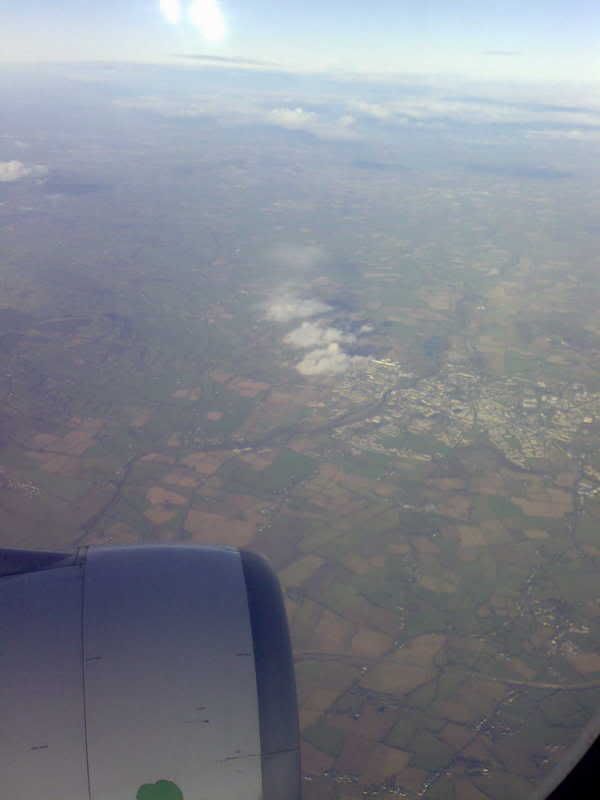 It was a good flight, with the crew announcing many times that the ORD bound passengers should let the DUB passengers off first. So we landed, I was one of the first off, and back to work again.
Aer Lingus... please, when the new Terminal is open, have a decent lounge... a lot of people use it (I ran into my old CEO on the way to Phoenix in it!) and it should at least be world class considering what people pay for Premier. Otherwise, all was as I expected - a quick flight, safe, comfortable and no frills.
My main beef will be and will continue to be the lounges. However since I am being made redundant, I will also lose my Gold Visa (damned EI for not being oneworld, as I can no longer use my Gold QF card for entry!) ... so who knows what will happen!
Anyway, thanks for reading