I would like to take this time to wish everyone a happy 2009 and hope that you travel more and the world continues flying safely.
Now to the report. If you have ever wondered what it is like to travel through ORD in the beginning of January in a snow storm, than you have come to the right place. I booked this trip as a mileage run to Seattle for the weekend of January 10-11. I ended up with PHL-ORD-SEA-ORD-PHL for $220. Not a bad deal, I think. Hopefully more of these will be popping up in the future so I can try and reach my goal of getting Premier Exec. this year. This report will just cover the outbound of PHL-ORD-SEA. There are plenty reports of UA F out there, but I decided to report the outbound because of the storm that occurred. Please enjoy!
The night before, I began to get worried because of the looming storm that would be hitting Chicago/the Northeast. My flight was scheduled for 12:20 PM with a connection of only 1.2 hours or so. I decided to try and standby for the 9:38 AM flight to ORD in order to ensure that, if weather did cause delays, it would not effect me. Set my alarm for 7:00 AM and went off to bed hoping for the best. Got to the airport around 8:00 AM and when checking in was successfully able to get on the 9:38 flight. I was also very excited because the new area between Term. D and E at PHL had just opened. The security area is huge and a big improvement from the tiny separate D and E security areas that used to be there and should help the "Southwest Effect".
I was able to take some pictures of the newly opened shops and you can all marvel at how clean this area is -- we'll see how long that will last.
Looking towards Terminal E.
This is looking towards Terminals A,B,C,D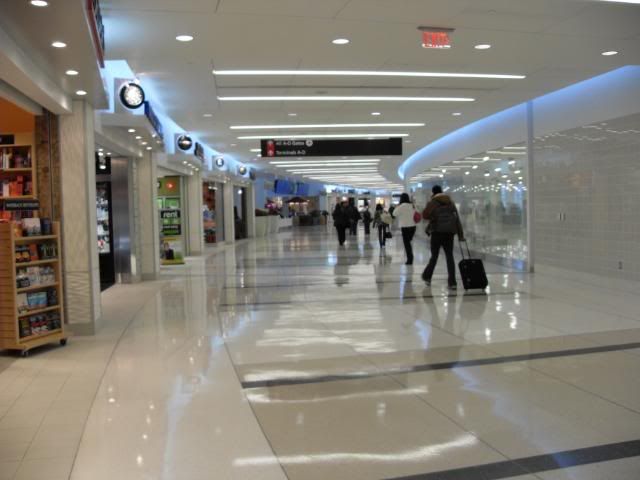 The security check point is clear glass. I did not take any pictures as I did not want to cause any questions as to my intentions.
I made my way to the RCC in Terminal D. I stopped to take a picture of where the security used to be for D.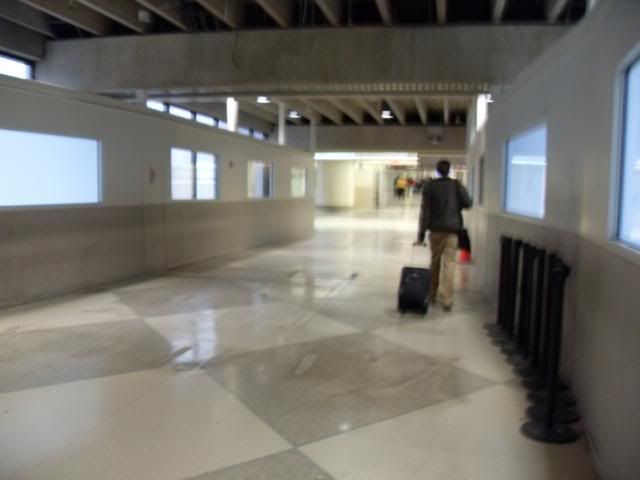 I got to the RCC with about 30 minutes before boarding. There were only 2 other people in there so I took time to snap some pictures in the lounge and the great views outside.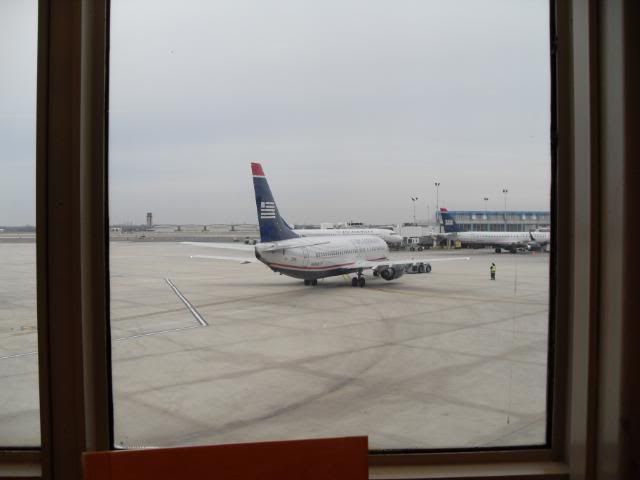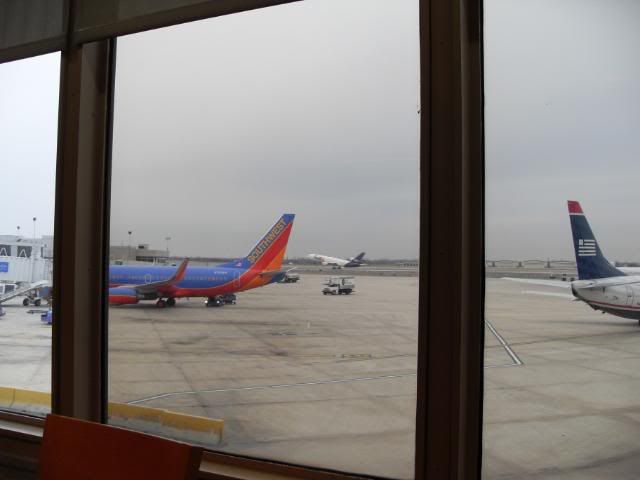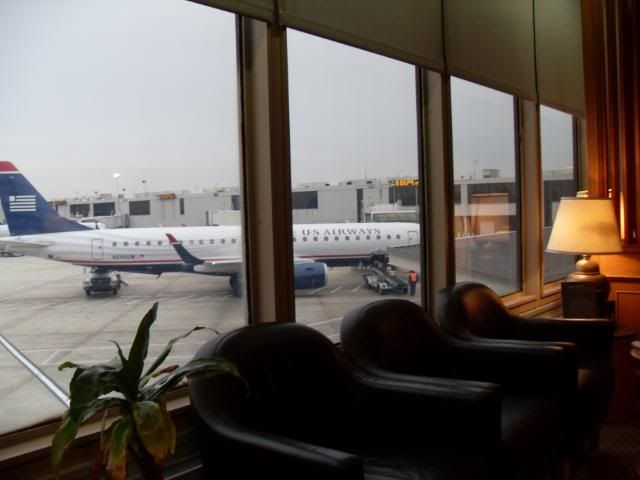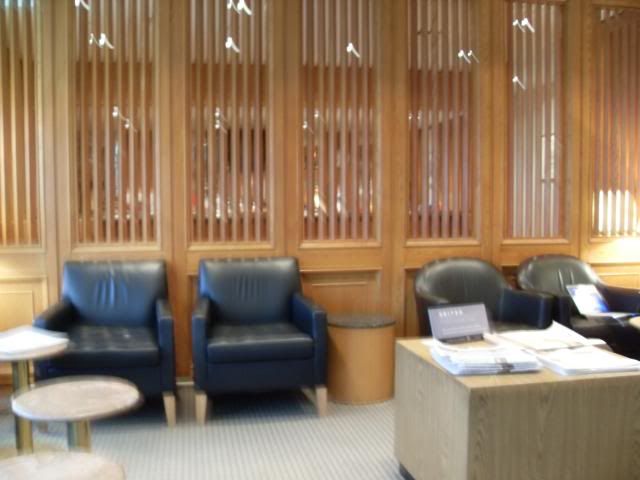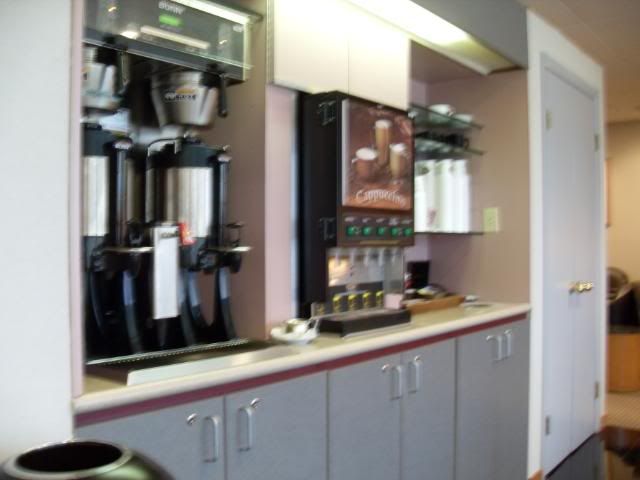 At the bar area there were juices, water, sodas, and snacks set up for your convenience.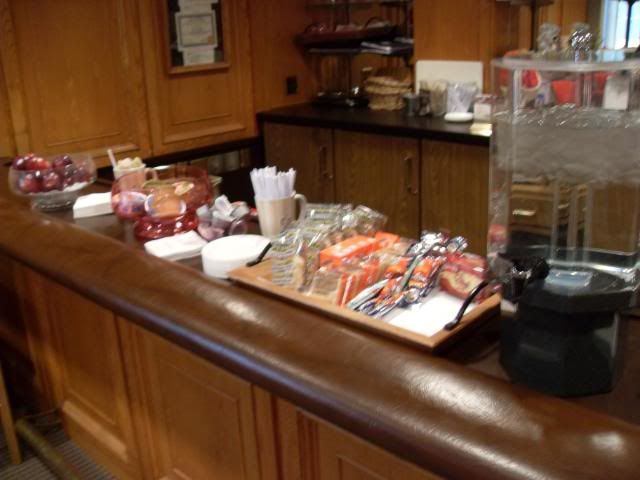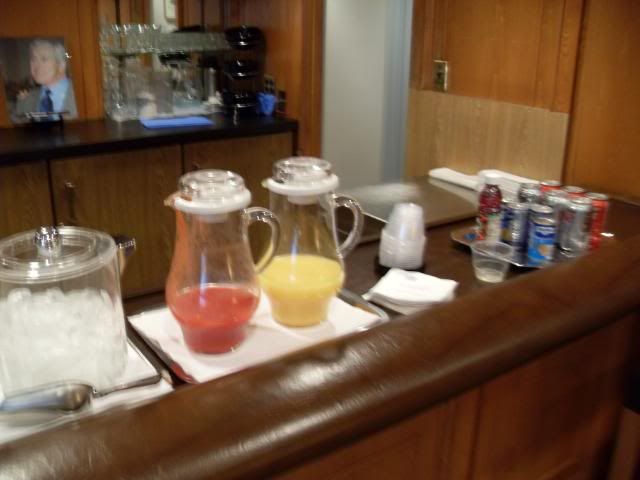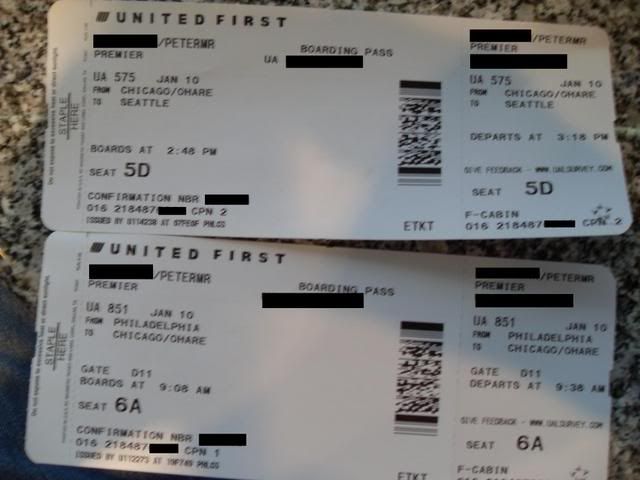 January 10
Routing: PHL-ORD
Flight: United 851
Aircraft: N563UA Boeing 757-200
Seat: 6A
Departure: 9:38 AM from gate D11
Arrival: 11:18 AM at Gate C19
Take Off: 9L
Land: 10??
Boarding began on time, and I settled into seat 6A. I enjoy the last row of first in United 757's because I don't like people peering behind me (whether or not they actually are, I always feel like they are). I don't mind the reduced recline on short flights like this. The load today was very light - only 9/24 seats filled, and coach looked about 30-40% filled this morning. Before we pushed back there was an interesting exchange between a flight attendant and the gate agent. The GA came aboard to ensure that people were not moving up to Y+ without paying. The GA was telling the FA how this happens often and he tries to ensure that it doesn't. I think this is great and wish more GA's paid attention or at least the FAs should. I know it's hard, but if you're going to offer a product that costs extra, you should ensure that it's not being taken advantage of or it will lose its values to those who do pay for it, or elites.(Rant over) Pushback was on time, but we were pushed back incredibly slowly and there was a delay in starting the engines so a taxi to the runway took awhile. Pre-departure drinks were offered - Juice and water - and later the FA came around with coffee as well.
Line of CRJ's waiting for us to start moving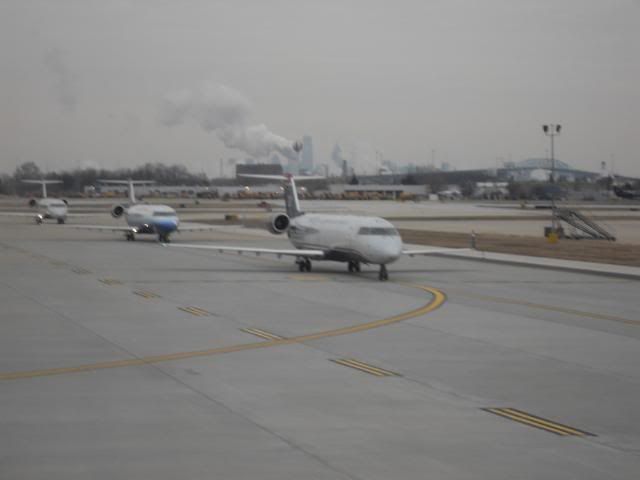 Engine starting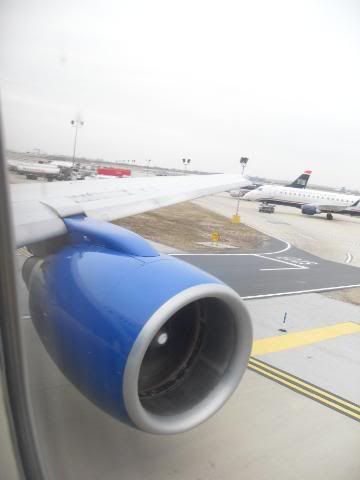 Where are all the elites???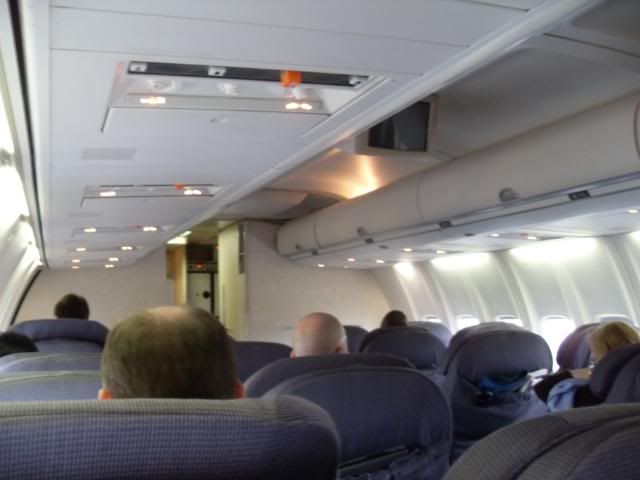 AA 737 holding short of 9L after landing on 9R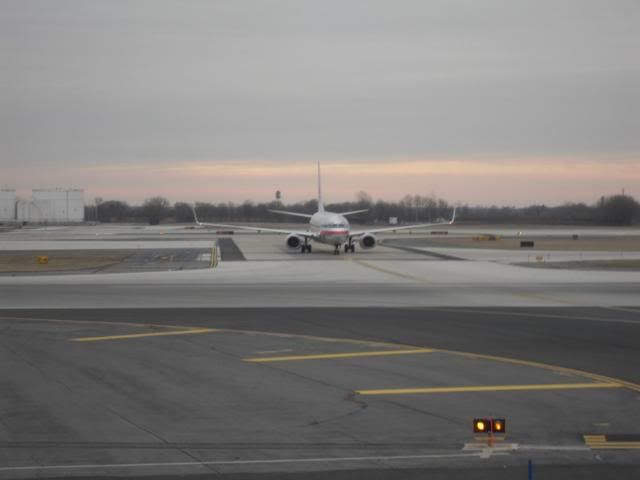 US 757 with winglets, I messed up and wasn't prepared to see it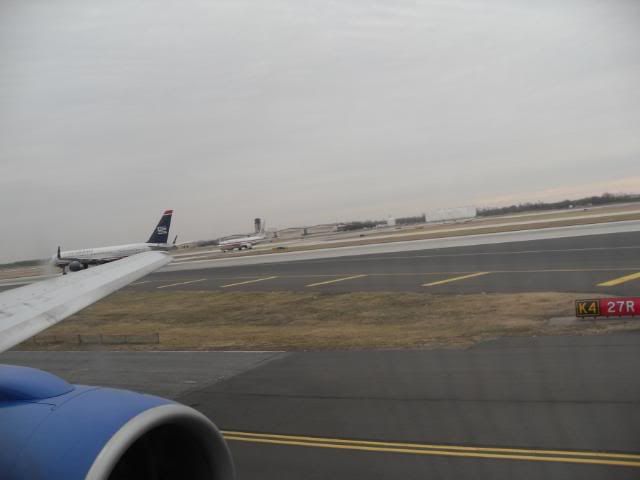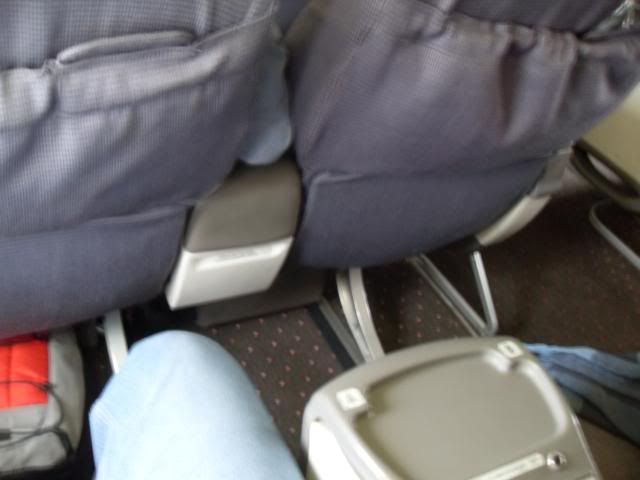 US EMB 175 waiting for take off clearance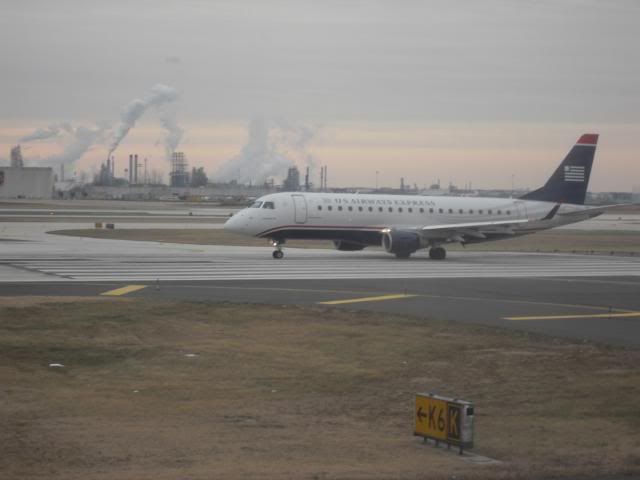 PHL UPS operations are busy in the morning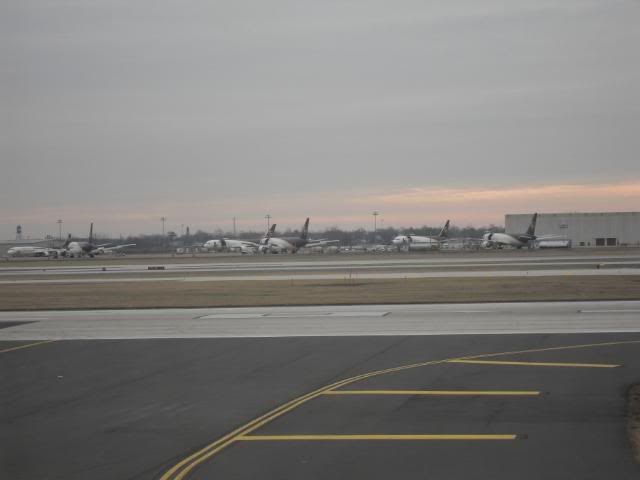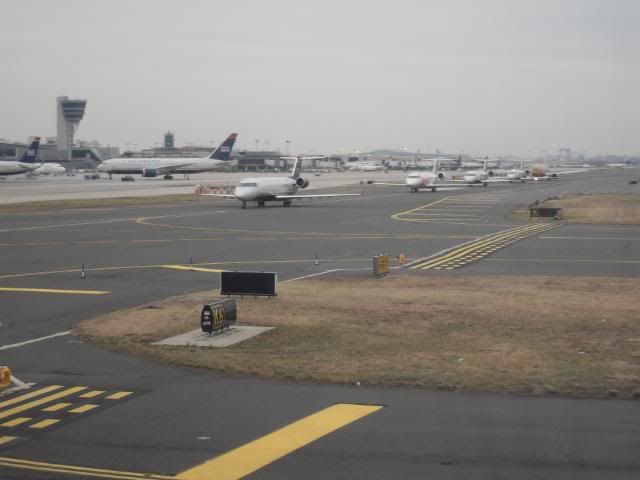 We're lining up after the 175 took off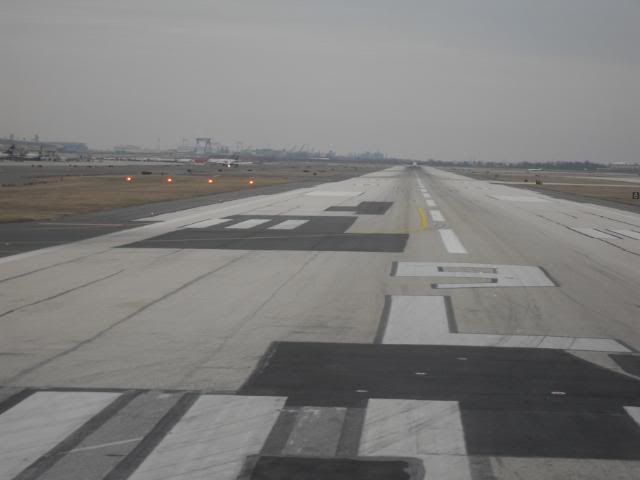 Eagles plane!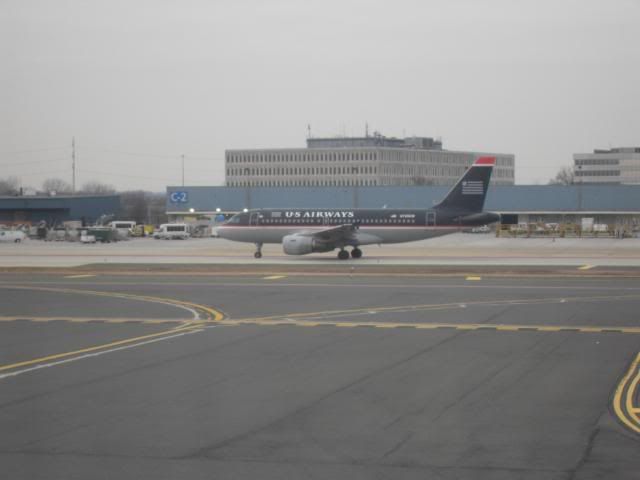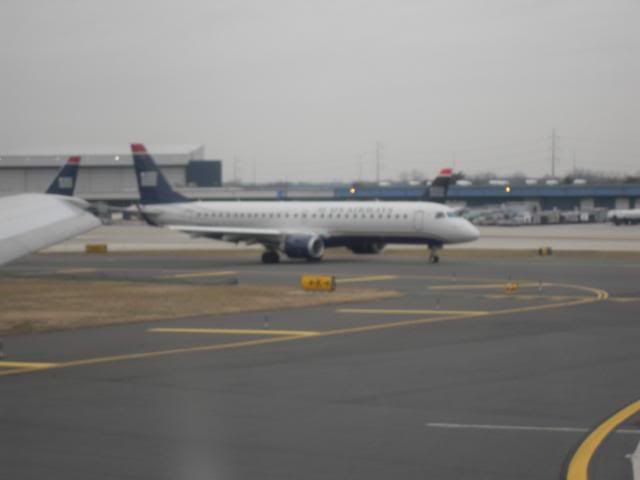 We took off around 9:50 AM. I was excited to be taking off from 9L - this is a rare occurrence at PHL, and I knew it would offer some great views. I was not disappointed.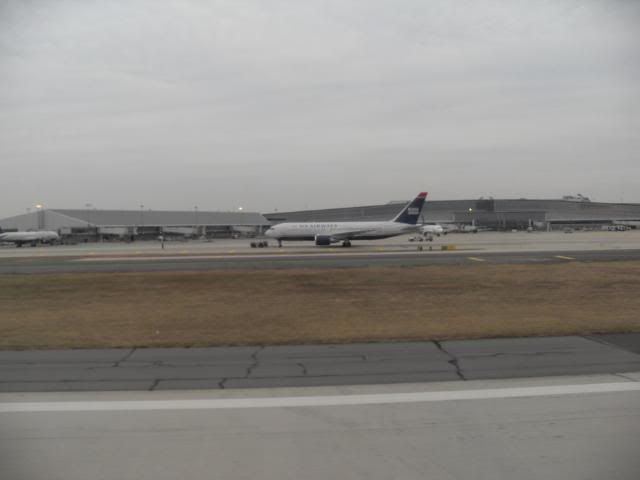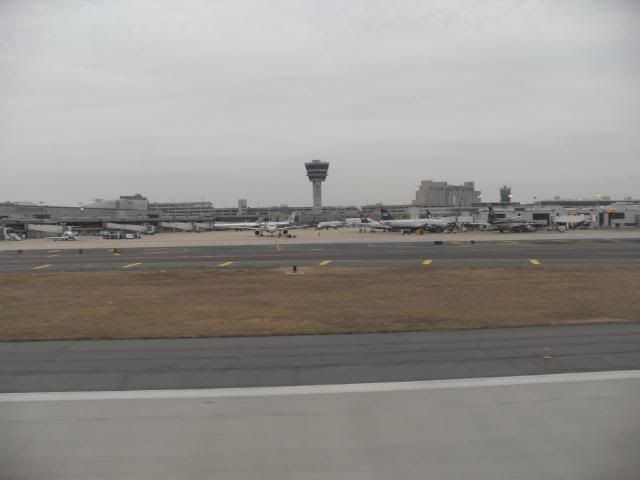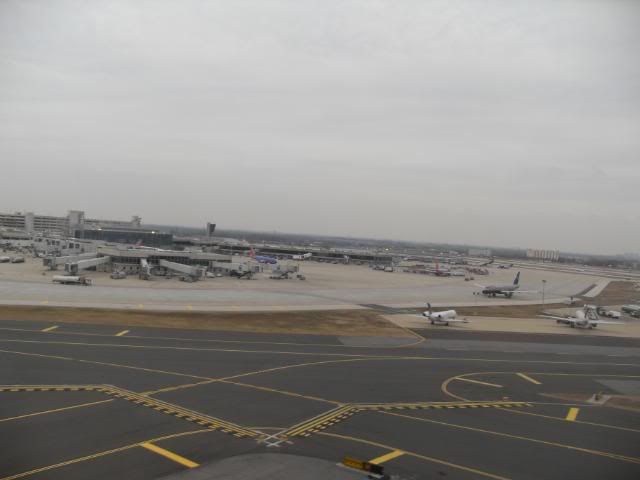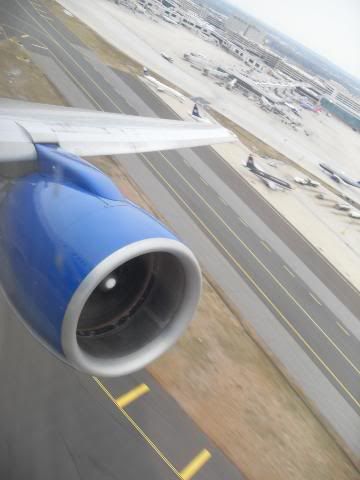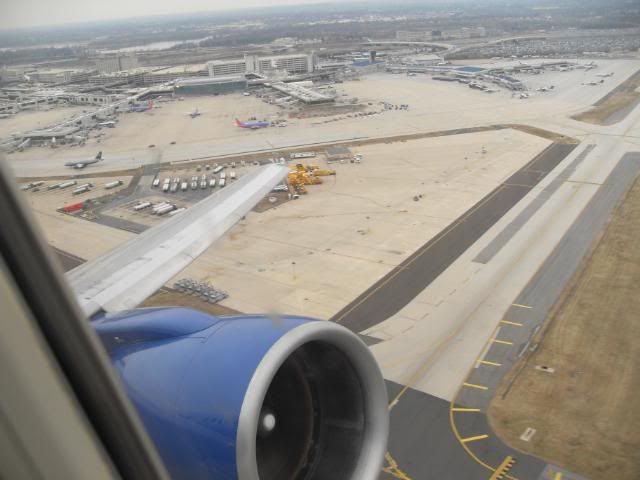 This is hard to see, but it's an Air Canada JETZ plane. I assume it was there for some sort of sports charters - possibly the Canadiens playing the Flyers?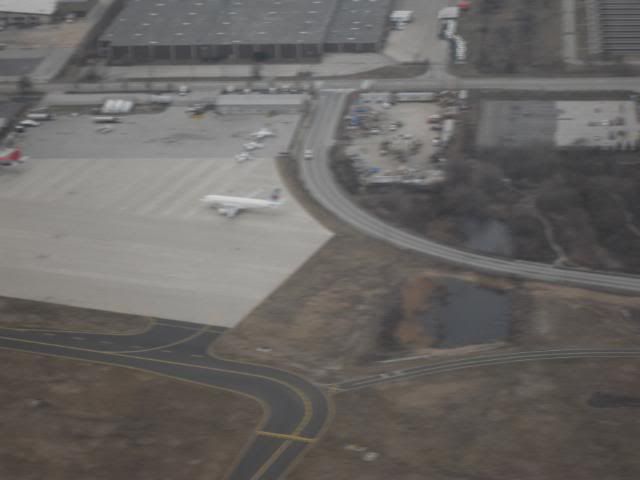 The Linc, Spectrum, Wachovia Center, and Citizens Bank Park.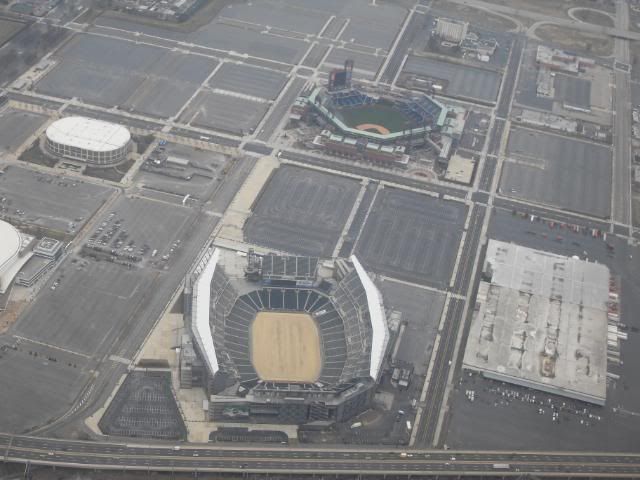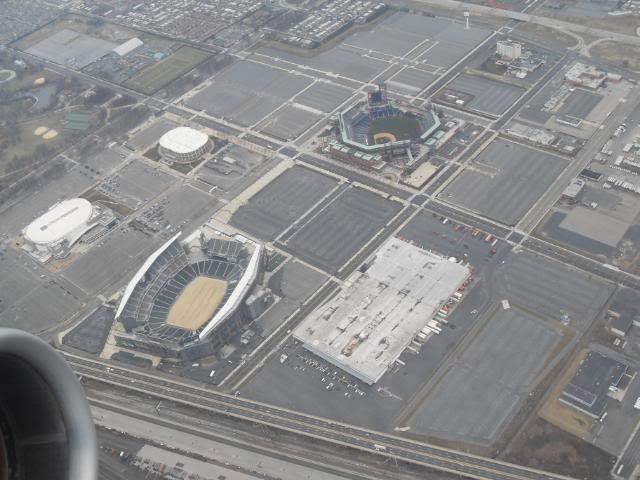 We then took a left turn, which offered incredible views of "Center City" (downtown) Philadelphia. I don't think my pictures did justice to how good the view was. I work in Center City, so it's cool getting a different view.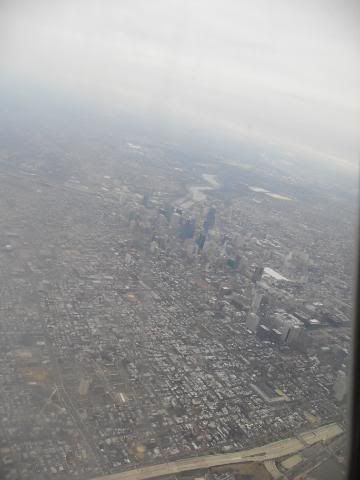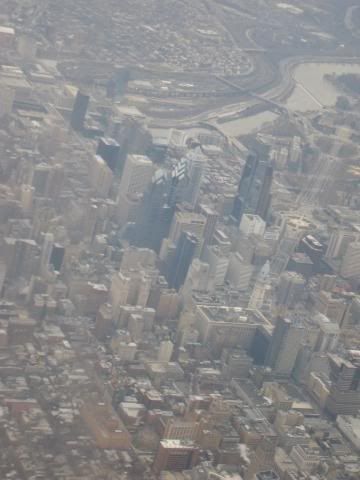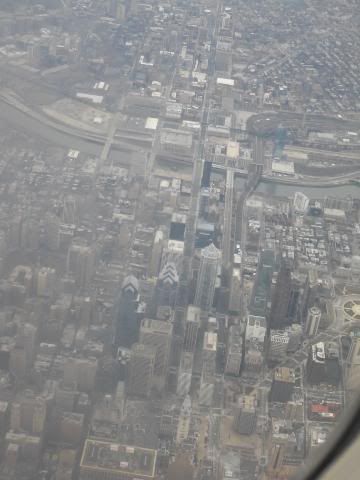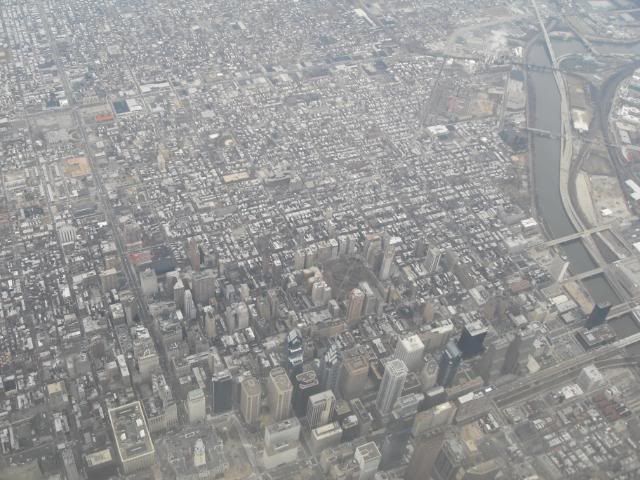 PHL airport looking back.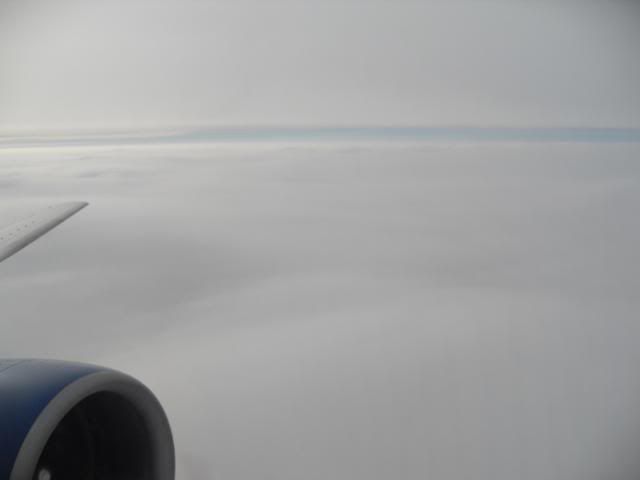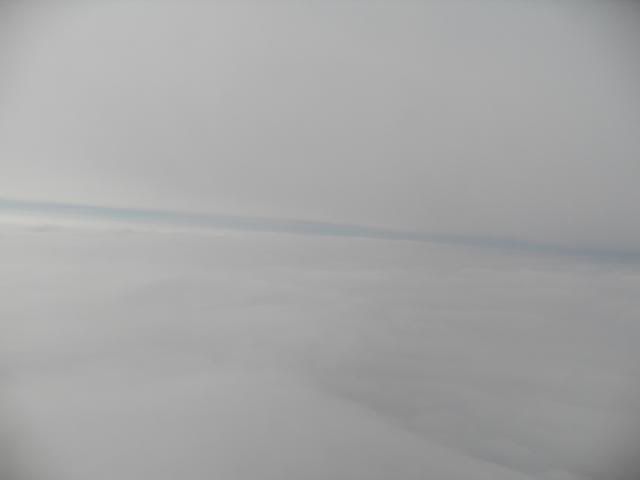 Due to the light load, we reached a safe altitude to turn off the seatbelt sign quite quickly. The service started with a beverage. I was still tired and sick from the week before so I opted for some orange juice.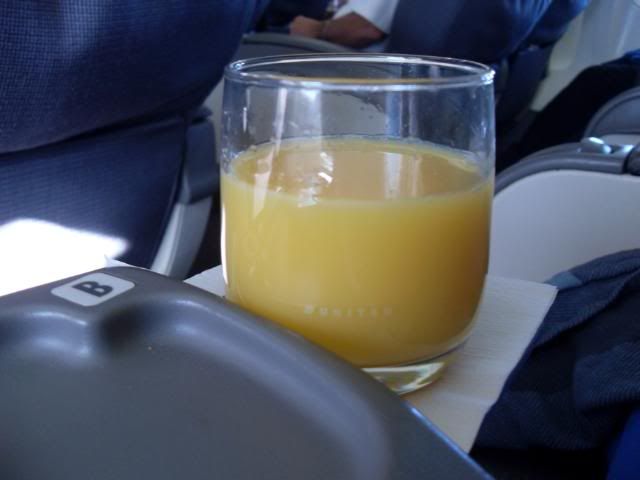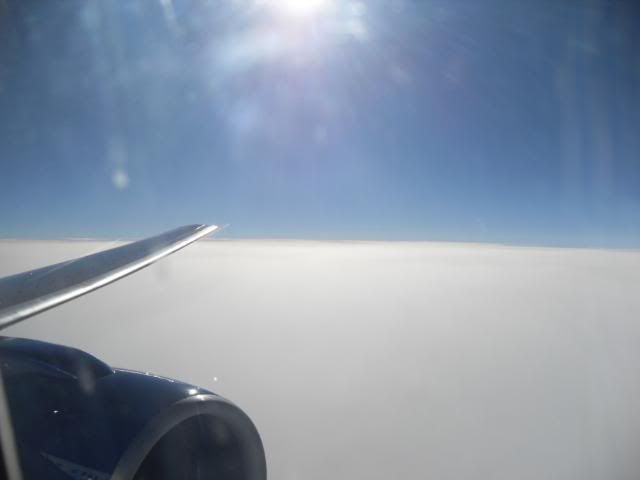 The FA then came around with the standard fruit plate and muffin for this route. I miss the full breakfast you used to get, but my stomach and mirror image are happier.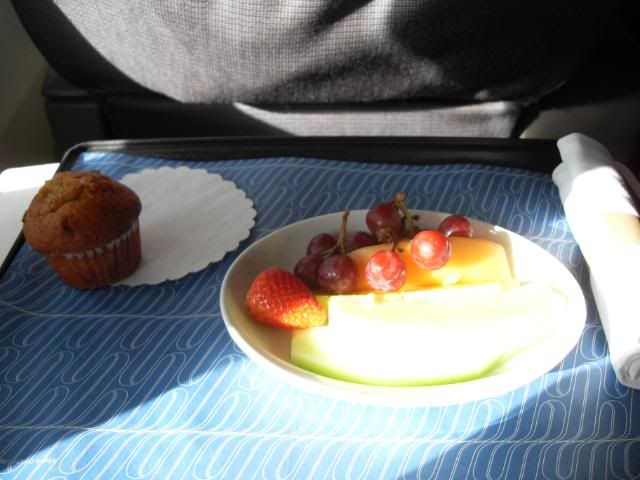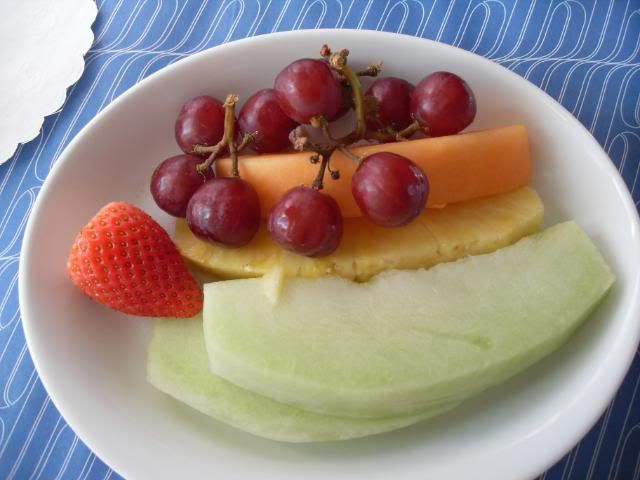 After the meal, I reclined and listened to my ipod for the remainder of the flight. United plays some NBC shows on this flight, but I had seen both The Office and Chuck episode before so I didn't bother watching. Plus I just downloaded this new CD, Girl Talk. It's just a guy who mixes songs together - its pretty cool. I recommend checking him out.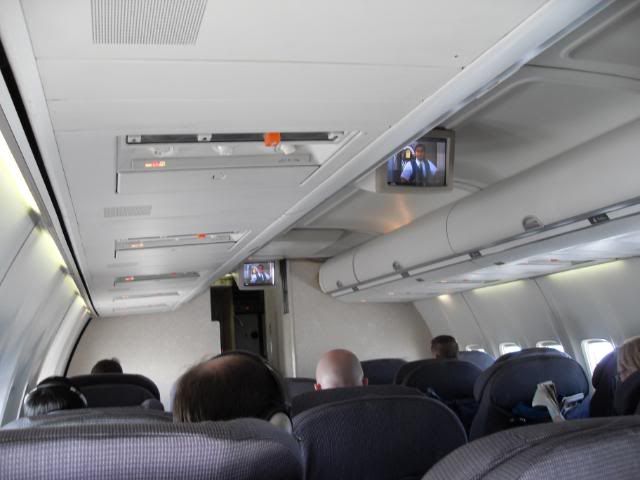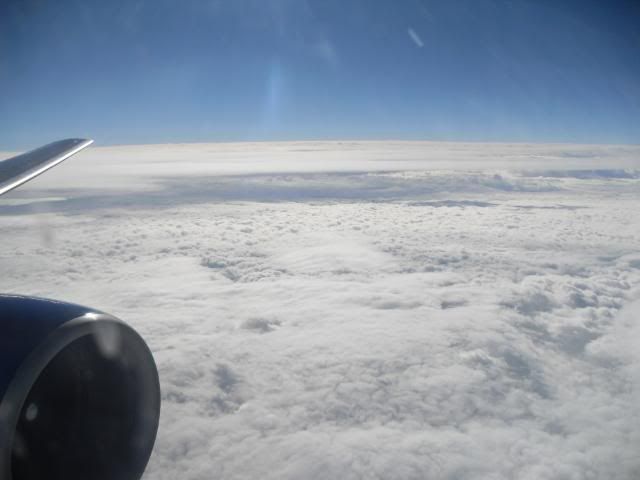 The captain made an announcement that we would have to circle for about 30 minutes while the ORD runways were being cleaned. I was just praying that we didn't get diverted; it would be a great way to start the trip though. I like including the Flightaware map for flights like these so I know where we circled. It looks like the northwest corner of Ohio.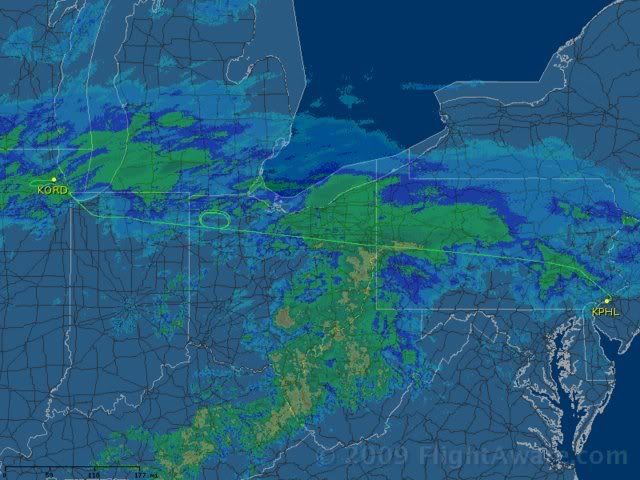 We broke through the clouds very low, after the gear had already been deployed. It's a welcoming site to see this as you land.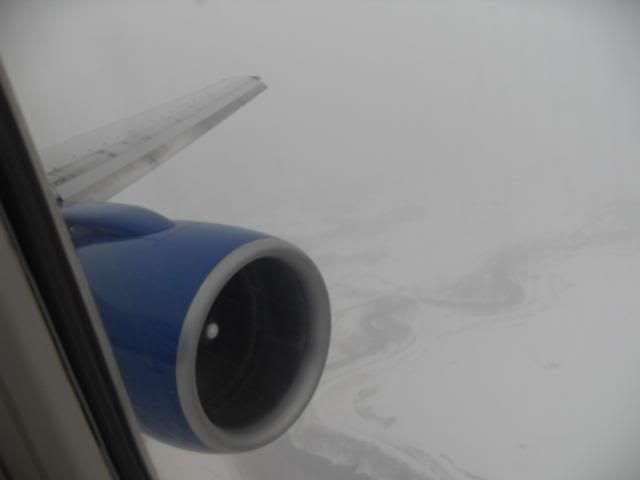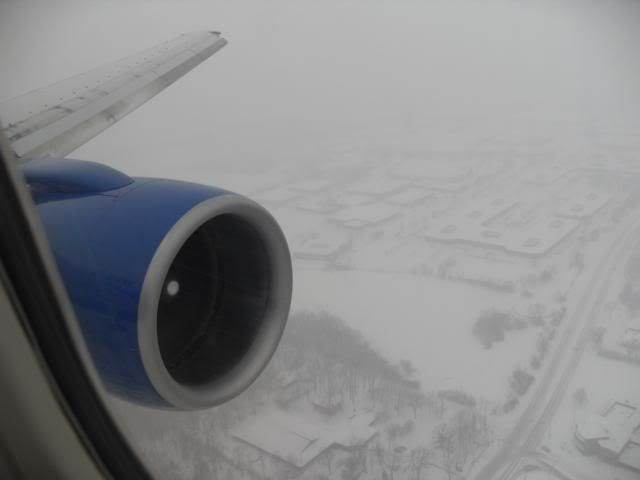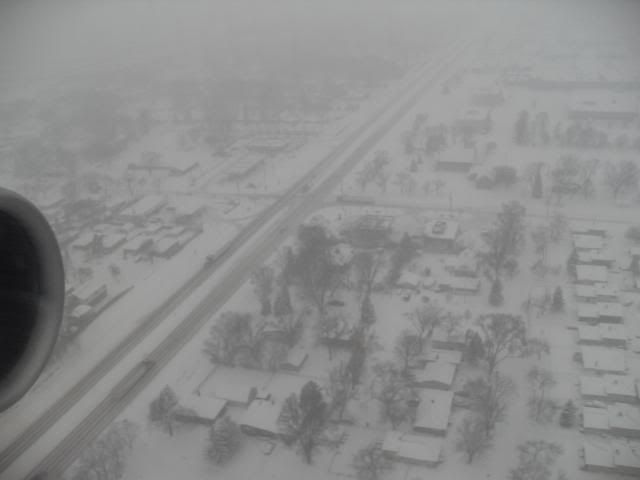 From looking at a map of ORD and knowing we passed M taxiways, I'm pretty sure we landed on a very snowy runway 10.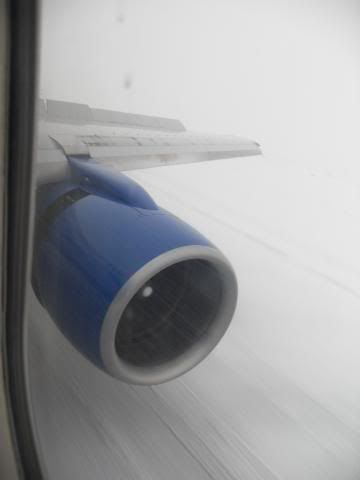 I will let the next bunch of pictures speak for themselves. I was just trying to capture everything I could while we slowly taxied to gate C19.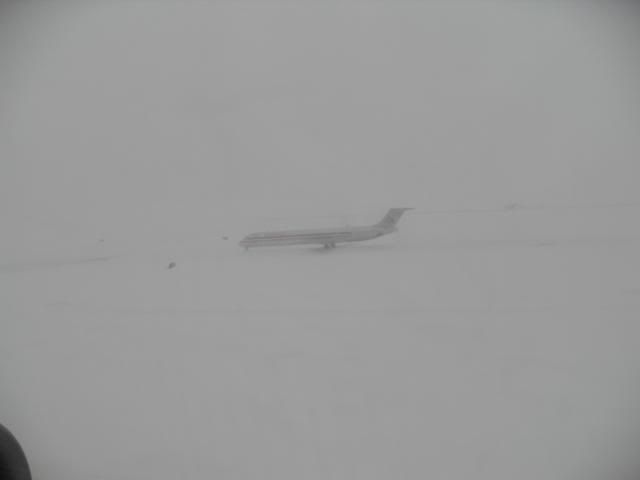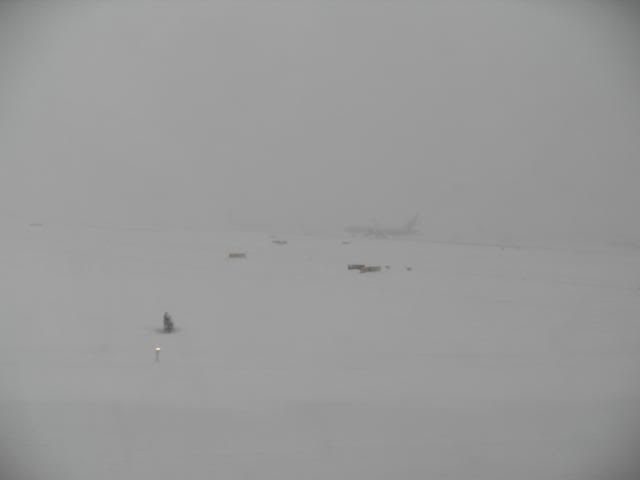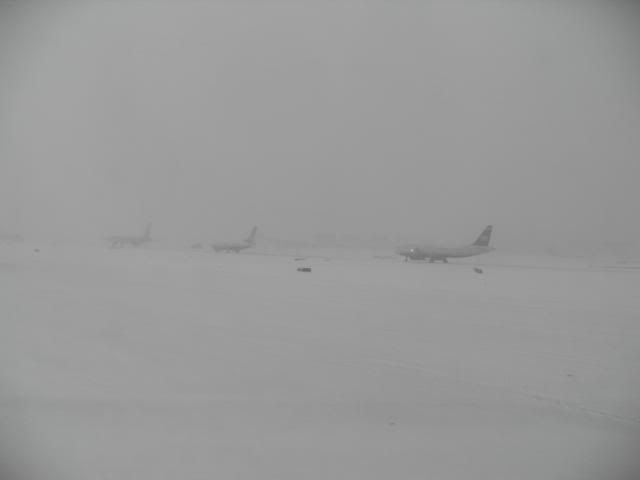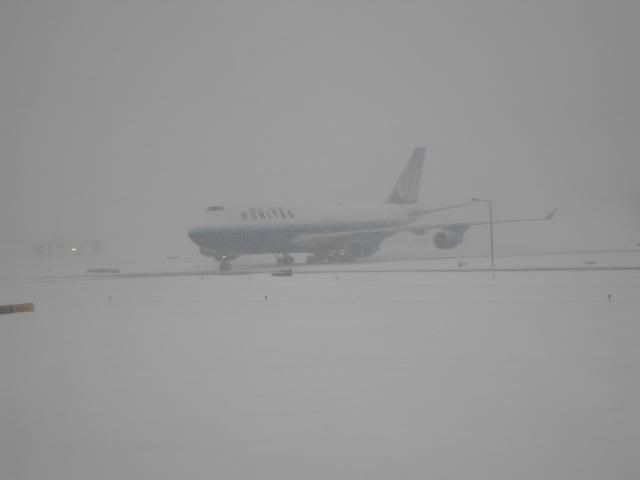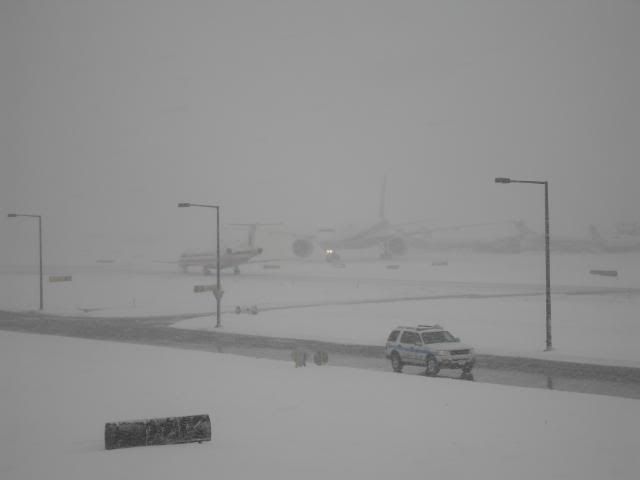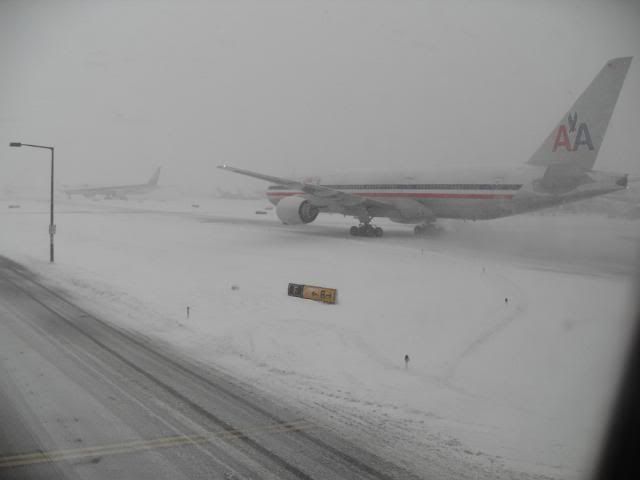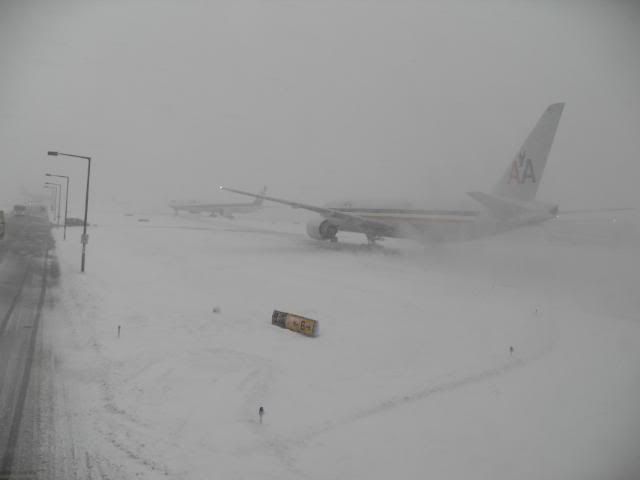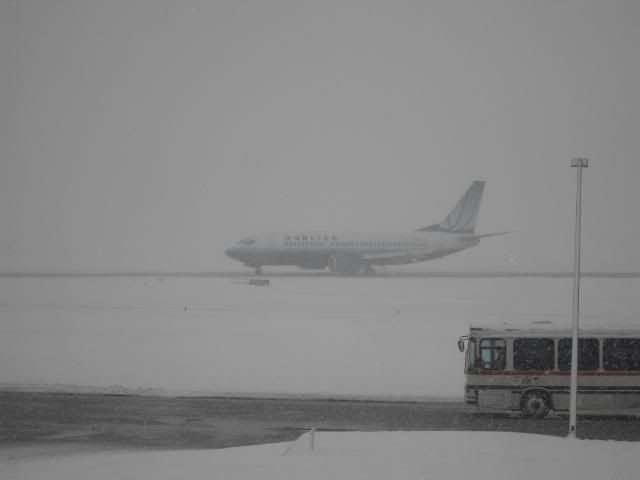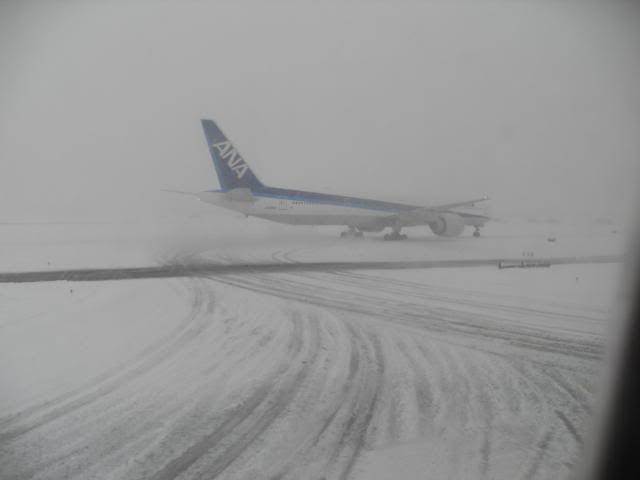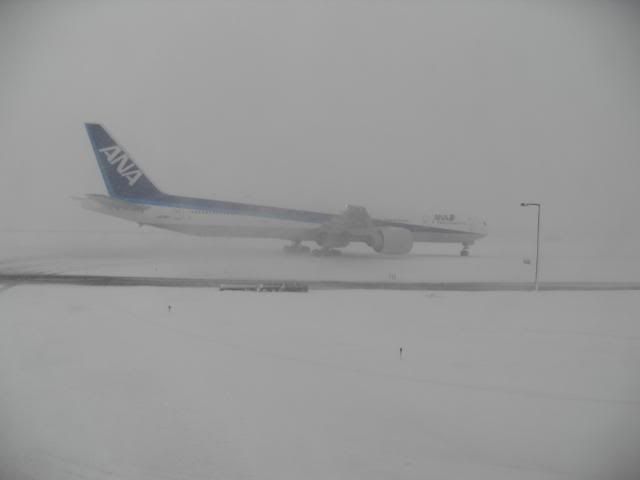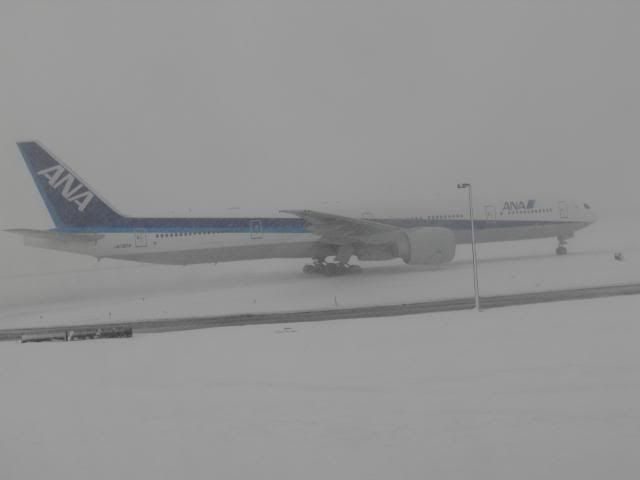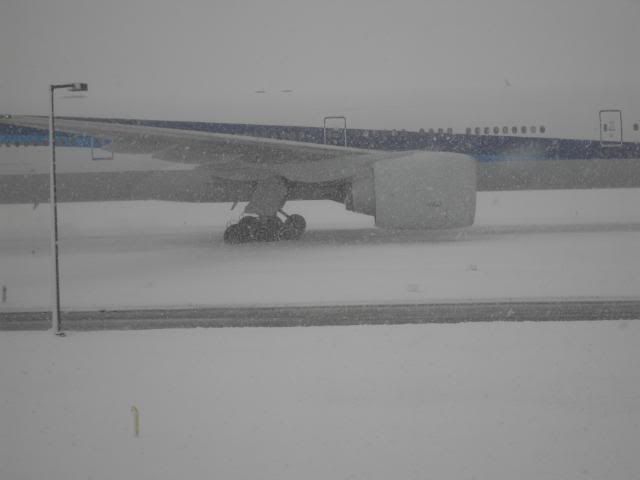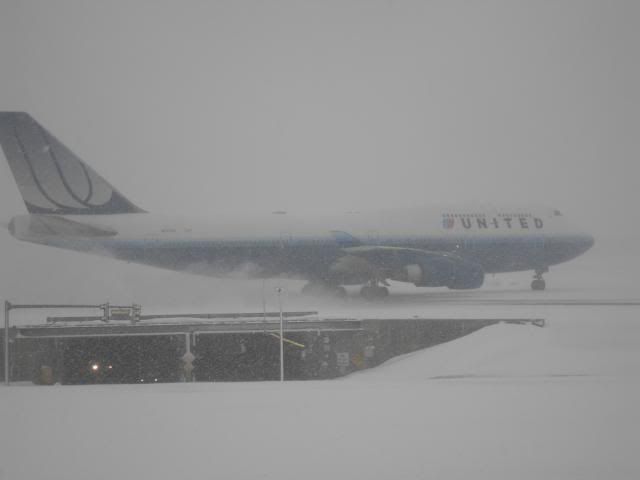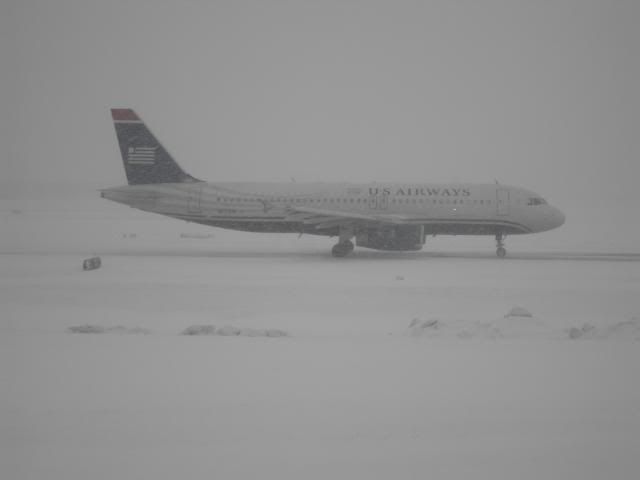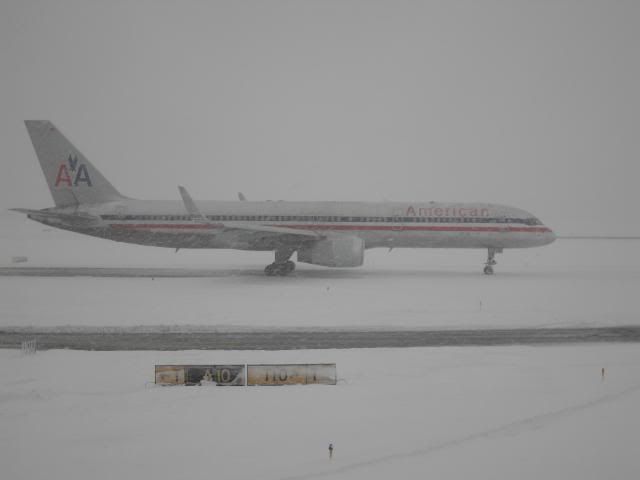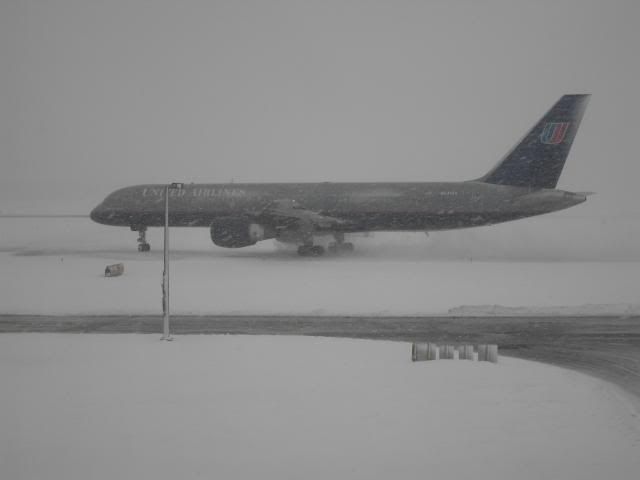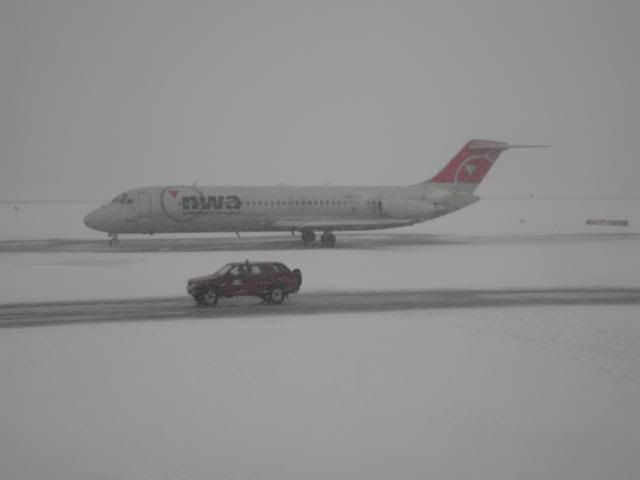 We had to wait for a truck to clear the path to our gate before pulling in.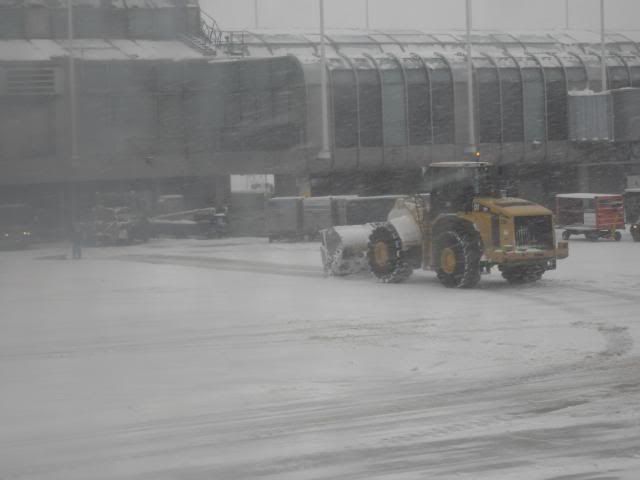 My plane at the gate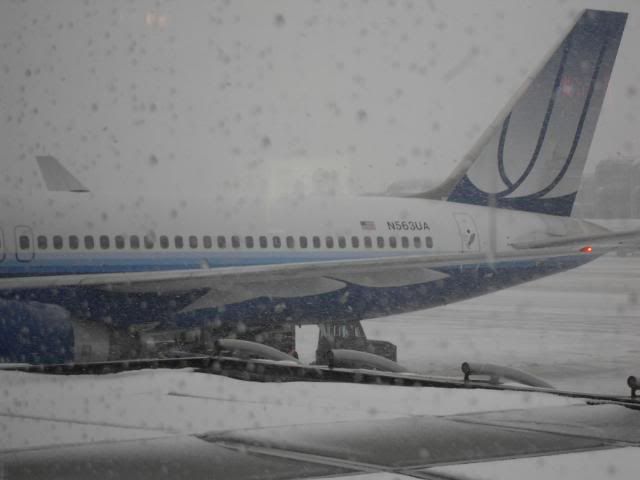 Happy to be alive and knowing my next flight left from gate B8, I made my way over to the RCC by B7. It was incredibly empty today so I snapped a few pictures.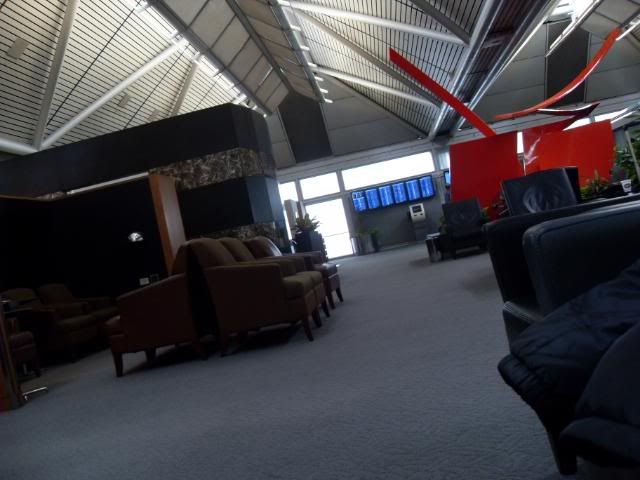 I had about a 3.5 hour layover, so I grabbed from food from Chili's and then made my way over to the lounge to relax and pray my flight to SEA wouldn't get cancelled. Our flight ended up being delayed an hour due to a late incoming aircraft. I was able to see on Flightaware that it was circling above ORD waiting to land. No worries.
January 10
Routing: ORD-SEA
Flight: United 575
Aircraft: N531UA Boeing 757-200
Seat: 4D
Departure: 4:37 PM from gate B8
Arrival: 6:49 PM at Gate N6
Take Off: 32L
Land: 16L
This flight today was another light load with 6/24 first seats filled, and according to the flight information screen at the gate, 101/161 coach seats filled. Another run of pre-departure drinks of water or orange juice on this flight. We pushed back and were informed that we would have to wait to be de-iced. This would be my first de-icing experience, so that's always a thrill…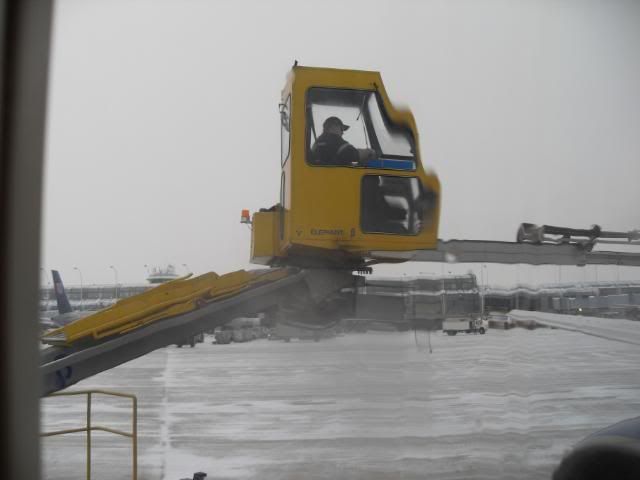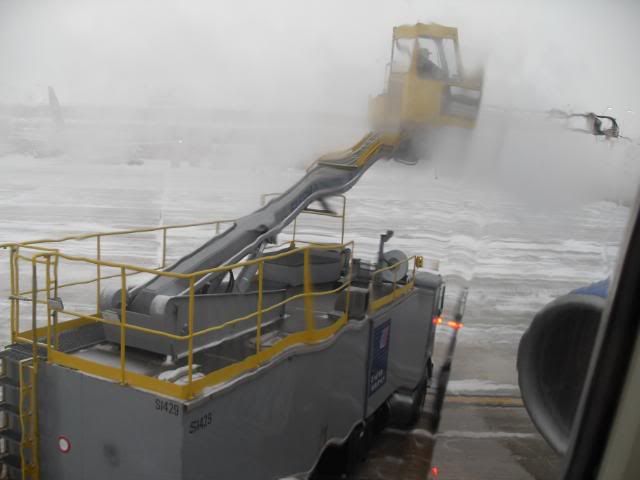 Empty row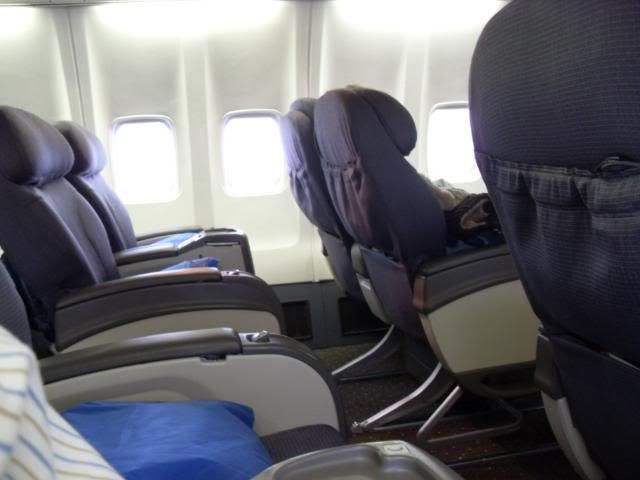 The next bunch of pictures are distorted due to the deicing liquid left on the windows.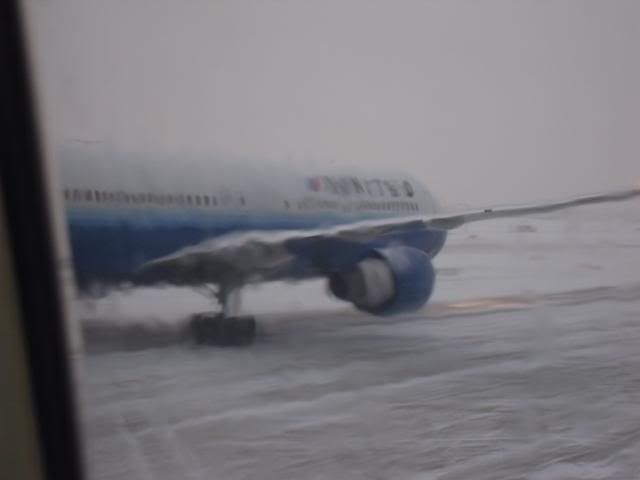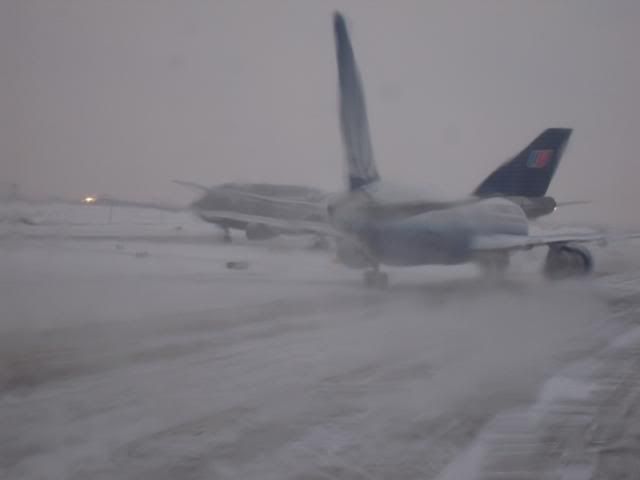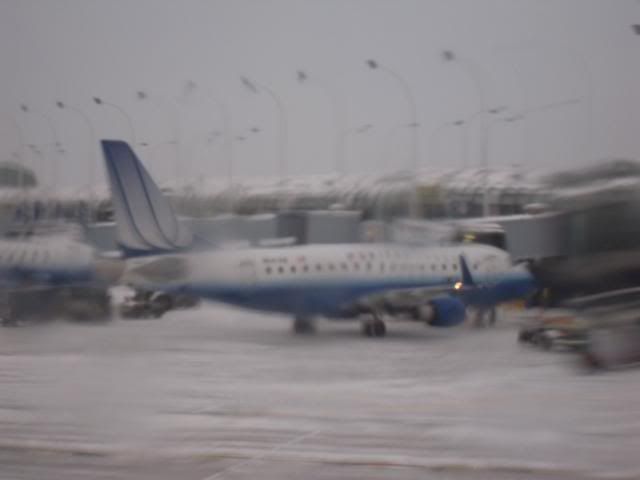 This EMB cut in front of us to take off, but it turned on a taxi way that was not plowed and just rammed through the snow. It was a pretty cool thing to see.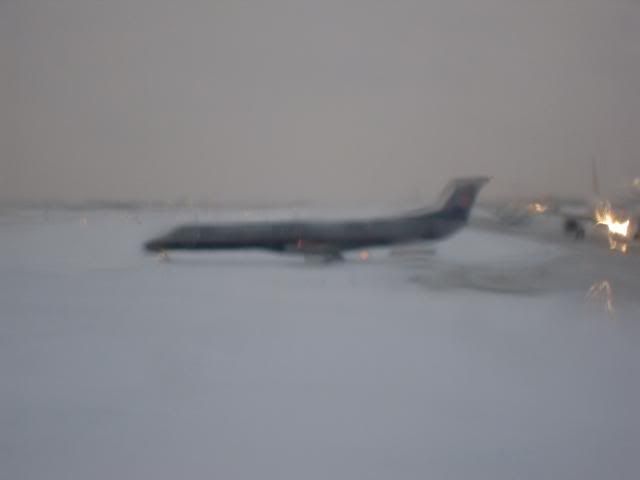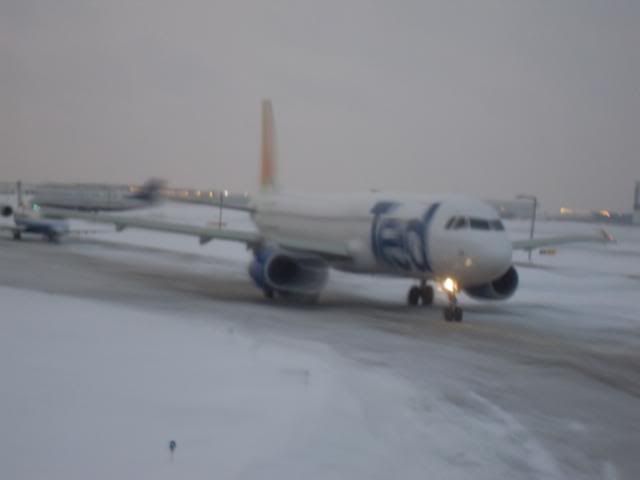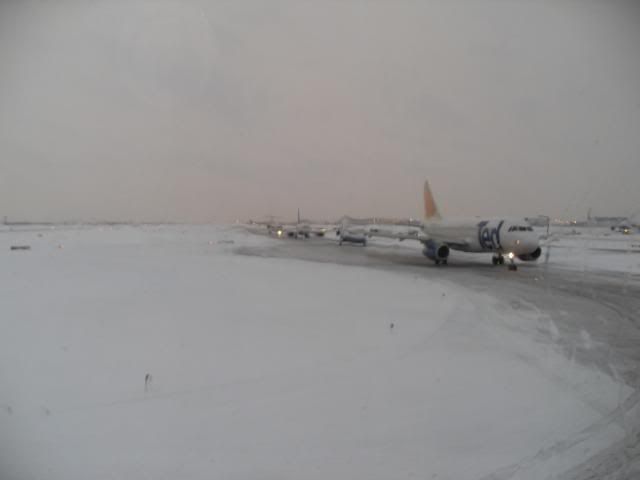 I knew I wouldn't get any good pictures of take off, so I decided to take my first video for a trip report, I hoped it turned out well.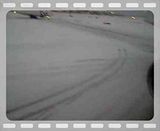 Take off and climb out were surprisingly smooth, and we were in the clouds within a minute of rolling on the runway. We broke through eventually, and as the sun was setting I got this great shot of the sun reflecting on the engine.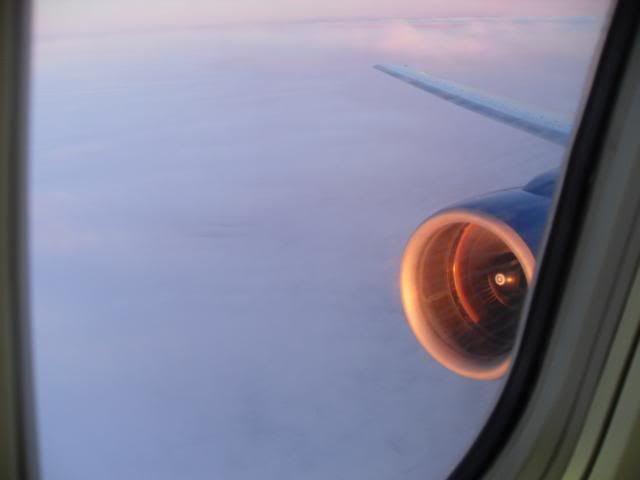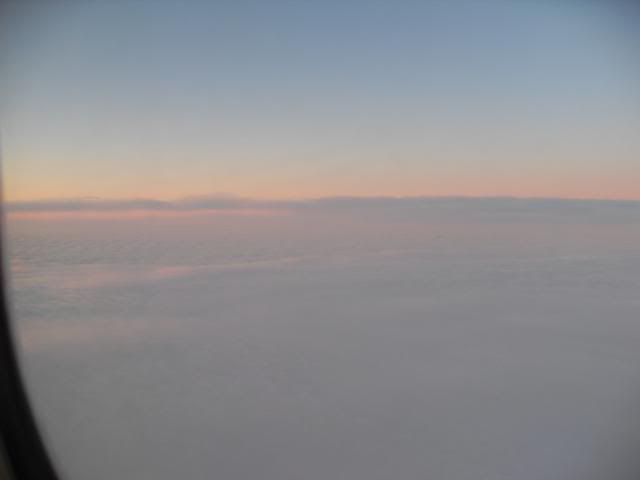 It soon got dark out so no more shots of the outside. Service started with a drink and VERY warm mixed nuts. Can't go wrong with a Jack and Diet Coke.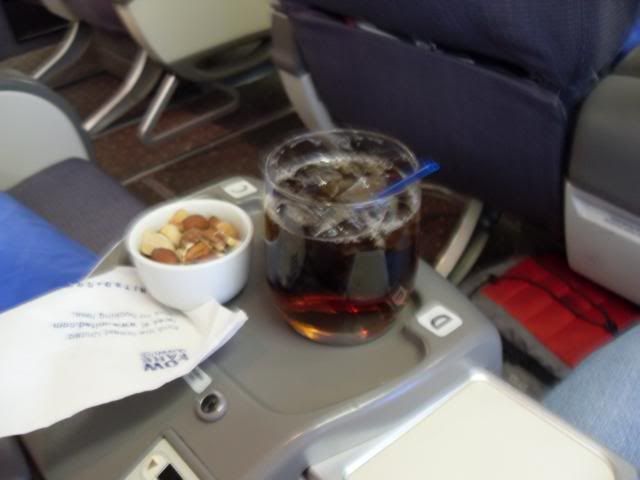 Dinner tonight was a choice of a hot turkey sandwich or salad with shrimp on top. I went with the salad. It was quite delicious. I forgot to take a picture, but after the meal was cleared, we were offered a warm chocolate chip cookie, which I happily accepted.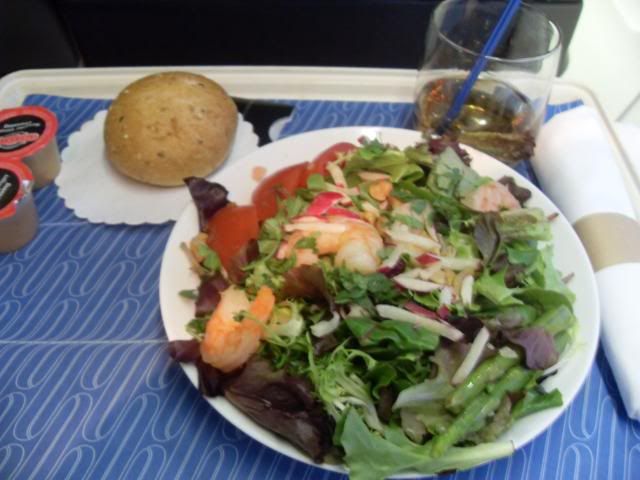 The rest of the flight was spent watching City of Ember on the overhead screens and then watching some TV shows on my laptop. We began our decent shortly after 6:00 PM and had a smooth touchdown on runway 16L at SEA. A quick taxi to N6 and after a short tram ride to the main terminal I was at Island 1 waiting for the shuttle to the hotel.
That ends my fun time traveling through ORD in the middle of winter. My next trip report should be a very exciting one I hope. It involves flying halfway around the world for 49 hours in TPE for a wedding the first week on February, it has shaped up to be:
PHL-LAX – US Airways A321 Y
LAX-ICN – Asiana 777 C
ICN-TPE – Asiana A321 C
TPE-ICN – Asiana 767 C
ICN-LAX – Asiana 777 C
LAX-PHL – US Airways A321 Y
I will focus more on the Asiana flights as OZ seems to be an airline that is not heavily reported on. If there is anything you would like me to specifically document let me know. Look for this report middle of Februaryish if I survive the jetlag. Thank you for reading and feedback is always appreciated.