Hi all,
After a long christmas break it was time to head for the USA once again. I was planning to have a break in Doha hence I'am splitting the report in two parts. Part one of my trip consists of:
AI 144 BOM - AMD 0145 0240 B747-400
QR 283 AMD - DOH 0515 0630 A321
Due to intense security checks at BOM, I was unable to take pictures at all, just could manage something here and there, so apologies regarding that. Also my domestic leg, BOM - AMD was done through the international terminals of both BOM, AMD as it was the final leg of a long flight from the US ( EWR-LHR-BOM-AMD).

First Leg of the journey: Mumbai - Ahmedabad
Flight no.: AI 144

Aircraft Type: Boeing 747-400
Aircraft Registration: VT-ESN "Tanjore"
View Large
View Medium


Photo © A J Best
Terminal used: B
Terminal View & Check-in
The ride from Pune was a pretty short one as I hired a taxi. Many of you must be wondering why I did not take BOM - DOH direct, but it was full and no seats available on the date I was flying, hence seeing all possible combimnations of dates and points of origin AMD-DOH-JFK was available for a good fare and I risked by flying on AI as my connections were very tight.
Due to security reasons there was total chaos at the departure point. Only one lane of traffic was allowed over the dapertures section with one lane being blocked. Therefore to move a distance of 500m it was taking 45 mins, pretty much chaotic as most of the European flights leave in that time span.
So after somehow struggling through the traffic, I got off at my gate and joined the queue for entrance, which took another 10 mins. Once I entered the airport, I got my bags screened and went to the AI check-in counter. The lady got my boarding pass in minutes and asked me to proceed. Even though I was carrying around 7kgs extra she did not mind and let me go through. Here is my boarding pass with the "D" on it.
I proceeded towards the immigration counter, where Domestic passengers could pass through a separate queue once their passes were checked. Security check was thorough, and after passing that drill it was almost 0115 hrs and they were boarding passengers already.
Boarding & Flight Details:-

Flight No: AI 144

Gate No: 6
Seat No: 32H

Departure times:-

STD: 0145 hrs
Pushback: 0150 hrs
Airborne: 0200 hrs
Runway: 27
Flying Time: 53 mins

Loads: 100% almost ( There were just 5-6 seats empty throughout the aircraft)
When I entered the plane, it was empty but gradually it was filled with passengers connecting from AI's network. We had passengers coming in from the ORD-FRA flight, JFK non stop, NBO etc. Once I stepped in we were greeted by this AI FA with a "namaskar" and guided me to my seat. I asked whether our flight was on time and the other FA said "yes sir just a five minute delay at the maximum" and seeing me worried about my connections he just asked me to relax and offered me some water.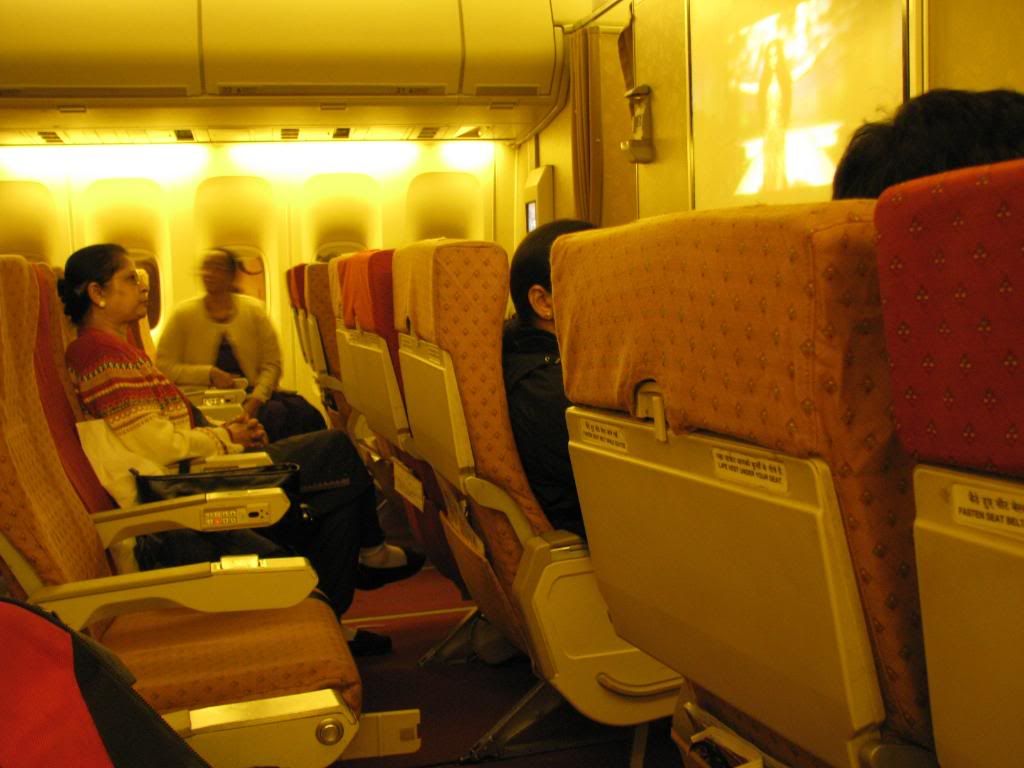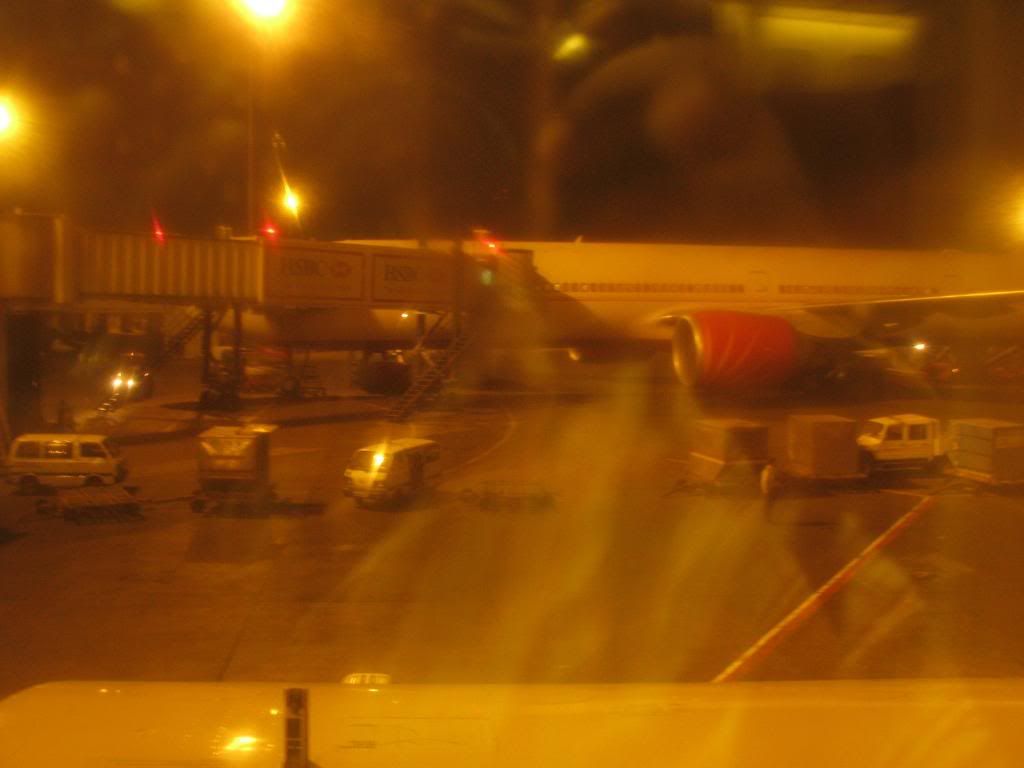 The AI B744 Y class has three cabins in Y the first one being in a 3-3-3 configuration and the latter 2 being in a 3-4-3 configuration. The seats were in the new AI seat designs the ones you would find on the B777s.
Soon the flight was filling and I could notice a lot of senior citizens using this flight. We had a crew to AMD I must say. After boarding was over departure was announced and we pushed back after a delay of few minutes and I was relieved. I knew I would now make it to my QR flight. Soon we were on RWY 27 and took off, a very nice smooth take off on a B744.
Inflight:-
Being a short flight, there was not much to write about. A snacks service was there, a tasteless veg sandwich. I was too hungry to take a picture so I just took an empty box picture to give you guys an idea
.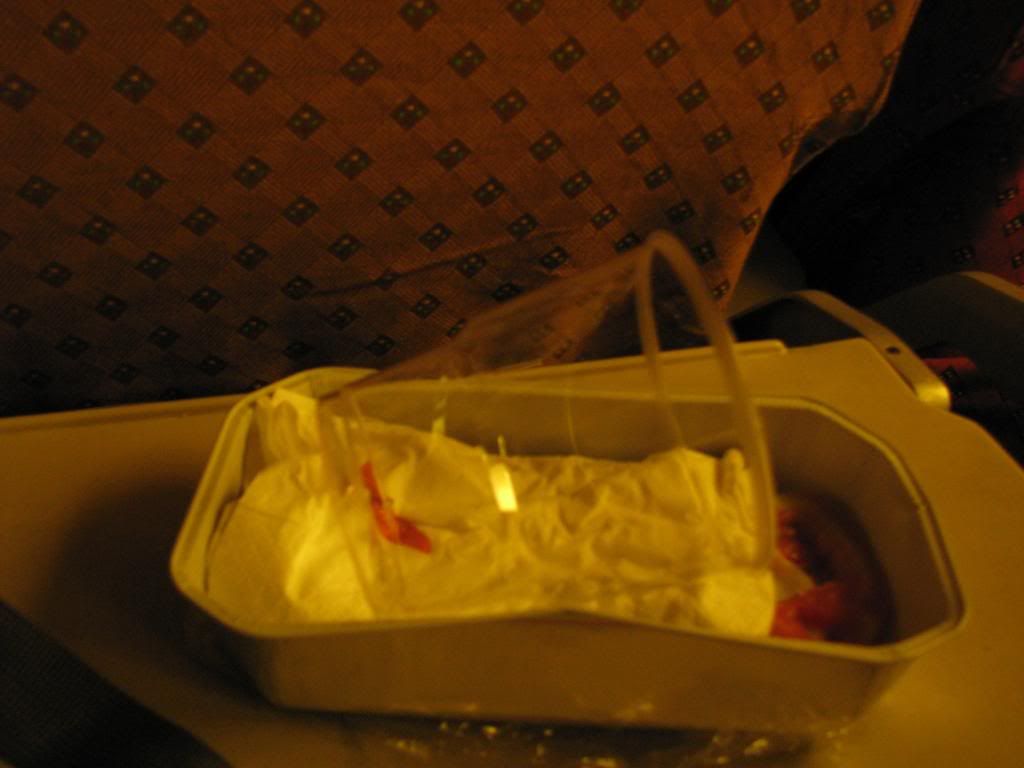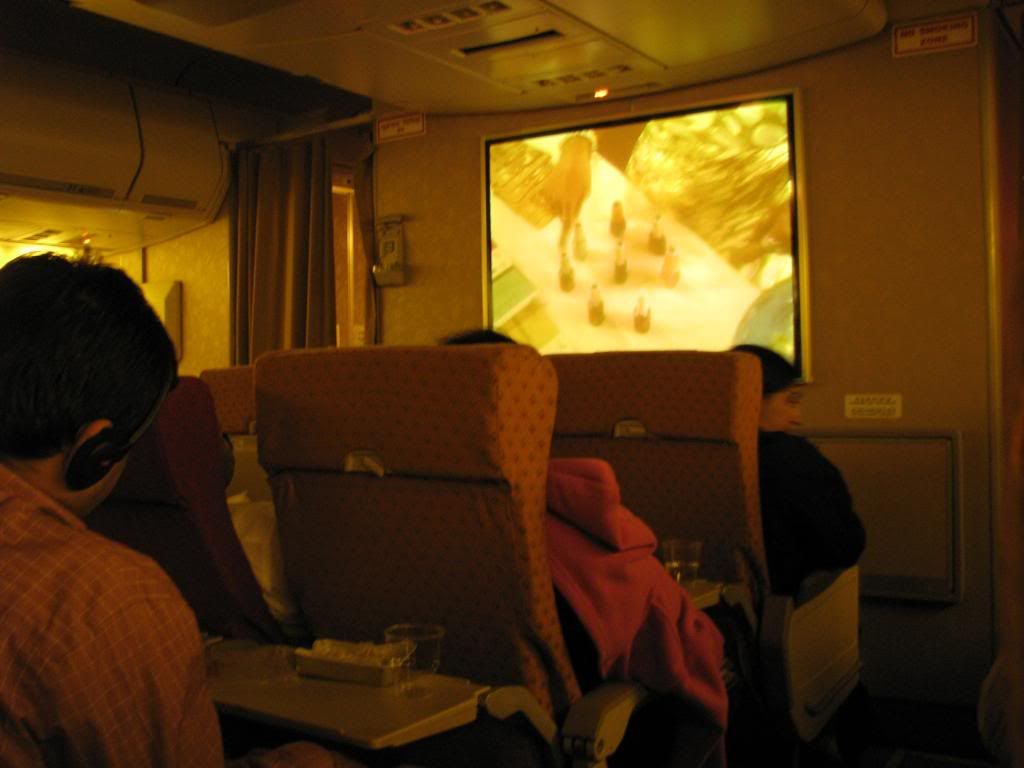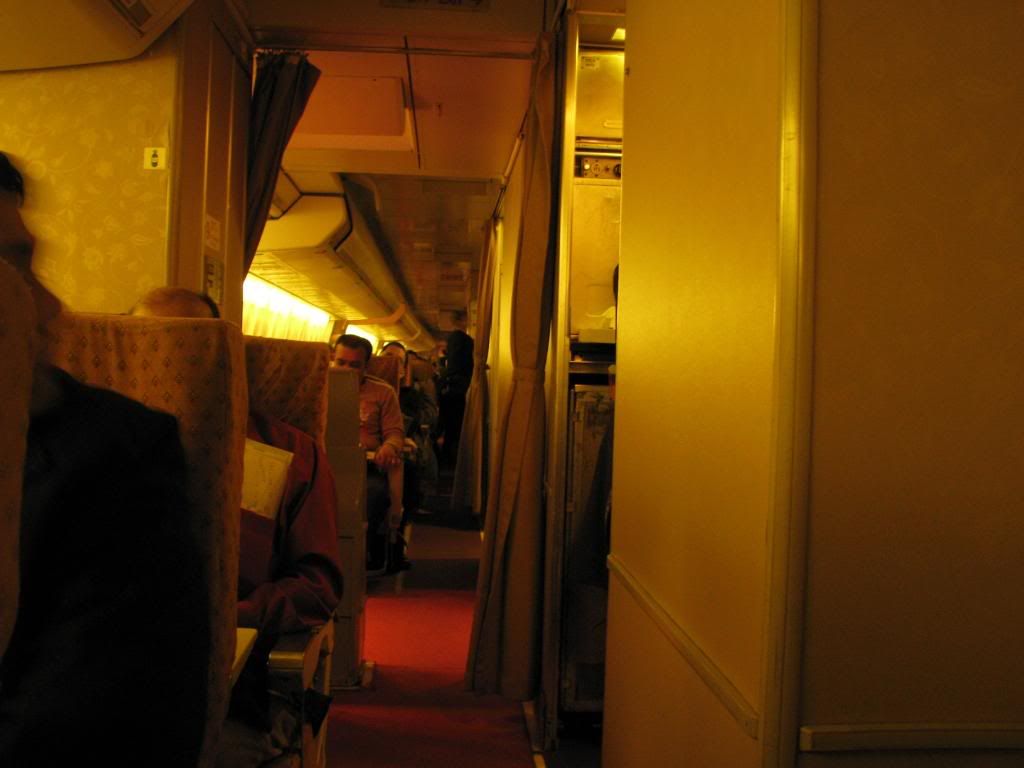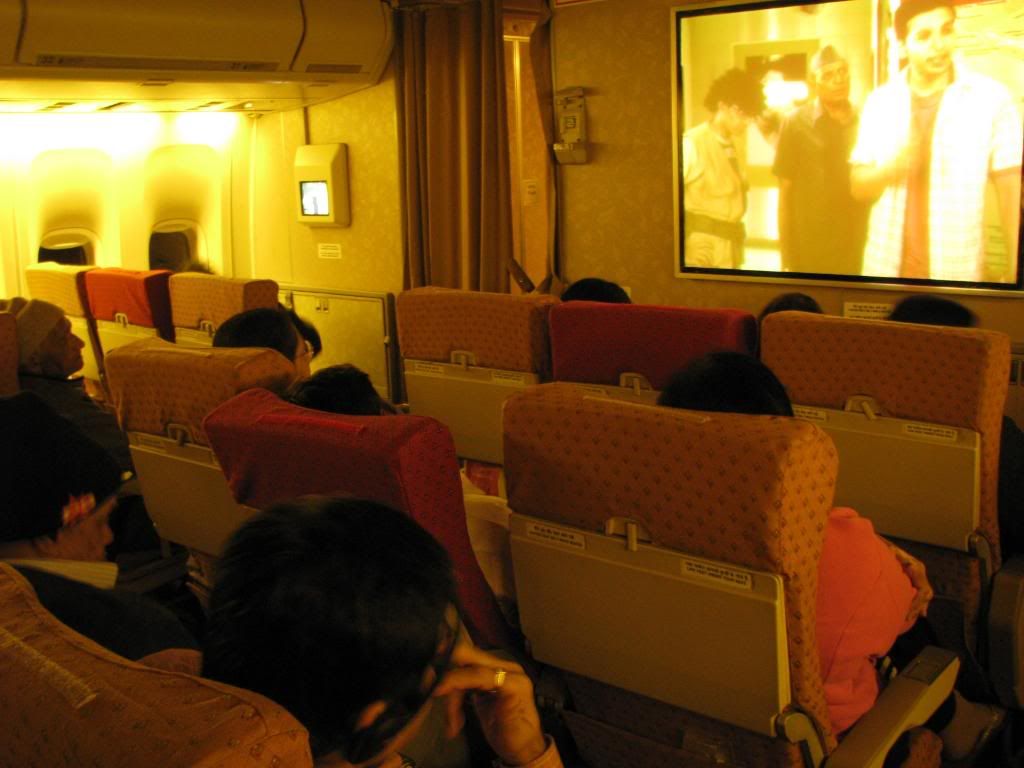 We began our descend into AMD at around 0235 hrs, few turns here and there and we were on short finals at AMD. We landed on RWY 23 and within few minutes we were at our bay. There were few Spicejet , Kingfisher narrowbodies around thats it. Some of the people were happy "Finally we are at AMD" , a relief after a long journey from EWR.
Scheduled: 0240 hrs.
Touchdown: 0253 hrs.
Docking Time: 0258 hrs.
Runway:23
F/J passenegrs were out first, then Y. As we were waiting the FA said " Don't worry you will make it" and I was like " yes, a gamble being successful". She did however enquire the airline I was traveling, I said "Qatar Airways". She further asked but don't they have flights from BOM itself and I said " ya , but could not get a seat on them".
Some F class pictures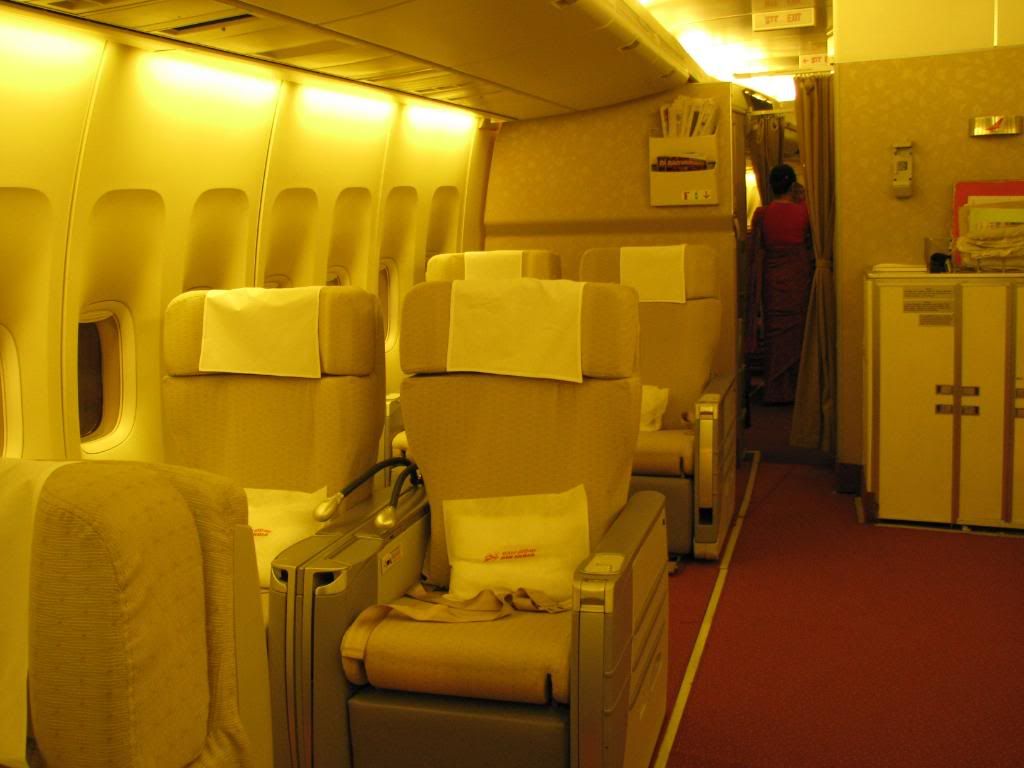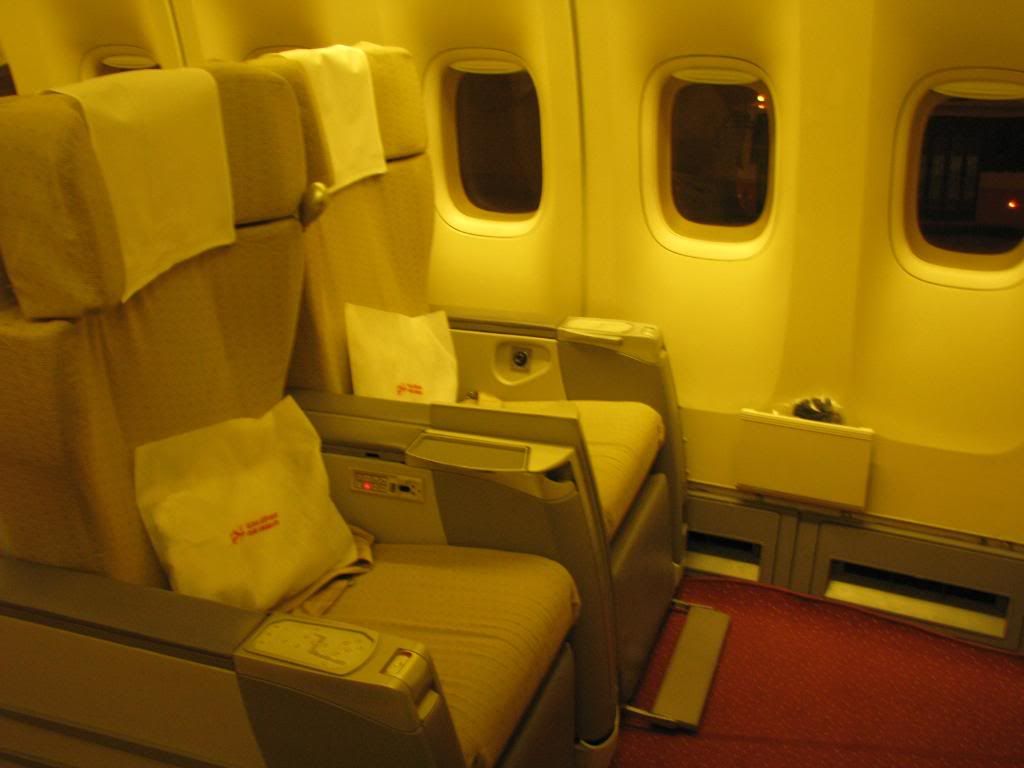 We were bussed to the terminal and being a domestic passenger , I could bypass the immigration. There are just 2 carousels at AMD, and within 10 minutes my bags were out. I bypassed the customs and was heading outside to go find the entrance.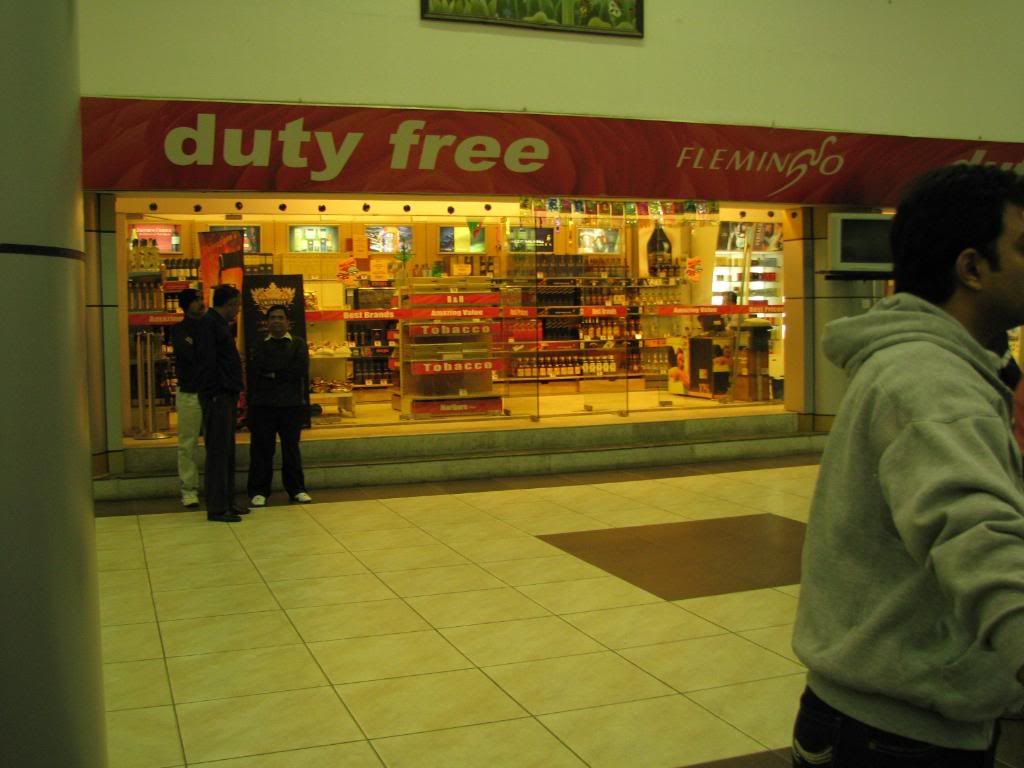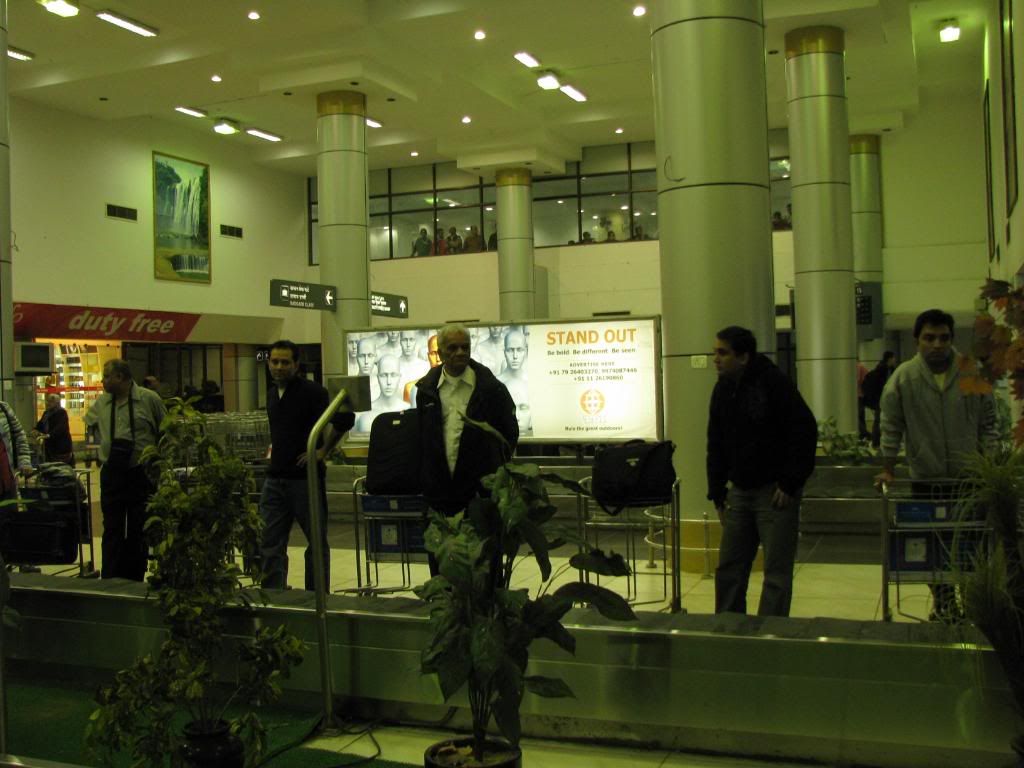 Ratings:-
A/C : 7/10
Crew: 9/10
Food: 5/10
IFE: 7/10
Boarding& ground Formalities: 7/10
Overall: 7/10
Verdict:-
This AI flight was more to do with my connections, and since it was on time , that is what made me happy.
I went out of the airport and started searching the entrance for the airports' international terminal. The domestic terminal looked very good but the international entrance looked like some old warehouse. Cutting through the crowd I managed to enter the Sardar Vallabhbhai Patel International Airport. This airport handles- EK,QR,G9,SQ,AI(BOM-LHR-EWR),AIX (DXB).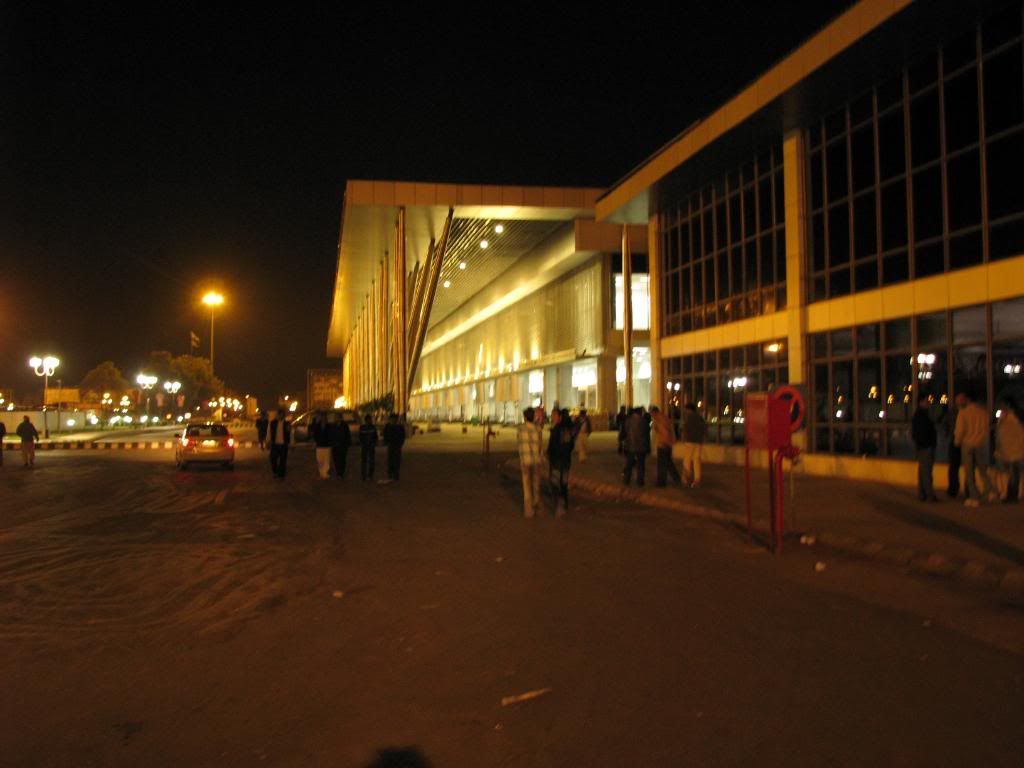 Second Leg of the journey: Ahmedabad - Doha
Flight no.: QR 283
Aircraft Type: Airbus 321 - 231
Aircraft Registration: A7-ADV
Terminal View & Check-in
View Large
View Medium


Photo © Konstantin Von Wedelstaedt
The terminal was crowded, Air India counters were being used for Air Arabia check-in at that time. Air Arabia was running on almost 50% loads whereas QR had a full flight. I was the last person to check-in, Very slow check-in by the AAI agents and finally got my boarding pass at 0415hrs. I was seeing the group of bags being collected and most of them were tagged through to JFK/IAD/LHR/MAN and few of them to DOH only. Proceeded through immigration, and took a picture.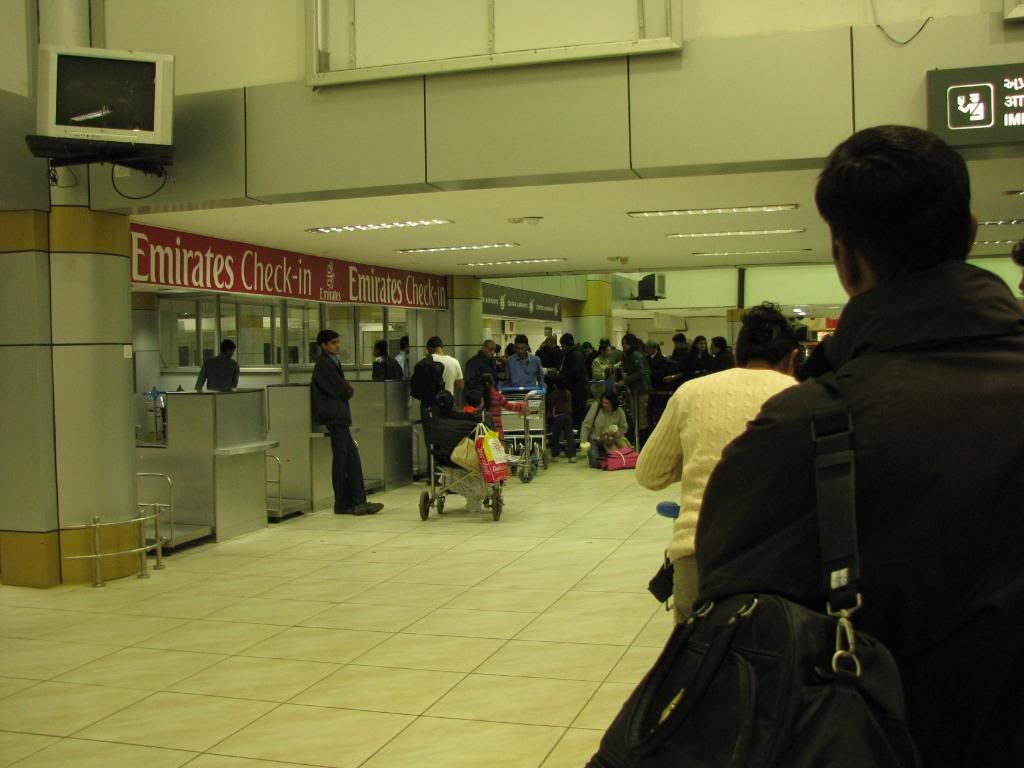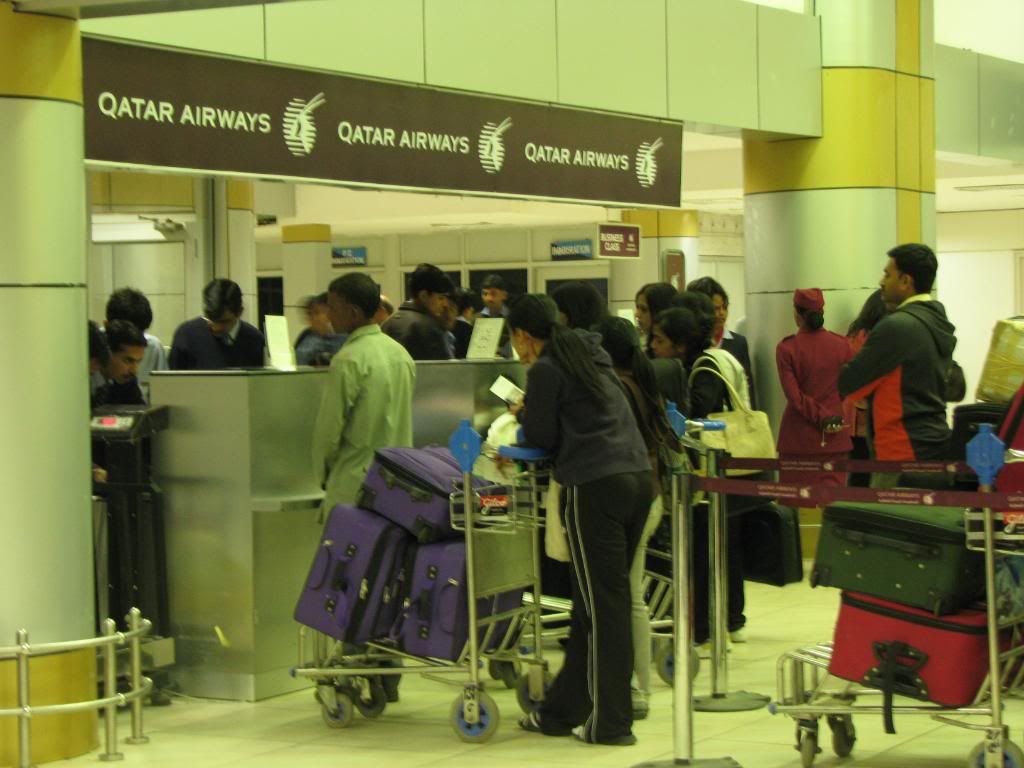 As soon as security check was over, the boarding had begun So I hurried and stood in the queue.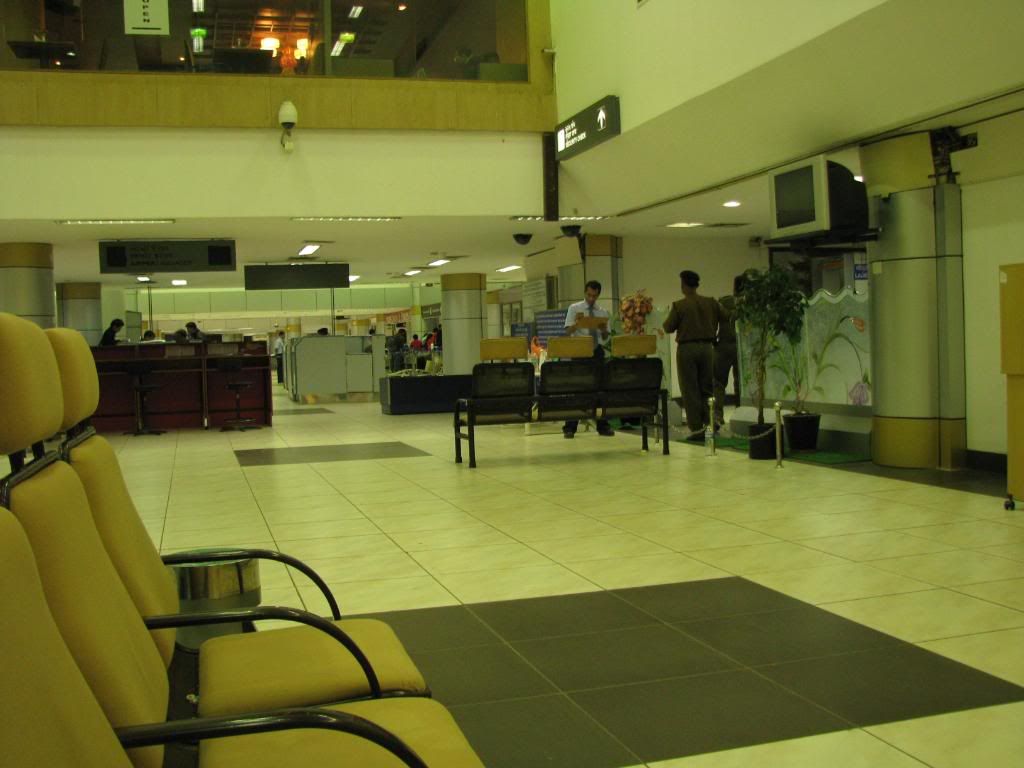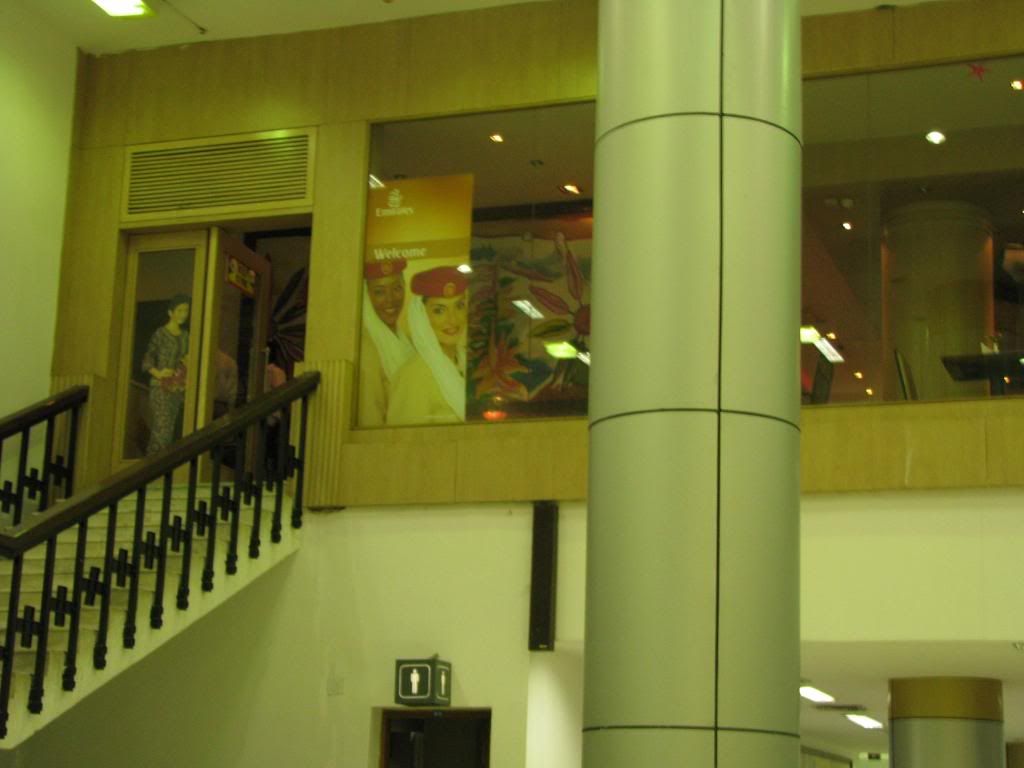 Lounge for all international airlines
Boarding & Flight Details:-

Flight No: QR 283

Gate No: 1 ( LOL there were just 2 departure gates the other one being used for Air Arabia to SHJ)
Seat No: 12E (Exit row seat)

Departure times:-

STD: 0515 hrs
Pushback: 0503 hrs
Airborne: 0511 hrs
Runway: 5
Flying Time: 3 hours 15 mins

Loads: 177/177; 100% loads
We were bussed to the aircraft and soon I could see an A321 in the vicinity. I was all frustrated as in the impression that I would be stuck in the middle seat. Fortunately there was something good in store.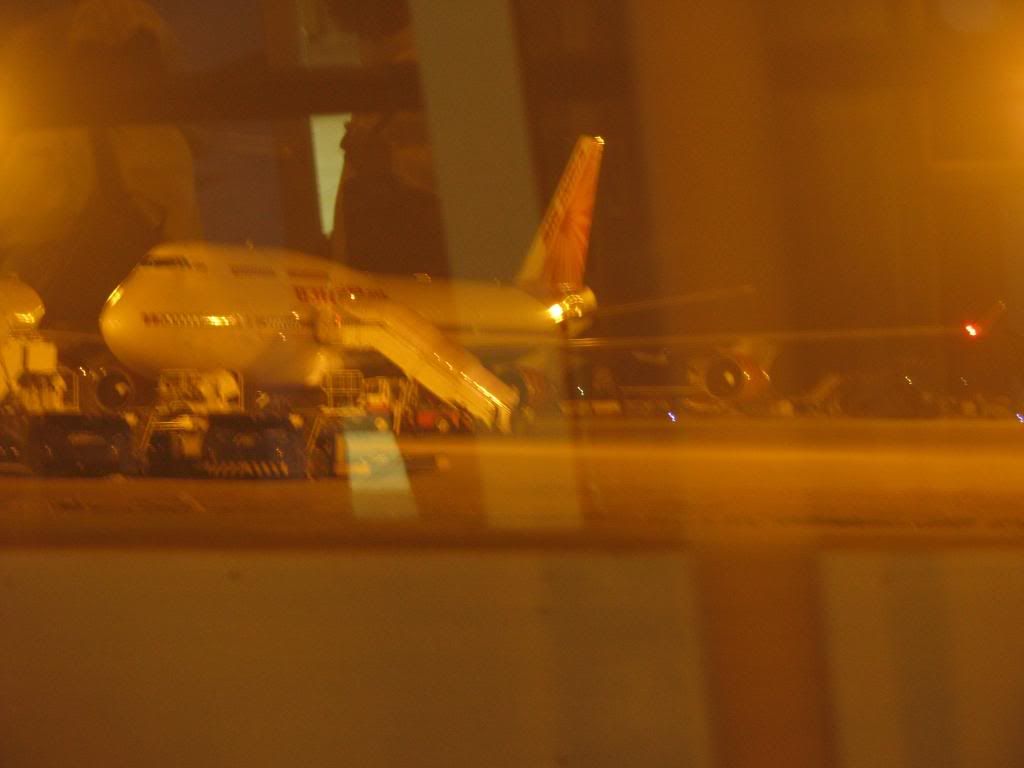 We were greeted by our FA and I was shown my seat. I was pretty elated to find out that I had an Exit row seat and that seat had just 2 pax seats and one jump seat. But really gracious legroom. Boarding was over quickly and we pushed back almost 15 mins early. Safety demonstrations sweets, hot towels were the services before take off. After pushback within minutes we were on RWY 05 for departure and were on our way to Doha.
legroom
Inflight:-
The crew started their breakfast service and the CSD got a HUGE list of Special meal requests that is AVML requests. I do not know about other airlines but many of the QR crew term the AMD flight as " Special Meal Flight". On an average this flight has 84 Special meal requests.
I chose the continental option, the same menu on BOM - DOH in Sept. It was good and rest of the flight was more or less typical. I could not take many pictures as I was exhausted and slept through out the rest of the flight.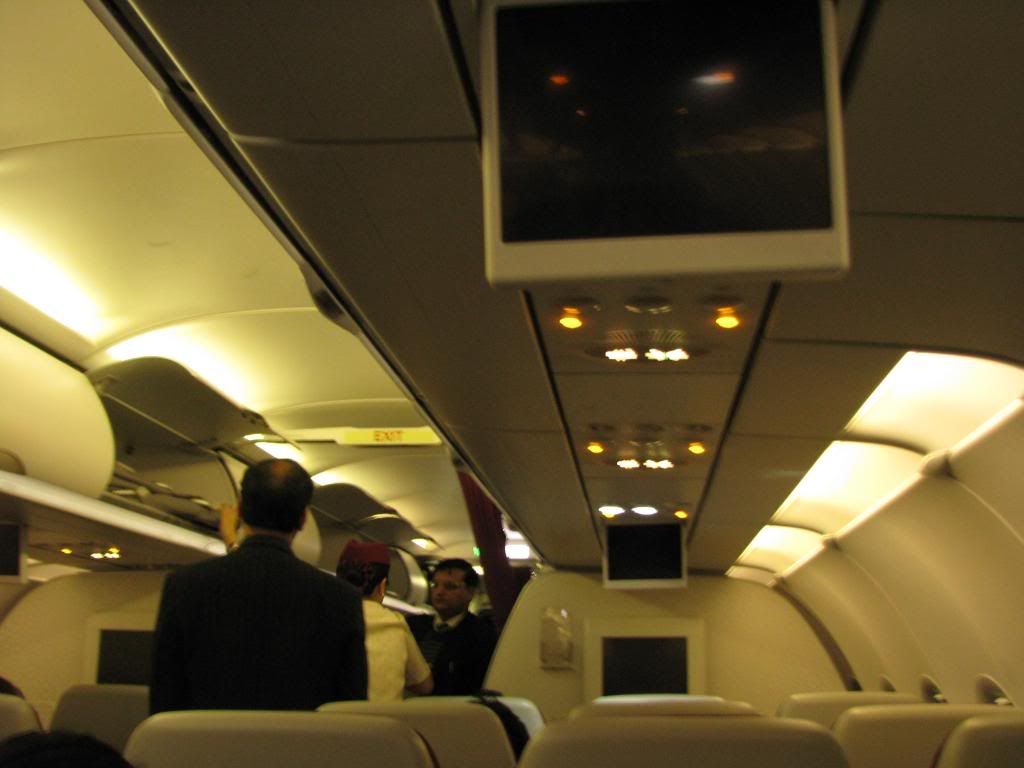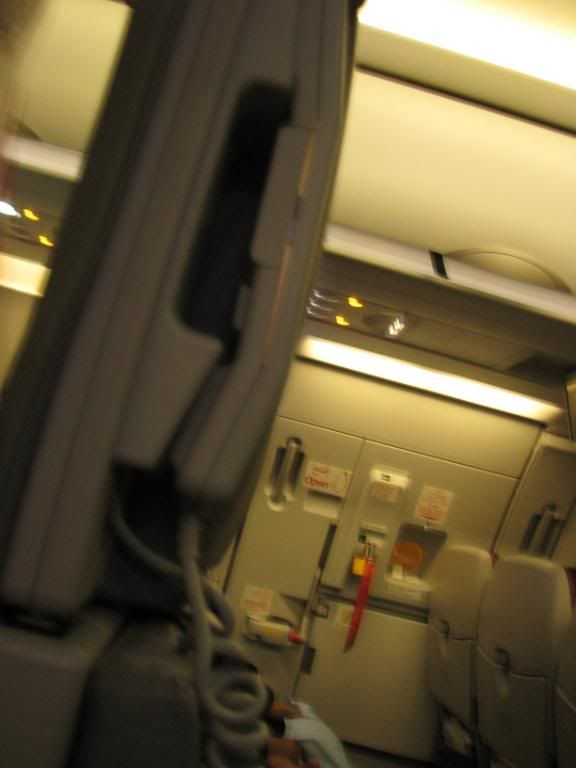 Jumpseat next to me.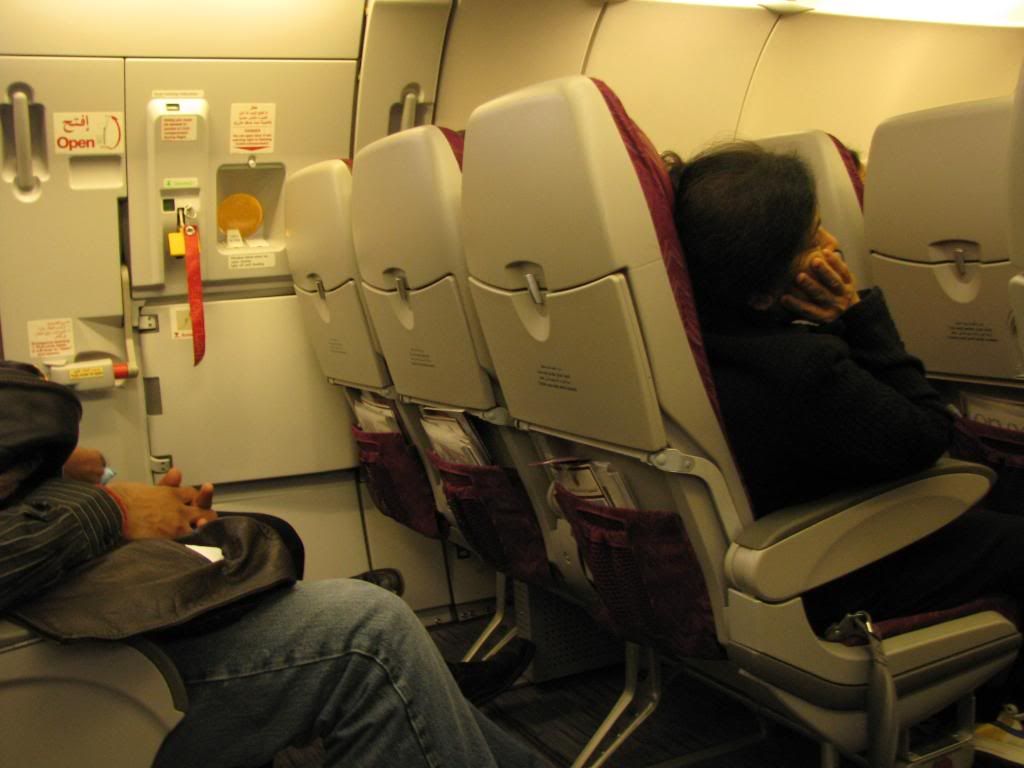 We were woken by the preparation of arrivals and we touched down smoothly on RWY 34.

Scheduled: 0630 hrs.
Touchdown: 0556 hrs.
Docking Time: 0559 hrs.
Runway:34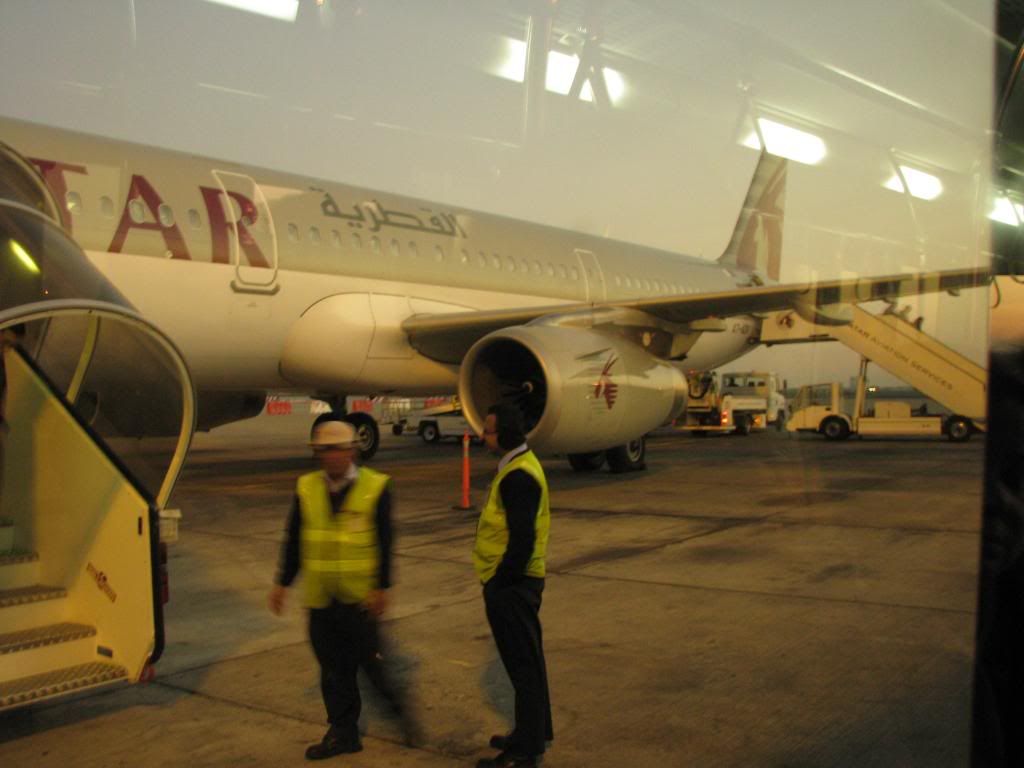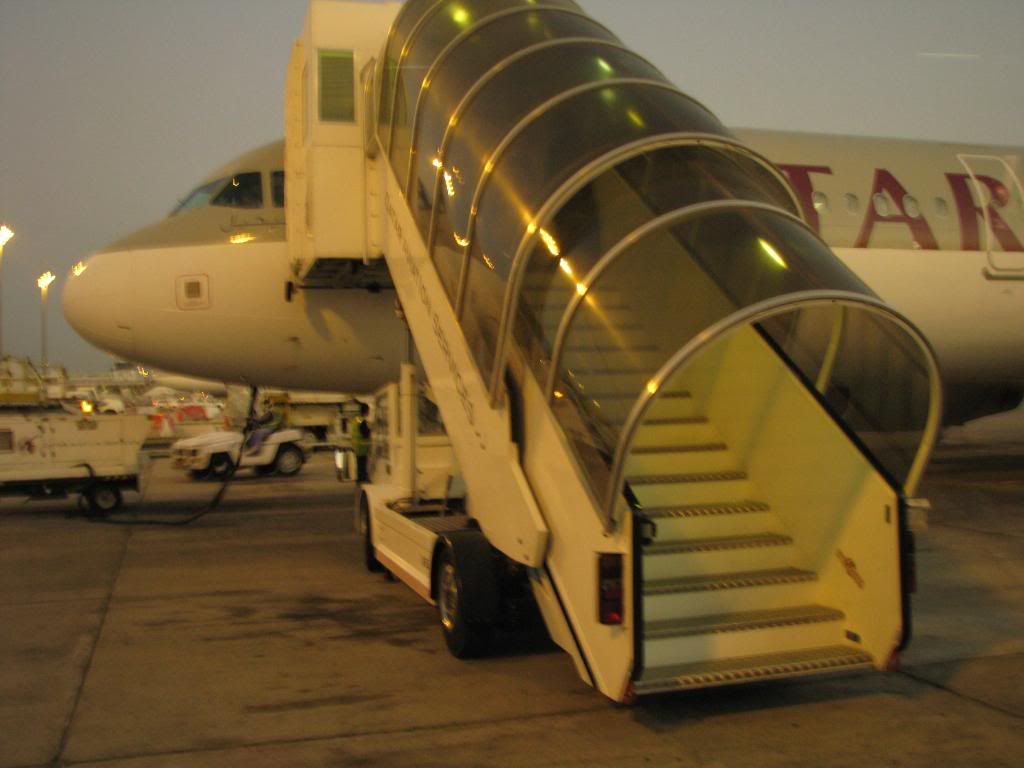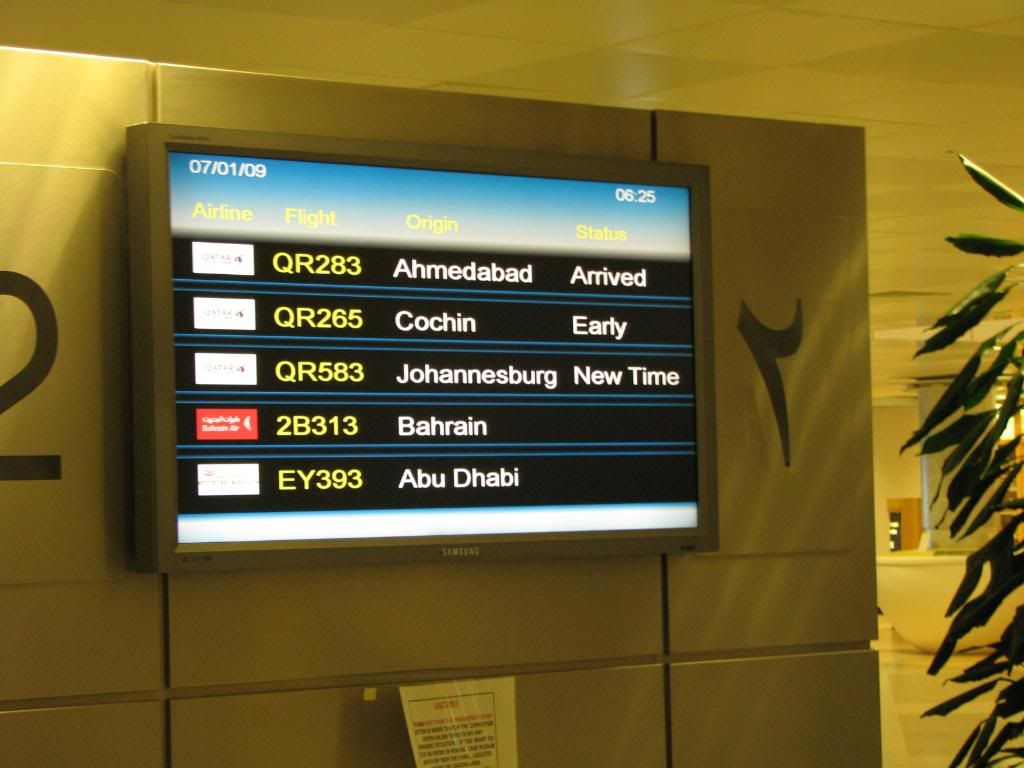 Within minutes we parked at our bay which was next to the terminal. Premium passengers were taken to the terminal in cars and we were bussed to the terminal. Immigration was quick and was out of the airport in 5 mins.
Ratings:-
A/C : 10/10
Crew: 8.5/10
Food: 8.5/10
IFE: 7/10
Boarding& ground Formalities: 6/10
Overall: 9.4/10
Verdict:-
QR tries to be consistent enough and are successful on many occasions. I could not judge this flight as I hadd almost slept throughout the flight. Overall everything went well without any obstacles.
Part -II of the trip coming soon:
QR 083 DOH - JFK
B6 825 JFK - MCO
Queries/suggestions/criticisms always welcome from our members.
Regards,
Ojas Purandare
P.S links to my previous TR
Trip To India! MCO-IAD-DOH-BOM On UA/QR
BOM-DOH-IAD-MCO; QR B77W/ UA A320
Yes,the Trijets Do Rule! SIN-BKK-SIN Biman/AirAsia
Inaugural SQ B77W From BOM - SIN & Return
Trip To HYD ( Shamshabad ) On Kingfisher Airlines
BOM-DEL-BOM On IC A321 & B743 Combi