I still had some days of holiday left which I had to take in January, so I was looking for an interesting short trip to a European destination. I found a very good offer at TUIfly, from my home airport Stuttgart to Venice for EUR 78.00 return, including all taxes.
Monday, 12 January 2009
Stuttgart (STR) – Venice (VCE)
Airline: TUIfly
Flight number: X3 3694
Scheduled departure time: 07:15
Scheduled arrival time: 08:35
Type of aircraft: Boeing B 737-700
Registration: D-AHXJ
This aircraft was built in 2008 and delivered to TUIfly in May.
As I live very close to Stuttgart Airport I decided to use the late-night check-in. I arrived at Stuttgart Airport shortly before 18:00 on the evening before my flight, and the TUIfly check-in area in Terminal 3 was deserted: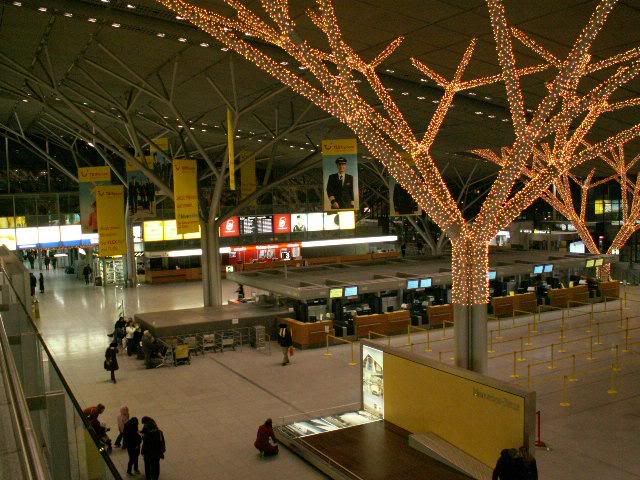 There were only two early morning departures on the next day: VCE and HAJ, so there were only six other passengers apart from me at the check-in desks. TUIfly had reduced their offer from STR shortly before: flights to TXL (with several daily services), ARN and PSA have been discontinued. At 18:00 two check-in agents arrived and all passengers were checked in in no time. I got my boarding pass for seat number 25F in the back of the aircraft: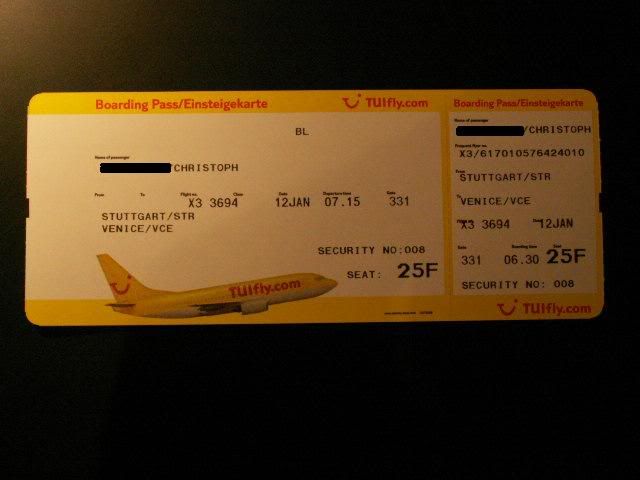 On the next morning I arrived at Stuttgart Airport by train only shortly before the departure of my flight, passed security check quickly and proceeded directly to gate 331, a bus gate on the first floor of Terminal 3. Boarding started 30 minutes before departure. While the other passengers were boarding the bus I stayed outside and checked the apron for our aircraft. The bus driver approached me; at first I thought he would tell me to board the bus instead of standing outside, but he just wanted to show me which aircraft would fly to VCE.
It would be D-AHXJ, a new entry for my log, built and delivered to TUIfly only eight months ago. When all passengers had arrived the bus took us to the parking position of our plane: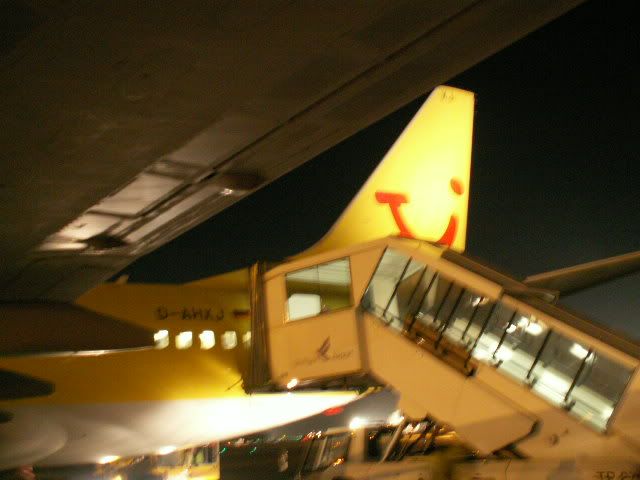 I boarded through the rear door. Three flight attendants (2 female, 1 male) welcomed all passengers. Newspapers and magazines were available in the overhead bins near the doors. The cabin is equipped with the typical Recaro-seats. Please also note the "hlx.com" wall at the back that was installed into this aircraft more than a year after HLX had stopped to exist – probably the walls had already been produced in advance (picture was taken on the return flight two days later):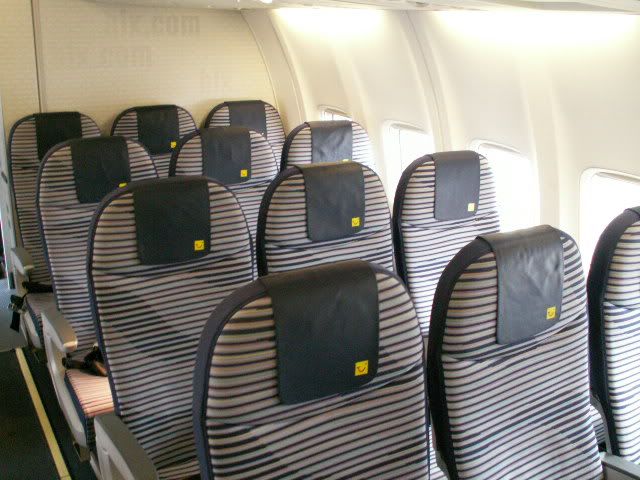 The outside temperature in Stuttgart had been around minus 10 degrees Celsius that night, so it was freezing cold inside the cabin as well. The flight attendants were wearing coats and most passengers, including me, also left their coats on as it didn't get much warmer before take-off. One of the flight attendants announced "Boarding completed, 65 + 0", so obviously there were 65 passengers on board which was a load factor of 44%. I had a complete row for myself. Most passengers were German tourists, but there were some Italian families as well, plus a few business travellers of both nations. The safety video was shown in German language with English sub-titles.
We went off-block at 7:15, just in time, and taxied to one of the three open de-icing positions. During de-icing, the captain made a welcome announcement. Like usually on a leisure carrier with many inexperienced travellers, he was very informative. He especially explained the de-icing process in a very detailed way, how it worked, how long it would take and why it was necessary. De-icing: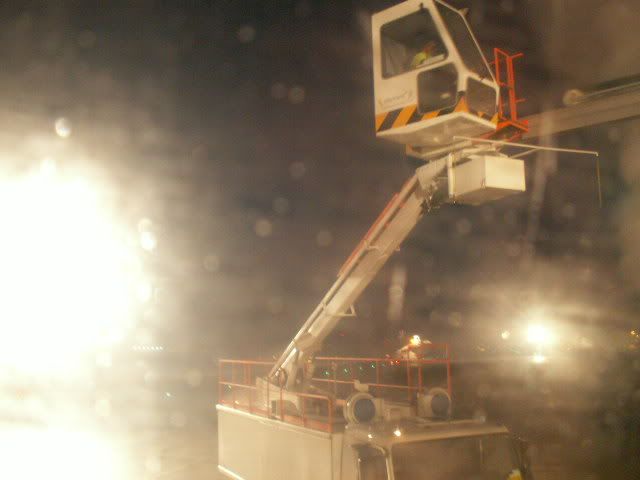 We taxied to runway 25 where we took off into the clear winter morning with no waiting time.
Fly me to the moon: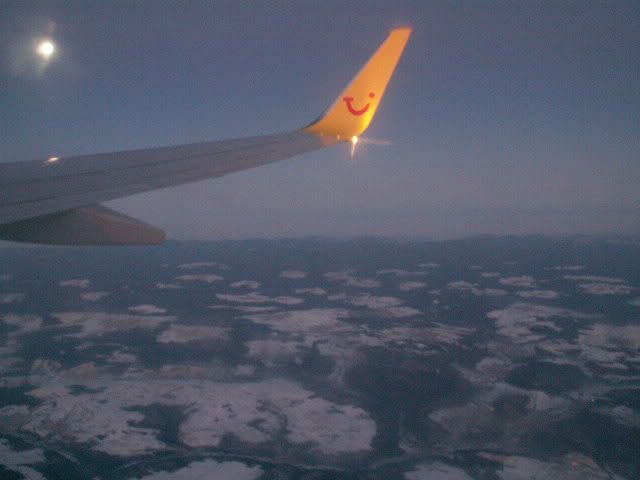 Flight time was less than an hour, so they didn't sell headphones. But the four audio channels were working (I had brought my own headphone to try out): actual charts, oldies, German folk music and a children's programme. Luckily there were no short movies or advertisements on the screens, just the air-show which I enjoy most when flying: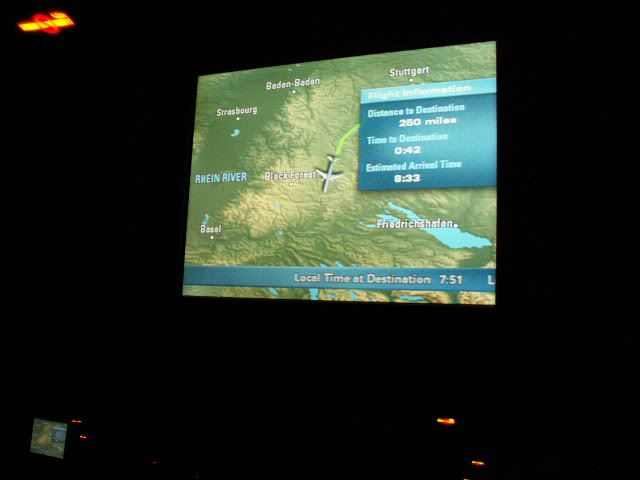 Food and drinks are sold on the shorter flights of TUIfly (on the longer routes it is free). I had decided to pre-order a breakfast tray for EUR 9.90 which was quite good:
Soon we were reaching the Alps:
The first officer, who was the pilot flying, made another announcement, informed us about our flight route and the weather at Venice that would be fine, sunny and with plus 1 degree Celsius much warmer than at STR.
Lago di Ledro in the Italian Alps: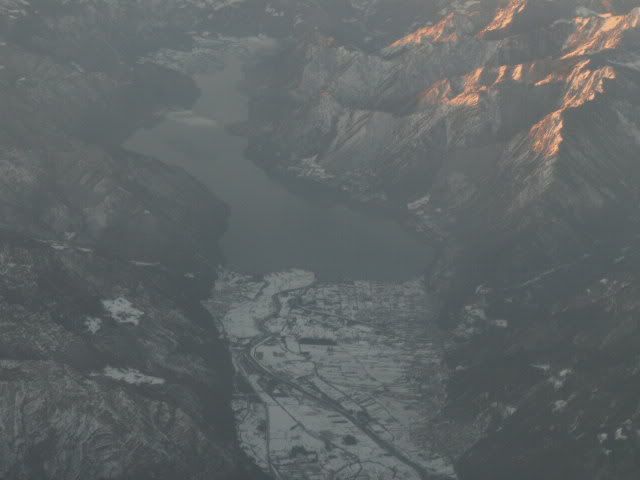 Lago di Garda: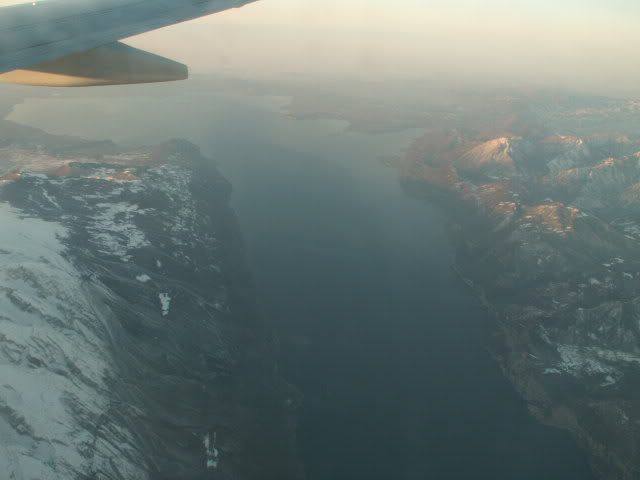 The flight route: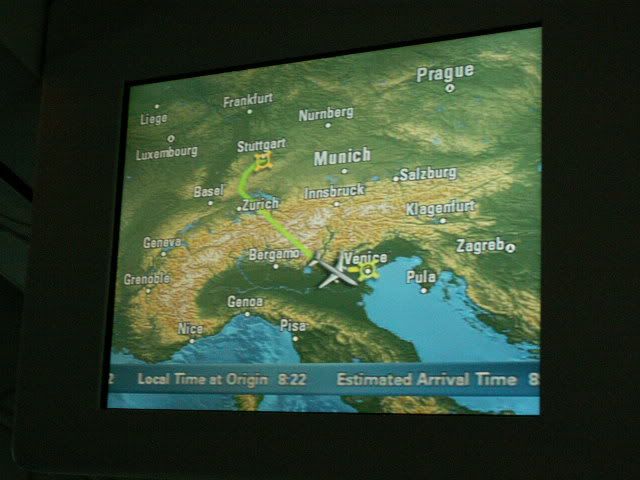 The lagoon near Venice: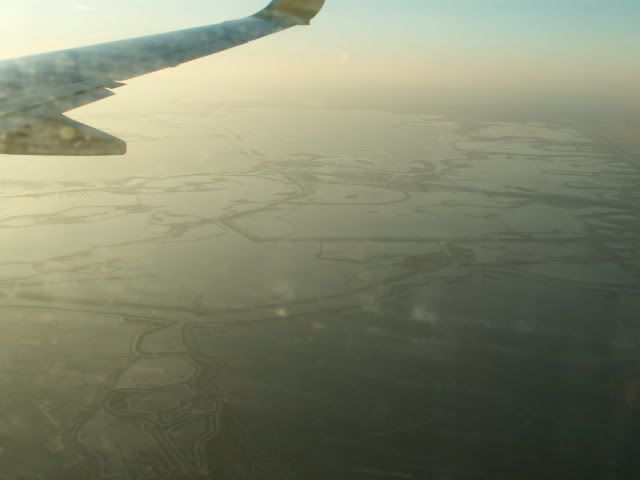 The City of Venice (sorry for the bad quality of the picture due to backlighting):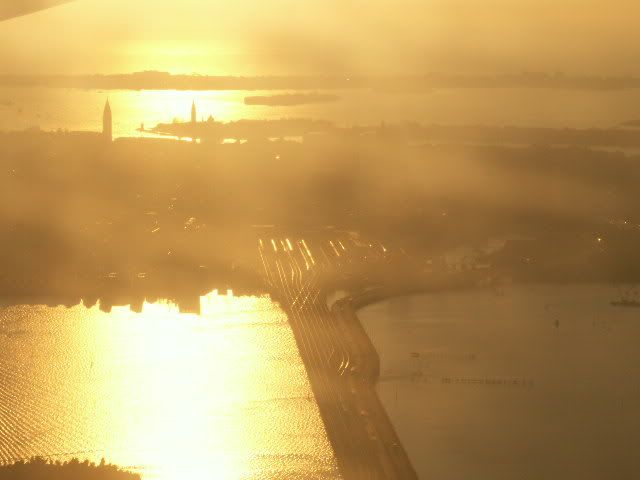 We touched down on runway 04 and taxied to a parking position on the apron where we were on-block on time. On leaving the aircraft, the cabin crew distributed sweets to the passengers.
Leaving D-AHXJ: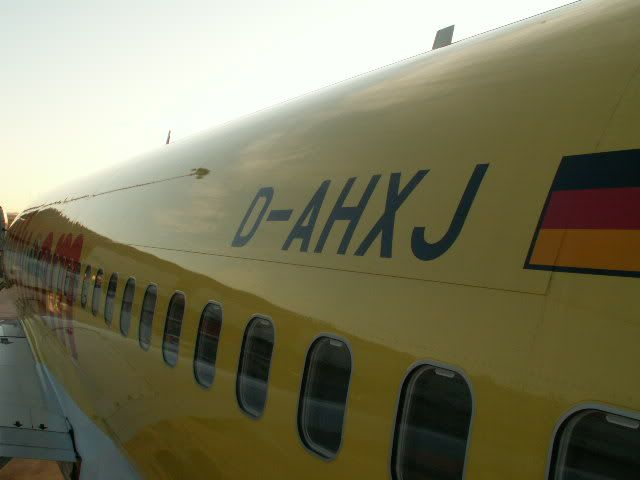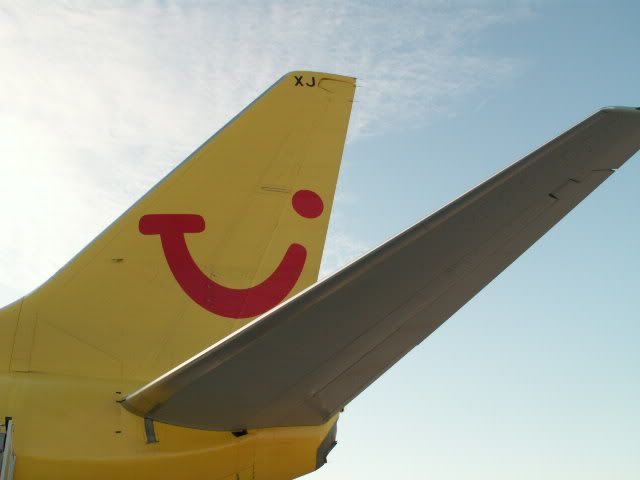 A bus took all passengers to the arrivals facilities. Luggage arrived quickly.
After a turn-around time of 30 minutes, D-AHXJ was on its way back to STR again: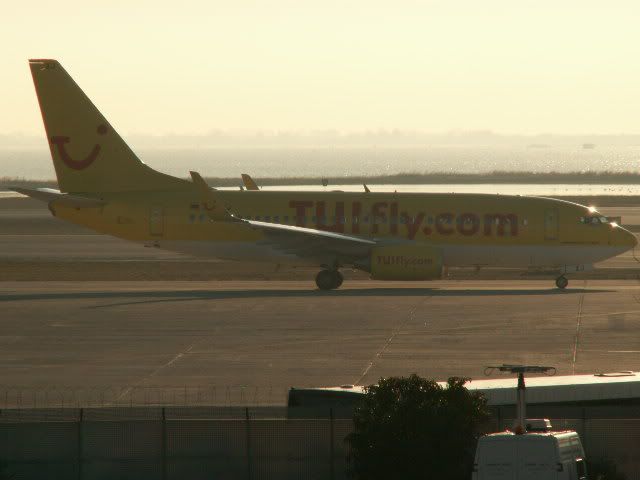 For those of you who are interested, here are a few pictures of Venice in winter as well:
This new bridge designed by Spanish star-architect Calatrava is now the "entrance" into the city centre of Venice:
Typical Venice scene: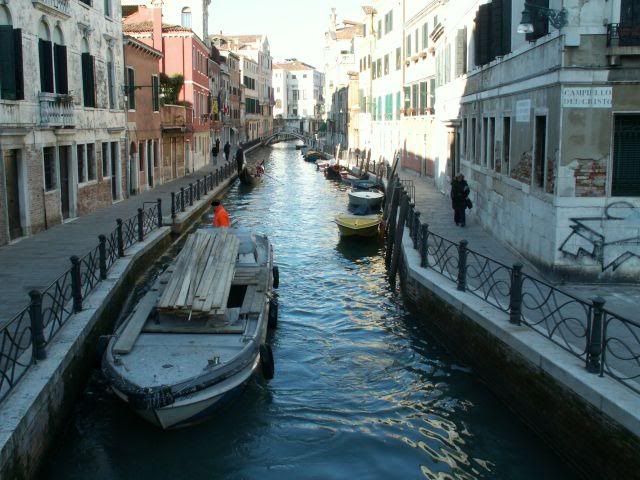 The monastery on the island San Giorgio Maggiore: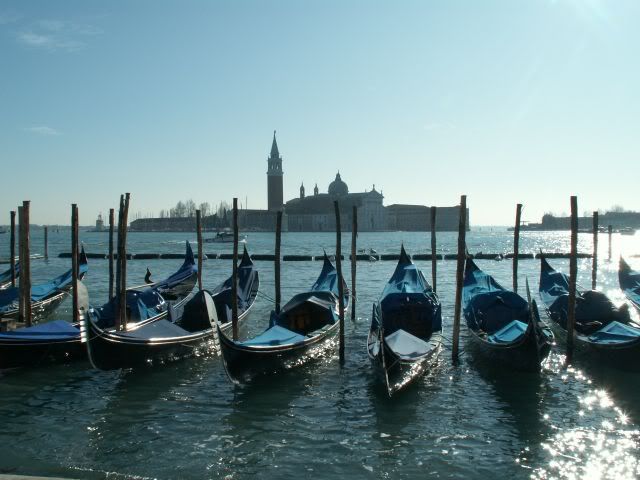 Dodge's palace: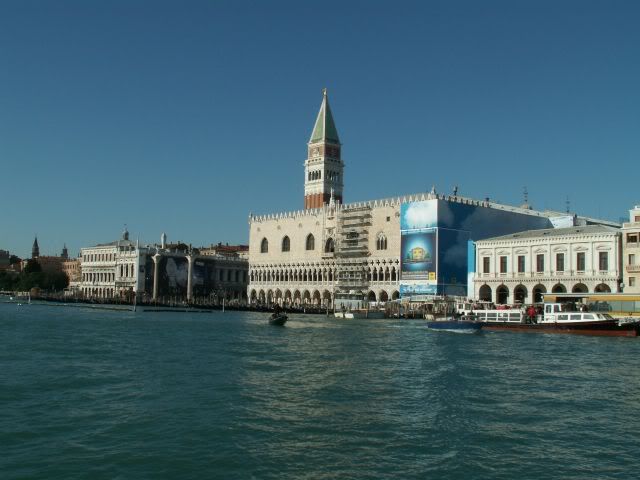 The Island of Giudecca: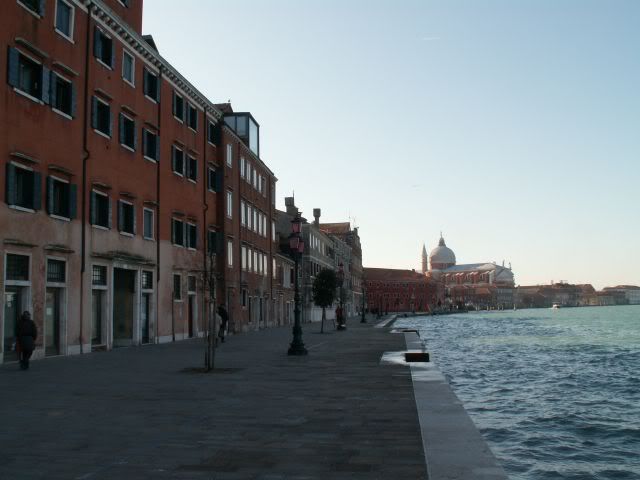 Wednesday, 14 January 2009
Venice (VCE) – Stuttgart (STR)
Airline: TUIfly
Flight number: X3 3695
Scheduled departure time: 09:10
Scheduled arrival time: 10:25
Type of aircraft: Boeing B 737-700
Registration: D-AHXJ
This aircraft was built in 2008 and delivered to TUIfly in May.
Two days later it was time to go back. On the way to Venice Airport, TUIfly has placed a large advertisement: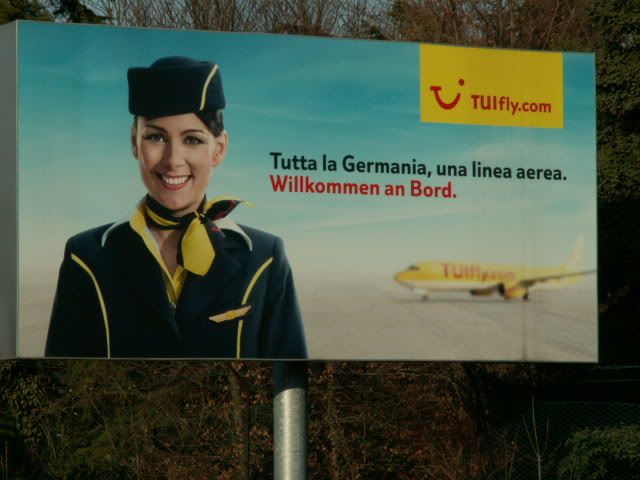 Obviously they want to attract some (more) Italian passengers as well. With Alitalia reducing their capacities to Germany more and more, TUIfly has become an important player on the Germany-Italy Market. Out of VCE, they are serving TXL, HAM, HAJ, CGN and STR.
Check-in opened two hours before departure with only one counter (at least at the beginning). I got my boarding pass for seat number 25A, the same row as on the outbound flight, but this time on the other side. After passing security control I entered the gate area: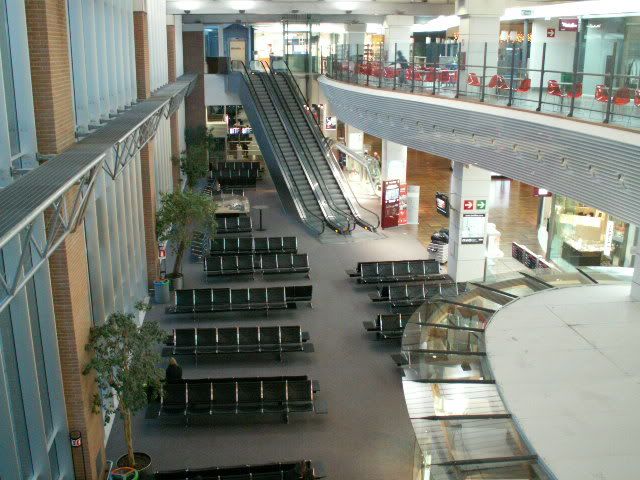 I watched the morning traffic through the huge glass front of the terminal building. The TUIfly aircraft arrived from STR on time. It was D-AHXJ again, the same aircraft as two days before. But with only two B 737-700 aircraft based at STR, chances weren't too small. I proceeded to gate 5, a bus gate on the ground floor. Although seats were pre-assigned, many passengers were already queuing at the gate. The gate agents walked through the crowd of waiting passengers and inspected the boarding cards. Obviously they were looking for a particular passenger. Boarding started 30 minutes before departure with two busses. On the bus, the gate agents came around again and said they were looking for a passenger that had checked in one bag. Later one of the gate agents used the microphone of the bus and announced that they were looking for the passenger with the baggage receipt number 508636. Everybody was checking his / her baggage receipt – it was a bit like a lottery. But unfortunately I didn't win – my number was 508606 – so one digit was wrong…
The passenger they were looking for wasn't in my bus, but I guess he had to go back for a special luggage inspection. Finally the bus left the terminal and reached the aircraft bound for STR shortly after.
Boarding D-AHXJ once again: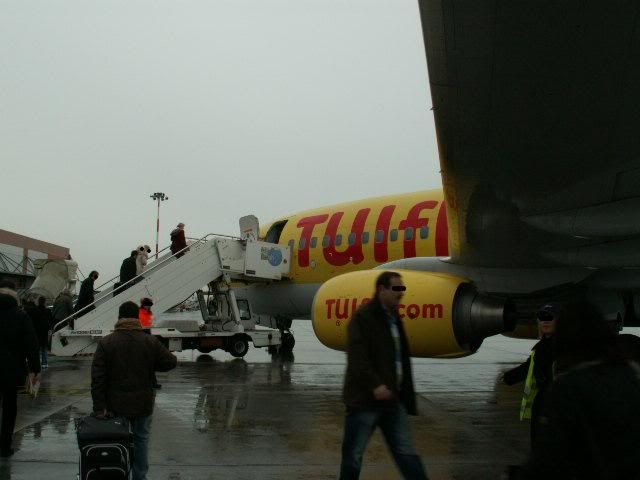 There were again three flight attendants (2 female, 1 male). Music videos were playing during boarding (James Blunt). This time there were 80 passengers on board which was a load factor of 54%. I had a row for myself again. The safety video was shown in German language, this time with Italian sub-titles as there were many Italian passengers on board (no English version).
We went off-block and taxied to runway 04 where we took off in Eastern direction. It was raining outside, so the view was not the best: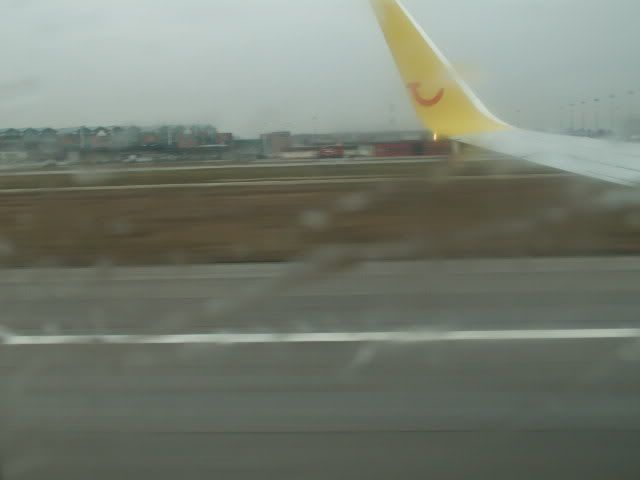 Maintenance facilities with a parked former TAM MD-11: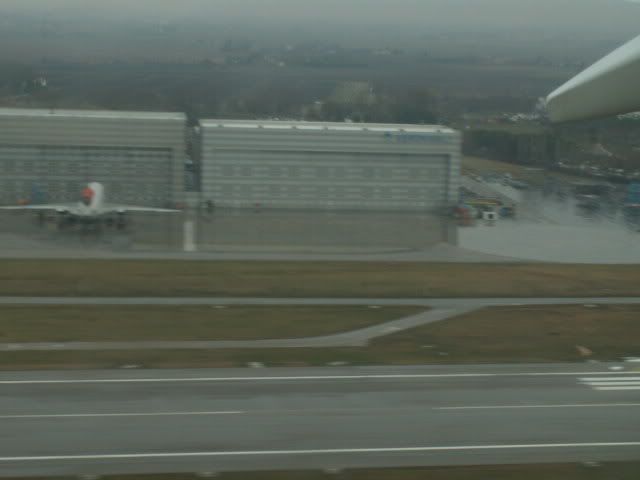 After take-off: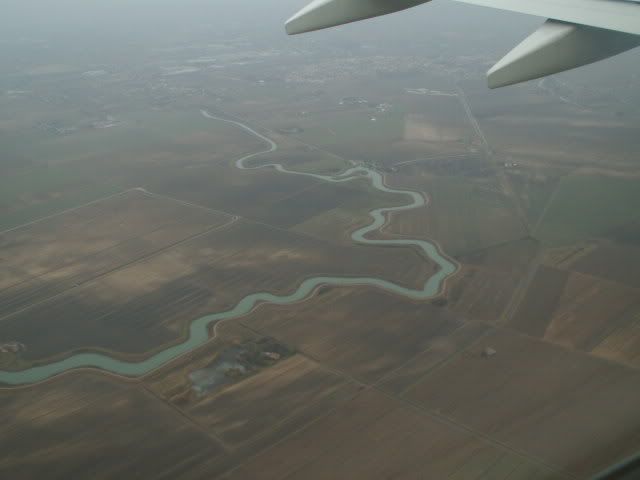 Soon we were up in the clouds, so there were no more views.
I had pre-ordered a breakfast tray again that was similar like on the outbound flight: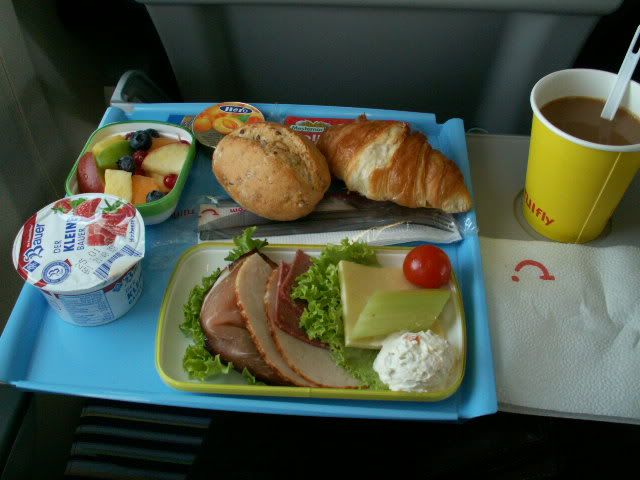 The flight attendant asked me if I wanted my croissant hot, but this would take about 10 to 15 minutes and with the short flight time I decided to have it cold. They sold quite a lot on this flight, especially coffee and sandwiches. The passengers behind me even bought some items from the board shop.
When we had already reached German airspace, the female captain made an announcement as well. She informed us about our routing until now which had been from VCE towards INN – MUC and now we were shortly before AGB and would reach STR ahead of schedule.
The view got better over Southern Germany: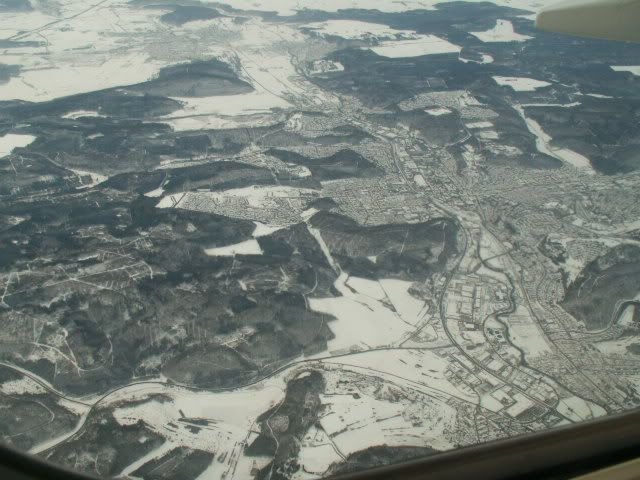 A town in the Swabian Mountains (Schwaebische Alb):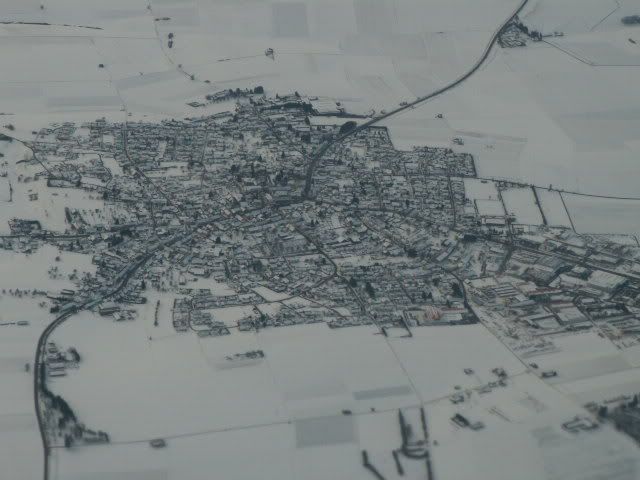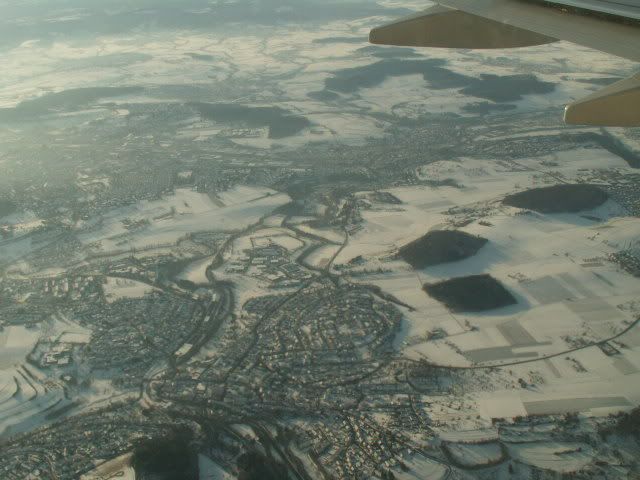 Our routing on the monitor: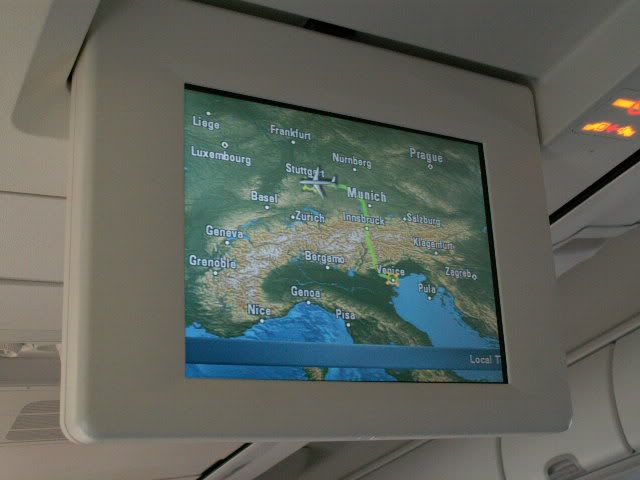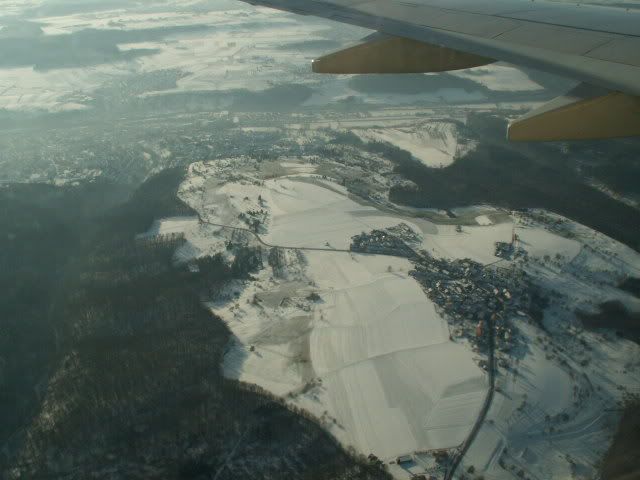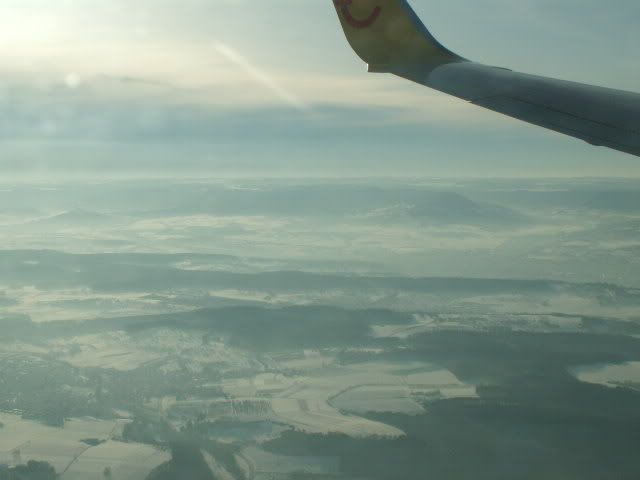 The station of the town of Plochingen: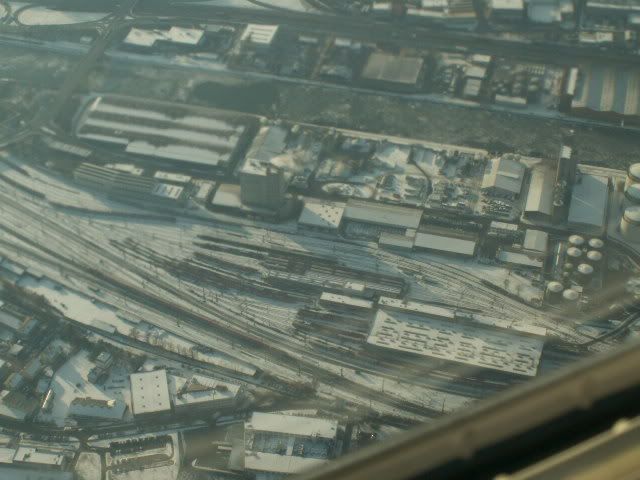 The town of Neuhausen: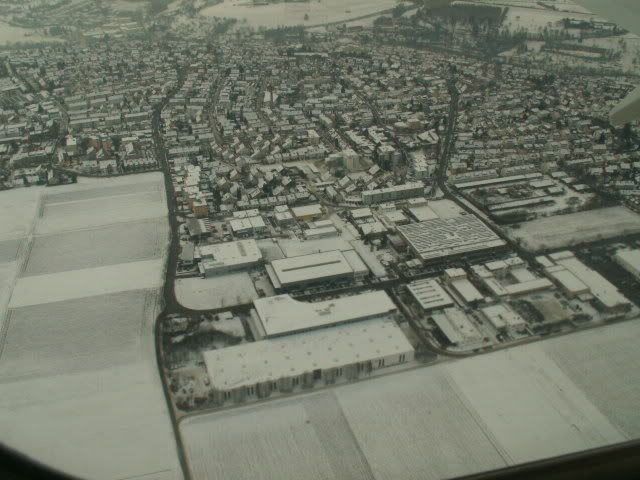 Farms in the Filder-area: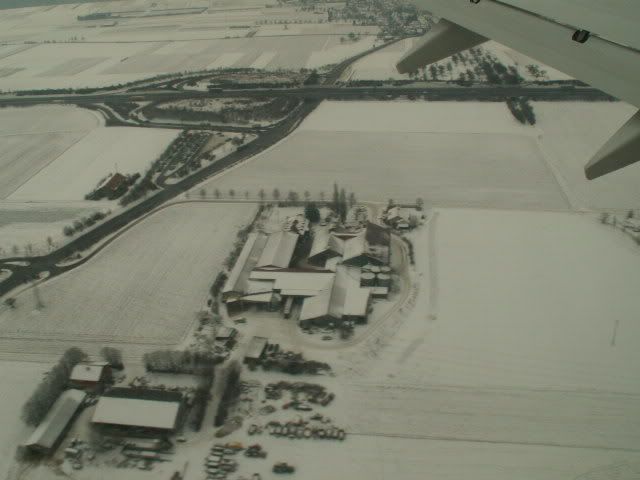 Final approach: the motorway A8: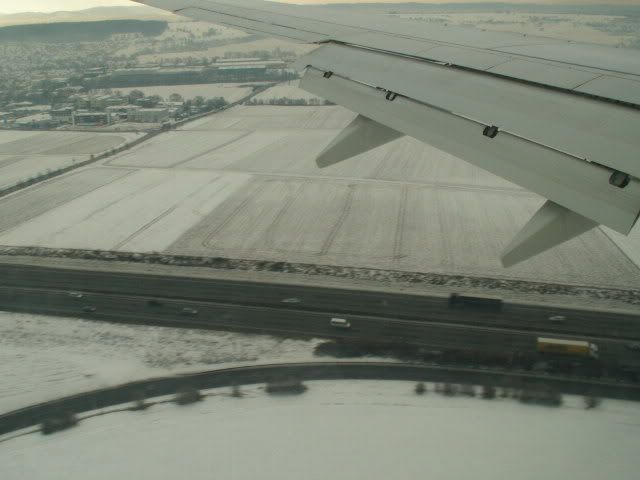 We touched down on runway 25 and taxied to a parking position in front of Terminal 3 where we were on-block five minutes ahead of schedule. All passengers left the aircraft through the jet bridge.
D-AHXJ is waiting for its next flight which leads to Italy again, this time to Bari: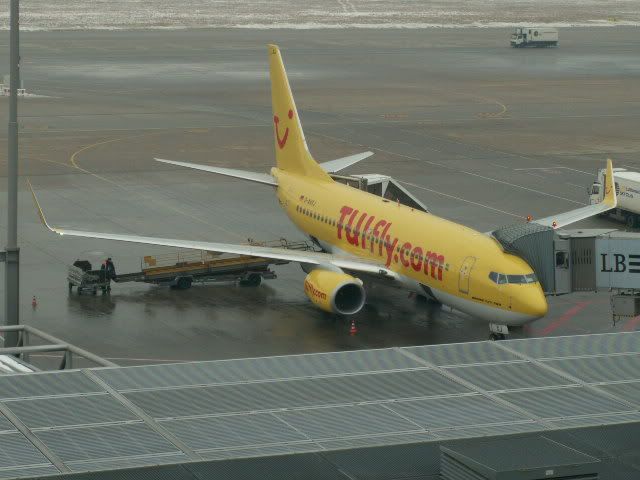 Luggage arrived quickly and I took a train home.
Conclusion:
Once again I was very happy with my flights on TUIfly. Prices were very good, flights were on time and cabin crews were really friendly and attentive on both flights. Information from the flight deck was very detailed as well. They offer a wide network out of my home airport STR, so I will definitely fly them again.
Thanks for reading my report. Questions and comments are always appreciated.
Regards
Christoph