Oman Air - WY905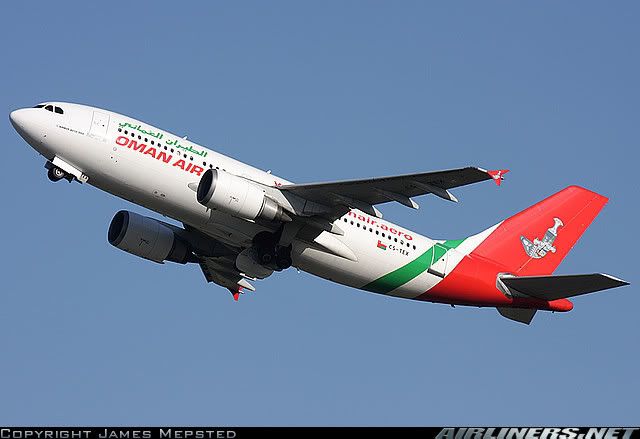 Muscat International Airport, Oman to London Gatwick International Airport, England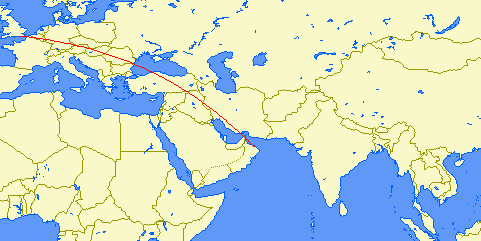 Aircraft:
Airbus A310-304
Registration:
CS-TEX (Old Scheme)
Configuration:
18J, 176Y (194CY)
Seat:
2A, Business Class
Flight Time:
8h 20m
Distance:
435 miles
Departure TIme:
16:00
Arrival Time:
20:30
Flight Load:
~80%
Background
After spending a lovely few days visiting friends in Muscat, it was now time to head back to London and back to work.
We had arrived from Gatwick a few days earlier in the early hours, note that the flight now operates into Heathrow with completety different flight times. I had spent most of my time relaxing and visiting the local areas around Muscat. Muscat is a lovely city and much quieter than some of the other Gulf cities such as Dubai, Abu Dhabi and Doha. Muscat is a similar size to Doha, but much less developed and it still retains it's strong and interesting history. Muscat is of course...very hot at this time of the year!
A few photos of Muscat...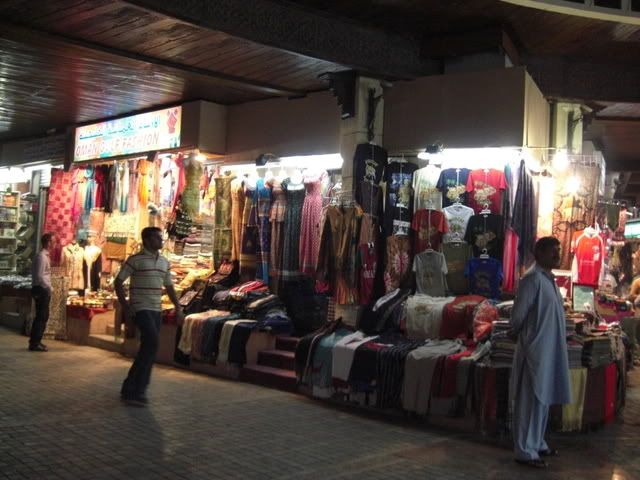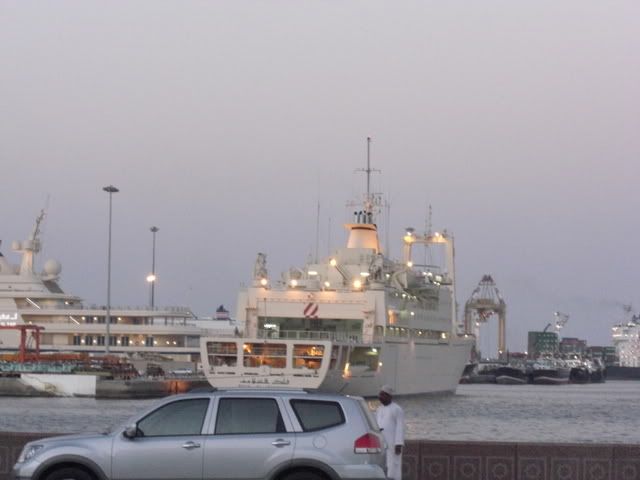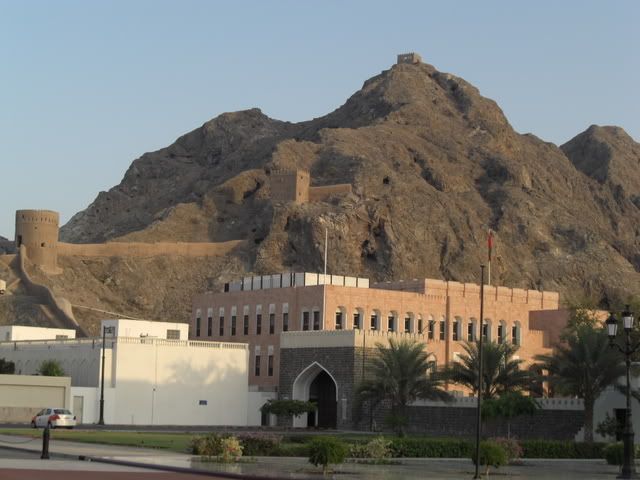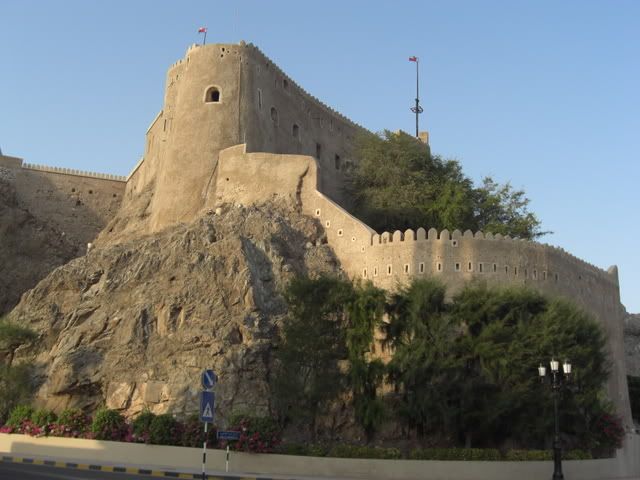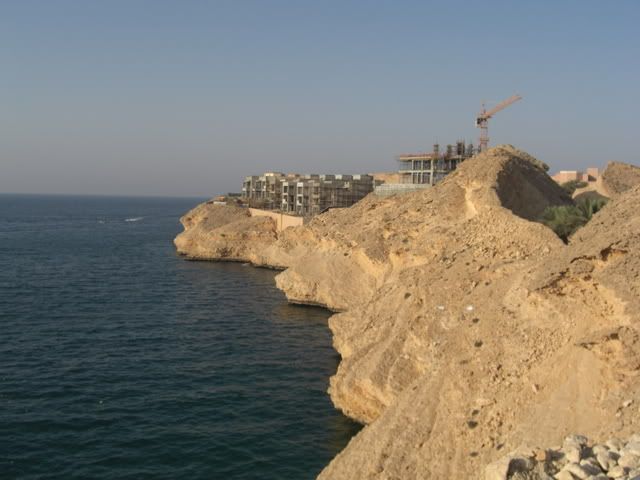 Pre-Flight
My flight back to London was due to leave during the afternoon at 4PM local time from Muscat Airport (formally known as Seeb up until Feb 2008). The airport is around 20km from Muscat itself and slightly more to the Old Muscat. Muscat Airport isn't the biggest in the region, but is slowly growing.
Carriers serving Muscat include: (Long Haul Operators = *)
Air India
Air India Express
Air Blue
Biman
British Airways*
Egyptair
Emirates
Etihad Airways
Gulf Air
Iran Aseman Airways
Jet Airways
KLM*
Kuwait Airways
Lufthansa*
Oman Air*
Pakistan International Airlines
Qatar Airways
Royal Jordanian
Saudi Arabian Airlines
Shaheen Air International
Sri Lankan Airlines
Swiss International*
Thai Airways*
Turkish Airlines
Muscat Airport is managed by 'Oman Airports Management Company' and has two runways. However only one is used and is currently 11,775ft long. The largest passenger aircraft that the airport sees is the Boeing 777. Muscat also sees the A340 and A330.
Advert for London flights. (note it advertises the A330 and not the A310s)
My friend picked me up and took my to the Airport in time for checkin. The terminal is very basic and quite small. Oman Air have seperate check in desks for Business Class passengers. I was the only person in the line so I was checked in strait away by a lovely South-East Asian woman. There isn't much to do in the airport, so I browsed the shops before heading to the Oman Air lounge.
I was quite suprised to see that shops inside the airport sold 'copied' versions of PS2 games. I decided to purchase Grand Turismo 4 as it was quite cheap. I also purchased an AC Milan Shirt in Muscat City with Kaka on the back. (Thank goodness he didn't go to Manchester City!)
I made my way to the lounge, which was fairly basic and averagely busy with most people heading to London. There was various snacks and hot food available in the lounge. The lounge was pleasant, however nothing compared to other airline lounges such as Vigin's Clubhouse at Heathrow.
Soon enough It was time to head to the gate after being informed politely by the lounge staff. There are no aerobridges here at Muscat so passengers have to be bussed to the aircraft. Upon reaching the gate I boared an air-conditioned bus which took me directly to the aircraft before the Economy Class passengers.
The aircraft was clearly visible as it was the only A310 on the ramp. We passed several company aircraft on our way.
Oman Air 737-800 in the new colours, note eye-brow-less
I love the Gulf scene...
Our aircraft, CS-TEX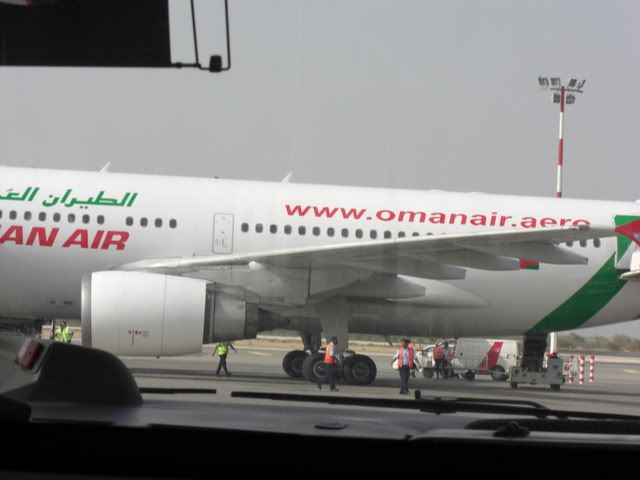 Tail view with Economy passengers boarding through the rear door.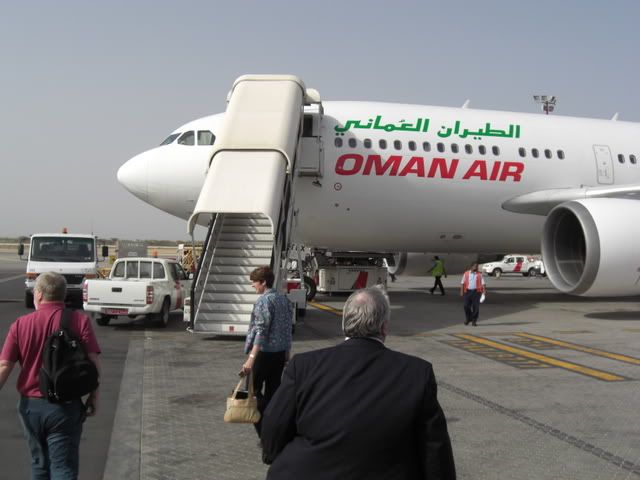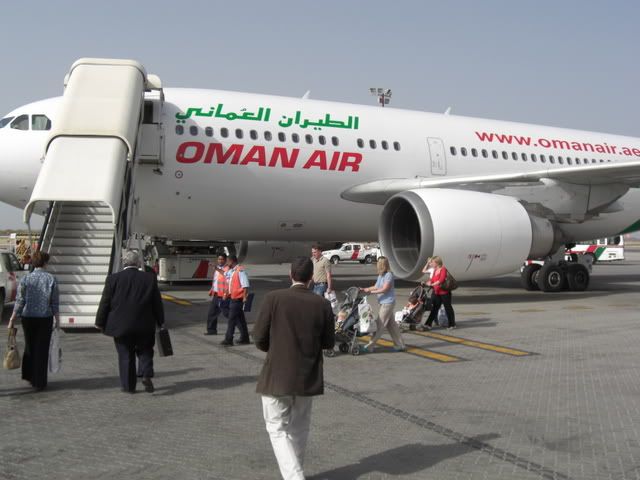 I think the A310 is a lovely looking machine...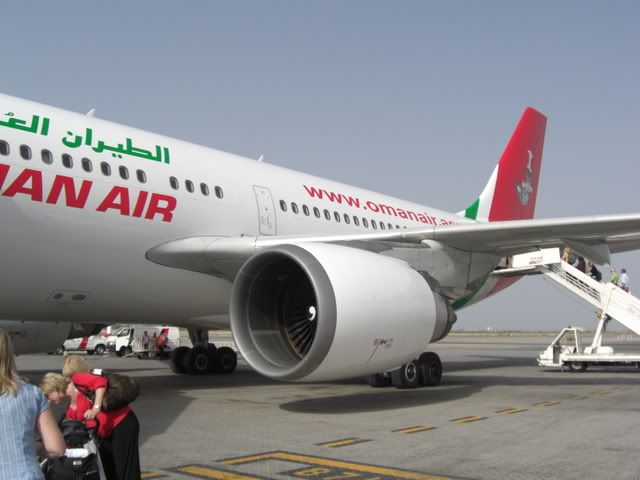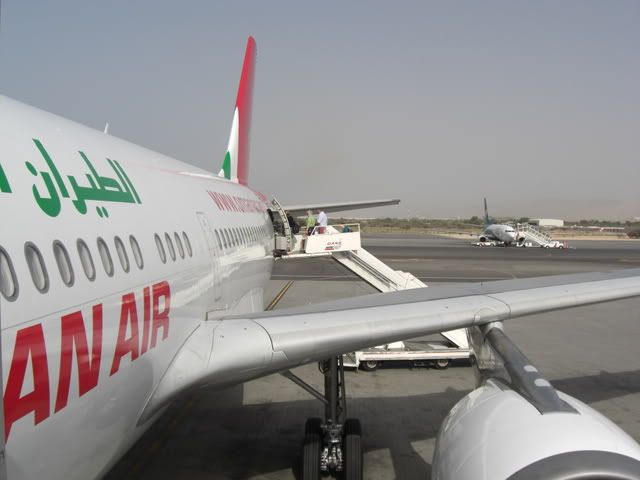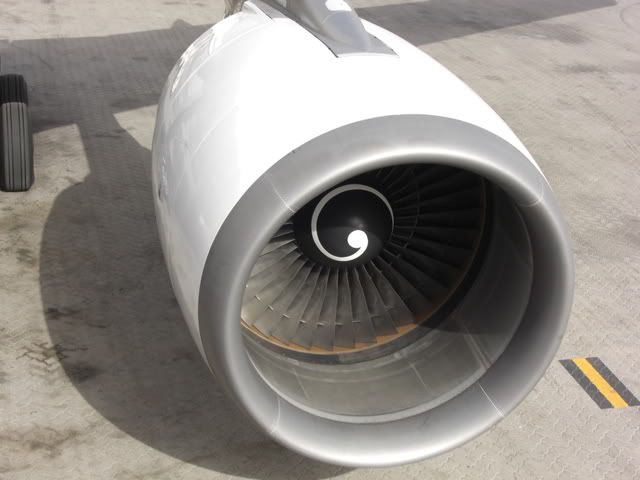 The A310 operating today's flight was CS-TEX, which previously was operated and deleived to TAP Air Portugal. This aircraft first flew in 1990, so was quite new compared to other A310s flying around. The aircraft was named 'João XXI' whilst it was flown by TAP. The aicraft was replaced by newer A330s and it was taken up by HiFly which was later leased to Oman Air to operate Bangkok and London flights from the Muscat Hub.
Quite a cool video of CS-TEX on it's TAP days:
http://uk.youtube.com/watch?v=0bPc8Pd5VTg
Was quite strange seeing this aircraft at Muscat having seen it quite often in Porto, Portugal.
Upon entering the aicraft we were welcomed by the crew. A lovely Asian woman directed me to my seat and asked I wanted a drink before take off. I asked for a orange juice to which she promptly delivered. I was sat in seat 2A. The aircraft still featured the seats from it's TAP Air Portugal days. Nevertheless the seats were still comfortable and were ample for an 8 hour flight back to the UK. The crew also handed out menu's for the flight aswell as amenity kits. The kits included pajamas, slippers, eye masks, toothbrush & toothpaste, mouthwash, fragrence, moisteriser and a few other bits and bobs. All were presented in a leather Oman Air engraved blue carrier which I was impressed by.
Soon after the doors were shut and the aircraft was ready to push-back. The airport was very quiet at this time of day so there was limited traffic and none affecting our departure other than a company 737 landing.
Is this a Cobus 3000?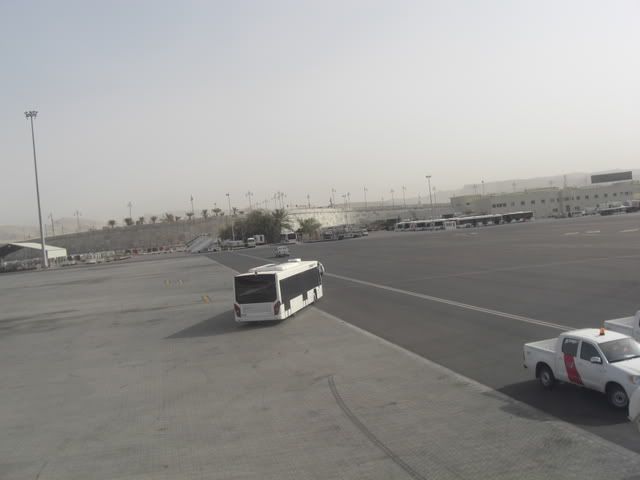 Another 737-800 in the new colours
WY ATR-42 and 737-700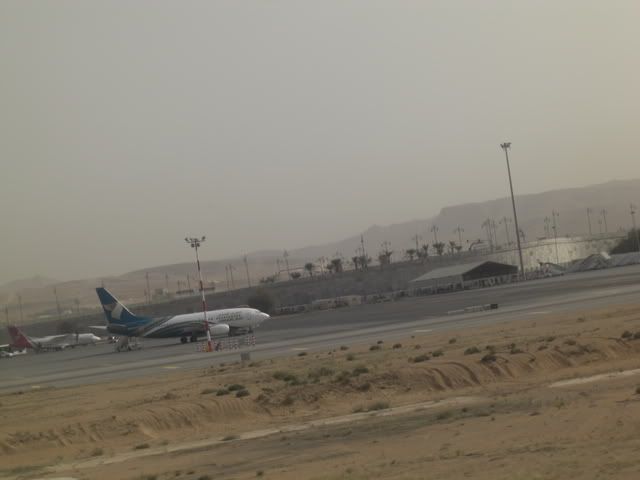 Passenger terminal
Military hangers and Hercules
USAF C-17
The crew performed the safety demonstration whilst taxiing which was announced in both Arabic and English.
Safety video here on-board a 737...
http://uk.youtube.com/watch?v=MqYnws2RSG4
Soon after the captain announced we would be taking off and that the crew should be seated immediatly. We turned onto the active runway and roared off to the North.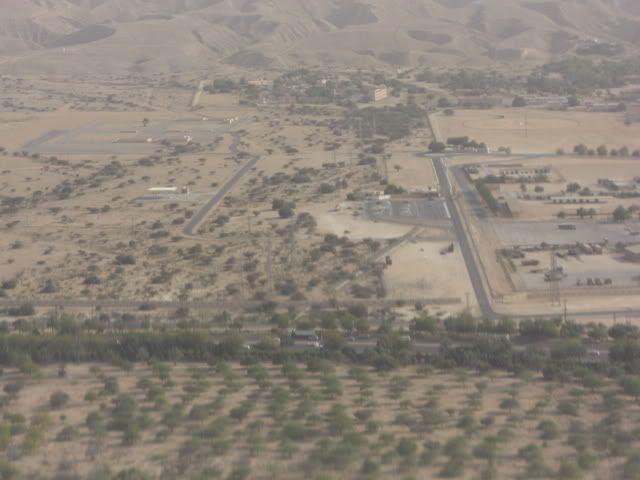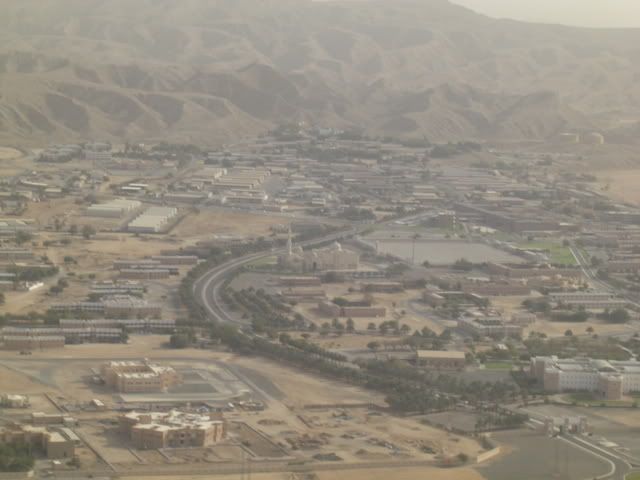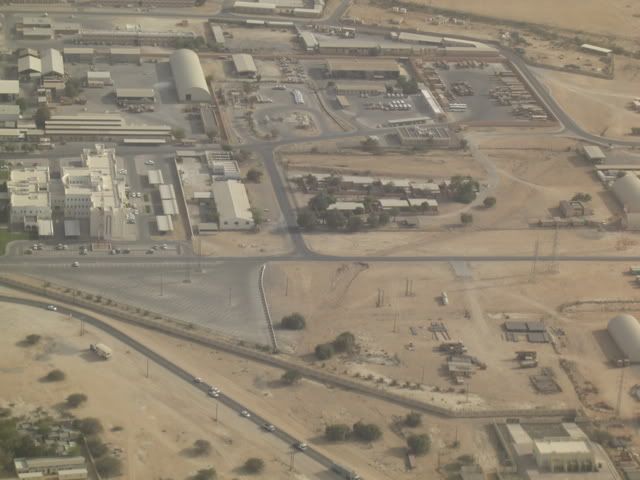 Clear blue skies...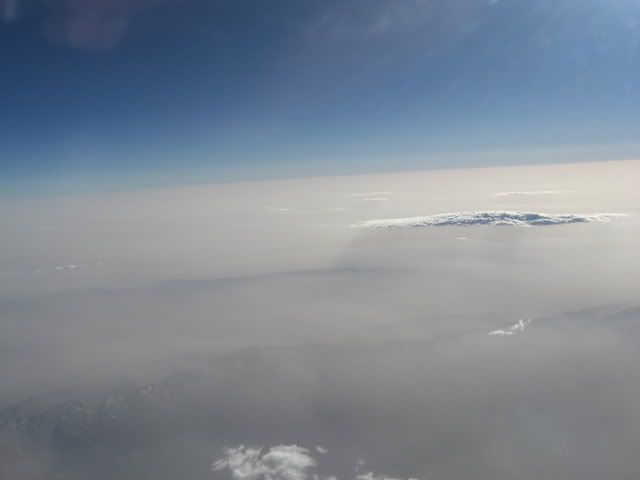 Over Iran...the sun was beggning to set by now.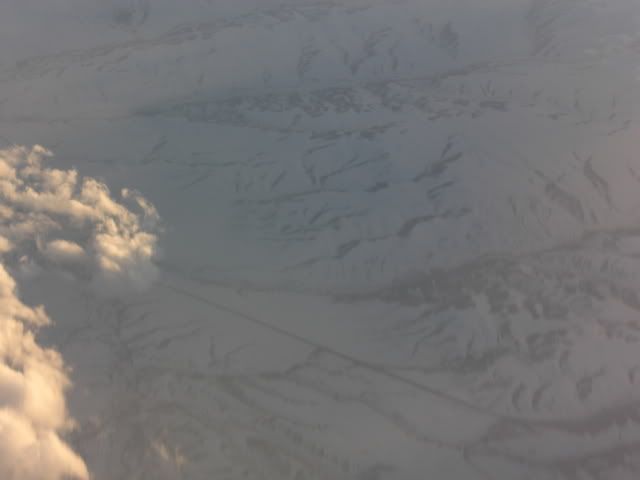 Business Class Cabin
Economy Class Cabin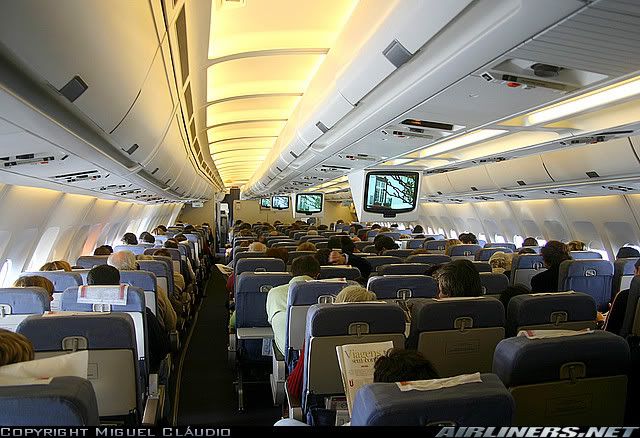 We were served a main meal and a snack aboard todays flight. I will post a picture of the menu once I have found it in my house
Arrival
Soon enough after I had woken up from my sleep, it was time to decend into London's Gatwick Airport. For those of you who don't know where Gatwick is; LGW it is located South of London in Crawley. (Heathrow is West and Stansted is North-East)
We made a seires of loops across London before finally coming to a touchdown ahead of schedule on UK soil. It was a short taxi from the runway to the terminal due to the lack of aicraft movements at this hour.
Sorry about the lack of arrival photos. It was very dark outside and there was little activity at London Gatwick at this time.
Verdict
Oman Air is a new and upcoming long haul carrier. So far doing a good job for Business Class passengers. I was very pleased with my flights, although I didnt have the highest expectations for these flights. However they do need to improve their product and aircraft (which is happening this year). The A330s will arrive this year and will be put onto the London and Bangkok routings whilst the A310s are given back to HiFly. Will be interesting to see what the cabins will look like once the new aircraft arrive. I will be flying back to Muscat later this year and hopefuly I will fly the new A330s. Oman Air is also in talks with Jet Airways to lease some aircraft. A very exciting future is ahead for Oman Air, they just need to make sure they don't expand too fast and loose their high standards.
Thanks for viewing. I just have to say, quick apologies for the qualities of the photos. I didn't have my Cannon 300D with me at the time.
Next trip report is Bristol - Porto - Bristol with Ryanair.
Feel free to view my Airliner videos on YouTube:
http://uk.youtube.com/user/robirving17
Previous Trip Reports:
http://www.airliners.net/aviation-forums/trip_reports/read.main/106609
EVA Air - London To Bangkok - 773ER (Pics/Vids) (by B742 Aug 12 2007 in Trip Reports)
American Airlines - Miami To New York JFK (Pics) (by B742 Jan 14 2007 in Trip Reports)
American Airlines - Boston To Miami (Pics/Vids) (by B742 Jan 12 2007 in Trip Reports)
American Airlines - London To Boston (Pics/Vids) (by B742 Jan 5 2007 in Trip Reports)
Malaysia Airlines - KUL-KUA-KUL - 734 (Pics) (by B742 Aug 14 2006 in Trip Reports)
Malaysia Airlines - LHR-KUL - B747-400 (Many Pics) (by B742 Aug 12 2006 in Trip Reports)
RAF VC10 Tour - Many Pics And Info Included (by B742 Jun 24 2006 in Trip Reports)
Air India ~ 744 ~ LHR-JFK-LHR +Spotting (Pics) (by B742 May 14 2005 in Trip Reports)
LGW-SSH-LGW - BY - 763 + SSH & LGW Spotting (Pics) (by B742 Apr 26 2005 in Trip Reports)
Rob!