Summer Wanderings; Part Two – The Ukraine By Air
Welcome to the second installment of this trip report covering my travels over the summer, focusing here on the remaining flights taken within the Ukraine, including a mystery flight on the An24, a surprise trip on a second An140 and the novelty of taking the first ever flight operated by WizzAir Ukraine! It has taken a little longer that I anticipated (to say the least!) for me to get this section online as, whilst I enjoy sharing my travels and experiences with everyone, I still have to put university work and my family first – all of which has been very demanding of my time recently. Thank you though to many members who have contacted me, it's great to know these reports are appreciated so much! Unfortunately due to new issues with YouTube videos having the potential to contain viruses, embedding is currently not available, hence I've provided links instead.
Once again, I think it's clearer to lay out my overall route below using map imagery sourced from Google Earth, which plot my course, along with the airlines flown;
Routes Flown During the Complete Trip:
Routes Flown Just Within the Ukraine:
The flights covered in this installment are as follows:
06.07.2008 ... KBP-HRK ... DonbassAero ... Yak 42D ... UR-42366
07.07.2008 ... HRK-KBP ... DonbassAero ... Yak 42D ... UR-42366
07.07.2008 ... IEV-CWC ... Wind Rose Airlines ... An24 ... UR-WRA
07.07.2008 ... CWC-KBP ... Wind Rose Airlines ... An24 ... UR-WRA
08.07.2008 ... KBP-OZH ... Motor Sich Airlines ... An140-100 ... UR-14005
09.07.2008 ... DNK-KBP ... Dnieproavia ... B737-400 ... UR-KIV
10.07.2008 ... KBP-SIP ... DonbassAero ... Yak 42D ... UR-42383
10.07.2008 ... SIP-KBP ... AeroSvit ... B737-200 ... UR-BVY
11.07.2008 ... KBP-SIP ... WizzAir Ukraine ... A320-200 ... UR-WUA
11.07.2008 ... SIP-KBP ... WizzAir Ukraine ... A320-200 ... UR-WUA
11.07.2008 ... KBP-SIP ... Ukraine International Airlines ... B737-400 ... UR-GAV
Continued from
Part One:
http://www.airliners.net/aviation-fo...ums/trip_reports/read.main/134146/
Day 12; Sunday 6th July:
Upon reaching Kiev the previous night I'd dropped into the airport's internet cafe to check up on my emails… and, thank goodness I had! There were no less than three emails from AeroSvit waiting for me, all sent just a few hours before and none of them terribly good news! My morning flight to Kharkov the next day, due to depart at 10:00 and arrive at 11:00, had now been 'rescheduled' so that it no longer left until 22:10 and from the email I received it appeared that there had already been a schedule change made without even notifying me, as the flight I originally booked wasn't even mentioned, yet two others were:
Quoting AeroSvit:

HELLO!


WE APOLOGIZE FOR THE SITUATION.
PLEASE, BE INFORMED THAT OUR FLIGHTS TO/FROM KHARKIV AT 14-40 AND 18-10 HAVE BEEN CANCELLED.
NOW WE HAVE GOT A FLIGHT VV033 TO KHARKIV AT 22-10 AND WE COME BACK AT 08-55.


WE CAN REBOOK YOU ON THIS FLIGHTS ON THE ANOTHER DATE OR RETURN MONEY TO YOUR CREDIT CARD.
COULD YOU, PLEASE, REPLY ON ONLINE@AEROSVIT.COM?


WITH BEST REGARDS

This rather screwed up my plan to see Kharkov, but I thought I might as well take the flights and try and see at least a bit of the city, even if it would be very little and by night! The second email was slightly more promising; my SAAB 340 flight to Chernivitsi the following day had also been altered, although only by one hour - so no biggie, but the third email stated that my LWO-KBP flight had been altered by several hours – completely cocking up some more of my plans, but I'll return to that one later on!
As I no longer had to be up at the crack of dawn to fly to Kharkov, I decided to catch the bus into Kiev for some more sightseeing, calling off at the airport on the way, so that I could visit the AeroSvit desk and confirm myself on the outbound flight that night and the return flight the following morning. I asked if there was any possibility of getting on an earlier flight but no, there wasn't one, however I did get a rather curt apology and a meal voucher. Great – one meal voucher for a 12 hour delay, that's what I call customer service! A little annoyed, I headed into the centre of Kiev:
Booking hall of Kiev's main railway station:
The Motherland statue:
Inside the base of the statue: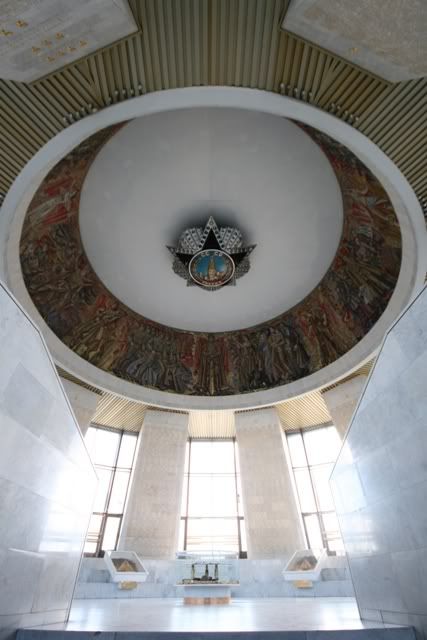 Monument to the 1943 Battle of the Dnieper:
Looking towards the Lavra and Kiev's amazing Monastery of the Caves:
After another boiling hot day walking around the city, I arrived back at Borispol in the late evening. Pleasantly the main international terminal wasn't heaving, which was probably a good job as I'd left it a bit late, (fewer busses run out to KBP during the evening and the first bus was 'full' - because I didn't want to pay double the correct fare!) and I still had to collect my Bergen from the baggage store in the basement. By the time I reached Terminal B, the domestic terminal, I was one of the last passengers to check in. This terminal was still very busy – it seems that today marked the inaugural bank of late night departures and early morning returns for many of AeroSvit/DonbassAero's domestic flights… if only they'd told people
earlier
than the day before! One benefit to turning up late was that I didn't have to wait around for long, as there really is nothing to do; no sooner had I passed through security, then the flight was called.
As expected, today's flight was being operated by a DonbassAero Yak 42D, this aircraft in particular had started its life in 1989 with Aeroflot as CCCP-42366, becoming UR-42366 with Air Ukraine after the break-up, then EP-SAG for Saffatt Airlines, and a short period with Dardan Air as T9-ABH, before joining DonbassAero. Considering it was now on it's
third
operator since Air Ukraine, I thought it pretty impressive that it was still sporting the defunct airlines color-scheme! I had chosen a seat in Row 19 again, which is certainly
the
best in the house if you're an aviation enthusiast!
The load was very light and a few minutes after boarding the doors were closed, followed by a short briefing in Ukrainian and broken English on what to do in an emergency, although it was certainly no safety demonstration as you might expect to find when flying in Western Europe and the crew seemed very disengaged.
KBP-HRK
Kiev Borispol to Kharkov
Carrier: DonbassAero
Flight: VV033
Aircraft: Yakovlev Yak 42D
Registration: UR-42366
Date of First Flight: 05.05.1989 (Delivery date)
Seat: 19A
Block Departure Time:
10:00
22:10
Actual Take off Time: 22:19
Block Arrival Time:
11:10
23:10
Actual Touchdown Time: 23:16
Distance Flown: 241 miles
Total Flying Time: 57 minutes
Fare: US $145.40 return
Right on time the engines span into life and the aircraft made the short taxi to runway 36R. I had hoped to film the take-off, but it was almost dark and I was using the relatively basic camera on my mobile phone, so unfortunately it didn't have enough light to make it worthwhile. How I wish I had though; this take-off would have put a BAe146 to shame! After a slight pause the engines begin to spool up, sending an angry noise like a buzz saw ringing through your ears, then after an improbably short roll; less than 1000m, we rotated smoothly and the Yak rocketed noisily up into the sky at a pitch far more comparable with Western aircraft. It was perhaps a little too steep in fact as, only a few hundred feet up, the aircraft seemed to be laboring and after a few violent shudders, the nose dipped sharply downwards by ten degrees or so, with the climb out continuing at this more leisurely rate until we broke through the shallow cloud and emerged back into the pale light of evening.
Like most of the Yak's I'd flown on so far, this aircraft's cabin looked as if had seen much better days; its drab interior was complimented by poor legroom and hard seats, whilst the crew seemed quite cold and abrupt during the 'service' (one glass of water) – perhaps they too had only just been notified of the schedule changes?
Following some forty minutes of flying, descent initiated as the noise around me from the engines nulled. The cloud which had blanketed Borispol was absent here so, in the distance ahead, the lights of what I presumed to be Kharkov were spread out below like a huge two tone carpet. Oddly though we flew straight past this in level flight, so far in fact that I thought Kharkov must still be ahead, but no, the plane then made a 180 degree bank and set off back in the other direction, with much random weaving, climbing, sudden descent and then bursts of thrust thrown in for good measure. At an educated guess I'd say that the crew were probably a bit confused; it was the first time that they had made an approach to Kharkov Airport at night for months (until the timetable change, the last of two daily flights would have been touching down by just gone 7pm, well before sunset during the summer). Upon landing it became pretty clear that the lighting infrastructure at the airport was minimal to say the least; no approach lights; no floodlights on the apron; and the runway wasn't exactly well lit or marked out either, despite the airport sitting in the midst of sea of residential lighting!
Conveniently for me, being at the back, the integral rear air stairs were used for disembarking, which provided me time to take a picture of the aircraft just before the resident policeman turned up to say that it '
wasn't possible
' (later in my travels I learned that everything became possible again if I had a few $$$ handy!) The building in the background is the original and very ornamental terminal – beautifully designed and as you can see and extremely well lit up at night - in fact I did wonder if the lighting engineers had installed the runway lighting on its roof instead of the tarmac, because it was definitely better illuminated!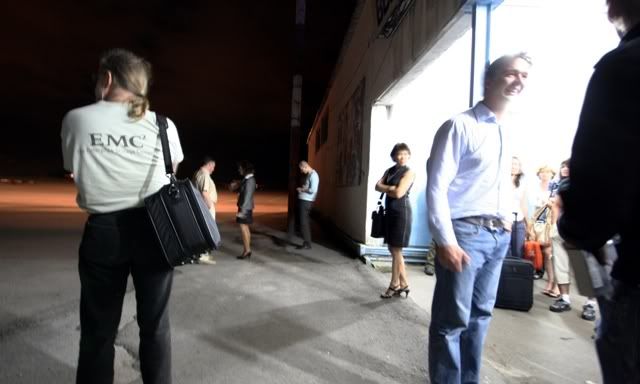 Once passengers had been bussed from the aircraft it was clear that the arrivals facilities were also minimal to say the least – none of the airports I'd visited so far in the Ukraine provided very much and what they did was generally outdoors, but I was quite surprised that an airport the size of Kharkov could only manage a small concrete shelter attached to the side of the main terminal! The exit was a metal door in the perimeter wall which could be opened from both sides, meaning that once the bus had dropped passengers off, relatives and friends could walk through to meet loved ones and to assist with luggage. On the down side though, it also meant that the taxi drivers could start touting for business, which is incredibly annoying when you are trying to find your luggage and the corresponding luggage tag to reclaim it! As normal, I'd made a point of checking the distance to the city before I arrived, but as normal all the drivers were after extortionate fares – the equivalent of $40 or more, although in the end I bargained it down to half that, it was still a rip off compared to what locals would pay, but not bad I suppose for tourist standards. I soon found out that the guy was willing to take less than the others because he had no idea whether the car, pictured below in front of the terminal, would start or not… fortunately, after the 30th turn of the key, his rather decrepit Lada moaned into life and lurched forwards towards Kharkov itself.
The next issue was finding a hotel, as originally I'd not planned to overnight in the city. My relatively tight schedule also meant that I'd be leaving on the next flight back to Kiev, the following morning. If I was only visiting for the sake of adding a couple more Yak42 flights to my logbook then I'd probably not have bothered, but interestingly Kharkov has what is reputedly the second largest public square in the world, I'm studying landscape architecture at University and a primary roll of this profession is the design of public spaces, so it was something which I really wanted to see. The driver took me to a 4 star hotel just around the corner from it, I'd have preferred somewhere a little less grand and thus cheaper, but it was nearly midnight and I really couldn't be bothered to explain – it was only about $70 a night anyway.
I dropped my stuff in the room and decided to head out and see some of the city; the hotel staff said it was perfectly safe to walk through the centre at night, so long as I stayed out of the park, but that I should be quick as they may turn all the lights off at midnight! I have to say that I didn't find the square itself terribly impressive – aging certainly, but it seemed empty of both life and character (I know all soviet architecture can seem that way), as there's nothing to draw people in, other than the prerequisite of having a large statue of Lenin, of course. Overall though Kharkov seemed like a nice, welcoming city to me, with a modern and prospering look, making it even more of a shame that I had so little time to see it.
Kharkov By Night: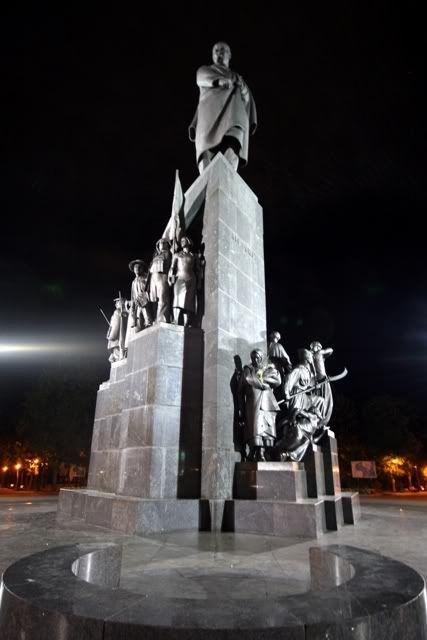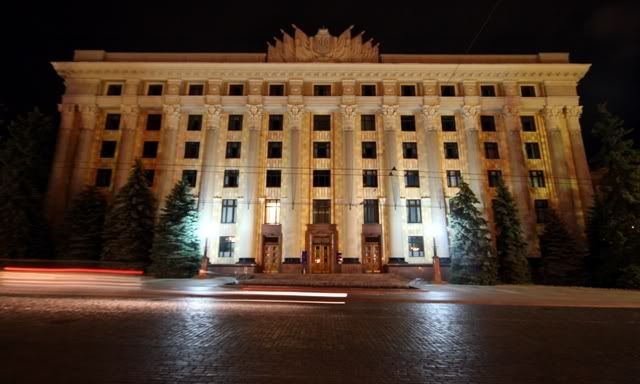 Day 13; Monday 7th July:
Looking down on the square from my hotel the following morning: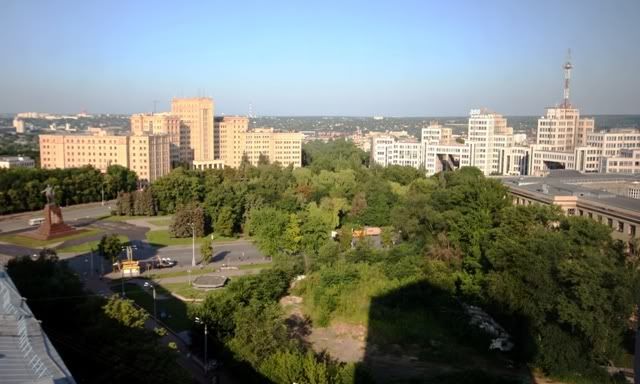 Lenin:
After not much sleep it was an early start; my flight back to Kiev departed at 9am, so I left the hotel at 7:30 for the airport, the taxi costing me half of the previous fare thanks to the concierge's instruction. Check in had already begun in the recently modernized departures area, but there were only a handful of people ahead of me, so within a few minutes I was sat relaxing in the clinically modern departures lounge. I thought it was odd that the flight returns fairly late in the morning when the aircraft is already sat on the apron, (perhaps due to crew rest time) especially as AeroSvit told me that the reason for the timetable change was to allow passengers to have a full day in Kiev. Dnieproavia offered an earlier flight, meaning it's more likely that business passengers would select them to fly with instead, so it's not surprising when I looked at their flights (ex FlyBe EMB145 operated) that they were all full for the entire week. My attention quickly refocused though, as boarding was announced.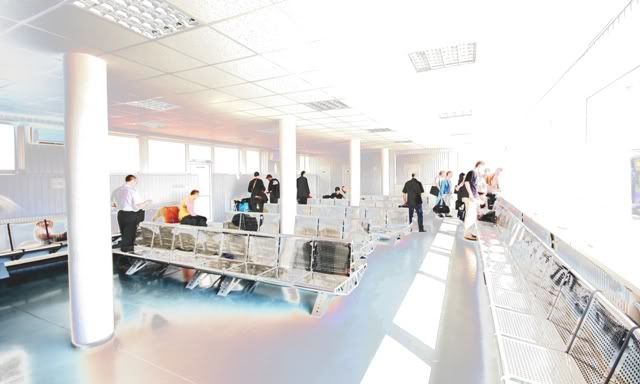 HRK-KBP
Kharkov to Kiev Borispol
Carrier: DonbassAero
Flight: VV036
Aircraft: Yakovlev Yak 42D
Registration: UR-42366
Date of First Flight: 05.05.1989 (Delivery date)
Seat: 19F
Block Departure Time:
18:10
08:55
Actual Take off Time: 08:59
Block Arrival Time:
19:20
09:55
Actual Touchdown Time: 09:52
Distance Flown: 241 miles
Total Flying Time: 53 minutes
Fare: US $145.40 return (combined with previous flight)
The Yak42 I was about to fly; still wearing her old Air Ukraine colors: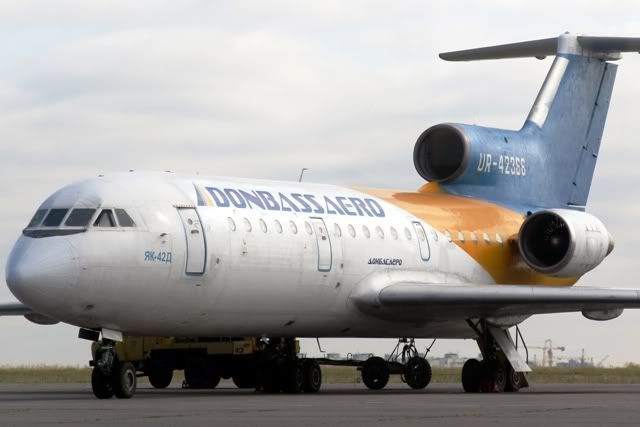 Climbing back onboard through the tail stairs of the same Yak which had flown me here, I noticed that it was manned by exactly the same crew – they had obviously overnighted as well and the sleep must have done them some good, as today they were smiling happily! Like the day before a short 'no nonsense' safety talk was given, the engines fired up and then began a long and very bumpy taxi began to runway 26, passing several bone yards occupied by the aviation relics of Russia's yesteryear, along with a glimmer of the Ukraine's future – even if it is just an ex FlyBe Embraer!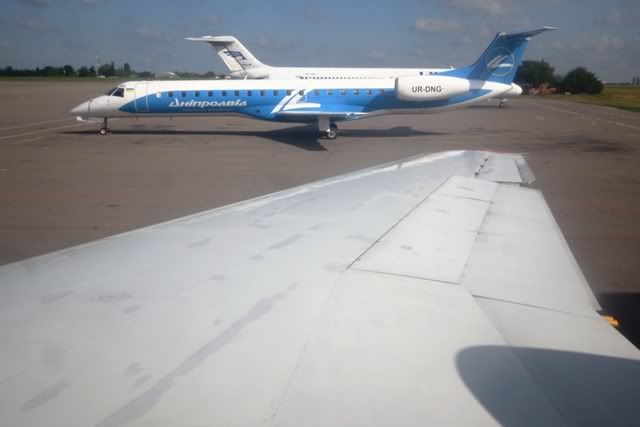 Unlike the day before however, the roll and climb out were more in line with traditional Russian standards; slow, low and noisy basically, but at least this time I was able to record a video.
http://uk.youtube.com/watch?v=mS7fdwOS-Ko
The rest of the flight was nothing spectacular, once again I had a cup of water from the service, (well it was that or nothing!) and spent the time gazing down through the clouds at the ground far below; I'm not sure what I expected from the Ukraine's countryside, but certainly I didn't think it would be so heavily crop farmed, with mile after mile of rape seed, wheat, corn and sunflowers making the view a colorful patchwork from above. Descent began towards Borispol and I began thinking of the next flight I was taking later in the afternoon, to Chernivitsi in the West of the country.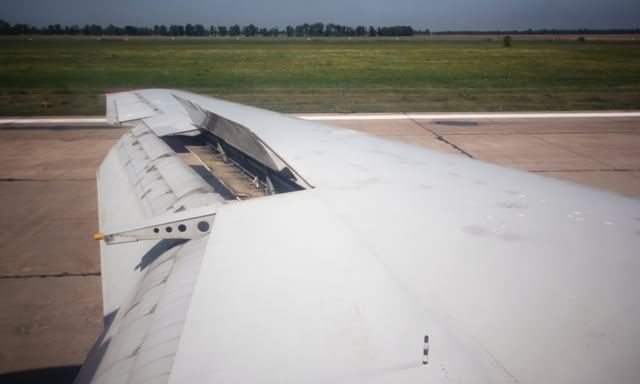 Following about an hours flying time, the wheels slammed firmly down onto the concrete of runway 36L, rolling slowly out along most of its impressive length, the Yak42 does not have a reverse thrust capability, so there was no need to put added wear on the brakes. Several flights had just arrived, so after being bussed into the terminal you couldn't get near the tiny domestic arrivals hall. There was no rush though, as I still had some five hours before the flight to CWC left.
Worryingly though, once I had reclaimed my Bergen and walked back into the check in hall I could see no sign of my next flight on the departures board… I know it had been rescheduled back an hour, but perhaps AeroSvit had now cancelled it completely? Concerned, I found somebody on AeroSvit's ticket desk to ask, who told me that yes it had unfortunately been cancelled, but that I needed to go to their other desk to find out why, which I duly did, where-upon I was told to go back to the first desk. The woman on the first desk was having none of it and got very angry, marched over and told staff on the second desk that it definitely was
their
problem and not hers! Ukrainian customer service… you just can't beat it!
Eventually though a very nice lady, who spoke perfect English, told me that yes that particular flight had been cancelled, but that it hadn't really, because there was another one operating at the same time in it's place – when I asked why it wasn't on the board she said it was no problem, then paused for a moment as a concerned look spread across her face. '
Oh dear
' she murmured, and disappeared into the back of their office for several minutes. I was dreading the worst when she returned, but apparently it was operating, the only problem being that nobody from AeroSvit knew where it was flying
from
– confused? So was I! The end result was that I should come back to their office for 14:00, by which time they might know what was going on…
With three hours to spare, I decided that I might as well go and find a hotel for later on whilst I had the time, instead of when I (hopefully) got back later in the evening, so I caught the shuttle bus back to the Borispol Airport Hotel where I had stayed previously, this also saved me paying to store my Bergen at the airport. There was still an hour free when I returned, so I decided grab a snack with the meal voucher AeroSvit had issued to me the day before – they don't make it easy though; it's only valid at the main restaurant in the international terminal, really useful when you're in the domestic terminal which has two cafes of it's own. What it got me wasn't much either, but it tasted good and certainly filled a gap (incidentally, if someone has a recipe for the oats/stuff which is with the omelet then I'd love to have it – tasted really good!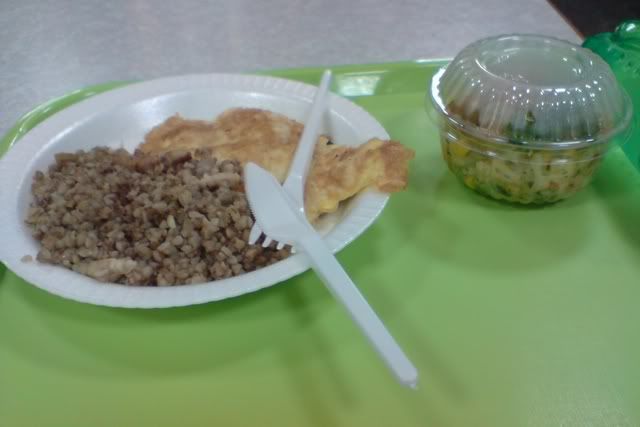 Come 2pm I returned to the AeroSvit ticket desk, where the lady I'd been speaking to had some good news; the flight was operating, but the confusion had been over the fact that it was now scheduled to be leaving from the city airport, Zhuliany, instead of Borispol. Preempting my next question, she told me not to worry, as once all passengers had arrived the airline would be providing a free bus between the airports. My flight wasn't the only one to be affected though; the service to Ivano-Frankovsk was also now going to be operating from IEV… although for some reason they sent the two flights on separate (non bonded) buses, despite there being only half a dozen passengers on each, with the drive across Kiev taking just over an hour.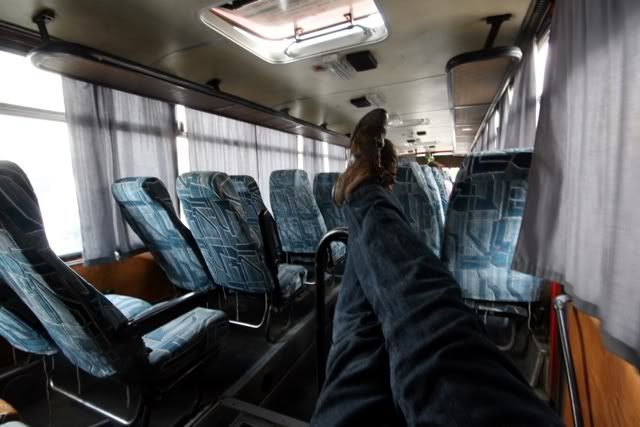 Considering that the staff at Zhuliany knew the passengers for both flights were on their way, they seemed remarkably disorganized and in no rush at all to get us checked in and boarded. The flight to Ivano-Frankovsk went first, but the security lane still wasn't open until all passengers for Chernivitsi had also been checked in, then when it did open the whole process was highly disorganized and wasn't helped by a small child somehow managing to smash a 6ft fluorescent lighting tube all over the floor… how I really don't know! I was quite pleased to be taking another flight from IEV really, especially when I saw what aircraft were on offer; a SAAB 340A (as scheduled), or an An24! I'd flown on neither of these aircraft before but, when I saw that the Ivano-Frankovsk passengers were being bussed to the MRK Airlines SAAB, I was over the moon that I'd be getting my first flight on an An24!
UR-DAP, unidentified Yak40:
UR-RTS, unidentified Yak40:
UR-CAG, Meridian An-12BK and SP-KPF, a Saab 340A/QC of cargo operator Sprint Air: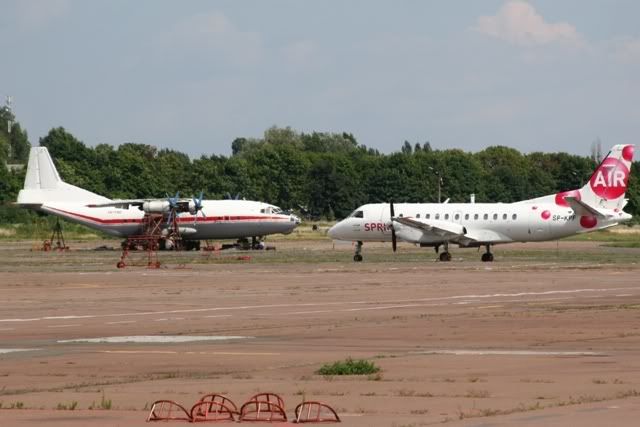 No seating had been assigned for my flight and, once it was called, passengers were again driven out to the Antonov on the oldest airport bus I've ever seen – it really should be in a museum by now! Everyone was welcomed courteously by one of the flight deck crew at the bottom of the steps and then again by the stewardess in the aircraft, no doubt in part to assist those passengers who trip up or down the rickety and pretty steep air stairs! These are integral to the aircraft and are folded up manually inside the cabin, which I can imagine is essential when operating to remote airfields where facilities are primitive.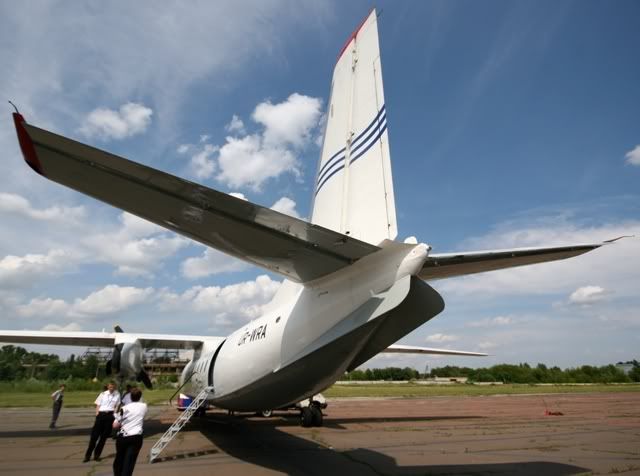 Inside the cabin was a real blast from the past, and in order to get a decent view of the prop I took a seat in row one. No safety briefing or an announcement of any sort was carried out so, as soon as the doors were shut and the crew ready, we began a brisk taxi to the runway.
IEV-CWC
Kiev Zhuliany to Chernivitsi
Carrier: Wind Rose Aviation
Flight: VV073
Aircraft: Antonov An24-PB
Registration: UR-WRA
Date of First Flight: Unknown
Seat: Free (1D taken)
Block Departure Time:
14:00
15:00
Actual Take off Time: 15:30
Block Arrival Time:
15:50
16:50
Actual Touchdown Time: 16:48
Distance Flown: 250 miles
Total Flying Time: 1 hour 18 minutes
Fare: US $103.30 return
Engines starting:
http://uk.youtube.com/watch?v=x2WvZRU061M
Taxing:
http://uk.youtube.com/watch?v=Pi-t18OCt7g
I might have been happy at another opportunity to fly from Kiev's relatively obscure city airport, but I certainly didn't miss the awful condition of the runway at IEV, which has to rate as one of, if not the bumpiest I've ever had the misfortune to take off from! A few months after my visit, on the 3rd of October, its entire 1800m length was closed for resurfacing work, scheduled to last only a month, but which was then extended, extended again and then extended some more, with the latest reopening date suggested at being the 31st of January – some four months of closure! Despite the ride quality, it was an awesome feeling to hear the engines beside me, firing determinedly away as they powered the aircraft down the runway and up into the skies over Kiev.
http://uk.youtube.com/watch?v=_qDT22PI9ZU
Zhuliany has one of the largest bone yards I've seen in the Ukraine; including a great selection of An-24s and An-26s which I managed to get a shot of this time as my flight climbed away from runway 26 – on closer inspection you can see that these originate from a huge variety of former airlines, with some examples even sporting the old glass noses.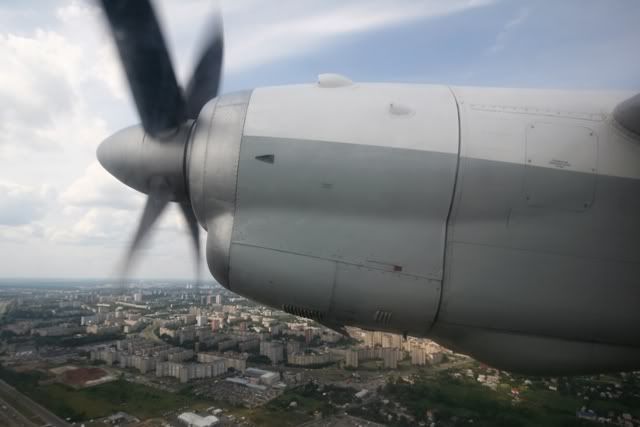 Now, you might expect that an aging Russian design such as the An-24 would be uncomfortable and noisy to travel in, but far from it; the ride was good, even through some minor bursts of turbulence during the ascent to cruise altitude and the cabin remained refreshingly quiet during all stages of the flight, in fact I think the best comparison noise wise to a Western aircraft would be a Fokker 50 crossed with the 'hum' of a Dash 8 – very impressive really, considering the generally perceived image of the An-24.
Once in cruise the standard AeroSvit service was presented; that's right, each passenger got a plastic cup of water! I suppose I shouldn't grumble as the flight was ludicrously cheap ($100 return), but you would think that a slightly better selection of drinks could be provided; surely a few cartons of juice per flight wouldn't break the bank? There was certainly no faulting the efforts of the stewardess though, a lady towards her more senior years, who didn't stop smiling and was impeccably polite, something which I'd found to not be taken for granted in the Ukraine.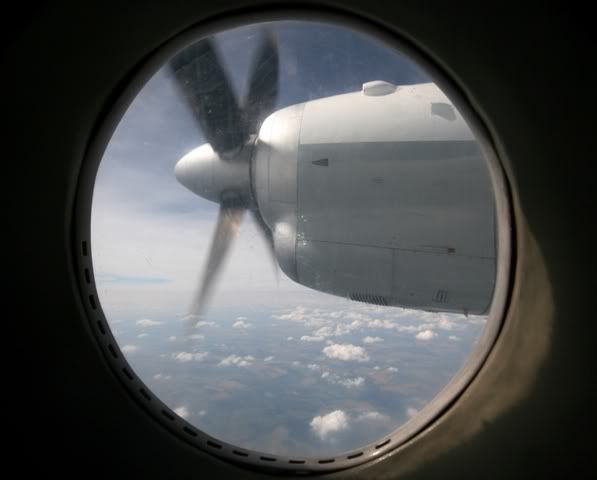 The more I studied the cabin around me, the more detail which came to light; a large plywood table which folded down from the bulkhead wall in front of row one, secured by a fastener so complex that only the engineers at Antonov (with three hands) would know how to use it, and the Cyrillic no smoking/fasten seatbelts sign; which was illuminated within the cabin wall itself – very neat.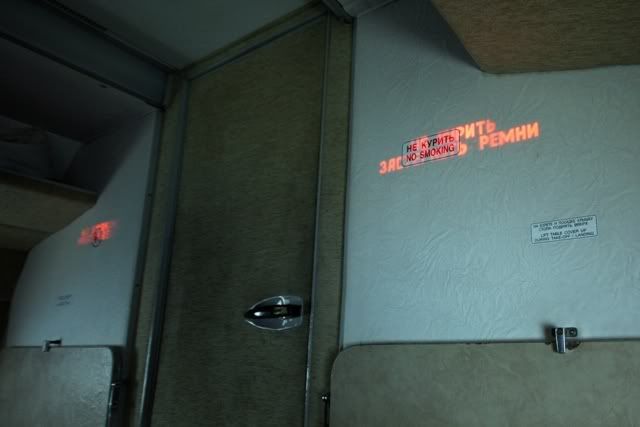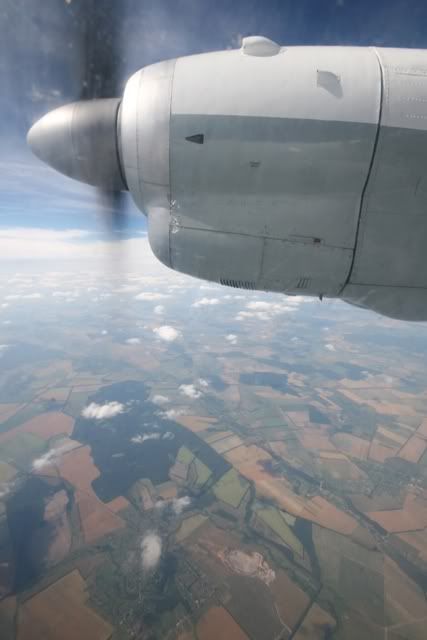 The airport of Vinnitsa (East). It took me ages to track it down on Google Earth where there are some interesting pictures of its large terminal, looking very much abandoned, as the airport no longer receives scheduled passenger flights. From the air though, the military side of operations looked very much active.
There was nothing else for it, but to explore the rest of the cabin! Thankfully the stewardess, and I forget her name now, was most obliging and only to happy for me to photograph as much as I wanted… so I did! Perhaps most interesting were the tables with seats around them at the very back of the cabin – apparently this was the business class section (as per the curtains), which made perfect sense for an airliner which is boarded from the rear. The toilet compartment had an interesting assortment of fixtures and fittings, none of which looked original – not least the coat hook!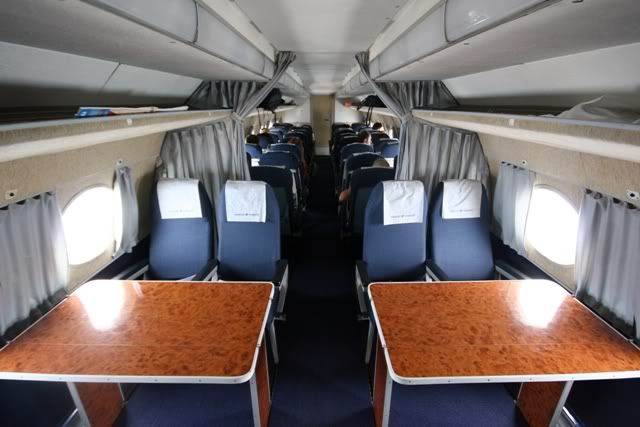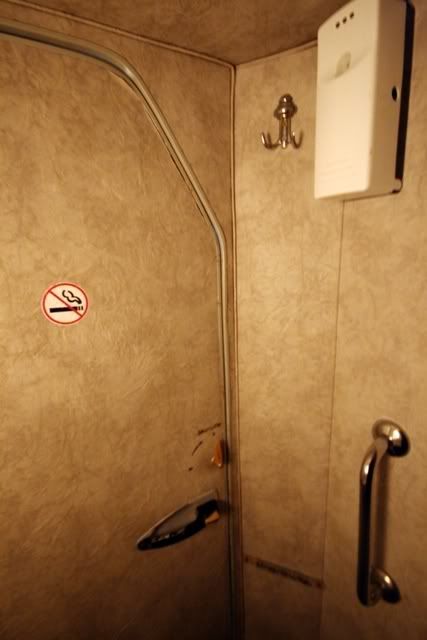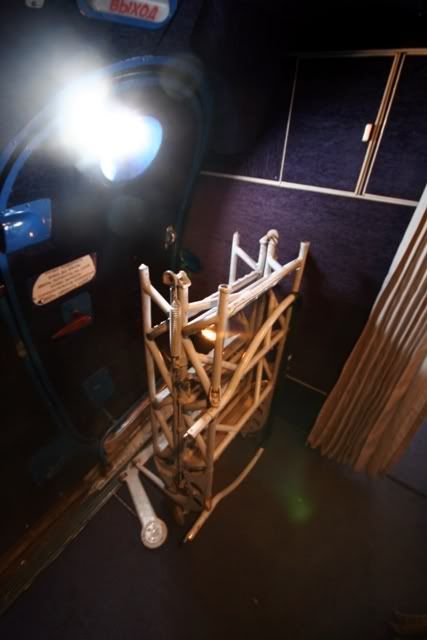 Returning to my seat I noticed that the clear skies had been replaced by a blanket of dull grey cloud, into which we subsequently dived, revealing a green undulating landscape of small hills, whilst in the distance the topography changed as the hills began climbing into the Carpathian mountains. It was this view which really made me think about dumping the return portion of the flight and just setting off into the distance – I've always wanted to go walking in those mountains, and this was the second time during the trip that I would get to see them, but not to spend any time there. I made a promise to myself there and then, that the next time I saw them, it would be with a map and a pair of hiking/riding boots on!
The approach to Chernivitsi provided a great view of the city in the distance, it was small, with what looked like an ornate centre comprised of tightly packed twisting streets, interspersed with squares and spires. As this view passed by the props were feathered and the landing gear dropped down and locked into place with a resounding clunk - the ruggedness of this aircraft no doubt originates from the crudeness of the design; after all the less complex it is, the less there is to go wrong and the easier it is to mend when it does. With a soft squeal the main gear kissed the tarmac, followed shortly after by the nose wheel and some fairly heavy braking.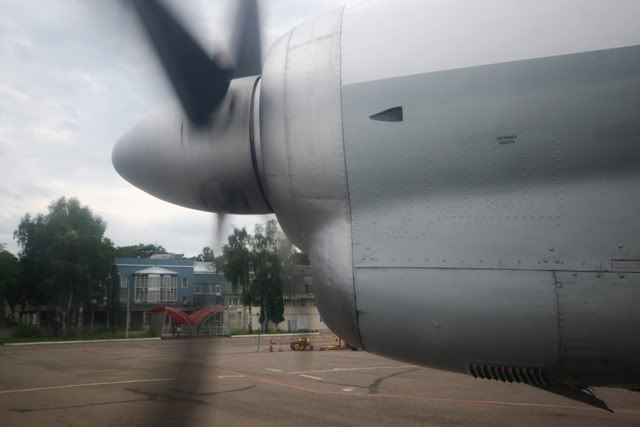 A couple of other aircraft were present on the stand, including an An-12… it might just be me, but I think that it's a prerequisite for an African or ex Soviet airfield to have at least one of these relics, either sat awaiting its next duty or, more commonly these days, tucked away in some forgotten corner, rusting into obscurity. Chernivitsi's example; UR-CBF – an Antonov 12A, was provided by "AeroVis" Airlines Ltd and looked in very good shape.
The airport itself was a forlorn sight; with only one scheduled flight a day, much of the once ornate terminal has been transferred into offices and other commercial use. Certainly the exit for arrivals was the least spectacular that I have ever seen, as the picture below shows, you had to walk over several old wooden doors and some sheets of scrap metal to make your exit through a beaten up and graffiti covered door in the perimeter wall – how terribly undignified!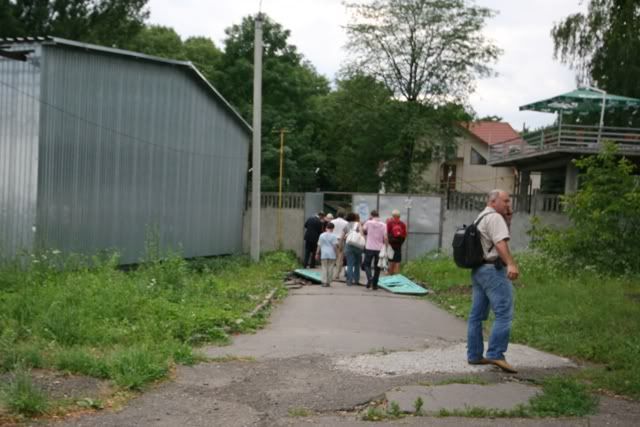 Sadly I would have no time to see the city itself – I was departing on the same aircraft back to Kiev! There was though enough time to take a few pictures of the terminal building and the apron, before heading back inside to check in.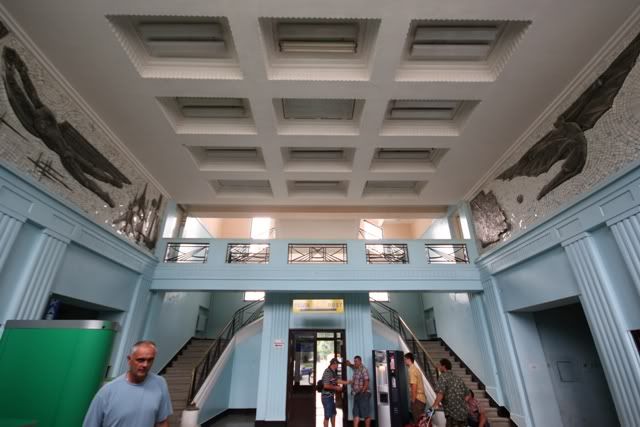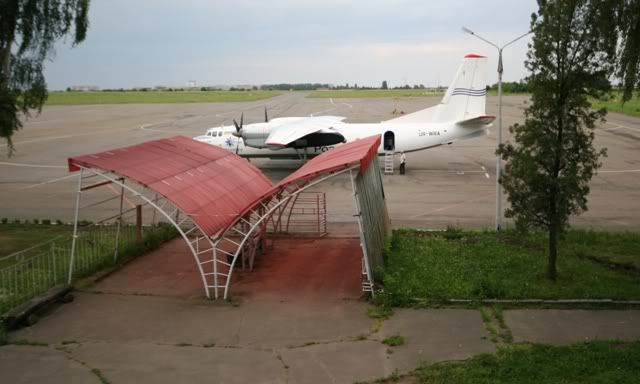 The check in and security process was perhaps one of the most interesting I've ever witnessed. The staff outnumbered passengers by at least two to one and were highly curious of myself and especially my passport, reading every single page in it, expressing interest and amazement at every stamp which they saw! It was actually quite humbling and made me realize just how lucky I am to be able to travel so much, but then they found a problem – apparently I didn't have a ticket. Once more, I showed the lady the print out of my E-ticket, and she looked at me as if I'd just landed from the moon - '
This is not ticket!
' she exclaimed with confusion. For a moment I thought I'd printed the wrong page out or something, but it had been ok for the flight there and, after checking it thoroughly, I could see that all was in order. The entire group of staff gathered around, engaged in conversation and looking visibly puzzled. Following a telephone call they determined that yes, it was in fact a ticket, but not one like they had ever seen before and insisted on keeping it, for their 'records'. Perhaps I'm naïve, but until then I thought that E-tickets had penetrated all bar the most distant corners of the Earth.
The security formalities were just as lengthy, with each piece of camera gear I had thoroughly examined, although again I get the feeling that it was more out of curiosity than suspicion, and with a cheerful goodbye I was allowed into the rather drab departures lounge. There wasn't time to get comfy on the old seats though, as boarding was quickly called.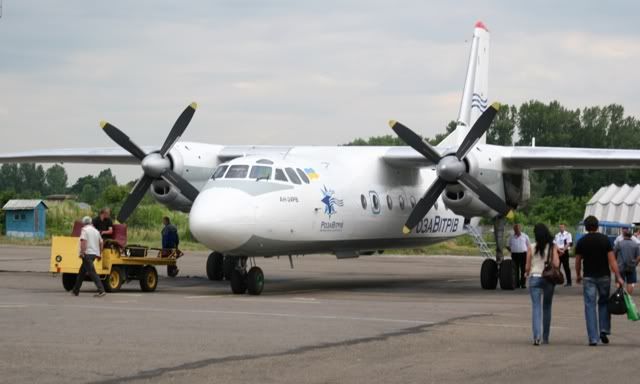 The stewardess was a little surprised to see me back again, but a quick explanation satisfied her interest. Seating was free, so for the return flight I took a seat on the left hand side, to even up the strain on my neck from constantly looking out of the window. By the look of it one worker had certainly better get out of the way!
CWC-KBP
Chernivitsi to Kiev Borispol
Carrier: Wind Rose Airlines
Flight: VV072
Aircraft: Antonov An24-PB
Registration: UR-WRA
Date of First Flight: Unknown
Seat: Free (3A taken)
Block Departure Time:
16:50
17:50
Actual Take off Time: 17:57
Block Arrival Time:
18:40
19:40
Actual Touchdown Time: 19:06
Distance Flown: 265 miles
Total Flying Time: 1 hour 9 minutes
Fare: US $103.30 return (as above)
Only a handful of passengers were flying back to Kiev, so there was no hanging about and a few minutes after I had taken my seat, the engines fired back into life. Pausing for a moment on the threshold of runway 15, the plane almost appeared to be drawing in a deep breath before the off; props beating around furiously as the tires took up the strain, then releasing it all in an instant as the brakes were disengaged, propelling the Antonov down the tarmac and upwards into the sky on a cushion of air.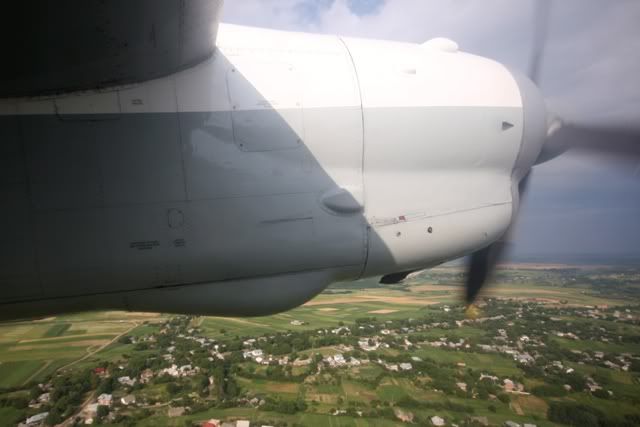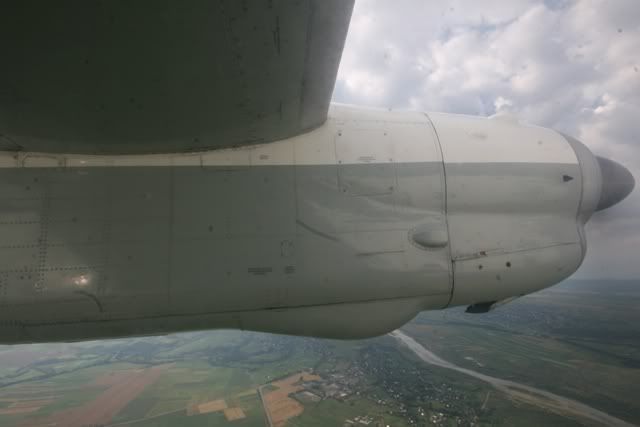 Slowly the ground grew more distant and an occasional cloud flitted past the window, although confusingly I didn't actually know where I was flying to. Neither the ground staff at Chernivitsi nor, bizarrely, the crew onboard knew which airport we'd be arriving at - it would be Kiev for sure, but whether that meant Borispol or Zhuliany was anyone's guess! The flight itself was uneventful, I remained seated this time as I'd already photographed everything worth taking a picture of, concentrating instead on the landscape below. After almost an hour, the suburbs of Kiev rolled into sight, amongst which I just managed to pick out Sviatoshyn Airfield. Now it may look insignificant, but this site is home to one of Antonov's main manufacturing bases, the surprisingly short runway (just 1800m long) has given birth to such mighty machines as the An225, as it will again in 2010 when the second example should take to the sky for the first time. Sadly though, Antonov is now a shadow of its former self, but it is incredible to think how many aircraft were produced there at one time – most likely including the one which I was sat in; 985 examples of the An-24 were produced at Sviatoshyn.
From here, the flight took a path over the Northern suburbs of Kiev, indicating that it was Borispol which we'd be arriving at, putting the matter beyond all doubt by banking right to line up on approach for runway 18L.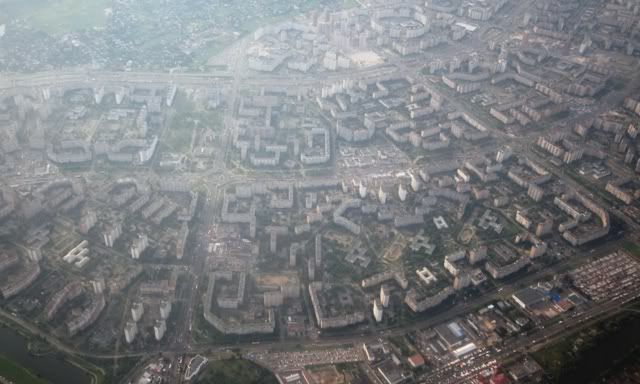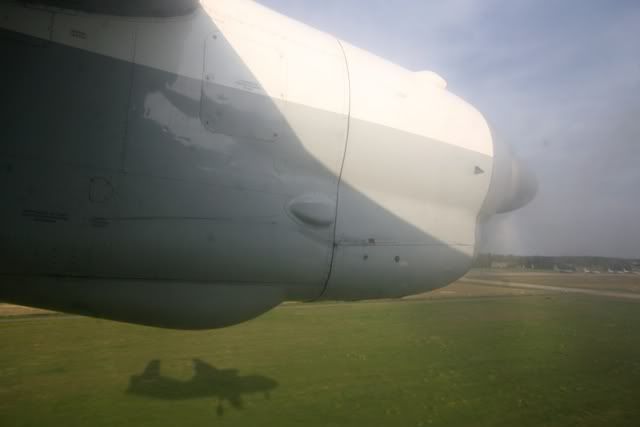 The landing was gentle; certainly on a 4000m long runway (which is as wide as a football pitch) there's no need to be stamping on the brakes, in the end the flight had made up time, so it was only half an hour behind the original arrival time. I was reluctant to leave the plane once it had parked on stand – there was a certain quaint charm about it that I liked, emphasized by the little curtains which hung by each window, it was almost like flying in a cottage; old fashioned; dated appearance; not as efficient as modern technology, but nevertheless great fun and something which should be preserved for future generations to fly and experience. The best thing was that the next day I was due to do it all again, this time on a Motor Sich Airlines example!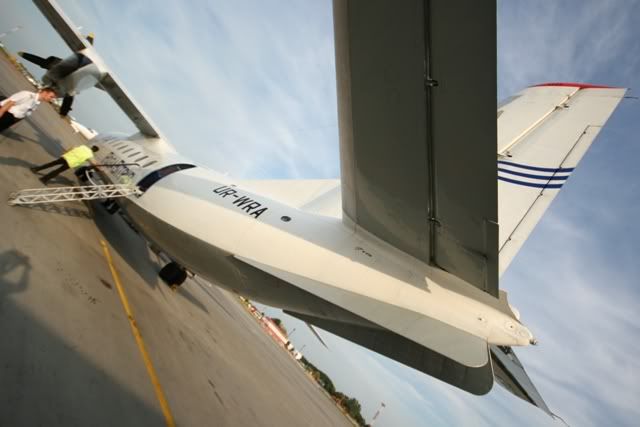 Day 14; Tuesday 8th July:
Today I was going to be flying to Zaporozhye, an industrial town in the West of the Ukraine, situated on the banks of the River Dnieper, but with a departure time of 19:10, it left me with another free day in the city to explore Kiev.
Independence Square: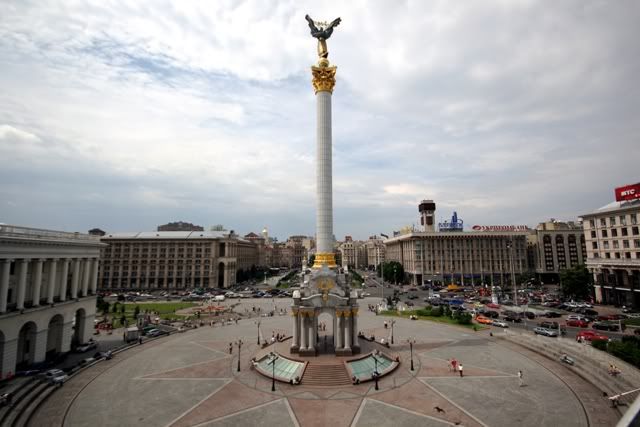 The October Palace: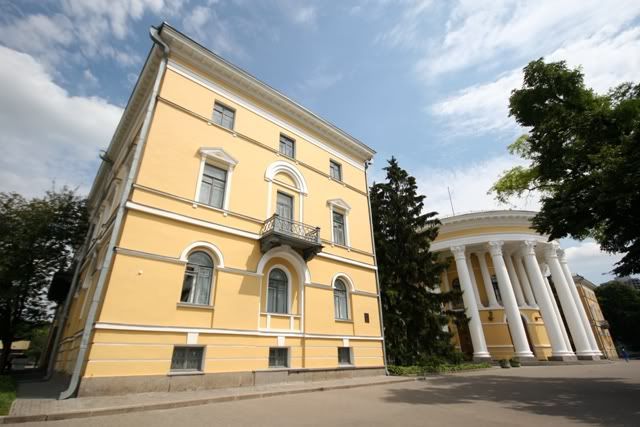 National colors growing in Independence Square:
Ukraine's Ministry of Foreign Affairs: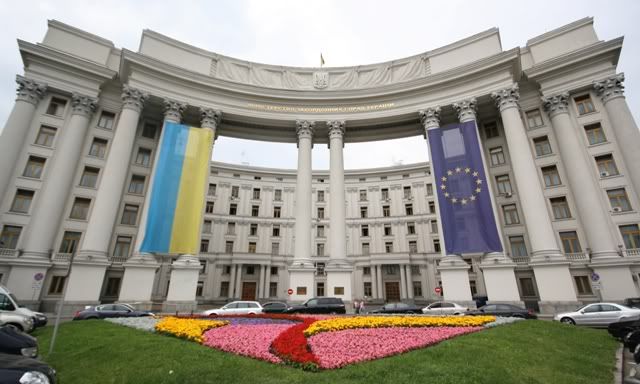 Funicular railway between the river and the city on Vladimirsky Hill: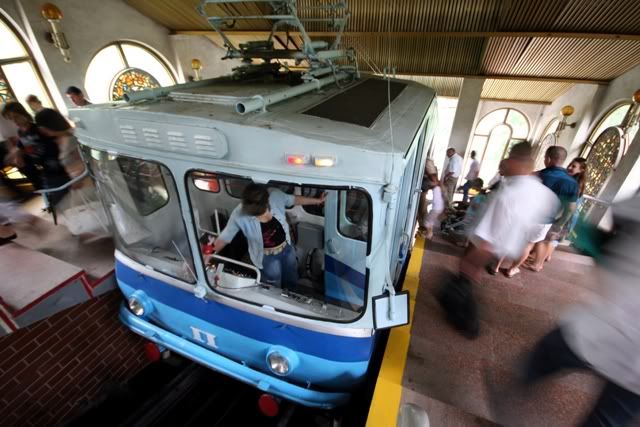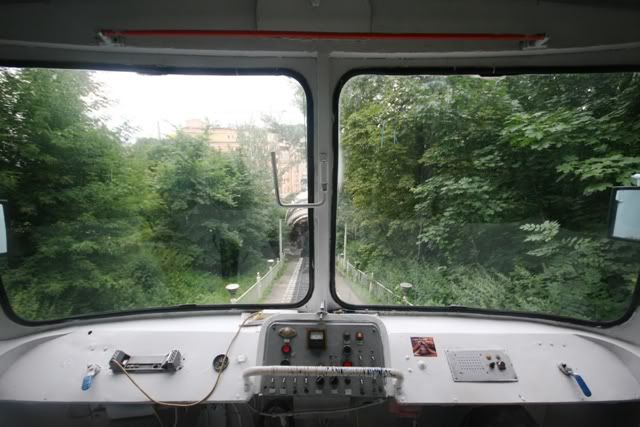 St Michael's Monastery: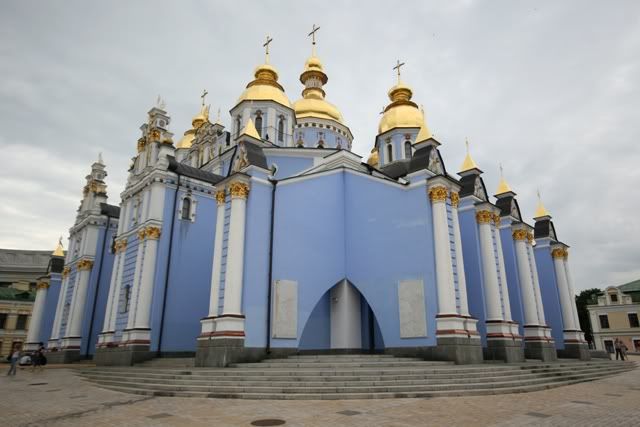 View from Bohdan Khmelnytsky square, annoyingly the Saint Sophia Cathedral which is to the left of the picture was not open to visitors, although by that what I really mean is that I'd given up waiting for the 10 minute coffee break of the person selling tickets to end!
:
By the time I'd walked miles around the city I was relieved to sit down on the bus, which whisked me out to the airport in 45 minutes for the sum of 25 Hyrvnas. Again I'd left it a bit late and was about the last person to check in - all of which is handled by AeroSvit who also sell tickets, whilst the flight itself is operated by Motor Sich Airlines in order to make a business/shopping link with the capital. Seating was unassigned on this flight, and I was told to hurry through the security channel as boarding would be imminent. As usual, there was a lengthy bus ride between the gate and the aircraft, which I soon saw wasn't the scheduled An-24, but instead an An-140. I had mixed feelings about this, because whilst the An-140 is incredibly rare, it is relatively modern and likely to be around for much longer than the An-24.
Getting off the bus I'd realized that I was at the back of the queue to board, so thought I might as well hang back and see if I'd be jumped on for brandishing my camera… luckily the policeman looking after today's flight couldn't care less as it was raining and he'd gone to sit in his car – hence I could take the below pictures.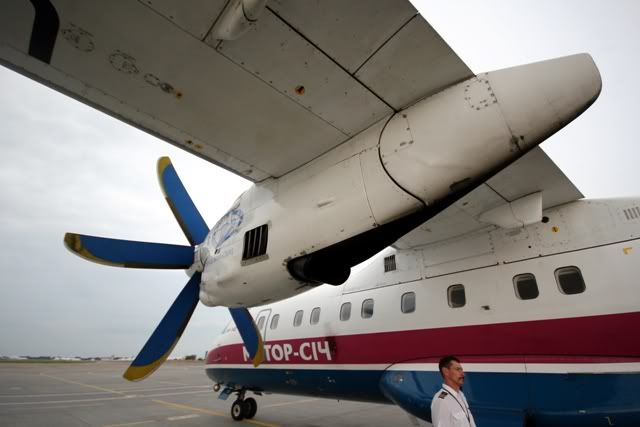 This aircraft is the fifth Antonov 140 produced, hence the registration
UR-14005
and, like the version I'd flown on previously with Ilyich Avia, was in good overall condition. In fact, it's probably the safest airline/aircraft combination you could ever wish for; Motor Sich Airlines is owned by the Motor Sich Joint Stock Company, amongst who's ventures is
Ivchenko Progress
, one of the largest manufacturers of aircraft engines in the world, including those under the wings of this An140.
KBP-OZH
Kiev Borispol to Zaporozhye
Carrier: Motor-Sich Airlines
Flight: VV4408
Aircraft: Antonov An140-100
Registration: UR-14005
Date of First Flight: 23.05.2003 (Delivery date)
Seat: Free (10D taken)
Block Departure Time: 19:00
Actual Take off Time: 19:10
Block Arrival Time: 20:10
Actual Touchdown Time: 20:22
Distance Flown: 264 miles
Total Flying Time: 1 hour 12 minutes
Fare: US $127.40 one way
Unfortunately, neither the weather, nor the condition of my window was conducive to getting good images, but I managed to make a half decent video of the take-off from runway 18R, which had a lengthy roll of over thirty seconds before the nose pulled gradually up into the overcast sky. The clouds proved turbulent, but the aircraft handled it very well, feeling strong and solid throughout – by which I mean there was little in the way of rattling from the overhead lockers or vibrating side panels, unlike many aircraft which sound as if they're going to tear themselves apart as soon as they hit the slightest pocket of air!
http://uk.youtube.com/watch?v=sccDhogdZjg
Cruising altitude was reached very quickly, where-upon the service commenced. To be honest I wasn't expecting very much, so it was a pleasant surprise to find a decent sized snack box and a choice of drinks offered to me, especially considering the design of the snack box, which made me an excellent souvenir of the flight!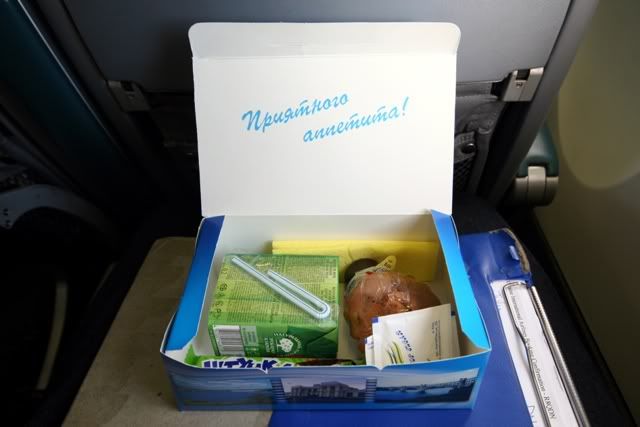 There was little to be seen outside, just a blanket of grey-white cloud as far as could be seen. I had no accommodation planned once I reached Zaporozhye and, although I knew of a few hotels, I didn't know their rates or where they were/how good they were etc… so figured I'd ask the stewardess; being a local I figured she might have some good recommendations. My plan was foiled though, as her English was about as good as my Ukrainian, but thankfully a fellow passenger overheard my conversation and chimed in – some time later I knew exactly where to stay and he had very kindly offered me a lift into the city! A bell in the cabin signaled that the descent was about to begin, so I hurriedly took a picture down the cabin and return to my seat, relieved that I now had some form of a plan upon my arrival.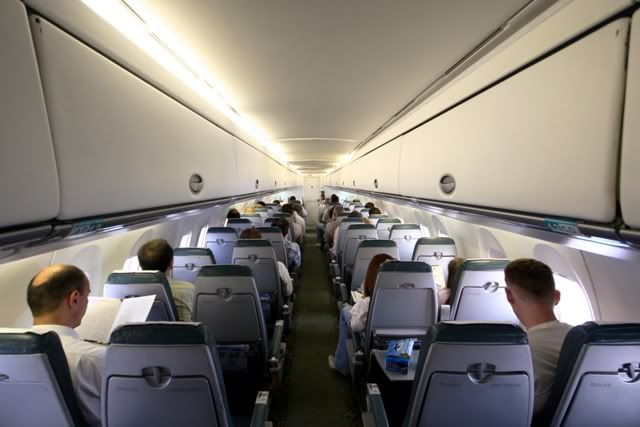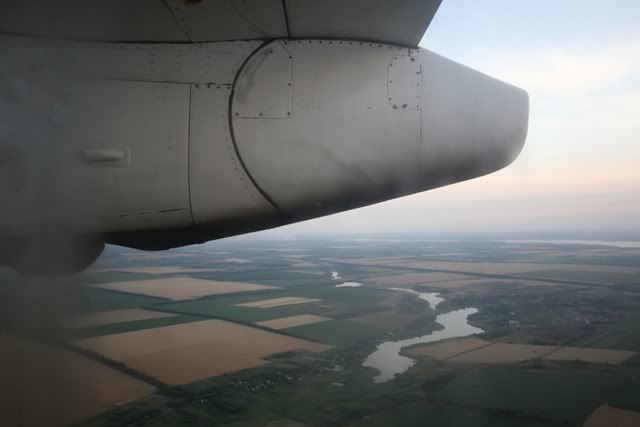 The skies had cleared slightly as the flight approached Zaporozhye, although it was rapidly nearing dusk, which along with a pretty dirty window meant I didn't bother taking pictures during the landing on runway 20, which was smooth… until the bumps and grooves between the slabs of concrete which composed the runway began to send vibrations thudding through the cabin! The taxiways were no smoother, as illustrated by the video, which I took in the hope of catching some of the many Il-76s which are parked up around the airfield; using Google Earth as a guide, there are 37 stored at Zaporozhye – but my only glimpse of them was from the road heading towards the city. Later I realized that if I'd sat on the opposite side of the aircraft, I would have seen every single one – but that's Murphy's law for you.
http://uk.youtube.com/watch?v=4r5_eDwq13Q
As per the norm in the Ukraine, arrivals passengers exited through a gate, where-upon Maxim (the guy I'd met on the flight) found the friend who had come to collect him and give both of us a lift into the city! This is what I really love about traveling – meeting interesting local people along the way, and this was no exception, with his friend happily explaining the entire way how he had come to the Ukraine from Georgia and that he and his family originated from the break-away Russian controlled region of Abkhazia. Apparently there are a large number of Abkhazians living in the Ukraine, legally or illegally, as the Economy in the region is so poor.
As I had nothing planned we decided that we might as well make an evening of it so, once I'd checked into a hotel, Maxim gave me the full walking tour of the city centre, along with a few of it's local beers and dinner, then met up with some more of his friends. It's a city of great contrasts; the centre itself is lovely, but look just to the side and you have the adjacent Zaporizhstal steelworks towering upwards – a spectacular sight at night, with endless towers and stacks releasing smoke, steam and pollution up to the illuminated sky in near theatrical sequences. Recognised as one of the largest steelworks in the Ukraine and indeed the world (54th largest) world, it's also one of the worst polluters in Europe… and it tells. I'm fascinated by industrial architecture and heavy industry itself, so I probably could have watched (and photographed!) this dance of manufacturing on the skyline all night, but I needed to get some sleep so I could explore more in the morning.