Morocco 1/2: Agadir on AirFrance and RoyalAirMaroc
Salam, dear readers,
what about two months without any leisure flying?.
That´s for sure a hard thing for me.
But anyway, time goes by after arriving back home from Greece in mid November
http://www.airliners.net/aviation-fo...ums/trip_reports/read.main/138968/
and sooner or later Morocco comes up.
Not that easy to catch something interesting for January, sun included, around a daytrip.
So my decision was done in October to go for Morocco for the first time.
Well, enough background, lets go!.
Monday, 19.01.2009
STR (Stuttgart-Echterdingen) - CDG (Paris-Charles de Gaulle)
Duration: 55 minutes

Service AF 2509 operated by AirFrance Airbus A320 F-GFKV
Scheduled: 07.05 // 08.25
Actual: 07.35 // 08.30
Gate: 310 Seat: 29A
Loadfactor: Around 70%
Fare: 39,85 EUR and 10000 Miles

History:
10.09.1991: Delivered to AirFrance
Flight no. 43 on the A320 and the second on this machine
Air France offers online-check-in, also with luggage, from 30 hours prior to departure.
The seatmap opened on my laptop and I´ve secured window last row, as always, when possible.
Checking the Acars system late Sunday evening told me the arriving registration from CDG for the night stop as F-GFKV,
done some years ago on CDG-ATH. With 63 A320 aircraft in AF´s fleet and only three in my log, thats called destiny.
Icy road conditions that monday morning, but nevertheless arrival ontime at the airport around 6.15 am with boarding announced for 06.45 am.
No time to wait at the bag drop off counter, some 20 pax at the standard counter.
Also no time to wait at security, down the stairs for some nightly aircraft pix and right back at the gate when boarding started.
Early morning at STR: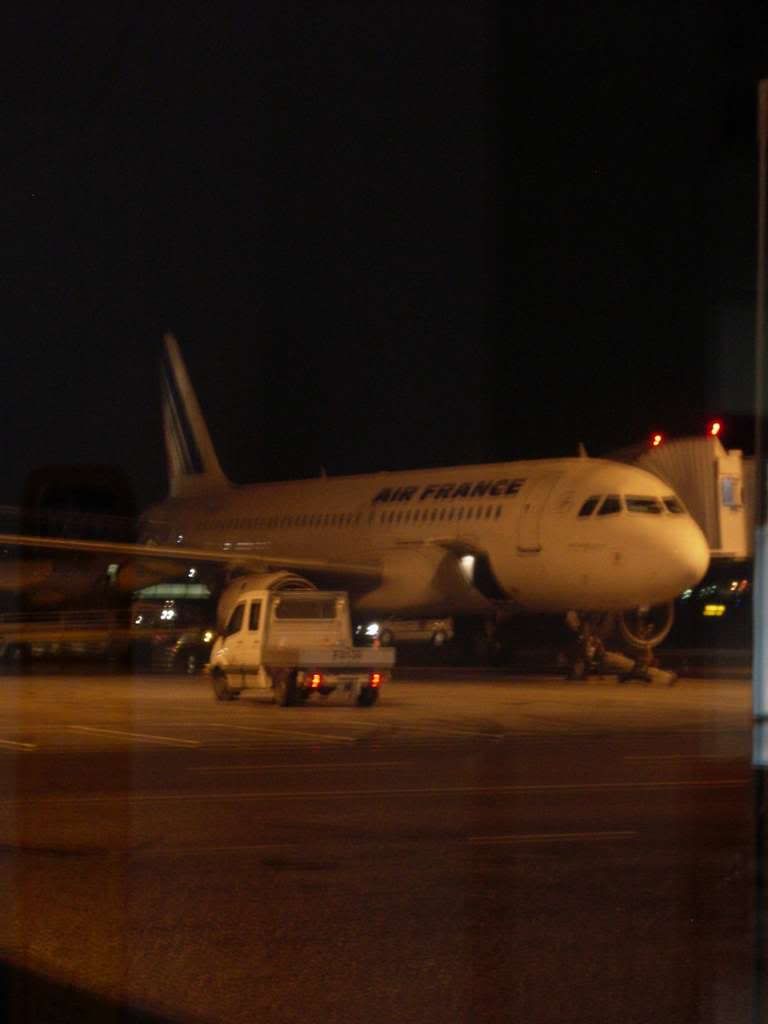 310 as ususal for the night stopper.
I was one of the last pax, the nice female gate agent wished me by name a good flight, not a bad start for the day.
Three female and one male FA, all together not unfriendly but also nothing special.
The captain welcomed us friendly during boarding. Cockpit crew was from France.
Push back, only one other plane in front for a runway 25 departure and soon it was time to go for CDG.
The cabin fitted with the usual dark blue fabric seats. Oldfashioned, clean and good legroom.
Also strong wings that day, together with a low cruising level directly above the clouds, causing some turbulences on the whole flight.
A brioche and coffee/water was for free.
The captain was once more to hear inflight. He announced strong winds and more turbulences during approach into CDG.
Looks like a bumpy ride.
No further route or flight level information.
Approach was heavy, clouds nearly till touchdown, ups and downs, reminded me to the spectacular LH wingtip go around at HAM last year.
Also short ahead to touchdown the plane jumped up again, levelled out and slammed down on runway 26L in heavy rain. .
Bus deboarding into T2D.
The captain was at the office door during deboarding and wished all the passengers a good day.
A nice gesture after that bumpy ride.
Welcome to rainy CDG: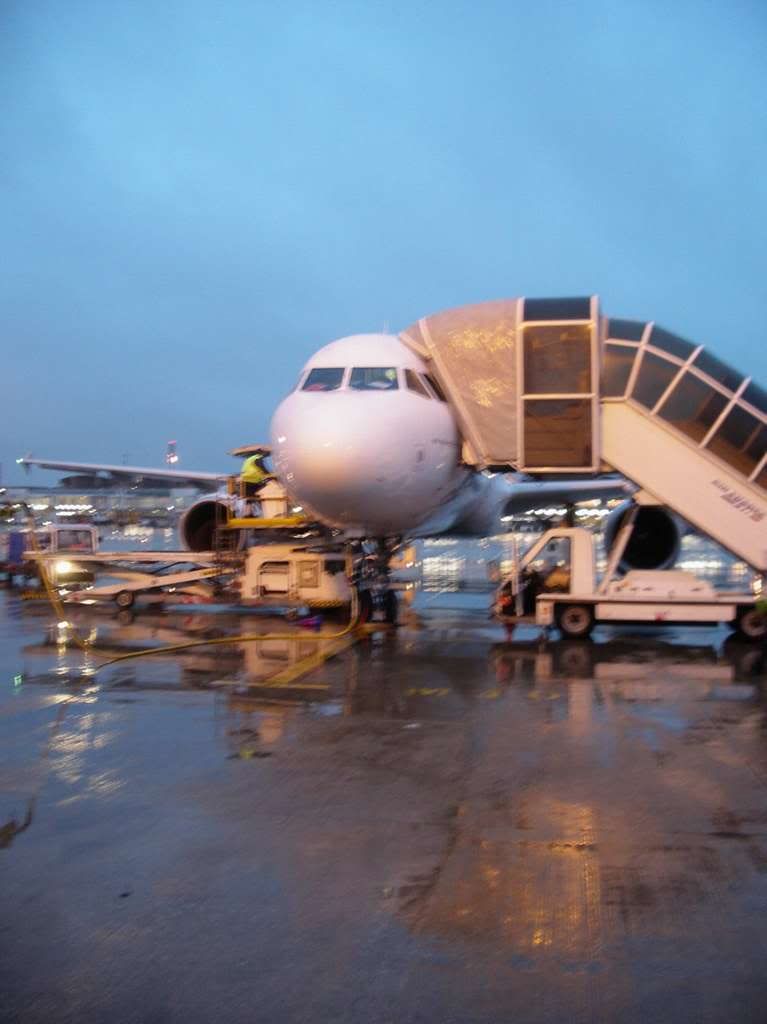 Some five minutes to wait for my bag, it seems mostly connecting pax on that service today.
AF operates several coach services from CDG, route 3 links CDG nonstop with ORY, every 30 minutes, 19,00 Euro's oneway.
I´ve done this ride before and the travel time varies according to the traffic situation.
Departure was around 09.30 am from T2B, arrival at around 10.30 am at ORY sud, around two hours from arrival into CDG till arrival into ORY.
Monday, 19.01.2009
ORY (Paris-Orly) - AGA (Agadir-Al Massirah)
Duration: 3 hours 25 minutes

Service AT 745 operated by RoyalAirMaroc Boeing 737-700 CN-RNQ
Scheduled: 12.30 // 14.55
Actual: 12.40 // 15.05
Gate: A23 Seat: 25A
Loadfactor: Around 60%
Fare: 132,63 EUR
History:
11.04.2000: Delivered to RoyalAirMaroc
Flight no. 20 on the 737 and the first on this machine
Two hours till departure, check-in was open, no one in front, not bad.
AT offers no online-check-in, ok, but also not bad the possibility to select your seat free of charge during booking.
The seat map shows 22 as the last row on the 737-700. With several legs done, I´ve thought that something goes wrong or a real generous legroom on that machine.
Servisair operates the check-in, I´ve asked if its possible to change for the last row. The desinterested guy there answered, yes and printed 22A. We will see.
Ok, bag on the way to AGA. Me on the way to the viewing deck, the sky cleared up, but it was so windy, not that fun outside there today.
BA Open Skies and Air Caraibes at ORY:
Arrival Tunisair from Sfax: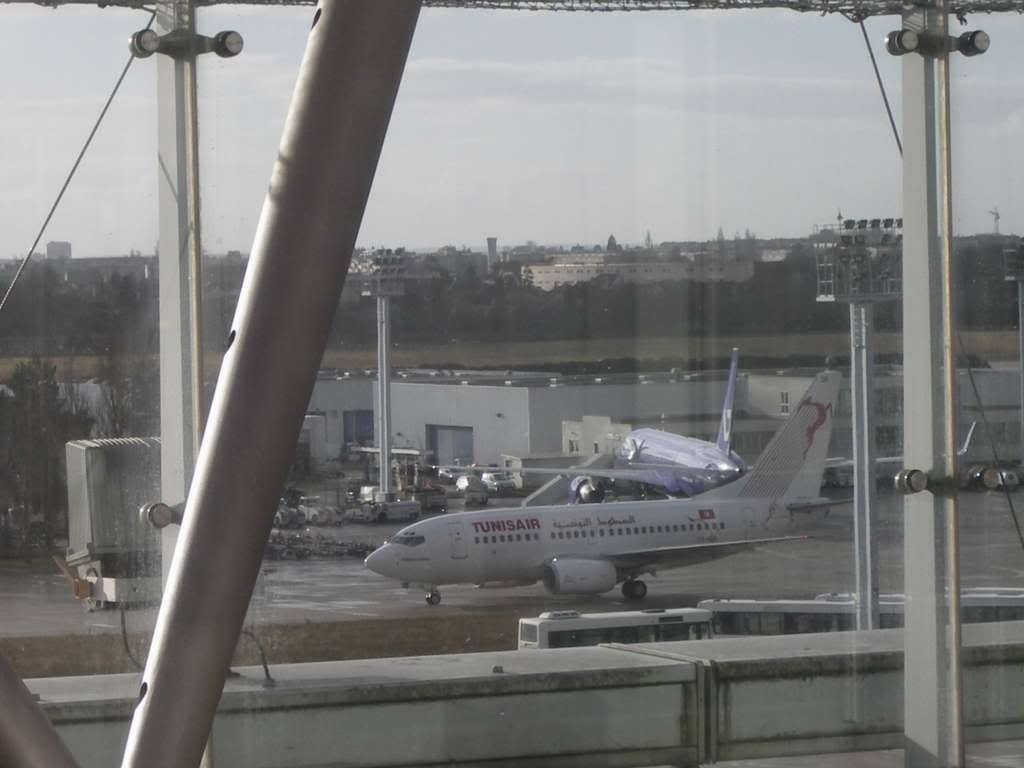 The big blue after arriving from Pointe-a-Pitre:
Air Algerie bound for Tlemcen:
Now, time for passport control and security check, no problems there.
Interesting planes and also destinations from my gate area.
Tunisair to Tozeur and Sfax.
RoyalAirMaroc also to Marrakech and Rabat.
AirAlgerie to Oran.
My machine was announced ontime inbound from AGA.
AT arrival from Agadir: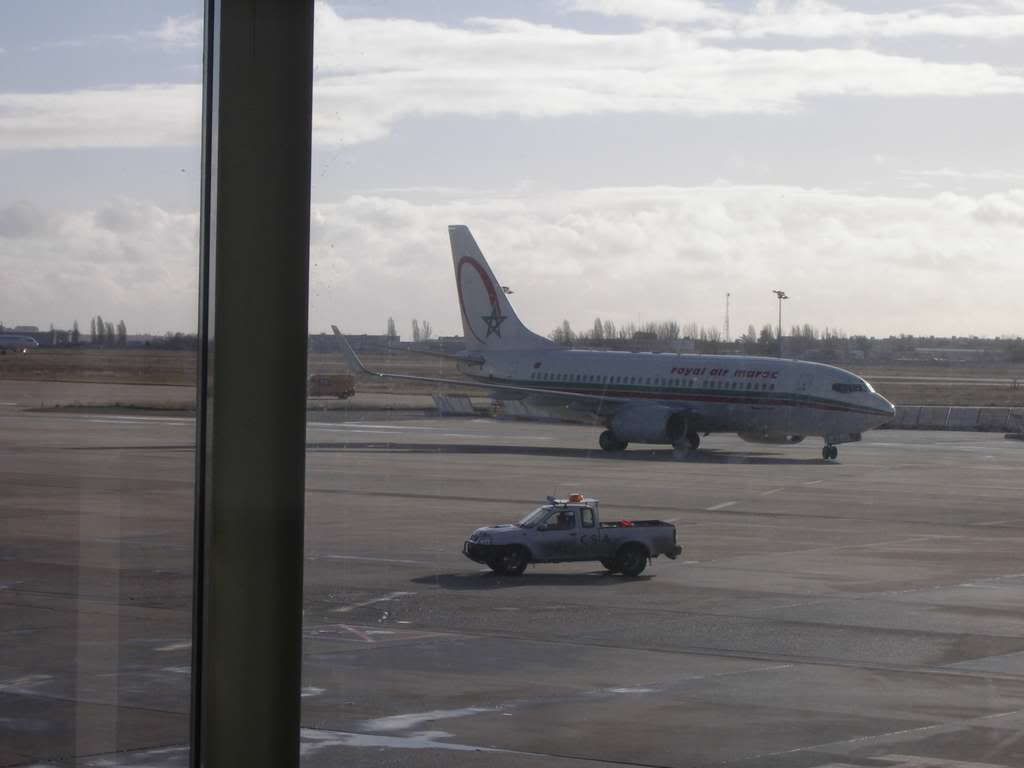 Taxi: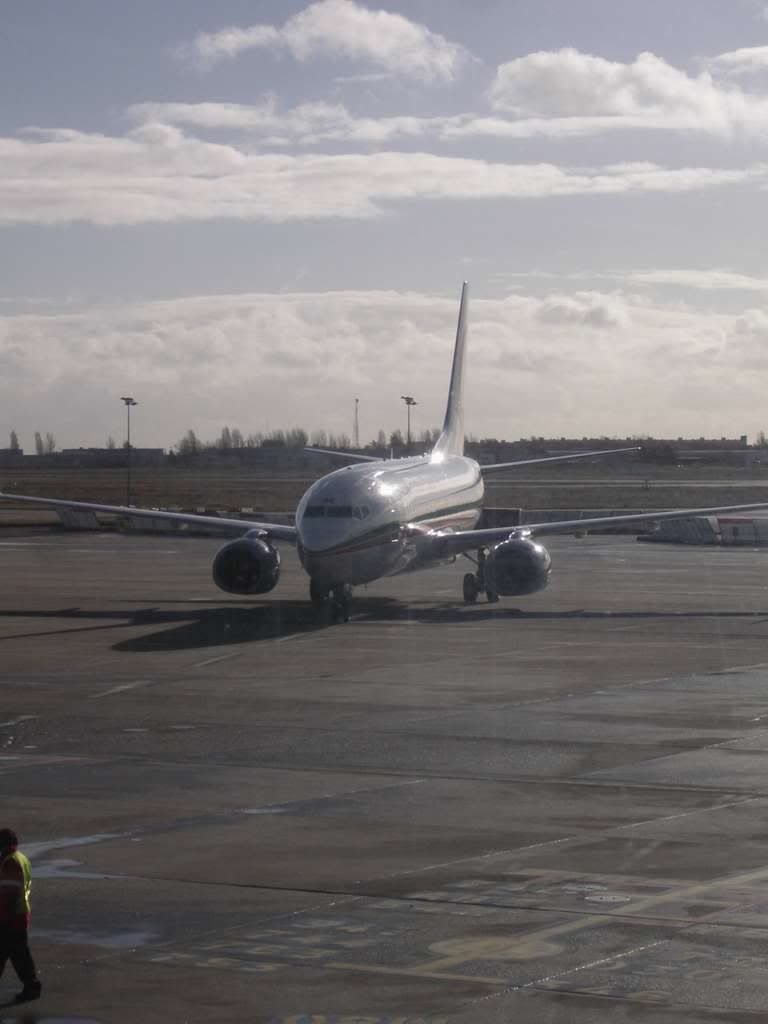 And parked: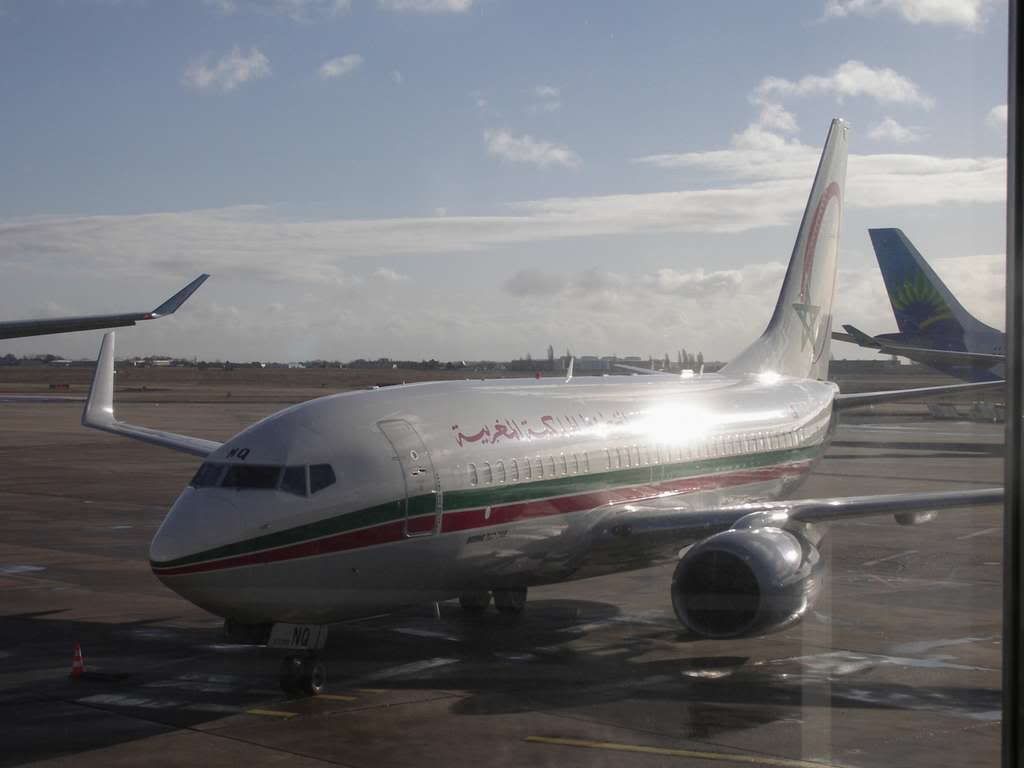 Boarding around noon, 11.30 am was printed.
Well, you know, 25 rows on that machine, but no one seated in the last three rows, so an immediatelly change was done for seat 25A.
The machine fitted with bright blue fabric seats, cabin ok, good legroom.
Indoor AT:
My seat:
Once more:
One male, three female FA´s on that service, all together friendly, especially that good looking female serving the rear part of the cabin.
All announcements in marocain and french only.
It seems the captain was from the US, the only english words on the whole flight on that plane in american style:
"Cabin crew ready for immediate departure" during taxi and later "Cabin crew, ten minutes till touchdown, ten minutes".
The FO was from Morocco, with arabian announcements.
Departure from runway 24 in direction
Tours-Bordeaux-Madrid-Malaga-Tanger-Rabat-Casablanca and finally Agadir.
Good to follow on the map system. Flight level 37.000 feet.
Cloud cruiser: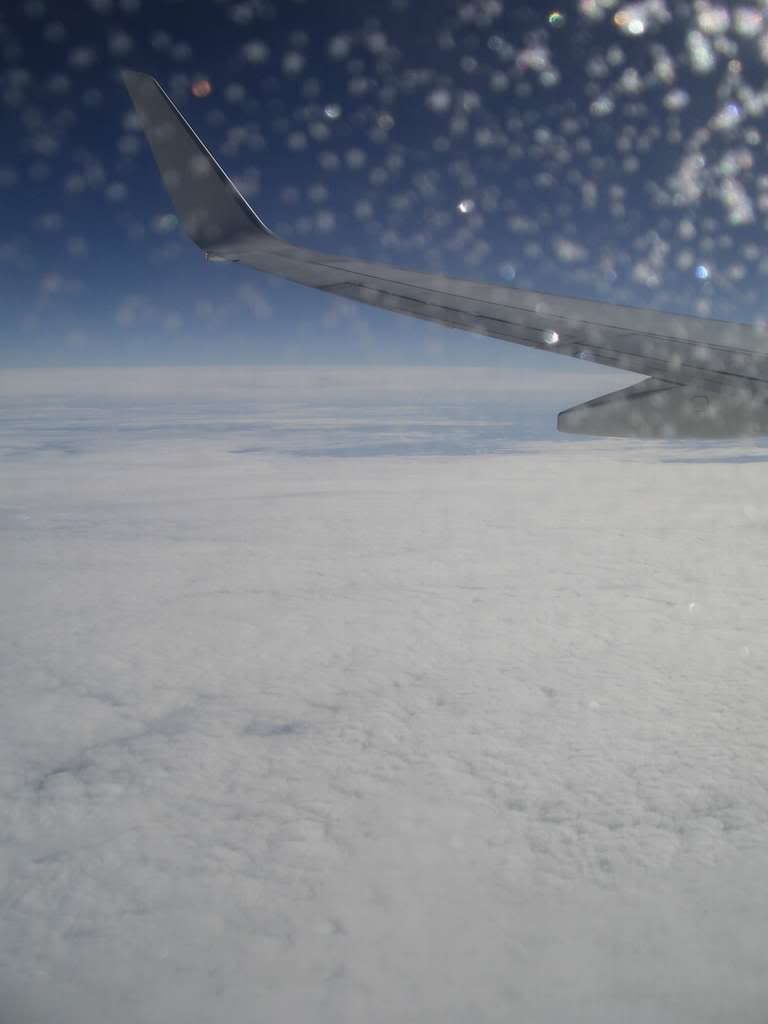 Service was real good, a hot meal together with a second bread roll. Free drinks also twice.
Meal service: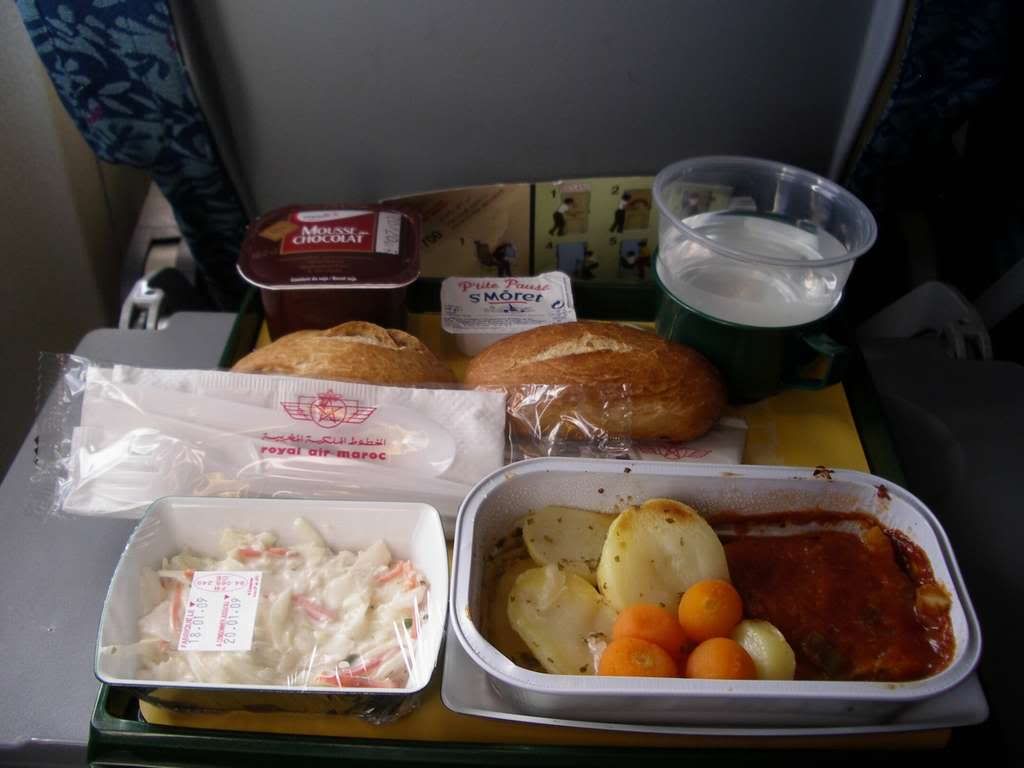 Relaxed atmosphere on the plane, a calm flight.
Atlas approach, Marrakech to the left: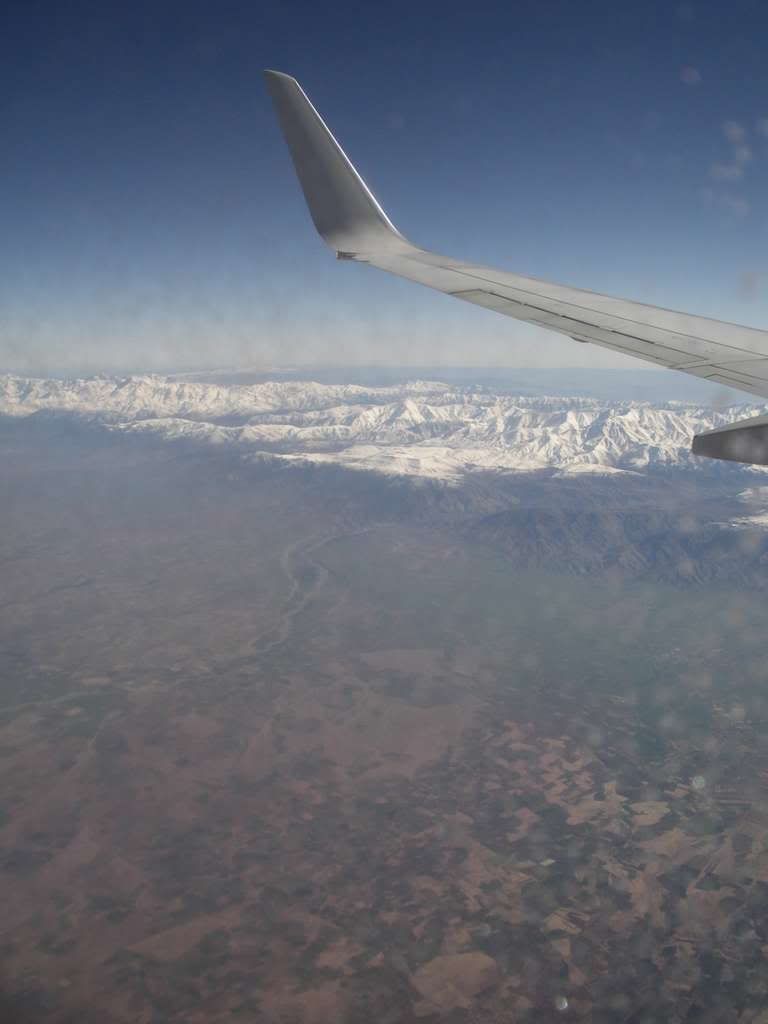 Lots of green:
Finals: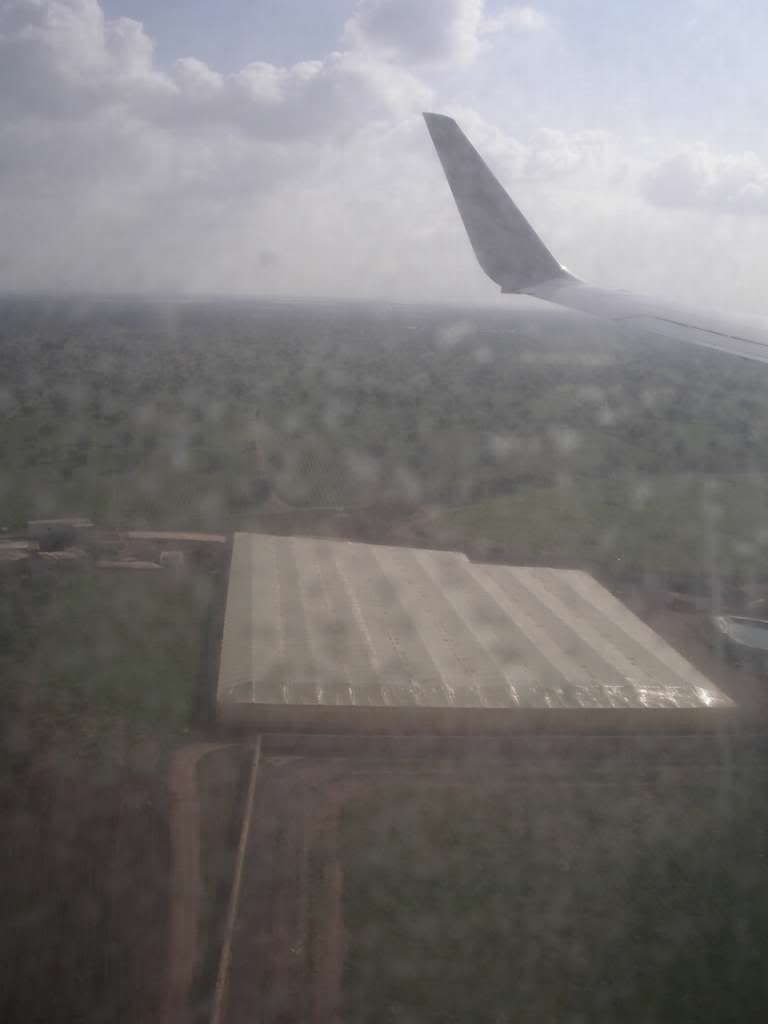 Approach was interesting along the Atlas mountains and finally touchdown on runway 28.
What a surprise: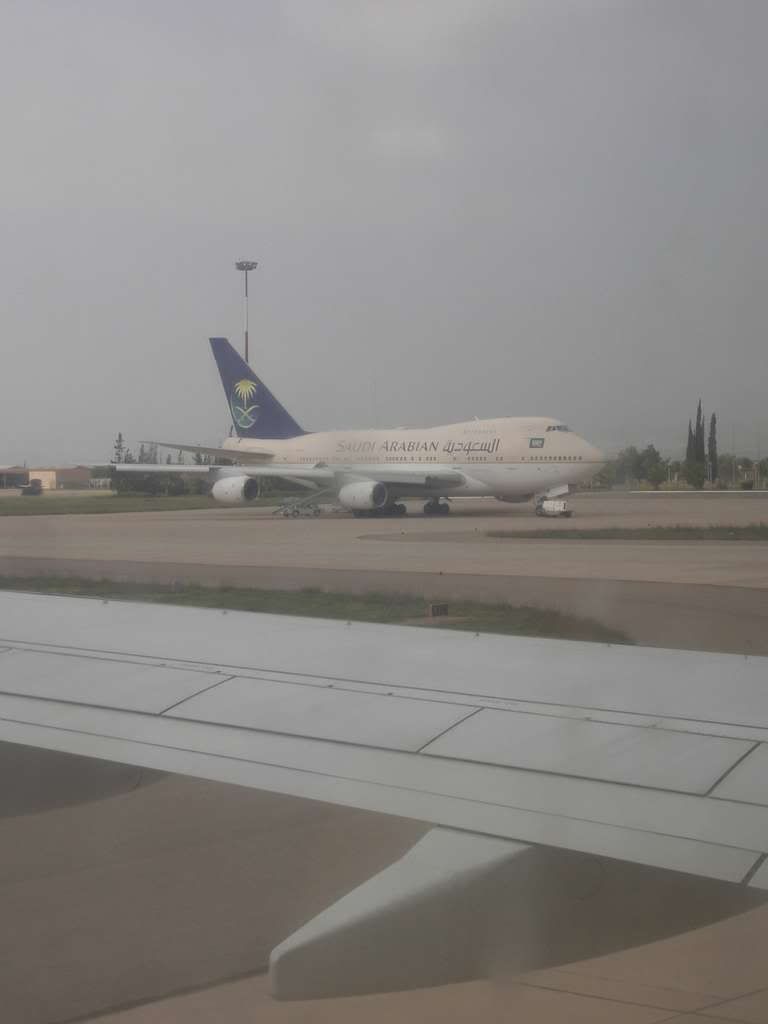 The airport: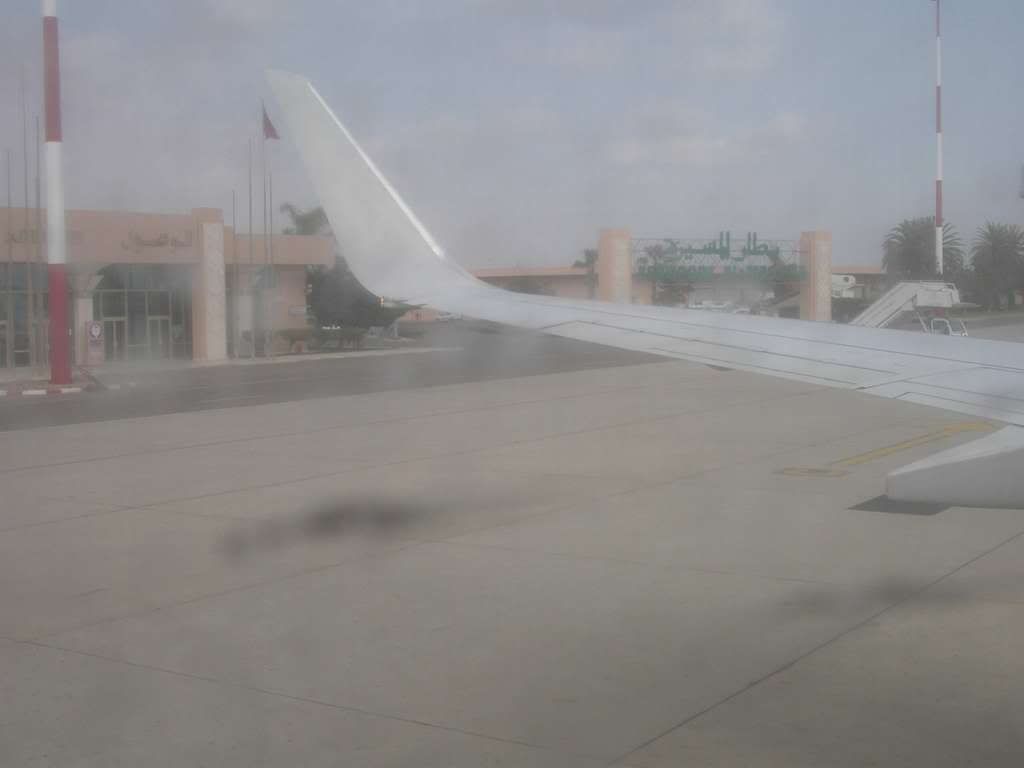 Parked in front of the arrivals area, self service to the entrance.
I was the first pax at passport control. The guy checked my arrival form, stamped my passport and I was for the first time in a new country, Morocco.
My bag was quick, out of the airport, approached by some weird looking part time taxi drivers, but no way, I´ve done the classic ride on an surely more than 30 years old
Mercedes, fixed fare, if you know it, 150 Dirhams and 20 Dirhams bakshish to my accomodation, the Timoulay Hotel in the Agadir Founty area.
Welcome to the Timoulay Hotel:
My room: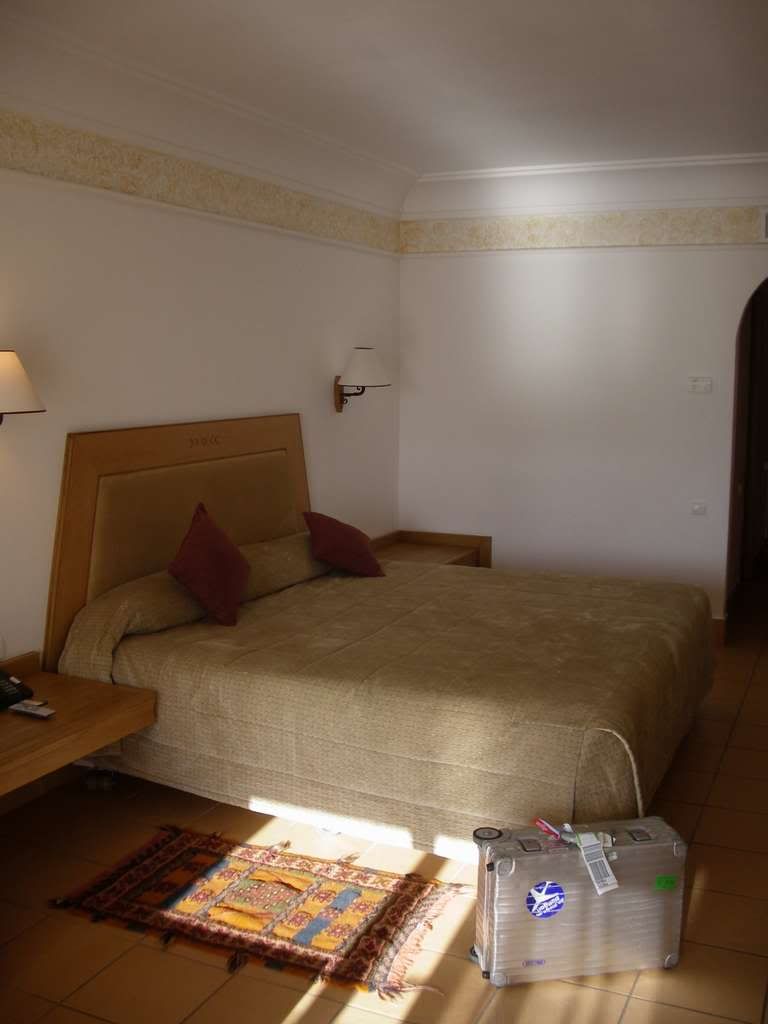 More impressions will be online with the return story.
AirFrance operates secure and classic standard service on the STR-CDG route. OK, so far.
RoyalAirMaroc impressed me positive on the ORY-AGA leg.
Friendly staff, ontime service, relaxed atmosphere, no problem with the photos, well done.
Comments welcome,
Markus (FLIEGER67)