Long Haul from Plymouth, Dash 8 Style
To be honest, it's not often that something new and exciting happens at Plymouth Airport so, in late 2007, when a package of winter ski flights for the 2008/2009 season were announced, it caused considerable interest – not least because this would be the longest scheduled flight ever offered from the city! Initially the plan was to serve Chamberry Airport with a single weekly flight, however a phone call from Air Southwest in spring 2008 informed me that the destination had been changed to Grenoble. With fares going on sale from just £35 it was a bargain I simply couldn't miss!
Now, fast-forward a year later, to the night before I depart when, as a precaution, I decided to check the status of my reservation using Air Southwest's handy website… imagine my surprise to find that the flight is actually leaving three and a half hours earlier than I thought! I checked, and all of my correspondence from the airline stated a departure time of 12:35, yet everything on their website suggested otherwise.
Saturday 3rd December
My alarm clock sounded at seven thirty, considerably earlier that I had hoped, but as normal I'd left everything ready the previous night so as not to impede my morning semi-consciousness. An advantage of living so close to the airport (and in turn the airport being so central to the city) is that I didn't need to leave the house until gone eight and, even so, just seven minutes later my Grandfather pulled up at the terminal to drop me off. Thankfully common sense has prevailed since by last trip here, meaning that you can use the car park free of charge for 15 minutes when collecting or dropping off passengers – it always used to be the way, but a few years ago a charge (£2 minimum for half an hour rings a bell) was introduced which, inevitably, resulted in nobody using the car park and cars cluttering up the taxi bays and anywhere else they could find to stop!
The terminal was deserted this morning, so I was soon checked in and assigned seat 2A, one of my favorites – with a booked load of just ten passengers initially to Newquay, it's no wonder the terminal was so empty! I mentioned to staff about the flight time issue which I'd encountered, in case anyone else traveling on the route didn't realise and missed their trip. They were surprised very and concerned, so promptly checked the content of the emails which had been sent out to me, but as I'd found, none contained any reference to the time alteration, for which they both apologised profusely even though it obviously wasn't either of their faults. Luckily it hadn't affected my travel plans and I was the first person to have encountered this problem, but I do think it rather odd that the airline did not detail the new schedule in their email, or mention it on the phone when calling advising passengers of the change in destination, as I presume that's when the change occurred.
One of the best things about Plymouth City Airport is its size; the compact, neat terminal is a breeze to pass though and was still adorned with festive touches. Unfortunately an hour delay to the flight was announced, due to the aircraft still being covered in ice; there are no conventional deicing facilities at the airport, so we'd just have to wait until it had melted, in the meantime I made use of the complimentary internet terminal.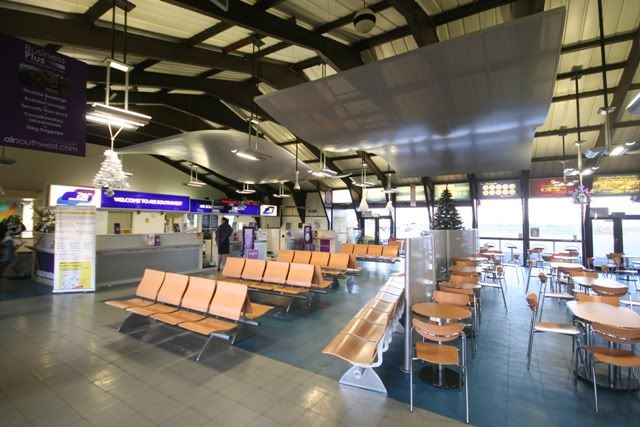 Obviously the ice cleared more quickly than expected so, whilst the aircraft was towed onto the stand, myself and the other passengers were called through to the departure lounge, passing through security and then walking out to where G-WOWE was now waiting.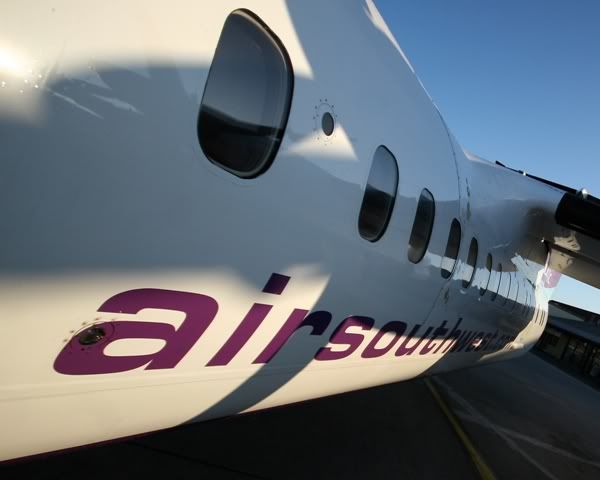 PLH-NQY-GNB
Plymouth City Airport to Grenoble Isère, via Newquay
Carrier:
Air Southwest
(69th & 70th sectors on airline)
Flight:
WOW 714
Aircraft:
De Havilland Dash 8-311
(68th & 69th sectors on aircraft type)
Registration:
G-WOWE
(16 & 17th sectors on aircraft)
Date of First Flight:
07.03.1991
Seat:
2A
Block Departure Time From PLH:
09:00
Actual Take off Time:
09:47
Block Arrival Time at NQY:
09:20
Actual Touchdown Time:
09:59
Distance Flown:
39 miles
Flying Time:
12 minutes
Newquay is a very short hop from Plymouth; some days with a good tailwind it takes you less than ten minutes, although today's flight was expected to be slightly longer at twelve. The light load made for an incredibly quick take off, with a roll of around 500 meters before the nose pulled up and away into the air, climbing towards the 'cruise' height of 3000ft down to Newquay – there's simply no point going any higher on a 39 mile flight, no sooner are you up, then you're coming back down again!
Newquay's vast expanse of runway welcomed the plane with a soft landing, signaling the first time I'd used the airport under it's new code; you may have read about the 'miscalculations' the local council and management made in regards to the handover of NQY/EGDG St Mawgan from the RAF to Cornwall County Council as NQY/EGHQ Newquay Airport, which resulted in the airport being without an operating license and thus closed for half of December! Nevertheless, the ground crews weren't out of practice, with the stop lasting an impressive 16 minutes from touchdown to take off, during which time a further 14 passengers joined the flight to France.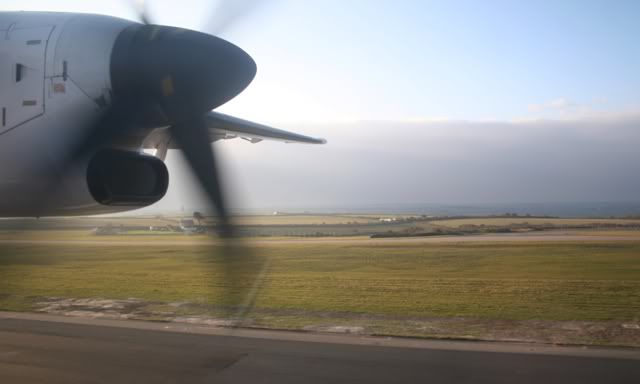 Block Departure Time From NQY:
09:40
Actual Take off Time:
10:15
Block Arrival Time at GNB:
13:10
Actual Touchdown Time:
13:26
Distance Flown:
594 miles
Flying Time:
2 hours 11 minutes
Total Distance Flown:
633 miles
Total Flying Time:
2 hours 23 minutes
Total Journey Time:
2 hours 39 minutes (Time including the stop in NQY)
Fare:
£35 (+£5 credit card booking fee)
For the second time now, the Dash clattered its way down the runway and up into the sky, aiming for a cruise altitude this time of 14,000 feet and a flying time of just over two hours, thanks to a good tailwind. The beautiful Cornish scenery slipped slowly past far below, as did a company Dash 8 heading in the opposite direction on the LGW circuit, thousands of feet beneath us as we traced an identical flight path back towards Plymouth, where I just managed to glimpse my village before the rest of Devon became obscured by cloud.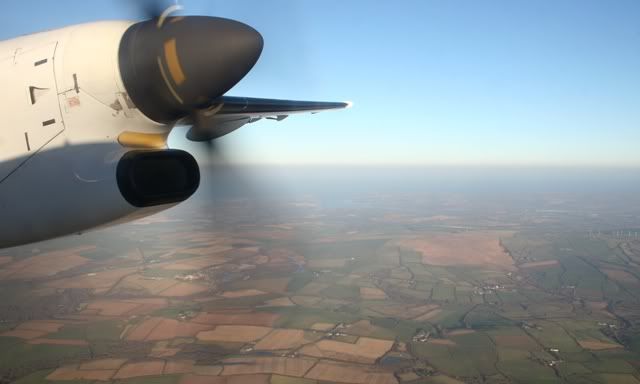 I love the Dash 8 family of aircraft – they're a tough breed but, as the flight passed into its second hour, the monotony and vibration ridden drone coming from the engines began to grate on me slightly, no wonder, as all of Air Southwest's equipment is of non Q technology heritage. G-WOWE might be the newest addition to the fleet, but it's in fact the oldest of the five Dashes in service, being the 256th example off the production line, it was delivered to the original Brymon Airways in March of 1991 as a replacement for the slow flying Dash 7 which would cause great fun as it trundled into LHR. No doubt it has spent most of its life since flying to and from the South West, passing on to the re-branded Brymon European Airways and then British Airways CityExpress, it's only compulsory time away from the region came after BA had pulled out and before Air Southwest brought it home again, so to speak.
At about that point though Paris appeared below to present a welcome distraction, spread out like a picnic rug, whilst in the sky an Air France B747-400 cruised rapidly past in the opposite direction – oh how I wish I hadn't got my wide angle lens on at the time; it can't have been more than a couple of miles away! The flight path gave a good overview of Paris Orly airport, and the much smaller Bretigny-sur-Orge airfield.
A slow right hand bank pointed us directly South, where in the distance the Alps gradually came into view. If you had told me a few years ago that I'd be sat in an Air Southwest Dash 8 looking out at the Alps, then I'd probably have told you that you'd gone potty, it certainly did feel quite odd – although Devon does own two mountains, they're not quite the same as looking out at an Alp! With the flight now breaking into its third hour, ten minutes to landing was announced, skipping across the cloud bank, before plunging through to a cold looking France beneath.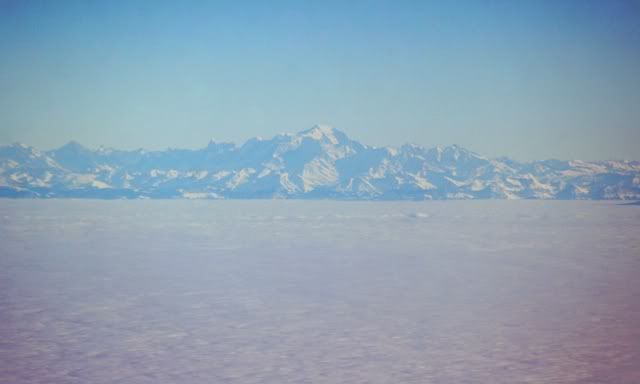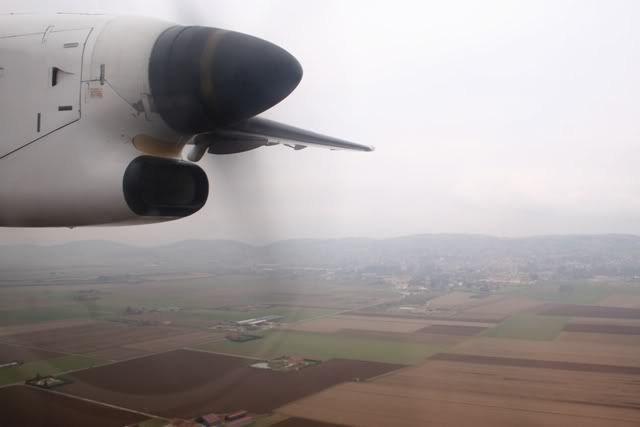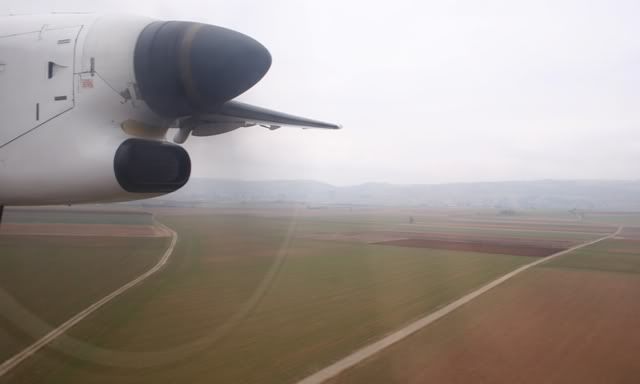 The landing was again top notch; a nice gentle touchdown on runway 09, rolling out along its 3050m length, where reverse thrust definitely wasn't needed! An impressive line-up of aircraft were already present on the ground at Grenoble; including several 737s from SAS, an Aurigny ATR from Jersey, a FlyBe DHC4, a Thomas Cook B752 and B753, plus the inevitable handful of Ryanair B738s.
LN-TUM, SAS B737-700:
LN-RRW, SAS B737-800: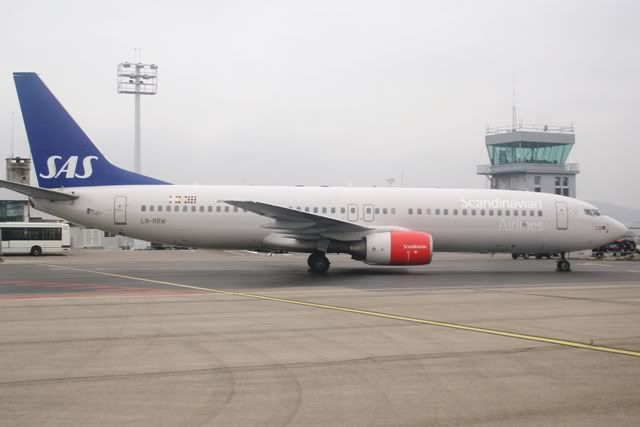 G-BWDA, Aurigny Air Services ATR72-200: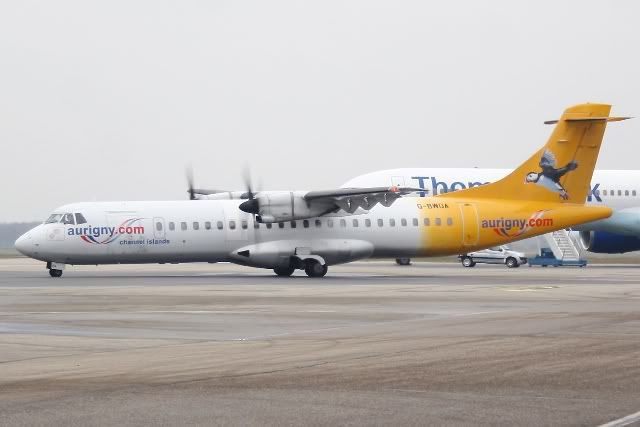 Although our stand wasn't located on the main apron, it didn't take long to reach and a bus was promptly waiting to drive us back to the terminal.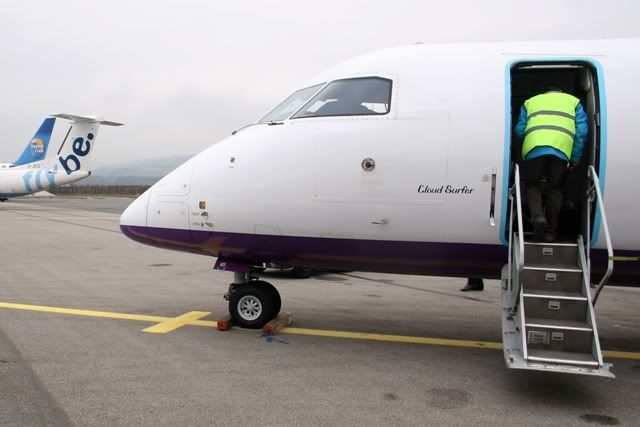 Border control formalities took barely a few seconds, and I was free to go and explore France for a few hours! Annoyingly it was -2 and I'd left my hat and gloves at my girlfriend's house, but nevertheless I decided to venture outside to photograph the various ski charters and other traffic, starting off with the returning Air Southwest flight.
M-GPIK. Private Dassault Falcon 50EX: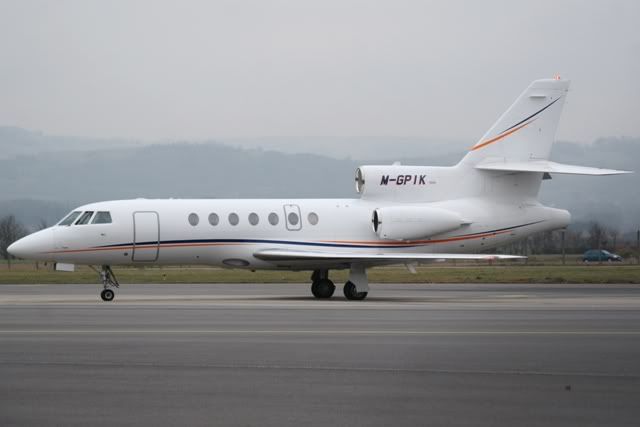 G-TCBA, Thomas Cook Airlines B757-200: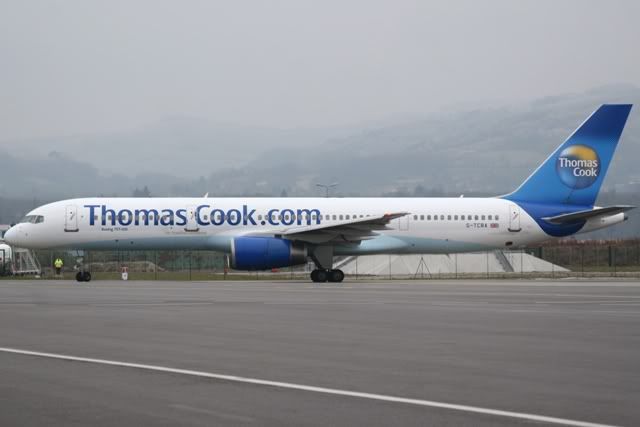 EI-DWW, Ryanair B737-800:
PH-XRX, Transavia Airlines B737-700:
G-MONR, Monarch Airlines A300B4-605R:
EI-DCX, Ryanair B737-800:
EI-DCK, Ryanair B737-800:
The fading light and cold wind eventually pushed me back into the terminal for another baguette, I'd gotten a good few hours shooting in with fairly good results considering the gloomy weather – I was especially pleased to have gotten a few decent pictures of the Monarch A300. Then I happened to notice a flight arriving some six hours late from Moscow Vnukovo, operated by an airline whose code I'd never seen before. Curiosity got the better of me, so off I trudged in the dark, back around the perimeter fence, but boy was it worth it for this beauty – one of the nicest liveries I've ever seen on a Russian aircraft, reminding me slightly of Kingfisher:
RA-64047, Red Wings Tu204-100B:
A Challenger was also lit up and about to depart, so I took the opportunity whilst I was outside to grab a quick picture:
TS-IAM, Private Challenger 604:
I figured it was about time to head into the departures lounge, taking a few rather hasty pictures of the terminal as I went. My
'Check-N-Go'
boarding pass was manually checked before customs and security, then matched up with a regular boarding pass for which it was exchanged - as Grenoble is not a permanent Ryanair base, I presume that they don't have the equipment necessary to scan the self printed ones.
Both land and airside the terminal was packed out – anything which looked like a seat had been sat on, and anything stable enough was used as a prop for someone to lean against – people were literally tripping over each other just to walk around. It can be expected though, for an airport which is only really used during three months of the year you can't expect the facilities to be vast, although my only strong criticism would be the woefully insufficient number of toilets, especially in the departure lounge where I could only count four cubicles between men and women!
When debating my return options I'd failed to find anything interesting to fly on, but I really don't think that I had looked hard enough. There were two Orion Air aircraft which I could have flown back to the UK on; a BAe146 or B757, a JetTime B733 I could have taken to Copenhagen or… and this is where I really kicked myself… an Air Greenland B757! I really wish I'd looked at the flights back to the Norse countries as I could have made a much more interesting trip, but I've noted it all down for next year. Boarding for the Ryanair flight which I ended up booking myself on instead was called at just gone 9pm, somehow I managed to find myself at the front of the surge forwards towards Gate 1!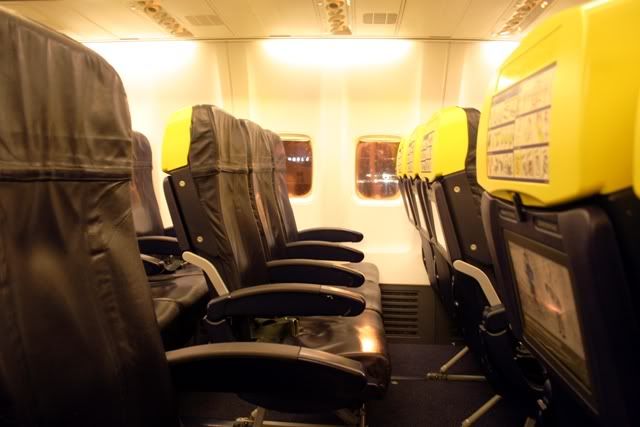 GNB-BRS
Grenoble Isère to Bristol
Carrier:
Ryanair
(14th sector on airline)
Flight:
FR 8215
Aircraft:
Boeing B737-8AS
(18th sector on aircraft type)
Registration:
EI-DCE
(1st sector on aircraft)
Date of First Flight:
11.03.2004
Seat:
Free seating (9F taken)
Block Departure Time:
21:50
Actual Take off Time:
22:40
Block Arrival Time:
23:10
Actual Touchdown Time:
23:05
Distance Flown:
556 miles
Total Flying Time:
1 hour 25 minutes
Fare:
€46
Despite the early boarding call the aircraft was still sat on its stand for no apparent come 10pm, by which time I'd had enough of keeping my eyes open and fell asleep. I was awoken by an angry, gravelly roar, along with the unnerving sensation of being thrown backwards - for a brief moment I was quite confused about where I was and what was happening; the last thing I'd noted before dropping off was that the aircraft still hadn't been de-iced, yet suddenly it was taking off! That though is my only memory of the flight, and the next thing I knew we'd arrive on stand at BRS – my idea of a quick flight, although I don't normally sleep at all on aircraft.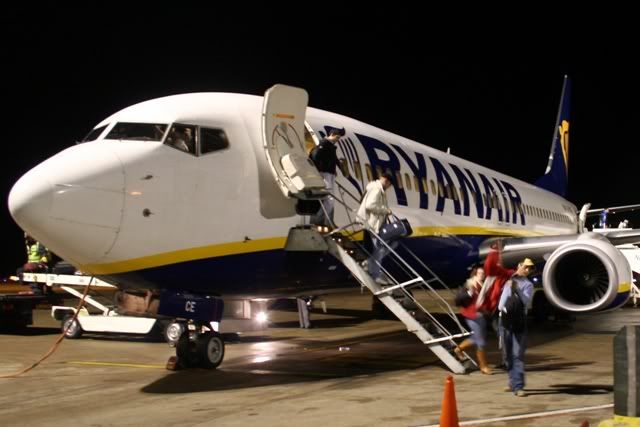 Sadly, this wasn't the end of my journey – I still had to get back to Plymouth. There was a coach running at 2am, but by waiting overnight in the terminal and taking the train the following morning instead I'd save myself £20, well worth it I figured! So, I grabbed some chocolate and a veggie deli from the 24 hour Subway and started to type this report out on my laptop. 12 hours later I eventually got home, thanks to a considerable delay on the train!
In conclusion, it was nice to fly on a different route from PLH, I've gotten very fed up of always flying the PLH-BRS sector dozens of times, but I can't see the flight I took having been profitable for WOW with the cabin not even half full. The return flight was almost sold out though, which is much more promising, so I hope that overall the yields are good and they stick with it and repeat the service next year. Most importantly though, they've proven to the general public that they
can
operate flights to the continent out of PLH and NQY; an important ice-breaker and hopefully the key to further routes being developed abroad.
Thanks for taking the time to read my report, hopefully you've enjoyed this little commentary on one of the more unusual ski flights operating this season – the flights are running until the 28th of March, so you've still got a couple of months if you want to try a 'long haul' flight on the Dash 8-300 for yourself!
All the best,
Dan