Don't always get what you wish for; you might get nothing at all. Just remember, in every light a little rain must fall. There ain't no time like the present; there's lots of fish in the sea. You've got to climb every mountain; you got to work to succeed. Just keep your nose to the grindstone; just keep your hands on the wheel. You got to live for the moment, cuz right now's the only thing that's real…(Simone Denny – Cliché)
This is the perfect time to stop in your tracks for a brief moment and reflect on the previous year that just ended. For me, it was filled with activity, both good and bad. From a promotion at work, to having the chance to fly at my heart's desire, especially the A380, I was surely experiencing the high life of things. I was also lucky enough to meet several of a.net's greatest members, and befriend many more all over the world, so what more can one ask for really. On the negative side though, there also were some hiccups along the way that I deemed myself to blame for. But, such things are far beyond the scope of this website, and it's best to just focus on the positive side in order to move forward; at least for me.
Who knows what 2009 will bring, so all I can do is be grateful for what I learned and experienced in the previous year. Not all times are good and most certainly not our current. A recession is in full force now, and the silence is simply deafening. At least I still have my job, and hope that all of us here will still remain so. After all, we need to keep flying!
I wish everyone a Happy New Year, and hope that 2009 will be a great one for all!
Welcome to my 12th Trip Report,
This TR will cover the following flight on Cathay Pacific in First Class:


- DXB-BOM-BKK-HKG: B747-400

My previous Trip Reports can be found here:
Inspirations On A Narrowbody: Etihad To Amman
(by
Ronerone
Nov 28 2008 in Trip Reports)
Malaysia Boleh!: On The Malaysian Airline System
(by
Ronerone
Oct 28 2008 in Trip Reports)
Pearls & Diamonds: Inspired By Etihad Airways
(by
Ronerone
Sep 12 2008 in Trip Reports)
The Future Has Arrived: EK A380 Inaugural Flights
(by
Ronerone
Aug 4 2008 in Trip Reports)
Syrian Special Performance, Featuring Sam Chui
(by
Ronerone
May 23 2008 in Trip Reports)
This Is Royal Jordanian!
(by
Ronerone
Apr 12 2008 in Trip Reports)
Ultra-Competitive, Ultra-Long Haul: EY Vs EK
(by
Ronerone
Mar 21 2008 in Trip Reports)
Suvarnabhumi, The Etihad Way!
(by
Ronerone
Jan 18 2008 in Trip Reports)
Cathay Delight: A Trip To Asia's World City
(by
Ronerone
Oct 5 2007 in Trip Reports)
Etihad: Pearl 2 AMM, Coral Right Back Pt 2 PixVidz
(by
Ronerone
Jul 5 2007 in Trip Reports)
Etihad: Pearl 2 AMM, Coral Right Back Pt 1 PixVids
(by
Ronerone
Jul 4 2007 in Trip Reports)
CX: JFK-HKG-DXB In Y A346/772 (Lots Of Pics/Vids)
(by
Ronerone
Aug 28 2006 in Trip Reports)
This is the first TR of a series of three, on my trips to Hong Kong and Bangkok. Christmas time was approaching, and I decided to take a long break from work. The plan was to spend Christmas with my family here in the UAE, and then head out right after. Since 90% of my satisfaction is actually gained from the flights I take to and from the destination, Hong Kong was selected so that I could visit a friend and for taking the two-stop CX milk-run to get there. So in terms of flight researching, not much effort was required; it was obvious.
For a long time, the 773 was used to operate the milk-run. Only recently when Cathay gained additional rights to India, they immediately exercised all their capacity and introduced their new product 747's to India, Thailand, and also the UAE. A good friend of mine had always raved about Cathay's senior crew and in-flight service in First Class, so this was the perfect opportunity to give it a try; and so I did.
The milk-run, CX750/1, has been operating out of Dubai since 1977. It was in fact the airline's first commercial flight into the UAE, and until this day continues to fly from DXB to HKG, via both BOM and BKK. Several years back, this flight was also Cathay's most profitable route, and had remained one of the airline's top 10 most profitable routes for many more years after. How is it that such an unconventional two-stop flight to Hong Kong is a money maker today? Well it's all about pure O&D between each of the two segment pairs. For example, CX experienced an average load factor of 90+% on this flight in 2007 between DXB and BOM only. Furthermore, only up to a maximum of 20 or so seats on this flight are allocated to selling HKG out of DXB, and even those, are primarily used for any spillage that occurs from the airline's other flights at this station. Out of BOM, the one stop via BKK seemed to be attractive for the specific market the airline has attracted, as it either offers Bangkok as a stopover getaway for passengers traveling on their way to Hong Kong, or as a connecting point for those passengers carrying on to Singapore. Overall this flight is simply a jambalaya of routes, markets, traffic, competition strategies, and so on and so forth, all under one flight number.
Thursday December 25th 2008
At 1:40am I logged on to CX's website to check-in online. The overall process was hassle-free and I managed to select my seat and print my boarding pass in only a few minutes.
Later during this day, I received a call from Cathay Pacific's Dubai office at 7:30pm, enquiring about my departure to Hong Kong in a few hours.
"I noticed that you have checked in for flight 750 to Hong Kong in First Class"
"I would like to inform you that flight 738 is a nonstop flight that departs at 1am to Hong Kong, but arrives earlier than your flight, and I would be more than happy to change your booking to that flight"
"No that's fine, I would like to remain on 750 please"
"Sir, are you aware that your flight stops in Mumbai and Bangkok?"
"Yes I am, and that is fine with me, thanks"
At around 8pm I bid my farewells to my family and caught a taxi to the airport. A quick 15 minute drive, and I was dropped off at the airport curbside, right next to Departures Area C, where CX's check-in counters are located. I decided to have a quick smoke before entering the building.
Departures Area C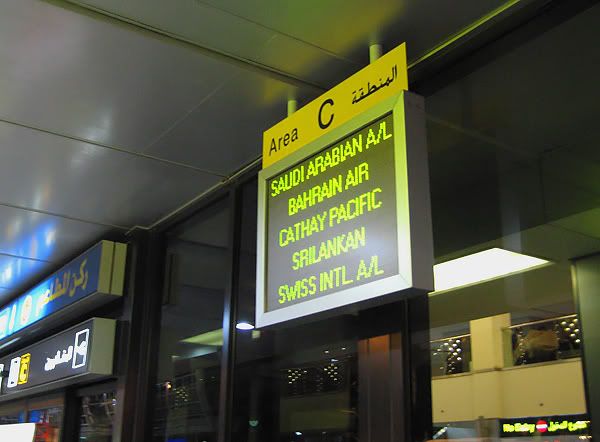 Crowded Curbside at DXB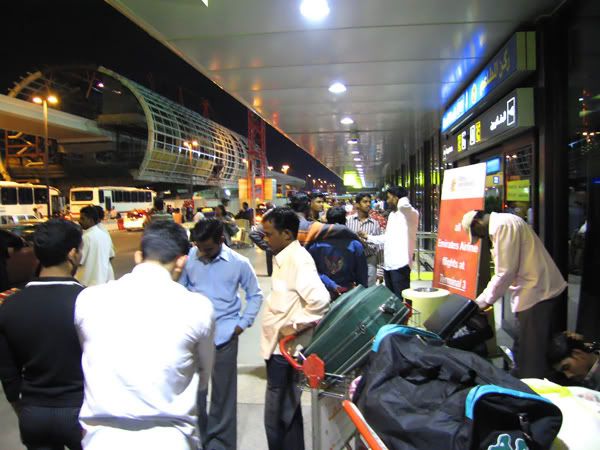 At 8:25pm I proceeded inside the terminal building through security and arrived at the Cathay Pacific check-in desks.
Cathay's Check-In Desks At DXB
I approached the check-in agent and handed her my documents. After briefly typing away at the computer, she suddenly frowned at the monitor with total confusion. She then quickly picked up the phone to call someone, presumably at the CX office.
"I have Mr. Hawi here, and there is a message on the system saying he was offered but refused to travel on 738 and wants to remain on 750"
After she was done speaking on the phone, I informed her that I wanted to try the new First Class Suite, even though it was a two-stop flight.
"Ah alright then, because no one travels to Hong Kong on this flight sir, that's why"
By 8:40pm I was handed back my ticket and passport, and was given my boarding pass and lounge invitation. The agent wished me a pleasant flight, and I was then on my way to immigration and security, which weren't a problem at all.
New Logo-Less Boarding Pass
Lounge Invitation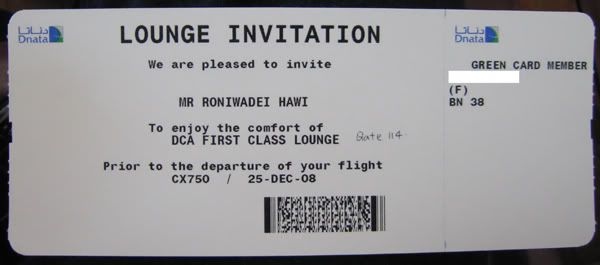 After security, I proceeded down the series of moving walkways, and by 9pm I had arrived at the Duty Free area of Terminal 1. It was then when I realized how much less congested the terminal was after the opening of T3. It was actually quite enjoyable now to travel through DXB. While there still were some passengers sleeping on the floors in some areas, the overall experience is much more pleasant now.
The Never-Ending Walk To Terminal 1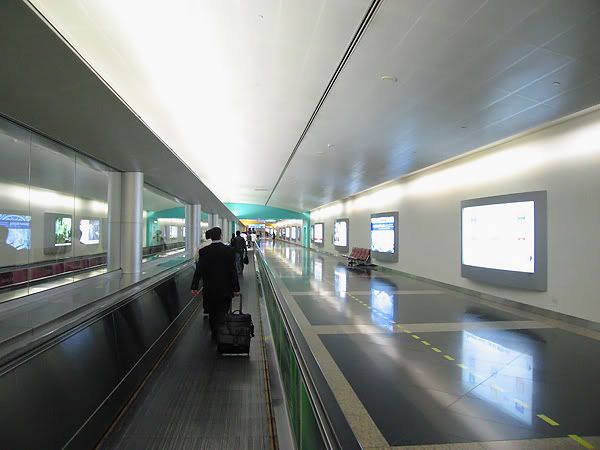 Traces of United Airlines at DXB
CONTINUED BELOW