Feedback always appreciated.
Trip Report: 065
Flight Category: J-ILR (See Report End)
Date: 17 Jan-09 (See Report End)
SDT/SAT/Dur/Delay: 1530/1130+1/12:30 hrs (Delayed 00:40)
Flight:
ConViasa V0 3006
, 6,584 miles
Routing: CCS-DAM
Aircraft: 342
Seat: Business "Clase Ejecutiva", 1L
I > Background:
While I live in Caracas, I had never written a report from here because most of the flights were covered well by fellow Venezuelan A.Netters, and because many of my ex-CCS flights are either to the U.S. (JFK) or to Germany (FRA). Moreover, I kind of "saved myself" to write a memorable report on a memorable journey. I had always wanted to take the flight to Damascus and then onwards to Teheran. An opportunity presented itself that was too hard to resist and provided the perfect backdrop to my first report ex-Venezuela, and one which I think is truly unique. Fellow Venezuelan A.Netter "Avianca" and I tried to coordinate this trip together … but my last minute planning probably drove Andreas mad
… don't worry, we will cover TK's GRU-DKR-IST together?
I had plans to go to Cairo for a last minute engagement and could fly the usual LH route or via Damascus onwards to Cairo on Egypt Air. Given the prices, it was a no-brainer … it appealed to me to finally do the routing and to my bank balance as well. The LH fare was almost double!
This is the first trip report on CCS-DAM, on ConViasa's international venture, and in J class of this insane routing.
II > Pre-Flight:
a) Before Airport:
ConViasa is the state-owned airline based in Caracas. It operates services to mostly domestic destinations and flies a lone 342 on a "friendship route" to THR via DAM. Good contacts of mine in the industry tell me that it plans to use their 737 aircraft to link CCS with PTY, BOG, and possibly MAO.
Now before I delve into this report, let me be emphatic in saying that the CCS-DAM-THR route makes as much commercial sense as any other route flown due to political and geo-strategic considerations. Thus, it would be positive to have this report and ensuring commentary focus on true aviation joy than on geo-political merits. Besides in today's world where half the countries have nationalized companies, all lines are blurred anyways
.
After trying to ticket on various Venezuelan websites (Rumbo and Despegar), I decided it was better to call ConViasa and make a reservation and then pick up the ticket at the airport. This actually worked out very well as I was able to go to the airport and just pick the ticket up. Of course, this meant that things were going to happen the old fashioned way – no advanced seat selection and no website where you could edit/book/modify reservations and/or make seat selections. Interestingly though, ConViasa does have a rather sharp looking website:
www.conviasa.aero
where you can make bookings for domestic operations.
b) At Airport:
I arrived at Maiquetia early to give plenty of time to buy the ticket, check-in, and pay the annoying Latin departure tax. Since I spend more time at CCS than at my own apartment, I was also hoping to have a café with a good friend (pretty high-up) on the hopes of getting a tour of the 342 prior to departure. More on that later.
Upon arrival at CCS, I made my way to the ConViasa counter at the far right hand of the terminal. For those familiar with the layout, the counters are right next to the LH one and were already starting to get busy due to the throngs of crowds lining up for the CO and AZ departures. Already 4 hours from departure, the line had formed for check-in. There was a separate queue for J class passengers and soon I queued in to pay for my ticket. I was greeted by a friendly ConViasa employee who was amused at my last minute J purchase. While the ticket was booked as an "e-ticket", he proceeded to write me a hand-written paper ticket! The ticket stock was in beautiful orange and immediately transported me to the glamorous days of air travel. It did not stop there. Lining up at the ConViasa counter I imagined what it must have felt in the early days of aviation as a select few got together to board on a remarkable voyage. After my ticket was issued, I was checked in by the same Venezuelan man who issued me a boarding pass and was surprised that I did not have any bags to check. He said that "it had never happened before!" Looking around, the faces and nationalities were not the usual mix I was used to. Today's flight was going to have an incredible 24 passengers. An entire 342 with 24 passengers – 3 of us in J and 21 in Y. Interestingly, 15 of the 21 and 2 of the 3 would get off in DAM. Apparently, there are more connection possibilities and O&D demand to DAM than THR (or, "IKA" as the staff call it.) Apparently, a "popular option" is to fly to DAM and then drive to BEY. Another interesting point was that there were several connecting passengers including many from BOG and at least 1 Iranian gentleman arriving on TACA from GUA. Around me, the other J class pax included a Venezuelan passport holder and an Indian passport holder; Y was primarily Syrian, Iranian, a Malay, a man from Brunei (!), 3 Colombians and an assortment of Venezuelans. Its not everyday that a flight from Latin America to Middle East can claim such exotic cargo … oh, and don't forget this Liechtenstein passport holder who exited CCS on his VZ passport and entered Egypt on the other. At the check-in counter, the Venezuelan staff was stalked by the rather nasty Iran Air airport manager. Within the aviation circle in Venezuelan, this man was known to be a bitter nasty hateful man with more contempt for woman than the Taliban at its peak. One chat with him during the check-in process confirmed why he came with such ill-repute.
After check-in and then paying the airport tax (ok, am I the only one who fumbles with that annoying tax scanning automatic door entry mechanism), I proceeded for a rather efficient security. Just prior to doing immigration, my friend (pretty-high up man) appeared. Pretty much on time as I could not have gone anywhere with him had I cleared immigration. He invited me for a quick café and then my nagging won him over and he took me to the ConViasa hanger to see the beautiful 342 bird. Unfortunately, as luck would have it, they had taken this mythical 342 out of the hangar … so I ended up sitting in his jeep, having a café, and looking at the V0 hangar and the ATR aircraft right outside it. After thanking him profusely, I made it back to the airport, re-did security and immigration and then went to explore CCS.
As I said, this was no normal J class experience. This was reinforced by the fact that V0 gives NO lounge access to its J class pax; something unique especially given how long the upcoming flight was going to be. I will come back to these unique features several times in the report. Given the small passenger load, boarding was not really announced … and after a 40 minute delay (apparently, flight had not been cleared), the guy at the check-in basically started asking for boarding passes signaling that boarding had commenced. Inside the jet bridge, there was another security check before boarding the 342. As soon as I boarded, I was welcomed warmly by 2 FA's. I was escorted to my seat and the crew member helped me put my bag in the overhead rack. Looking around, my nostalgic journey to the "old days of aviation" continued looking at the pre-historic seats of this ex-Air Comet aircraft.
Immediately after sitting down and looking around, the purser came by, greeted me by name, and introduced himself. In a first in all my travels, he also introduced the 2 other crew members who would be "looking after me" for the flight. I thought it was a very nice gesture. The female FA immediately brought me a wet towel to relax and asked what I wanted to drink. Seeing the open bottle of Moët et Chandon, I immediately asked for a Mimosa, and she smiled and got me one. Even prior to take-off, she would come by several times to refill. I remain convinced she wanted to get me drunk
.
Boarding completed with a manual safety announcement, I amused myself at how different this flight was. First off, the security card had both Iran Air and ConViasa – ensuring it becomes the first security card I "lift"; probably the first J class ultra-long haul experience where you get no amenity kit (though, I should not complain as even SQ gives a stingy pouch these days) and definitely the only ultra-long haul airline in recent memory with no in-flight magazine. But then again, why create branded products when you are flying a route strictly for geo-political importance?
Load as announced was 24 passengers.
Airport - External:
(Caracas Airport)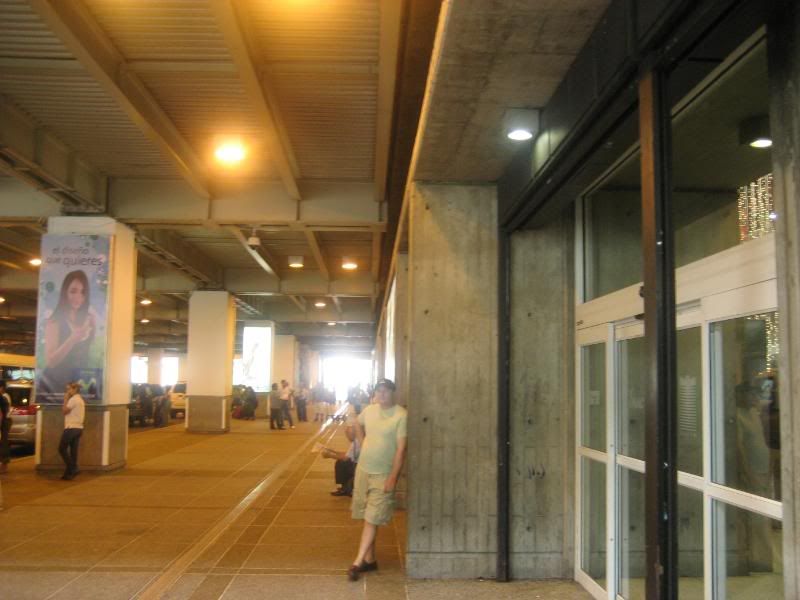 Check-in: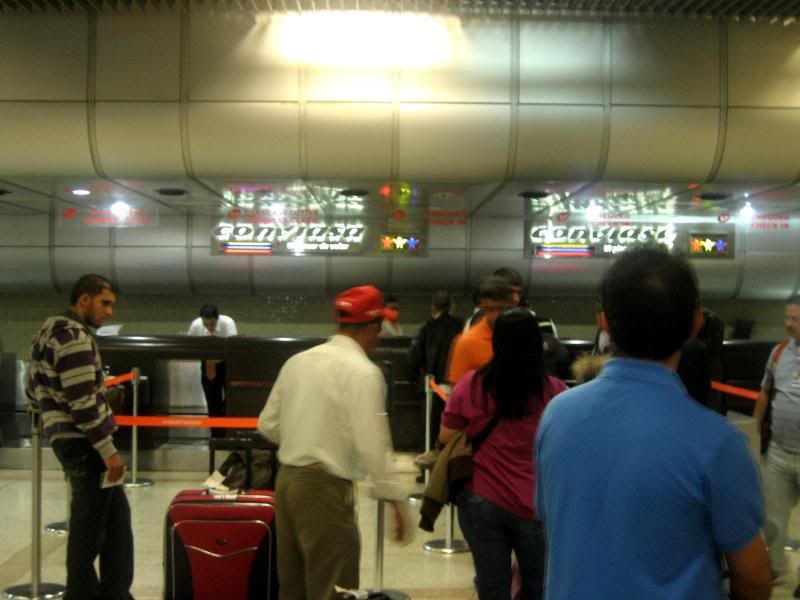 Airport - Internal:
(Internal)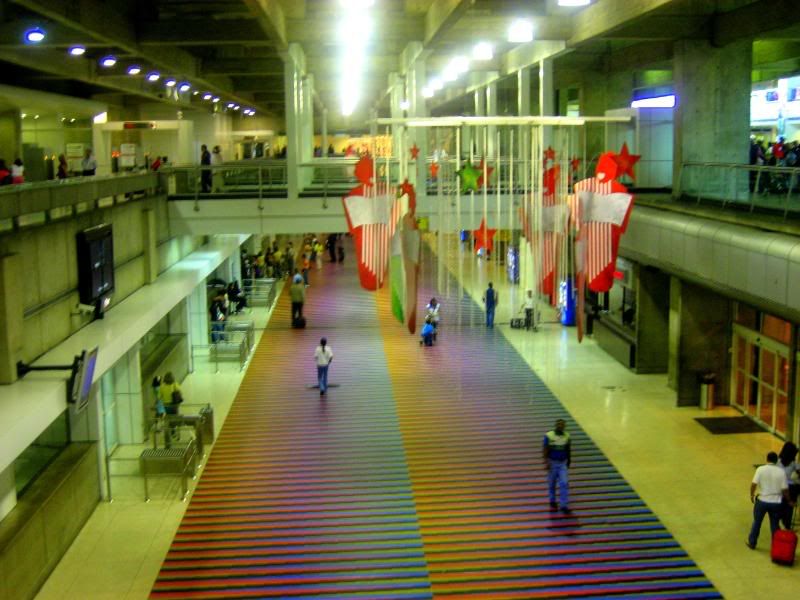 (FIDS)
(Post Security)
Scenes of the tarmac:
(ConViasa hangar area)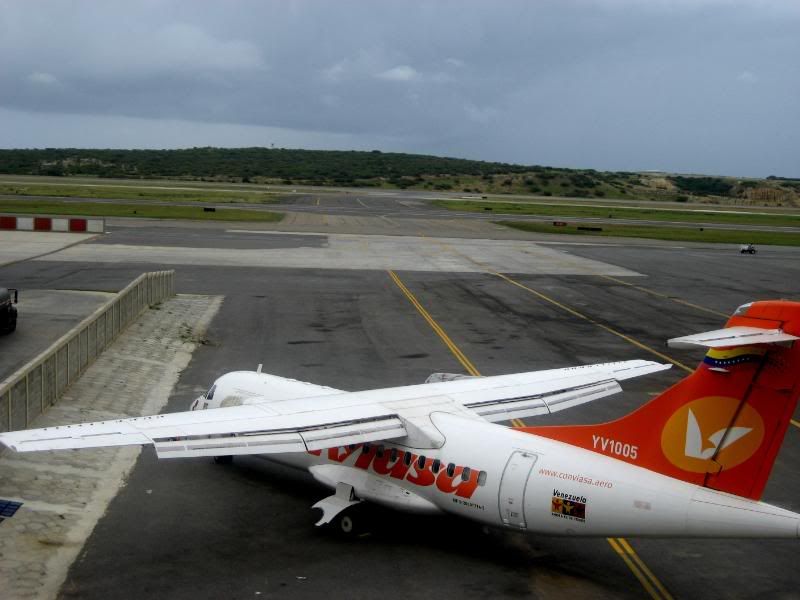 (TACA)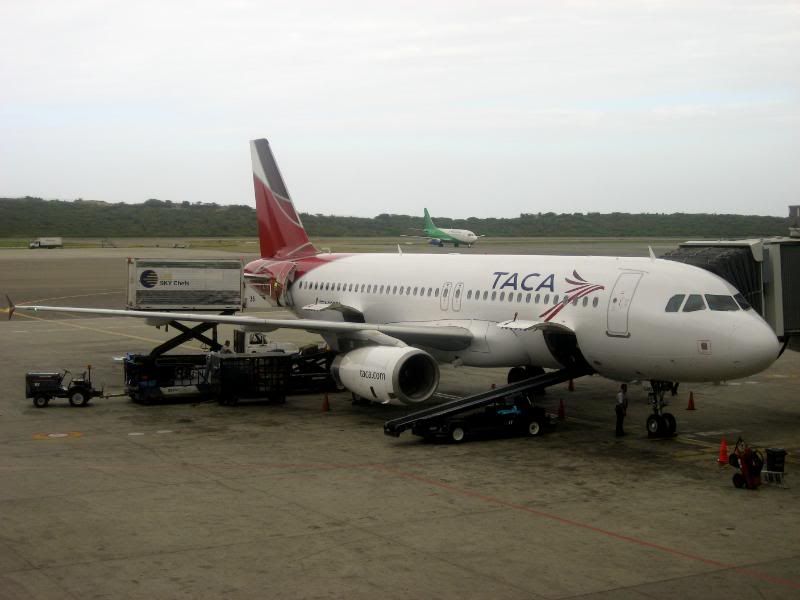 Lounge
NONE
Boarding:
(Assorted and diverse passenger mix)
III> In-Flight:
a) Service Schedule + Impressions:
ConViasa's take off roll for this 342 operation took forever. You can look at the video to ascertain yourself. This happened with 24 pax onboard. Can you imagine this bird taking off with a full or maximum payload on such a long flight?
ConViasa's service schedule was actually impressive. Start off with towel service, and pre-departure drinks (lots of it), after take off more drinks and a full supper service. 90 minutes prior to landing, a breakfast service after a warm towel service.
Several fascinating aspect of the actual flight must be addressed:
1/ Routing: Fascinating as it did not overfly any of Africa. Instead, it crossed the North Atlantic to directly take the Mediterranean onwards to Syria (see moving map). This meant the aircraft was largely over water and provided some fascinating views out of the window during the flight.
2/ Passengers: Most of the passengers were either playing cards amongst themselves, watching the movies, or just sleeping.
3/ Atmosphere: The atmosphere on board was surreal. Seriously, I wish I could describe it. It was probably the most diverse flight I had taken. I made it a point to get acquainted with several people including an Indian consultant (apparently, the cheapest BOM-GRU ticket is on IR stock), the Malay who was working in Caracas, some shady characters, the Venezuelan oil businessmen headed to Teheran, the Colombian with mixed Lebanese heritage who goes to college in the U.S. Just overall fascinating. Each of us connected by this random flight linking two totally random places.
b) Aircraft + Seats:
ConViasa's 342 (ex-Air Europa) looked very smart in its orange livery. I actually think it is one of the best looking 340's out there, and the entire orange branding actually very visually appealing. Inside the cabin it is another matter altogether. The airline has retained the tired Air Europa interiors and have not bothered to do any major work on them. This results in many of the seats having minor scratches, bents, and tears and definitely showing their age and lack of being taken care of.
While legroom is generous, these old styled seats have lived their useful purpose and I would never venture to repeat this flight unless I had to. I understand many airlines still have these J seats, but that does not make them acceptable. A lie-flat is the minimum I expect from any airline wanting to fly intercontinental routes.
Given that I was a pampered brat not used to these seats to sleep, I actually went to the Y cabin, took the middle 4 seats, and slept like a baby! With 21 pax in Y, every passenger pretty much had their own set of 4 seats with plenty to spare!
One thing … the bathrooms were kept spotless during the whole flight. Then again, it must be easy catering to only 24 of us.
Aircraft:
(@ CCS)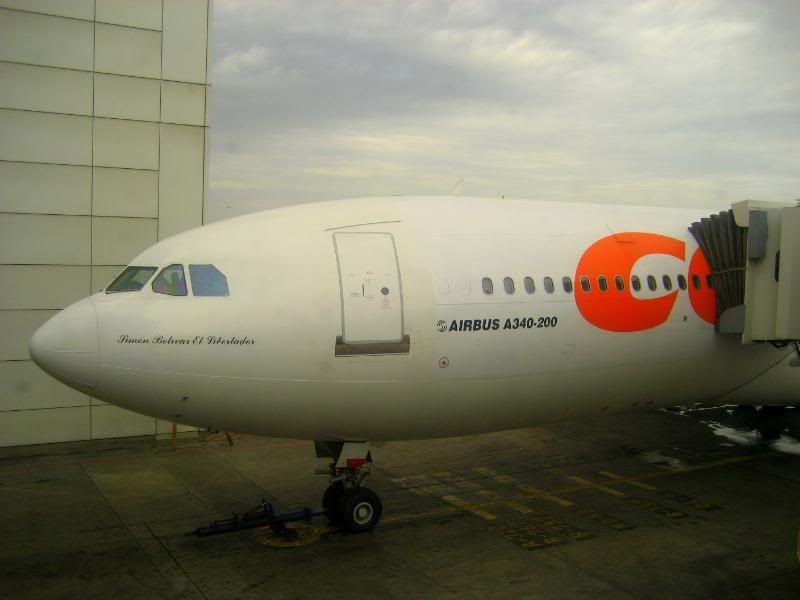 (Upon arrival @ DAM, I snuck in a few pictures despite being warned by the Lebanese and Syrians)
(I love this shot)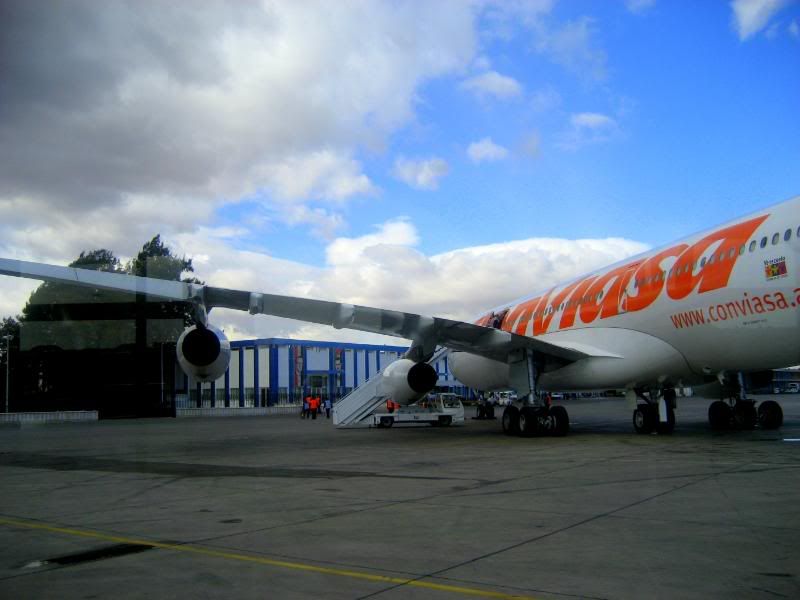 Views from Aircraft:
(Busy CCS during the afternoon rush hour)
(Thought it was interesting to see this new livery RG along with the preceding picture where you have the old RG logo with GOL written on it – says a lot about how the merger worked)
(See how much of the runway used – and hear the awesome noise of the engine)
(Views during the many stages of flight with the beautiful hair-dryers working their thing)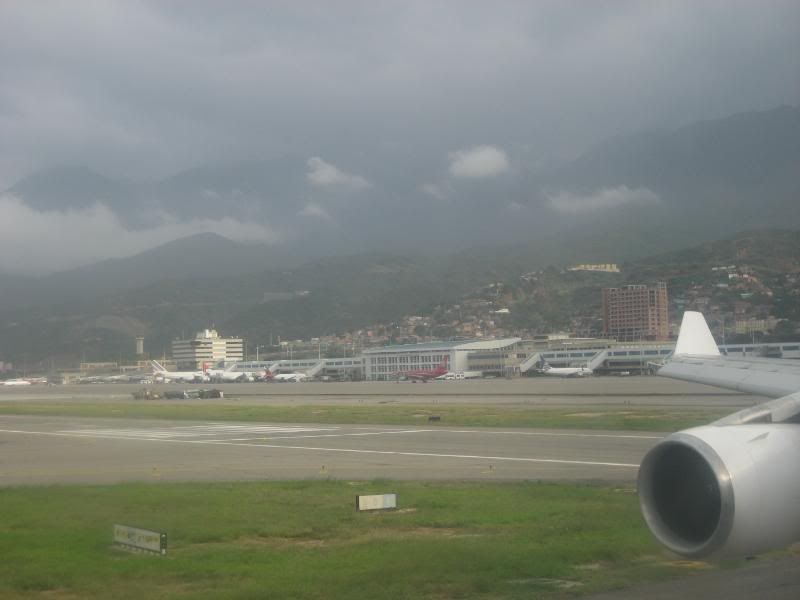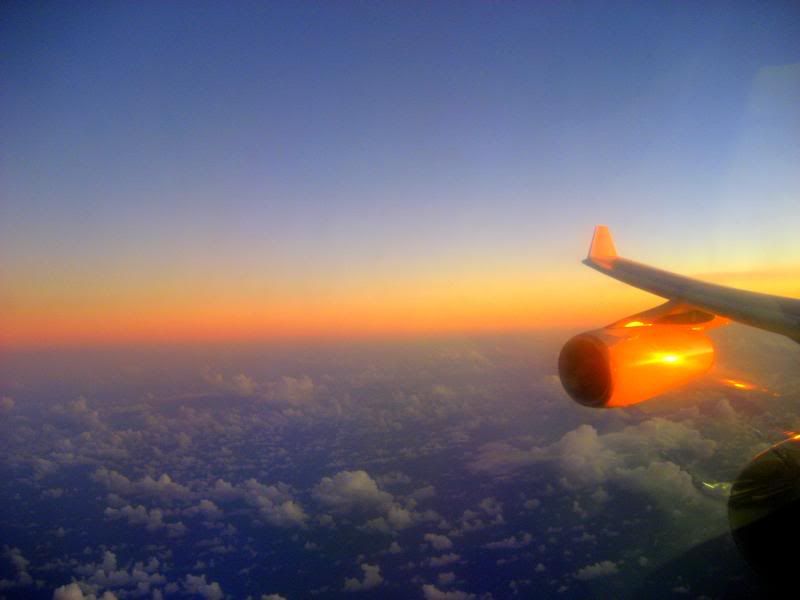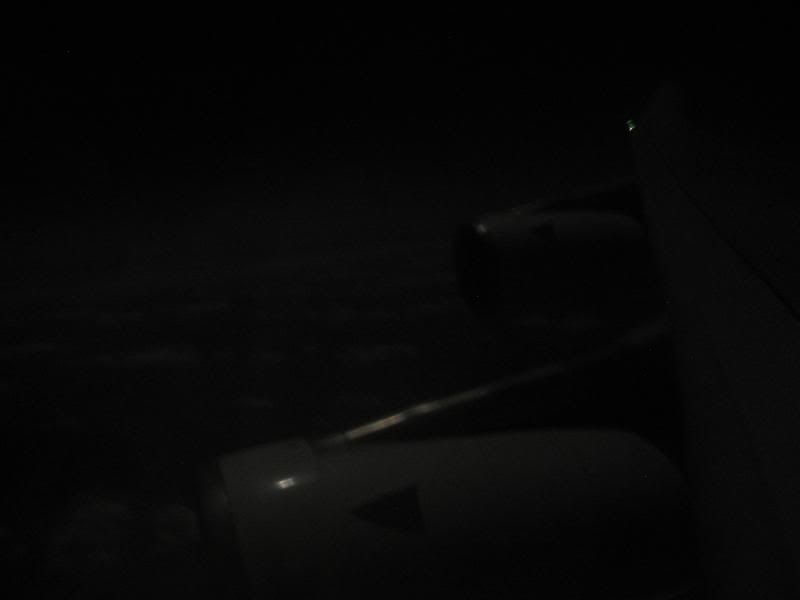 (Crazy turbulence prevalent throughout the flight)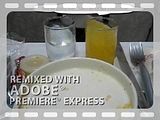 General Seat Views + Seat Legroom
(J Class Controls)
(Empty Y Cabin)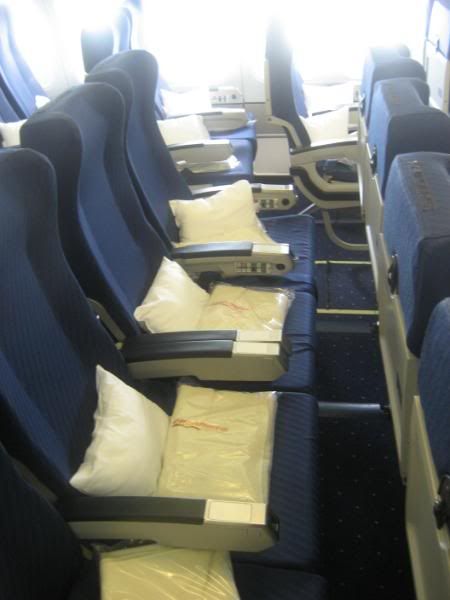 (Seat legroom)
Seat Recline + Angle View:
(Jaja … I had the best access to the bar in the house … locked and put away during take-off and landing)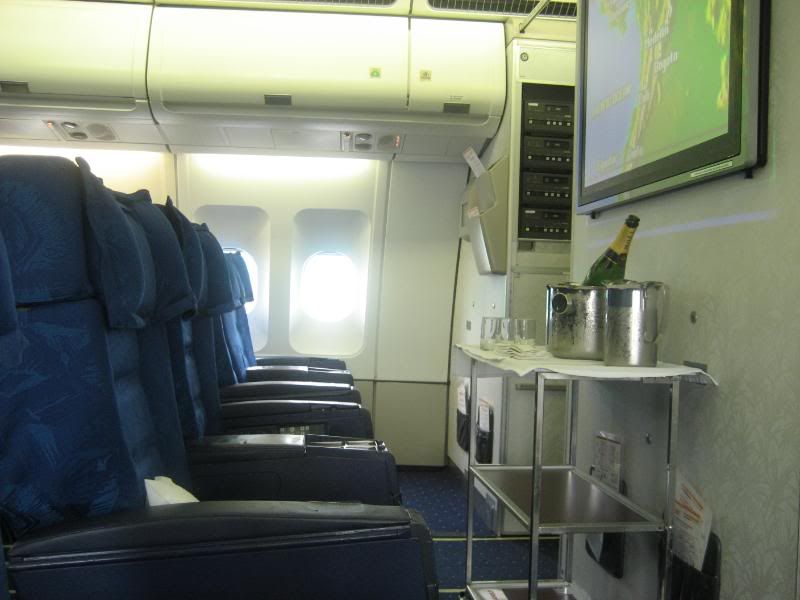 Cabin:
(J Cabin)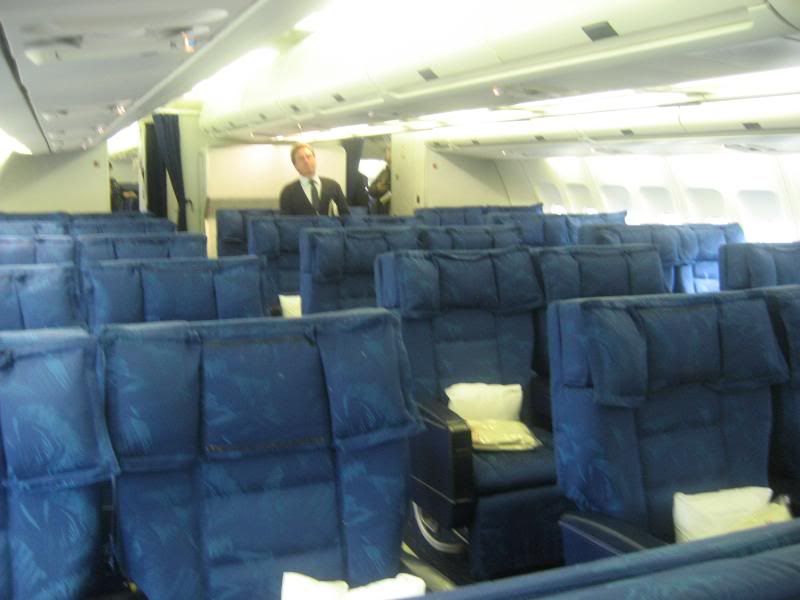 (Eerily empty Y Cabin – front section)
(Back section)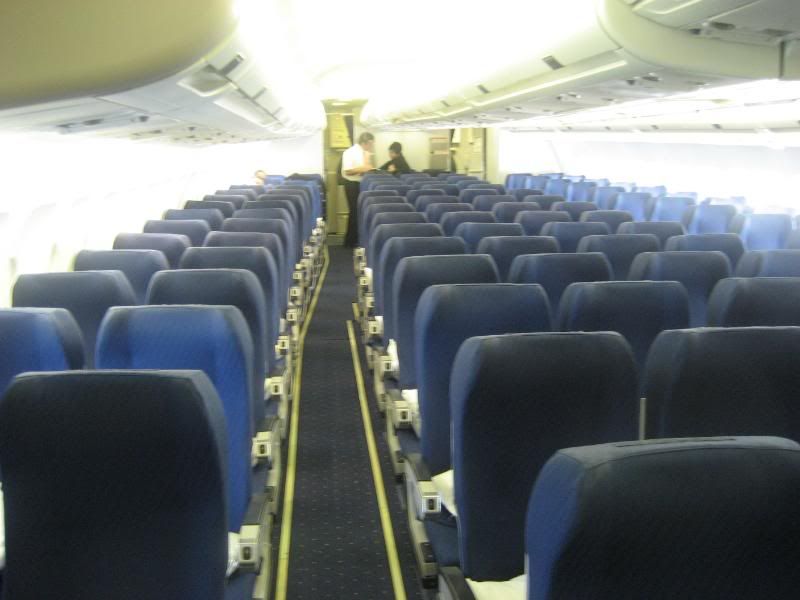 (Very basic lav)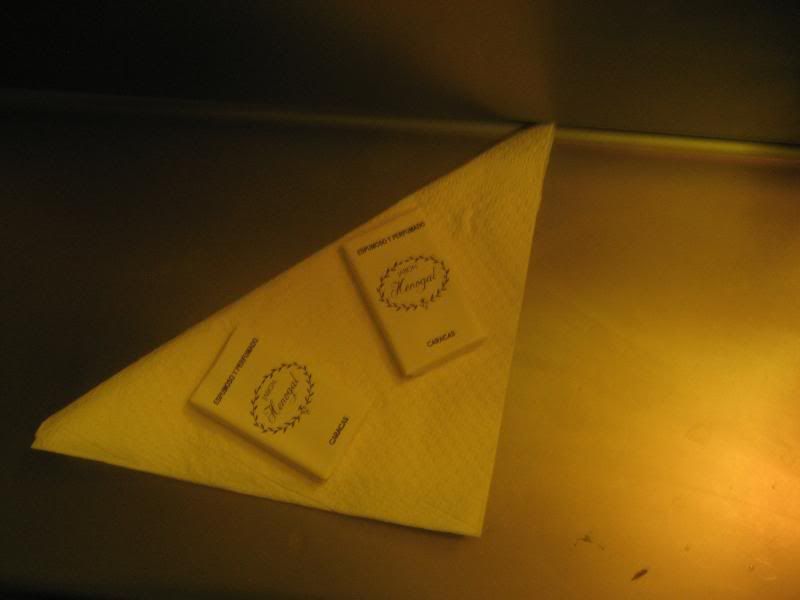 c) Meal + Beverage:
As mentioned, upon boarding, there was a generous alcohol run complete with Moët et Chandon (which instantly got me happy with approval – many airlines provide cheap champagne these days in J). After take-off, there are more alcohol runs (I continued with my mimosas) followed by a full supper service. Given the non-traditional flight, I was worried how the meals would be … and was actually not disappointed. An excellent appetizer of salmon and ham on bread made way to a very tasty shrimp and avocado salad. This was followed by a just-above-average chicken with saffron rice (the chicken belonged to Y) with generous supply of yummy warm bread. Finally, fresh fruits were brought along with cheese and dessert. All of it, was really good. Everything was finished with coffee, tea, and an array of digestifs. Actually, the digestif collection was pretty impressive: brandy, grappa, whiskey, sherry, port, Madeira, and even baileys. We Venezuelans do know how to drink!
90 minutes prior to landing, a full breakfast service was in order. It included freshly squeezed orange juice (they have a blender on-board), fresh fruits, a croissant, and wrapped scrambled eggs. It was fulfilling and hit the right spot.
Now coming to the weirdness of this flight – it was probably the first intercontinental J flight that I recall that did not have menus distributed … probably because none of the food had any options! All strange and part of the charm of flying this route I guess. One thing to note though – the quality of the food was definitely not industry leading, but better or on-par of several airlines I have flown and reviewed (including LH and AF J).
Throughout the flight, there was a bar and fresh fruits for your taking. In fact, the alcohol policy was probably nearing the benchmark of liberalness … Air India
. I could not have imagined flying this on Iran Air without any alcohol … though, the 74L probably would have compensated for that!
(Take off drink)
(Post take-off drink and excellent appetizer)
(Excellent salad)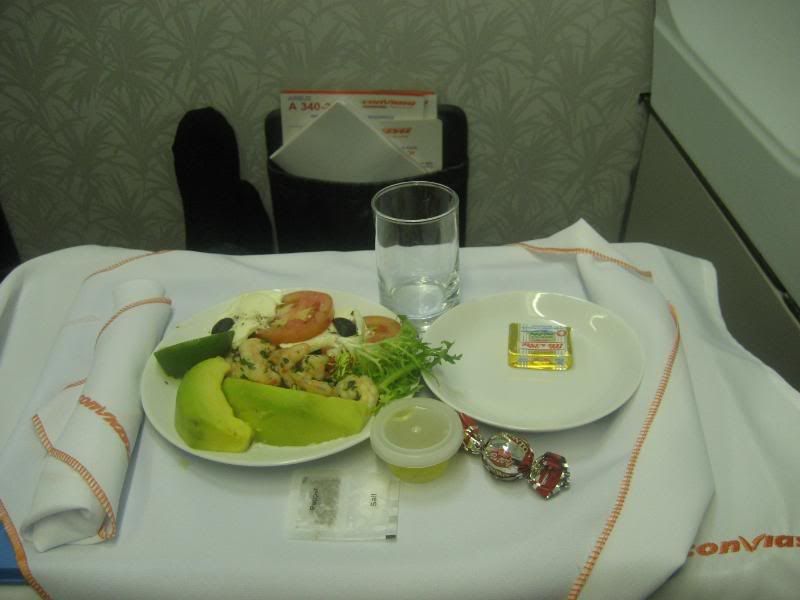 (Average main)
(Fruits and dessert)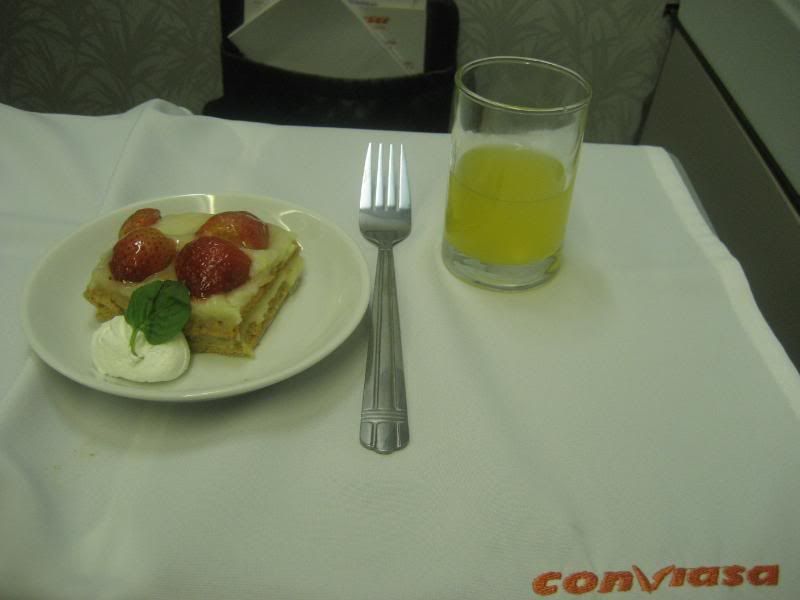 (Café at the end … gotta love the IR creamer
)
(Breakfast with hot towel)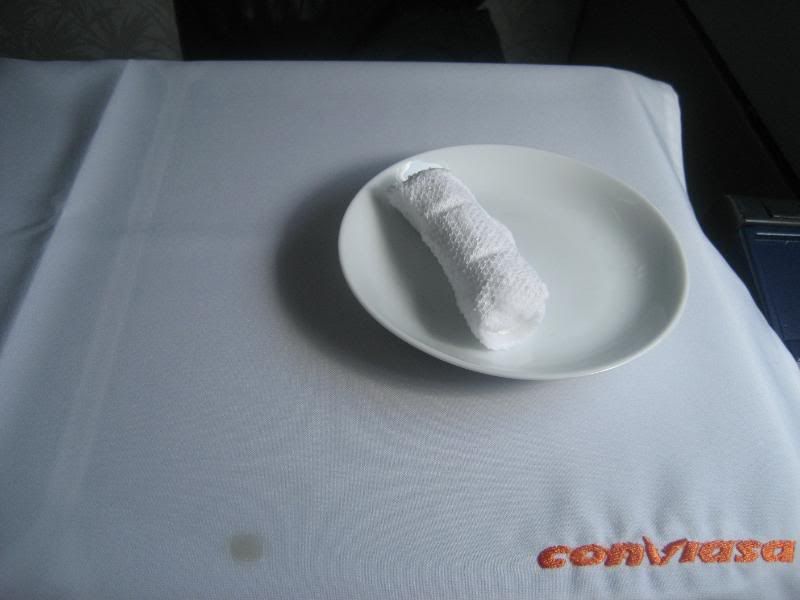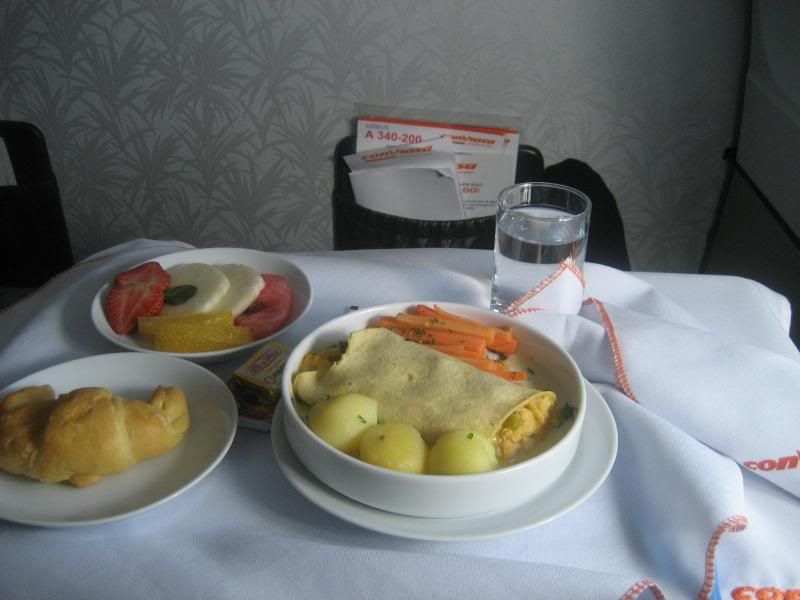 (Bar at various stage of flight)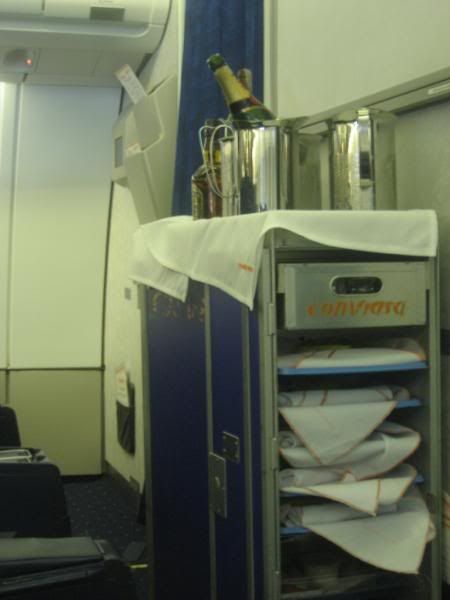 d) Inflight Entertainment:
The lack of any in-flight magazine stood out. IFE beckoned to the early days of PTV's when having a tiny individual screen was revolutionary. In the J cabin, there are 6 non-AVOD movies shown including 1 Spanish and 5 English titles. Each of the movies had soundtracks in both languages. In the main cabin, it was several projector movies. Very old school and a re-creation of old world charm.
(Headphones and IFE unit)
(Map at various stages)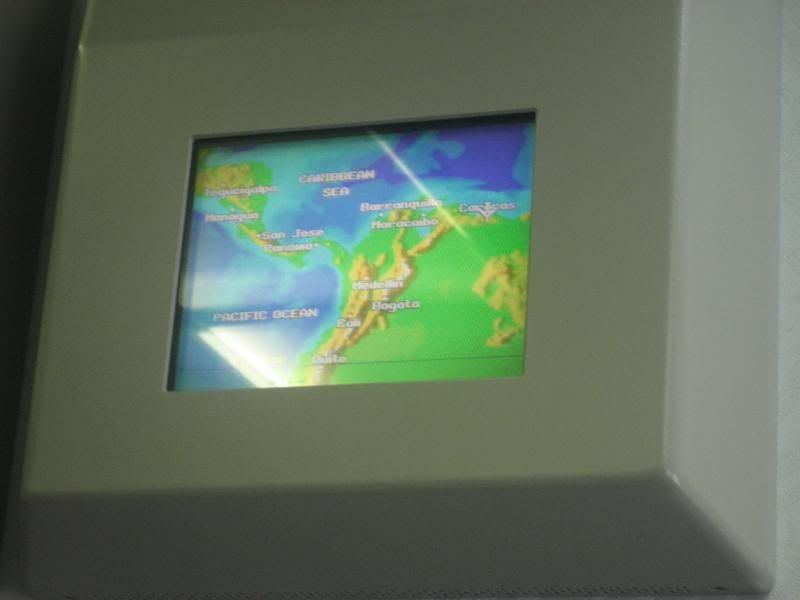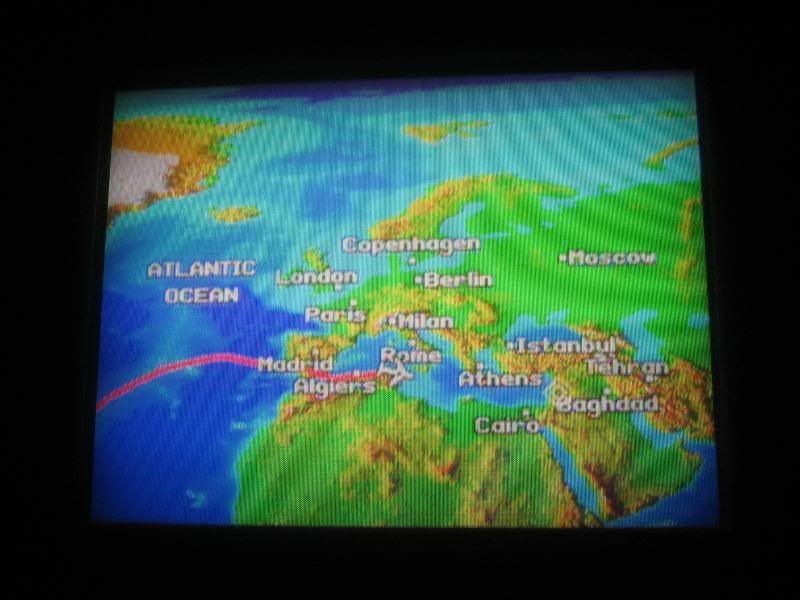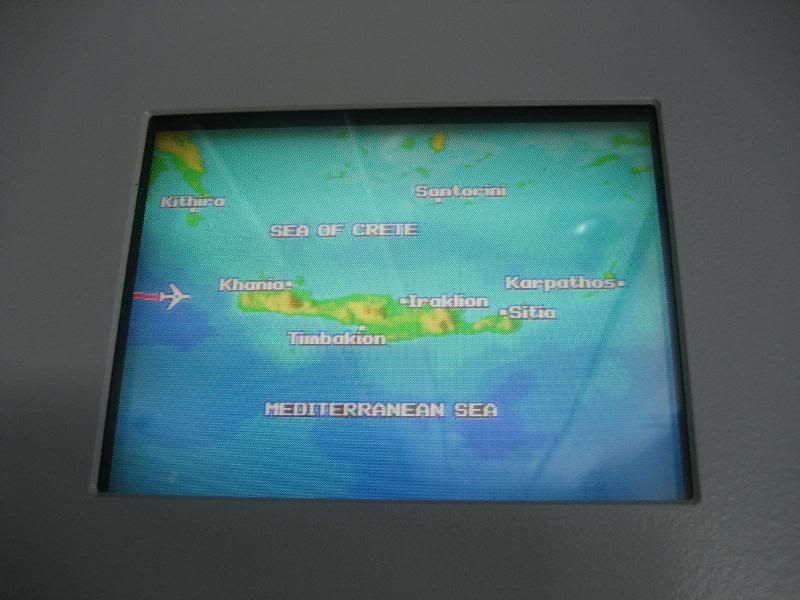 ("In-flight magazines", Boarding Passes, etc.)
e) Crew:
Here is where ConViasa surprisingly shone. The crew was fantastic. Usually on Latin carriers, the crews are either a hit or miss … and are usually more average than not. I have received consistently exemplary service only on JJ and surprisingly on AR (but then again, I feel AR crew are very under-appreciated). LA crew have been great in J and terrible in Y. This crew could very well be working for a carrier in Asia. Their performance onboard was really good. From the moment I walked in, there was an immediate call to service including storing my bags, the immediate coat taking (remember my EY report?), introduction by the purser, continuous alcohol flow, checking-in with me through the flight, at the end of the flight all crew members thanking me for flying ConViasa. Of all though, my favourite moments were when the purser personally came to each passenger in J and told us of IFE options, drew out the screen, and explained the controls. Finally, when I mentioned I was flying this route to experience ConViasa and they made a small gift pack including a Conviasa blanket (LOL), a Conviasa lanyard, and some ConViasa stationary. To me, it was touching. This was a crew who are provided barely anything to serve their customers going out of their way to think outside the box. True, a small load might not have tested their true capacity; however, I think the way they carried themselves showed dignity and warmth that would translate in many operating environments.
IV> Post-Flight:
Damascus airport is a riot for any aviation geek. For some bizarre reason, ConViasa uses the shack called "terminal 2". It is away from the main terminal and one gets the impression that it is used for "special flights". Upon arrival, you are bussed to the building … which is totally out of some Hollywood hijack movie. Inside the terminal, you are grilled by immigration … then you go off to pick your bag, before returning to the most stringent custom check I have encountered. I mean, I seriously thought I was living in the 1980s in some Soviet country with significant import controls. The best way to describe everything was … think the exterior of the "Algiers airport" featured in Delta Force.
(Nearing Damascus)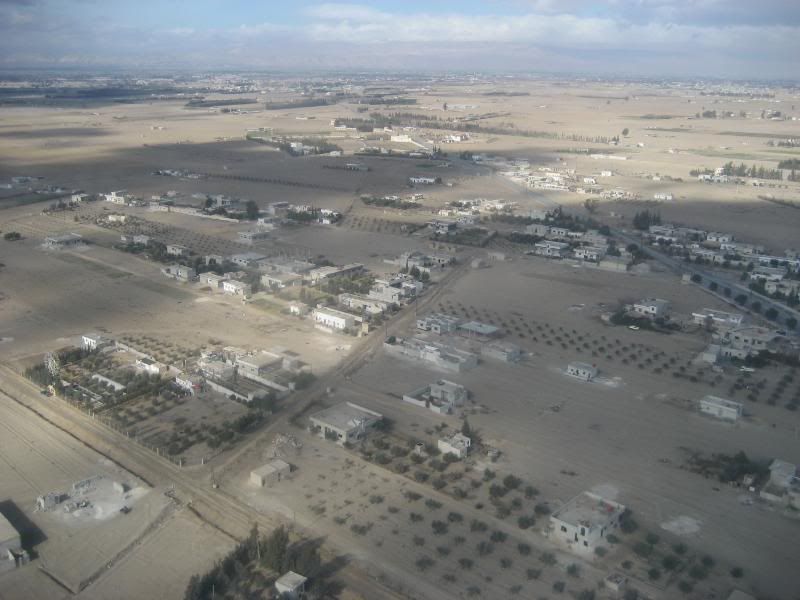 (DAM airport – T1)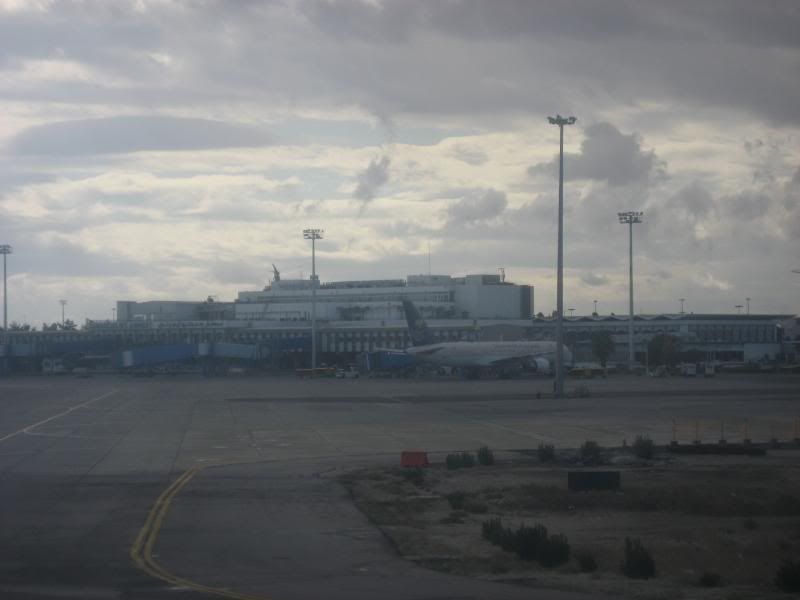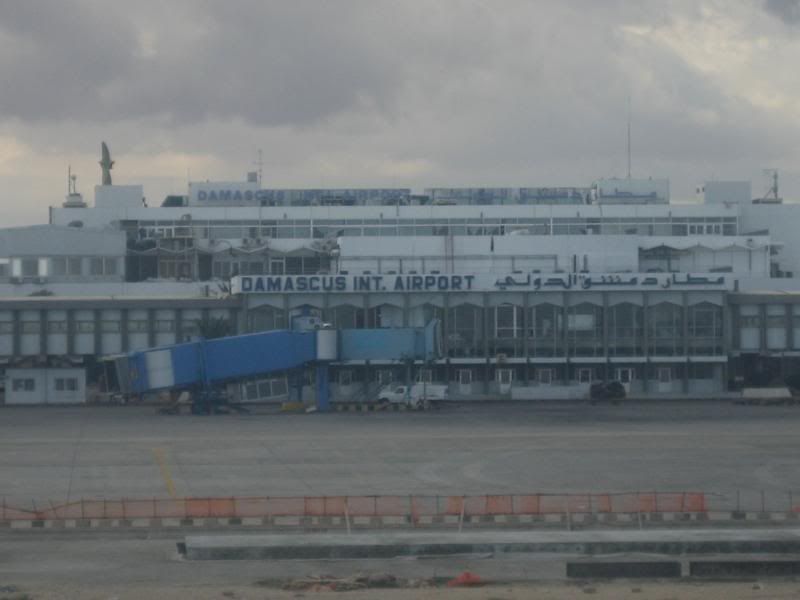 (Exotic movements)
(Damascus Airport's weird and sketchy terminal 2)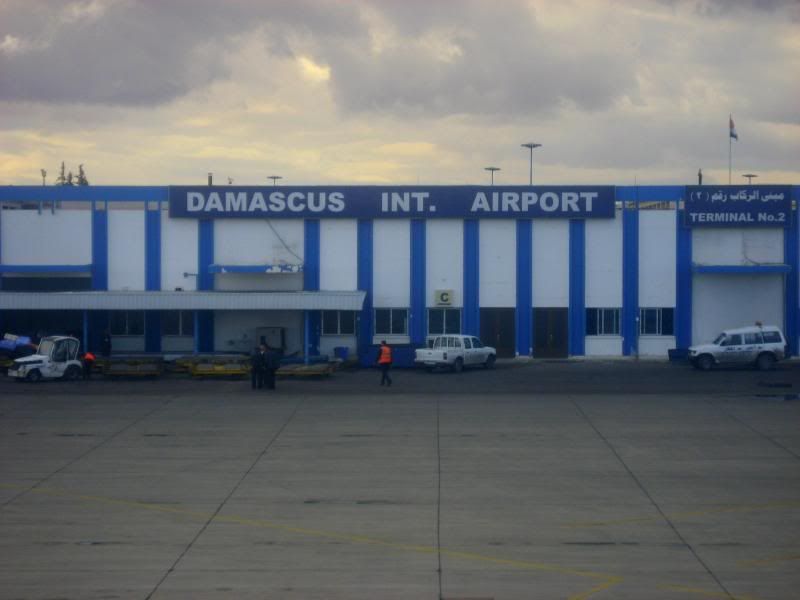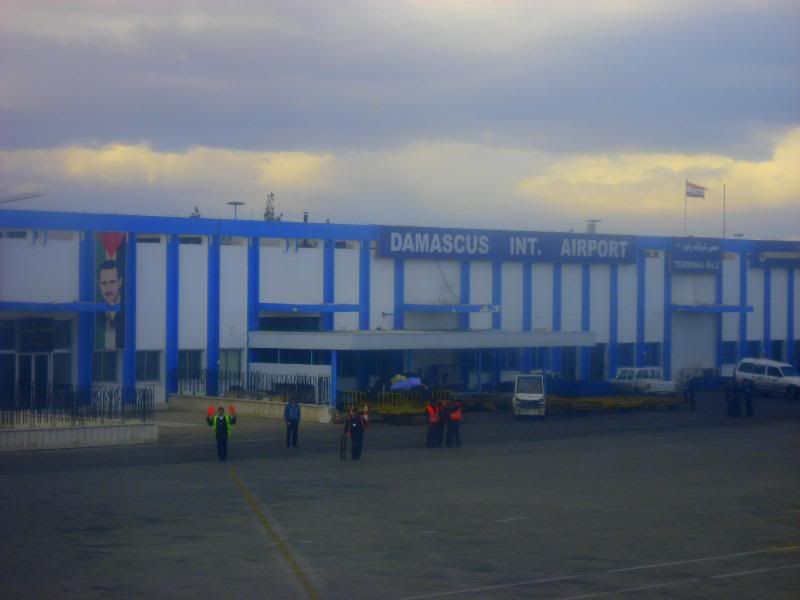 (I risked the wrath and took pictures of the surreal arrivals section – these are definitely A.Net first I think – also, note the spelling of "PASPORT" – something out of a Hollywood movie for sure)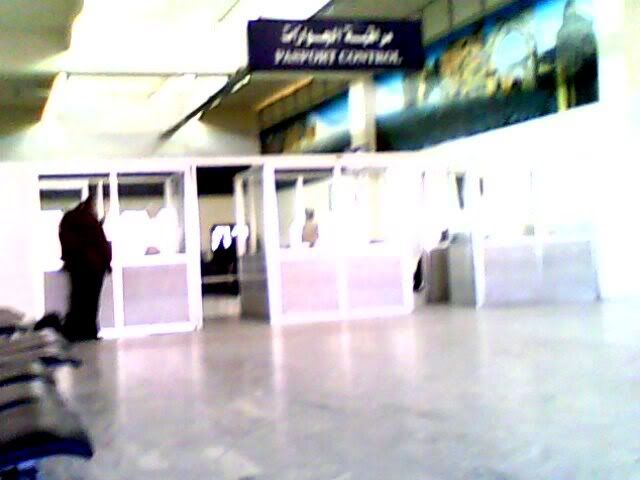 V> Impressions + Scores:
Let us be honest … there are many reasons why one would avoid flying ConViasa. First off, as a J pax, the lack of schedules and network and an interesting FFP are reasons enough to write it off. Moreover, a J experience with old generation seats (true, the same holds for many legacies), old generation IFE, no in-flight magazine, and no amenity kits would ensure that comfort on these flights take a back seat. However seriously, was I really flying to experience the wonder of ConViasa? Absolutely not! I was flying because I wanted to experience this amazing route which I can look back with fond memories. For those of us for whom flying has become routine, routes like this reinforce why we love the airlines and the joys of flying in the first instance; its ability to connect distant points and bring people together is really magical … and perhaps you need maniacal routes like this to remind you of it. Of course, the route wasn't bad at all. The on-board service (food and beverage) was actually significantly higher than one would receive on most major brand names. Moreover, the service by the crew was absolutely fantastic – something more in line with what you would find on Asian carriers. Given the fare, I would definitely recommend flying ConViasa. Finally, for those aviation geeks reading this … do this before the route disappears. I give it 2 thumbs up! It is the our generation's probably last few exotic route out there.
1.0 > RESERVATION: 7.0
2.0 > CHECK-IN: 8.0
0.5 > LOUNGE: 1.0
0.5 > BOARDING: 6.0
2.0 > SEAT: 6.0
0.5 > AIRCRAFT OVERALL AMBIENCE: 10.0
1.0 > IFE: 5.0
2.0 > CREW: 9.0
2.0 > FOOD: 6.5
0.5 > BEVERAGES: 9.5
0.5 > A.KITS + OTHER FREEBIES: 1.0
0.5 > DISEMBARKATION: 7.0
1.0 > ON-TIME RECORD: 7.5
WEIGHTED OVERALL IMPRESSION (WOI): 6.84
(Pre-flight WOI of all reviews: 6.51)
* Weighted Overall Impression (WOI) aligns scores with what matters most. Weights are indicated alongside each category.
(Scores are based on comparison with other airlines in THAT class of service – No comparison of Y vs. F for example)
VI> Other Trip Reports:
PREMIUM:
8.64:
Turkish Airlines (59): JFK-IST: 11/2008
8.61:
Air Canada (49): YYZ-SCL: 06/2008
8.11:
Aeroflot (33): MOW-DEL: 09/2007
8.04:
Korean Air (40): NRT-ICN: 10/2007
8.02:
Delta Airlines (24): JFK-CDG: 08/2007
7.46:
LAN (55): YYZ-JFK: 09/2008
7.82:
Singapore Airlines (06): EWR-SIN: 09/2006
7.14:
Swiss (52): SCL-GRU: 06/2008
6.96:
Etihad (61): JFK-AUH: 12/2008
6.93:
Delta Airlines (18): SEA-JFK: 11/2006
6.84: ConViasa (65): CCS-DAM: 01/2009
6.81:
Air Canada (17): ICN-YYZ: 10/2006
6.70:
KLM (32): EBB-AMS: 08/2007
6.36:
Privatair (60): MUC-BOS: 12/2008
6.25:
Korean Air (45): NAN-ICN: 10/2007
6.11:
TAP Portugal (53): GRU-OPO: 06/2008
5.75:
Singapore Airlines (16): CCU-SIN: 10/2006
5.64:
NorthWest (46): ICN-NRT-SEA: 10/2007
5.39:
LOT (54): WAW-JFK: 06/2008
4.42:
Air France: CDG-JNB (25): 08/2007
ECONOMY: Long + Medium:
9.26:
Air India (48): JFK-DEL: 02/2008
7.38:
Avianca (01): BOG-LIM: 07/2006
7.07:
Sri Lankan (62): KWI-CMB: 12/2008
6.41:
American Airlines (58): LHR-BOS: 11/2008
6.26:
Jet Blue (21): CUN-JFK: 02/2007
6.06:
Air Canada (04): YYZ-YVR: 09/2006
5.89:
USA 3000 (19): PUJ-BDL: 01/2007
5.79:
Air New Zealand (42): RAR-NAN: 10/2007
5.46:
TAP Air Portugal (23): OSL-LIS: 05/2007
ECONOMY: Short
8.56:
Paramount Airways (38): BLR-MAA: 09/2007
8.56:
Kingfisher (64): HYD-CCU: 12/2008
8.24:
Kingfisher (14): IXA-GAU: 10/2006
7.87:
Indian (34): BOM-MAA: 09/2007
7.72:
Alliance Air (13): CCU-IXA: 10/2006
7.57:
Indian Airlines (10): DEL-CCU: 09/2006
7.23:
West Jet (03): YYC-YVR: 09/2006
7.15:
JetLite (37): BOM-GOI: 09/2007
6.70:
Spice Jet (09): CCU-DEL: 09/2006
6.63:
Air Fiji (44): NAN-SUV: 10/2007
6.58:
Air Tran (02): EWR-MDW: 08/2006
6.48:
Air India Express (63): CMB-MAA: 12/2008
6.44:
CO Micronesia (39): ROR-YAP: 10/2007
6.41:
Pacific Sun (43): NAN-SUV: 10/2007
6.37:
Skybus (47): SWF-CMH: 02/2008
6.33:
Kenya Airways (29): NBO-BJM: 08/2007
6.33:
Sky Europe (56): LTN-BTS: 10/2008
6.31:
Indigo (15): GAU-CCU: 10/2006
6.31:
easyJet (57): BUD-LTN: 11/2008
6.22:
Air Link Swazi (28): MTS-JNB: 08/2007
6.22:
Air India (36): HYD-BOM: 09/2007
6.13:
Adam Air (07): SIN-CGK: 09/2006
6.13:
Air Rarotonga (41): RAR-AIT: 10/2007
6.00:
Transairways (27): INH-MPM: 08/2007
5.95:
Air Canada (05): ALB-YYZ: 09/2006
5.85:
SAS Norge (22): OSL-AES: 05/2007
5.81:
LAM Mozambique (26): JNB-MPM: 08/2007
5.69:
Air Deccan (12): IXZ-CCU: 10/2006
5.67:
Rwanda Air Exp (30): KGL-NBO: 08/2007
5.07:
Go Air (35): MAA-HYD: 09/2007
5.00:
Sky Airline (51): IQQ-SCL: 06/2008
4.96:
Valuair (08): CGK-SIN: 09/2006
4.78:
Air Comet Chile (50): SCL-IQQ: 06/2008
4.74:
Fly 540 (31): MYD-LAU: 08/2007
4.33:
Viva Aerobus (20): ELP-MTY: 02/2007
4.11:
Air Sahara (11): CCU-BOM: 09/2006
(Note on Codes: Y – Economy, J – Business, F – First :: I/D – International/Domestic :: SR/MR/LR – Short/Medium/Long Haul)
(Note on Date: Dates are modified to be +/- 3 days from actual flight date to not reveal actual flight pattern)
VII> Other Pictures:
(My blanket souvenir – others in preceding photos)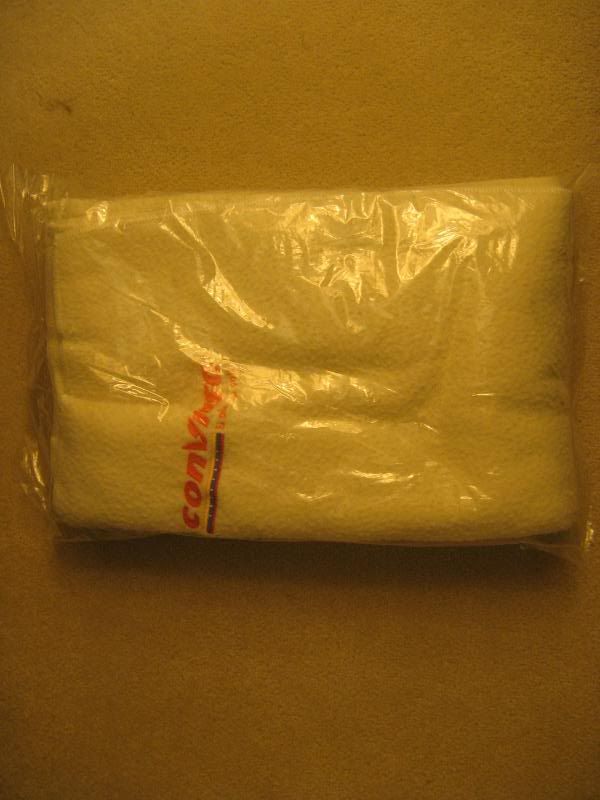 (Safety Card)