Air Berlin introduced a new aircraft type recently, the Dash 8-Q400. Back in August when rumours indicated that STR-DUS was to be the first scheduled route for this new aircraft, I looked for some good fares for a daytrip to DUS, and I found several flights for 29EUR all-inclusive, that's 58EUR for the return. Quite a good deal, I thought. I kept on checking amadeus for the planned aircraft type (it changed from Dash 8 to B737-300, A319, and then back to Dash 8). From the day the Dash 8 took over the STR-DUS flights, there were lots of delays, cancellations, or short-notice equipment changes to A319/A320/B737, apparently reliability of this aircraft was not so good in the beginning. Still Christoph "Contact Air" decided to join me on this daytrip.
A few days before the day of our flight, we received eMails from Air Berlin informing us about a schedule change. As the departure and arrival times for both flights had been changed only by 5 minutes, this didn't affect us at all.
STR-DUS
AB6837
26 Jan 2009
STD: 11:15 (on-time)
STA: 12:20 (five minutes early)
Dash 8-Q400
Number of passengers: about 35
D-ABQD
View Large
View Medium


Photo © Patrick Schwarzschulz
Delivered to AB/LGW on 11 January 2009
Christoph and I arrived at the airport on different trains. We both checked in at one of the six Air Berlin counters in Terminal 3 (no waiting time at all) and met later at gate 314.
AB check-in area: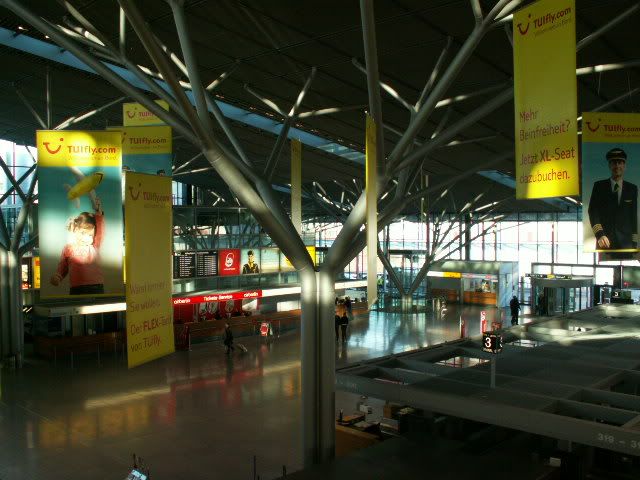 Christoph's boarding cards: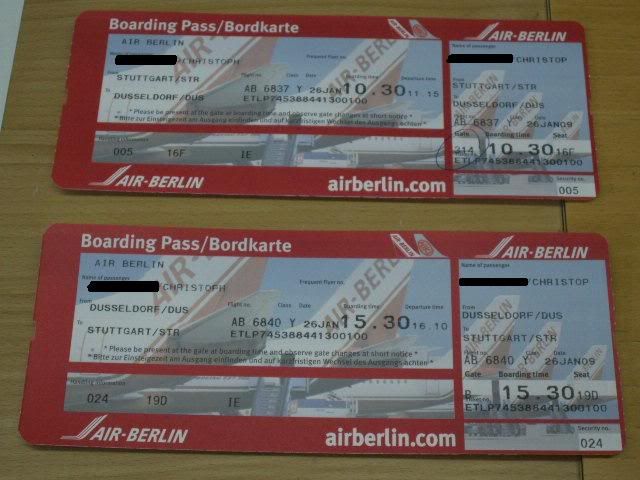 On-time at 10:45, boarding was started, and a bus took our light load of only about 35 passengers to D-ABQD, the newest Dash 8 in their fleet: delivery date was 11 January 2009, and first commercial flight was on 19 January 2009. It's always nice to fly on such a new aircraft.
Large carry-on items were collected in front of the aircraft ("Delivery at aircraft" labels had been distributed at check-in and gate):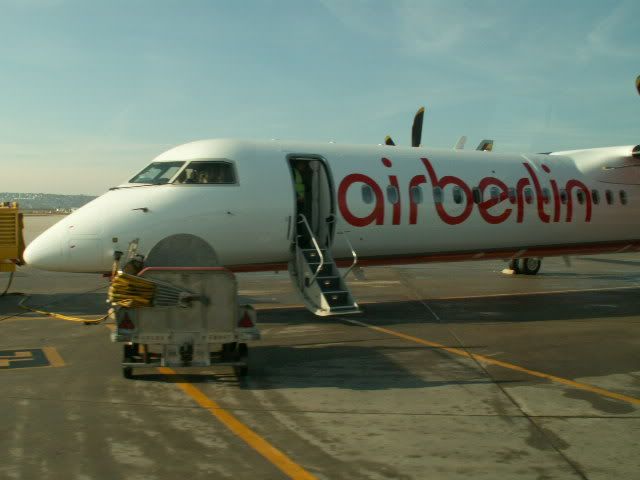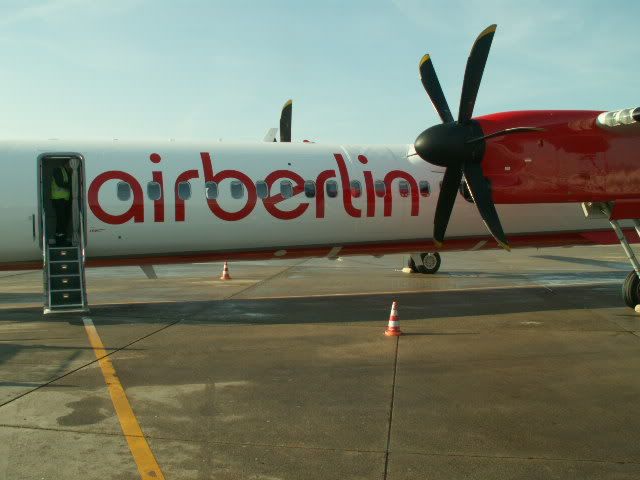 Air Berlin's Dash 8 fleet is operated by LGW - Luftfahrtgesellschaft Walter, an airline which used to operate a fleet of Do228, and who became partner of Air Berlin recently. A small sign near the aircraft door informed about the operator of the aircraft: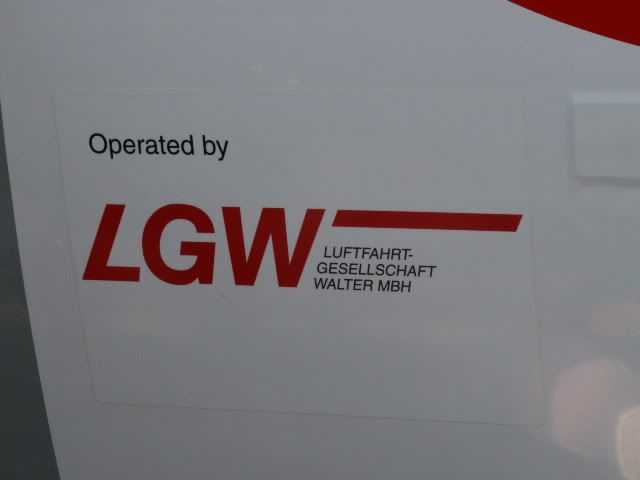 One of the two flight attendants welcomed us at the door and offered newspapers. We took our seats 16D and 16F, the cabin looked modern and even smelled new:
Doors were closed, and the cabin crew did their safety announcements. Then engines were started, and we rolled towards runway 25 and took off. Here's a take-off video:
http://smg.photobucket.com/albums/v5...?action=view&current=DUSvid001.flv
Echterdingen: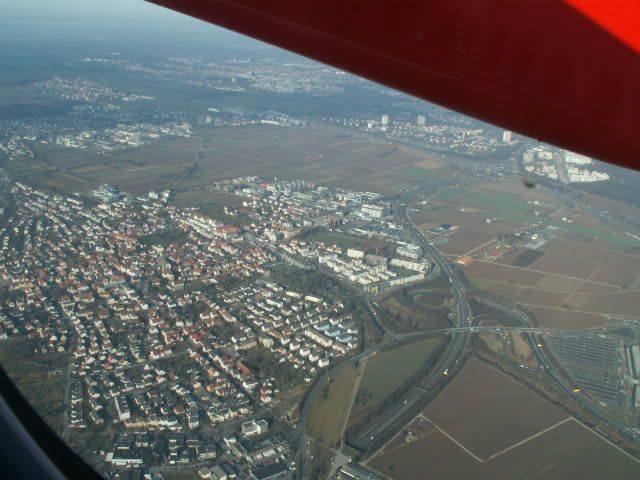 Leinfelden: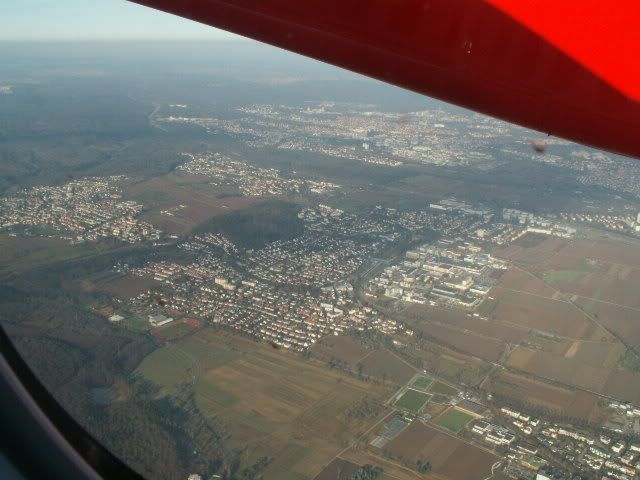 Stuttgart-Vaihingen:
Schloss Solitude: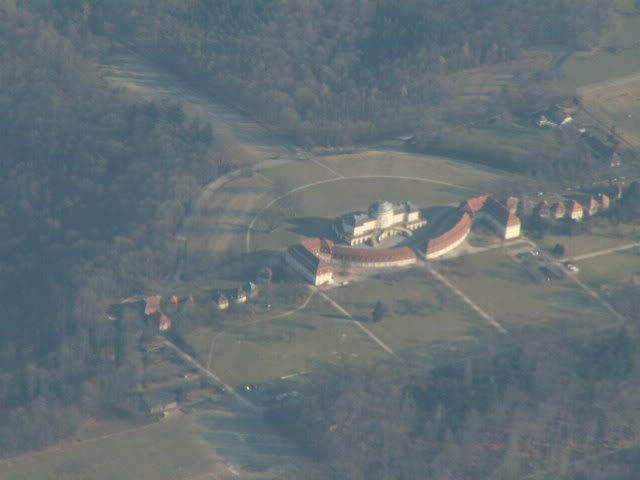 This photo was taken near Ludwigsburg, with the nuclear power plant of Neckarwestheim visible in the background: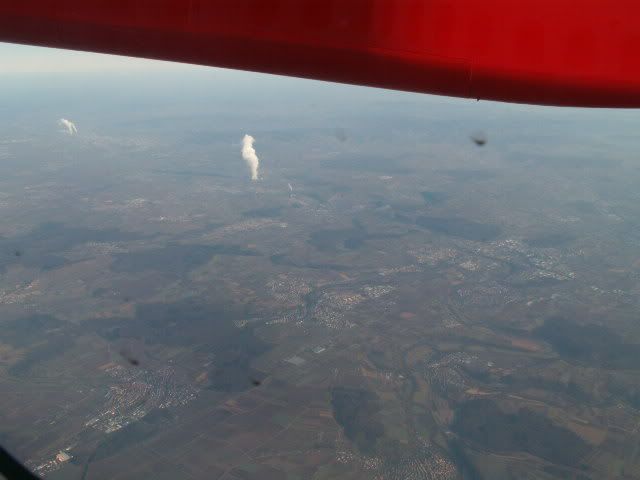 Now the cockpit crew made their welcome announcement as well. There were three pilots on this flight, so I guess it was a training flight/check flight. We got the usual information about estimated arrival time, weather at DUS, etc.
Inside the seat pocket, there was an Air Berlin inflight magazine, a "shopping on board" magazine, a leaflet for hot meals to be ordered for the next flight (however neither shopping-on-board nor hot meals are offered on the Dash 8 flights), and an Air Berlin sickbag. So apart from the sign at the aircraft door, there were no other items indicating that this aircraft was oparated by LGW.
The flight attendants offered snacks (a croissant, a "Balisto" chocolate bar or "Saltletts" chips). Christoph had a croissant and a coffe, I had the "Saltletts" and a tomato juice: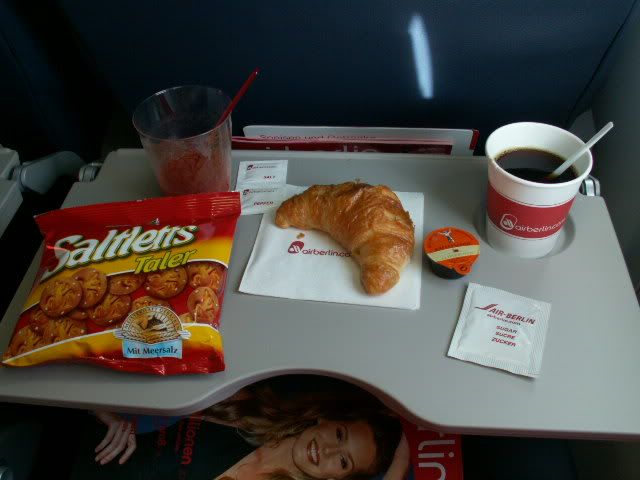 The snow-covered Sauerland - or is it the Westerwald?!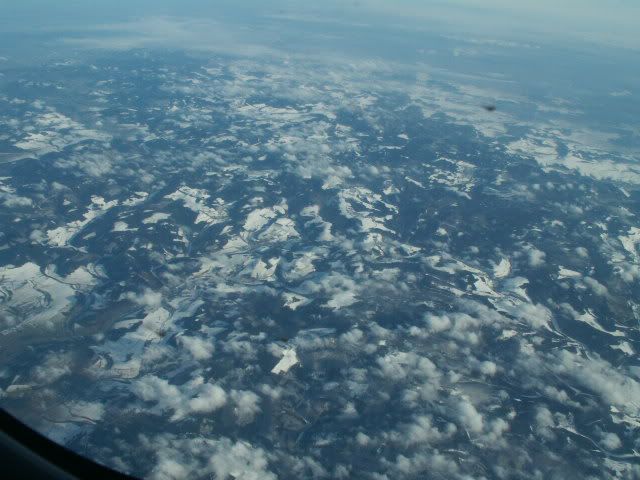 As the view outside was excellent and the flight was less than half full, I decided to change my seat for the landing and have a window seat myself. I was sitting on the left and saw the city and airport of Essen. Christoph (who had the camera) was still sitting on the right and had a view over Dortmund. This image reminds me of my last flight on LGW, STR-DTM on their Do228, a route which has been discontinued when AB took control over LGW: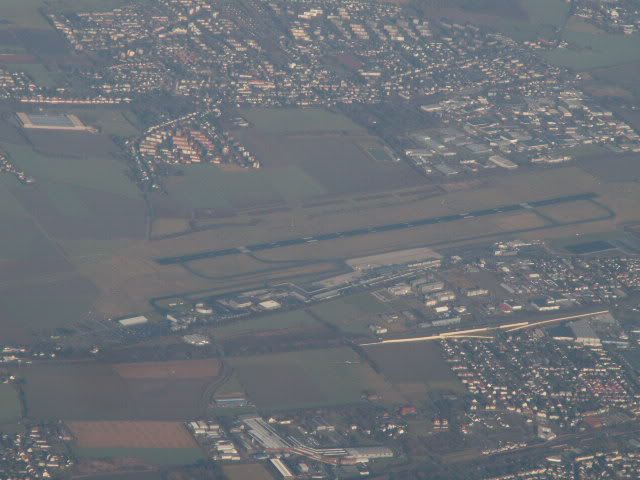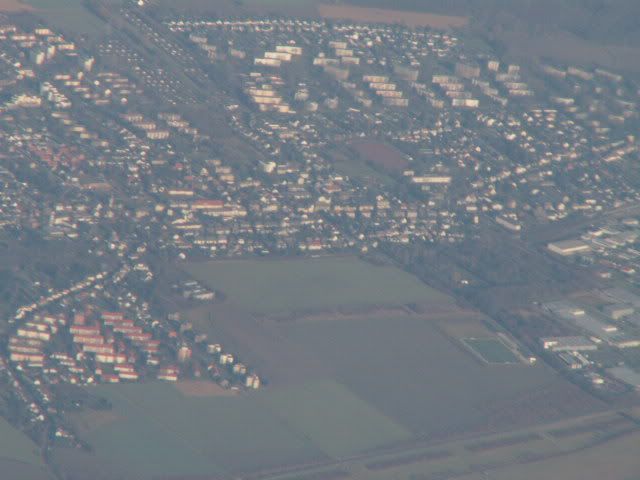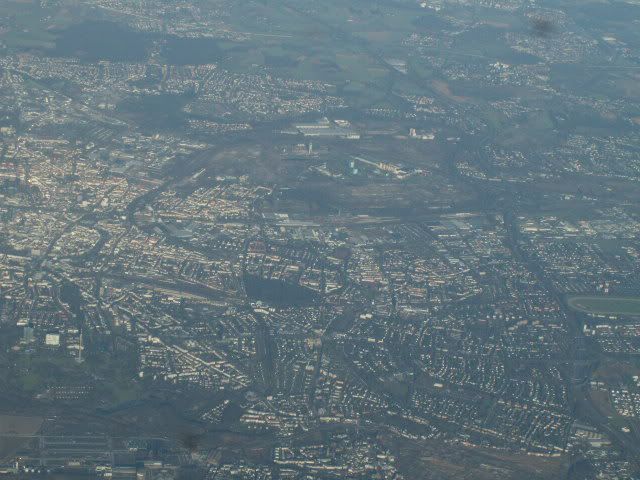 The Westfalenstadion: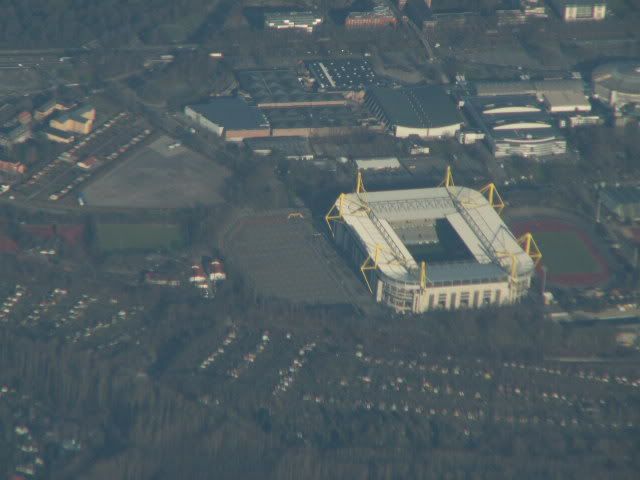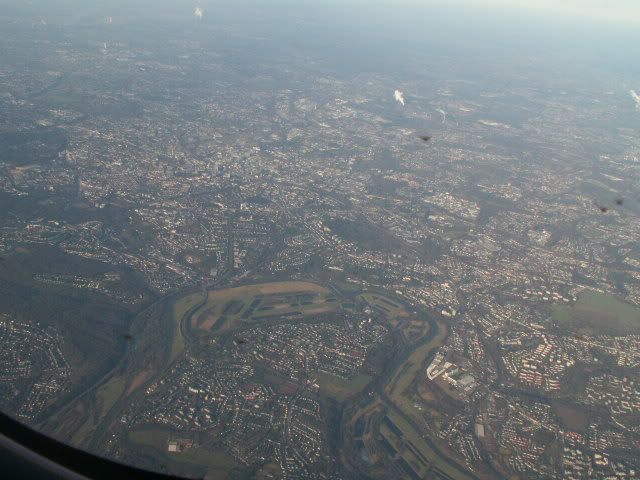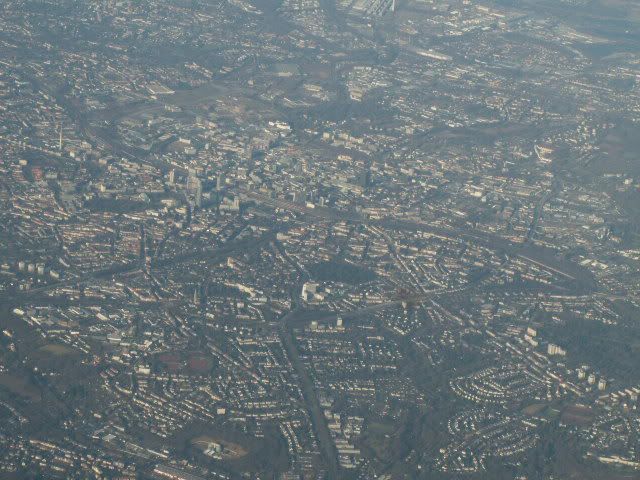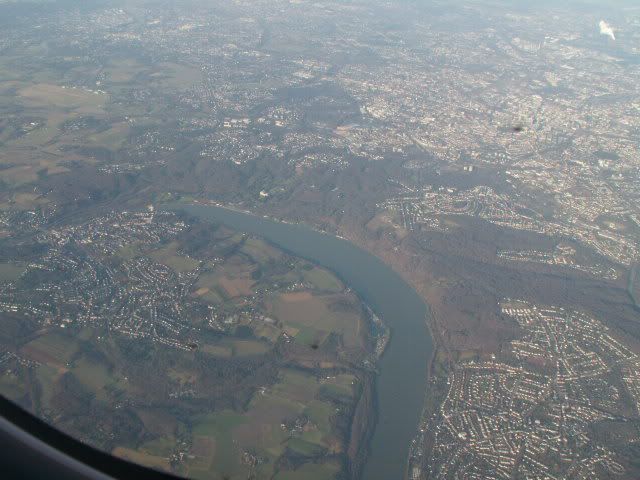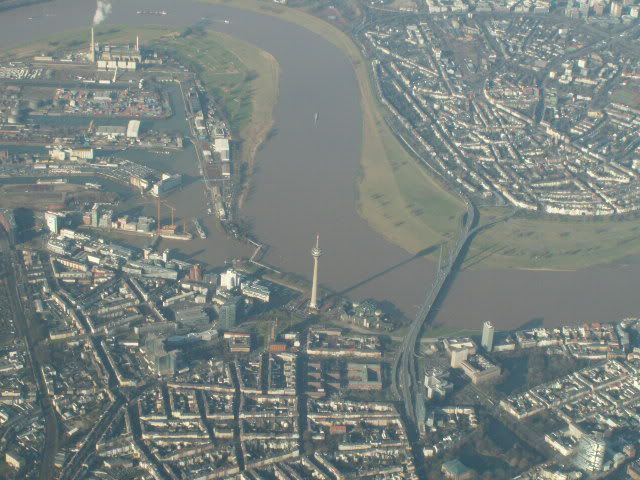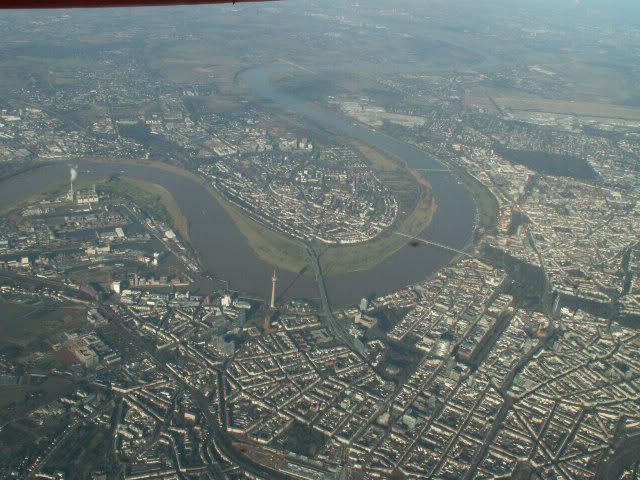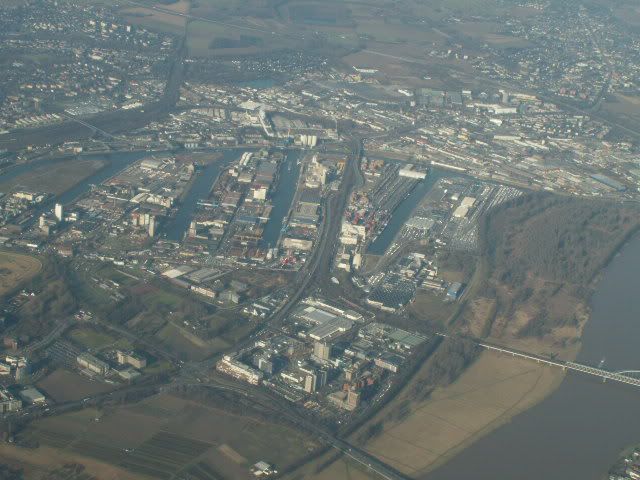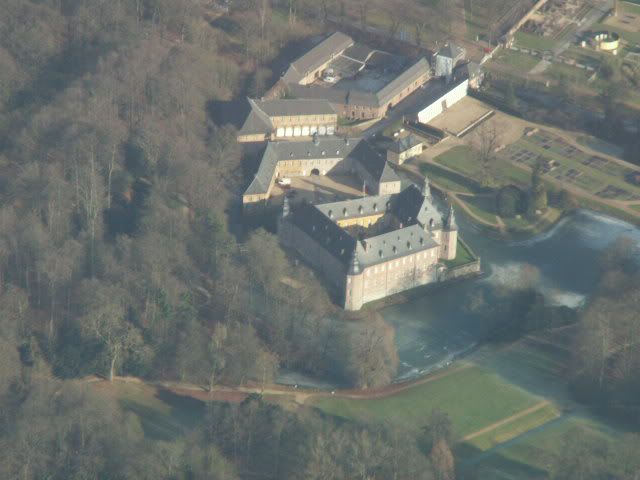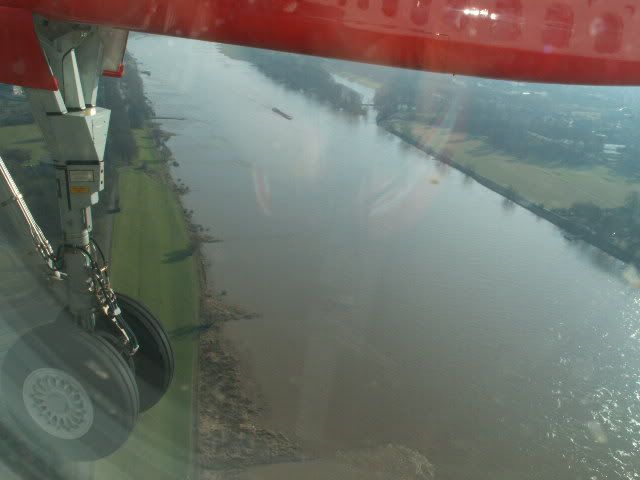 We arrived about five minutes ahead of schedule. At the aircraft door, the flight attendants offered Air Berlin chocolate hearts.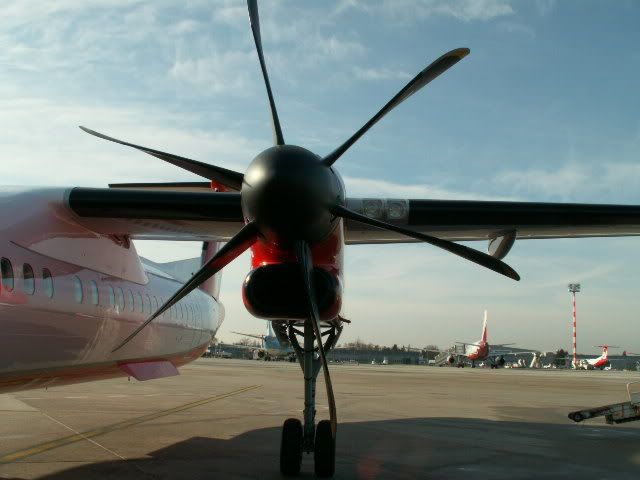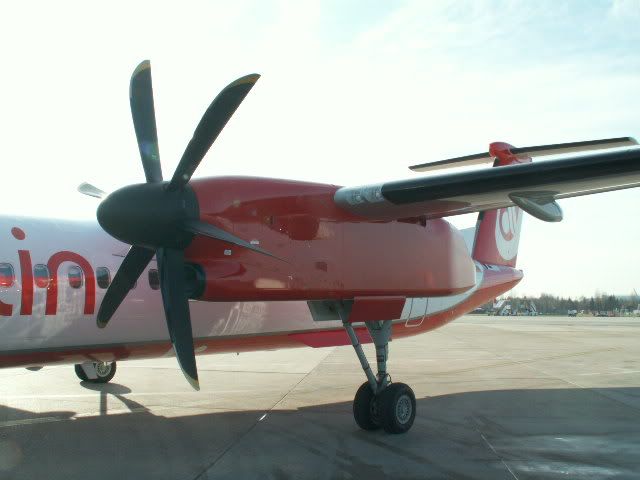 A bus took us to the arrival hall. First stop of the bus was for passengers with DUS as final destination, the second stop for those who had connecting flights. All passengers left the bus at the first stop, so I guess there were no connecting passengers at all on board of our flight.
We had 3.5 hours until boarding time for our return flight. As the viewing deck at the train station is temporarily closed, we spent most of the time on the sunny observation deck on top of the terminal building.
"Our" aircraft parked on a remote parking position: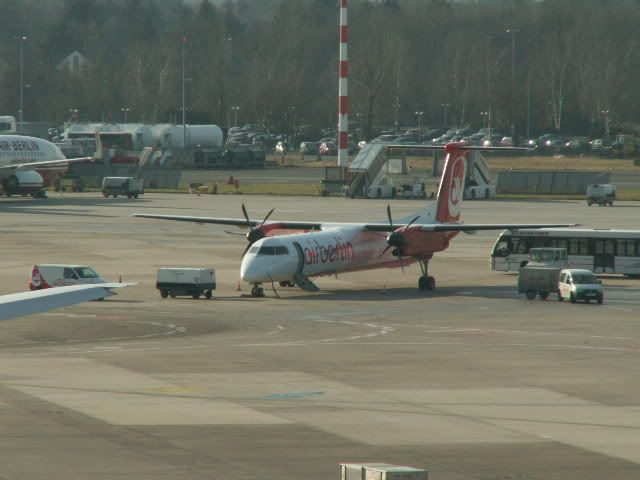 Sister aircraft D-ABQA leaving for STR...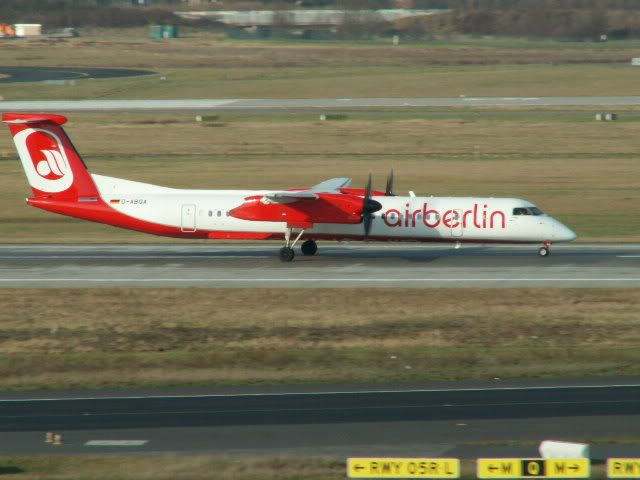 ...and coming back a few hours later: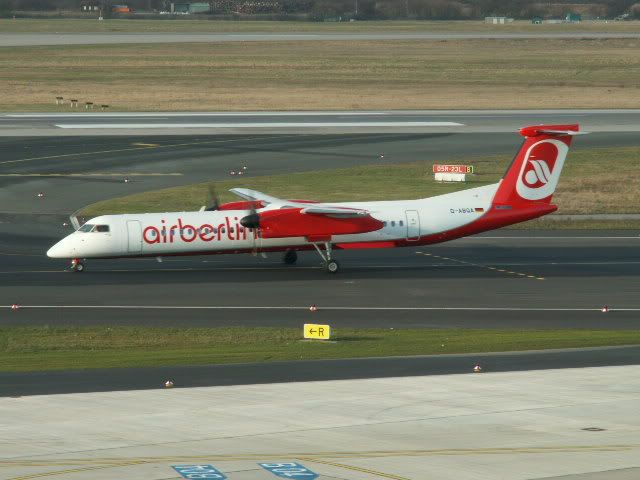 As D-ABQA was to fly us back to STR, we decided to leave the observation deck and got through security for our on-time boarding back to STR.
DUS-STR
AB6840
26 Jan 2009
STD: 16:10 (five minutes ahead of schedule)
STA: 17:15 (five minutes ahead of schedule)
Dash 8-Q400
Number of passengers: about 30
Delivered to AB/LGW in November 2008
View Large
View Medium


Photo © Michael Van Bosch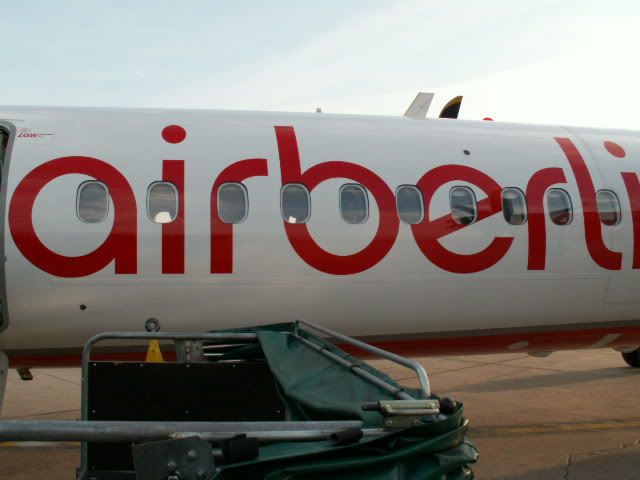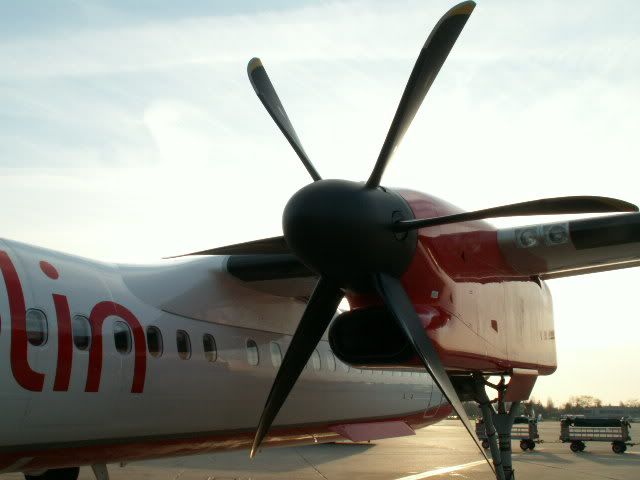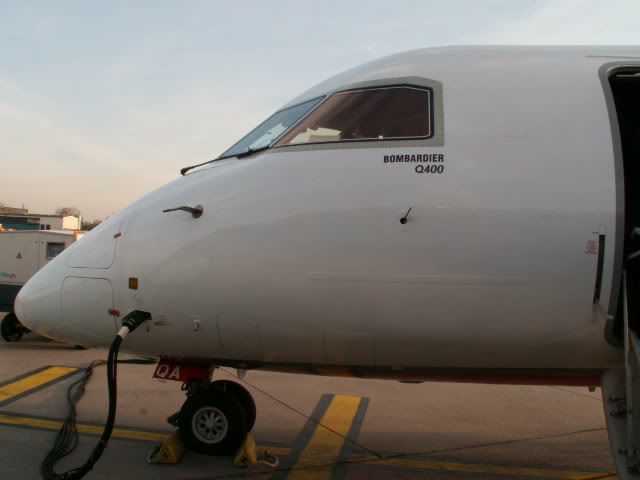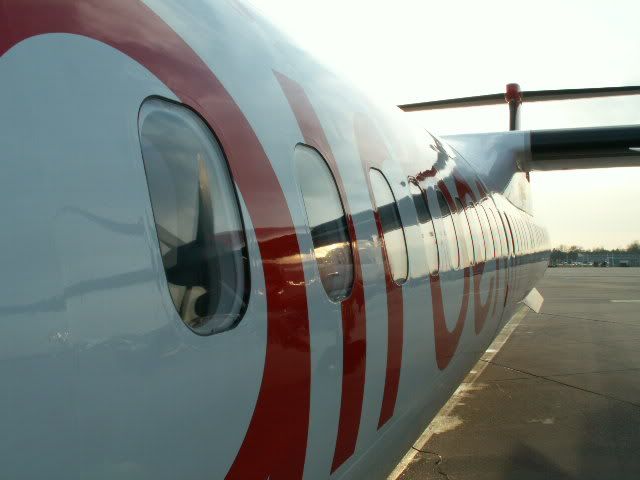 View Large
View Medium


Photo © Stefan Sonnenberg
Take-off: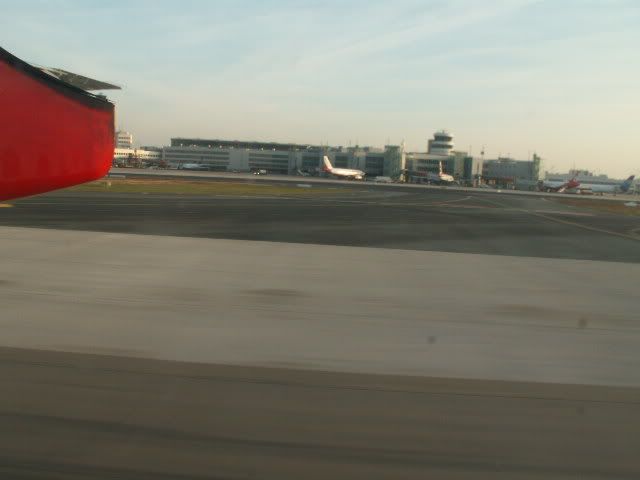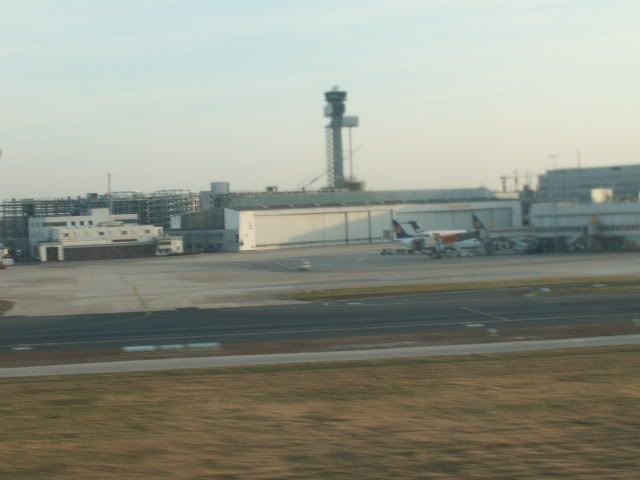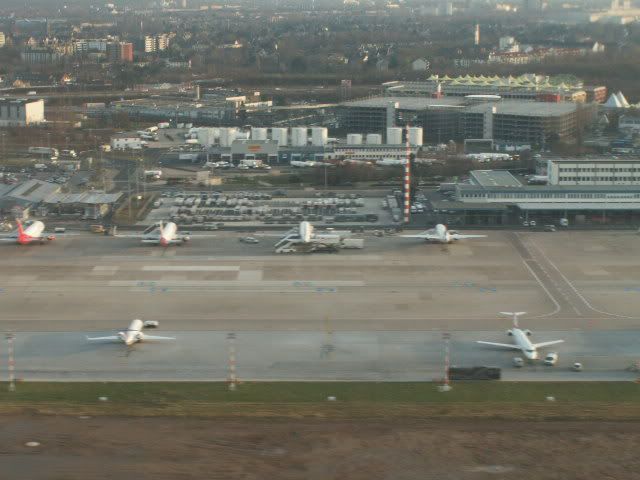 See the last A321 in LTU colours: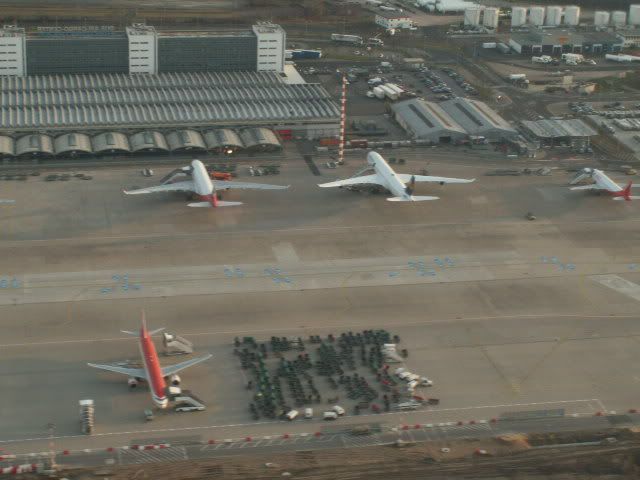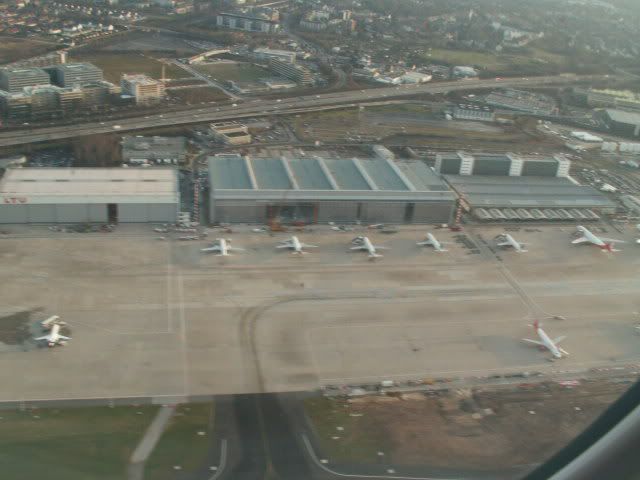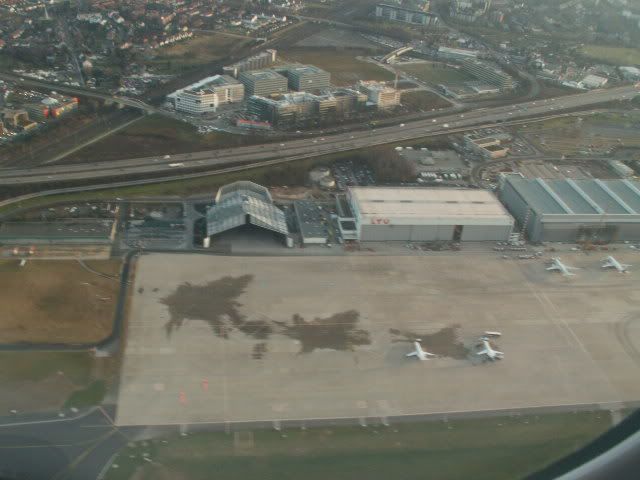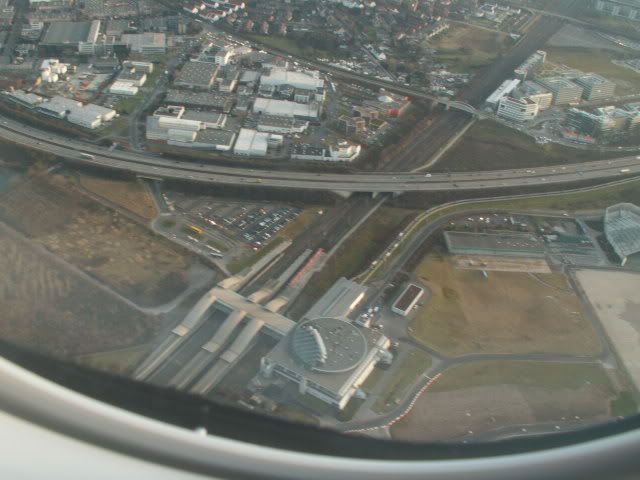 Again I decided to move from 19D to the free window seat on the other side, 19A. The view outside was excellent again, however the sun was already going down: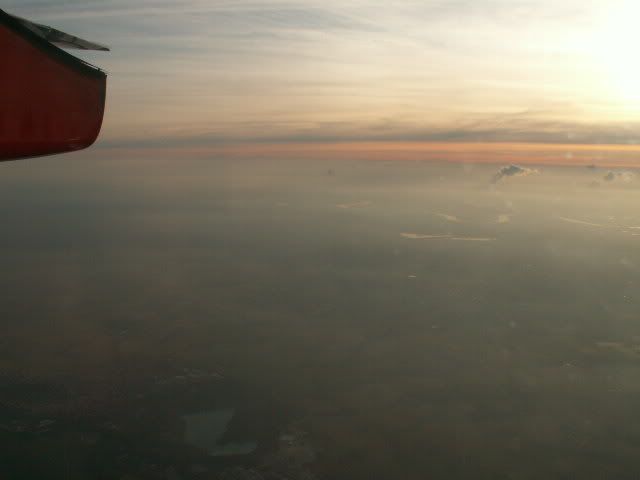 The city of Frankfurt: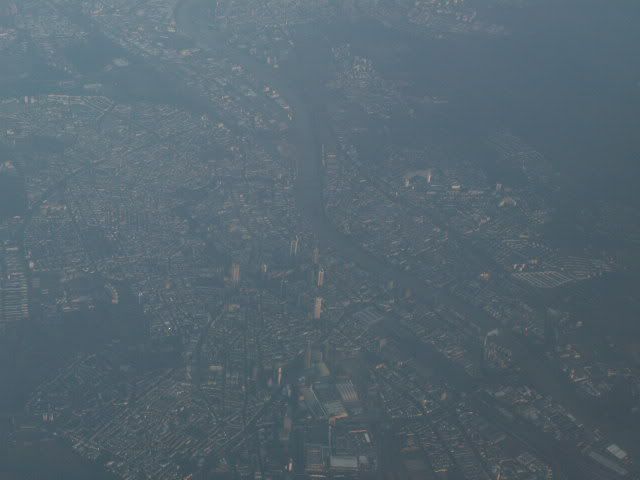 We were flying over the museum of Sinsheim, but unfortunately the batteries of Christoph's camery were empty. Once we had fixed that problem, we were already flying over the city of Altdorf...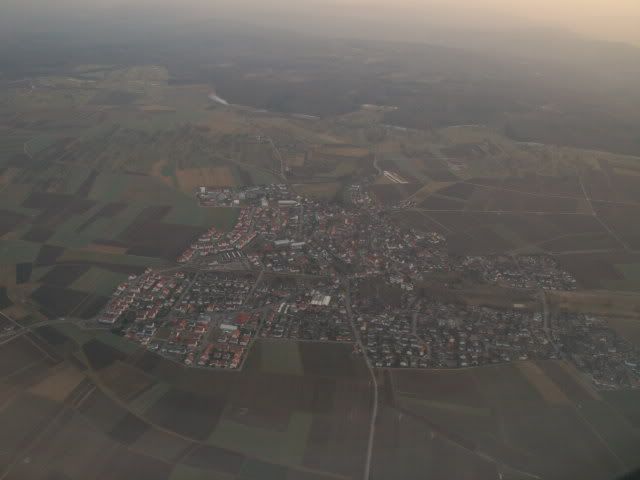 ...and Holzgerlingen: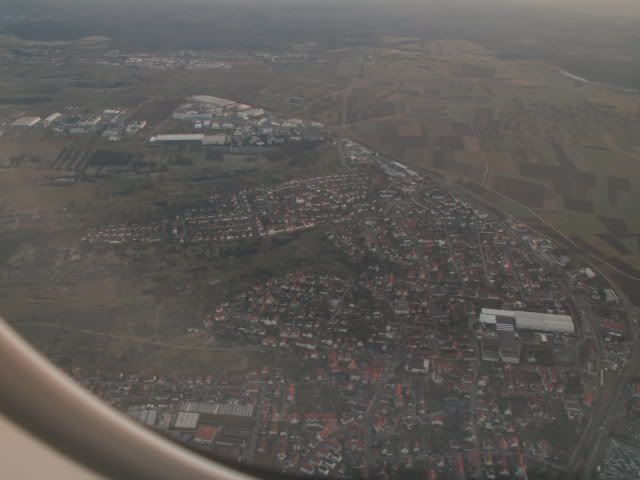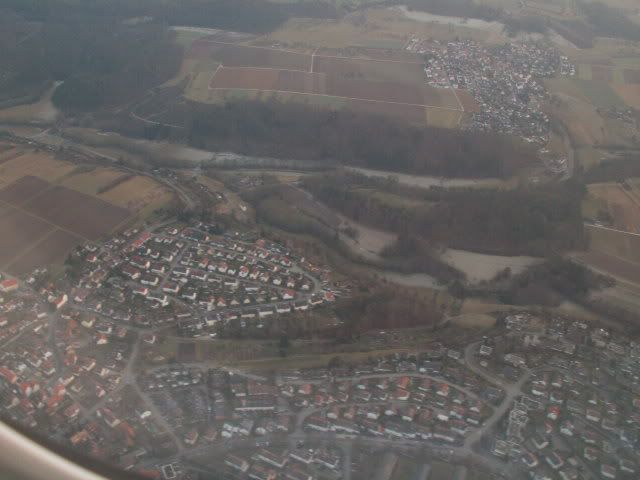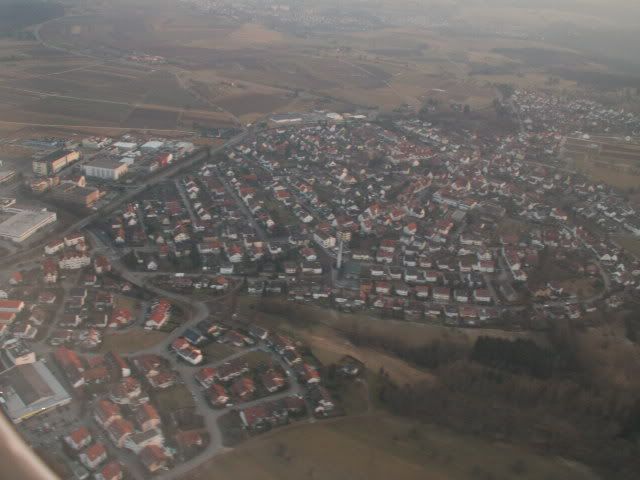 Seconds from touchdown: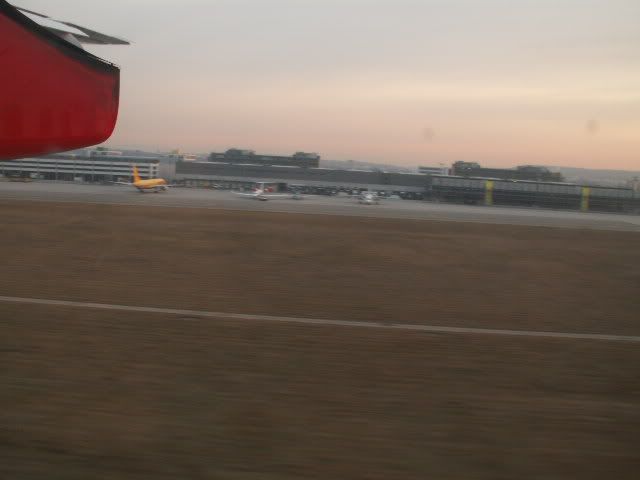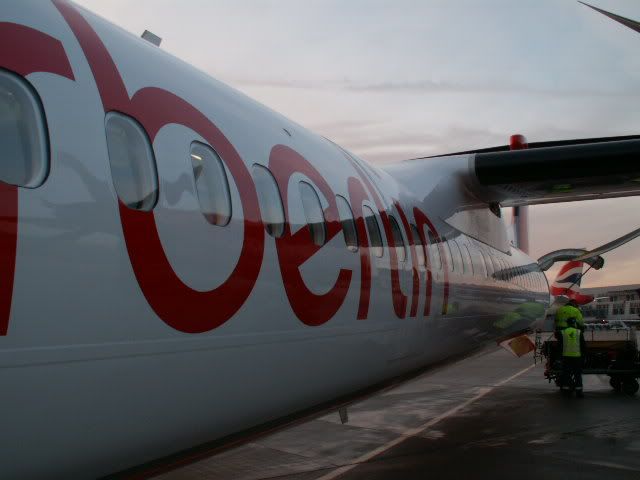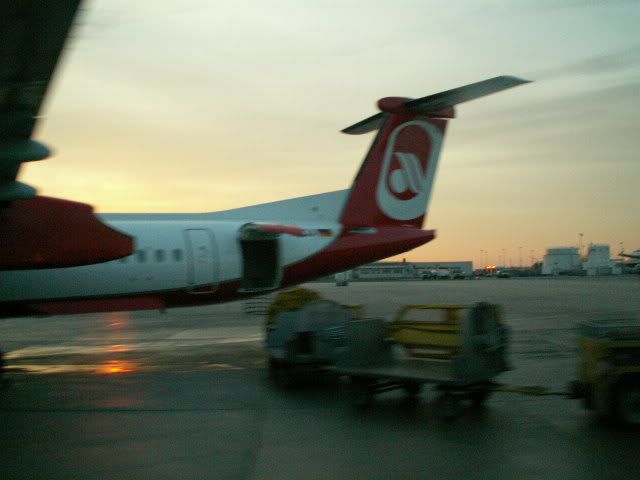 A bus took us back to the terminal: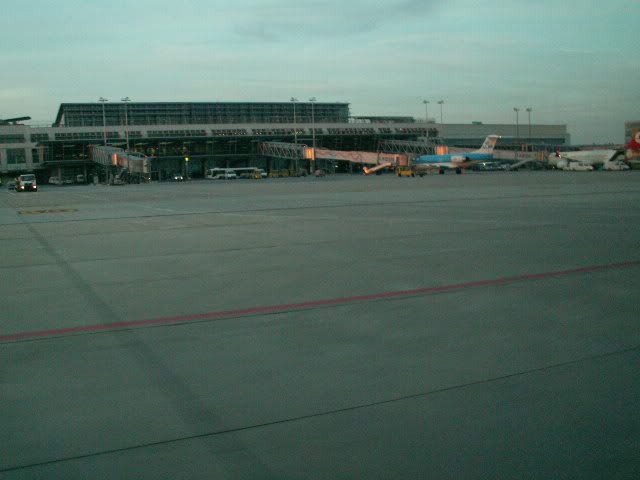 I took a bus home, and Christoph went to the observation deck to take a lst photo of D-ABQA before it was flying back to DUS: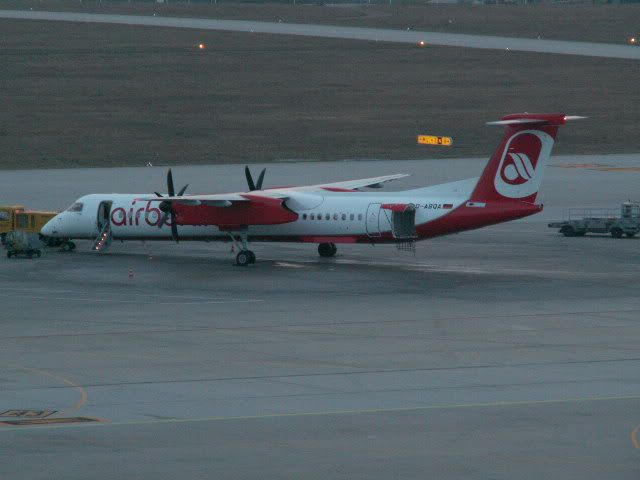 This is the end of our report. Even though the Dash8-400 was not a new aircraft neither for Christoph nor for me, it was nice to get to fly on Air Berlin/LGW's newest toy, I really enjoy flying on this aircraft, and flying on newly-delivered aircraft is always nice as well. I hope you liked reading this report and I'm looking forward to reading you comments. Thanks in advance and best regards, Alex.