Flying on "The Wings of Taiwan": Hong Kong-Taipei-Hong Kong
on EVA Air Airbus A330-200 & Boeing 747-400 Combi
Intro
EVA Air
, Taiwan's second largest airline, and its
A330-200
and
747-400 Combi
models are featured in part 4 of my current trip report series. Domestic flights in Taiwan and a visit to the famous
Taipei 101
will be in the focus in the next part.
Background
We had had a side trip to Taiwan on the agenda from the very beginning of our tour planning. There was a great choice of widebody flight options between Hong Kong and Taipei - and in the end we decided to go on the carrier which once used the marketing slogan "The Wings of Taiwan". We hadn't flown on EVA Air before - and apart from that the carrier was also offering attractive fares. We picked a late morning flight to TPE on a 747-400 Combi and added an A330-200 evening flight on the next day. There were also two 777-300ER flights available, but the departure times weren't favorable.

All those who have missed parts 1, 2 and 3 or want to read more about the background of the trip simply need to click here:
Striking Newcomer: Berlin-Beijing On Hainan A330
PEK-SHA, China Eastern A330 & Shanghai At Night
SHA-SZX, Shanghai 757: Delayed By The Military
Thursday, 06 November 2008
Hong Kong (HKG) - Taipei Taoyuan (TPE)
EVA Air, BR852
11:20-12:55 (11:18-12:54)
Flying time: 01:22 (hrs)

Boeing 747-45EM
B-16409 (s/n 1077), delivered in 05/1996 as N409EV
Economy Class, Seat 21H (Evergreen Deluxe cabin)
Former appearance:
Evergreen Deluxe Seating
We left Kowloon early in the morning and took the
MTR
(Mass Transit Rail) to Tung Chung station at Lantau Island where we transferred to an airport bus. It takes more than an hour to go by MTR and bus, but is a lot cheaper than the Airport Express.
Only few passengers were waiting in line in EVA Air's check-in area and soon a friendly agent entered out data. After a few minutes she printed our boarding passes with seats in row 21 - which we had already reserved at the time of booking. EVA Air's remaining Boeing 747-400 Combi aircraft are still equipped with the old
Evergreen Deluxe
cabin (premium Economy Class) in the nose and front section of the main deck.
Seat map:
http://www.evaair.com/NR/rdonlyres/C...FFF18B8957/0/B747_400Combi_276.jpg
The Evergreen Deluxe seats are sold as regular Economy seats on the HKG-TPE-HKG runs, so it had been clear from the very beginning where to settle down.
Airside Spotting & Boarding
After passing security I walked around for a while to find a good spotting spot. Registration spotting is a pleasure at Chek Lap Kok, but the glass windows can make it difficult for photographers sometimes. In only a few hours I got a total of 40 new registrations.
Hong Kong Express Boeing 737-84P B-KBR (with a Hong Kong Airlines 737-800 close behind):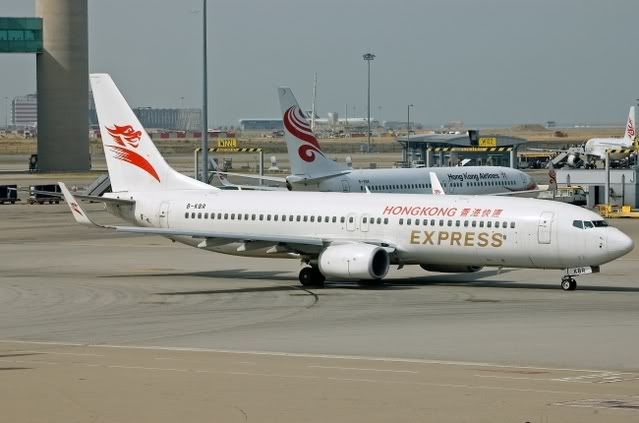 Picture by Satchmo
Cathay Pacific Boeing 777-367ER B-KPF in
Asia's World City
colors:
Picture by Satchmo
Our Boeing 747-45E Combi arrived at the gate on time...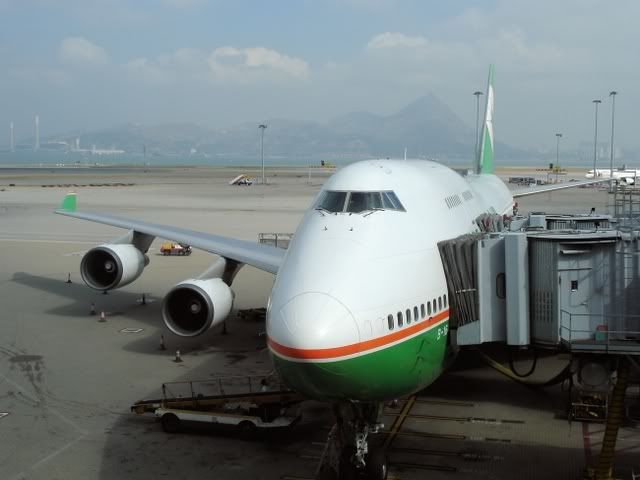 ...it was
B-16409
, a 1996 model.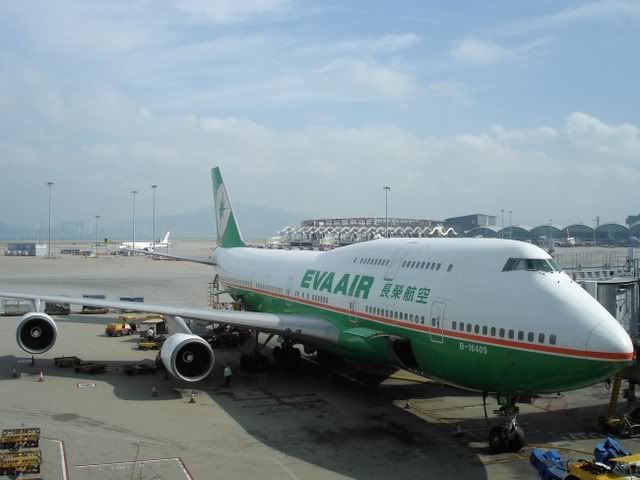 Cabin Comfort & IFE
Friendly FAs in dark green uniforms welcomed us at the door - and this time we turned left and headed to our seats in the 747's nose section. Not surprisingly, the seats - designed in the early 1990s and most likely installed on the aircraft in 1996 - can't match today's standards and look a bit worn.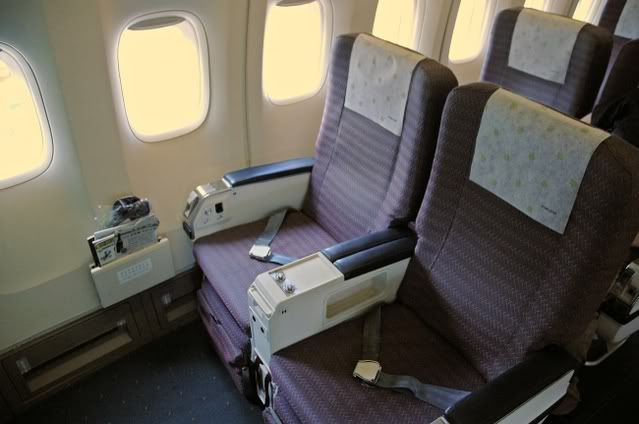 Picture by Satchmo
Nevertheless, the seats are comfortable...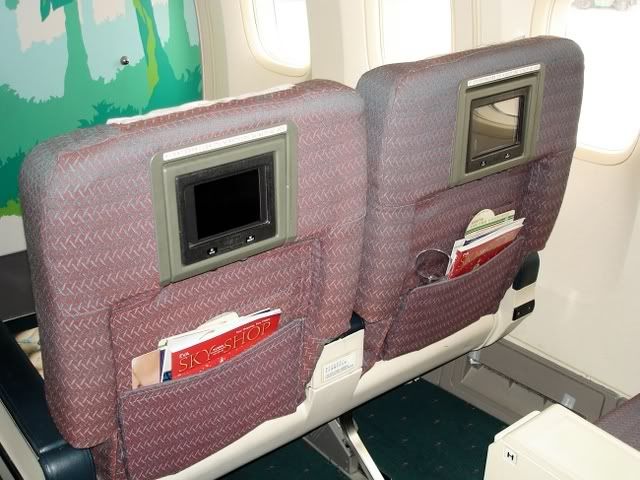 ...and pitch is excellent for premium Economy (38 inches, according to EVA Air's website).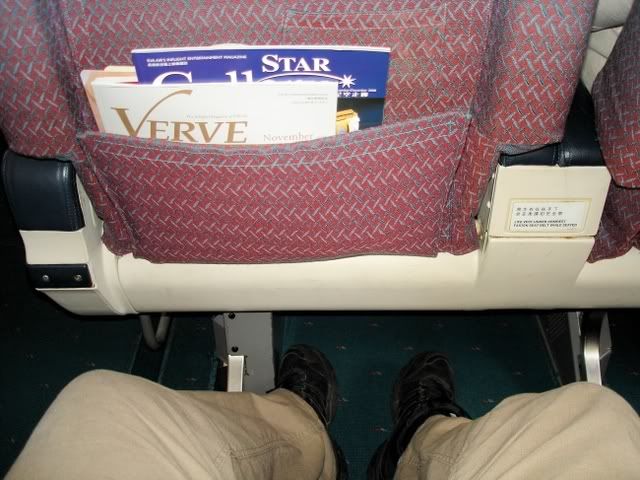 The front wall and the wardrobe doors are brightly-painted...
...spicing up the slightly dull ambiance in that front section (picture taken later in the flight). The cabin was packed - at least on the main deck.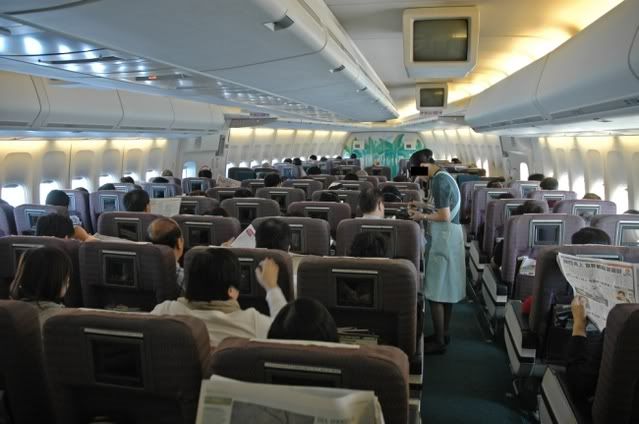 Picture by Satchmo
In addition to overhead screens in all cabin sections, Evergreen Deluxe seats are also equipped with PTVs. However, those remained switched off during the whole flight.
On-time Departure
Our 747 Combi was pushed back ahead of schedule, passing Hong Kong Airlines Boeing 737-84P B-KBM. The livery clearly reveals that the carrier is a member of the HNA Group.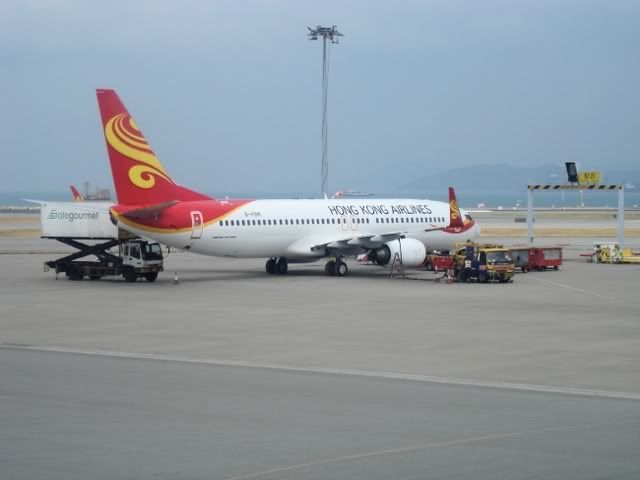 Some minutes later we entered runway 07R and our 747 rocketed upwards after a relatively short take off roll. Busy cargo ramp as usual:
Picture by Satchmo
"Meal Box"
The flight attendants soon started serving cold and hot drinks and also distributed snack boxes - or
"meal boxes"
, as stated on the box. What I also found interesting was the remark
"Please do not carry off aircraft"
. Do they want to reuse the boxes?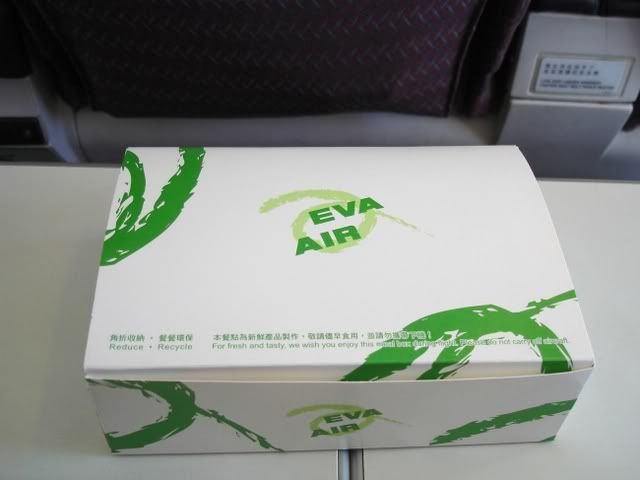 Not that I had expected a large meal - but the content of the box was disappointing, both in terms of quantity (lunchtime!) and quality.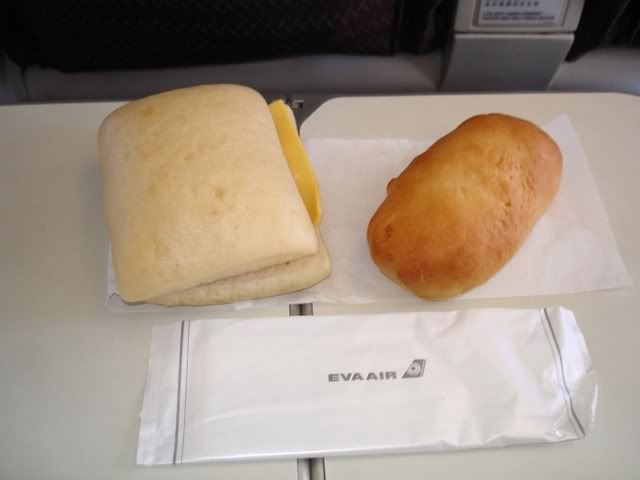 The sandwich (ham and cheese) was dry and tasteless - and the sweet bread roll wasn't a culinary delight either. It was filled with brown cabbage-like stuff, similar to the (red bean curd?) bread roll filling I got on Hainan Airlines. Not to forget - the coffee wasn't good either. Catering was an outright disappointment on that flight.  
Cabin Tour & Approach
An announcement by the apparently American captain revealed that there wasn't much time left at cruising altitude, so we went for a walk and had a look at the "Cattle Class" section: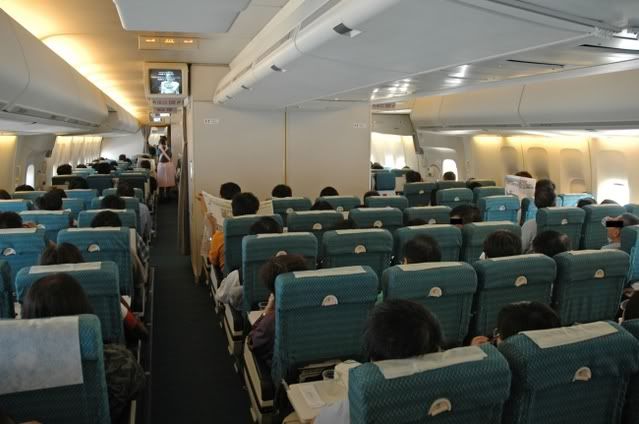 Picture by Satchmo
Picture by Satchmo
Just after we had returned to our seats, the plane started descending...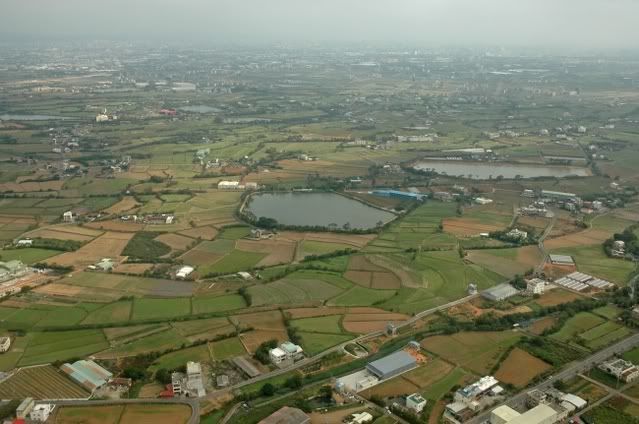 Picture by Satchmo
...and soon we were on final approach to Taipei Taoyuan Airport.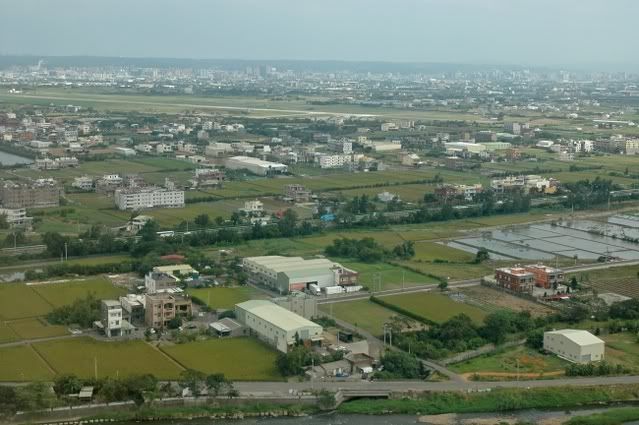 Picture by Satchmo
We touched down at 12:49 and arrived at the gate five minutes later - one minute ahead of schedule.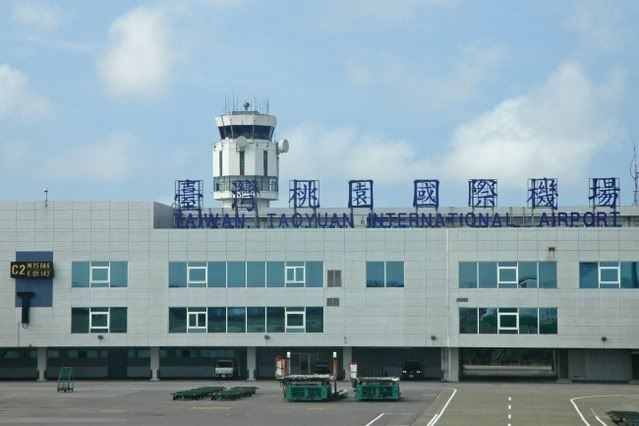 Picture by Satchmo
Transfer to Taipei Songshan
There was a long queue at immigration and it took about 30 minutes until we could grab our luggage. We decided to take the next bus to Taipei Songshan Airport in order to check the domestic flight options for the next day. Buses run every 30 minutes, one-way tickets are quite cheap (roughly 3 Euro).
The bus was equipped with comfortable seats in a 1-2 layout - and the bus on the return trip from Taipei Main Station to Taoyuan Airport on the next day was even equipped with PTVs (out of service, though).
The green headquarters of EVA Air in Taoyuan:
Motorcycles dominate the scene on Taipei's roads: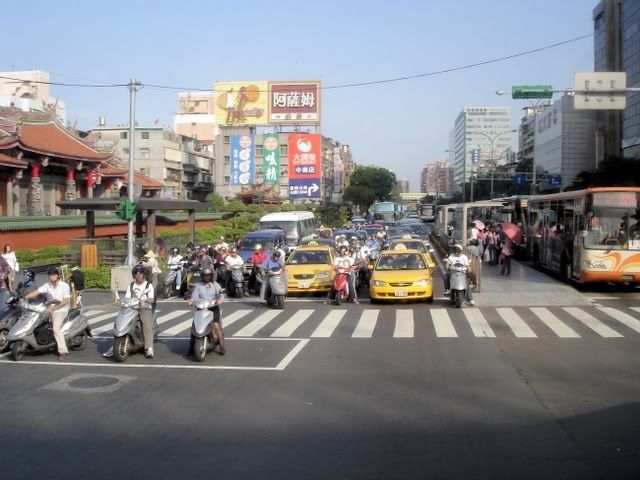 Elevated railway track of the efficient
Taipei Rapid Transit System
, one of the most expensive rapid transit systems ever constructed: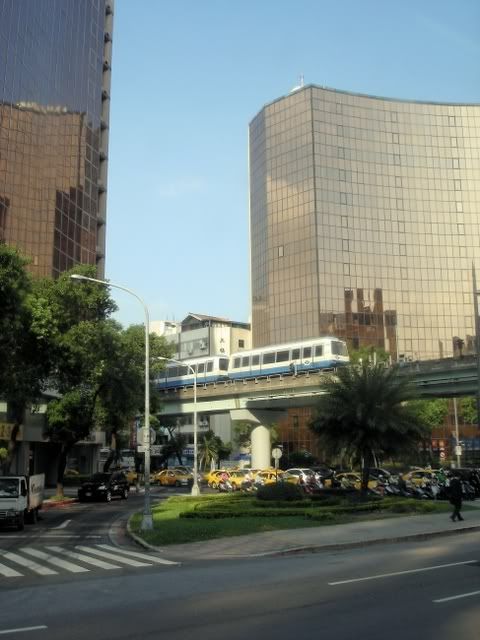 We arrived at Taipei Songshan Airport after a journey time of about 50 minutes and checked the domestic flight options...story to be continued in the next part.
Taipei Taoyuan Spotting
After our domestic journey to Makung and a visit to the
Taipei 101
it was time to go back to Taipei Taoyuan Airport on the next day. Due to its construction, spotting from the main terminal hall is not possible. After checking in for our flight and enjoying a delicious meal in a Japanese restaurant...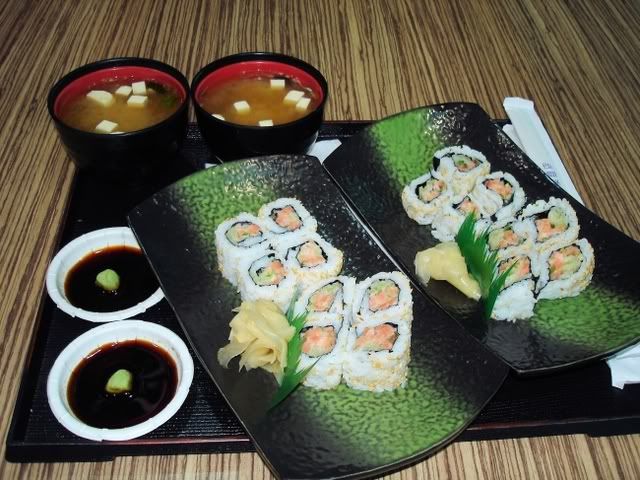 ...we decided to take a shuttle bus to the
Chung Cheng Aviation Museum
, located in the south-eastern area of the airport. Most important to us was the observation tower...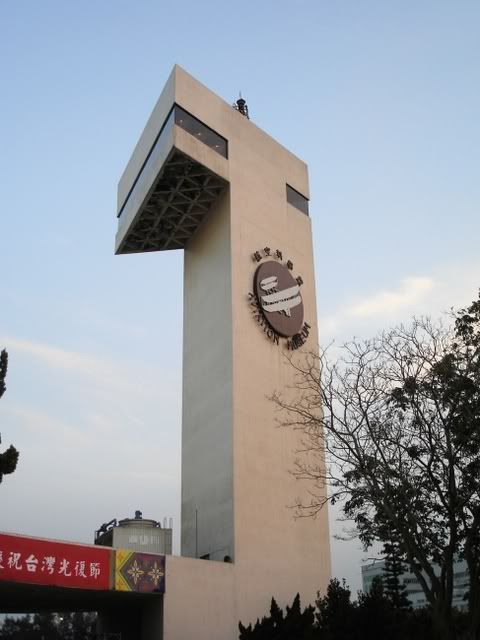 ...offering views of the terminals and the runways. The (air-conditioned) observation deck is a good location for registration spotters, but taking pictures is very difficult. The planes are far away and the windows weren't clean.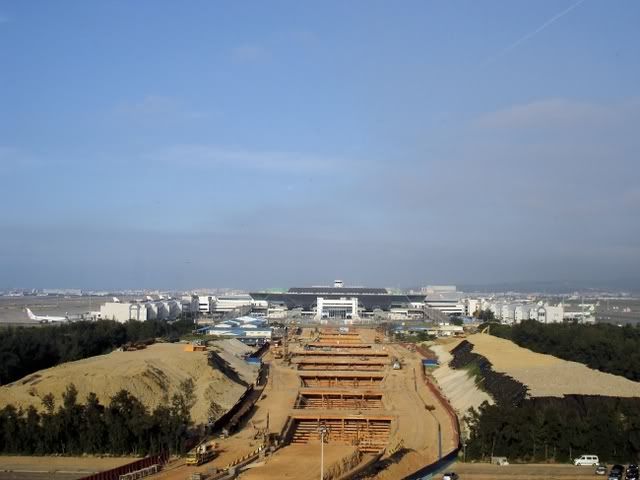 Those who are interested in military planes can have a look at numerous retired
Republic of China Air Force
aircraft: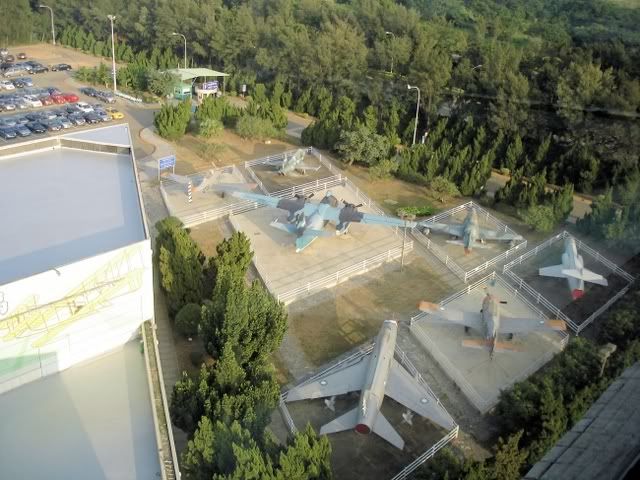 The museum closes at 17:00 - but views from the tower aren't good any more after sunset anyway. While we were waiting for the shuttle bus we had a closer look at some of the exhibited planes: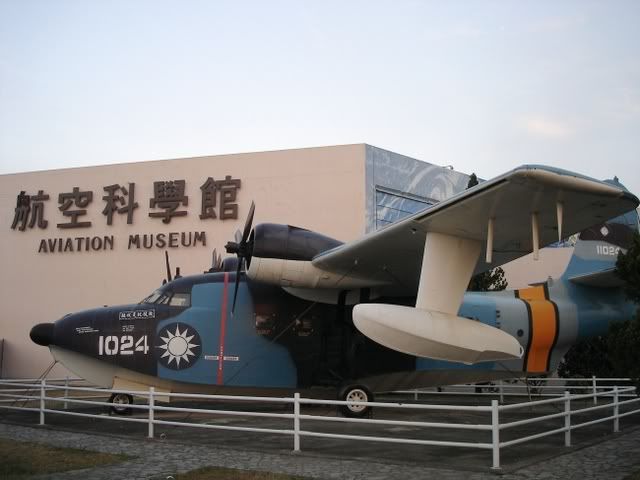 Friday, 07 November 2008
Taipei Taoyuan (TPE) - Hong Kong (HKG)
EVA Air, BR1851
19:00-20:45 (18:52-20:29)
Flying time: 01:17 (hrs)

Airbus A330-203
B-16306 (MSN 587), delivered in 04/2004
Economy Class, Seat 51A
Smooth Check-in
Checking in had been fast and efficient some hours earlier. Since we hadn't been able to reserve seats in the rear cabin at the time of booking I started a new attempt at the counter. The friendly check-in agent immediately reacted to my request and told us the rows which were still available. Considering it would be only a short flight we chose the last row on the A330-200.
We passed security and took a seat in the gate area. Spotting was nearly impossible due to the darkness and relatively small windows. So I couldn't log many more registrations - in total I had got 20 new ones during the day. Several EVA Air A330s were parked side by side at the terminal - and BR1851 would be operated by
B-16306
, a 2004 model.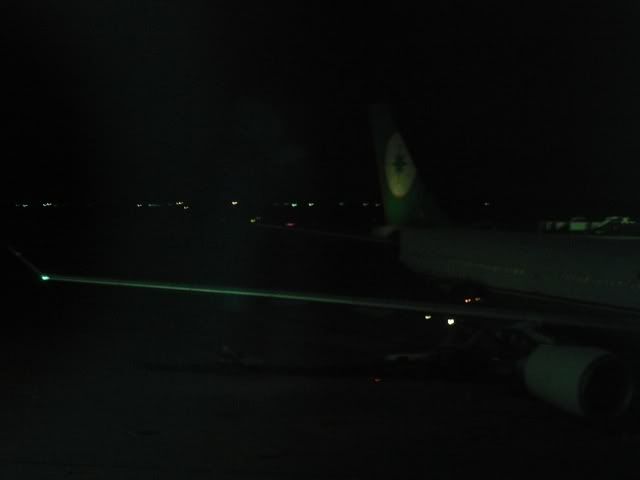 Cabin Comfort
Friendly FAs welcomed us on board while we were walking down the cabin. I found the light green and grey color tones pleasing to the eyes.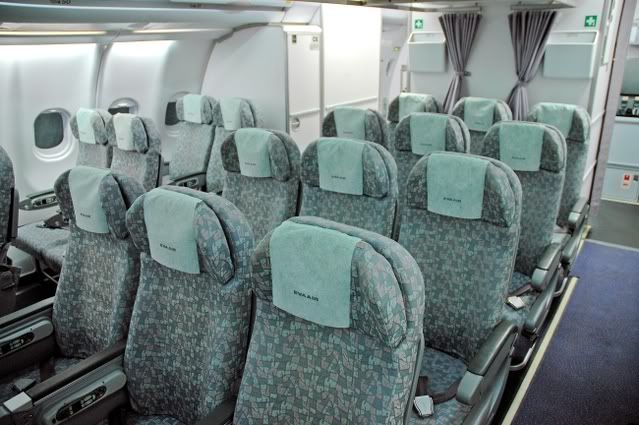 Picture by Satchmo
The slim-line seats are hard cushioned, but still comfortable.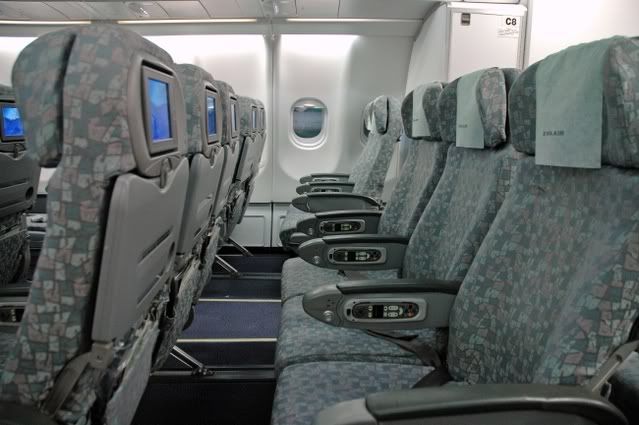 Picture by Satchmo
Seat pitch is generous, the IFE box doesn't pose a problem.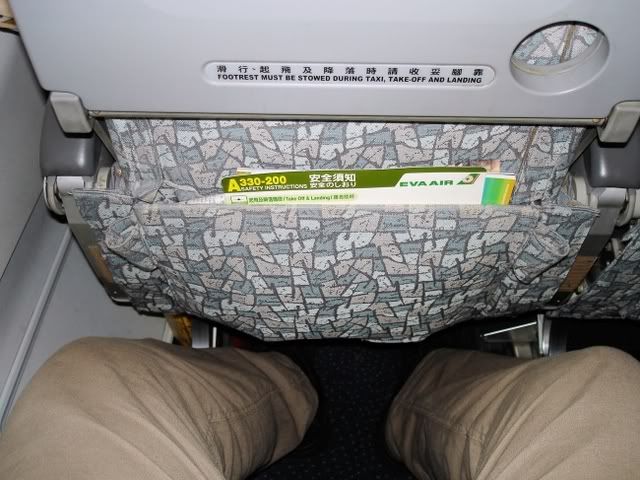 The passenger load was quite low, so boarding was completed quickly.
Picture by Satchmo
IFE
EVA Air's A330s are equipped with an audio and video on-demand (AVOD) entertainment system which is called
Star Gallery
: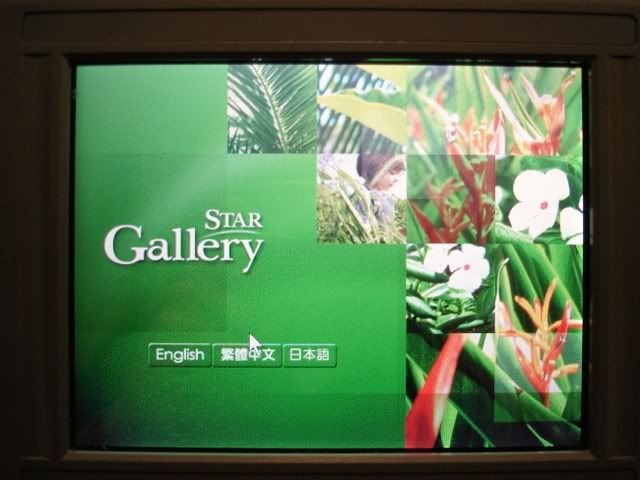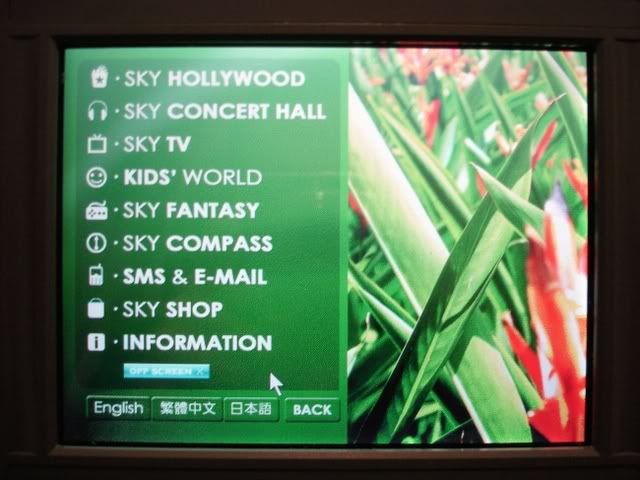 The system offers a wide selection of entertainment options:


- Sky Hollywood: 19 movies (latest blockbusters and classic flicks)

- Sky Concert Hall: More than 100 music CDs (playlist builder)

- Sky TV: 53 TV features (shows, news, travelogues, children's programs etc.)

- Kids' World: TV programs and music for younger travelers

- Sky Fantasy: 10 video games

- Sky Compass: Inflight data and maps with different zoom levels

- SMS and E-mail

- Sky Shop: Catalog with duty-free products and gift items

- Information: EVA Air news, Evergreen Club updates and travel guides

Star Gallery
was easy to operate and all options were available on the short hop to Hong Kong.
On-time Departure
While a maintenance crew had to check an engine pylon on the A330 next to us, our plane was pushed back early. 15 minutes later we turned onto runway 06 and
B-16306
lifted off after a powerful and short take off roll.
Sky Compass
channel shortly after takeoff: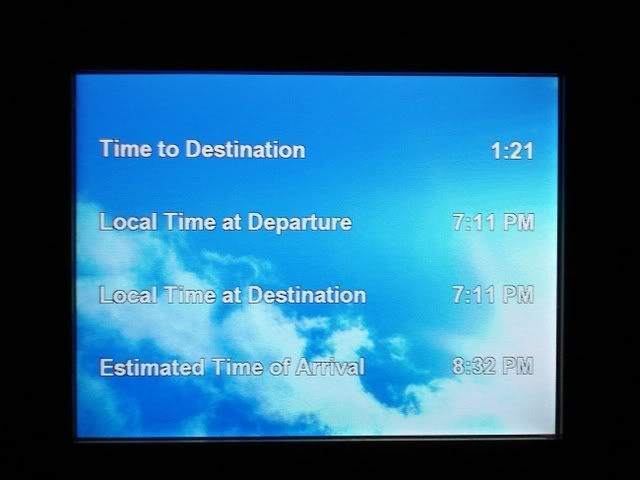 Disappointing Dinner
The cabin crew soon started distributing food - and I was glad to see they handed out trays and not just "meal boxes". However, I was surprised that spaghetti Bolognese was the only option on a flight between Taipei and Hong Kong: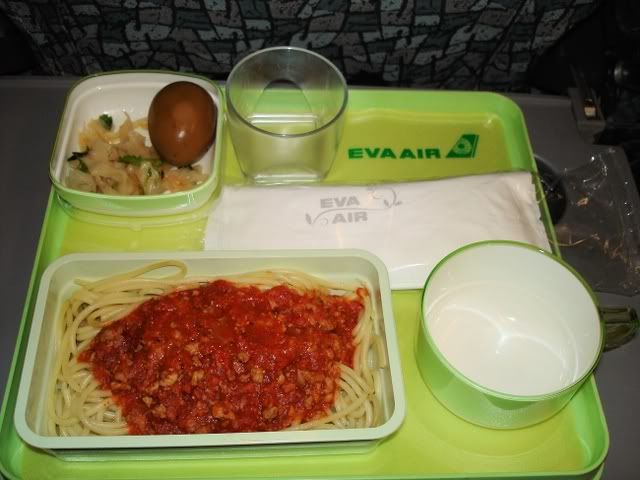 Honestly, the meal was another disappointment. The noodles were soft-boiled and the sauce tasted quite stale. Salt and pepper hadn't been provided, so I couldn't do anything to improve its taste. I can't complain about the pickled egg (soaked in vinegar), but the salad - a kind of cabbage with herbs - tasted simply terrible.  
Drinks followed quite late. I asked for a beer - and surprisingly, there was a choice between Carlsberg and a Taiwanese beer. At least EVA Air had some local stuff to offer, in contrast to the mainland carriers on the days before. I ordered the Taiwanese beer which wasn't bad - at least one positive aspect in terms of catering...  
Enroute over the Taiwan Strait, shortly after passing the Penghu islands: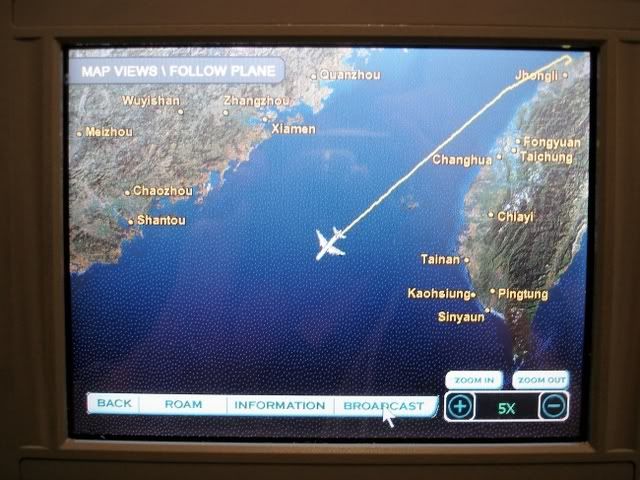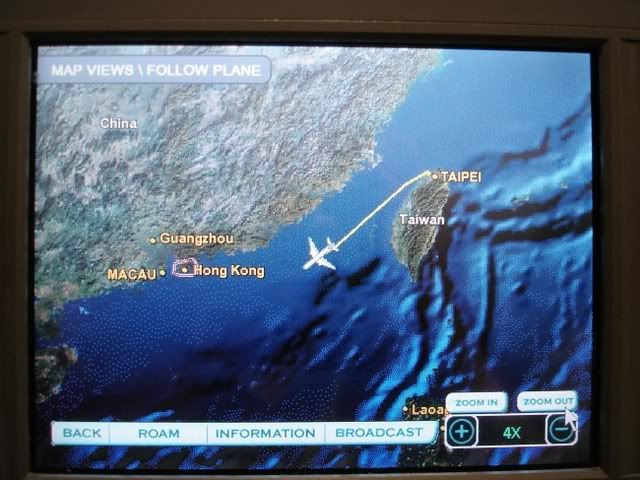 Cabin Tour & Approach
Time passed quickly, not least because of the enjoyable IFE. Before the plane started descending, we took some more shots of the cabin.
Picture by Satchmo
Amenities and plastic plants in the lavatory: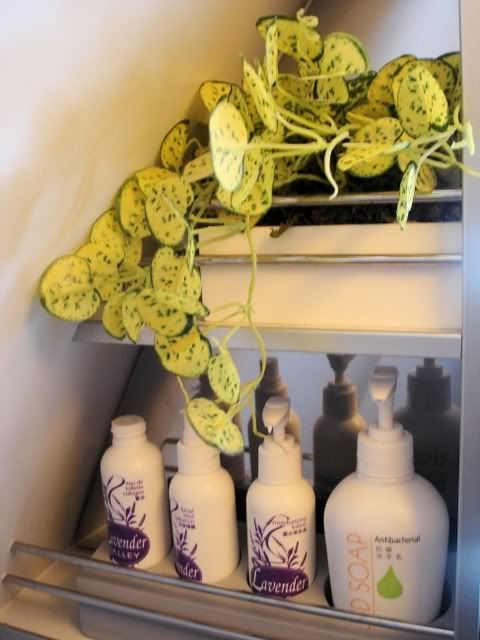 We couldn't see much in the darkness outside, but we could watch the approach on the moving map: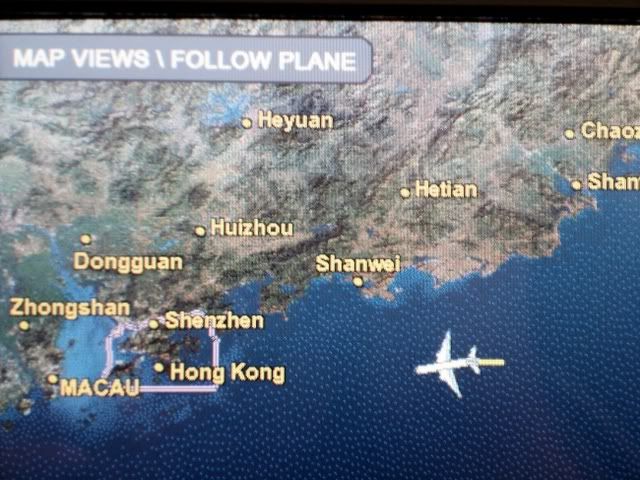 Right turn for final approach to runway 07L - now we could actually see the lights of Macau in the distance: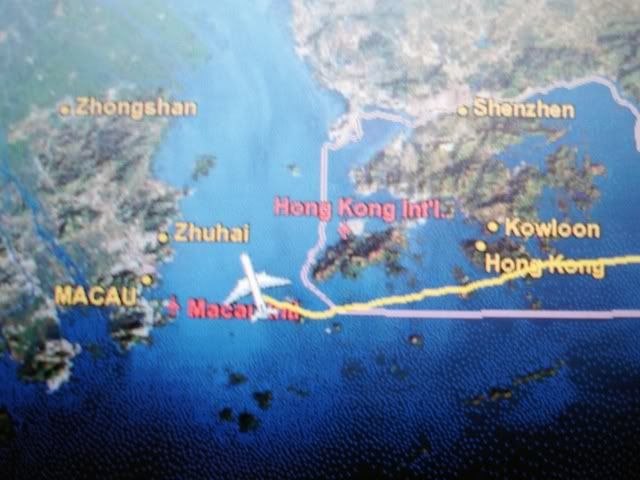 We touched down at Chek Lap Kok at 20:24 and arrived at the gate five minutes later - a total of 16 minutes ahead of schedule. I got some more registrations on the way to the baggage carousel, but the most interesting plane which caught our attention was AP-BAK, PIA's last remaining Boeing 747-200. To be precise, it's a 747-240 Combi - what a beauty: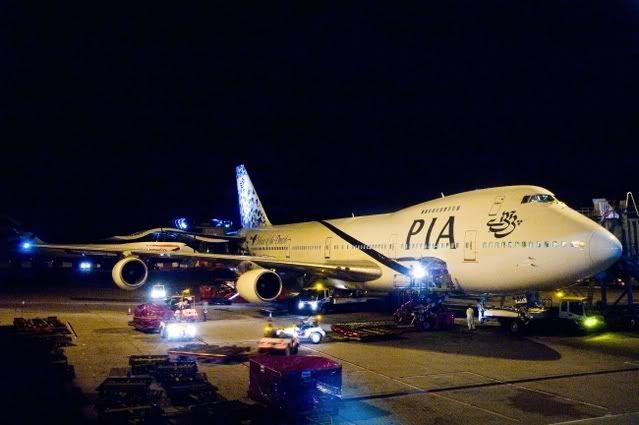 Picture by Satchmo
More than an hour after leaving the airport we arrived in Kowloon and checked in again at the
The Salisbury - YMCA of Hong Kong
. Story to be continued...
Conclusion
Flying
EVA Air
was a positive experience in general: Ground staff and cabin crew members were friendly and polite, the check-in processes were fast and efficient, both flights were on-time, the aircraft cabins were clean and the seating comfort was good. Considering the short flying time, the lack of IFE on the 747 wasn't a major annoyance. The IFE on the A330 can't match the latest systems, but it's still absolutely sufficient for long-haul flights. However, the catering on both flights was completely disappointing - I had really expected more quality. Anyway, I wouldn't hesitate to fly EVA Air again - but I wouldn't mind trying rival China Airlines, too.
Next report: TSA-MZG-TSA on Transasia Airways and UNI Air
Best Regards,
PlaneHunter
[Edited 2009-01-31 03:09:30]