Feedback always appreciated.
Trip Report: 066
Flight Category: J-IMR (See Report End)
Date: 24 Jan-09 (See Report End)
SDT/SAT/Dur/Delay: 0245/0625/04:40 hrs
Flight:
TACA TA 575
, 1,932 miles
Routing: JFK-SAP
Aircraft: 320
Seat: Business "Clase Ejecutiva", 3A
I > Background:
Back in the U.S. and frustrated at not being able to go back to Venezuela for the weekend (all options solidly booked out), I decided I needed some sun and the only place that was available last minute was San Pedro Sula – and then a quick diving trip to Roatan. TACA had some incredible fares in J – and I bit the hook and bought myself a 4 day weekend trip.
I believe this is the first trip report on TACA's J product (surprising I think), and the first to cover JFK-SAP.
II > Pre-Flight:
a) Before Airport:
TACA is the international airline headquartered in San Salvador, El Salvador. Groupo TACA is comprised of a group of 5 former Central American airlines and a group of IATA coded regional airlines which code-share and feed the TACA brand. It flies to around 39 cities in North, Central, South America and the Caribbean. It's fleet of Airbus A-320 family aircraft was recently supplemented by the arrival of the Embraer e-Jets.
TACA had recently redesigned their website to be more in-line with their overall corporate image. Now, while the site is visually appealing and functionally better than most Latin carriers, I just don't understand some of their corporate slogans … I mean, what exactly does their current tagline tell us … "What makes you different is driving our change" evoke? Anyways,
www.taca.com
is very functional and I was able to book my ticket. Later, one can view their reservation online. However, I do not believe it gives you the functionality to modify the reservation. Also, no pre-seating … one of my most important requirements in an airline. WHY?!
b) At Airport:
Given the odd flight time (2.45am departure), I arrived at JFK around 10.30pm hoping to have some dinner and use the lounge before I fly out. JFK is usually deserted during this hour – and one can distinguish the TACA counter by the line that had already started even prior to the counter opening. It was already pretty insane and had no form or definition … more of a fish market than an airport really. Anyways, prior to even having the honor of seeing the check-in agent, a girl stood with a scale to measure your hand baggage. Given the huge amount of bags around me, I was not surprised. Check-in was very efficient, and the agent was amused that I had no bags to check-in. Though, I don't understand how all the J class seats were taken as I was the first at the counter. One thing, no lounge access? I mean, I was expecting that from ConViasa, but from TACA?
Anyways, after a quick security, I ended up at the boarding gates and watched the interesting clientele fill in the boarding area. 45 minutes prior to departure, boarding was announced. J class passengers were allowed to board first and I made my way to the aircraft. Upon embarking, a surly flight attendant welcomed me. There were no welcome drinks, no hot towels, no coats being taken, and no amenity kits (or anything in the bathrooms) for an overnight flight. In fact, there was nothing that made one feel that they were flying J. The crew just watched as the disorganized boarding process folded in front of them. Their job was primarily to get rid of excess bags I guess? J load was 80% and Y load was 90%.
Airport - External:
(JFK Airport, Terminal 4)
Check-in:
(Woman checking handbag weight)
Airport - Internal:
(Internal – empty T4)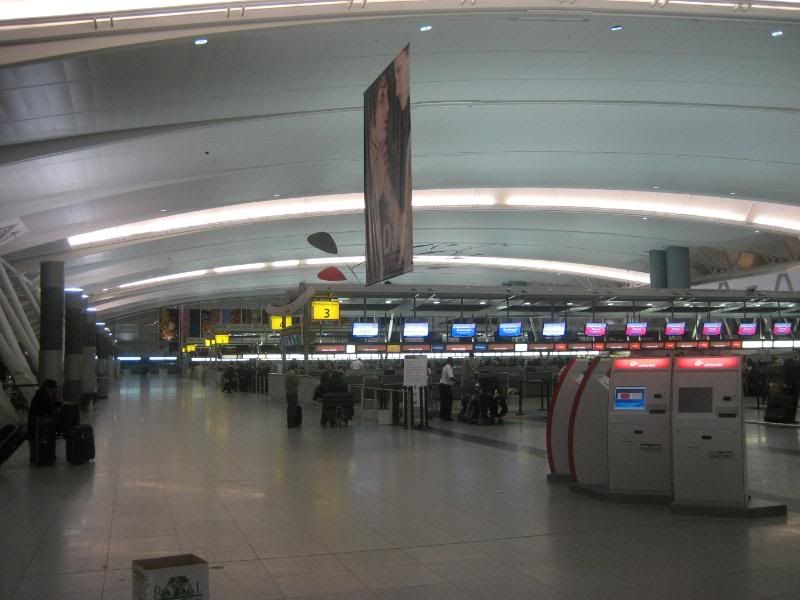 (FIDS)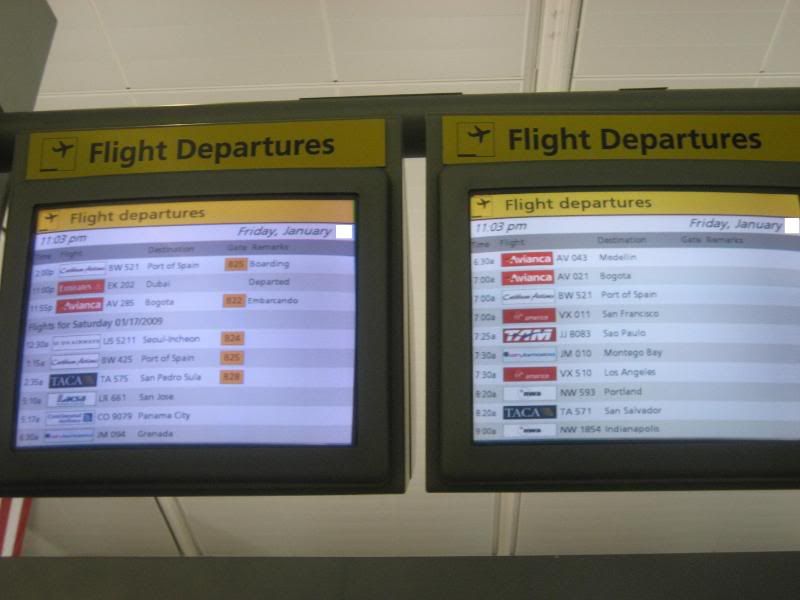 (Post Security)
Scenes of the tarmac:
(Avianca's gorgeous 319. I love their livery – this aircraft took me to BOG a few weeks back)
Lounge
NONE
Boarding:
(Gate B28 was used for this flight)
III> In-Flight:
a) Service Schedule + Impressions:
Meal service after take-off. That is pretty much it.
b) Aircraft + Seats:
I am not a huge fan of TACA's new Euro-white livery, but they were kept clean both inside and out. The interior of the first class cabin was nothing spectacular with seats that one would find in standard J class across the United States. The leather seats were comfortable enough. However, the legroom and recline was definitely below industry average.
Aircraft:
(@ JFK)
Views from Aircraft:
(Sun rises during flight)
General Seat Views + Seat Legroom
(J Class Seat)
(Seat legroom)
Seat Recline + Angle View:
(Very poor recline)
Cabin:
(Picture taken at night)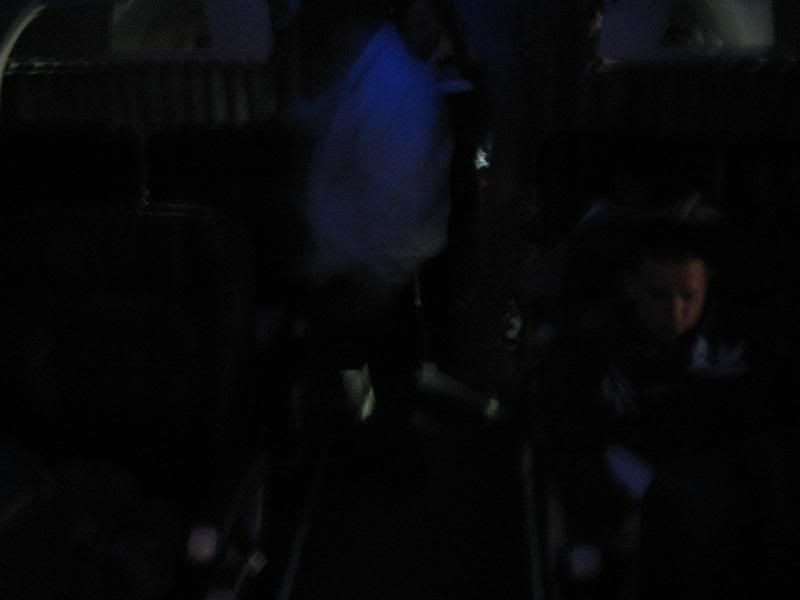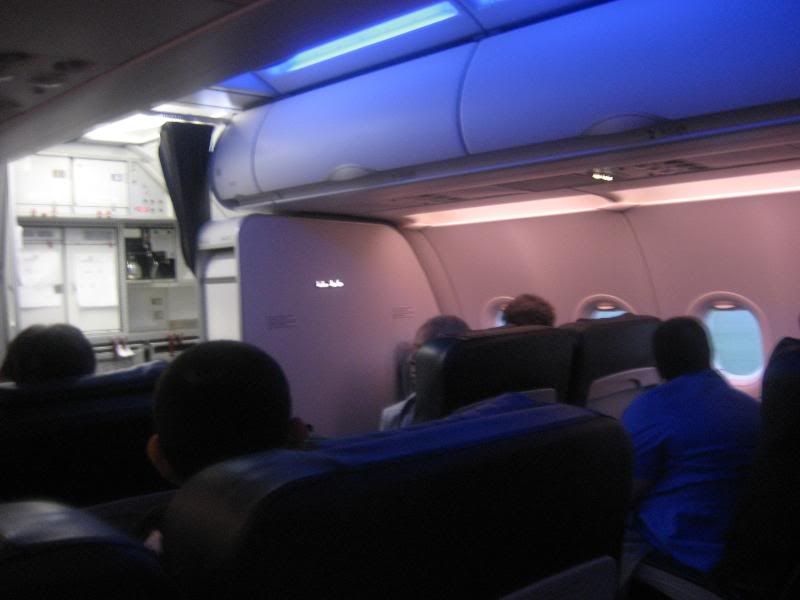 c) Meal + Beverage:
As mentioned, shockingly there was nothing to drink at take-off. A few minutes after take-off, a full meal service commenced. It started with a small fruit salad and a very hard piece of bread. Wouldn't one expect in J to have the bread heated up? This was followed by an interesting combination of sausage, frittata, and mushrooms. The meal was listless and lacked any distinct flavor. It was like someone had heated up a micro-wave meal and presented it in nice cutlery. Moreover, drink options were extremely limited and weirdly, there were no choices given to passengers.
(Fruit salad)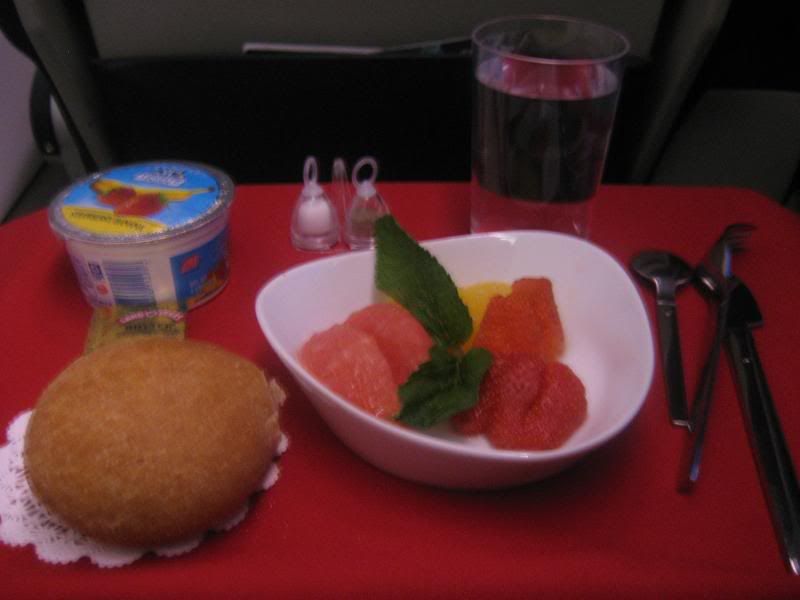 (Main Course – nothing amazing)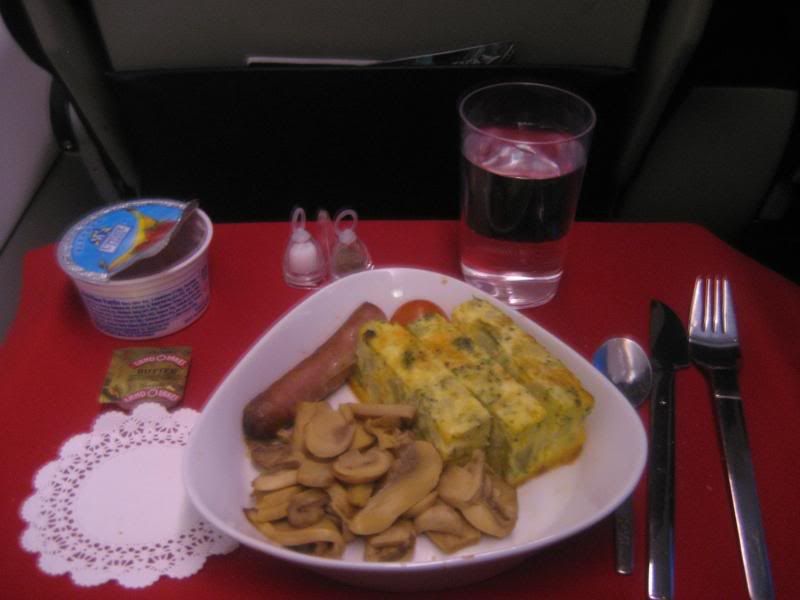 d) Inflight Entertainment:
TACA has no personal in-flight entertainment – and I was surprised that they don't even hand out personal players to J passengers. In lieu of that, one settles with the video screens throughout the cabin which played 2 forgettable movies during the course of the journey. One redeeming feature was their in-flight magazine which was informative and entertaining.
("In-flight magazines", Boarding Passes, etc.)
e) Crew:
Complimenting the rather listless service described above was an equally listless crew. Sadly, they had as much charm as a wall. I don't think I saw a single smile through the entire flight as they struggled to even do basic services. It was as if they were in bonded labor with no escape. While I could look past the lack of pre-departure niceties (ok, who doesn't bother to take coats away in J?), the complete disinterest to serve customers was a bit too much. They did their meal service and disappeared. I rang my call button for 20+ minutes to have a glass of water … finally giving up and heading to the galley to be served. Just really unacceptable. I recognize the flight was at an absurd hour – but many intercontinental flights are.
IV> Post-Flight:
San Pedro Sula is a small airport and it shows. Upon arrival, San Salvador bound passengers were requested to remain onboard as the rest of us disembarked using jet bridge. Inside the terminal, we waited for 25 minutes before the immigration officers showed up … what a lovely introduction to a country! Baggage retrieval was fast soon I was off to check-in for my Islena flight to Roatan. Since this is not a TR on Islena, I will spare you the details. However, Islena carried on my overall poor image of TACA – my flight was delayed 8 hours – then our flight to Roatan via La Ceiba made an unscheduled stop in Tegucigalpa to drop off the pilot's cousin – since our detour had taken a long time, we missed the window of arrivals at Roatan resulting in a forced overnight at Tegucigalpa. Uugh. Never again.
(San Pedro Sula airport)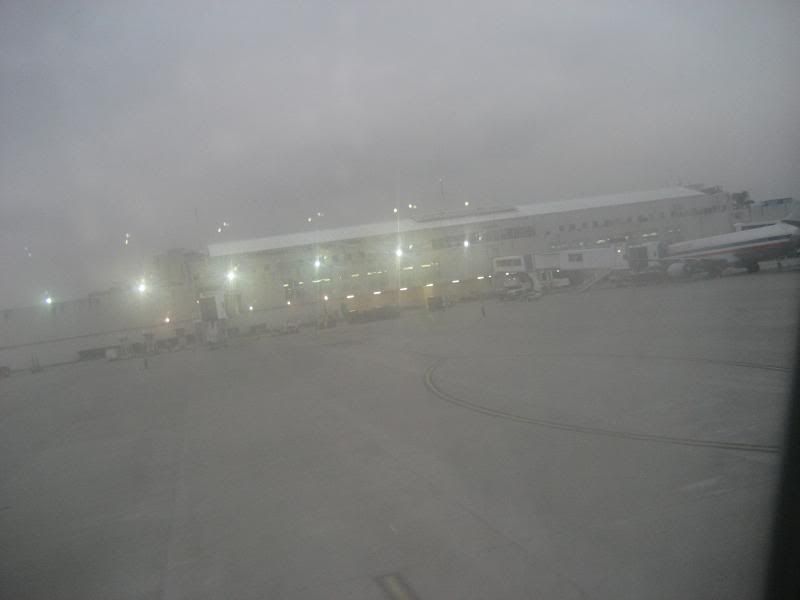 (Aero República by my side)
(Please let me in! – empty immigration counter. A first in my travels to many lands)
(San Pedro Sula airport – outside near check-in counters)
V> Impressions + Scores:
Why one would bother paying J class on TACA is beyond me. True, the fare was a steal and perhaps should have been an indicator to lower expectations. However, if even U.S. domestic carriers can provide some remote resemblance of service on their F class (filled with upgrades), I don't see why TACA has to be so listless. External modifications and glossy campaigns seem to be the rage in many Latin countries. However, putting lipstick on a pig does not make it the next Singapore girl. Service on-board TACA was just poor and I would go out of my way to not fly it – especially in J class. Two thumps way down!
1.0 > RESERVATION: 7.0
2.0 > CHECK-IN: 7.5
0.5 > LOUNGE: 1.0
0.5 > BOARDING: 7.0
2.0 > SEAT: 4.0
0.5 > AIRCRAFT OVERALL AMBIENCE: 5.0
1.0 > IFE: 4.0
2.0 > CREW: 3.0
2.0 > FOOD: 4.5
0.5 > BEVERAGES: 4.0
0.5 > A.KITS + OTHER FREEBIES: 5.0
0.5 > DISEMBARKATION: 8.0
1.0 > ON-TIME RECORD: 9.0
WEIGHTED OVERALL IMPRESSION (WOI): 5.07
(Pre-flight WOI of all reviews: 6.52)
* Weighted Overall Impression (WOI) aligns scores with what matters most. Weights are indicated alongside each category.
(Scores are based on comparison with other airlines in THAT class of service – No comparison of Y vs. F for example)
VI> Other Trip Reports:
PREMIUM:
8.64:
Turkish Airlines (59): JFK-IST: 11/2008
8.61:
Air Canada (49): YYZ-SCL: 06/2008
8.11:
Aeroflot (33): MOW-DEL: 09/2007
8.04:
Korean Air (40): NRT-ICN: 10/2007
8.02:
Delta Airlines (24): JFK-CDG: 08/2007
7.46:
LAN (55): YYZ-JFK: 09/2008
7.82:
Singapore Airlines (06): EWR-SIN: 09/2006
7.14:
Swiss (52): SCL-GRU: 06/2008
6.96:
Etihad (61): JFK-AUH: 12/2008
6.93:
Delta Airlines (18): SEA-JFK: 11/2006
6.84:
ConViasa (65): CCS-DAM: 01/2009
6.81:
Air Canada (17): ICN-YYZ: 10/2006
6.70:
KLM (32): EBB-AMS: 08/2007
6.36:
Privatair (60): MUC-BOS: 12/2008
6.25:
Korean Air (45): NAN-ICN: 10/2007
6.11:
TAP Portugal (53): GRU-OPO: 06/2008
5.75:
Singapore Airlines (16): CCU-SIN: 10/2006
5.64:
NorthWest (46): ICN-NRT-SEA: 10/2007
5.39:
LOT (54): WAW-JFK: 06/2008
5.07: TACA (66): JFK-SAP: 01/2009
4.42:
Air France: CDG-JNB (25): 08/2007
ECONOMY: Long + Medium:
9.26:
Air India (48): JFK-DEL: 02/2008
7.38:
Avianca (01): BOG-LIM: 07/2006
7.07:
Sri Lankan (62): KWI-CMB: 12/2008
6.41:
American Airlines (58): LHR-BOS: 11/2008
6.26:
Jet Blue (21): CUN-JFK: 02/2007
6.06:
Air Canada (04): YYZ-YVR: 09/2006
5.89:
USA 3000 (19): PUJ-BDL: 01/2007
5.79:
Air New Zealand (42): RAR-NAN: 10/2007
5.46:
TAP Air Portugal (23): OSL-LIS: 05/2007
ECONOMY: Short
8.56:
Paramount Airways (38): BLR-MAA: 09/2007
8.56:
Kingfisher (64): HYD-CCU: 12/2008
8.24:
Kingfisher (14): IXA-GAU: 10/2006
7.87:
Indian (34): BOM-MAA: 09/2007
7.72:
Alliance Air (13): CCU-IXA: 10/2006
7.57:
Indian Airlines (10): DEL-CCU: 09/2006
7.23:
West Jet (03): YYC-YVR: 09/2006
7.15:
JetLite (37): BOM-GOI: 09/2007
6.70:
Spice Jet (09): CCU-DEL: 09/2006
6.63:
Air Fiji (44): NAN-SUV: 10/2007
6.58:
Air Tran (02): EWR-MDW: 08/2006
6.48:
Air India Express (63): CMB-MAA: 12/2008
6.44:
CO Micronesia (39): ROR-YAP: 10/2007
6.41:
Pacific Sun (43): NAN-SUV: 10/2007
6.37:
Skybus (47): SWF-CMH: 02/2008
6.33:
Kenya Airways (29): NBO-BJM: 08/2007
6.33:
Sky Europe (56): LTN-BTS: 10/2008
6.31:
Indigo (15): GAU-CCU: 10/2006
6.31:
easyJet (57): BUD-LTN: 11/2008
6.22:
Air Link Swazi (28): MTS-JNB: 08/2007
6.22:
Air India (36): HYD-BOM: 09/2007
6.13:
Adam Air (07): SIN-CGK: 09/2006
6.13:
Air Rarotonga (41): RAR-AIT: 10/2007
6.00:
Transairways (27): INH-MPM: 08/2007
5.95:
Air Canada (05): ALB-YYZ: 09/2006
5.85:
SAS Norge (22): OSL-AES: 05/2007
5.81:
LAM Mozambique (26): JNB-MPM: 08/2007
5.69:
Air Deccan (12): IXZ-CCU: 10/2006
5.67:
Rwanda Air Exp (30): KGL-NBO: 08/2007
5.07:
Go Air (35): MAA-HYD: 09/2007
5.00:
Sky Airline (51): IQQ-SCL: 06/2008
4.96:
Valuair (08): CGK-SIN: 09/2006
4.78:
Air Comet Chile (50): SCL-IQQ: 06/2008
4.74:
Fly 540 (31): MYD-LAU: 08/2007
4.33:
Viva Aerobus (20): ELP-MTY: 02/2007
4.11:
Air Sahara (11): CCU-BOM: 09/2006
(Note on Codes: Y – Economy, J – Business, F – First :: I/D – International/Domestic :: SR/MR/LR – Short/Medium/Long Haul)
(Note on Date: Dates are modified to be +/- 3 days from actual flight date to not reveal actual flight pattern)
VII> Other Pictures:
NONE