EK418 - Emirates 777-300ER Inaugural Flight to CHC
Greetings to you all. I trust you all enjoyed the festive season, and are looking forward to a big 2009. Its going to be a big year for myself, a year of new horizions and hopefully a year full of lots of flying.
And Now Welcome to my 7th Trip Report. If you haven't read my previous reports, feel free to have a look:
1. School trip to Japan (NRT):
http://www.airliners.net/aviation-forums/trip_reports/read.main/115030
2. Emirates A340-500 to Sydney:
http://www.airliners.net/aviation-forums/trip_reports/read.main/122642
3. Day trip to Sydney NZ763:
http://www.airliners.net/aviation-forums/trip_reports/read.main/126094
4. Snow to Paradise.
http://www.airliners.net/aviation-forums/trip_reports/read.main/130604
5. Return from Paradise
http://www.airliners.net/aviation-forums/trip_reports/read.main/135991
6. New Air NZ A320 Short-Haul
http://www.airliners.net/aviation-forums/trip_reports/read.main/136680
1 > Background
Time for me to complete another trip across the Tasman Sea, and jump aboard the inaugural 777-300ER to Christchurch. Did my outbound sector on a very tired and shabby looking Air New Zealand A320 in the old configuration. Very worn and tired looking interior, not worth wasteing time writing a report... Enjoyed a great week in NSW which came to a end all too fast, but i wasn't worried as i had my first ever 77W trip ahead of me.
II> Pre Flight
The Day began very early on, just after 6am. Was out the door by 7am and in the car to the CBD with my brother. I then jumped on the train, and 6 stops, 20 minutes and $10 later i was at Sydney's Terminal 1.
Emirates Office on my way to the airport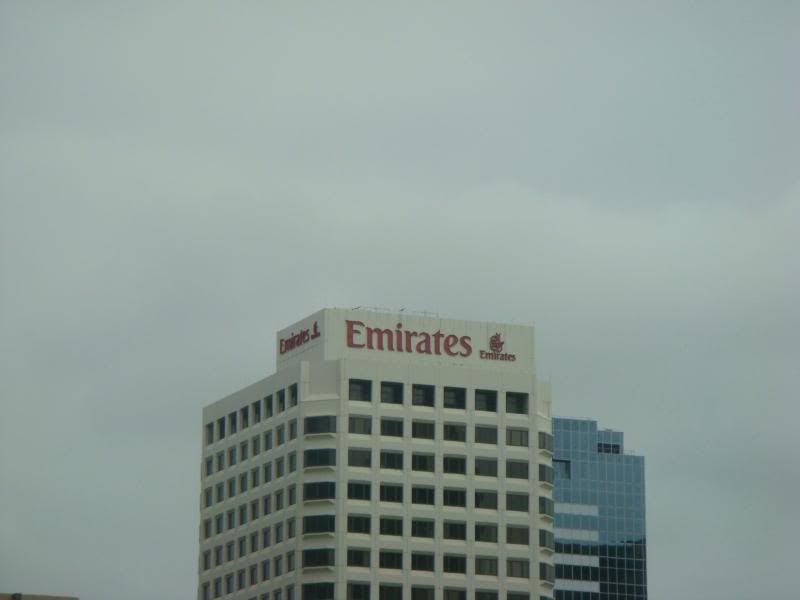 As expected, things were buzzing at that time of day, various flights heading north to Asia, as well as many flights to New Zealand were busy checking in. Check In's for airlines like Asiana, Air China etc were horrible with giant snake queues formed.
I made my way swiftly through the crowd to check in row H, where the entire island was dedicated to Emirates today. One side for economy and web check in, and the other for business and first customers. There was no queue at check in by this time and i was checked in within a few minutes.
Customs was right opposite Row H and although there was a decent queue, a large quantity of officers made for only a queue time of around 5-10 minutes. Security was swift, and within 20 or so minutes of arriving at the terminal i was airside. It was relatively busy in the C concourse of Terminal 1 today, SQ 744 to SIN, UA 744 to MEL, OZ 772 to ICN, KE 744 to ICN as well as the Inaugural EK A380 to AKL were all departing within an hour as well a numerous trans-tasman flights operated by Air NZ. The Queues for boading the A380 were absolutely massive, and it took over 40 minutes to board the beast. I did feel sympathetic for the people in the long economy queues.
Pier C
My 77W arriving from Bangkok Suvarnabhumi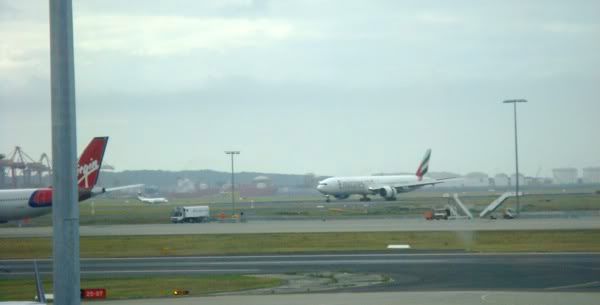 EY 345
QF 380 taking off on a ferry flight to MEL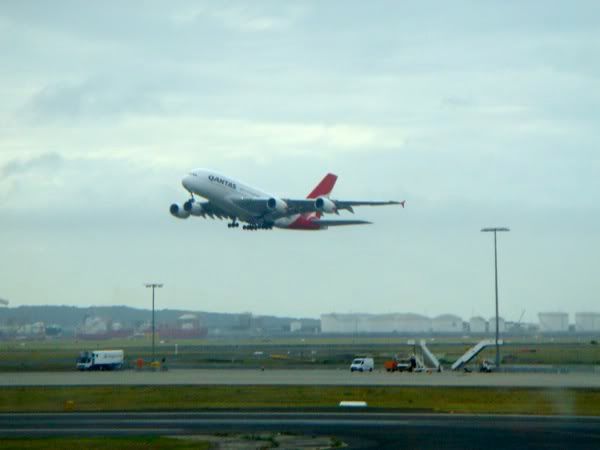 My 77W nearing the gate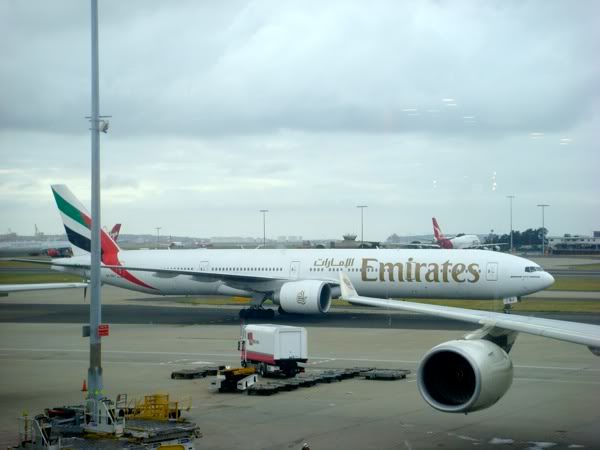 And the beast, A6-EDD, about to depart for Auckland EK412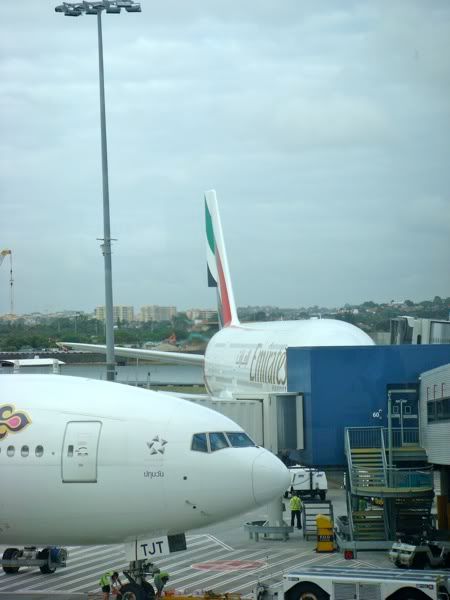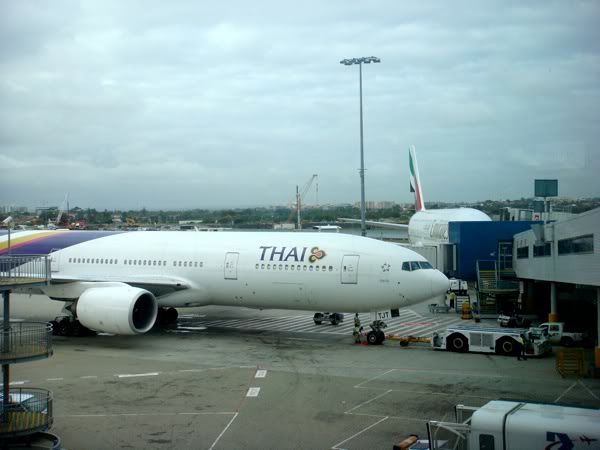 SQ380, Now i've seen every operator of the 380 today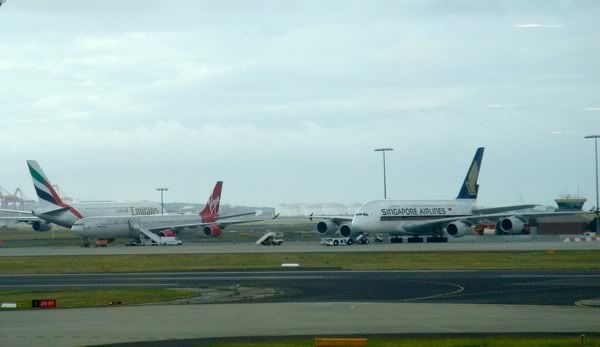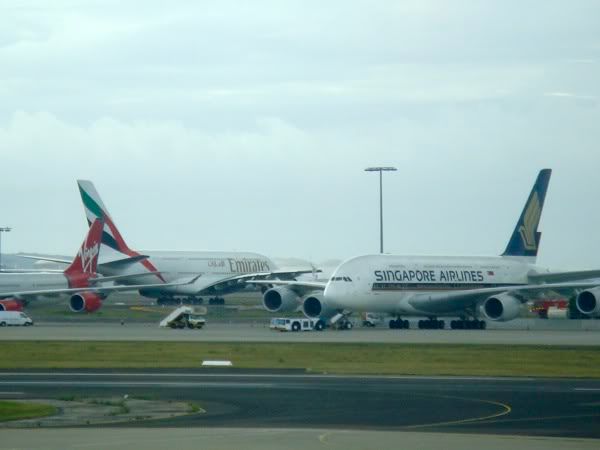 The Airbus Lads helping EK out im guessing
I had around 90 minutes to kill before my flight boarding. Sydney Airport has several free internet kiosks around the terminal, however this morning all of these had many people waiting, so i decided to flag this for a cheap pay computer.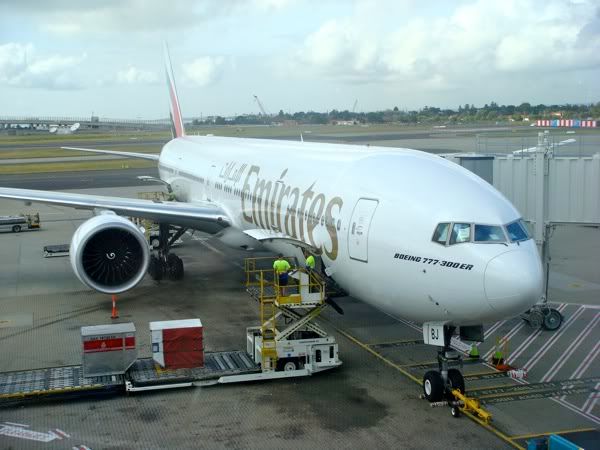 Boarding commenced at Gate 59 just a few minutes late and was extremely slow. I sat next to the gate for at least 25 minutes before the queue subsided, when i was finally got to the aircraft i was greeted by 2 Asian crew
"Good Morning Welcome Aboard"
"Thank You"
"Just Round here to the right sir, Enjoy your flight.
III > Flight Details
Emirates flight 418
Sydney Kingsford Smith to Christchurch International
Aircraft: Boeing 777-300ER A6-EBJ
My Log: 34th 777 Flight 1st Flight on this A/C and 77W Type
Departs: SCH:1015 ACT:1032
Arrives: SCH:1515 EST:1500 ACT: 1506
Aircraft Data:
A6-EBJ
Boeing 777-36N/ER
First Flight on 08DEC05
Delivered to EK on 21DEC05
IV> Boarding & Departure
When i arrived to my row i already had 2 seat mates, oldish ladies who were off for a spa holiday in New Zealand. Upon sitting down it suddenly struck me how full the plane, we were practically packed to the rafters! I didnt find the seat width that bad as well, and leg room was fine for this journey, no issues there.
GA A330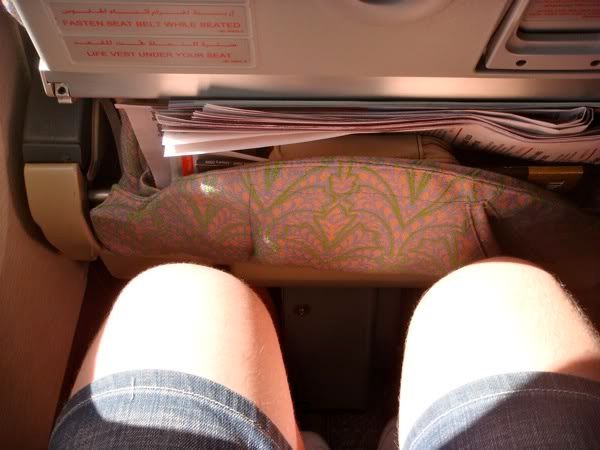 We pushed off gate 59 and onto taxiway golf just after our scheduled departure time 1015. After waiting for an Air Canada 77L to pull into into gate 58 we began our taxi. The safety demonstration was then played, first in Arabic and then in English
A Copy of the safety demo can be seen here:
http://www.youtube.com/watch?v=Az0tlh-Vf7c&feature=channel
Pushed back, waiting for Air Canada to arrive at the blocks
We taxied along taxiway golf until we reached alpha and we then turned right and made our way out into botany bay and to Runway 34L.
Some pics from the taxi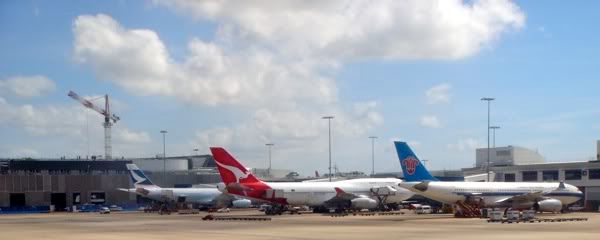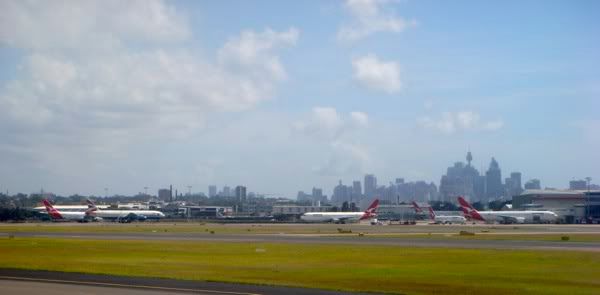 The GE90's roared into life just after 1030, the h.q. video is available at this link:
http://www.youtube.com/watch?v=6_TzDGMMAy8
Track after departure: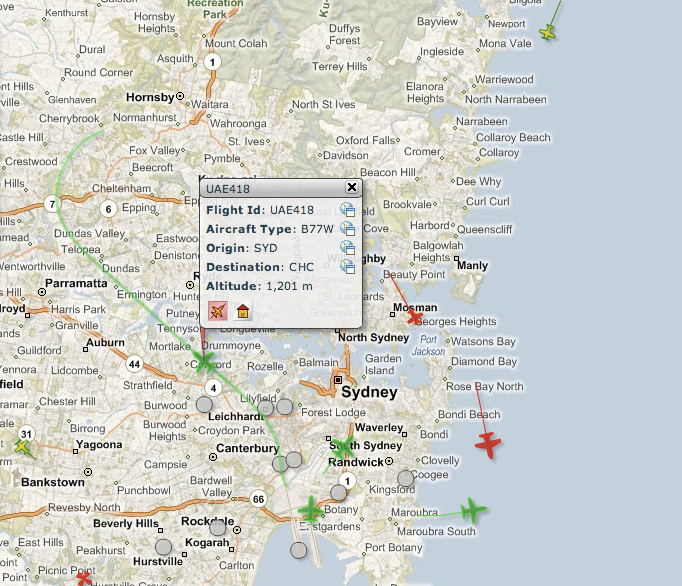 We made a slight left turn after departure and headed northwest toward richmond for quite a while before making a large right turn toward christchurch. The climb out was smooth and before we knew it we were at 35000 feet, our cruise altitude across the 'ditch' today.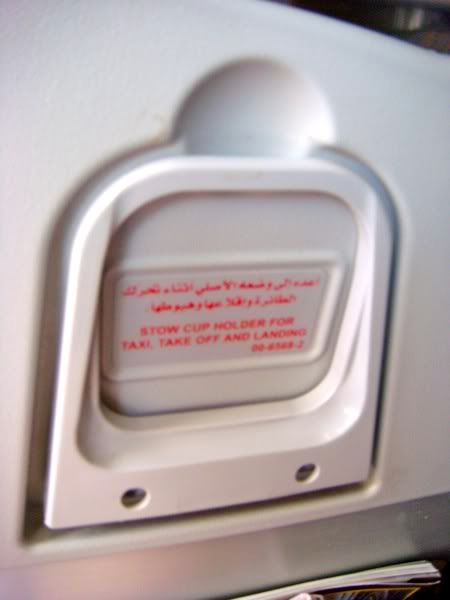 V> Service
The Crew on todays service were predominantly of asian decent as well as a few english crew. The languages spoken by the crew on todays flight ranged from Polish to Thai and everything in between. A young thai girl looked after my portion of the plane, and boy she sure looked liked she didn't want to be there. But luckily the crew made up for her as all the other staff were fantastic.
VI> Meals
Brunch was on offer on todays service, the menu looked like the following:
Economy Class
Sydney-Christchurch Brunch
Fruit
Fresh Seasonal Fruit
Main Course
Swiss Cheese Omelette
a light and fluffy omelette filled with swiss cheese
and served with a tangy capsicum sauce,
green beans, sauteed button mushrooms and
mini croquette potatoes
Creamy Chicken Korma
Served with fragrant saffron rice and seasonal
vegetables
Dessert
Raspberry Marble Cake
Vanilla and Raspberry marble with chocolate
icing and berry coulis
Meal Service began around 40 minutes after departure. The crew who were distributing meals were extremely unorganized, always having to refer to the menu, and when they didn't have my meal option (the chicken) the simply gave me the preset tray and kept serving others. What the hell!!! anyway i ate my roll and cheese and crackers, then after around 10 minutes, i had a hot meal thrown at me, no apologies it basically got thrown at me!!! i even queried to myself at that time, is this really Emirates???
My Tray, with no meal......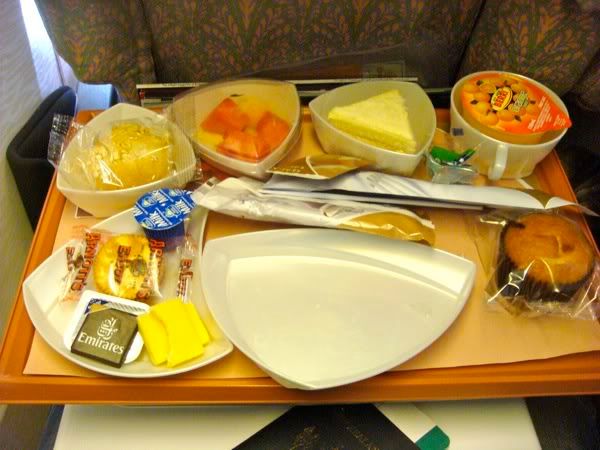 CHC Bound
VII> Entertainment
The original ICE system was available on this earlier generation 77W. I was really use to the system, and it has some good entertainment options, however ive noticed that their movie selection has really deteriorated. There was hardly a decent movie on there! I was expecting to see a few new releases but nothing. The movie of the month was High School Musical 3!! no thank you!
ICE Main Menu
Forward Camera Menu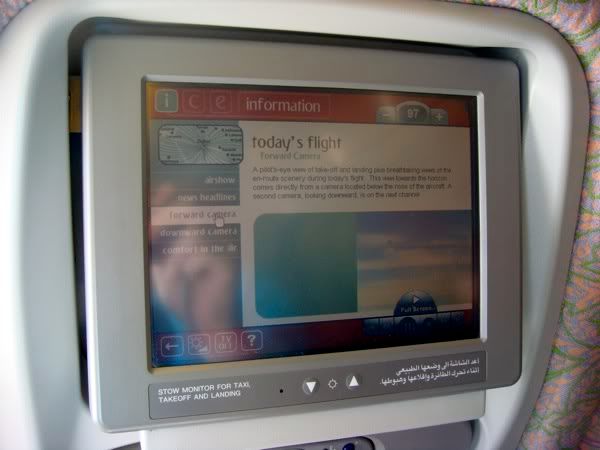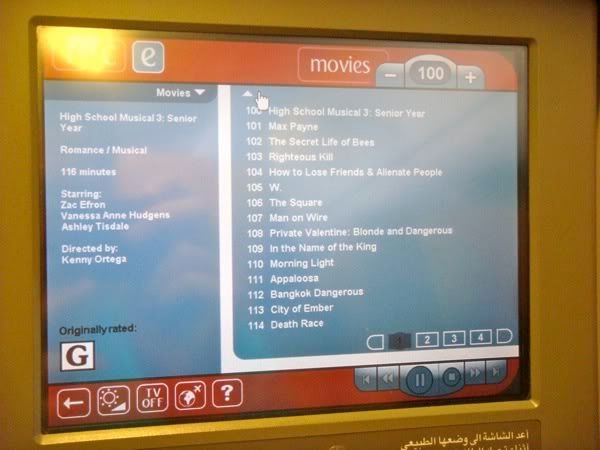 BBC News Service
NZ Arrival Card
The remainder of the flight passed very quickly. It was a rather short flight time today of just over 2 and a half hours. Decent came off the west coast of the South Island, near Hokitika. No good views of the southern alps today, many thick layers of cloud covered the great views today.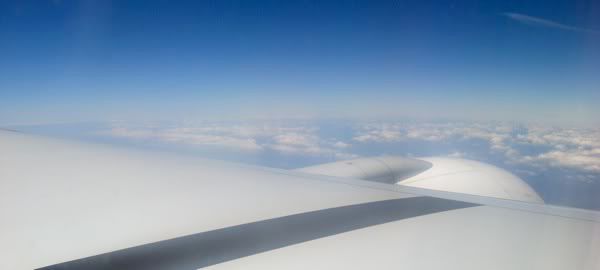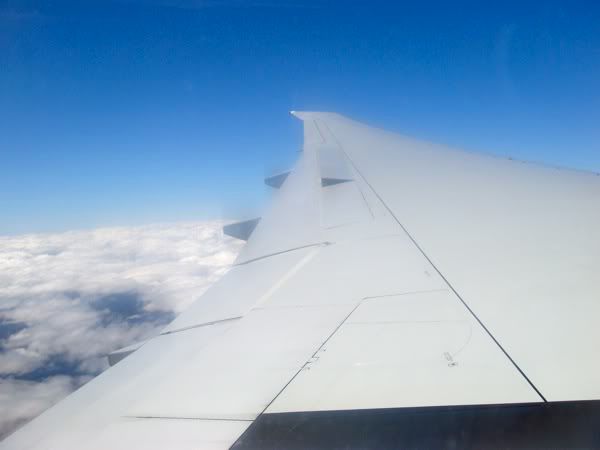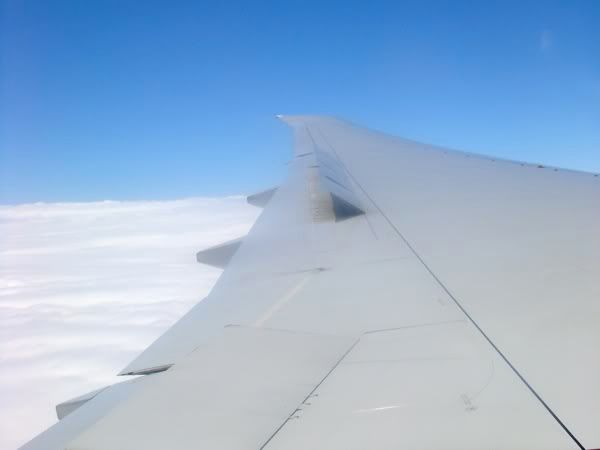 IX> Landing & Disembarkation
Our landing path today took us north of the city towards Rangiora and out to the coast, before making a right turn to line up with runway 20. We touched down a little after 3pm, to a mild Christchurch day.
Very Blurry forward camera view of runway 20
Video of Landing (H.Q.), Includes Water Cannon on arrival
http://www.youtube.com/watch?v=-yPfnp6GFog
I would have to include the 77W took a very long time to stop, almost the entire runway, even in all my flights to CHC in the 744 and 772 i have never used up so much runway on landing..
After taxiing along alpha to the international terminal, the captain came over the p.a to announce that we would get a water cannon salute, as this was the first 777 flight to CHC. All the passengers got a tad excited, especially me.
On Arrival at Stand 34
After all the calamity we pulled up to Gate 34, and quickly disembarked. Customs was the busiest i had ever seen at CHC but because my bag met me at the carousel straight away i was still out in good time
The View of the Bird from the Car-Park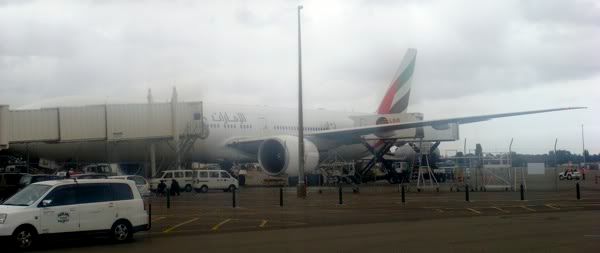 X> Final Comments
In conclusion, i feel that it was only the crew who spoilt another decent flight on EK, all other aspects of the EK experience were up to scratch!!
My Rating: 8/10
Well Thanks for reading this far, All comments and suggestions for future reports would be fantastic!!!
Until Next Time
Chris (NZ99)