Since my first flight over 20 years ago, I've generally managed to avoid anything referred to as low cost, apart from the odd charter here and there. I generally fly around 50 sectors a year as a passenger or so, and whilst not the world's most frequent flyer, I get about so to speak. In 2008, due to my ability to use their staff travel, I managed to lose my easyJet virginity. For the price, I was actually very impressed, and the only major flaw I found in the system was having to run like a fool to the plane to try to get a decent seat. This I didn't particularly like, but considering the price, I could live with it.
I then found myself questioning why some people were so averse to the whole low-cost thing, and after flying easyJet for the 2nd time a few weeks ago, I found myself contemplating one of these £2.50 no taxes flights on Ryanair. "How bad can it be?" I thought, as I typed ryanair.com into my browser. I mean, it's only a 45 minute flight from London to Dublin, and the thought of a pint of Guinness upon arrival was just too tempting, and after finding out that myt332, nighthawk and LHR380 were all too booking FR from MAN, ABZ and LGW respectively, I thought sod it, why not, and clicked the "Book" button for my £5 return. Bargain.
However, as I continued through the booking engine, my jaw dropped in horror as I found out there is a £5 booking fee, per sector to use my Mestro Debit Card. Fine I thought, I have other cards... Which one is free? Visa Debit? No. Solo? No.... It is of course... Electron... That well known card that about 1 person in the entire country has! I rang round everyone I knew asking if they had an Electron card. No one did. FR aren't daft - they clearly realise that no one has one of these damn cards and so offer free booking to that 1 person who actually has one; everyone else ends up paying a tenner extra to use their card. So my £5 bargain now ends up costing 3 times the price! Ah well, it's still only £15, so still pretty cheap for a day trip out on a 737. I'll get over it. The day trip was booked for Saturday 7th February.
Come the 2nd January, London basically shut down due to the snow. LGW, LHR, LCY, STN and LTN all were hit, all were shut as we saw the worst snow in 2 decades. I wasn't particuarly worried by this, we've seen it all before, snow comes, snow melts and that's that. However, come the Thursday, when the other 3 were flying out, things hadn't returned to normal. Myt332's flight from MAN was cancelled, Nighthawk's flight diverted into ORK, and LHR380 had to rebook onto a BA ID90 to get there. This didn't bode well and come Friday night as the snow fell once again, I had visions of being stuck in STN all day.
I got in the car Saturday morning at some ridiculous hour for the 45 mile trek round the M25 and up the M11 to STN.
It was cold, but the snow was patchy and nothing to write home about, although the ice on the country lanes wasn't too fun. About 5.45, I arrived at the STN Mid-Stay car park. I'd never heard of a Mid-Stay car park before but after seeing the prices for Short Stay, I decided it was my best option for my 12 hour jaunt. I duly got out the car, fell flat on my arse due to them not gritting the car park, and nearly smashed my laptop bag into a BMW M3. Good start. Finally on board the shuttle bus I composed myself and double checked I had the boarding cards and passports in my bag. FR it seems will charge you to check in at the airport if you forget your printouts from Internet check in. Another thing I'm not used to after being pampered by full service carriers all my life!
With no check in to contend with, no bags to drop and boarding card in hand, I headed for security. There were a few people in front of me, but I have to say STN have a great setup for security. Loads of x-ray machines, all manned; a very slick operation compared with LGW, and even LHR T5 (who's main problem is usually just lack of staff). I was now airside and time to check the screens with regards to my flight. The FR205 to DUB was scheduled for a 0810 departure, and it showed on time and Gate 42 was displayed. I made my way to the gate in preparation for the mad scrum to get a decent seat. Happy that after all my snow worries appeared to be nothing more than paranoia, I arrived at the gate to find the screen displaying Gate Open, but sadly no plane there. There was however at the gate next door, EI-DLO sat wearing "Bye Bye EasyJet" titles, ironically enough with an easyJet A319 above it! Someone also needs to tell Mr. O'Leary that it's not "EasyJet" but "easyJet"!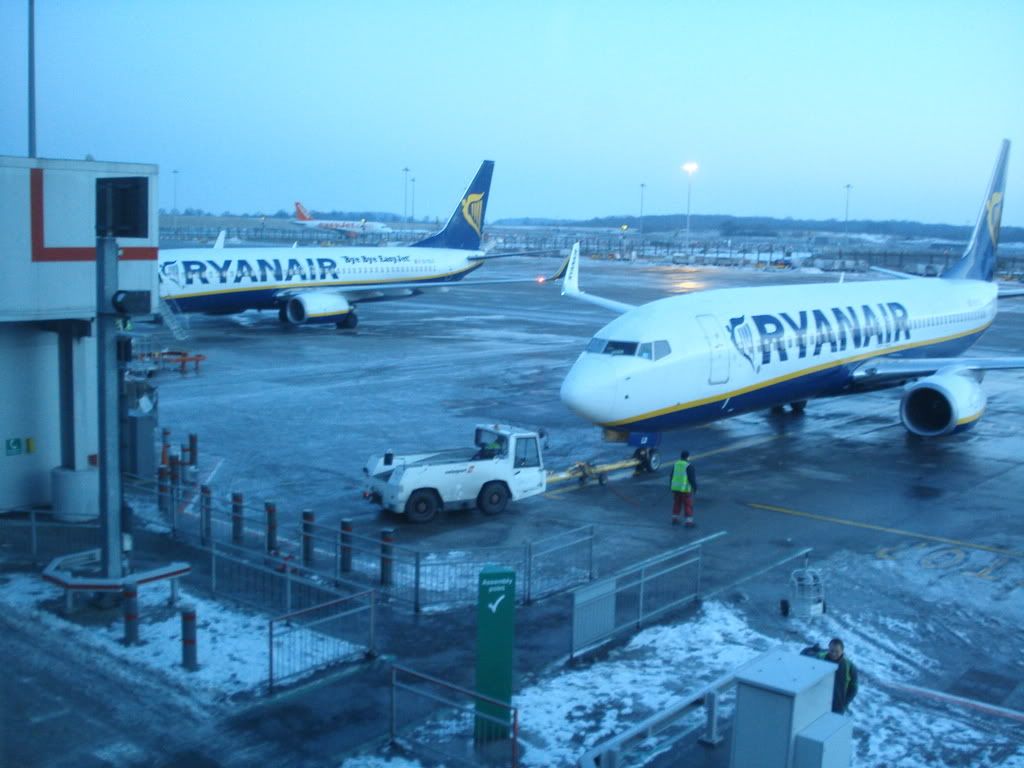 As the departure time of 0810 got closer, an announcenemt was made over the PA system, that the inbound aircraft had been delayed out of DUB due to the weather and would not land until 0820, at which point once all inbound passengers deplaned, we would board. This didn't seem so bad, and sure enough at 0820,
EI-DHS pulled into view, straight onto the stand next door, Gate 44. A PA was made and the entire plane load of passengers ran as fast as they could to the gate next door. I seemed to do quite well out of this and ended up 2nd in the non priority line. This kind of behaviour though is precisely what puts me off these carriers, it's degrading!
View Large
View Medium


Photo © Fride Jansson
Delivery Date:08 November 2005
About 2 minutes after passengers started disembarking, priority boarding for the FR205 was called. I found this odd given hoards of people were still getting off. I didn't have this priority boarding but given my good fortune from my Olympic sprint, I was soon handing over my passport and boarding card for inspection. All was ok and I was through and descending some stairs to ground level to get onboard. Then, we stopped. The doors at the bottom were shut and clearly this is normal behaviour as there are signs up saying that you might have to wait there for some time. Why we couldn't have just waited in the warm I don't know, but it just felt very low cost - I didn't like it!
After 5 minutes or so, the doors were opened and we were ushered to EI-DHS. Finally! Being low cost, FR don't use jetbridges anywhere (I think?) and so their 73H's have airstairs built in. This makes life easy and is a nice touch. The last time I got on a plane with inbuilt airstairs it was a 735 belonging to FR's Irish brethren, Aer Lingus.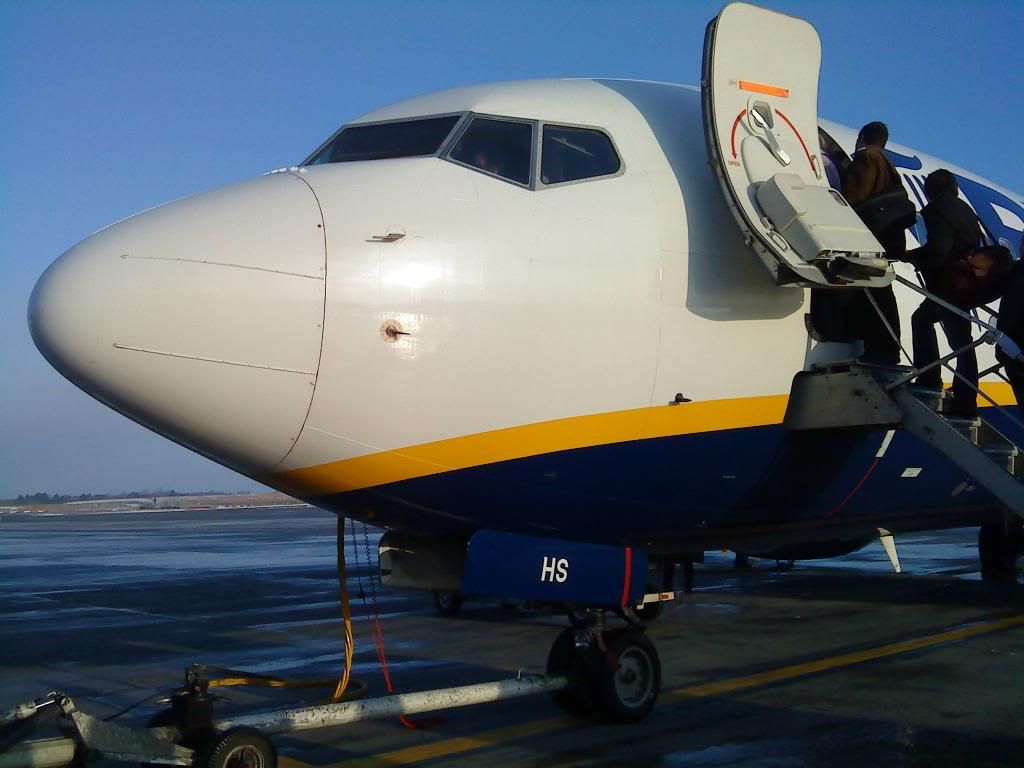 So now was the moment of truth, I was boarding my very first Ryanair flight! The suspense was killing me as I waited at the top of the airstairs whilst the senior cabin crew member held us outside whilst she reapplied her make up. Very professional but it allowed me to take a quick picture on my phone!
Finally we were able to board and the 1st thing that struck me was how bloody awful the bright yellow is inside! Yellow seat back covers, yellow overhead bins... Urgh! As I was one of the first to board, and row 1 was full, I shot to the exit rows to take advantage of some extra leg room. I chose 16F, the 1st of the 2 overwing exit rows. The flight began to fill and we kept being advised rows 3 and 4 were out of use for mass and balance reasons. I'd be interested to see the load sheet and mass and balance information for the flight, as I can only assume that due to the light amount of hold luggage this is where the issue lies. Whilst everyone boarded, I looked around in more detail. The life jackets are stored overhead, with the oxygen masks, presumably to stop people stealing them, and the safety card is stuck to the seat back, presumably for the same reason:
None of the seats recline, but at least they haven't removed the gasper fans! The leg room I had was great given the exit row, so apart from the yellow and the basicness, it just felt like a normal 738; I could cope for 45 minutes! We were now boarded, and the cabin crew came round closing the overhead bins. More surprises! The overhead bins have adverts on them! For a Sony C902 to be more precise, and adverts for buy one get one free on their alcohol sales onboard. What an odd idea! And they're not just yellow,but fade from yellow to the normal overhead bin colour! We haven't even pushed yet and I'm just sat in shock as to how the inside of a 737 can look like this! It was at this point I noticed a weird illuminated sign up on the roof, basically telling you if mobile phones were allowed to be used or not. I presume this is for future use when FR install mini cells in their planes?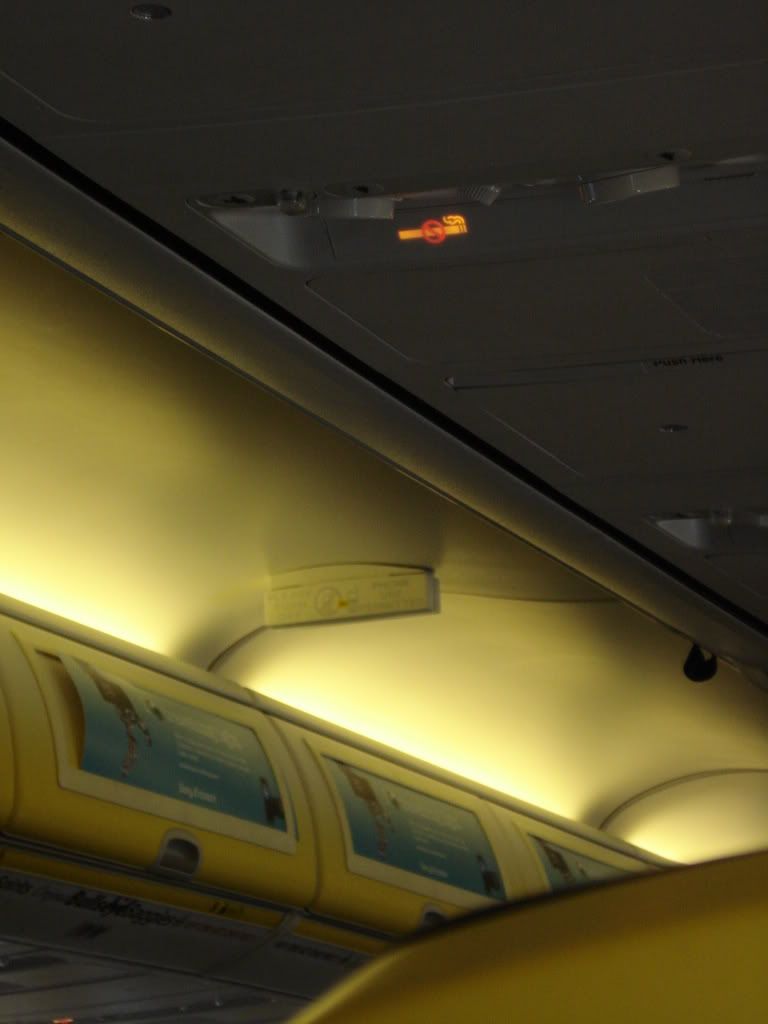 At 0855, some 45 minutes behind schedule, we pushed. Could have been much worse given the week's snow chaos, we were all just glad to be on our way. We taxyed out towards runway 23, with the pre-recorded FR safety demo being played. The girl next to me pointed out something which I hadn't even realised. How come all other carriers have a whistle on their life vests but FR don't? They only have the light, no whistle to be seen and no mention of it!
Safety demo over, the cabin crew took their seats and off we rolled. As we climbed out over snowy Essex, we were soon in the clouds, and soon straight out again and into the morning sunshine. Wasting no time, the crew were up and about and playing prerecorded messages saying they were commencing food service. This impersonal touch I feel was unnecessary; it wouldn't take much for the crew to do this PA themselves.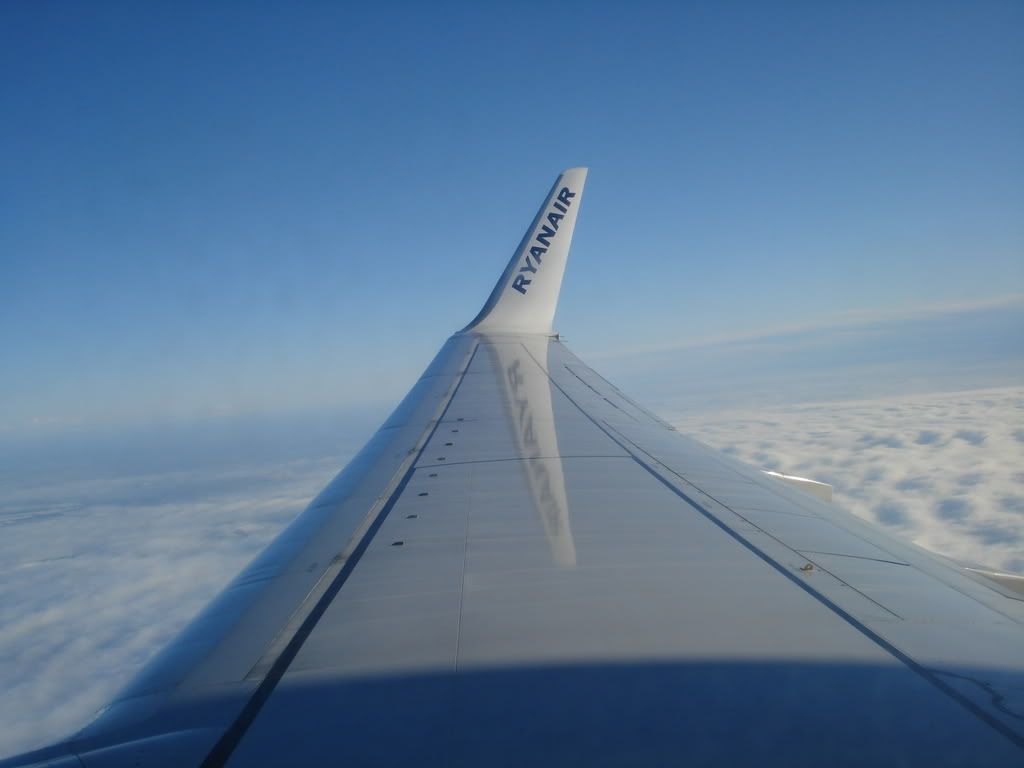 After reaching FL300, the captain did a brief PA and the crew continued the service. However, half way through, they stopped, and one of the crew started wandering through the cabin asking iof anyone had any change. They'd run out and needed to get some more before they could do the rest of the service. I had 2 €5 notes and so swapped a €10 note for this to help them out. A few more people did the same and normal service was restored.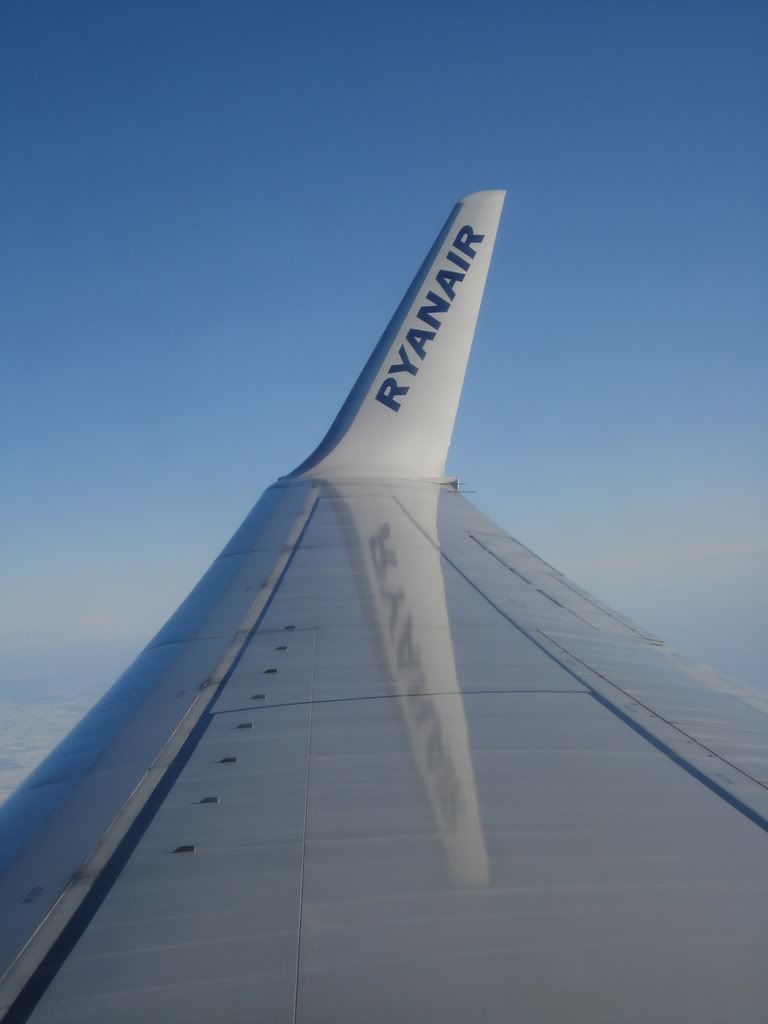 As we reached Holyhead, we started our descent. At this point the crew commenced the duty free service. A little late, and once the seatbelt signs were on they tried to hurry through to finish selling. Pretty much as soon as they had, the cabin crew were told to take seats for landing, and before we knew it we were through the clouds and on final for runway 28. A minute or so later and we were slowing down with full reverse thrust applied. An hour late.
We taxyed round to the new part of the terminal and deplaned. As we deplaned through the forward airstairs, I was expecting a pleasant goodbye from the crew, but they were too intent on reapplying their make up ready for their next sector.
As I had no baggage I went straight for the exit and got on the aircoach into Dublin to meet the others. The aircoach appeared to be experiencing some techical difficulties on it's onboard computers.
It was soon time to return to DUB for the FR224 to STN. Departure time 1650. As LHR380 was flying back on ID90 again he joined me on the bus to the airport. He initially wanted to fly back on EI to LHR, and went in search of Customer Services in Area 14. For some reason Area 14 was closed and so we went upstairs to the main desk. They had cancelled their flight. After securing a flight back on BD, we went through security easily and he headed for his gate to board G-MIDO
I headed to gate D67 back in the new bit of the airport for my FR flight. An hour before departure, EI-DHY arrived on stand, the crew got off, closed up the plane and the GPU was towed away. Great I thought. However shortly afterwards a replacement GPU was towed along and connected up. I got in the front of the queue in the chav queue as I hadn't paid for priority boarding. EI-DHY would indeed be our chariot.
View Large
View Medium


Photo © Simon Gregory - AirTeamImages
Delivery Date: 07 December 2005
20 minutes before departure, the staff turned up and immediately started to board us. However once again we had to stand on the cold steps waiting for the crew to open the plane up. However this wasn't too much of an issue and a few minutes later we started to board. DHY looked very much like DHS inside and had the same phone signs inside, along with adverts for ING Belgium. Very curious. I took an exit row again, this time selecting 17F, the 2nd exit row.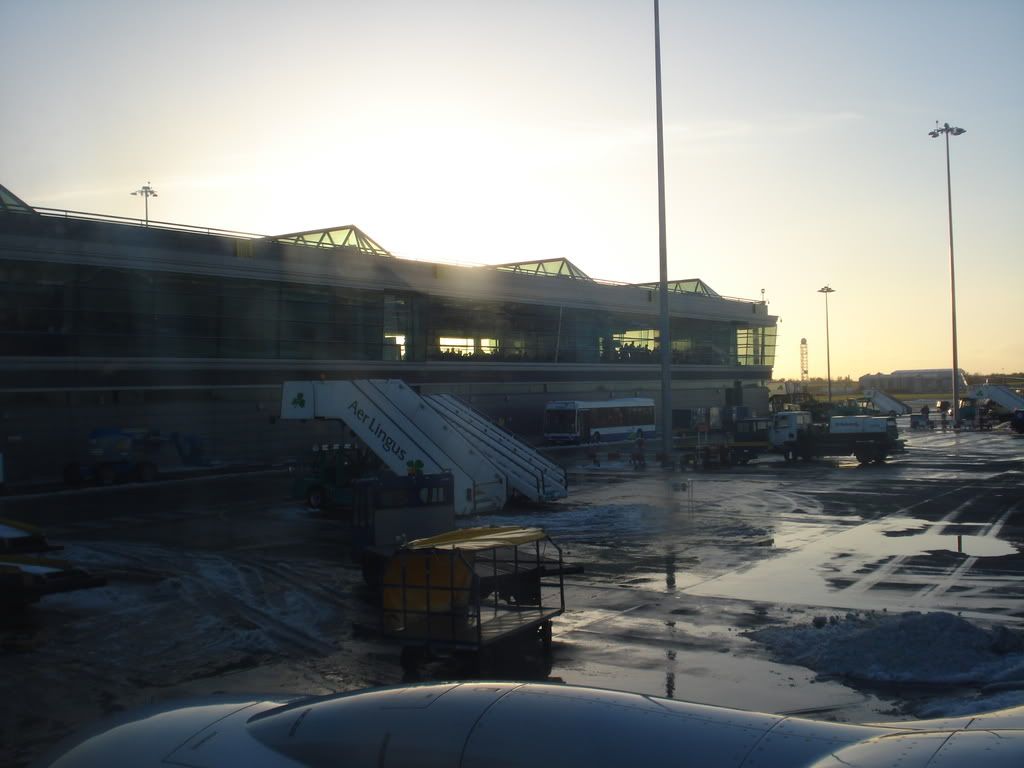 After an on time departure on runway 28, we did a circuit of the field and climbed out Eastwards.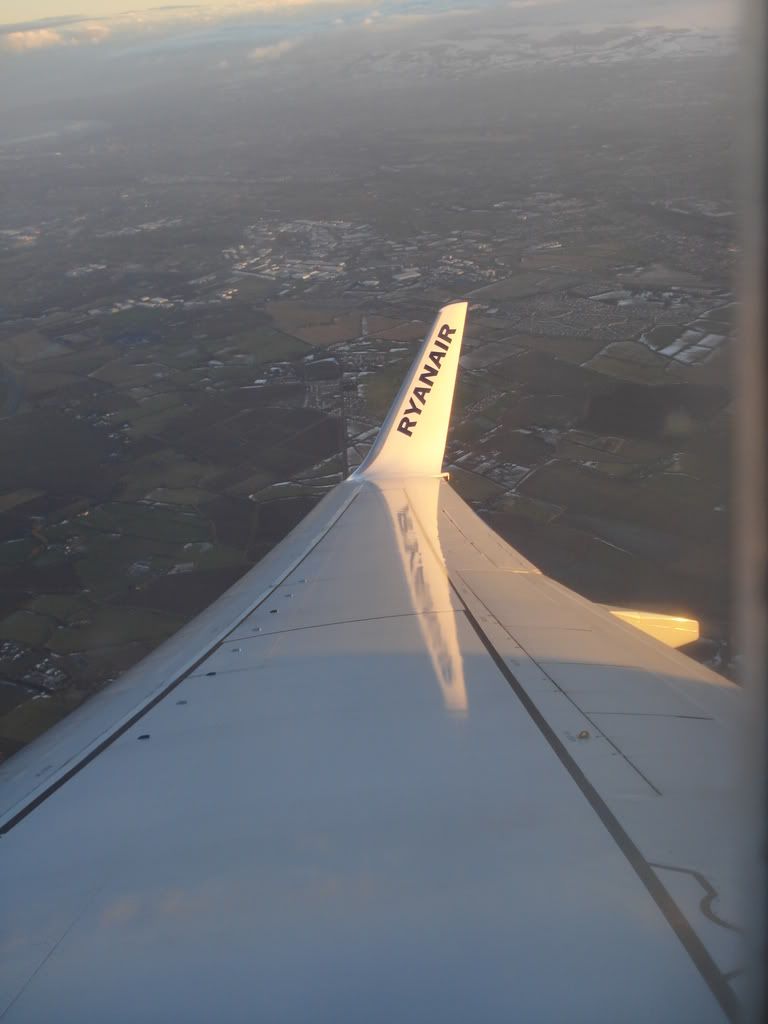 This time the food service was a little later than before, and the crew had change! They took their time and were still serving food well into the descent. A few rows in front, a couple ordered a pizza. The crew finished the service and no pizza arrived. The couple pressed the call bell and the crew went in search of pizza.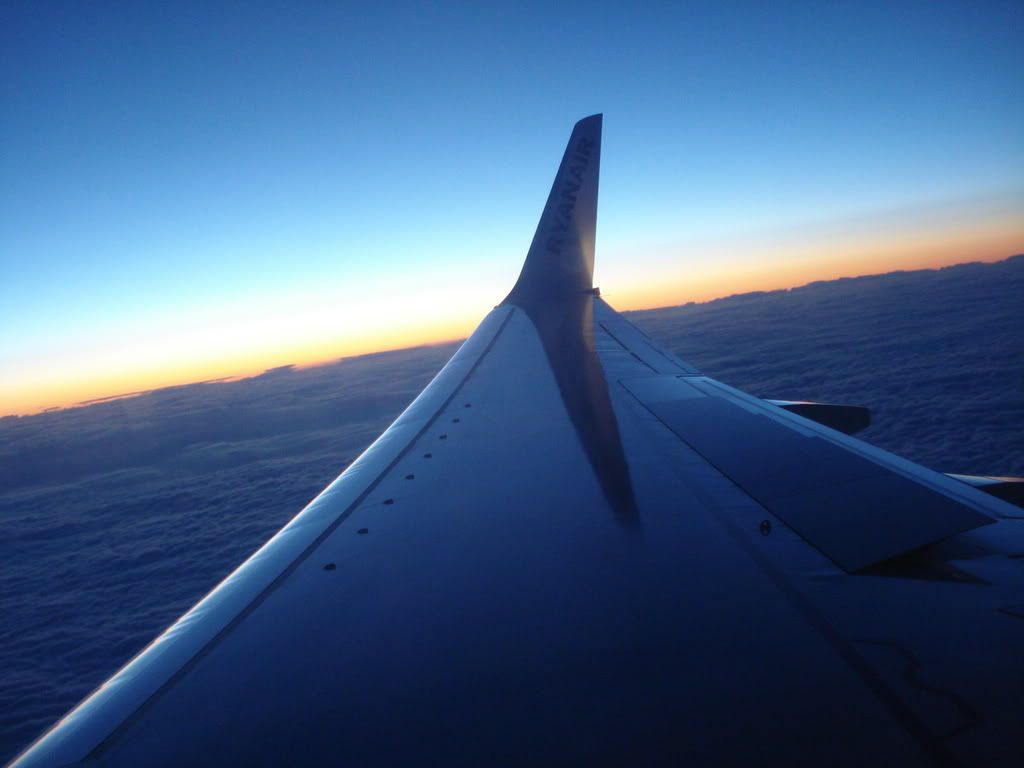 At this point the seat belt signs came on, and the pizza duly arrived. The pizza eaters attempted to put the food on their tray table but were told as the seat belt signs were on they couldn't use the tray table. This clearly antagonised the customers and they asked for a refund as they couldn't hold the food as it was too hot. The sympathetic crew told them "Tough". Charming! So they had to eat out of their hands, which they did!
A few minutes later we landed back on runway 23, on time. As we taxyed along, out of nowhere came a fanfare across the PA system, and a cheesy American voice announcing we had arrived on time. This I clearly wasn't expecting and I started laughing uncontrollably. Clearly the regular FR crowd thought I was insane and stared at me!
After a short taxy we arrived on stand and I made my way back to the Mid Term car park to find it was still flipping freezing!
All in all, I was not ready for FR! I had no complaints given the price, and whilst low cost truly means the low cost I paid I have no issue with them being like this. It's when the flights cost more than the full service carriers that I'd have an issue. In the long term, it's made me realise how professional the likes of BA/AF/KL etc are, and even how easyJet seem a million miles away from FR.
I will be using them again despite my mixed experiences, but I won't be buying anything on board! So there we have it, I've lost my FR virginity!