Hey y'all! It's been a while since I last posted a trip report and I have a few that I need to finish and post. I will hopefully get to them soon. I did want to post this one ASAP as this was a definite highlight of one of the funnest weekends I have ever experienced! Thanks again for reading and comments greatly appreciated!
Now just sit back, relax, and enjoy!
WELCOME ABOARD!
Brief Intro
Back in December 2008, there were rumblings on the CO board on flyertalk.com regarding an event called The DO IV from 06Feb09 to 07Feb09. I had remember reading about the previous three events as well as seeing the event close down Terminal E as all flights utilized Terminal C at IAH. When I had read about CO DO IV, I knew I had to be among the first to sign up and attend this event! Thankfully, it was hosted in my hometown and I can easily commute back and forth from the airport.
The day came when the board announced open registration, and I rushed to type up all my information. Once done, I saw my FlyerTalk name as a confirmed attendee to CO DO IV!
Friday Night - 06 Feb 2009
The CO board had a flurry of activity regarding this upcoming event. Attendees were posting their flights and discussing if they were among the lucky to get upgraded or use CO currency and convert a number of flights into party flights! I was a bit jealous as most of the attendees flew into IAH while I drove the 30min from work to the airport.
Counting down the hours and rushing to get out of work, I made way to the IAH Marriott located inside the airport. The underground intra-terminal peoplemover easily connected the hotel to all the terminals outside of security. I parked my car at the Terminal C parking lot and waited for the next available train. When it approached I spotted a number of FTers getting excited and talking about the upcoming event. I also listened to them talk about their flights as well as meeting other FTers ant one of the many airline lounges, particularly the PCs, throughout IAH.
Once we reached our stop at the hotel, we headed towards the Ballroom where CO would hold the festivities for the evening. Prior to entering the actual Ballroom, we encountered a growing queue for check-in, staffed by volunteer CO employees. Each one had an interest meeting each attendee by welcoming them, thanking them for their patronage, and wishing them a fun time during this fun-filled weekend!
Upon giving my FlyerTalk alias, we received our registration packet with our aliases and actual name. Inside our packet contained a really cool plastic name badge (not the cheesy sticker or paper ones), a welcome letter and itinerary for the weekend, "boarding passes" for the tours and break out sessions, tickets to be in a drawing for some OnePass mileage gifts, and two drink chits.
Pretty cool name tag for this event!
"Boarding passes" for Saturday's events
With my name tag clipped to my coat, I walked into the Ballroom and stood at amazement at EVERYTHING - the queue at registration, the food setup inside the Ballroom, the front stage, and then immediately recognizing Larry Kellner and Jeff Smisek. After getting a few plates of nibble and my favorite Texas beer Shiner Bock, I mingled around until the time for the welcoming remarks from the Senior Management team.
Introductory welcome by Mark Bergsrud - Sr. VP of Marketing Programs & Distribution.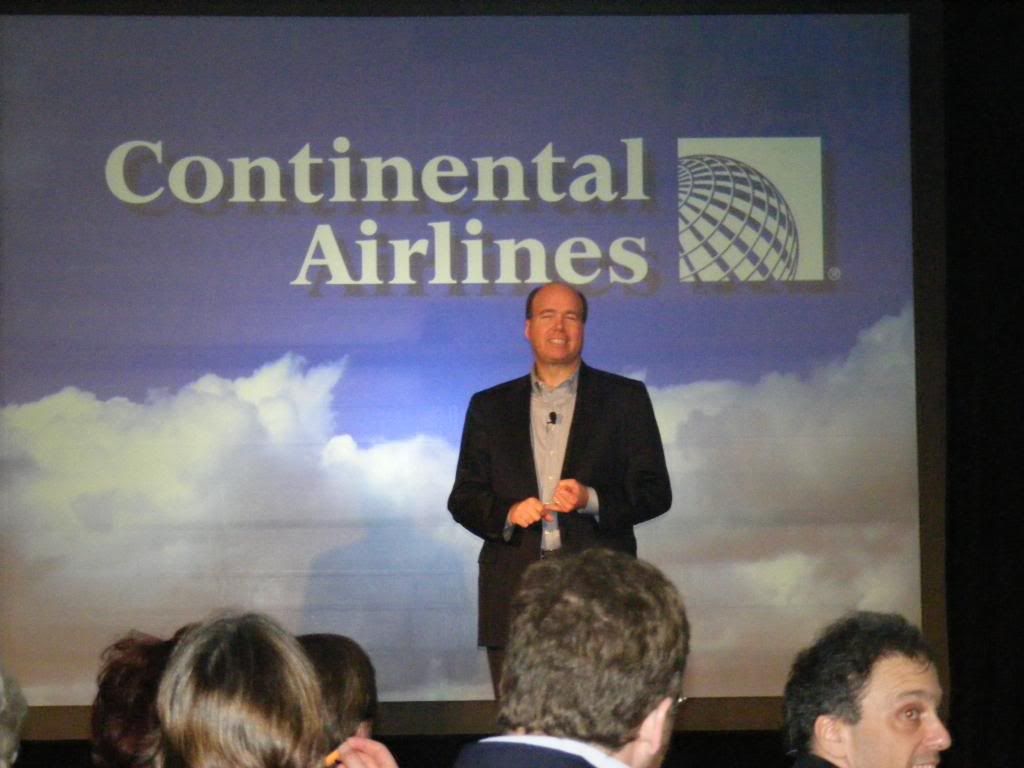 Larry Kellner, CEO, giving his welcome speech to the FlyerTalkers in attendance and sharing the history of The DOs.
After Mark Bergsrud and Larry Kellner made their welcoming remarks, the floor was given to Scott O'Leary, aka COInsider on FlyerTalk, who gave his welcome to all in attendance and to enjoy the theme for CO DO IV: "The Fun and Games Edition!" With that, he called the first lucky 16 FTers who won 5000 OnePass miles and to meet them at the registration table. After that, he told us to stay tuned for the first game of the evening.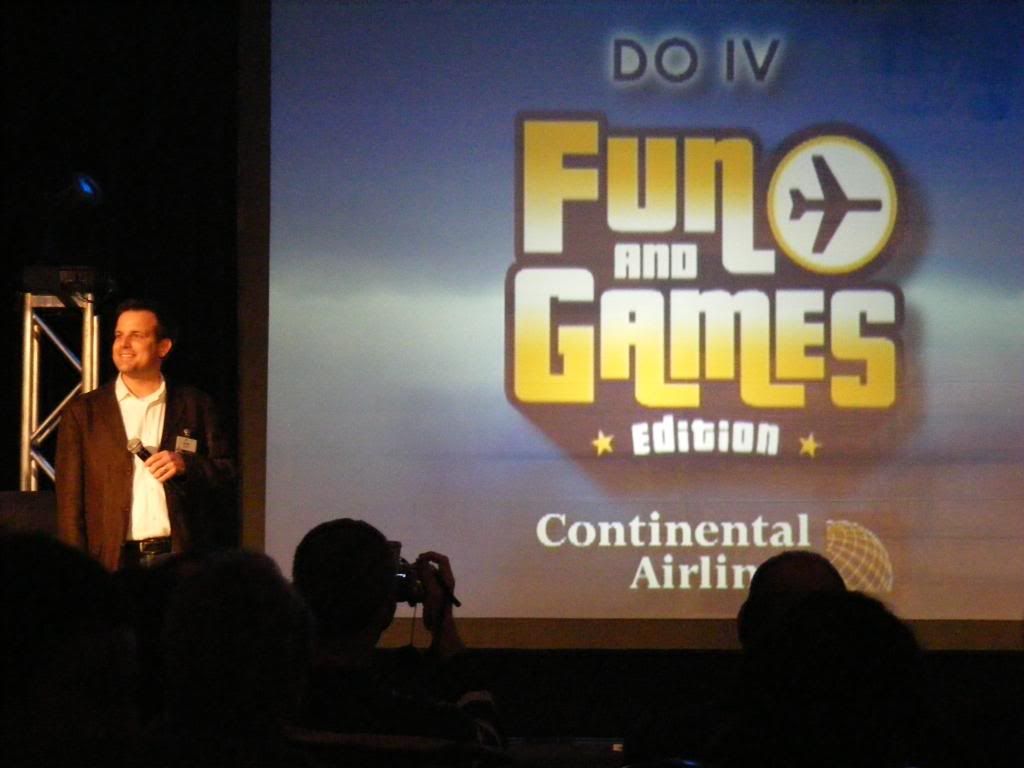 This year's theme "FUN and GAMES!" introduced by Scott O'Leary Managing Director for Customer Experience at CO.
A few moments later, we were introduced to the VP of Latin America who would serve as host for tonight's fame ... MILES OR NO MILES, cue music of the gameshow! Previously at the front of the stage, they had a curtain wall blocking one side of the stage. When they announced tonight's game, the curtain came down and we saw those first lucky 16 act as the holders of each "cases". One of these 16 would then be chosen to win up to 1 MILLION MILES!!!
Sadly, no one won the 1 million that night nor did they call my name up.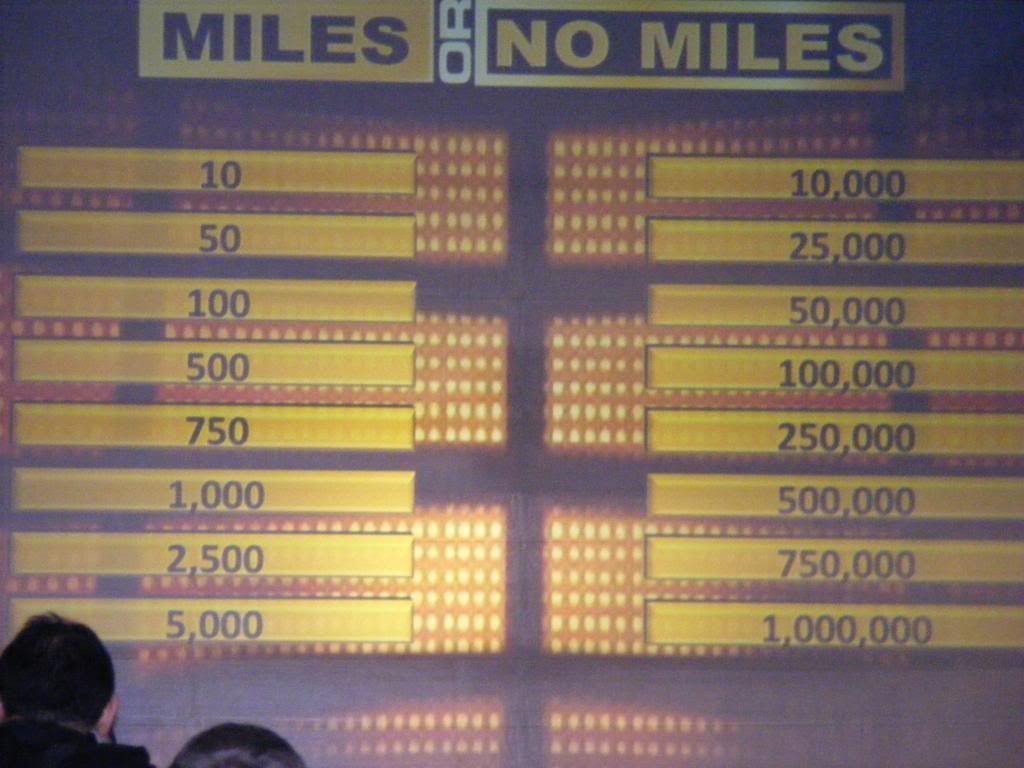 Tonight's Game ... Miles or No Miles! (Cue game show music and the ladies walking down the stairs!)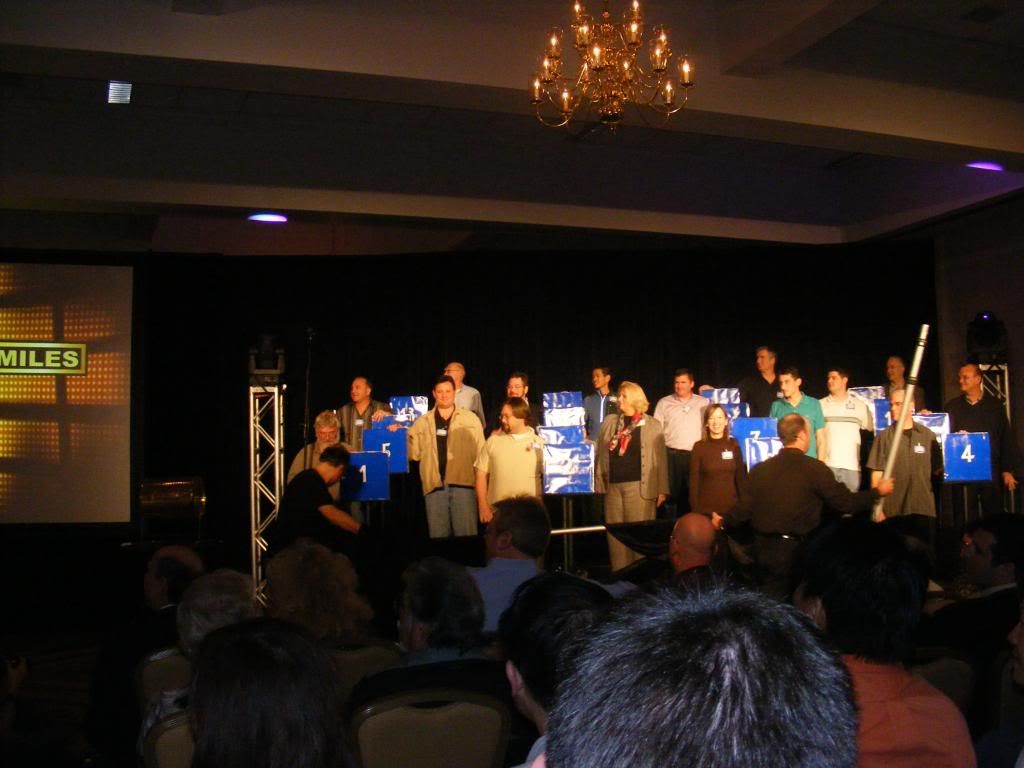 The "case" holders for Round 1.
This game had tremendous and lively audience participation! The antics of Mark B. reprising the role as "The Banker" made it insanely entertaining. They played three rounds that night, but I did not stay for the third round as I still had to drive home and wake up early in time to make it to the first tour early Saturday morning! Before I left, I picked up my welcome gift for the event, a set of 4 teacups and saucers used in the BF cabin!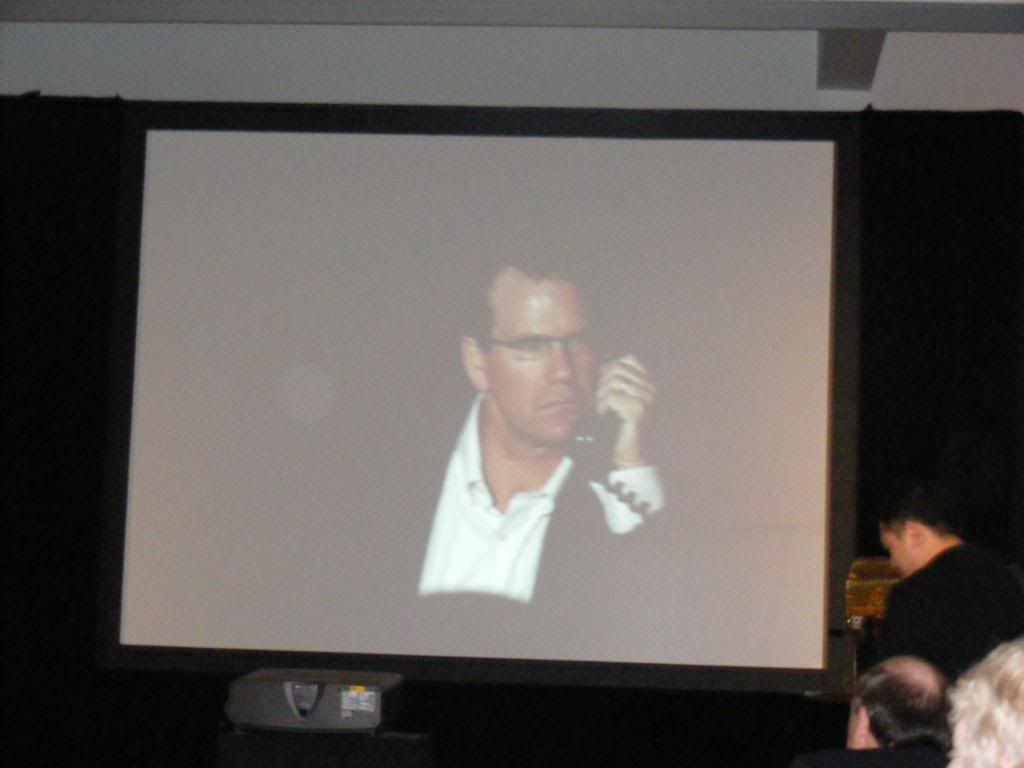 Mark Bergsrud as "The Banker"
The "case" holders for Round 2
Coffee, tea, or ME ... anyone???
Saturday - 07 Feb 2009
On Saturday, I woke up excited since I got my first choice of events at The DO. During registration, members got to rank their morning tours among the following: Inflight Training & Baggage Resolution Service, Chelsea Catering, Flight Simulation, Headquarters Tour including a stop at the BF test kitchen, and Mystery Tours 1 & 2. DeltAirline posted his trip report doing Mystery Tour 1 on CO 9920 while Mystery Tour 2 was CO 9921 doing the same tour just a few hours later.
During registration I had ranked Inflight Training & Baggage Resolution Service Center (BRSC) first as I really wanted to experience the training process of the CO flight attendants. After this tour, I can definitely check off something on my life's "To Do List" and this was a fun and controlled way to do so!
Saturday Morning - Inflight Training and BRSC
For this tour, I barely made it to the Doubletree IAH hotel in time to pick up the bus to the training center, but I knew I had plenty of time to cross the street to the Sheraton and pick up the bus there. One of the CO employees made sure that the bus would circle around the Doubletree to pick me up before crossing to the Sheraton. After graciously thanking him for stopping the bus, I boarded the bus a bit embarrassed, yet relieved, much like when a late-arriving passenger boards after reopening the plane and everyone just stares at you. Once on board the bus, I flashed my "boarding pass" to one of the CO Ambassadors and made my way to an available seat. Our bus had three CO Ambassadors who volunteered to do the event: Terri in Sales who had done the previous two events, Tom in Auditing who joined CO while part of NY Air, and Mike in Widebody Scheduling who had a broken foot.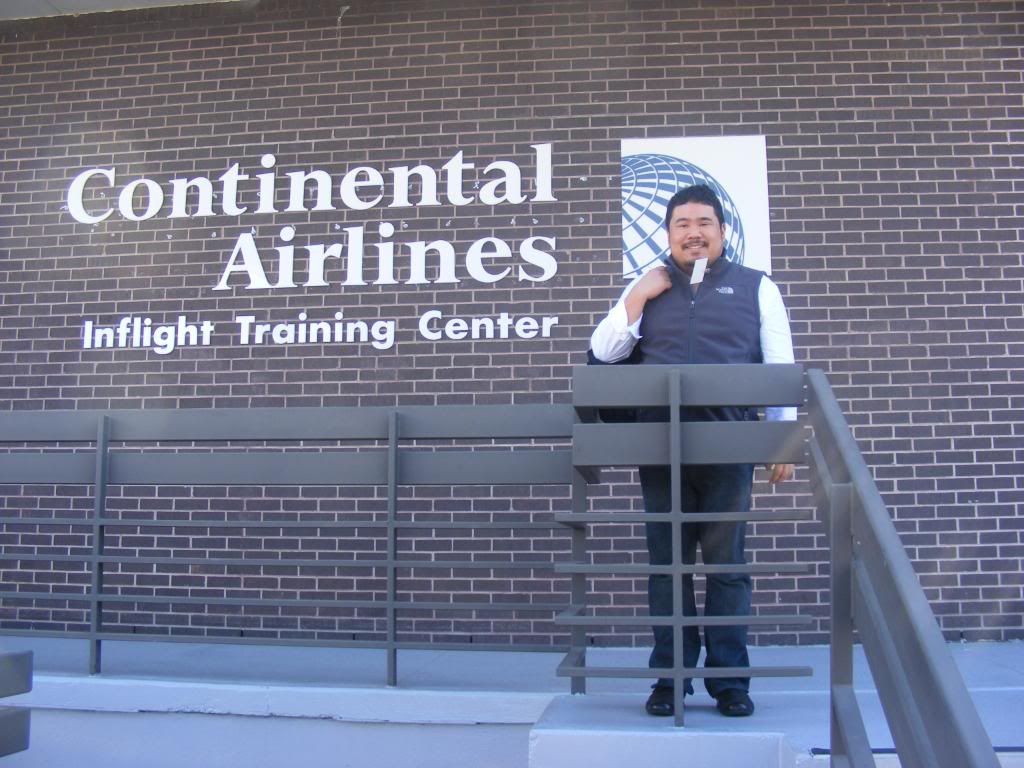 Welcome to CO's Inflight Training Center!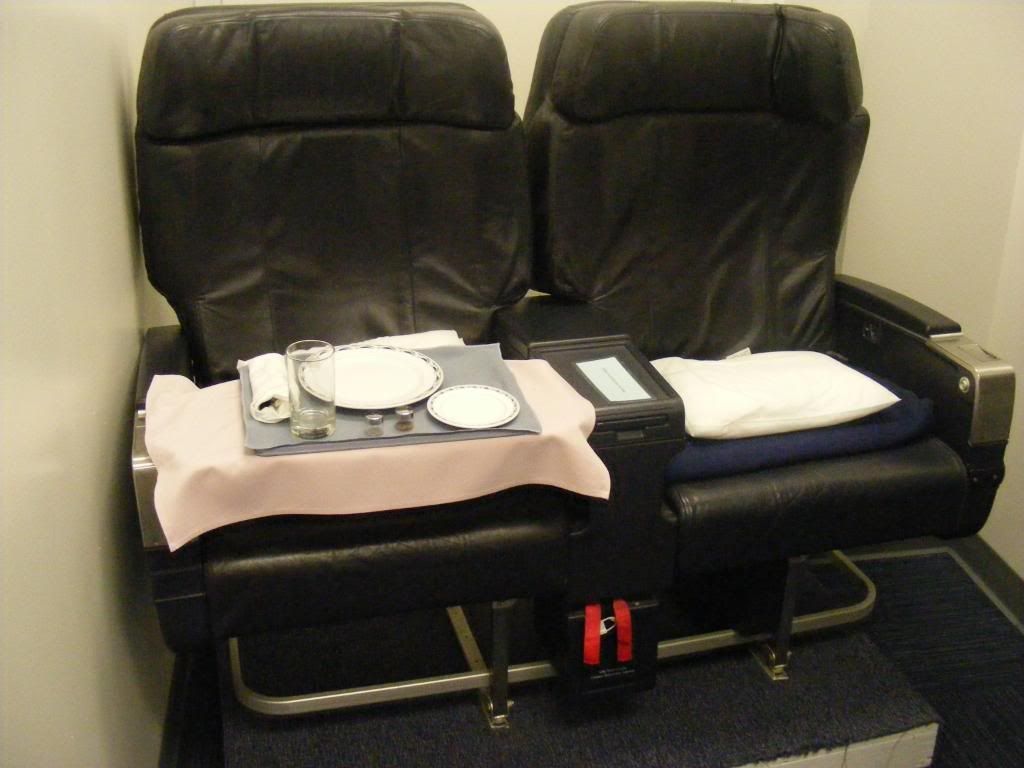 Presentation of the current F seat.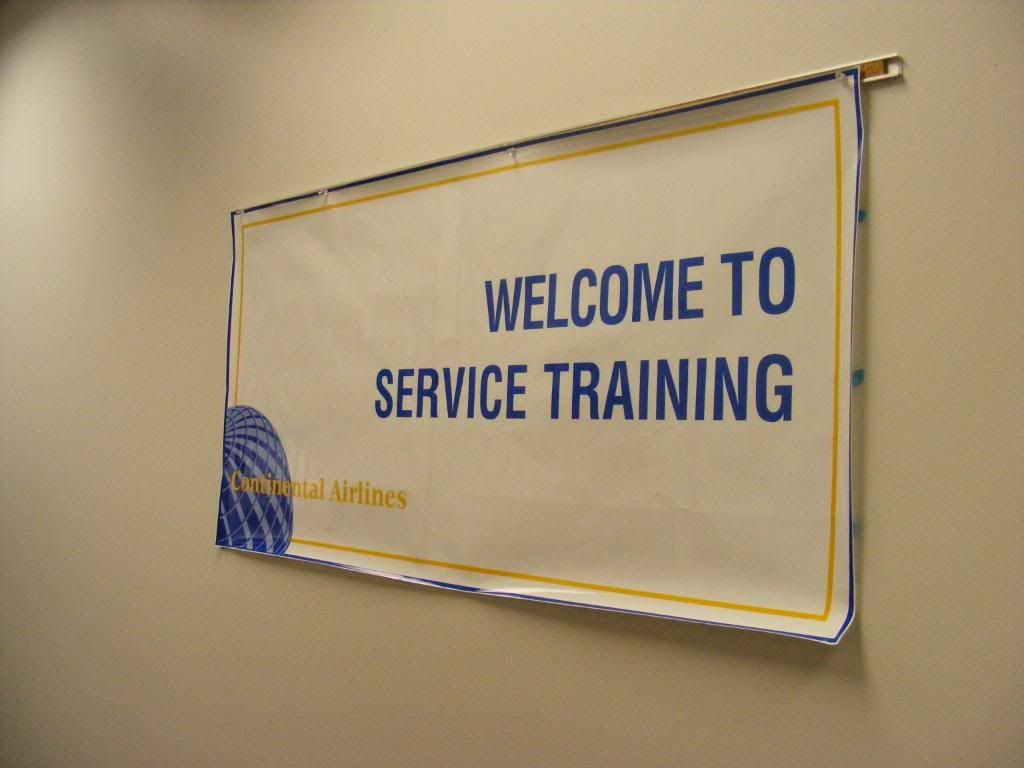 Welcome!
Upon entering the classroom, I noticed the F seats in the corner and then the sign "Welcome to Service Training". As we filled into the classroom, the overhead screen displayed a picture presentation of CO and their FAs throughout the years. In the back they had a nice breakfast spread of fruits, yogurt, pastries, and drinks all lined up next to a 767 aft galley mockup.
At the front of the classroom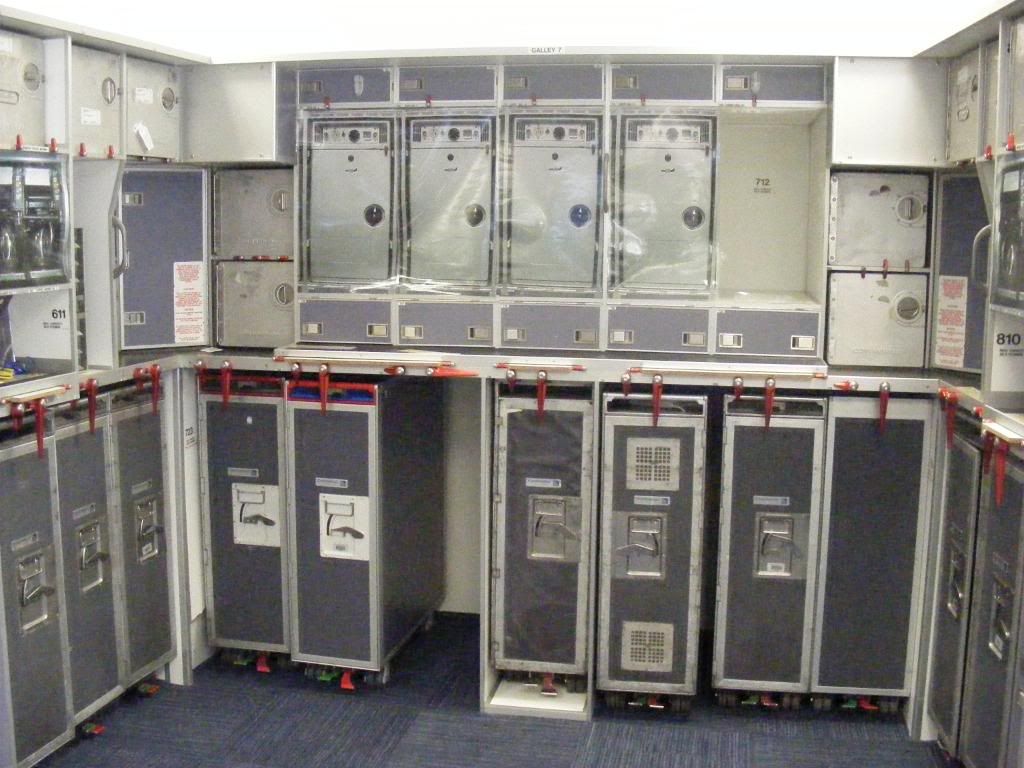 A 767 aft galley mockup.
After getting a few piece of fruit and a bottle of Crystal Geyser water, the brand commonly used on CO flights, the FA Trainers introduced themselves. I remember Mark, who knew Tom back in the NY Air days. Among the three ladies, I remember Erica since she served as "Pilot Erica" for our simulation. After the introduction, they passed out a liability waiver form for us to sign. A number of attendees teased that if we did not sign the form we would not be able to go down the slide. I was hoping to go down the slide, but was not sure if they would let us.
Once the forms had been signed and collected, they gave us an idea of what they would be showing us during this tour.
We did learn they were going to start one of three FA training classes, primarily for native Mandarin speakers for the new PVG flight. They expressed that safety is the key component during the 5-week interview period and service would be introduced on the last week of training. While there, we noticed many current FAs at the center going through additional training to maintain their qualifications as an FA at CO.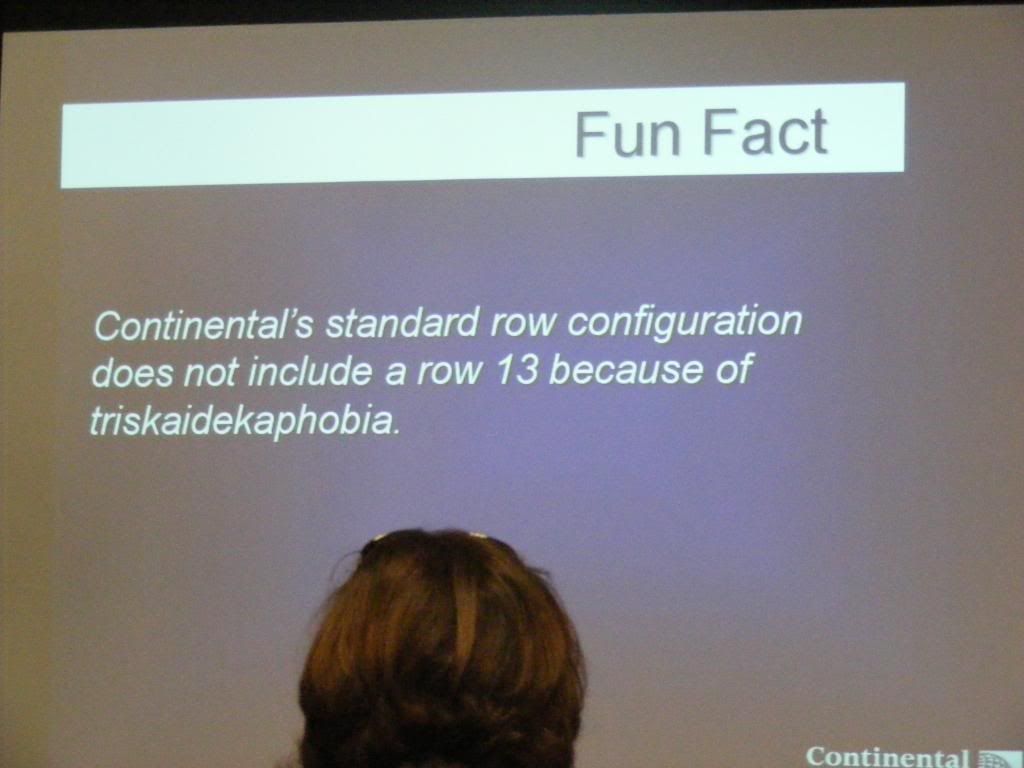 Did you know ...?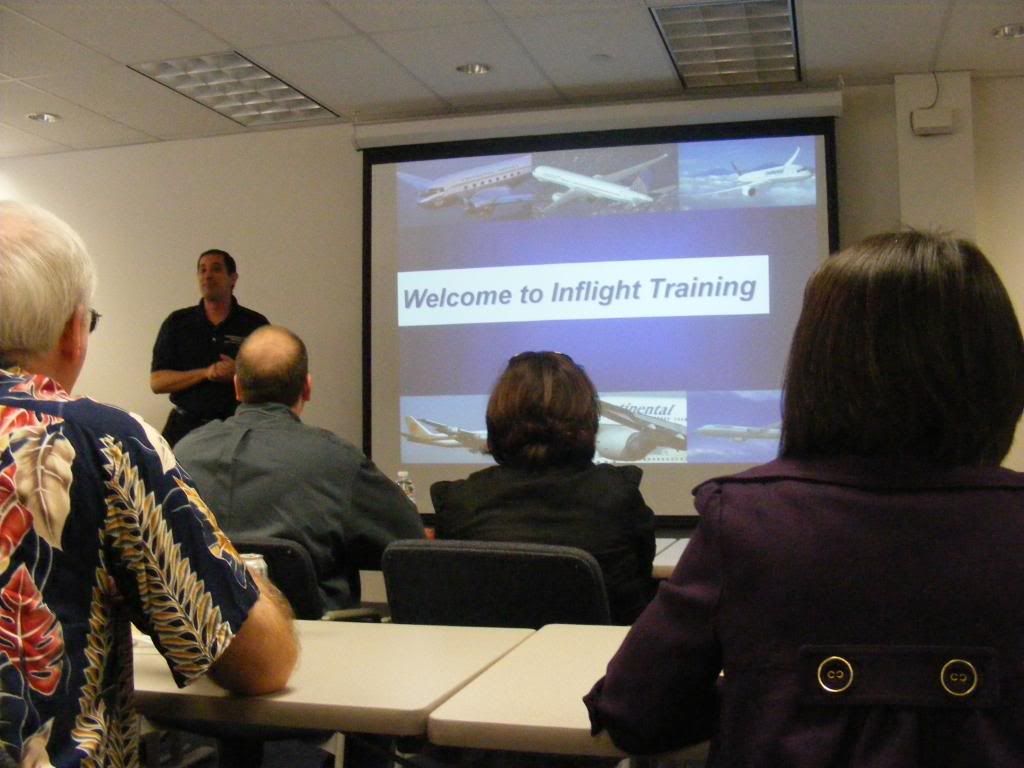 One of our 3 instructors for the day!
On this tour, they would take us into the emergency trainer where we would simulate various aspects of flight such as tilting and sudden movements that would force the FAs to adapt to various situations inflight. In addition to tilting the plane right and left, we would experience a nose-gear collapse. We would also test out trying to see through heavy smoke in the cabin with and without lights. Finally, they confirmed that inside the emergency trainer we would get to experience going down the emergency slide ... YES!!! Stay tuned for the video!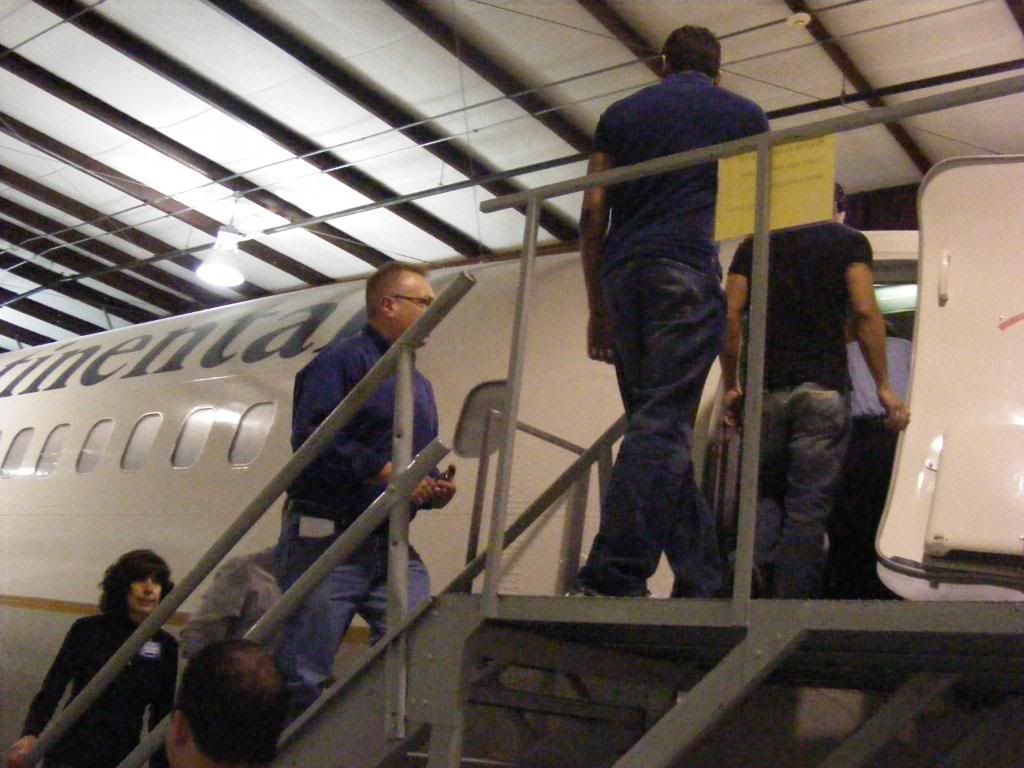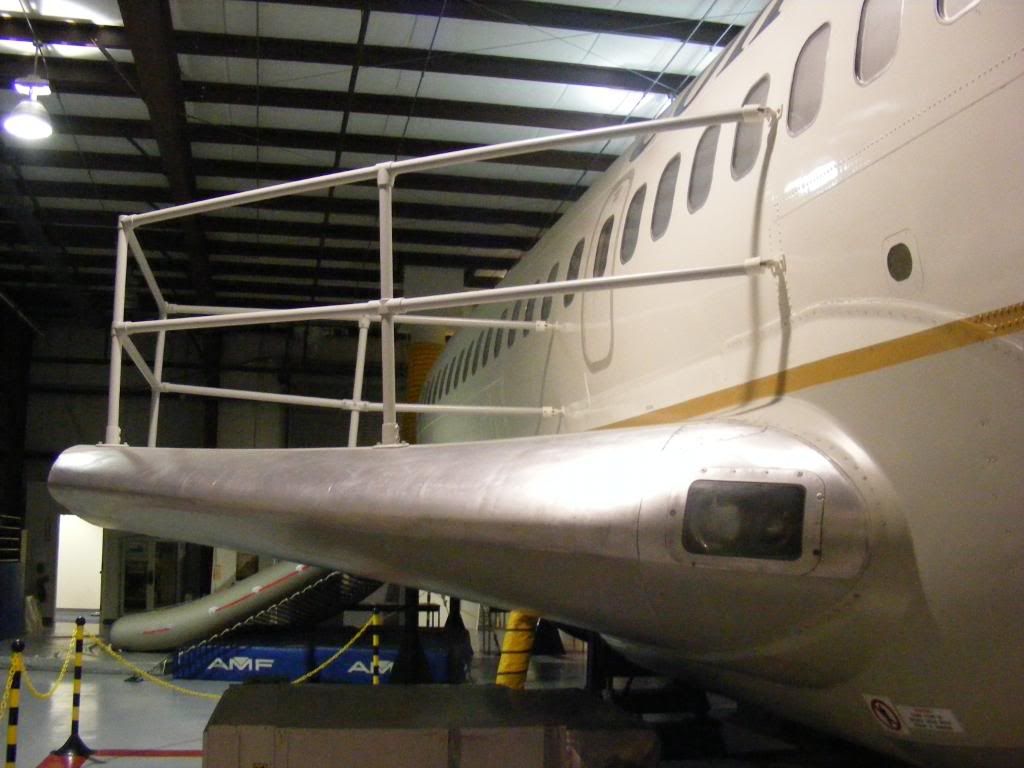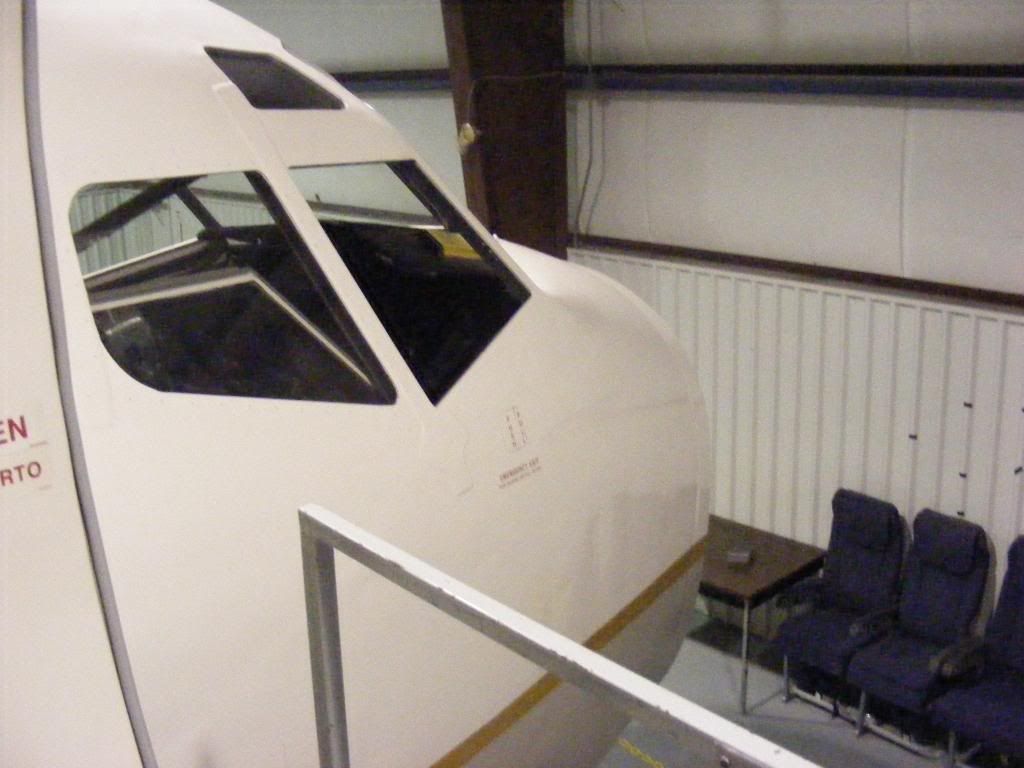 Boarding a decommissioned 735 that had a faulty nose gear collapse in GUA. This mockup used to test FAs on safety and evacuation procedures.
In a room next door to the classroom, we approached a 735 that had been decommissioned after a nose-gear collapse at GUA. This plane had various wires, hydrolics, and ducts hooked up to it so they could simulate various planned and unplanned emergency situations throughout the training process.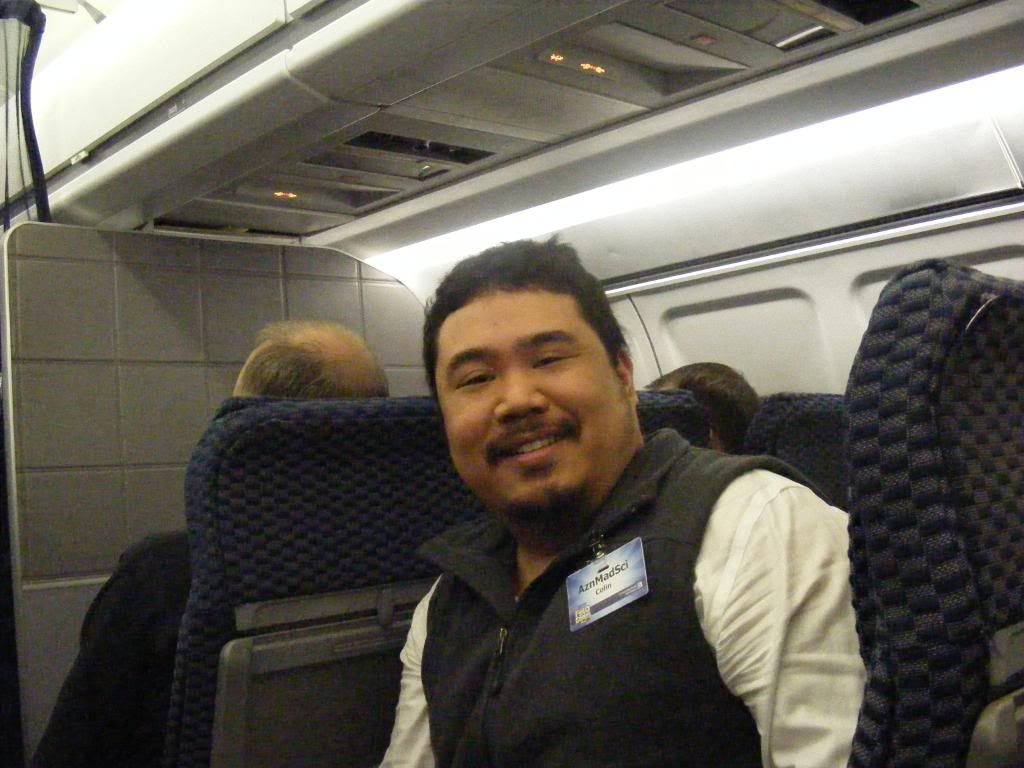 I'm sitting in 5D on this "flight".
After boarding through R1, very weird to do, I noticed F had checked in full, so no hope in getting the F upgrade as a gold elite this time around.
I did manage to get 5DEF all to myself. In 4B, Rescue Randy sat patiently waiting for the flight to commence. He seemed a bit nervous and puked on his lap.
(Sorry I forgot to take pictures of him as well as the fake puke.) Everything inside felt like being on board a CO 725, however the cockpit and the rear galleys were boarded up. I did get to test the FA call button, and it did work!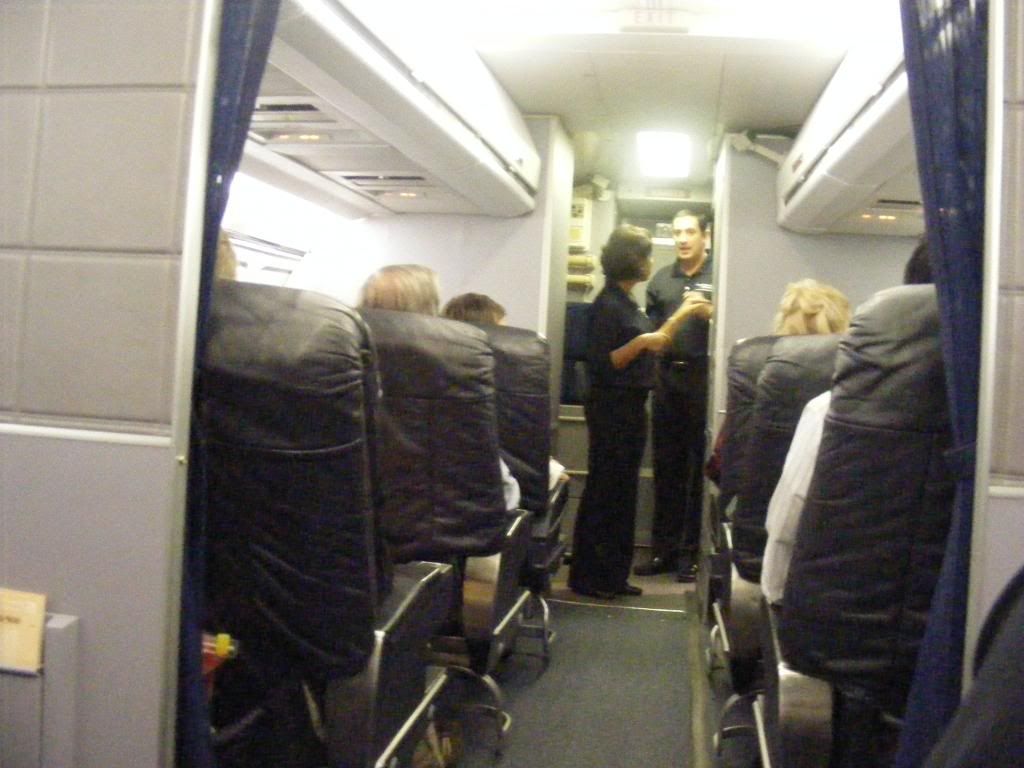 View into the full F cabin with 2 of our instructors
View of the Y cabin from my seat. The loads in Y were rather light on this flight!
As we remained seated, they started tilting the plane to the left and then to the right. We would watch the trainers shift from one side to the other in order to stand up in the aisles. After tilting, they dropped the nosegear, and you felt the front of the plane face down while the rear was up high. Once we returned to a leveled position, one of the trainers showed us how to open the overwing exits. Below I attached a YouTube video link to watch the demonstration.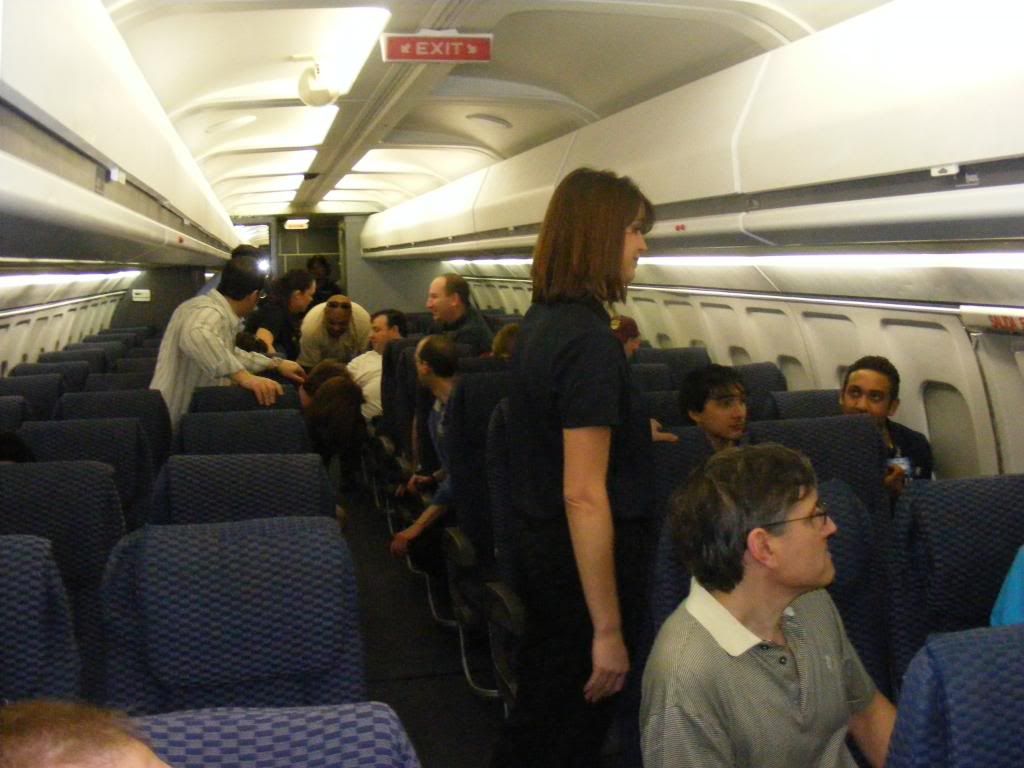 Demonstration on how to open the over-wing exits
At CO DO IV: How to Open the Overwing Exits
Once everyone watched how to open the window exits, they showed us some other special effects. First, they did the fire simulation, followed by the smoke simulation.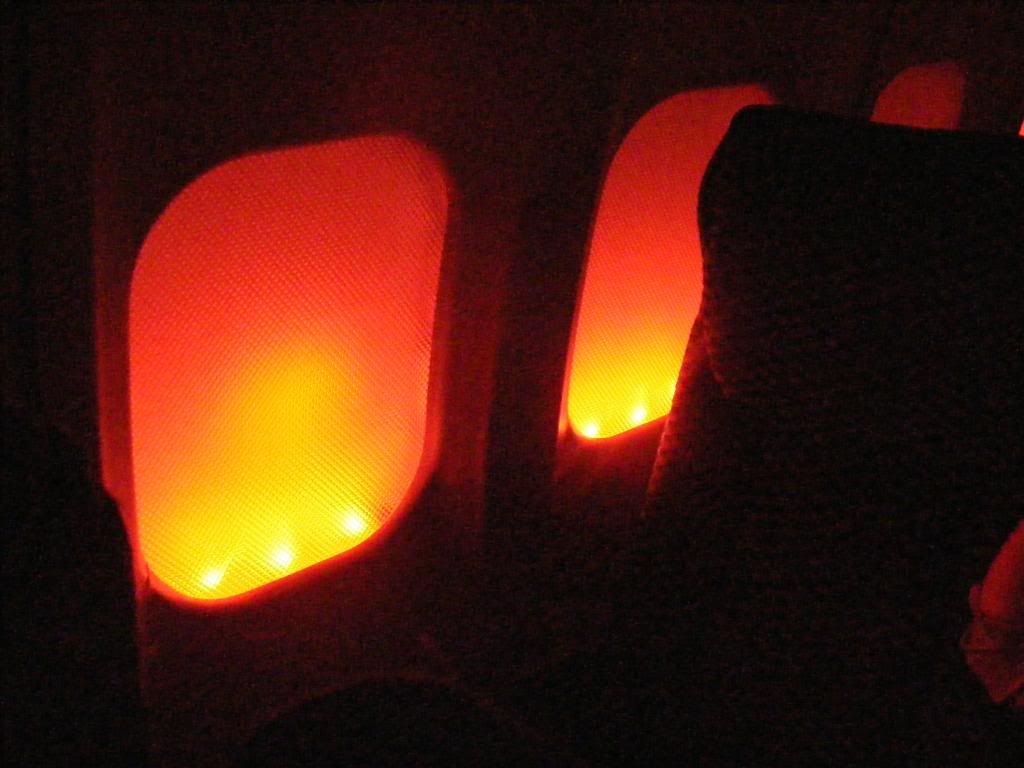 OMG! Fire! Fire! Fire!
It's just for simulation!
While the fire simulation was a bit cheap looking, they spared no expense with the theatrical smoke machine. Those of us in rows 4 and 5 got a bit of shock seeing smoke come out under 4ABC, where Rescue Randy and our Ambassador Terri sat. It was amazing how hard to see through the smoke with and without the lights. While it did not smell like something burning, it did have a funny smell. Once the smoke filled the entire cabin, they easily blew it away with some efficient air conditioning. The smoke does block the ability to see throughout the cabin, much less around where you sit.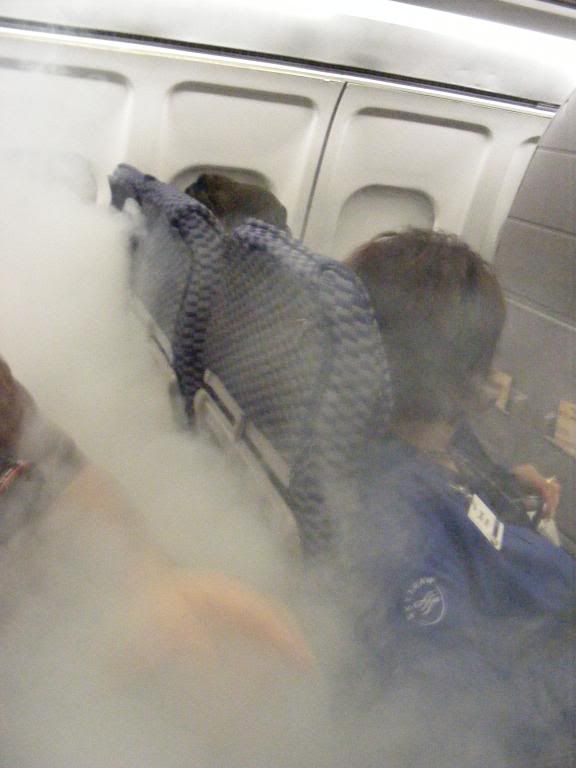 Smoke! There's smoke in the cabin!!!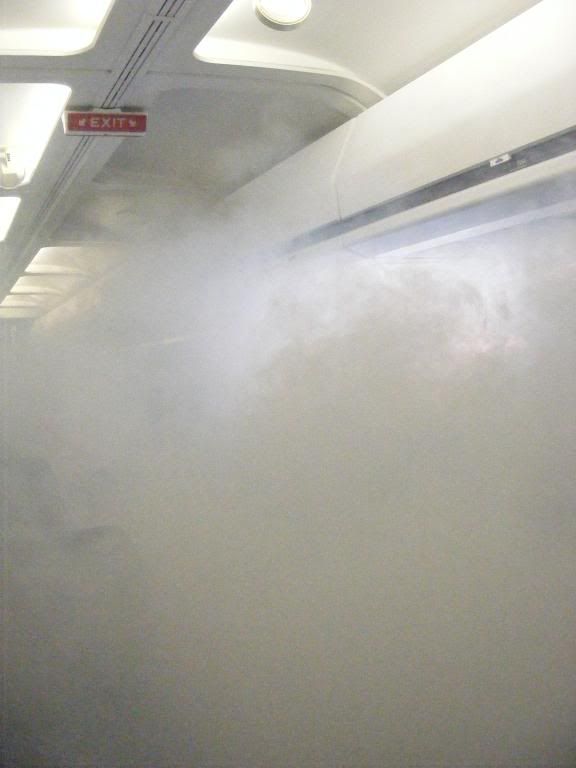 You really can't see the rear of the aircraft with all this smoke!
After the smoke simulation, the trainers prepared us for the highlight inside the emergency trainer, the mock evacuation off the plane, culminating to the ultimate highlight, the evacuation slide!
Normally in a real life situation, you would jump-and-slide down the slide. Because of the signed forms, they had us sit-and-slide with our arms extended so those at the end can stop you from flying off the slide!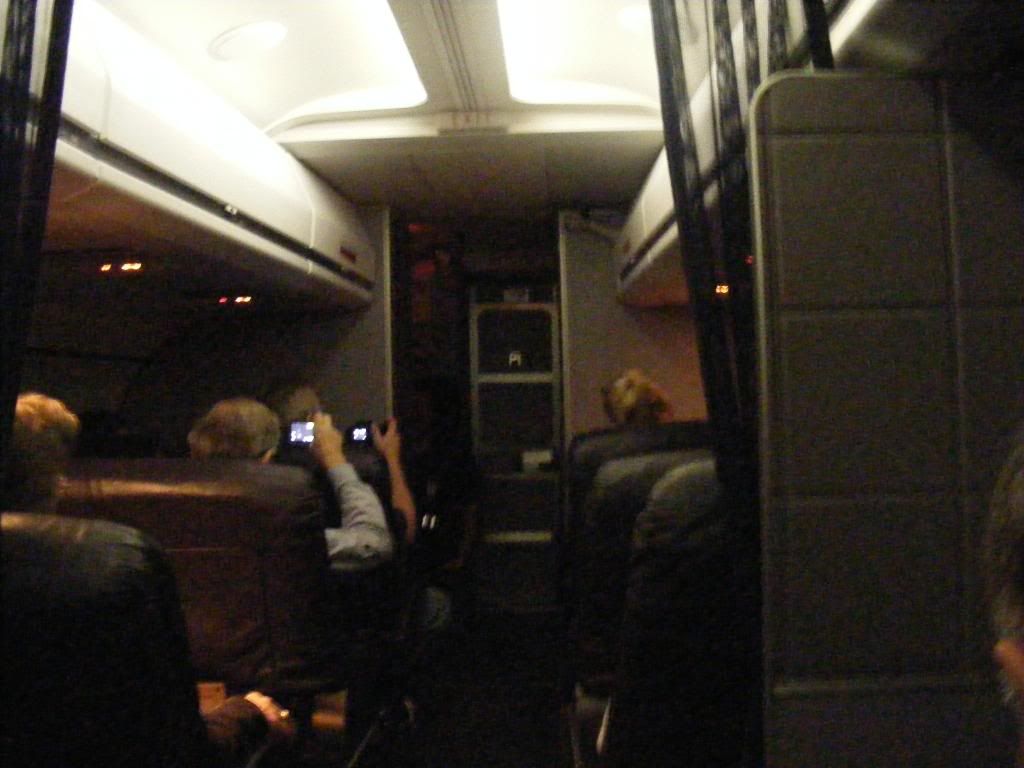 We're preparing for takeoff!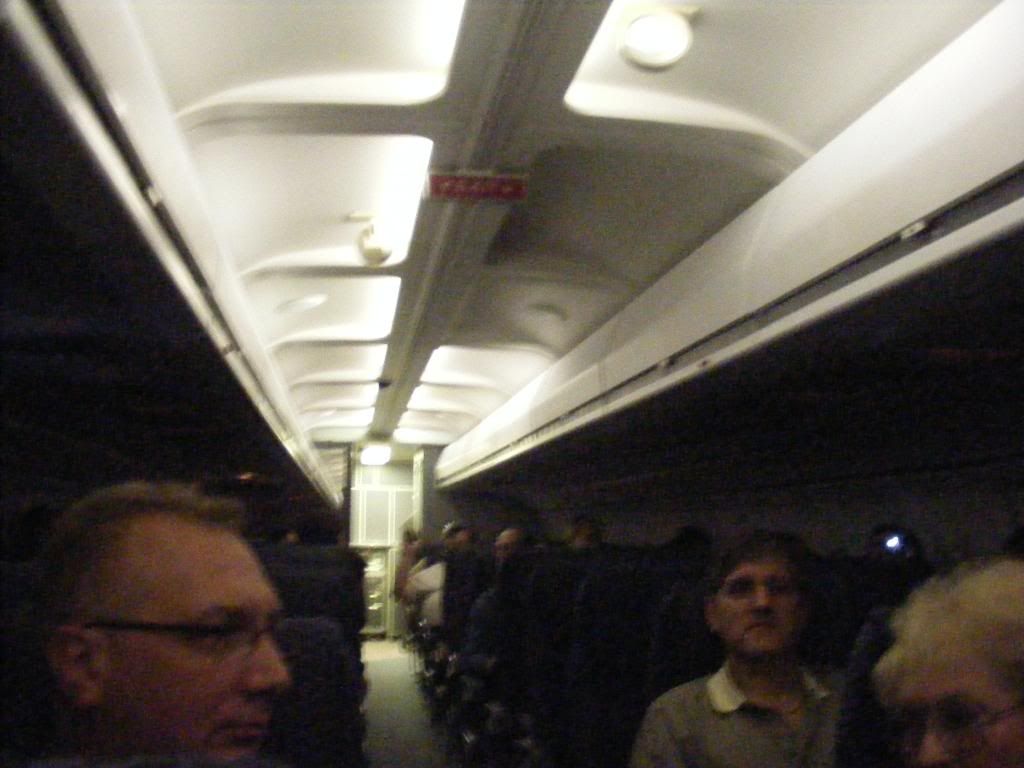 It seems calm inside the cabin.
All remained calm in the cabin as we prepared for takeoff. Everyone was seated with their seat belts fastened. Enjoy the YouTube video link below to see what happens. I do apologize for the quality in some parts. I had my camera around my neck so that I could slide down without fear of my camera slipping out of my hands.
At CO DO IV: What to do in an Emergency Situation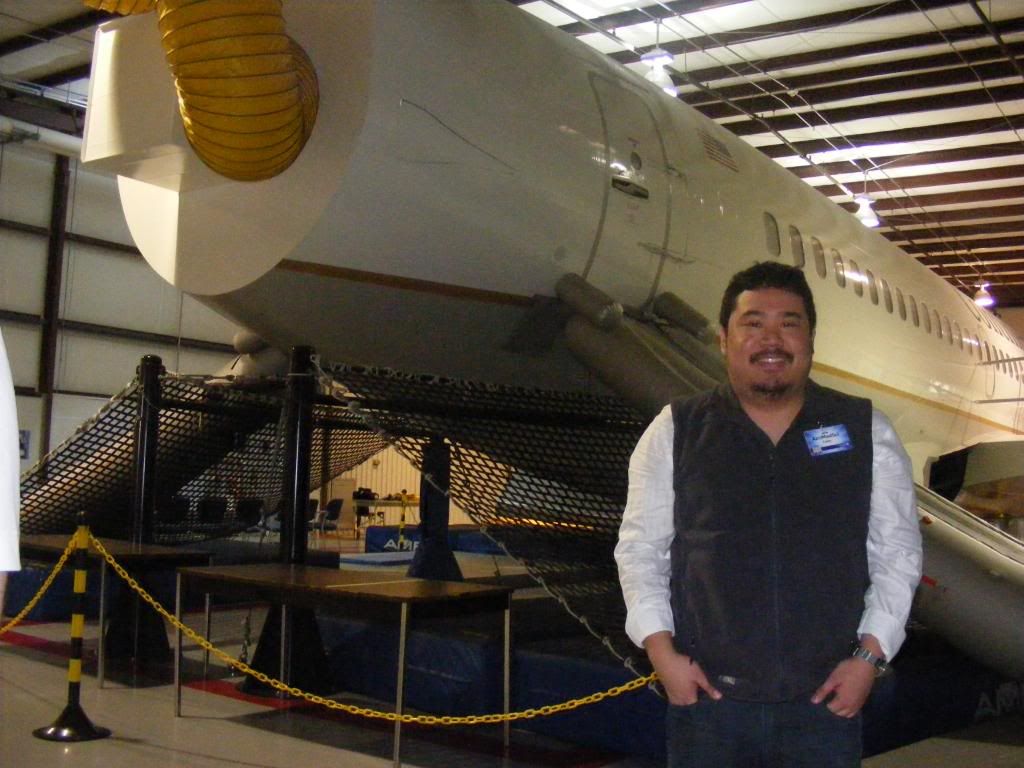 Yup! I got to go down the slide!!!!!
Once everyone had evacuated, we ventured off to the "Ditch" room. I still had a high going down the slide.
You go down very fast building up momentum. If you didn't have your arms out for someone to catch you, you could seriously trip and land further away. While this was unbelievably FUN, you can only imagine in a real life situation. I do have to give kudos to Ambassador Mike since he had a cast on one leg and walking in crutches. He definitely did not want to miss out on the slide and ended in a one-hop-legged landing, like Kerri Strug in the 1996 Summer Olympics!
Most of us got caught up and wanted to get pictures of the plan with the slide. We got a bit lost, but a few FAs studying for their requalification figured out we would be doing the "ditch" next and showed us where to go. Each FA we encountered were very nice and happy we were taking an interest in their jobs!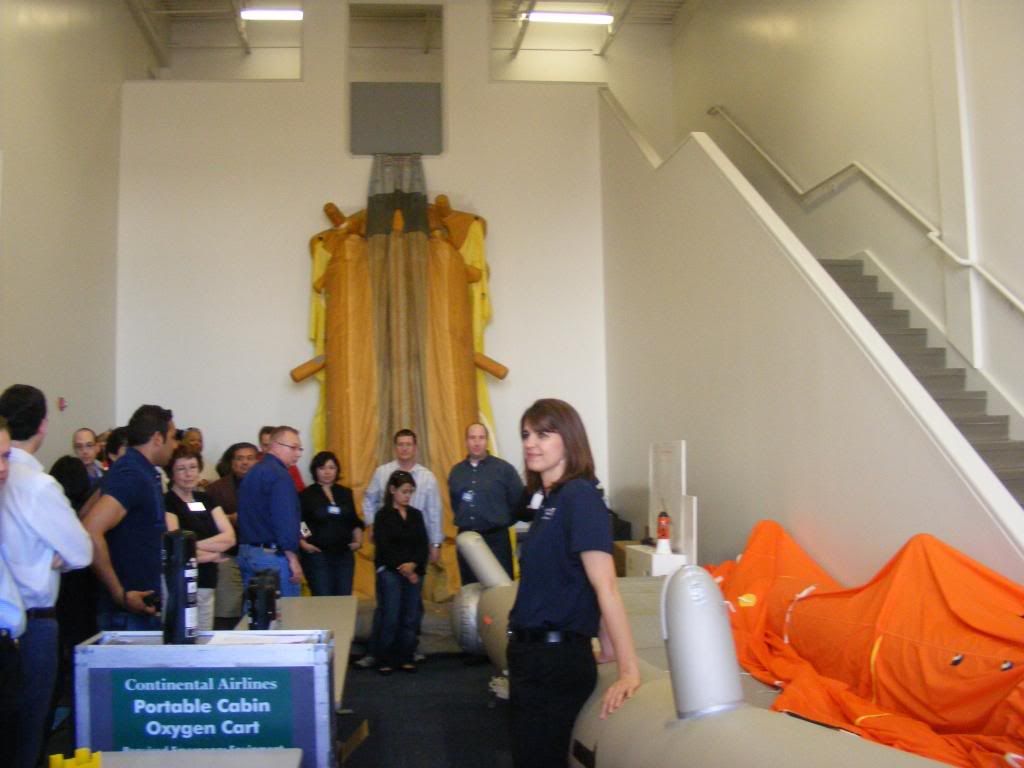 Former DC-10 slide deflated to simulate the 772, 767s, and 787s with our instructor behind a 757 slide-raft.
We all piled into the "ditch" room where we saw a deflated slide from a DC-10 that is substituted for the 772s, 767s, and the future 787s. Next to it was a 752 slide raft that we would use for "the ditch". In the YouTube video link below, one of the trainers talk about the slide rafts and another demonstrates how to put on the life vests.
http://www.youtube.com/watch?v=yjHvjdB3koA]At CO DO IV: How to Ditch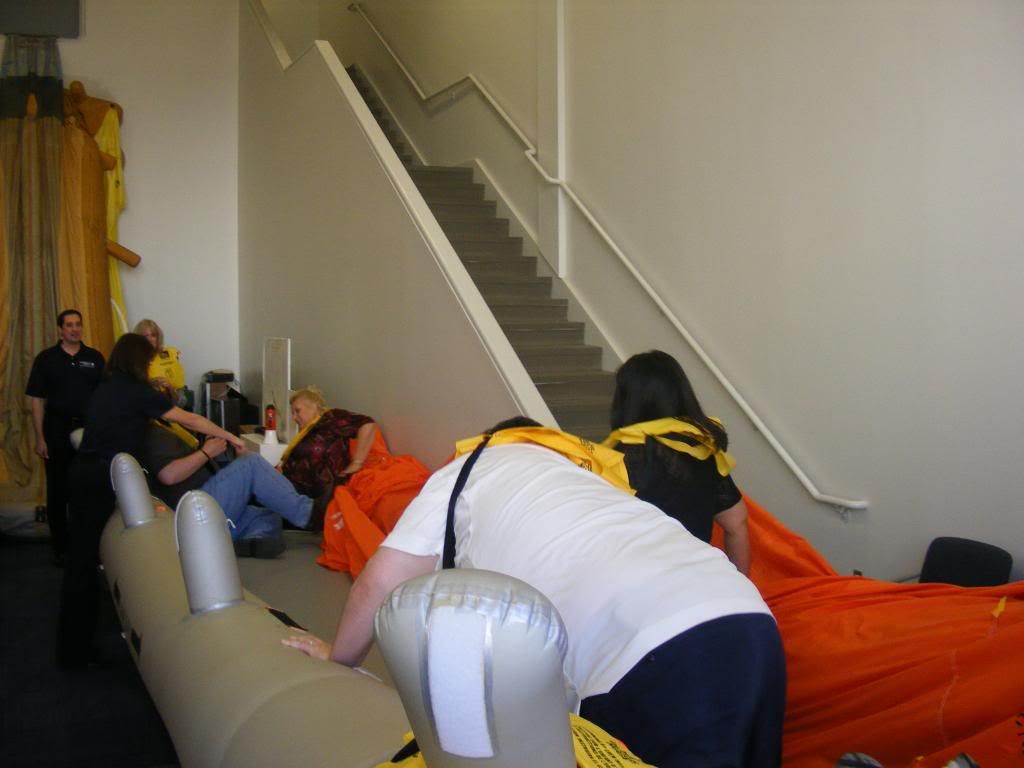 We're now about to do a "ditch".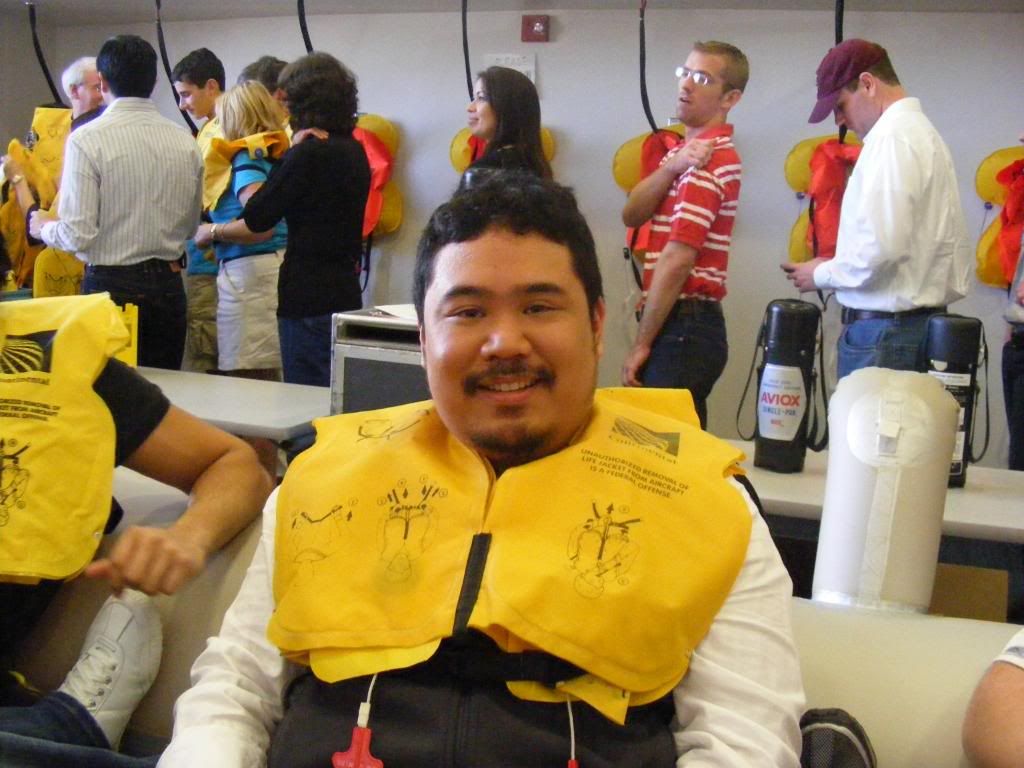 Me looking snazzy in the life vest!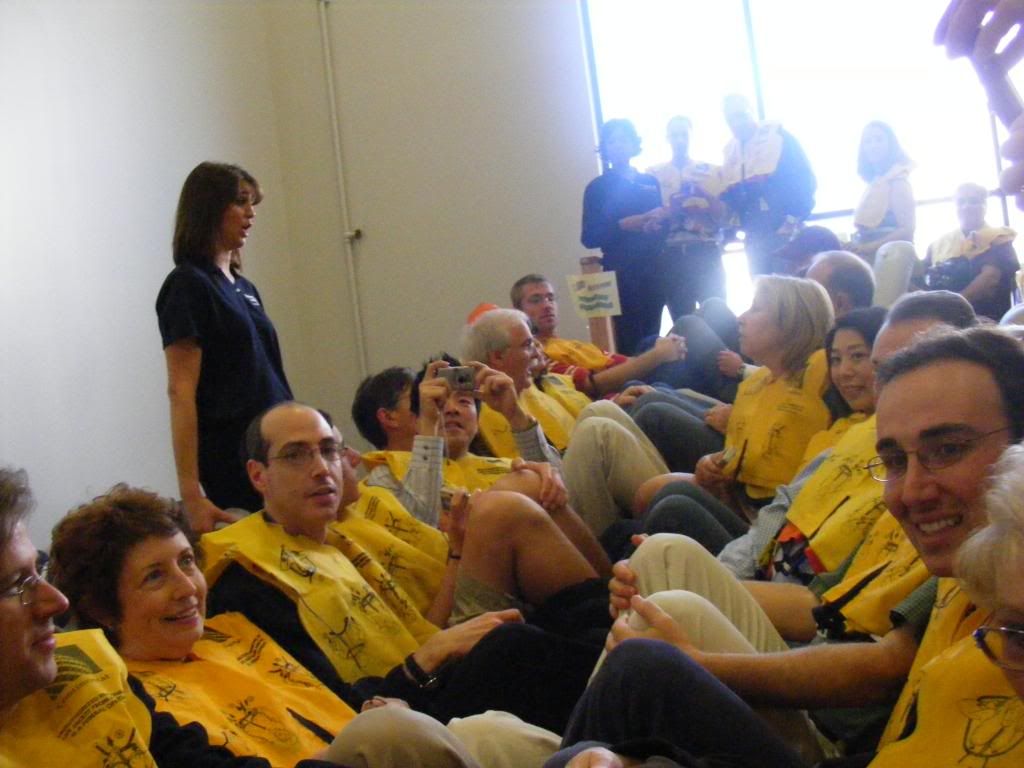 This raft is to hold 58pax and 1 crew member. We could barely get all 40 of us on this one raft!!!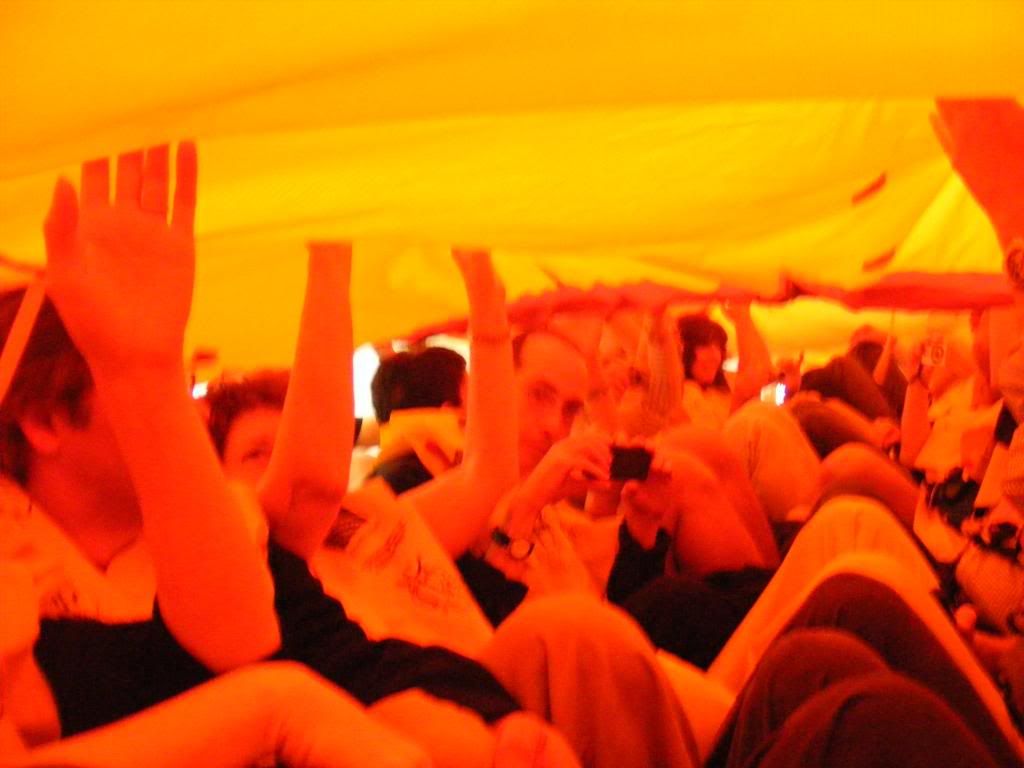 We're protecting ourselves from "the elements" while on the raft!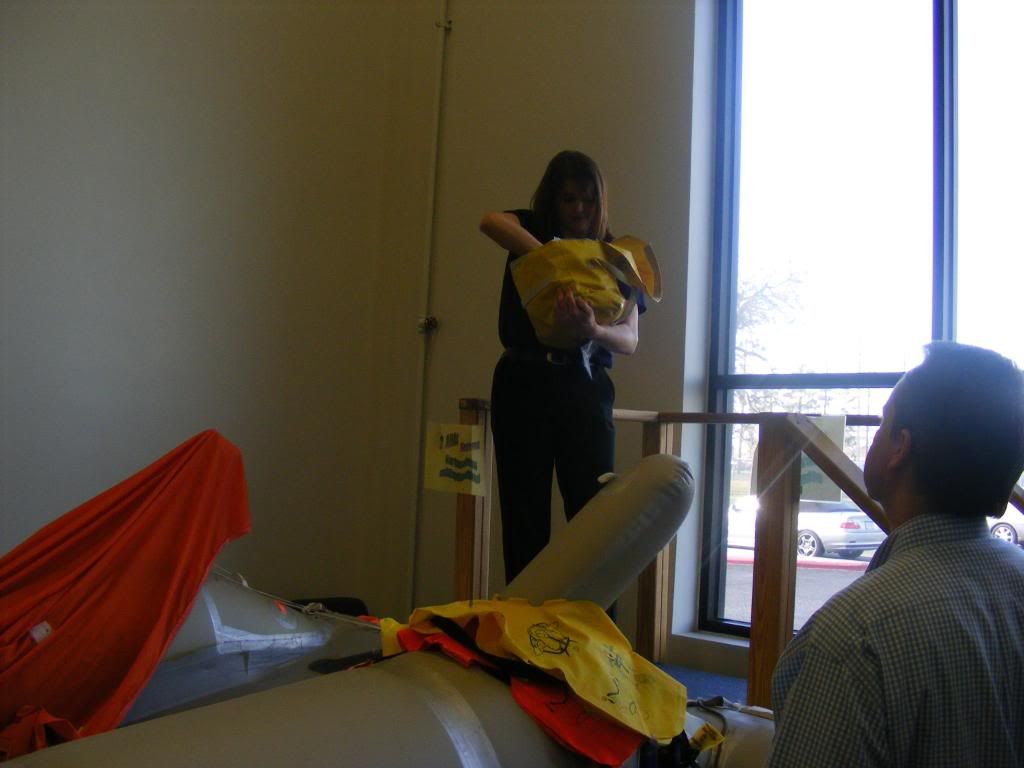 One of our trainers showing us what is in the safety/survival kit for each raft
After we finished our "ditch" simulation, we exited out at the other end and let the next group try it out. I made my way to the wall to try on and inflate the life vest. While watching it on the inflight safety video, it looks simple to do. However under survival instincts, you do not realized the steps to properly put it on. They had about 6 or so training vests connected to air pumps. Once the vests had been inflated, a button on the wall would deflate them and make them easier to remove.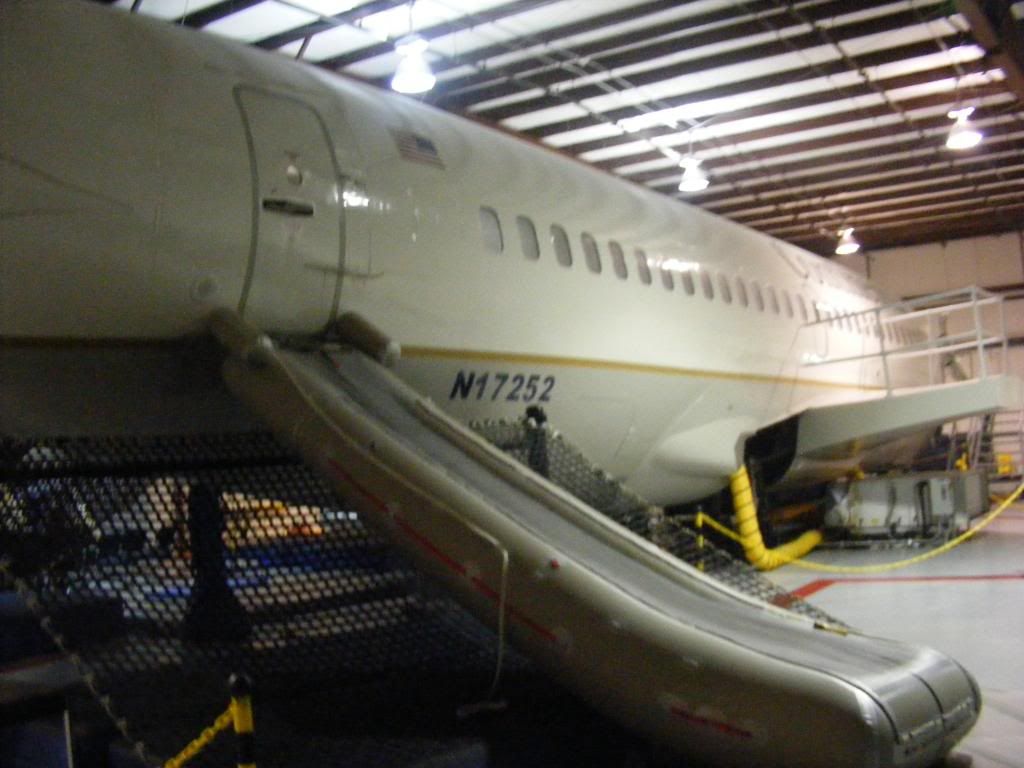 Going back through the safety simulator. Still can't believe I got to go down the slide!
After everyone had a chance to pile into the raft and test out the life vests, we made our way to the actual service training room that contained another mock 737, as well as a classroom-style 772 forward BF mock cabin. There they let us move carts around and check out forward and rear galleys, as well as try on BF service jackets. I always wanted to move a cart out of its locked positions and move it up and down the aisles!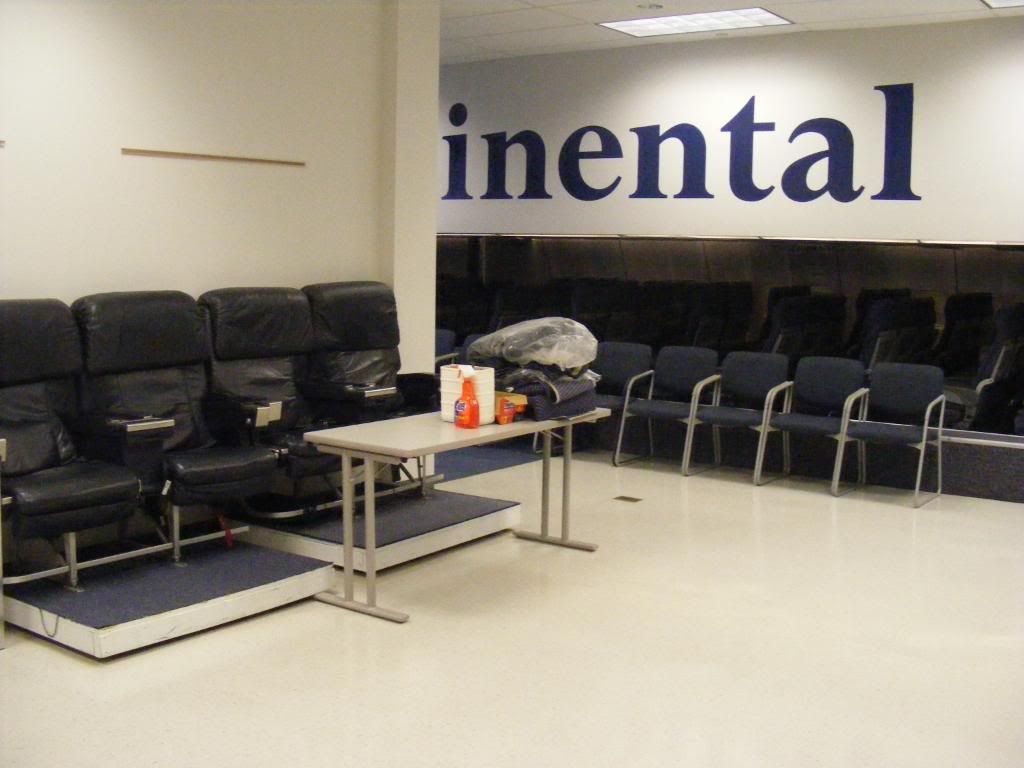 Entering the service trainer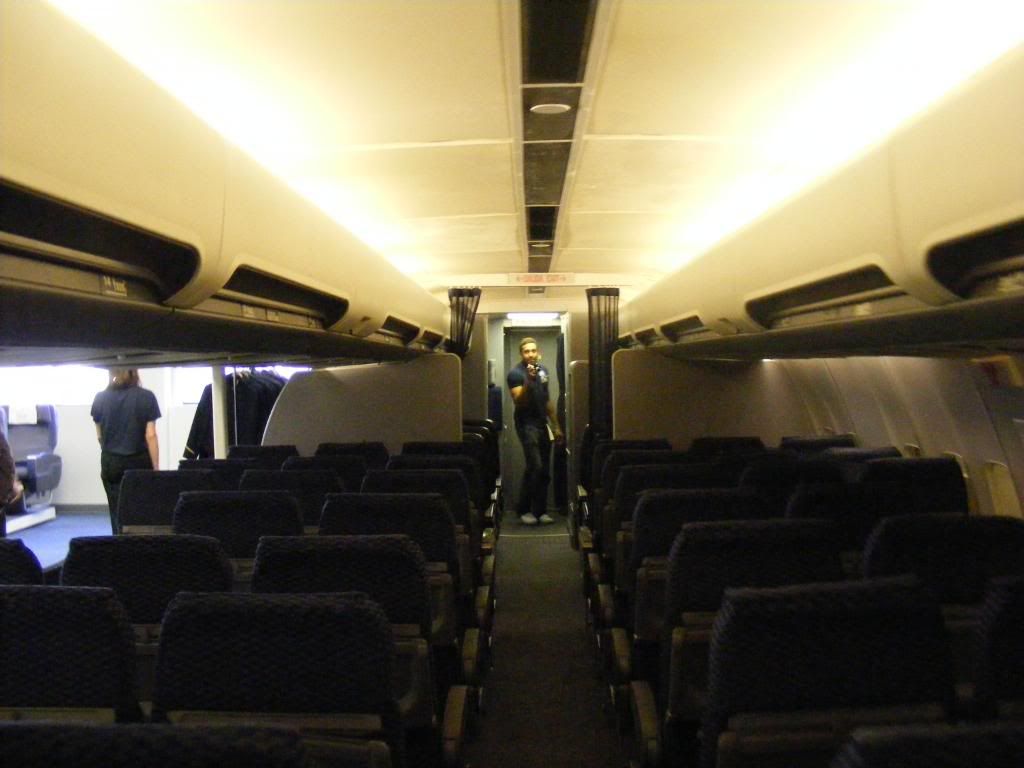 I get to service the Y cabin! Yup! Got to move the carts up and down the aisles!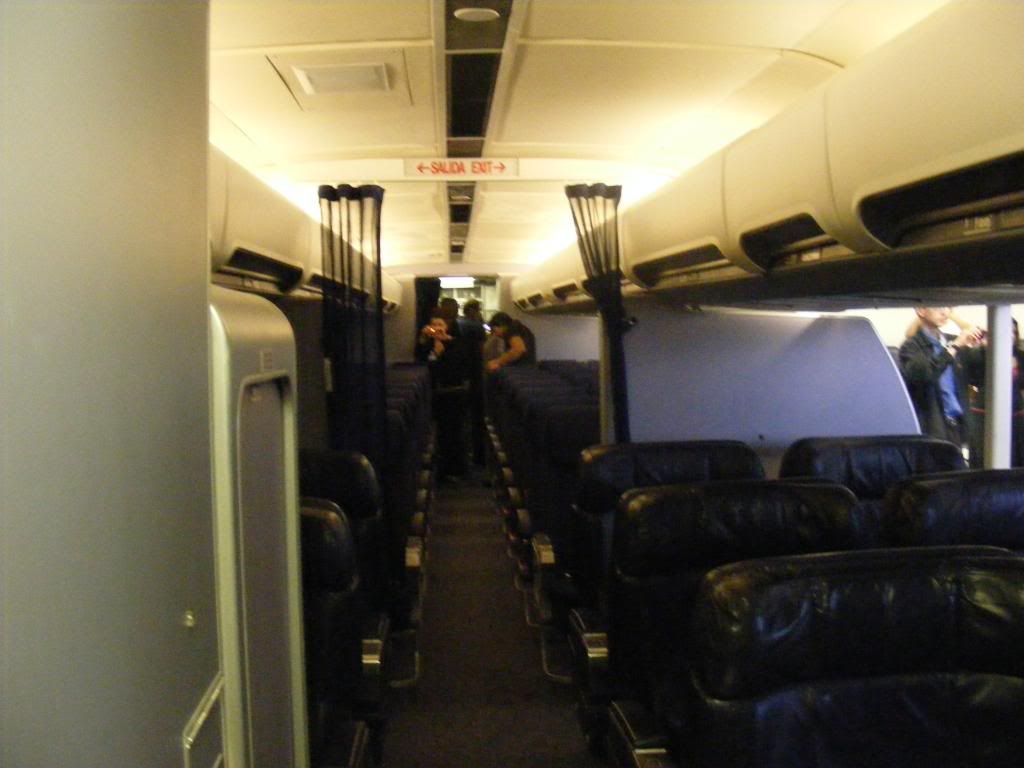 I also got to service the F cabin!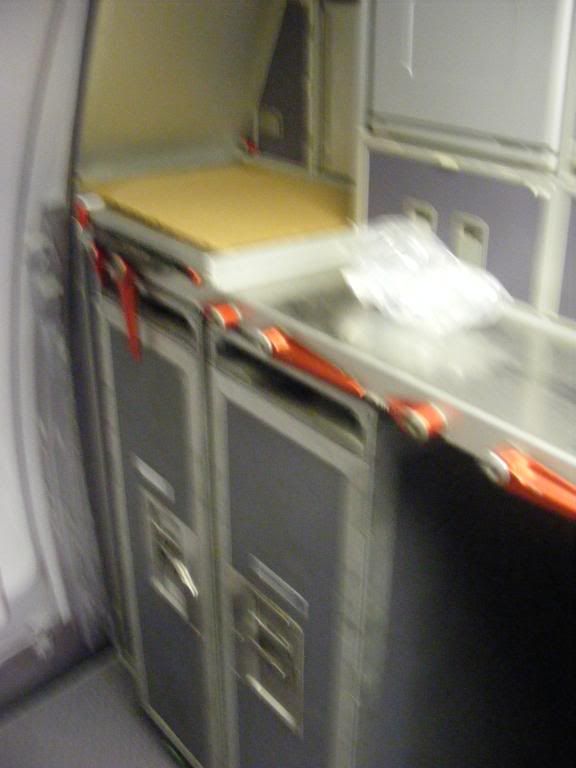 Yup, these carts are stocked, well not with real drinks!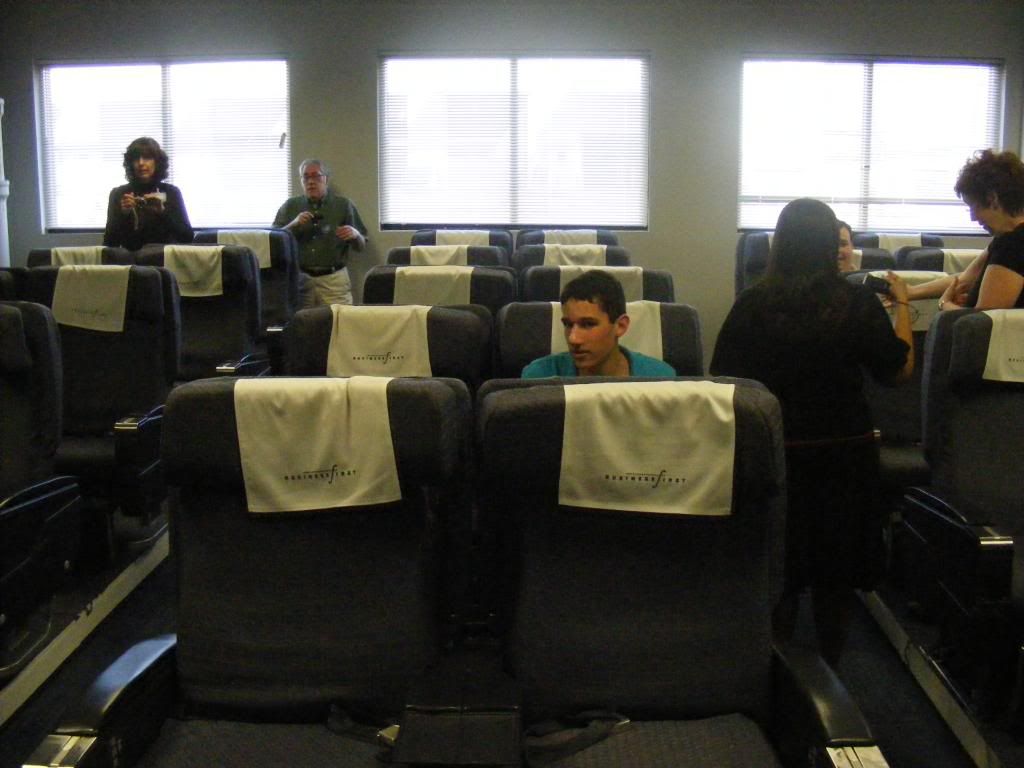 The 772 BF arrangement. Wish all classrooms were like this! The one bad thing, these seats had no power to recline them, only pull out the tray tables and practice serving to BF customers.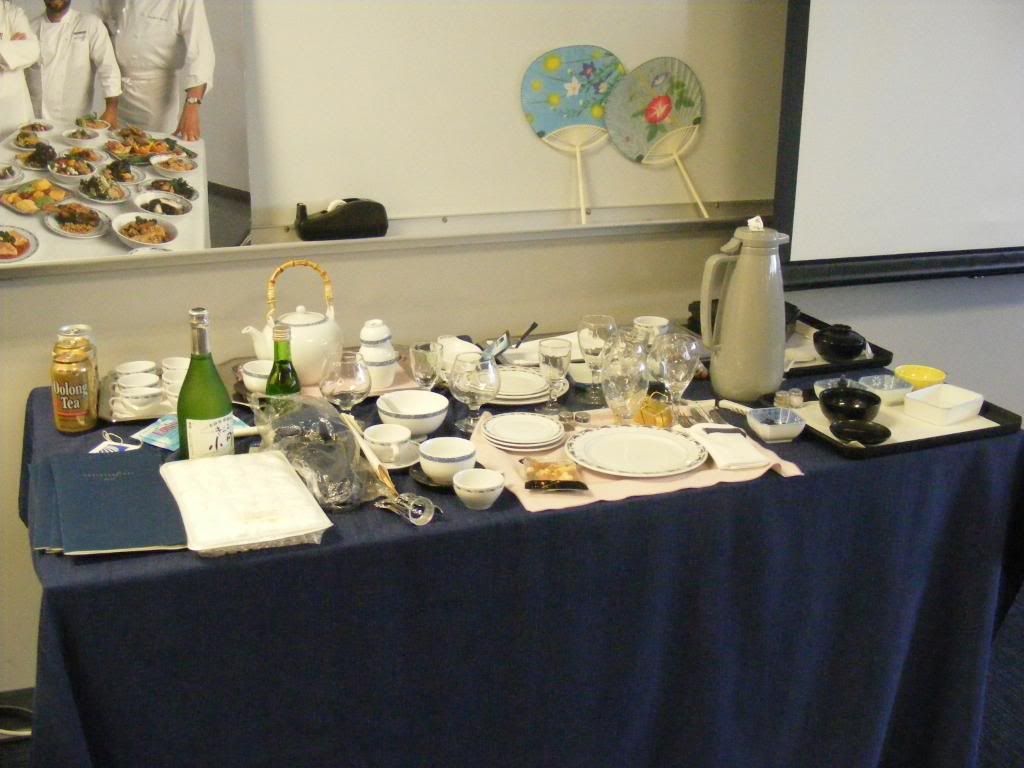 Set up for NRT service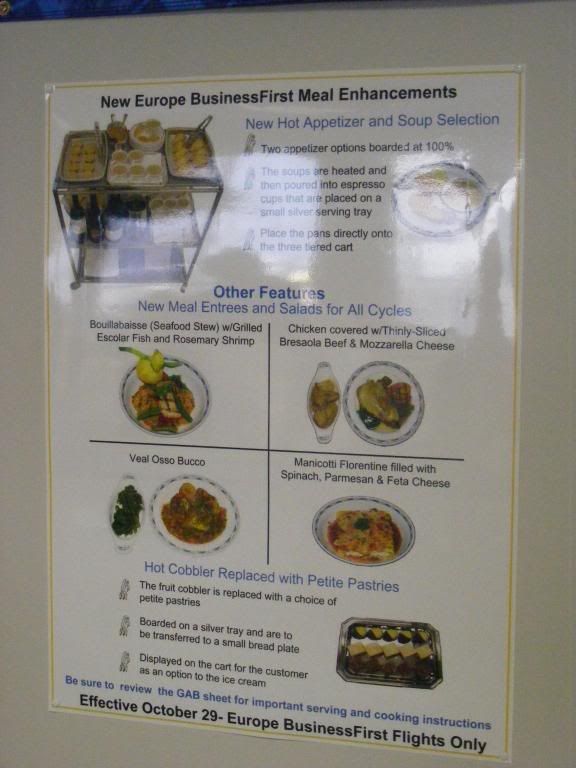 New BF meals to Europe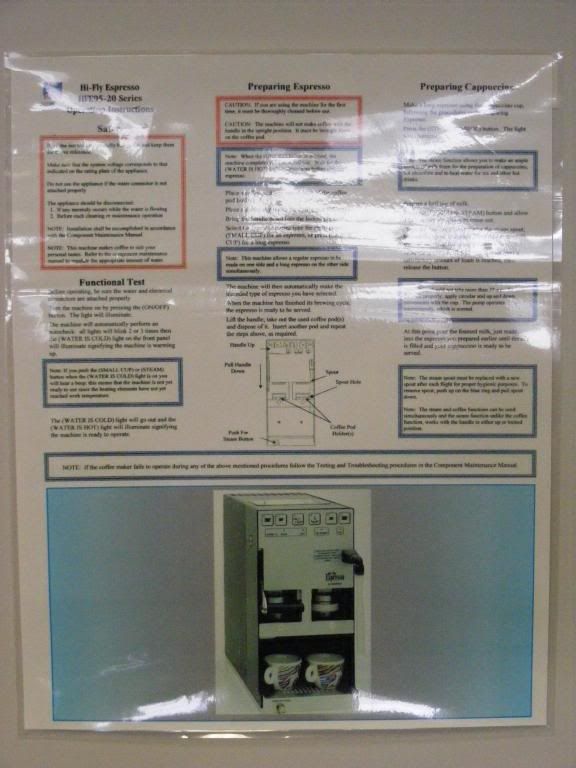 How to make espressos and cappuccinos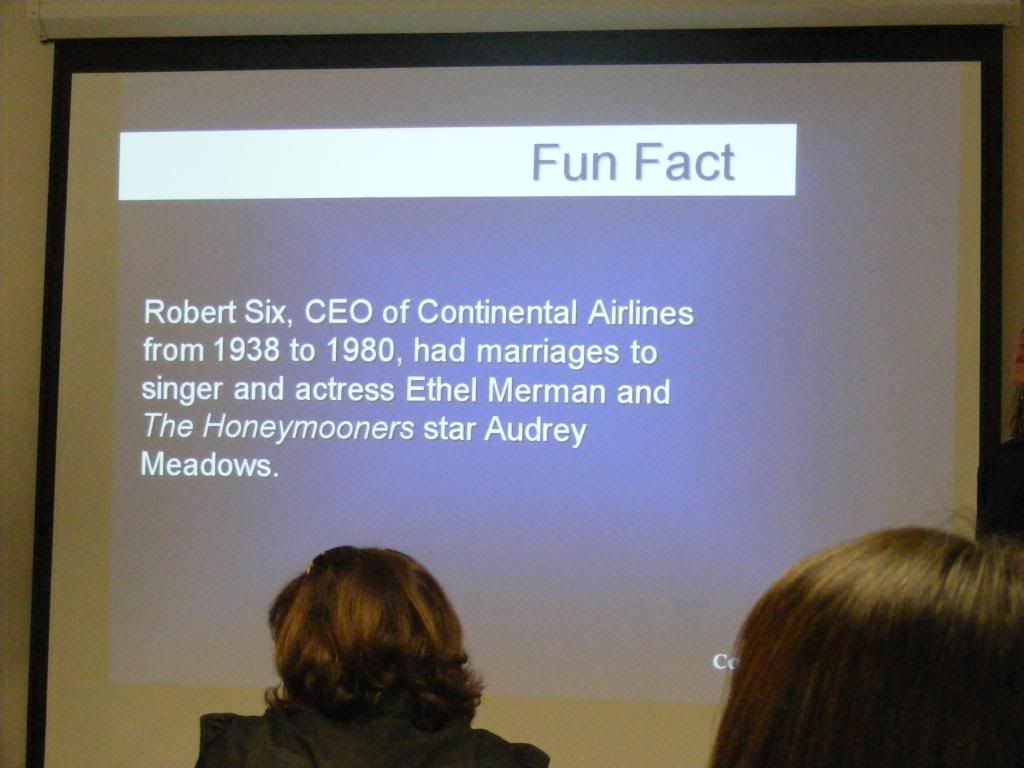 Fun Fact!
I really did not want this part of the tour to end since we all felt like little kids just in awe and glad we got to experience this! Since most of us are frequent fliers, this tour gave us a better understanding on how safety is important for the flight attendants, especially in recent light of the CO accident at DEN and the US flight. After saying one final thanks, we boarded the bus and made our way to the Baggage Resolution Service Center.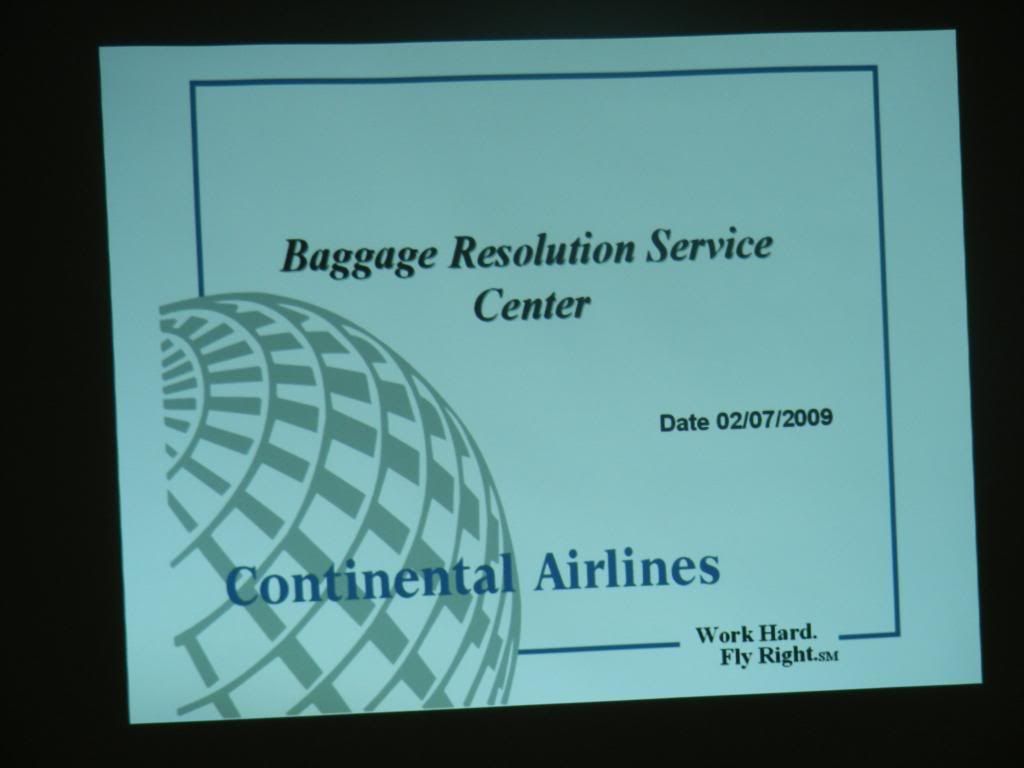 BRS - No, not Bristol, but Baggage Resolution Service Center (BRSC)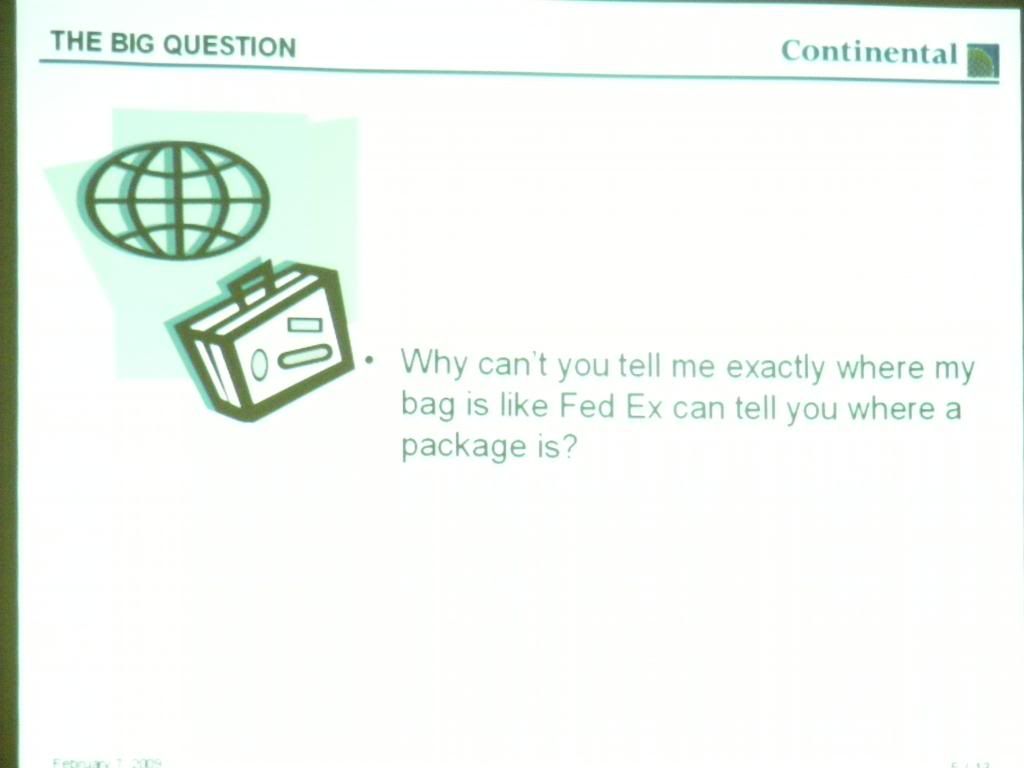 Why can't you be like FedEx?
While not as exciting as Inflight Training Center, the team leaders at the BRSC conducted a very informative session regarding how CO handles delayed and lost baggage issues at its US airports. They joked that they could not emulate FedEx by easily tracking each bag, but they reassured the presence of policies and procedures as well as technology in place that should get a customer's bag back into their possession. During the talk, they gave an interesting statistic. During the December holiday period, CO handled about 4 million pieces of luggage throughout the system. They could not trace back about 280 bags to the correct customer, and in those instances they made appropriate settlements.
Someone in the group asked if they monitored and kept items left on CO planes or hubs. They informed us that the BRSC does have a holding room for everything such as lost driver's license and passports to lost mobile phones, purses, and Bose headsets! As a note, if you leave something on a CO flight or at a CO hub, contact the BRSC to open a file. Within five days they get a collection of left articles from the planes and terminal and stored at the center for a few months. Hopefully you would be able to recover those items! It was amazing to see people leaving behind passports!!!!!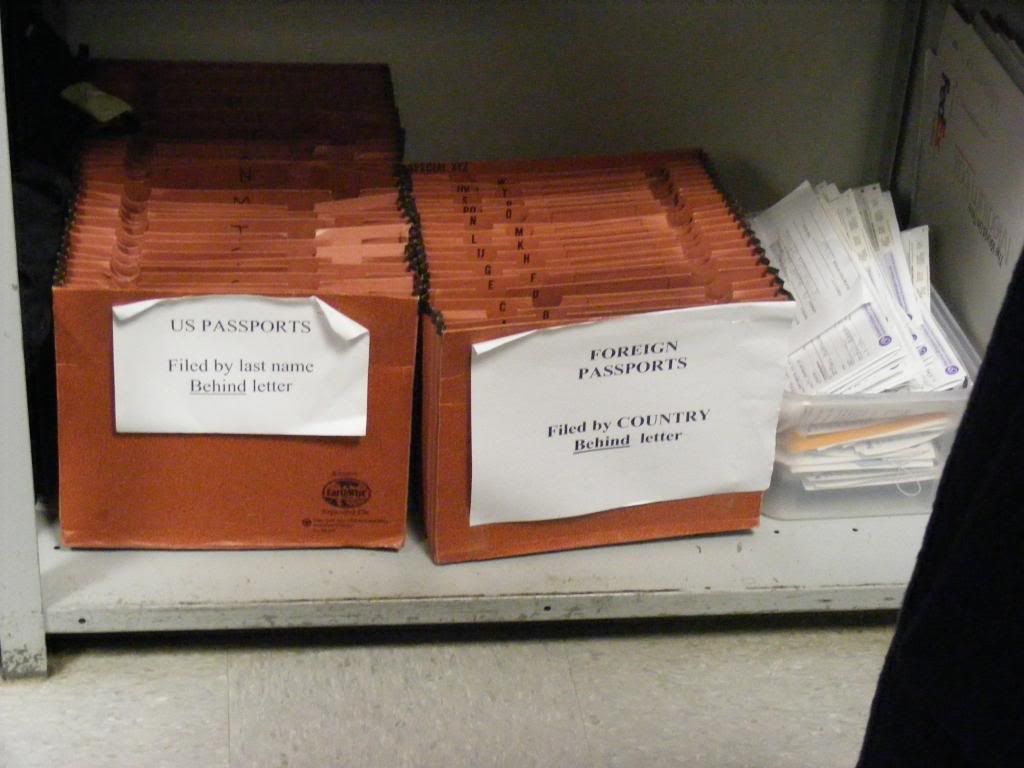 Recently lost your passport on a CO flight or CO hub?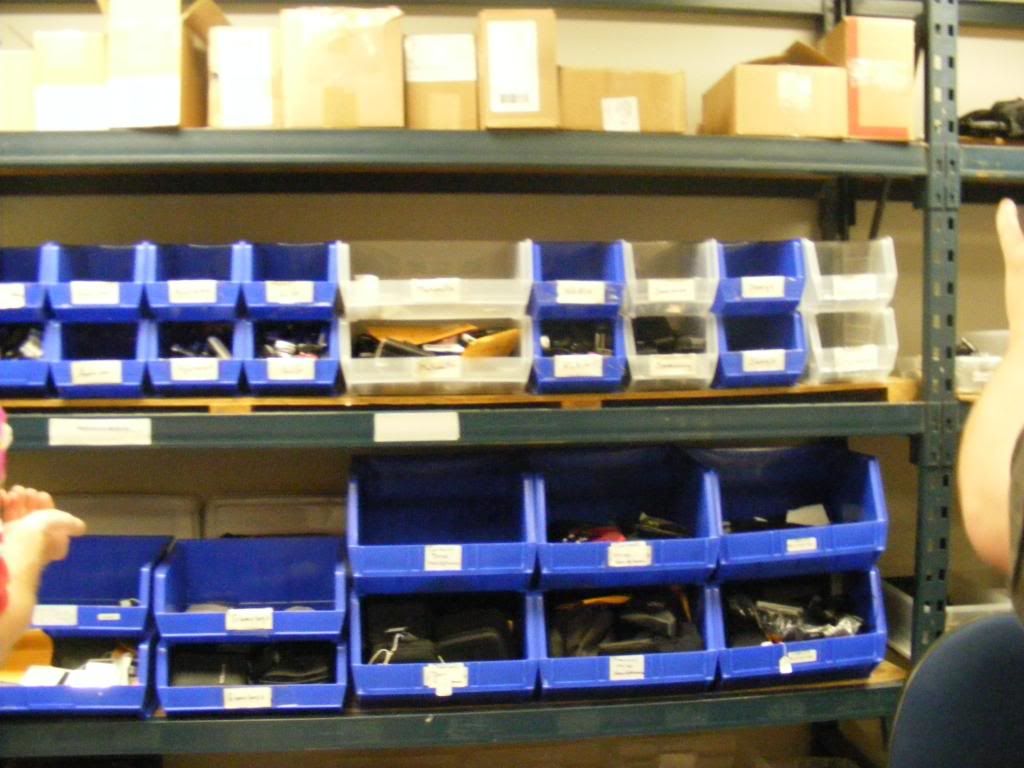 How about a mobile phone or your Bose headset?
We concluded this tour by going into the warehouse where they stored unclaimed checked luggage. They describe the thorough process to log items found in those baggage and put into a database, like going through a crime scene. If in the initial time frame they could not find your bag, they required a second report to cross reference what the customer packed to what was listed by the inspector. In the warehouse, in addition to the suitcases placed in the distance, it was amazing to see things as bicycles, furniture and golf clubs. The biggest surprise had to be the collection of oxygen tanks and strollers that many forget to pick up at baggage claim.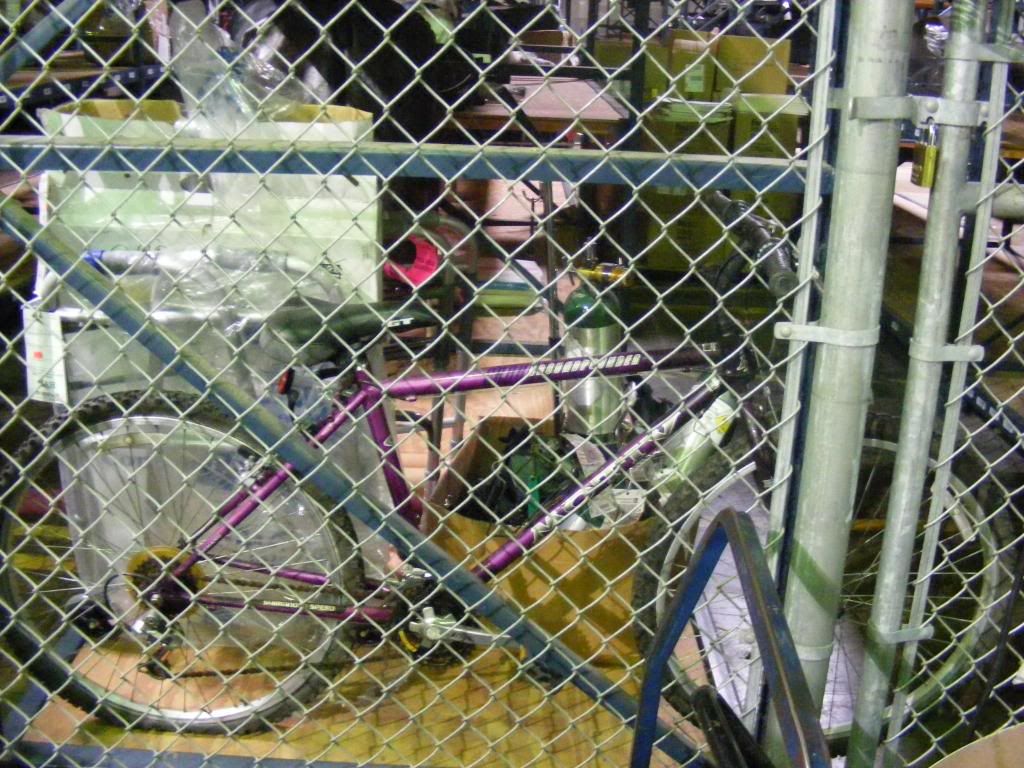 Lost bike that was checked in
Look at the pile of strollers that people left at the airport after 5 days!
As we were leaving, we thanked the people at BRSC for taking us around and observing their operations in action.
It is a good thing to know that the center is open 24hrs a day, 7days a week, and that you get an actual CO agent in Houston and not someone in India.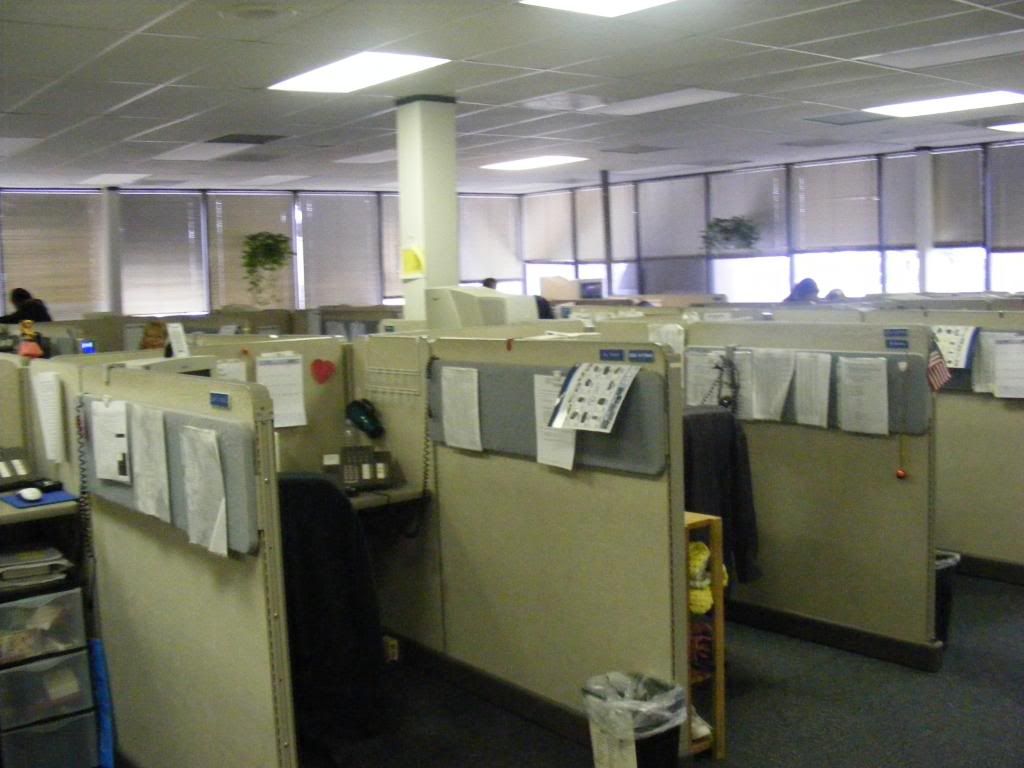 Inside the BRS call center - DEFINITELY not in India!
With our big tours done, it was time to head back to the hotels to freshen up and make out way to the Marriott Greenspoint where we would get to discuss, learn, and share ideas with various members of CO Senior Management team. We were also itching to find out what the mystery tour would be.
Break Out Sessions and a Talk with Larry and Jeff
Once I reached the DoubleTree, I drove to the Marriott Greenspoint where we would get to sit in, listen, and discuss various aspects of the airline in two different session on the following topics: OnePass and Alliances, Continental Product, Customer Service, and CO Online and Technology (from what I remember).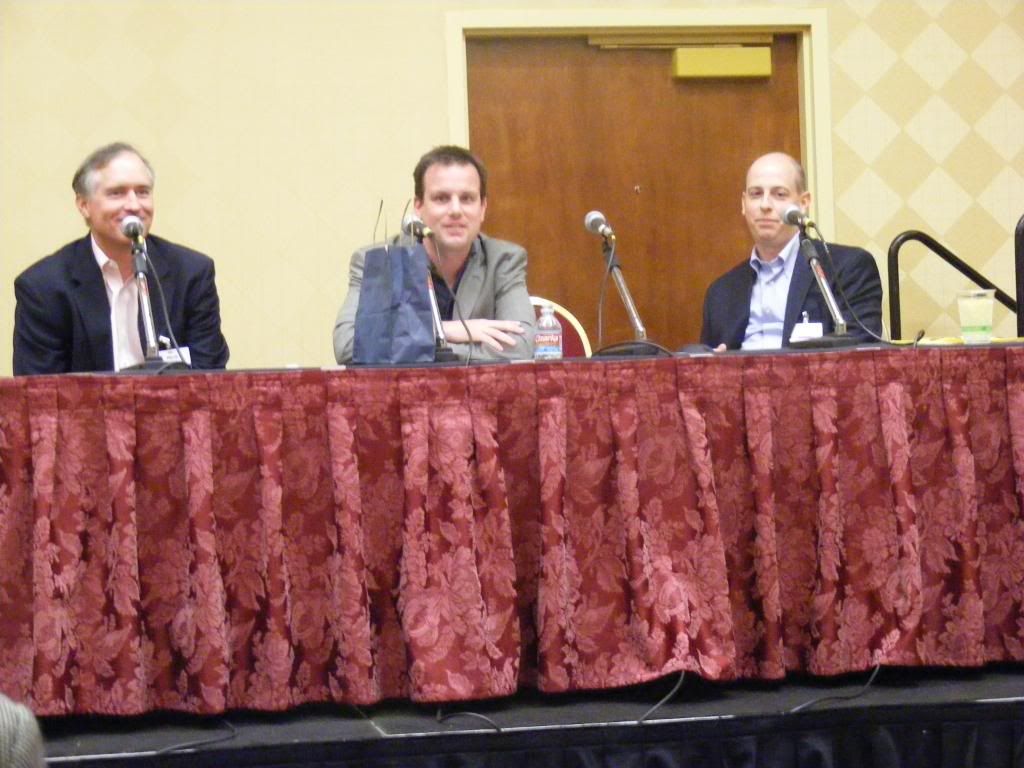 Scott O'Leary joined with Tim, head of "alliances", and I believe VP of OnePass during the OnePass and Alliances Session 1. It was definitely hard to get a definite answer regarding CO's entry into Star since they still had an obligation to fulfill as a member of SkyTeam. Yet they hope for a smooth transition on the last flight as a SkyTeam member on 24Oct09 and entrance into Star Alliance soon thereafter.
Joining Mark Bergsrud are VP Marketing and VP of Food Services during the Continental Product Session 2. Topics in this session ranged from President's Clubs vs. Red Carpet Clubs, DirecTV/LiveTV, the new BF seat, and meals.
In between Sessions 1 and 2, they were handing out a trivia quiz for those who wanted to partake in the last game of the event, Super Quiz Bowl. The Top 8 high scorers would play and form two teams of four, and the winning team would win a total of 1million miles. Again, congrats to DeltAirlines and his team for that comeback win. Wish I had stayed to watch!
At the end of Session 2, they collapsed the walls and created a giant room where everyone would get to listen to Larry and Jeff talk about some upcoming ideas as well as questions regarding the future of CO. Before that, Scott returned to give the answers to the "quiz" and call out the names of the Top 8 high scorers. After Scott announced the names, Mark welcomed Larry and Jeff to the stage.
During the Larry & Jeff Show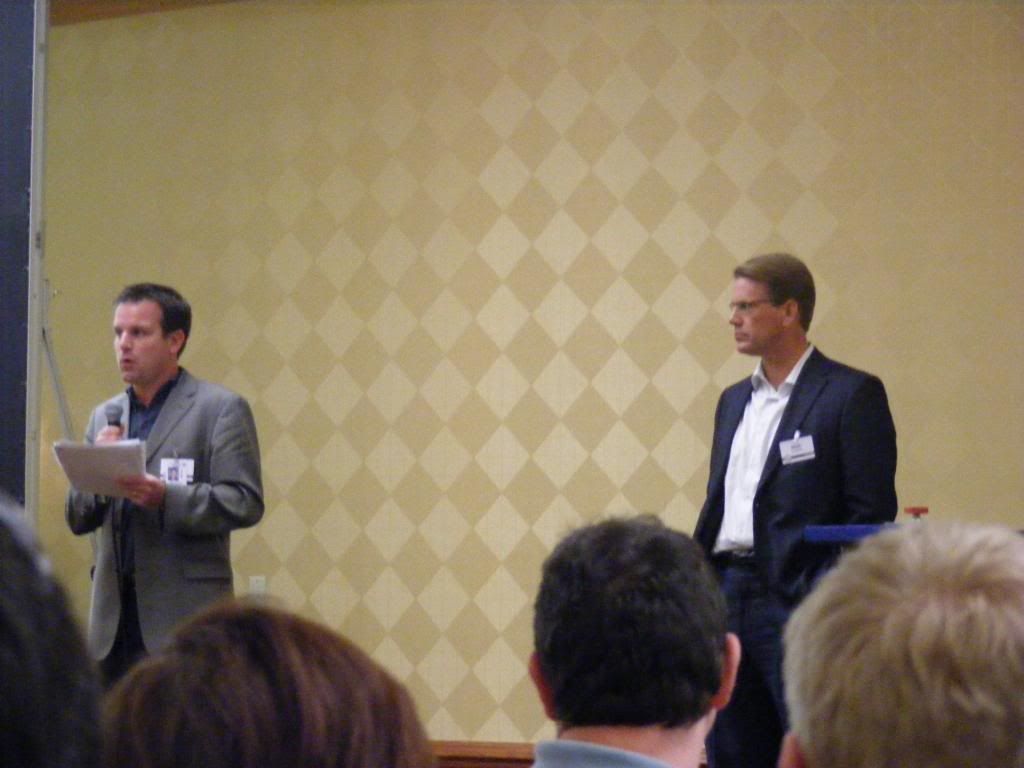 Scott, aka CO Insider, and Mark getting ready to introduce Larry Kellner and Jeff Smisek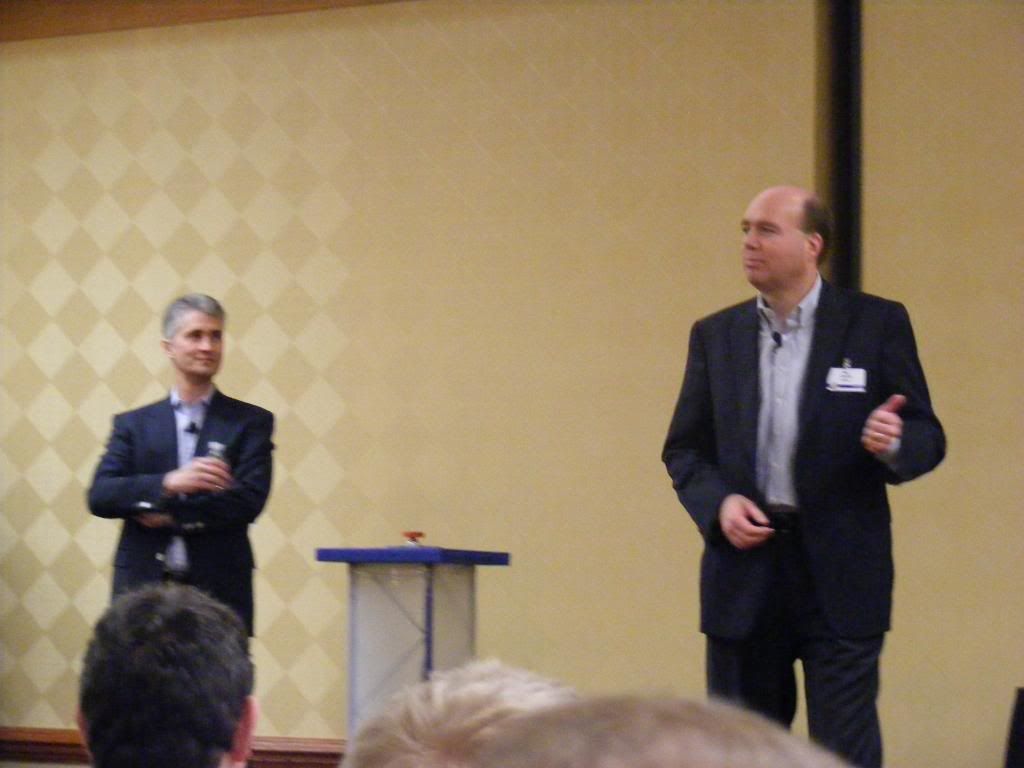 Larry & Jeff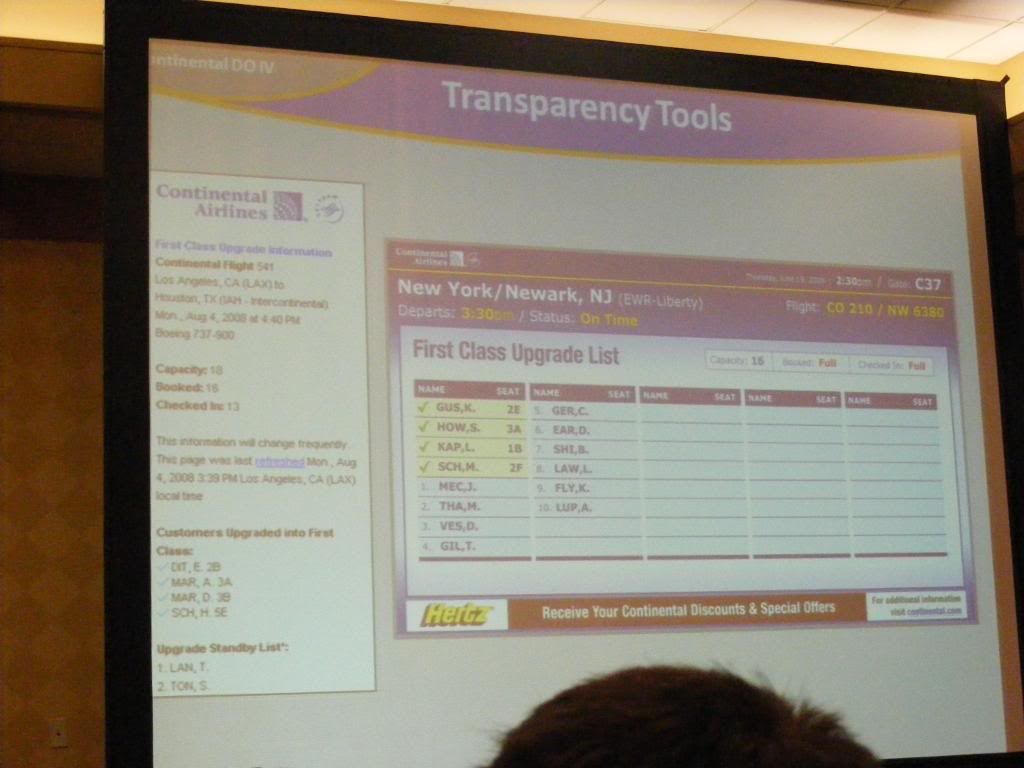 pda.continental.com/info was something created from feedback during CO DO III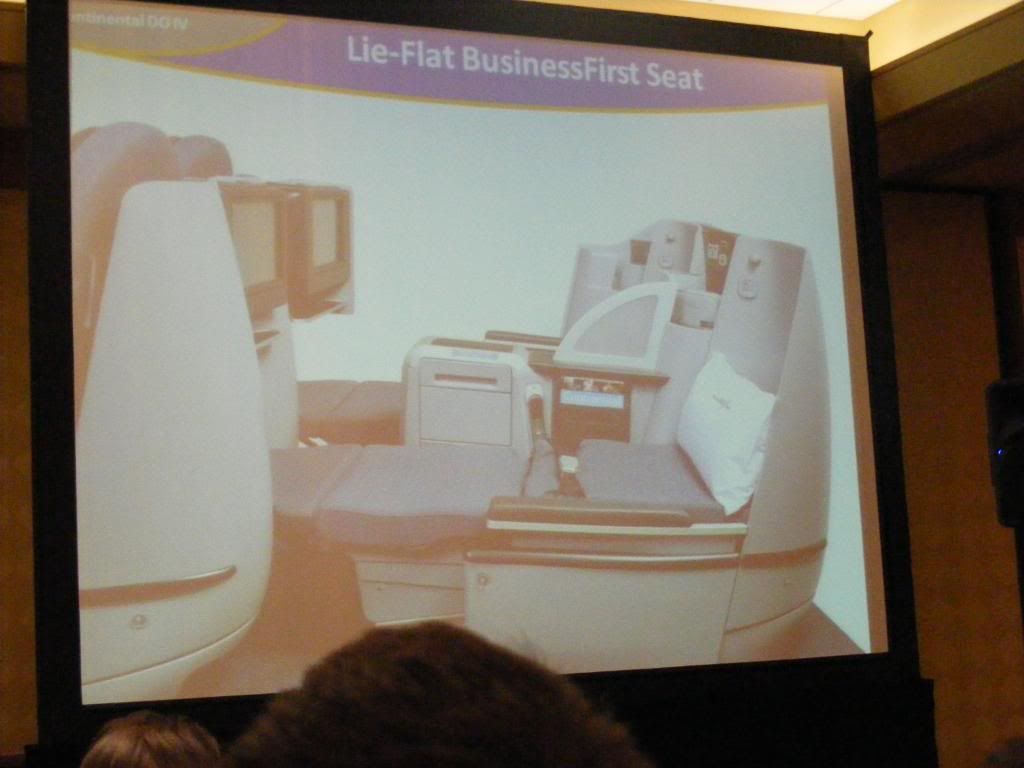 Introduction of new life-flat BF seats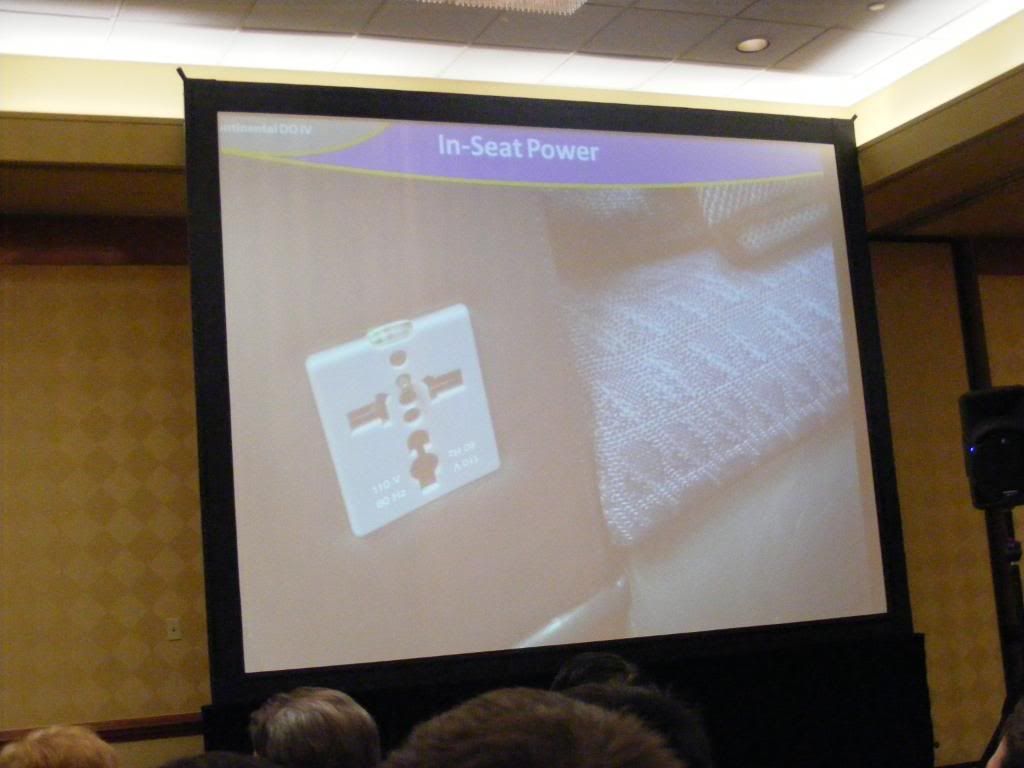 Inseat power, currently being added on the 739ER and soon in most planes that will be getting DirecTV/LiveTV installation.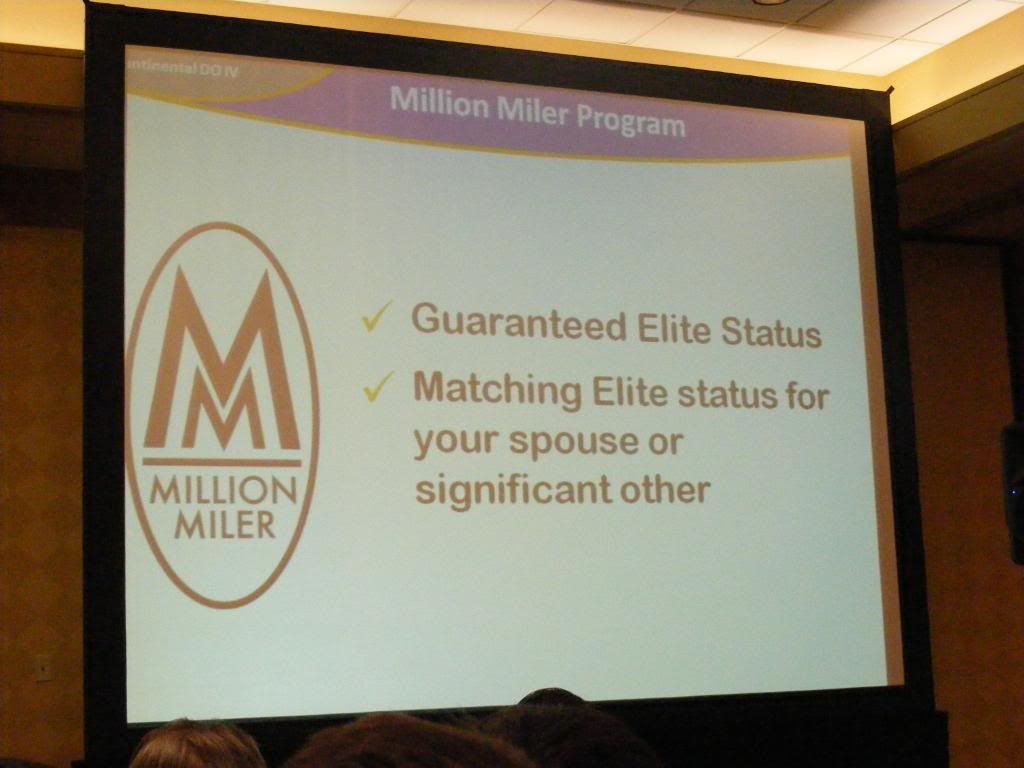 The Million Miler Club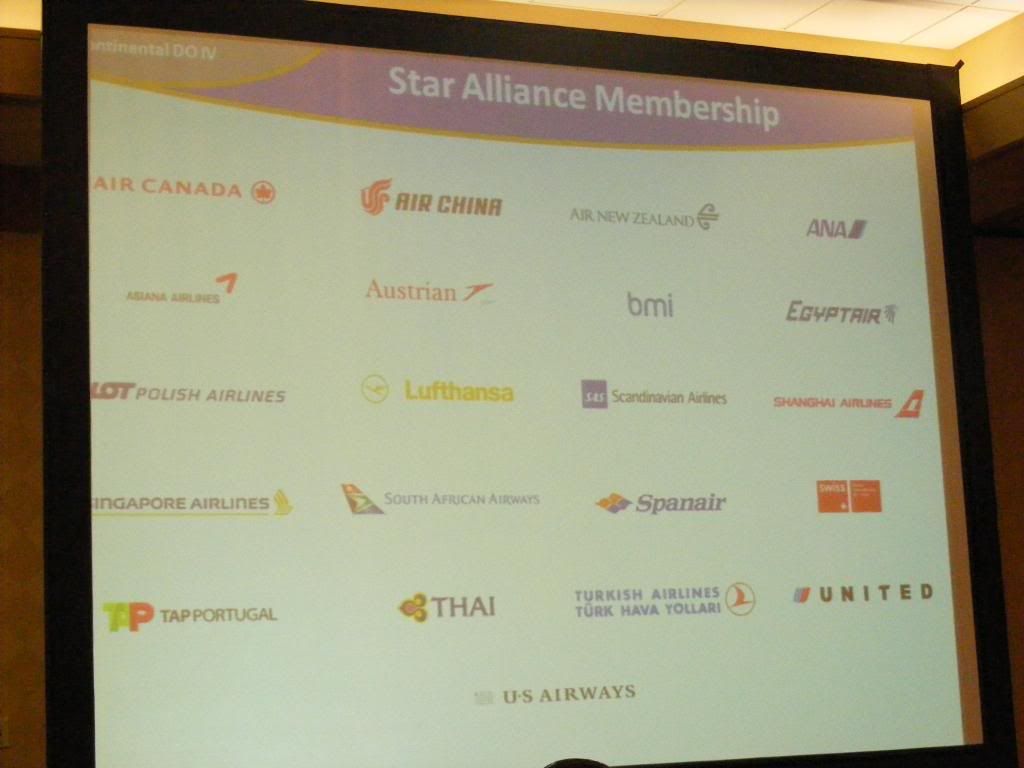 Entrance into Star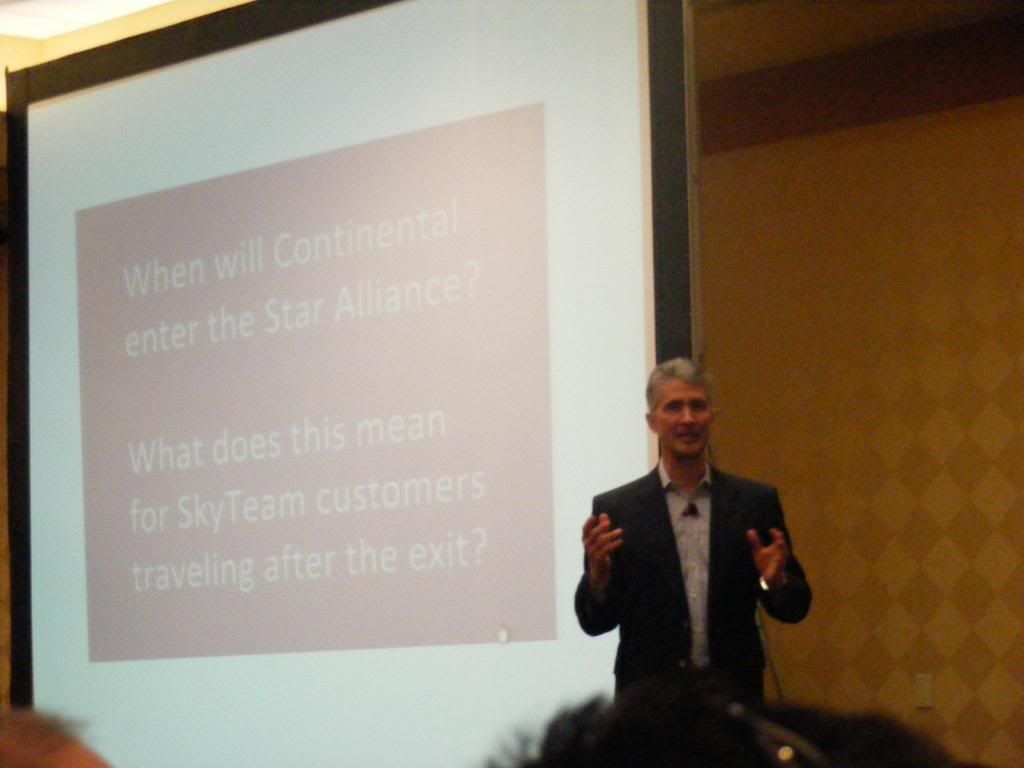 Jeff answering the questions "When will CO enter Star?" and "What does that mean for SkyTeam customers traveling after their exit?"
I had to cut out a few pics as I noticed the "Proprietary and Confidential" wording during the presentation.
Definitely they discussed issues regarding CO's departure from SkyTeam and entrance into Star. The CO board has touched on a few topics they discussed.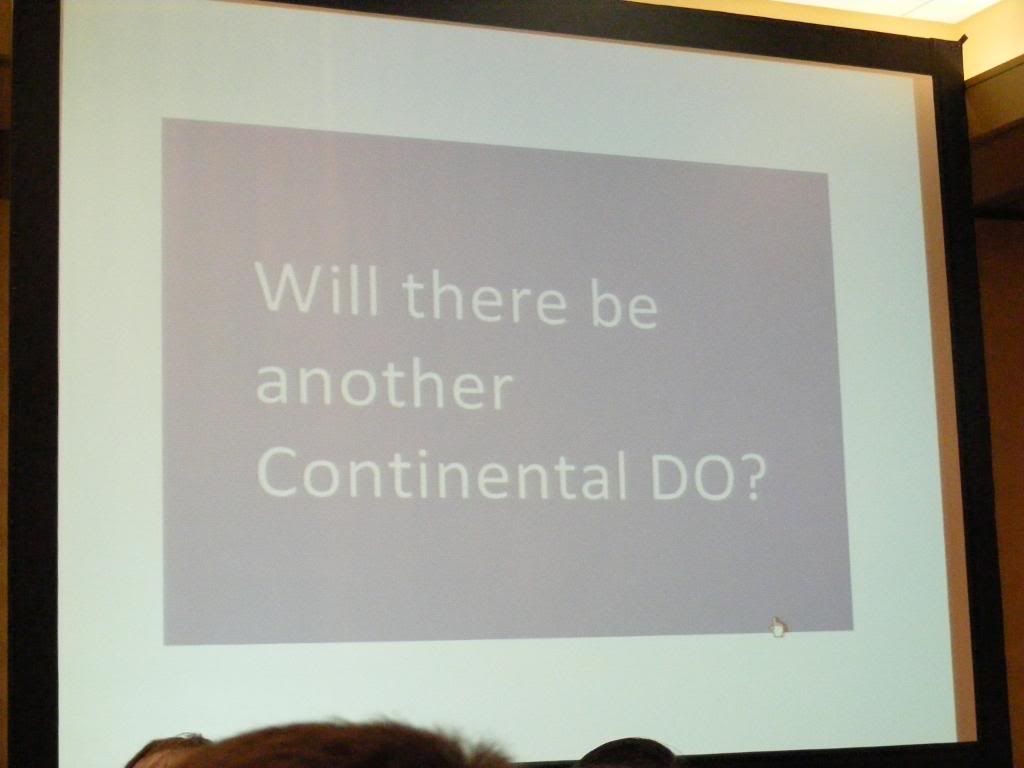 Last one?!? NO!!!!!
After Q&A from a number of attendees, I quickly went home and got ready for the evening's big shindig!
Saturday Evening Event - Party in Hanger B
I arrived at the designated parking lot a bit early and got to Hanger B where they were still prepping up for the evening's festivities. Definitely not much to say, so let the pictures speak for themselves!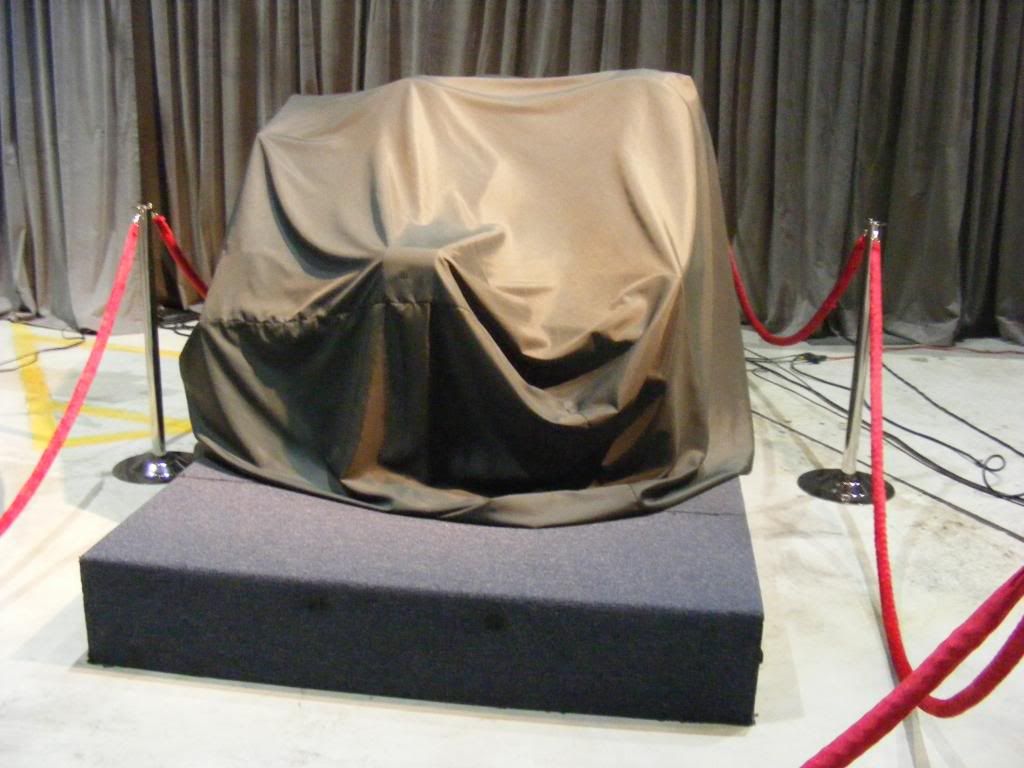 The new BF seat covered up.
The new gate FIDS! (Sorry not in sequence) Not sure if automated announcements would be included with this gate upgrade, but very cool and excited to seem them transform IAH, EWR, and CLE.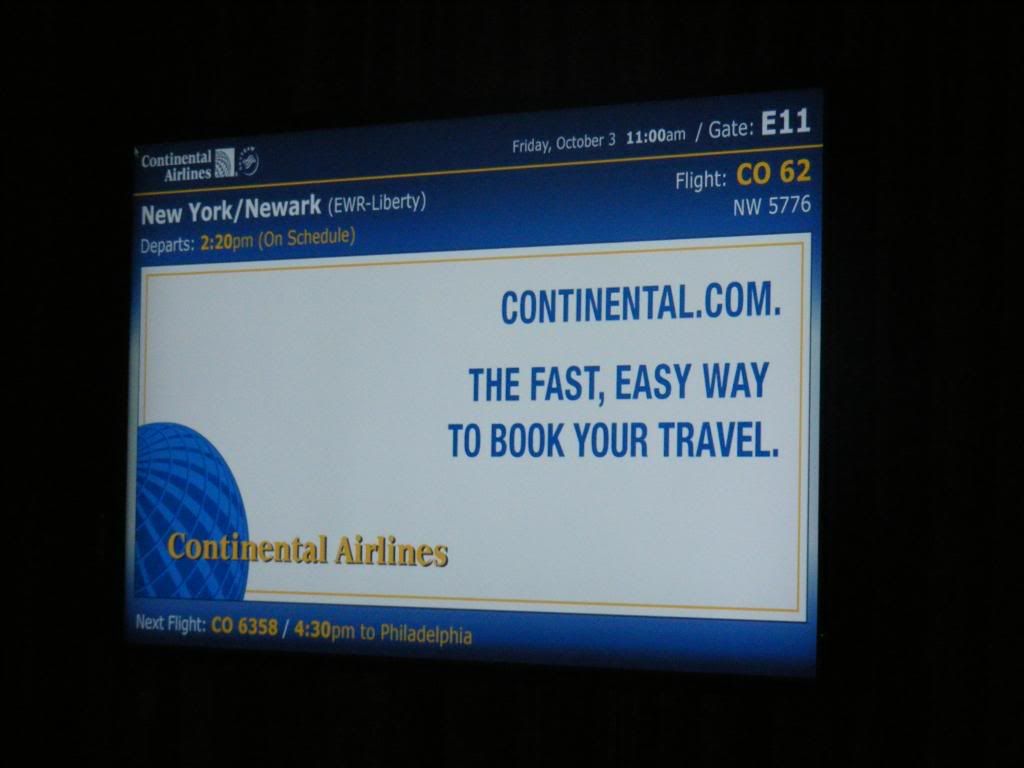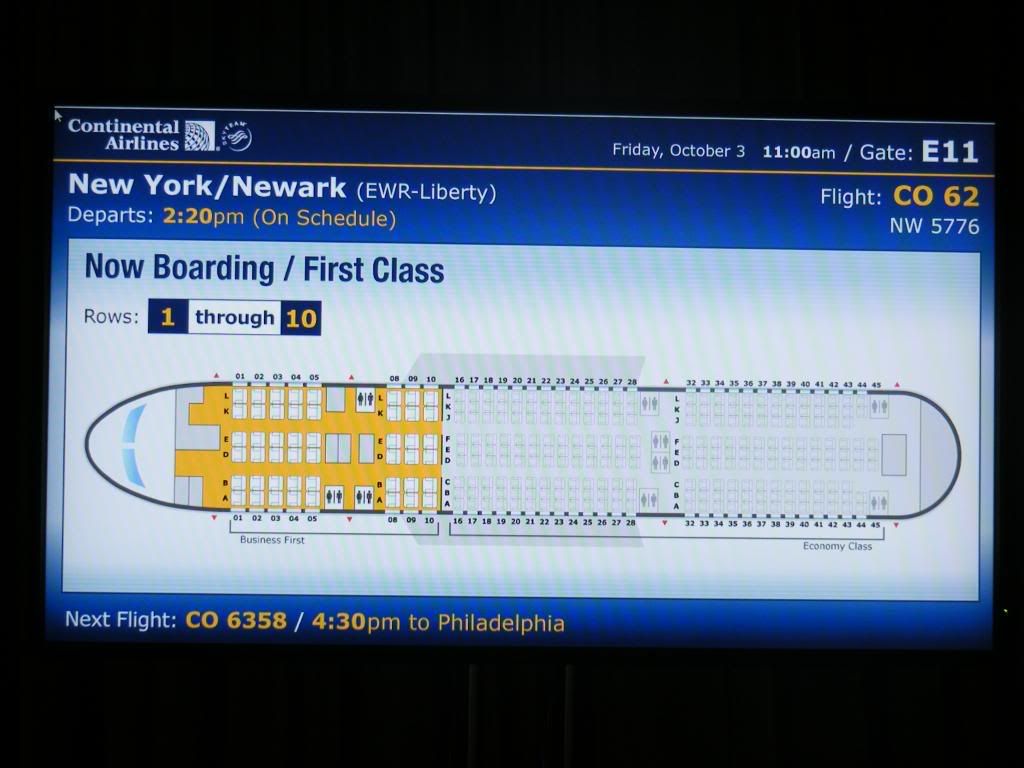 "Ladies and gentlemen, welcome to CO 62 nonstop service to EWR. We would like to start our pre-boarding by inviting our first class passengers to board."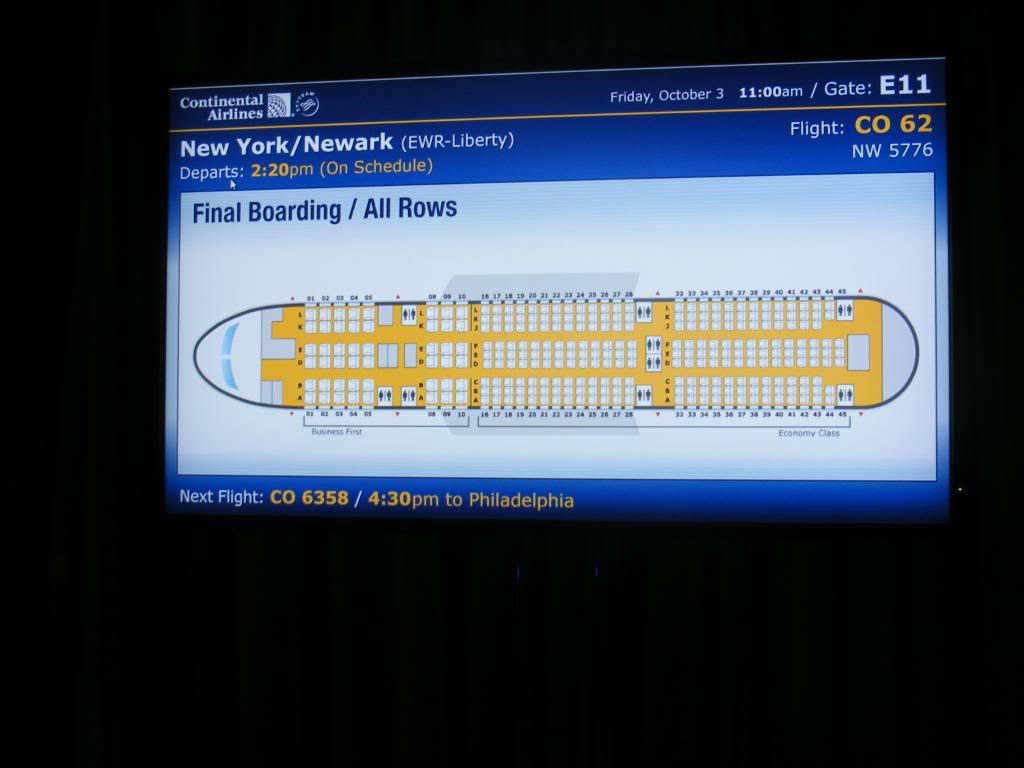 "Ladies and gentlemen, we are now calling all rows. All ticketed and confirmed passengers must board at this time!"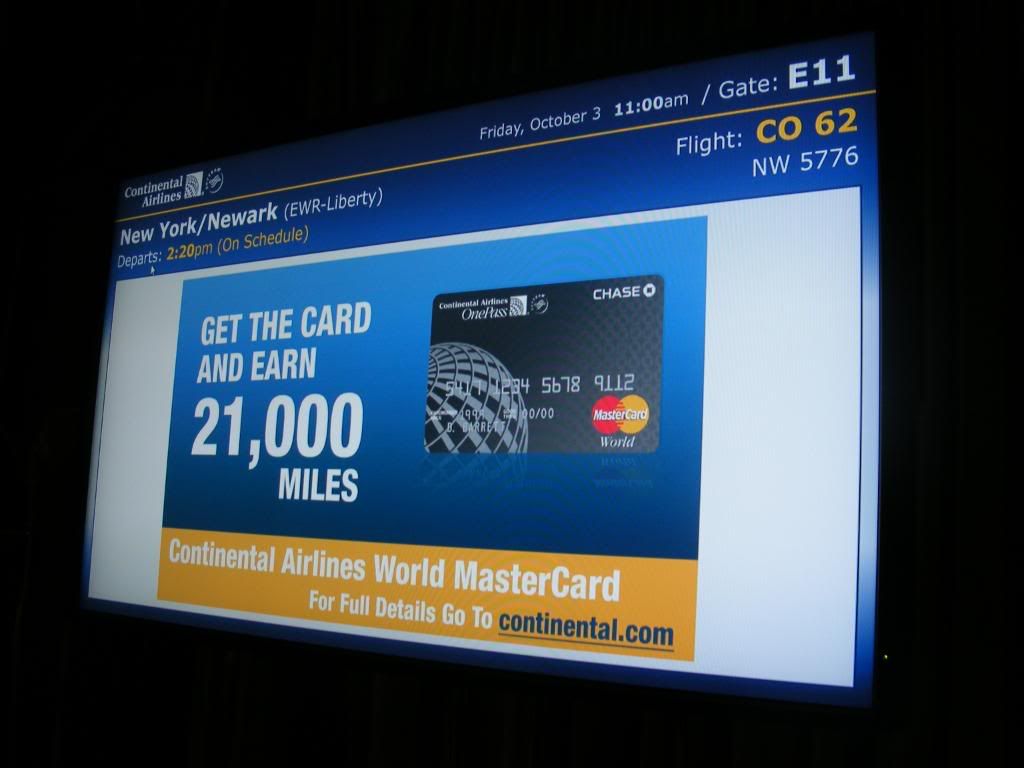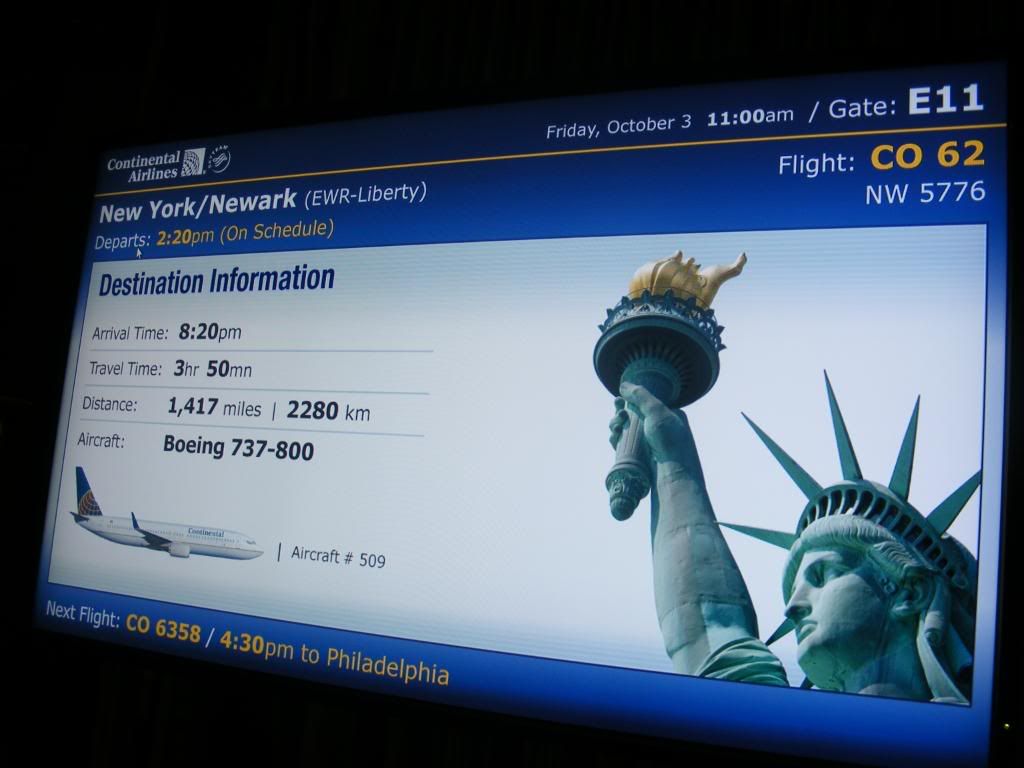 "Cool! I have never flown on #509 of the 738s!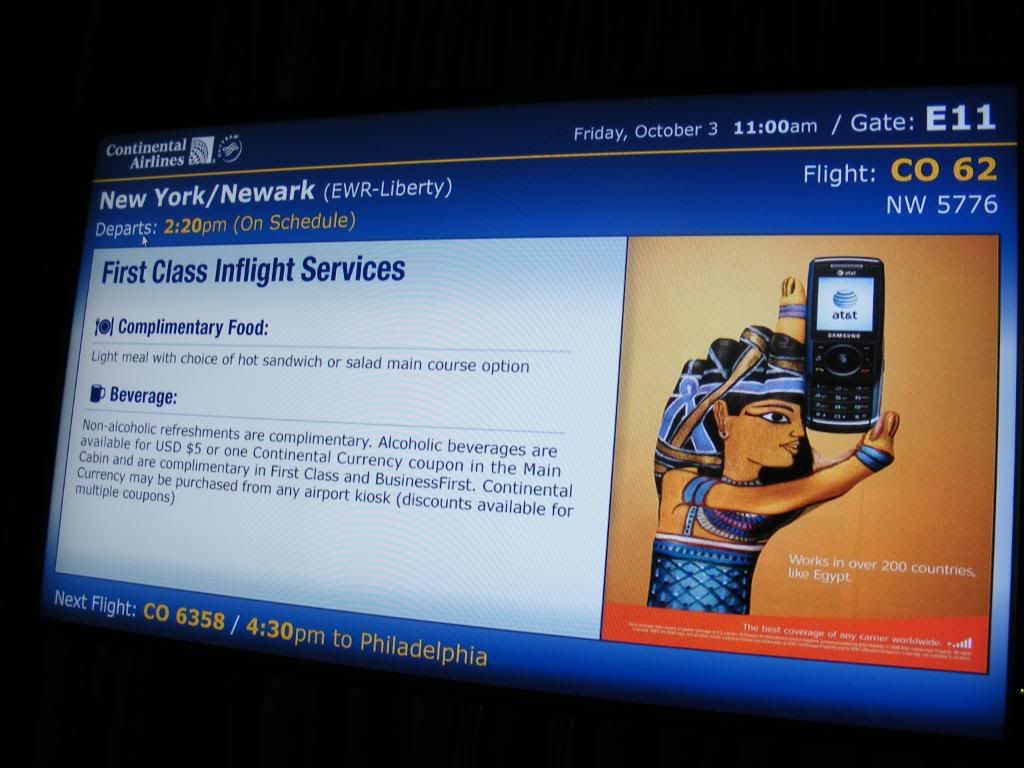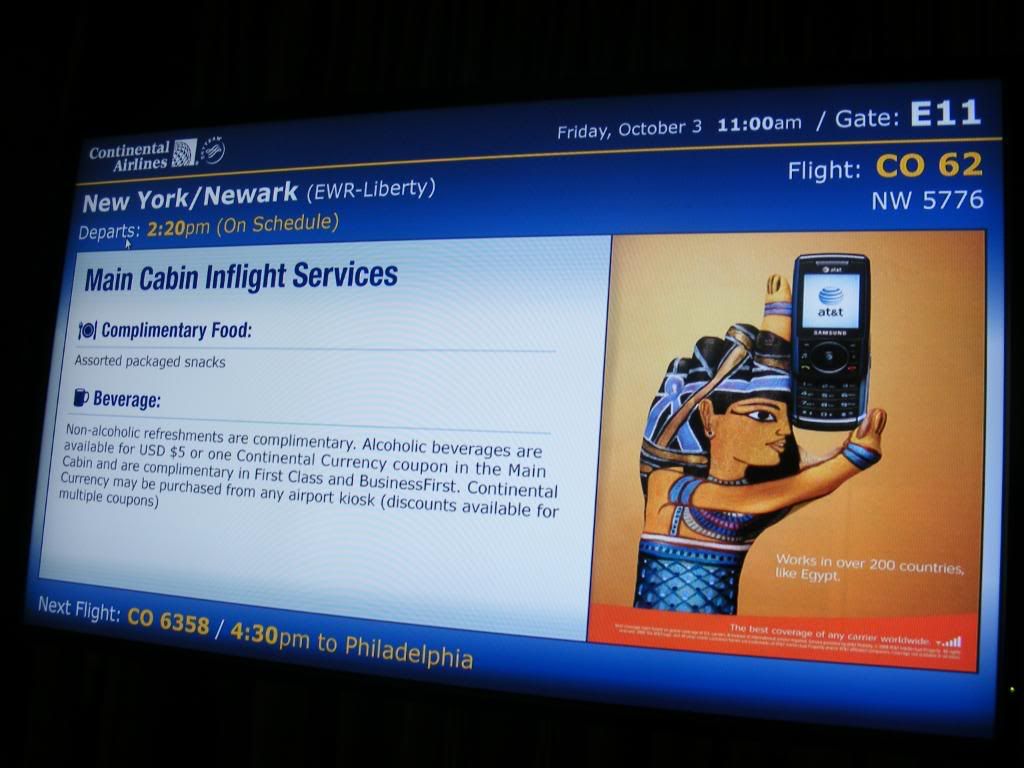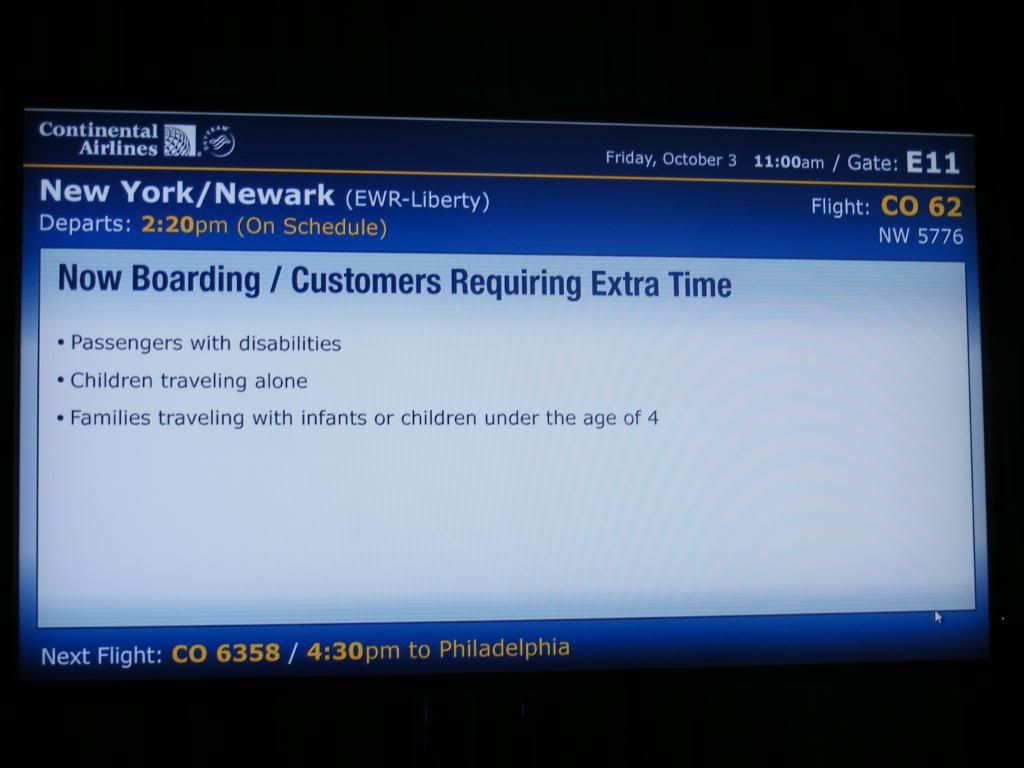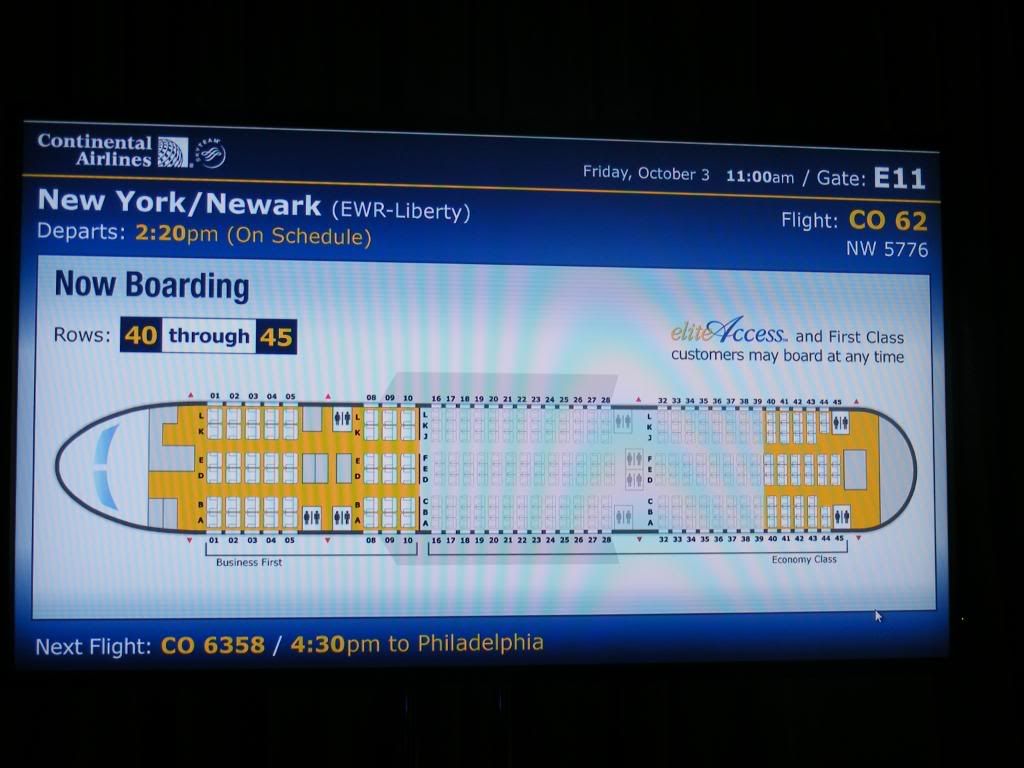 "Ladies and Gentlemen, we would like start our general boarding for those passengers seated in rows 40-45 for CO 62 to EWR. Also, our EliteAccess and first class customers may board at any time through the EliteAccess line."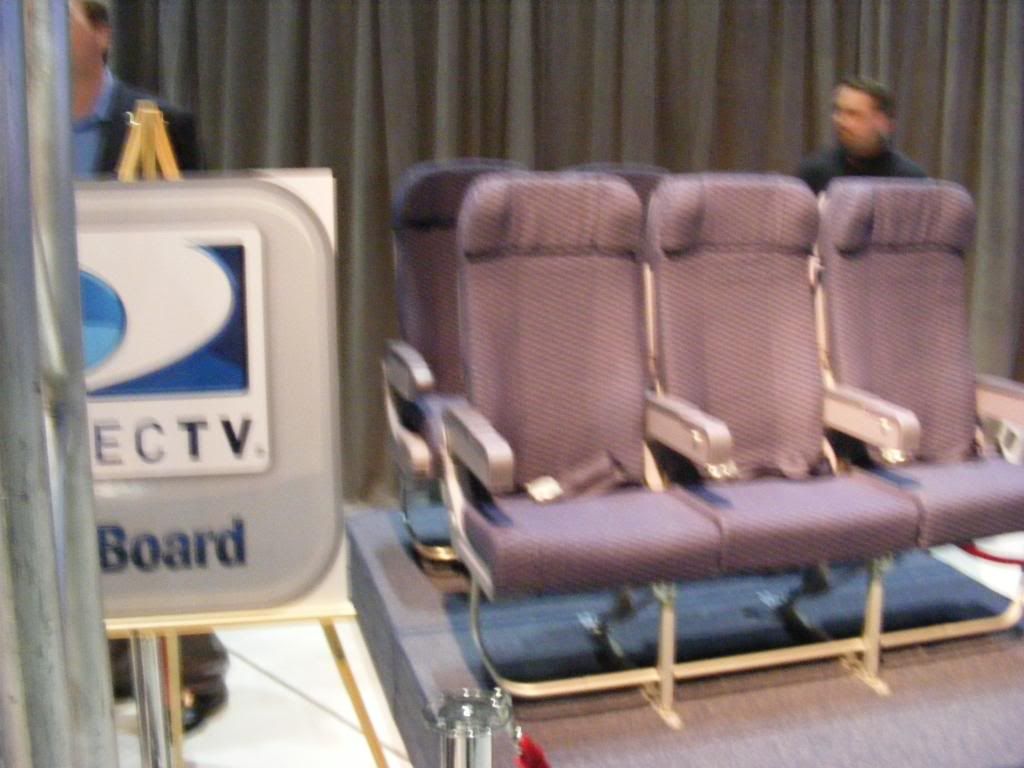 Preparing the DirecTV demo.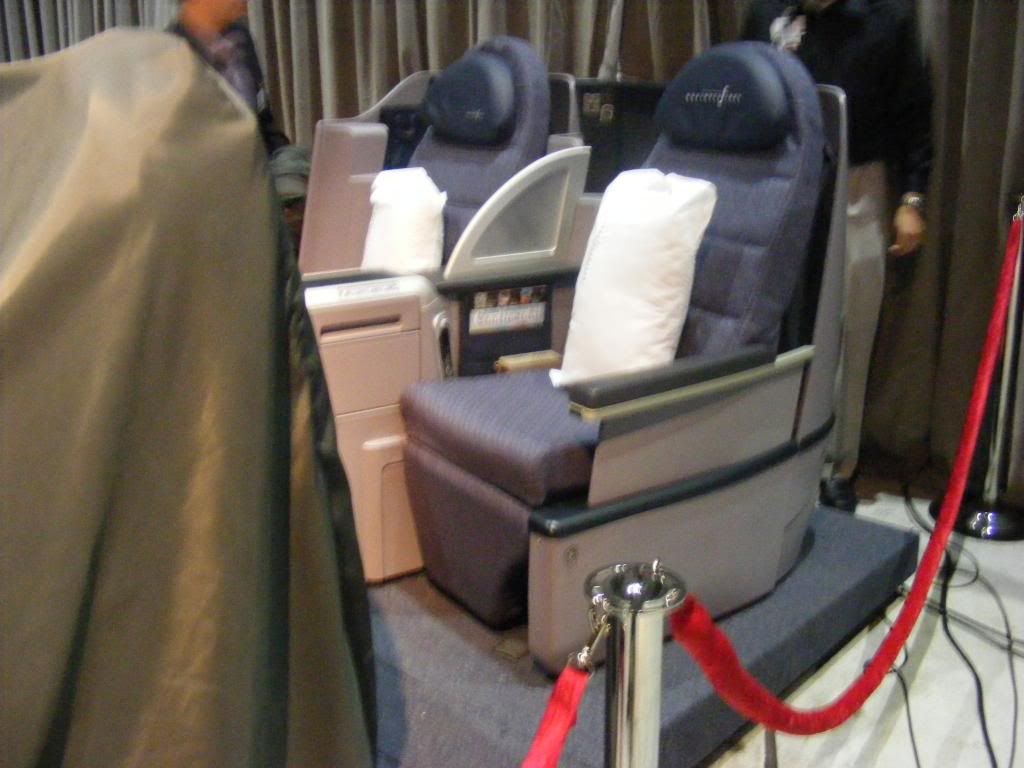 Wow! Unveiling the new BF seat from BEAero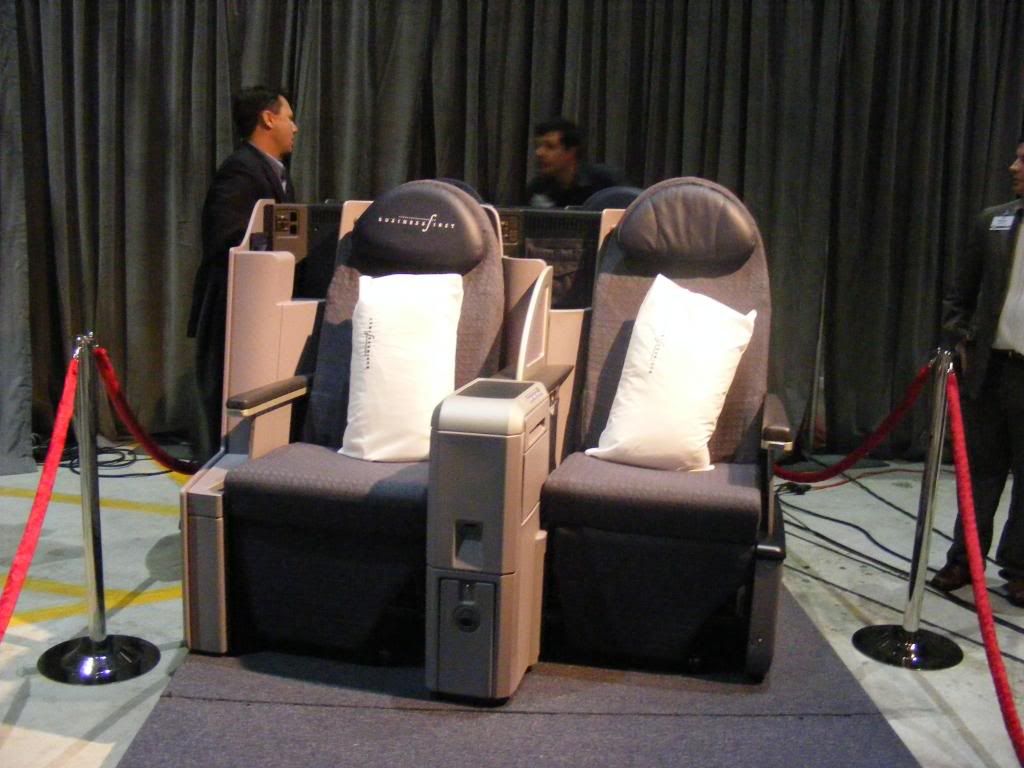 The staggered BF seat. These are the bulkhead seats that did not recline during the demonstration.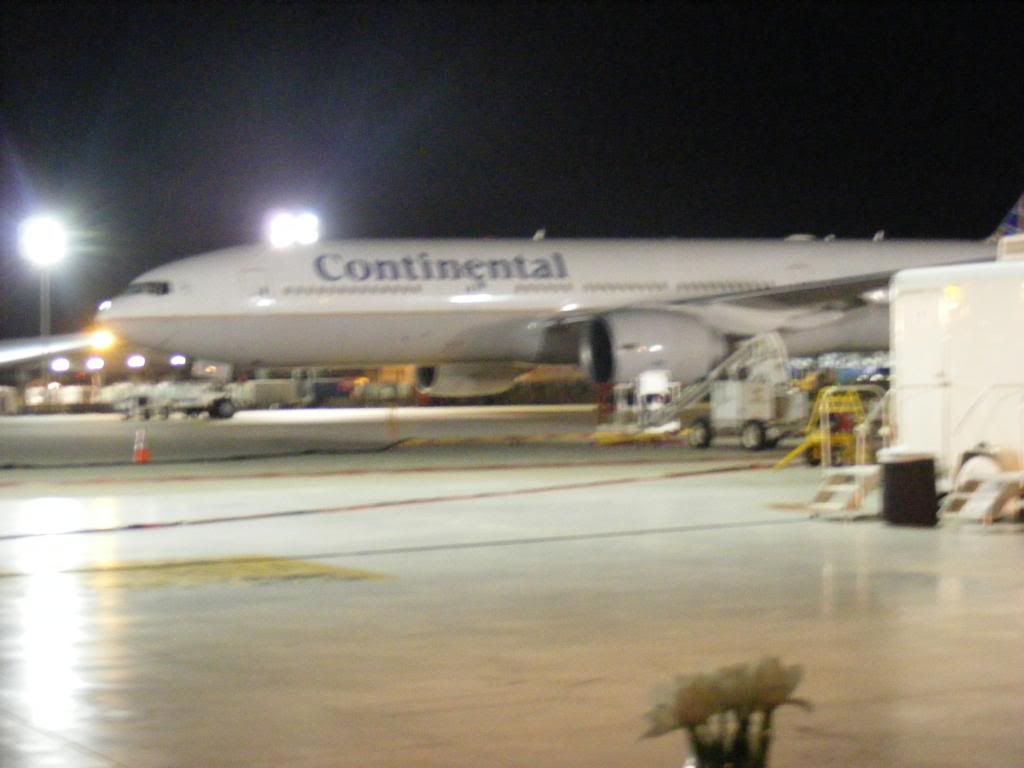 CO's 772 #006 by the hanger, but was not available for entrance and monitored by security.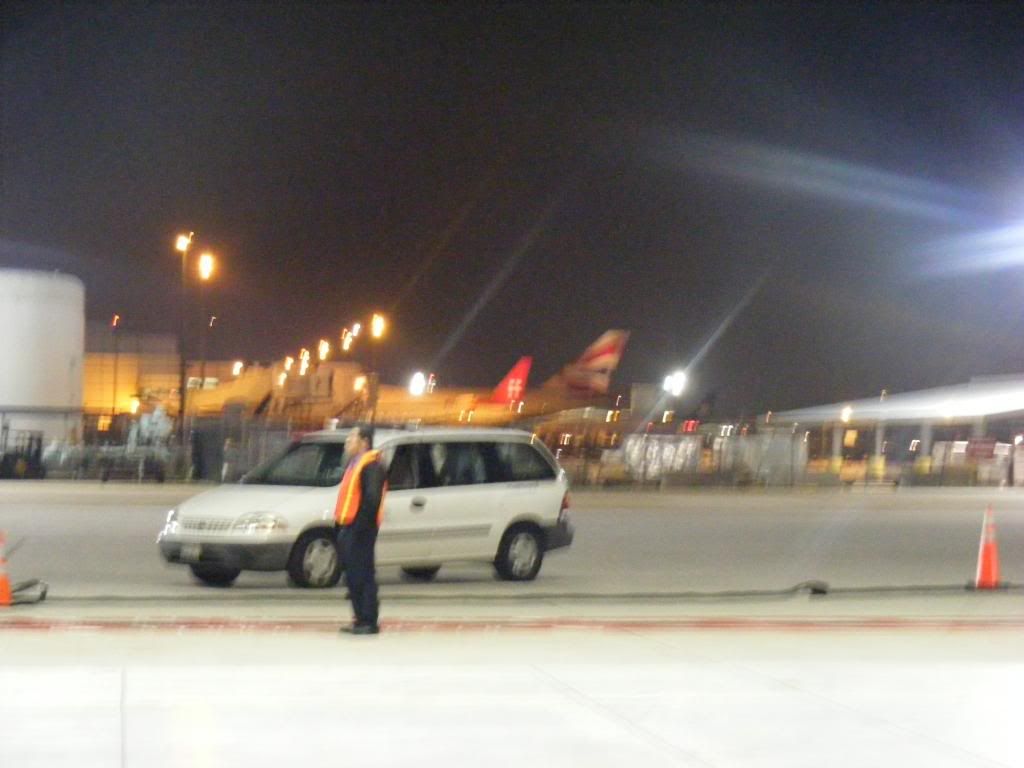 Can see Terminal D. BA's second flight to LHR as well as KL's PrivatAir flight getting ready for boarding.
Security made sure we did not go beyond him.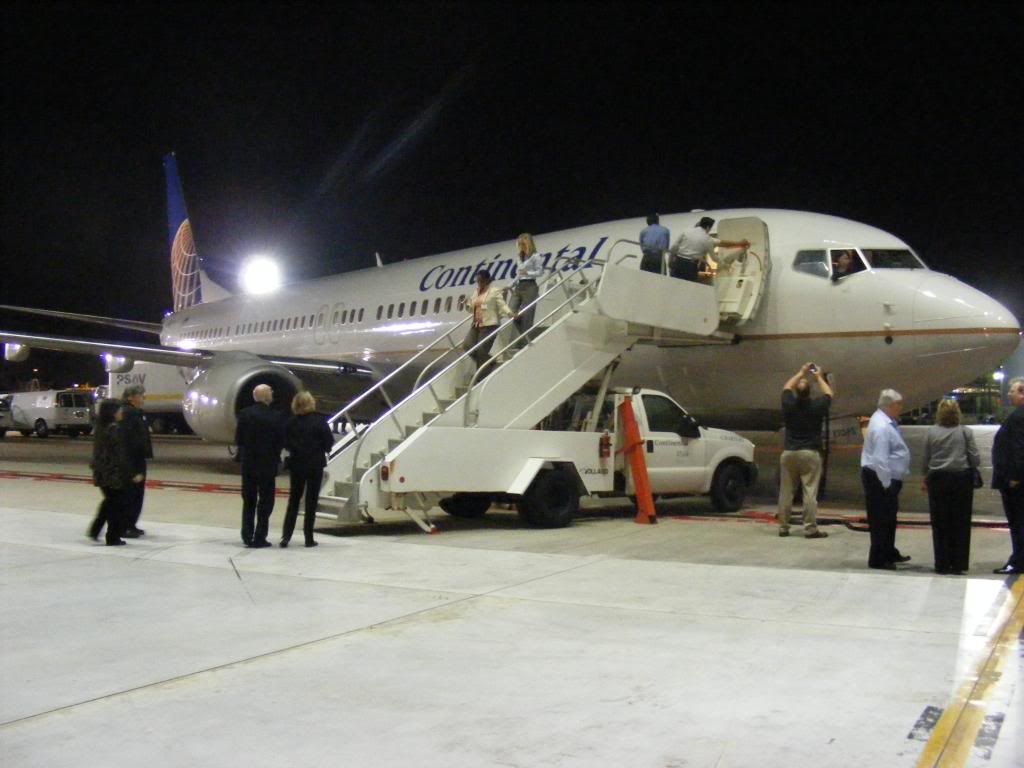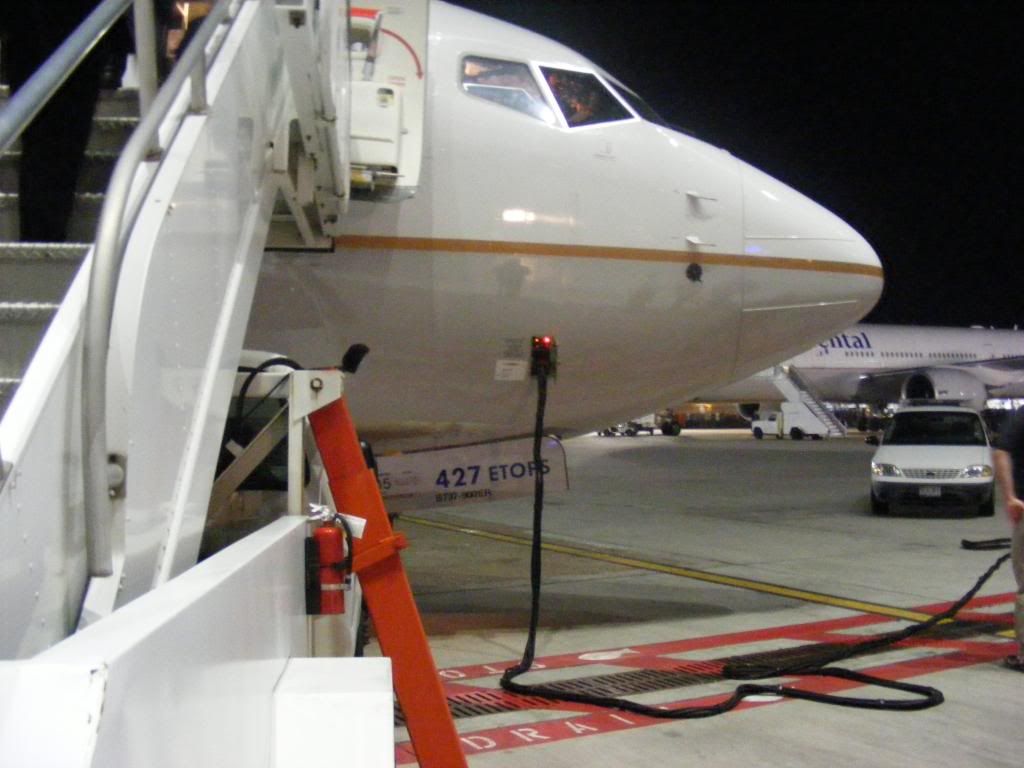 We get a preview into one of the new 739ERs, # 427.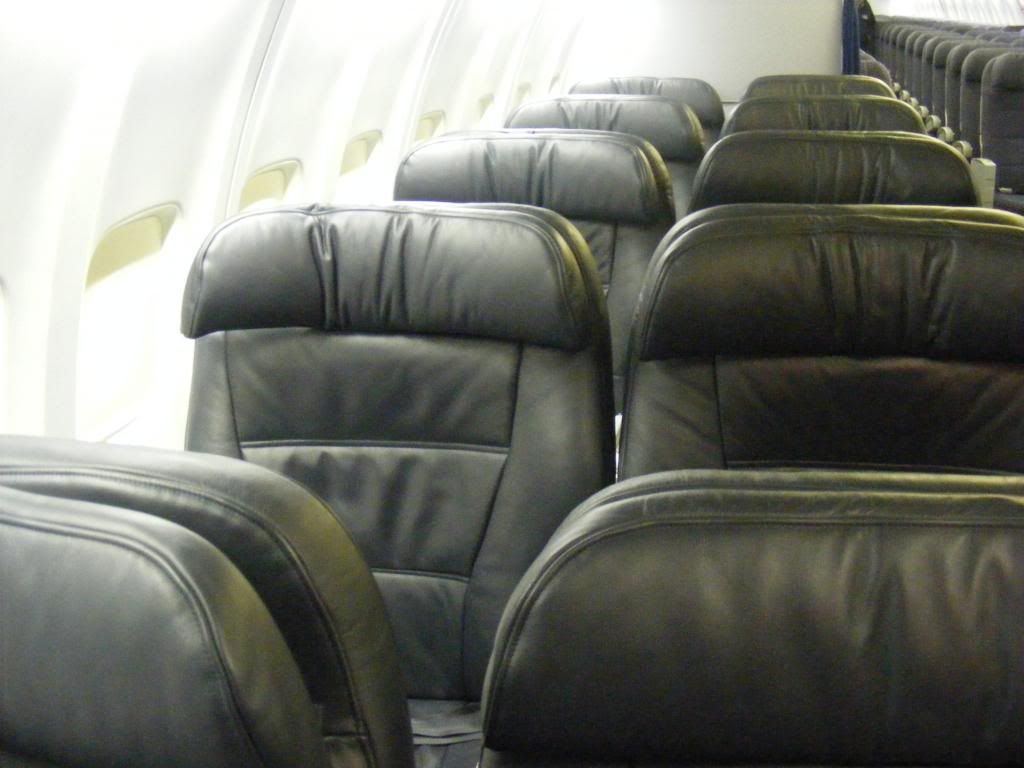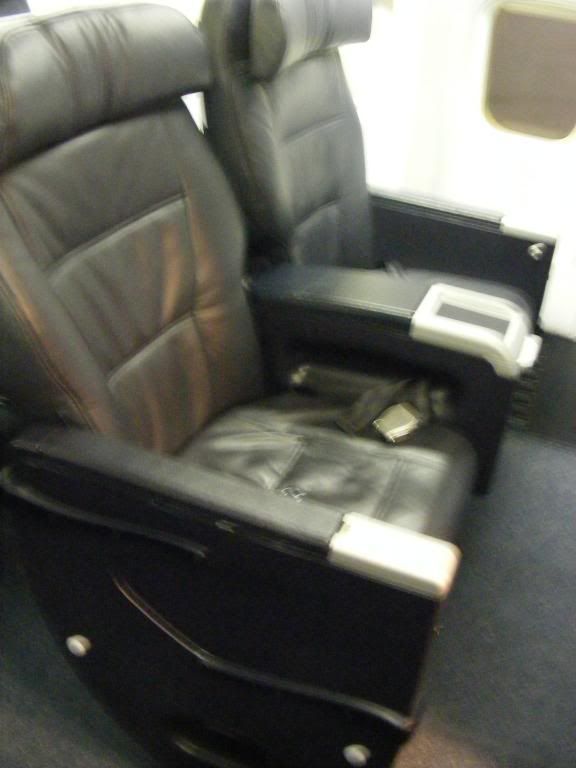 Newer F seats on the 739ER, slimmer than the current seat prevalent on the older aircraft. I do like the adjustable headrests on these.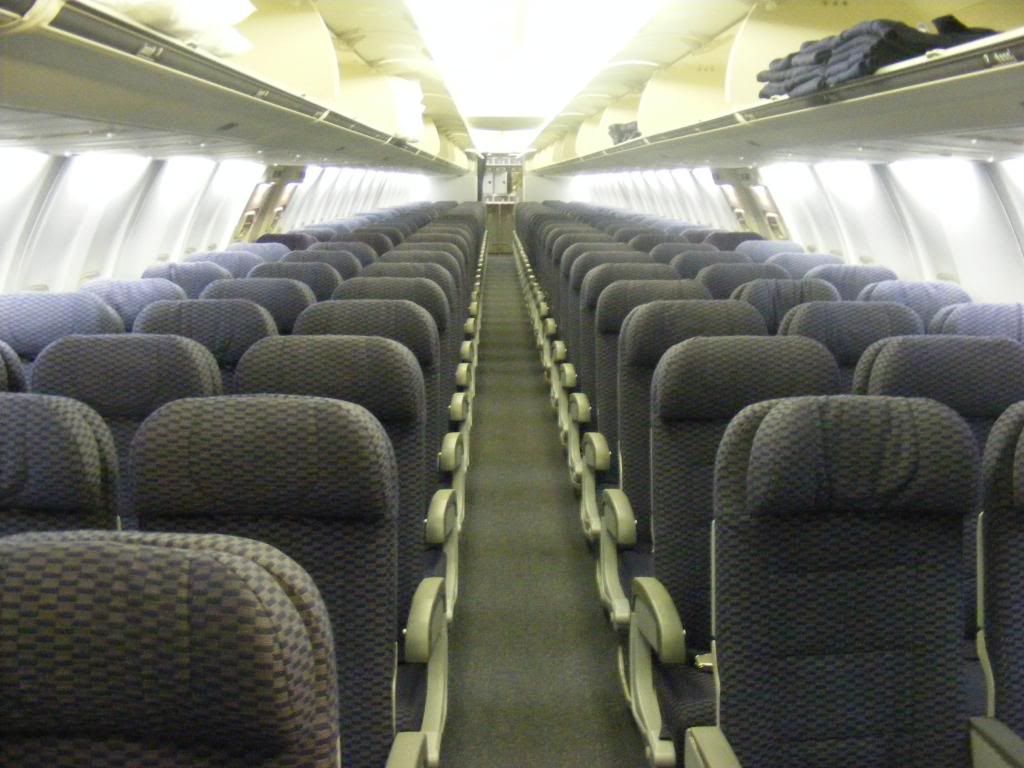 The Y cabin on the 739ER. You can't see where the extra exit is located.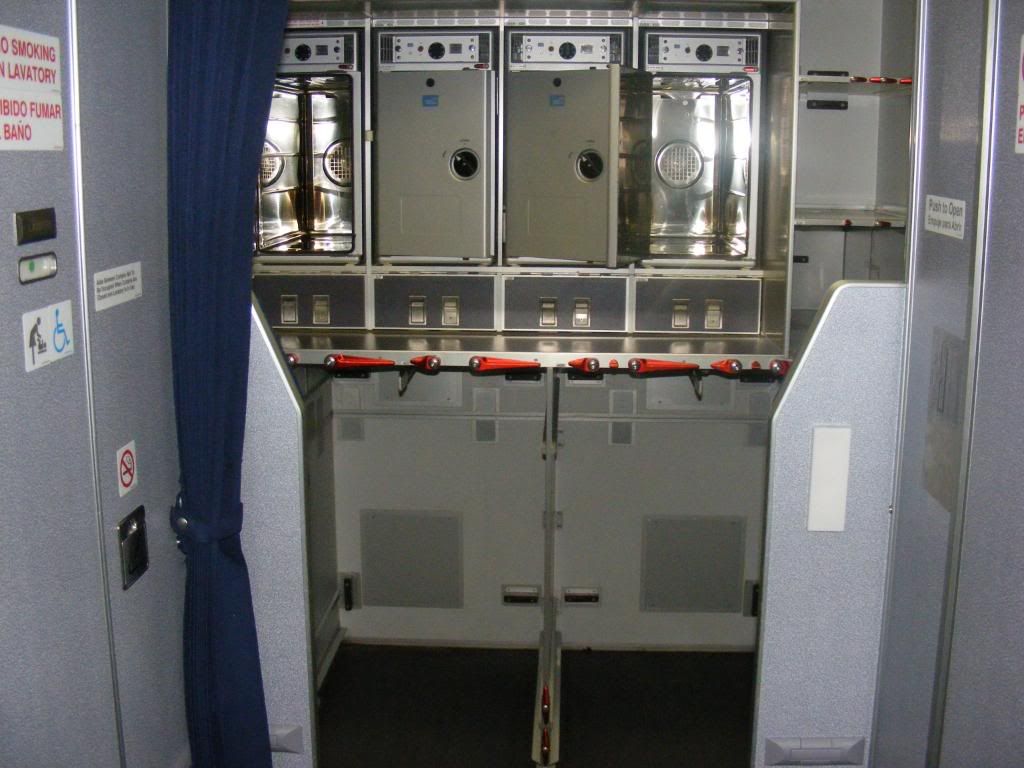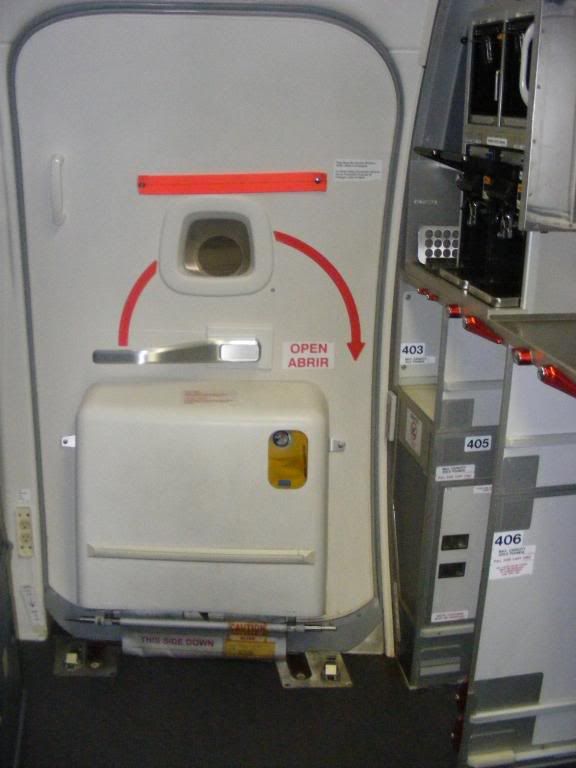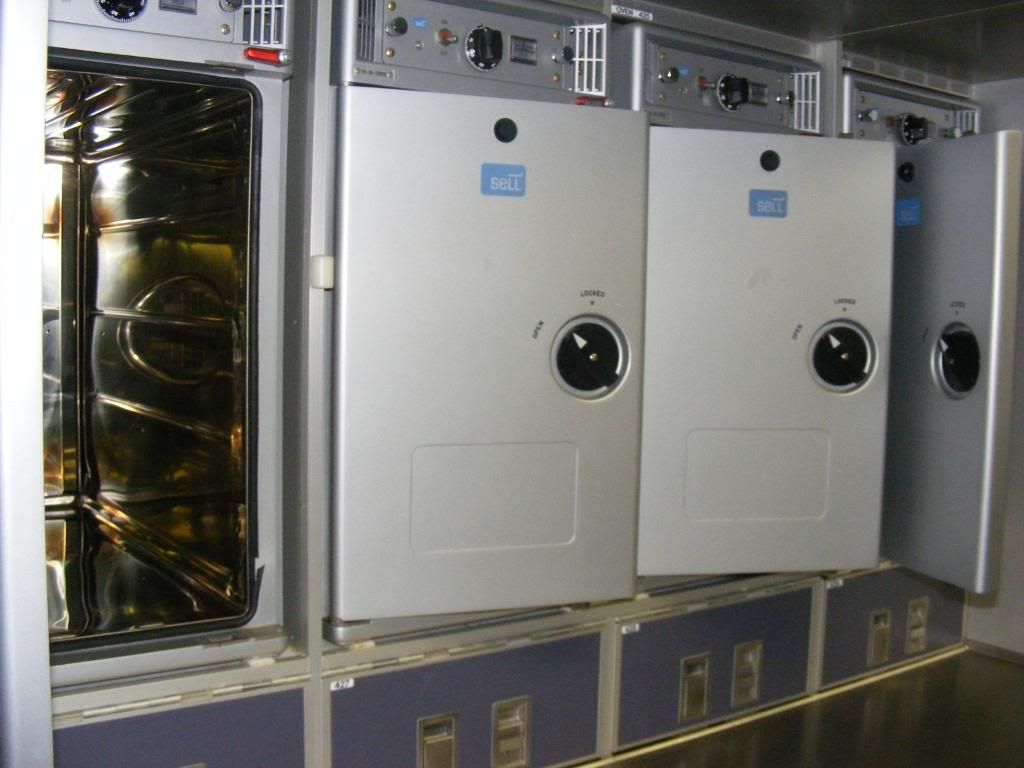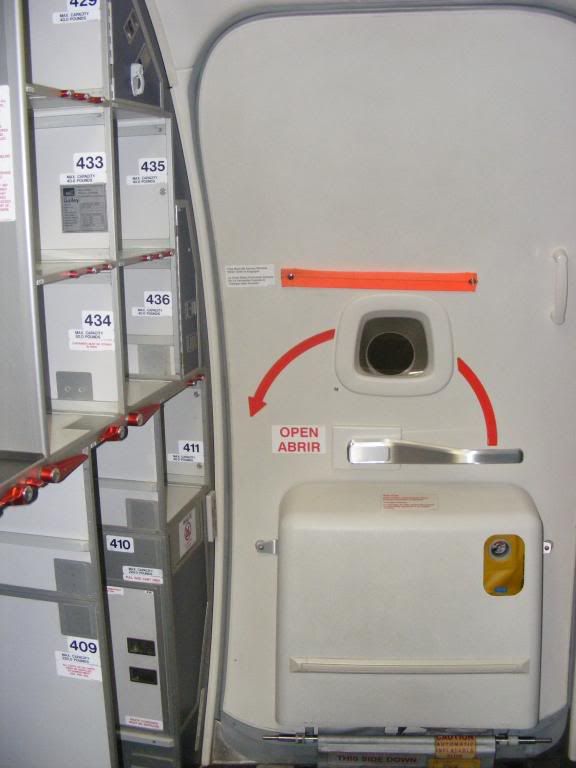 Rear galley with convection ovens.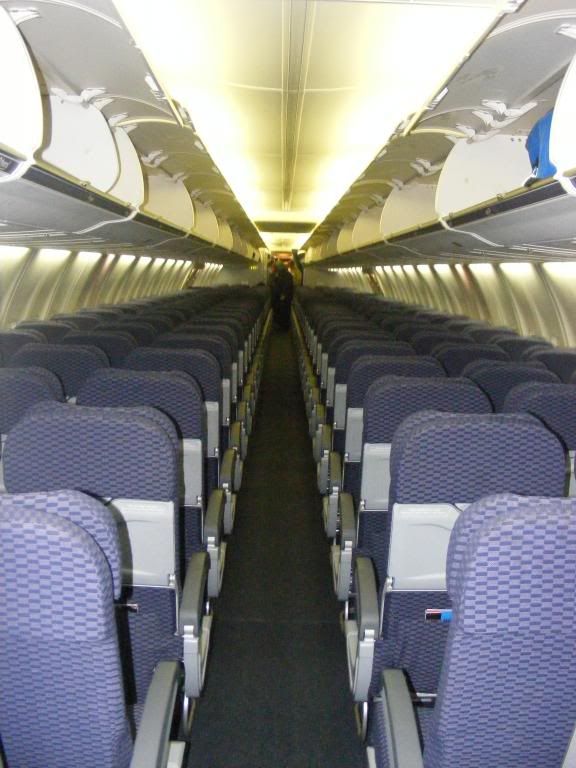 Rear view. Just imagine DirecTV in each seat soon!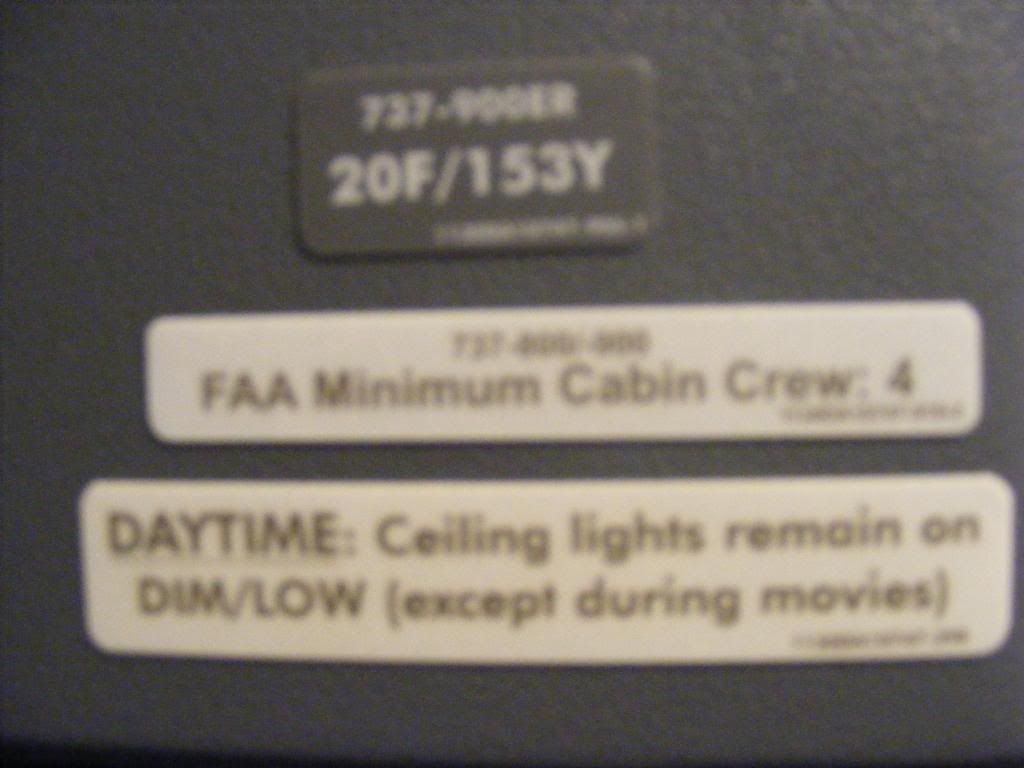 A bit of info of this 739ER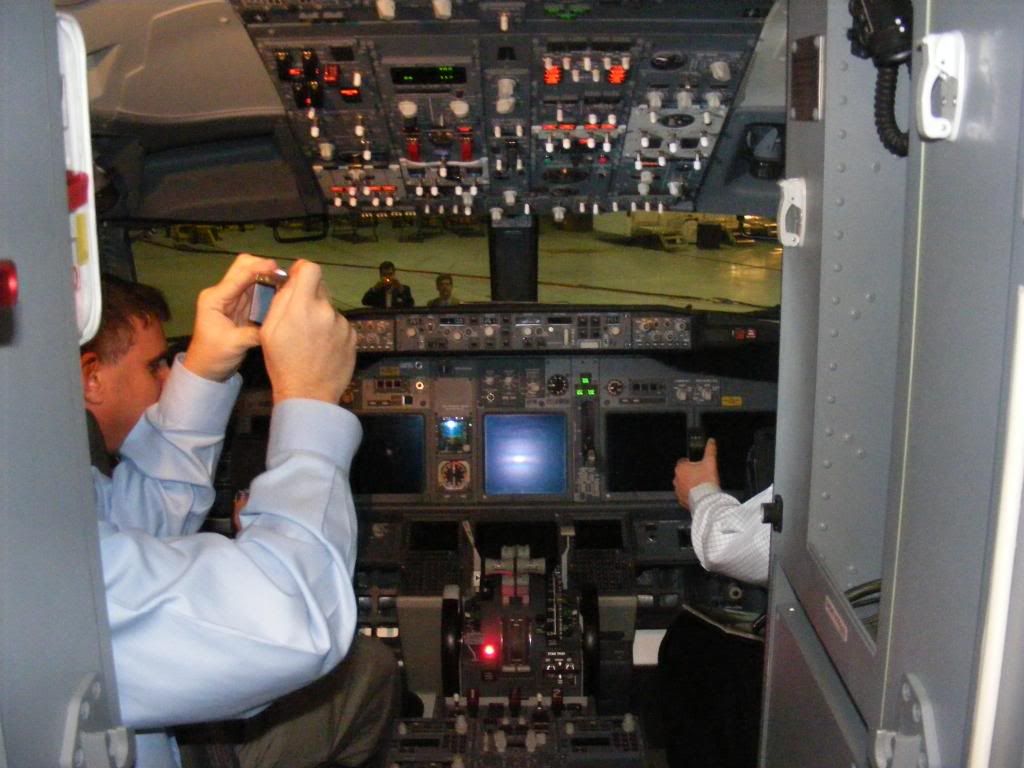 Cockpit shot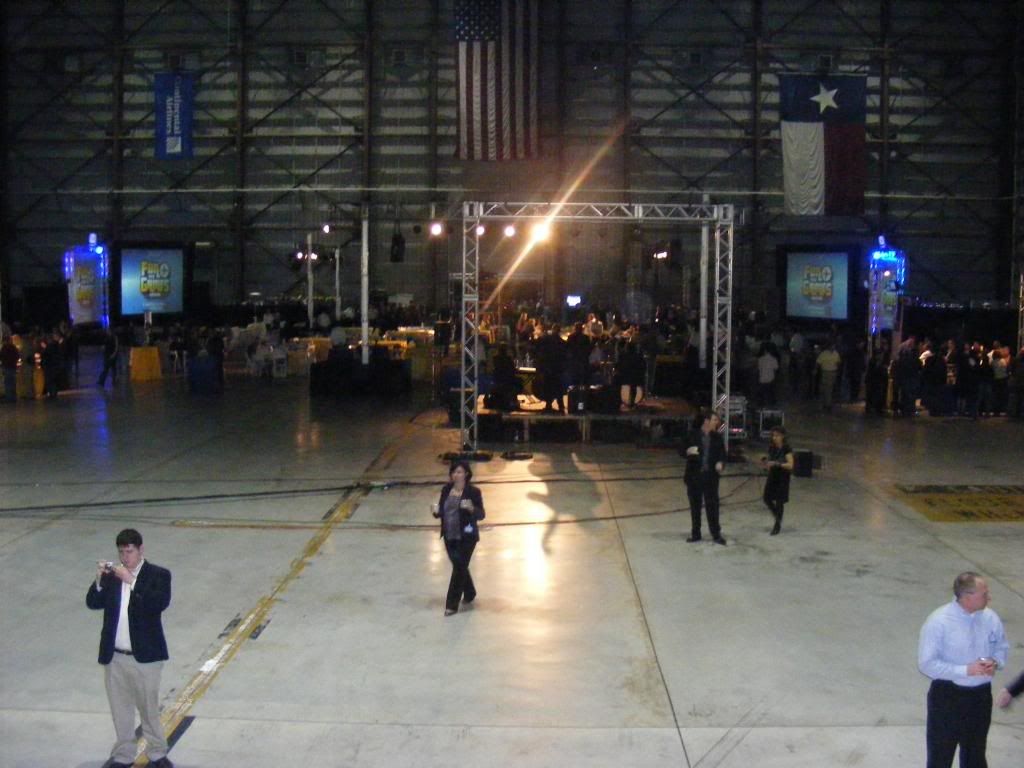 I'm in the FO seat looking into the festivities
Scary thought, me at the controls!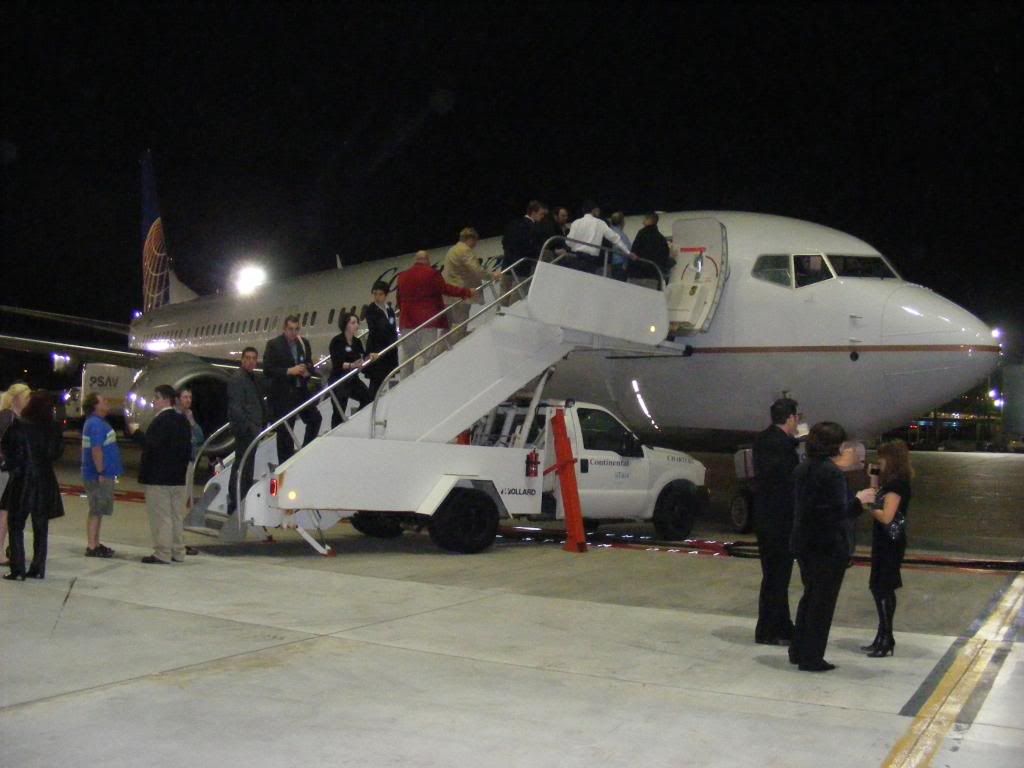 FTers lined up wanting to get their pictures taken and roam the plane!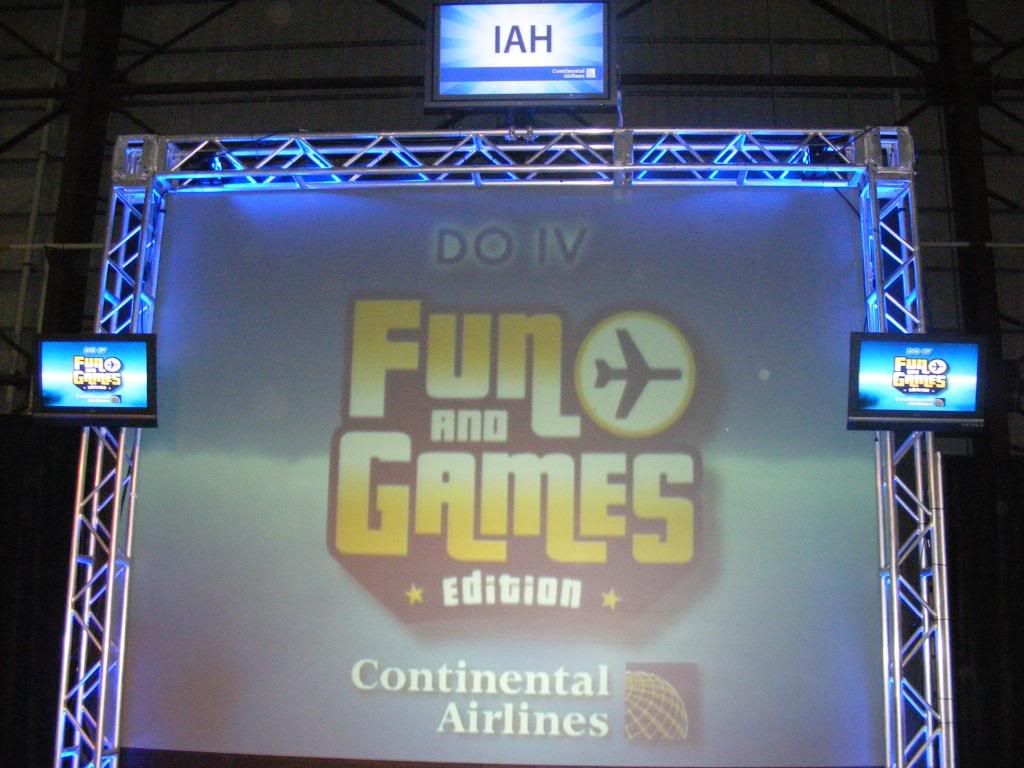 It's been all about Fun and Games during this event!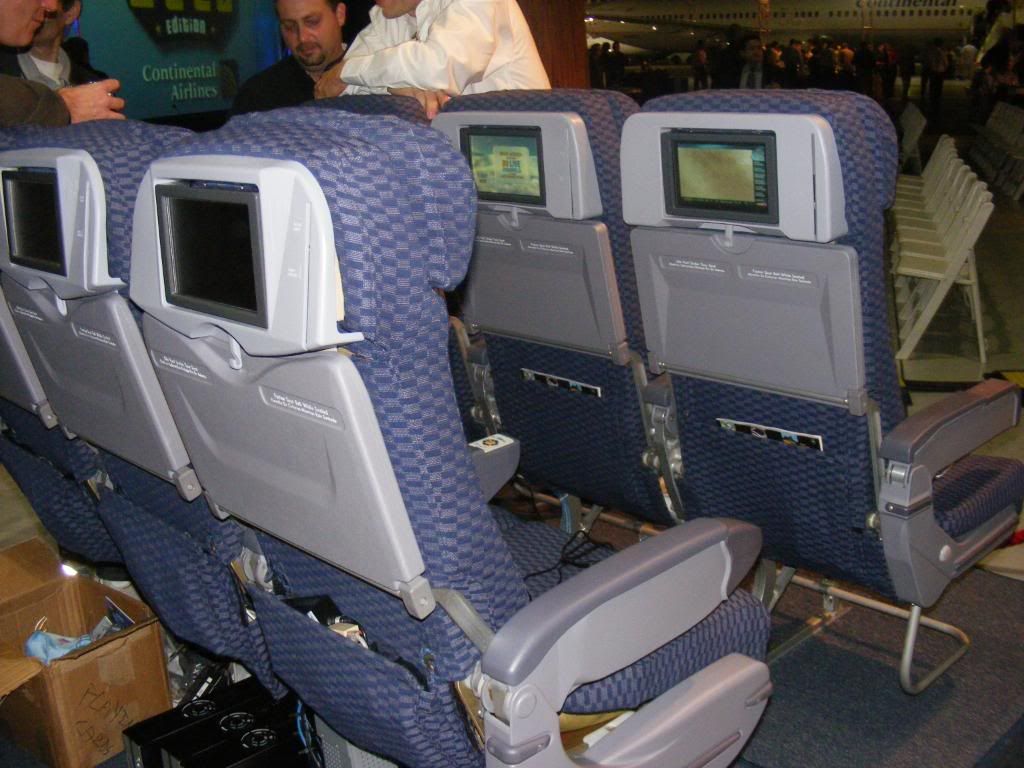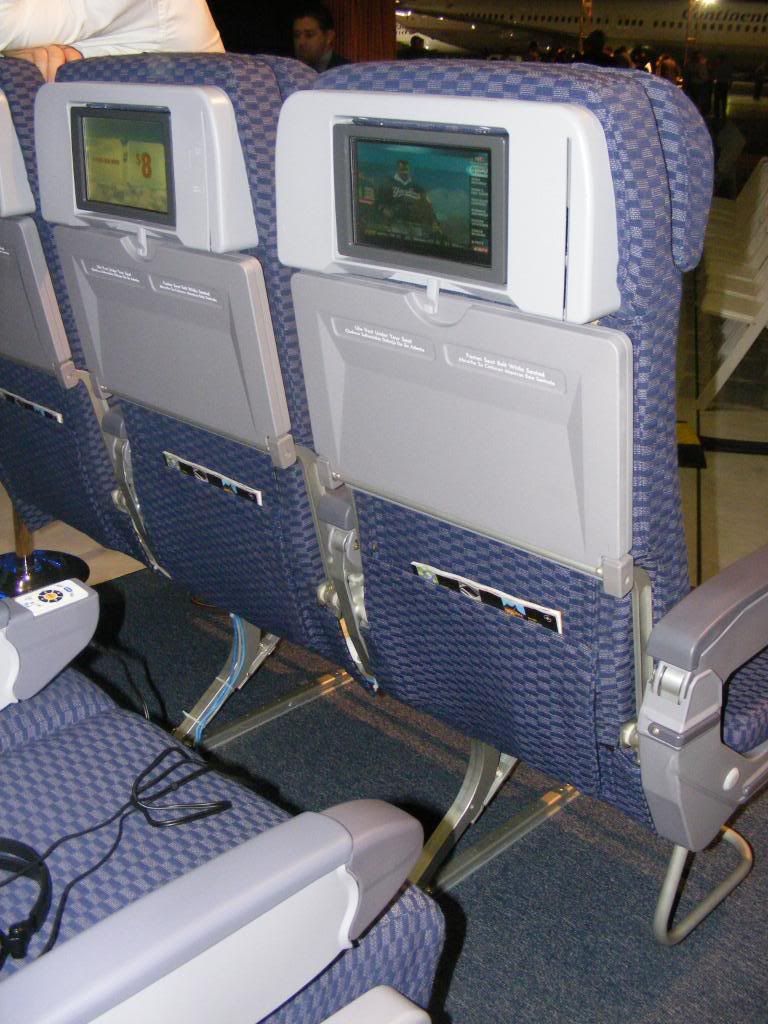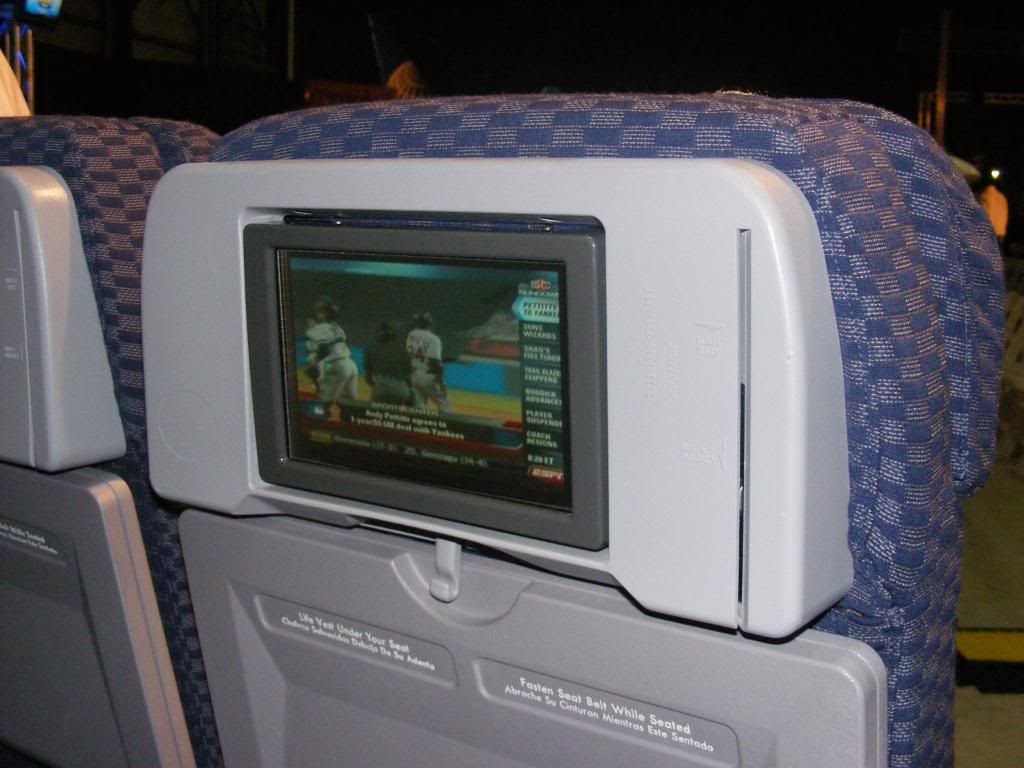 The journey of life is not based on the accomplishments, but the experience.