It was about 4 years ago I had my last spotting jolly to asia, another was over due. Thankfully Mrs BA319-131 was as supportive as ever of my hobby
After looking at various options, a QF/BA combo looked best for the to/from Asia + allowed me to get on the QF A380. The intra asia flights were with Star Alliance carriers and the domestics in Japan would be split between ANA & JAL.
The reports will be in 6 parts:-
1. QF LHR-SIN
2. NH SIN-NRT
3. JL HND-KIX-HND
4. NH HND-ITM-HND
5. NH NRT-PEK & CA PEK-HKG
6. BA HKG-LHR
Welcome to part 1, hope you like my trip
04.02.09 QF32 LHR-SIN
A380-842 VH-OQB – Business Class, Seat 20A
1st Flight on this aircraft & 3rd A380 Flight
SCH DEP 11:15 SCH ARR 08:00 (+1)
ACT DEP 12:11 ACT ARR 08:57 (+1)
View Large
View Medium


Photo © Mike Moores
Mrs BA319-131 dropped me off at Heathrow's Terminal4:-
I've not flown out of T4 for about a year, quite a bit of construction going on at the moment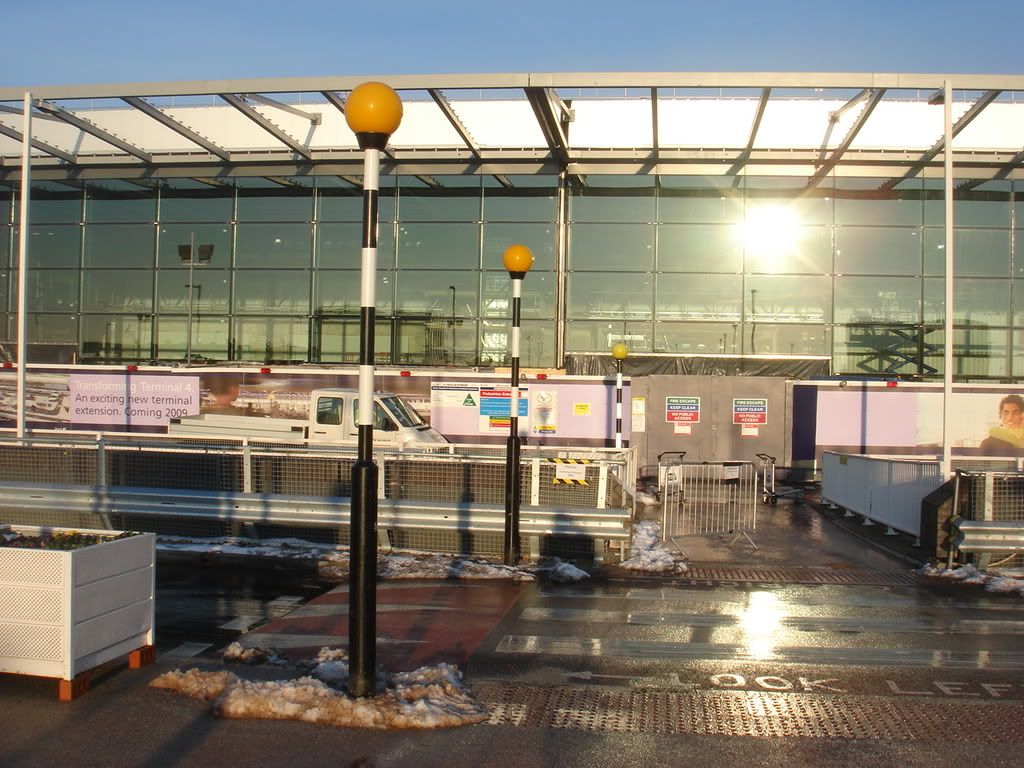 You have to enter via the arrivals area at the moment
Check-in was smooth and efficient, though the agent was either slightly deaf of her English needed a bit of an upgrade! I had wanted a window in the front section of the Business cabin, had been wanted to get some nice engine shots in flight, however all the seats were taken.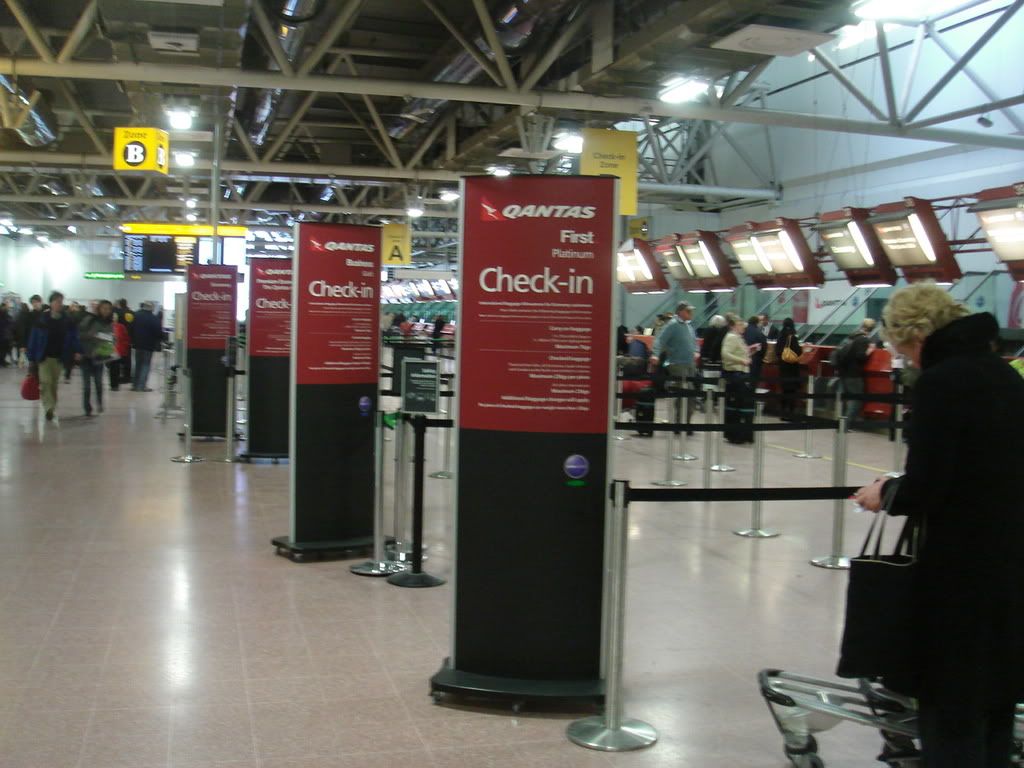 More upgrade works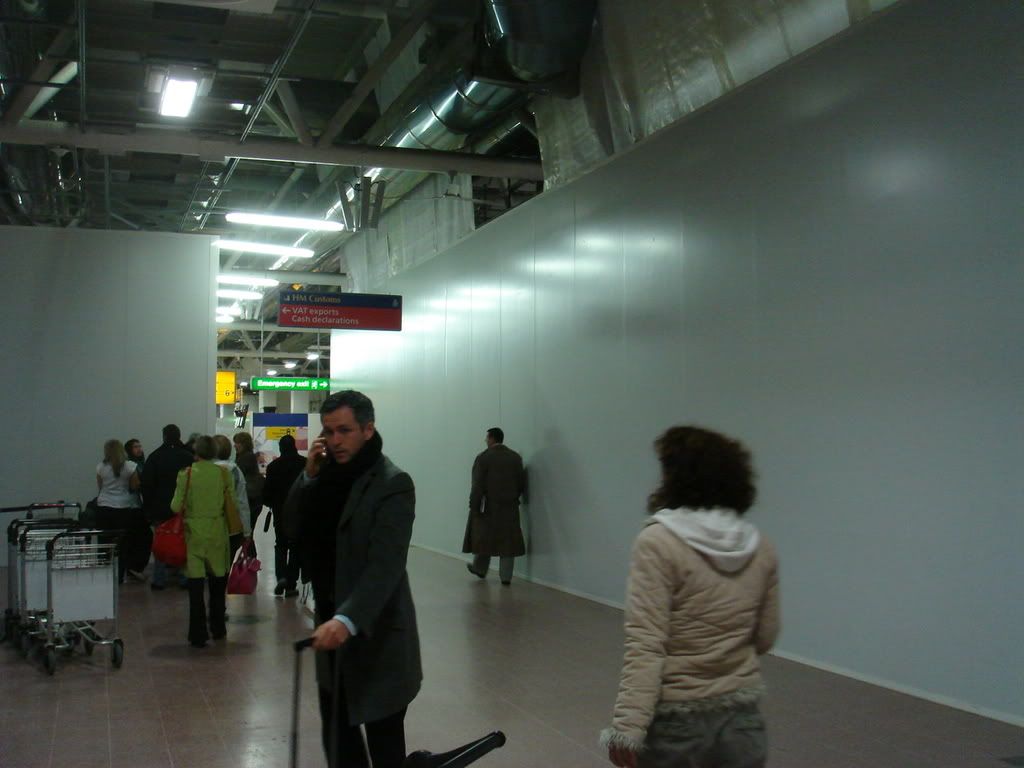 Through the Fast Track entrance to security, nice cheery chap checking the BP's, makes a change!
The queue at Fast Track's single x-ray machine was as long if not longer that for the regular line, I always seem to find that when travelling through this terminal.
Airside!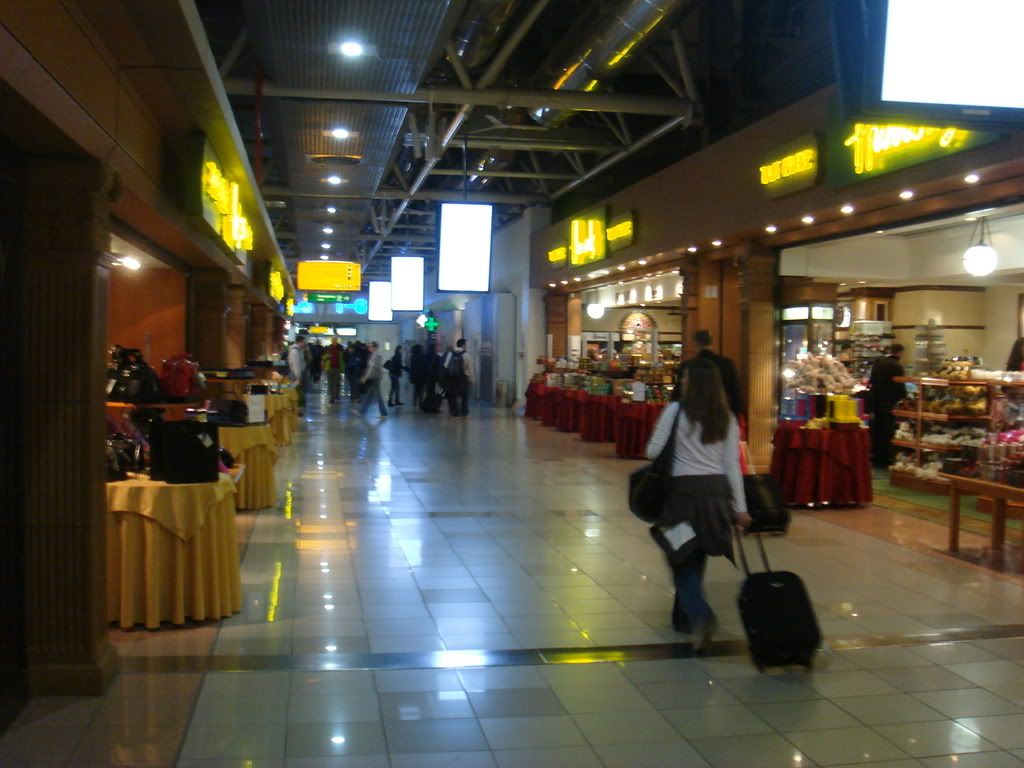 Departures board
Did the usual, changed money, bought a memory stick then went to see if I couple get a picture of OQB, here she is, my ride to SIN.
Note the Business & Premium Economy entrance.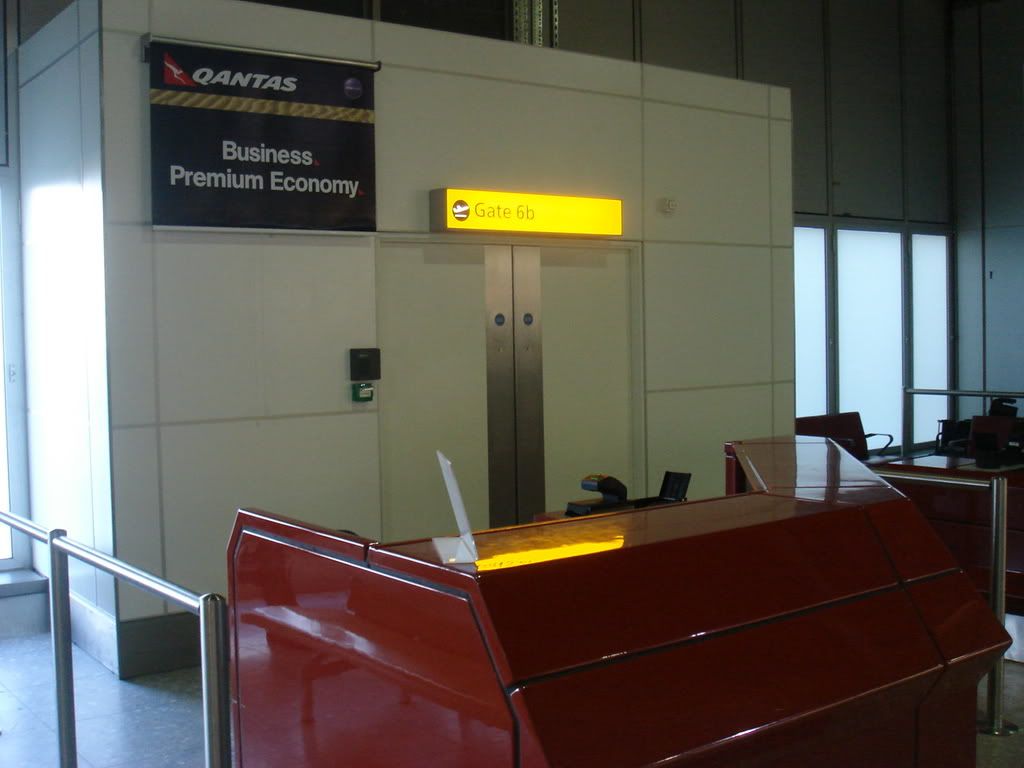 QF32 departs from gate 6 today, handy as it is opposite the BA Gate 1 lounge, which was my next destination.
Lounge was ok, nothing special, the food quantities seemed to be quite reduced since the majority of BA's flights moved to T5.
As usual all the decent window seats were taken.
I grabbed a few papers and a cup of coffee, had to wait for more bacon butties though as they had all gone.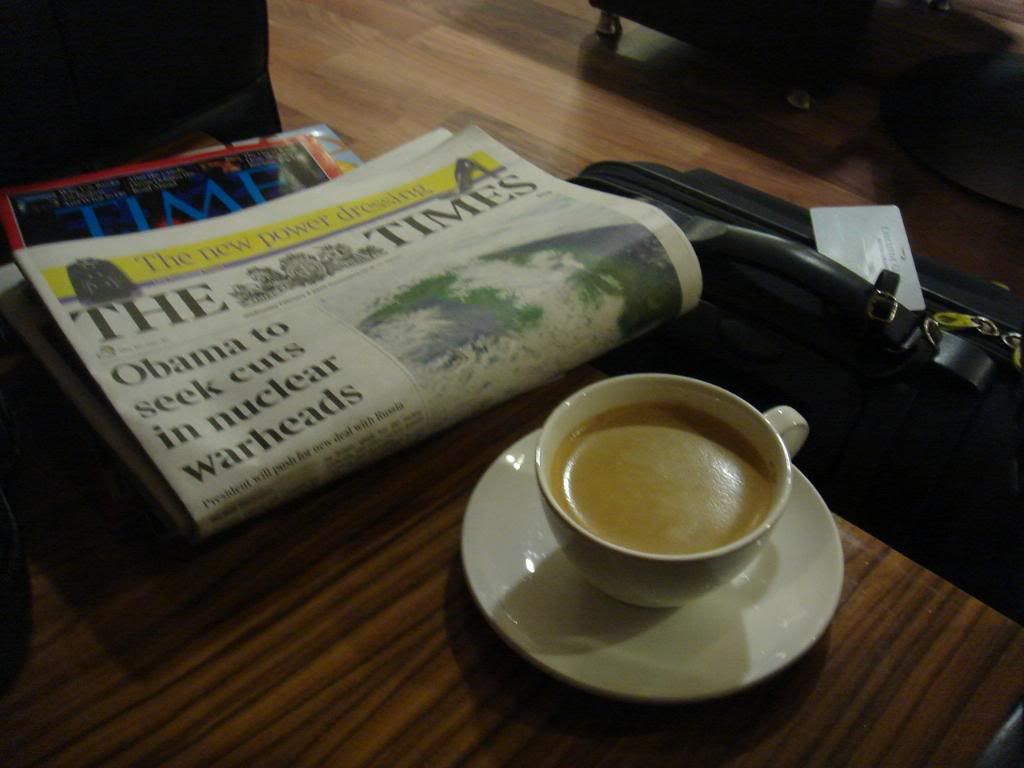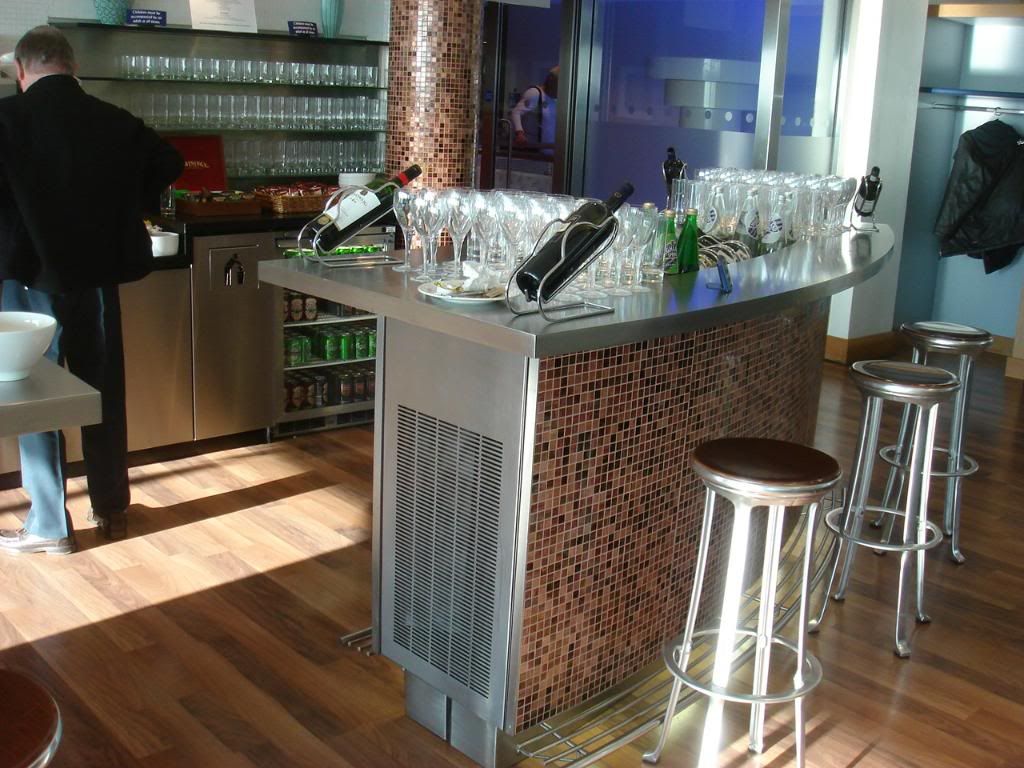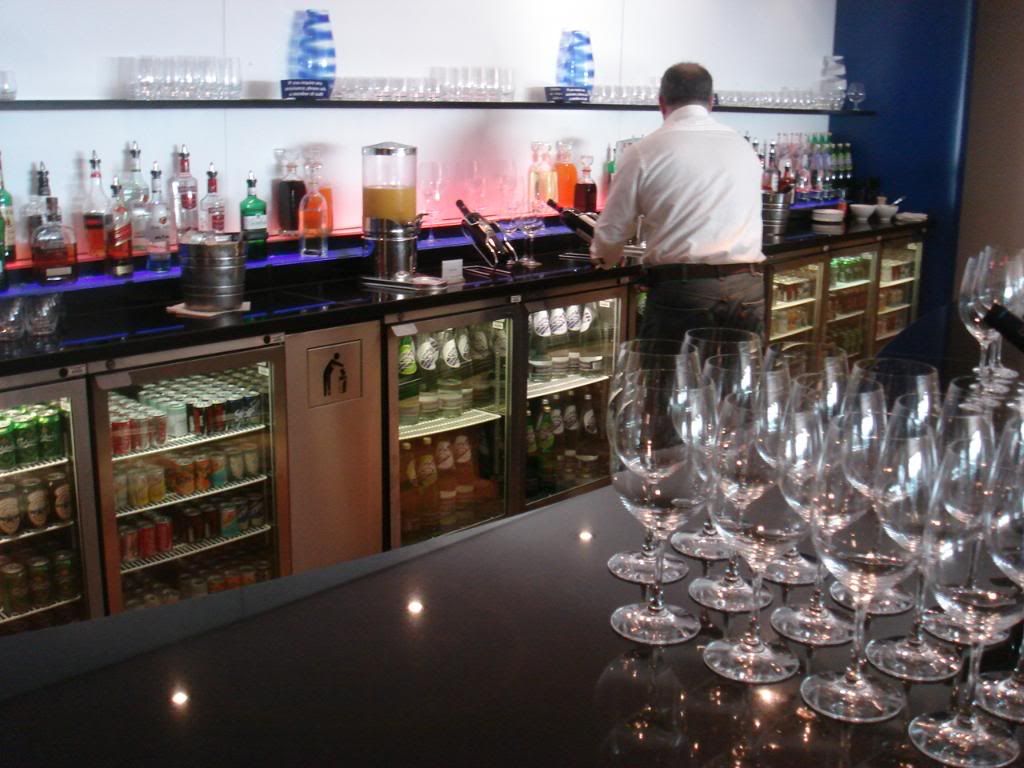 Time passed ok, boarding was announced at 10:32, so headed down to the gate, hoped to get on quite early to get some decent cabin shots, no such luck, quite a queue had formed at 6b for Business & Premium Economy passengers.
Despite the pretty decent signage, people still managed to get into the wrong queue's, read the signs!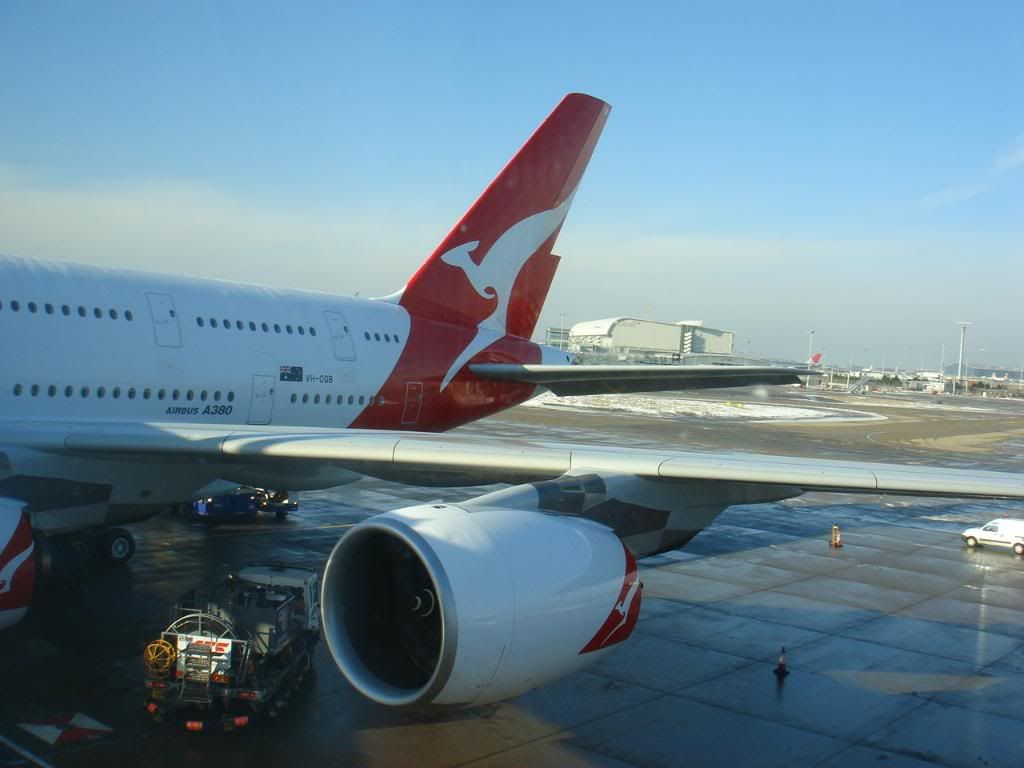 Greeted at the door by a smiling FA who checked my boarding pass and said ' down on the left Mr BA319-131'
I settled in and one of the FA's appeared, he welcomed me aboard the Qantas A380 and introduced himself as Pun.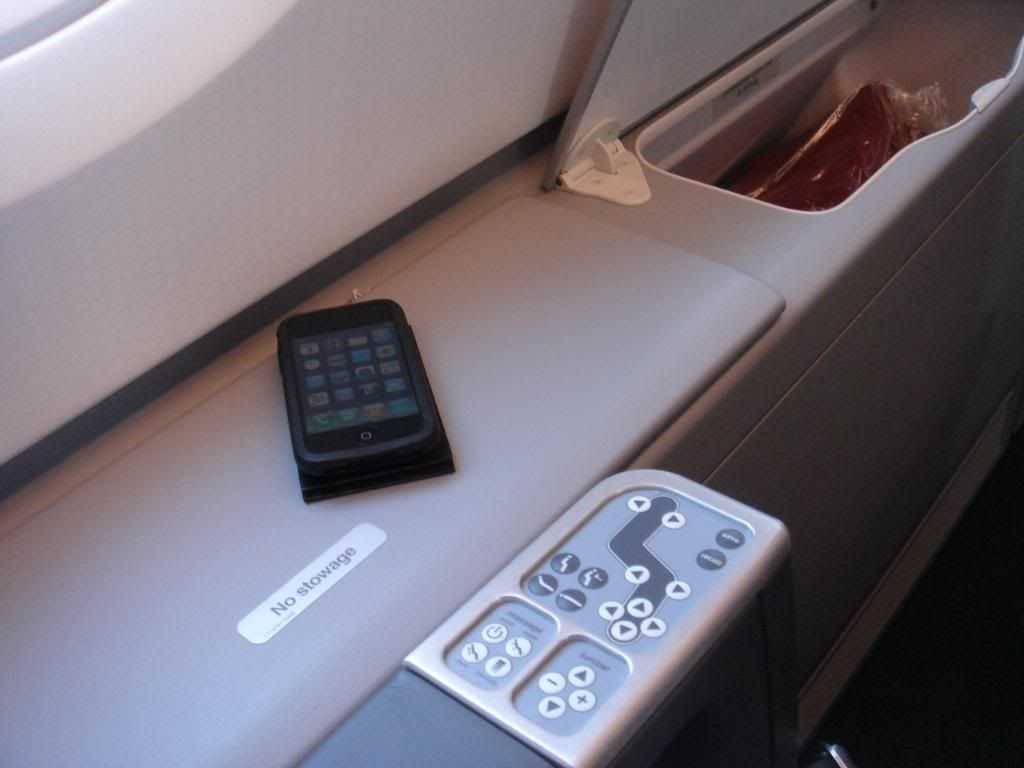 Pun advised he and Linda would be looking after our cabin section today, OJ, Water & Champagne was offered along with directions to the toilets.
I took champagne, not sure of the brand but seemed pretty decent.
The cabin is quite dark compared to the EK cabin, but QF have fitted this out with dark carpets and grey/black seat shells, so it's to be expected.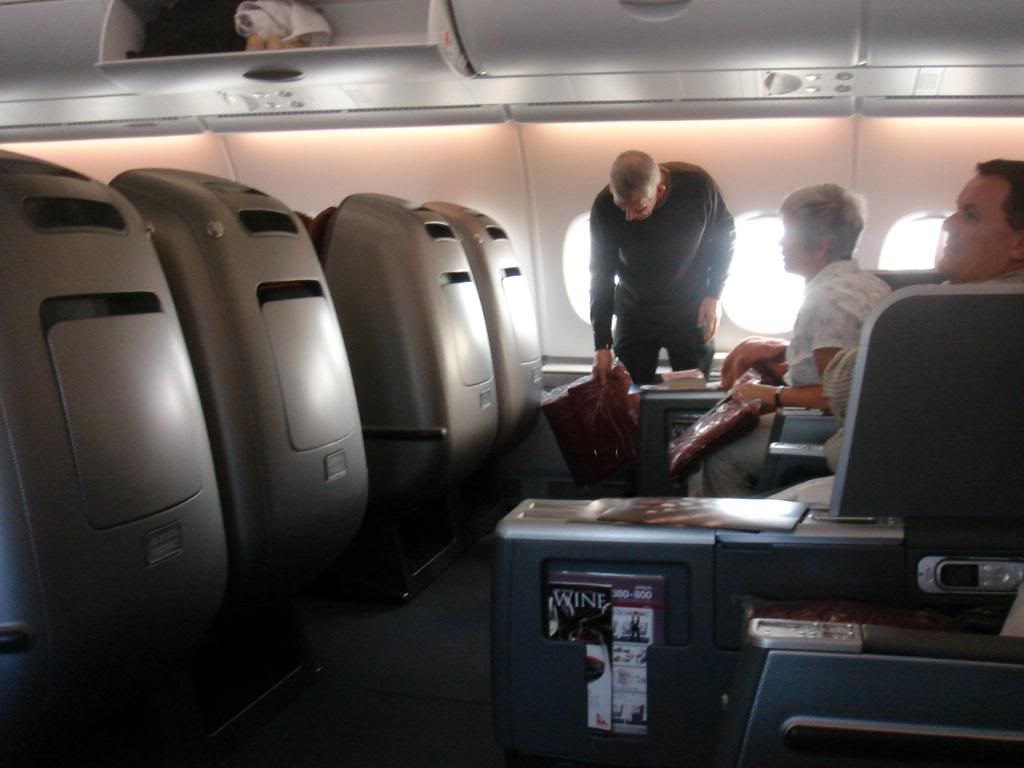 I had hoped the seat next to me would remain empty however no such luck. Later I walked the plane, Business and Premium Economy were full, regular economy had just a few empty seats, where is the credit crunch?
After I finished my champagne, Pun appeared and took the glass, I asked for another to which he replied no problem, it never arrived...............
Amenity packs and pajamas were offered out and breakfast menus were completed.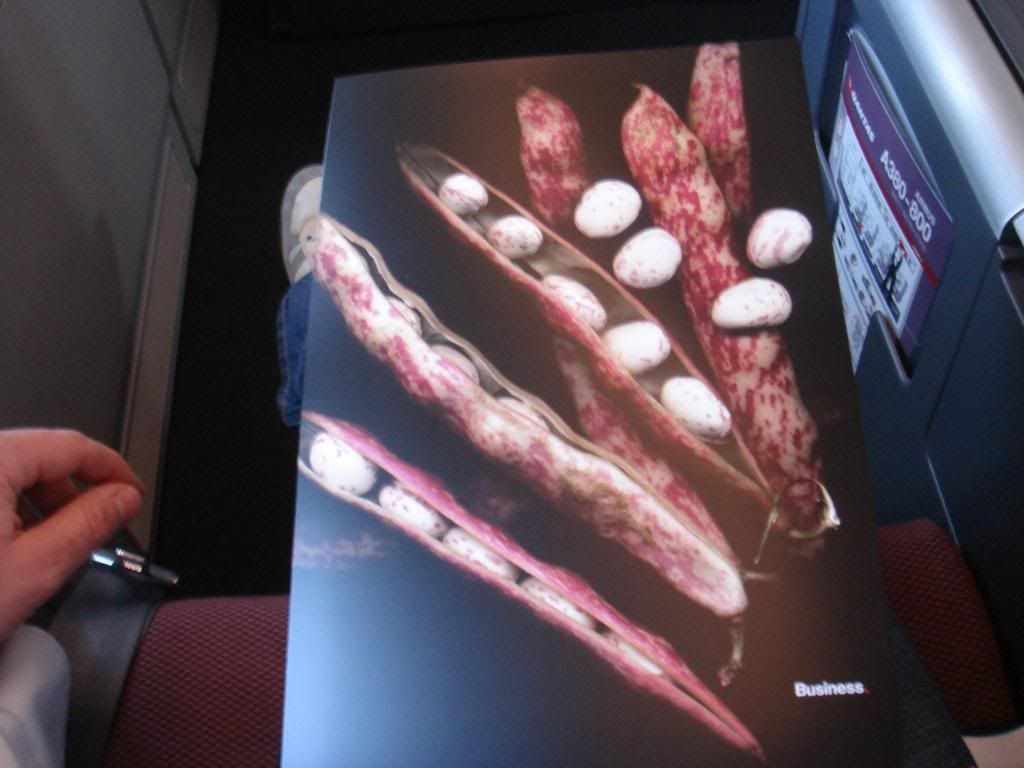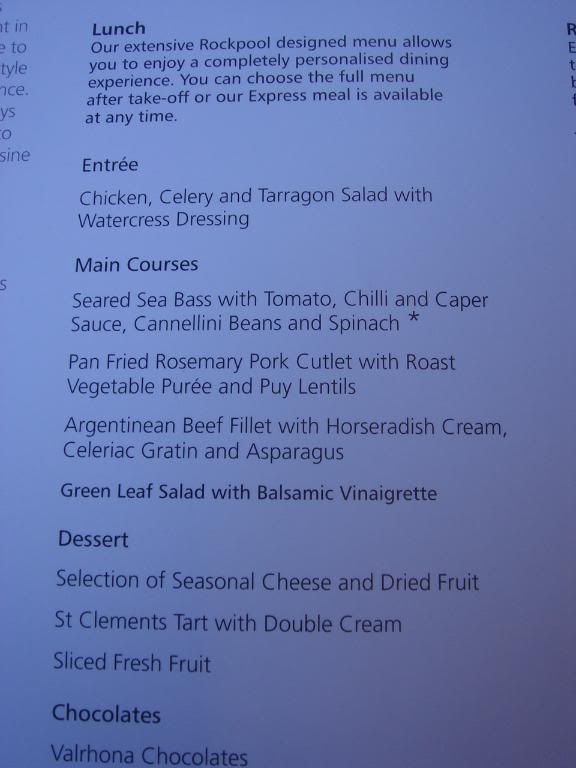 Not really sure what I was expecting, but given the presentation , I though it would be something special, wrong, pretty dull compared to the EK ones but on a par with BA's offerings.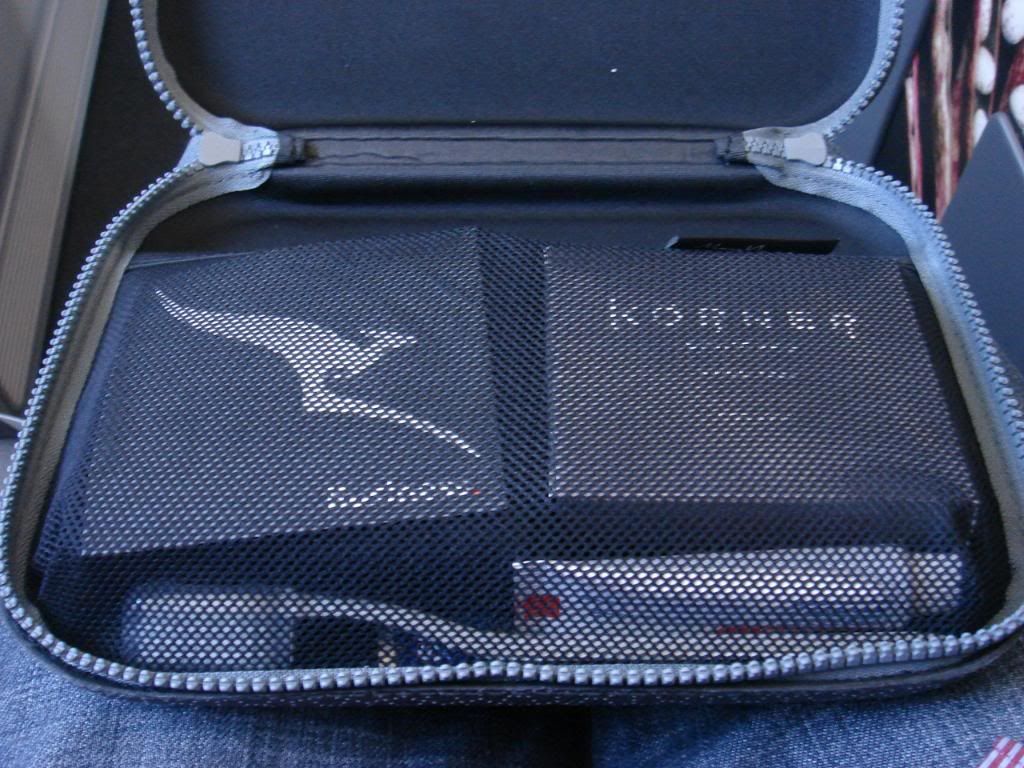 The front office advised we would be delayed pushing back today as the IFE system had developed a fault and needed re-booting, in addition, they would de-ice the aircraft after that before pushing back.
Due to the long wait, it would have been nice if the offered some water or something as the cabin became quite hot, alas not the case.
Push finally occurred at 12:11 and OQB headed over for a 09R departure, having to hold for some minutes for departing traffic.
Air Canada holding whilst we cross:-
Our turn finally came, lined up to t/o after a BA 319.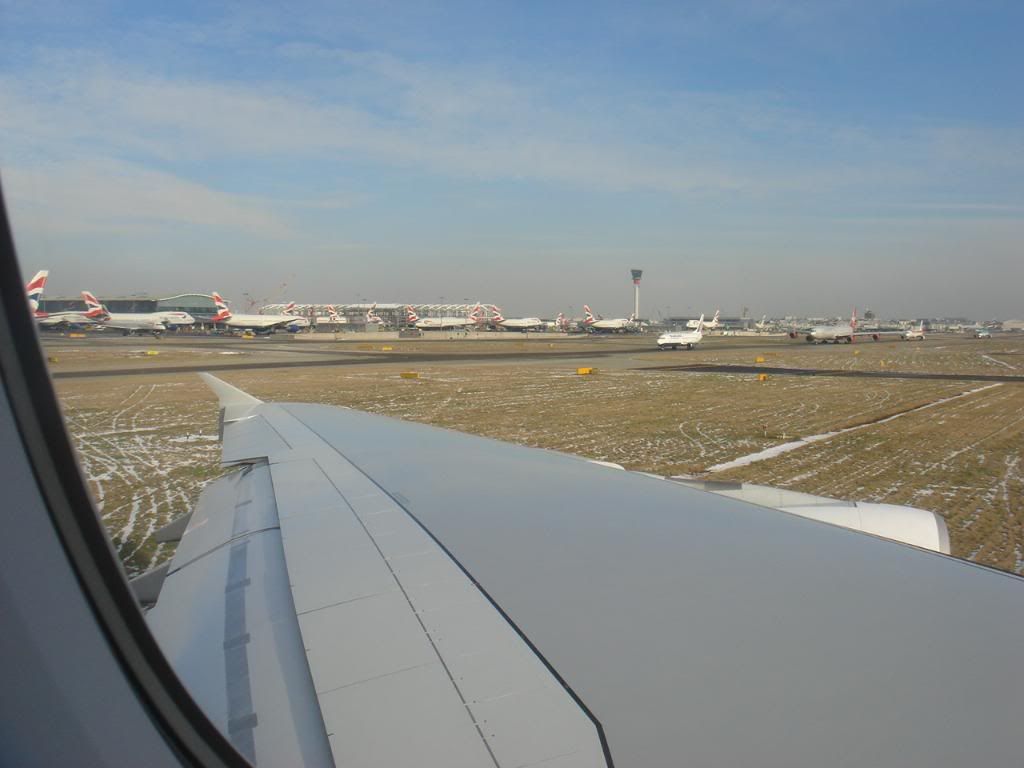 T5 construction works:-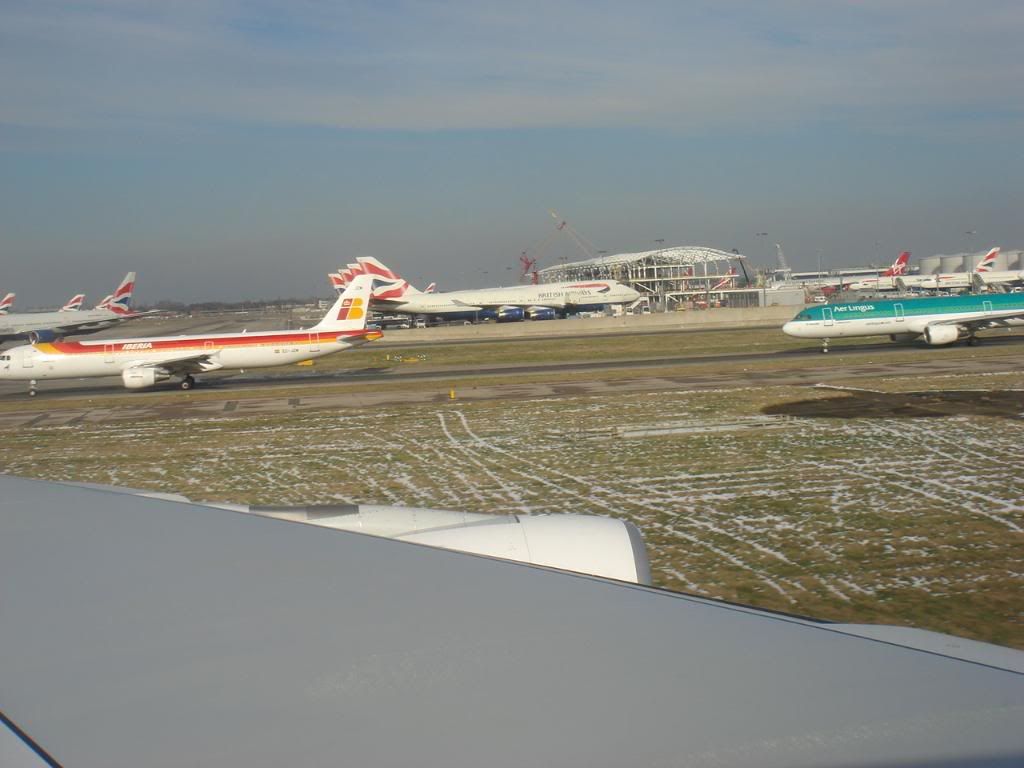 After a 51 t/o roll, wheels came up at 12:47 local time, just over and hour and a half behind schedule, will be interesting to see what time we will arrive...............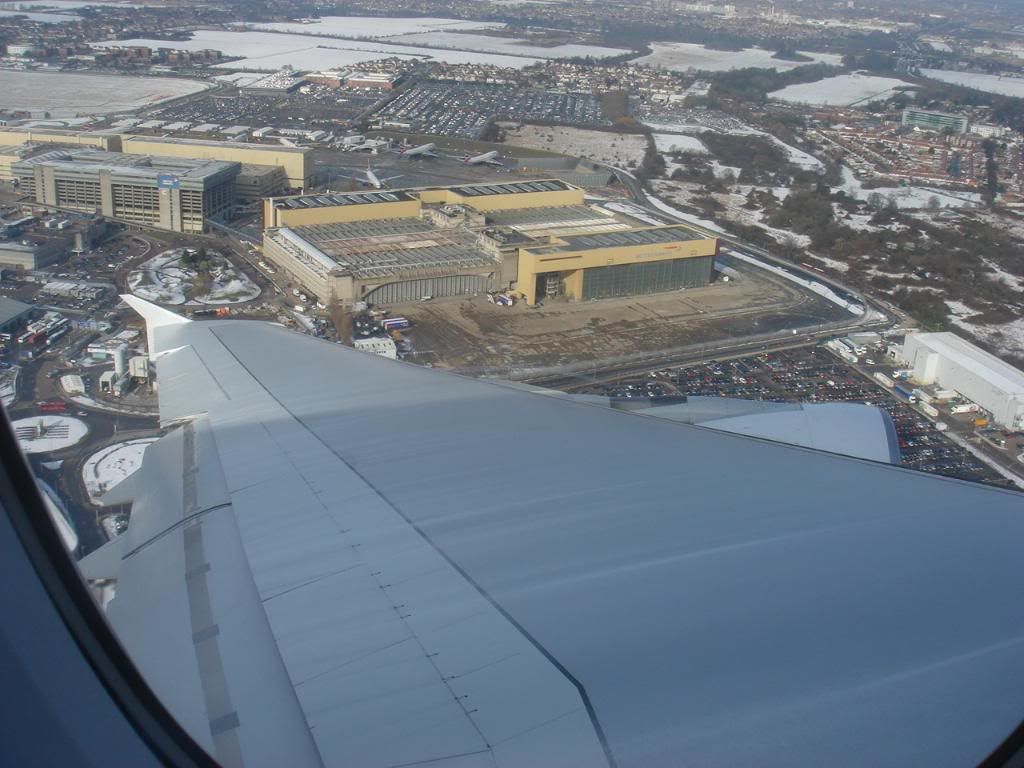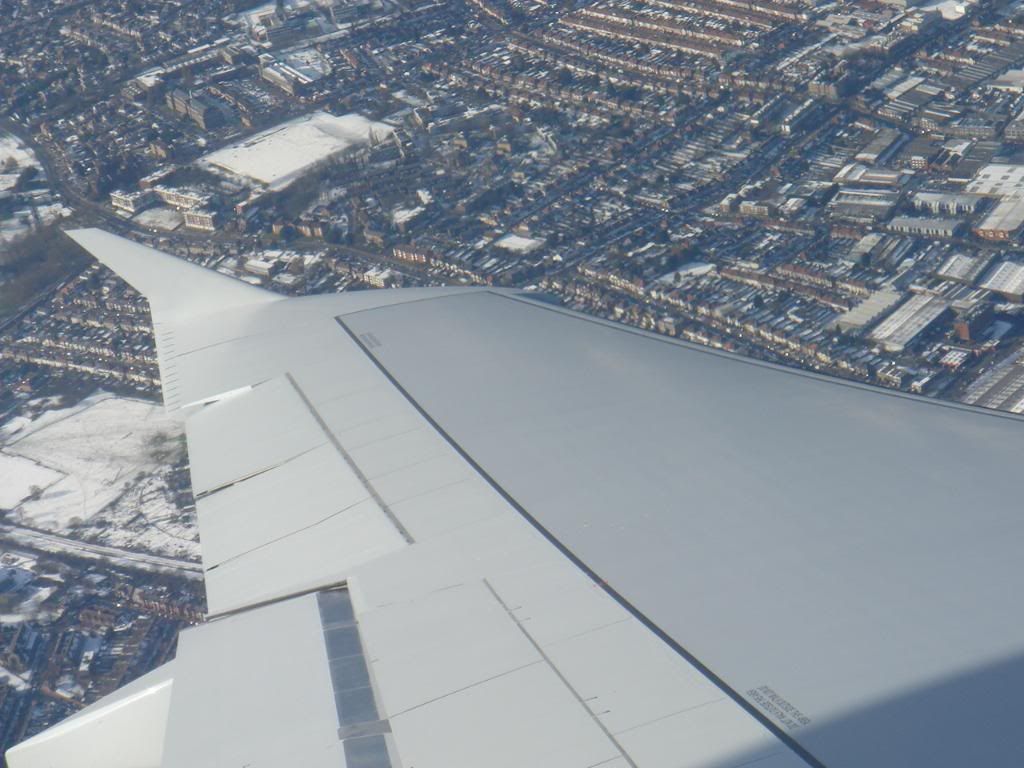 The seat belt sign was extinguished 5 minutes after t/o, not long after that hot towels came around.
Seat tray:-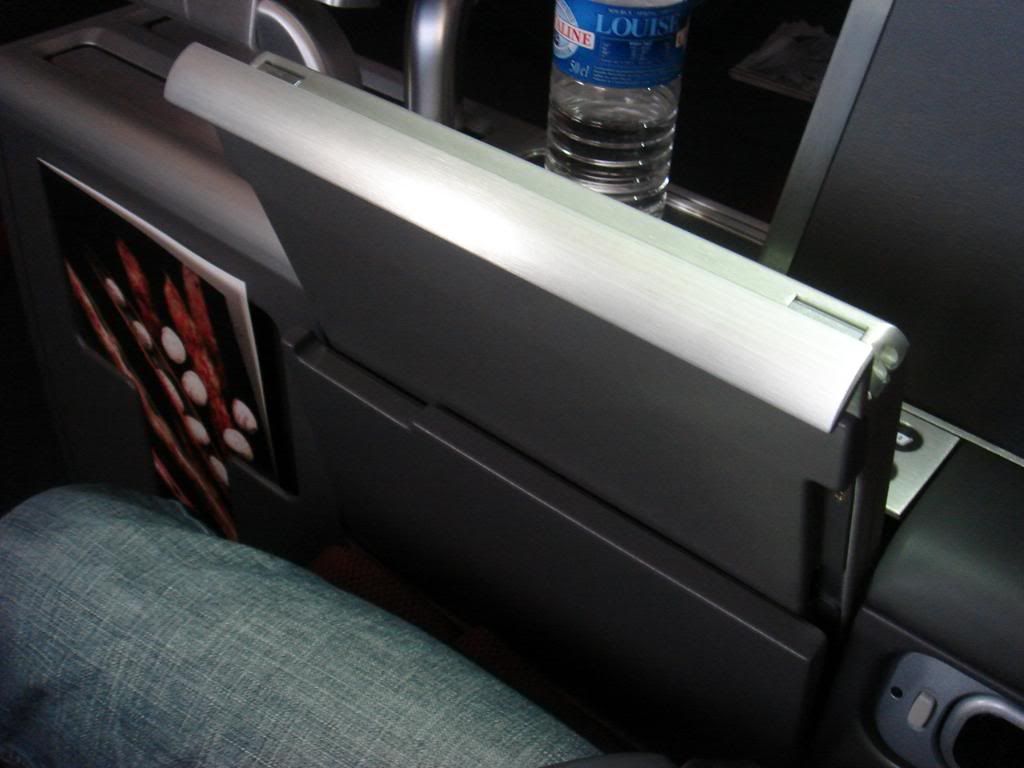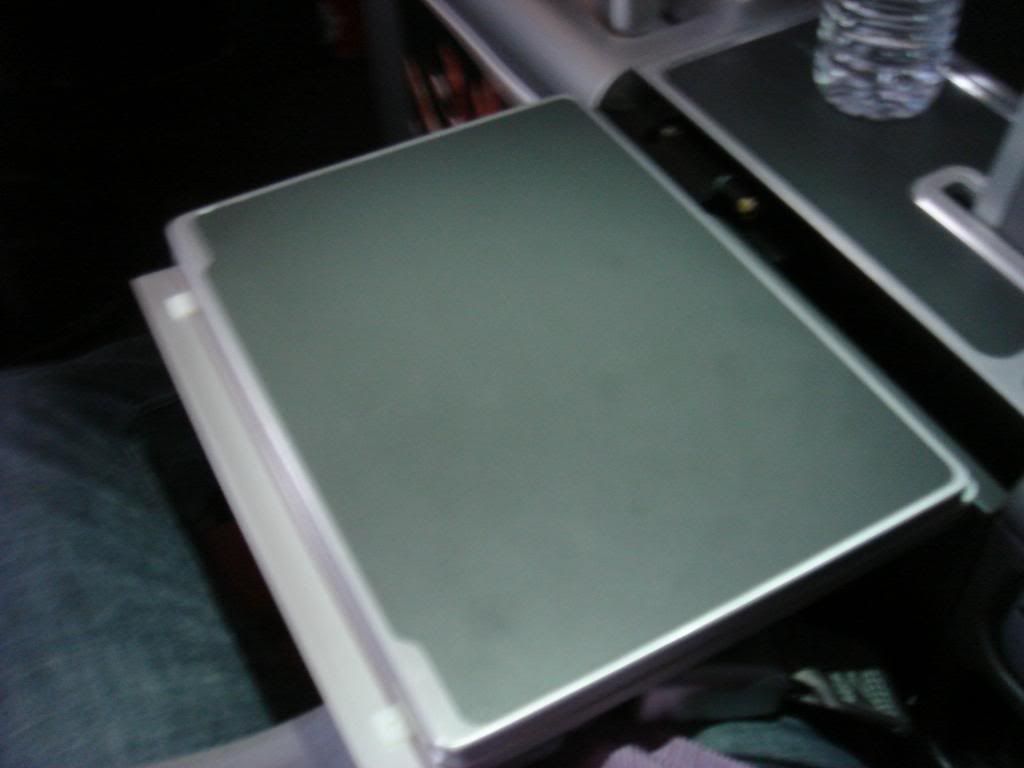 View from the window:-
Hot towels collected and soon Pun appeared to take drinks orders, since I'd not had one since my last visit to Australia, it has to be a good old glass of VB!
The drinks were served via a tray rather than from the trolly, nice but it takes longer to get served, my drink arrived around 12:35.
Let's relax a little:-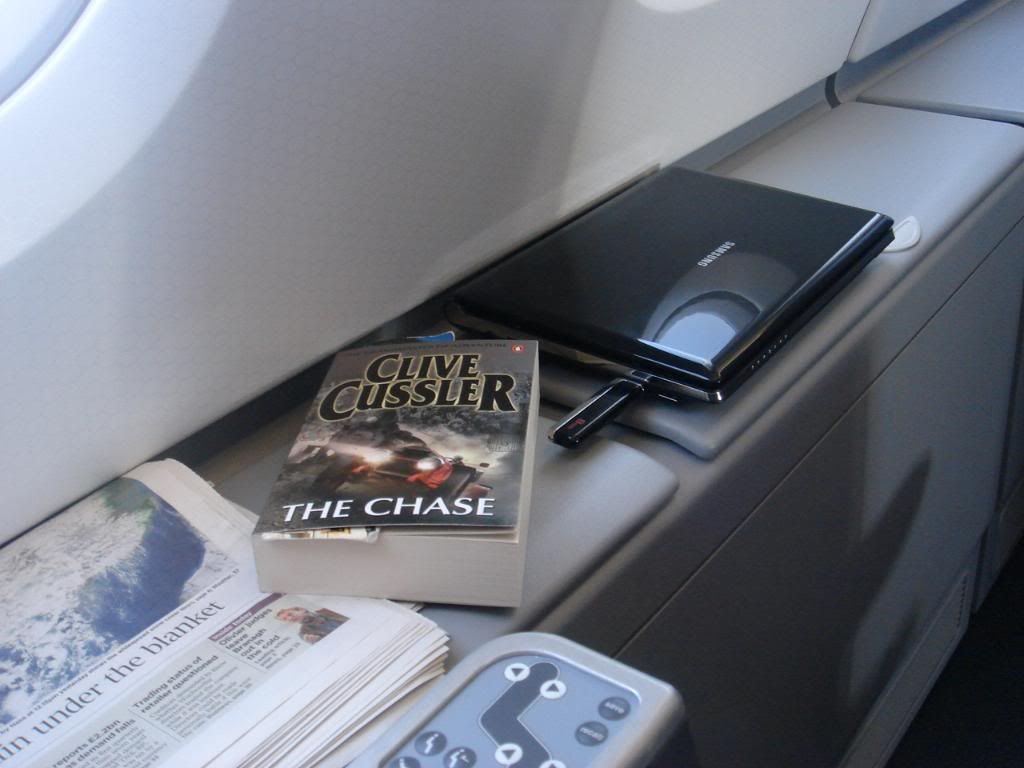 The meal cards came out at 13:45 ish, the 1st offering being the chicken salad starter, was ok, nothing special, the chicken was pretty tasteless to be honest.
The knives were plastic, mine was dirty,had to clean it on my napkin, I guess they re- use these:-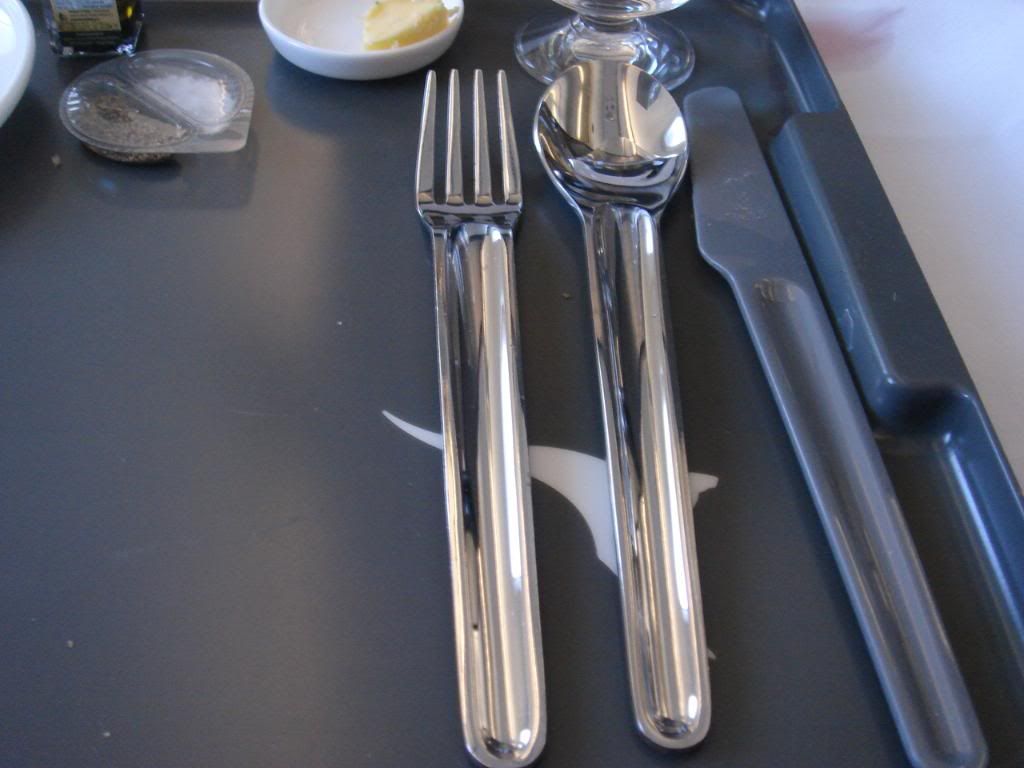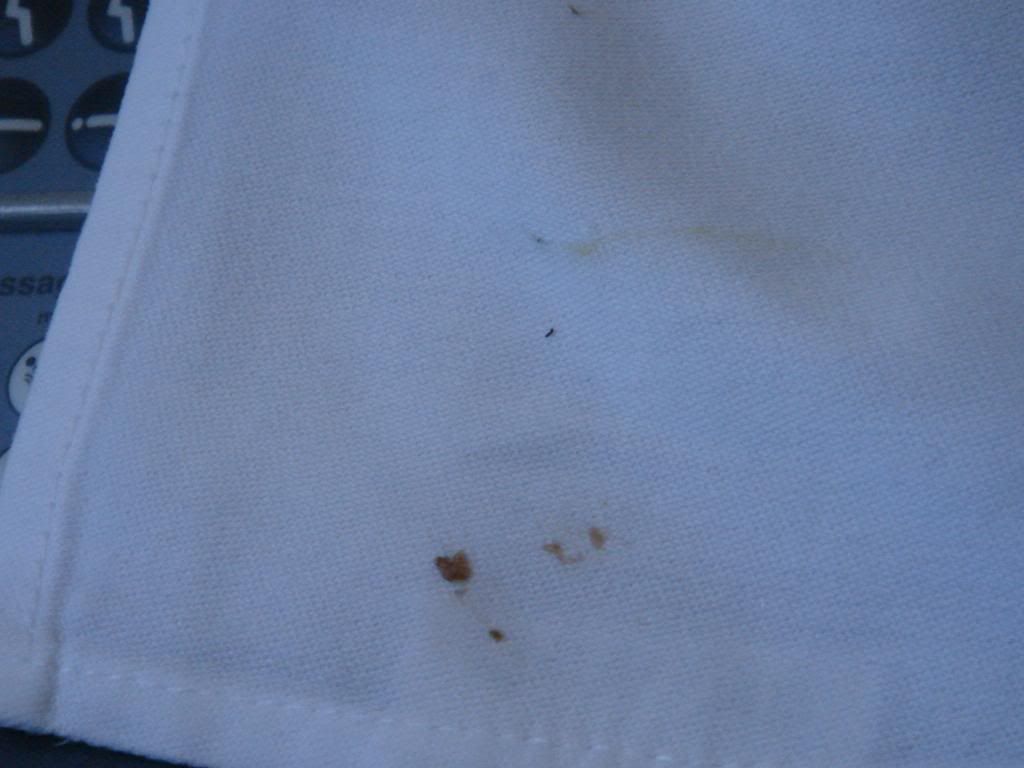 Drinks were topped up and orders taken for the main. Despite not liking horseradish sauce I took the beef, which was pretty good, nice dish. It was served individually by tray not via a cart.
My tray table did not lie flat so I had to place a newspaper under the table cloth to try and help keep the tray flat.
Desert was served via the trolly, I took the tart which was quite nice, though I'm sure the cream was single rather than double.
Starting to get dark as we head east:-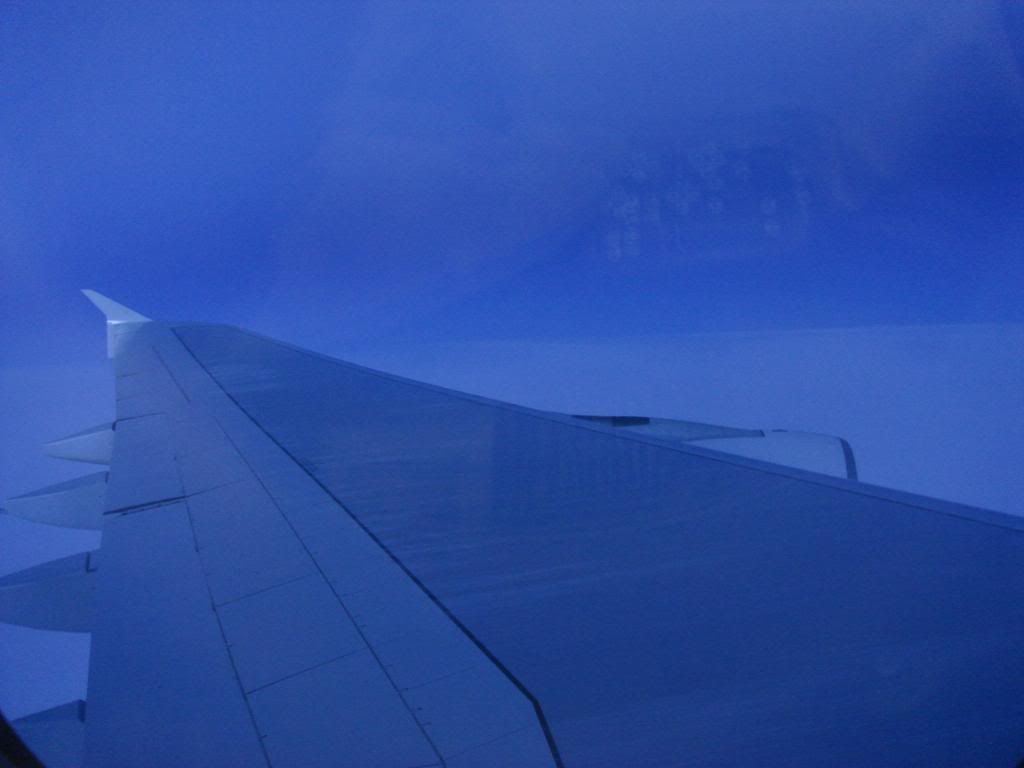 I had planned to change into the PJ top, however the light turbulence got a bit rougher, service was suspended and everybody was asked to be seated.
Typical, as soon as everyone was seated, the turbulence stopped however the seatbelt sign remained illuminated for a good 5 minutes to ensure we had passed the rough air.
Seat belt sign got extinguished and I went to get changed, upon my return tea and coffee was wing served, bottles of water were also dished out at this time.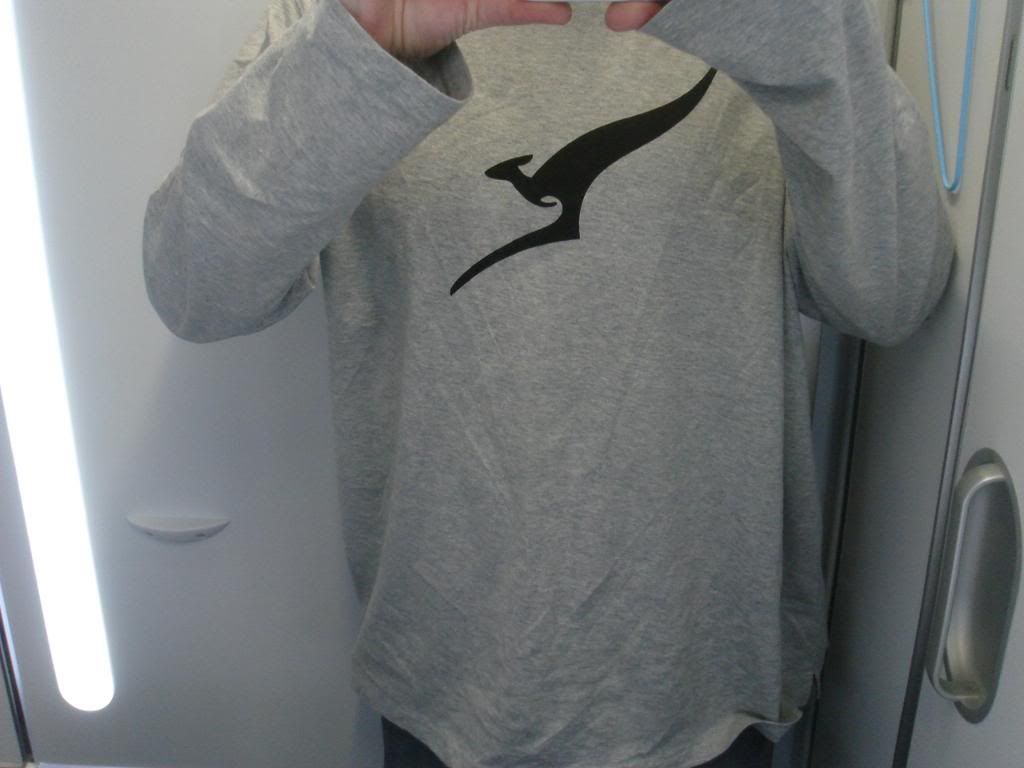 Toilets are nothing special,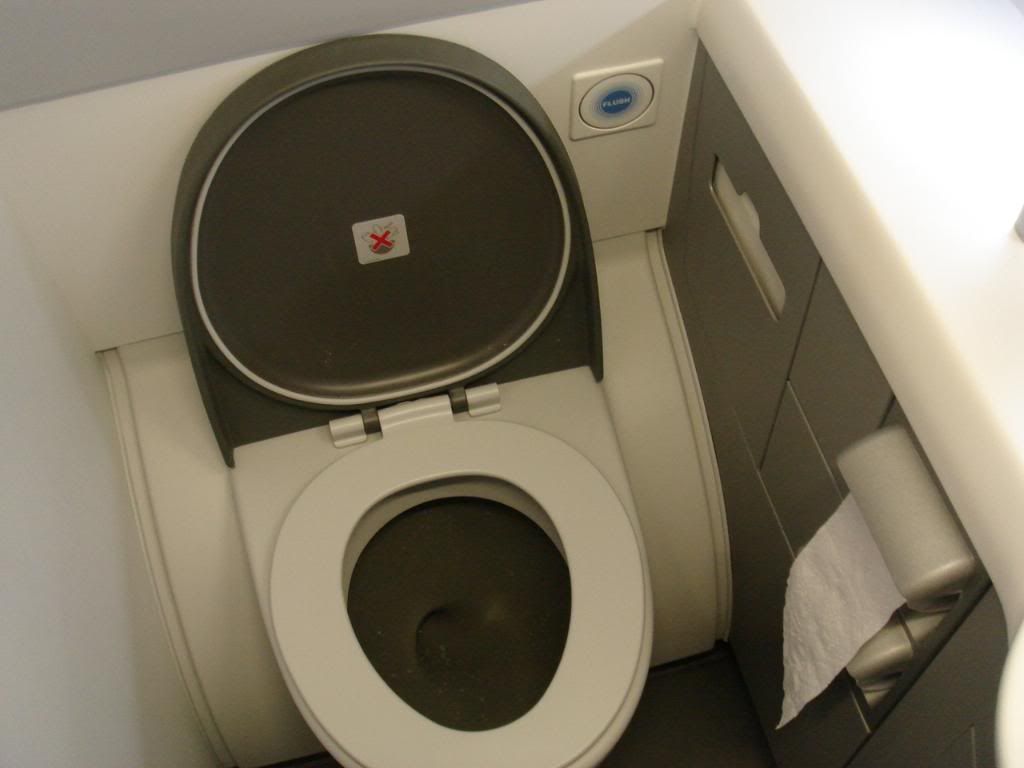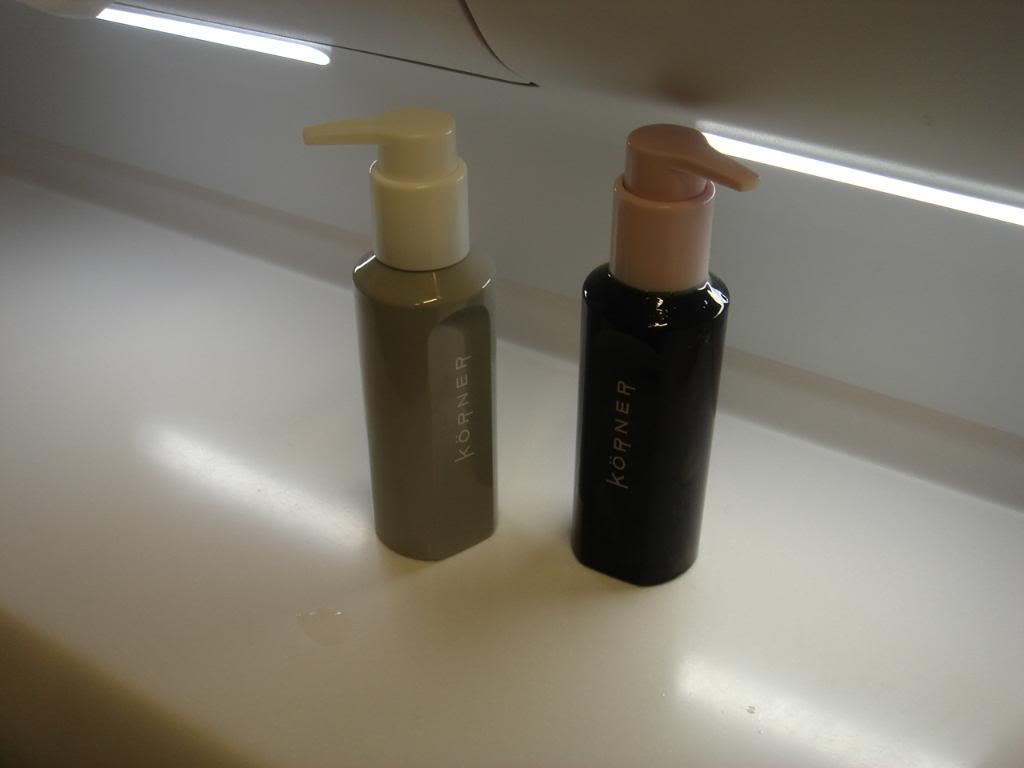 not even a window:-
Existing empty glassware was removed & I asked Pun for a glass of champagne, the red was good but too heavy to continue with whilst I did A.NET work, with a bit of reading to follow.
Have I enough windows?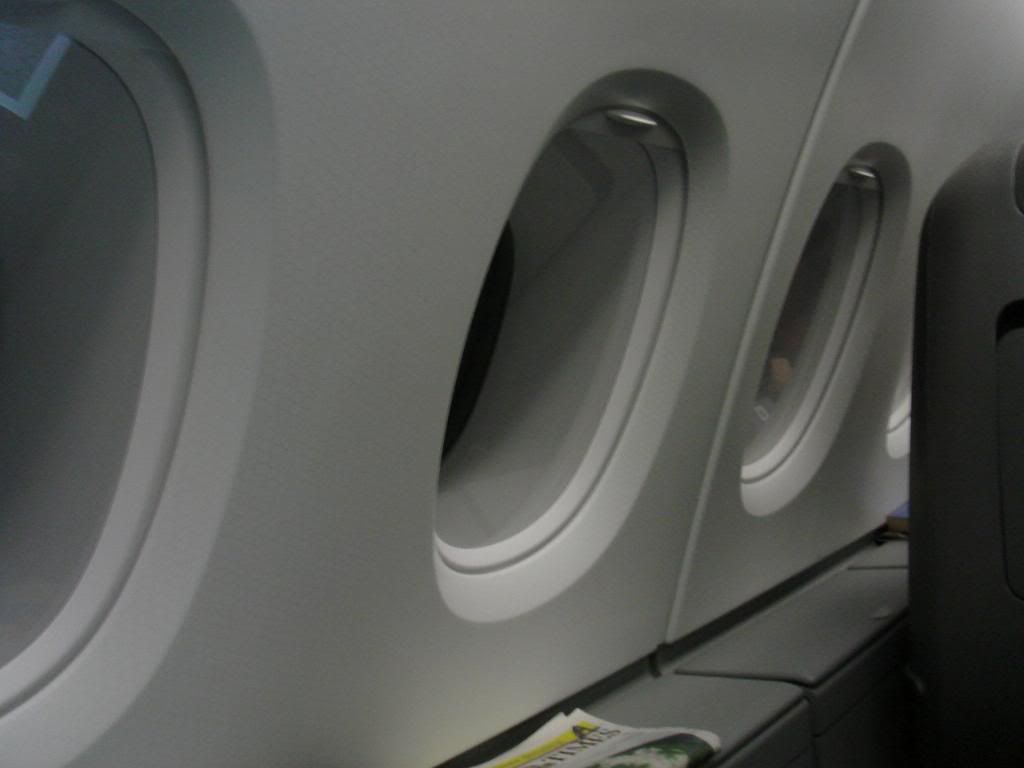 Night came, window blind were closed and most settled in for the night, I did to, perhaps got 2 hours or so but not too much on this flight, not sure why, normally sleep really well on planes, just ask Mrs BA319-131!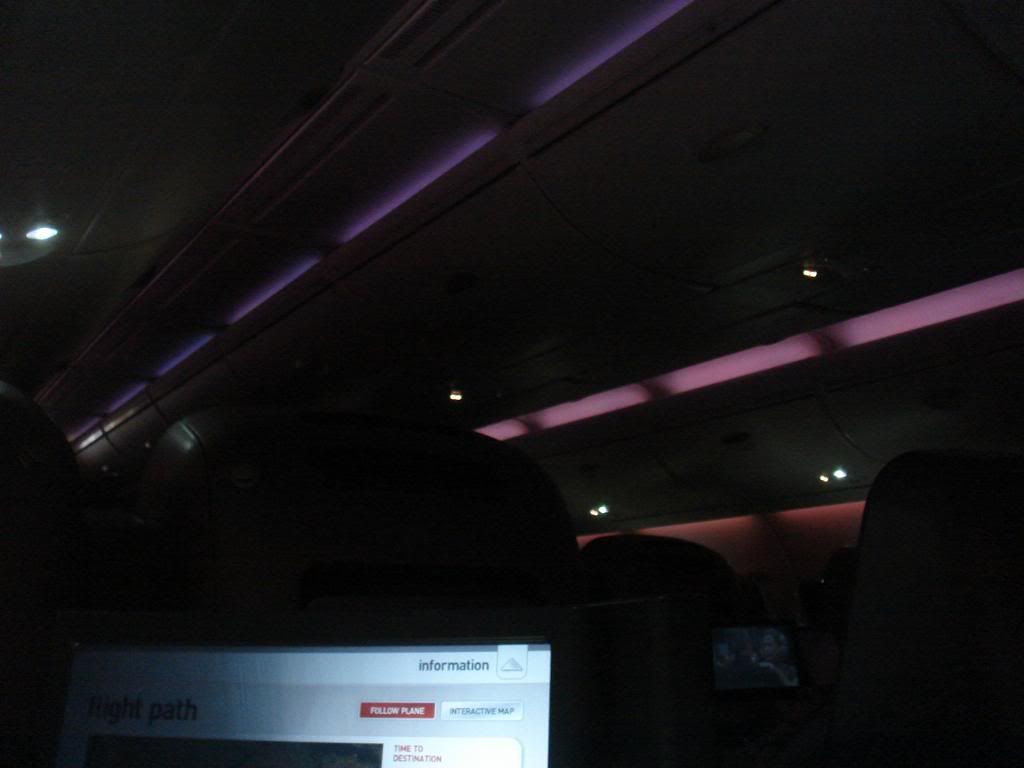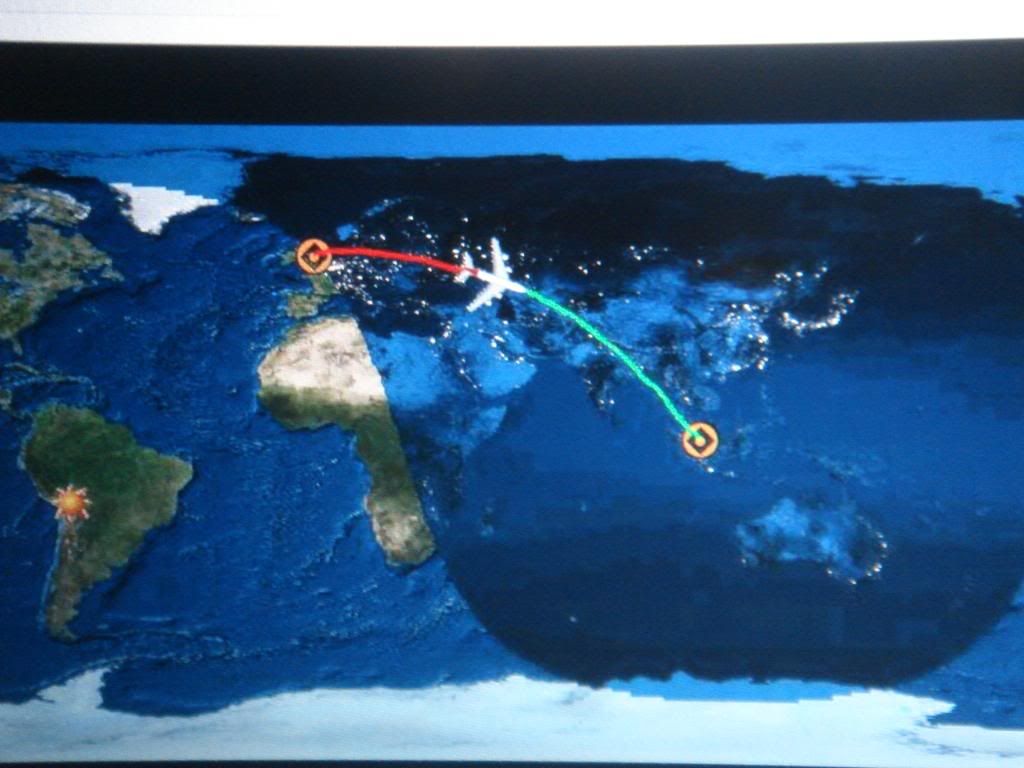 A few glasses of champagne, a trip to the lounge, chat with the crew and a jolly downstairs brought me back to my seat and a spot of music.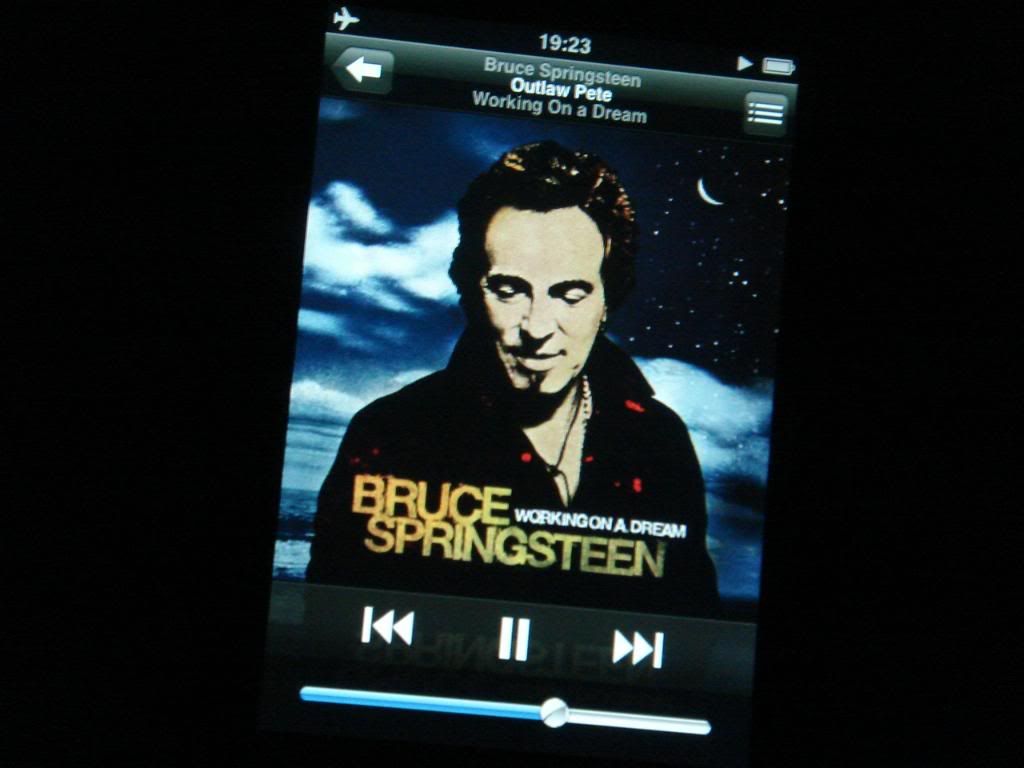 The Business Class lounge:-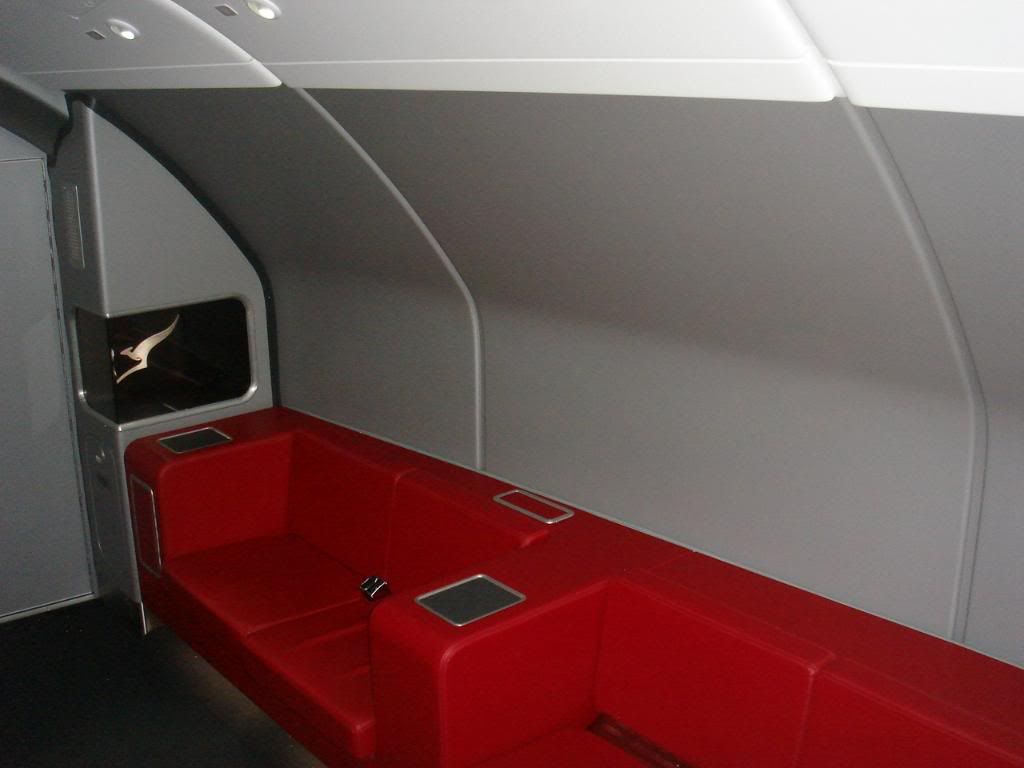 Qantas logo at the top of the stairs, these lead down to First class
Crew office area:-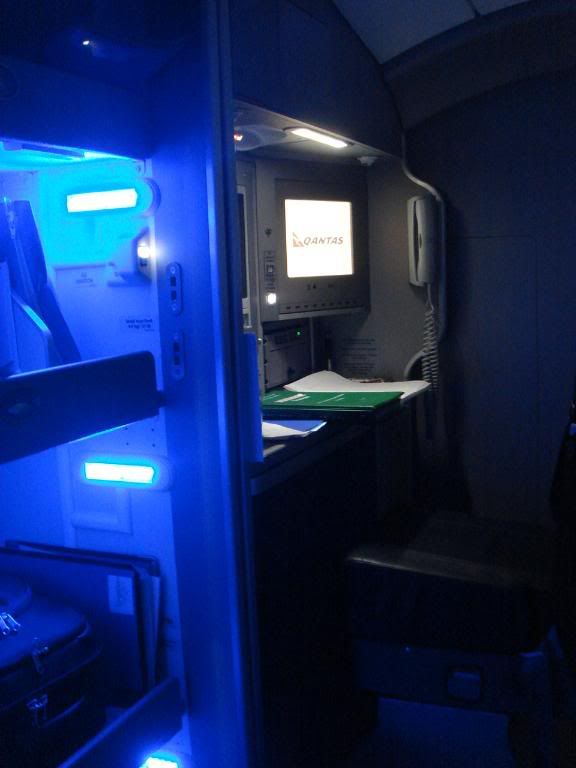 Economy at night:-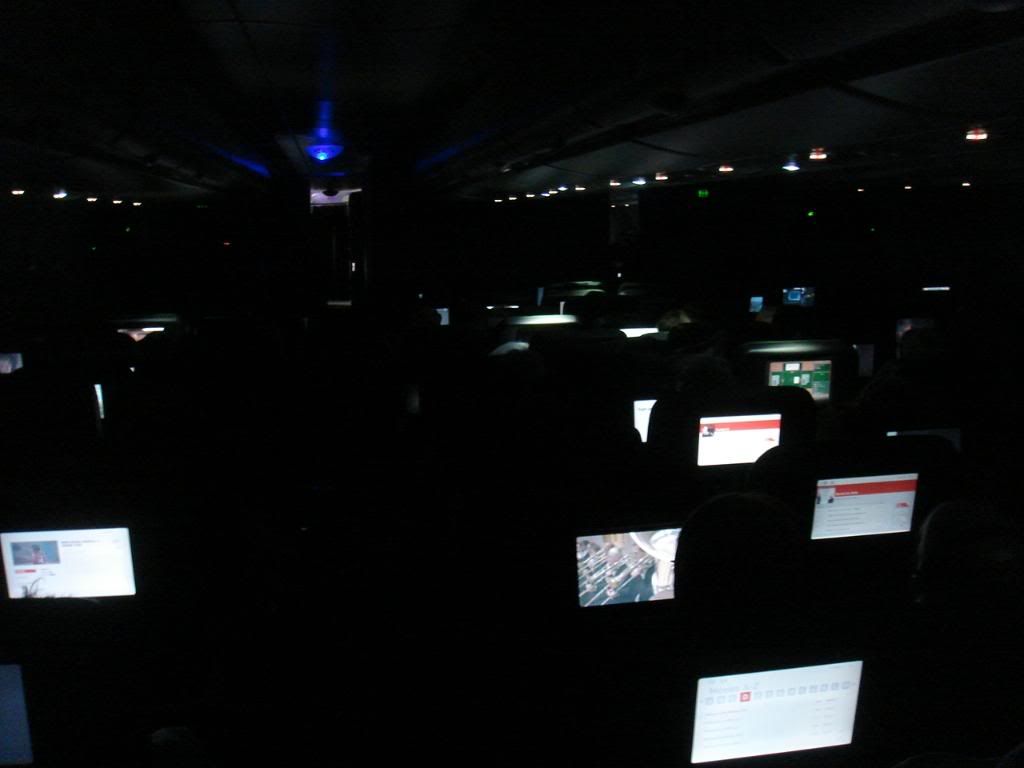 Business @ night:-
Business Class 'snack' area:-
Economy:-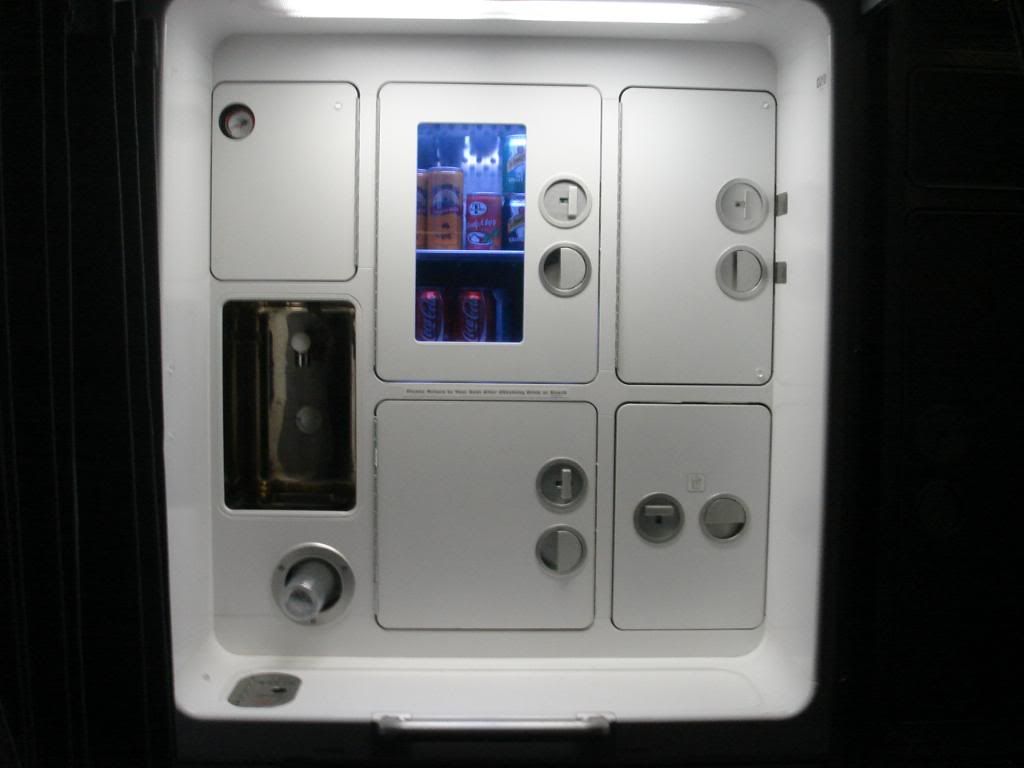 What's on the IFE?
Love this show!
And this one, a real classic!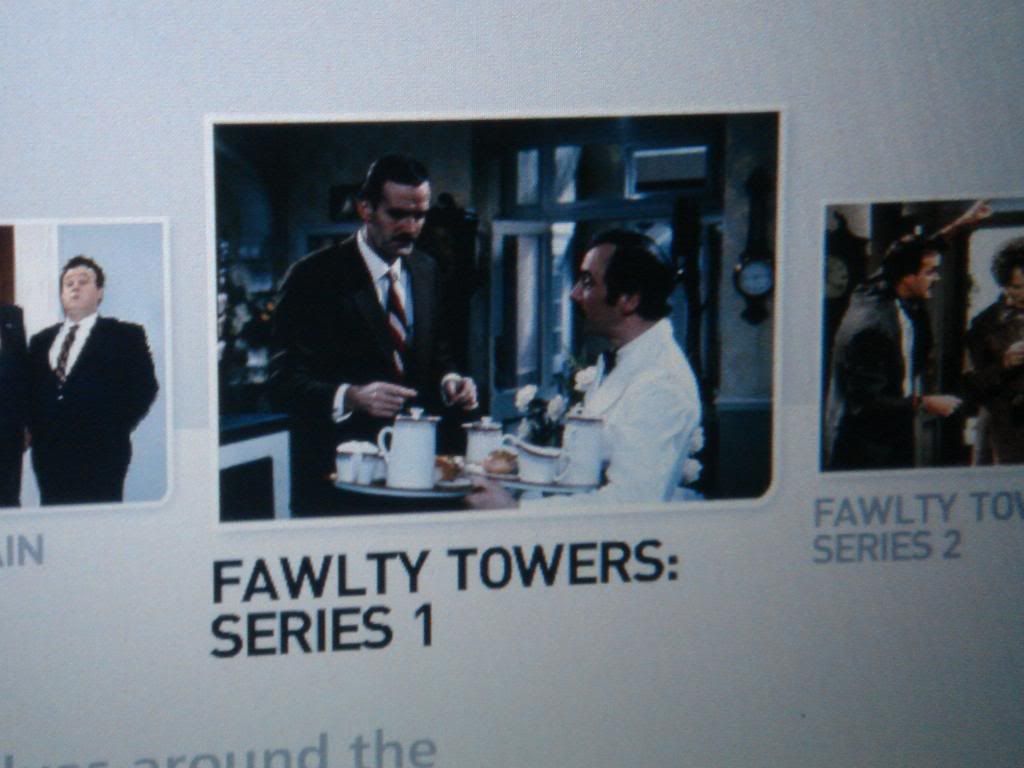 Wow, Human League, they are brill!
There is plenty of decent films and various other shows to keep you occupied for hours, as usual, I didn't use it, just perused to see what it was like.
Where are we now?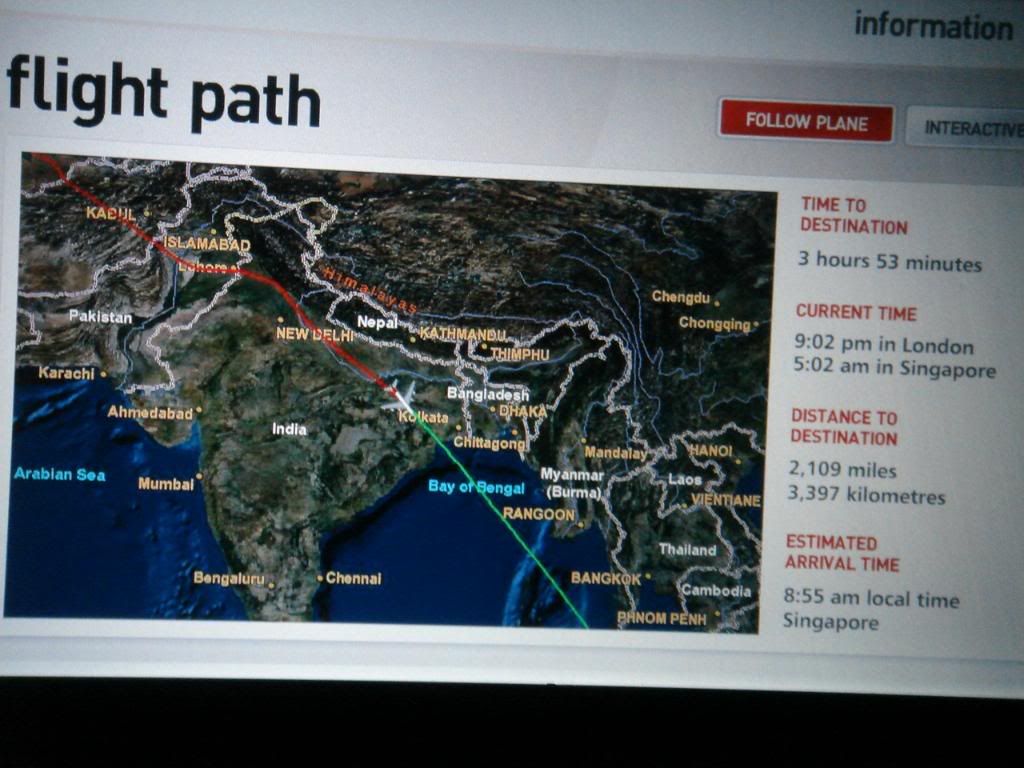 With just over 2 hours to arrival,breakfast was served, you could smell it before it arrived, funny how hungry you can get sitting around doing very little!
After breakfast I had a freshen up and got changed back into normal clothes, funny to see so may people around in Qantas pj's!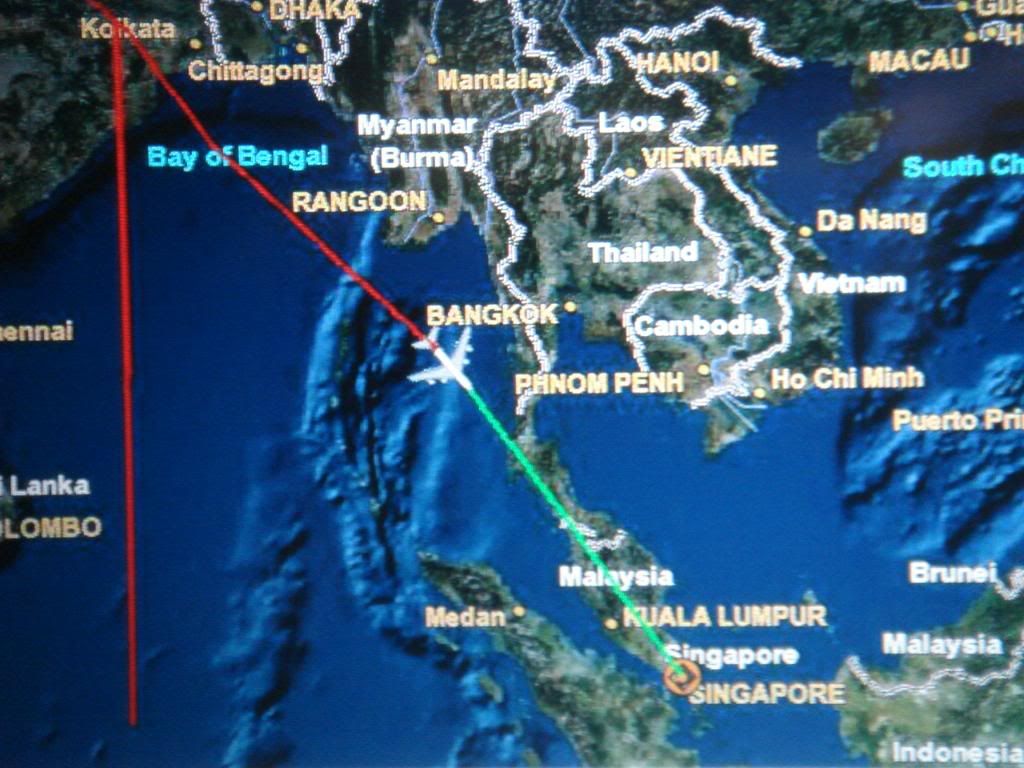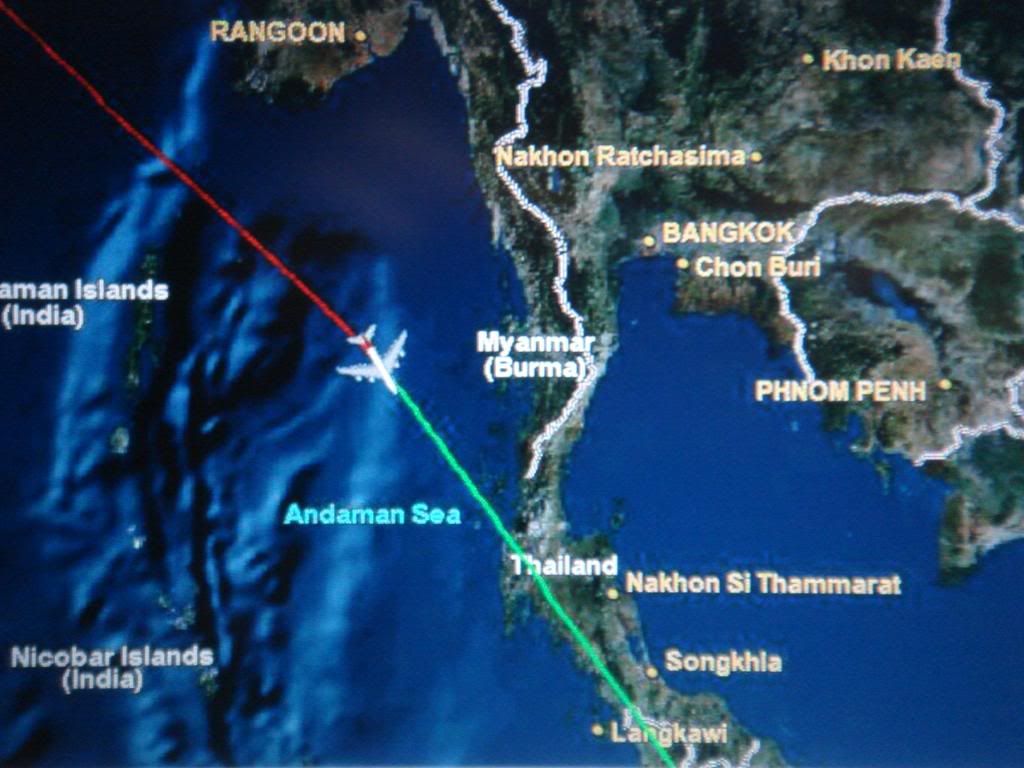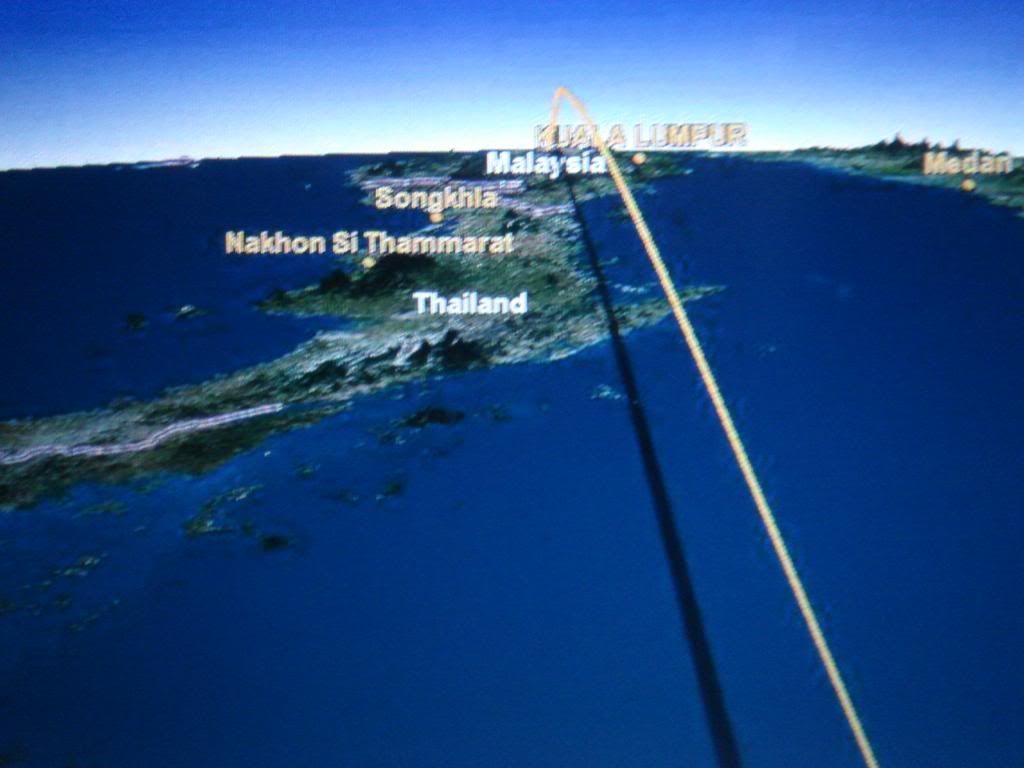 Daylight breaks:-
Seat controls in the dark:-
The remainder of the flight was uneventful, just listened to music, looked out the window and got another coffee.
Descent:-
Approach into SIN brought us over the harbour area, still find it amazing to see all the ships anchored in the harbour.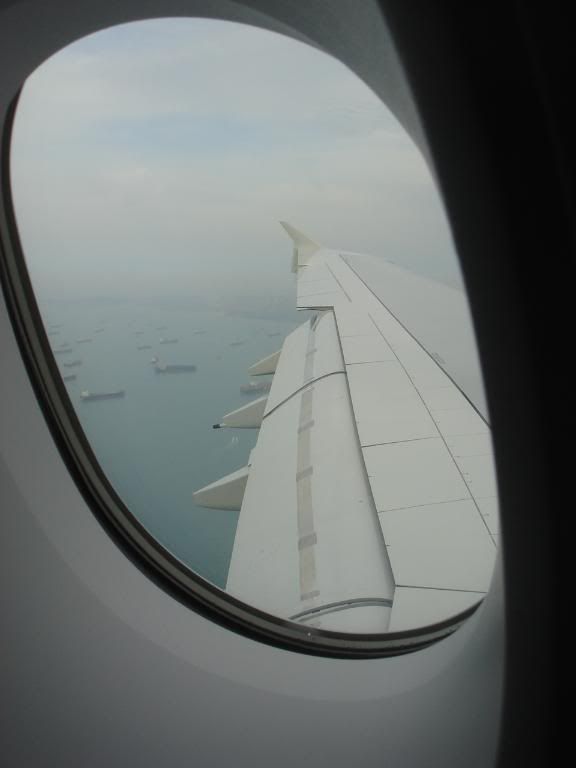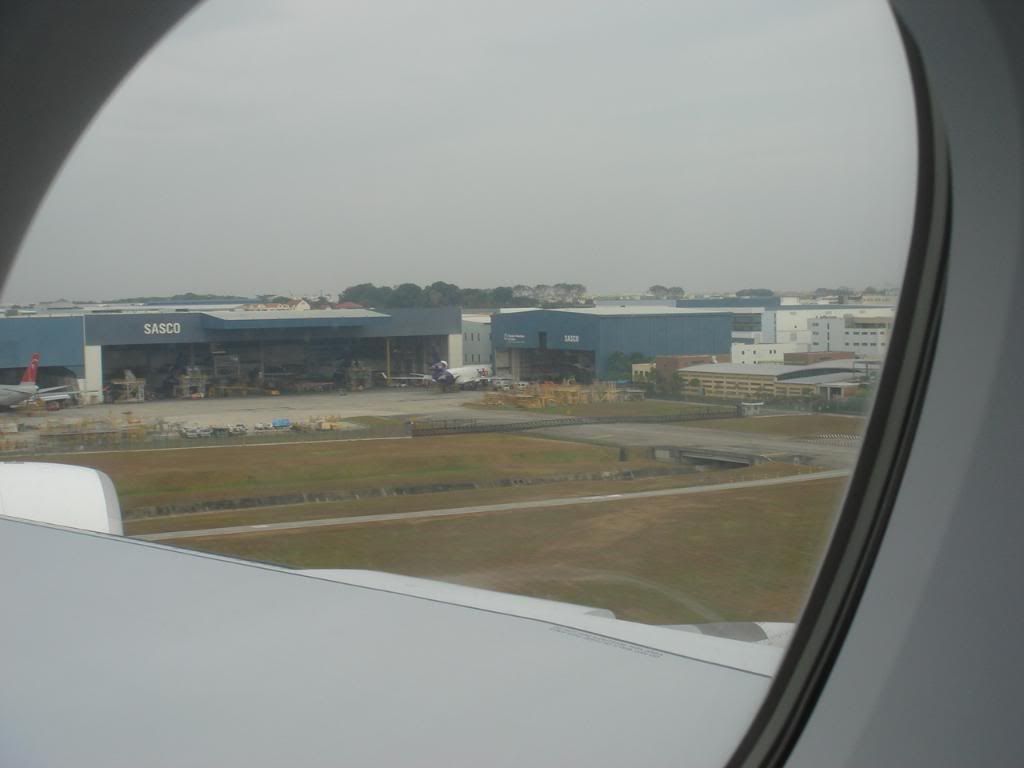 OQB touched down at 08:57, 57 minutes behind schedule, quite a few passengers were transferring to the Perth flight, Qantas was holding the plane for these passengers.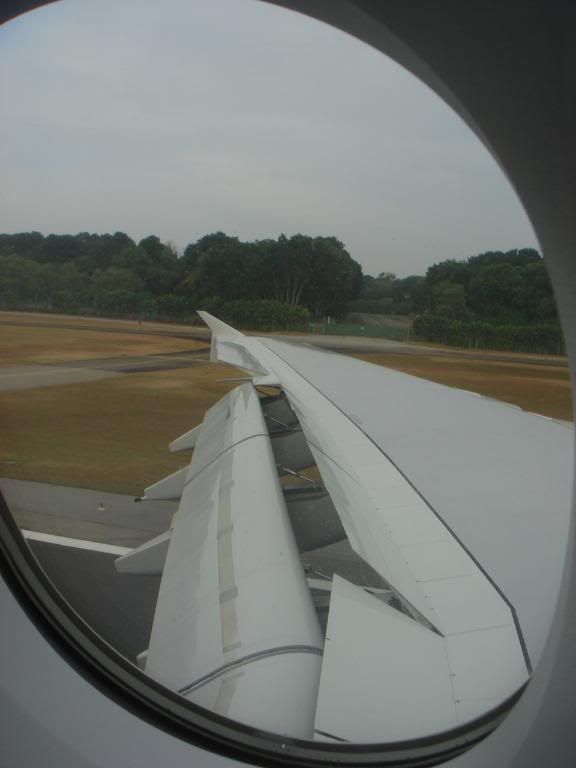 Windows steamed up, pretty humid outside today - that's the Perth flight.
Once at the gate, the usual scrum as everyone tries to get all their stuff out of the lockers whilst those from the rear of the plane are trying to barge past to get off first.
Once off I headed to immigration, got in the very small queue only to remember I needed to fill out an immigration form, I wish Qantas had reminded passengers they needed to do this or passed out forms on the plane – by the time I filled one out and got back in the queue, it had grown much larger!
Overall QF were pretty good, nothing special but there is nothing to complain about, quite happily use them again, may very well use them again if we visit Australia at the end of the year.
Hope you enjoyed the trip & pictures,sorry some were a little shaky, feel free to drop comments or ask any questions.
Hope to have the next installment up in a day or two.
Regards
Mark