Bangkok to Beijing, Egyptair Business Class
January 2009
Bangkok (BKK) - Beijing (PEK)
Scheduled: 1300-1830 (4h30m)
Actual: 1336-1842 (4h06m)
Egyptair (MS) 960
Boeing 777-200 SU-GBX 'Neit'
When looking for a flight back from Thailand to China, Egyptair kept coming up on search engines as the cheapest. On the day I was looking, there were five direct flights from Bangkok up to Beijing (Egyptair B777, THAI A330, Air China (B737 and B757), and Sri Lankan A330). I wanted a Star Alliance flight at a reasonable time and price, so Egyptair it was. Egyptair actually was cheaper than all the others by nearly half, and had the best times (all the others either left or arrived early or late). I hadn%u2019t heard much about Egyptair, so I was hoping for something nice, but expecting something neither good nor bad.
I got a taxi from my hotel (the Dusit Thani, very nice hotel, and an excellent location) to the airport. The drive was pretty hair-raising, and I arrived exactly two hours before departure feeling quite sick from taking the corners at 90mph. when I arrived in Bangkok earlier in the week, I wasn%u2019t too impressed with Suvarnabhumi given that it was a brand new airport. It seemed very cluttered and poorly laid out. Departures seemed very busy, and the Egyptair counters were swamped with Chinese tour groups. There was no queue at the Business desk, however, so I went over and got checked in there. I only bought an Economy ticket, but enquired into upgrade to Business. I was told it was only THB 4500 (USD 125), which I thought was pretty good value for a four hour flight, so I paid for the upgrade (they only accepted cash though which meant a trip to the ATM). My bags were tagged, and I was given my boarding pass, a lounge invite and a fast-track pass (which was very useful given the queues at the normal desks).
Keen to make the most out of the lounge, I bypassed all the shops in the departure area, heading towards the lounge near pier E. Despite the signposts, it wasn't too obvious where the lounge was. I made it after a few wrong turns. The lounge was quite disappointing, given that it was run by THAI. There was a small selection of snacks (this was lunchtime), and a reasonable selection of drinks. As others have mentioned, views are greatly reduced due to the metal bars covering the windows, so the lounge seemed quite dark. On the upside, the staff were very pleasant, and mentioned the best time to leave the lounge given the slightly late arrival of the aircraft from Cairo.
THAI lounge
Whilst I was sitting in the lounge, the guy that checked me in appeared and said that I had been misquoted on the price for the upgrade, and that it was actually THB 7000. he said I could either get a refund and go back to economy, or pay the extra THB 2500. having got used to the idea of having a relaxing Business Class flight back, I reluctantly paid the extra Bhat to keep my seat. Grrrr.
'Neit' at the gate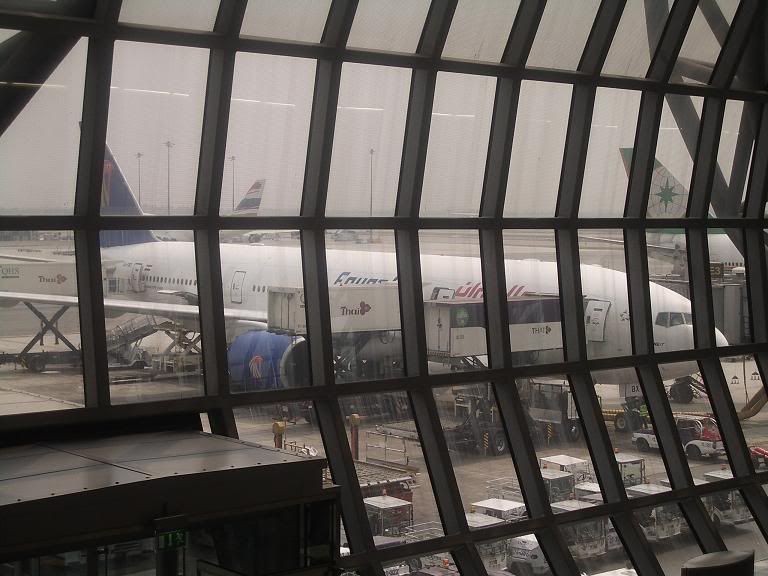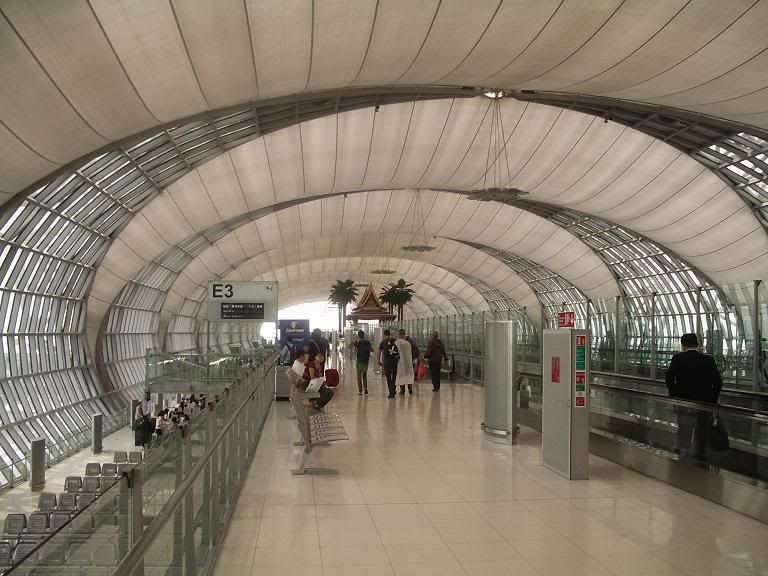 Boarding
I went down to the gate at 1230 when they were starting to preboard. The flight looked pretty busy from the number of people at the gate. There was no priority boarding for Star Gold or First or Business passengers though. I was met at the aircraft door by the Purser, and directed down to my seat on the far aisle, the bulkhead seat in the amazingly small three row Business class. Clearly, Egyptair aren't envisaging large numbers of premium customers. First class consisted of 12 seats (2 rows of 2x2x2), and Business of 21 seats (3 rows of 2x3x2), all squashed in between doors 1 and 2. The seats in the two classes seemed to be exactly the same, except that First was marginally wider (or was it just the aisles?), and more leg room (but still nowhere near flat). Business class was 2/3 full, and First had just 3 pax. Not sure about Economy loads, but I think they were quite high. Luckily, the seat next to mine was empty.
First Class
Business Class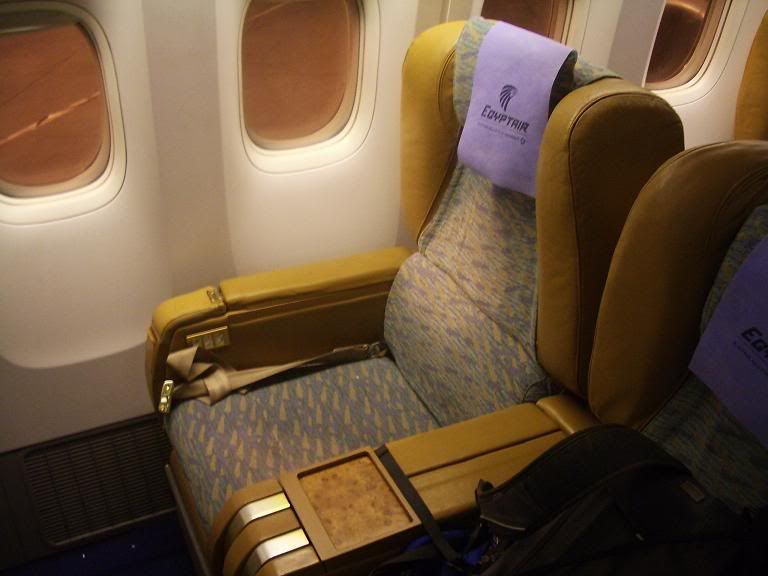 The seat was reasonably comfortable in the upright position, and the colour scheme is nice and relaxing, especially the gold highlights around the PTV and the walnut table on the central armrest. Once I was seated, one of the First Class FAs came round with a tray of fruit juices (Egyptair is a dry airline).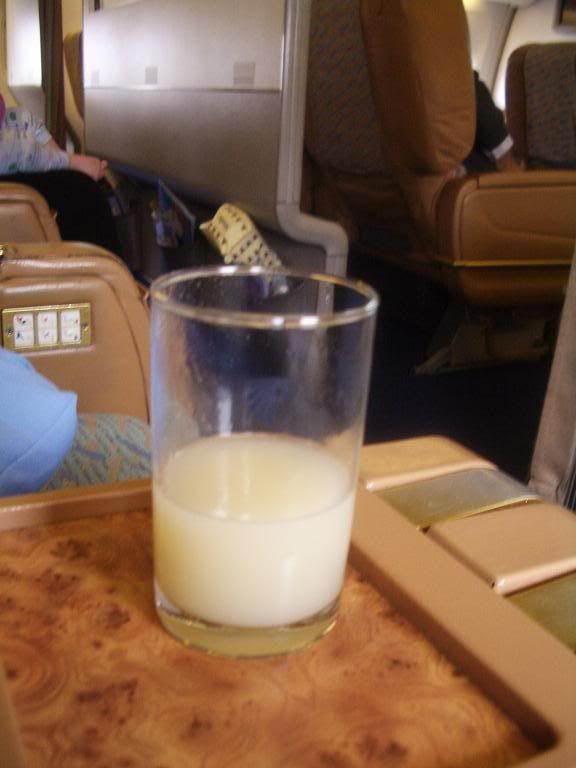 We pushed back late for no particular reason, and headed for the runway. We had Taiwanese visitors either side of us, an EVA B744 headed for London, and a China Airlines A330 going back to Taipei.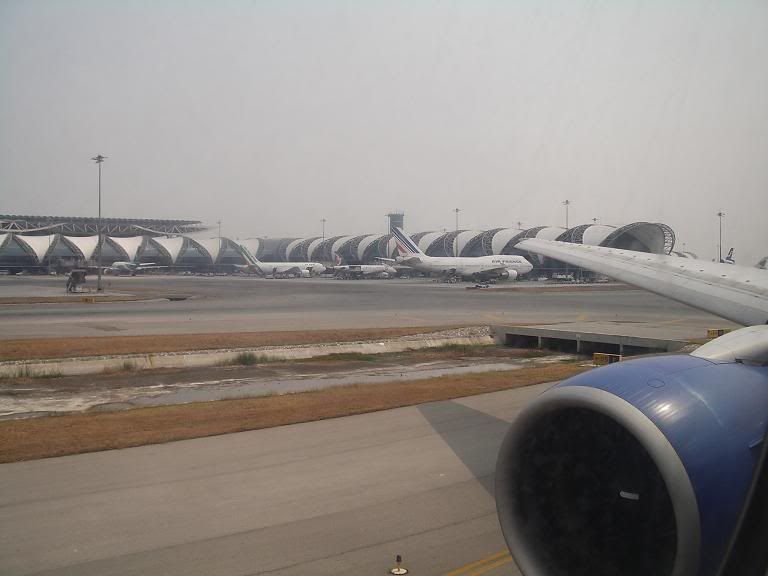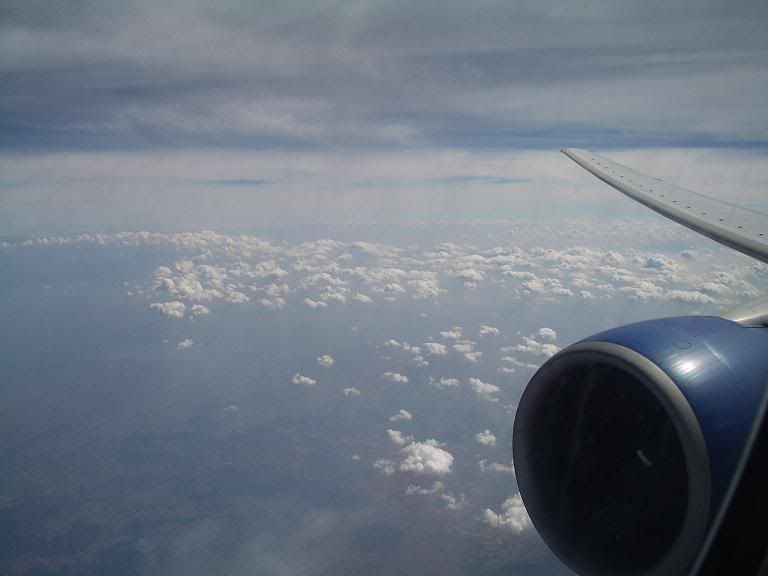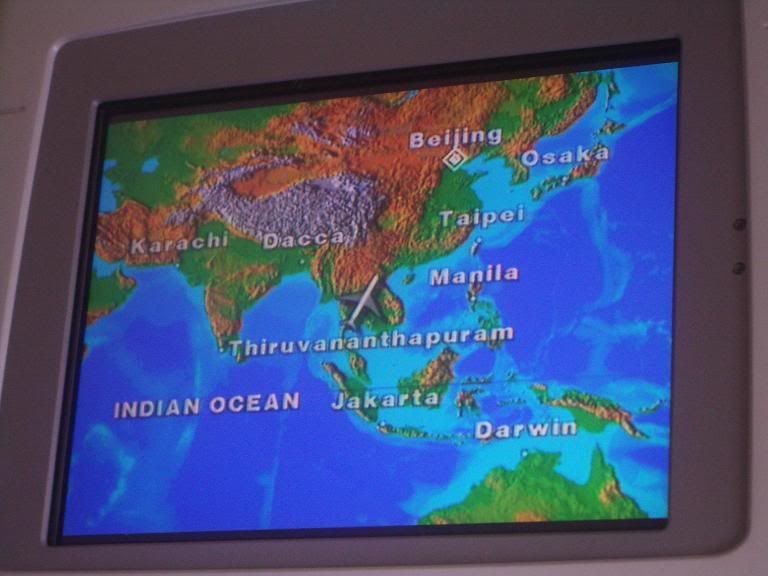 We ended up taking off over half an hour late with no word of apology from the crew. Once the seatbelt sign was off, the curtain between First and Business was closed, and the meal service began. I found a menu in the seat pocket, but it didn't say which sector the meals were for, and it didn't tally with the meals offered. Before the food, however, was a drink service. I assumed that seeing as there was no alcohol on offer, that all other drinks would be offered liberally. I was wrong however, as once the trolley finally got to me, I asked for two drinks, but was only given one (for the record a water, and an orange juice). Hmmm. The FAs disappeared after the drinks round, but appeared twenty minutes later with the food. Despite being served last, there was still a choice of three different meals. I couldn%u2019t understand/hear what the choice were, so just said chicken on the off chance that there wouldd be a chicken dish, which there was.
On the positive side, the meal was actually very tasty, and the bread (only one bread round mind) was warm. Once the tray (yes, tray) was cleared away, one of the FAs came around with a tray of fresh fruit. He was very encouraging in getting people to take more than one piece, so I took a banana, some pomelo and some dragon fruit.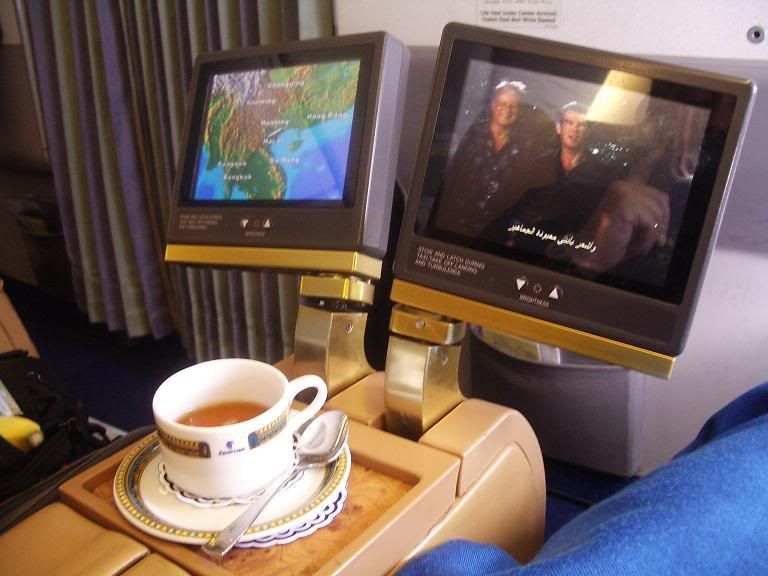 There were no more full drinks rounds following the one before the meal, but tea and coffee was offered after the fruit. It was a bit disappointing that the meal service was so fast. I had barely finished my main course before they were trying to take the tray away, which was odd given that it was a long daytime flight, with more than three hours left to go.
During the meal, I thought I'd give the IFE a go. After flying Singapore Airlines the previous week from Milan to Hong Kong, I was a bit apprehensive about Egyptairs offerings. My worries were confirmed when I flipped though the inflight magazine (Horus?), to find a very confusing table detailing the films being shown. Unable to work out was was meant to be showing, I turned on the PTV and had a look. Unfortunately, only one channel was functioning well enough to be viewed, so I watched Mamma Mia over lunch. When that finished, the loop didn't restart, even though there was more than two hours of flying time left. Randomly, one of the channels (I think there were about 4) starting showing another film not listed in the magazine, so I watched that for a bit.
I headed back to the one Business class toilet after lunch. Wow, what a mess! Water and tissues all over the floor, panels coming away, no hot water. And this was with less than fifteen people using it (I imagine by this stage, only a few people had used it). Horrible. Of course, there were no amenities, only soap if you're lucky. Walking to the back of the cabin, I was also able to see just how poor the leg room was. I was grumbling to myself when I realised that the legrest on my seat seemed to be wedged in place so that it wouldn%u2019t come out properly. After seeing the other two rows, I realised that my seat, in comparison, had loads of room. If the person in front recline, your knees touch the seat in front. What kind of long haul Business class seat is this?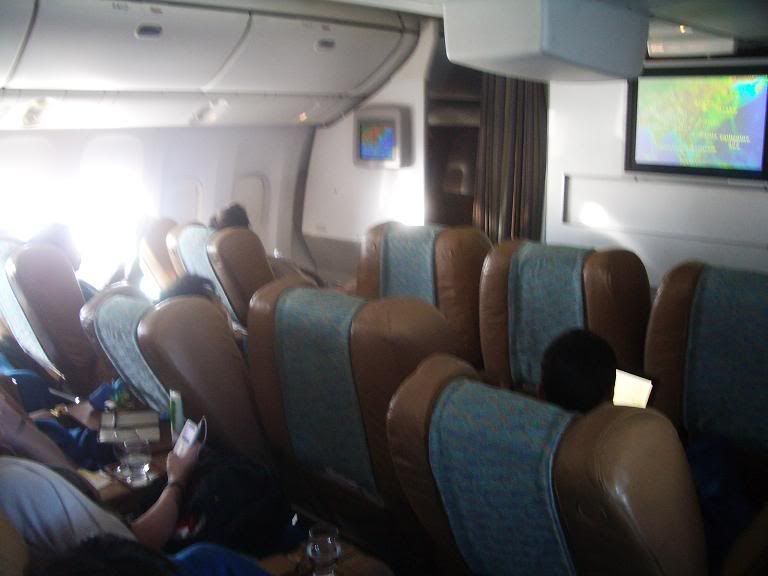 Someone in the front row had their legs on the bulkhead.
After tutting to myself for a minute, I tried it and found it to be far more comfortable than the useless leg rest.
I was expecting another service of some sort (a small snack, another drink maybe) before we arrived, but nothing. I pressed the service bell, so I could get another drink. I waited, and waited. An FA walked past THREE times, and didn%u2019t notice. In the end, I got up and went to the galley. There, the FA did smile a bit and gave me a drink. It was a bit like getting blood out of a stone.
As we started the approach to Beijing, they showed an immigration and customs video to China. It was long and tedious, and I%u2019ve never seen it being played on any other China-bound flight. They must have spent at least ten minutes reading out long list of banned imports, and well as mentioning forms to be filled in that no longer exist. What a waste of time.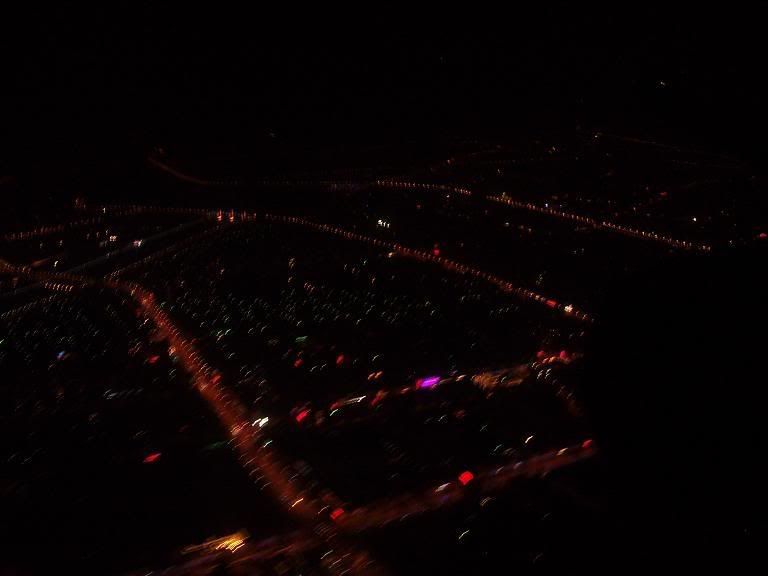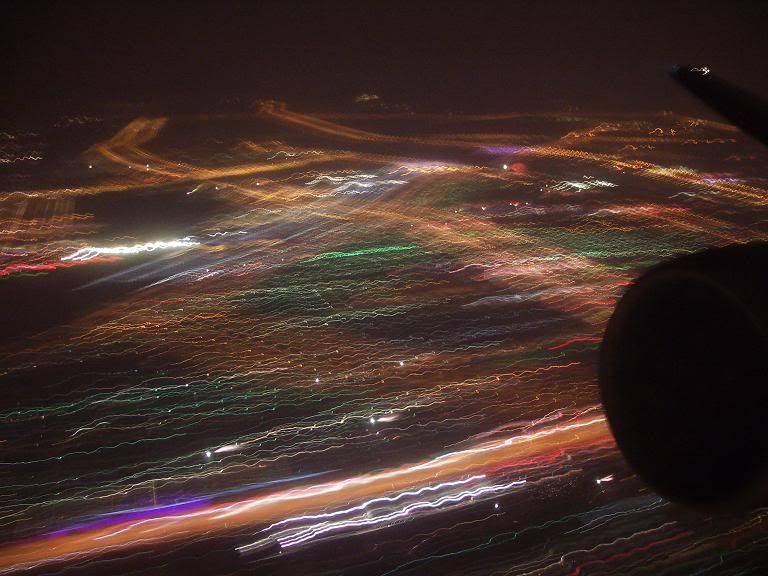 As it was the Chinese New Year holidays, there were thousands of fireworks going off on the approach, which was nice, although they were rather hard to photograph.
We landed a little behind schedule, and before long were parked at a very empty Terminal 3. The crew made a perfunctory %u2018goodbye%u2019 message then opened the doors. The temperature drop from Bangkok to Beijing was a chilly 35C. There were no other arriving flights at that time, so I was the only person at immigration when I arrived. Unfortunately, the bags took an age to arrive, so I only got out of the terminal at 8pm, well over an hour after arrival.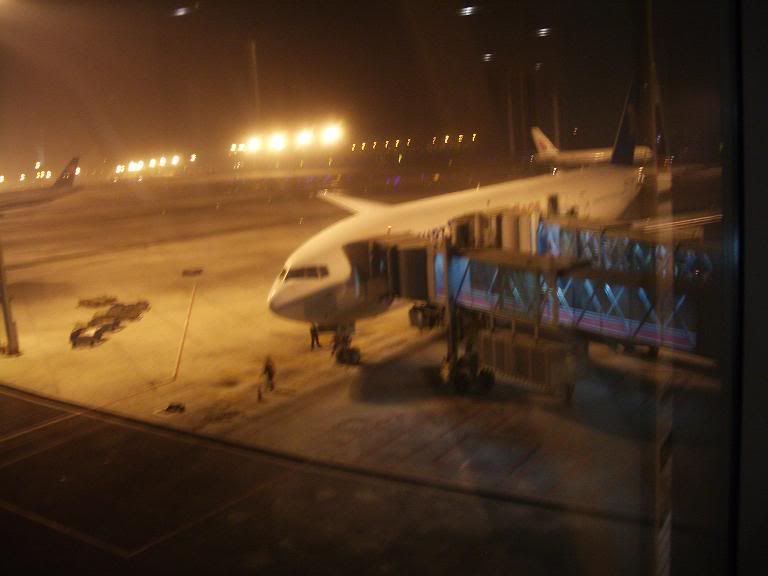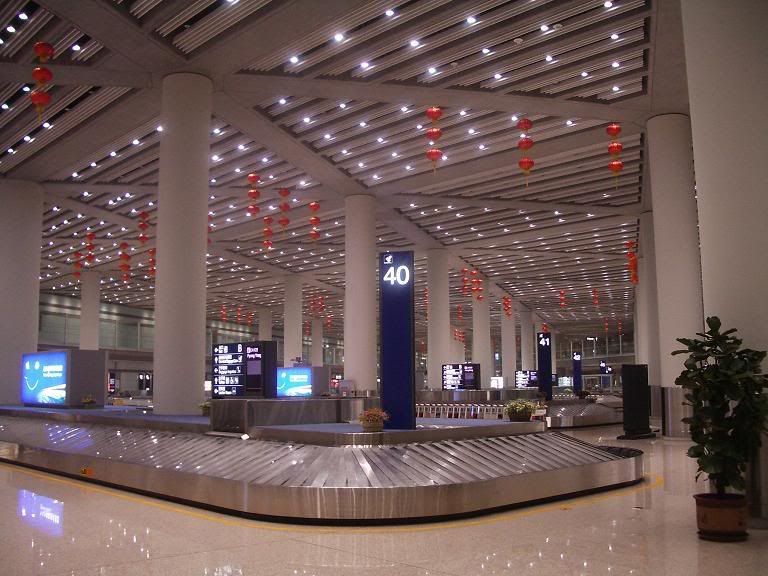 So, in short, Egyptair are cheap, and for good reason. The service is half hearted, the seats are poor, and the aircraft interiors poorly maintained. Why are they in Star Alliance? I%u2019d have hated to have flown long haul on one of these flights. The recline was barely noticeable. On the plus side, the flights was largely on time, and we did arrive safely.
Comments and questions welcome