Riding the MadDog for fun; Spanair MD87 MAD-PMI
Intro:
I decided it was time to end my aviation starvation and book some flights. Having not flown since September (Even then it was Ryanair) I was very keen to catch a few flights in a day. Somehow I ended up with the notion that LGW-MAD-PMI-LGW might be a good idea. The prospect of catching an MD87 was enough motivation for me to book the three flights at a very reasonable £70, for Tuesday 17th February. Fellow a.net member Pawsleykat (who will also be writing a report on this trip) was also keen to tag along. Interestingly, he considered it a "holiday" despite the fact we'd only be out the country for 10 hours. Flights were booked and so the wait for the 17th began.
Madrid Barajas
After disembarking my first easyjet and A319 flight, we headed through immigration, christening my new passport on the way through with a stamp. Jordan printed the boarding pass for our next flight before hopping on the shuttle bus across to the new-enough terminal 4. With only 2 hours between touchdown and departure we barely had enough time to get some fresh air. We were both quite overwhelmed by terminal 4's architecture.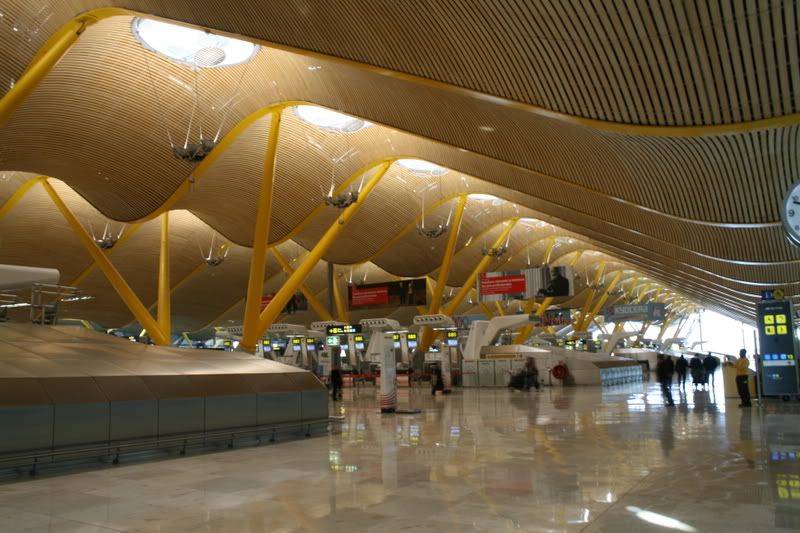 T4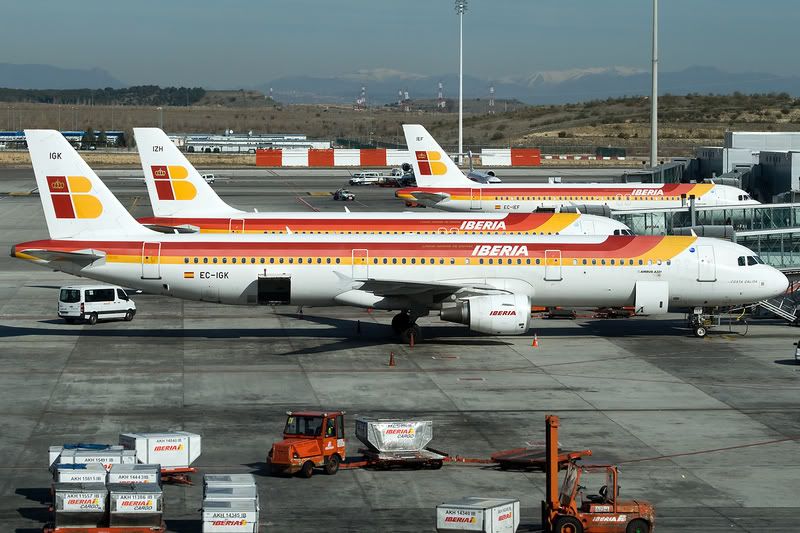 A look out onto the pier
We decided to grab lunch and laugh at security personnel riding around on segways before heading back for our flight to PMI. As I am under 18 I thought I'd take the opportunity to play the ignorant British teenage tourist and indulge in a can of San Miguel and a sandwich, much to the staff's amusement.
Staff member: (In Spanish) "How old are you?!"
Me: *thinks; crap, what's 18 in Spanish?!*
Jordan: "dieciocho"
Staff: "ohhhhhh haha, no no no! No way! Policia!"
Me: *surprised expression* "what!"
Staff: "8 euros"
He had the kind of smirk on his face that says "I shouldn't be doing this because you're clearly not 18, but I'll do it anyway because I'm in a good mood".
We sat down with a view of some IB airbuses, ate and left back to the terminal from which our Spanair flight would be departing.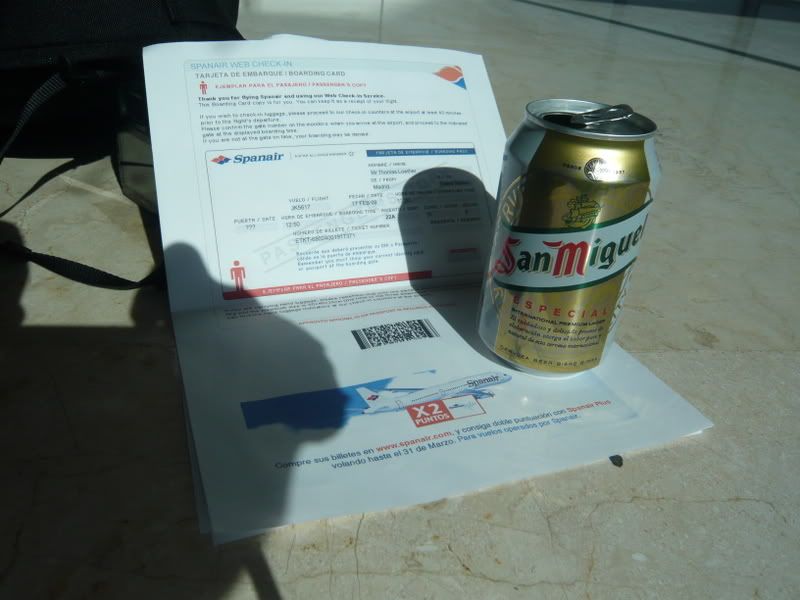 My Spanair boarding card, checked in online and printed the day before. Seat selection can also be made online.
We got back to the older style terminal and headed through security, I took the chance to take some photos of the action airside whilst Jordan went for a cigarette in the multiple smoking "rooms" that are available inside the terminal building.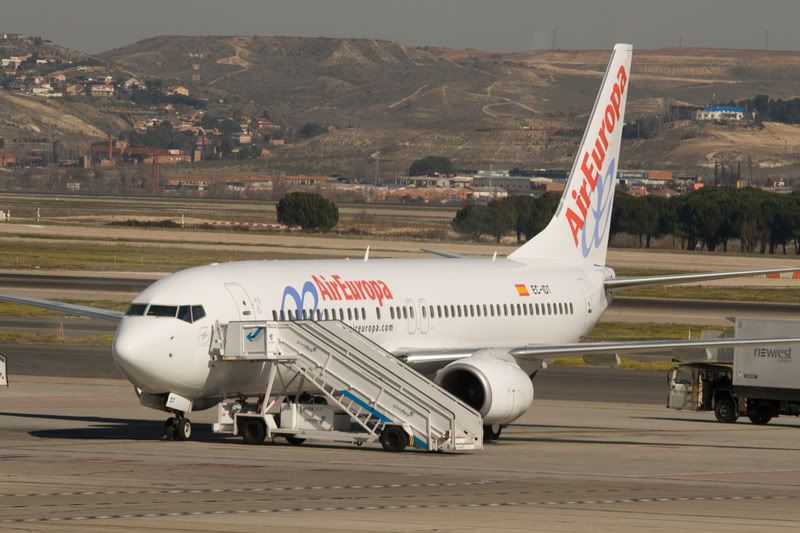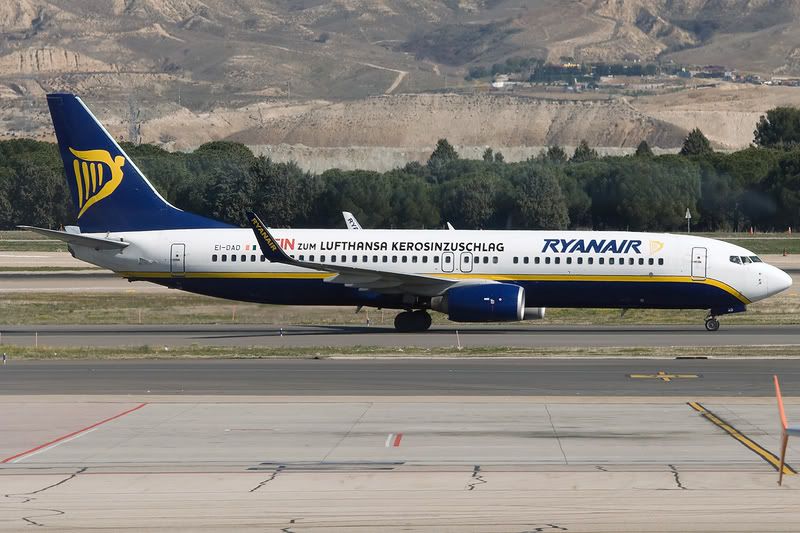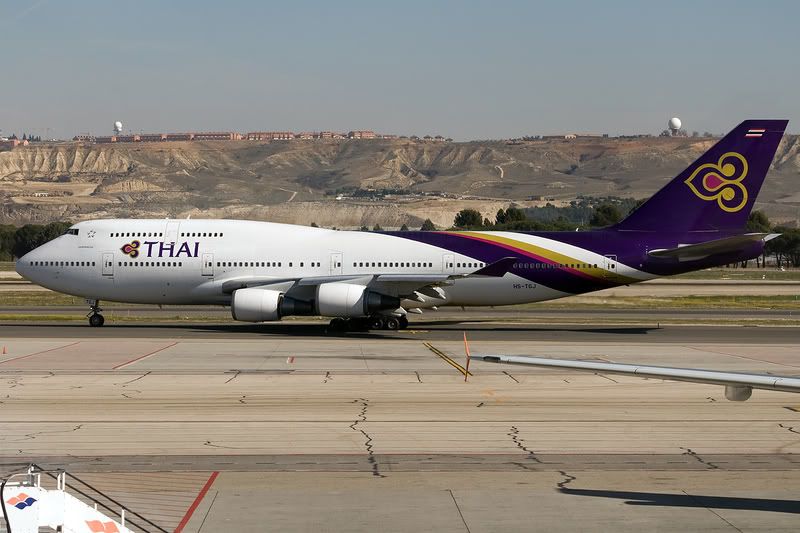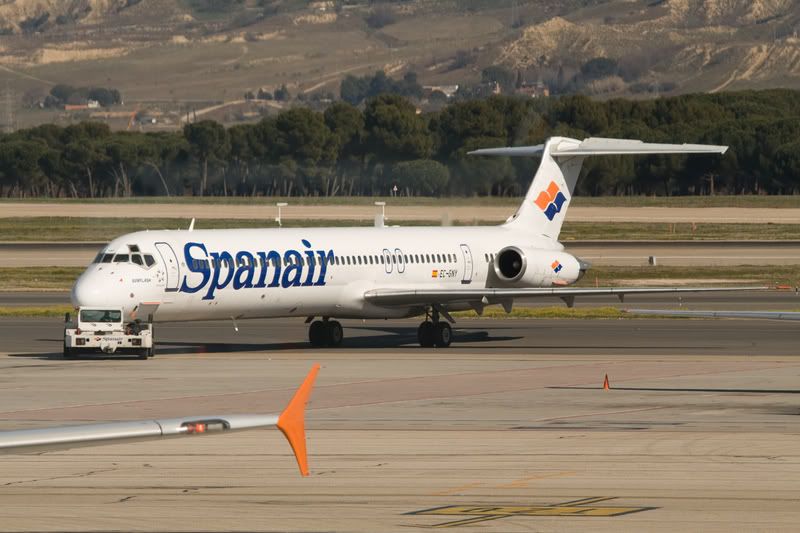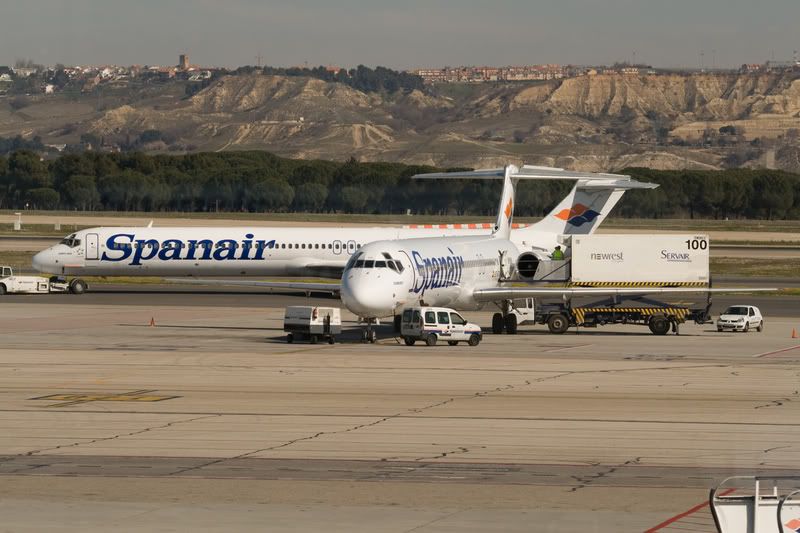 After we met back up we decided to take a wander down the concourse just to see what was parked up. We walked past our gate and happened to notice that nobody was there. Interesting… I looked upto the screen which, also interestingly said "JK5617. Palma. LAST CALL". I then looked back down and one of the gate agents says "where have you been?!" To which we both replied "We're late?!". We were quite puzzled considering the flight was not due to leave for another half an hour. I personally was quite embarrassed considering I think very poorly of people on television programmes such as Airline who complain because they've missed their flight through no fault but their own. I felt very stupid indeed! I apologised and we were allowed to proceed down the jetty to EC-KAZ, our waiting MD87.
Built in 1988 and previously OY-KHI with SAS.
The flight
Flight: JK5617
Aircraft: MD87
Registration: EC-KAZ
Seat: 22A
Scheduled time of departure: 1320
Time of pushback: 1314 Local
Time of rotation: 1325 Local
Runway of Departure: 36R
Scheduled time of arrival: 1435
Time of arrival: 1425 Local
Runway of Arrival: 24L
We both walked down the jetway still to find a queue to board. We walked through the door and weren't greeted by any FA's. I made my way down to 22A and Jordan to 21A. It was swelteringly hot and seemed quite cramped compared to the A319 we'd stepped off a mere 2 hours earlier. I took my seat next to a Brazilian gent who had arrived on a TAM flight. Legroom was adequate, though I'm not particularly tall by any means and the seat was comfy enough, and the window at a decent height for once! I looked over my left shoulder and was somewhat surprised to see the engine quite so close as it was.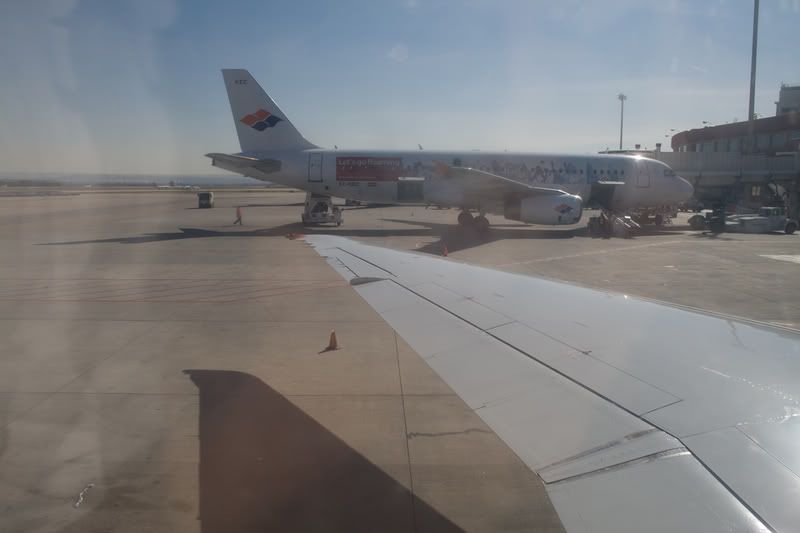 View sat at the gate
After 10 minutes at the gate, we were gradually pushed back, with a roar the engines were started, starboard side first. All manner of clunks, electrical buzzes and pulses could be heard as we were pushed backwards from gate C62 (if I remember correctly…) The safety announcement couldn't be heard over the fantastic whine of the powerplants starting up, nor could I see a flight attendant giving a manual demonstration.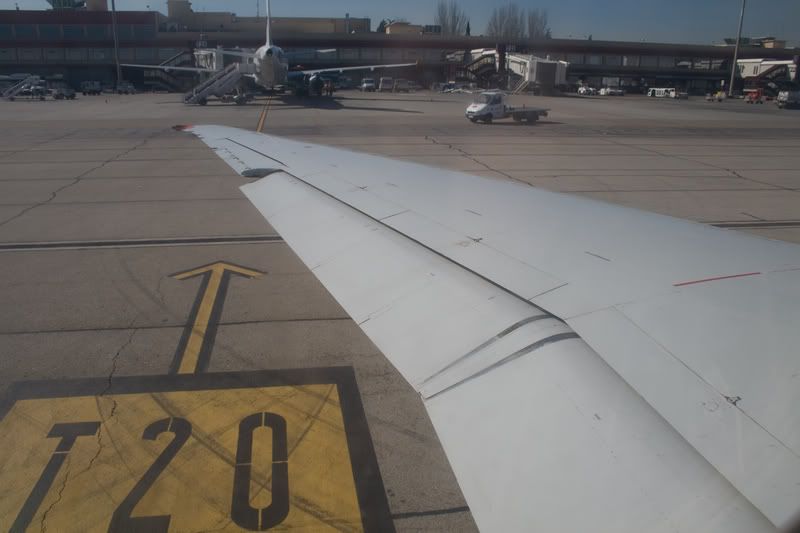 Moving away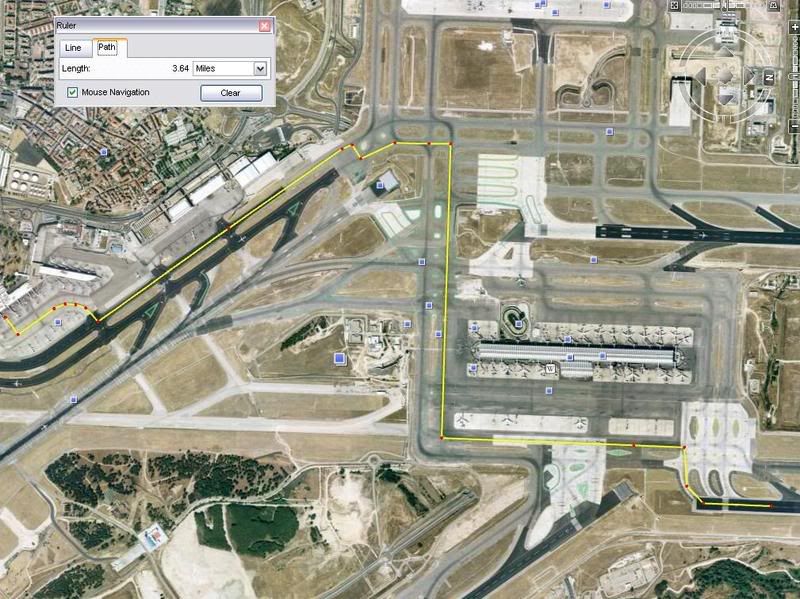 Our 3.6 mile taxi route to 36R (The yellow line)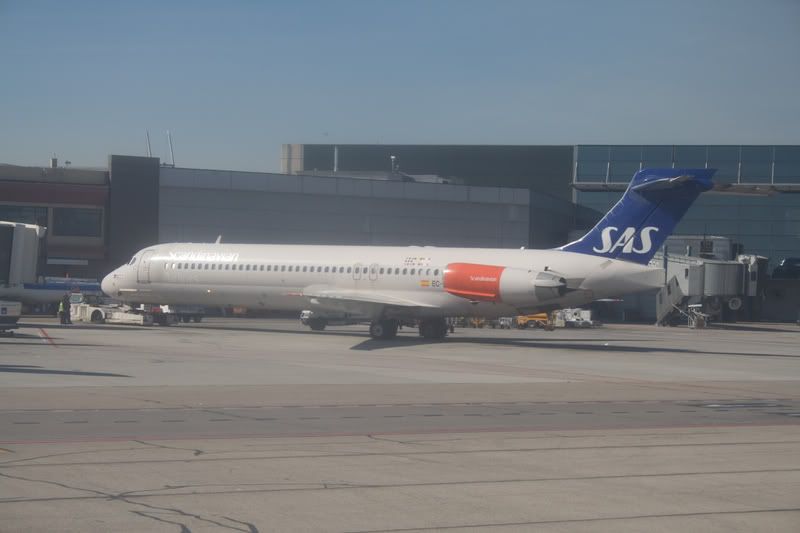 Spanish registered SAS MD87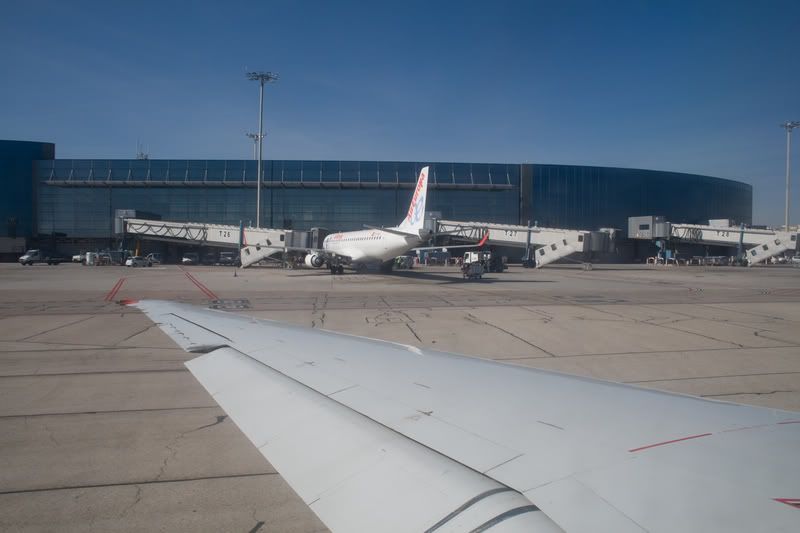 One of Air Europa's newly delivered E190's.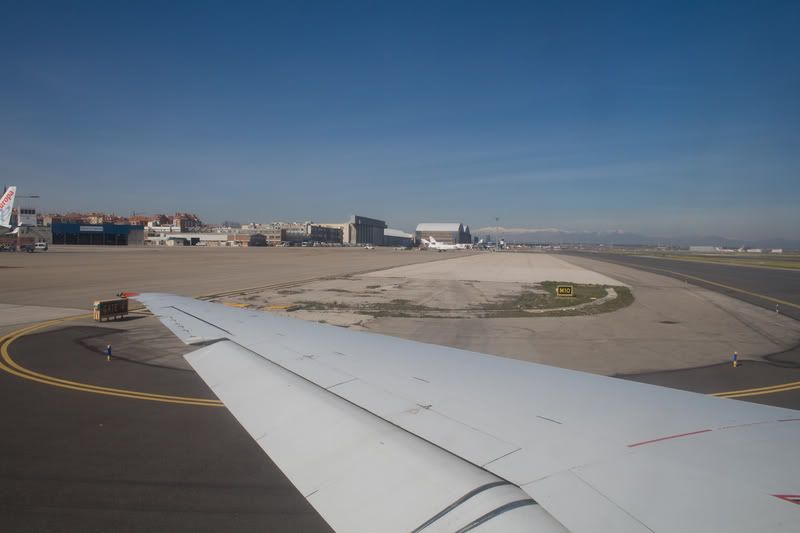 Maintenance areas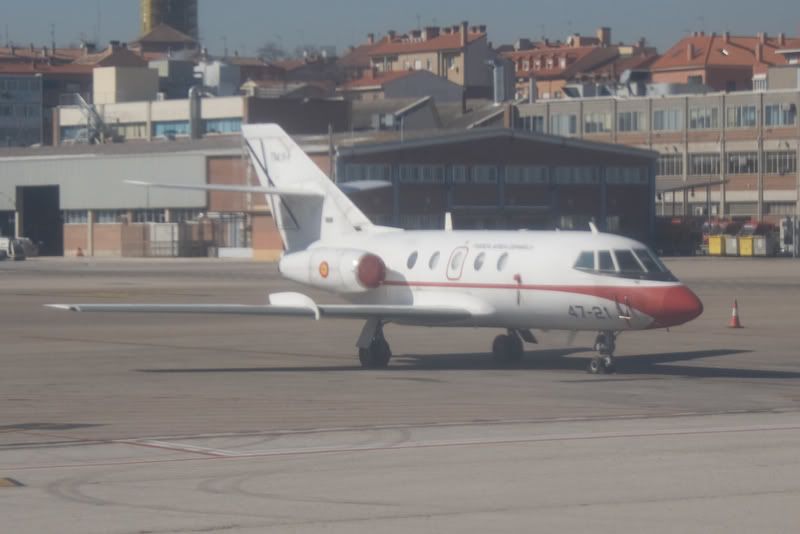 Spanish Air Force Falcon, I'll admit, I was quite excited to see this!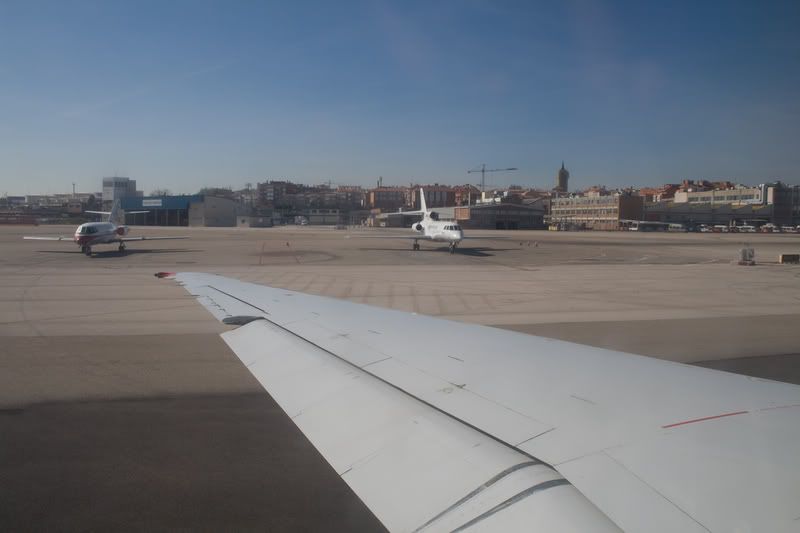 Falcon 20 and 50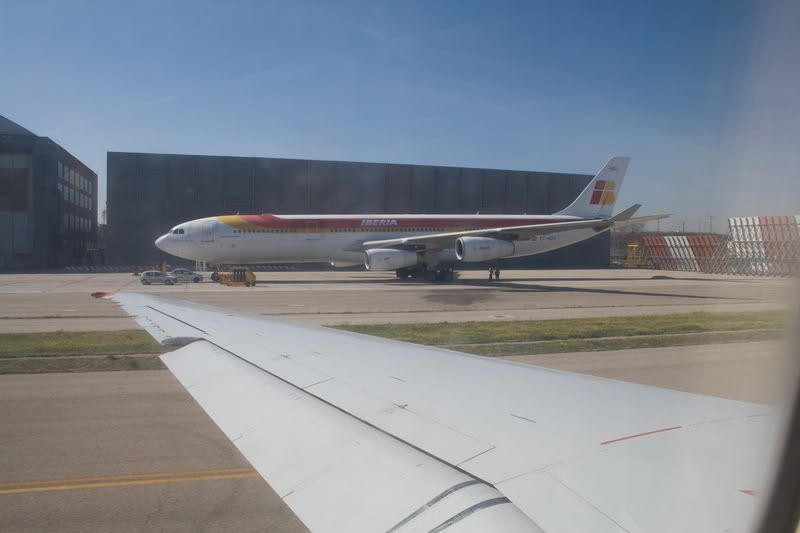 IB A343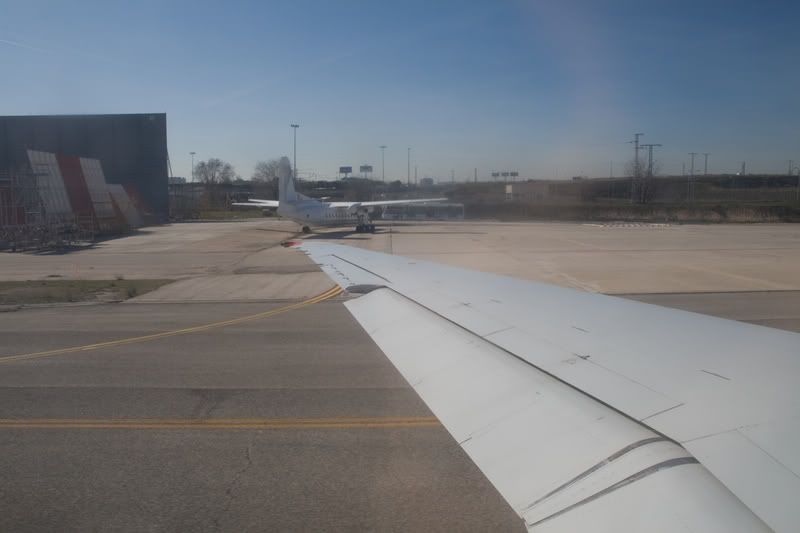 Fokker fellowship, pretty rare!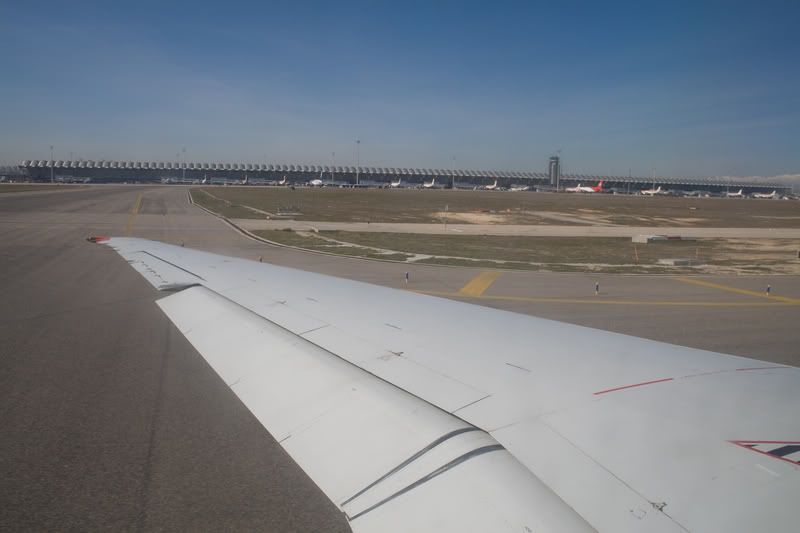 Terminal 4 in the distance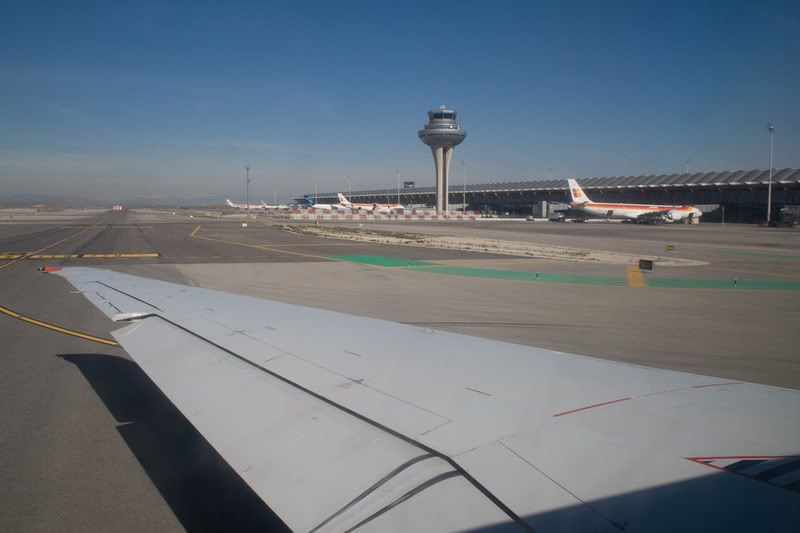 More terminal 4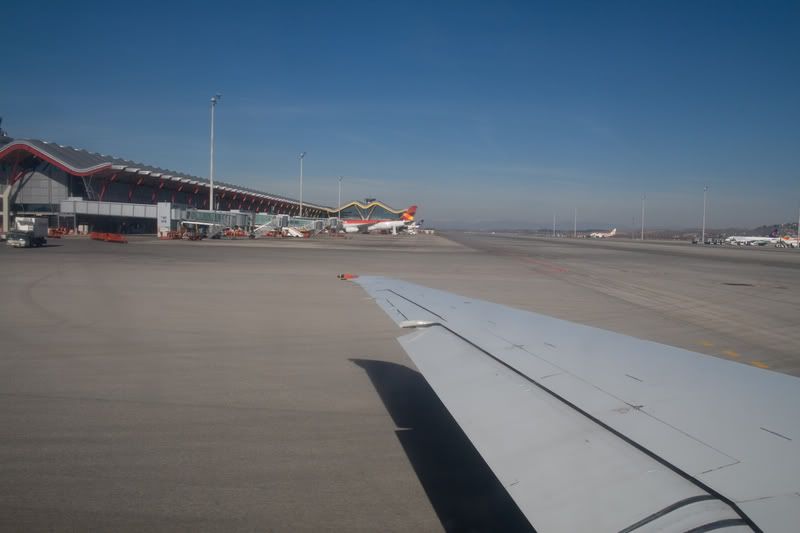 Passing 36L we witnessed a suitably lethargic IB A343 lift of very far down the runway chucking up plenty of dust.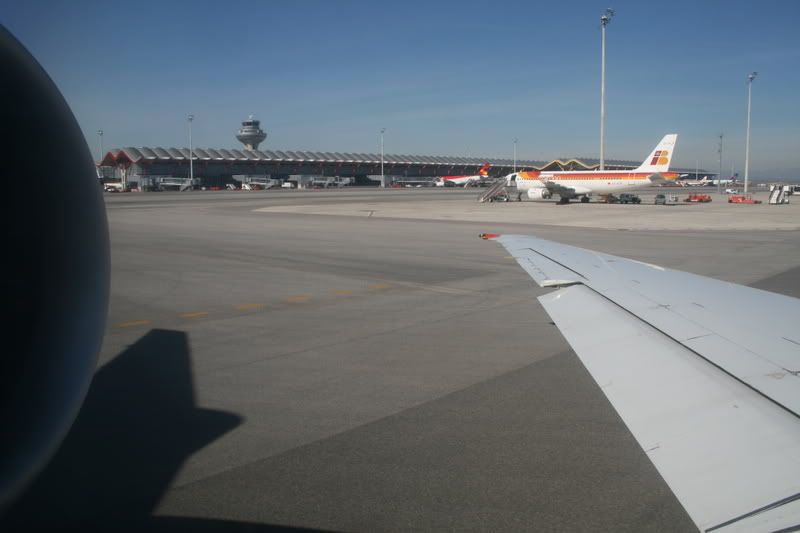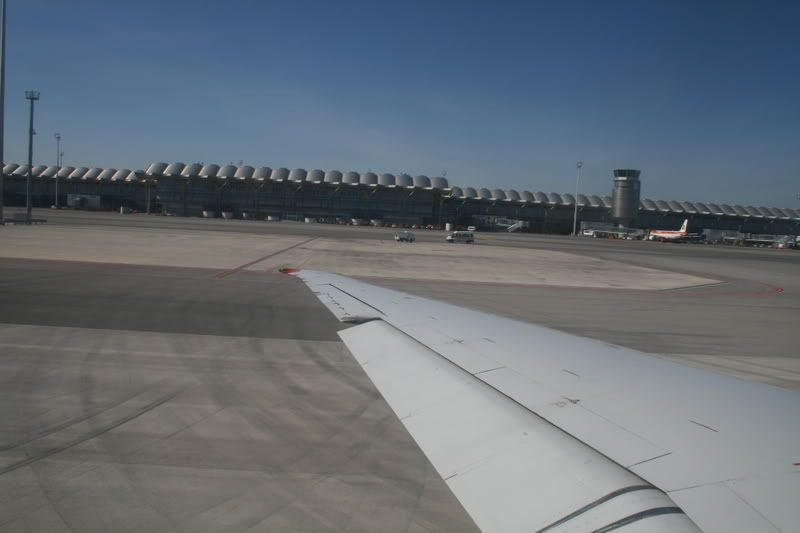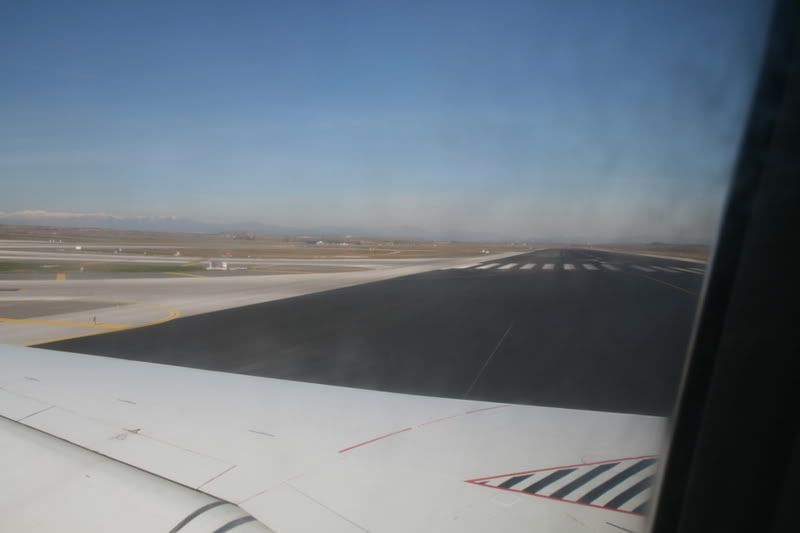 Brief view down the runway.
We pulled upto 36R behind a departing Luxair E145, lined up and waited for clearance to depart. After a short couple of minutes, we were cleared for takeoff. I was expecting the typical MD80 style departure, noisy, fast and very steep! I wasn't disappointed. For the first few seconds of the roll only a small amount of thrust was used, I was hoping for more, and was granted it! We were soon pushed into the back of the seats as we rolled ever closer to rotation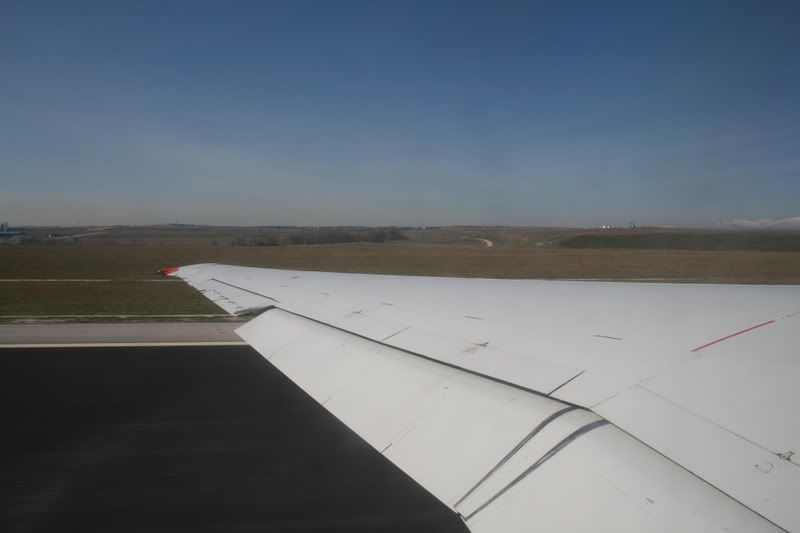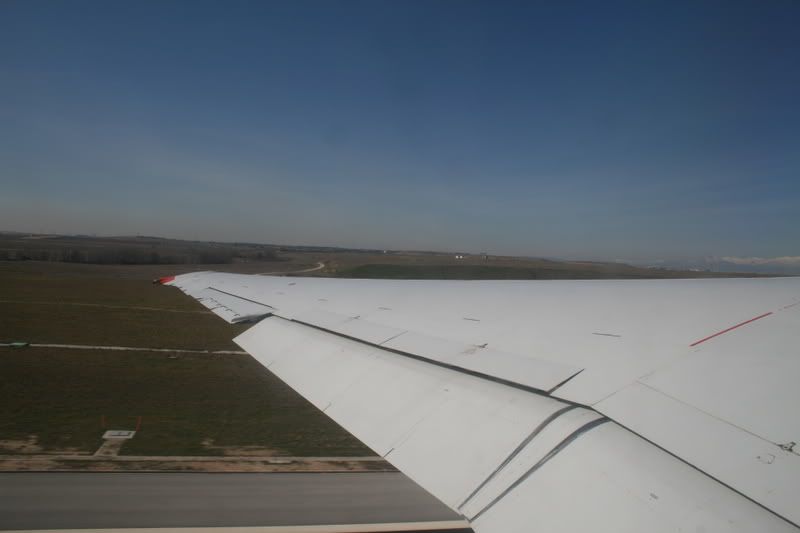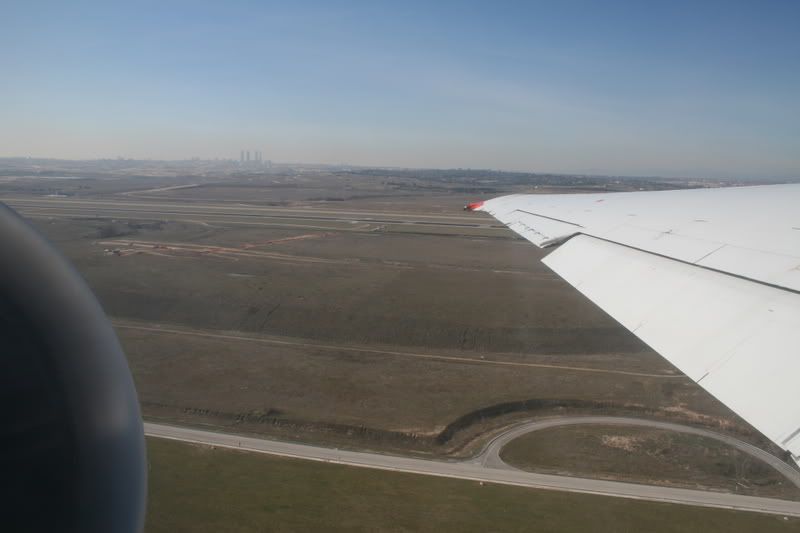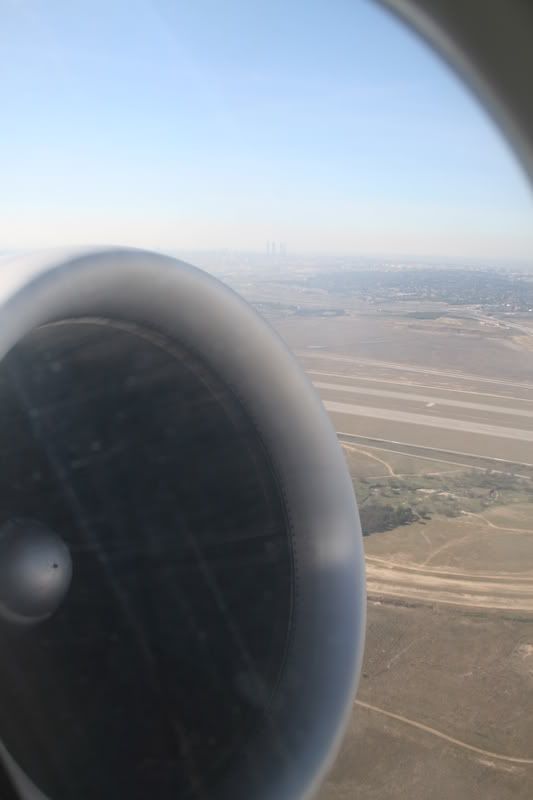 The climb got steeper and steeper, it was a bit of a task pushing my head forward enough to look out the window!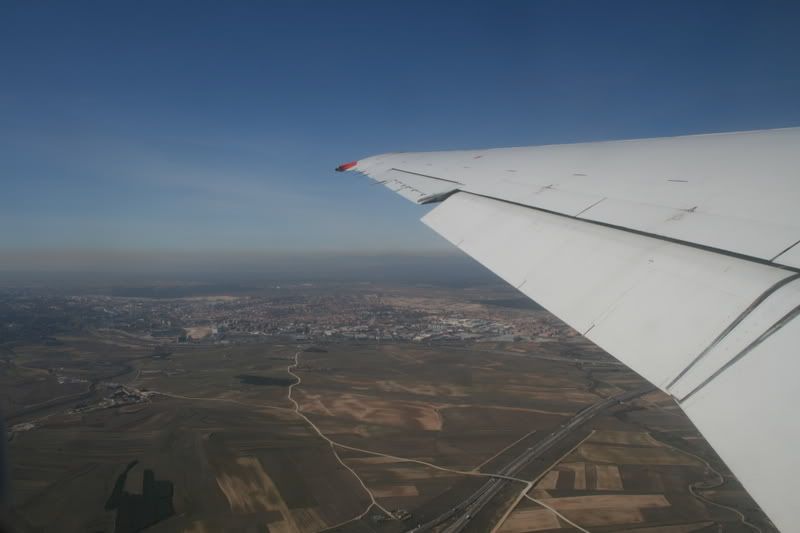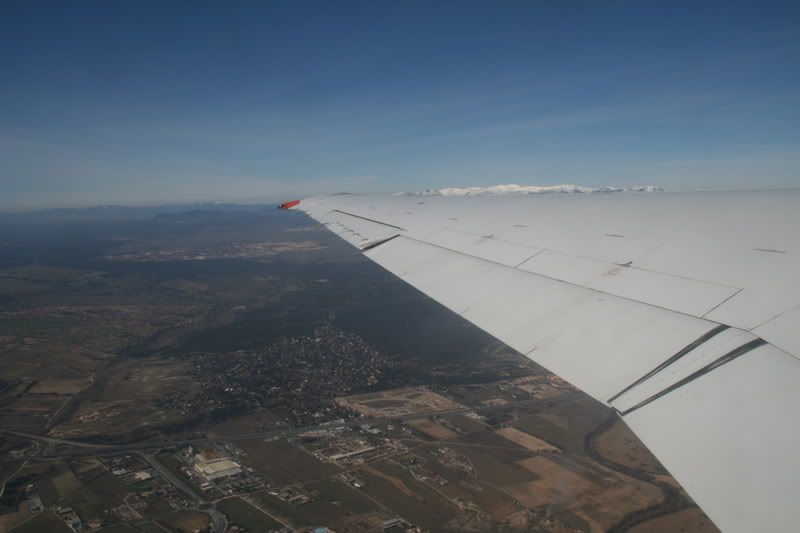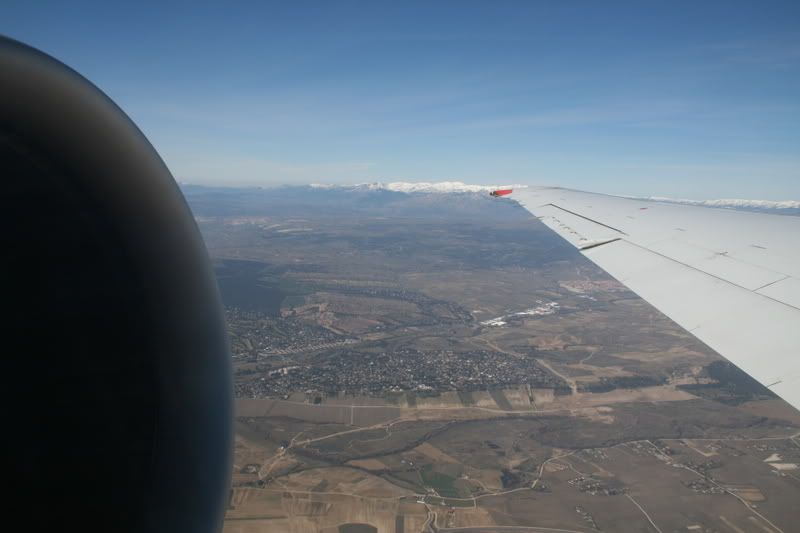 It seemed like an age until we levelled out enough for it to seem like a normal departure. I was really quite impressed with the performance of this 21 year old machine.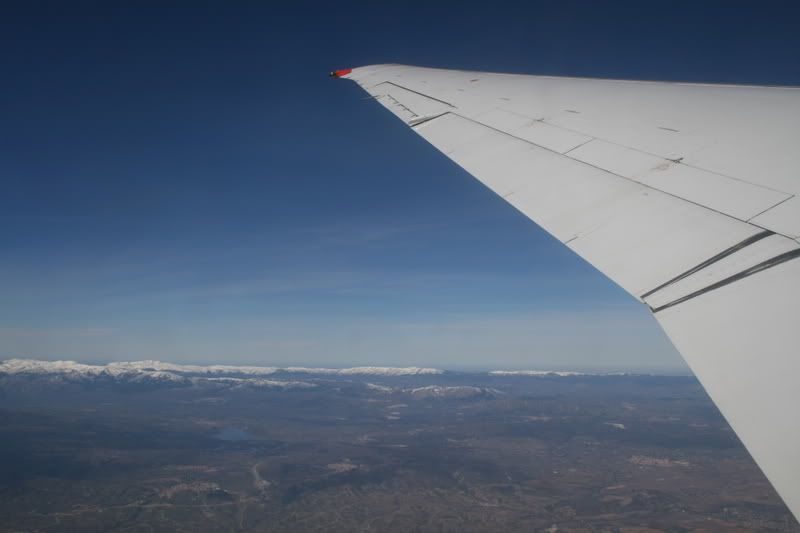 A distant mountain range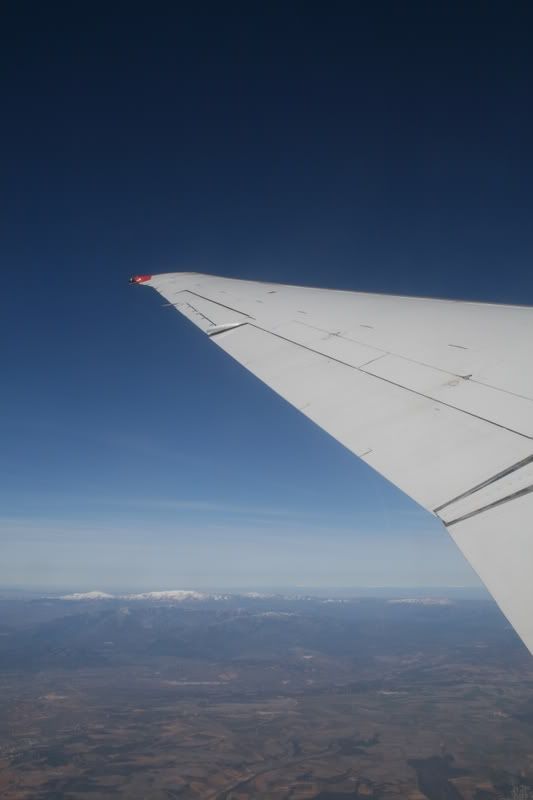 Deep blue totally clear crisp Spanish skies!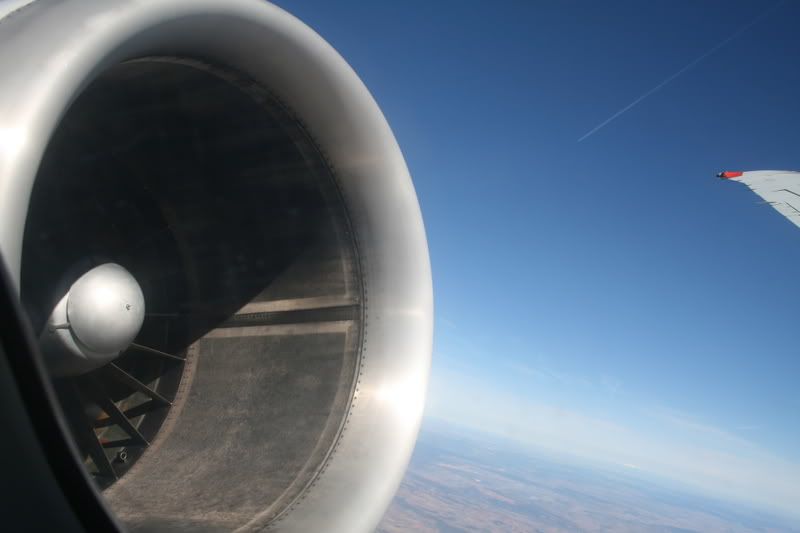 One of the JT8D's that power the aircraft.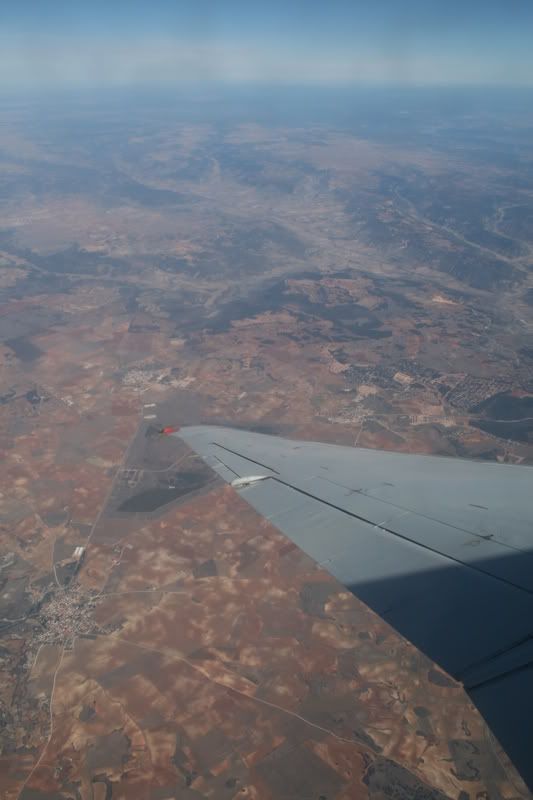 We reached a cruising altitude of what I can only guess as being the lower FL300 region. A snack service was started. Usually I try to stay away from "low cost" food and drink because of the extortionate prices, but I was thirsty enough to warrant spending 2 euros 50 on a bottle of orange juice. It was time to put my limited Spanish into use! I had to try and catch the eye of one of the serving flight attendants as she only offered the gent next to me anything to eat or drink.
Me: "Zumo de naranja, por favor" (Orange juice, please)
FA: "Como?" (pardon me?)
I clearly hadn't said it in a reasonable accent, either that or the sound of the engines drowned out my voice. I really didn't want to screw up their language more than once! I repeated myself and she seemed to get the jist of it, and was served my orange juice.
I sat back and enjoyed the passing scenery.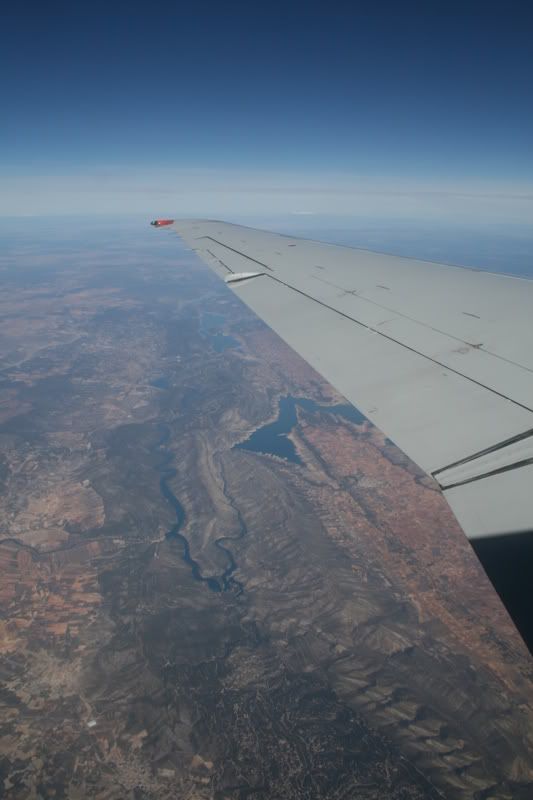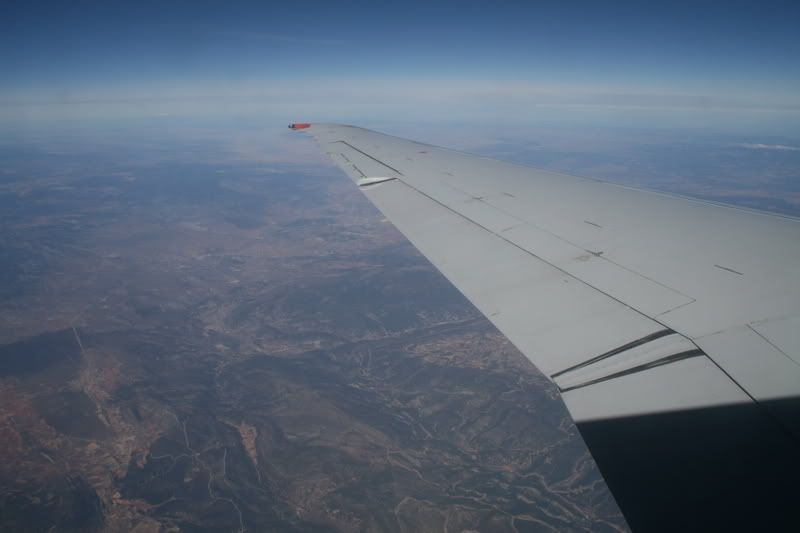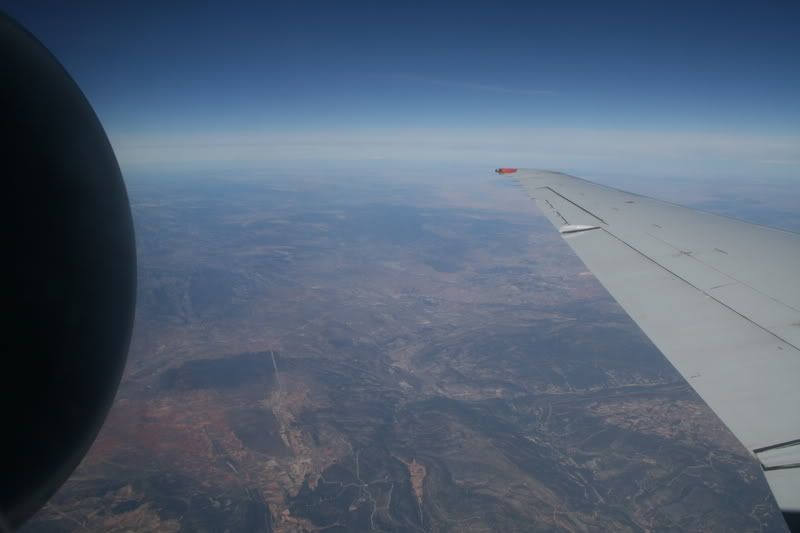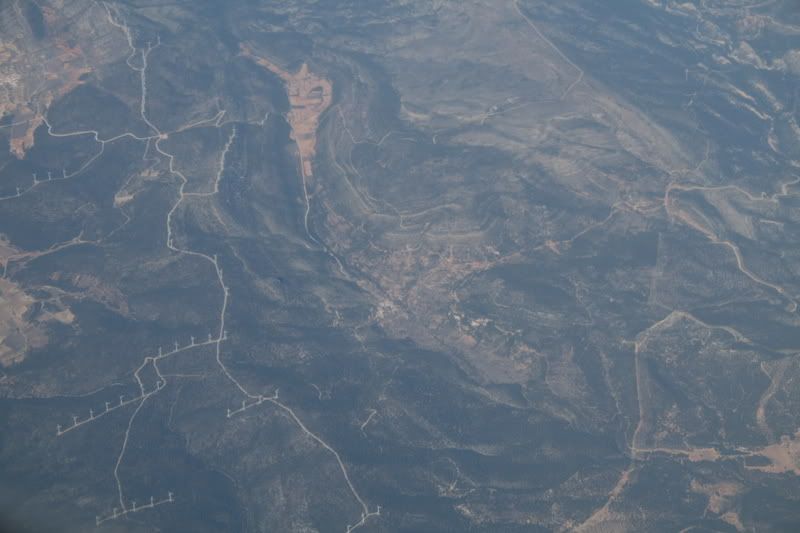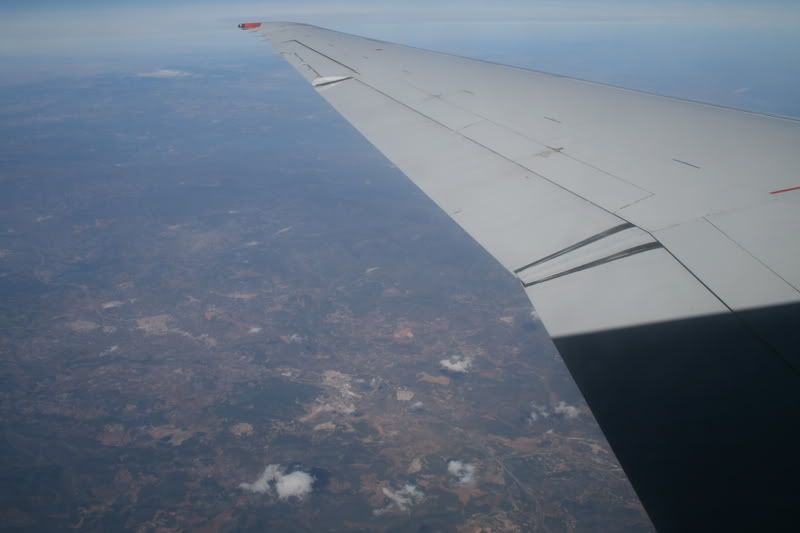 The coast soon came into view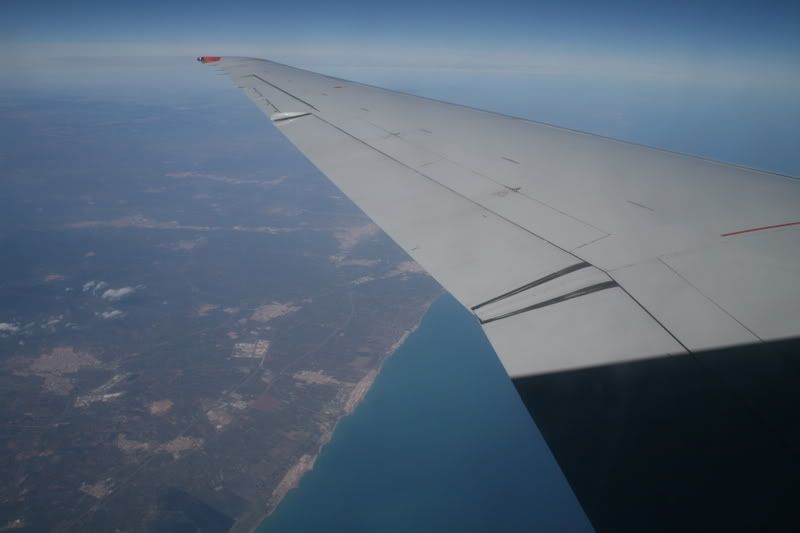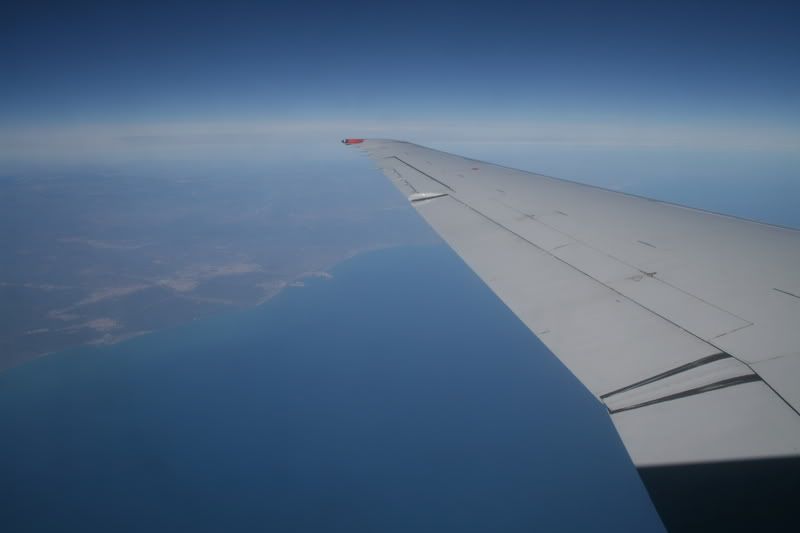 Our first sighting of clouds in Spain soon came into view, shocking!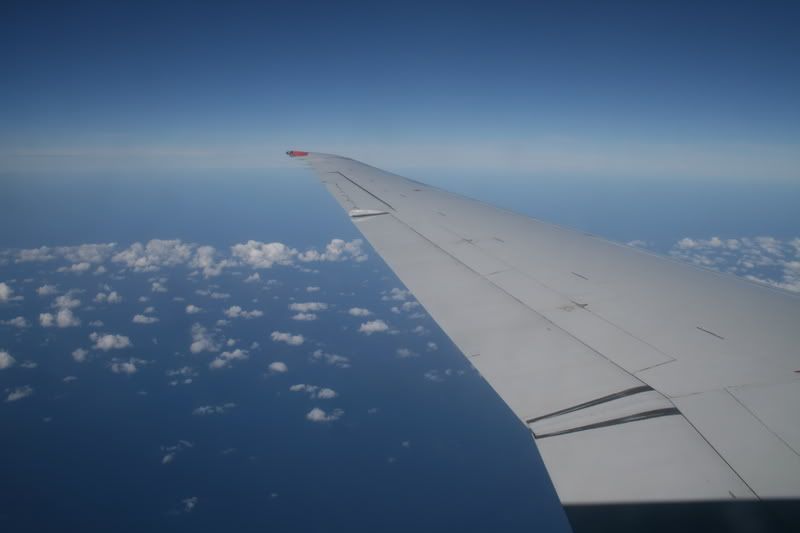 Litter was collected prior to descent and a basket of boiled sweets was passed around, which I thought was a bit of a nice touch! However, upon closer inspection, they were labelled "Business" and "Economy". Not wanting to upgrade myself, I went for one of the Economy variety  
Descent began and I turned my attention once again to the view outside. We made landfall and some stunning scenery came into view not before being engulfed by cloud.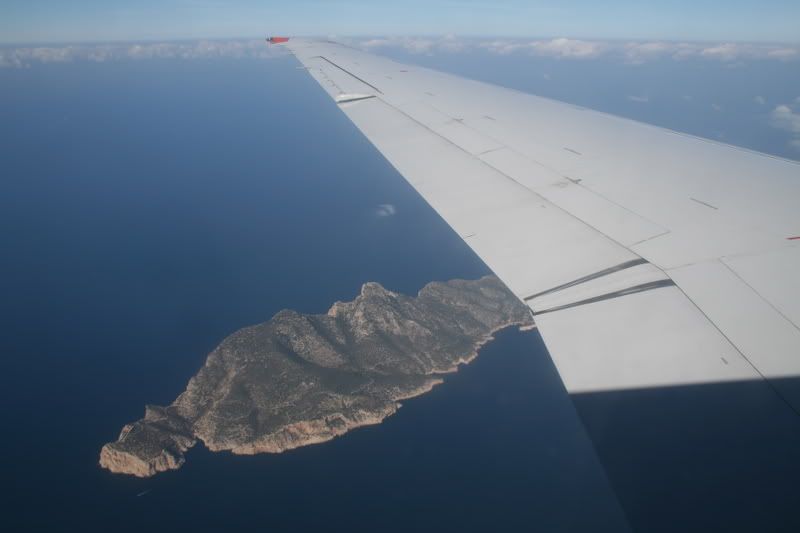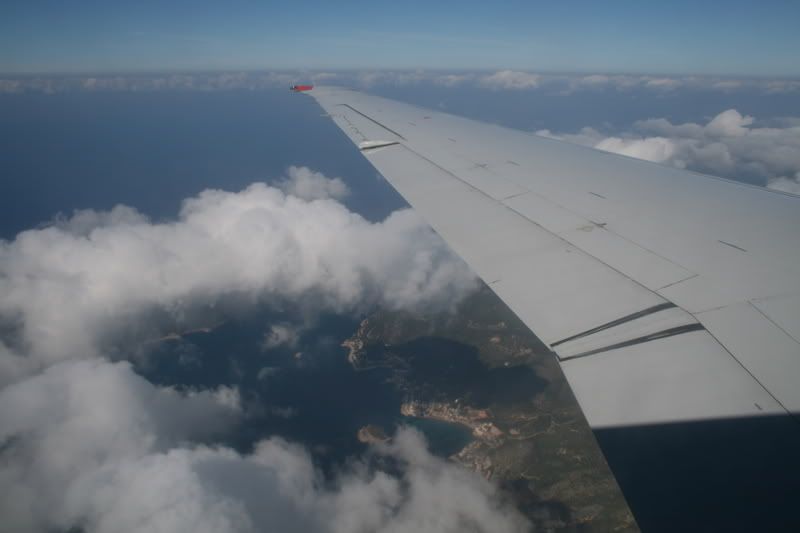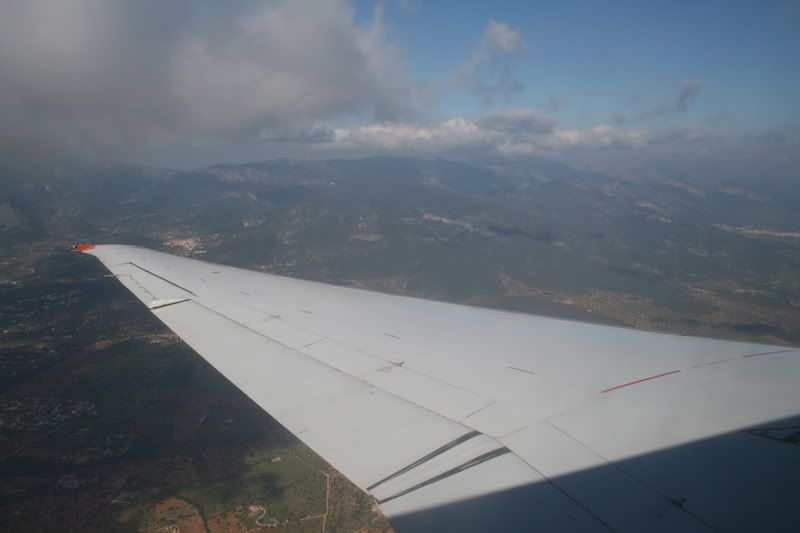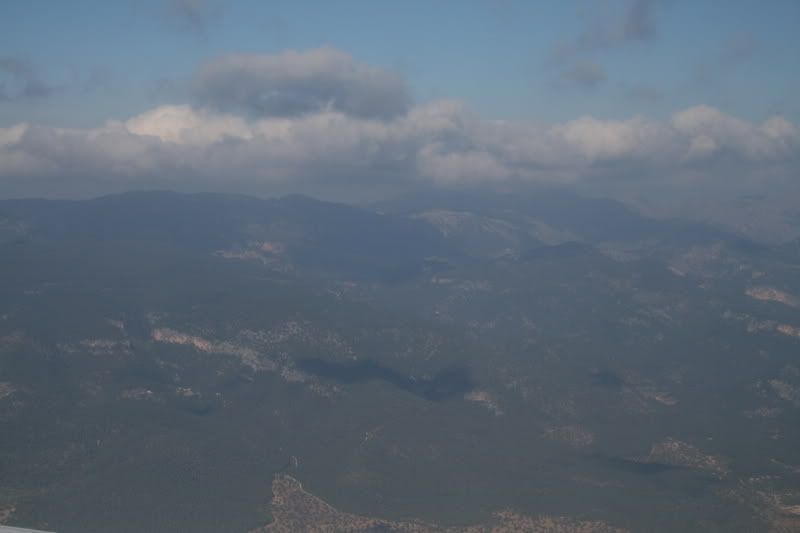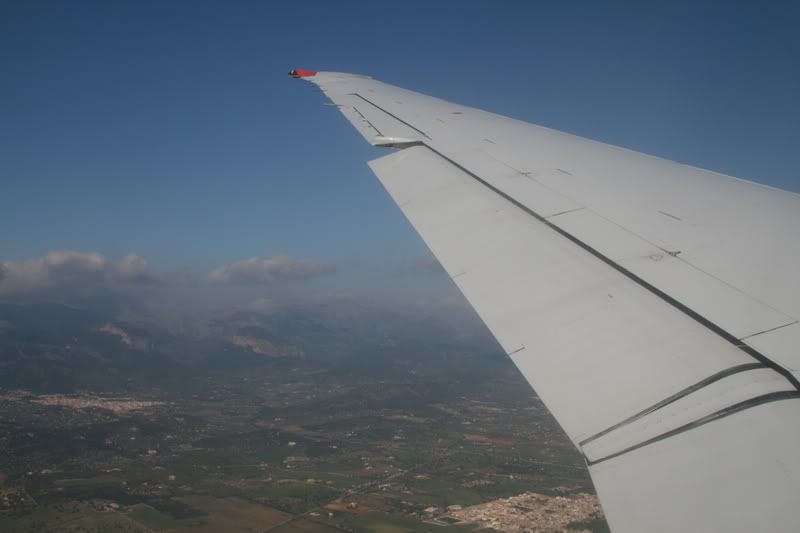 We made numerous right hand banks towards the south, then west. Flaps were lowered fully and gear was extended. The approach seemed quite tight as we were making quite a few steep banks.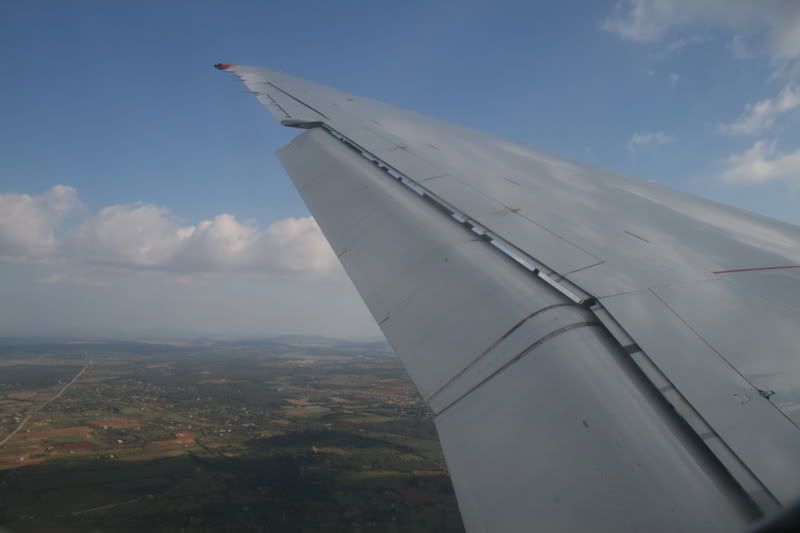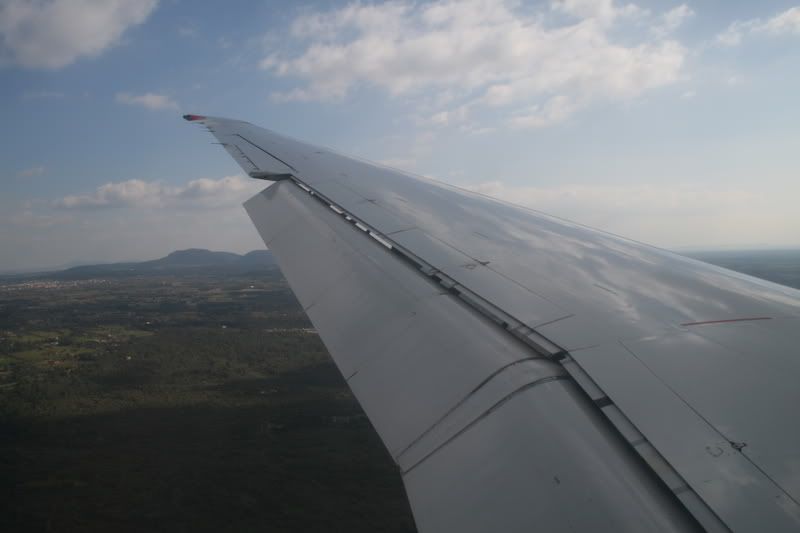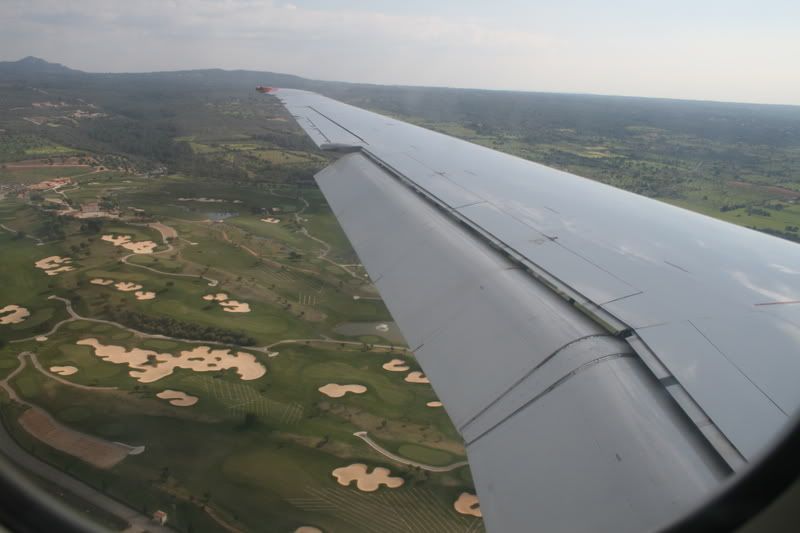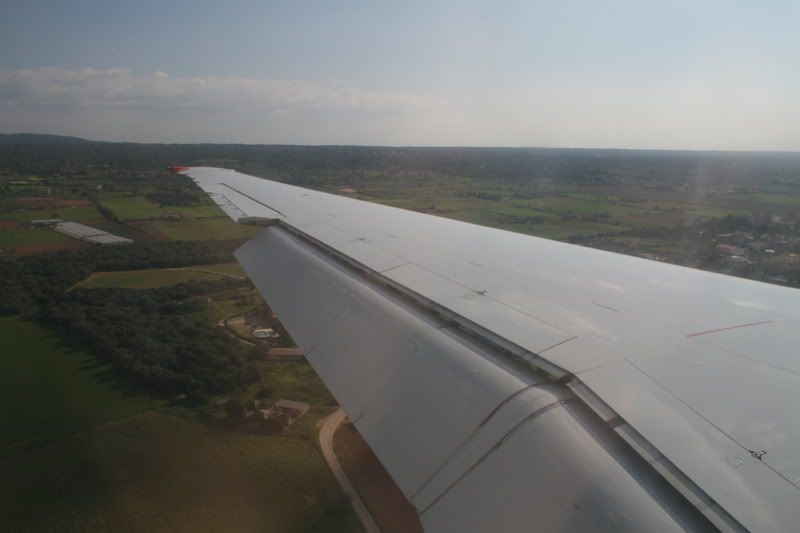 Unfortunately after this point the person sitting next to Jordan decided to start shouting at me for using the camera. "No camero! No camero! Plummeto!" or something to that effect. Due to my extremely limited Spanish I decided best not to argue and just ignored him for the most part, but didn't use my camera. Jordan has a video of the landing in which you can probably hear him!
We touched down on runway 24L and was smooth enough followed by reverse thrust and some spoiler action, and exited ¾ of the way down the runway. A very short taxi followed and we pulled up to the gate. We waited for the majority of the passengers to disembark before I got a couple of cabin shots. The cabin crew were pulling together their personal belongings so I assume is was the end of their roster for the day.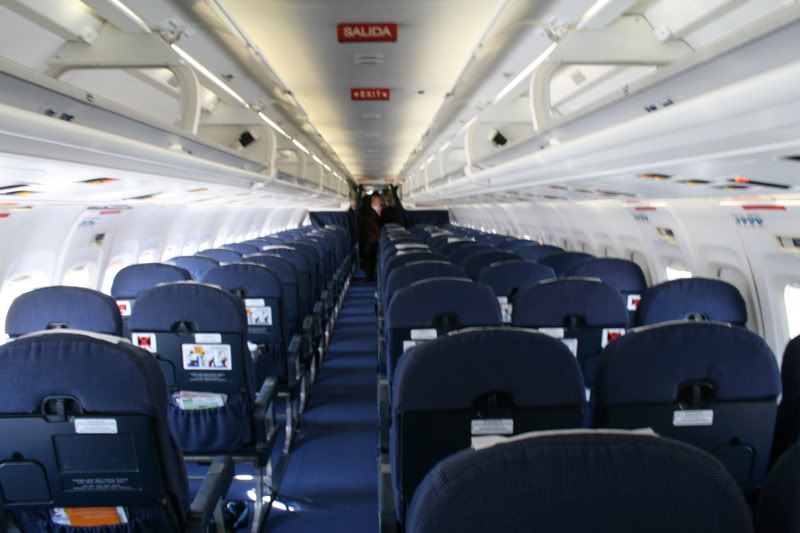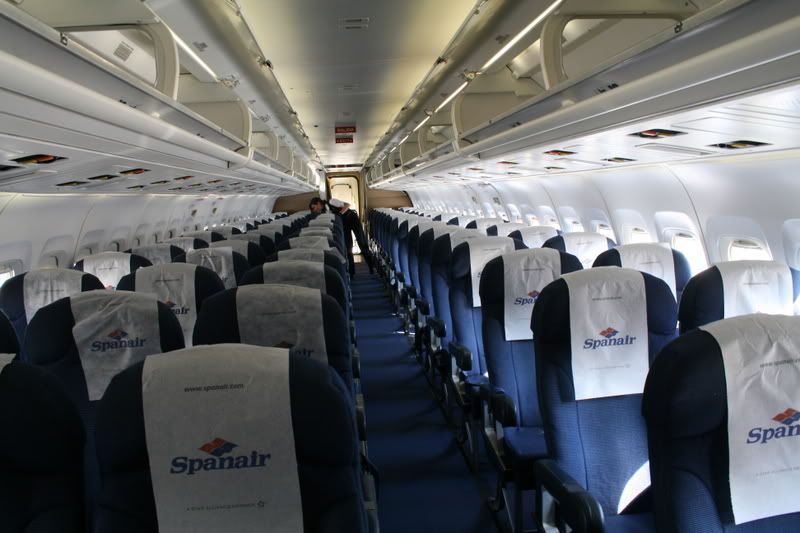 I proceeded to the cockpit, hopeful of getting a couple of shots. I asked the female first officer who told me it was "forbidden". I was a little disappointed as the MD cockpits are simply awesome! A little crushed we made our way up the jetbridge to the terminal building, not before grabbing a couple of last shots of our steed.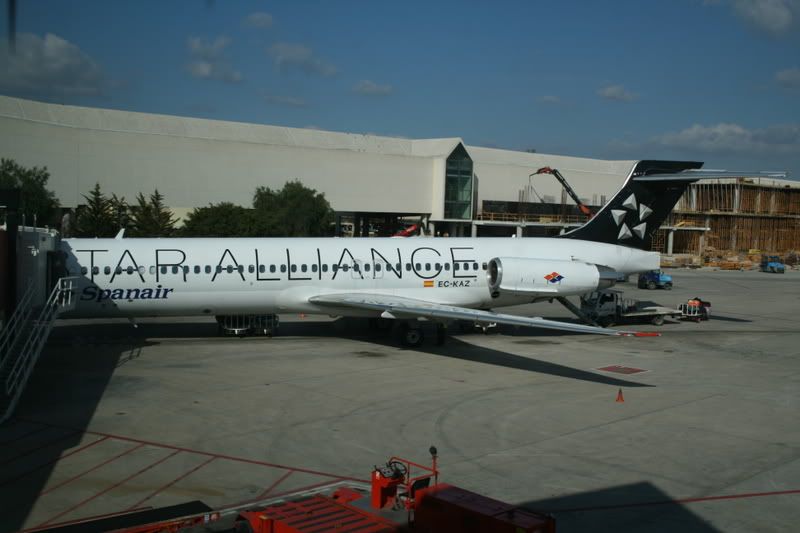 The terminal was incredibly quiet, somewhat eerie. I tried to imagine what it would be like in the midst of the summer with charter carriers bringing in pasty holidaymakers from the UK and Germany in search of a tan. All the tour operators' desks were locked up and there were one or two cars on the forecourt, not to mention a single, very bored looking police officer pacing the pavement outside.
We spent a little over an hour enjoying the sun, fresh air and non-stop Air Berlin departures, which is a new airline for me to spot. We hung around until EC-KAZ departed back to MAD. It was interesting to note that 737's and A319's were departing far further down the runway than the old workhorse MD87, which blasted skyward until it was out of sight at an incredible pitch. As 737's were just appearing above hangars the MadDog was already very airborne indeed!
I'm very happy to have got on the MD87's while they're still around. With JK rapidly phasing out their MD83's they're bound to become a rarer and rarer sight in the skies. But for now it was time for another A319 back to gloomy LGW.
Thanks for reading, feedback and questions are always greatly appreciated!
Tom 
Edit: Because I can't spell and/or do grammar
[Edited 2009-02-18 14:32:16]