AIR FRANCE
From: Caracas, Venezuela
To: Paris, France
L'Espace Affaires
Introduction
For today's journey I will be traveling PTY-CCS-CDG-NRT on CM and AF. However, the CM segment was nothing special so I will only cover the CCS-CDG segment for this TR and then the CDG-NRT in a separate trip report.
Airport
Having arrived from PTY on CM at about 2:30pm, I made my to the connections desk for Air France so that I could get my boarding passes. Once I got there, I was informed that the agents for AF would be arriving in about 30 mins. I did not want to wait for so long so I decided to head over to the Admirals Club of American Airlines which is the lounge that AF uses in CCS. I find this to be a bit odd considering that both AA and AF are in competing alliances.
Entrance to the lounge
I have been in this lounge a couple other times when flying Air France and I knew that it is nothing special, but it definitely beats out waiting at the departure gate.
When I arrived to the lounge I had to explain to the lady that I was in transit and that I was booked on AF but did not have a boarding pass. She called the AF desk at the airport and was able to confirm that I was on the flight and kindly let me in. Also, she informed me that representatives from AF would come to the lounge to hand me my boarding pass for CDG and NRT. I thought this was a nice touch on part of AF because the walk back to the transit desk was very long and all I wanted to do was just relax.
Snack and Bar area. Not much variety to be honest.
I was not very hungry and unfortunately there was very little to eat in the lounge so I just sipped on some vodka-orange juice and had a cheese ''arepa´´ which is a traditional Venezuelan food and is very delicious. At 4:30pm a boarding announcement was made and I made my way over to the gate.
Making my way to the gate.
Iberia A346 headed to Madrid
AF A343 which will take me to CDG
There was a long line of people boarding but fortunately business class passengers were able to by pass this line. However the ''guardia nacional´´ or national guard was checking bags and people for what I assume is drug contraband so within the ramp there was a long line and waiting before being able to board. I would say that I had to wait about 30 minutes as the line moved very slowly.
Boarding gate.
Long line within the jetway, thanks to the Guardia Nacional. They only had 1 person to check everybody!! Welcome to Venezuela.
Once onboard I was greeted by a friendly flight attendant and was shown to my seat. One of the things that I really like about Air France is that they have a hanger waiting at your seat to hang any coats and jackets. My jacket was immediately taken away by the flight attendant.
Making my way to the front of the aircraft.
My seat
Load in J class was 100%. All other times I have flown this route the J and even Y cabin is always near or at 100%.
Second section of J cabin. I liked this one very much as it is vey private.
Economy class
As boarding was nearing its completion, I was offered some champagne and I was just sitting in my seat waiting for departure and ready to start my long trip to NRT.
Because of the checking by the National Guard, we pushed back close to 40 minutes late, and we lifted off close to 60 minutes late.
Taxing to the active.
After holding short of the runway for about 15 minutes it got really dark. Here we are taxing again to position and hold.
Once we were airborne, the food and beverage service started. I decided to start off with some red wine and was given some kind of cheese snack. I honestly didn't like the snack because it was too cheesy, but still better than the usual offering of warm nuts.
Amenity kit
For appetizer I decided to go with the tomato mozzarella salad, which was pretty decent, but it was missing ''something´´ to be excellent.
Next came the main course which was rabbit. I don't eat beef and I also don't like fish so this was my only choice. I had to pretend that I was eating chicken because the thought of eating a cute and cuddly rabbit made me feel guilty. Anyways, the ''chicken´´ was tasteless and was not good. I ended up feeling guilty and I should have asked for the meal from economy if they had something besides beef or fish. Oh well, next time.
After the meal came desert which was some kind of cream pastry. It was not bad but I only ate half of it as I was full.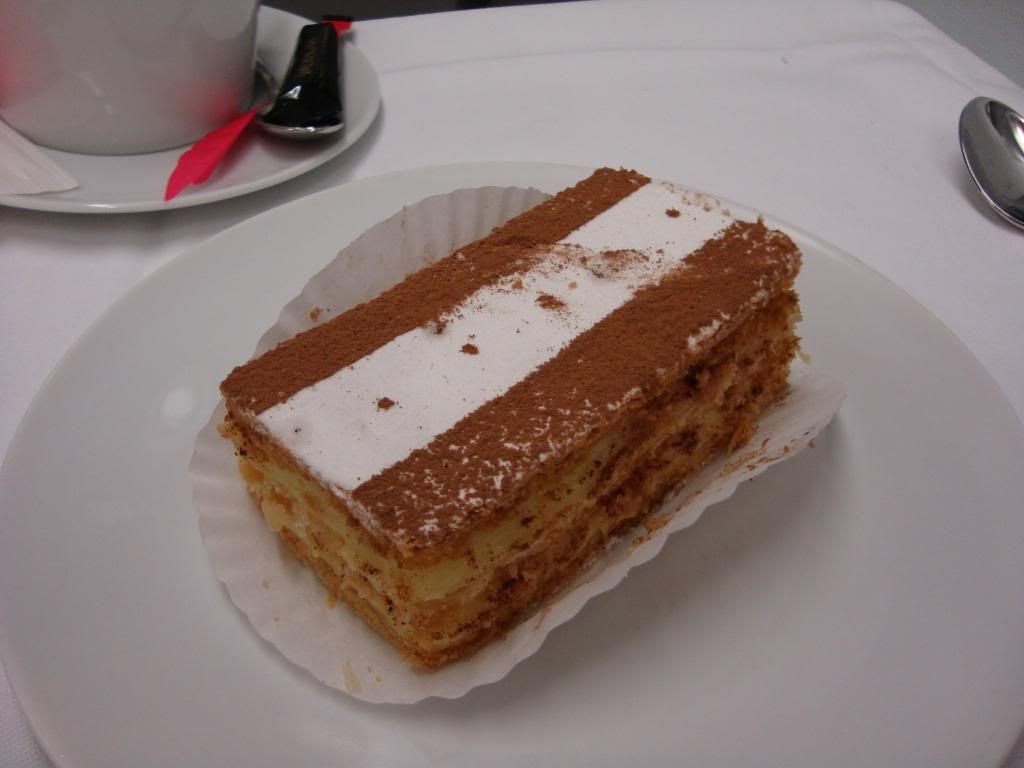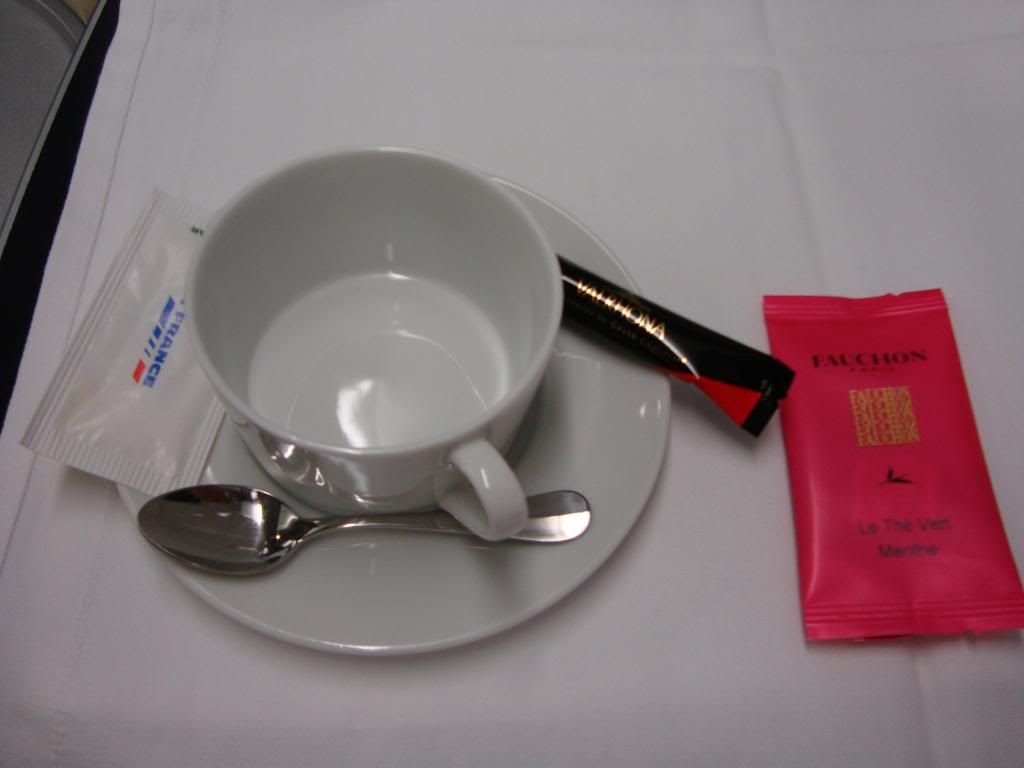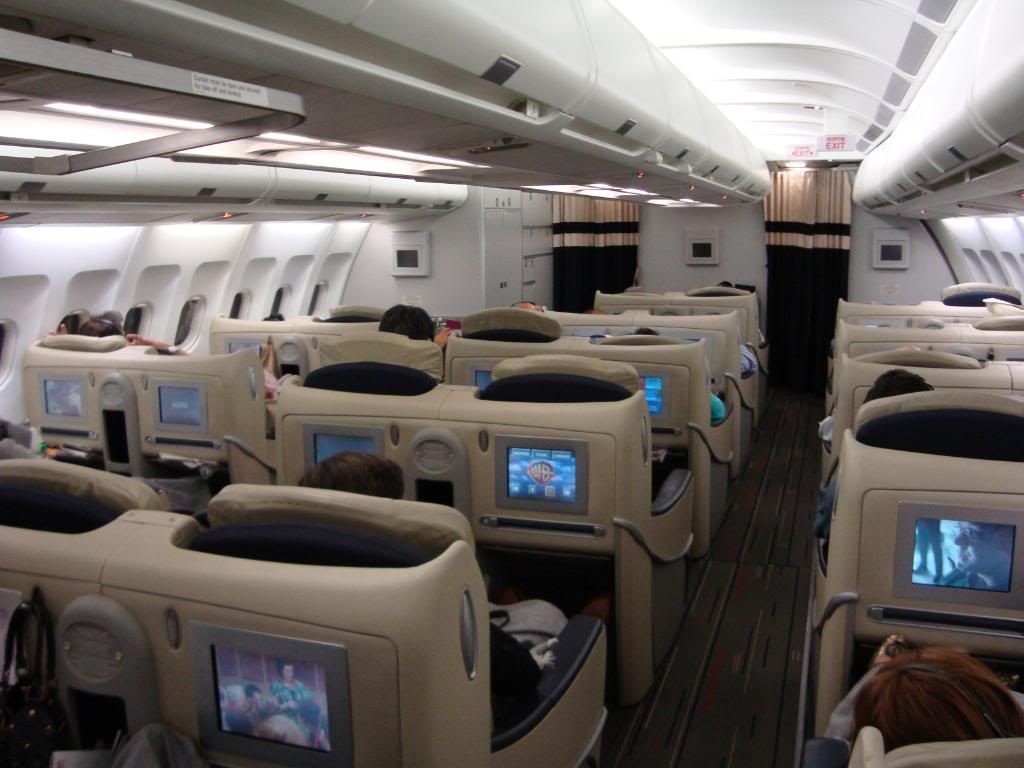 J Cabin after the meal service
By now I was pretty tired and reclined my seat and watched a movie and then dozed off to sleep.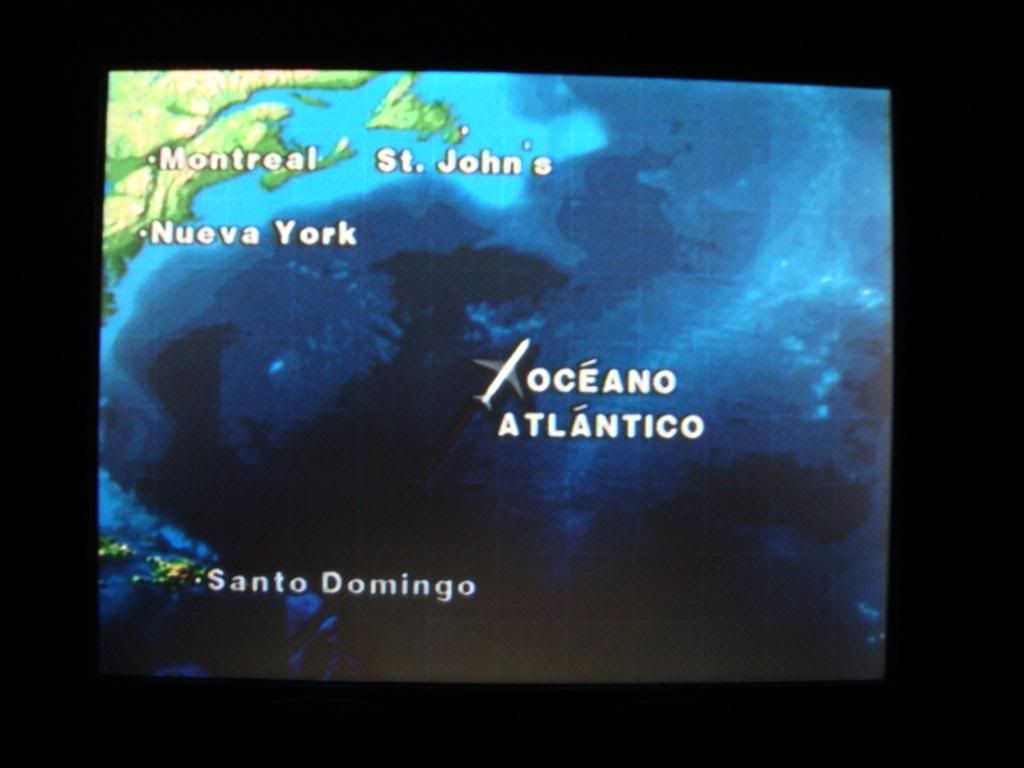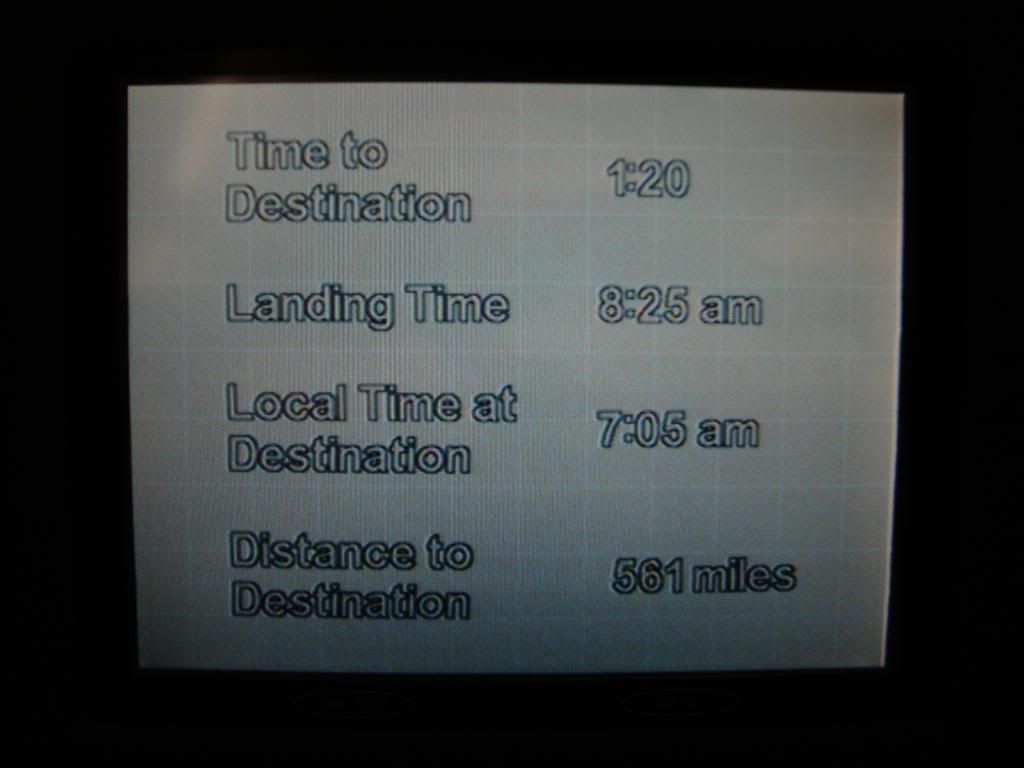 By the time I woke up it was close to breakfast time and we were about 1:30 away from arrival into Paris.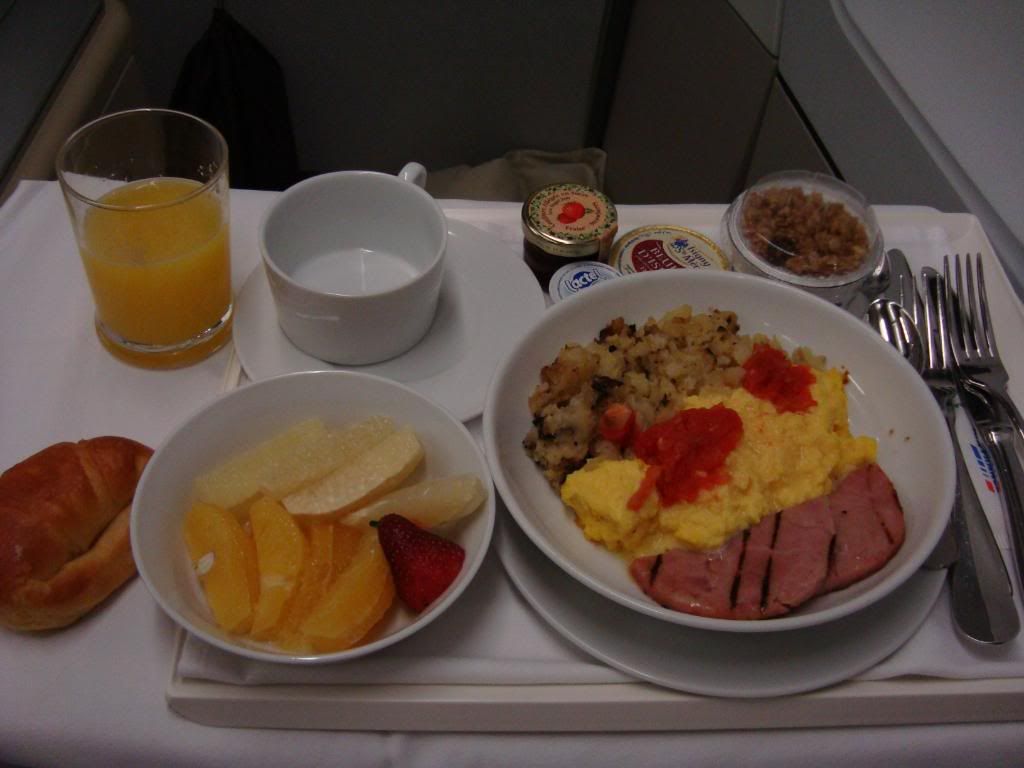 The breakfast was pretty good and the portion was pretty generous compared to previous breakfast meals I have had on other airlines.
After breakfast I went to the bathroom to freshen up, brush my teeth again, and stretch my legs.
We soon began the descent and the flight attendants sprang into action and started to prepare the cabin for arrival into CDG.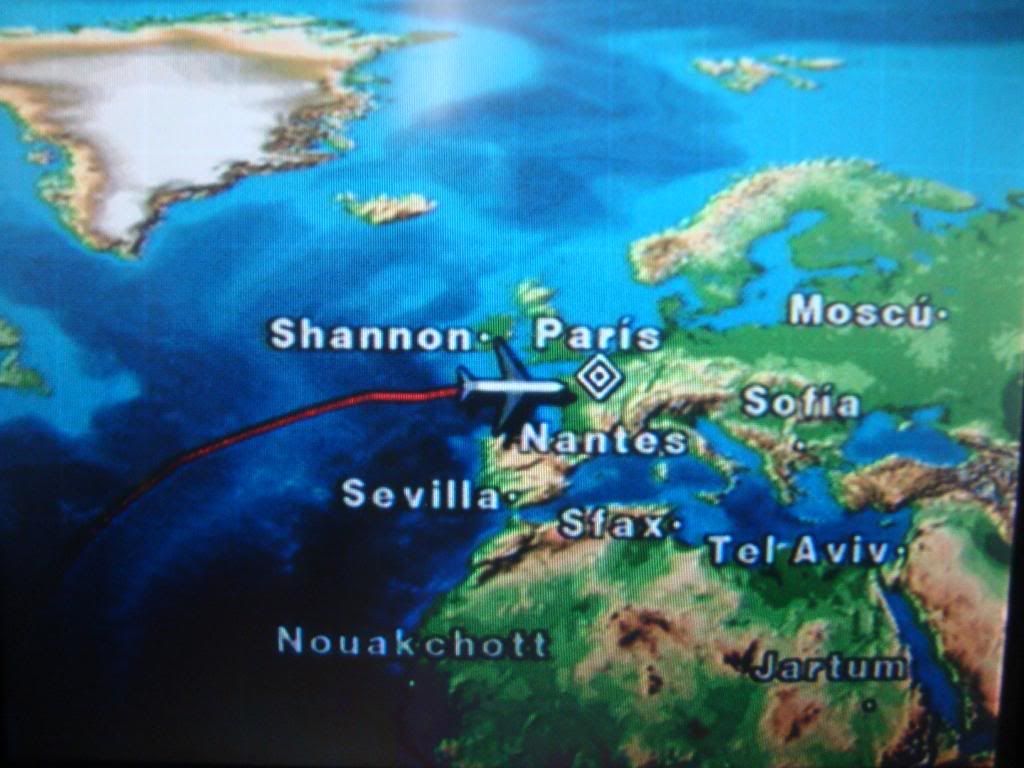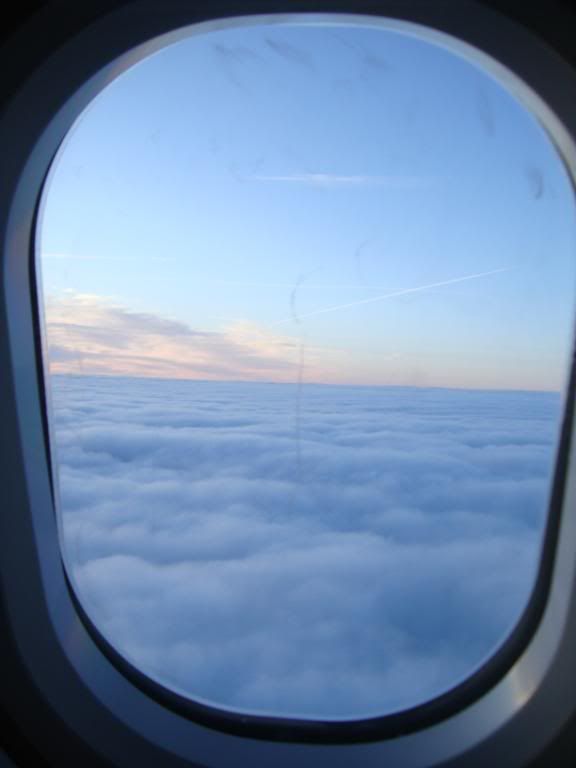 We touched down close to 9:30am and within 5 minutes we had taxied to our gate. My next flight to NRT was scheduled for 1:15pm so I knew that I had plenty of time to transfer terminals and go to the business class lounge for a shower.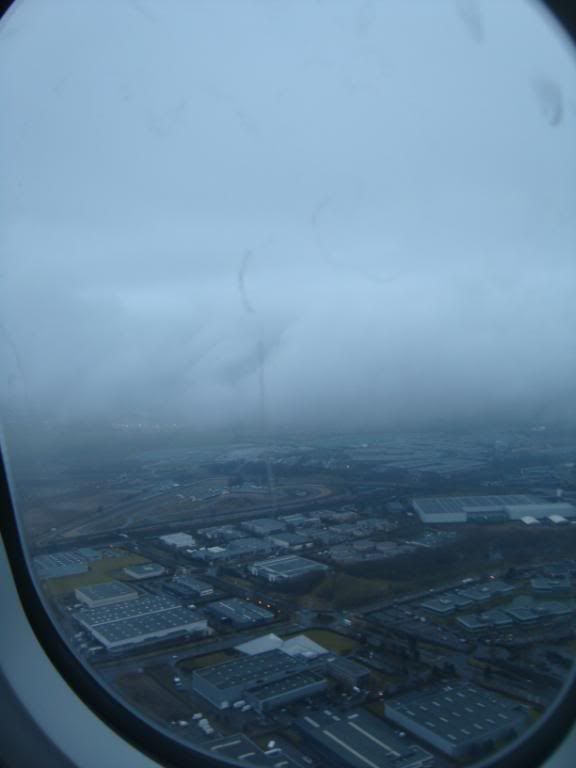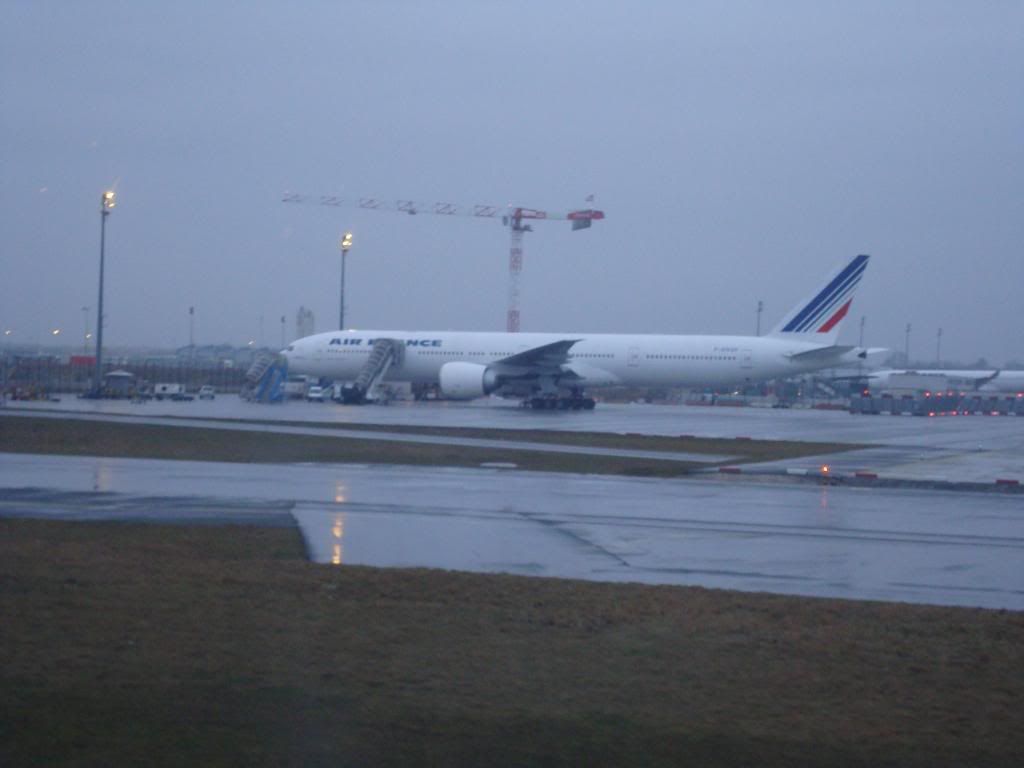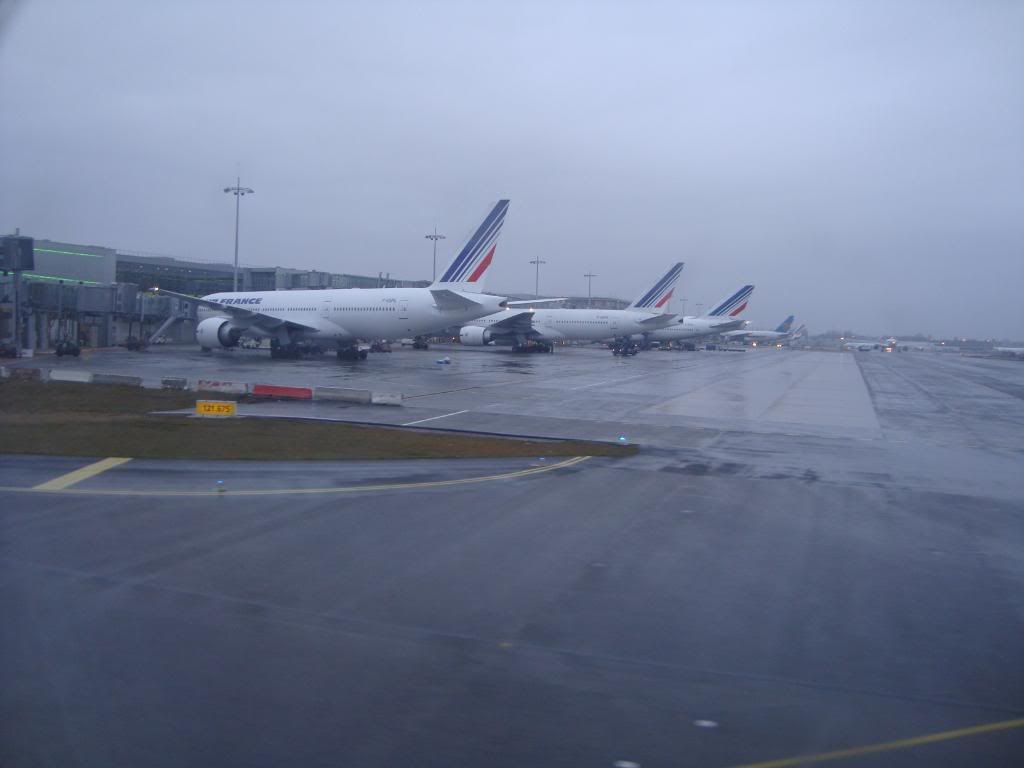 Luckily we were not taken to a remote station so I didn't have to cram into a bus with everybody else, and within 3 minutes of deplaning I was boarding a bus to transfer to terminal 2F. Luckily I was the only person on the bus and I was able to get some nice views of the airport and other aircraft at CDG. I had spotted a CO 777 bound for EWR or IAH and it put a smile on my face as every time I see a CO jet in a foreign country I feel as if I am seeing an old friend. Unfortunately I was so busy gawking at the 777 that I didn't have time to snap a picture of it.
Upon arriving to terminal 2F I had to clear security and then made my way past the duty free shops and reached the Air France salon where I took a shower and had some breakfast.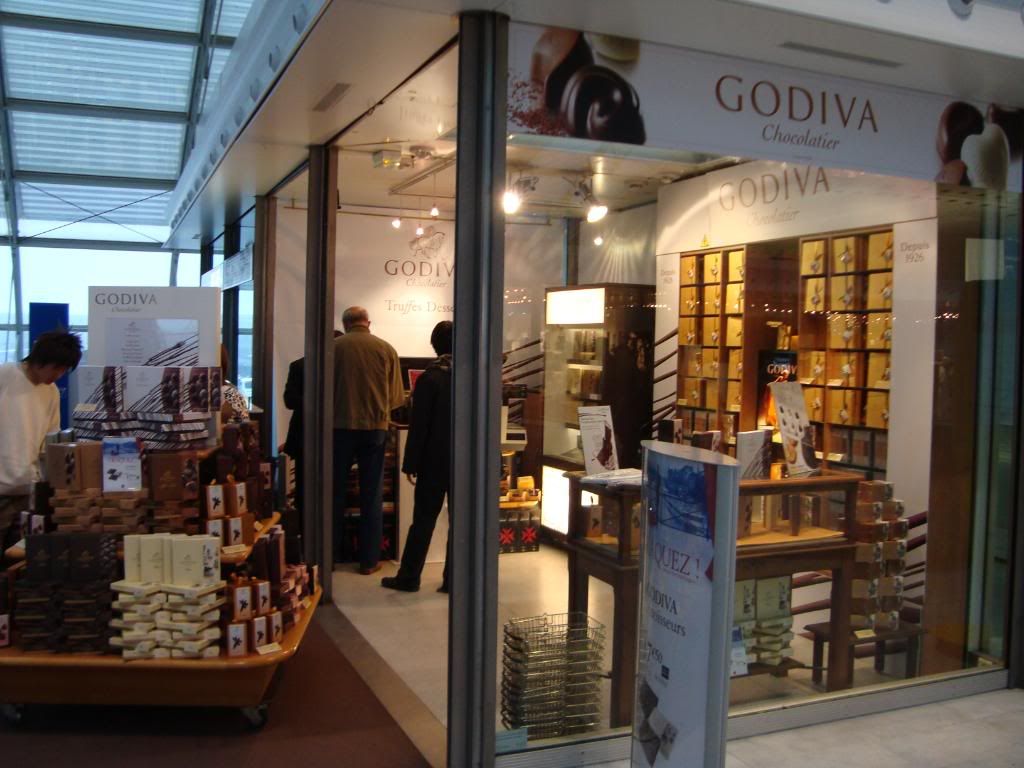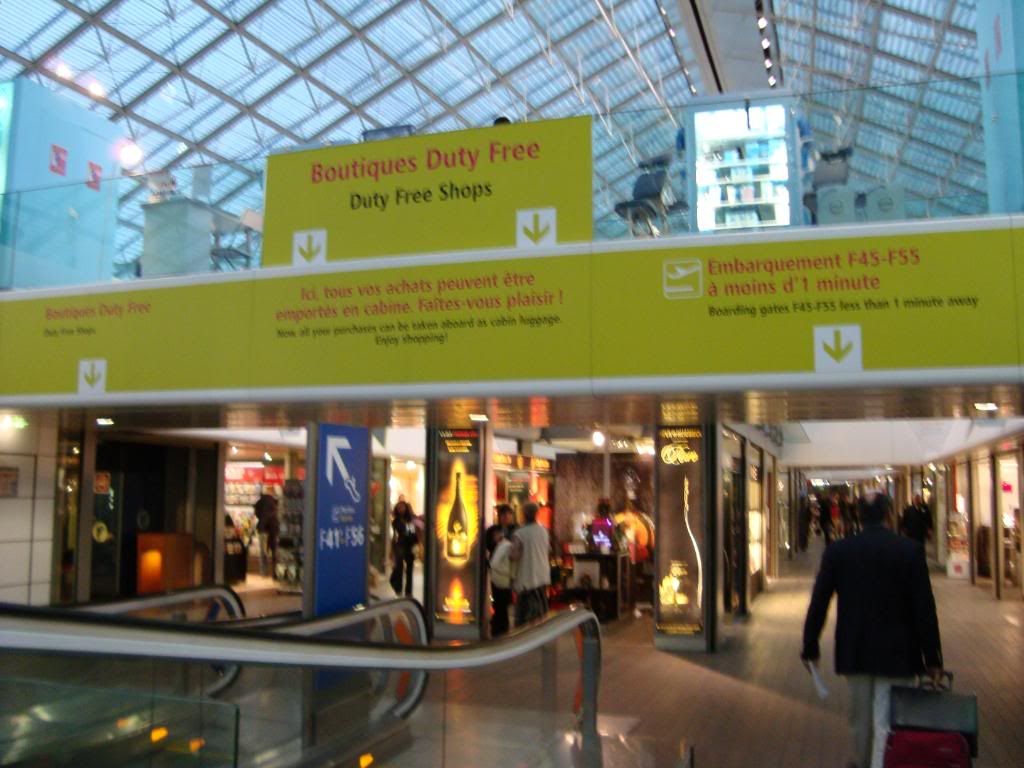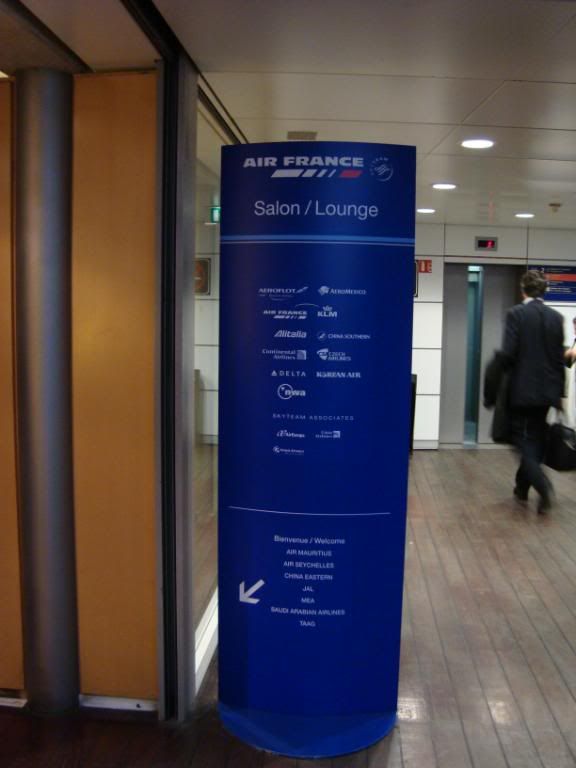 Conclusion
I have flown AF and KLM several times in Business Class and my opinion is that AF is the better airline. I really like the elegance and feel of the L'Espace Affaires cabin and the seat recline is pretty good and I was able to sleep very well.
Regarding service, the AF crew on this flight was very polite, professional, and friendly as they should be, but they were not extraordinary or on similar levels of Asian carriers. I really have no complaints regarding this flight and everything was very smooth and pleasant.
Considering that CO is leaving SkyTeam in October, I will try to fly AF long haul as much as possible while I can still earn miles to my OnePass account as I feel that AF is one of the top 5 airlines in Europe. I have heard and read many horror stories of AF service but thankfully I have only good things to say about my experience with this flight.
Thank you and I hope that you enjoy my next segments which will include CDG-NRT (should have it written within 1-2 days) and then NRT-CDG and CDG-CCS which will be in a few weeks.