Taiwan Sightseeing, Spotter-Style: TransAsia Airways ATR 72-500,
UNI Air Dash 8-300 and Taipei 101
Picture by Satchmo
Intro
Part number 5 of my recent trip report series will take you readers on a turboprop tour to
Makung
, one of the
Penghu Islands
, right in the middle of the Taiwan Strait. The focus will be on
TransAsia Airways
(ATR72-500) and
UNI Air
(DHC-8Q-300), two airlines which offer a dense domestic network and fly to a handful of international destinations. In addition, you will find a series of pictures from a visit to the (officially) tallest building in the world - the
Taipei 101
.
Background
After booking our side trip to Taipei several weeks prior to the journey, we started searching for domestic flights in Taiwan. Unfortunately, the websites of all carriers offering domestic flights were not available in English - and the well-known flight search engines only showed a very limited number of destinations and flights. So after seeking advice from fellow a.net members from Taiwan, we decided to wait and ask for flights directly at Taipei Songshan Airport. Domestic fares in Taiwan are fixed, so flights would be still available at reasonable prices.

All those who have missed parts 1, 2, 3 and 4 or want to read more about the background of the trip simply need to click here:
Striking Newcomer: Berlin-Beijing On Hainan A330
PEK-SHA, China Eastern A330 & Shanghai At Night
SHA-SZX, Shanghai 757: Delayed By The Military
"The Wings Of Taiwan": EVA Air A332, 744 Combi
The Difficult Flight Search
Immediately after our arrival from Hong Kong at Taipei Taoyuan Airport we took a bus to Taipei Songshan Airport which is the country's domestic hub. 50 minutes later we stepped off the bus and entered a rather deserted and outdated terminal hall.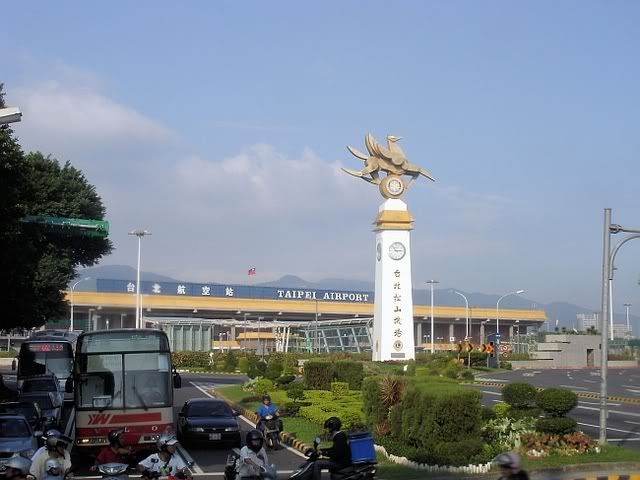 It was an early afternoon on a Thursday, apparently not a busy time at this airport. We went to a counter which seemed to belong to a ticket sales office. Two very friendly male agents soon explained to us that this was a dedicated sales counter for the military, but they gave us a printed timetable with all domestic flights and showed us the fares.
We said "thank you", checked the flights in the timetable and decided to book a roundtrip on the next morning – a Friday. The destination didn't really matter, all we wanted to get was a trip on two different airlines - if possible including an UNI Air MD-90. Several destinations like Kaohsiung aren't served frequently any longer after the introduction of a high speed rail link along Taiwan's west coast. We soon identified Kinmen, an island only two kilometers off the PRC's coast, as the most interesting destination because it is served frequently by Mandarin Airlines, TransAsia Airways and UNI Air (MD-90 only). Our plan was to get a combination of TransAsia Airways (ATR 72) and UNI Air (MD-90)...
Again, very friendly agents welcomed us at the UNI Air ticket counter and tried to help us. However, the English skills of the young agents were limited, so they called an older colleague. Only a few minutes later the guy had shocking news for us: The desired morning flights on Friday morning were already sold out - weekend traffic! So we went to the TransAsia Airways counter where the friendly agents couldn't help us either - all those flights which could have been combined with any of the UNI Air MD-90 sectors were sold out, too. Then we asked for alternative flights on turboprop models to various destinations - but the flights were either sold or the flying times were simply unsuitable.  
So what to do? We checked the timetable for flights later in the afternoon and went back to the UNI Air counter. After another round of searching, the agents told us which flights would still be available. Flying to Makung was one of the possible options - now we were hoping TransAsia Airways would still have seats available on the contemplable flights. We asked the UNI Air agents to hold the seats for a few minutes and went to the TransAsia counter. I guess the agents must have rated us as crazy by now...but I told them we were just interested in flying different carriers.  
Fortunately, the TransAsia agents could offer us free seats, too, and so we finally booked a roundtrip to Makung. We would already depart at 16:45, only about an hour from now, and be back at Taipei at about 20:00. The last problem which we faced was the rejection of my MasterCard at the TransAsia counter - a technical problem which didn't occur for the first time, btw.
Satchmo
also has a MasterCard, but luckily, they accepted my older VISA card. We paid about 150 Euro (per person) for the roundtrip which was worth it, considering we would get two rare carriers on an exotic route (from a European point of view).  
Thursday, 06 November 2008
Taipei Songshan (TSA) - Makung (MZG)
TransAsia Airways, GE513
16:45-17:35 (16:47-17:41)
Flying time: 00:45 (hrs)

ATR 72-500
B-22806 (MSN 560), delivered in 12/1998
Economy Class, Seat 7C
Airside Spotting & Boarding
Security was just a matter of two minutes, the airport was really deserted at this point of time. There was still enough time left for spotting, so we tried to find a good place at the window front. Active Mandarin Airlines aircraft (Fokker 100, Embraer 190 on the left) together with some stored ex-Far Eastern Air Transport (FAT) MD-80s:
Immediately after taking the first picture, a (friendly) airline employee told us that we should better not take any pictures - due to the military use of the airport. Well, I decided to be a bit more discrete with my camera and binoculars...  
TransAsia Airways ATR 72-500 B-22807: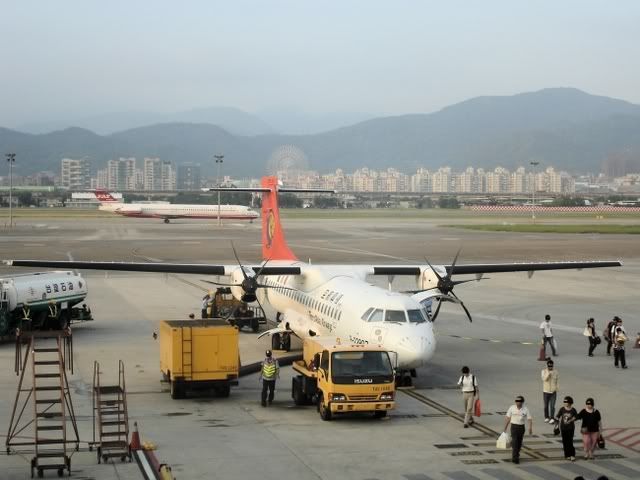 Boarding started on time and we walked to our aircraft,
B-22806
, one of nine ATR 72-500 in the TransAsia fleet: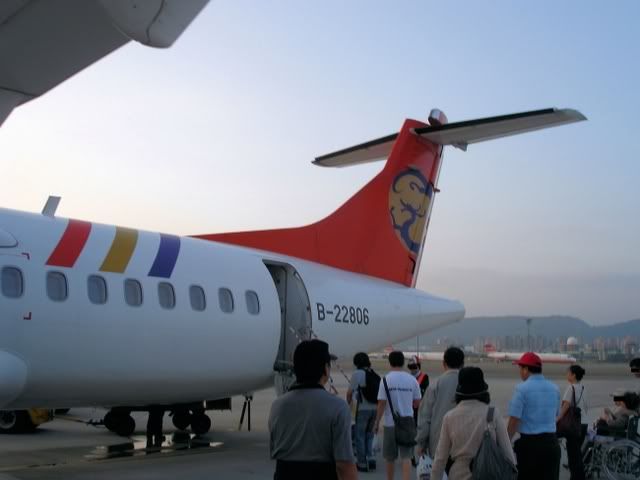 Cabin Comfort
Two friendly female flight attendants welcomed us in the clean cabin...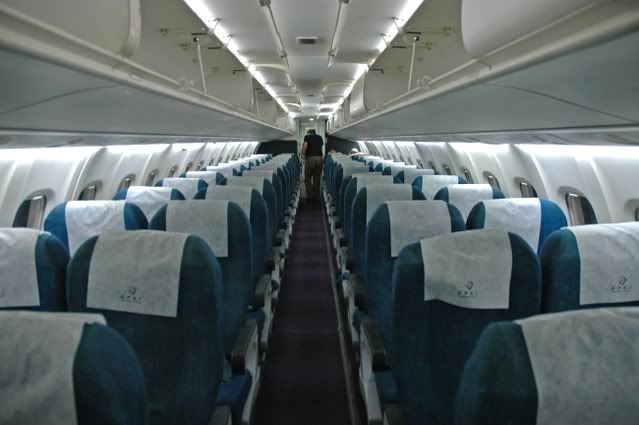 Picture by Satchmo
...which was equipped with dark blue seats and a purple carpet: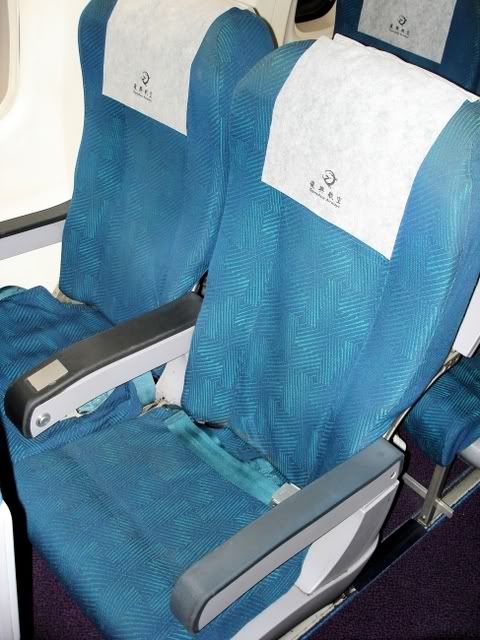 Seat pitch was absolutely acceptable for the short domestic hop:
Departure
The row next to the propeller wasn't our favorite, but most window seats in the cabin were already gone, so we didn't move after boarding was completed. We left the gate only two minutes late and the ATR took off powerfully from Runway 10 only a few minutes later. Luckily, we were sitting on the right side, so we could see the famous
Taipei 101
: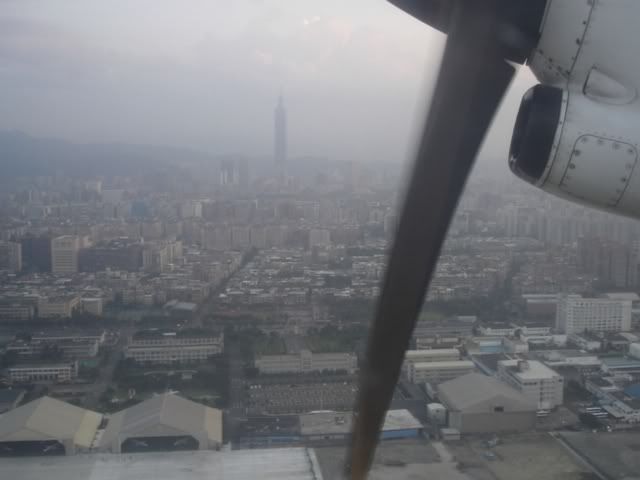 What a magnificent building:
Drink Service
Tee, coffee and juice were offered and I tried the orange juice - which tasted more like a thin orange punch.
Beautiful Sunset
We had chosen the perfect time for our flight - the light conditions during sunset were beautiful...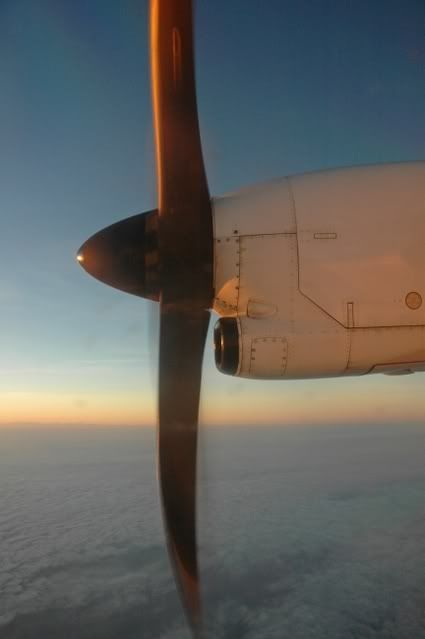 Picture by Satchmo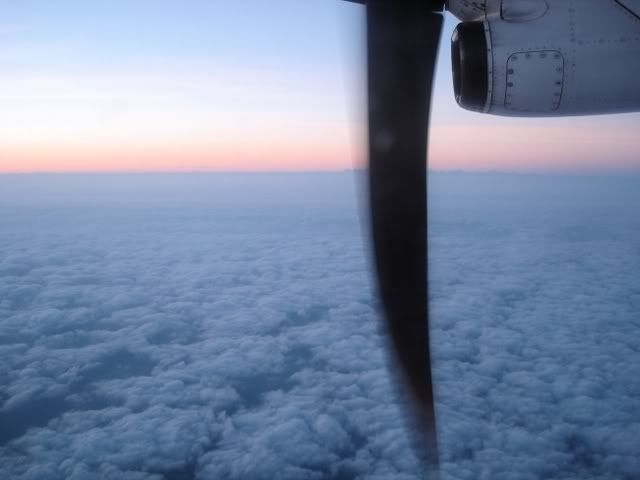 Picture by Satchmo
While the last spots of light were disappearing, we started the approach into Makung Airport. After a flying time of only 45 minutes, our ATR touched down at runway 02. Makung Airport can be considered as a military air base with a commercial section, so we decided not to take any pictures after leaving the aircraft.
Makung Airport
The airport with its 3-story terminal and a 3000 meter (9,800 ft) runway is currently served by four airlines, Daily Air, Mandarin Airlines, TransAsia Airways and UNI Air (once founded as Makung Airlines). Not surprisingly, the size of the modern terminal building is quite limited, so there's not much to do. Before checking in again for our return flight, we had a look outside. It wasn't busy at all during that Thursday evening.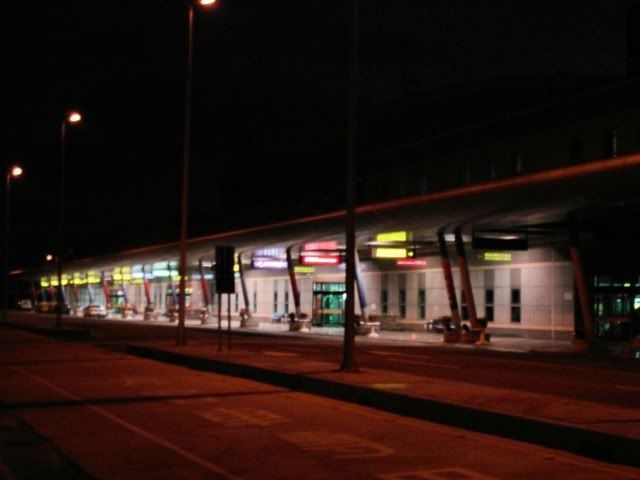 Thursday, 06 November 2008
Makung (MZG) - Taipei Songshan (TSA)
UNI Air, B7 616
19:15-20:05 (19:15-19:57)
Flying time: 00:38 (hrs)

DHC-8Q-311
B-15239 (MSN 571), delivered in 02/2001
Economy Class, Seat 4D
Warning Sign
The UNI Air check-in process was as quick and smooth as at Songshan, it was only a matter of a few minutes until we got our boarding passes. The same can be said about security - no queues, no problems. Due to the limited choice of meals at the airport bistro, we bought some cookies and took a seat in the gate area. Suddenly a warning sign at the wall attracted our attention:
Magong Airport is a military base. Please do not take photos, draw a picture of the airport or make an observation with telescope.
No, I didn't use my "telescope", but I could at least see some registrations through the small windows...  
Cabin Comfort
B-15239
, one of eight Dash 8-300 in the UNI Air fleet, arrived on time and boarding was started soon. The welcome on board was not as friendly as on TransAsia - and the female flight attendant strictly rejected our request to take a cabin photo.
"No photos and electronic devices"
, we were told (unlike TransAsia). Well, we had to try our best without being seen.  
The cabin in general didn't look as well-kept as on TransAsia...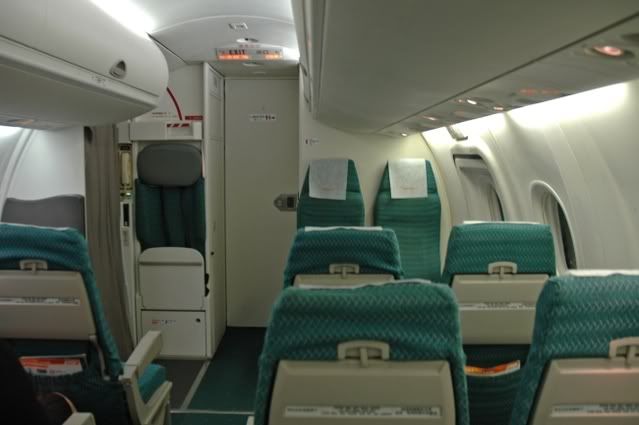 Picture by Satchmo
...and the seats were quite hard.
The seat pitch wasn't a great pleasure, either, but still acceptable for a short hop.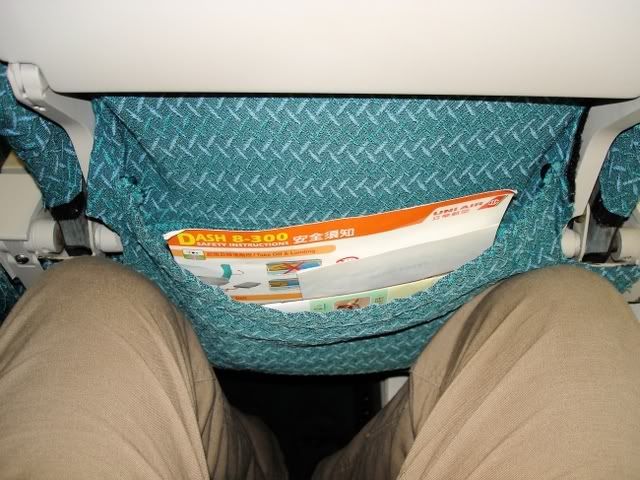 Drink Service
We left the parking position on time and took off from runway 20 only two minutes later. Drinks were offered soon - at least that's what we thought. In the end we could choose between a cup of (almost) warm water or nothing...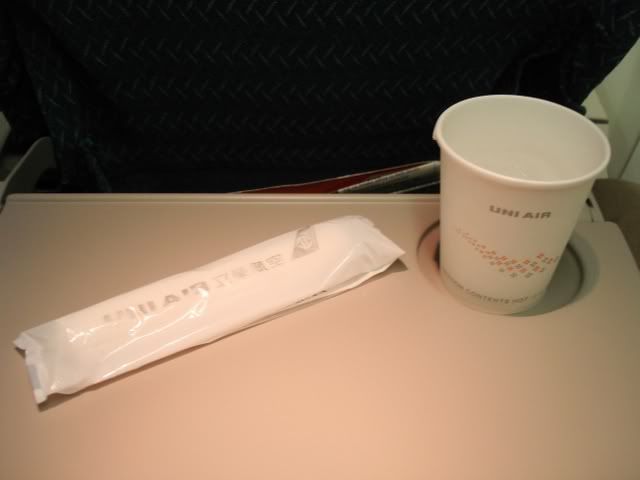 The approach over millions of lights into Taipei Songshan was absolutely stunning - but taking good pictures through the window at night was impossible. We touched down roughly 38 minutes after take-off and the cockpit crew decided to demonstrate the braking performance of its aircraft...  
Taipei at Night
After leaving the airport, we took a bus to the Taipei Main Station from where it would be only a short walk to the YMCA Taipei. The bus ride took a while and we weren't sure whether we had picked the right line, but two friendly passengers immediately offered their help. One man was actually happy to talk to us and asked how we liked Taiwan. Half an hour later we left the bus and checked in at the YMCA - a basic hotel, not as charming as the one in Kowloon, but clean and conveniently located. Neon lights are dominating in the streets:
We decided to have dinner in one of the various small restaurants located on the Taipei Main Station's underground level. Already well-known from Japan: Plastic meals for window display.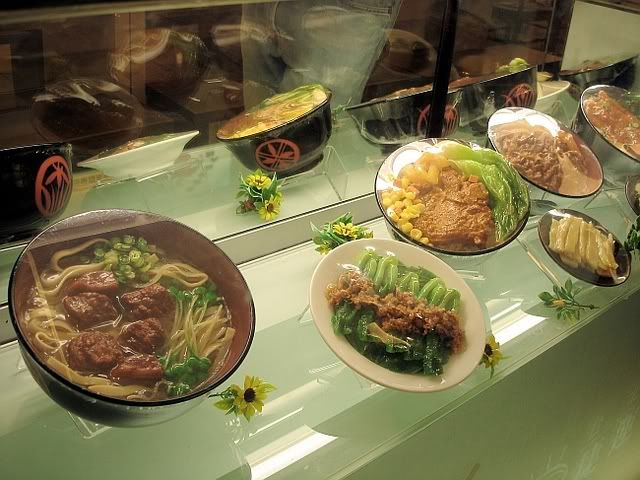 We were facing some conversation problems when we wanted to order a meal, but again, a young Taiwanese immediately offered his help and translated for us. Some minutes later we got a tasty soup with noodles, beef, eggs and vegetables.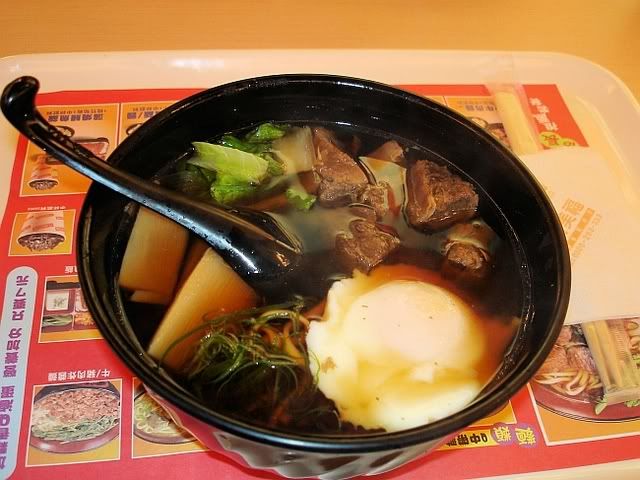 YMCA Taipei Neighborhood & Main Station
Early in the next morning it was time to leave the hotel because we wanted to see certain aircraft arriving at Songshan Airport before visiting the
Taipei 101
. Views from our hotel room: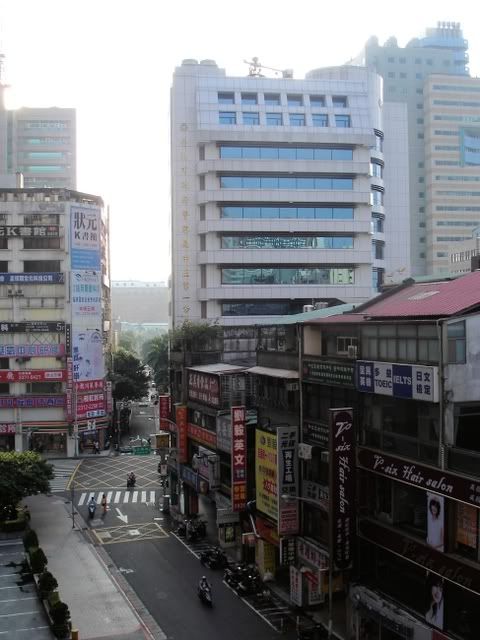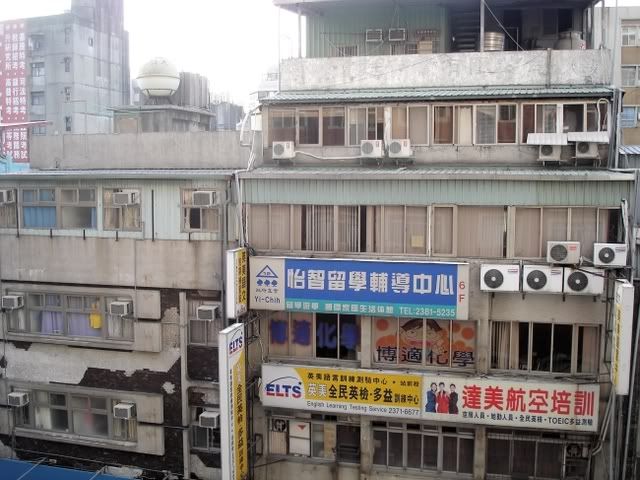 Motorcycles are really popular in Taipei: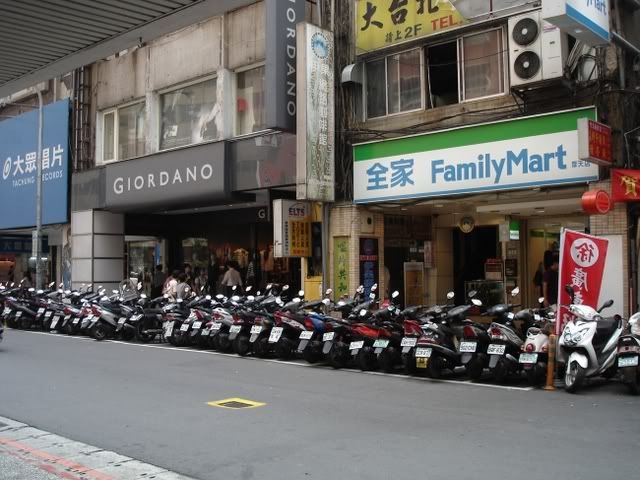 Taipei Main Station at daylight: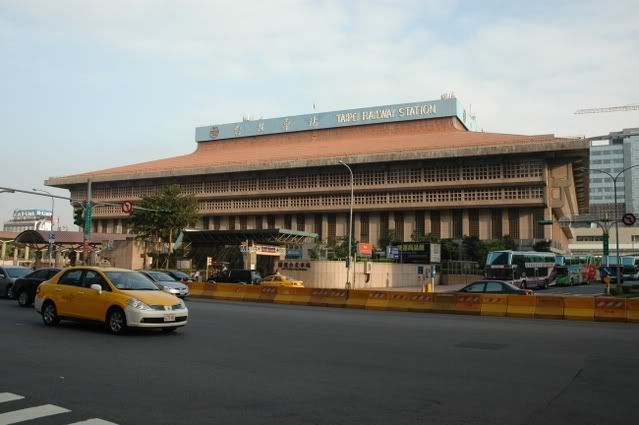 Picture by Satchmo
Taipei Songshan Spotting
We took a train to a station close to Songshan Airport and switched to a taxi which brought us to an area recommended for spotting. We walked onto the top level of a market hall where we had a great view of the arriving aircraft. UNI Air DHC-8Q-311 B-15237: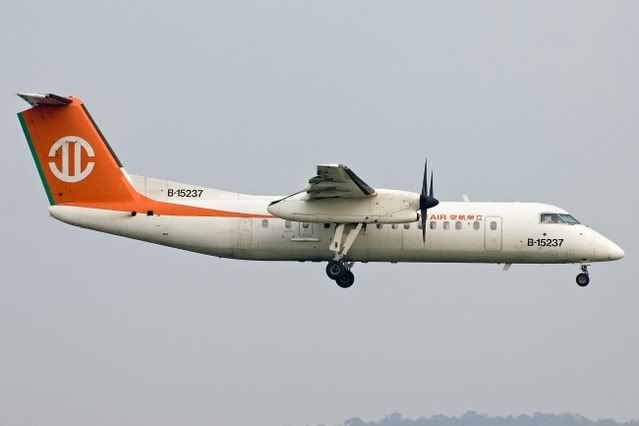 Picture by Satchmo
Mandarin Airlines Embraer 190 B-16828: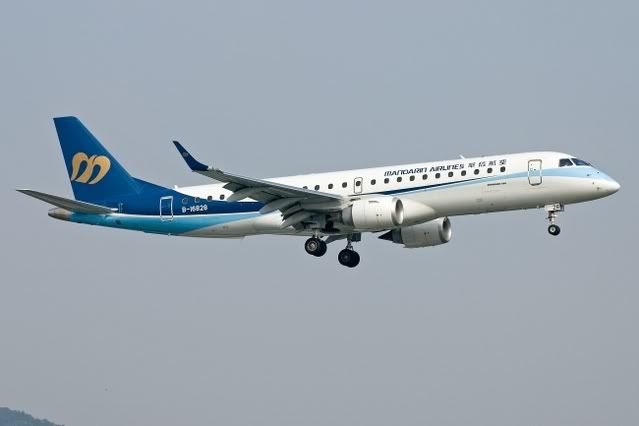 Picture by Satchmo
UNI Air MD-90-30 B-17922: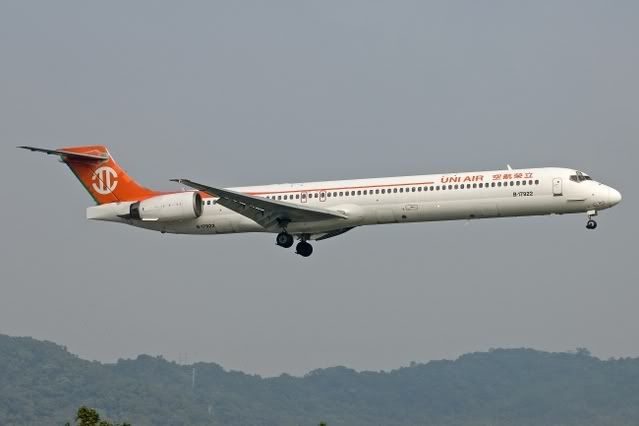 Picture by Satchmo
TransAsia ATR 72-500 B-22806 which had flown us to Makung on the day before: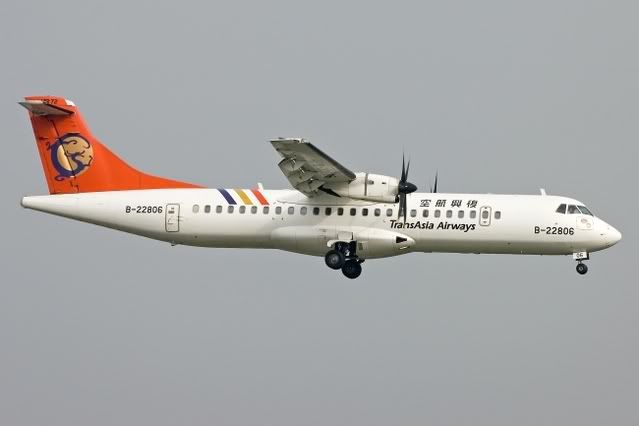 Picture by Satchmo
Taipei 101
After the limited morning rush at Songshan Airport had been over, it was time to visit the famous
Taipei 101
- currently the tallest building on earth with 101 stories and a height of 508 meters (1,667 ft). International architectural standards define a "building" as a structure capable of being fully occupied, therefore it takes some more months until
Taipei 101
will lose its title to the
Burj Dubai
.
Taipei 101
received the "Emporis Skyscraper Award" in 2004 and has been hailed as one of the "Seven New Wonders of the World" and "Seven Wonders of Engineering".
We were facing the sun after leaving the train station...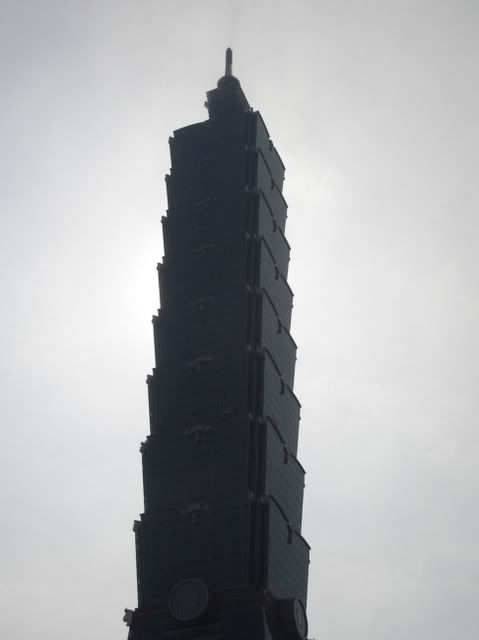 ...but after a 15-minutes walk it was possible to get a decent shot of that mighty building:
Picture by Satchmo
The structure was so impressing that we couldn't take the eyes off it for a while: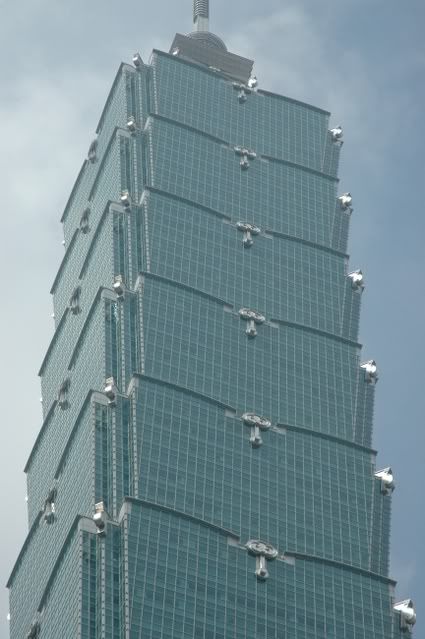 Picture by Satchmo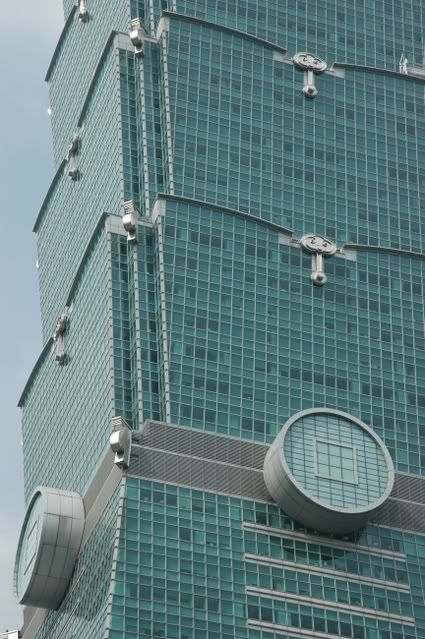 Picture by Satchmo
That thing is massive and elegant at once.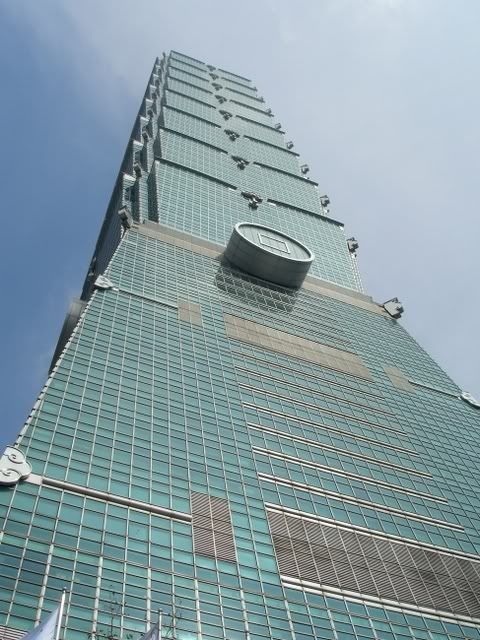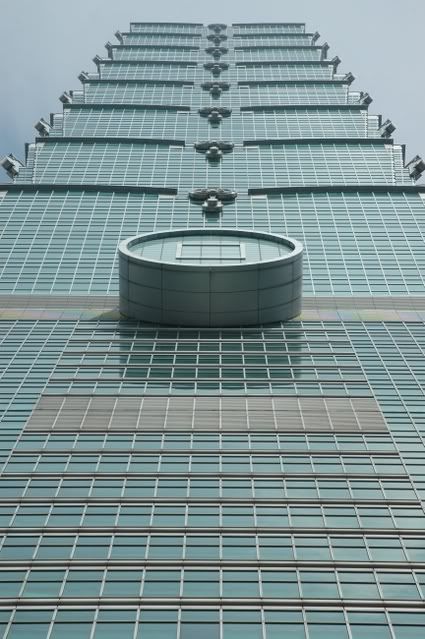 Picture by Satchmo
Artwork in the main entrance area:
1 0 1
- no words needed: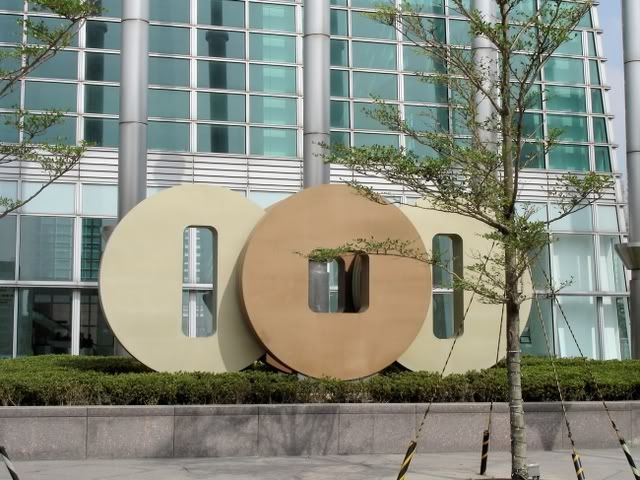 This is the business entrance for direct access to the office floors: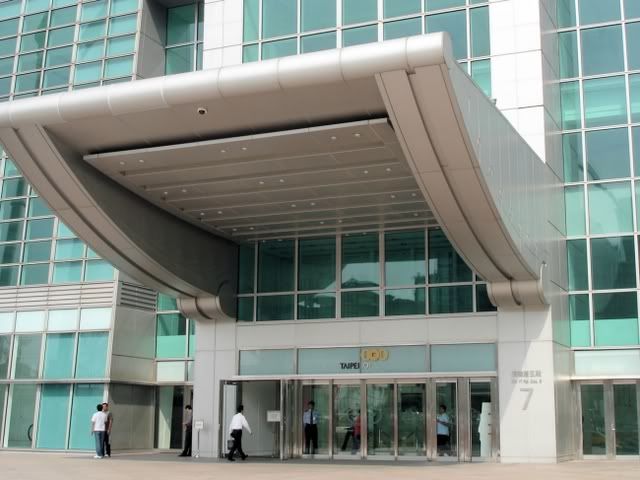 Visitors who want to go to the observatory have to use the entrance of the skyscraper's shopping mall...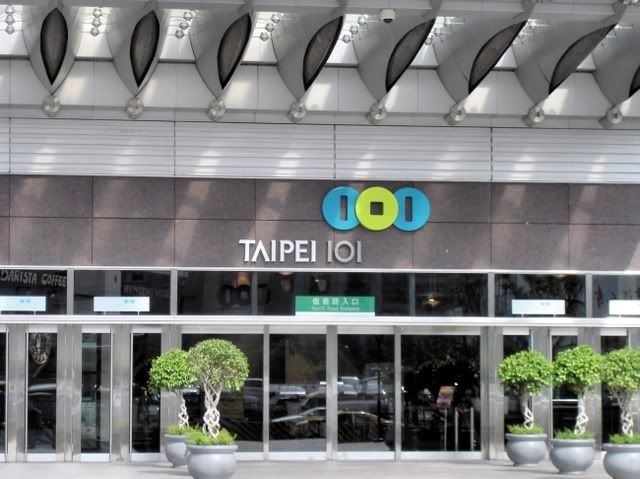 ...actually a 5-story-shopping mall with hundreds of stores, restaurants, clubs and other attractions: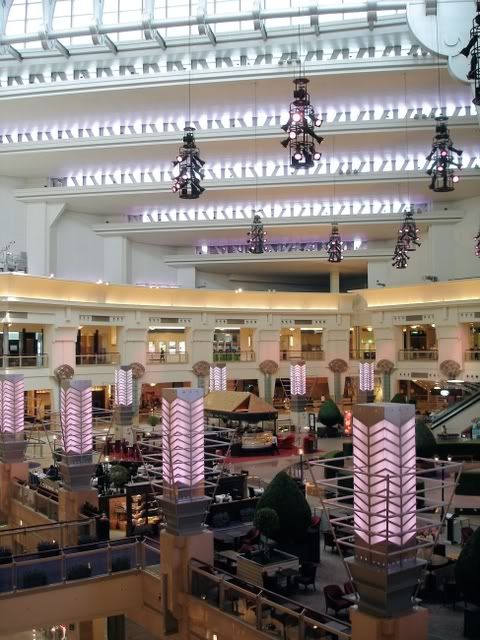 World's Fastest Elevator
After buying tickets (some US$13) and passing security, we had the pleasure to take the world's fastest elevator, running at 1010 meters per minute. It takes visitors from the 5th floor to the 89th floor in 37 seconds.
Special elevator features: atmospheric pressure control, active mass damper, aerodynamic capsule, high performance roller guide and safety device.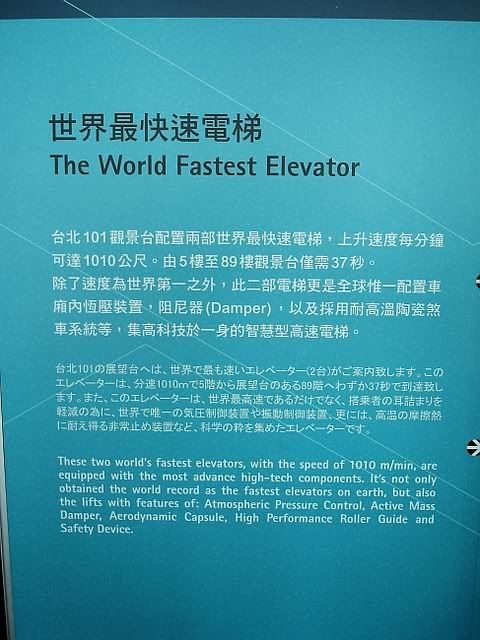 The two super fast elevators are the red ones: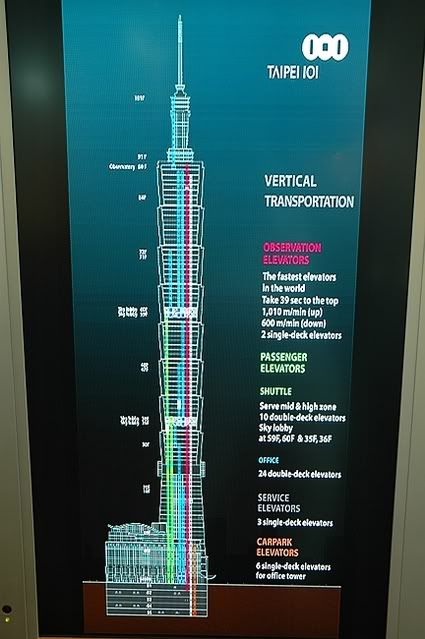 Picture by Satchmo
Even though the elevator (theoretically) almost accelerates like a rocket, you don't notice as much as expected - except for the usual popping in the ears. Very impressive machine!
Breathtaking Views
Once you arrive on top, you can enjoy breathtaking views of Taipei - and we were glad that it was a relatively clear day.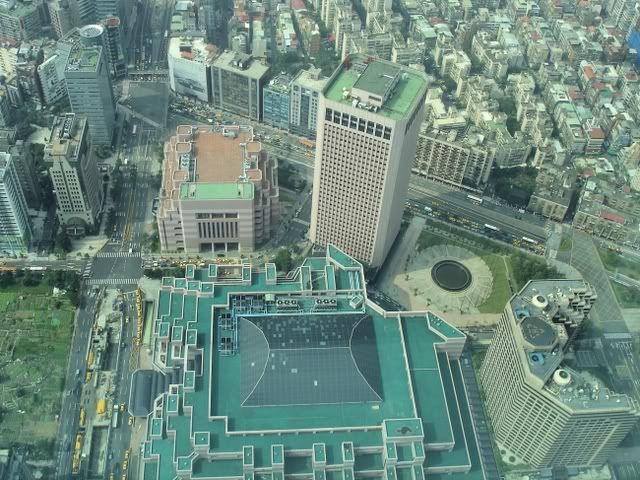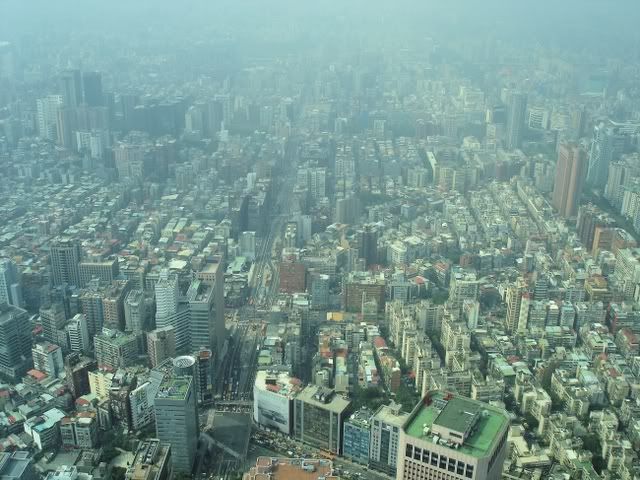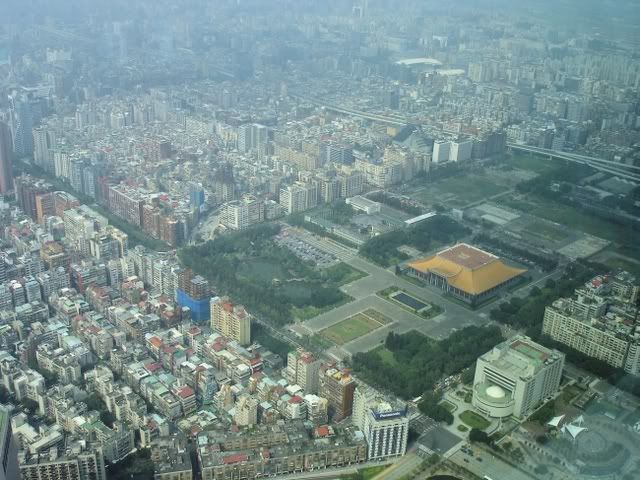 Songshan Airport in the distance: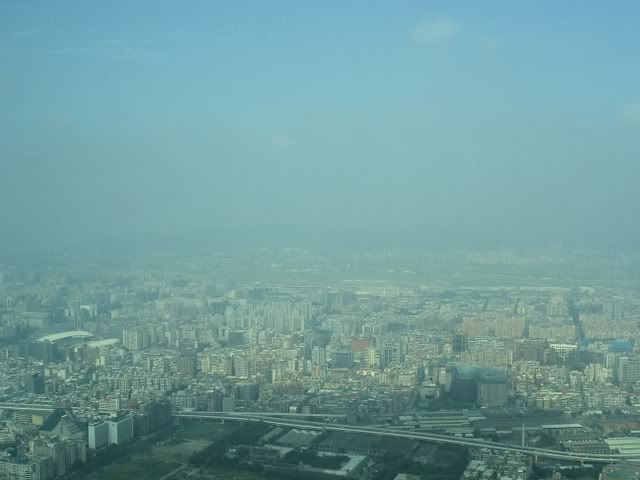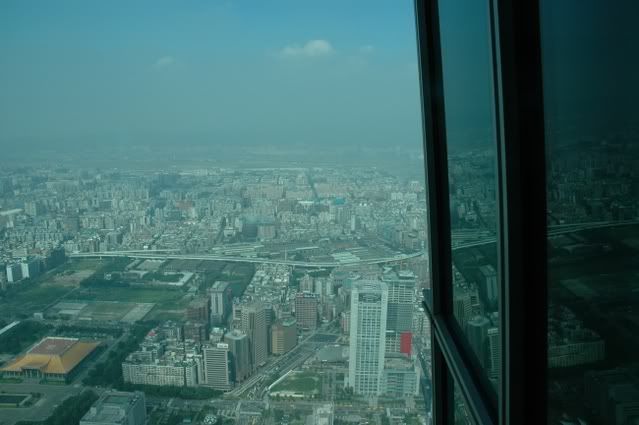 Picture by Satchmo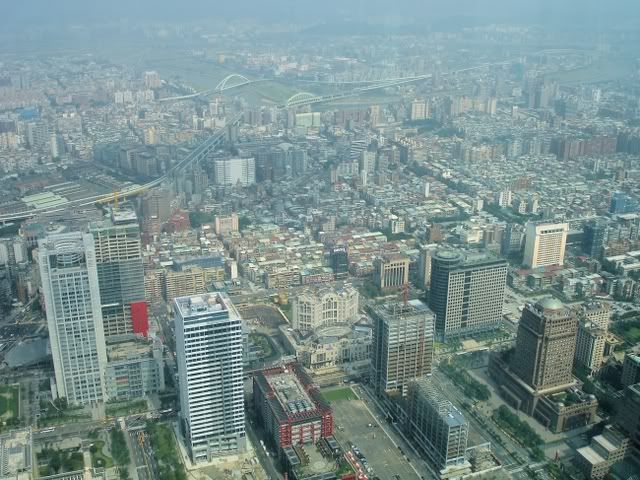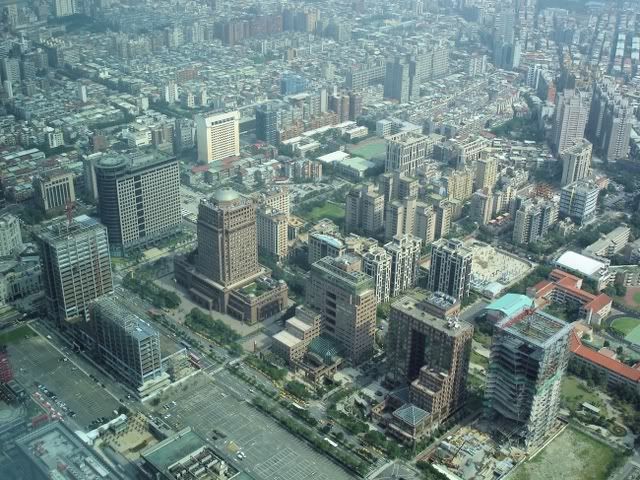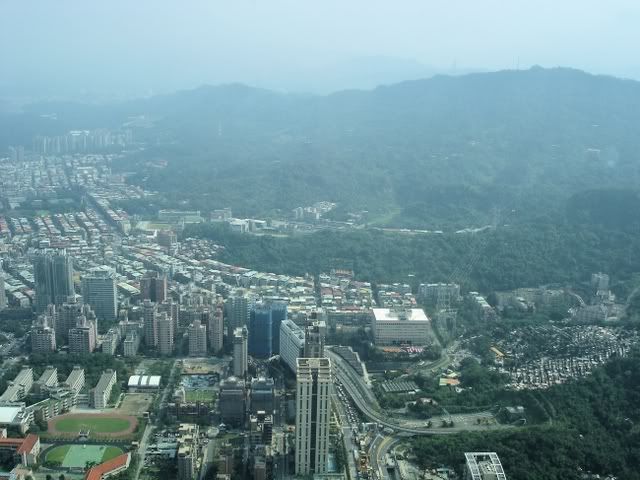 Taipei 101 Facts
No matter if recorded voice tours in eight languages, informative displays or special exhibits - there's a lot of interesting stuff to explore on the observatory.
World records: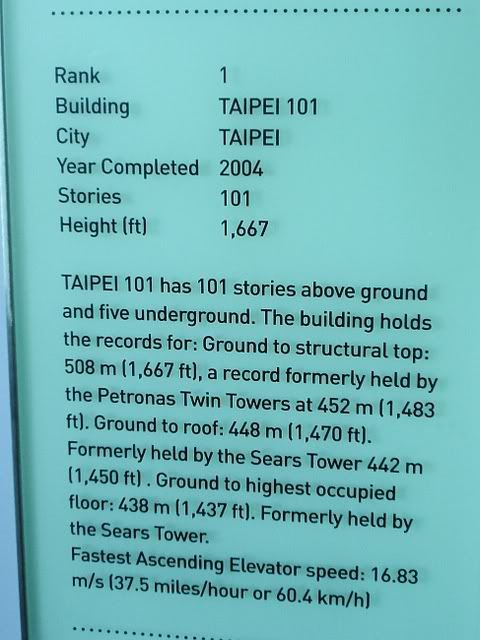 Petronas Towers and Taipei 101:


Text on the board:
"Taipei 101's foundation is fortified by 380 piles driven 80 meters into the ground. Each pile has a diameter of 150cm and a load capacity of 1100-1450 tons. These piles extend to 30 meters into the bedrock, making Taipei 101 one of the most stable buildings ever designed."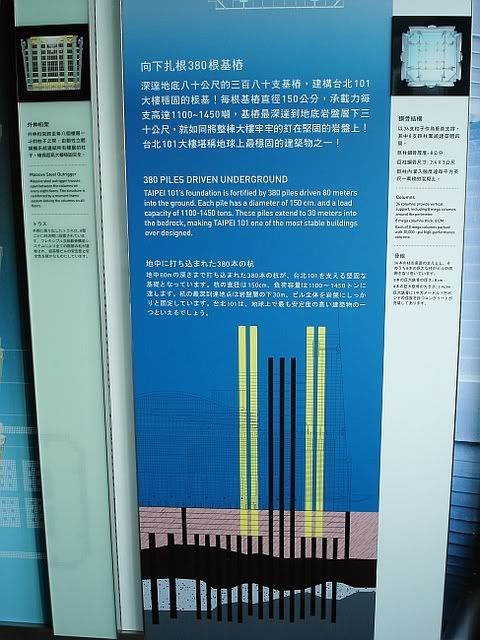 Damper Baby
The building is equipped with three dampers to offset movements caused by strong gusts and earthquakes. One of them is the world's biggest and heaviest dampers, also visible on the observatory.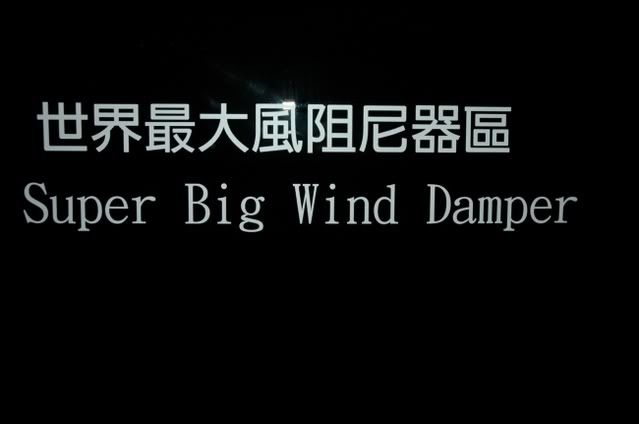 Picture by Satchmo
It has a diameter of 5.5 meters, weighs 660 metric tons and consists of 41 layers of 12.5 cm strong steel plates.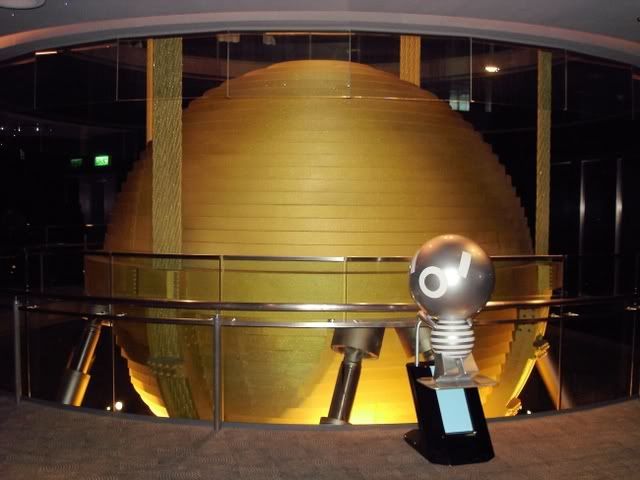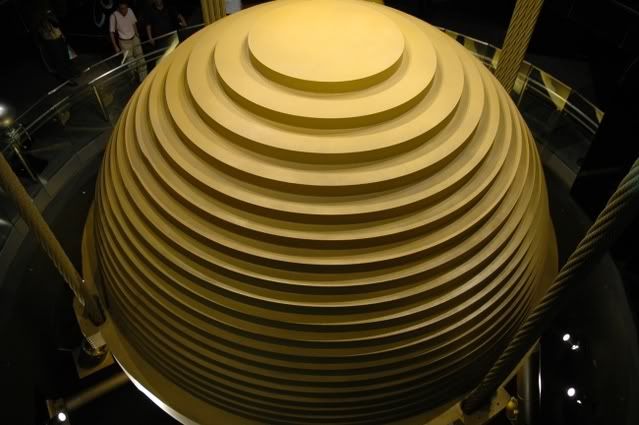 Picture by Satchmo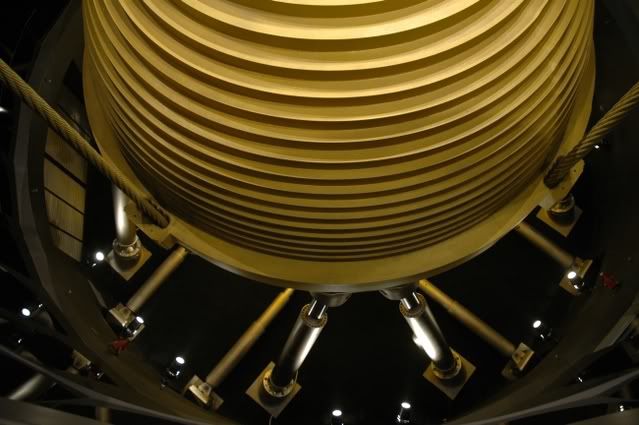 Picture by Satchmo
The damper is nicknamed
"Damper Baby"
- here's its profile:
No doubts, the visit to
Taipei 101
was one of the highlights of our tour. It's the most impressive building I have ever been to and can only recommend a visit to anyone.  
Conclusion
Flying on
TransAsia Airways
and
UNI Air
was a positive experience in general, with smooth check-in, friendly and helpful ground staff and on-time flights. However,
TransAsia Airways
offered a better in-flight product - more seating comfort and a greater choice of drinks. I would fly on both carriers again but wouldn't hestitate to try Mandarin Airlines, too.
Next report: HKG-LHR-MUC on Air New Zealand and Lufthansa
Best Regards,
PlaneHunter
[Edited 2009-02-21 05:58:01]