Hi fellow A.NETTERS, here is part 4 or my recent travels, hope you enjoy.
09.02.09 NH13 HND-ITM
777-281 ER JA8199 – Economy Class, Seat 33A
1st Flight on this aircraft & 13th 777 Flight
SCH DEP 07:00 SCH ARR 08:05
ACT DEP 06:58 ACT ARR 08:00
View Large
View Medium


Photo © Masanori Nagayama
The titles have been updated since this picture.
Thankfully today's flight was a little later than yesterdays, not much bit it all helps with sleep!
Terminal views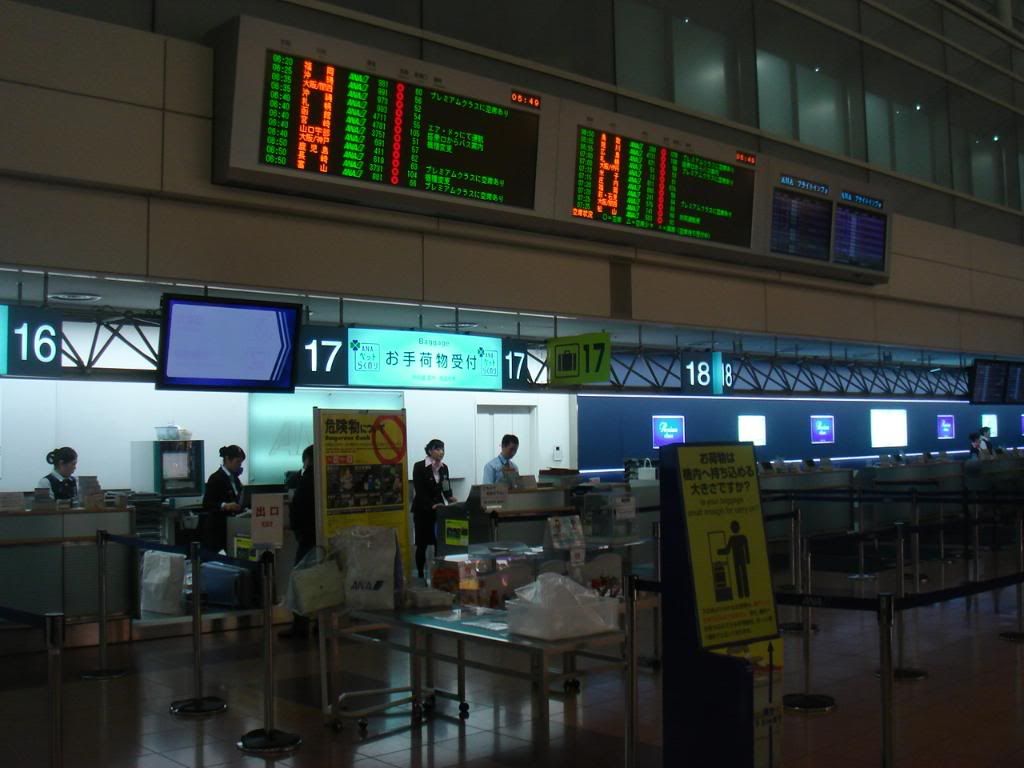 The red circle indicates spare seats
I checked out around 6am and headed to the day locker storage I found the night before, 500 YEN for 1 days storage of my Samsonite, much better than carting it around all day!
I booked this flight on the ANA website, unlike JAL ANA allow the world to book tickets with them, something which should be a standard feature for all major airlines around the world, people like to travel you know!
My e-mail confirmation has a SKIP thing on it, it allows you to proceed to security without a boarding pass, you scan the barcode at security to confirm you should be travelling, a slip of paper prints out to advise you of your seat and gate numbers – see below.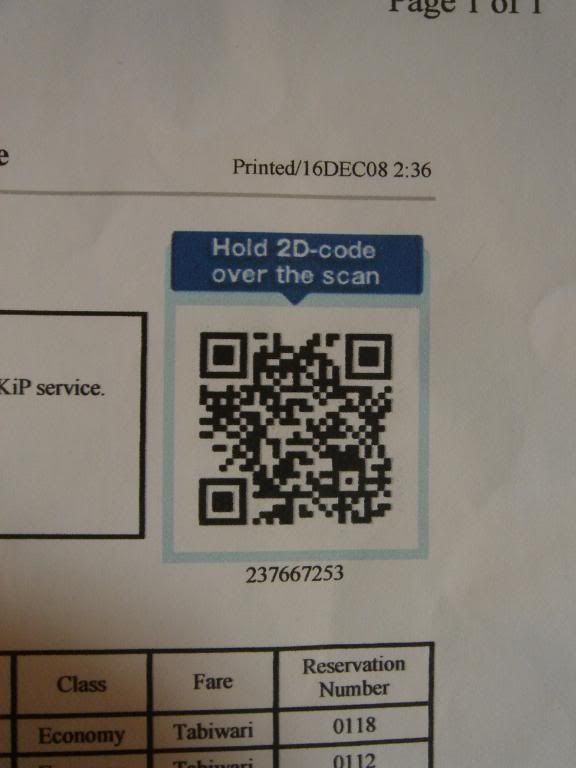 Again, no queues at security, the Japanease are so efficient!
This is the print out from security
Some airside views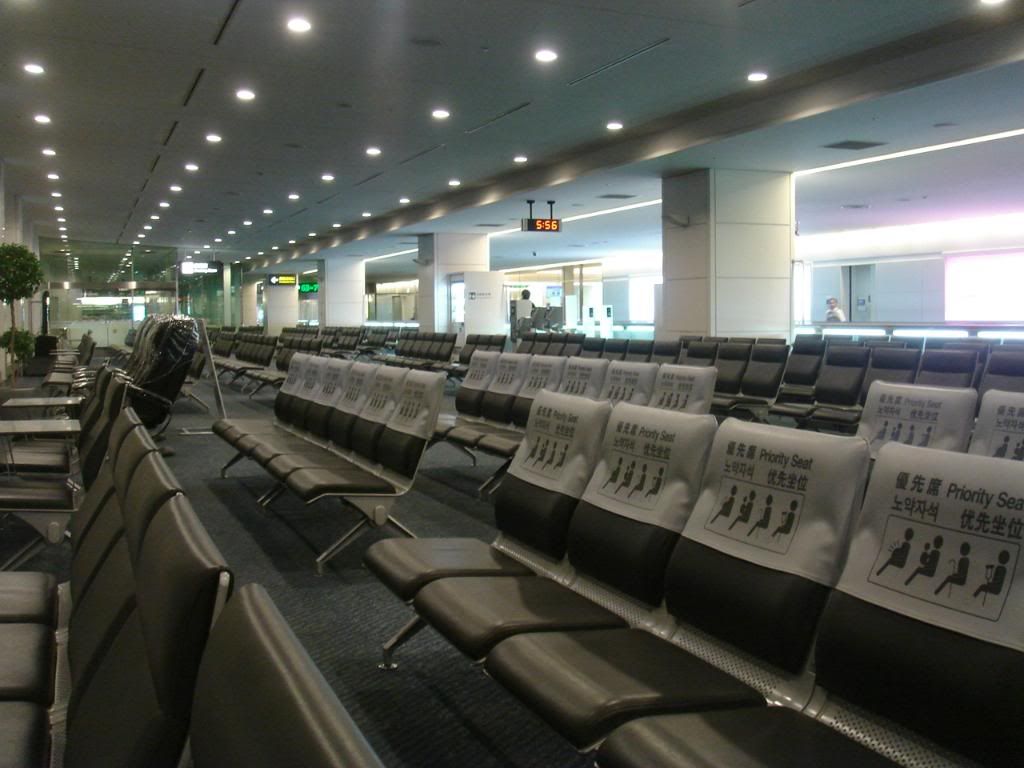 My gate this morning
My plane this morning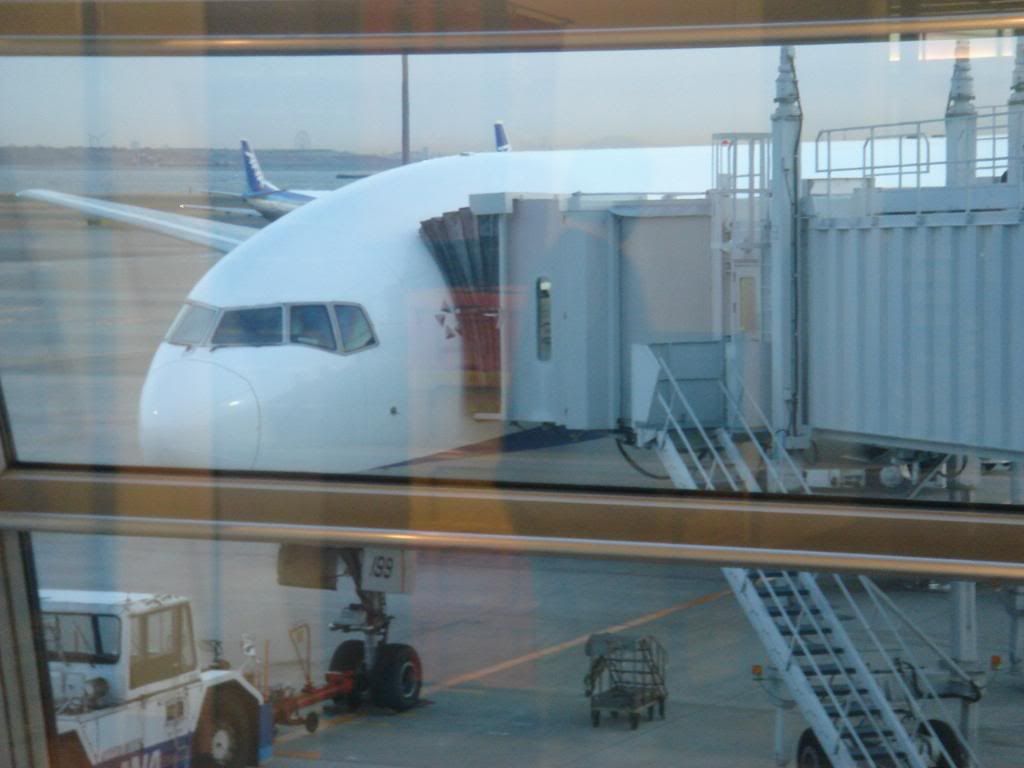 Boarding started from gate 61 at 06:40 on the dot – as usual the pre-board announcement or speech was read from a little blue book, nothing is left to chance, it is totally scripted!
Once your reach the gate attendants, the bar code is scanned and a slip of paper prints out, this is your boarding pass, I noted you can also use your mobile phone with the bar code, very impressive, as much as I like normal boarding passes, I like this idea, very easy and cuts down on queues.
I lost the morning BP, this is the return flights
On board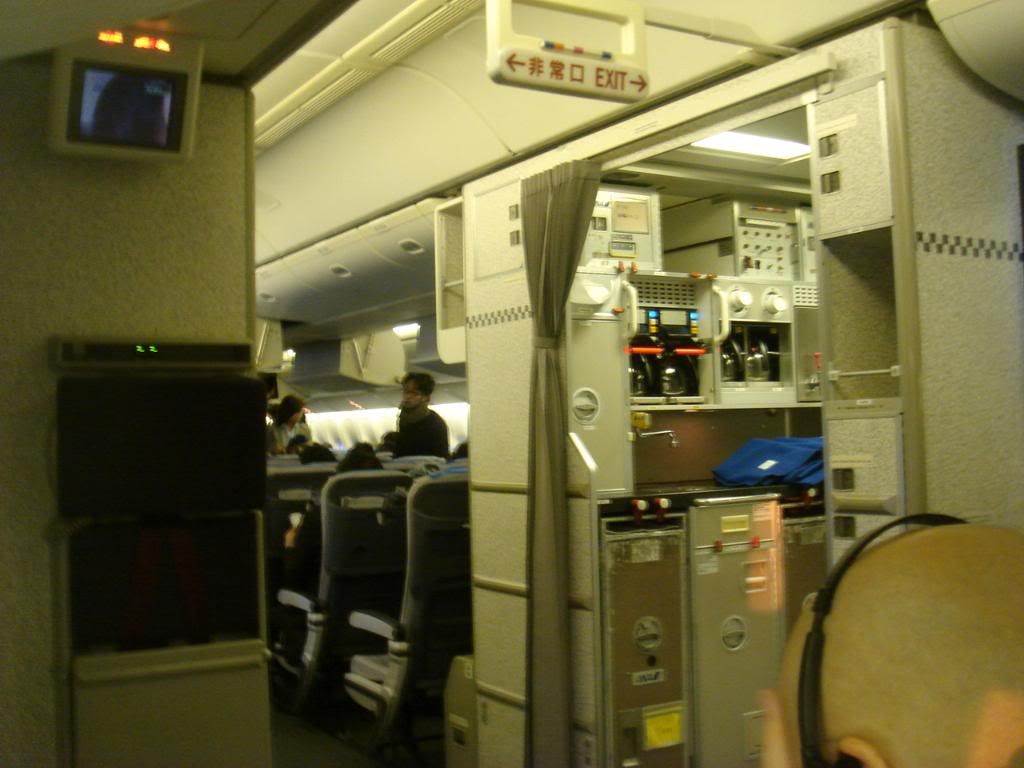 Legroom
View outside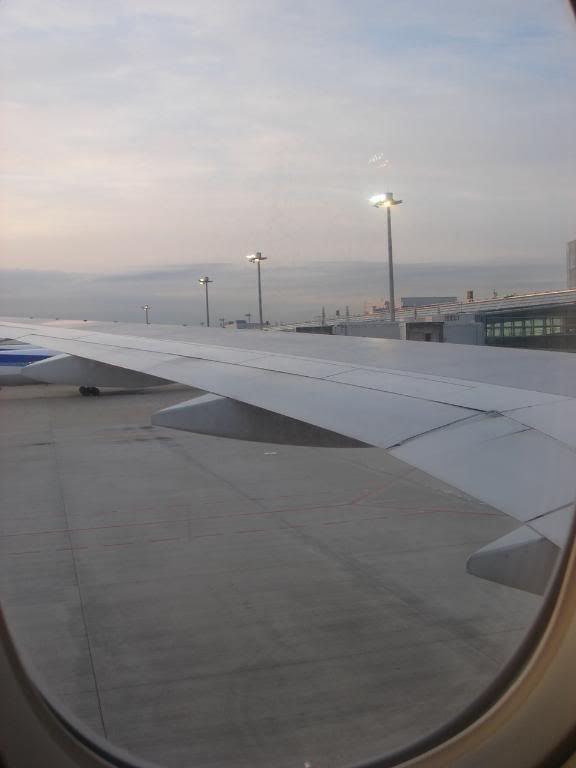 View ahead
Before departure I snapped a couple of pictures, the lady in 33C asked if she could take my picture, how could I refuse?
I had hoped the seat between us would remain free, however a man appeared and took the seat, he had a huge coat on which invaded my seat area, the coat remained on for the entire flight, not sure how, he must have been boiling!
Push occurred a couple of minutes early and we headed out to runway 34R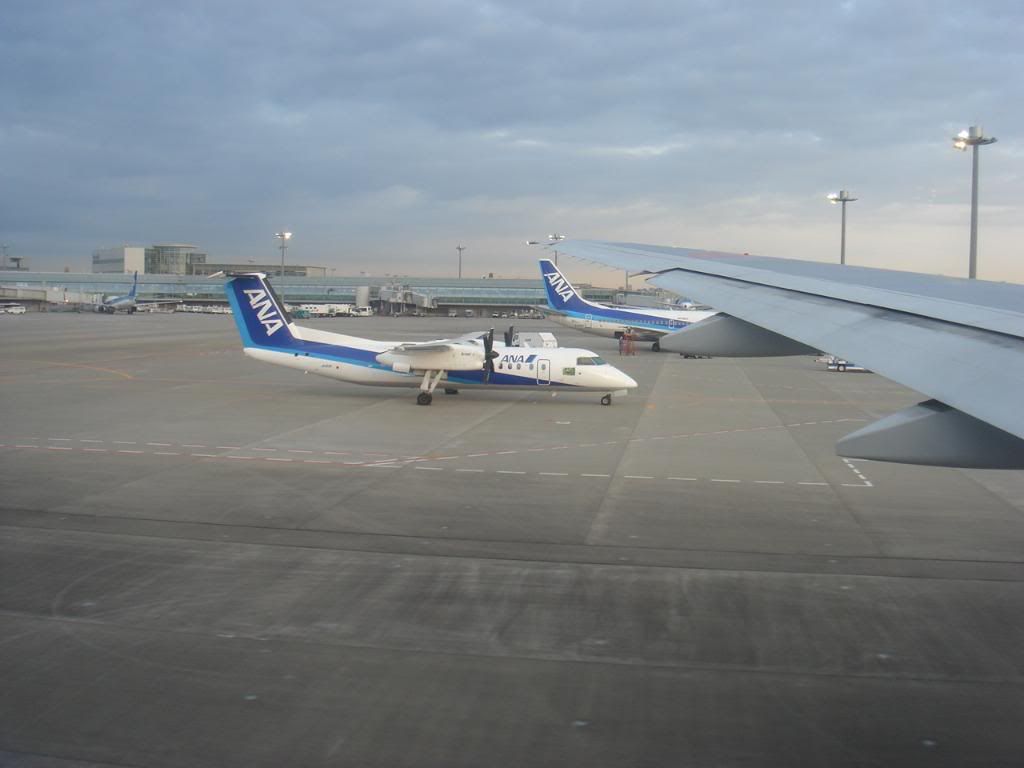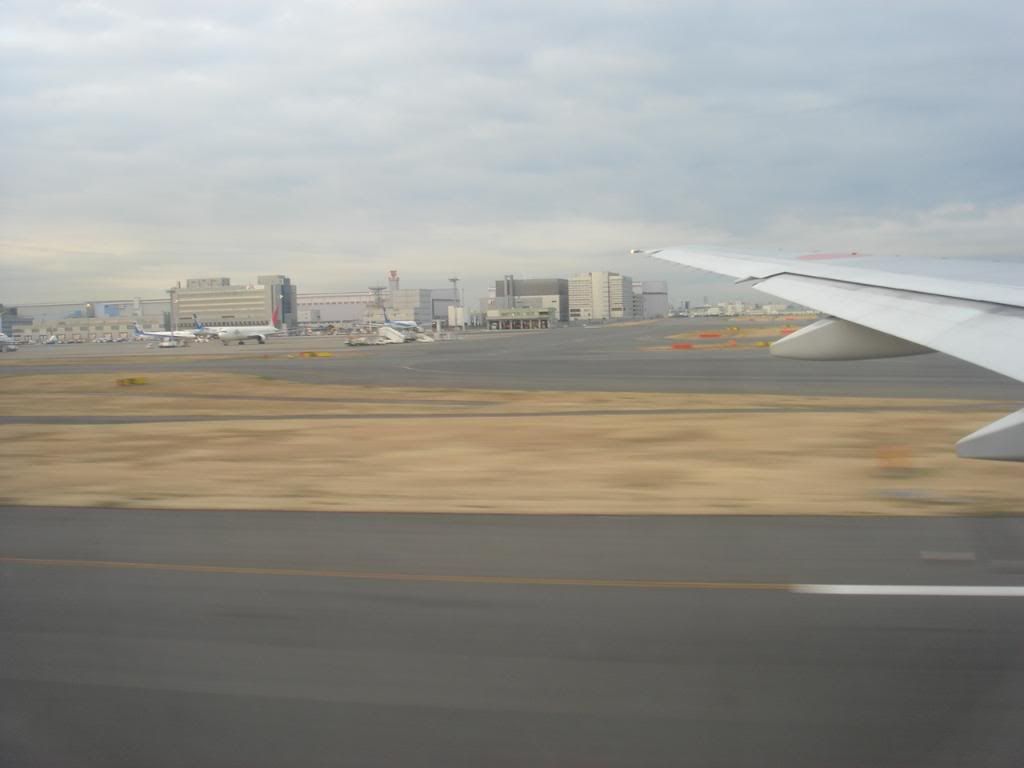 taking off towards the city at 07:13.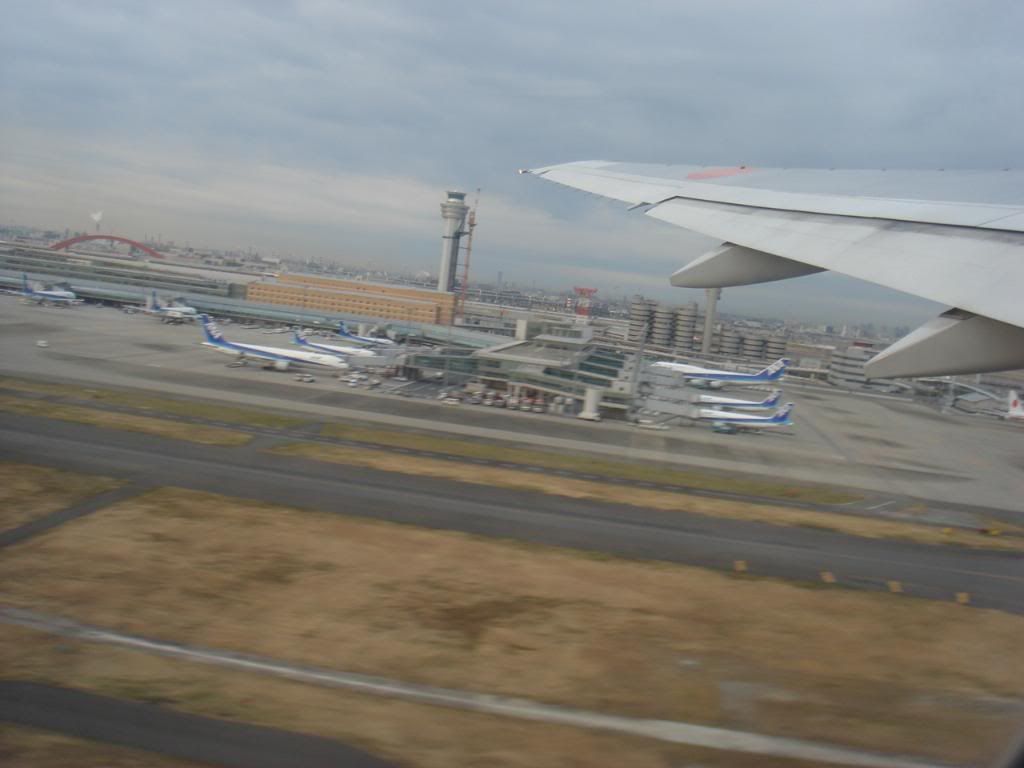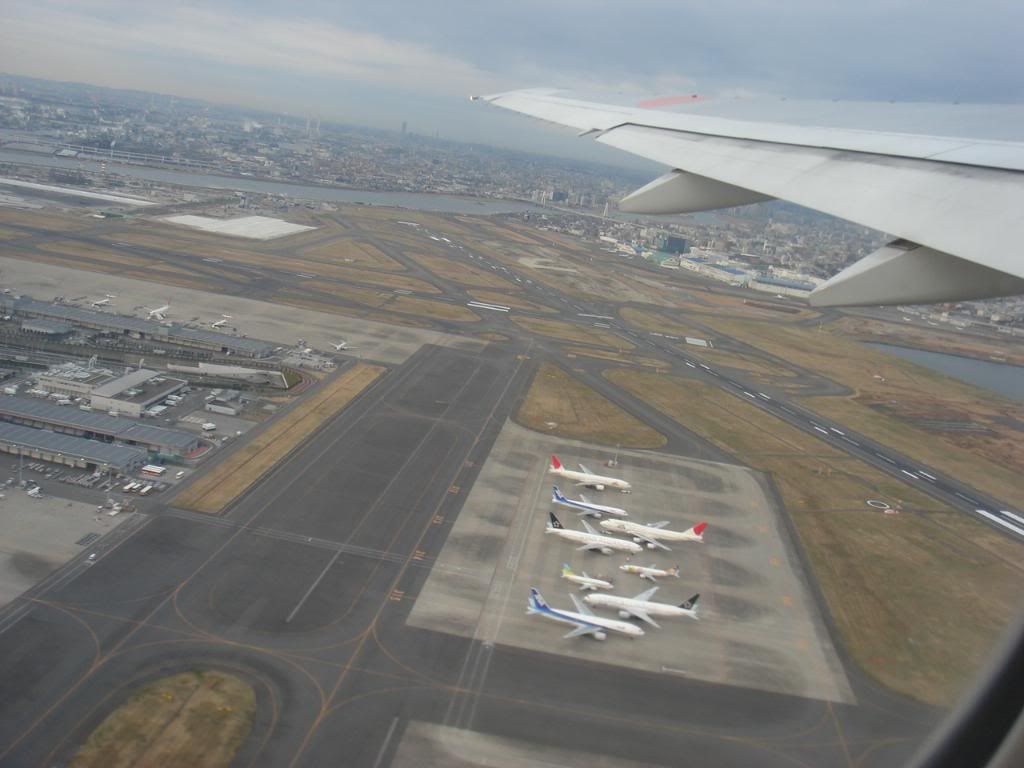 Anyone know what this is? - sorry about the poor quality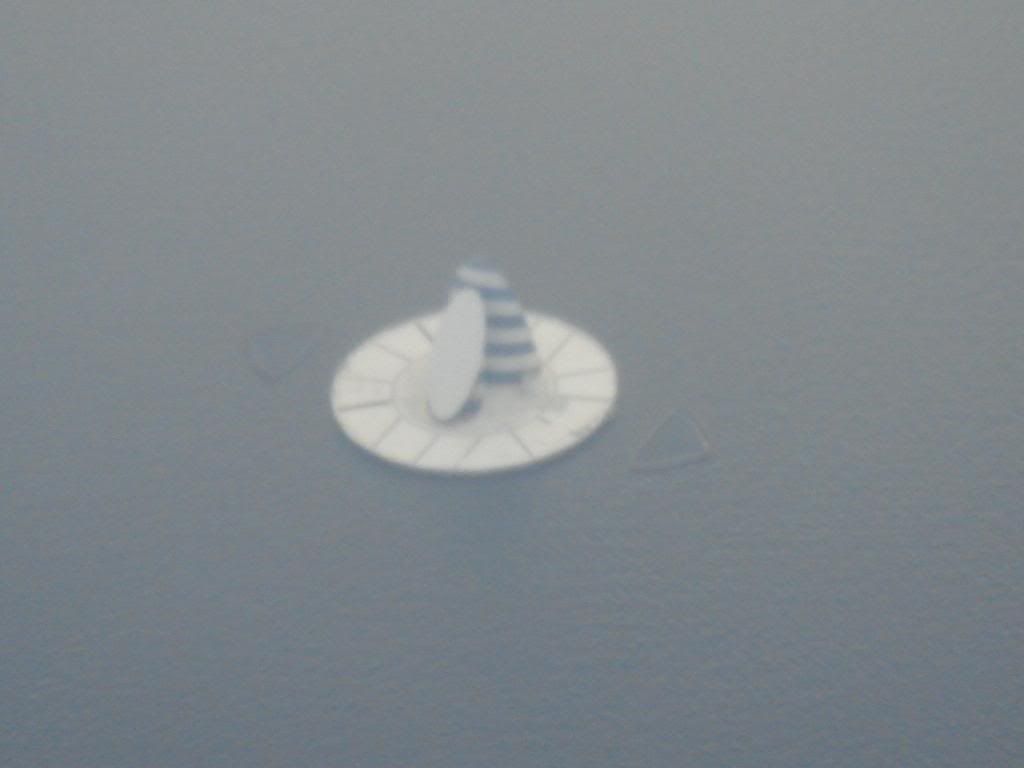 Today's flight was full, not a single empty seat to be seen.
Inflight service was pretty much the same as JAL, I took a coffee which was pretty good, so much so I took a second cup, not often I do that on planes.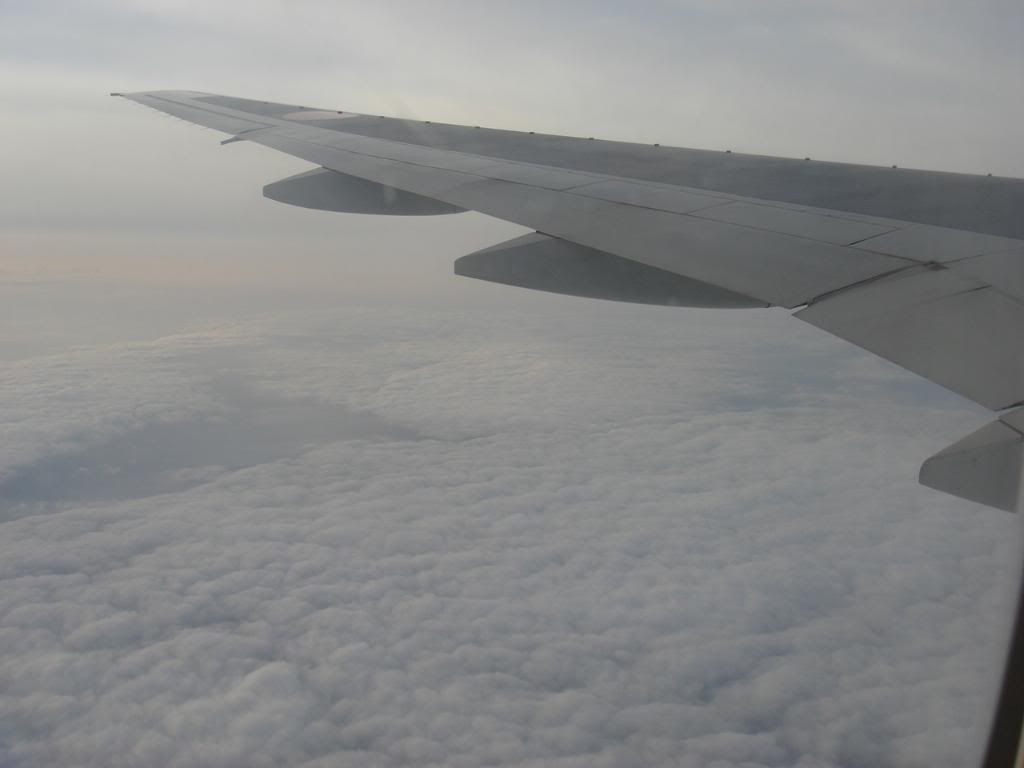 Descent began revealing the city, it was huge, the pictures don't do it justice.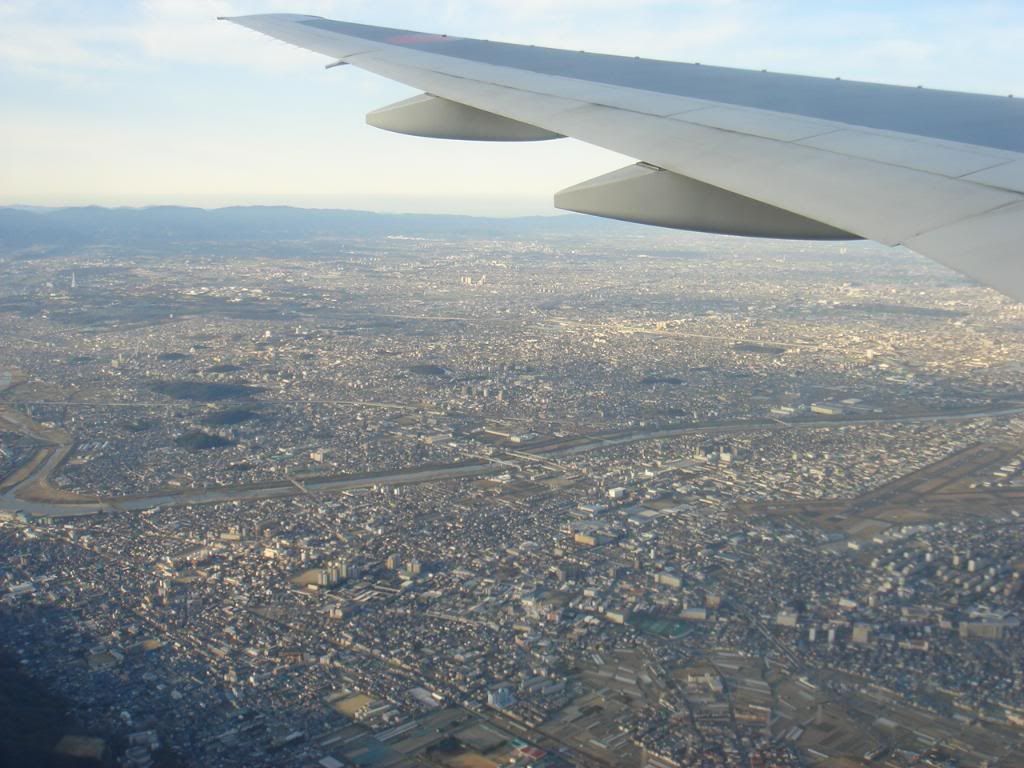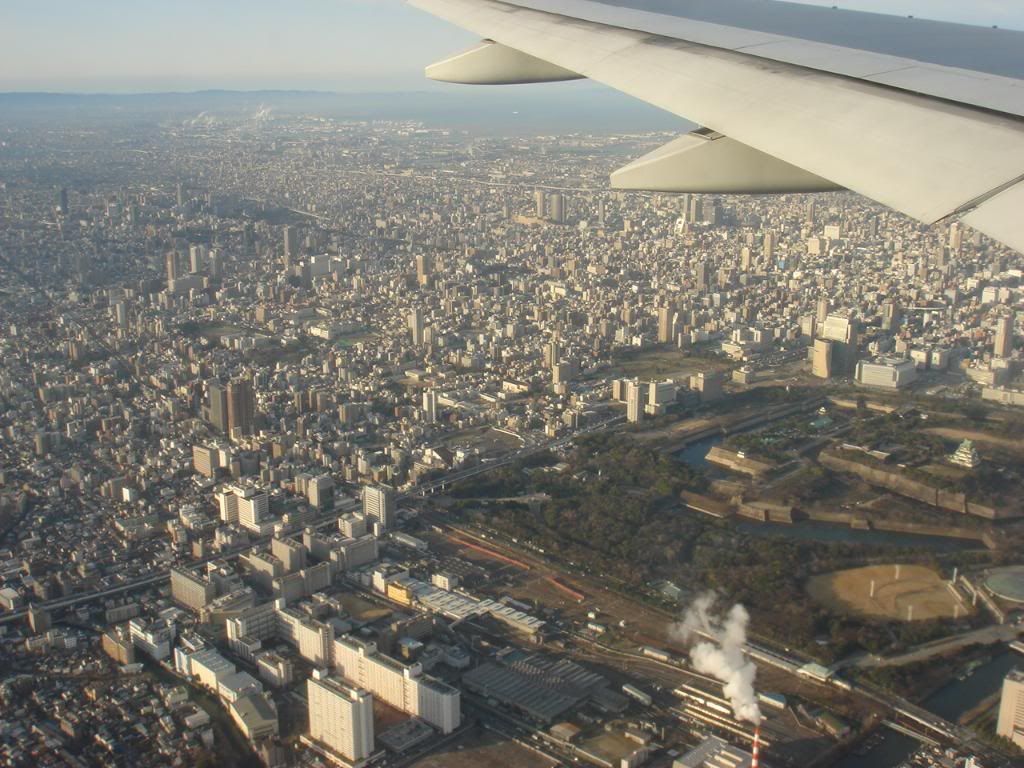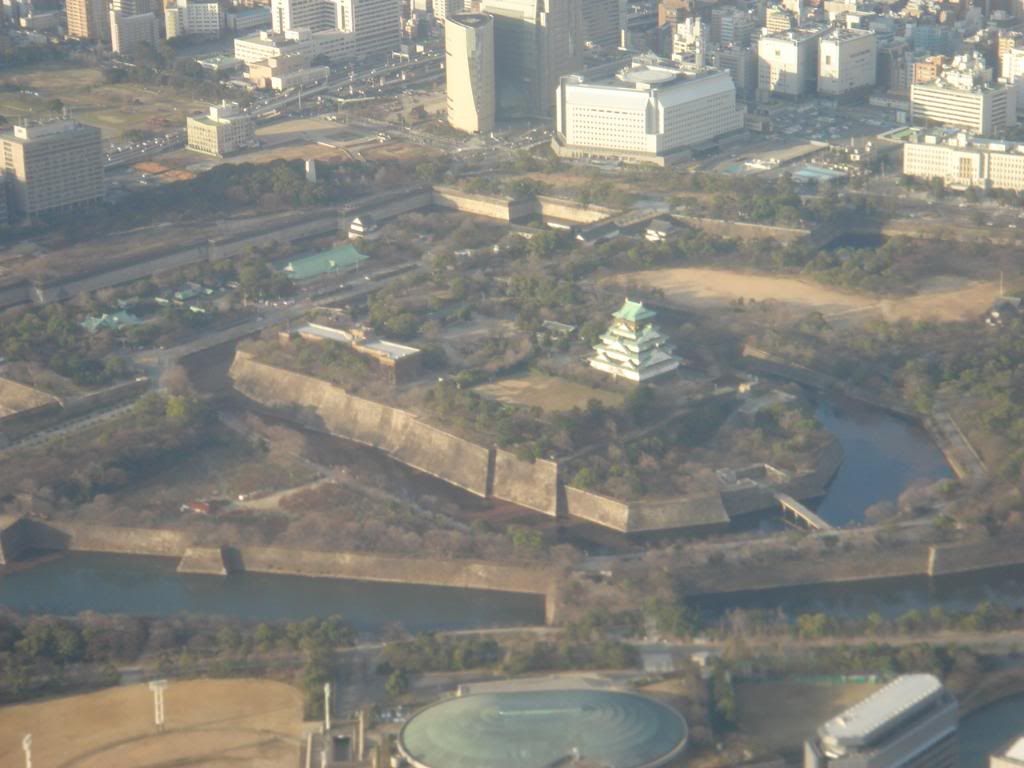 Wheels down at 08:00 and we were at the gate a few minutes later.
My plane @ ITM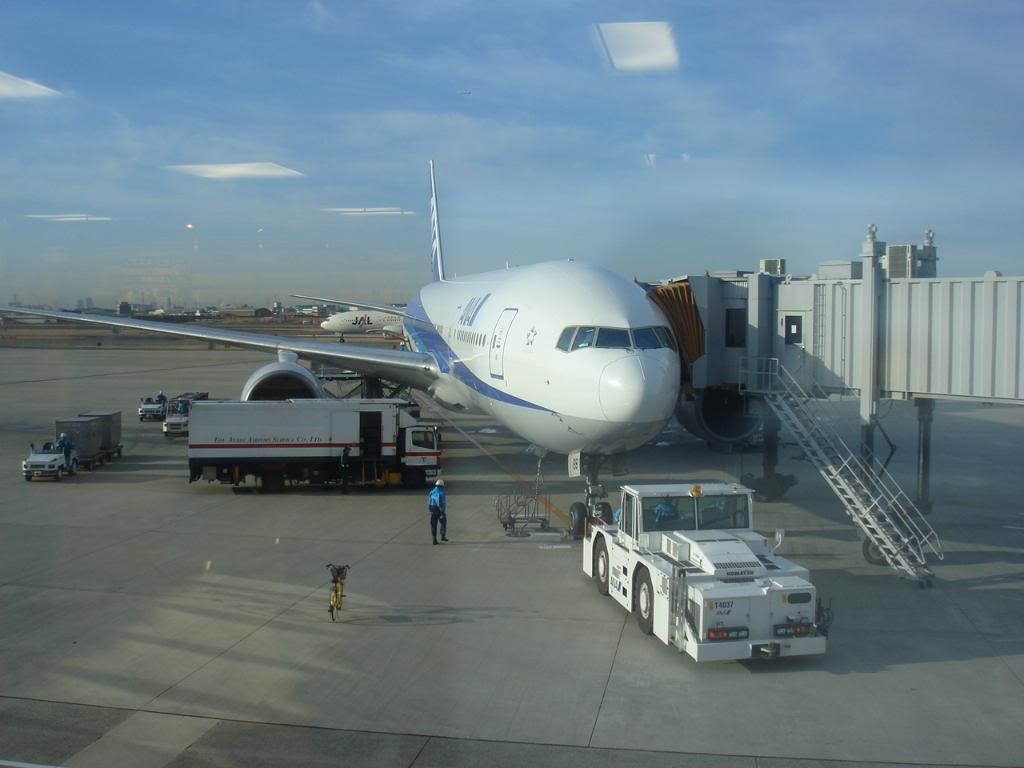 Nothing special about this flight but I enjoyed it.
The flight back to HND was at 17:00, so that left plenty of time for spotting on the observation deck.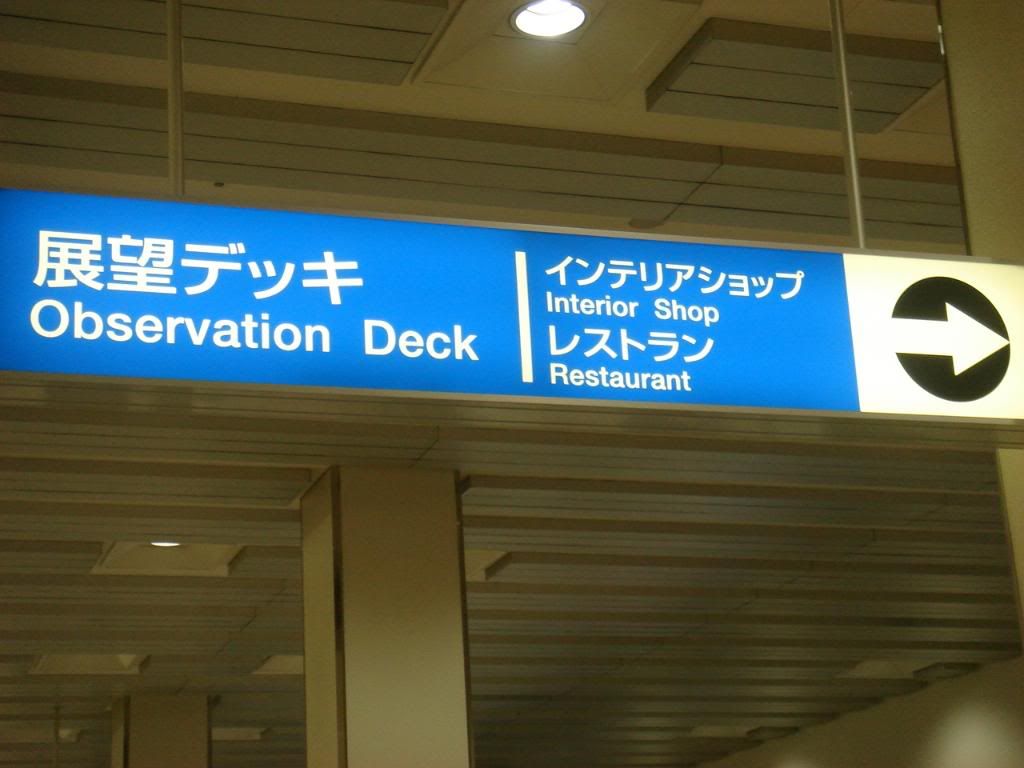 here are a few views of the deck and some of the planes you see here
Thoughtful touch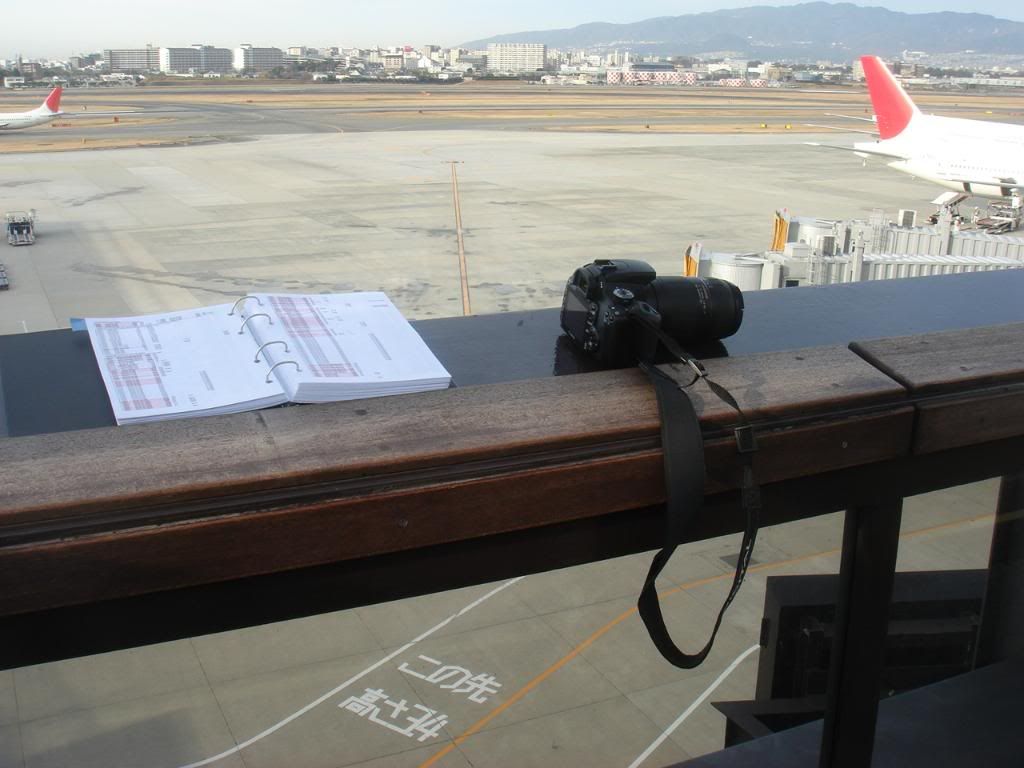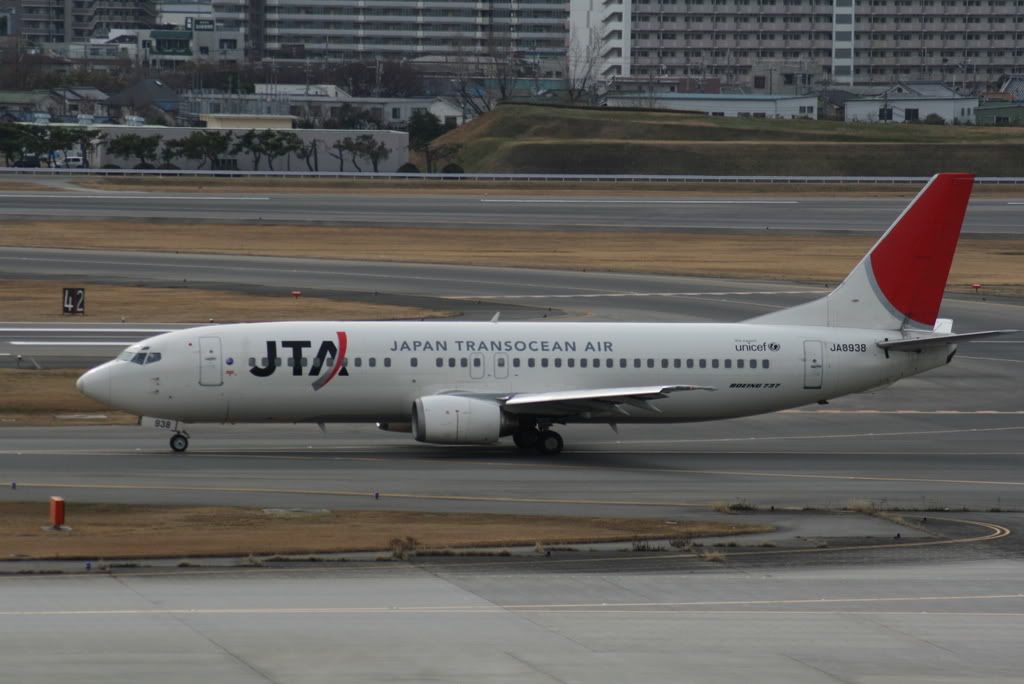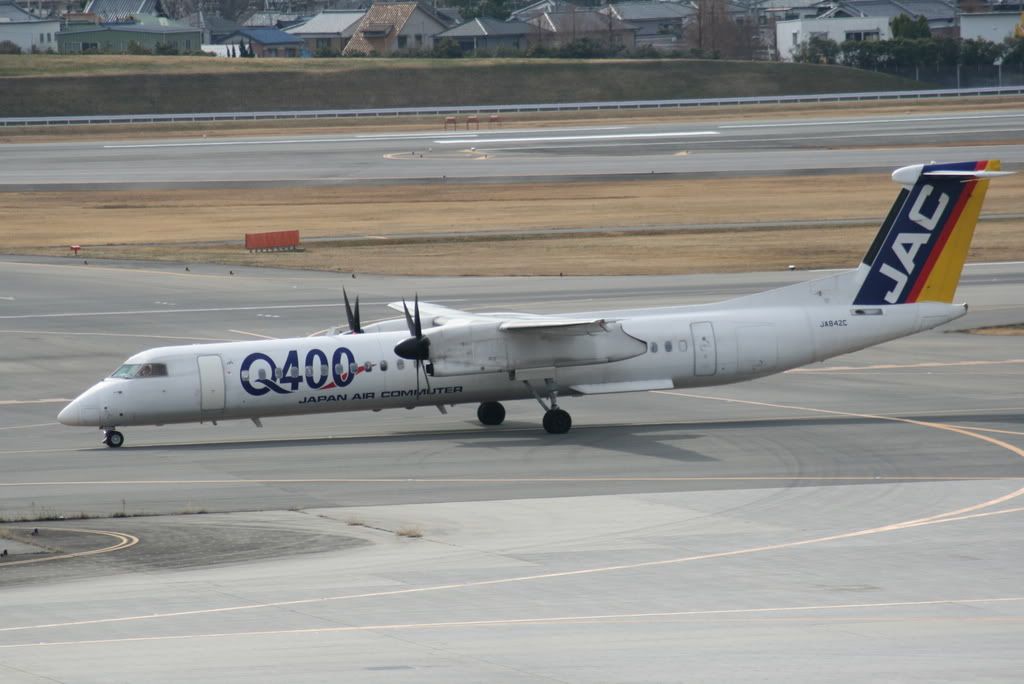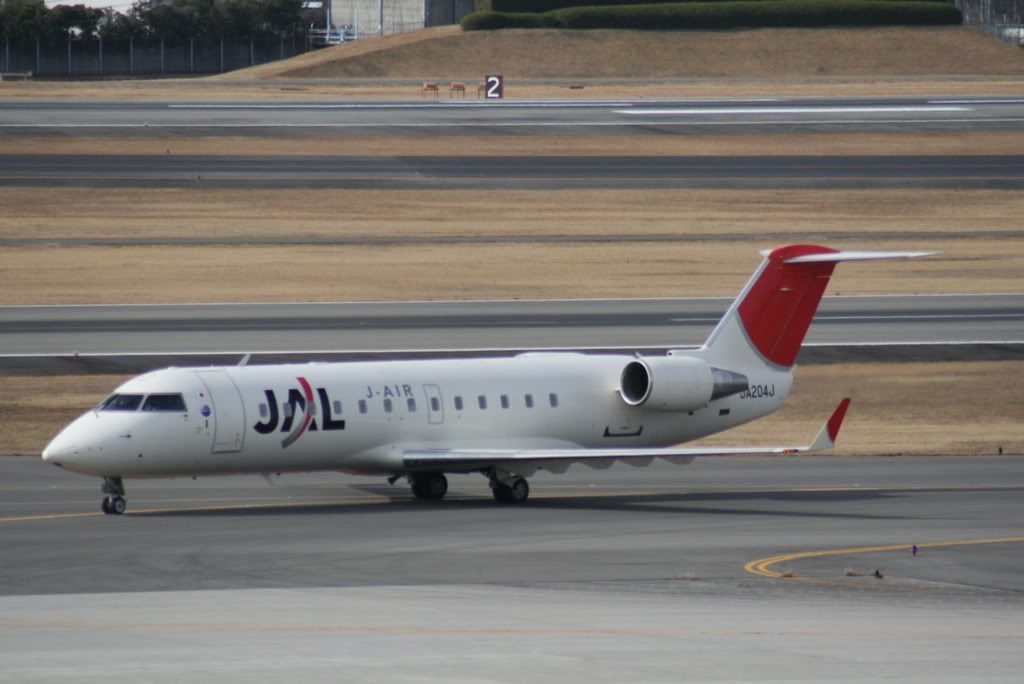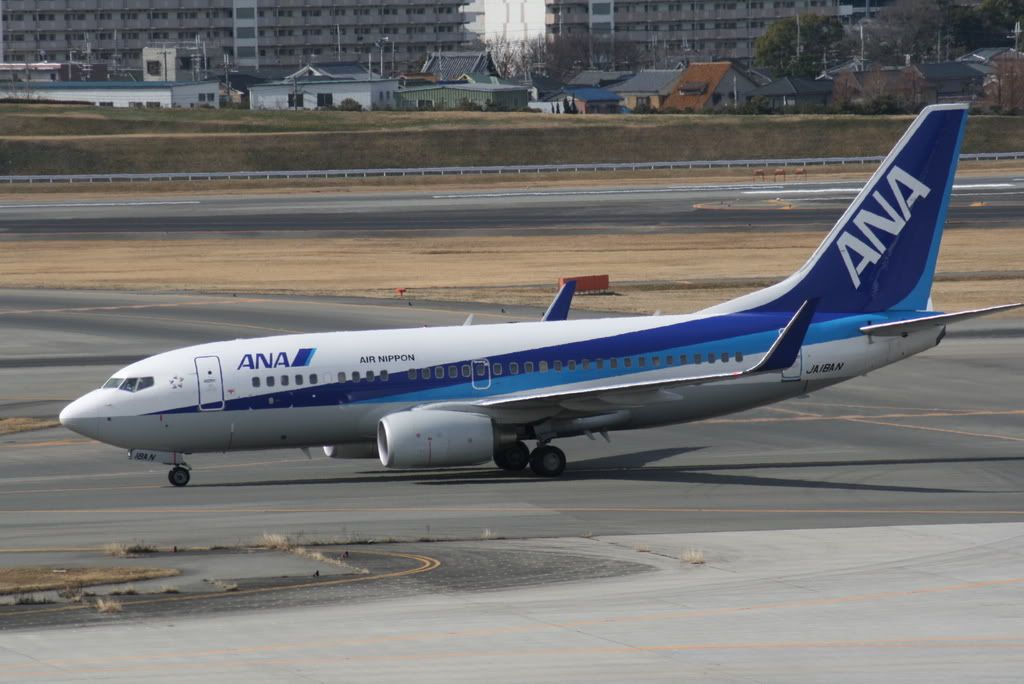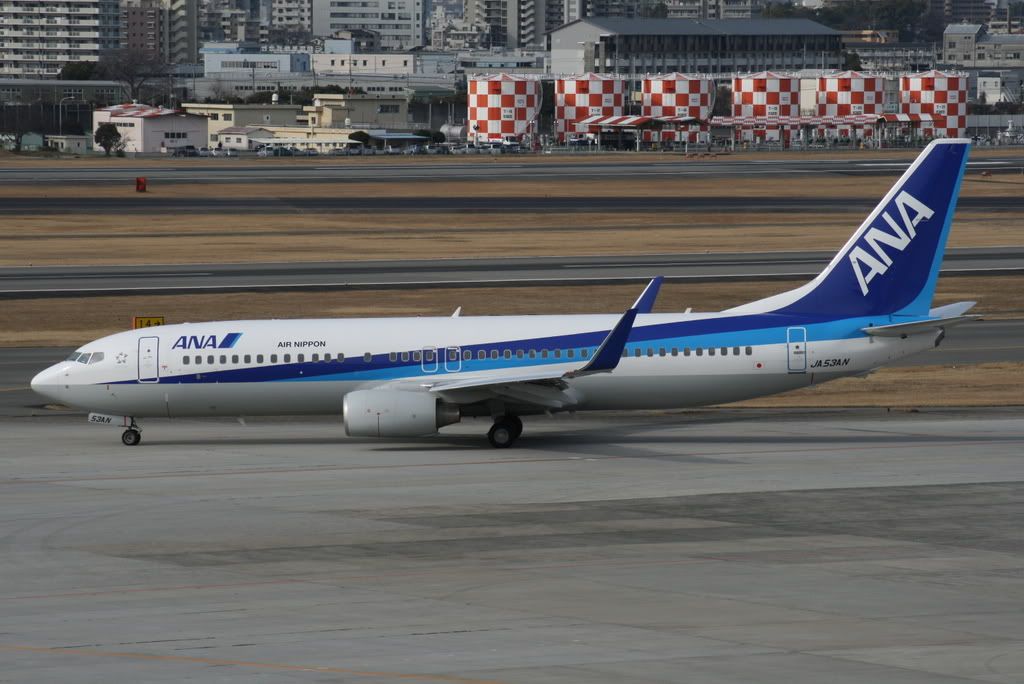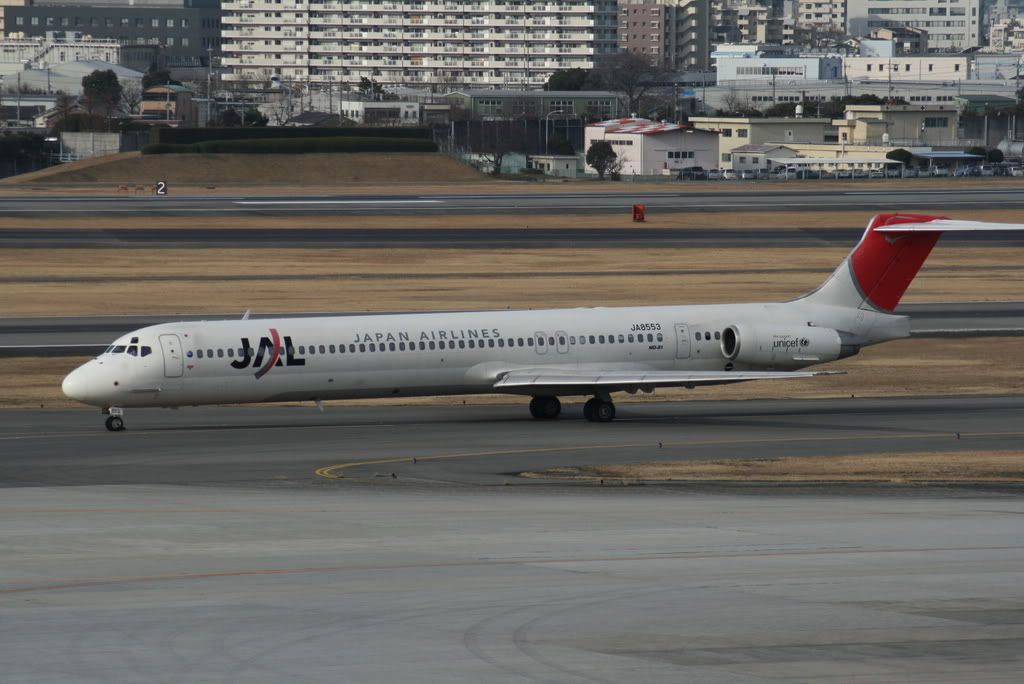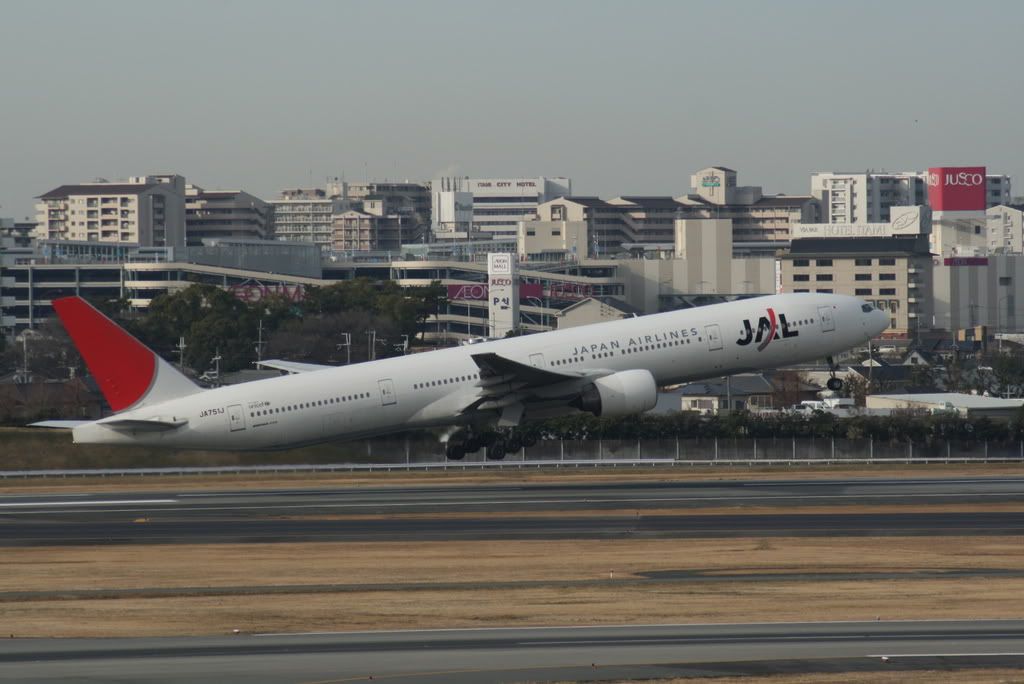 Former glory days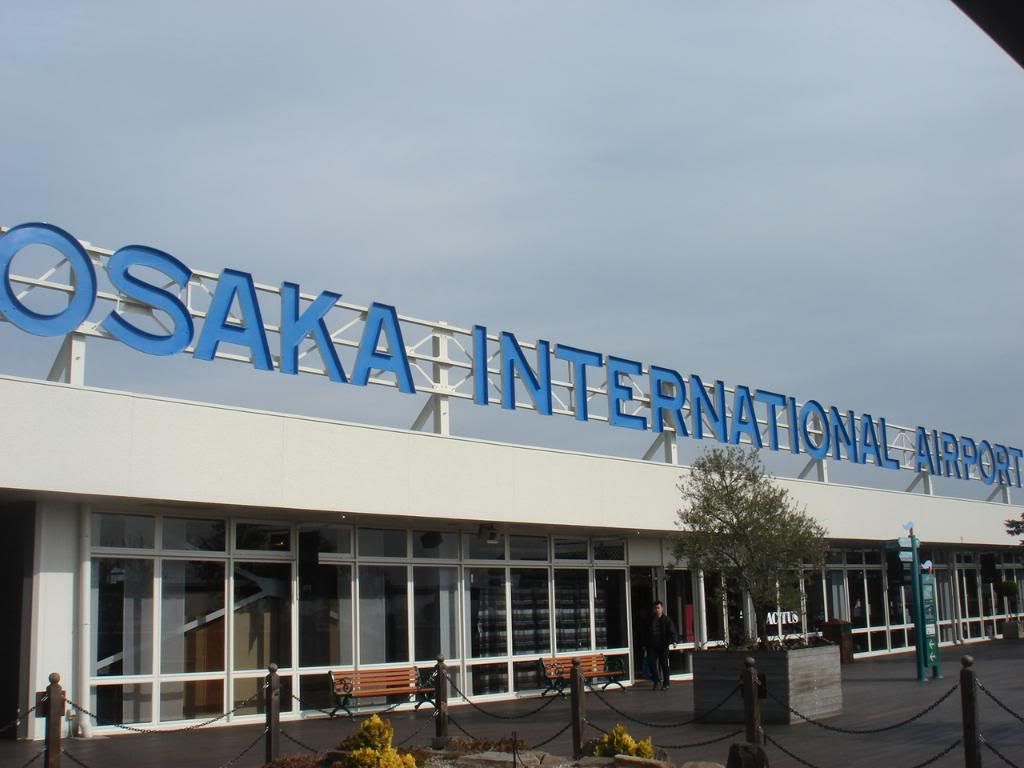 09.02.09 NH34 ITM-HND
777-381 JA754A – Economy Class, Seat 57A
1st Flight on this aircraft & 14th 777 Flight – (1ST 777-300)
SCH DEP 17:00 SCH ARR 18:10
ACT DEP 16:56 ACT ARR 17:59
View Large
View Medium


Photo © Chi-Ping Chih
After an enjoyable day on the deck I headed through security, again no queue at all – I saw the device which checks liquids to allow them through security, or not, very impressive, why is this not used elsewhere in the world?
I booked this particular flight back as it was the -300 model, a type missing from my log.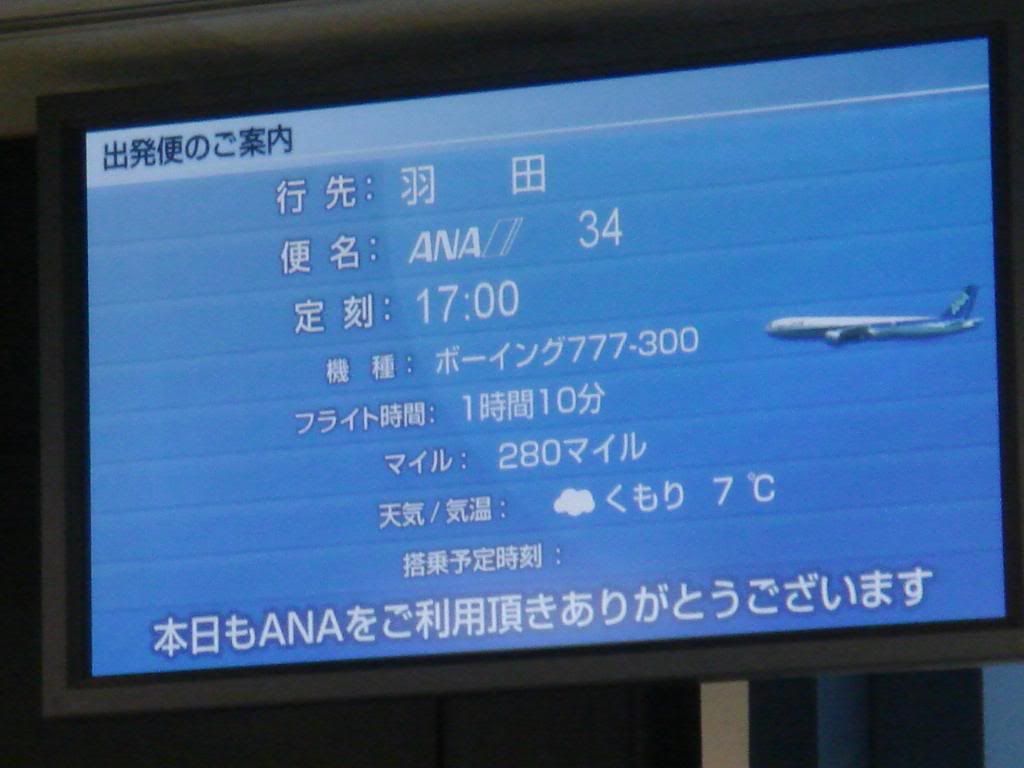 Note the low ceilings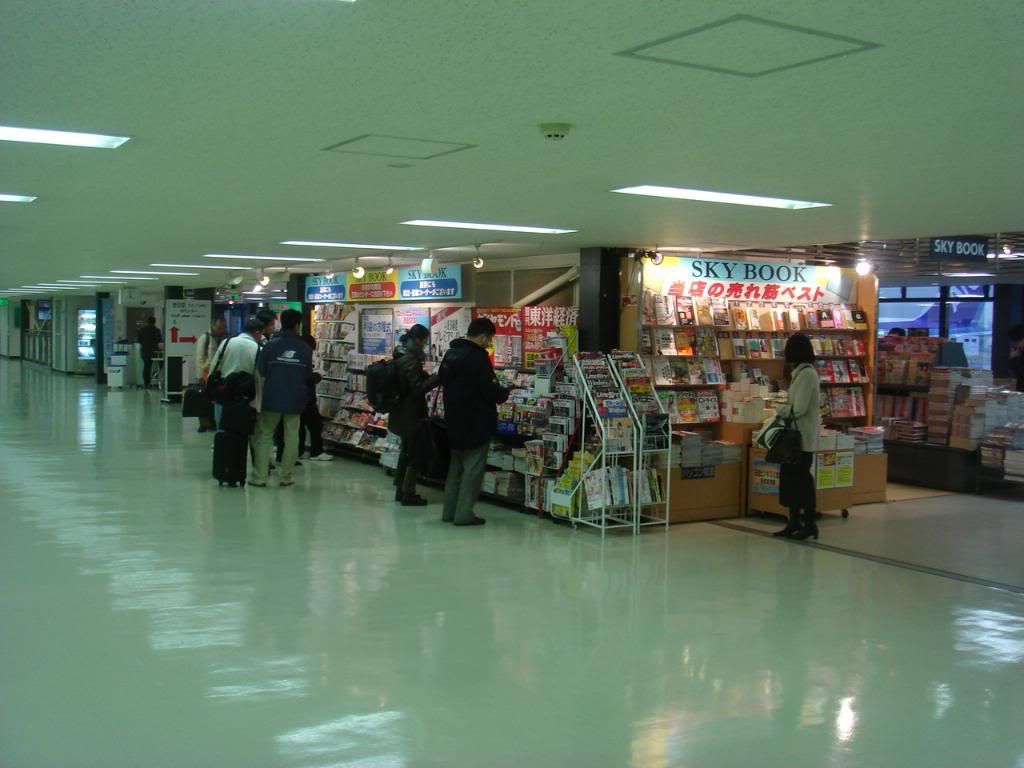 My gate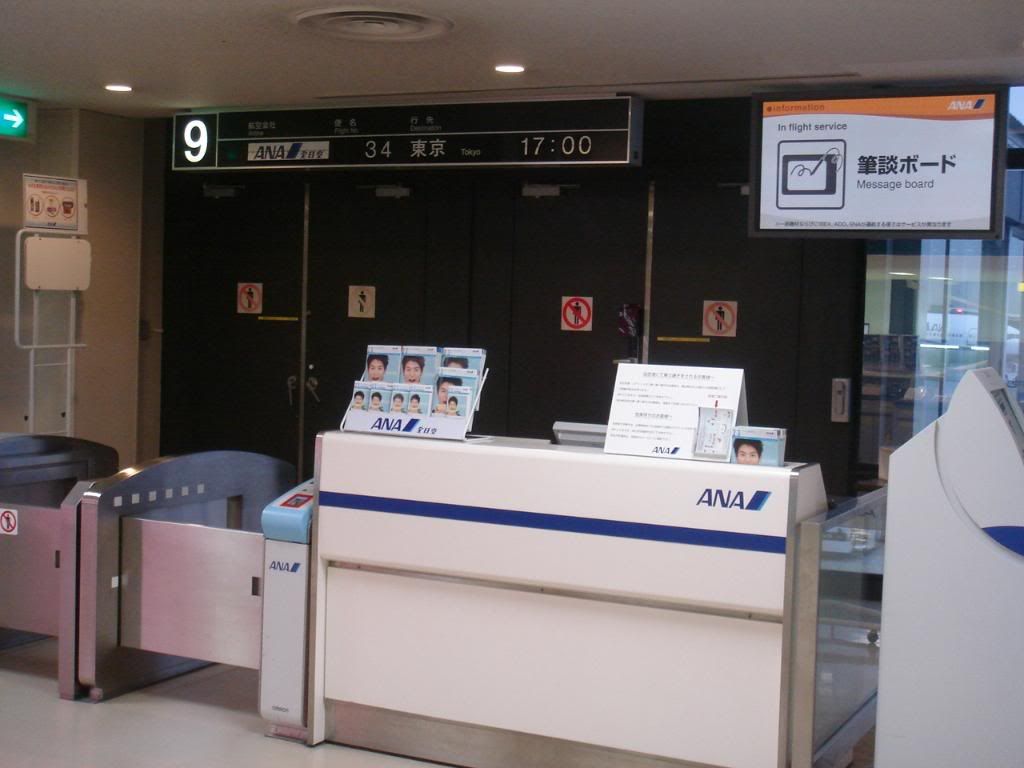 Despite the flight leaving in less than an hour the gate area was very quite
I headed to the bar for a beer and to read my book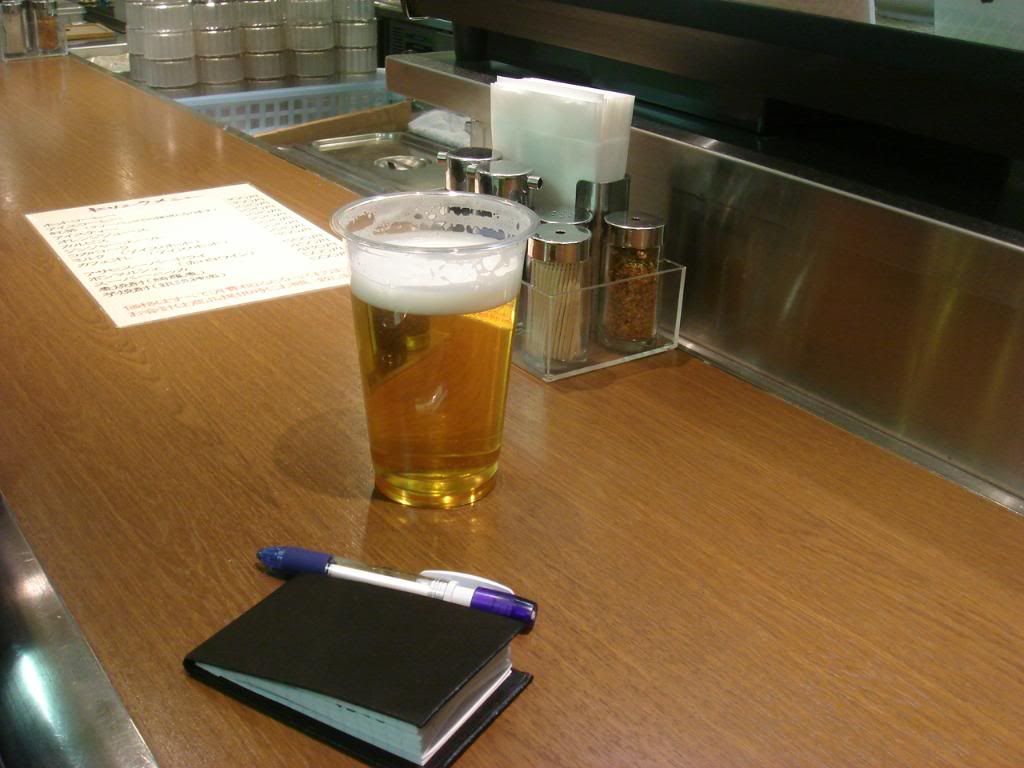 upon my return it had filled up but still looked like a light load for the 777-300 flight.
Boarding started at 16:40 from gate 9, the usual speech then pre boards were done before joe public were allowed to board.
When I booked this flight I knew Markus would not be aboard, for that reason I chose his usual seat, the last one on the plane, in this case, 57 as 58 were middle seats with no window views.
The last few rows are sets of 2 by the window as the fuselage narrow's, I had a seat mate but ple
nty of leg room as there is a big gap between the seat and side wall.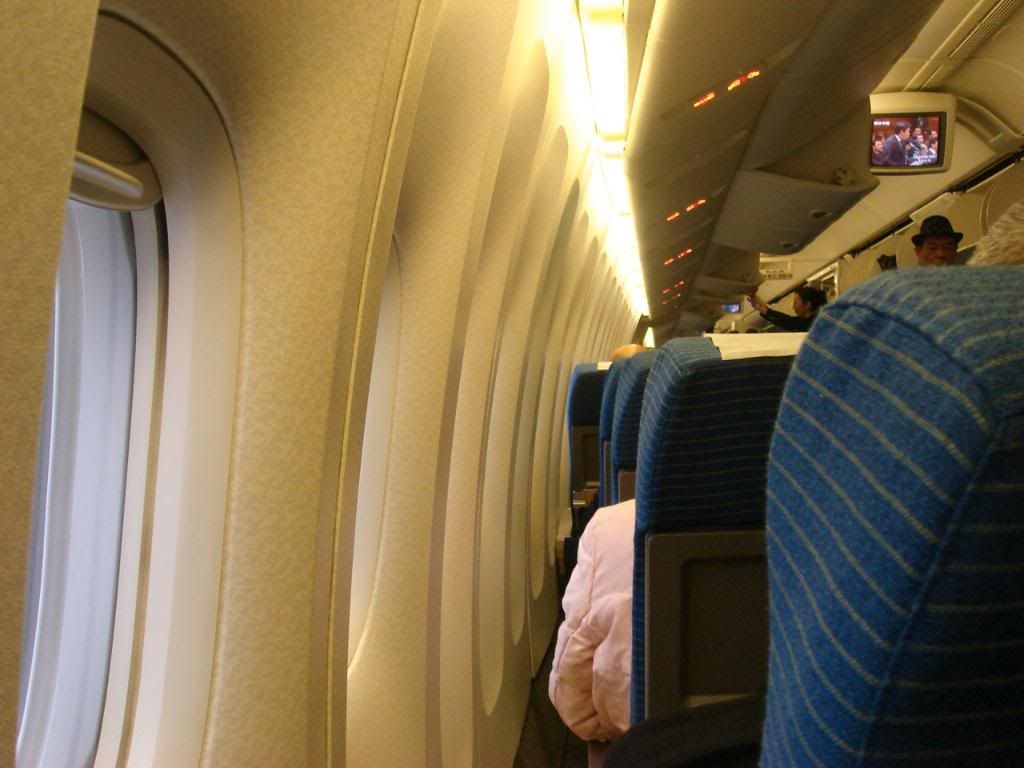 Legroom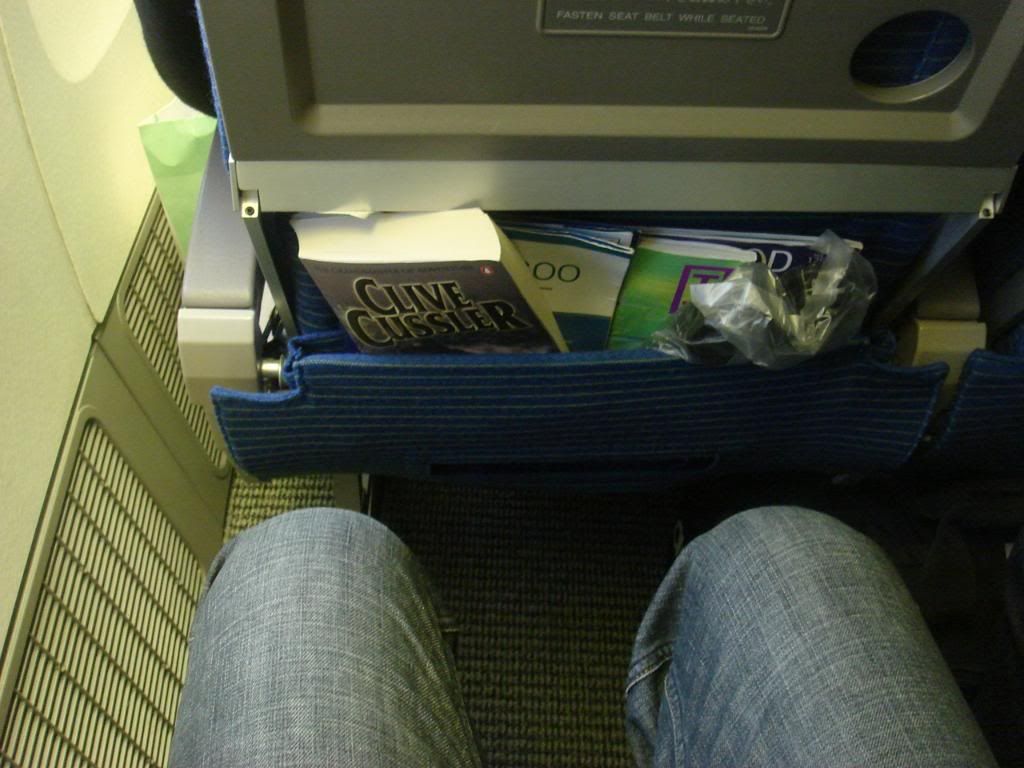 I did note a couple of empty seats but not many.
Push took place 4 minutes early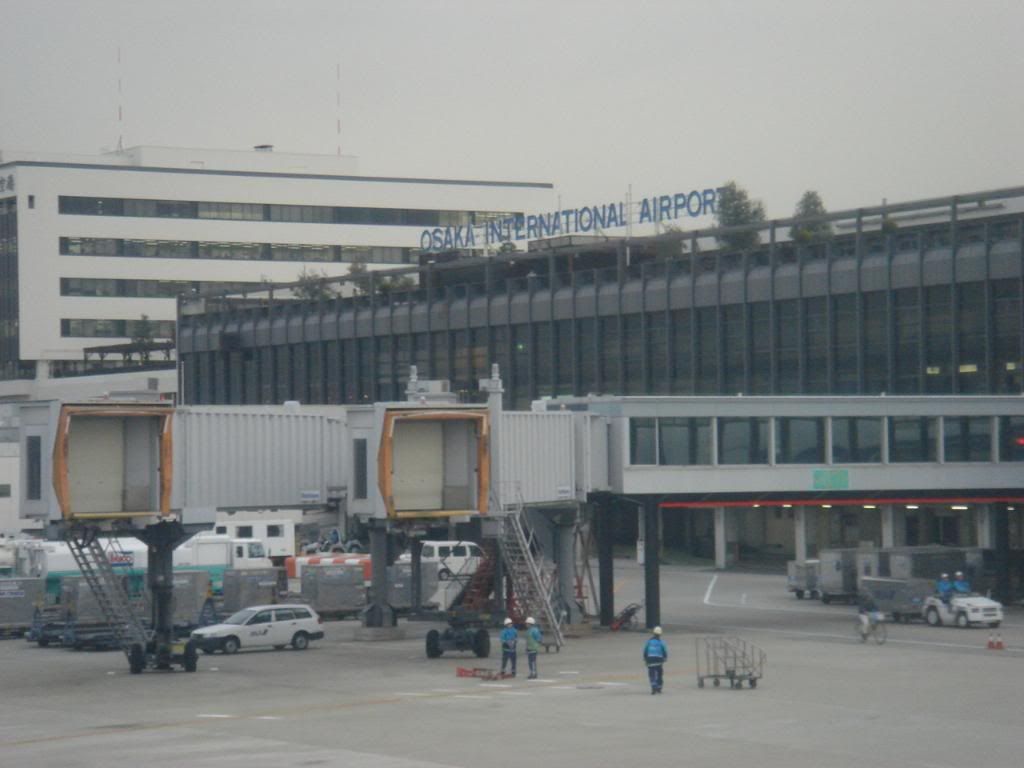 we headed for a 32L departure, wheels up at 17:07.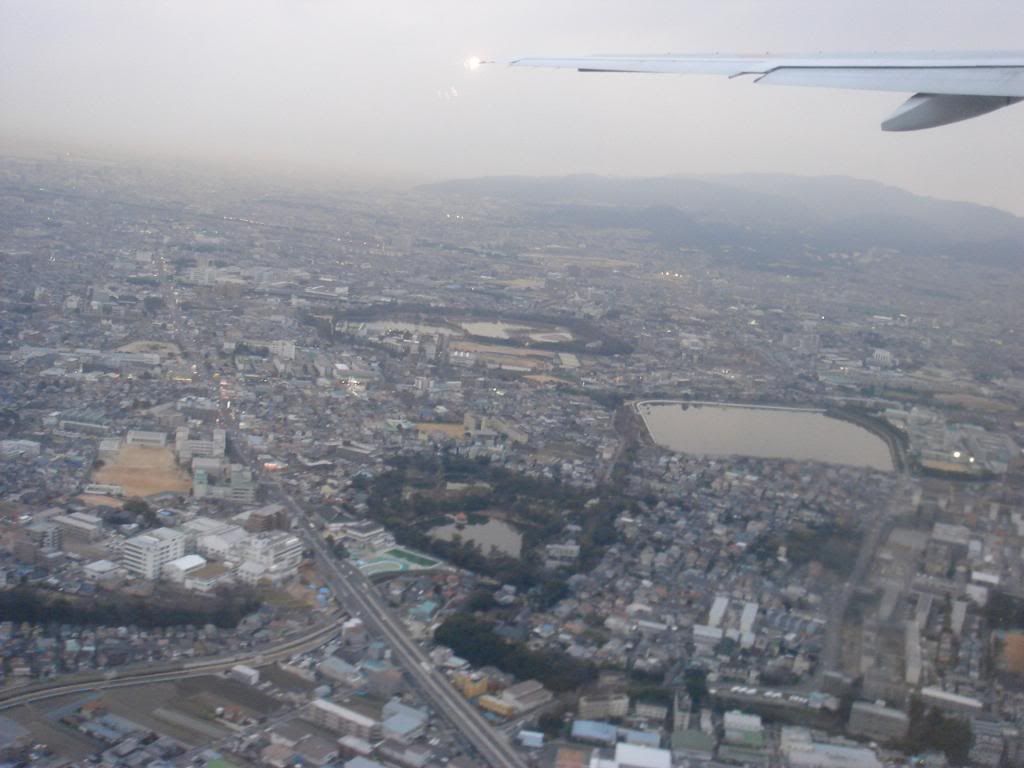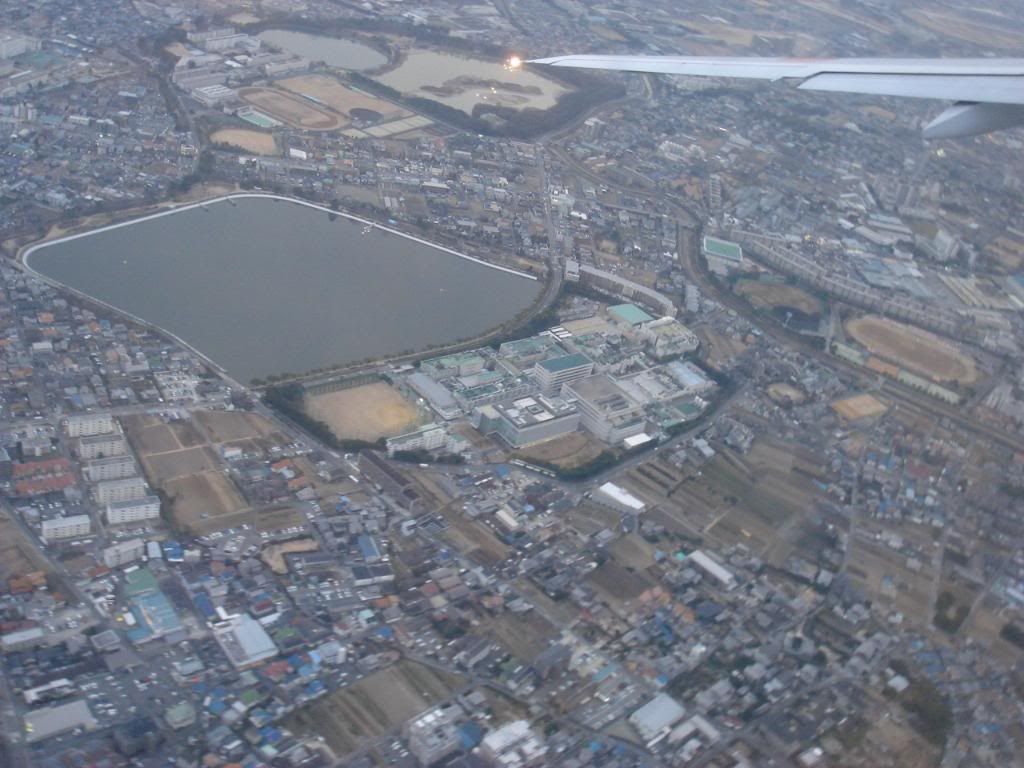 Service was the same as the mornings flight, efficient as always.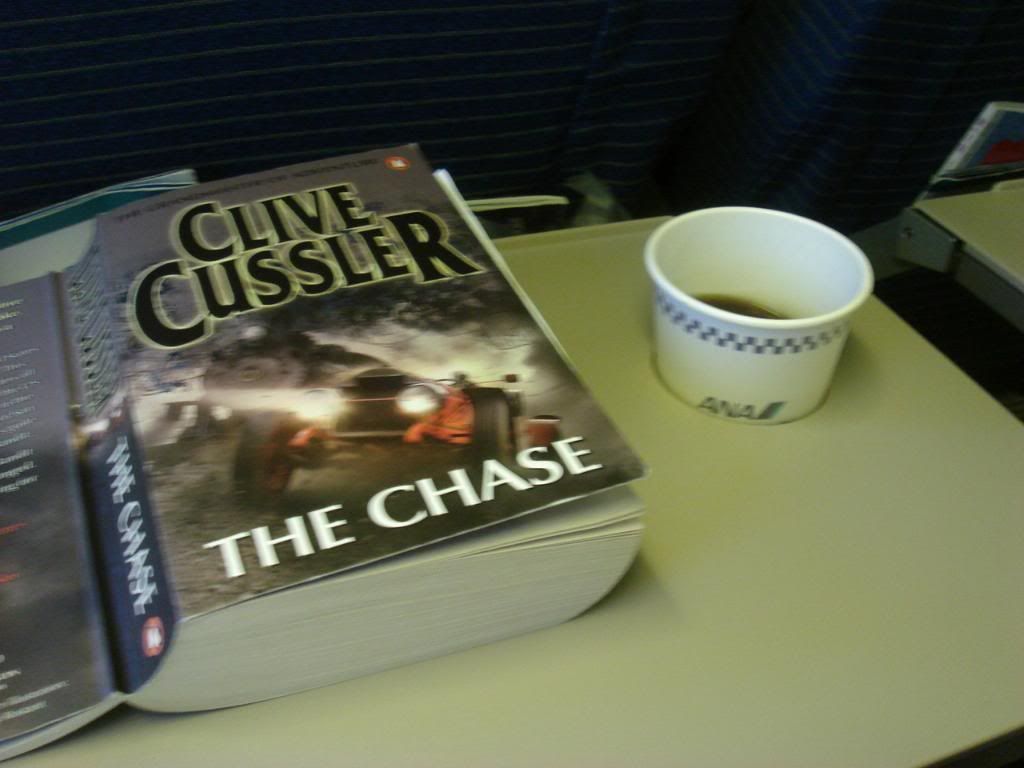 I managed to get a little sleep though I must say these -300's really seem to feel the slightest turbulence down the back, it got quite rough at times, must be the length of the beast I suppose.
Wheels touched down on runway 34R at 17:59, another short taxi to the gate and we were off.
Despite the passenger load, and sitting in pretty much the last row, it did not take long to get off the plane.
Overall both flights were excellent, nothing to get excited about, well the -300 was for me as it was my 1st -300 flight and a non ER, ie not a 77W.
If I compared ANA domestic with JAL domestic, I would say ANA are ahead of the game, the ability for overseas travellers to book via their website is excellent, JAL really should step up to the plate and allow that too. In addition, the whole SKIP thing is brilliant, JAL may have something similar but I did not see it, regardless, next time I travel on a domestic flight in Japan, ANA will get my business.
Regards
Mark
[Edited 2009-02-21 08:18:46]