Background information
There's something about university students that just makes us attracted during "reading week" (read: Canadian version of a college Spring break) to all inclusive resorts down south. Perhaps its just appealing to relax in the sun for a bit or drink til you drop. In the case of myself and 3 friends, it was a combination of both
. Now don't get me wrong, I'm not the biggest fan of "let's go on a beach and crash" for a week type of holiday, but this last year of the B.A (best excuse for a AI holiday) just prompted me to return to a very nice resort in Cuba I had been to last year, which had an awesome beach and the sweetest staff you could find in Cuba. Booked early December for February and then counted the days 'til it was finally the morning of the departure!!! Given the trip reports on TS are rare and far between on here, I decided to tempt my first photo trip report on here, given I read and enjoy them, but rarely post. So here it goes!
Pre-departure
The morning of Feb. 13th came quicly enough and after completing a mid-term and handing in another one the night before, I drove off to Montreal to sleep over for the night (a 2-hour drive from Ottawa) at this new Holiday Inn Express just off 55th Avenue, which turned out to be brand new and had a great park and fly deal. Now, call me lazy, but I wanted to get as much sleep as I could and the 2-hour drive in the wee hours in the morning was less than appealing. Wake-up call was set at 8:15 am to catch to 9:30 am shuttle to Montreal's Pierre Elliott Trudeau International.
Never thought rooms at a Holiday Inn Express could be this nice!
After a bad night's sleep (certainly not the hotel's fault, I was just too excited for the trip), the call came and I headed full of excitement down to breakfast which consisted of microwaved bacon, sausages and omelettes and a poor breakfast attendant who couldn't move fast enough to clean the tables. As filling as it was, it was a poor excuse for a breakfast, but to be expected with "complimentary" breakfasts in such hotels.
I hoped on the 9:30 shuttle with the departure monitor in the lobby that showed our flight as "on-time". Now, pardon me for not taking any pictures before clearing security, but my travel companion had trouble understanding why on earth I would want to take a photo of a check-in counter. We proceeded straight for the Club Transat check-in counters in the far right corner of the terminal, in a windowless area, right next to the food court. We were lucky enough upon booking to be offered Club class for only 80$ extra, which was, as you'll see, much worth it in comparison to TS's economy class offer. All of TS's aircraft have a small, 21-seat dedicated cabin at the front of both the A310s and 330s, which is configured 2-3-2 instead of the usual 3-3-3, and offers 35-36' of pitch. You also get 40 kg of checked baggage (instead of 20 kg), priority tags and boarding, plus a dedicated check-in counter with usually no wait. This morning was no exception, no line at the Club desk, just 2 people ahead of us. We were checked-in promptly by a nice agent who wished us a good holiday and for the first time in my life, weighed our carry-ons? It was by then 9:50, so with less than 2 hours to spare before push-back time, it was straight through the checkpoint (there are absolutely no views to be had of the tarmac in Montreal pre-security), which was at this time of the morning, a done deal in 10 minutes.
Given all the time that was left to spared, I went for a walk around the long international pier in YUL, which provides excellent views of the tarmac and has these weird walkways which are higher than the actual floor. Never quite seen something like this before.
International Pier at YUL
There was a RJ A340 that was just pushing back to Amman but I didn't manage to snap a shot of it. As I'd never seen it before, I was quite happy to see the very good looking A342 in it's black paint scheme.
YUL morning action!
WG to CUN
More WG and tarmac scene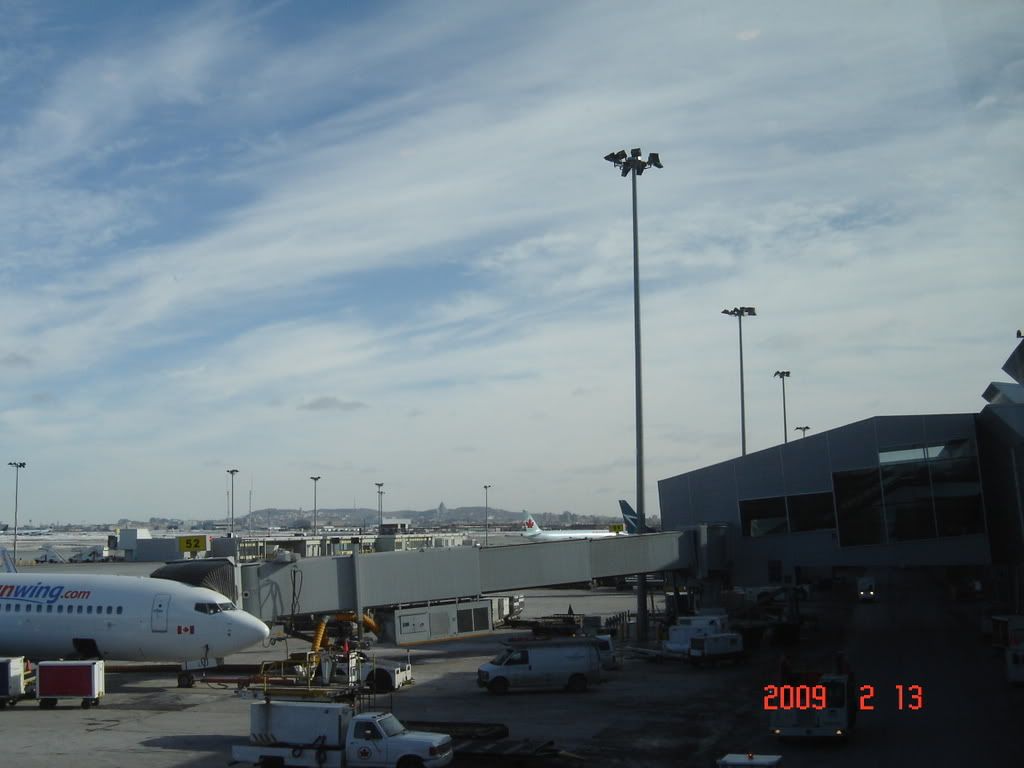 WS being towed to a gate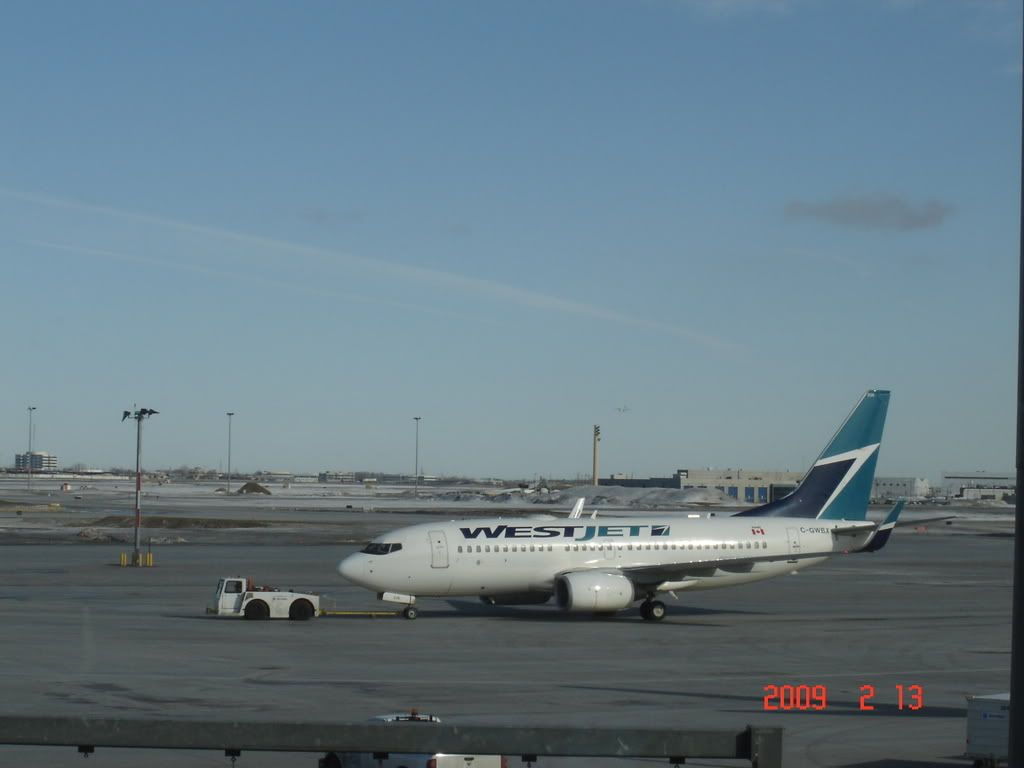 AC coming in from some non-Canadian/US destination with a non-matching nosecone.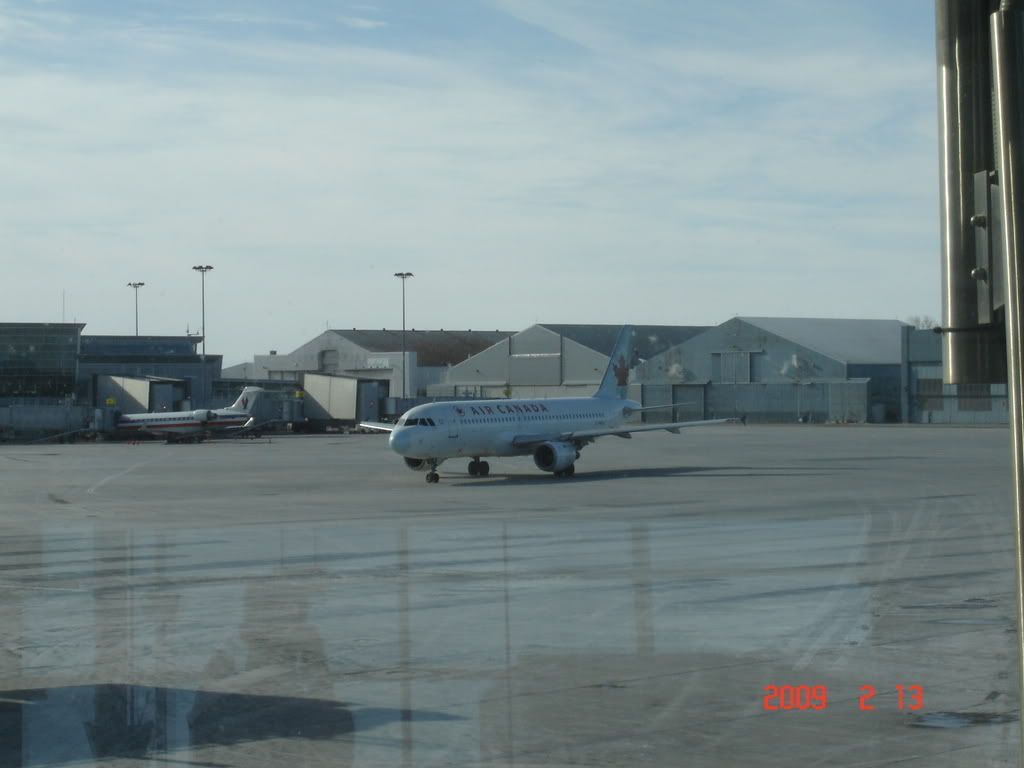 A TS A310 sitting opposite our gate, later going to CUN I believe.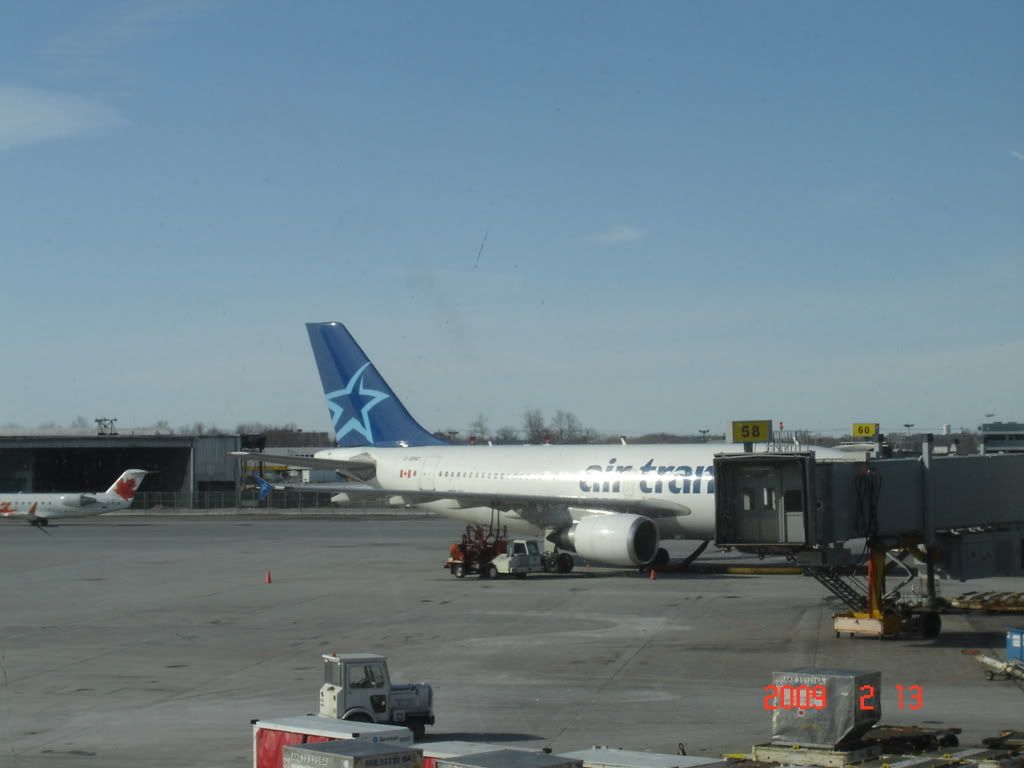 My ride to Holguin, Cuba! Air Transat A330-200 C-GPTS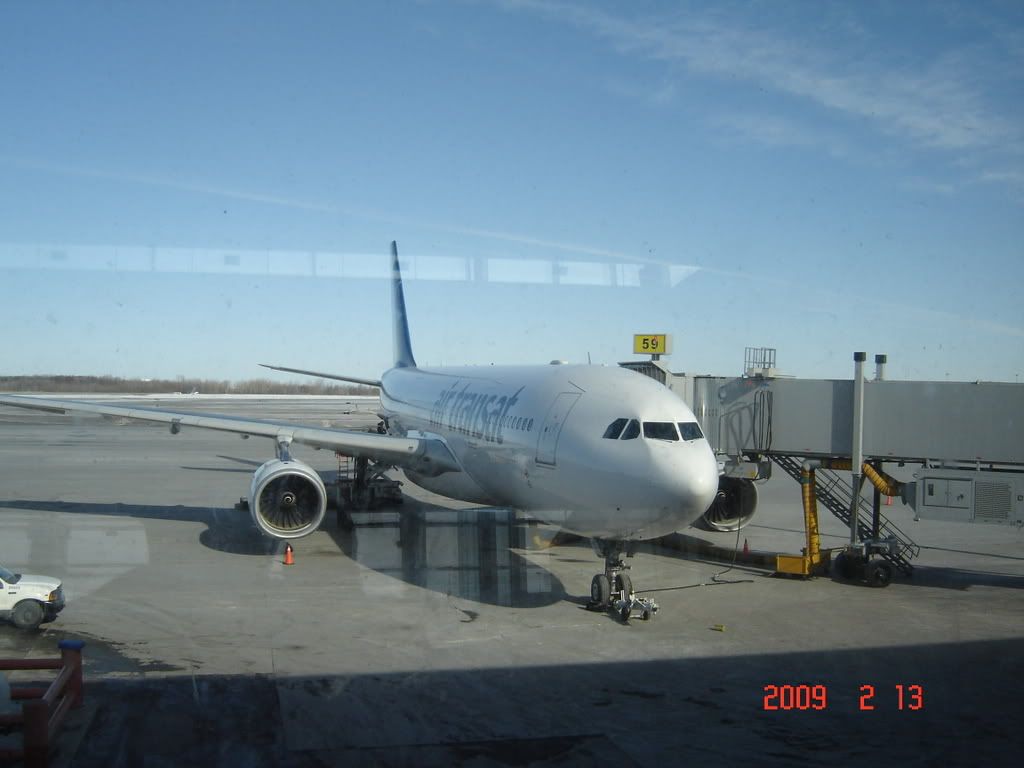 Upon closer inspection, there is indeed speed tape on the wing... my travel companion is not keen on the idea, even though I assure him it's perfectly legal and safe to do so. Then again, it's TS so you never know...
We might just glide to HOG.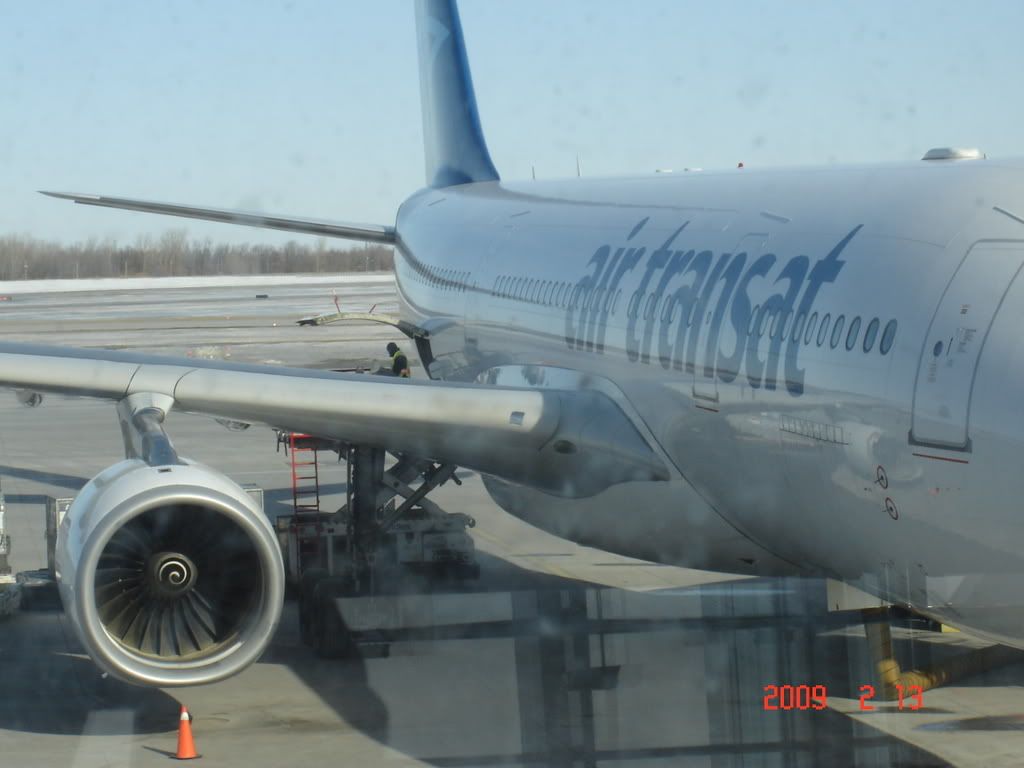 Our gate (59) with the monitor display "TS 686" Holguin, 11:45.
FRIDAY, FEB. 13th
AIR TRANSAT 686, YUL-HOG
SDT: 11:45/ADT: 11:45
SAT: 15:50/AAT: 15:350
Airbus A330-200 C-GPTS (Fin 103), delivered new to TS in 2002.
CLUB TRANSAT, SEAT 1A
3h37 minutes flying time
I sat around the gate just about 40 minutes prior to departure and funnily enough, a queue was already forming blocking the gate. The poor agents were certainly doing their best to keep people away in this chaos but without any success. You have to love vacation flights for that, full of non-seasoned travelers. Nothing wrong with that! Boarding was called a little late (or so I thought) for what looked like a packed 332 (TS crams 342 people in its 330s), around 11:15 for an 11:45 departure, starting with pre-boarding for passengers with chlidren and those requiring assistance, followed by Club passengers and then, by row numbers. As the gate was docked on door 2R, there was no need for Economy passengers to pass through Club which contributed to the less crowded feel. We made our way through the cohue, passing some angry flyers who didn't understand why we were boarding before everyone else...
Legroom in Club, seat 1A, fairly good actually and its nice to have the bulkhead in front.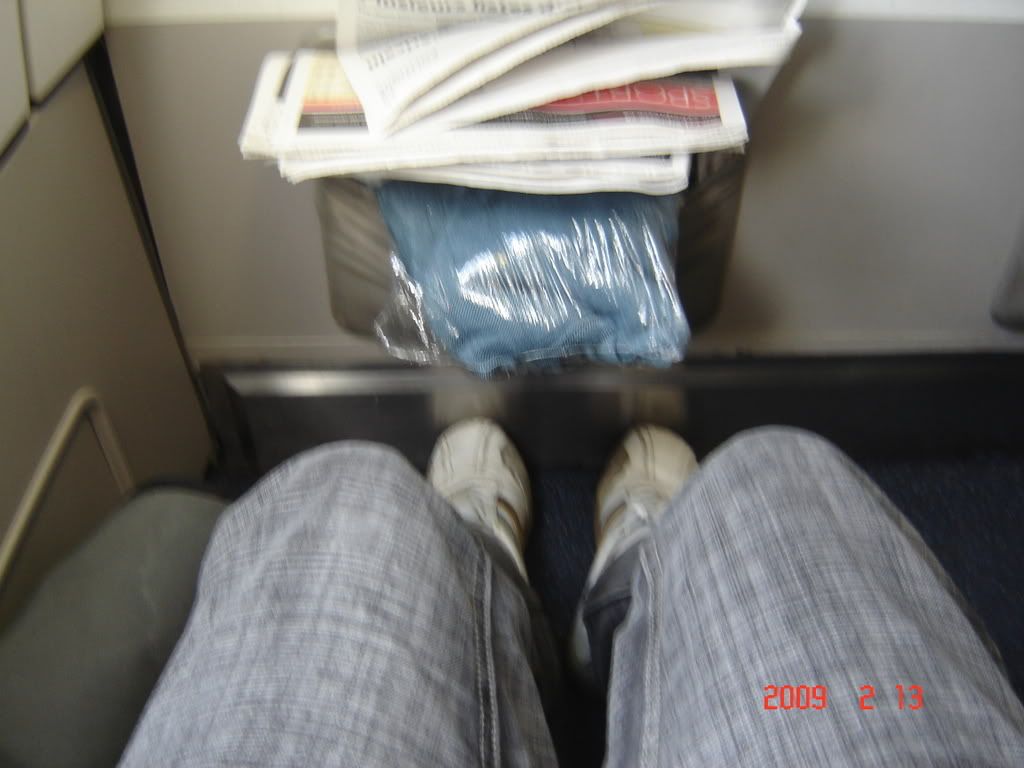 Doors were closed and we pushed back on time at 11:45. We were all offered pre-departure drinks in real glasses consisting of either champagne, a strawberry mousseux or orange juice. I opted for the strawberry mousseux which was quite good! We were also offered newspapers in English or French. This flight was off to a much better start than any other TS flight I had taken before and the dedication of 2 FA for the 21 seats clearly showed here. Annoucements and safety checks were completed and up we went! In the air by 11:55. Our ISD spoke a broken English to which I nearly felt like saying, "want me to make the annoucnements for you in English hun?" We had one unilingual Vancouver-based FA among this YUL-based crew which I thought was quite funny. What she must have been thinking of the annoucements. Wish I had filmed with sound. Take-off took place from RWY 24L.
Just after take-off, frozen scenery
More freeze! I want sun! (Over NY state by now)
Our captain came on to give us info about our route today, which would take us just east of Albany, then on to over New York City, Virginia, following the Carolinas coast before setting in over the ocean all the way to Cuba, overflying the Bahamas on the way there.
Big wing a little far from up front where I was seated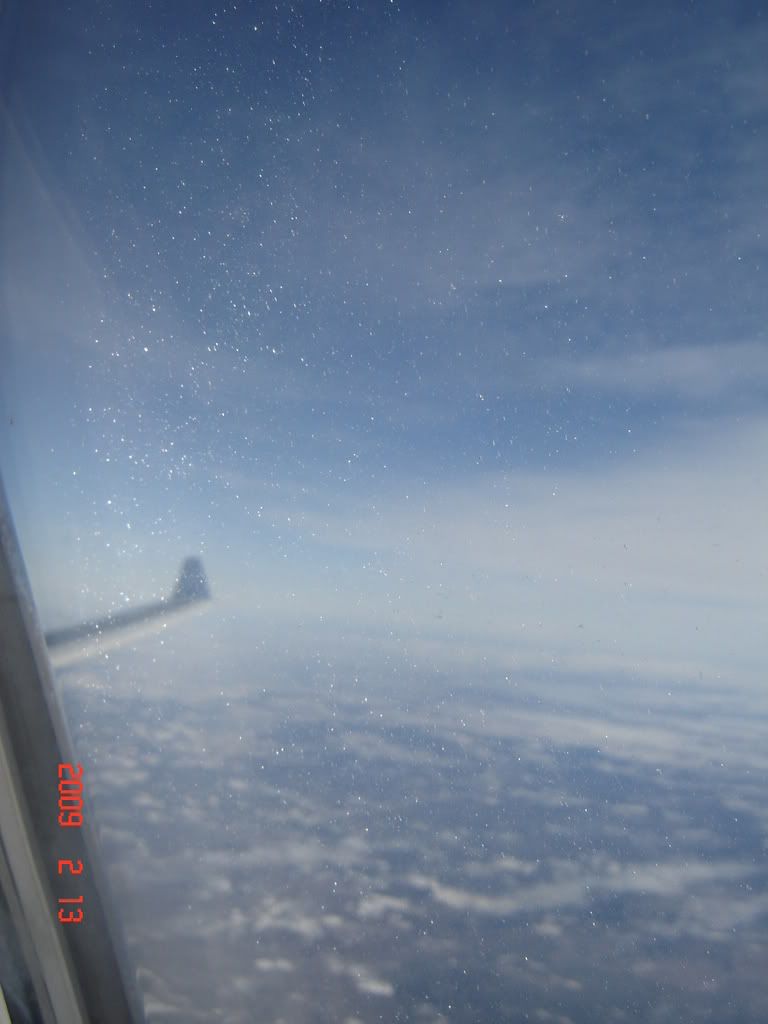 Over the Adirondacks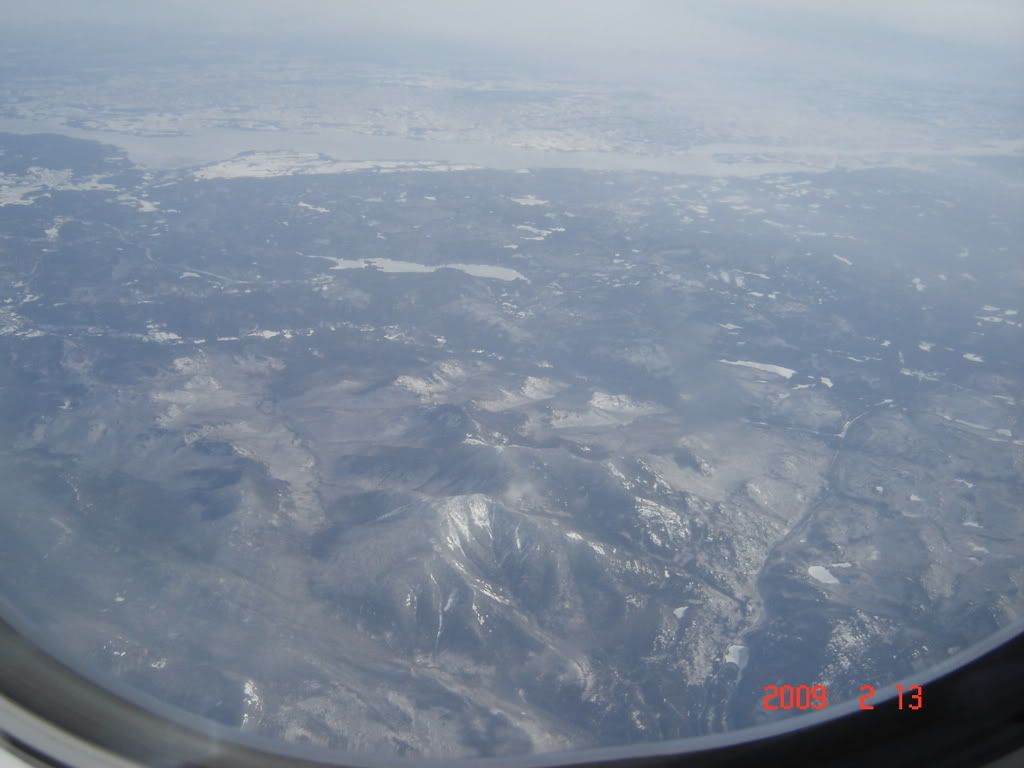 Right over New York City with JFK (I believe) 39000 ft lower. I noticed it too late to take a picture of the airport.
Before lunch, we were served a bowl of nuts with a margarita, very nice!
By that time, my companing was totally weirded out by my picture taking, so I decided against snapping a picture of the meal. We had three choices or main courses today: Chicken Terreyaki, Chicken with brown sauce and pasta. I opted for the Brown sauced chicken, which came on a blue linen tray with a nice Greek salad with lots of feta cheese as a starter and a mousse cake for desert. Bread rolls came in a basket with two types of buns available, but were ice cold. Two thumbs down! How hard can it be to warm up the bread? My chicken was tender but lacked flavour and the vegatables were calcinated. Portions were simply too small for what's advertised as a premium class for sometimes much more than we paid (some people had paid 200$ for this upgrade). The wine selection was decent and of good quality, but my glass of red came very cold. But the wines and spirits collection was certainly better than the meal!
It's getting warmer down there!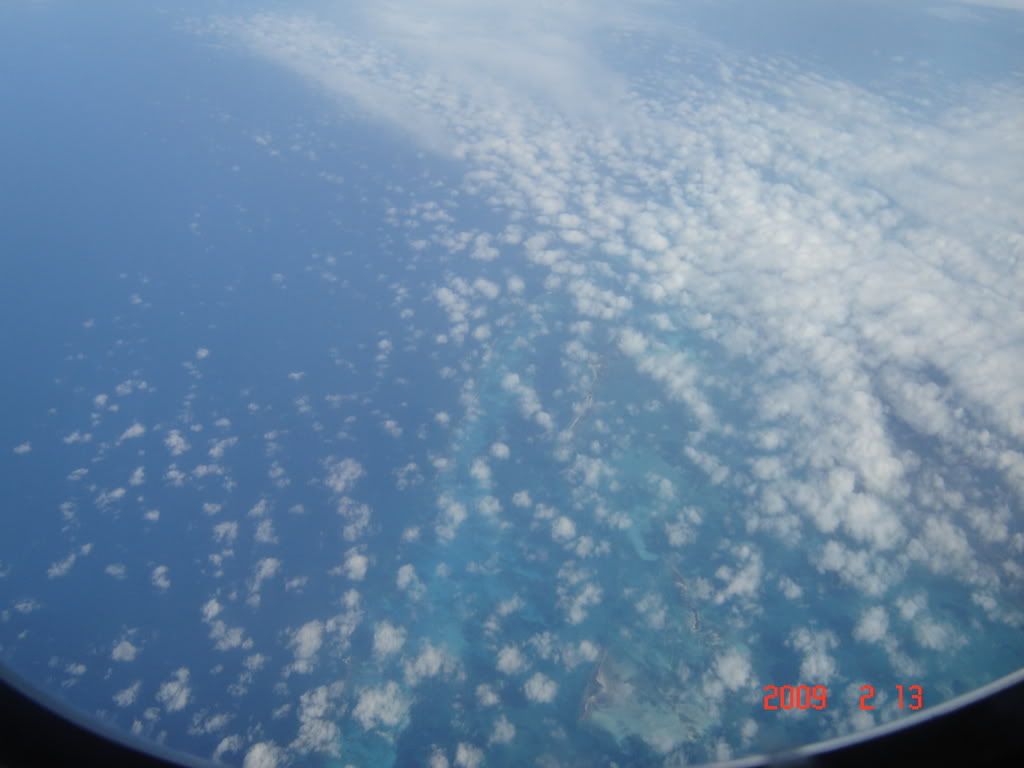 Overflying the Bahamas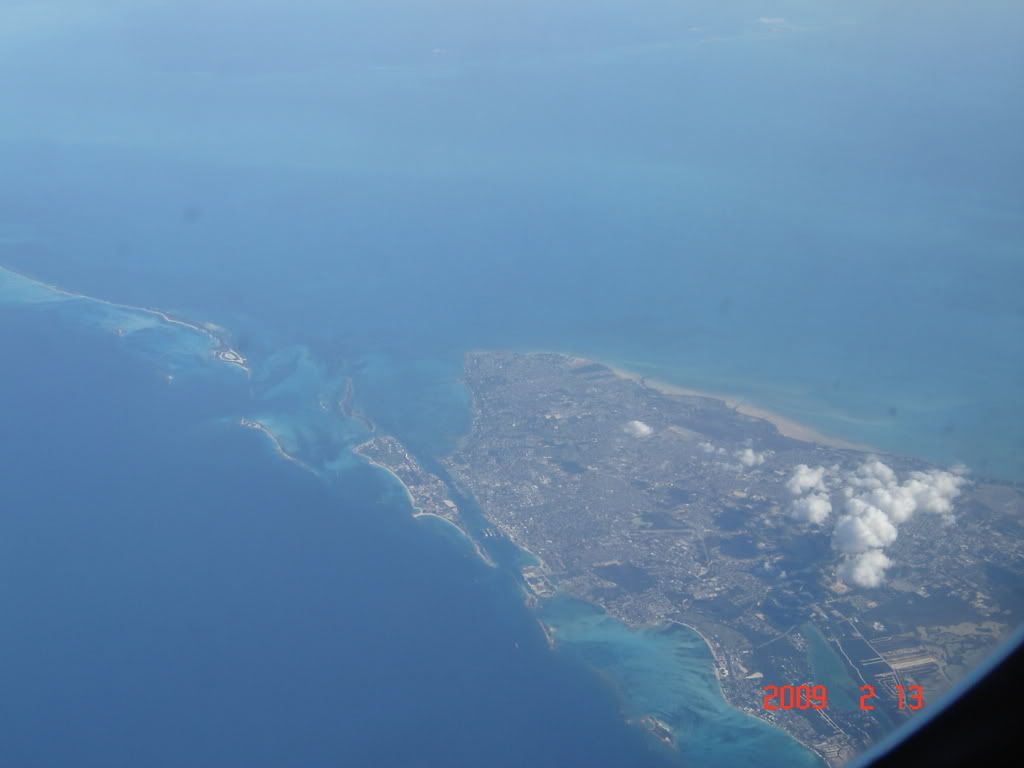 Airshow showing our position, only 30 minutes to go!
A digestive was offered before landing but I declined as I was already feeling very good by now, the margarita and three wine glasses later. I opted for a glass of water. All offers in CLUB I must say were in real glasses and plates, which sure beats US Airways domestic business class which uses plastic cups these days! Hot towels were distributed during the flight to freshen up.
More Bahamas and Caribbean turquoise waters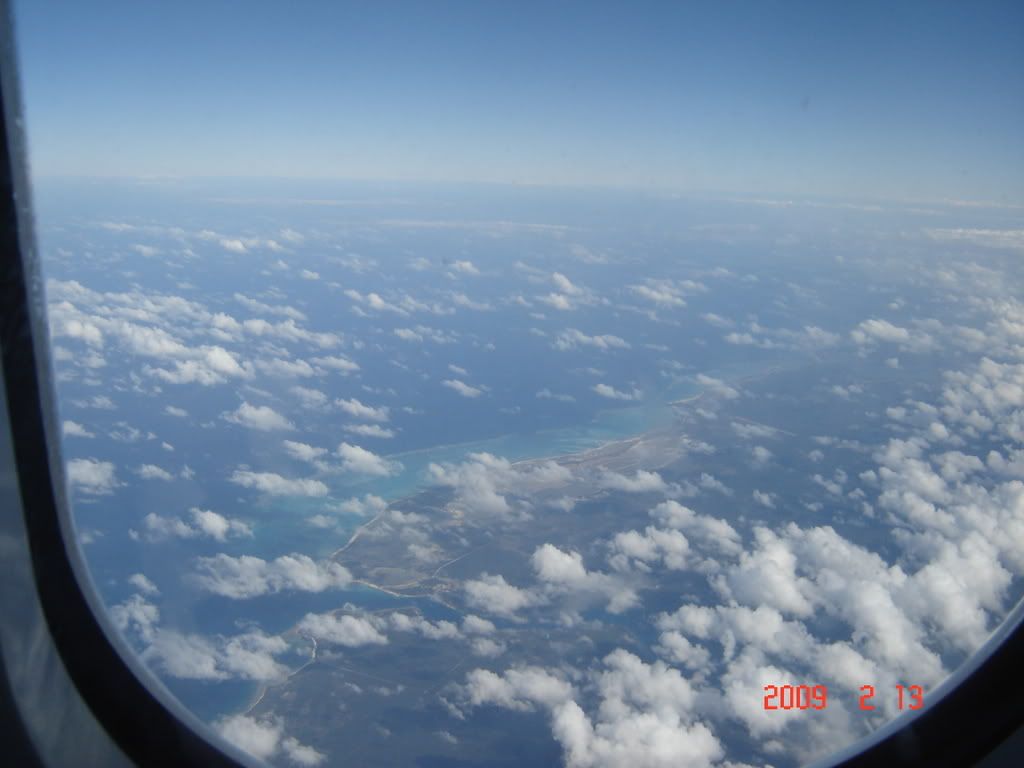 Descending over Cuba in fluffy clouds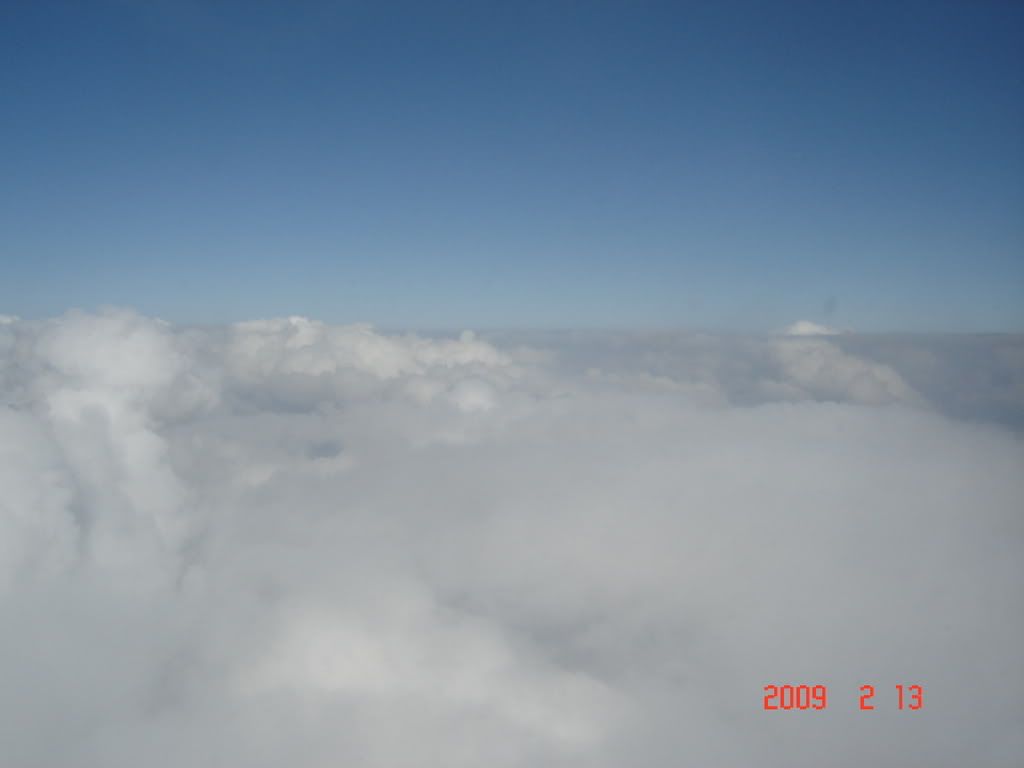 Cuban countryside, we're at about 2500 ft by now, just by Holguin city.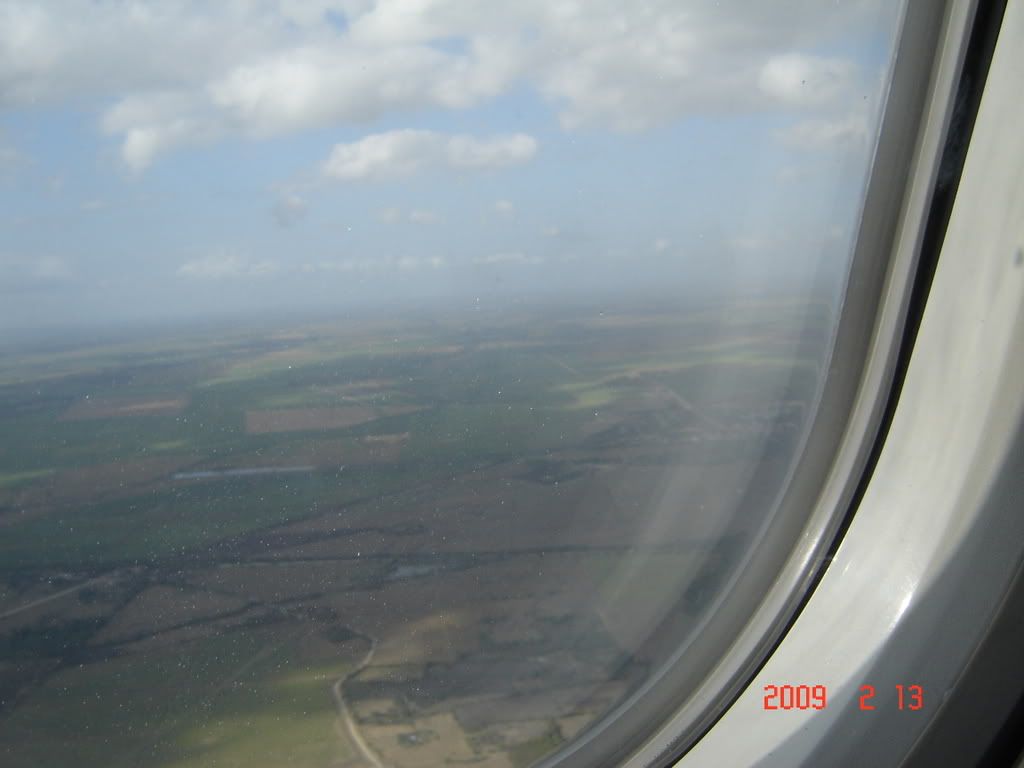 Approaching the threshold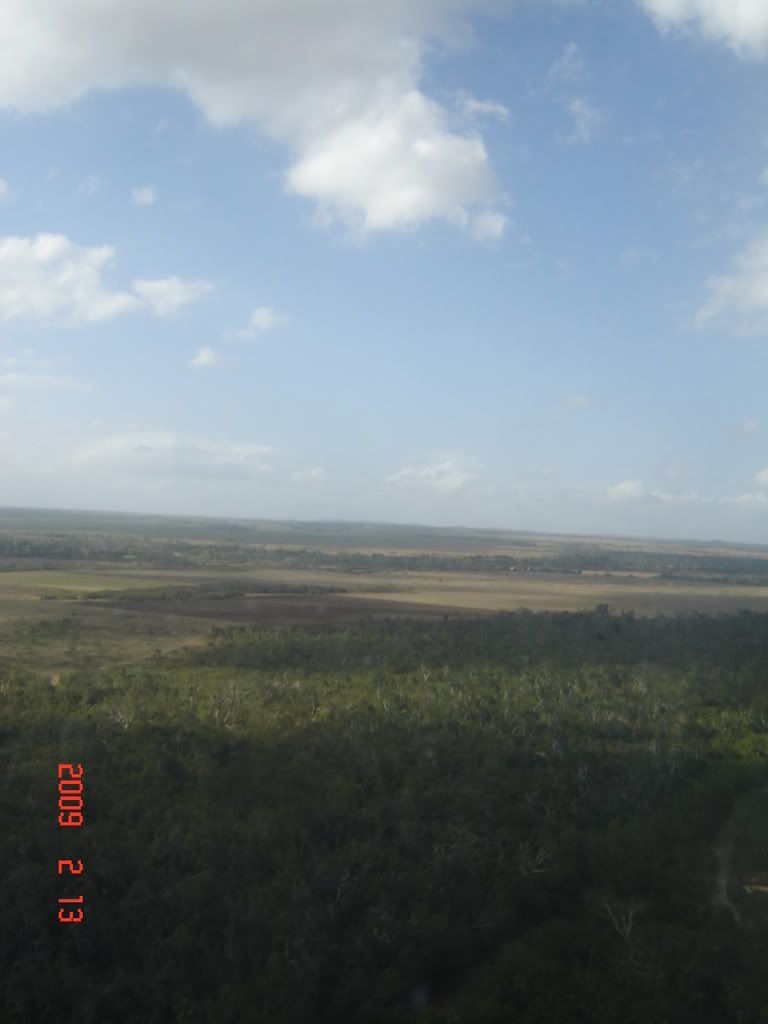 And on the ground!
Welcome to Cuba! Look for the sign...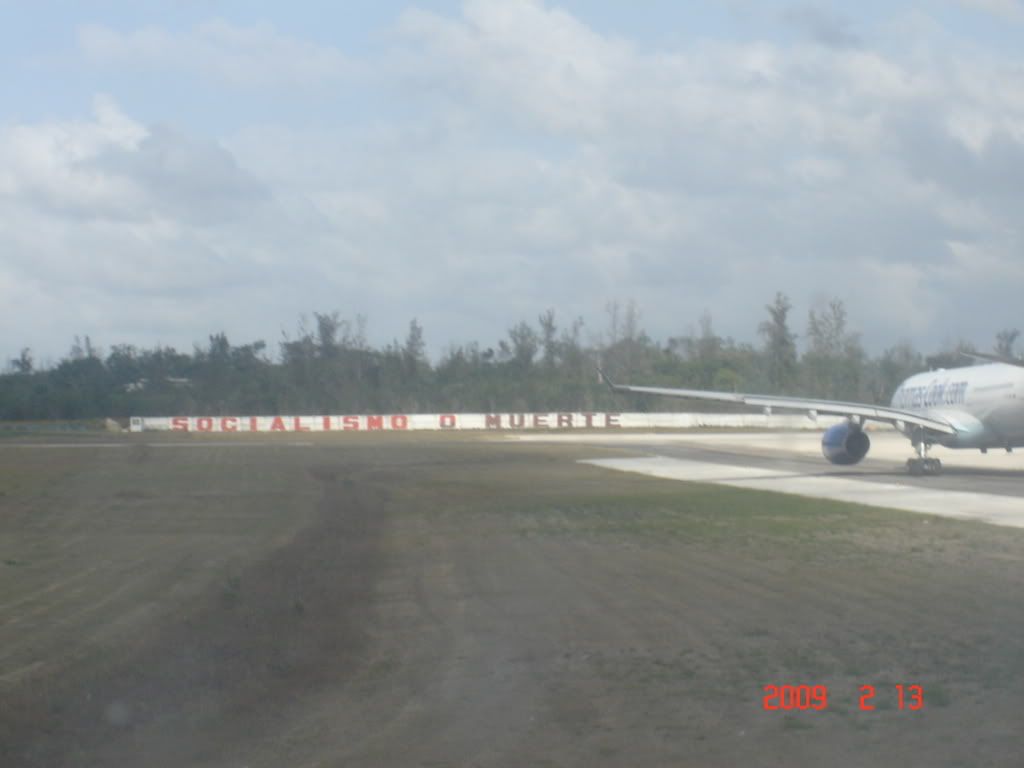 My seat in Club just before deplaning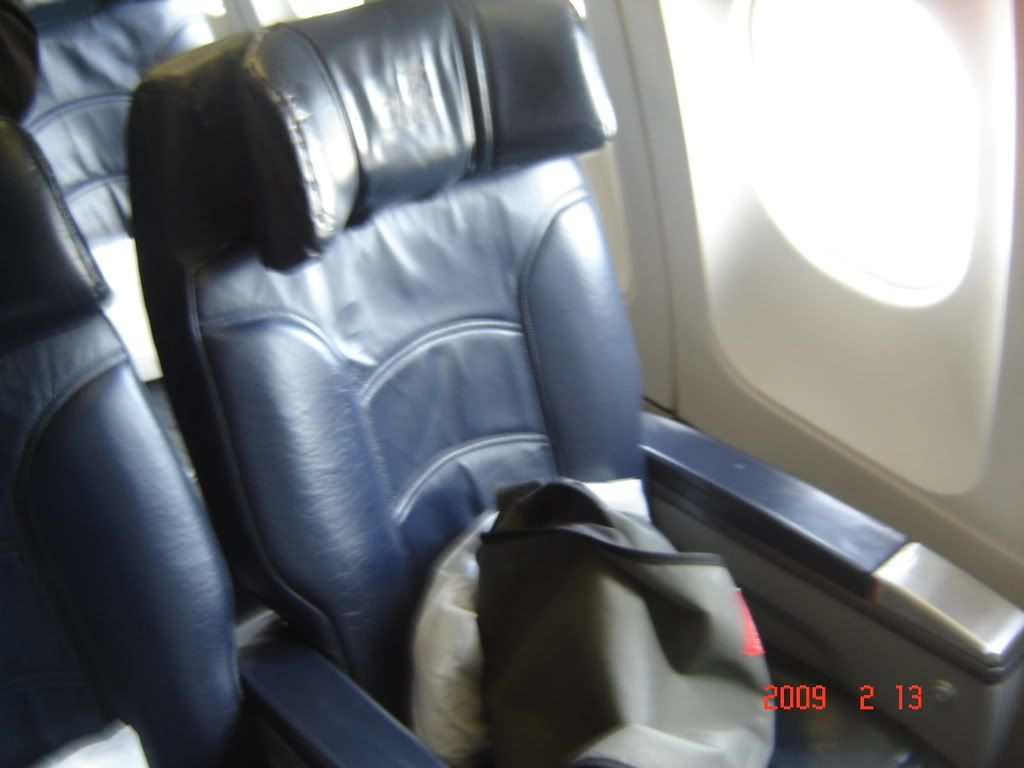 We landed 20 minutes ahead of scheduled and taxied briefly for 5 minutes to HOG's small terminal. An A330 looks out of place there. Door 1R was opened to real stairs instead of the usual jetbridge which is a nice welcome into more clement weather. I said goodbye to the crew and thanked them and off we were! First in line at Customs which was a breeze! Cuban customs are A LOT faster to clear then when I first went back in 1997, same airport. Our "Priority" tagged bags were bags no. 2 and 3 off the belt. It works, even in Cuba! I didn't take any pictures of the airport as HOG is a mix Military/civilian airport and I deemed it too risky to try and snap pictures of the arrival hall. Another interesting part of the trip happned when I went to the lavatory shortly before landing and 2 FAs were debating on what to do, given someone had forgotten to close to water tanks valve on the ground in YUL and one of them had emptied in flight. Oops. No water left for 2 lavatories in economy.
RETURN TRIP
The return day came soon enough (too soon), after meeting some great people during our vacation. Up to then, TS had provided decent service on the flight, but the representative's service at the hotel was less then stellar. Their private dinner party arranged with the resort was also a total mess, with half the guests who left before it was over. The day before our departure, I went to check our transfer time to the airport and noticed it now said 16:00 instead of 13:00, as originally scheduled. The flight's departure time had also been moved to 20:20, instead of 17:20. Knowing it couldn't be a delay a day ahead, I inquired as to why we'd now get into YUL a little past midnight, which screwed all of us who don't live in Montreal as it's never fun to drive in the middle of the night. I was part of the screwed over group! Our rep went on to say that given the load light the HOG this Friday, our 330 had been re-routed thru CUN on the way down, incuring this 3-hour delay in leaving. Now, that's just something you gotta love about tour operators and their associate airlines. They never seem to do much for you when they modify schedules. We lived with it, as it gave us an extra afternoon on the beach, but can't say I was impressed. Even the poor bus driver who sould have orignally picked us up at 13:00 showed up at that time, not aware of that change. Poor communication on TS Holidays and the airline's behalf.
We boarded our bus at 16:00 and got to HOG airport by 17:20. We were the first ones in line but no agents to check us in. All check-in procedures in Cuba are done by the government's agency, ECASA, and frankly, everytime I've been through, it's kinda chaotic. So all of us happy vacationers lined up for counters 11-12-13, waiting for the check-in staff to show up. They then switched us to counters 16-17-18 so 5G to YYZ could check in at our original counters. We remained the first ones in line fortunately, as the queue behind us was now long behond belief. This small airport isn't meant to accomodate a 330, a 757 and a 320 departing 5 minutes from one another! Fortunately for us, AC incured an hour delay. But yes, a 340 passenger A330 had only four check-in counters assigned to it! However, I'm happy to report HOG has now been informatized, meaning they actually issue you real boarding passes now, and not the old hand written passes you got til last year.
FRIDAY, FEB 20th,
AIR TRANSAT 687, HOG-YUL
ORIGINALLY SCHEDULED 17:20/21:15, RE-SCHEDULED 20:20/00:15
SDT: 20:20/ADT: 21:00
SAT: 00:15/AAT: 00:37
Airbus A330-200 C-GPTS
Flying time: 3:31 minutes
SEAT 37A
Things didn't get better from here. Our 330 landed from CUN early at 18:45 with a small number of passengers already boarded in CUN that never de-planed in HOG. I was a little saddened to see it was ship 103 again, still with the speed tape on
. I had hoped for the Azores glider. As 5G was unloading in front of Transat and we would have crossed ways with arriving passengers during boarding, our boarding wasn't commenced before 19:55. There was no way we'd board a 330 in 25 minutes. It was completed at 20:30. However, nothing was moving as luggage was still behing loaded in the hold. The back door through which we walked was closed at 20:25 but the main door wasn't until 20:55. The obviously tired crew, which had already operated YUL-CUN-HOG, didn't dare to offer any explanation. The captain finally came on just before push back to offer an explanation that ECASA had messed up our load with the SSV 757 and there was nothing we could do. Fair enough. The rest of the flight was uneventful but became bumpy over NY state. The captain never switched on the seatbelt sign however. Upon arrival, the FAs at the back had trouble disarming 4R and 4L. In the end, it never did disarm and from what I could hear, the ISD told them to not dare opening the doors as the slide would come off.
HOG departure lounge with the board in the background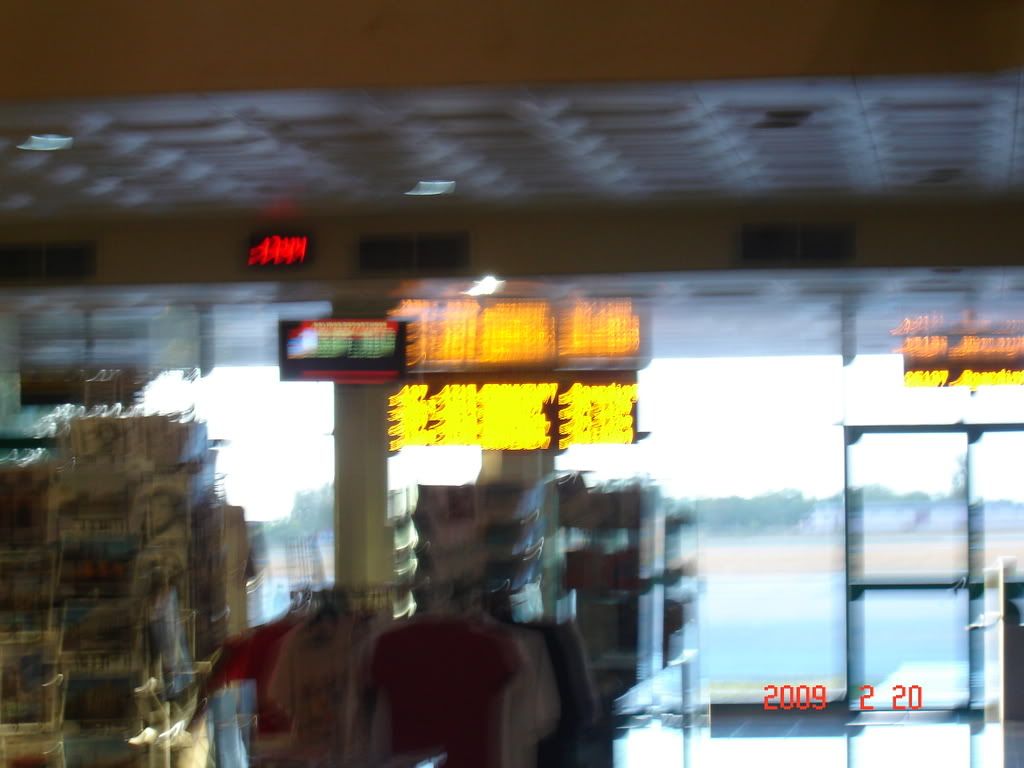 Our ride back, GPTS (same as on the way down), still with the speed tape on the wing.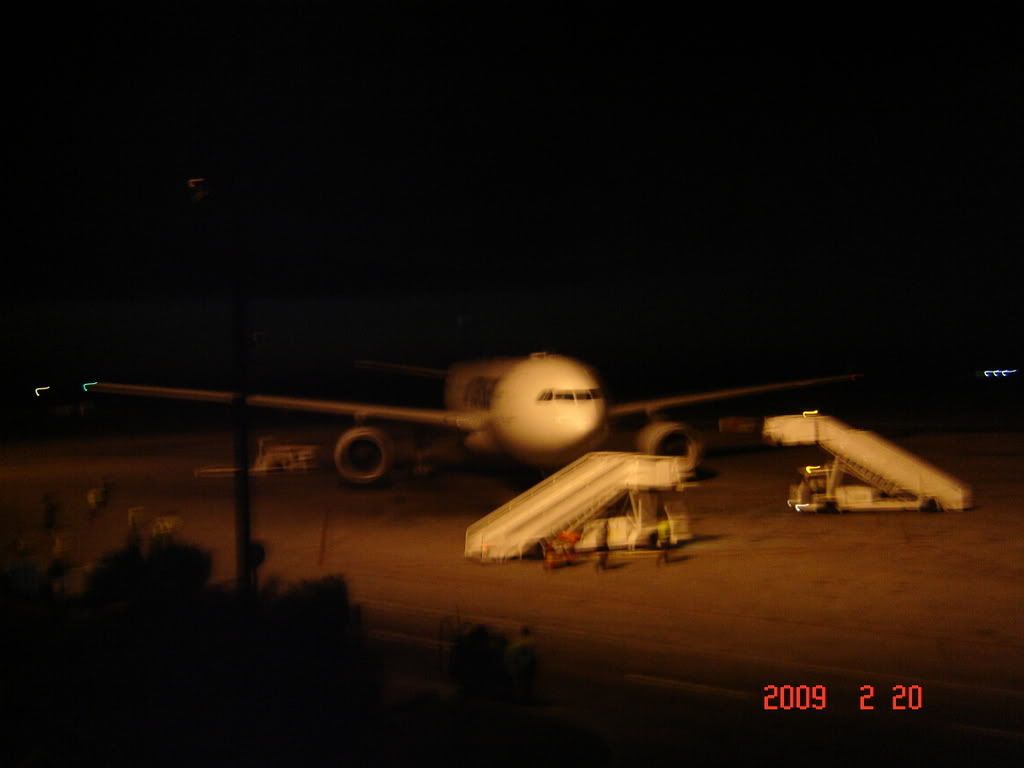 It's nice to be able to walk so close to a big bird!
Under the wing of GPTS!
Climbing up to door 4R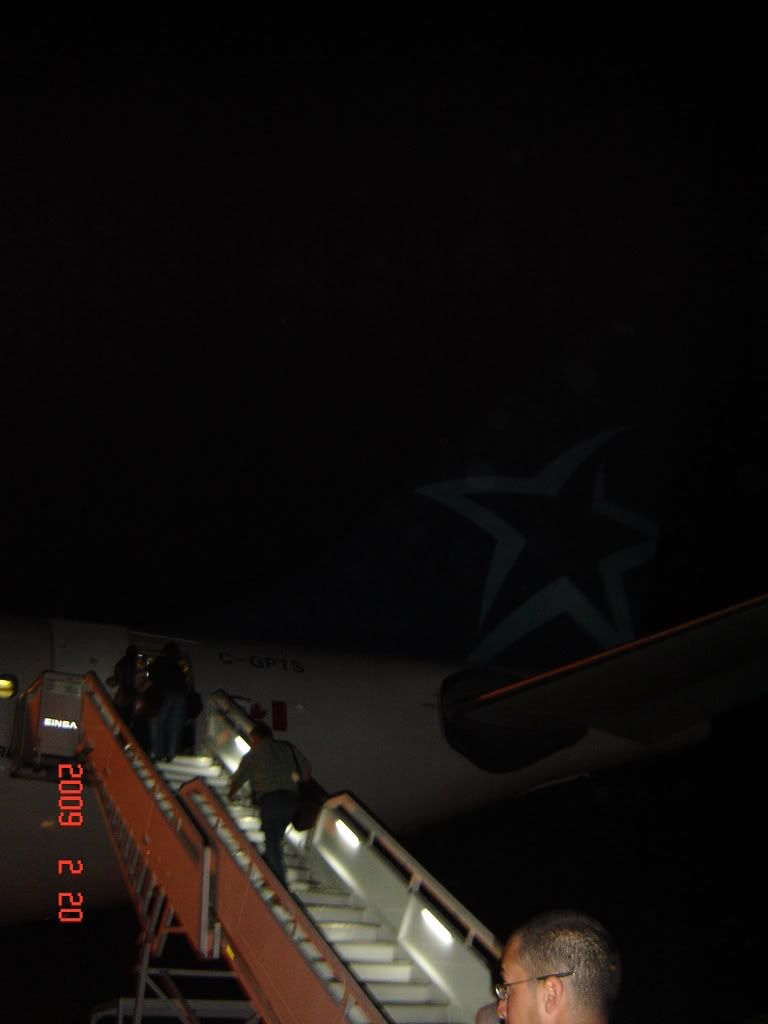 Legroom in economy
Hope you enjoyed my first attempt at a real photo TR of a rarely reviewed airline. I have a question for those of you who might be familiar with TS. This summer, I flew to DUB with them and got the same ship both ways. The same happened this time. Is this regular for TS scheduling or pure bad luck for me?
Regards,
Safe