AIR FRANCE
From: Paris, France (CDG)
To: Tokyo, Japan (NRT)
Aircraft: Boeing 777-200ER
ETD: 1:15pm
Flight time: 11 hours 15 minutes
Introduction
This trip report is a continuation of CCS-CDG which can be found here:
At the Airport
After my arrival from CCS I took an Air France shuttle bus that took me to terminal 2F which was where my next flight to NRT was departing from. Upon arrival to terminal 2F I passed security without much hassles and was soon on my way to the Air France salon where I was eager to take a nice hot shower!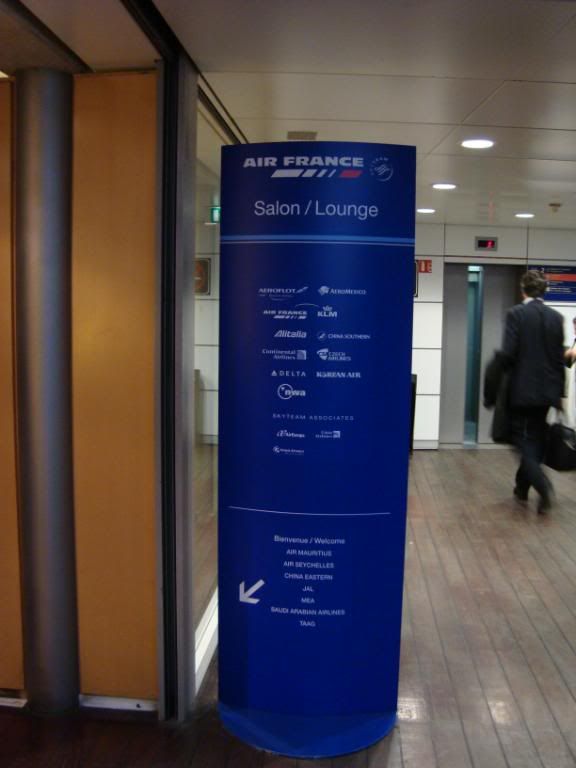 Upon entry to the Air France lounge I inquired about the shower and was informed that there was a waiting list but that I would be called from the lounge once it was my turn. I then walked around the lounge looking for some empty seats but the place was super full and it felt very cramped and messy with all of the people and lack of wide open spaces. I eventually found an empty table and left all of my belongings and then proceeded to get some breakfast.
The breakfast options at the lounge were pretty good in my opinion. There was a wide variety of cakes, cookies, and other small snacks along with the famed French croissants.
After about 30 minutes of being in the lounge my name was called and I proceeded to the lounge entrance and was told that I could now take a shower.
The shower was pretty big and the amenity kit offered in the shower was also pretty nice. After my shower I just lounged around further until about 12:30 when I decided to head over to the departure gate and start the voyage to NRT.
Upon arrival to the gate the boarding announcement for First, Business and Elites was announced and surprisingly there was no swarm of Economy class passengers eager to board. I wish boarding was always this pleasant, but I guess that this experience was due to the Japanese culture of being very organized and polite.
On Board
Upon entry to the cabin I started taking some pictures and settling in. A very nice flight attendant came and took my jacket along with welcoming me onboard. One thing that I noticed about this flight was that Air France offers slippers to its F and J passengers. I assume that this is in order to please the Japanese culture which is used to wearing the slippers. I must confess that they were very comfortable and was a nice touch. Today's flight in First, Business, and Economy was 100% full and boarding took a while to finish.
Another thing that I noticed about this flight and especially different from the CCS-CDG flight was that there were many Japanese flight attendants and the overall service and attention, even from the French flight attendants, was EXCELLENT and among the best I have had in the past 12 months. I guess that AF really tries hard to provide an excellent product and service on this route in order to compete effectively against the Japanese carriers and also to provide their Japanese customers with the service and politeness that they are used to.
We eventually pushed back and it was a quick taxi over to the runway where we made a very long but powerful take-off.
After take-off the flight attendants sprang into action and the in flight service started. I decided to go with a glass of red wine and the Japanese snacks instead of the western option which was the same cheese snack on the CCS-CDG route that I did not like.
One thing major complaint that I have about AF is that I don't like their wine glasses in Business. They look more like oversized shot glasses and for some reason they don't project French elegance when drinking wine.
Next was the appetizer which was salmon. I don't eat fish so I didn't even touch this dish but I am sure that it was good.
Next came the main course which was duck. I know that the French people like to eat duck so I was expecting something very delicious. However I must admit that I was disappointed with this dish because the skin was actually a 1cm thick layer of fat which I had to remove. Once I tried the meat, it was very firm and rubbery and with little taste. It was not overcooked because there was some blood which oozed out of the meal (that grossed me out) and overall it was a bad piece of meat. The other items, the pasta and vegetables were pretty good for airline food standards. I will admit that after this meal I was a bit disappointed again felt that I should have ordered the meal from Economy.
Cabin after the meal service.
After the meal service I decided to recline my seat and watch some movies, listen to some music and relax in general. It started becoming night dark so I decided to take a nap as I was getting pretty tired.
IFE had to be restarted, this is why it shows that we started from somewhere different that Paris.
After some time I woke up and decided to go for a walk to stretch my legs, get a drink and get a snack to munch on. When I got to the business class snack bar there was a French man and one of the Japanese F/As talking. I ordered a vodka-orange juice and enjoyed it while I snacked on some more of the Japanese snacks from earlier. After about 2-3 minutes of standing around the bar area I noticed that the French man was DRUNK as I could smell the stench of his whisky breath from about 7 feet away and I noticed that he kept on talking and talking and talking super closely to the F/A and I felt that he was invading her space as he would not leave her alone. I could tell that the F/A was very annoyed with the French guy but I guess that out of courtesy she put up with the guy hoping that he would soon go away. After about 10 minutes of sipping my drink I headed back to my seat to attempt to get some more sleep.
After failing to be able to sleep (about 30 minutes since getting back to my seat) I went back to the bar area for another drink and more snacks. However once I got there I realized that the drunk guy was still there "annoying" the Japanese F/A and now a male French F/A. I asked for a vodka-orange juice and started to chat with a Japanese businessman who was also having a drink and sitting behind me. We both agreed that the French guy was extremely drunk and was bothering and invading the space of the flight attendants. I stayed at the bar area for about 30 minutes and the French guy was STILL there and by the time I was leaving to go back to my seat the Captain had come back to check on the situation as the general consensus between passengers and flight attendants was that this guy was too drunk and needed to calm down and go back to his seat.
After drinking a majority amount of the Absolut Vodka bottle I myself was drunkish and peacefully went to my seat and slept for a few hours. Once I woke up I was kind of hung over in the sense that I was starving (thankfully no headache) and had some noodles in my seat along with a lot of water.
Daylight
After the noodle snack I went back to sleep until it was time for breakfast which was about 1:30 before arrival. Breakfast was pretty good and I really enjoyed the croissants. My only complaint is that the portion of the egg was pretty small especially compared to the meal on the CCS-CDG segment.
After breakfast I was just relaxing in my seat savoring the last minutes before arrival into NRT. We eventually started the descent and the cabin crew started cleaning up everything, handing back the jackets and preparing the cabin for arrival into NRT. I was so pleased and impressed with the service on this segment that I wrote a comment in the customer surveys that they hand out and mentioned one of the F/As by name due to her excellent service (I must also admit that I had a crush on her for the whole flight as she was beautiful). She was very thankful that I wrote good comments about her as I guess that it will go into her file and maybe even be rewarded.
My seat in full recline.
Arrival into NRT was great as there was excellent weather and the runway that we used allowed for some good air shots of the airport and airplanes.
Once we landed it was a pretty long taxi to the gate but I didn't mind as I was fascinated by all of the Asian carriers and "jumbo jets" that dominate NRT.
Headed back to CDG.
Conclusion
I know that many people have had poor experiences with Air France and I can understand their views as I have also experienced cold and rude F/As on AF. However I must declare that this was without a doubt the best AF I have ever had in respect to service and attention and overall enjoyment. Perhaps AF secretly hides their best and friendliest F/As for the flights to Japan. I guess that this excellent service must be implemented in order to compete with JAL and ANA. I have flown Business on Asian carriers numerous times and I can say that the service of today's crew was on par with the service and attention seen on Asian carriers.
The service and attention on the CCS-CDG flight was very good but when compared to the high standards of this flight, the other one seems so poor and weak (although it was not).
I am booked for NRT-CDG-CCS this week and will post a TR and I am looking forward to the flights and I hope that they will be as good as this flight.
Thank you and please feel free to leave comments and questions.