Feedback always appreciated.
Trip Report: 067
Flight Category: Y-ISR (See Report End)
Date: 30 Jan-09 (See Report End)
SDT/SAT/Dur/Delay: 1340/1645/02:05 hrs
Flight:
Jazeera Airways J9 459
, 736 miles
Routing: DAM-KWI
Aircraft: 320
Seat: Economy, 1A
I > Background:
Given the economic downturn, January had been a slow month at our firm. Since I have long decided that it just wasn't worth pondering if I will have a job tomorrow, I decided to take some time off and visit Cairo for a few days. After an amazing time there (have I mentioned how much I love Cairo?), it was time to pack and go home. My options included flying on MS or trying some exotic routings and new carriers … being the crazy aviation geek that I am, I decided on the later. In the end, I bought a ticket on CAI-DAM-KWI-DOH-JFK. The intent was to try both Jazeera Airways as well as Qatar Airways. Both airlines had not featured on my flight log and I thought this was a good time to have them crossed off. CAI-DAM was on MS and since there have been several trip reports on MS' short-haul product, I will skip it for now.
I believe this is the first TR of Jazeera Airways on A.Net (although, I could have sworn I saw another); and is the first on the DAM-KWI segment.
II > Pre-Flight:
a) Before Airport:
Jazeera Airways is a low-fare airline based in Kuwait. Formed in 2004, it uses 320's out of its KWI and DXB hubs to destinations primarily in the Middle East, Europe, and India.
Jazeera Airways uses the common Navitaire platform for its booking engine. Its website is bare-bones and has the basic amenities expected from a LCC site. I was quickly able to book my ticket and it even had my "requirement" – the ability to chose my seat. Moreover, I could always come back to view/edit/cancel my booking and/or seat. The one hiccup was that my U.S. base Chase card never worked on the site. I even tried calling the Kuwait office and was not successful in having them process it either. In the end, I used my Venezuelan card and the booking went through immediately. Strange! Can someone explain this to me?
b) At Airport:
After a rather uneventful flight from Cairo, I proceeded to the transfer desk at Damascus (who would have thought I'd be back here after my ConViasa flight?) and was met by a very kind station manager who was courteous and issued me my boarding pass. We made small chat and he was amused at my itinerary and joy for aviation. After talking with him further, I found out that he was an A.Net reader and even had read my trip reports! So, Mr. M – if you're reading this – thanks for being a true airline fan and for doing a job you love. Anyways, I walked around the "interesting" terminal until boarding was called and made a pit stop to one of my FAVORITE confectioners in the whole wide world … GHRAOUI … just delicious chocolates! I bought enough to gain a few pounds on the spot! Anyways, prior to boarding, we had to go through an additional security which was painless due to the low loads.
The first thing that strikes you of Jazeera's 320 are how "white" and barren they look. Anyways, I was greeted by two young crew members (an Egyptian and a Lebanese) who were kind and the guy upon seeing my airline bag brought me a bottle of water at no cost. Not bad. Load in the all Y cabin was a dismal 5%. I think the entire aircraft had like 10 passengers. According to the crew, this was highly unusual. I would hope so as BELF for any LCC is very high.
Airport - External:
NONE
Check-in:
NONE
Airport - Internal:
(Internal)
NONE
(FIDS)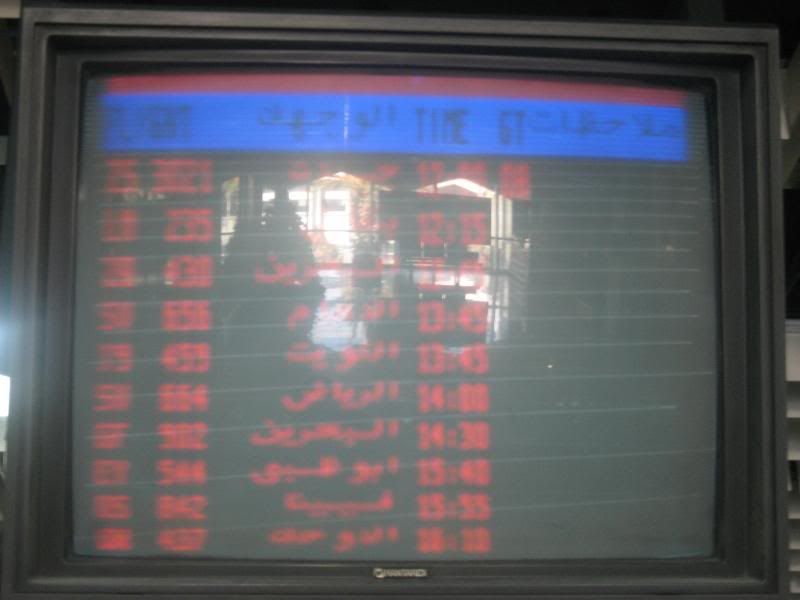 (Post Security)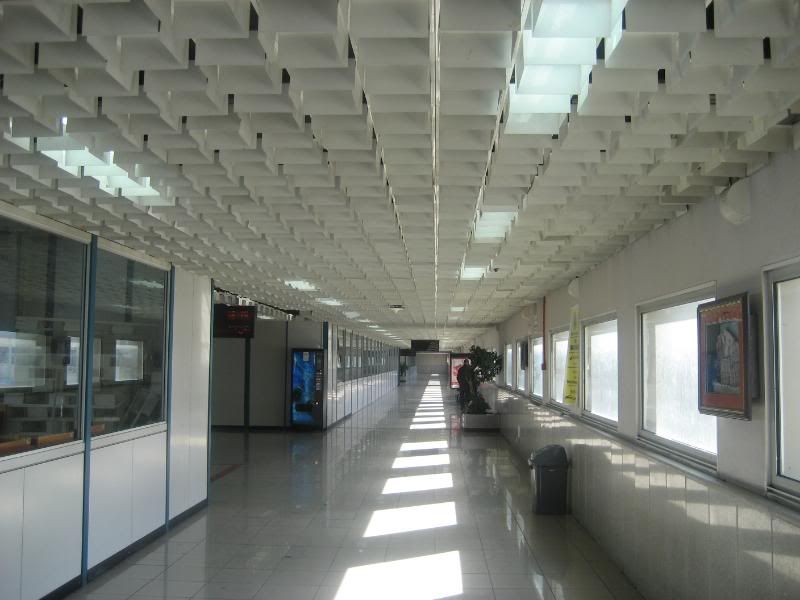 Scenes of the tarmac:
(Nouvelair)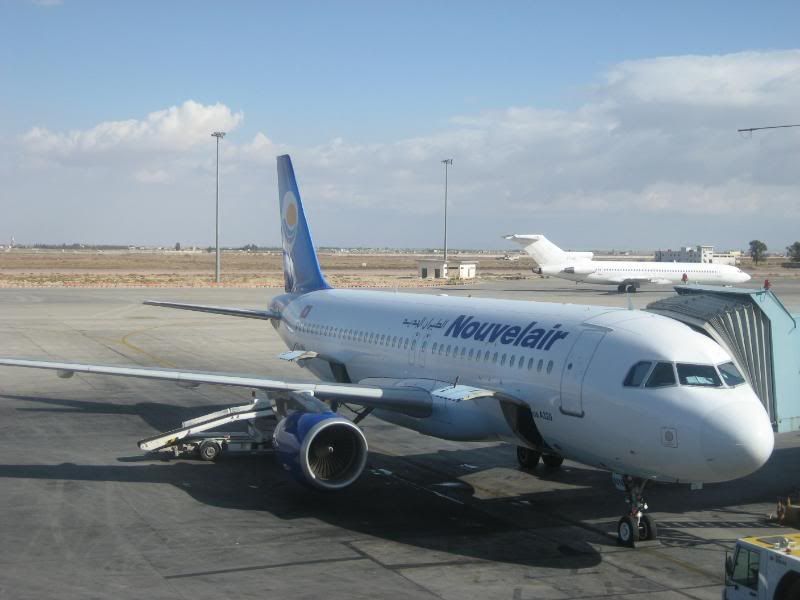 (Best Airline Name of 2008 – and their route network is equally exotic)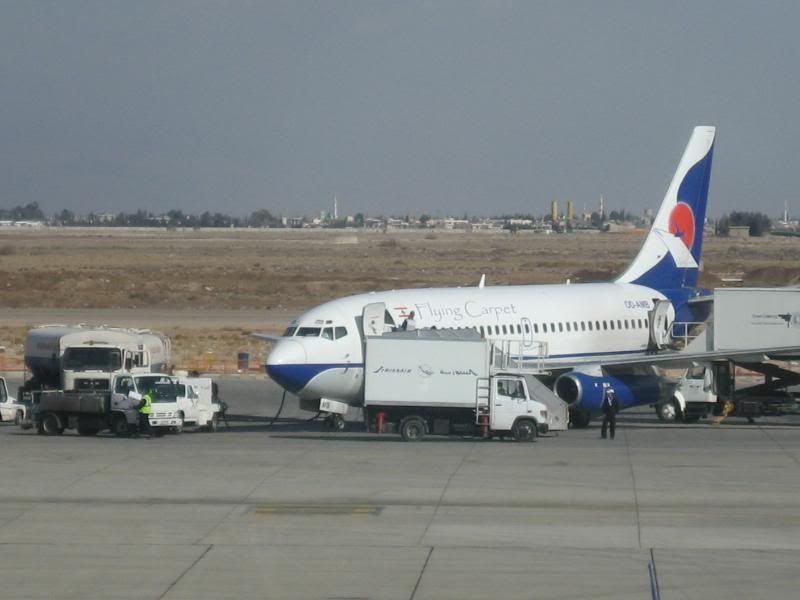 (SAMA)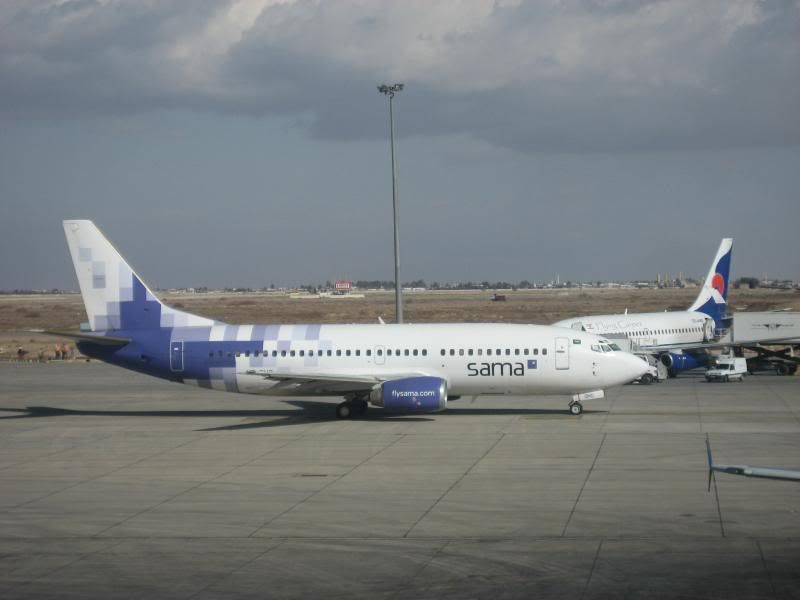 Lounge
NONE
Boarding:
(Boarding Gate)
(Empty boarding area)
III> In-Flight:
a) Service Schedule + Impressions:
After take-off, a BOB meal service commenced. That's pretty much it.
b) Aircraft + Seats:
Jazeera Airways has way too much white going. In fact, it could be an airline in pretty much any part of the world. The interior is made up of leather seats and is relatively comfortable. Besides the bulkhead and exit row seats, legroom is tight. Having said that, it is not anything worse than other LCC's operating the 320. Recline was definitely below industry standard. It is important to note that Jazeera Plus seating basically is like European Business with a blocked middle seat. However, unlike its European counterparts, no tray table folds down in … a weird mechanism allows the seat arm support to twist 40 degrees to create additional space. I personally fumbled with it and was alarmed at it "coming off". The crew probably thought I was a first time flier and explained it was meant to do that. Actually, I am sure the crew assumed it was my first flight as they were equally amused with my picture taking … hehe.
Aircraft:
(@DAM)
Views from Aircraft:
(Damascus Airport – T1)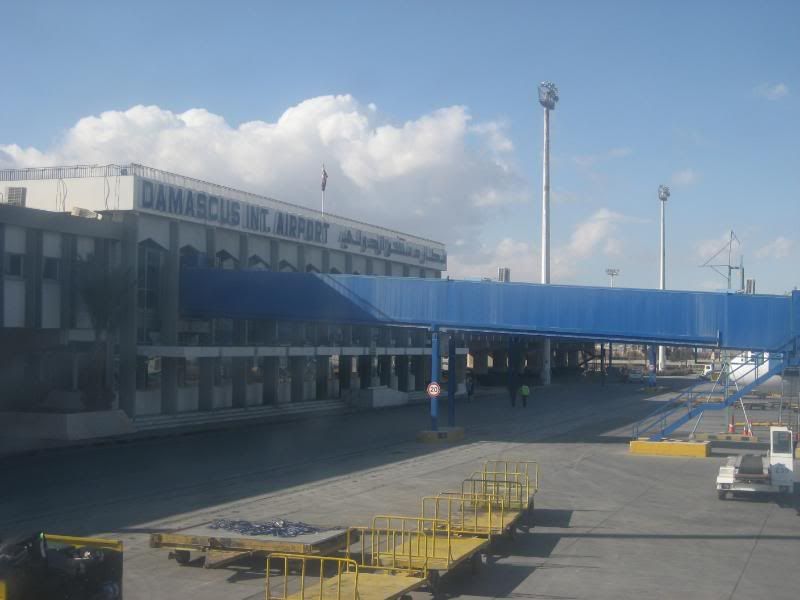 (Mid East colleagues at gate)
(RB hangar – one of the few times I'd see 2 74L's side-by-side these days)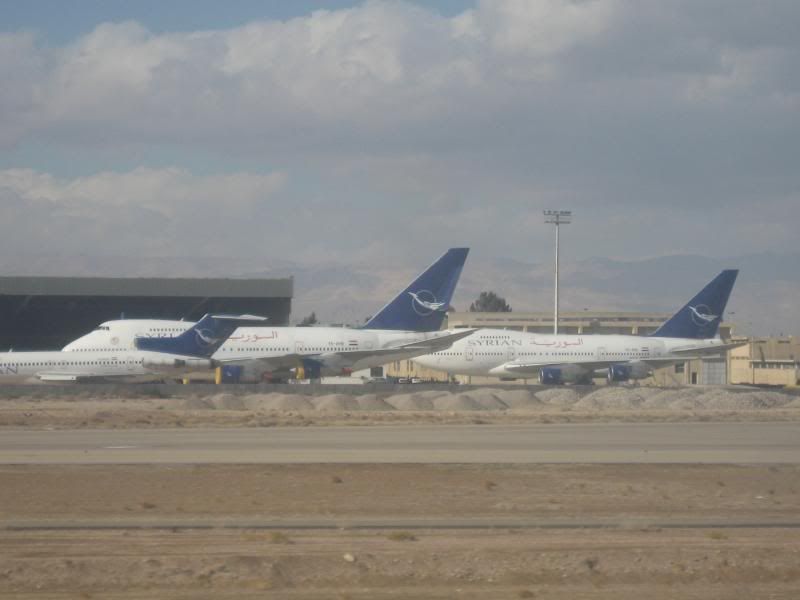 General Seat Views + Seat Legroom
(Y Class Controls)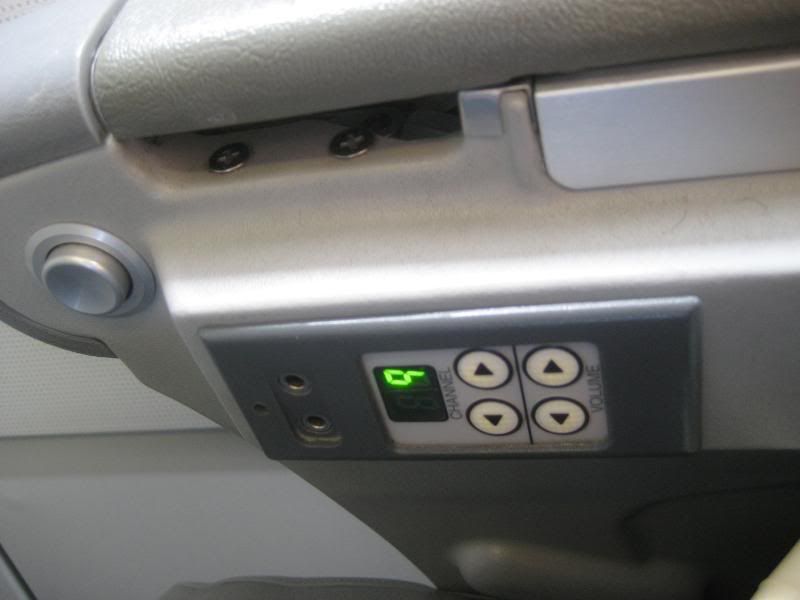 (Seat legroom)
NONE
Seat Recline + Angle View: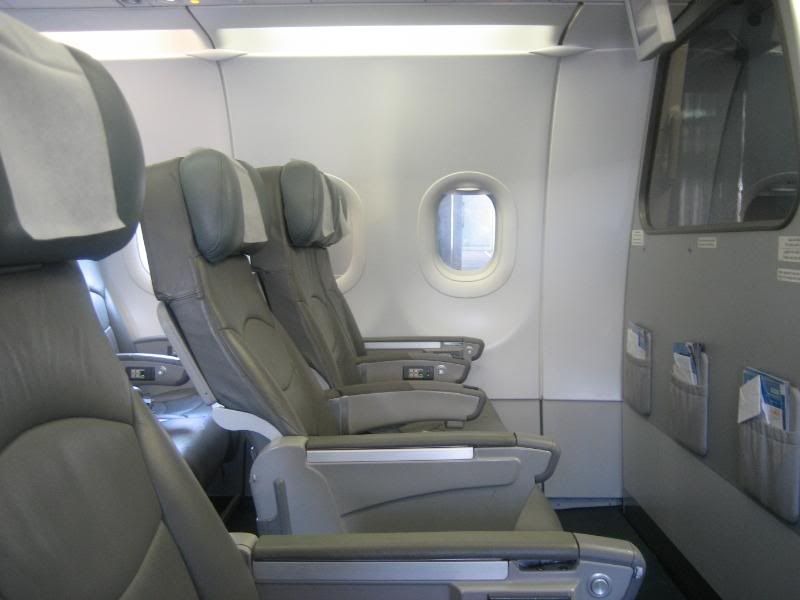 Cabin:
(Eerily empty Y Cabin)
c) Meal + Beverage:
I was happy with the free water extended to me out of courtesy. However, I am of the firm belief that even LCC's should have water as free on board. Anyways, meal and beverage sales started soon after take-off, and the inflight café actually had some good options. Moreover, the one thing that I found impressive was the wide array of currencies that was accepted for payment onboard. Not bad.
(Water at take-off)
(Food and beverages for sale)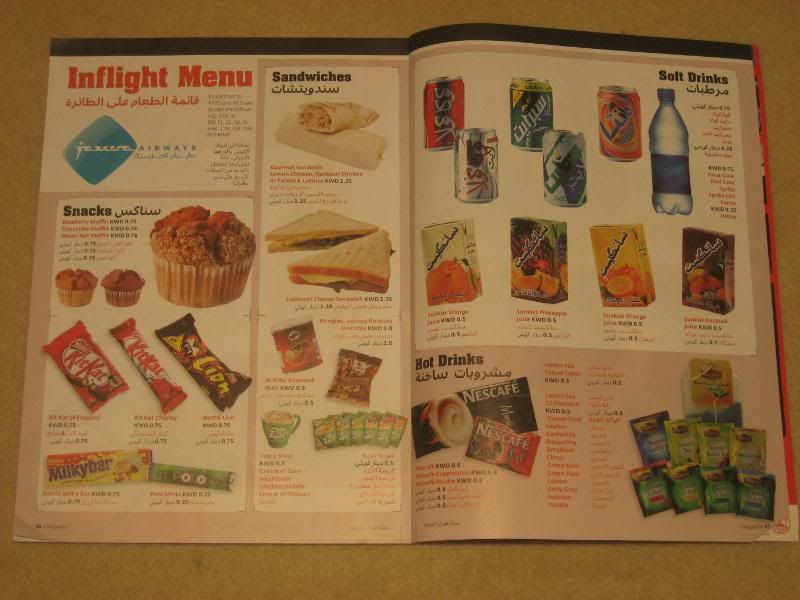 d) Inflight Entertainment:
Jazeera had drop down video entertainment which kept on playing a documentary on the evolution of the stand-up comedians in the Mid East. According to their inflight magazine, only TV programming exists … this would make longer treks to say the Indian Subcontinent harder to bear.
("In-flight magazines", Boarding Passes, etc.)
e) Crew:
The light load did not really test the crew. However, I found them to be warm and open hearted and was impressed by their genuine smiles and friendly nature. They greeted you with eye contact at the door and were there to help you throughout the flight. During the flight, they retreated to their galleys … but then again, on a LCC what do you expect? Finally, I found them actually to be much better than their "bigger brothers and sisters" at such "illustrious" names as Emirates.
IV> Post-Flight:
Arrival into KIA was on-time and having no bags meant that I was out to my hotel transfer in a record 30 minutes … including my on-site visa pickup.
(Kuwait International Airport)
(Bahrain Air is everywhere)
V> Impressions + Scores:
Jazeera is a no-frills LCC and I did not have much expectation on them. They effectively do what a LCC is meant to do … cheaply carry you from point A to B with no frills. My J9 experience met all the criterion of a good LCC including cheap fares, on-board meals to go, and timely departure and arrival. Their seats were relatively bearable and the existence of IFE was also a plus. What made J9 slightly better than average were its awesome station manager in DAM, and young positive crew members. I would definitely fly them again – and might even consider them against carriers like Emirates for short haul. For an LCC, two thumps up!
1.0 > RESERVATION: 8.0
2.0 > CHECK-IN: 9.0
0.5 > LOUNGE: N/A
0.5 > BOARDING: 8.0
2.0 > SEAT: 6.0
0.5 > AIRCRAFT OVERALL AMBIENCE: 5.0
1.0 > IFE: 6.0
2.0 > CREW: 7.0
2.0 > FOOD: 4.0
0.5 > BEVERAGES: 5.0
0.5 > A.KITS + OTHER FREEBIES: 5.0
0.5 > DISEMBARKATION: 8.0
1.0 > ON-TIME RECORD: 8.0
WEIGHTED OVERALL IMPRESSION (WOI): 6.63
(Pre-flight WOI of all reviews: 6.50)
* Weighted Overall Impression (WOI) aligns scores with what matters most. Weights are indicated alongside each category.
(Scores are based on comparison with other airlines in THAT class of service – No comparison of Y vs. F for example)
VI> Other Trip Reports:
PREMIUM:
8.64:
Turkish Airlines (59): JFK-IST: 11/2008
8.61:
Air Canada (49): YYZ-SCL: 06/2008
8.11:
Aeroflot (33): MOW-DEL: 09/2007
8.04:
Korean Air (40): NRT-ICN: 10/2007
8.02:
Delta Airlines (24): JFK-CDG: 08/2007
7.46:
LAN (55): YYZ-JFK: 09/2008
7.82:
Singapore Airlines (06): EWR-SIN: 09/2006
7.14:
Swiss (52): SCL-GRU: 06/2008
6.96:
Etihad (61): JFK-AUH: 12/2008
6.93:
Delta Airlines (18): SEA-JFK: 11/2006
6.84:
ConViasa (65): CCS-DAM: 01/2009
6.81:
Air Canada (17): ICN-YYZ: 10/2006
6.70:
KLM (32): EBB-AMS: 08/2007
6.36:
Privatair (60): MUC-BOS: 12/2008
6.25:
Korean Air (45): NAN-ICN: 10/2007
6.11:
TAP Portugal (53): GRU-OPO: 06/2008
5.75:
Singapore Airlines (16): CCU-SIN: 10/2006
5.64:
NorthWest (46): ICN-NRT-SEA: 10/2007
5.39:
LOT (54): WAW-JFK: 06/2008
5.07:
TACA (66): JFK-SAP: 01/2009
4.42:
Air France: CDG-JNB (25): 08/2007
ECONOMY: Long + Medium:
9.26:
Air India (48): JFK-DEL: 02/2008
7.38:
Avianca (01): BOG-LIM: 07/2006
7.07:
Sri Lankan (62): KWI-CMB: 12/2008
6.41:
American Airlines (58): LHR-BOS: 11/2008
6.26:
Jet Blue (21): CUN-JFK: 02/2007
6.06:
Air Canada (04): YYZ-YVR: 09/2006
5.89:
USA 3000 (19): PUJ-BDL: 01/2007
5.79:
Air New Zealand (42): RAR-NAN: 10/2007
5.46:
TAP Air Portugal (23): OSL-LIS: 05/2007
ECONOMY: Short
8.56:
Paramount Airways (38): BLR-MAA: 09/2007
8.56:
Kingfisher (64): HYD-CCU: 12/2008
8.24:
Kingfisher (14): IXA-GAU: 10/2006
7.87:
Indian (34): BOM-MAA: 09/2007
7.72:
Alliance Air (13): CCU-IXA: 10/2006
7.57:
Indian Airlines (10): DEL-CCU: 09/2006
7.23:
West Jet (03): YYC-YVR: 09/2006
7.15:
JetLite (37): BOM-GOI: 09/2007
6.70:
Spice Jet (09): CCU-DEL: 09/2006
6.63:
Air Fiji (44): NAN-SUV: 10/2007
6.63: Jazeera (67): DAM-KWI: 01/2009
6.58:
Air Tran (02): EWR-MDW: 08/2006
6.48:
Air India Express (63): CMB-MAA: 12/2008
6.44:
CO Micronesia (39): ROR-YAP: 10/2007
6.41:
Pacific Sun (43): NAN-SUV: 10/2007
6.37:
Skybus (47): SWF-CMH: 02/2008
6.33:
Kenya Airways (29): NBO-BJM: 08/2007
6.33:
Sky Europe (56): LTN-BTS: 10/2008
6.31:
Indigo (15): GAU-CCU: 10/2006
6.31:
easyJet (57): BUD-LTN: 11/2008
6.22:
Air Link Swazi (28): MTS-JNB: 08/2007
6.22:
Air India (36): HYD-BOM: 09/2007
6.13:
Adam Air (07): SIN-CGK: 09/2006
6.13:
Air Rarotonga (41): RAR-AIT: 10/2007
6.00:
Transairways (27): INH-MPM: 08/2007
5.95:
Air Canada (05): ALB-YYZ: 09/2006
5.85:
SAS Norge (22): OSL-AES: 05/2007
5.81:
LAM Mozambique (26): JNB-MPM: 08/2007
5.69:
Air Deccan (12): IXZ-CCU: 10/2006
5.67:
Rwanda Air Exp (30): KGL-NBO: 08/2007
5.07:
Go Air (35): MAA-HYD: 09/2007
5.00:
Sky Airline (51): IQQ-SCL: 06/2008
4.96:
Valuair (08): CGK-SIN: 09/2006
4.78:
Air Comet Chile (50): SCL-IQQ: 06/2008
4.74:
Fly 540 (31): MYD-LAU: 08/2007
4.33:
Viva Aerobus (20): ELP-MTY: 02/2007
4.11:
Air Sahara (11): CCU-BOM: 09/2006
(Note on Codes: Y – Economy, J – Business, F – First :: I/D – International/Domestic :: SR/MR/LR – Short/Medium/Long Haul)
(Note on Date: Dates are modified to be +/- 3 days from actual flight date to not reveal actual flight pattern)
VII> Other Pictures:
NONE