Hello Ladies and gentlemen, boys and girls. Welcome aboard this airliners.net trip report operated by pawsleykat airways. We will be on our way shortly so sit back, relax with your tray table stowed and seat back in the upright position. Thank you

¡Hola señoras y caballeros, muchachos y muchachas. Dé la bienvenida a bordo de este informe del viaje de airliners.net funcionado por las vías aéreas del pawsleykat. Estaremos en nuestra manera pronto así que siéntese cómodamente, relájese con su tabla de la bandeja guardada y la parte posterior de asiento en la posición vertical.!Graciás
Sorry to any Spanish speakers, I put that intro together with the help of babelfish and my Spanish teacher and I apologise for any errors, hope it's ok-ish though J
Anyways, if you've previously read Tom's (TupolevTu154) report on our MAD-PMI flight on the MD-87, you'll have realised that this trip originated over msn when we were checking out cheap places to go for the day. Eventually LGW-MAD-PMI-LGW came about and it was soon booked. A lovely birthday present to myself J
Tom's MAD-PMI report here
Let's now fast forward 1 month and 20 days and you'll find me sitting at Gate A9 of Dublin Airport, waiting to take the flight to Gatwick, ready to begin a day of flying less that 24 hours later. At this point I was super excited.
The flight EI246 from DUB-LGW wasn't too exciting, just your average short hop on the A320. EI-CVD left the runway at 15:02 and touched down again on runway 26R (some half way down the actual thing) at 16:02. Another flight down and onwards to passport control and the exit to wait for Tom to come round and pick me and my bags up.
Tuesday 17th February 2009
Martes el 17th Febrero 2009
I woke up at 4:45am and suddenly thought; "Where the bloody hell am I? This isn't my room" and then it hit me I was in Tom's spare room and there was a knock at the door. It was Tom, he came in, I woke up some more and then we headed down the stairs to get breakfast and check the weather for España that day.
Shortly after we were dressed and ready to face the day and heading up to Littlehaven station in the cold and dark. At 5:30, we were at the airport and heading towards security, which was a breeze. Handing over my boarding card to show them I was flying and then onwards to the search. I asked for a tray to put my things in as they were behind the conveyor belt next to the screener, too far for my to reach. The screener replied with "Oh, are you wanting me to pass you one?" a few seconds later. I gave him a less than impressed look as he handed it over and I placed all my electronic things, money and wallet into the tray and headed through the metal detector.
It was time for a play on the computers to change our a.net flags to the Spanish Flag and what our current locations were, just for the day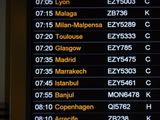 Can you see our flight?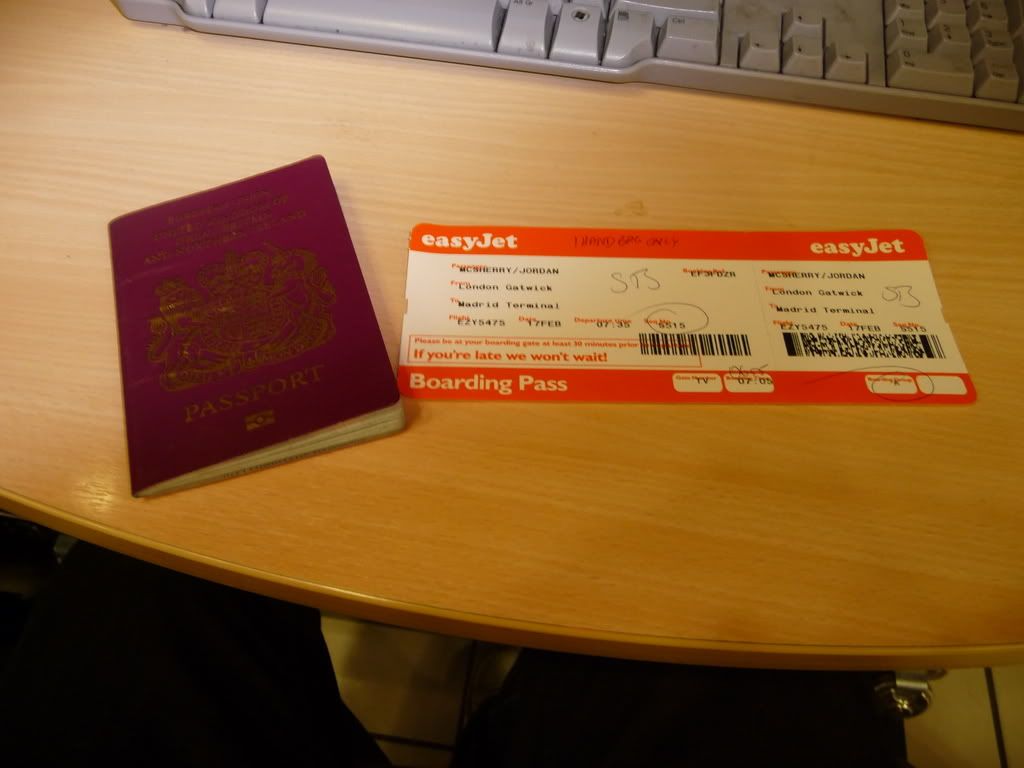 Boarding card and passport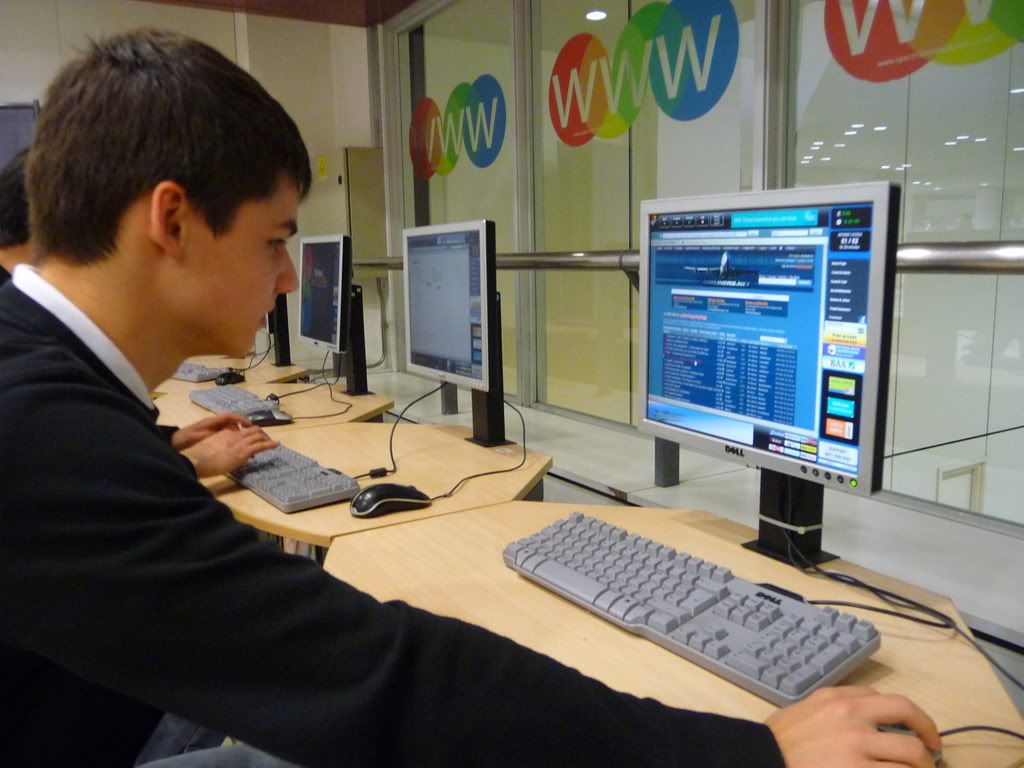 Guess what Tom's on  
Soon enough it was time to head down to gate 28 to wait for boarding.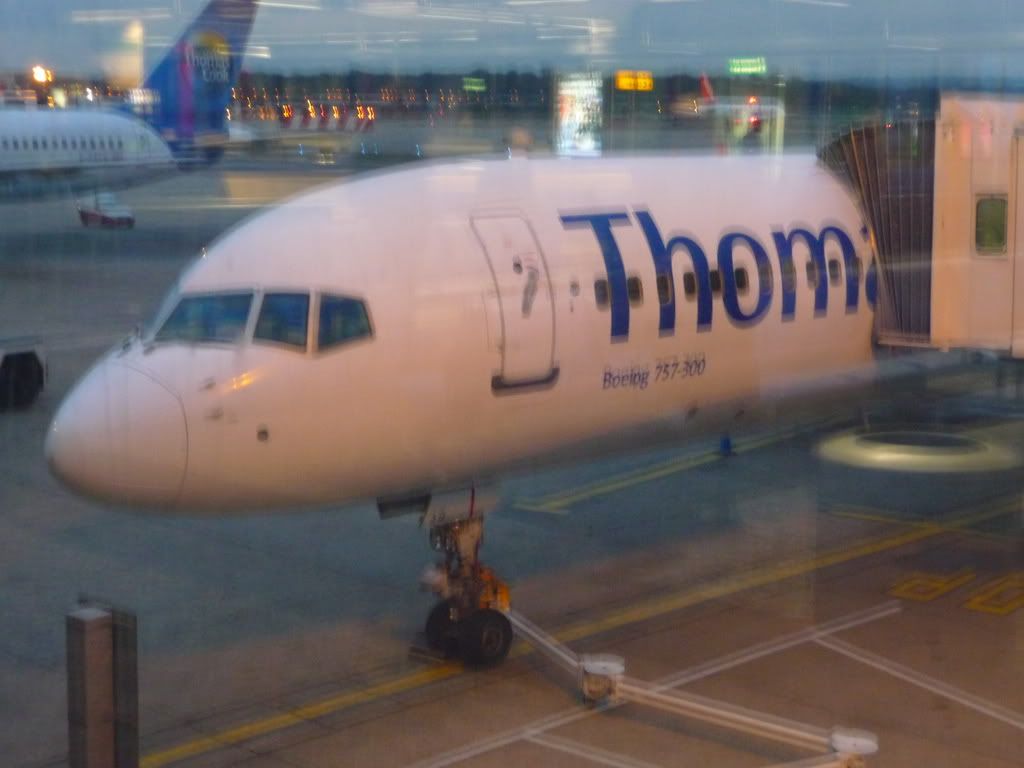 TCX 753
17.02.2009
EZY5475
LGW-MAD
Airbus A319-100
G-EZAM
Seat 16B
Scheduled Departure/Arrival Time;
0735-1100
Actual Departure/Arrival Time;
0802-1101
Departure Runway = 26L
Arrival Runway = 33L
I had speedy boarding on my boarding card so had went down on to the plane before Tom to secure us a good seat. I couldn't be bothered with the window seat as I was more interested in talking and gossiping with Tom than spending 2 hours pressed against the fuselage next to some fat, smelly stranger… as what is usually what happens.
At 0730 the doors were closed and we were welcomed aboard the flight to Madrid. I was now awake enough to be super excited and slowly but surely we pushed back, started our engines and then onwards to the runway, where we were next in line to depart at 0800.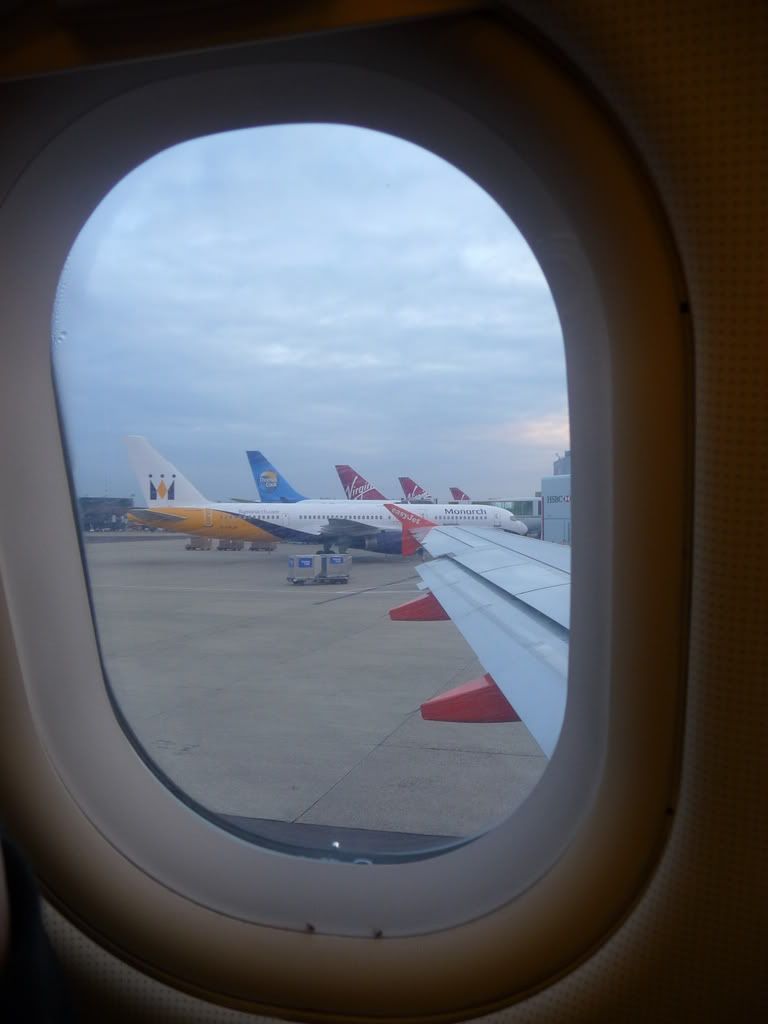 Looking out at 3 VS 744s, 1 TCX A332 and 1 ZB B752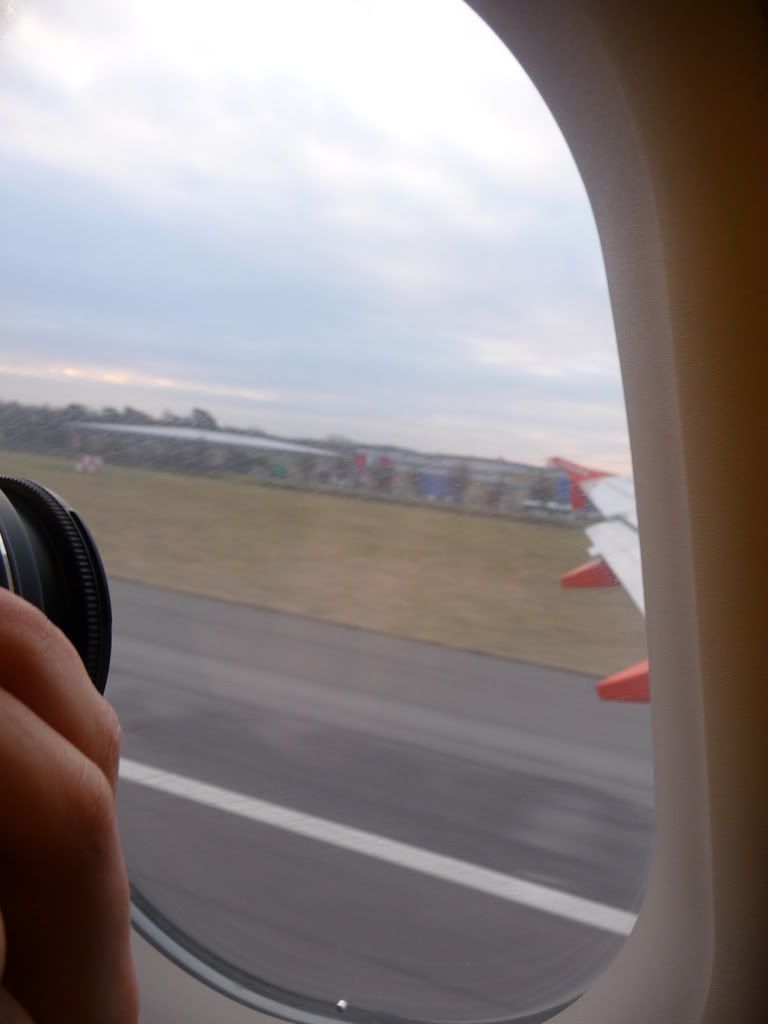 Rotate
Our cruising height today was 38000 feet and would route us out over Brest, the Bay Of Biscay before coming into Spanish Airspace over Santander and down to Madrid for an approach to the North easterly facing runway (33L).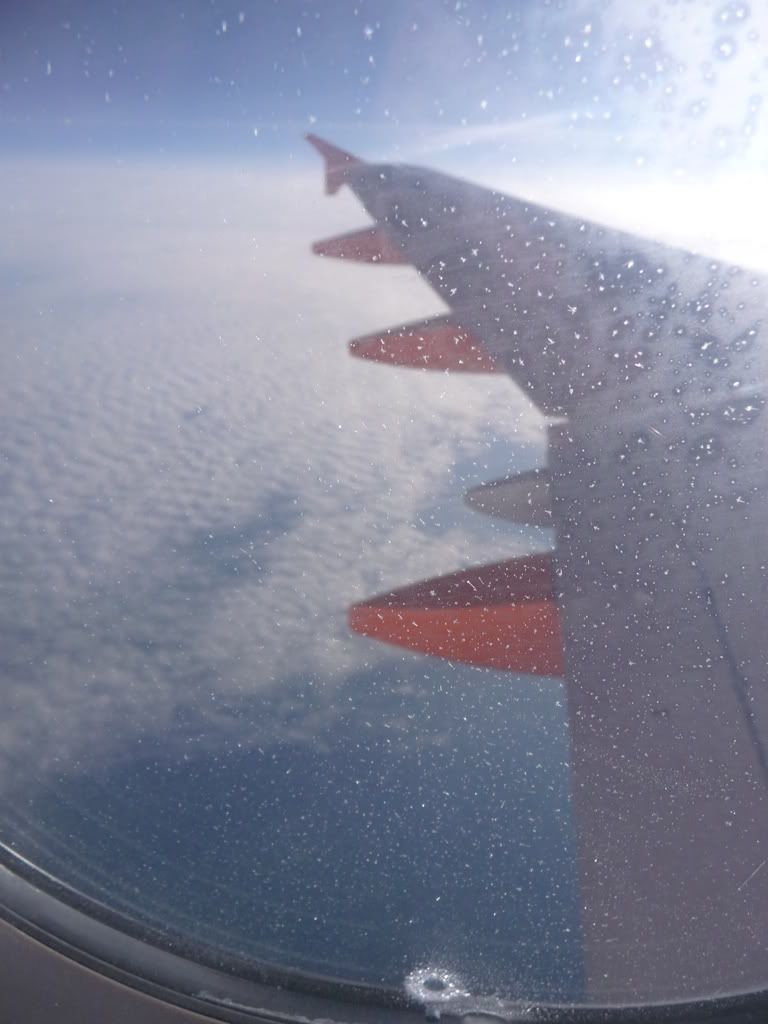 Cruising over the Bay of Biscay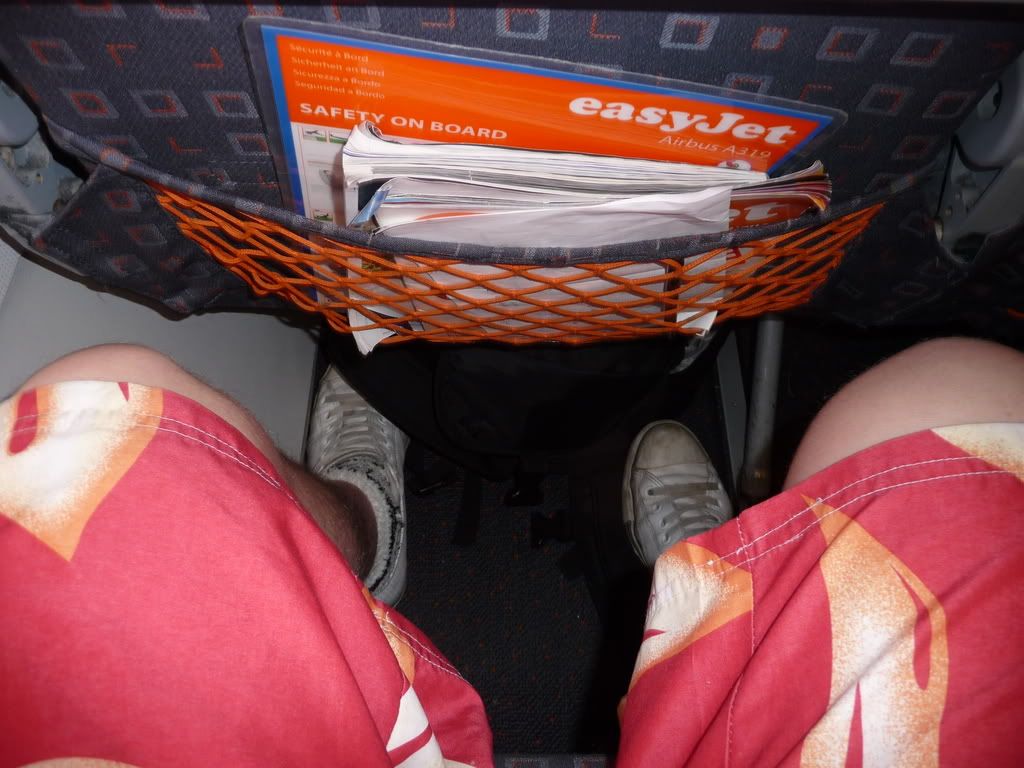 Complimentary Leg room shot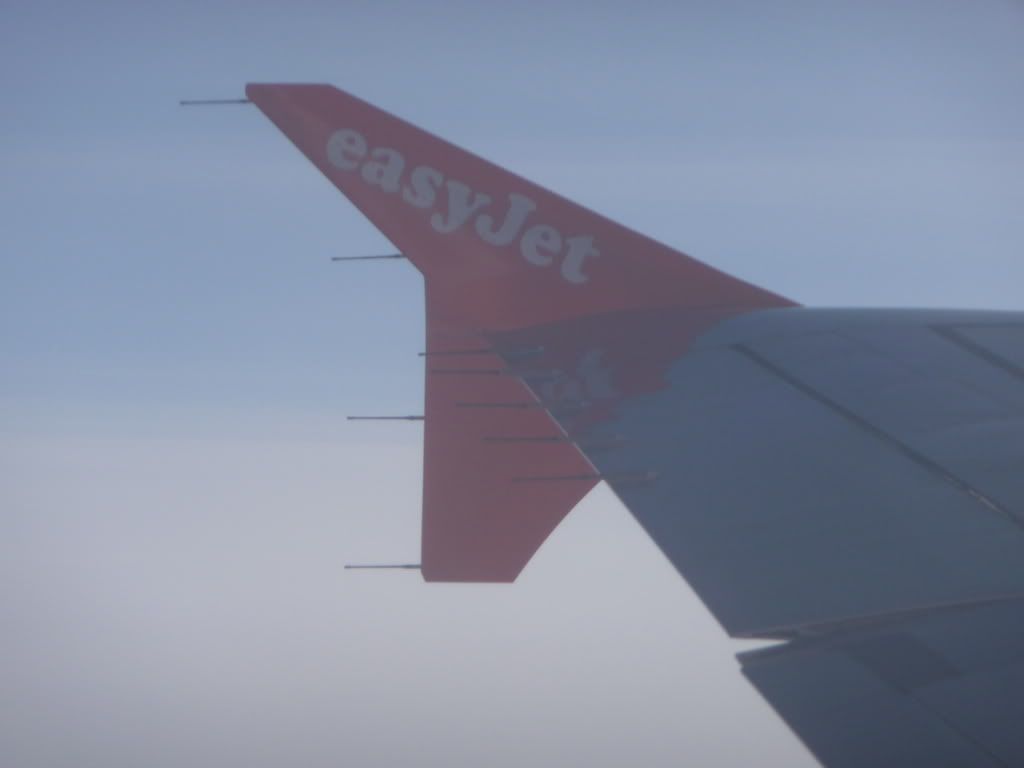 Wing fence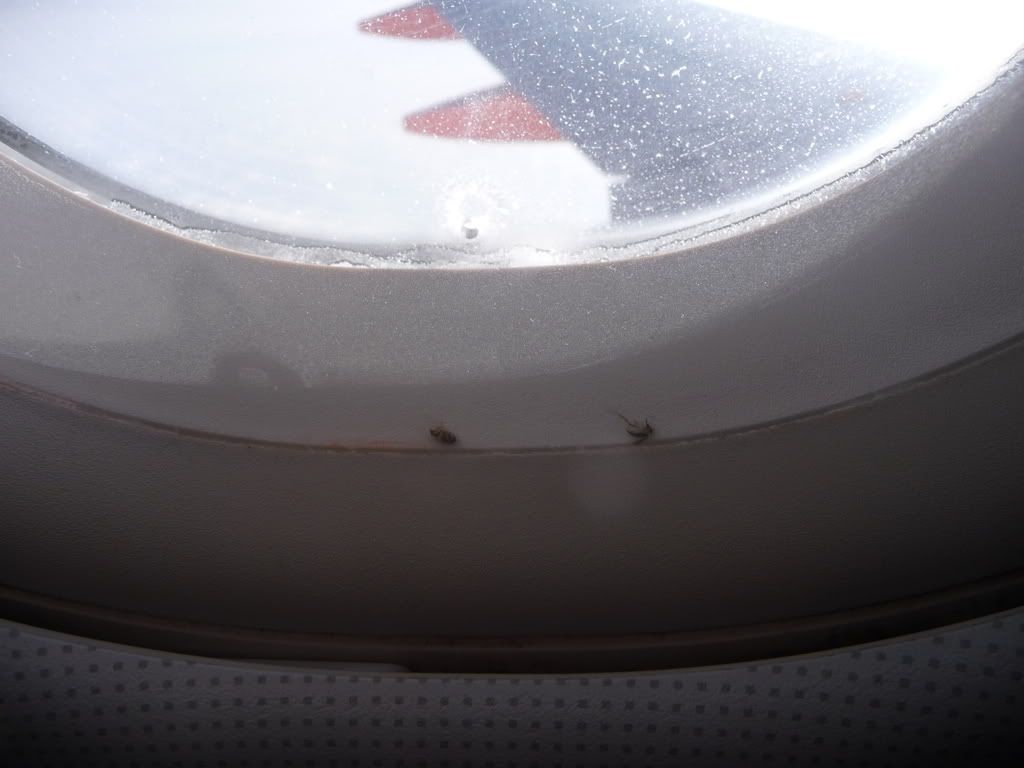 Dead flies in the window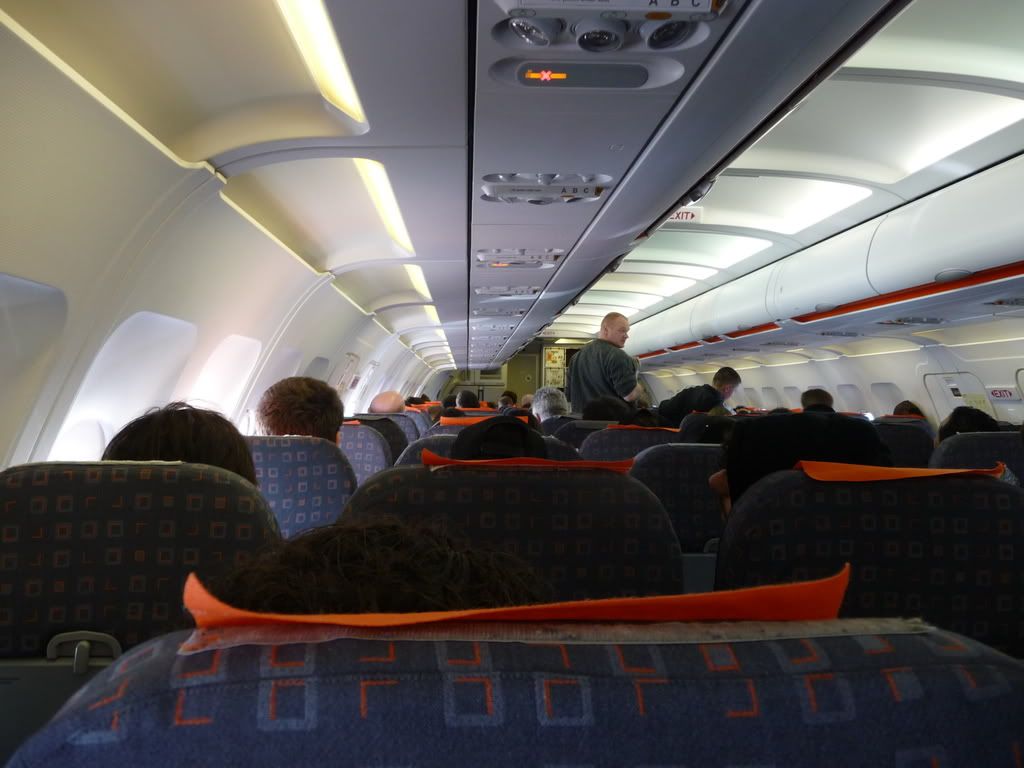 Cabin View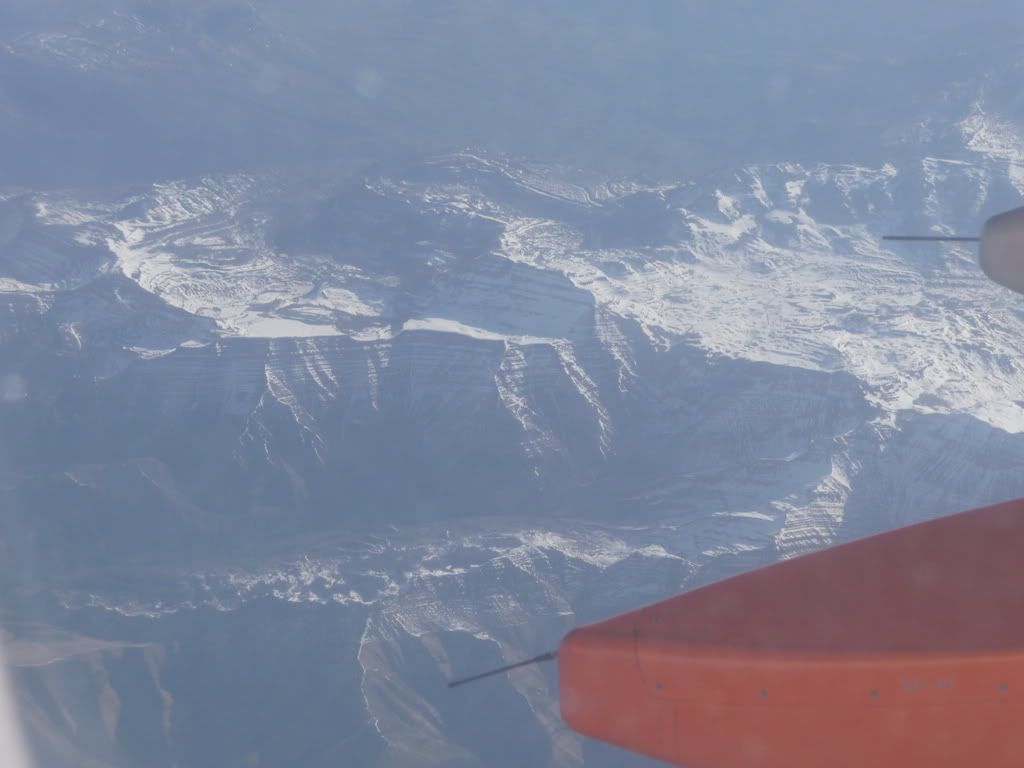 Over Spain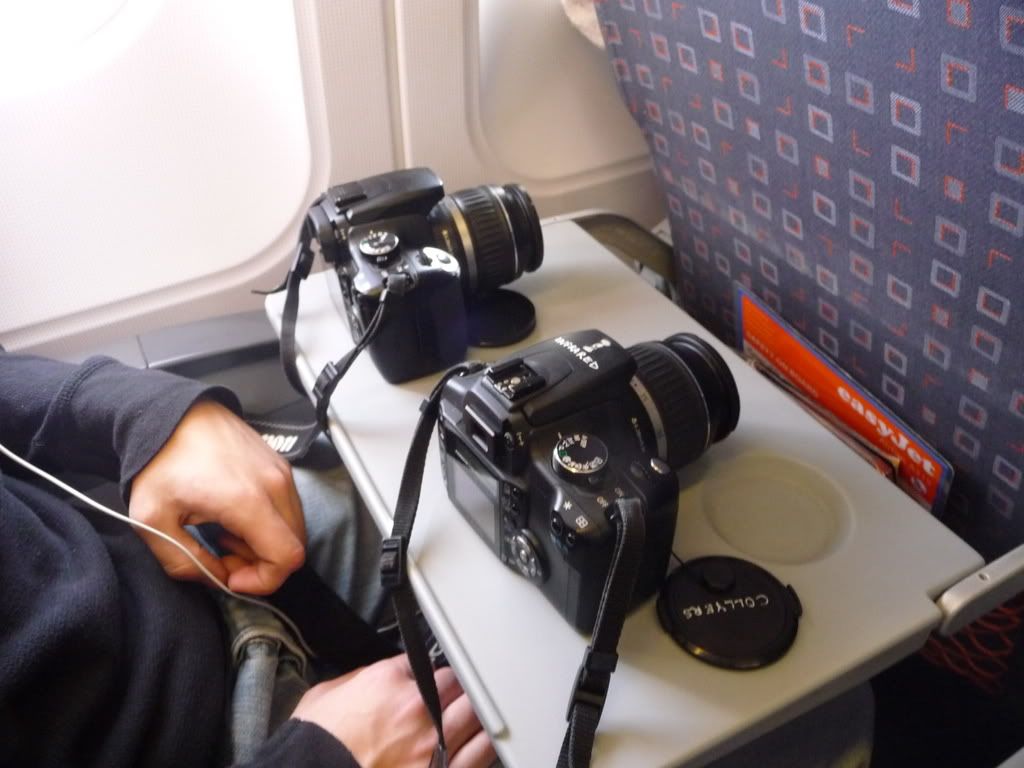 Tom and his 2 cameras (1 is an infrared one from his college)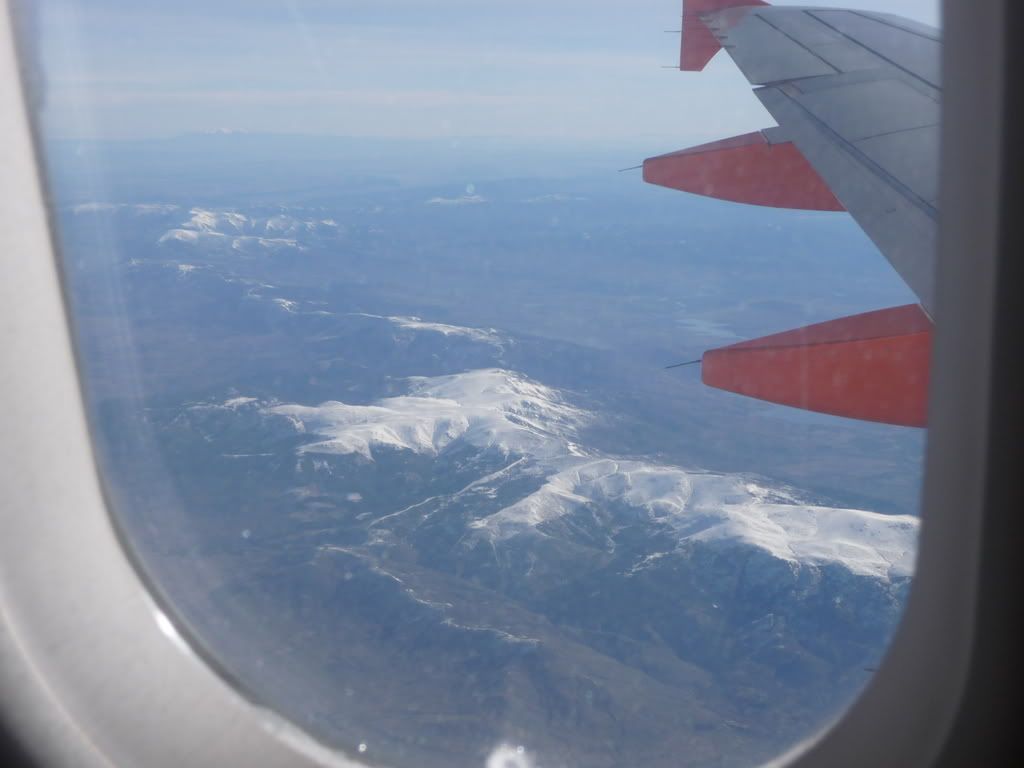 Closer to Madrid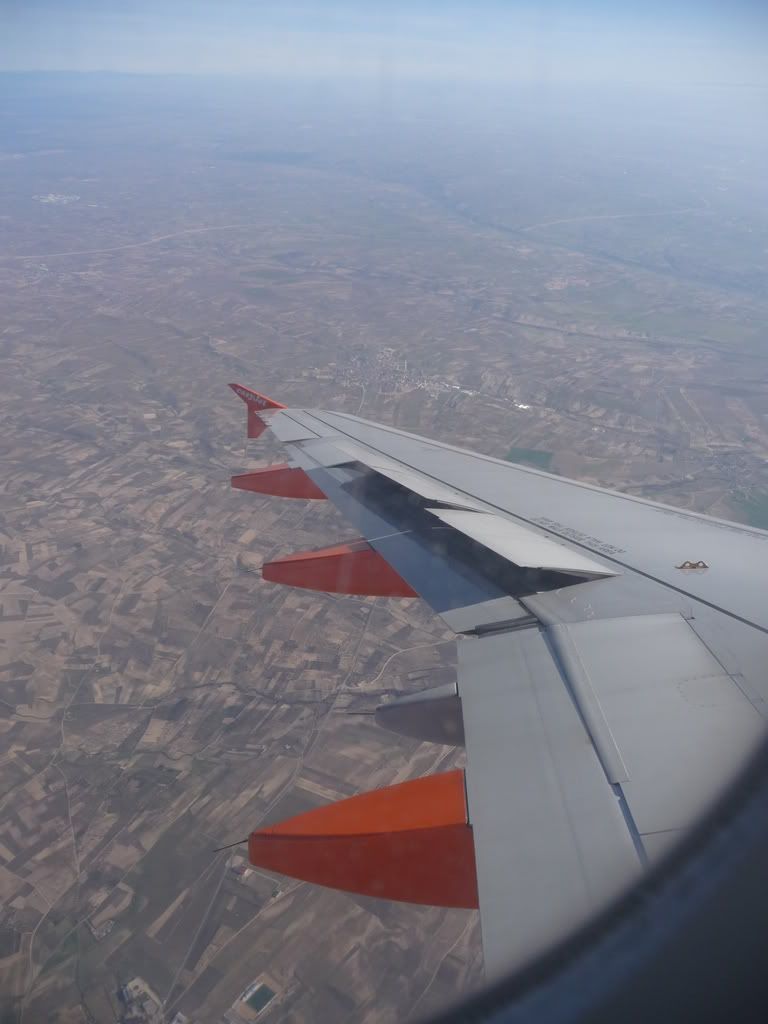 Air Brakes deployed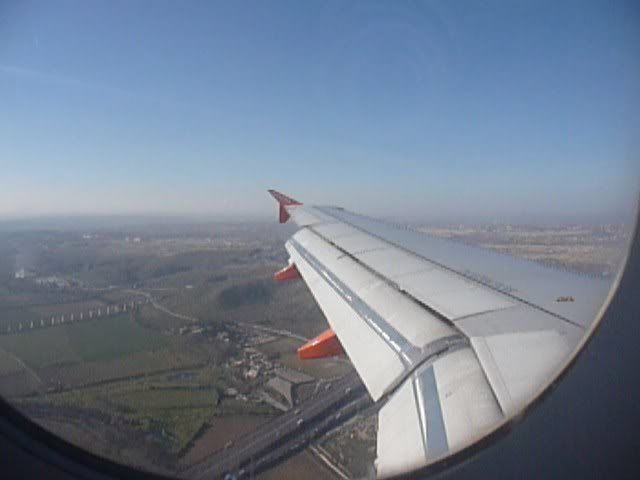 On finals for 33L
G-EZAM touched down gently on the runway at 1101am (GMT +1), one hour and fifty-nine minutes after leaving Gatwick Airport. The taxi to the gate provided us with some great views of aircraft that were new to both of us - or just plain interesting - including a Saudi 757-200, Thai 747-400 in the new colours, some Gulfstream 1s, a USAirways A330-30 before coming into park between a Continental B767-200 and Ryanair's EI-DCL painted in the Dreamliner colours.
We hung back and waited for other passengers to disembark, waiting to see the cabin and a possible cabin shot, but we decided against it and headed out into the jetty and onwards to arrivals.
Waiting in the queue for Passport control, Tom and I both wanted stamps and were granted our wish as we passed through the booth. Tom's first stamp in his new passport and my 25th, (albeit all have been asked for since I got my new one in June last year). I am a bit sad, I know, but I do enjoy being a stamp collector.
Tom had checked in online for our next flight to Palma the night before hand and had printed out his boarding card. I don't like printing out boarding cards so had decided to pick it up at the airport in Madrid. A long walk awaited us to the Spanair self check in machines where I typed in my booking reference from memory and picked up my lovely cardboard boarding card - just the way I like it.
Tom had suggested we go see the new Terminal 4 at Madrid, to which I was happy to do. A bus journey awaited us and in 5 minutes, we were there, standing in the shade outside the Terminal and making our way in to see the amazing architecture.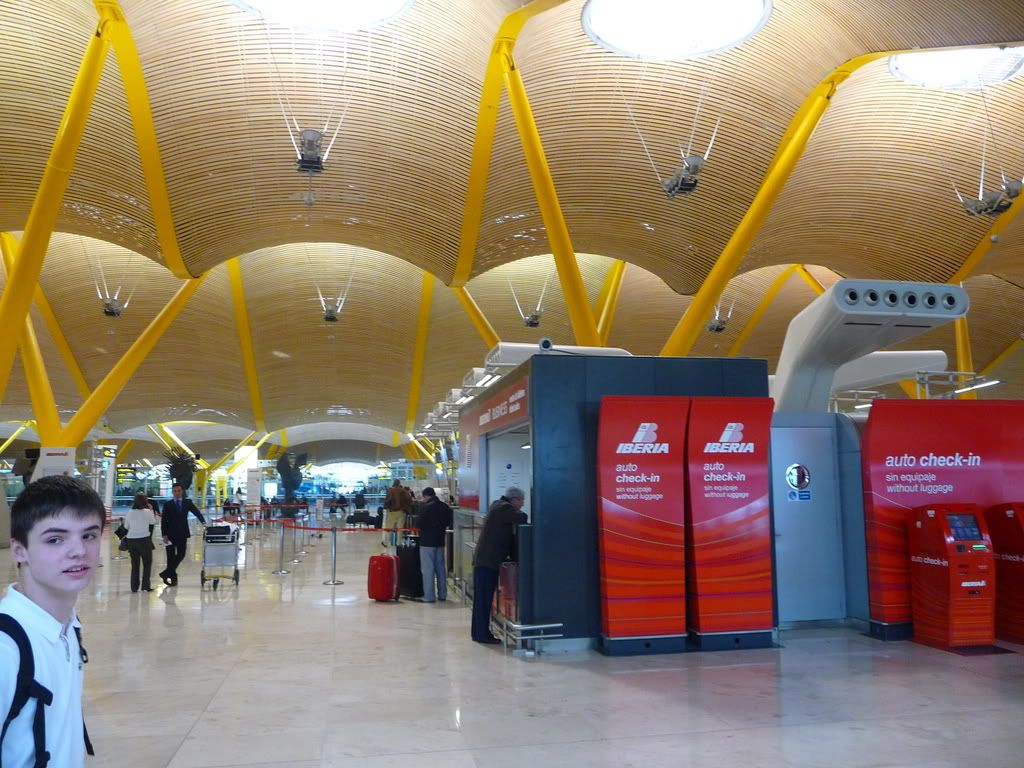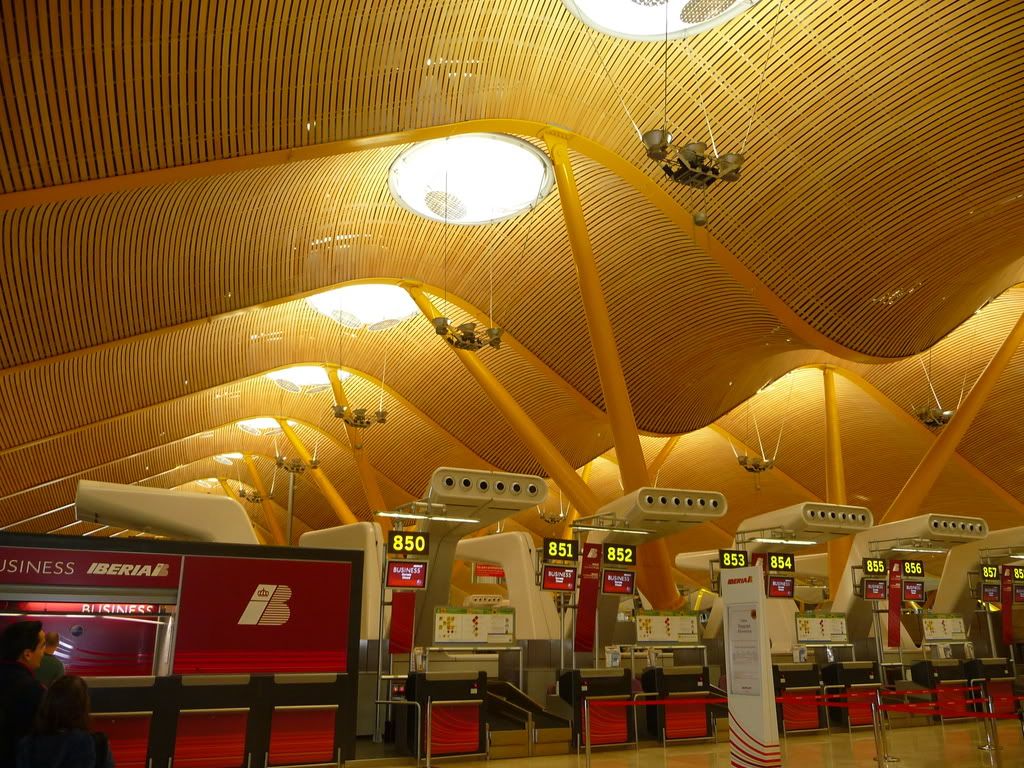 Madrid Terminal 4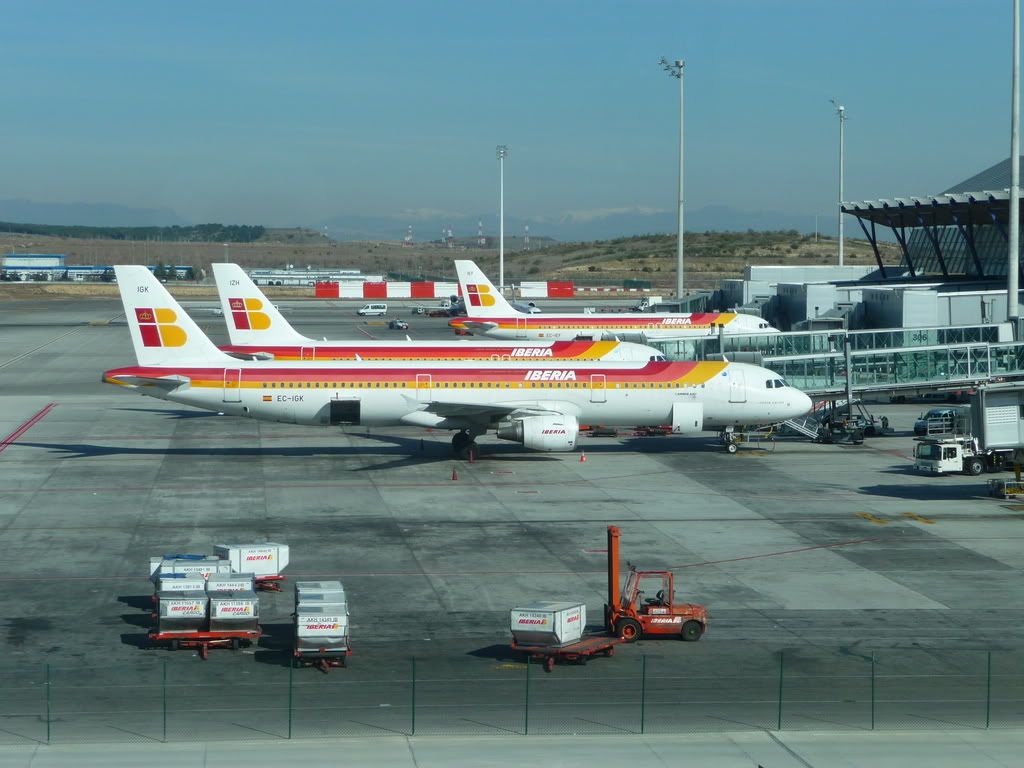 IB A321 (similar to TupolevTom's shot in his report)
Soon enough it was time for lunch and we found a nice little sandwich bar where we both picked up a chicken and bacon sandwich and Tom had a San Miguel to drink, while I had a Zumo de Naranja - or Orange Juice in English.
If you've read Tom's report you'll have heard the funny story about the purchasing of the beer. If not, here it is;
Tom hands over his money to the till assistant who scans the items and brings up the price. When looking at the beer, he began to speak to us in very hurried Spanish
Him: "Ahh, ¿cuantos años tienes?
Tom: "Ehhhh, *looks at me*, what's 18 in Spanish?"
Me: *very quickly to the assistant* "dieciocho"
Him: "Hmmmm" followed by suspicious looks then I'm sure I heard "Vale" for OK and he handed them over.
We found a perch in the sun and sat down to eat our lunch. After it was finished it was up again to have a look in the souvenir shop and then back to the Terminal for our flight to Palma.
The security here use segways! :P
We soon found ourselves heading into the security queue and undressing all our things to go in the tray, walking through the metal detector, then onwards to the gate, with me stopping for a cigarette in one of the 'zonas de fumadores'.
It was then onto the gate where we found that we had nearly missed the flight and the gate agents informed us we may not be able to get onboard.
"Shit!" I thought to myself
The female agent told us to run as quick as we could down the jetty, which I did - it's a rare occasion when I run, but when I got to the bottom there was still a queue of 5 or 10 people waiting to board as they were putting a baby stroller in the hold.
Thai 744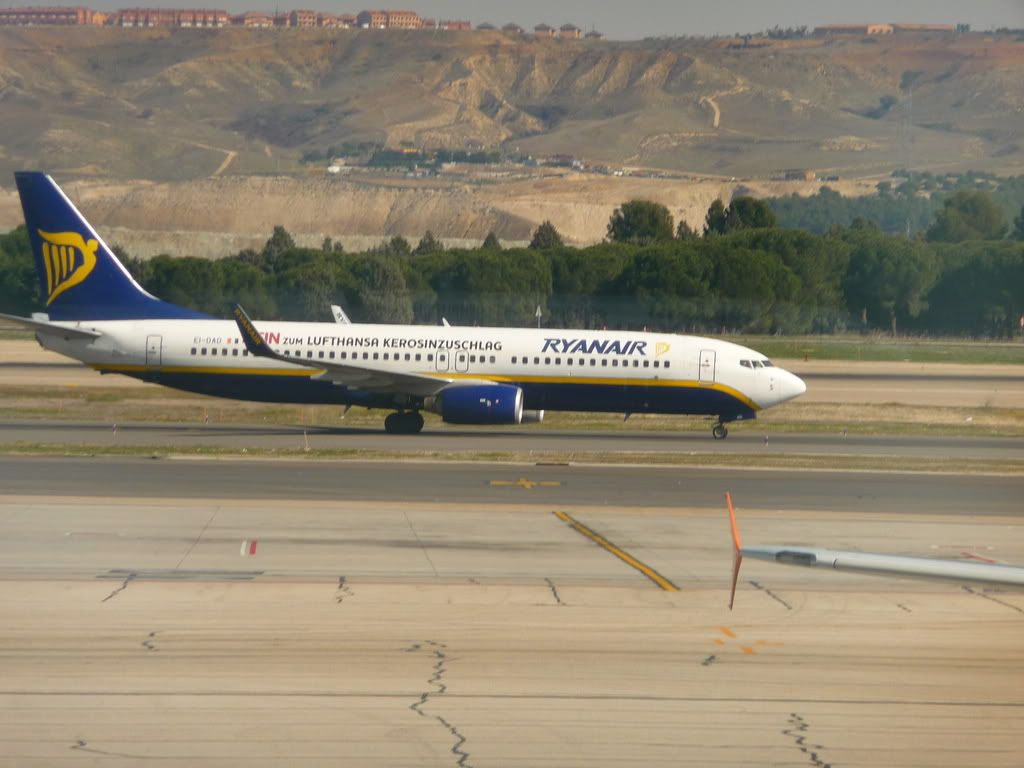 German Ryanair Plane
17.02.2009
JK5617
MAD-PMI
McDonnell-Douglas MD-87
EC-KAZ
Seat 21A
Scheduled Departure/Arrival Time;
1320-1435
Actual Departure/Arrival Time;
1325-1425
Departure Runway = 36R
Arrival Runway = 24L
I took my seat after negotiating with the passenger in Seat 21B after he'd taken up residence in 21A. I got it back and sat with my nose glued to the window. I was having fun as this was my first flight on a plane with the engines mounted at the rear of the fuselage and not on the wing. I took some photos out the window as we were welcomed aboard in Spanish and English and then pushed back, starting up the engines and beginning our 3.6 mile taxi to the runway.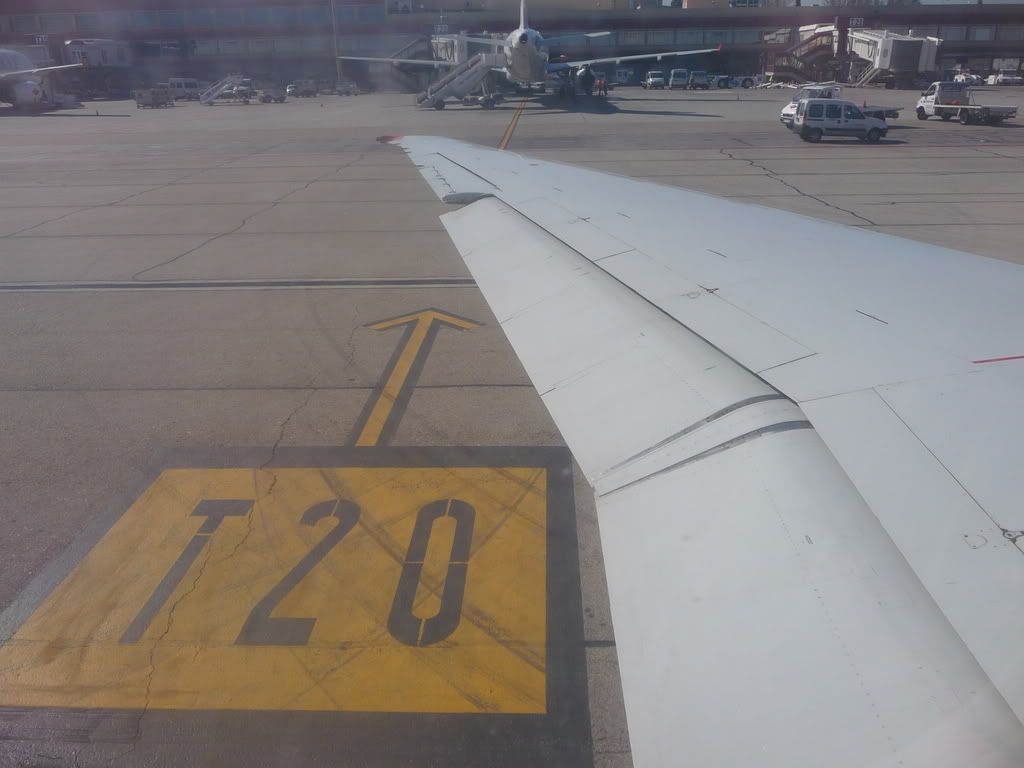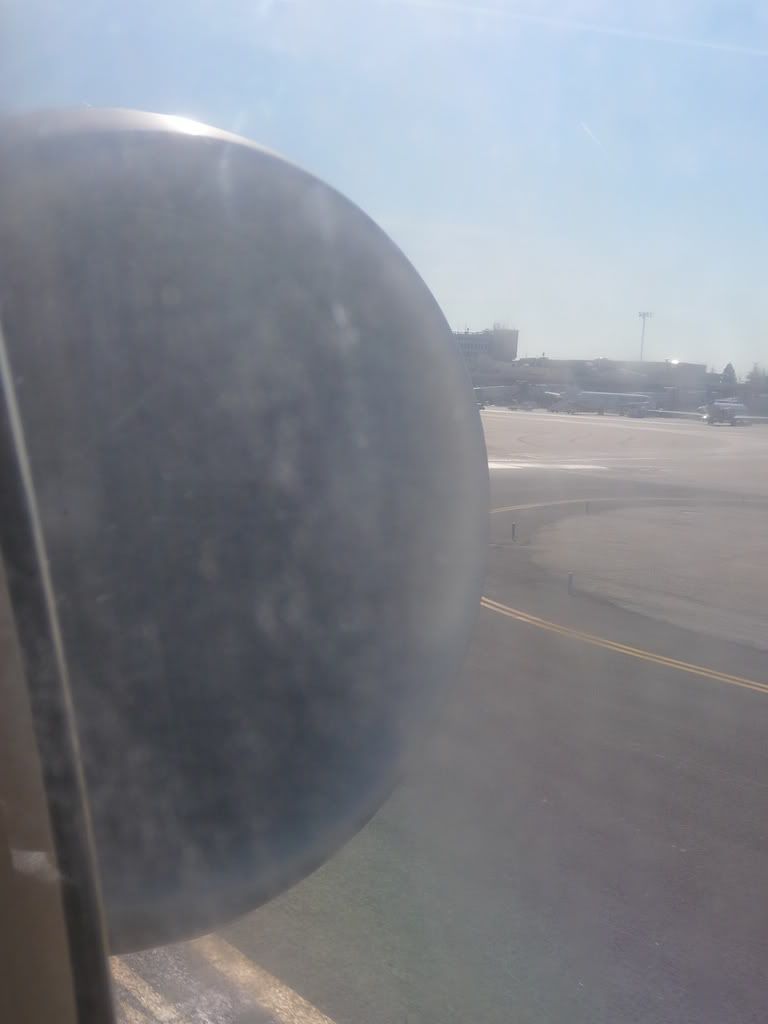 Engine
Iberia Retro Jet
Aviance A332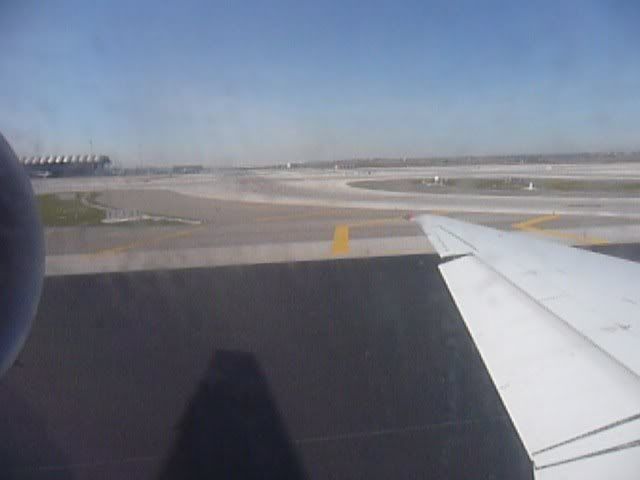 Beginning to roll
The take off was quick and steep, gaining height with incredible speed. I was taking photos out of the window as we banked towards Palma and the passenger next to me was tapping me on the shoulder, exclaiming "No Cameros, No Cameros. ¡Plummetos!" I switched it off to make him happy, but quickly took up snapping again as we passed over some amazing countryside and continued at 32000 feet to Palma.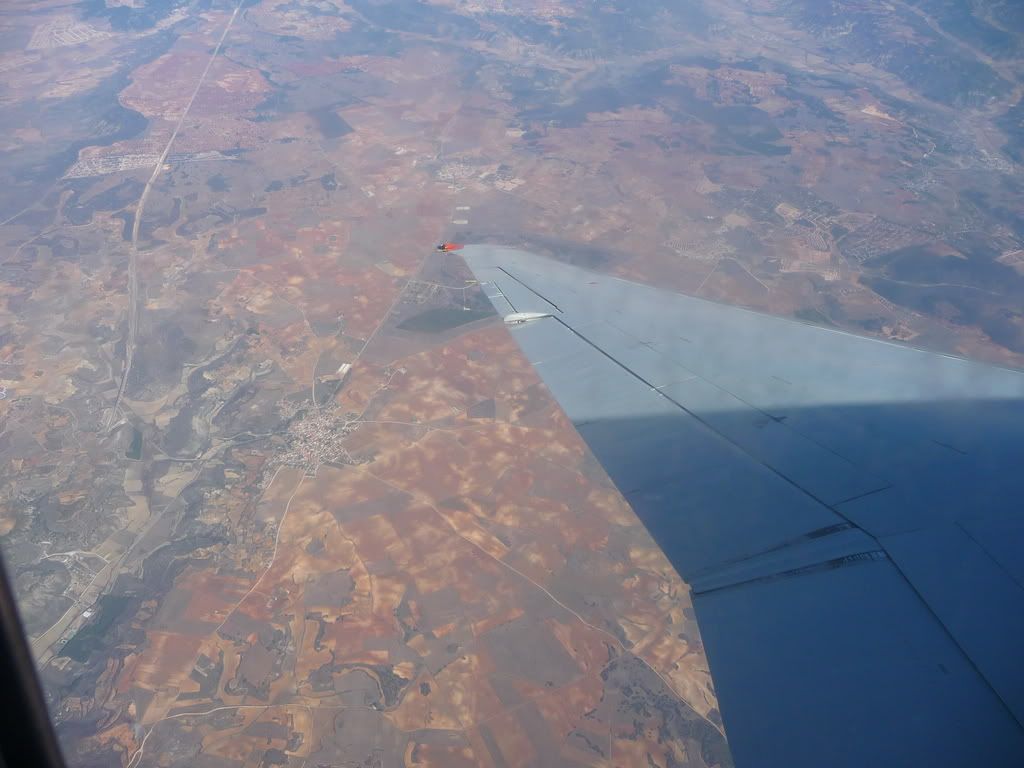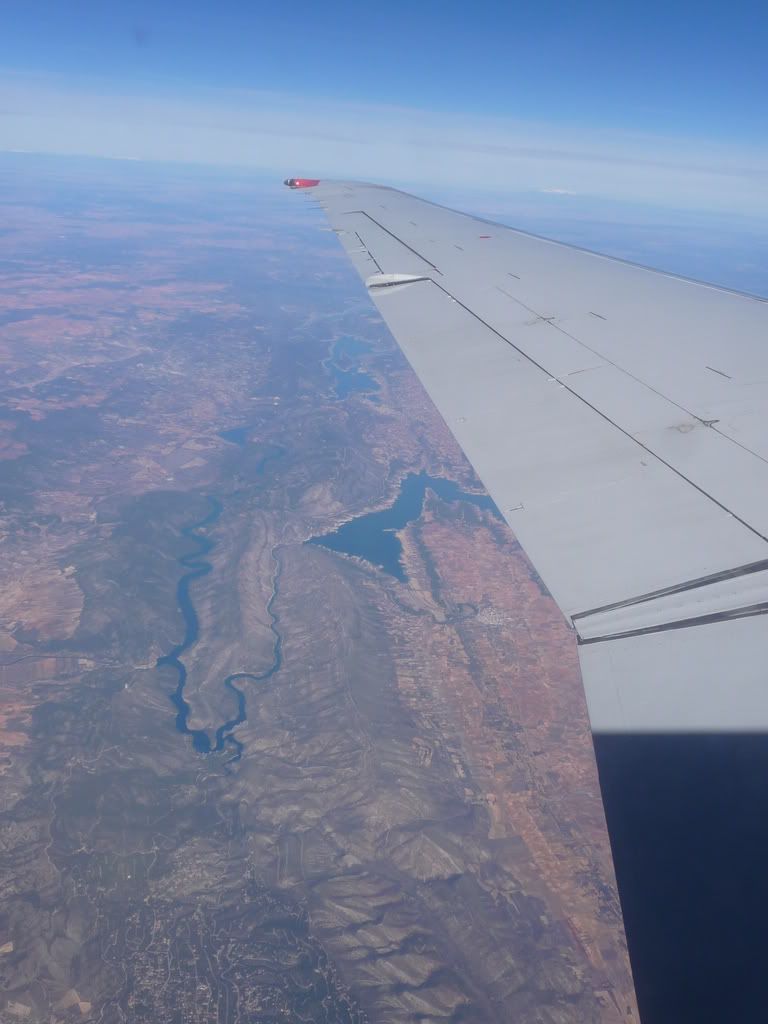 Crossing the coastline
Soon enough it was time to descend and we were handed assorted sweets in different wrappers. Not wanting to upgrade myself, I chose one with an orange wrapper and Economy written on one side in white. I assumed that we would be approaching one of the runway 6s as I thought there was a south westerly blowing wind, but as we descended in over the coastline and made a series of right hand turns, I realised we were on final for runway 24L.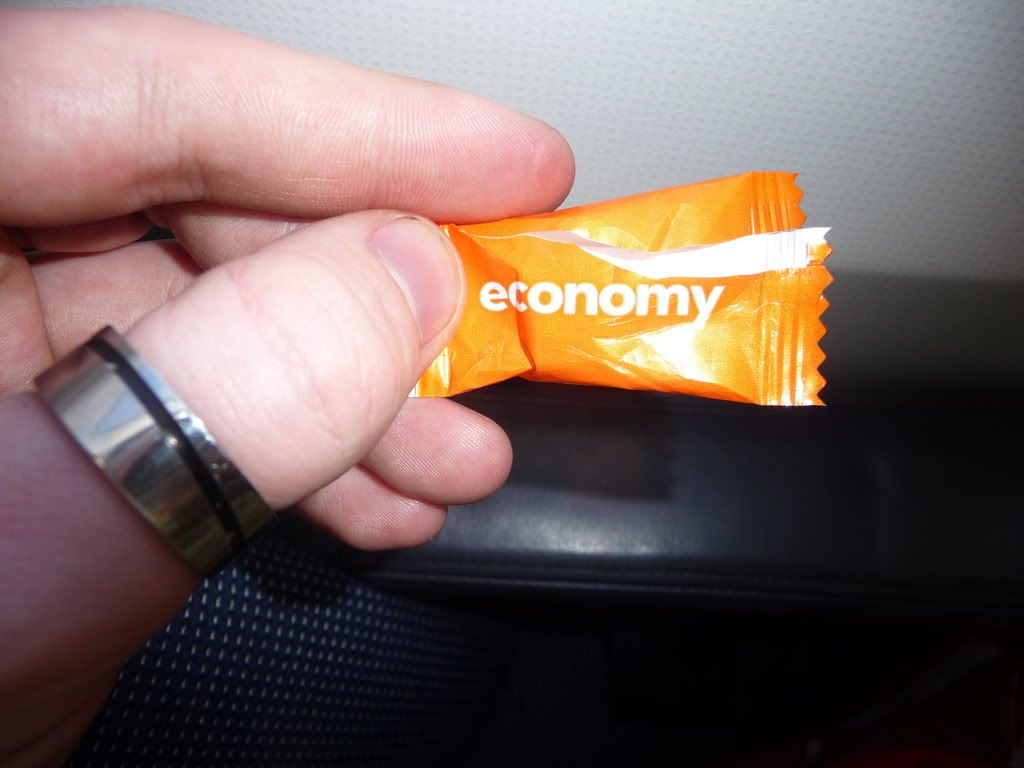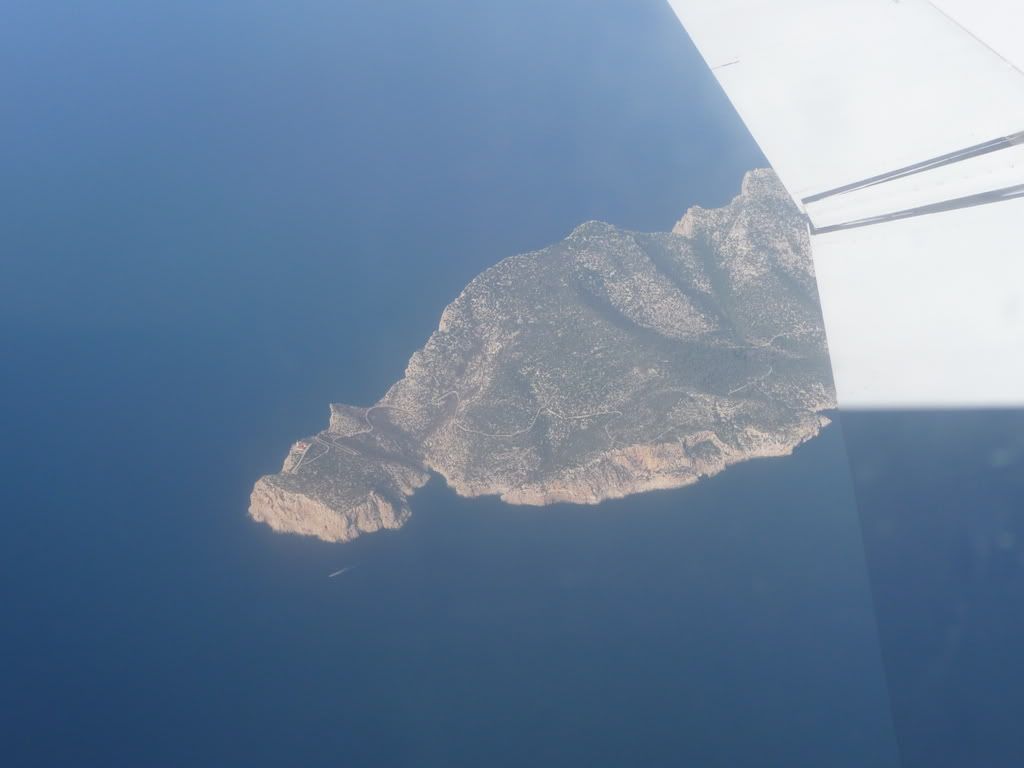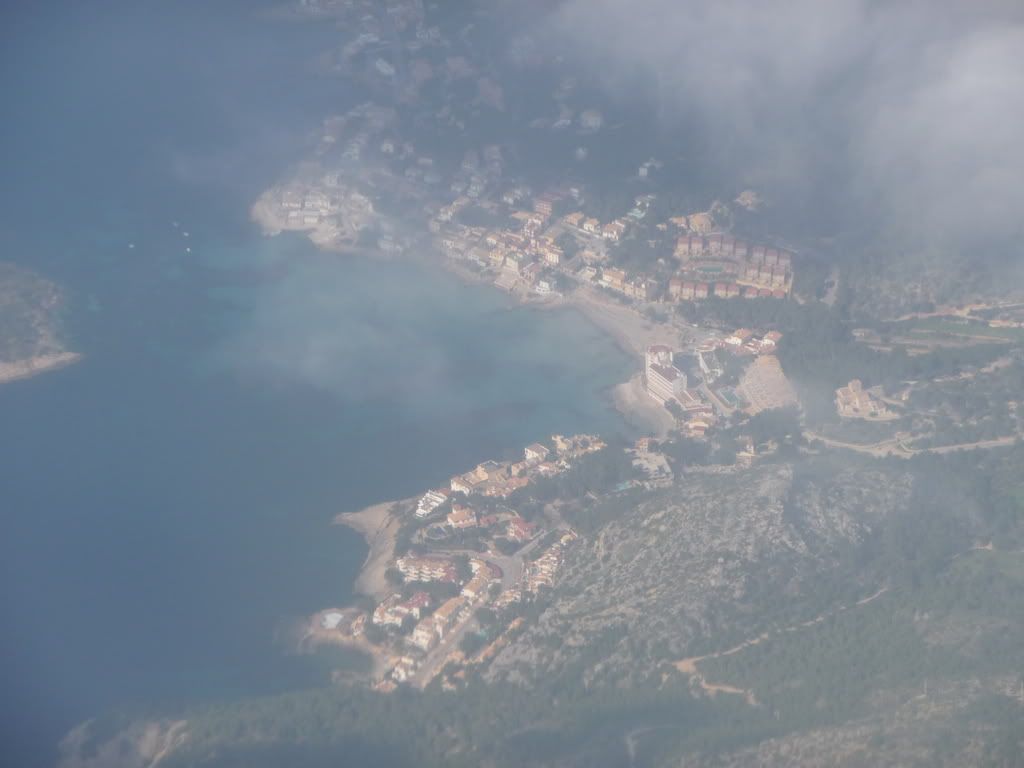 And on final for 24L
We hit the tarmac for the second time that day and taxied to the gate. Once again we waited for the passengers to leave so we could try and get a photo of the flight deck. Sadly we were denied as it is "forbidden" (or as Tom thought she said "for reading"  
and made our way up the jetty and back outside to watch EC-KAZ leave for Madrid as JK5618 and to soak up some sun before once again leaving on a jet plane… this time for the gray and dull UK.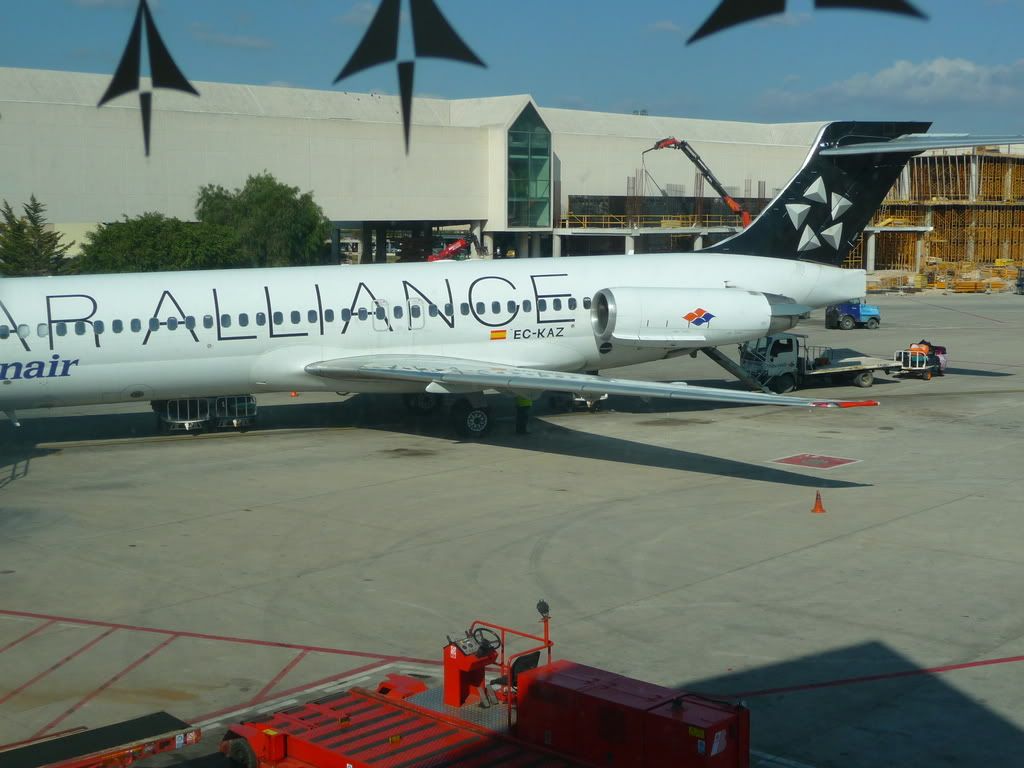 EC-KAZ, our trusty steed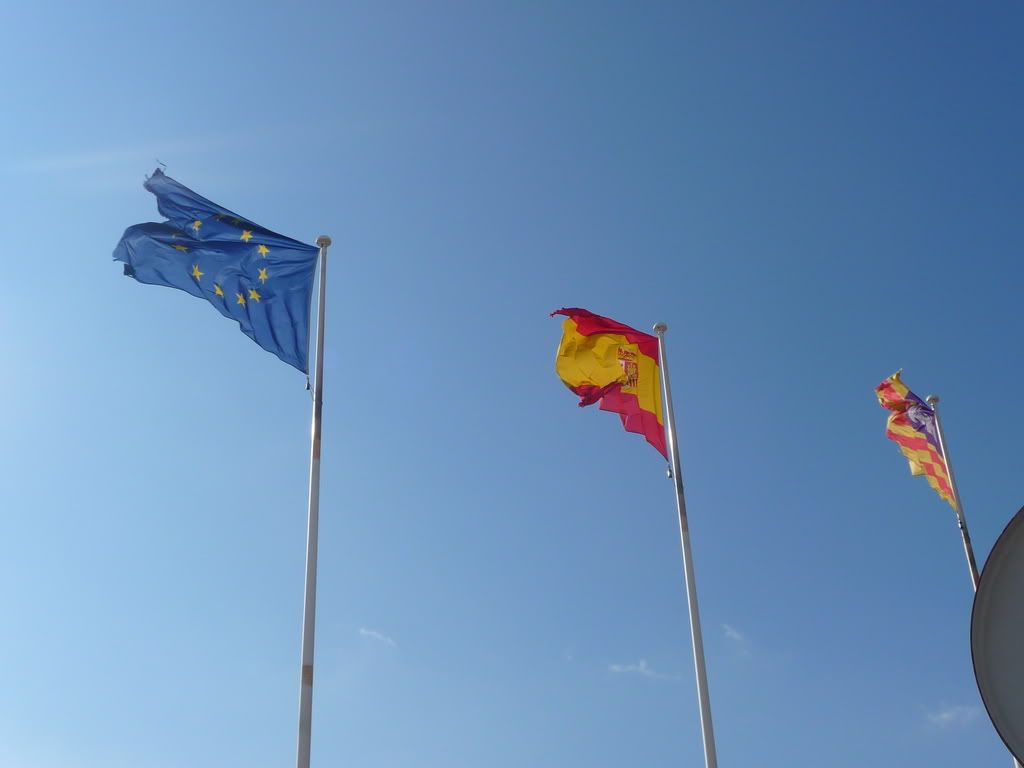 EU, Spain and Balearic Islands Flags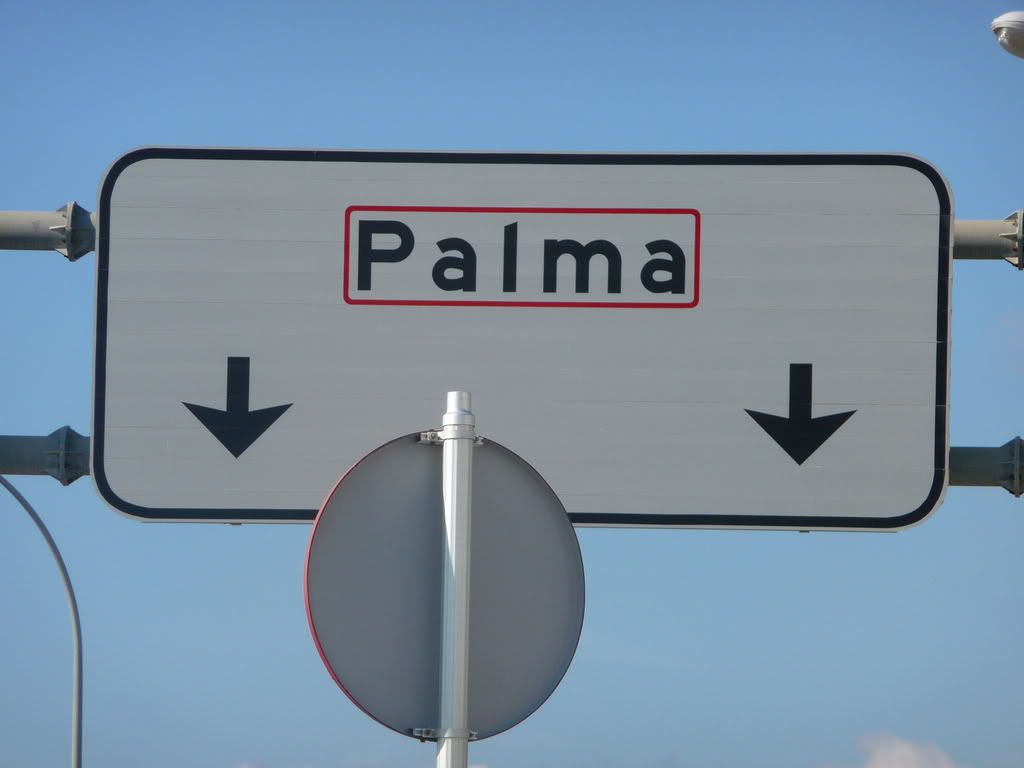 Just to prove I was actually there :P
At 1600, we made our way through security for the third and final time that day, this time taking me longer to get ready for some reason, and went to have some dinner at the restaurant Ars. I of course was laughing my head off thinking it was the best thing since Louis Vuitton. After my hambuergesa and tom's pizza bocadillo we headed off to the gate, where Speedy Boarding had already begun and we were waiting on group A being called.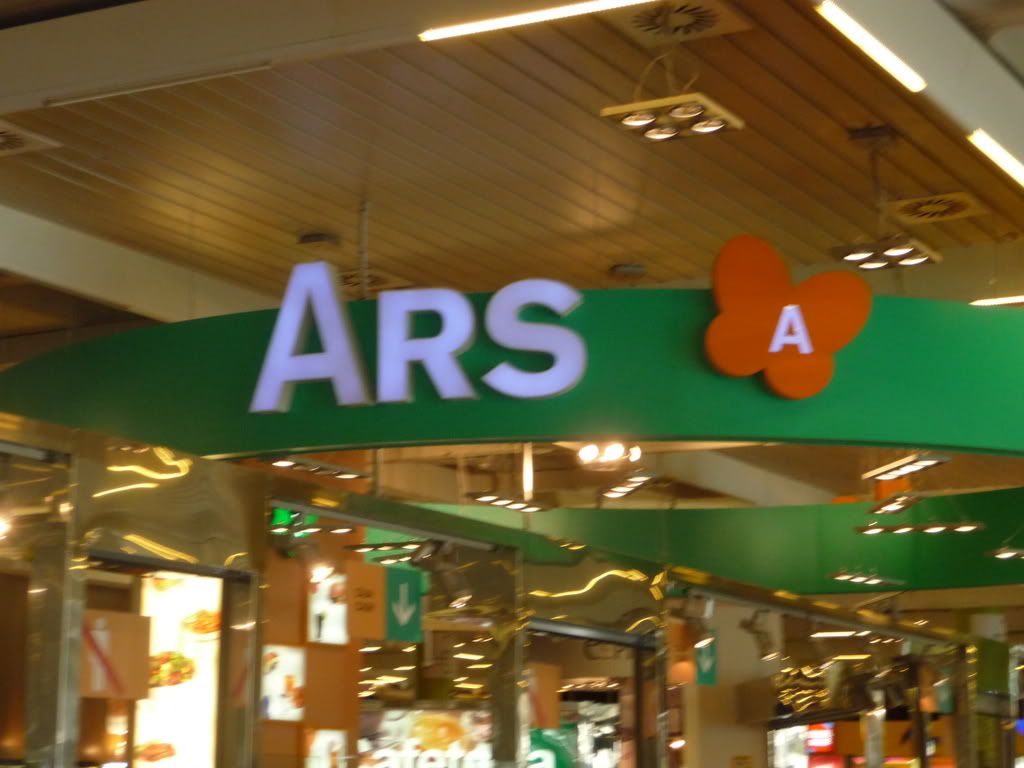 Ars
17.02.2009
EZY8626
PMI-LGW
Airbus A319-100
G-EZIY
Seat 6F
Scheduled Departure/Arrival Time;
1640-1815
Actual Departure/Arrival Time;
1650-1802
Departure Runway = 24R
Arrival Runway = 26L
I sat down in the seat behind Tom, next to two Scottish ladies who were heading back to Glasgow after arriving at Gatwick and once again sat looking out the window. Pushback occurred just a couple of minutes late and we were on our way home. The taxi was quite long but we were soon on the runway and speeding down it and launching ourselves into the air. We continued on the runway heading until the flaps and slats were fully retracted and then turned northeast to Barcelona.
Shortly after flying over mainland Spain, Tom slumped forward and I assumed he was asleep, so I shoved my iPod on and fell asleep to some music.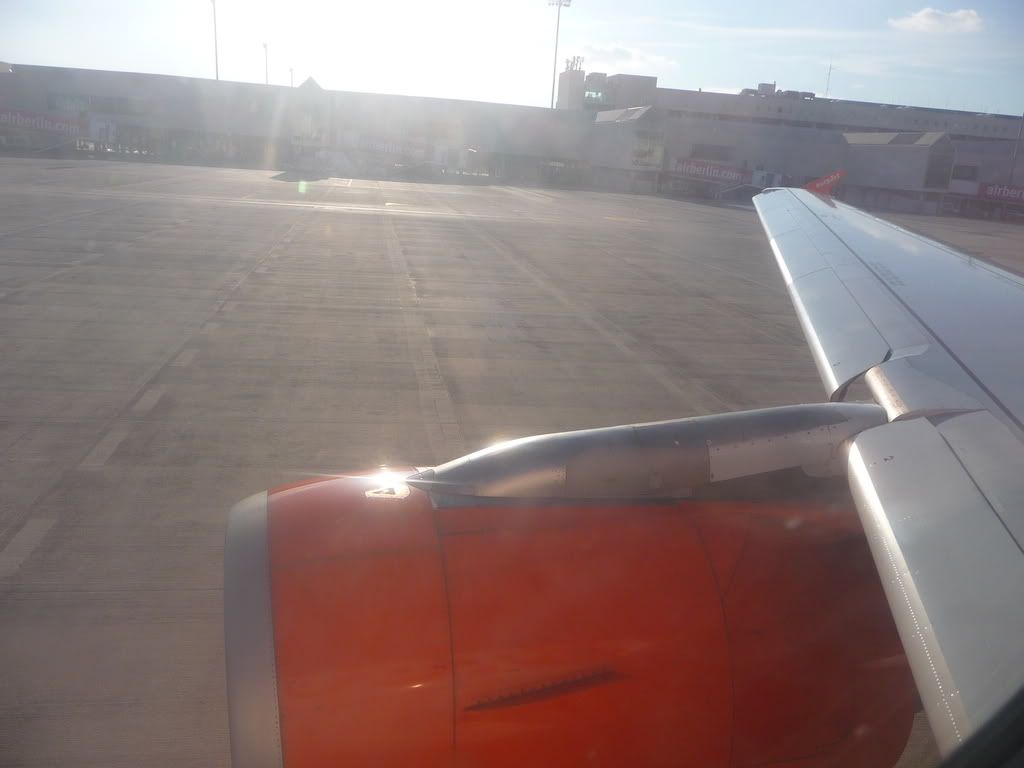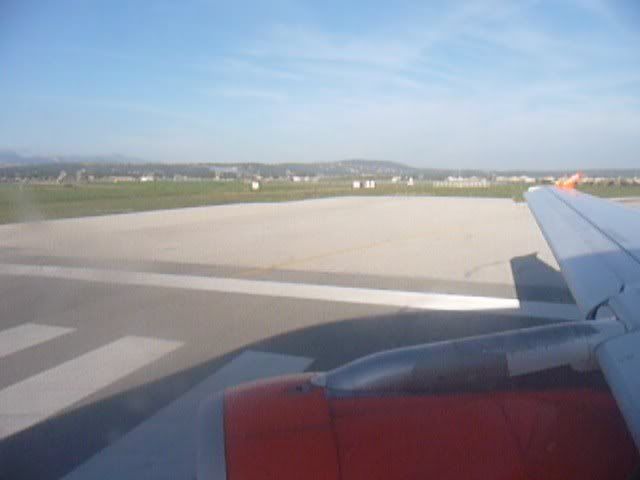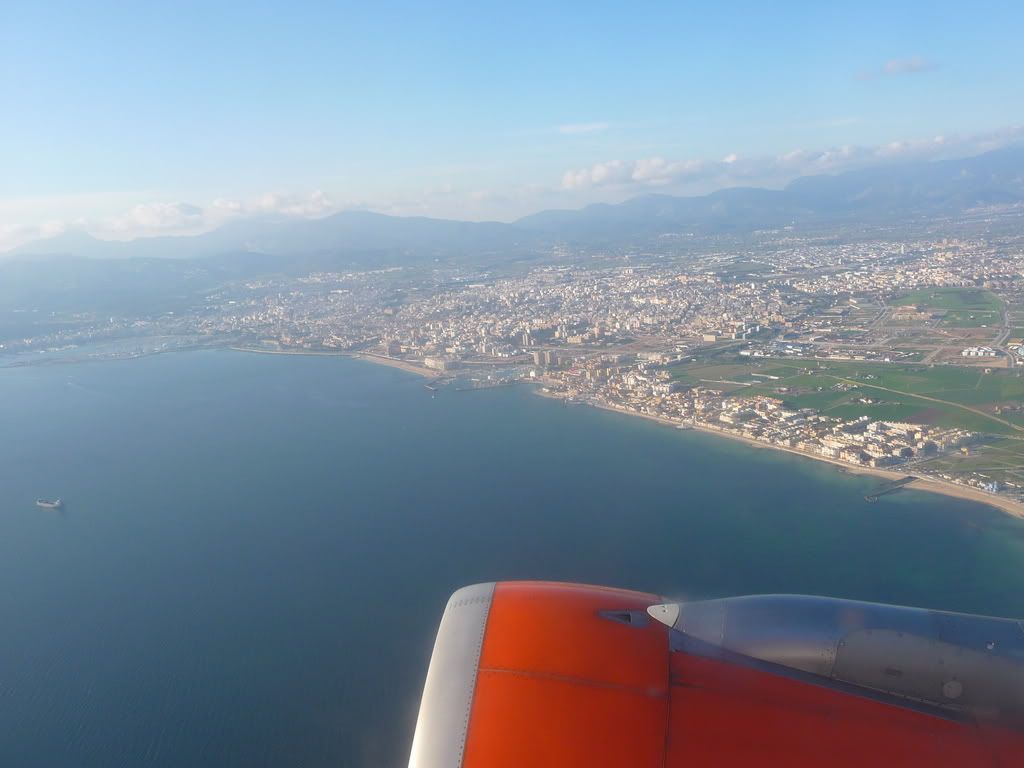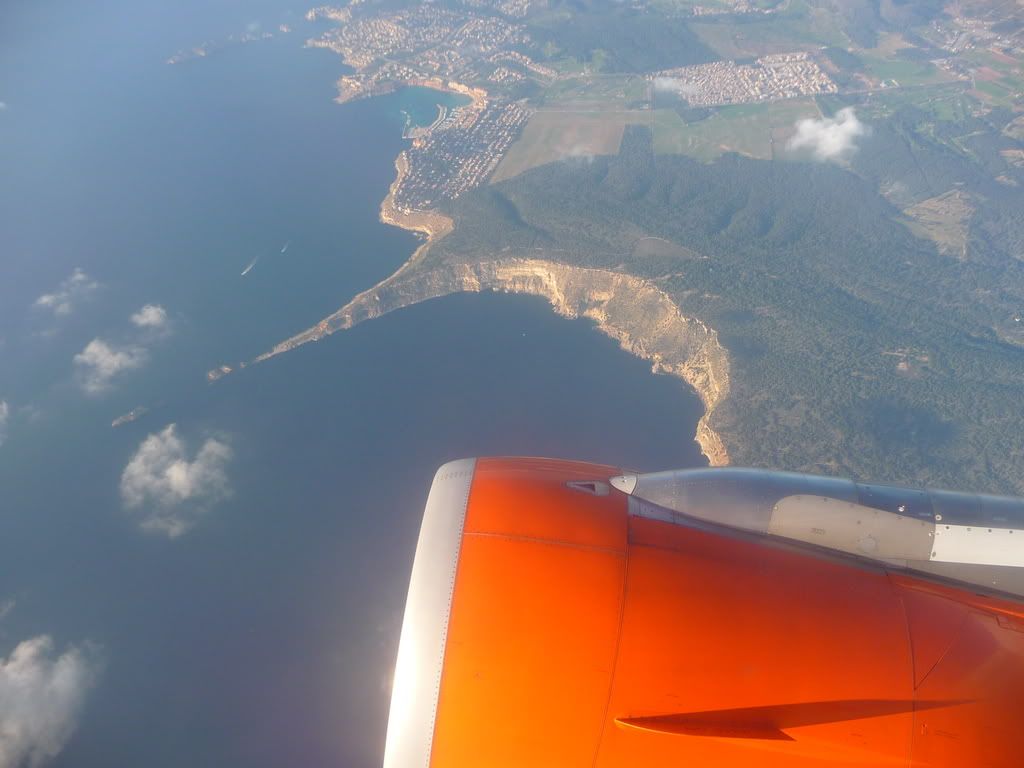 Palma Airport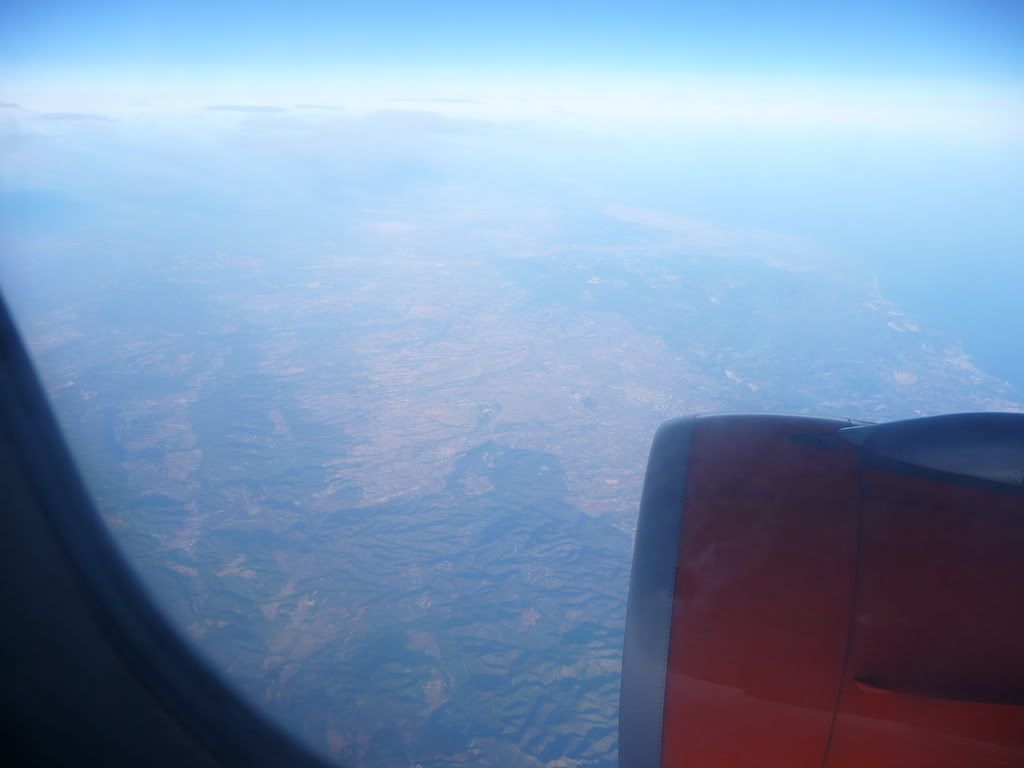 And once again over Mainland Spain, heading for home.
Awaking 30 minutes later I forgot where I was. I had a small headache and took a drink of water to try and help it. I looked outside and it was getting darker. The sky was purplish and we could see the shadow of our contrail as we continued north at 37000ft and 503mph. The woman next to me was asking if I could see anything interesting to which I replied "Yeah, clouds". We continued chatting and she asked what we had been doing in Palma and I informed her about the day trip. She thought Tom and I were completely bonkers but thought it was nice we were having an interesting day out.
I didn't take many photos here as it was too dark but before long descent had begun and we were slowing down as we came in over the Dorset coast and turning to arrive on runway 26L.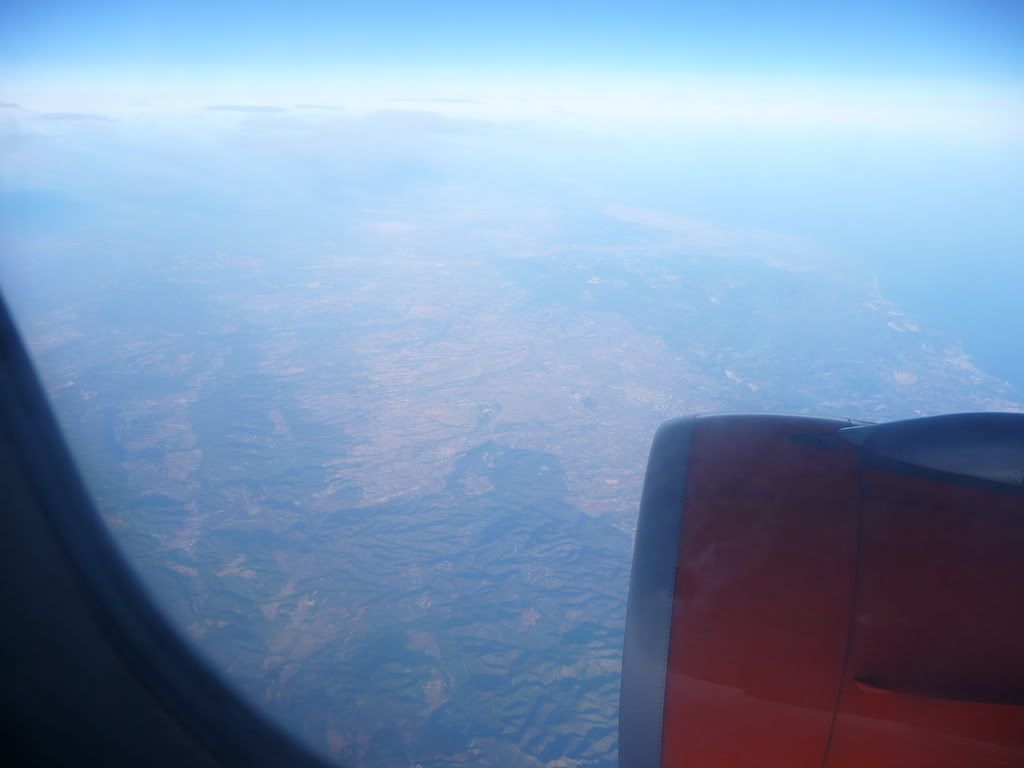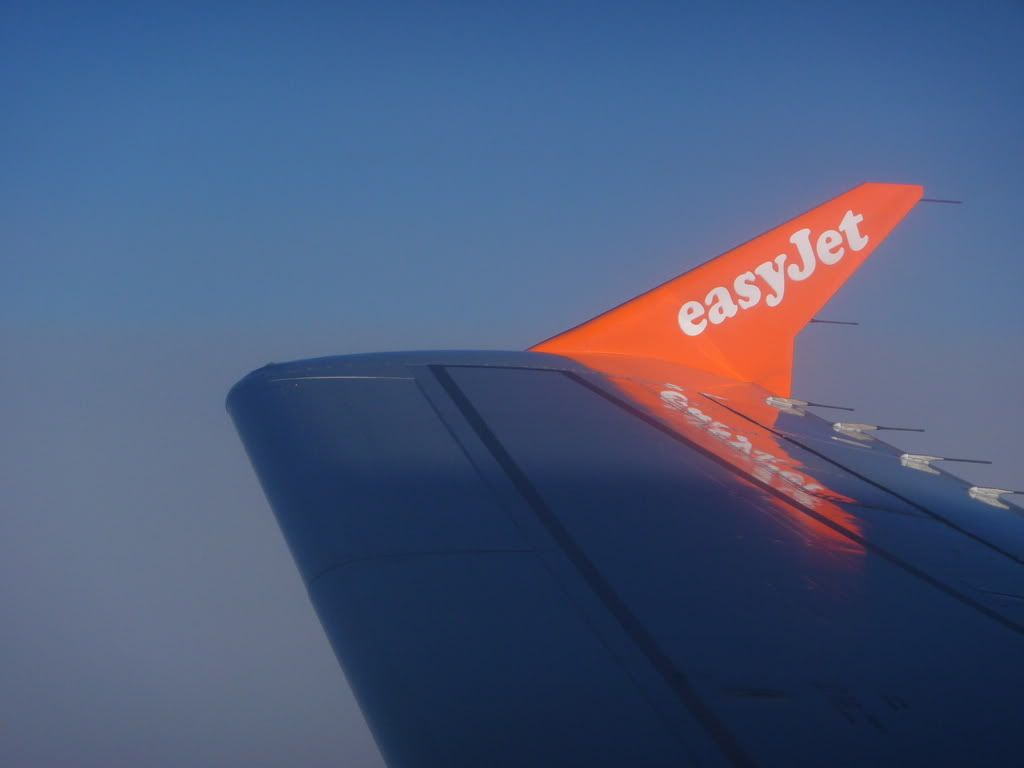 About 4 miles from touchdown, gear was extended and the landing lights were switched on, illuminating the orange engine. I leaned forward and said to Tom "Aren't they supposed to be on as soon as we pass through 10'000ft" to which the reply was "I thought so too"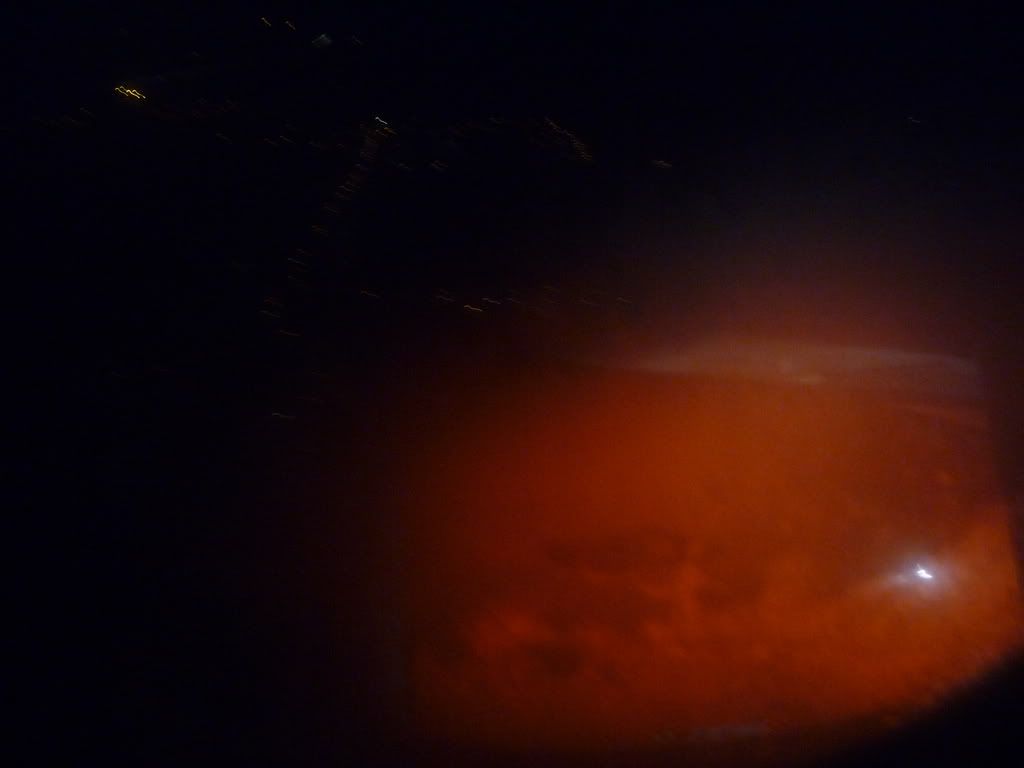 A bad photo, yet this is the illuminated engine.
At 1802 - exactly 10 hours after leaving - G-EZIY soared in over the threshold of the runway and prepared for touchdown. I was settling in for a smooth touchdown as suddenly the Airbus A319 smacked itself down on the runway, insinuating an "Oh God!" from many surrounding passengers. Coming to a slow enough speed to let us vacate the runway I pushed myself back into my seat and waited for us to come off the runway and taxi to the stand. Both Tom and I wanted to arrive on pier 6 in order to let us walk over the bridge which I had never done beforehand. Our wish was granted as we pulled into Gate 111 and G-EZIY came to a stop. I was up and off as soon as I could, heading for a bathroom to change into my England clothes. (I had changed into Spain clothes on the outbound flight).
Once again we crossed through passport control and onward to the train to take us back to Tom's house for a Pizza supper before going back out to Tom's girlfriends house for some banter J
Wednesday 18th December, 2009
I woke up at 9:45, once again in Tom's house and got ready waiting on Tom coming back in from sitting his Theory test for driving (well done for passing btw  
). After lunch and checking in online, it was time to head back on up to 'the wick' in preperation for my flight home L
Saying my goodbyes to Tom and his dad, I picked up my bags and headed in to the check-in area, saying goodbye to my Armani travel bag and heading on through security for the 6th time in 6 days.
After there, I went to look at the 777 about to head off to Bermuda from the Pier 6 bridge, this time in daylight.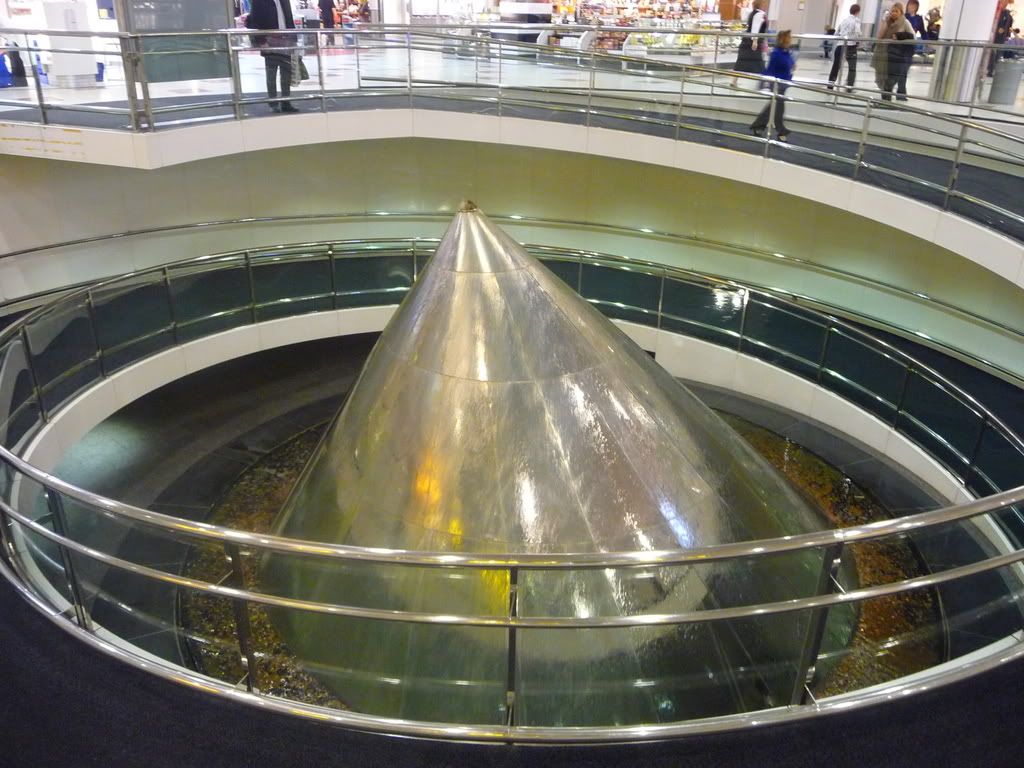 Gatwick Water Fountain
That's what I like to see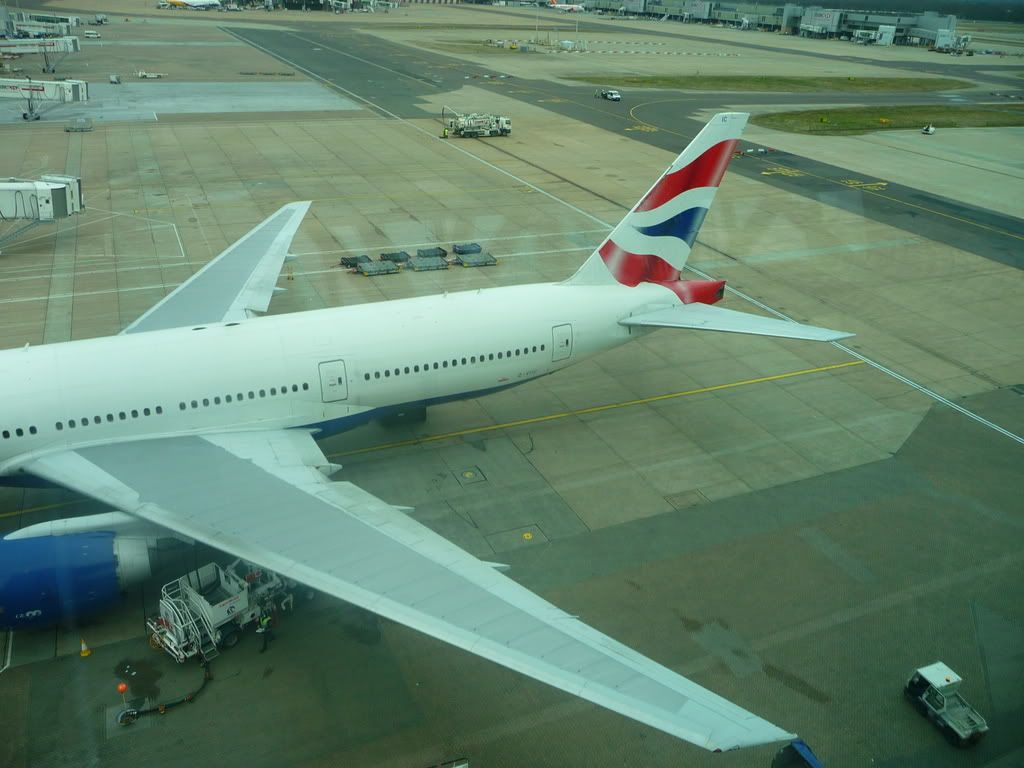 B777 G-VIIC from above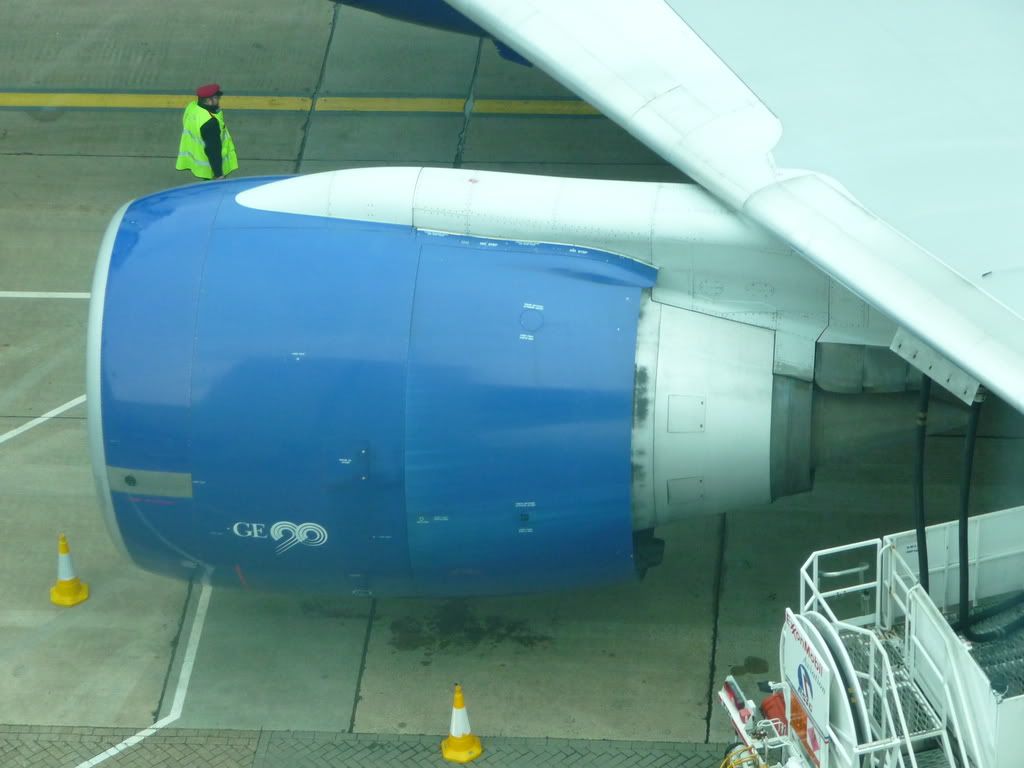 That massive GE-90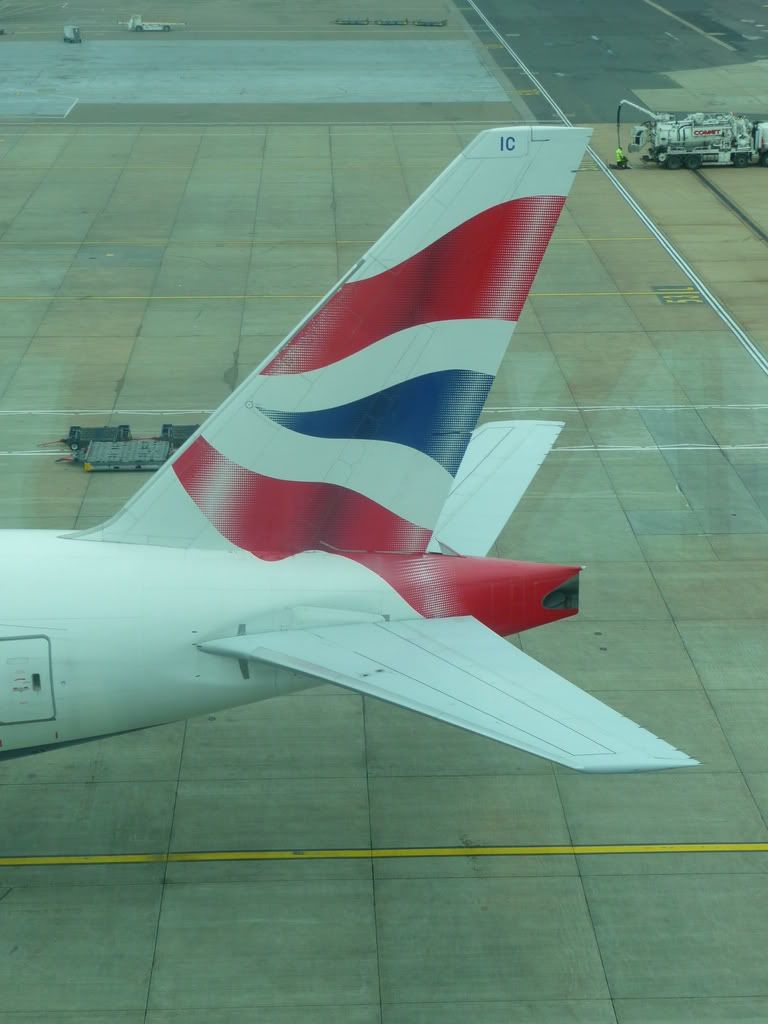 And a very suave tail
Air Namibia A340-300
18.02.2009
BA2490
LGW-EDI
Boeing 737-400
G-DOCA
Seat 18A
Scheduled Departure/Arrival Time;
1455-1605
Actual Departure/Arrival Time;
1503-1605
Departure Runway = 08R
Arrival Runway = 24
The flight home was only half full and we were on our way towards the active 5 minutes early. The all male - and very gay and cute - cabin crew showed the safety demonstration before fastening themselves in and we sped off down the runway, climbing into the somewhat cloudy sky and turning north about 5 minutes later.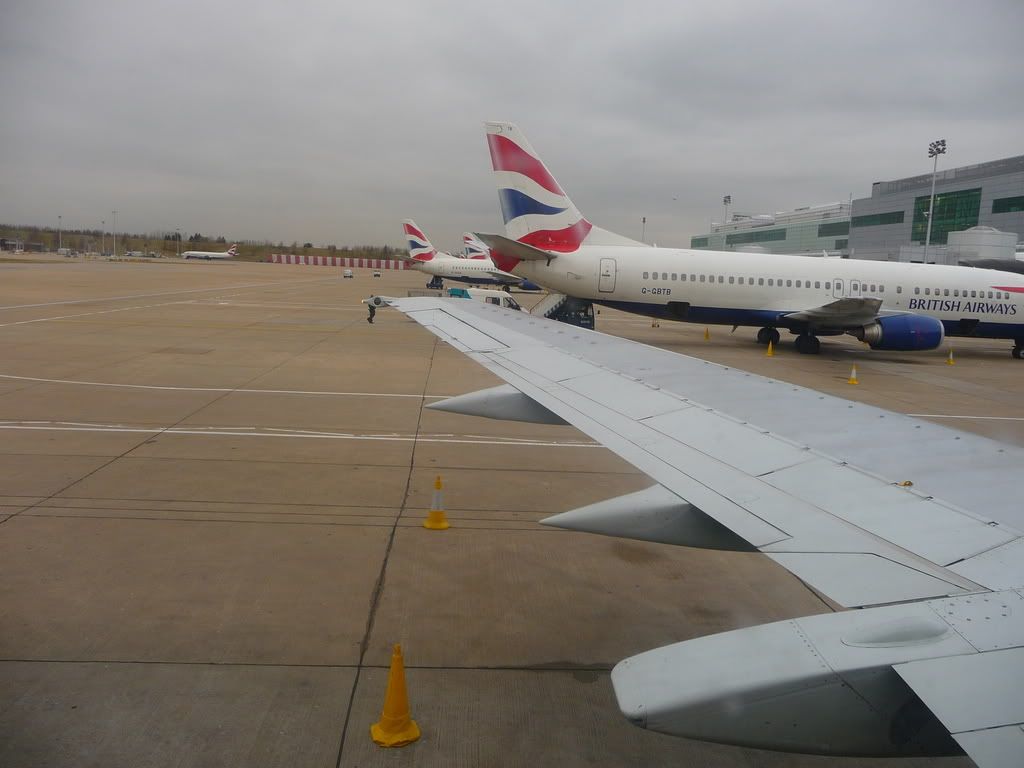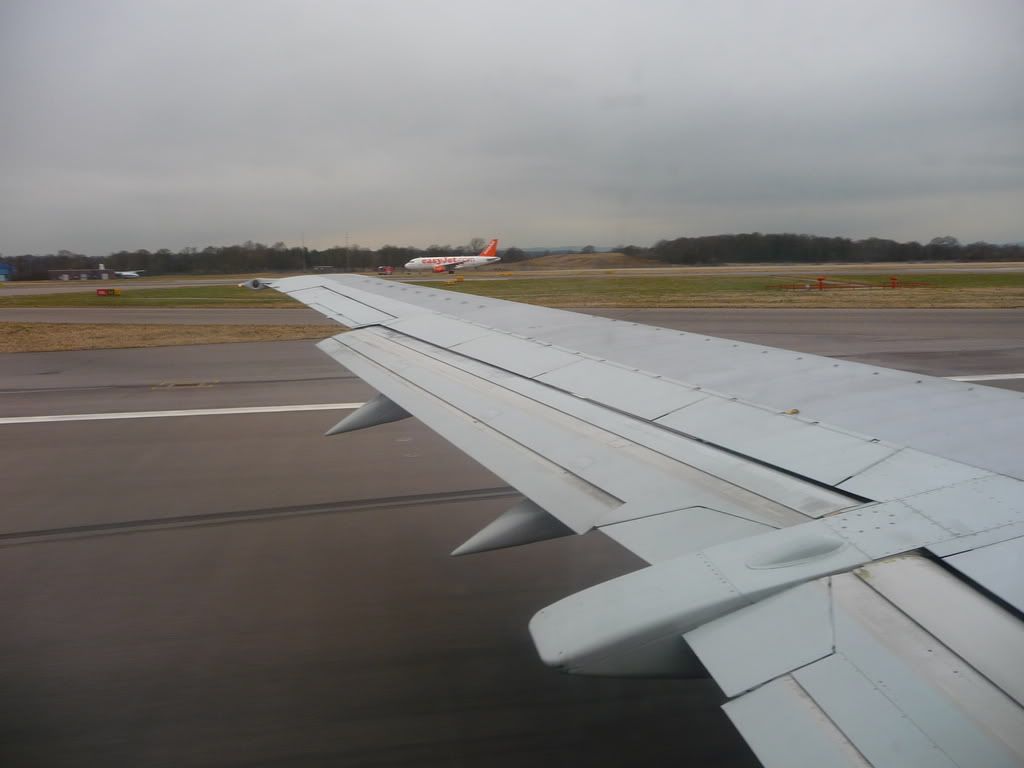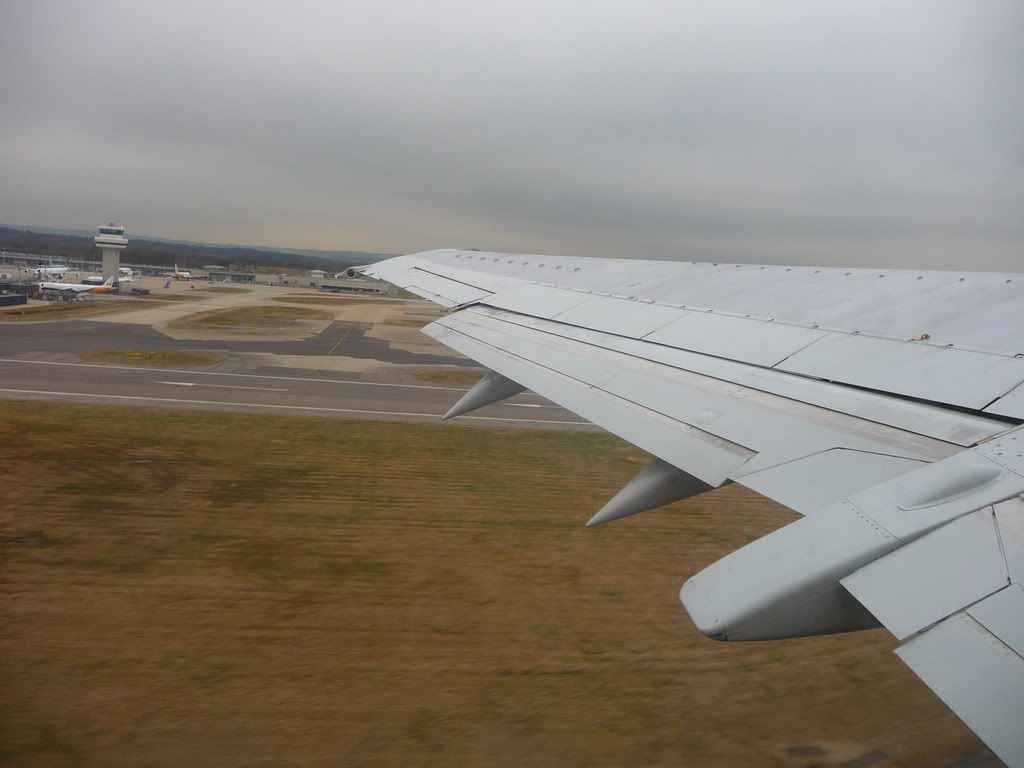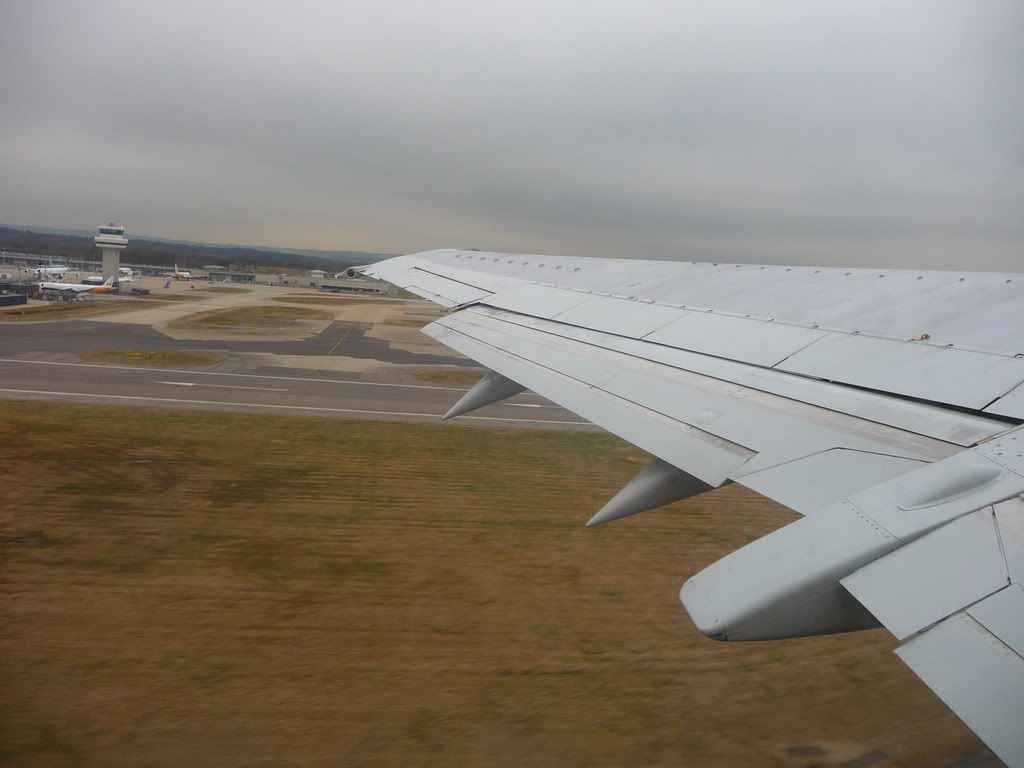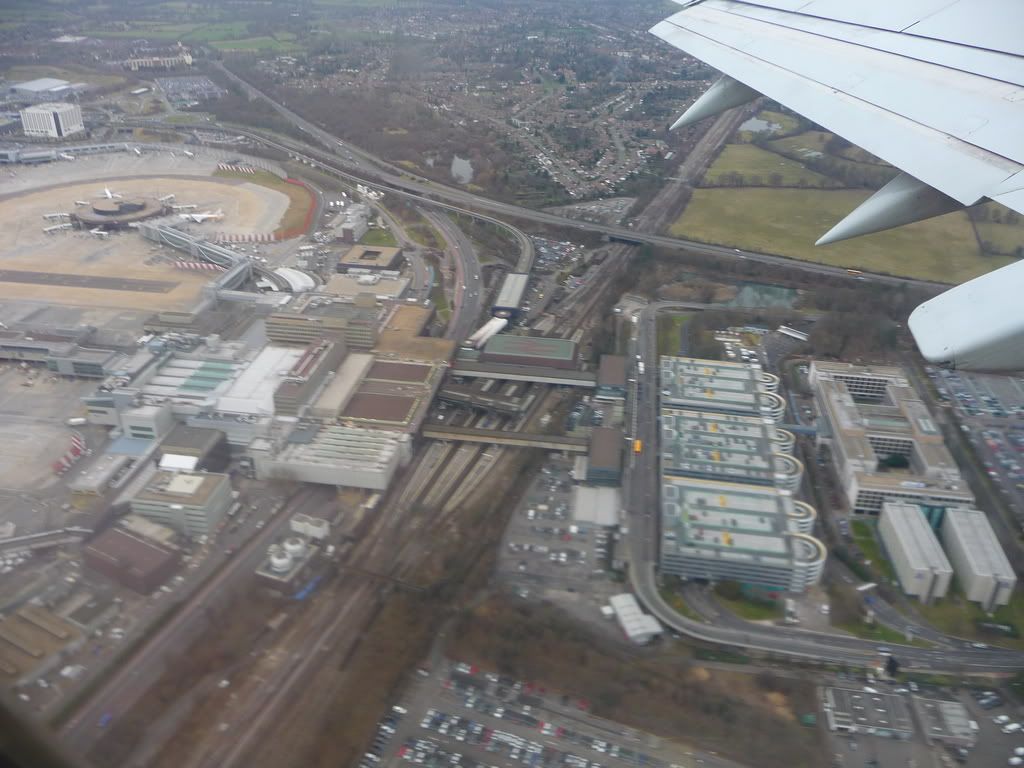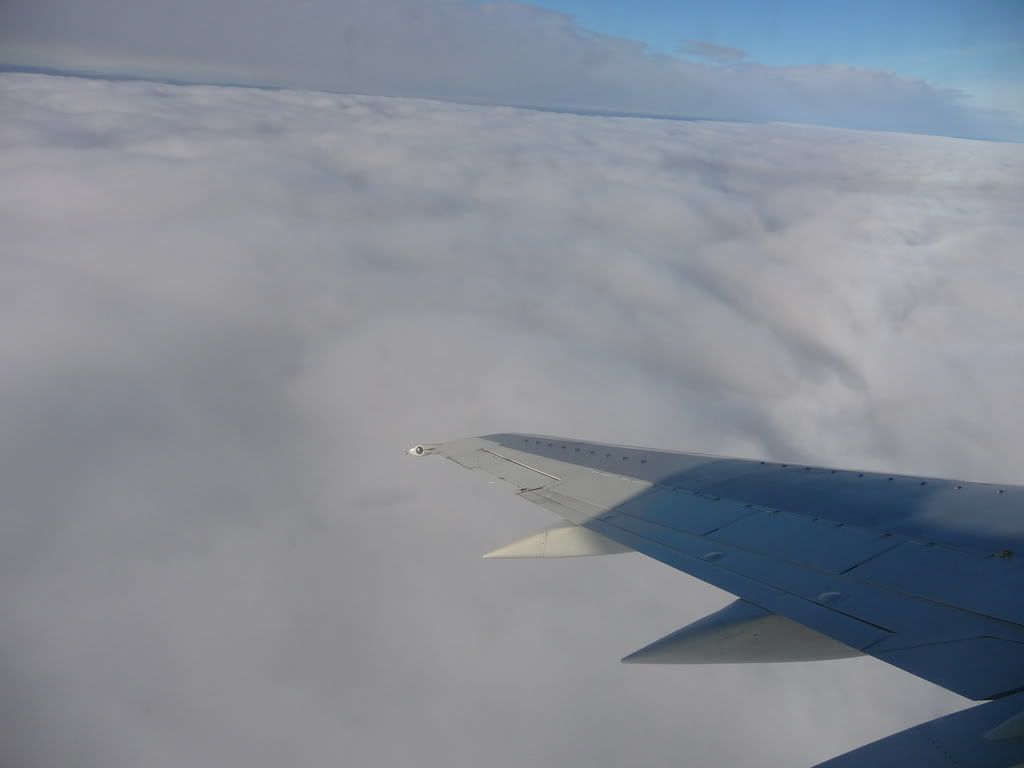 The service began shortly after the seatbelt sign was distinguished and the purser Daniel came to ask what I wanted.
Me: "A vodka and coke please?"
Him: "Eh, do you have any ID"
Me: "None That Says I'm above the legal age limit"
Him: "Ok"
He went off to collect my drink from the trolley and I assumed he was only bringing me a coke back. But sure enough, when he came back, he dropped the tray of the central seat (18B) and plonked down a glass, a can of coke and a miniature bottle of Smirnoff vodka.
Him: "There you go sir" and off he went with a little smile and a wink.
Oh the joys of being young, cute, blonde and very very gay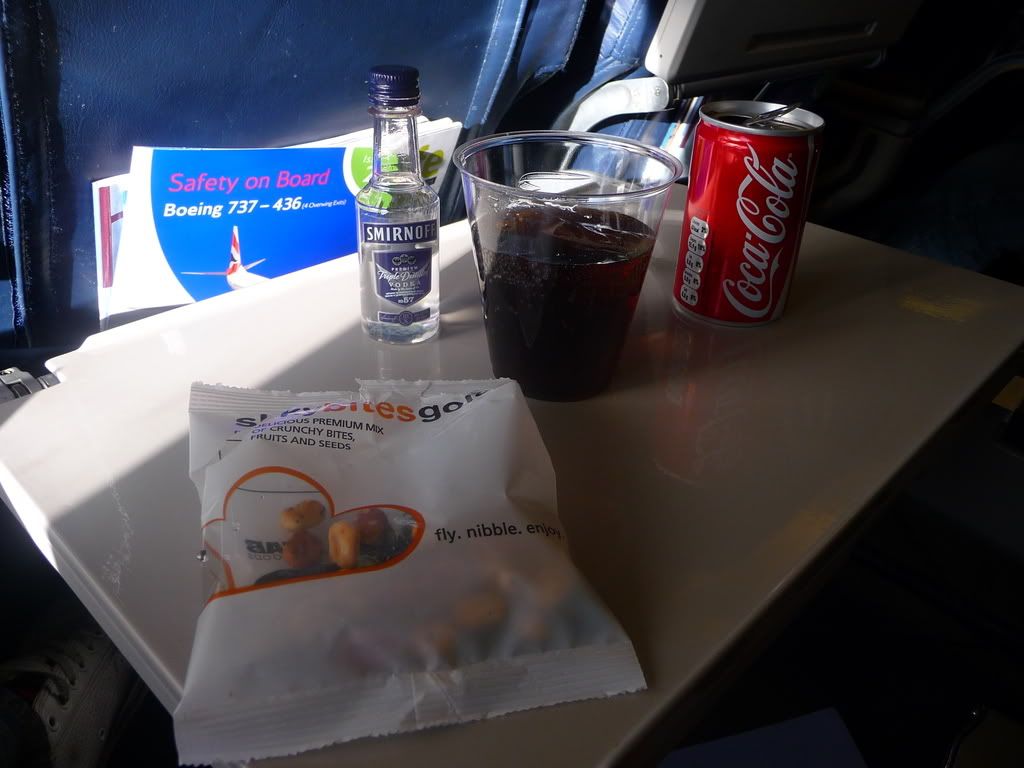 My inflight food and drink
At 1550, I spotted my first view of Scotland for 6 days through a gap in the clouds. We descended further, popping into the clouds at 1555 and emerged a couple of minutes later over the firth of forth, on a final heading for runway 24.
Flaps continued to be extended until we crossed over Cramond Beach and Kirk and were then only seconds away from touching down on Scottish soil once more.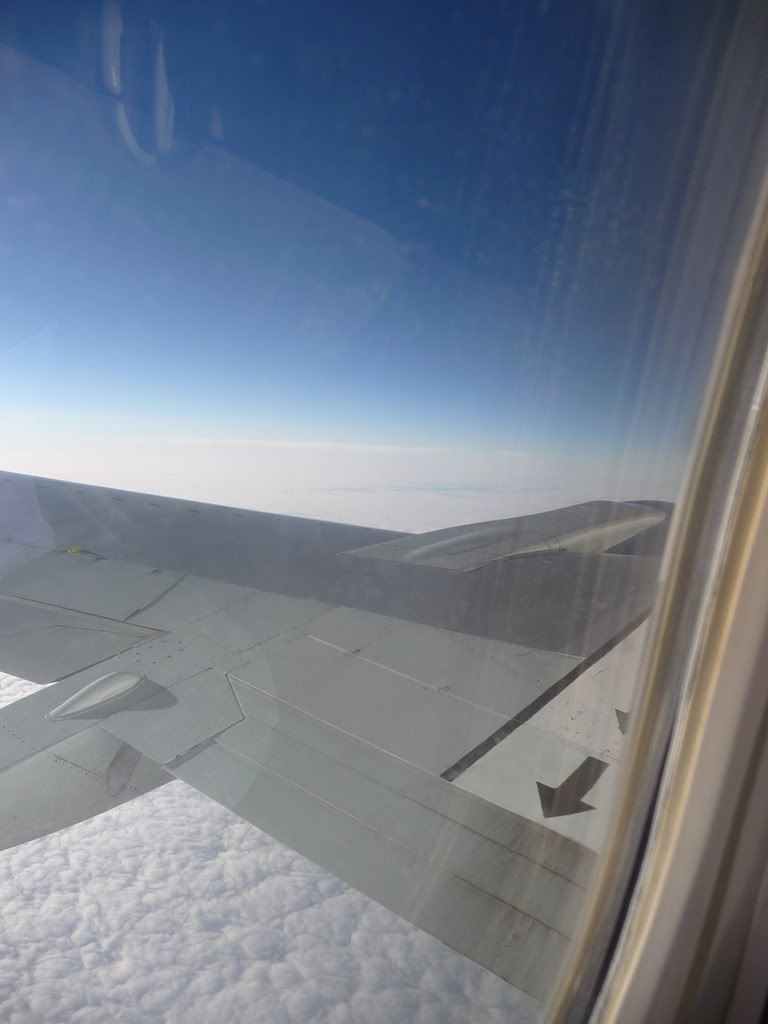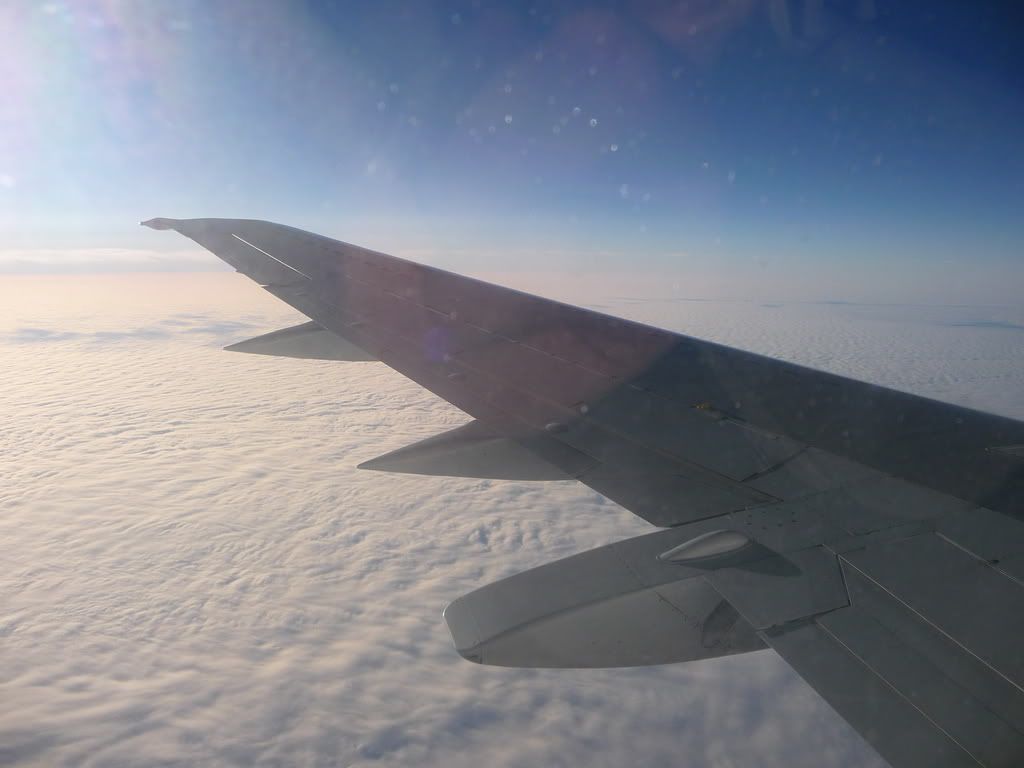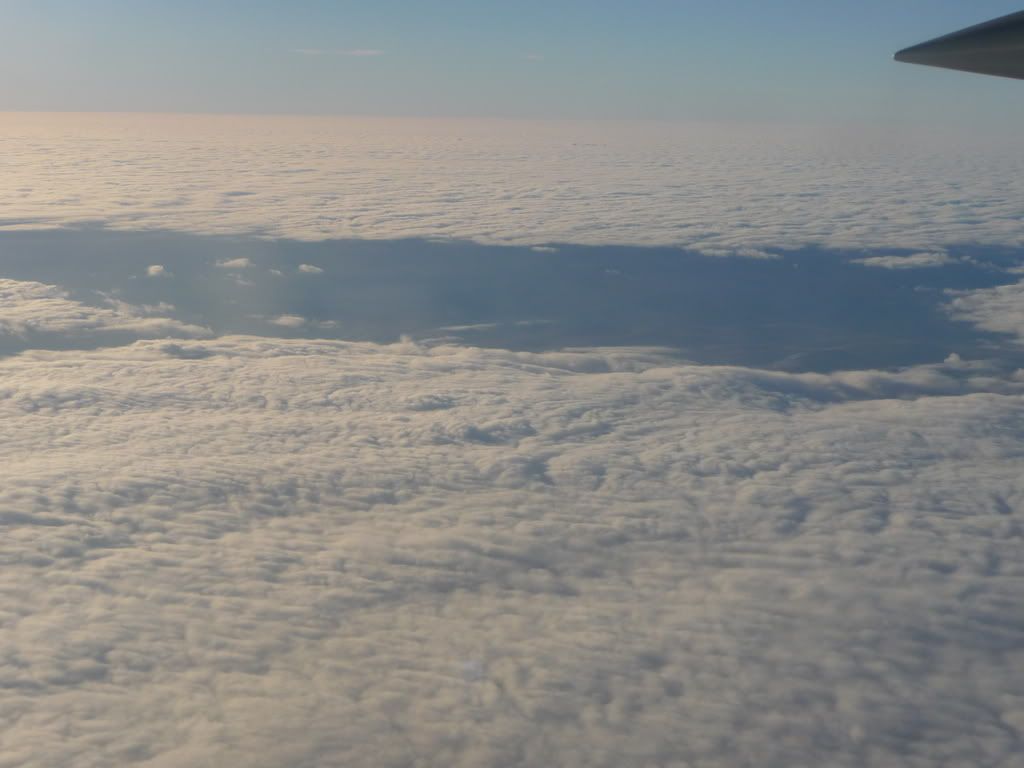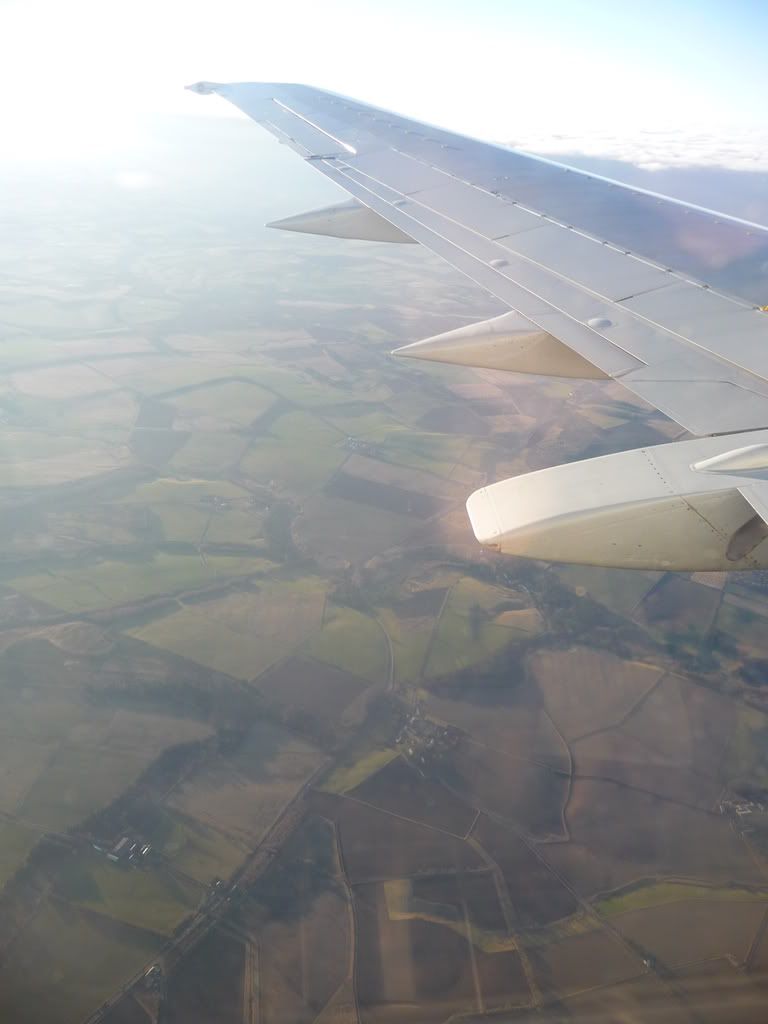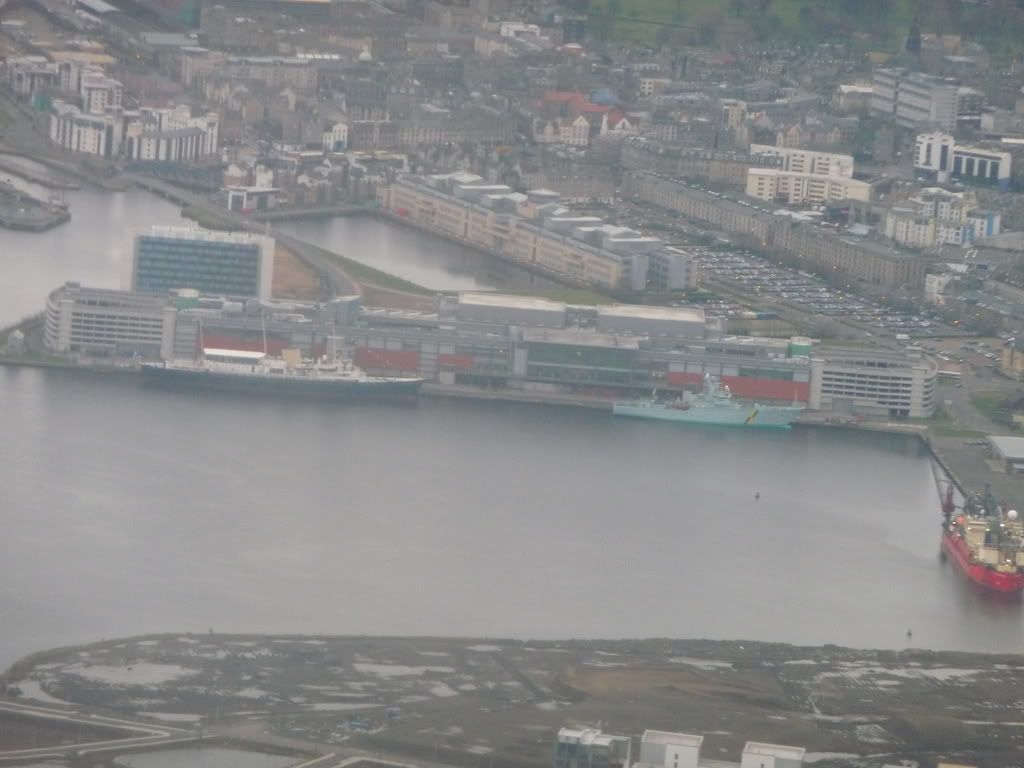 Ocean Terminal and The Royal Yacht Britannia
You can see my dad's house in this shot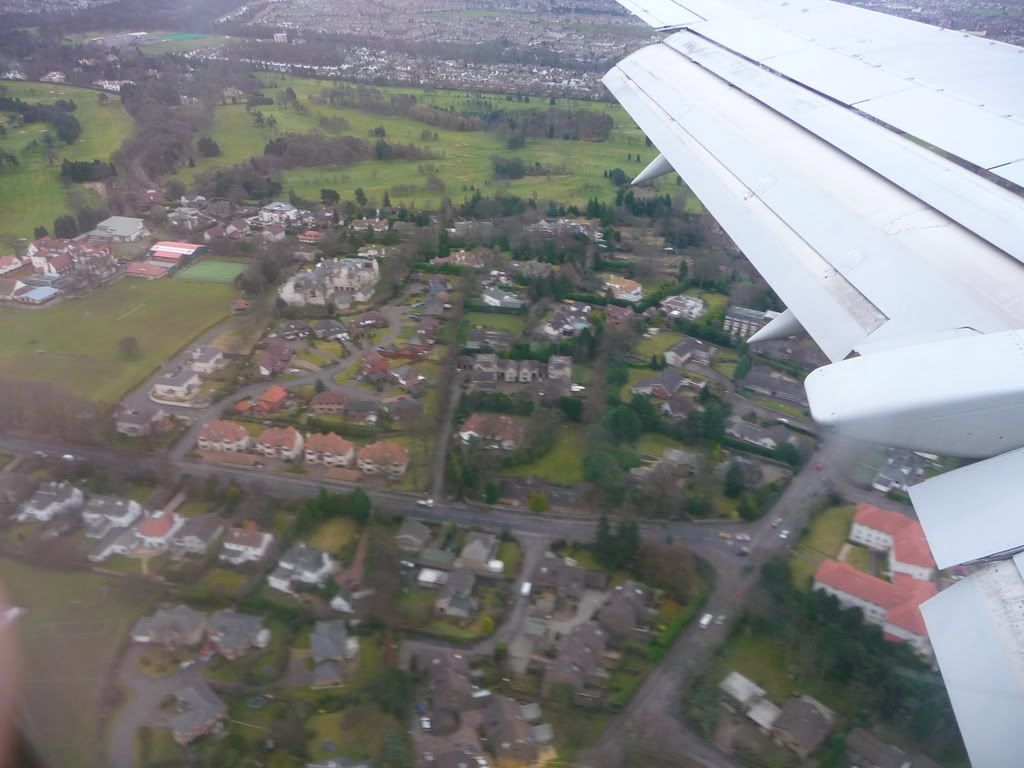 Getting closer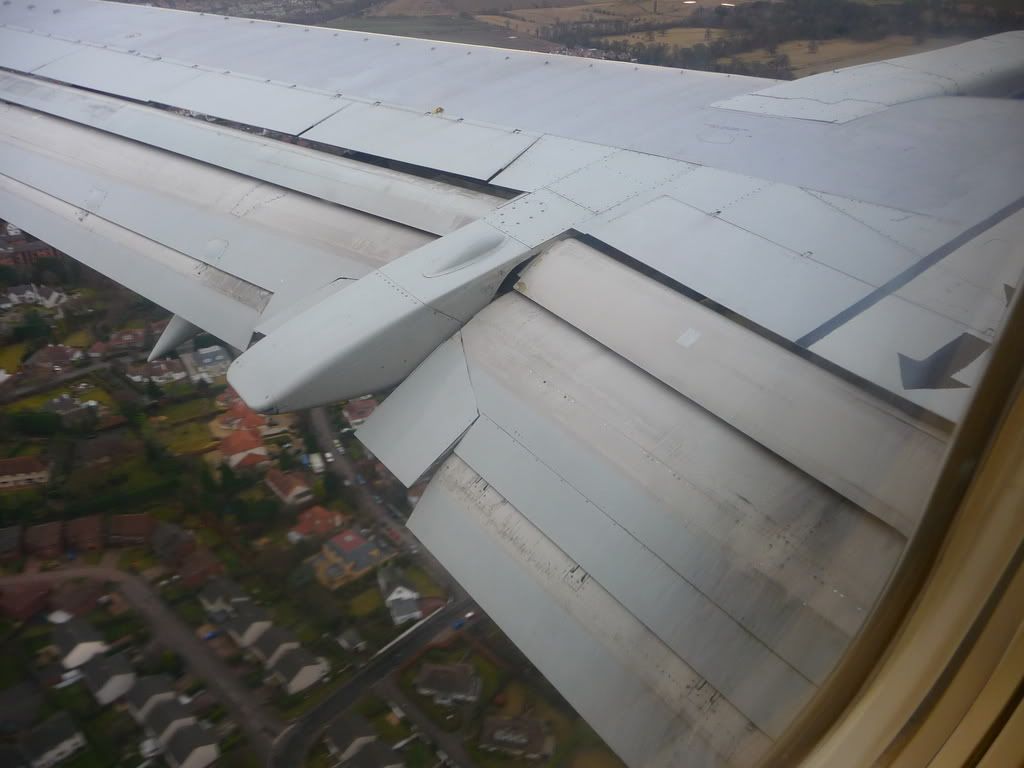 Full Flaps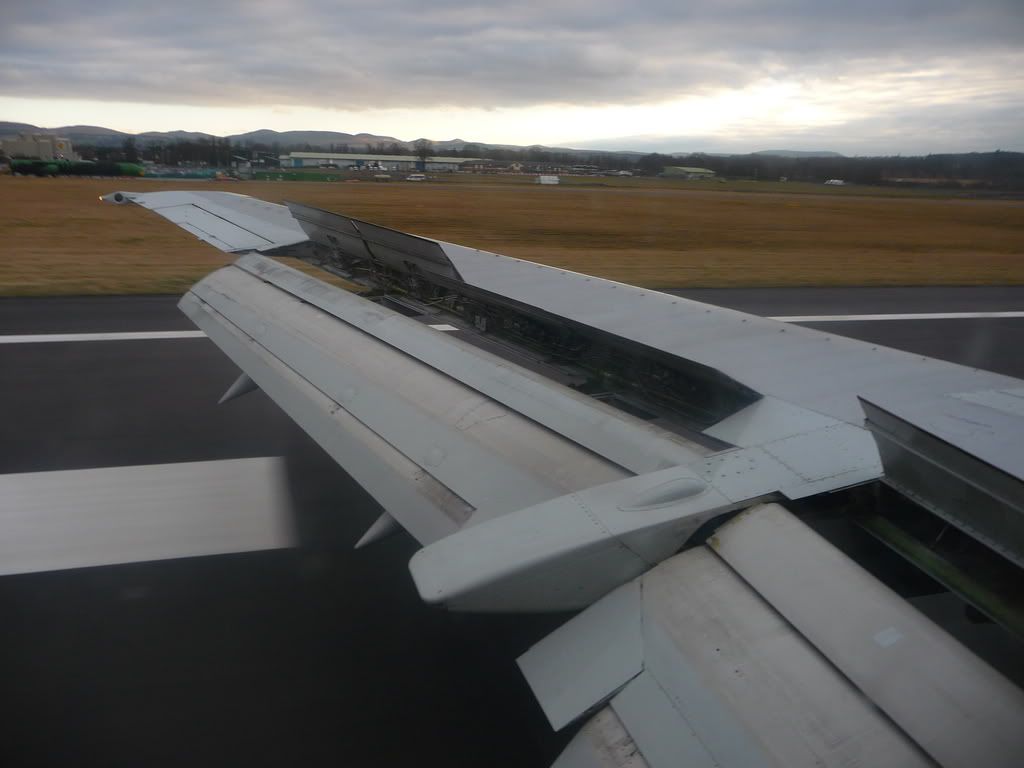 Touch Down
After arriving, we made our way over to one of the remote gates near the new extension to the terminal on the Apron and disembarked using the front and rear stairs. I wanted a view of the cockpit and went up and once again flashed my smile, to which my wish was granted and the pilot offered me a seat in the right hand seat. I was checking out all the different switches and dials and talking to the pilot when my mum text me to say she was 10 minutes away. I said my goodbyes and wished them a great Thursday (they were flying EDI-LGW-DUB-LGW) and made my way over to baggage claim and then out to the pick up zone where my mum was waiting with the car.
I jumped in, put on a CD and told my mum about my trip.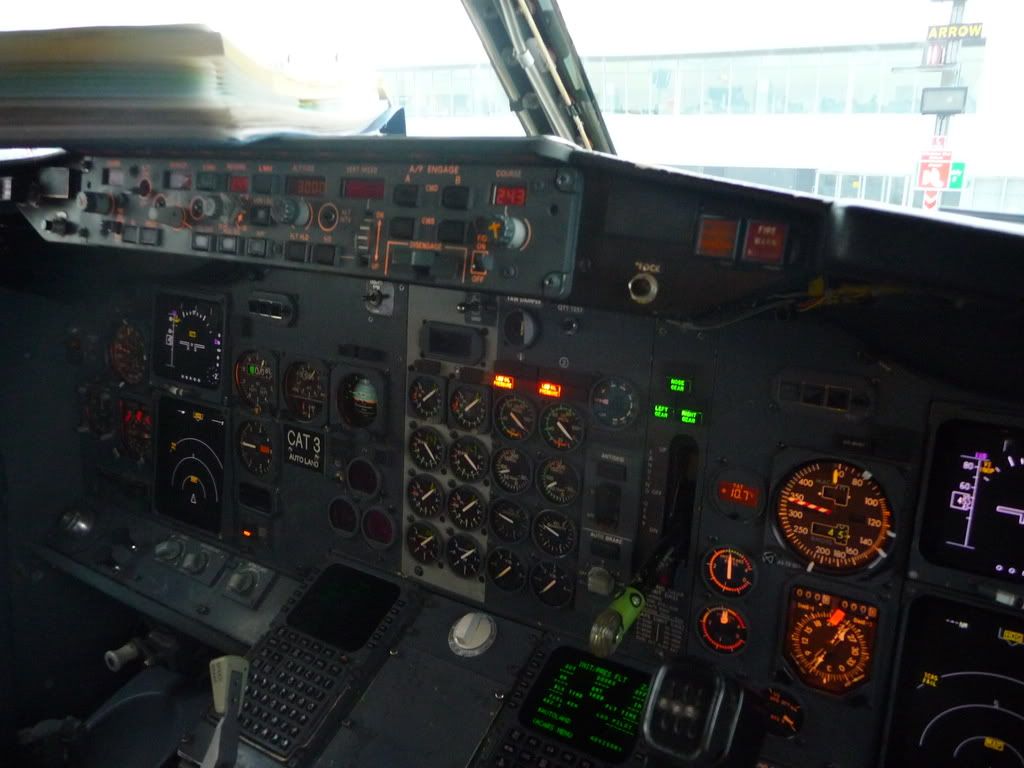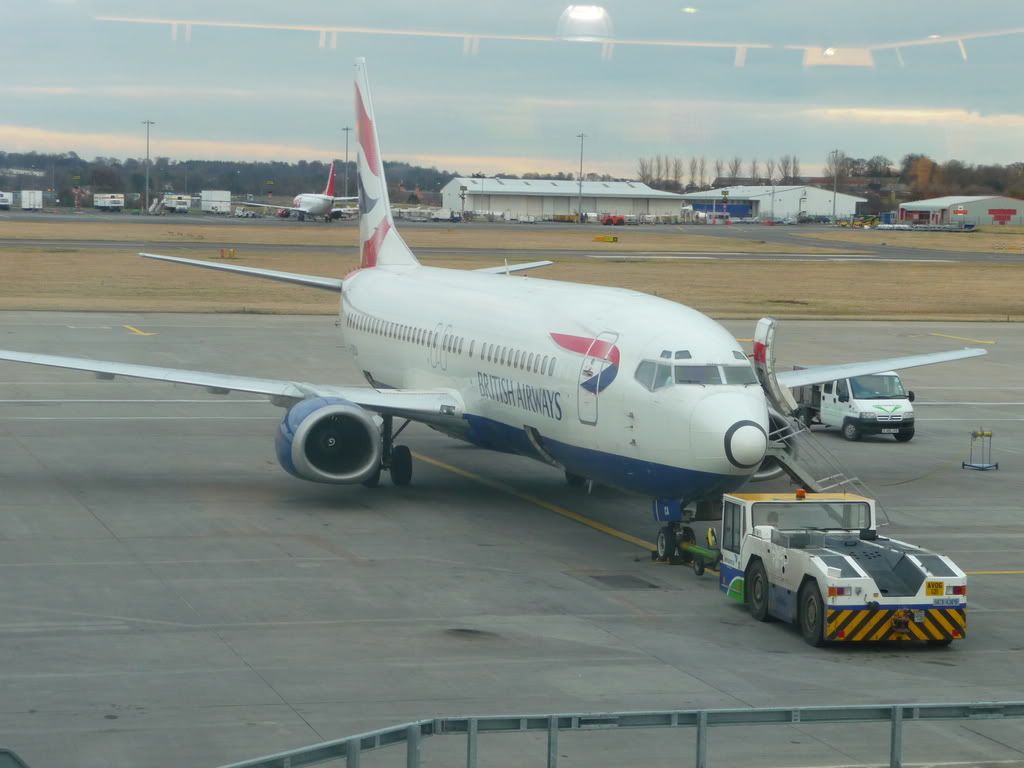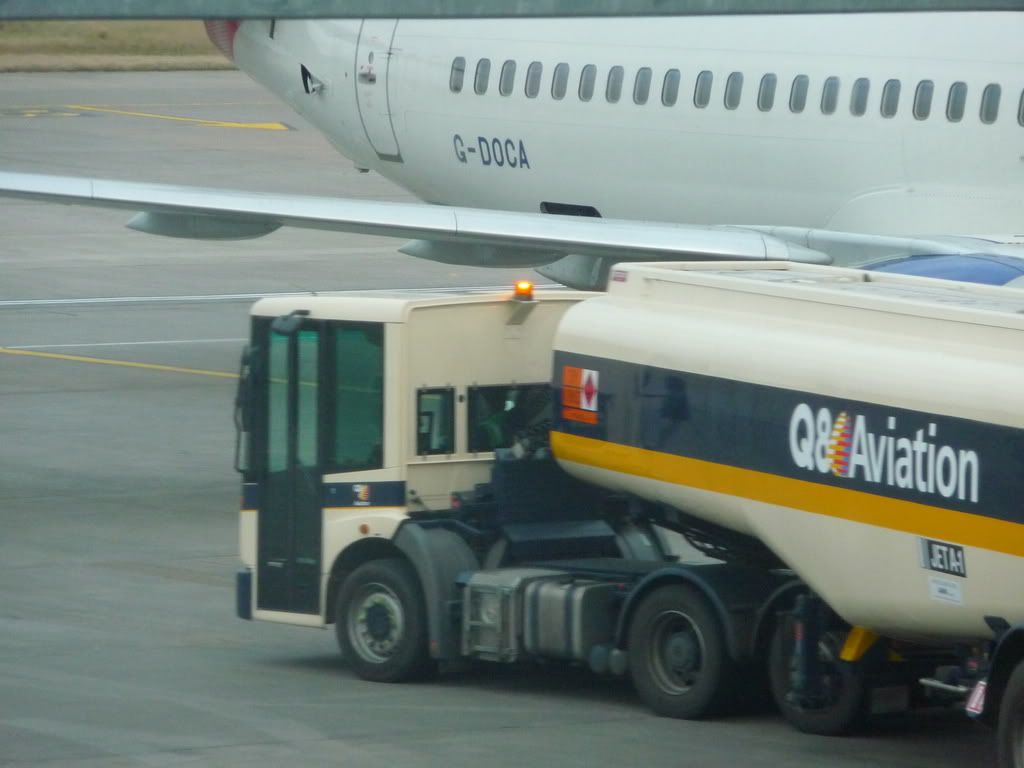 A great weekend doing something that I enjoy with one of the many friends I've made from this website.
JG  
Upcoming trips;
EDI-CWL on BmiBaby Boeing 737-300
CWL-DUB on Aer Lingus A330-300
[Edited 2009-02-25 14:28:41]
[Edited 2009-02-25 14:32:46]
[Edited 2009-02-25 14:34:20]