Hey everyone,
This is my second trip report. I flew to Hawaii to join my next ship for another 5 month contract. I upgraded my flights to BusinessFirst and flew myself through Baltimore the night before for fun. Hope you enjoy reading it.
Feb 24th:
I really don't like early morning flights at all so I decided to fly to Baltimore the night before and stay at the airport hotel. I also love BWI airport and have many memories there. When I was younger my dad and I would fly there and have airport weekends. Basically a trip to just hang out there. September 11th didn't stop us from doing it but over the years Baltimore's airport was changed and became less traveler (long term
) friendly. Overall we did around 15 trips. Anyone remember the Metrojet days?!
Anyway I had a 4:50 pm flight on Continental Express on the Emb-145. This flight lasted only a hour and not much happened. I arrived at the airport early so went to the Presidents Club and had some snacks and killed some time.
CLE's Presidents Club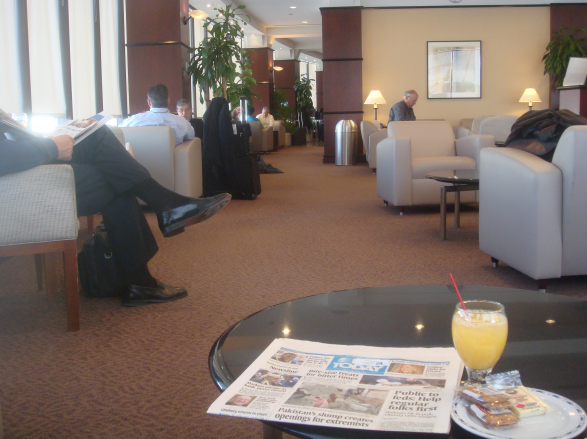 757-300 at CLE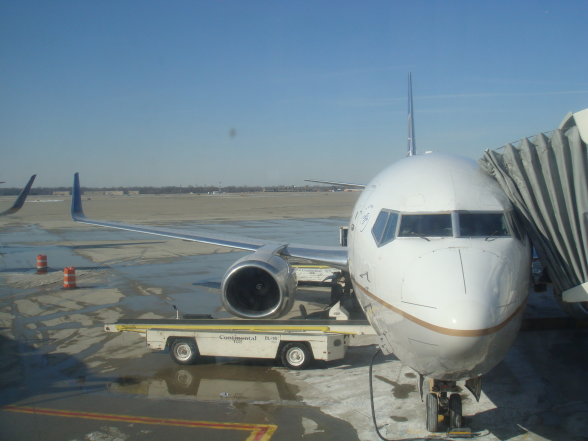 CLE's Terminal D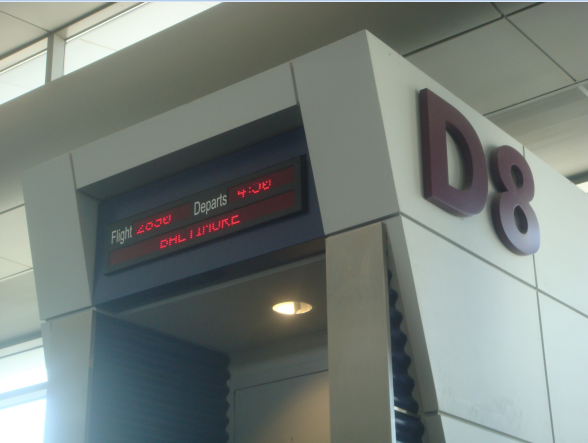 Not much leg room on this airplane.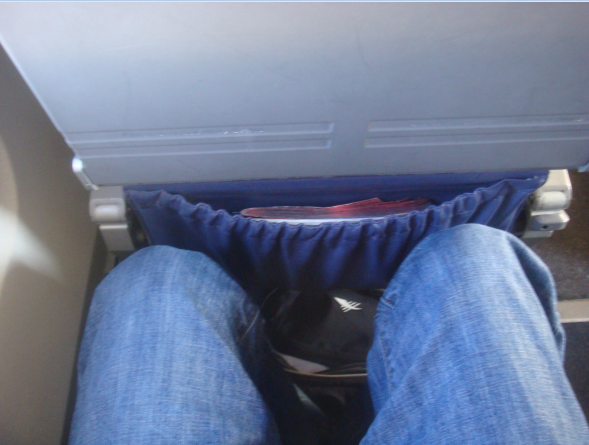 Cabin
Two bags of pretzels!
Sunset right before landing at BWI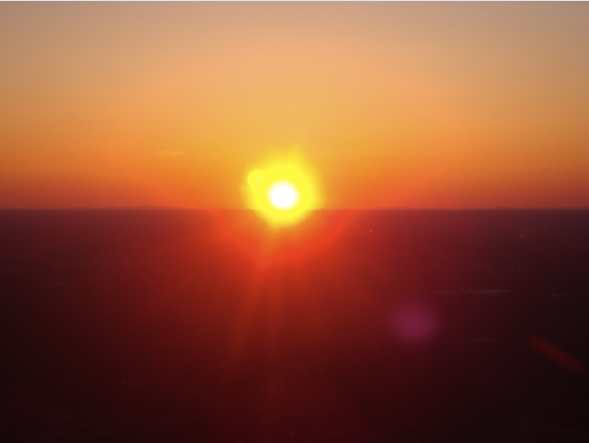 Getting off the plane in Baltimore
BWI's impressive international terminal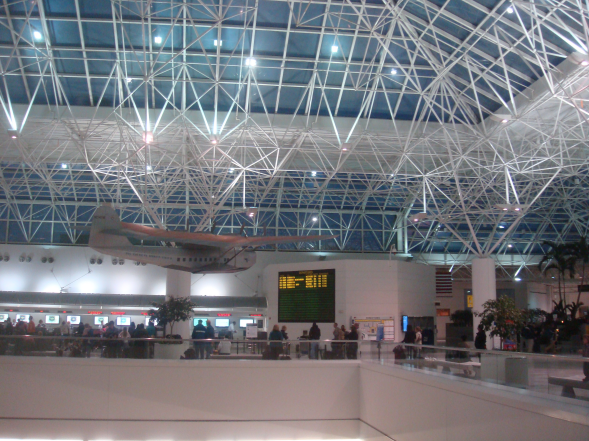 British Airways waiting for its flight to LHR.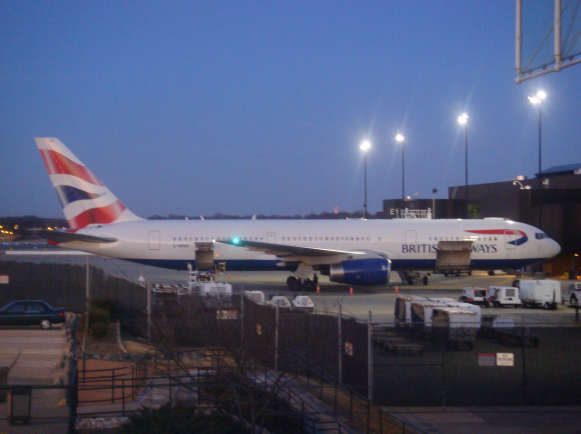 I was done flying for the day. I had a 5:35 am flight the next day so I decided to use priceline.com and name my own price for a hotel. I bid $60-70 and got the Four Points hotel by Sheraton. The hotel was right at the airport and was a great deal for the price. I decided to get some quick room service and crash because I had to be up very early. From my last trips I know BWI's security can be really bad at the start of the day so I was going to give myself plenty of time.
Hotel room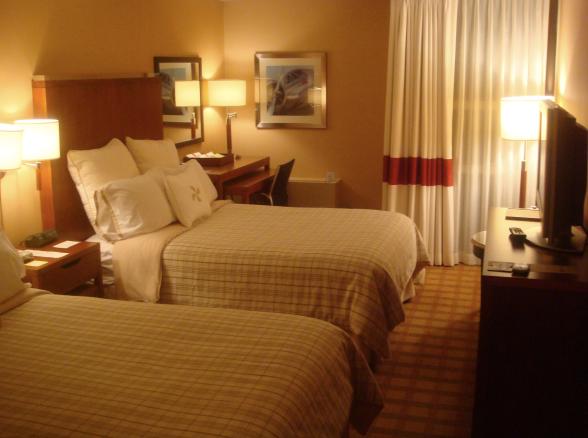 Room service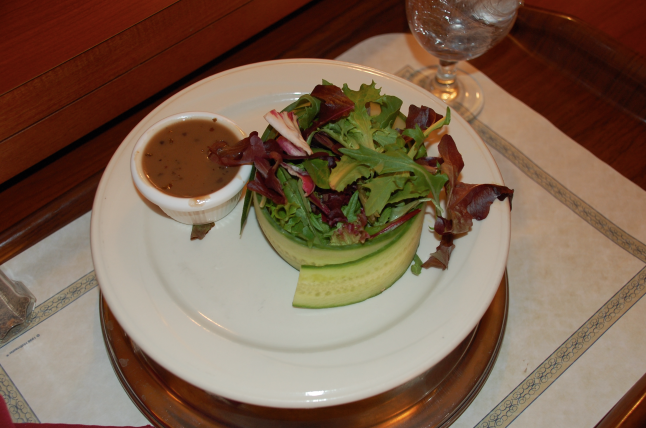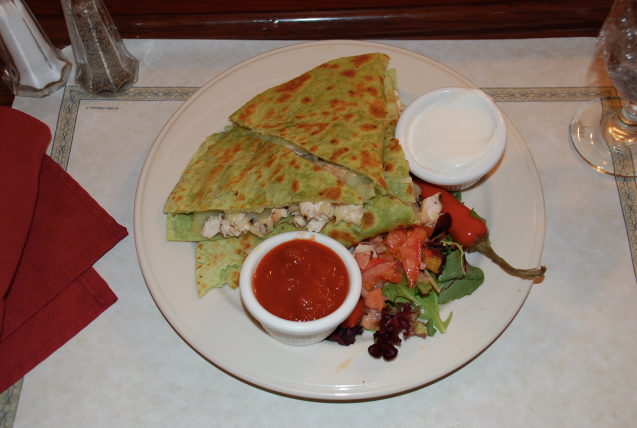 Feb 25th 2009.
I woke up very early and went to the airport at 10 till 4 am. As the shuttle bus pulled to a stop I noticed the long line already at the Continental check in desk. I was surprised to see the agents already working so I wasn't too worried. When I made my way to the counter the Elite line was empty so I checked in and was done within two minutes. Security didn't open for another 10 minutes so there was a small line but after 10 minutes I was walking to the gate.
Continental Airlines flight 1727 BWI-IAH Boeing 737-800.
This flight was pretty empty in coach and 15/16 first class seats were taken. It was very dark in the cabin so I'm sorry for the picture quality.
737-800 First class seat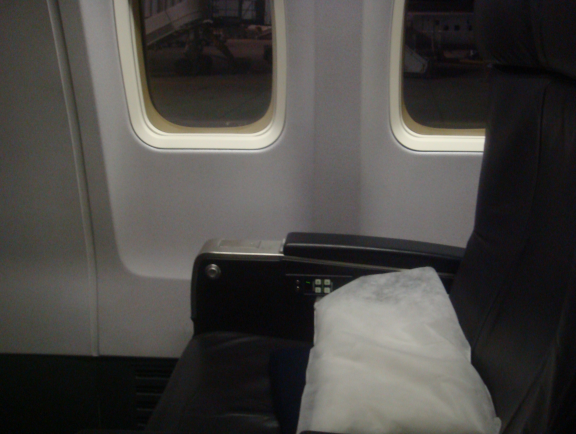 leg room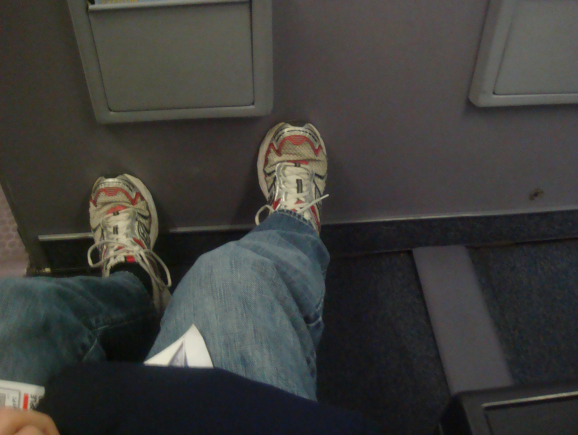 We left Baltimore a few minutes early and a few minutes after taking off they started to get ready for breakfast service. I was a little disappointed with this part because it wasn't up to Continental's normal standards. In the past when the flight attendant comes around to take your order they describe what the meal is "Today we have a cheese egg omelette with hash browns, fruit bowl" etc but today it was "egg or cereal?" Also there were no hot towels on this leg. I will say the Flight Attendants attitude improved as the flight moved on. I guess we are not all morning people!
Continental's breakfasts always fill me up and I don't always finish them. Today we had a eggs, potatoes, strawberry yogurt, ham, sausage and a fruit bowl. After I took the following picture they came around with their cinnamon rolls or biscuits. One thing I notice is the meals are so salty. I'm sure they are loaded with sodium so I never understand why some people use their entire salt shaker amount! That's got to be killer on your body.
Breakfast (cinnamon roll not in the picture)
Once we landed in Houston I went to the E terminal Presidents club to kill some time. I suggest that people go up to the 3rd floor because its not nearly as busy as the floors below. I got a quick snack and took a few pictures of the view.
3rd floor.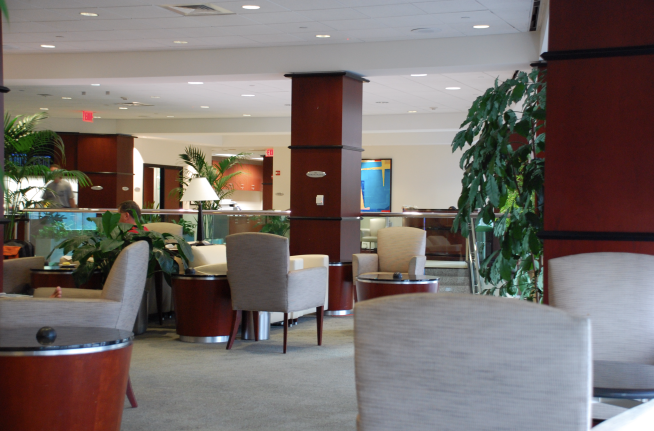 Snacks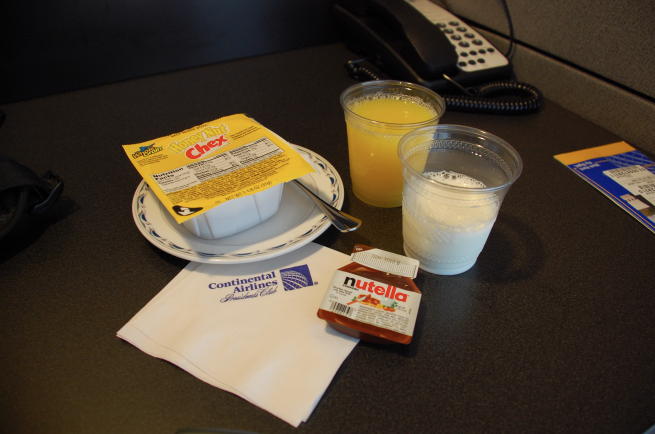 777-200 going to Japan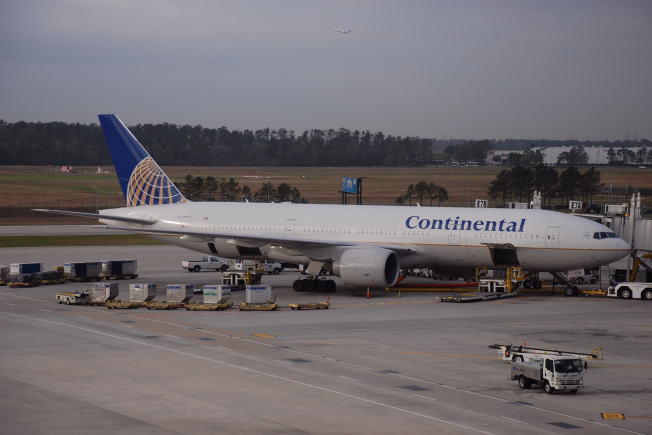 View from the club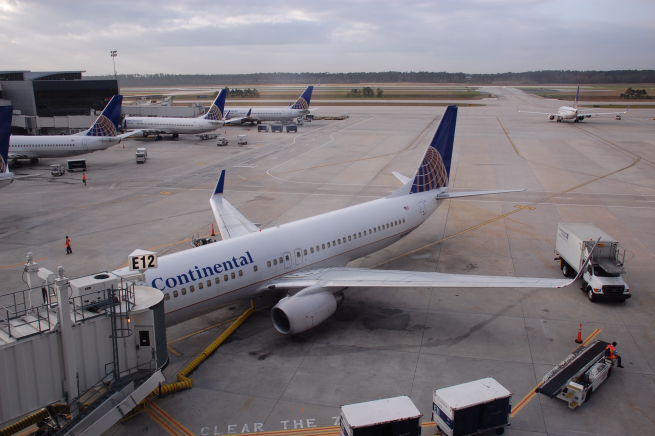 Continental airlines flight #1 IAH-HNL 767-400
They starting boarding the plane right on time. I was first to board and the TSA people didn't select me for the gate check so I was very pleased with that. They picked me in Baltimore and it was annoying. Anyway I got on the plane and took a few pictures of the seats.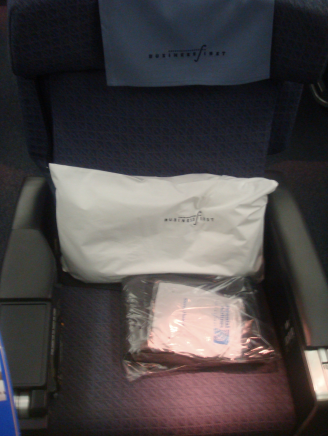 Lots of leg room. The seat went almost flat.
After sitting down a very friendly flight attendant came around and passed out menus (they were cut a few months ago but have since been brought back for this flight) and take drink orders.
Mimosa
As I was drinking my Mimosa and waiting for us to leave a woman came up to me and shook my hand and said "Mr. Byrd as such a valued Elite member we are pleased to have you onboard for this flight. My name is X and I'm the inflight Manager and if you need anything at all please let us know." This was the first time this happened to me and it made the day. The crew on this flight was very nice and always greeted me by name.
Menu
I was very glad to see they brought back the Ice Cream Sundae dessert cart. This was missed and people let continental know they wanted it back! After about 45 minutes of boarding the plane took off on time.
Not long after takeoff they started getting ready for lunch. I was very pleased to see they brought back the table clothes but the hot nuts were not live yet but they are coming.
Nuts and another Mimosa
Appetizer: Chilled lobster half accompanied by Du Barry sauce. I'm not a seafood fan but the lobster wasn't bad and I love Continental's garlic bread.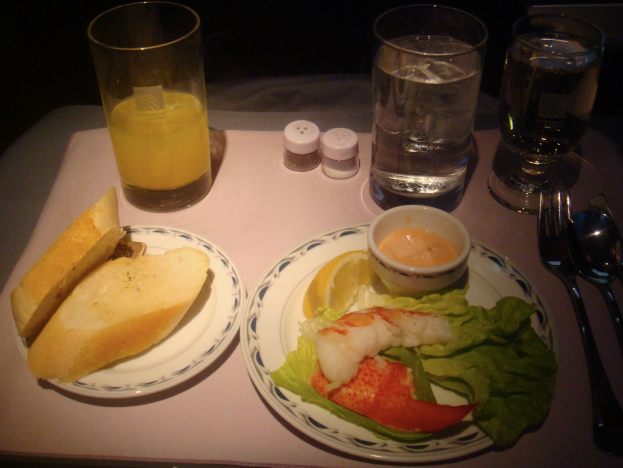 Salad: Mesclun salad mix and romaine lettuce with roasted yellow tomato, cherry tomato, red onion and fresh mozzarella cheese. Choice of La Flora Italian herb vinaigrette or creamy Thousand Island dressing. I went with the vinaigrette.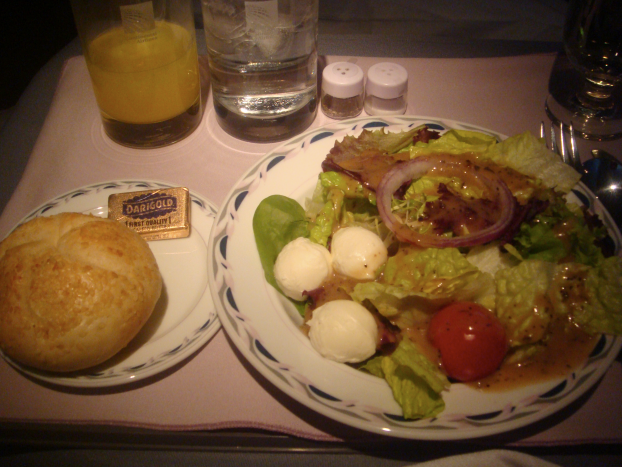 Grilled Sterling Silver tenderloin steak with chimichurri sauce, served with grilled carrots, mushrooms, red bell pepper and broccoli florets, spicy rice with corn, jalapeño peppers, sour cream and cheese. It was very good. Last time I tried the BF steak it was pretty much nothing but fat but this was excellent.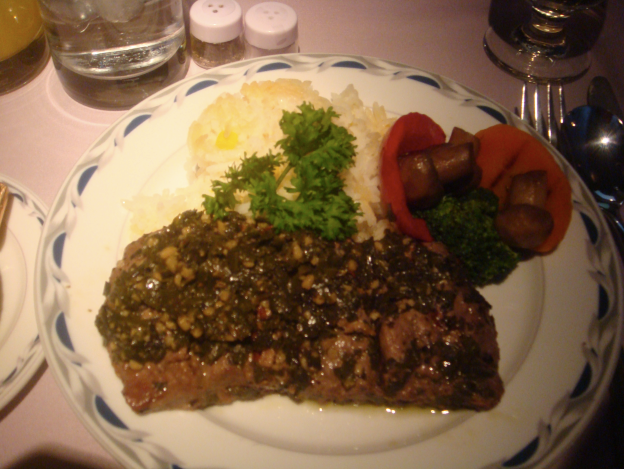 I spot the ice cream cart!! A funny note, the people across from me in this picture happen to be boarding my ship on Saturday!
Continental stopped serving ice cream on the Hawaii flights a few months ago and they got feedback from a lot of angry passengers. I'm very glad to see that they have returned!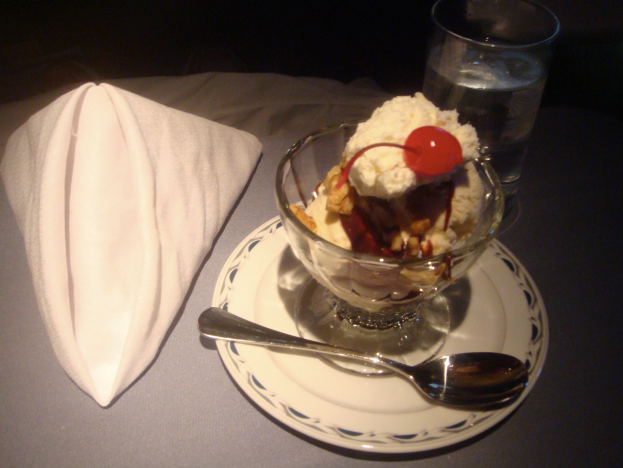 I watched a few movies and then fell asleep. A few hours later I had a gentle touch and was asked if I would like one of the freshly in-flight baked cookies so I said sure.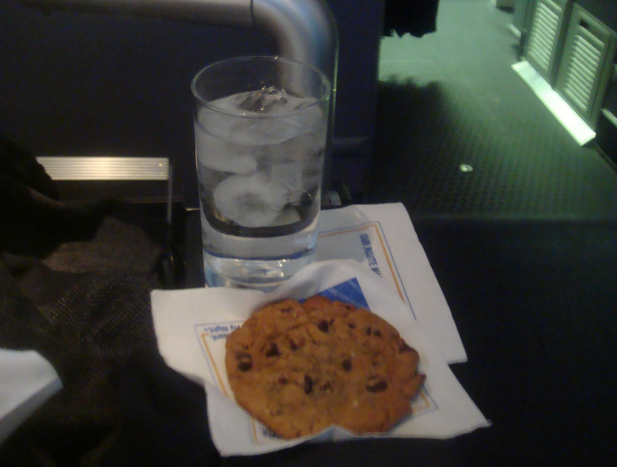 I had to take the required inflight picture from the planes lav
Around one hour before landing we had our arrival lunch. This was pretty tasty and filled me up.
We landed on time and once again I was back in Hawaii.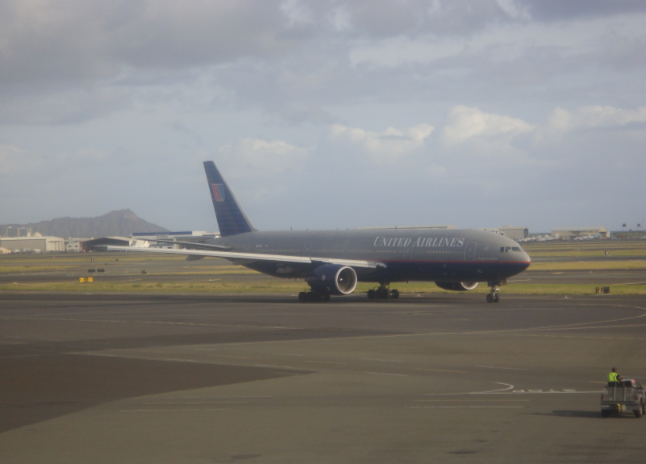 and I made it to my hotel room!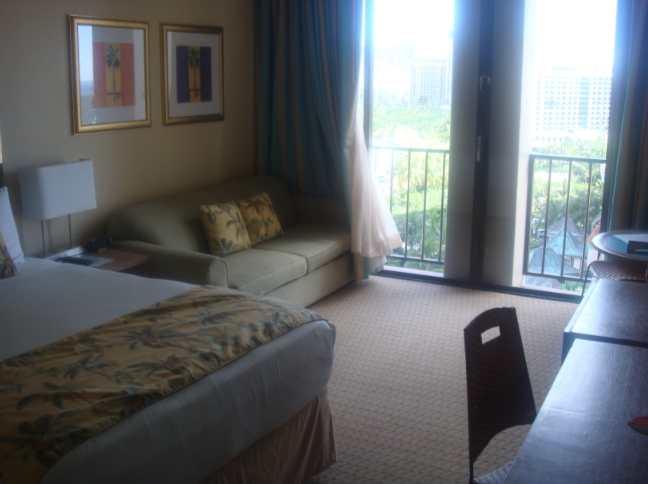 Thanks for reading my trip report. Overall this was a WONDERFUL trip with the best customer service I have ever had on any flight before. Great job Continental! Please leave comments. My next trip report will be in 5 months when I finish my 5 month contract on my ship.
James