Hi everyone,
First trip report as well as first post on airliners.net. Also not being a native English speaker, please forgive any misspellings or grammar mistakes.
The flights were for the following segments :
NRT-CDG-LIN / NCE-ORY / CDG-NRT
There were two of us on this trip. My wife and I.
AIR FRANCE
From: Tokyo, Japan (NRT)
To: Paris, France (CDG)
Aircraft: Boeing 777-300ER
Flight AF277
Date : January 19,2009
Seats: 9K/9L
Local Dpt time: 21H55
Local Arv time: 04H25 (+1 day)
Flight time: 14 hours 30 minutes
As usual, we left well early for Narita airport, as well… it's far away. A more than 2 hrs trip from home by itself. Plus we wanted to check the new Air France lounge at Narita as it has been refurbished not so long ago.
Check-in went smoothly, as well as immigration and security check. The late hour schedule surely helped, but generally speaking, operations at Narita are well run.
We didn't stop at the duty free shops, because the VAT in only 5% in Japan, so there is not really incentive there. Plus they are only a few of them and they were closing anyway due to the late hour.
After a long walk to gate 17 we took the elevator up to the Air France lounge.
The new lounge is classy, if not a little too bright. However the seats along the windows were in a mid-shadow, perfect for those not wanting to work, but just relax. That's were we settled.
I like the lounge's look but the drinks and food selection was really disappointed, to say the least. A few club sandwiches cuts, sushi, and cookies. That's all. As for the alcoholic drinks selection all you can see on the picture below is all you had (except beer). They had no champagne either.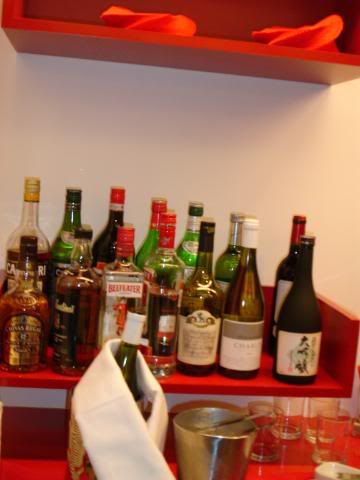 Shortly before boarding began, an announcement was made. We waited a little while, until the lounge hostess came around to tell everyone still in the lounge to please head to the boarding gate.
Boarding went smoothly. The seats were already setup with the usual coat hanger, pillow, blanket on the seat, and the sleepers, the amenities kit, a water bottle and the headphones in the seat storage boxes.
We had however to wait a good 10mn before a crew member came to take our coats. It was sadly a sign of what this flight crew attitude will be for the rest of the trip.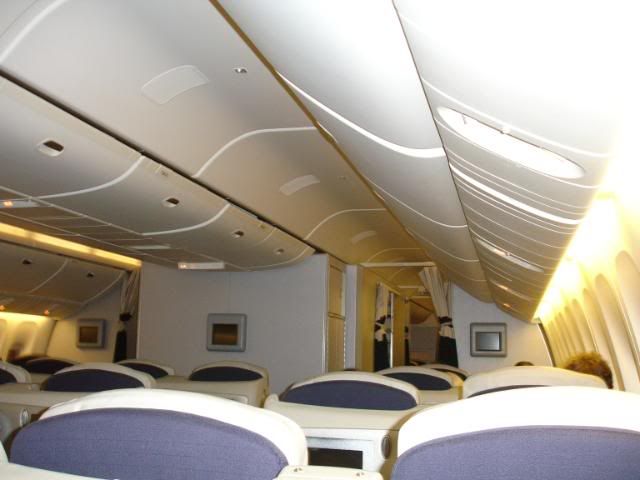 I was also a little bit disappointed because despite being a 777-300 the seat were NEV2 and not NEV3 (so without the nice ledge on the footrest) and the IFE was not the newest, meaning only a selection of 12 films vs. 80 with the new IFE.
The doors closed on time, but then the captain announced that we will take off with a 40-45 mn delay. No reason was given. But we will still make it on time, because the AF 277 flight goes really slow, as it can't land before 04H30 AM at CDG ( it also take off at Narita's closing time, that why it's taking this whooping 14Hrs30 instead of the usual 12Hrs or so for the day flights).
Pre-take off drinks were served (champagne, juice or water).
After the delayed take-off, hot towels were handled and aperitifs were served, with the usual salted crepes Fauchon and spicy snacks.
Diner was served a little bit later :
Hors d'oeuvre
Roasted breast of duck with orange complemented by smoked beef with fresh seasonal salad
or
Salmon tartare accompanied by marinated scallops with herbs and salad
---------------------------------------------------------
Main course:
Grilled filet of beef with red wine mustard sauce accompanied by buttered broccoli and potato croquettes.
Filet of John Dory and steamed shrimp with Marseille-style sauce, steamed rice, buttered red bell pepper and zucchini.
Plat du jour : baked breast of chicken teriyaki : the breast of chicken is marinated in a Szechuan pepper sauce, then oven-roasted. Served with teriyaki sauce, cranberry beans, braised carrots and rice with wild herbs.
---------------------------------------------------------
Our special selection of cheeses
---------------------------------------------------------
Assortment of desserts
Mango-passion fruit tartlet, chocolate walnut cake. Sherbet served with cookies. Choice of fresh fruits.
---------------------------------------------------------
For starter I choose the roasted breast of duck and my wife the Salmon tartare. I found the duck over-cooked but the smoked beef was great. The tartare was also very tasty.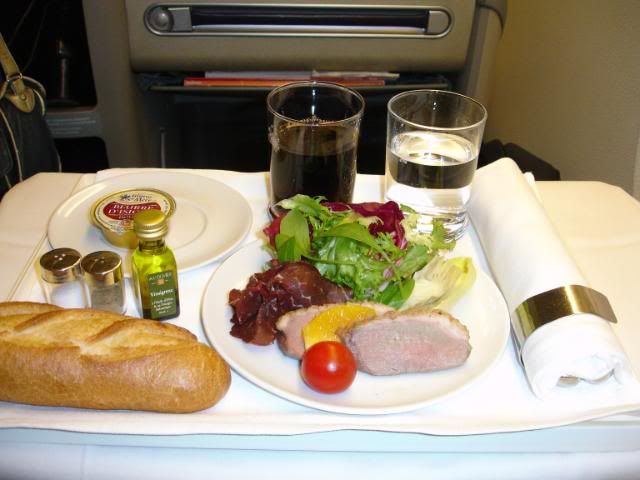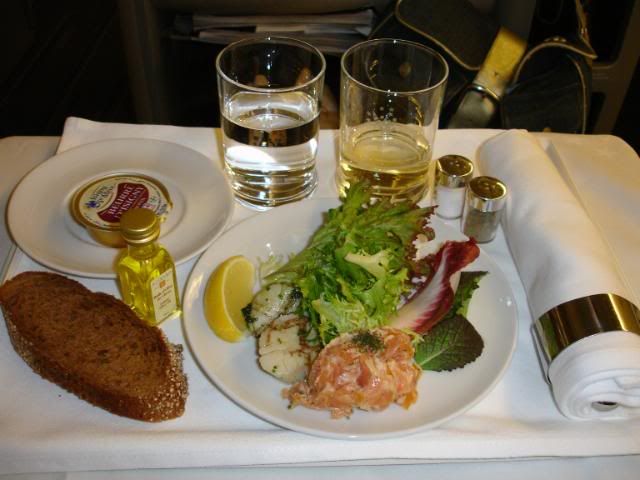 For the main course, we both wanted the fish, but they were already out of it. So we both took the grilled filet of beef which, as often on airplanes, was over-cooked.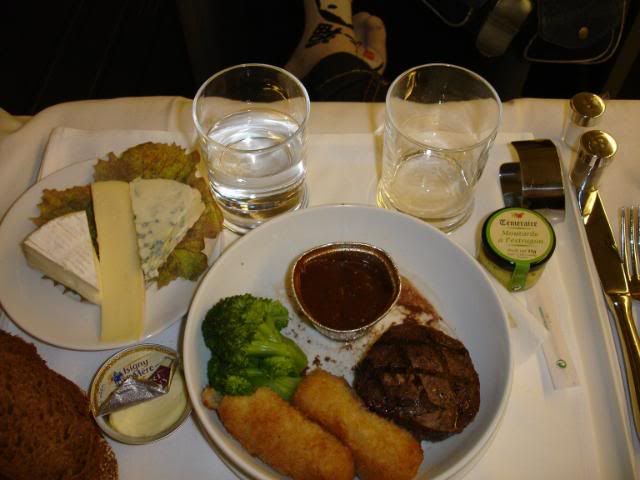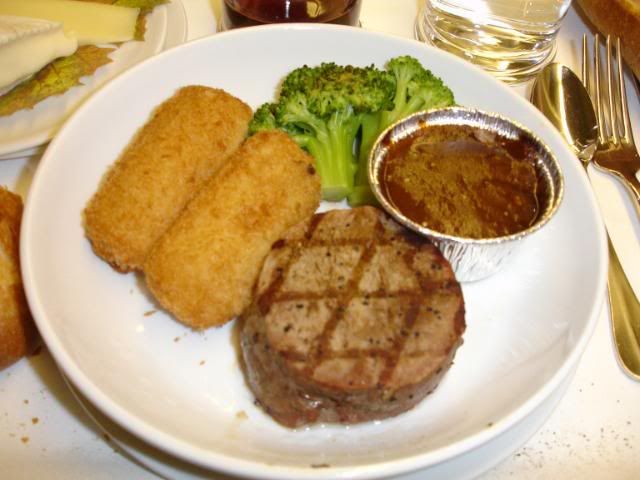 For dessert we had the tasty mango-passion fruit tartlet and cookies.
After the crew took of the plates they disappeared until breakfeast. No one came to offer brandy or liquors after diner (a first one for me), and I didn't saw them cruising the aisles during the flight !
I watched some movies and tried to sleep but barely dozed an hour or so. Not that the seat is bad (I find AF business seats very comfortable) but it seems I'm cursed to not be able to have a good sleep on planes.
About 1H1/2 before landing, hot towels were handled and breakfast was served.
The choice of main course was :
Scrambled eggs with herbs and bacon, sausage and grilled tomato
Gingerbread crêpes with fruit coulis.
Juice, coffee, tea, fresh fruit salad, fresh bakery and pastries.
We both choose the crêpes are we NEED sugar on the morning J
This choice prove to be excellent. I really liked AF breakfast on the Espace Affaires, and was not disappointed by this one.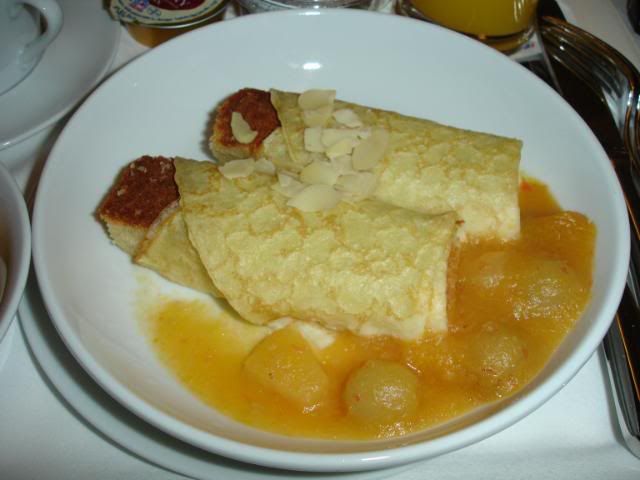 We landed on time, and headed straight away to the 2F-1 departure lounge for a shower before continuing to Milan.
The lounge was empty, but we still had to wait nearly one hour for a shower room to be ready.
In the mean time there was nothing much to do. At this early time the catering offering in the lounge is poor, and the morning newspapers are not there yet. I know we could have headed to the arrival lounge in 2C, but it would have mean to backtrack to 2F-2 for our flight to Milan.
We were finally call for the shower room. I found it a little cramp but the amenities kit was really good, with among other things, a selection of l'Occitane products. The shower itself was nice with a strong pressure of hot water.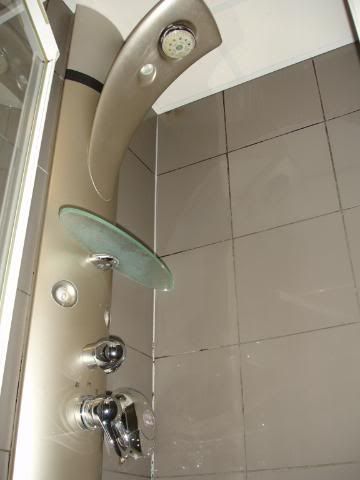 After that it was back to the lounge, which has been in the mean time filled up with fresh bakery. But by then it was time for us to go to the 2F-2 for our next flight, on which we would be serve breakfast anyway.
AIR FRANCE
From: CDG
To: Milan Linate
Aircraft: Airbus A321
Flight AF1212
Date : January 20,2009
Seats: 1D/1F
Local Dpt time: 07H00
Local Arv time: 08H30
Flight time: 1 hour 30 minutes
The passport control from 2F-1 2F-2 (entering the Schengen zone) was really crowded. Thanks to the priority lane, we gone through in about 5mn only.
Oddly, the security check at 2F-2 went very smooth. But there too there was a priority lane anyway.
Nothing special to mention about this flight. I found the breakfast generous, but I would certainly not pay for such a flight in business. But, as it's actually cheaper to purchase a NRT-CDG-LIN ticket that a NRT-CDG one's I considered this a bonus.
The only difference with the eco cabin is after all the breakfast tray and the middle seat being blocked. As we were on the bulkhead seats, the legroom was nonetheless very welcome.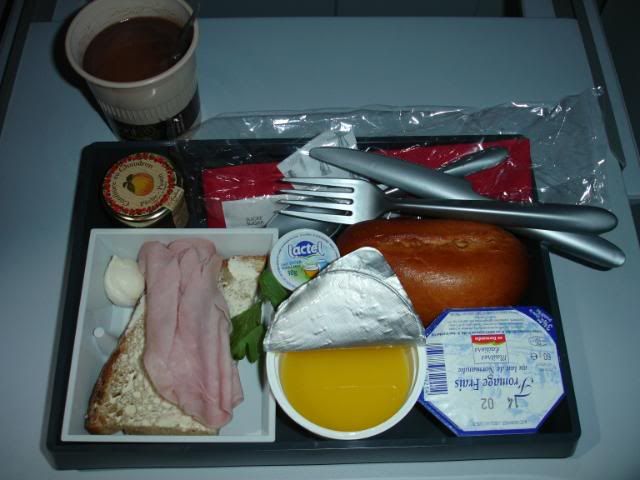 We landed on time and had the very good surprise to have our luggage coming almost immediately.
After a few days in Milan we drove to Nice then flight to Paris Orly with the Navette. Nothing worst mentioning about this flight (except maybe that it was on time which is a rarity on late afternoon schedule).
AIR FRANCE
From: Paris, France (CDG)
To: Tokyo, Japan (NRT)
Aircraft: Boeing 777-300ER
Date : February 3, 2009
Flight AF276
Seats: 4K/4L
Local Dpt time: 13H15
Local Arv time: 09H05 (+1 day)
Flight time: 11Hours 50 minutes
First of all, sorry for the quality of the pictures for this segment. We lost our digital camera 2 days before, so they were taken with my mobile phone build-in camera. Not so great…
There were only a few PAX at the business checking counter but they all appeared to have serious issues or special requests, and it took a good 20mn to clear.
Passport control went fast, thanks again to the priority lane, but security check was a mess.
So after a few duty free shopping, we had barely time to go to the lounge, which was over crowded anyway.
We waited there a little while before going to the boarding gate, only to be left for 15mn in one of AF bus for another infamous bus trip around CDG, up to the plane.
We were warmly welcomed and showed up to our seats, were our coats were promptly taken away.
This time the seats were NEV3 with the new IFE. YES !
The FA asked us if we were familiar with the IFE system, and encouraged us to ask him in case of any trouble.
What a stark contrast with the crew of the outbound flight !
Pre take-off drinks were offered, followed after the fastened seat belt sign came off, by hot towels and aperitifs (with the old same snacks) .
There was a new round of hot towels (I think) and lunch came.
Hors d'oeuvre
Duck foie gras terrine flavoured with tea and ginger accompanied by fruit chutney and lamb's lettuce.
or
Salmon confit timbale with vegetable brunoise and lamb's lettuce.
---------------------------------------------------------
Main course:
Breast of duck served with orange sauce, tagliatelle with pesto and Chinese-style sautéed vegetables.
Japanese speciality : shake kara age, gin an kake : fried salmon with gigan sauce and rice, Misoshiru soup.
Plat du jour : veal sauté with blanquette sauce.
---------------------------------------------------------
Our special selection of cheeses
---------------------------------------------------------
Assortment of desserts
Paris-Brest, white chocolate and raspberry shortbread cup, sherbet served with cookies, choice of fresh fruits.
---------------------------------------------------------
Then again my wife and I took the same plates.
The duck foie gras terrine was very tasty but would have been perfect if not served soooo cold.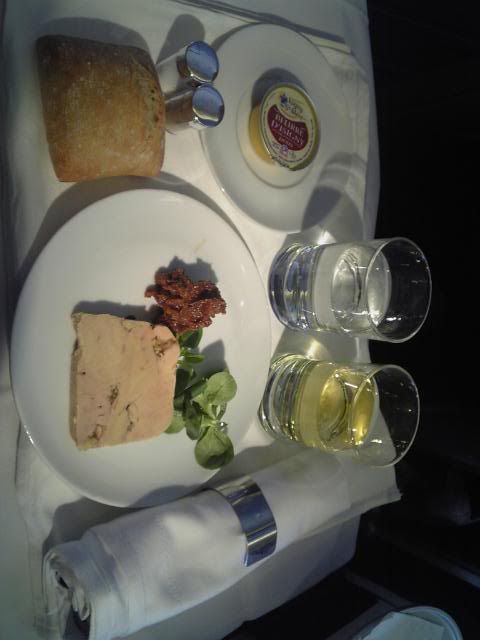 The breast of duck was disappointed. I though it would have been sliced, but it was a thick piece.
For dessert I choose the white chocolate and raspberry shortbread cup and matched it with a raspberry sherbet. I wasn't disappointed.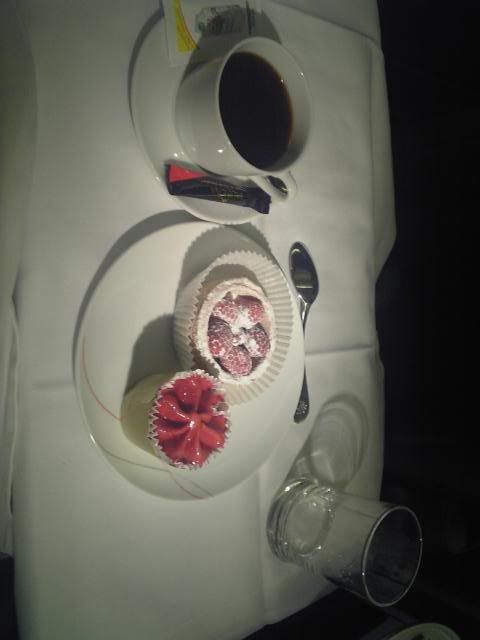 The crew cruised the aisles nearly constantly during the flight. At one time I got up to go fetch drinks to the bar, and a FA told me that if I need anything I wouldn't have to necessarily go by myself, but just press the call button ! This crew was light years ahead of the outbound flight's crew.
Gladly I had been able to score seats in the forward mini cabin, as I had frequently read that it was the best place to be on the AF 777W. And surely it was very calm and intimate. Plus, as catering service begin in this cabin, your are also sure to get your choice of plates.
I had also read that 4A/C were better than 4K/L because of the galley noise and the toilets behind 4K/L. The galley is in fact not so close, and as there are very few PAX in the mini-cabin, there is almost no passing over. Another negative opinion about the toilet proximity was the smell that may come from there. Sure, from time to time there was a non pleasant smell, but I'm pretty sure it has more to do with the PAX in 4G than with the toilet…
Anyway, I was able to get a 2hrs sleep in the NEV3 seat, which must be my personal record.
About 1H1/2 before landing, hot towels were handled and breakfast was served.
The choice of main course was :
Omelette complemented by ricotta cheese cream sauce with chives and cherry tomato, eggs with herbs and bacon, sausage and grilled tomato. Fresh bakery and pastries
Or
Rice pudding and fruit salad with strawberry coulis, baked caramel apple with raspberry coulis, cereal yogurt. Fresh bakery and pastries.
If you have read this report so far, you know we opted for the rice pudding and baked caramel apple J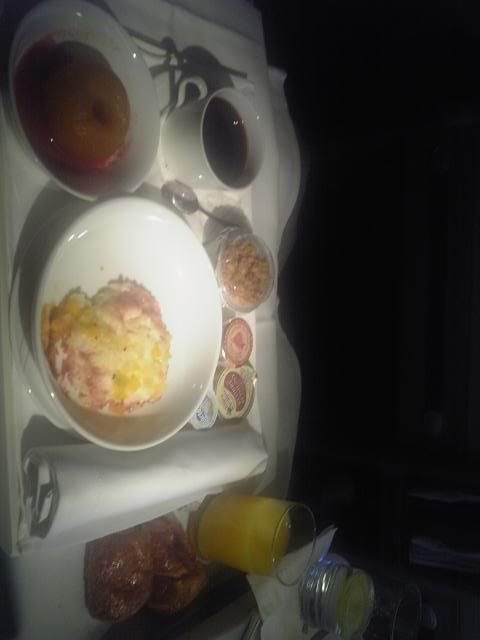 We flew over the snowy Japanese Alps with the Mount Fuji standing out in the distance. It was a perfect postcard picture. Too bad the pictures taken with my mobile phone were no good for this kind of scenery.
Before landing, our coats were handed back, and soon after that it was time to say goodbye to this wonderful crew.
One minor incident was to retrieve one of our suitcase damaged. It had a big hole in the middle. So we fill a damaged report on spot. It was taken care by AF staff very professionally. 2 days later we called a delivery company to pick it up and ship it (free of charge of course) to a company AF worked with, which is specialized in fixing suitcases. We get it back 2 weeks later. You could not even see were the hole was, if you didn't where to look for it. They even fixed two wheels that were damaged during previous trips, and which weren't mentioned on the damaged report.
So thumbs up to this company !
Thank you. I hope you enjoy this report.
[Edited 2009-02-26 22:10:39]