Sixth leg
EZE - SCL: January 14th, LAN 422. B767-300. Seat 3L
Please see the previous legs here and apologies for taking so long to complete... tons of work.
Part I:
http://www.airliners.net/aviation-fo...ums/trip_reports/read.main/140668/
Part II:
http://www.airliners.net/aviation-fo...ums/trip_reports/read.main/140672/
Part III:
http://www.airliners.net/aviation-fo...ums/trip_reports/read.main/140676/
Part IV:
http://www.airliners.net/aviation-fo...ums/trip_reports/read.main/140683/
Part V:
http://www.airliners.net/aviation-fo...ums/trip_reports/read.main/140696/
I had requested a window seat on the right side of the plane. I knew Mount Aconcagua would be on that side when we crossed the Andes and hopefully I would be able to take a nice picture of it.
So to the answer of your questions and comments I was able to sleep finally and quite well. I was staying in a personality-less hotel close to the obelisk. My office was just a few blocks away so it was very convenient to stay there.
When you come to Argentina, it is basically impossible not to love Buenos Aires and Argentineans. They are not only among the best looking people in the world (men and women alike) but they are genuinely nice and hospitable. Perhaps they talk too much, but I was here for only 4 days, so it didn't affect me too much.
For my trip to Mexico, I got up around 8 in the morning and finished packing. By 9 the company car had arrived to take me to the airport. Traffic was not too bad (there are a lot of people on holidays in Argentina in January and February) and we got to the airport by 9:30. Please see the pictures of the check in area and the airport.
I waited for my turn to arrive (there was a line in business) and I got the most robotic lady I have ever seen in my life. She never even made eye contact with me; however, I cannot say she was nasty or anything. I don%u2019t know if there is a LAN lounge in this airport, but she certainly didn't mention it.
In Ezeiza (Buenos Aires' airport) you have to pay an extra tax before you leave. I believe this is to improve the airport facilities (if so, where does the money go???? See later pictures) and I got the second non-smiling-almost-unfriendly lady behind this desk. The process was quick, you can pay with credit card for those who are wondering and the price is about USD 18.
Picture of the tax thing:
I then went through security which was pretty fast. I forgot to take out my laptop out of the bag, but it didn't matter. They were pretty lax. I saw the following situation unfold: the screening lady goes: "guys, there was a swiss army knife on that bag", which bag? asked one of her coworkers, "I am not sure, they didn't train me to remember things". So they didn't do anything else about it.
Immigration was my confirmation that smiles were on strike at the airport, but I went through with no problems. After that I had a little bit of a hard time finding gate 13, which is where I started writing this report. Some pictures of the airport (run down) and my perilous way to gate 13:
My ride:
Boarding area:
Boarding:
I boarded the plane and was led to my seat by a very nice female flight attendant. I was very disappointed to see that this airplane had the old business configuration. Well, it was just a short hop to Santiago so not a big deal. There was this other guy on the plane who complained to a flight attendant a lot about it, one would think we were flying around the world on that plane based on how mad he was.
In any case, I was offered water or orange juice (not champagne). There were no private TV screens or anything. The headphones were just regular economy class headphones. Legroom was very generous, though. We were offered additional newspapers and magazines (LAN usually offers some newspapers when you are boarding). In general the seat was comfortable but it looked run down.
Business class was very empty. We taxied to runway 11 and took off; please see video of the take off.
Pictures of the horrible business class (joking):
Had a hangover: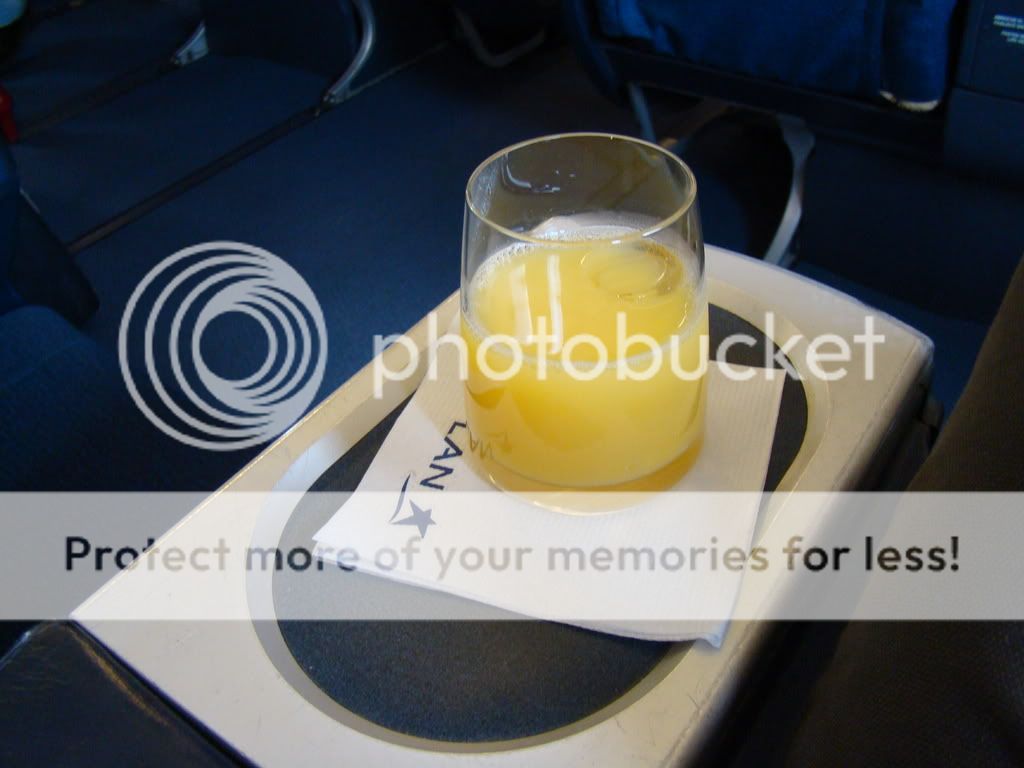 Sorry about the quality:
This DID look like crap:
Video of the takeoff:
http://www.youtube.com/watch?v=ww_1O43L7Cs
Soon enough were at cruising altitude and we were offered a snack. I thought we would be offered full lunch given the time, but we were offered only what turned out to be a small salad. It was quite nice, though.
Pictures of the meal:
I was really tired from the previous night so I dozed off after the meal. I have to say flight attendants were really nice on this flight. They were not overly friendly, but very courteous and polite. I dozed off after lunch and...
Ah! I was right, Aconcagua was to my right. See how beautiful it was. The only thing is that there was not a lot of snow. I'll have to come back in the winter.
Right after we crossed the Andes we started our rapid descent into Santiago. I don%u2019t know if you have made the trip between EZE and SCL, but the descent it so cool, you feel you are dropping like a rock. Once I was coming with Lufthansa's A340-600 and we actually turned north after crossing the Andes as there wasn't enough distance between the crossing and SCL to descend. Really cool.
Landing was uneventful. Please see the video. We landed on Runway 17R.
http://www.youtube.com/watch?v=qdM7S6iYB54
We taxied to our gate and deplaned quickly. I am developing a sixth sense with this trip. We parked right next to another 767 and I knew it was my ride to Mexico! Please see the picture:
Other pictures from the tarmac: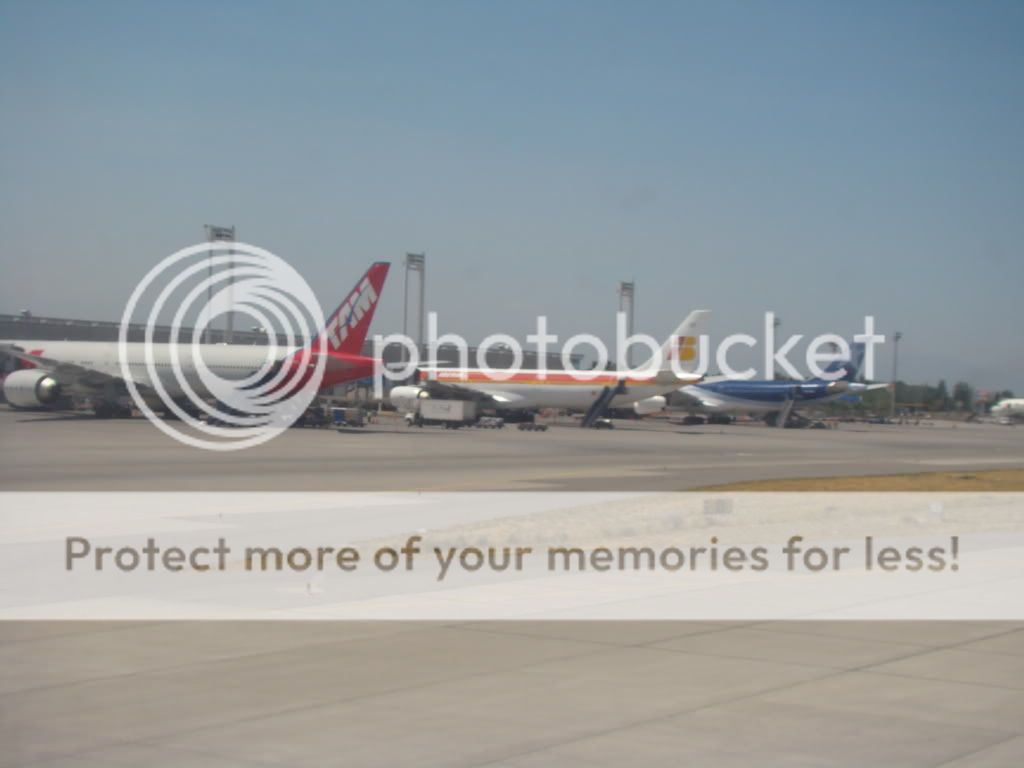 Santiago airport does not have a lot of personality, but I think it's nice. I'll be honest; I was very nostalgic remembering when I used to live in Santiago. They were really good years of my life and I have tons of friends in the city. Not that I dislike Switzerland (I did hate France), but I felt I wanted to go back there. Isn't that crazy?
Ok, back to aviation. I went to the Duty Free to get a couple of bottles of Pisco (one of the things I miss the most) and then I headed to the lounge. The lounge was quite empty. The airport felt very hot, but the lounge was cool and it was good to drink a glass of juice and some cookies. The selection was not too wide, but it was a nice lounge.
Pictures of the lounge:
I didn't have much time to spend there, though, as I only had an hour connection and my flight was going to be called soon. I went back outside and walked to my gate to find that boarding had just started. Cool!!!