Eighth and ninth legs
MEX – MAD: January 17th, IB 6402. A340-600. Seat 8A
MAD – ZRH: January 18th, IB 3474. A319. Seat 2A
I decided to do just one trip report for this leg. Mainly because I was sooooo tired for this trip that I didn't take as many pictures or videos as I should have.
Please find the previous legs here:
Part I:
http://www.airliners.net/aviation-fo...ums/trip_reports/read.main/140668/
Part II:
http://www.airliners.net/aviation-fo...ums/trip_reports/read.main/140672/
Part III:
http://www.airliners.net/aviation-fo...ums/trip_reports/read.main/140676/
Part IV:
http://www.airliners.net/aviation-fo...ums/trip_reports/read.main/140683/
Part V:
http://www.airliners.net/aviation-fo...ums/trip_reports/read.main/140696/
Part VI:
http://www.airliners.net/aviation-fo...ums/trip_reports/read.main/144107/
Part VII
http://www.airliners.net/aviation-fo...ums/trip_reports/read.main/144109/
:
I had hired a driver for that day (Saturday) so I could go to the pyramids and other places. I do have to apologize to the Mexican friends here in the forum, but I have to say I hated Mexico city with a passion. It was crowded, traffic was very annoying (although not the worst I have experienced, my friends from Caracas will know what I am talking about), and everything was dirty. Maybe it was because it was the final city in the world tour, but I was very unimpressed with the city. I will give it a second chance.
The driver took me and my colleague to the pyramids (cool, but a tad disappointing), to the Frida Kahlo museum (very nice), and to Xochimilco, which is something of a local Venice…
Around 5 PM we asked the driver to take us to the airport. We arrived to the terminal and walked to the Iberia check in stands. They were absolutely empty.
The Iberia ground personnel was very nice and professional. They checked my bag all the way to Zurich. I was a bit worried that they would charge me extra. My suitcase was 25 kgs when I left Switzerland 2 weeks before. I hadn't bought anything, but now it was weighing 32 kilograms!!! Anyways…
We headed through the airport to the lounge, which is a little difficult to find.
Pictures of the airport: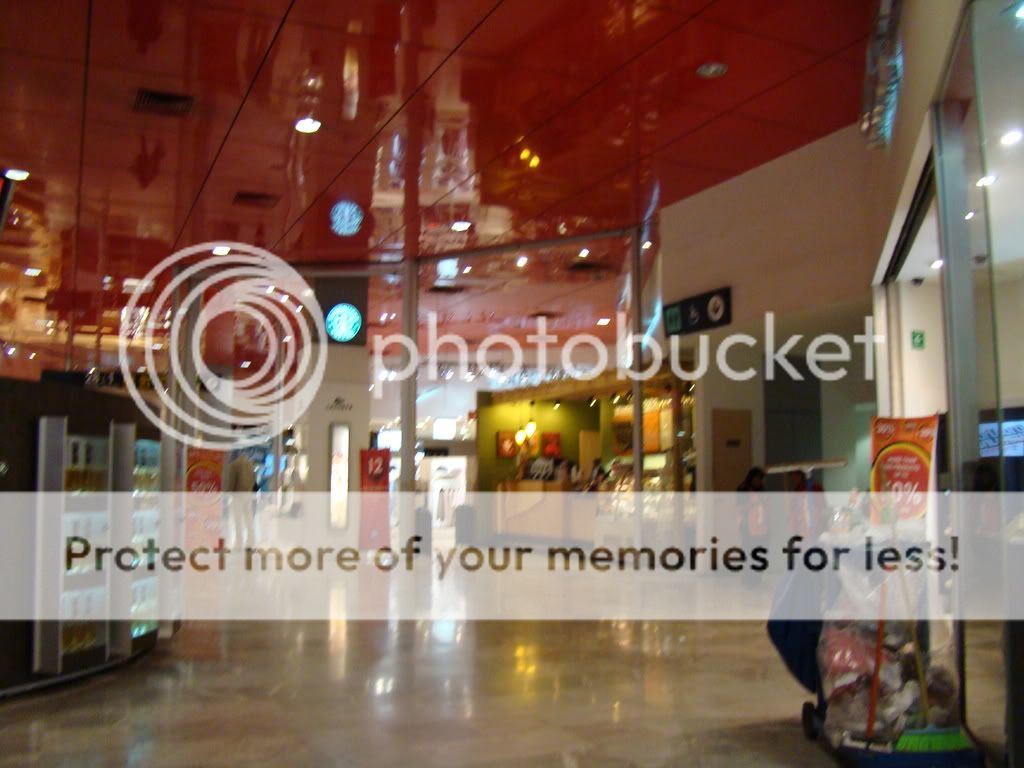 We got to the lounge. It was a Mexicana lounge and it was nice. However, there were these really loud and obnoxious people in it. At first, I thought they would be there for a short while, but they ended up staying there until I left.
The lounge has a nice view of the runways, unfortunately it was getting dark really fast.
Picture from the lounge:
Finally, I was so annoyed by the people in the lounge that I decided to walk to my gate and try to take a picture of the airplane. I couldn't as the view was blocked. This is the picture I was able to take:
This is the boarding area, a big mess:
There were millions of people trying to board the Iberia plane (it was after all an a340-600), so I walked to the front and went through with other business passengers.
Some pictures of my seat, my plane, etc:
It was raining really hard:
The take off was uneventful. I do have to say that the camera on the back of the plane is really really cool. This is my video from the take off:
http://www.youtube.com/watch?v=s09AedSNry4
I have to say that I dislike Iberia with a passion. I think that they are unfriendly (flight attendants, that is), robotic, and in general food is not nice. This flight was no different.
Hot Towel:
Dinner:
Dessert:
At the risk of sounding really gay, I will say that the problem with Iberia is that they lack finesse for all they do.
By the way, for the third time in my young life and second in the past 12 months the entertainment system was broken (this was business class, not that it's ok in economy, but you get me). The headphones worked, but no sound came out. I plugged them in the seat right next to me (which was empty) and they worked fine. Very annoying. The amount of movies was rather small.
Pictures of the entertainment system:
FS2004-like view from the wing:
I slept almost all the way through, but not thanks to the seat, which was the most uncomfortable of all the seats on this trip. Breakfast arrived when we were about 1 hour away from Madrid (I think):
It was yummy:
This I don't know what it was, but I took a bite (huge one, I know) before taking the picture:
What do you make of these headphones?
Nice video of the landing:
http://www.youtube.com/watch?v=5zRzBhl3EYc
After deplaning we went through security. The following happened. My colleague had bought some tequila in the Mexico duty free. I told him that he would have problems in Madrid, but the lady who sold it to him said that she would seal it and that he would have no problems. I differed but he chose to believe her. Anyways, when we went through security, they told him that he couldn't take the bottle through, but he could check it in if he wanted. Check in is a good 20 minute walk from T4, so he said no, got all mad and threw a big tantrum, yelling at them and telling them they were wrong, and that this was stupid. As he spoke no Spanish (he is British) he kept asking me to translate his insults into Spanish, which I obediently did.
After he understood it was hopeless, we walked to the Iberia lounge, which I do have to say is very nice. Some pictures:
We walked to the gate for our plane to Zurich, and after we boarded the plane got delayed over an hour. The captain was nice enough to inform us constantly but it was still annoying as I was really tired by now.
Sorry, there are no pictures of this flight and not any more comments as I slept through the whole thing. The only thing is that the landing was very scary again, the weather was awful.
I truly hope you liked my round the world odyssey. In about two weeks I have another trip planned to SFO, NYC and EZE, all in J. The nice thing about those is that they are in J as well and I will be able to compare the service with other one world members: American Airlines (from ZRH to SFO, NYC and EZE) and British Airways (EZE to ZRH).
I promise to make trip reports of those!
[Edited 2009-02-27 04:53:12]