Well a bit late than expected but here is my DUB-LHR-DUB BMI Trip report. I used BMI to connect to my Olympic Airlines flights which are already up.
DATE : 01FEB09
ROUTE: DUB-LHR
FLIGHT: BD 120
AIRLINE: BMI
CLASS: BUSINESS
SEAT: 3A
A/C : A320
REG: G-MIDX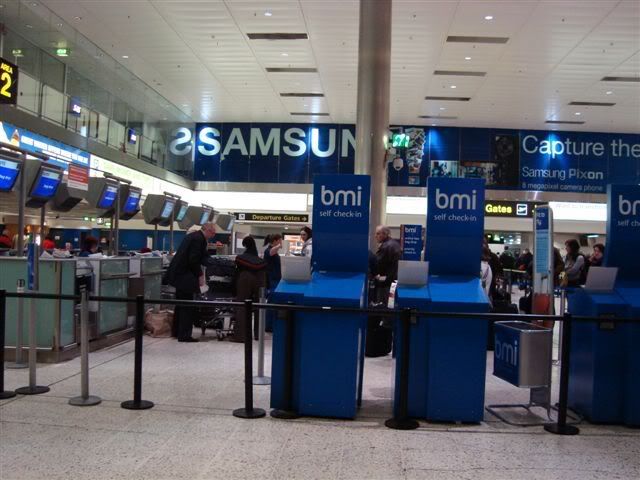 I had checked in online the day before so I was all set to go to the BMI Business/Gold card desk and drop my bag. I approached the desk and the girl wasnt too nice to be honest. ''errm excuse me are you flying Business Class ??'' I replied '' I most certainly am and it gets even better ... heres my Gold card''. I couldnt resist and said it smiling and in a polite manner. She changed her attitude then and her defensive manner totally changed. I dont know what was wrong with her at the start.
Anyway I thanked her and went through security to the BMI lounge.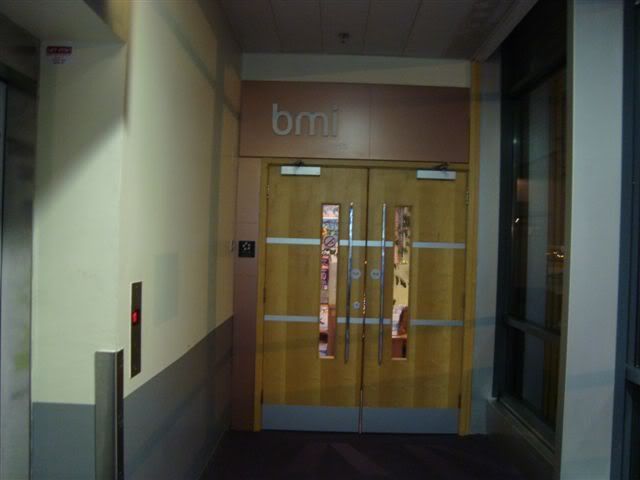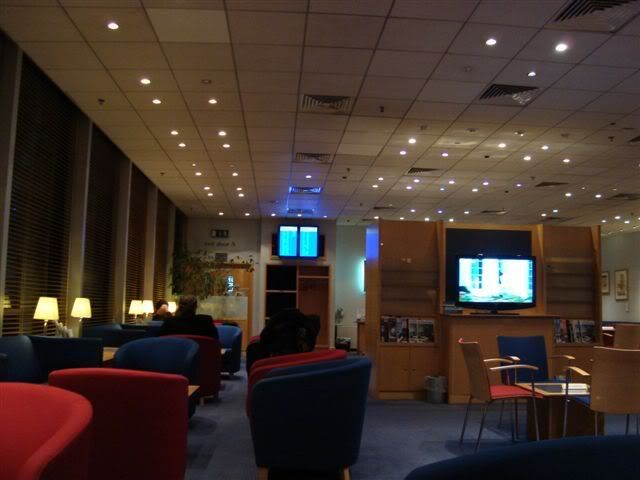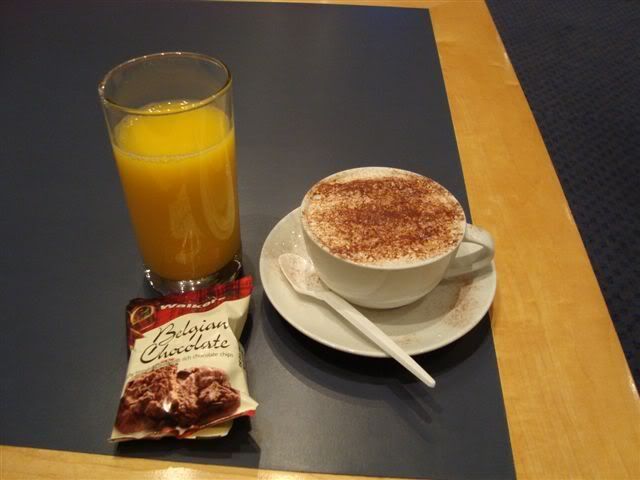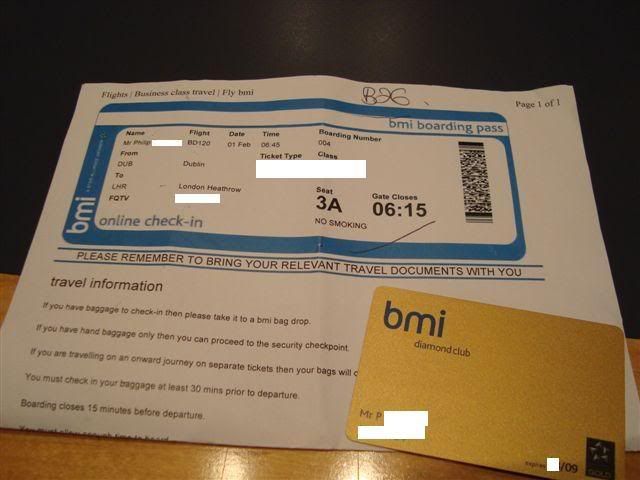 Soon after it was time to head to the B gates.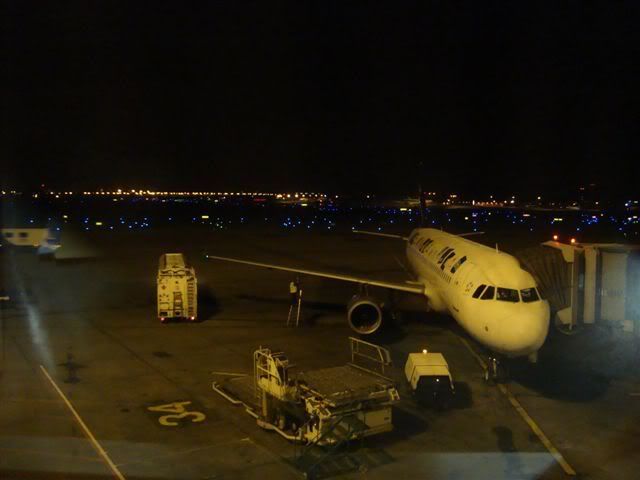 Boarding was started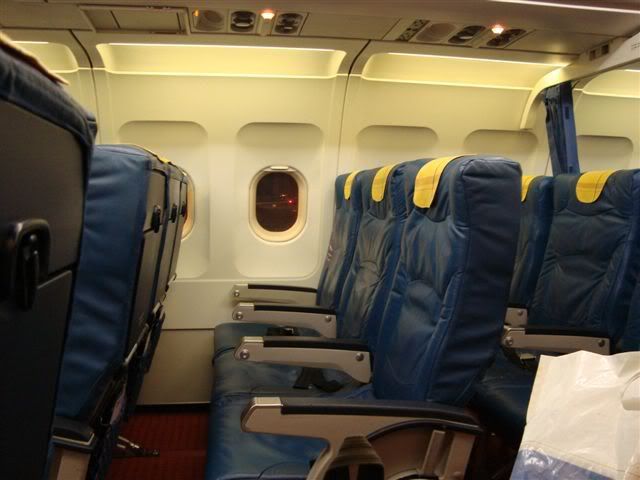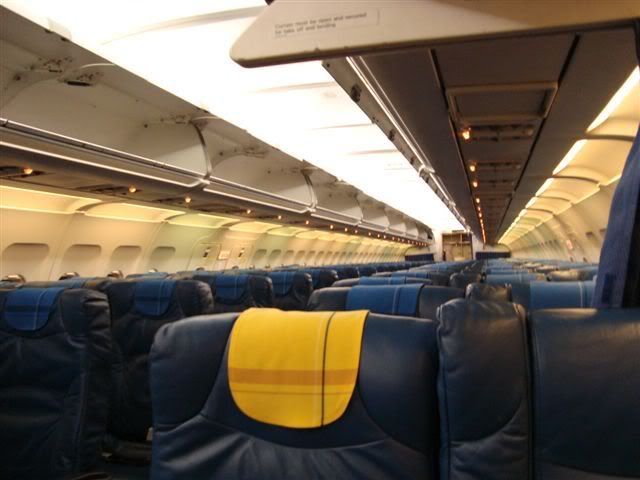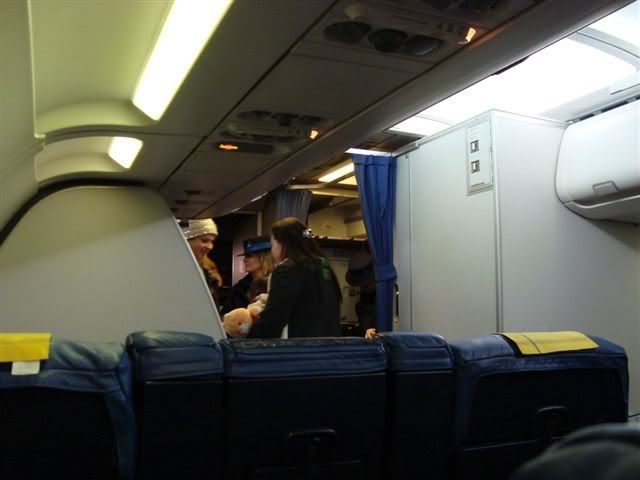 Newspapers were handed out. One guy in row 2F took ages to decide what paper he wanted and made such a meal out of just choosing a paper. Did my head in so god knows what the FA was thinking.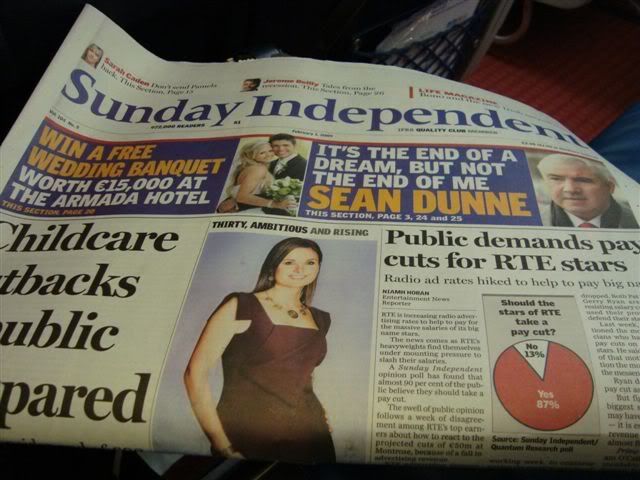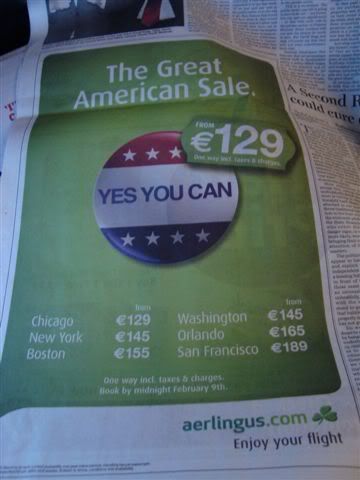 We were on the ground waiting to close up. The pilot came on and gave us a few bits on information. Soon after we taxied out to the runway and took off.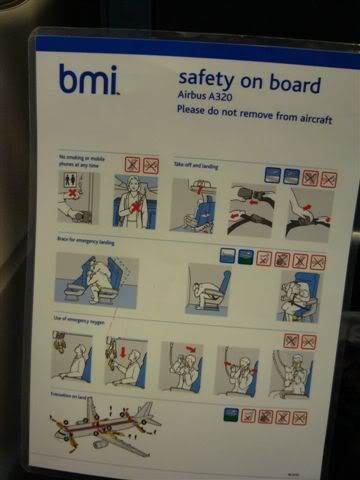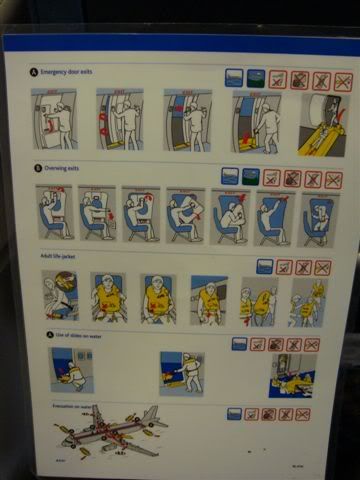 Around 15 minutes after the crew were released . The FA came to the Business class passengers and said to us that there was no catering loaded and they could only offer Coffee and Water!! I was a bit shocked as I was looking forward to a hot breakfast. Had I have known that I would have eaten at the airport.
Coffee was served in a flimsy plastic cup and was digusting.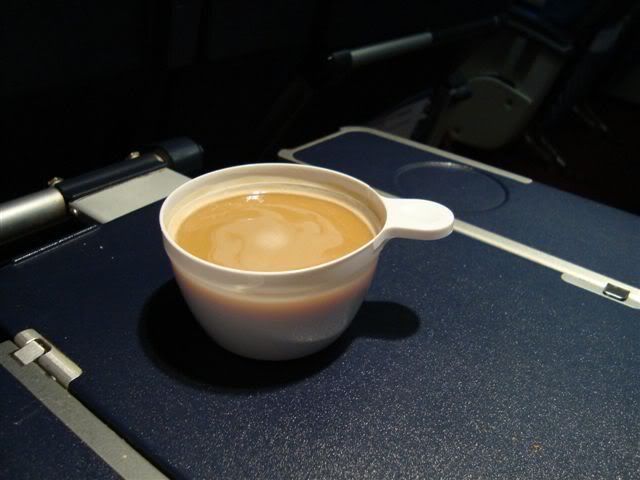 After that I just went to sleep before waking up a while later before landing. The crew were no where to be seen until doing a seatbelt check before landing.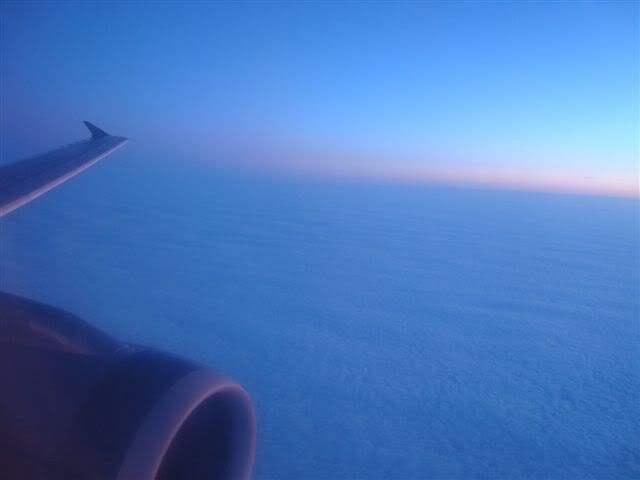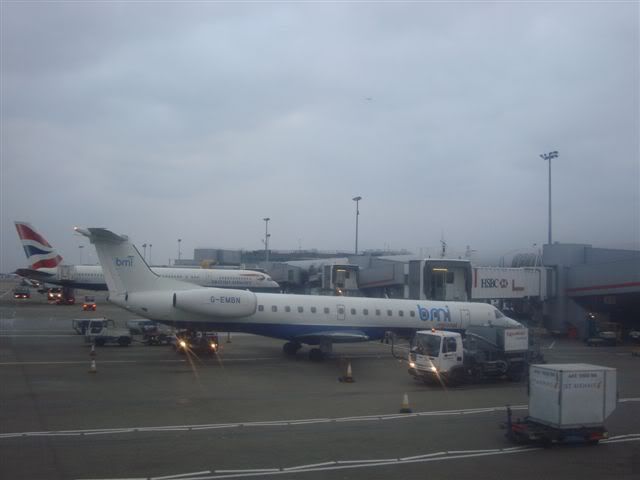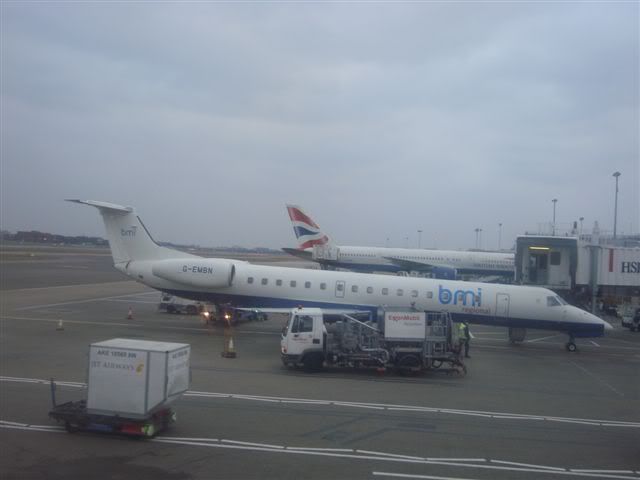 BMI A330 at its new home .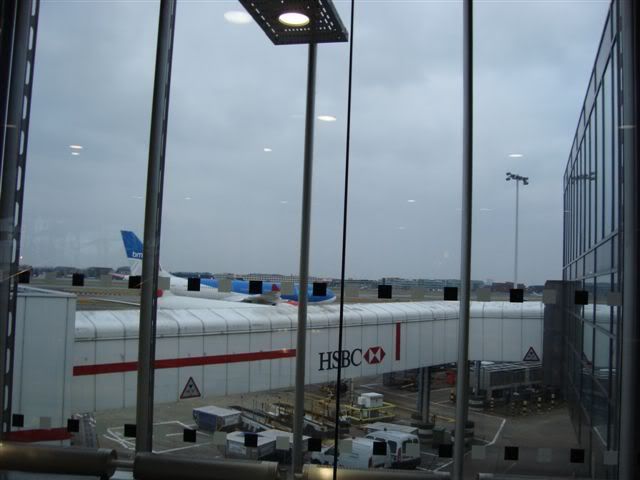 A few shots of T1 as I made my way to Terminal 2 for my Olympic Airlines flight.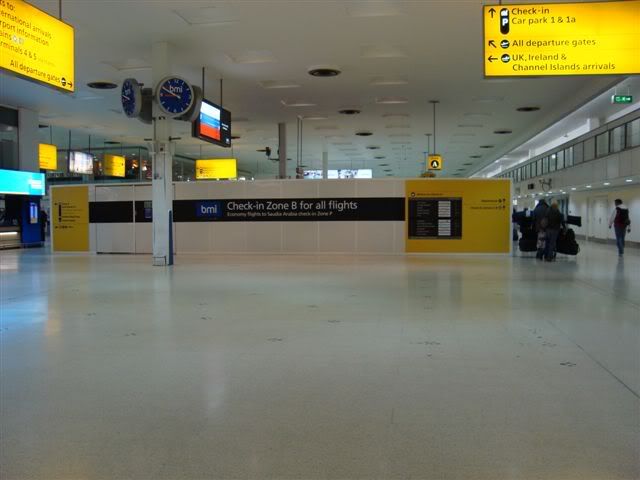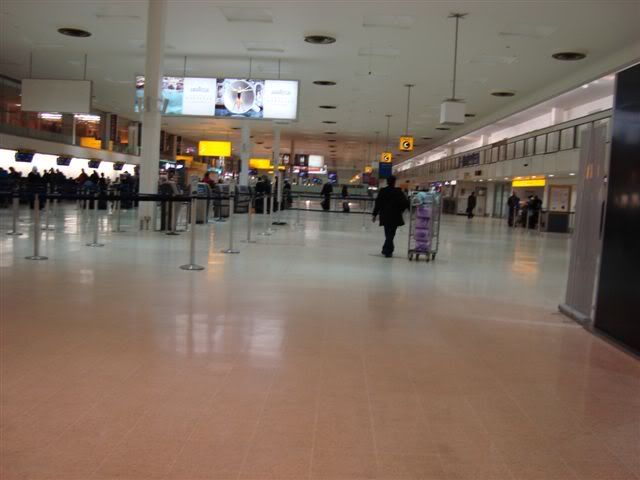 DATE : 05FEB09
ROUTE: LHR-DUB ( CANCELLED ) Changed to LHR-BHD
FLIGHT: BD 133 Changed to BD 090
AIRLINE: BMI
CLASS: BUSINESS
SEAT: 3C Rebooked onto new flight in 5D Later changed to 4A
A/C : A320
REG: Dont know about the first flight but I ended up on G-MIDX
I arrived into Terminal 1 after a nice on time flight from Athens.
I was surprised to see a huge amount of people snaked around the Aer Lingus ticket counter. Then I looked at the screens and saw 95% of flights to Dublin were cancelled. Someone said that snow had closed Dublin airport. I saw that my flight was still operating so went to the check in counter. My bags had been through checked from Athens.
I went through to the Star Alliance lounge
As soon as I got in I looked at the screens and saw my flight was showing as cancelled. I cam back out again and looked at the screens again .
I then proceeded to the BMI Gold lounge to see if they could help me out as the transfer desks were totally packed. I knew I would have to act quickly if I was to make it home that night.
I entered the lounge which was crowded and asked the girl at the desk if she could get me into Belfast City as it was showing as delayed and I could still make it. She was not very helpful and told me she could not re book me as I had bags checked. I told her that they had been checked from Athens and probably were lost in the system anyway. She said I had to go into the baggage reclaim area and wait to see if my bags came off as all bags were being off loaded and put on the baggage belts. I asked her if she could hold me a seat to BHD whilst I did this but she refused !!
I went out of the lounge and there was security pointing people to a glass door into the reclaim area. There was a girl from BMI sitting down sending SMS text messages and not assisting at all. After 20 minutes all the bags were off and surprise surprise mine was not there. I interupted the girl sitting down and asked her what I should do . She told me to go to the ticket desk. In the meantime I called a collegue of mine who said there were only two seats left in Business class and I asked her to book one for me. I then went out through to arrivals and saw the girl who had checked me in originally. She appologised and said that shortly after she had checked me in they told her the flight was cancelled. I said that was fine but I needed to get home and a seat had been held for me to BHD and I just needed her to print out a boarding pass. She asked me about the checked bag and I told her it didnt come off the belt and its lost. I said I would file a report when I got to BHD. Anyway she then gave me a new boarding card and I was all set.
I rushed back through to security and made my way to the BHD gate. Boarding had not yet commenced.
After a while boarding commenced. I was glad to be on the move again on my way home.
After boarding was completed it was 99% full in both cabins. 3A was not taken so I moved to there . Lots of Dublin bound passengers mostly businessmen were on this flight. We closed up and taxied to the runway and took off.
Around 15 minutes after the meal service began. Drinks were served but by row 2 they had run out of glasses so I had to make do with plastic .
I thought to myself that it will be my luck next that the meals will run out or my choice will be gone but to my surprise the Chicken Korma was still there so I asked for that.
Not the best presented J class meal and just cheap and nasty plastic.
The invitation was asking people to sign up to the frequent flyer program and if they did they got triple miles. Most of the people in this J class cabin were Silver and Gold BMI members so it was a waste of time and there was no offer for us !!
Anyway flight was uneventful and soon we laned into BHD. I Went to the BMI desk and filed a lost baggage report. The guy at the desk was nice enough and gave me some documents.
I made my way out to the arrivals to the bus stop. I knew there was a train from Belfast Central to Newry at around 8pm. Standing at the bus stop were some people who were also due to go to Dublin and they were attending a Wedding in Wicklow the next day. I felt sorry for them as it was going to be a long journey for them. Belfast although freezing had no snow. There was also a guy who had just come back from Cairo and was also Dublin bound. Anyway we were all chatting whilst we were waiting.
The bus came and I asked the driver to drop me as close to the train station as possible which he did . I then walked to the station.
I bought my ticket and boarded the train. I had made it !!
I was so glad to get home. Hundreds were still stranded at LHR. My bags finally arrived two days later into DUB and were delivered to me by courier.
So thats the end of my report. BMI were not anything special. The customer service was very very poor and being a Gold card holder they did nothing to assist when I needed them to. Only the actions of a collegue and quick thinking by me enabled me to get home.
Their catering issue on the outbound was very poor and I still have not had a letter form their customer relations team which I wrote to. 2,000 miles mysteriously turned up on my account so I presume that is something to do with it but a letter would be nice to aknowledge my complaint. The return service was basic and lacking and not anything to be proud of. The whole product needs ripped out and totally re done from scratch.
Hopefully the LH takeover will see some positive changes like the Swiss model. At the moment BMI seem to have lost direction and branding. Half of their A/C are not properly painted and its all a bit mix and match.
Comments appreciated as usual. Thanks for reading
OA260