Im still a bit of a newbie at all this, I posted my first TR a couple of days ago, found here
LGW-AGP-LGW on easyJet
Moving on with this one now, Last January I visited New York for the first time with my family for my Mums birthday, needless to say I had an amazing time, so much so I couldnt wait to go back again!
I asked a few of my mates would they be up for a trip to New York, well they were all up for it so back in November we all booked our tickets on Virgin Atlantic for a pretty good price, flying out of LHR on 31st January on VS3. Out of all the carriers we checked (BA, DL, CO, AA) prices were all pretty much the same, give or take a pound or so, and we all preferd to fly on VS, so it was booked.
This would be 3rd trip to the USA and my 3rd time flying on VS. All my previous flights to the USA have been on VS, I just love flying them! I dont know what it is?!
Last year we flew on VS3/4 operated by an A346 (G-VFOX, Silver Lady) outbound and an A343 (G-VFAR, Diana)
When we booked our flights, our outbound flight, VS3, was due to be operated by an A340-600, which it think is such a good looking aircraft (plus they are fitted with V:PORT) and compared so much nicer to the A343 on my trip last year, but later on I was a bit gutted that when I went in to manage my booking and the seat map was now showing a downgrade to a A343
so no V:PORT, or so I thought.....
Anyways the night before out trip my mate James stayed over as he lives by LGW it would be a bit of a mission for him to make it up to LHR for the morning. We stayed up til about 1am watching TV and drinking Corona
I was pretty excited to be off to New York and I didnt sleep much. I set my alarm for 5.30am, rolled out of bed about 5.45 and packed a last few things into my case. My mum drove James and myself to LHR and we arrived at 6.30 outside T3 and made our way to Zone A, the VS Check-in area. The check-in area wasnt at all busy but there were a few people queing at the bag drop, since we had checked in online the night before we headed straight to the bag drop, we were then approached by a lovely VS lady in a long red coat who asked us where we were flying to and directed us over to do our bag drop over at the Upper Class area. (if only we were flying Upper Class) Bag drop was very painless and the lovely girl on the counter wished us a "fab" trip in New York.
We then headed upstairs to Security, when I was about to phone my other 2 mates we were meeting, Doug and Jimmy, I saw Jimmy at the top of the escalator on his own, Doug had gone off for a wander to find the toilets aparently. 10 minutes later he re-appeared and we all headed through security.
Security was actually a pleasent surprise, 5 minutes to get through. While we were waiting my mate Jimmy, who works as BAA security in LHR T1 was telling me all sorts of funny stories about security and about celebs he has searched, including Ainslee Harriot and Alice Cooper and many Sports teams.
After security we had a look around the shops, James and Jimmy decided on buying some Prada sunglasses (to copy me, obvously!) they got 15% off for buying 2 pairs, not bad! We then headed to O'Niells for some breakfast and a chill out. At about 8am a boarding gate was shown for our flight on the screens, Gate 29, not too far from the main departures area. When we arrived, they had just started boarding, Rows 55-65 were called for boarding first and as we were sitting in row 55, we just walked straight down the to the aircraft
Date: 31/01/09
Route: LHR-JFK
Flight: VS3
Aircraft: Airbus A340-300
Reg: G-VSUN Rainbow Lady (2nd flight on A340-300 and 1st flight on this aircraft)
Seat: 55K
Scheduled Departure Time: 09:20
Actual Departue Time: 09:35
Scheduled Arrival Time: 12:20
Actual Arrival Time: 11:55
G-VSUN was delivered to Virgin Atlantic on 30/04/1996 and briefly flew for Virgin Nigera in 2006/2007
As I said earlier I was pretty gutted to be flying on the A343. We were lucky enough to be flying on V-SUN which is the only A343 in the VS fleet to have the new Y seating and V:PORT plus she is in the new revised colours, which have metallic flakes in the paint, you only seem to be able to see these up close.
We boarded and made ourselves comfortable, James and myself were sitting in 55H/K and Doug and Jimmy were sitting on the otherside of the aircraft in 58A/B over the otherside.
The crew informed us that there were 233 people on todays flight.
The safety demonstation was done manually today, normally on VS it is on the PTV screens. The crew on todays flight were all quite young and looked like a right laugh, which later proved to be true! We pushed back at 9.15 and were in the air at 9.35 off 09R
AI 744 and AA 763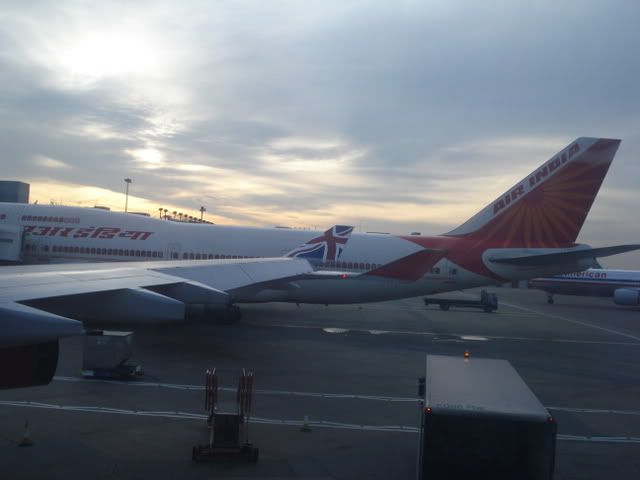 Take-off
Overview of T4 with the new QF A380 and the first NW A330 in DL colours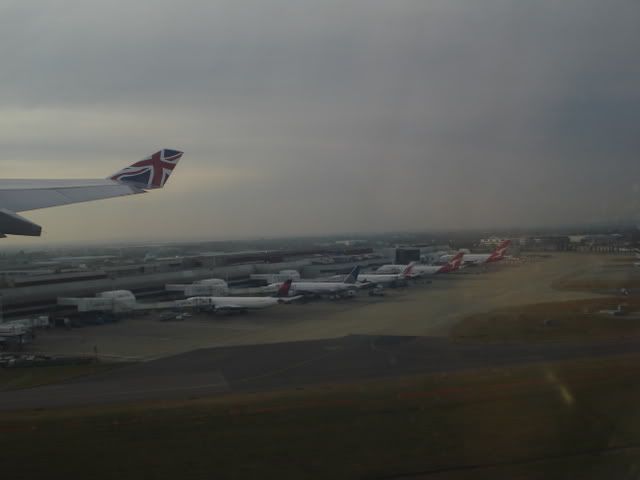 Feltham (Is Singing Out) (Hard-Fi song) and LHR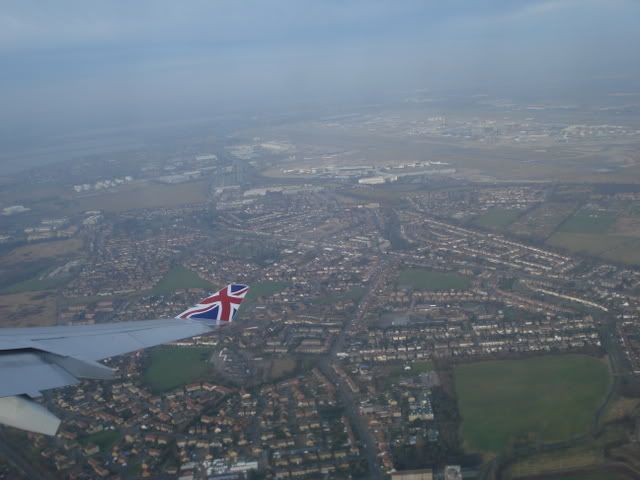 My town, Staines... aiiiiiii and T5 just visible in the top right corner
After turning 180 after departue we headed out towards the West of England, over Wales, Dublin then out over the North Atlantic.
The seatbelt remained on for about half an hour after take off due to the fact we had quite a bit of turbulence, many people kept getting out their seats to use the toilet whilst the seatbelt sign was still on and the crew kept telling many passengers off for doing this. I remember one of the passengers asking one of the crew (Lee) how long it would be on for and his response was "We're cabin crew, not magicians madam" Everyone was laughing their heads off at him!
The crew came round serving a "light breakfast" about an hour into the flight, which consisted of a Cereal bar or Muffin and tea/coffee/juice. I went for a cereal bar, which was very nice, it had Apricots, Cranberry and Blueberry and a Tea.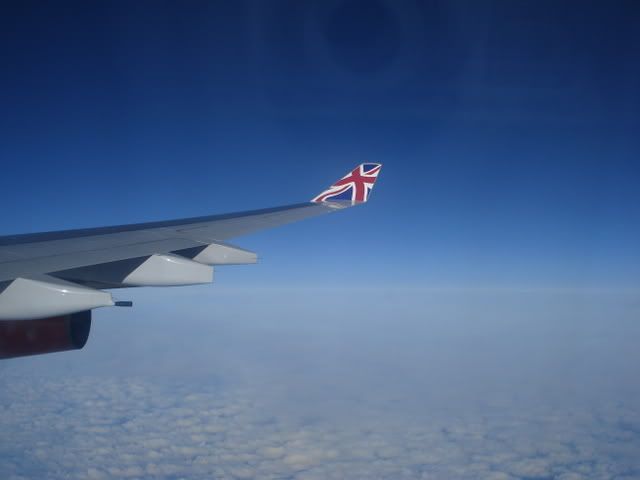 On the V:PORT IFE system I eneded up watching Curb Your Enthusiasm, The Beautiful People and some Family Guy as well as some Fawlty Towers, The Office, Extras and Skins (my favourite) aswel as listening to music on my iPod
About halfway into the flight (i think) The crew came round and served lunch, I went for the Chicken BBQ with Potato wedges and Carrots which I must say was quite nice, the side pasta salad wasnt too good, was a bit oily for my liking but the Chocolate pudding was really nice! To drink I had a Hineken... and a few Vodka and Cokes throughout the flight, No Jack Daniels on VS
As Doug and Jimmy were on the other side of the aircraft we kept moving about to chat to eachother, as well as phoning eachothers seats on the V:PORT remote, and the crew kept saying how funny we all were as we did'nt sit still. A couple of the crew members, Lee and Lyndsay, were right legends, they spend most of the free time talking to us in our seats or back in the galley, they were telling us of good bars and places to visit while in New York and we talked about where they were heading off to in the next few weeks. We alll had some good banter with eachother throughout the flight. I think this is why I love flying VS because the crew on every flight ive been on are so friendly, relaxed and fun.
The I:map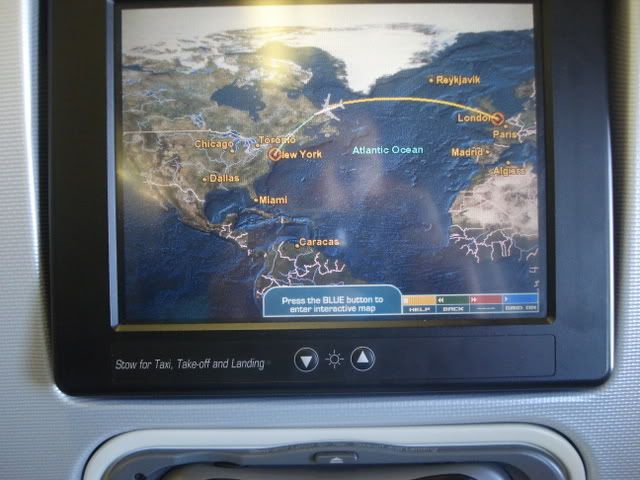 Beautiful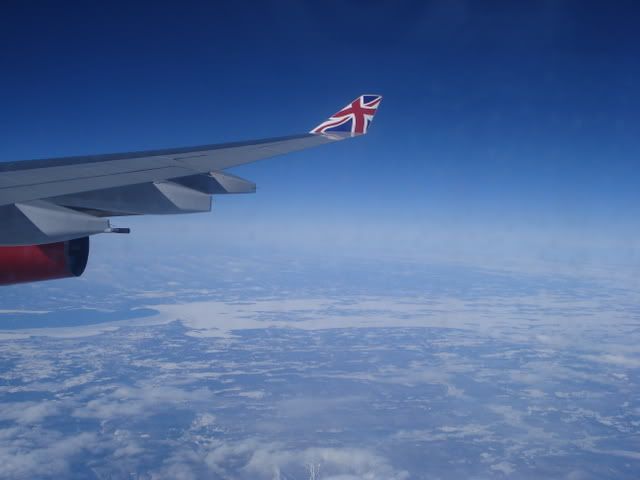 About an hour from landing we were served Ice cream, well it was more of a Choc Ice.
The scenery looks so amazing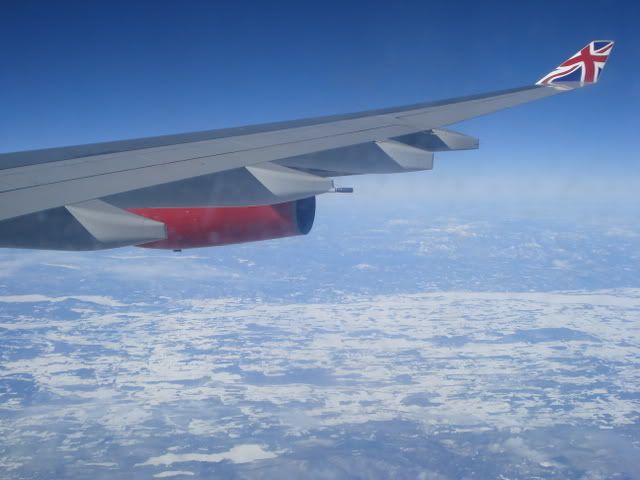 We started our decent into JFK about 30 minutes before landing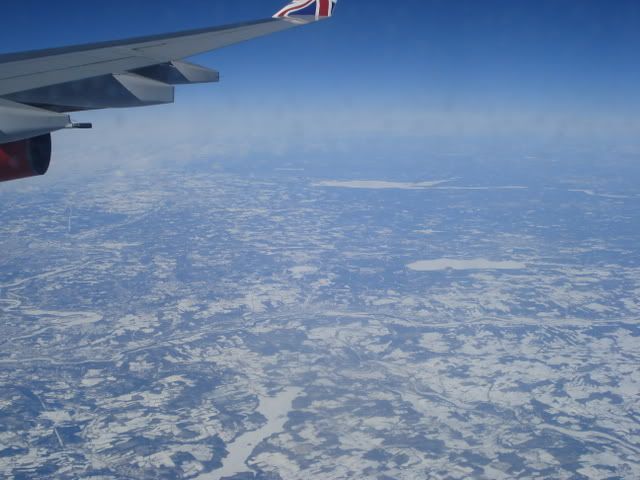 On final for JFK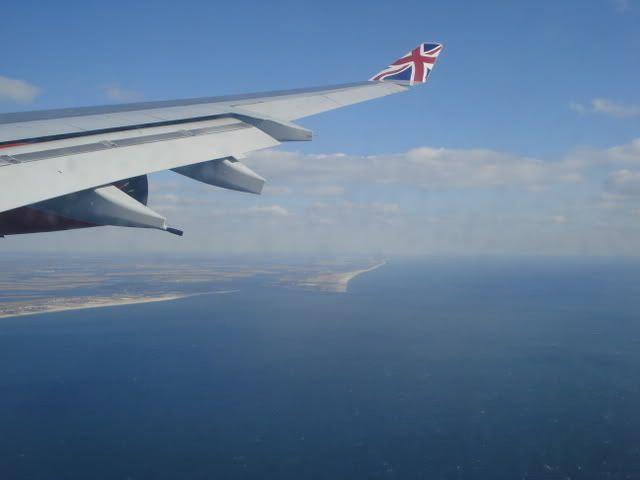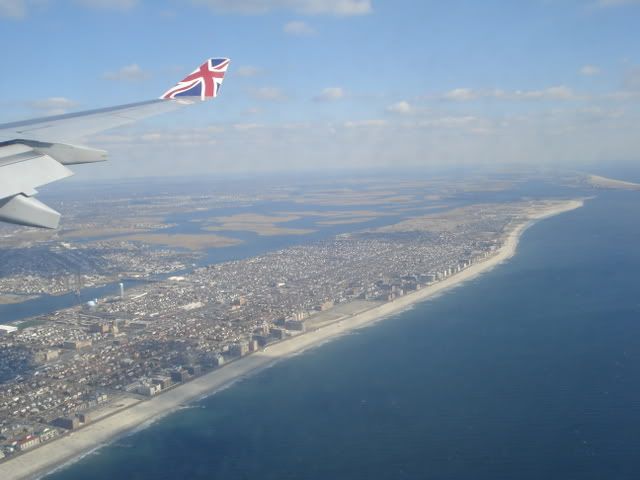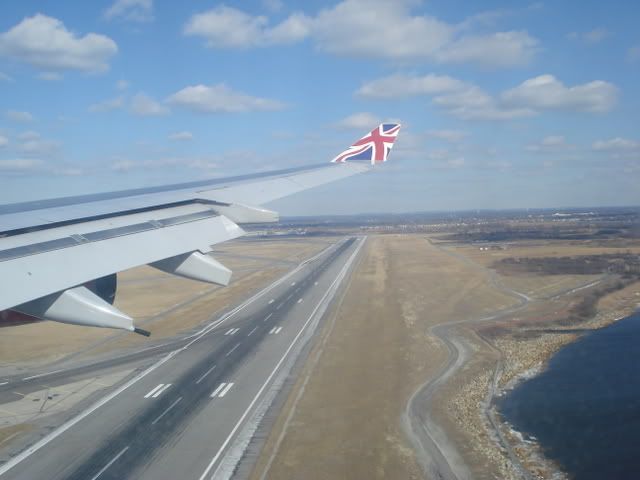 DL 767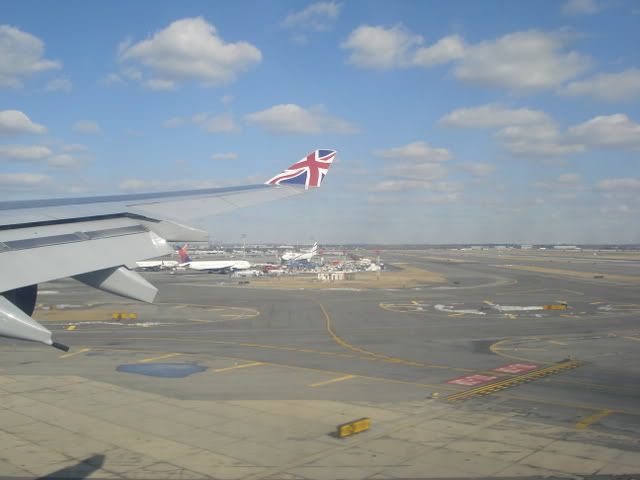 Another DL 767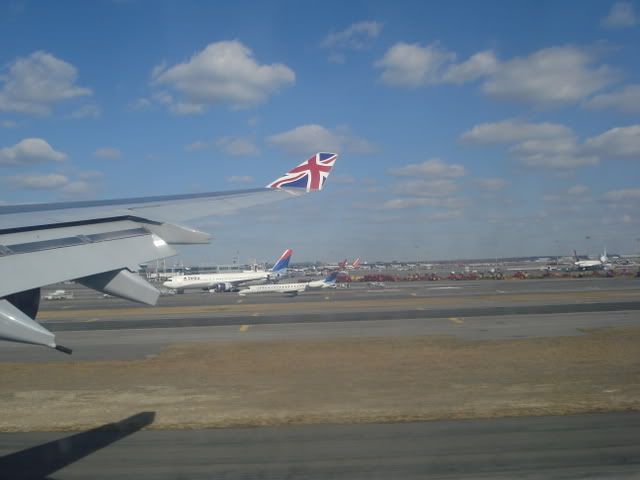 DL's T3 and a DL 757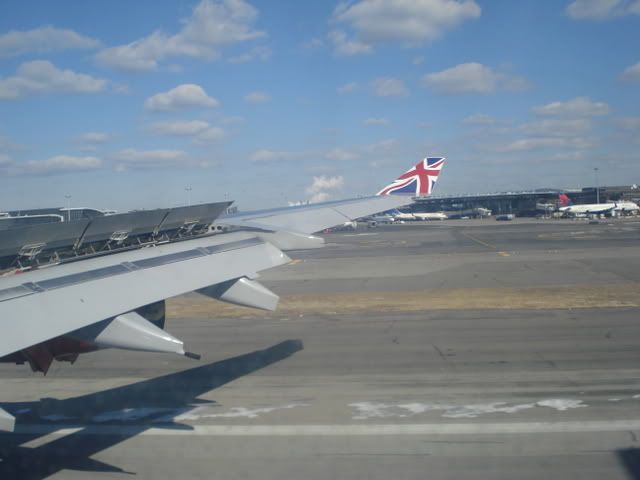 The captain informed us it was a "Chilly -3 degrees in New York today" but it looked so much warmer from inside the aircraft!
Parked up at Gate B28 at T4 (Same as last year)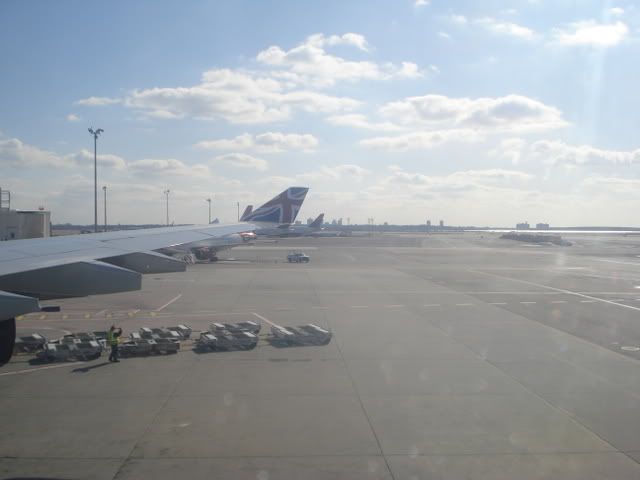 We waited for everyone to leave the aircraft before leaving ourselves. I moved over to Doug and Jimmy and got their bits down from the overhead locker and Lee, one of the crew members came over and thanked us for making his flight today a bit more fun, we said thanks, and he hoped that we had a good flight with them today and he said that he could guarantee our return leg crew would be no match on him, he was right! The banter between us continued when I said to Doug, "Have you got everything Dougy?" and Lee replied "Apart from my number" I think he took a liking to Doug! Haha!
We then left the aircraft and the crew at towards the front thanked us for flying with them today. When we got to Immigration, we waited about 10 minutes, while we were waiting in the queue an EI A333 from DUB arrived aswel as an LX A332. I was lucky and got a friendly guy, I think he had been up a long time as he said when doing my fingerprints "Right hand...ok, Right hand" I said "You mean left, right?" He then laughed! I had filled out the new ESTA Visa waiver online as aparently it was now compulsory after the 12th January to do so but Green Cards were still given out onboard, I filled it in anyway. The guy on Immigration took this insted of my ESTA. Our bags were waiting for us when we had passed immigration and we then made our way out the terminal to the hotel shuttle to Manhattan!
We had 6 days of Shopping, Sightseeing and Drinking in New York, also excellent weather, The UK grinded to a halt when we were away due to the worst snowfall in 18 years!
I definatly noticed the difference in the £ vs $ this year compared to last. Also the shops were alot less crowded than last year, I suspect due to the £ vs $ at the moment and us Brits are getting less value for money in the USA compared to the same time last year.
Return Leg
Friday came and it was our last day in New York, Our flight was leaving JFK at 22.25 so we left the hotel at about 6.30 and arrived at JFK 55 minutes later.
Checkin was empty and extremly easy. This time I was checking in 2 bags (I shopped til I dropped!) We then went down to the shops and restraunts and had a walk around before grabbing a bit to eat and a drink. I treated myself again to a bottle of Jack Daniels in the duty free shop! Does anyone know why they do not give you your purchases and you have to collect them at your boarding gate? Is this just at JFK or anyother US airport?
Looking at the arrival and departure screens, todays VS4 to LHR flight was cancelled aswell as the VS9 from LHR. It turns out our aircraft operated the VS3 leg to JFK and was operating the V10 for us back to LHR.
We then made our way towards Gate B28 for our flight. Passport control and security queues were non-existant today!
After a lazy walk down to the gate, I snapped a crap pic of our aircraft for tonights flight then they announced boarding for the flight, so again, no waiting around!
Date: 05/02/09
Route: JFK-LHR
Flight: VS10
Aircraft: Airbus A340-600
Reg: G-VWIN Lady Luck (2nd flight on A340-600 and 1st flight on this aircraft)
Seat: 60K
Scheduled Departure Time: 22:25
Actual Departue Time: 22:40
Scheduled Arrival Time: 10:25
Actual Arrival Time: 09:50+1
View Large
View Medium


Photo © Daniel Nicholson
G-VWIN was delivered to Virgin Atlantic on 28/02/2006 (Happy 3rd birthday today, Lady Luck) This aircraft featured in the James Bond film, Casino Royale.
A rubbish pic of our aircraft, Lady Luck at the gate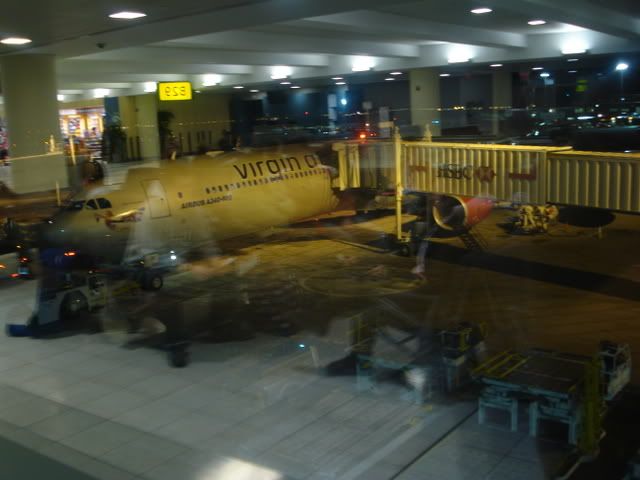 When we boared the aircraft we collected our duty free purchases on the ramp down to the aircraft. We were then greeted by 2 smiling crew members and once onboard we found our seats and made ourselves comfortable for the 6 hours 8 minutes flight back to LHR (according to the captain) The captain then advised us that there was snow forecasted at LHR for the morning and hopefully we would make it in without any problems, I didnt really fancy being diverted!
As this was a night flight, I didnt bother to take any pictures, until it was morning.
The crew informed us the load on tonights flight was 196 passengers. The safety demo was shown on the PTV's this time. We had a slow taxi to our runway and took off behing an Evergreen 742. A LAN 763 was in the queue behind us. Whilst taxiing to the runway, I noticed that some other passengers PTV's were working, so I tryed mine and it worked, I put the IMAP on, others were actually watching films, I thought the IFE was not allowed on until the seatbelt sign was turned out?
Our take off was typical of the A340... loooonnnng and slow, there was a part of me thinking is this actually going to get off the ground?! After take off we had excellent views of Manhattan before turning, it must have been very windy as the aircraft was shaking quite a bit.
We were then served dinner about 30 minutes into the flight, I went for Chicken and rice, it was nice. The crew on tonights flight were very nice and friendly and were very helpful to the lady infront of me who had a problem with her meal, I think she was allergic to something and they managed to get her an Upper Class meal which she could eat. I watched an episode of Summer Heights High (very funny) and Curb Your Enthusiasm again. After that I put the IMAP on again and put my iPod on and rested my eyes. I knew I wouldnt sleep on the flight, as I can never sleep on planes, I ended up getting about 15 minutes sleep, not bad for me!
Daylight was seen in the distance soon, and not long after the cabin lighting turned on low.
Sunrising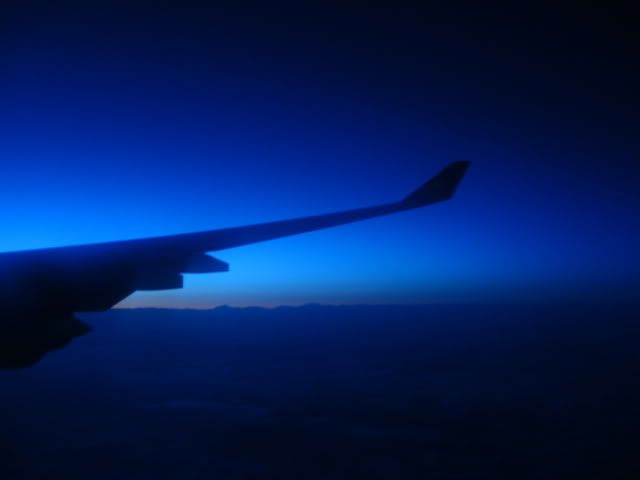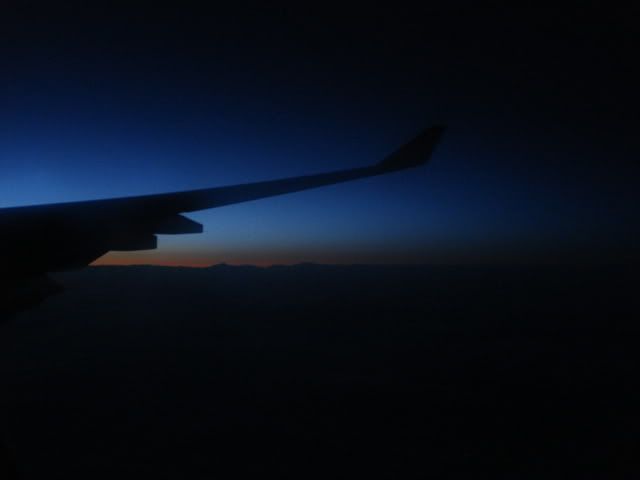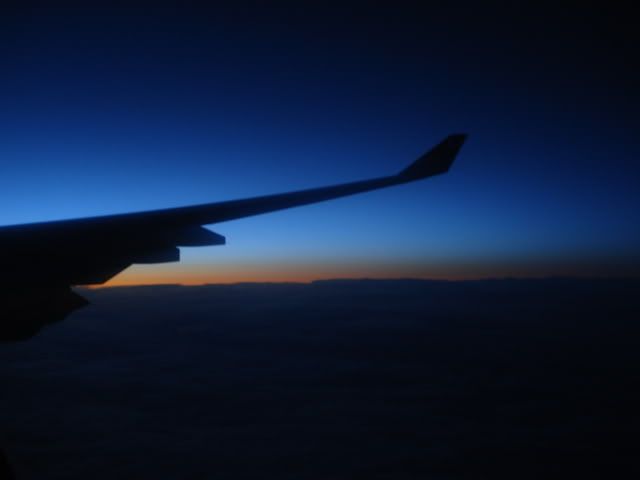 We were then offered a light breakfast or Cereal Bar or Muffin and Tea/Coffee/Juice, I went for the cereal bar and tea again.
Approaching the Irish coast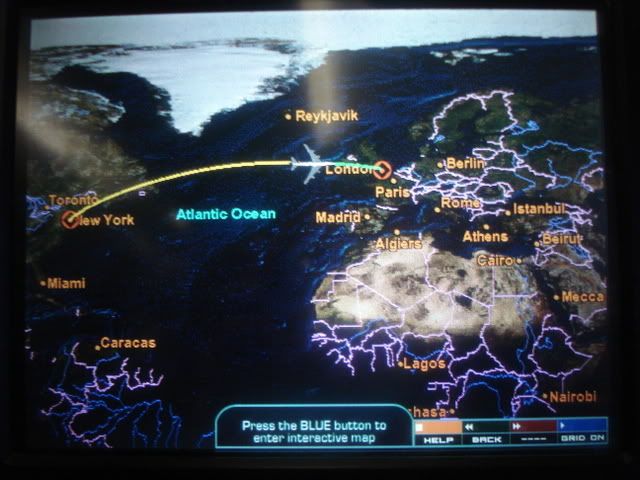 We saw some of Ireland, it looked beautiful with snow on some of the higher ground, then we hit cloud cover, we then wouldnt see land until about a mile from touchdown.
About 40 minutes from landing the crew did a final check of the cabin and collecting rubbish.
Somewhere over the West of England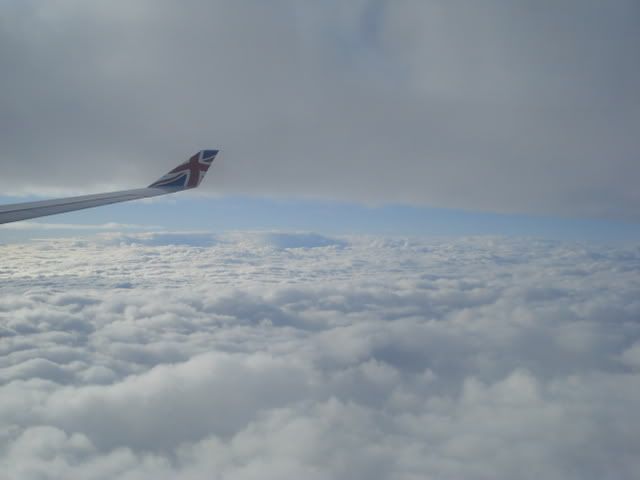 Colnbrook trading estate, our first view of England, about 1 mile from the runway. Obviously it had been snowing but not on the scale of a few days previous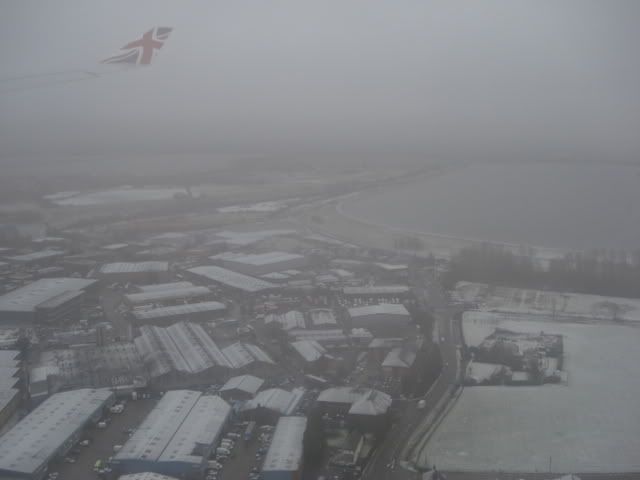 T5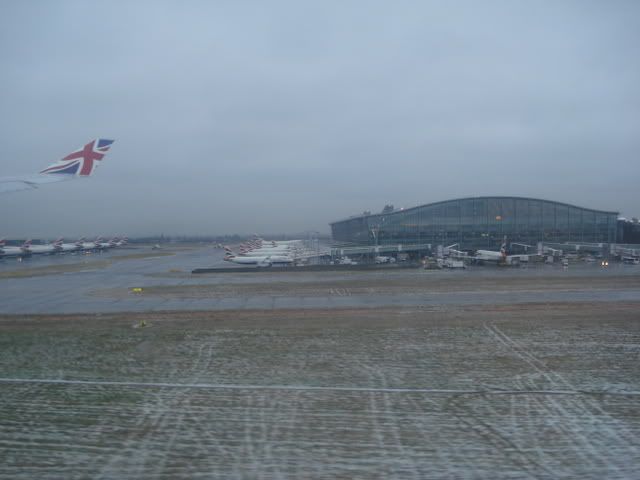 Fellow VS A346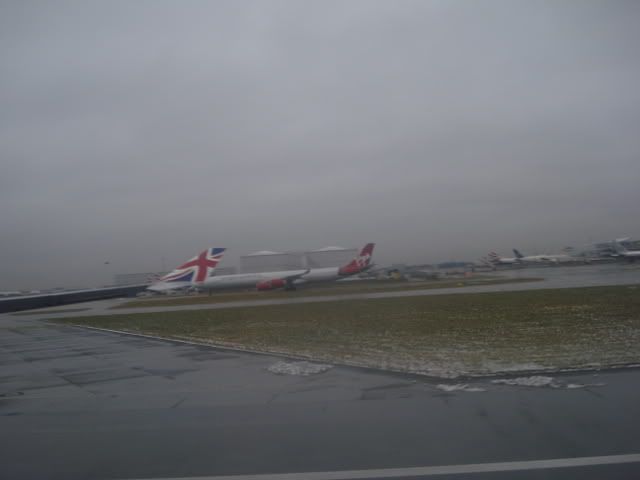 After landing we vacated the runway and headed away from T3 towards T1.. strange I thought
BD aircraft at T1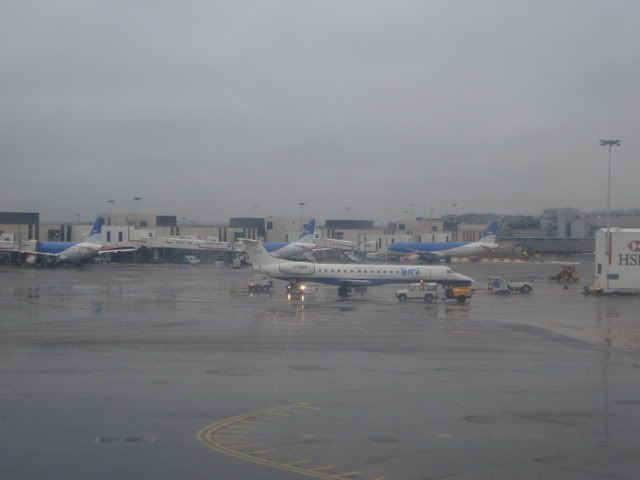 UA at T1 being de-iced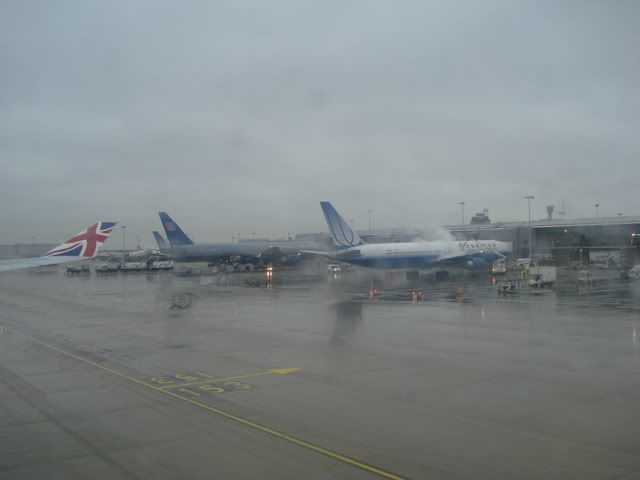 BD G-MIDX - I flew this aircraft from LBA-LHR in 2006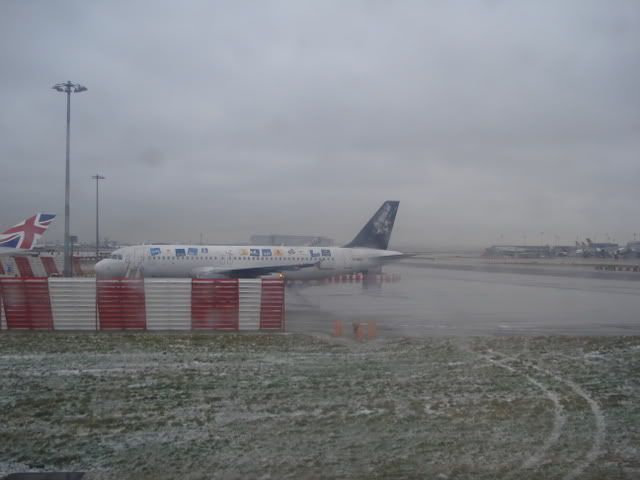 We then sat on the tarmac by T1 for 30 minutes waiting for a gate to become available for us at T3, we eventually parked up at Gate 17 between an AA 777 and 763. Again we waited for the rush to go and were the last ones off again! The crew thanked us again for flying with them when we left the aircraft. We had a fairly long walk to Immigration but luckily no long queue! When we went down to collect our bags, we had to wait about 10 minutes but ours were one of the first to come through.
We then went through to the arrivals hall, I phoned my Dad for a lift home but as the washing machine had broken, my Dad was waiting in for the repair man to come, So we had to get the bus home. Bad times!
Overall, I could'nt fault VS on anything, and I love flying the A346! Keep it up VS! See you again in June on VS11 to BOS!
I hope you enjoyed reading my TR
Matt