Recently I was on a guided tour in Jordan, a country I had always wanted to visit. I flew from Frankfurt to Amman and back on Lufthansa who use parts of their short-haul fleet for medium-haul flights during night. As most airports in the Middle East are open for traffic all night, this is very popular among many European carriers.
The flights were booked by the tour operator. When I received my electronic tickets, I phoned the Lufthansa call-centre to make a seat reservation (free of charge), seat number 35F in the second last row for both flights.
Saturday, 14 February 2009
Frankfurt (FRA) – Amman (AMM)
Airline: Lufthansa
Flight number: LH 692
Scheduled departure time: 20:55
Scheduled arrival time: 01:59 (time difference +1 hour, so scheduled flight time was 4:04)
Type of aircraft: Airbus A 321-200
Registration: D-AISO
This aircraft was built in 2008 and delivered to Lufthansa in August.
After a train ride on the ICE of about one hour from my home town Stuttgart I arrived at Frankfurt airport at around 15:30 in the afternoon. I chose an early train in order to have some time at FRA for spotting. My first destination was the Lufthansa check-in in Terminal 1: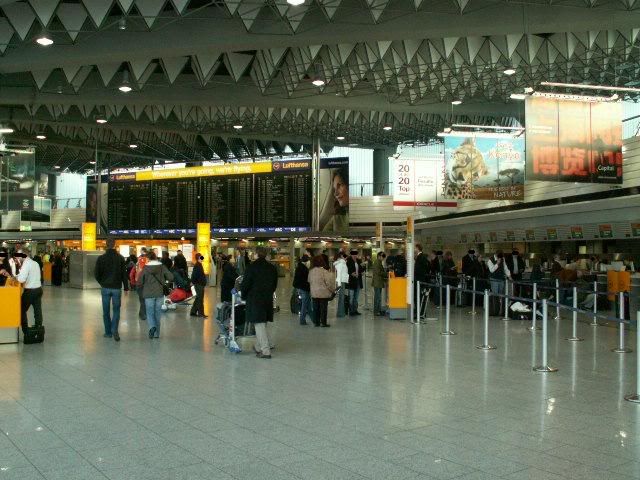 There were several counters open for Economy Class all flights: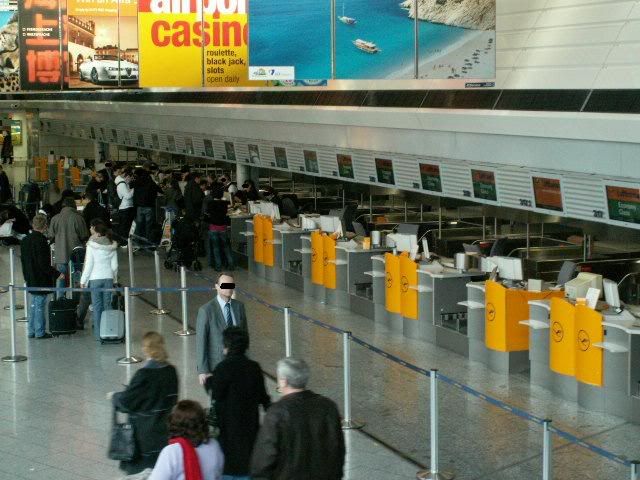 Saturday afternoon isn't a busy time at FRA, so I could go through to an open counter without any waiting time at all. A friendly male agent checked me in. He asked me if I would like to change into Business Class. As I had enough miles on my Miles and More-account, a mileage upgrade would be possible. It would cost me 35,000 miles for the one-way flight. At first I hesitated as 35,000 miles is quite a lot. But then I thought that I had never been on Lufthansa Business Class, so this was the chance to try it. I asked him if there were any window seats left in Business. I knew it was going to be a night flight, but I like looking out of the window at any time of the day. He checked and confirmed it, so I decided to do it. The agent changed my booking and printed my boarding pass for seat number 3A at first. He asked me if I had ever been to Amman and I said no. He replied that he had recently been on that route and that a seat on the right would usually offer good views to the City of Amman during approach. So he changed my seat to 2F and printed a new boarding pass: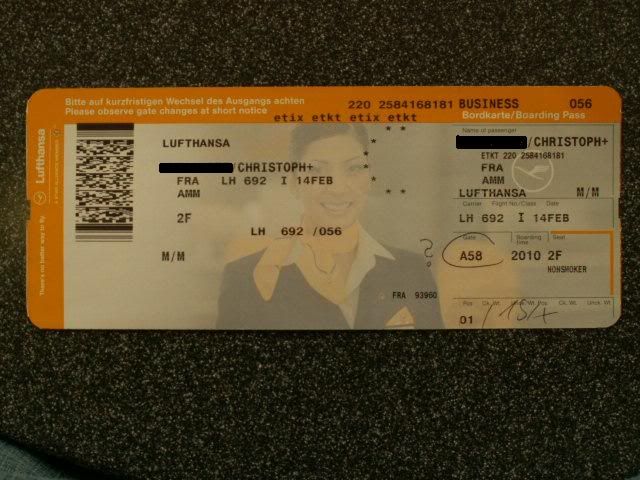 The scheduled gate was A58 but as it was still more than four hours before boarding time he advised me to watch out for a possible gate change.
After having got rid of my luggage I took a Skyline train to Terminal 2 in order to visit the observation deck.
The B-gates of Terminal 1 (picture taken from the train):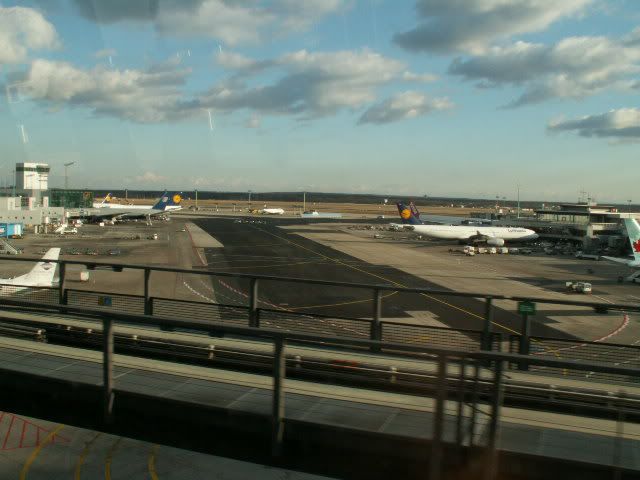 View from the observation deck in Terminal 2: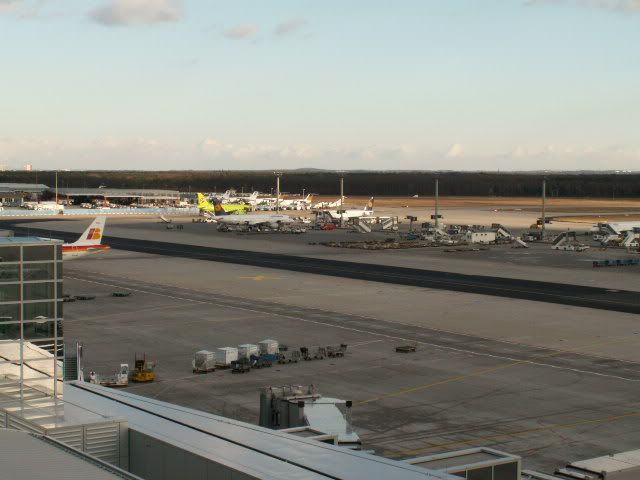 S7 Airlines to DME: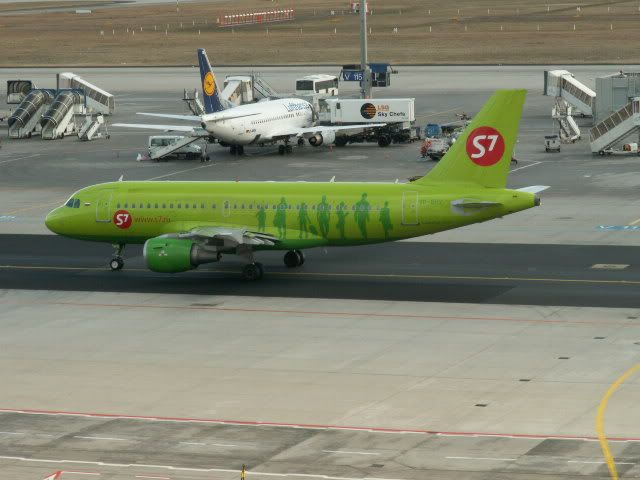 Kuban Airlines Yak 42 to Krasnodar: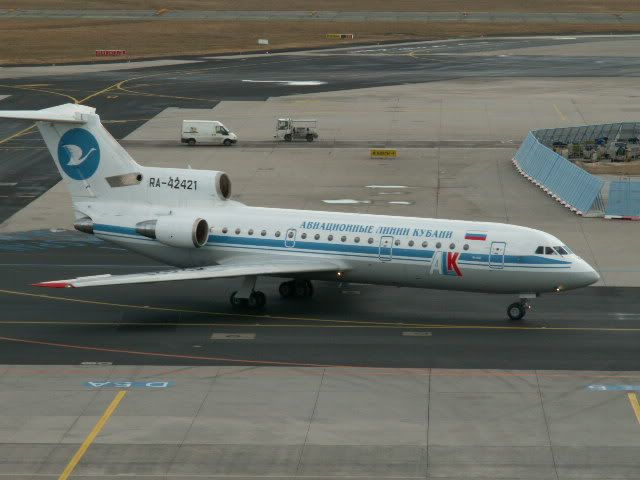 Korean Air Cargo B 747-400: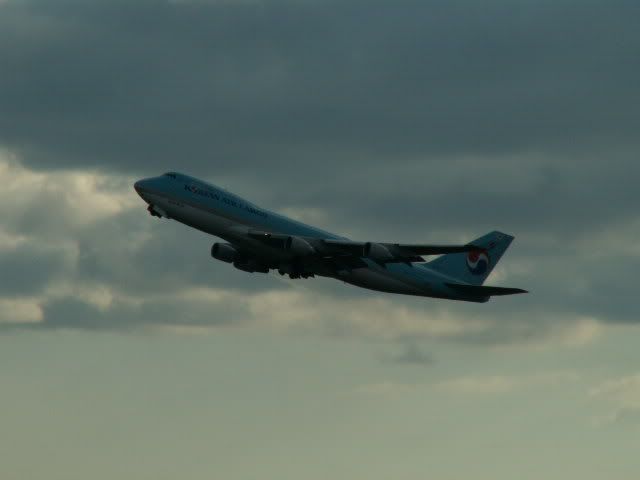 After some time on the observation deck I returned to Terminal 1 in order to visit the Business Lounge. Lufthansa operates all in all ten lounges at FRA, among them three First Class Lounges, three Senator Lounges and four Business Lounges. My flight was going to depart from the Non-Schengen area of the A-gates which is located on the second floor, while the first floor is used for Schengen-departures. I passed security check and passport control without any waiting time. The Non-Schengen area was completely deserted: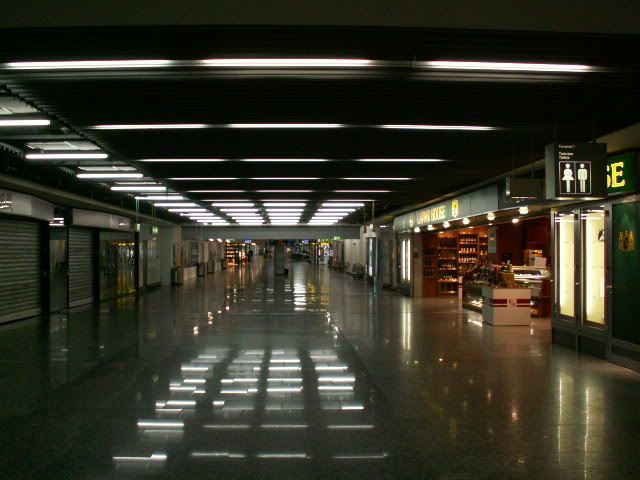 Only two flights were going to depart from this area on that evening: an LH flight to BEY (A320) and my flight to AMM (A321). Many of the shops were closed. Only a mouse was rushing from one side of the building to the other.
A senator Lounge and a Business Lounge are located in this area. I was entitled to visit the latter: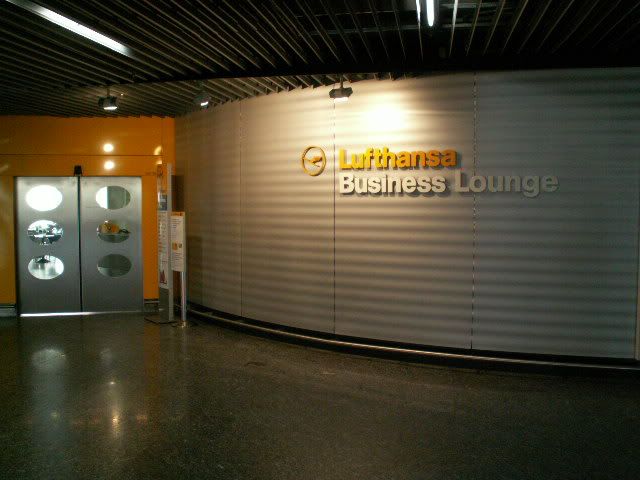 With only two flights leaving from the area, the lounge was quite empty as well: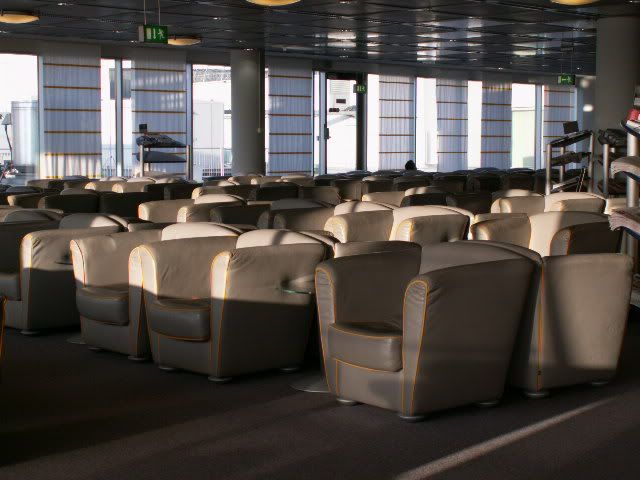 German and internationals newspapers and magazines were offered, internet was available free of charge: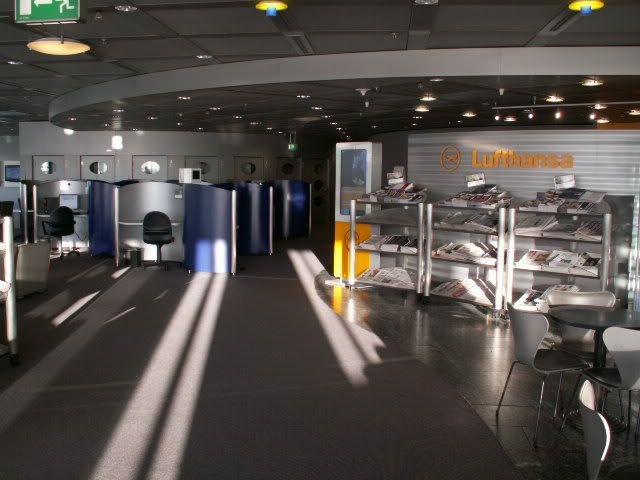 The food and beverage bar: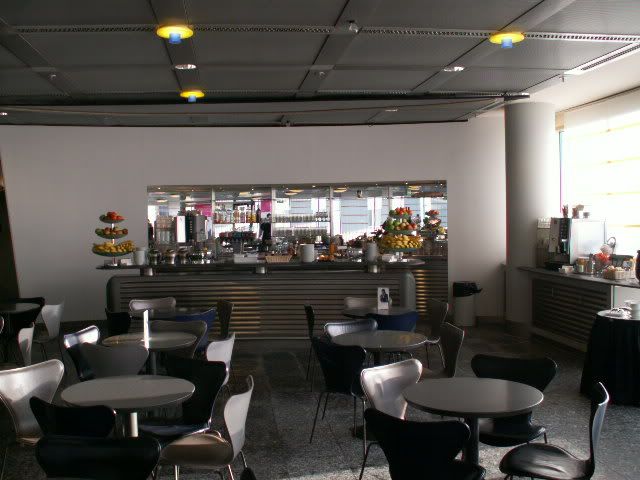 The food offer consisted of two kinds of soup, different kinds of bread, cakes, yoghurt and fruits.
View from the lounge: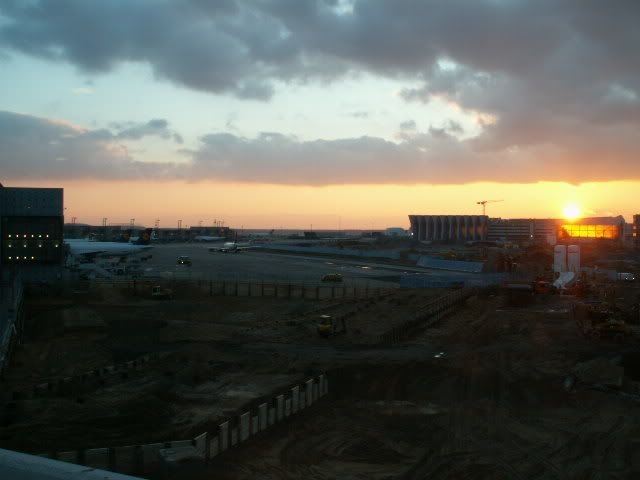 Later I walked the short distance to Gate 58 where LH 692 to Amman would depart: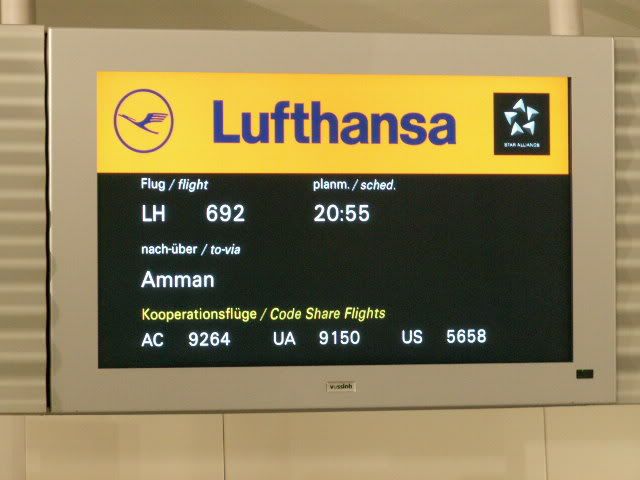 The gate was staffed with three gate agents. More than half of the waiting passengers were Europeans, among them many tourists on this Saturday service. Besides, there were some Jordanian passengers as well.
The aircraft for this flight arrived on time from BLQ at 20:10, only 45 minutes before the departure for AMM. Quite a short turn-around time, especially as the next flight would be a "long-haul" service with more preparation work to do. The plane for today was D-AISO, the newest A 321 in Lufthansa's fleet: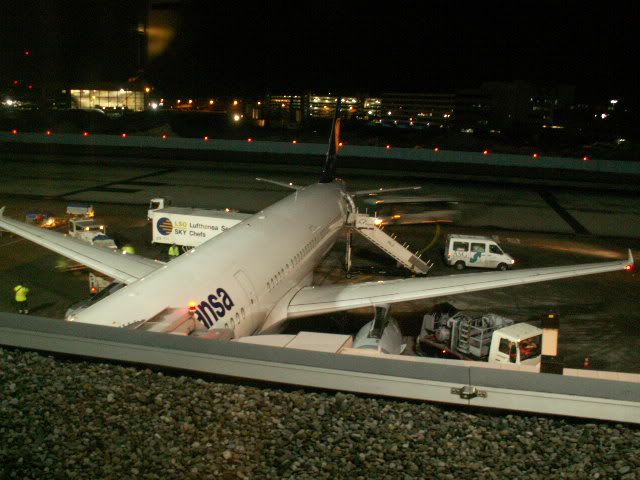 It was delivered only six months ago and didn't have a name yet. Blankets and pillows were delivered to the aircraft for this night flight.
Boarding started 20 minutes before departure with automatic boarding announcements in German, English and Arabic language. At first passengers sitting in rows 24-36 were asked to board the plane, then all others. I walked down the stairs and through the jet-bridge and was greeted by two friendly flight attendants at the front door. The first four rows were reserved for Business Class. The middle seats were blocked with tables, so there were 16 seats available. My seat in row 2: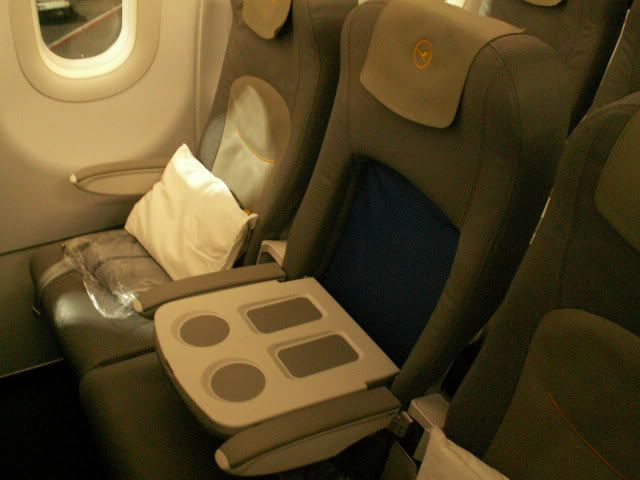 There were 10 passengers booked in Business Class, so load factor in Business was 63%. The aisle seat in my row remained empty. Load factor in Economy was around 70% I guess.
The catering truck was still parked at the aircraft: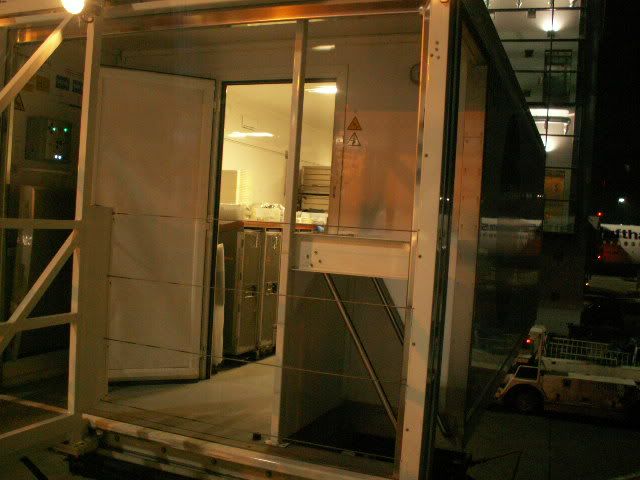 Cabin crew offered magazines. The captain made a welcome announcement and introduced himself and the female first officer who would perform the flight to AMM tonight. We went off-block on time: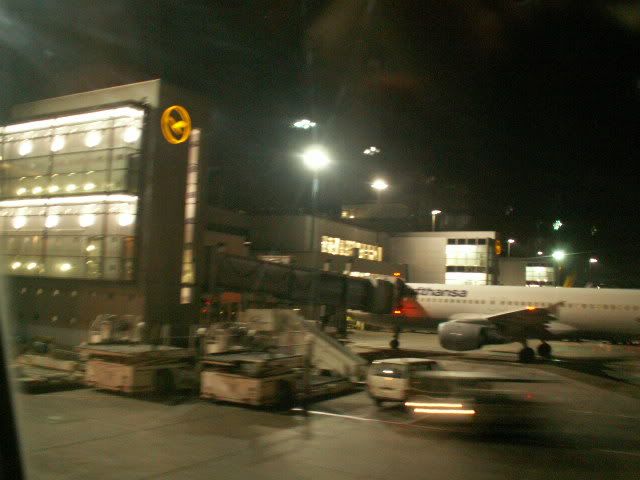 Cabin crew performed the safety demonstration manually as even the newest narrow-body aircraft in Lufthansa's fleet aren't equipped with screens. We taxied to the Western end of the airport. The cargo ramp: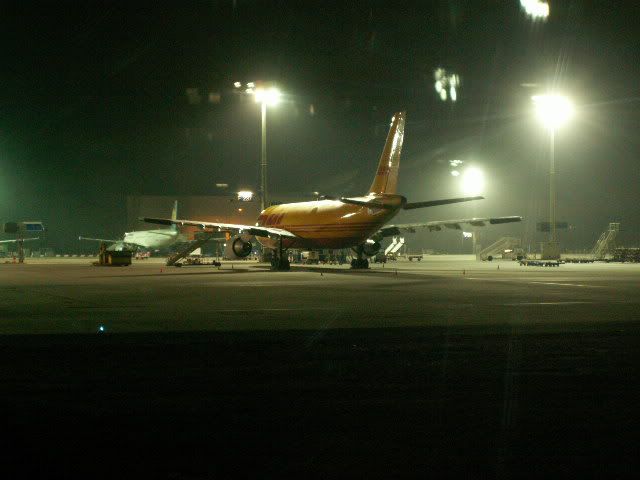 We took off from runway 18 "West" without any waiting time. Shortly after take-off, the flight attendants offered welcome drinks and some Macadamia nuts. I had an orange juice: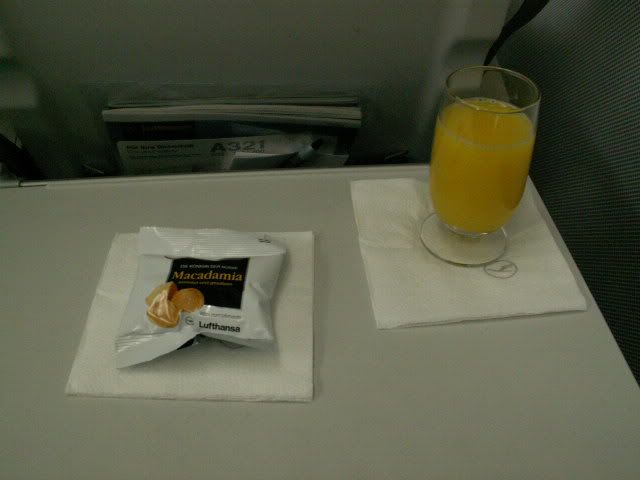 Later menu cards were distributed, followed by amenity kits: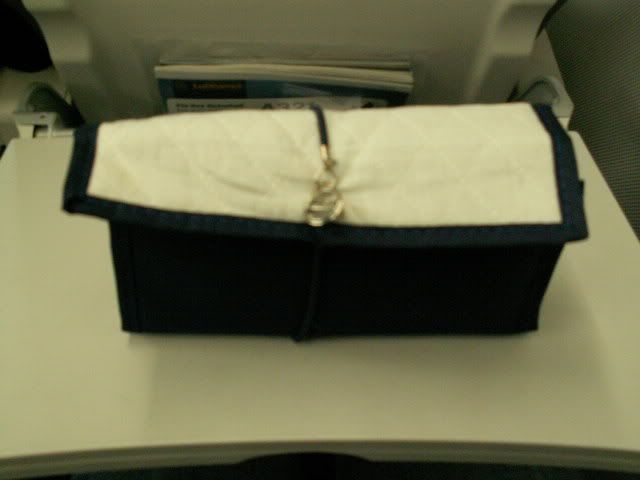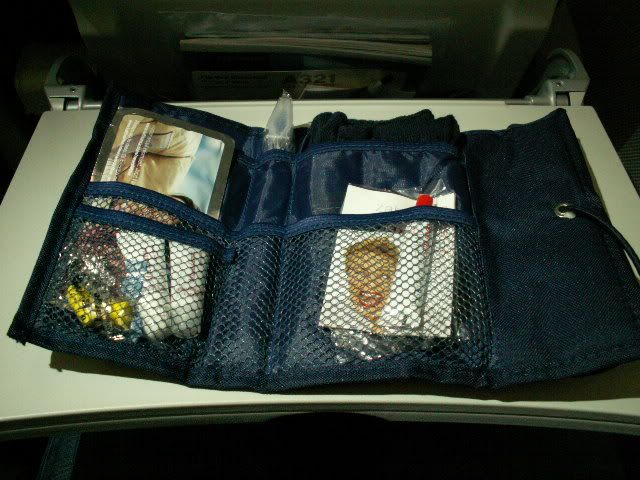 The first officer provided some information about the flight. We had just passed MUC (with great views) and were on our way to SZG. Then we would continue to LJU – ZAG – South of BEG – SKG, crossing the islands of Samos, Kos and Rhodes, then via PFO (Cyprus) directly to AMM. The weather at AMM would be quite "warm" with +6 degrees Celsius at night, the first officer announced. Well, compared to the cold German winter, she might be right.
Flight attendants started the meal service. The motto on this flight was "Flavours of Asia" with dishes from different Asian countries: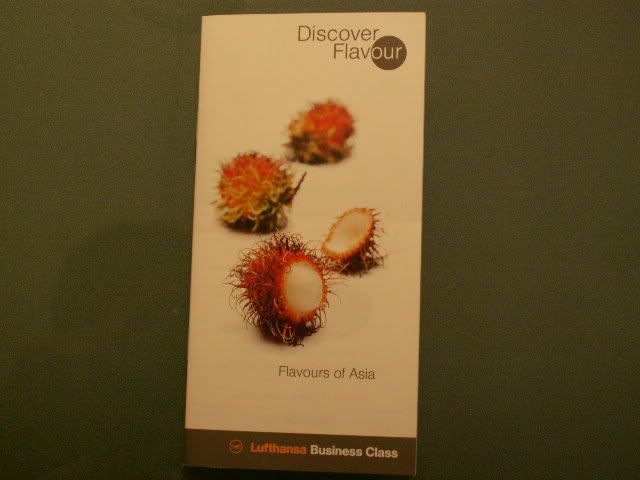 Menu:
Hors d'oeuvre
Turkey Brochette with Peanut Dip,
Asian Vegetable Salad and Green Asparagus
Sushi with Wasabi
Rolls and Butter
Main Courses
Breast of Poularde with Red Thai Sauce,
Asian Vegetables and scented Rice
Fillet of Pangasius Fish with Coconut Sauce
Accompanied by Singapore Noodles with Cashew Nuts,
Green Bean Kernels and Pink Pepper
Asian-style Noodles with Soy Chilli Sauce,
Shiitake and Button Mushrooms with Snow Peas
Dessert
Mango, Kiwi, Pineapple, Papaya and Cantaloupe
Chocolates
Please accept our apology if occasionally your selection is not available.
All passengers got both starters. For the main course the flight attendant announced that in addition to the three meals listed on the menu, two more dishes were available (surprisingly both fish dishes), so there were all in all five main courses to choose from. I had the Fillet of Pangasius Fish as listed the menu. All three courses were served on one tray: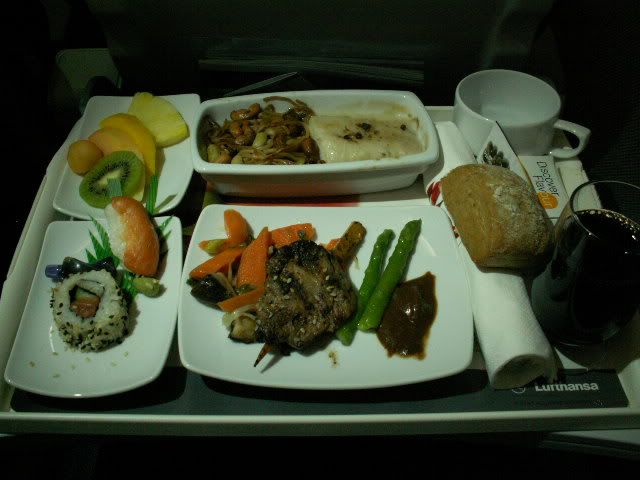 The quality of the meal was excellent; especially the main course was very tasty. I had an Italian red wine with my dinner. I know you should have white wine together with fish, but I always prefer red. Additional bread rolls and drinks refills were offered while passengers were eating. All in all the service level was very good. Especially the female flight attendant who was serving mainly in Business Class was very attentive and helpful.
After the meal and the duty-free sale (I didn't see that anybody bought anything) the lights were completely switched off for the next two hours. I looked out of the window and enjoyed the view over Europe at night and to the stars – it was a clear winter evening. Drinks were offered during the night period as well, I had a mineral water. Later I fell asleep a bit.
I woke up again when we started descent into AMM. The check-in agent at FRA had been right; there was a great view to the city of Amman which we passed by in quite low altitude. A bit later we touched down on runway 08L of Amman "Queen Alia International Airport". On the apron we had to wait until an Air France A 320 bound for CDG had cleared the area. A British Mediterranean A 321, now in BMI colours was parked on the apron. A Turkish Airlines A 321 had just arrived as well. We taxied to a parking position in front of the terminal building where we were on-block at 2:00 am, just in time. All passengers left the aircraft through a jet-bridge.
The airport was very busy so it took quite some time until I got my visa for Jordan which costs 10 Jordanian Dinars (around EUR 11.00) and is available at several counters in the arrivals area. When I arrived at the baggage claim, my trolley had already been taken down from the belt and was standing on the floor. A driver from the tour operator took me and two other people of our group who had been on the same flight to our hotel in Amman. The distance from the airport to city centre is about 32 kilometres. I arrived in my hotel room shortly before 4:00 am. When my alarm clock rang only three hors later for the start of the tour, I realized why these over-night flights are called "red-eye flights"…
The next eight days I was on an organized tour around Jordan. For those of you who might be interested, here are some pictures of the country as well:
Amman, the capital of Jordan, with the highest flagpole in the world: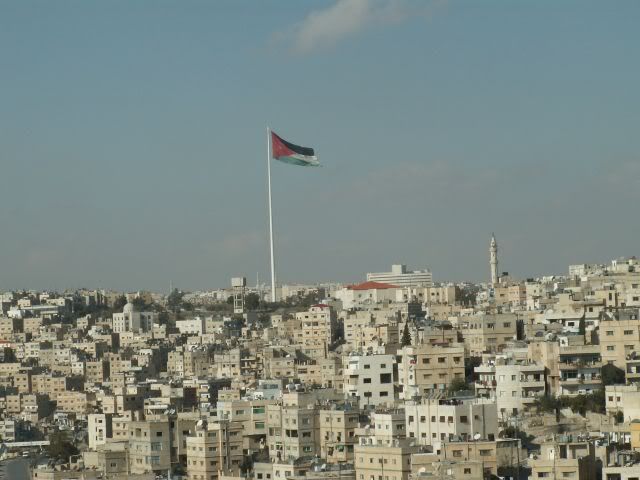 Jerash, the old Roman city of Gerasa, located north of Amman: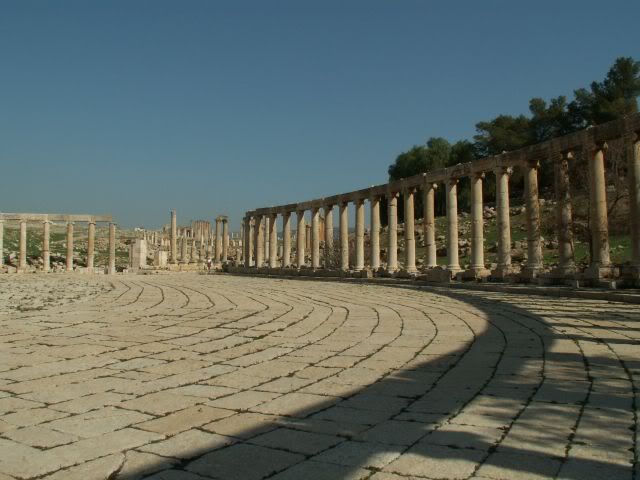 Three countries meet here: on the left Israel with the Sea of Galilee ("See Genezareth") in the haze, on the right Syria and in the foreground Jordan: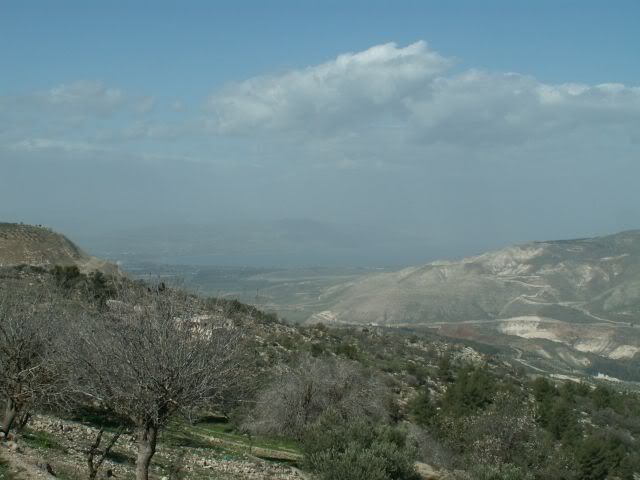 Wadi Mujib, the "Grand Canyon" of Jordan: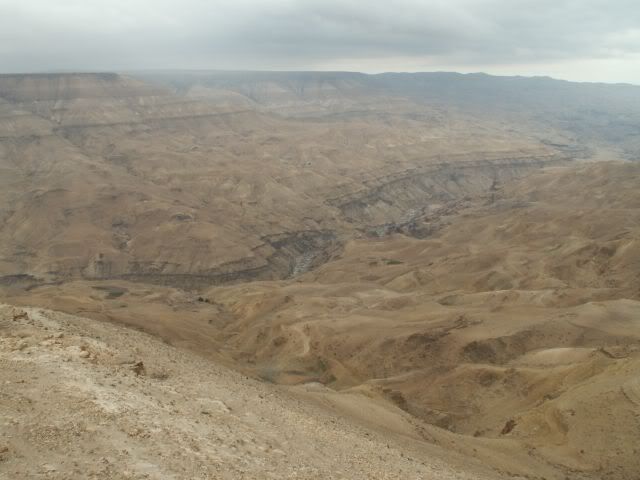 The City of Kerak: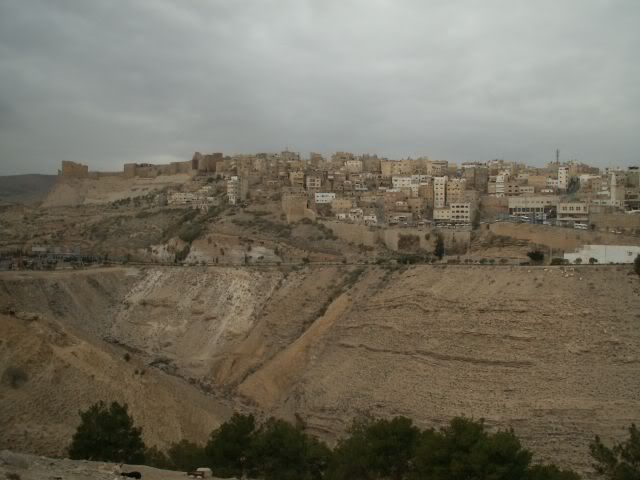 Petra, an old city which was built completely into the rocks: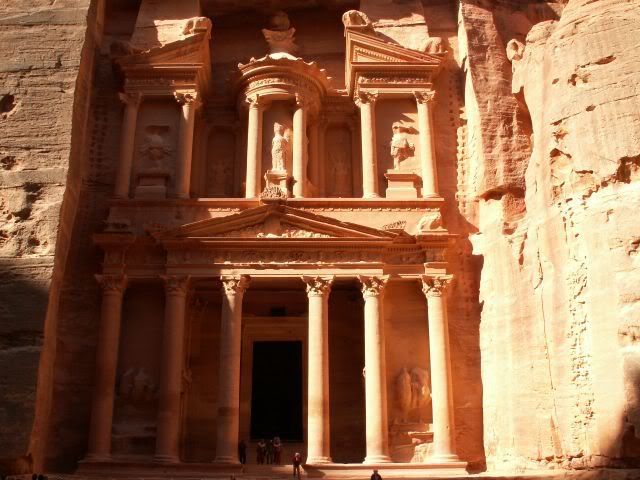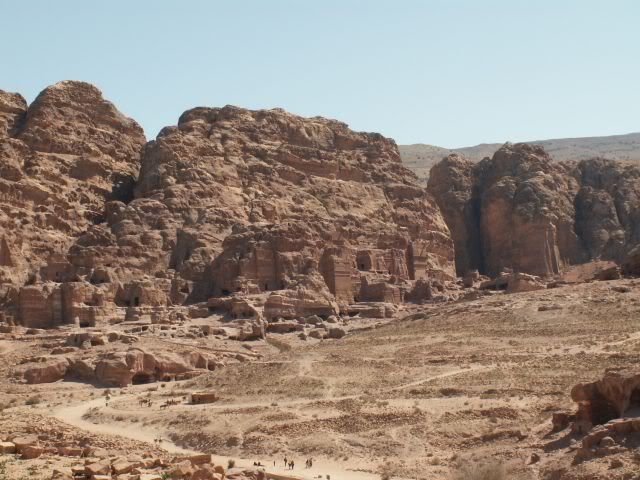 View from one of the rocks in the area: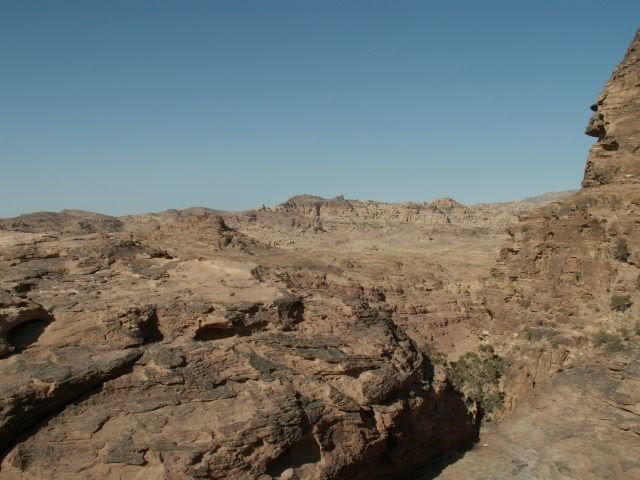 The desert of Wadi Rum, near the border to Saudi Arabia: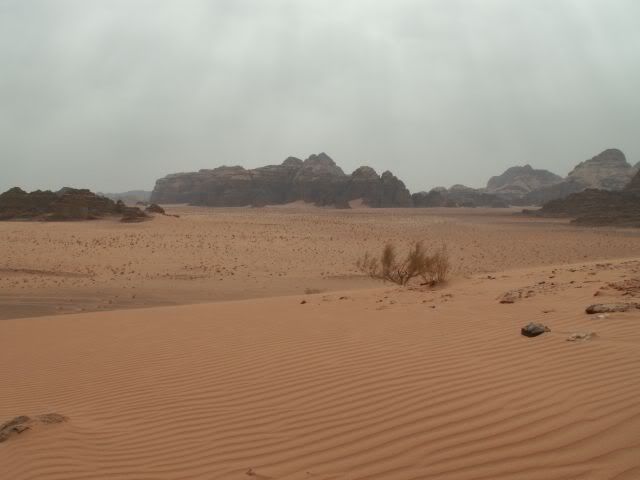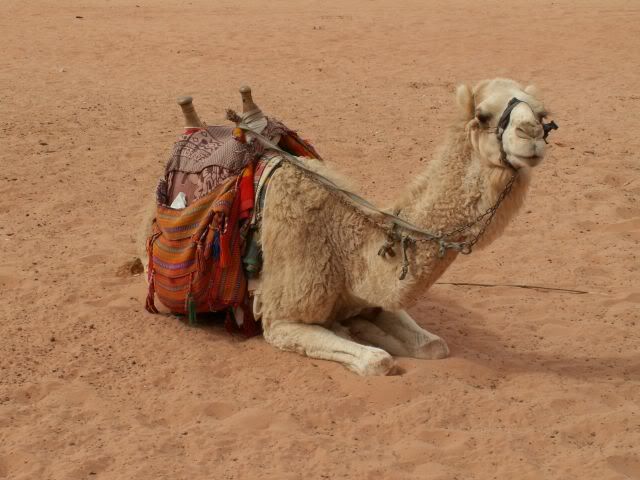 The City of Aqaba, located at the Red Sea: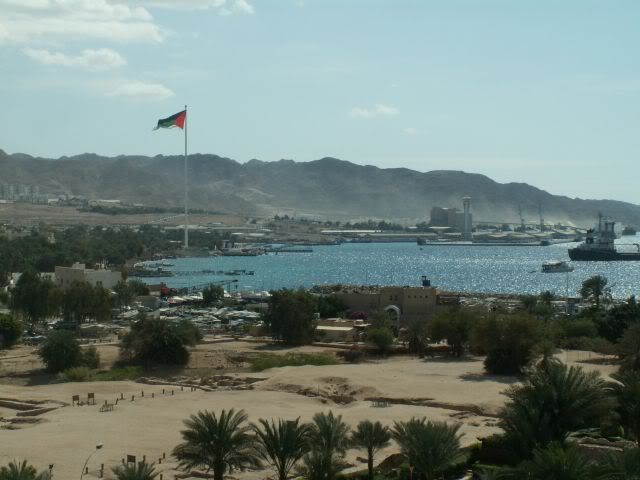 The Red Sea near Aqaba: The houses on the other side of the sea are part of Elat, Israel. Further left is Egypt: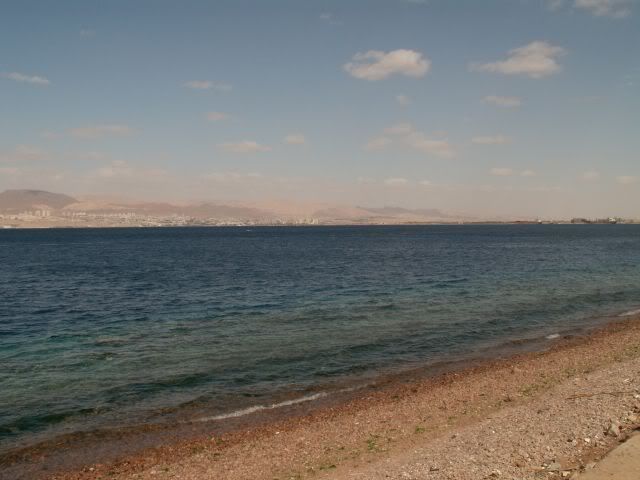 On the way back to Amman: The Dead Sea which is located below sea level: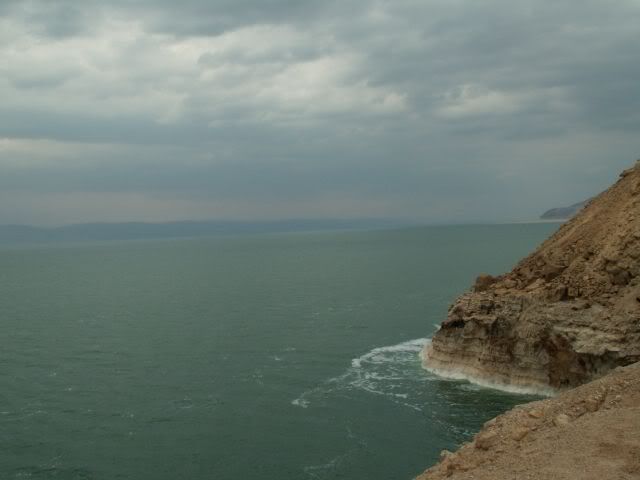 After eight days in the country of Jordan it was time to go back.
Monday, 23 February 2009
Amman (AMM) – Frankfurt (FRA)
Airline: Lufthansa
Flight number: LH 693
Scheduled departure time: 02:55
Scheduled arrival time: 06:35 (time difference -1 hour, so scheduled flight time was 4:40)
Type of aircraft: Airbus A 321-200
Registration: D-AISH
This aircraft was built and delivered to Lufthansa in 2007.
I had stayed in Aqaba two days longer, so the other people of my group had either already departed or had continued their journey to Egypt. On my last day in Jordan I went to Amman by bus where I spent the "night" in a hotel. A driver from the tour operator collected me at midnight and we went to the airport. At the road to the airport there was a first security check where we were asked about the purpose of our visit to the airport. The driver dropped me in front of the terminal where I had to pass another security check (with separate lines for men and women). Inside the terminal there were four counters open for the LH-flight to FRA (two for Business Class, two for Economy Class), staffed with agents of Royal Jordanian Airlines who are doing the ground handling for LH at AMM. This time I was travelling in Economy, so I wanted to queue at the Economy check-in where only one passenger was waiting in front of me, but one of the Business Class agents waved me to his counter and checked me in. He saw my seat reservation for 35F and asked me if I wouldn't prefer sitting further in the front. I replied that I was fine with my seat in the back and he printed my boarding pass. He then told me that he would like to invite me into the Royal Jordanian Crown Lounge and put a stamp onto my boarding pass (in this picture there is also the departure stamp from Jordan visible which I got later):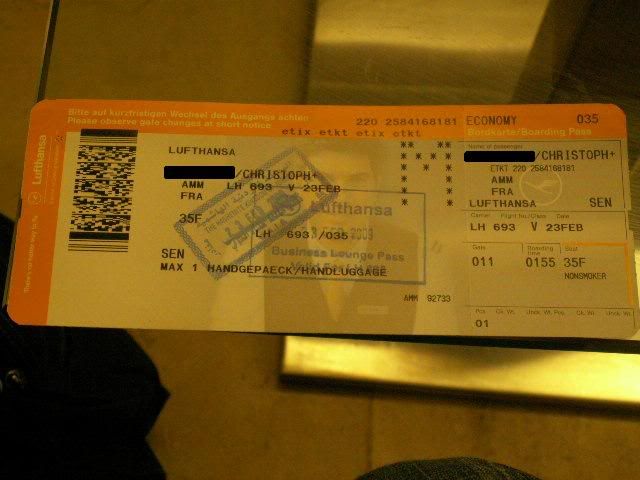 The agent also put a priority label to my trolley. I have no idea why I received this special service, but I didn't complain. Really great service! I got through passport control with no waiting time and found out that my lounge pass was really valuable. Passengers were only allowed to enter the gate area shortly before the departure of the flights, so everybody had to wait in a totally crowded central waiting area with no views at all or in the duty-free shop. I visited the Royal Jordanian Crown Lounge that offered excellent views to the apron. Here are some pictures from the lounge: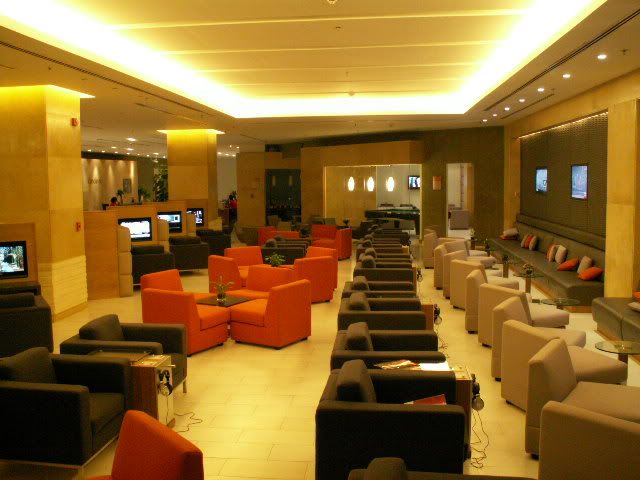 The games room with a pool billiards table, chess, backgammon and other games: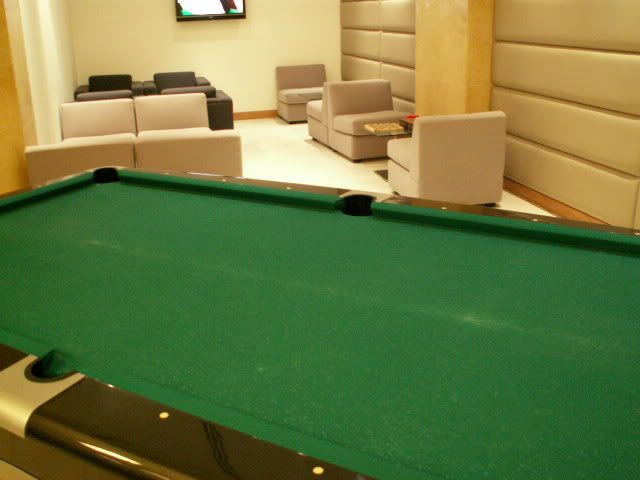 The food and drinks area: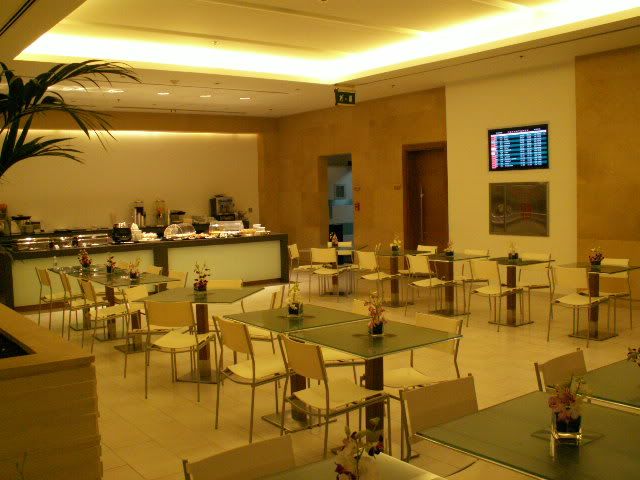 Besides the typical lounge items, two different hot meals were available as well (a lamb dish and a chicken dish). A great selection. However, I didn't really fancy a hot meal at 1:00 am. For some reason the departure screen only showed departures on the next morning: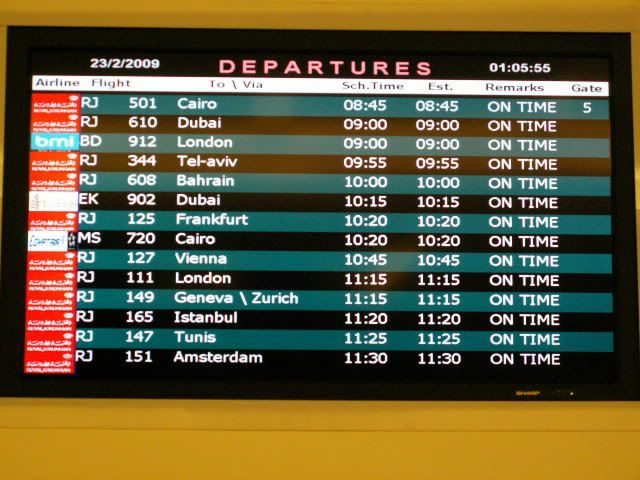 The screen should probably change every few seconds, but it didn't. There were several departures at night from Royal Jordanian and other carriers who use this lounge, so the lounge was busy, but not too crowded as it is quite large. Shortly after 2:00 am I left the lounge and proceeded to the gate area. The LH-flight would leave from gate 11. The gate area is separated into different parts, one of them consists of the gates 10, 11 and 12. A Royal Jordanian flight to BKK leaving from gate 12 was delayed, and passengers for the LH-flight weren't allowed to enter the area before the other flight had been closed. This happened at 2:15 am and all LH-passengers passed a final security check. Boarding passes were already checked at the entrance into gate 11.
Boarding started at 2:35 with pre-boarding for disabled people and families with small children. This time there were lots of children; the great majority of the passengers were Jordanian families. Then all other passengers were allowed to board as well and I walked down the jet-bridge. Newspapers (Jordanian, German and international ones) were available at the entrance to the aircraft. The first officer and two of the flight attendants were standing at the front door and welcomed all passengers with a friendly "Good Morning". When I passed another flight attendant further in the back of the aircraft, she greeted me with "Good Evening". Really difficult what to say at half past two at night…
At least the boarding music was quite fitting: they played "Hier kommt die Sonne" (Here comes the sun") from the German band Rosenstolz.
The first nine rows were reserved for Business Class. Load factor in Economy Class was around 70%. As usual, most passengers preferred to sit in the front, so I had three seats for myself in the second last row: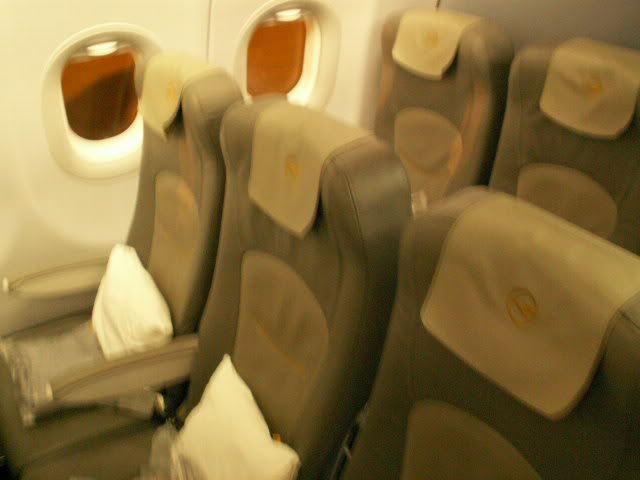 There were six flight attendants on this flight (five female, one male), one of them spoke Arabic (and English, but no German). That is typical for LH: they often have some native flight attendants on their flights who speak the language of the destination airport.
The captain made a detailed welcome announcement. Flight time to FRA would be around 4:15. He already informed us about the weather at FRA ("spring in Germany will come, but definitely not today") and told us that there would be no in-flight announcements from the flight deck in order to allow passengers to get some sleep. He also told us that luggage loading had been finished and that we were able to leave as soon as all passengers had found their seats.
We went off-block on time while the cabin was still very turbulent: children were rushing trough the aisle, the lady in front of me was shouting into her mobile phone and the flight attendants had a hard time to get the cabin calm and ready for take-off, but they managed it in a friendly, professional way. Safety announcements were made in German and English and a tape in Arabic language was played. We taxied to runway 26L and took off into the night.
Shortly after take-off there was a drinks service. When the cups were collected again, the lights were completely switched off for the next two and a half hours and I tried to get some sleep.
The lights were switched on again at 4:45 German time, about 90 minutes before landing. Flight attendants started to serve a hot breakfast. Passengers could choose between omelette and pancakes and choice was available until the very last row. I opted for the omelette that was served with mushrooms and a meatball, accompanied by a bread roll, a croissant, three kinds of cheese, cold cuts, jam and yoghurt: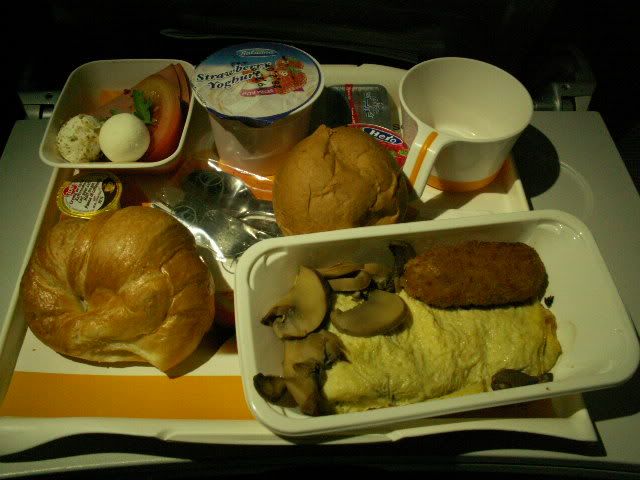 The meal was really tasty and quantity was excellent. I found it interesting to see that this meal had been produced at AMM which could be recognized by the packages of butter and yoghurt in Arabic language. Hot and cold drinks were offered twice during the meal.
Breakfast trays were collected again and questionnaires asking passengers about their opinion to the service quality of this flight were handed out to some people. I was asked if I was willing to fill in one of the forms and I kindly accepted.
Shortly before landing one of the flight attendants provided some information for connecting passengers. The gate for the flight to AMS had changed and the new gate was announced.
We touched down on runway 25R and taxied to a parking position at the end of the A-gates where we were on-block at 6:15 which was 20 minutes ahead of schedule. This was a Schengen-only gate as the next destination of this aircraft would be FCO at 7:30. Because of that, stairs were moved to the aircraft and busses were waiting outside in order to take passengers to the international arrivals area. Two officers of German Federal Police were present as well (one at each door) and one of the flight attendants made an announcement that there would be an additional passport control at the doors of the aircraft and passengers should keep their documents ready. Like that, de-boarding took quite some time.
I thanked the crew and left the aircraft through the rear exit: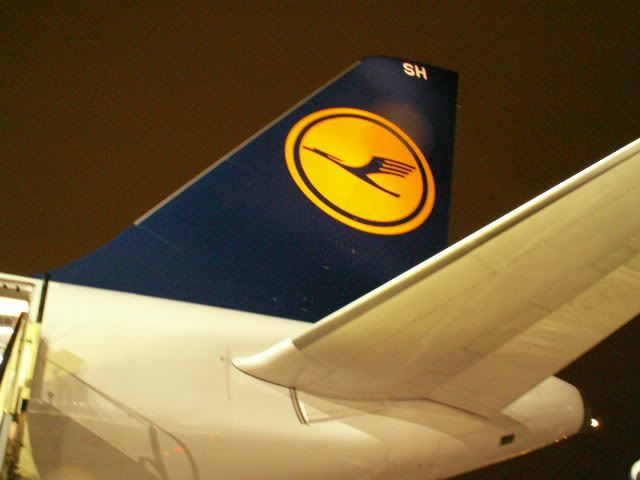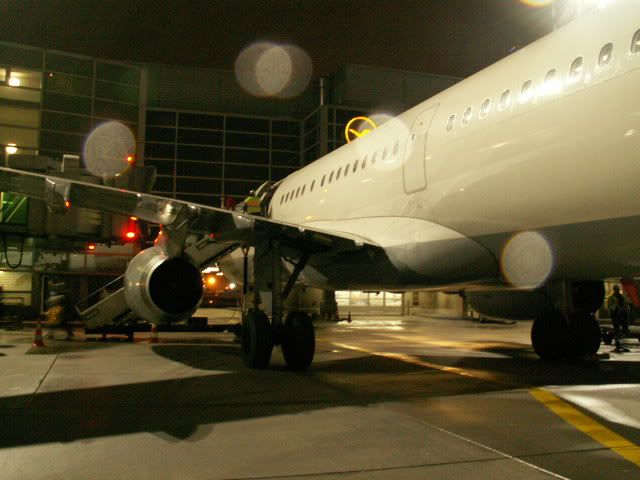 After a short bus ride I passed the "regular" passport control and collected my luggage which had already arrived on the belt.
A short visit to Terminal 2 on the Skyline train: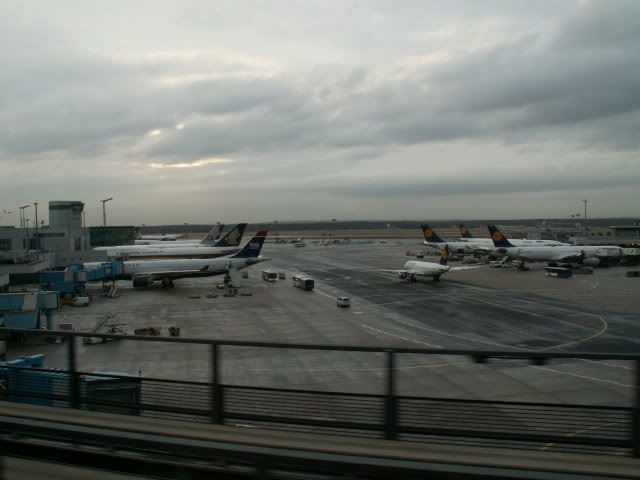 Then I took an ICE train back home to Stuttgart.
Conclusion:
Once again I was really impressed with the service level of Lufthansa. Flight attendants on both flights were really attentive and professional and detailed information from the flight deck was provided. Quality of the meals was excellent and the cabins are well maintained. Both flights were on time. However, I have to say that the cabin equipment of the narrow-bodies used on longer routes can't keep up with the standard of the wide-body-fleet, especially in Business Class. Other routes of about the same length like CAI or TLV are served with A340 / B747 and there is a big difference. Some screens above the seats and maybe also an audio programme in the A320/A321-fleet would be nice. I also mentioned this in my questionnaire as the only negative point. Apart from that, I was really happy with my flights and I will definitely fly Lufthansa again.
Thanks for reading my report. Questions and comments are always appreciated.
Regards
Christoph