Continental Airlines BUF-EWR-SFO-EWR-BUF
Background: At the University of Toronto, we have what's called a "Reading Week", which is somewhat similar to a Spring Break, but occurs earlier. Being tired of the harsh cold winters of Canada, I have been longing to visit someplace warmer, and decided to head off somewhere during Reading Week. A quick search on Kayak.com showed fares as low as $240 from Buffalo to San Francisco, on Continental Airlines. It would be uncharacteristic of me to reject such a great deal, so I went on to book the flight. Continental Airlines' website was very easy and efficient to use, and I selected the seats for my flight. This was done a month in advance of my flight. Since I would be flying out of Buffalo instead of Toronto, I also bought a bus ticket to Buffalo-Niagara International Airport.
Fast forward one month.
Since my bus to Buffalo Airport departs at 7:30am on a Saturday, and it's very difficult to get to the coach terminal from Mississauga, I decided to spend a night at my mom's condo in downtown Toronto, before my trip. I had multiple alarm clocks set to ensure that I wake up on time.
I took Megabus across the border, and it took around 3 hours to get to the airport. We were slightly delayed at the border due to the relatively heavy traffic going towards the USA from Canada. As we arrived at the airport, I was greeted to the sight of a very modern and clean looking terminal. I've heard great things about Buffalo International AIrport prior to the trip, and they were right. Since I've already checked in online for this flight, I proceeded directly to security, which was very friendly and swift. I must say that this was one of the best airport security experiences I've ever had.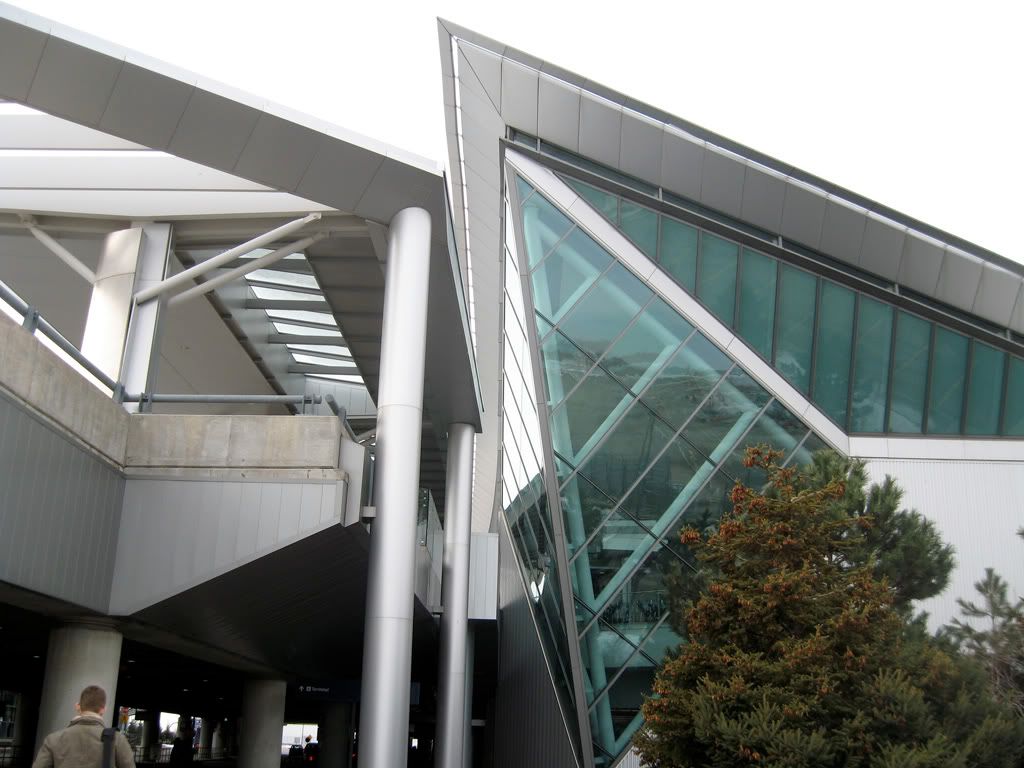 Exterior of BUF's Terminal
The airside part of the terminal was very refreshing and airy, and made good use of natural lighting. There were a few outlets serving food, and I got a nice mini-pizza.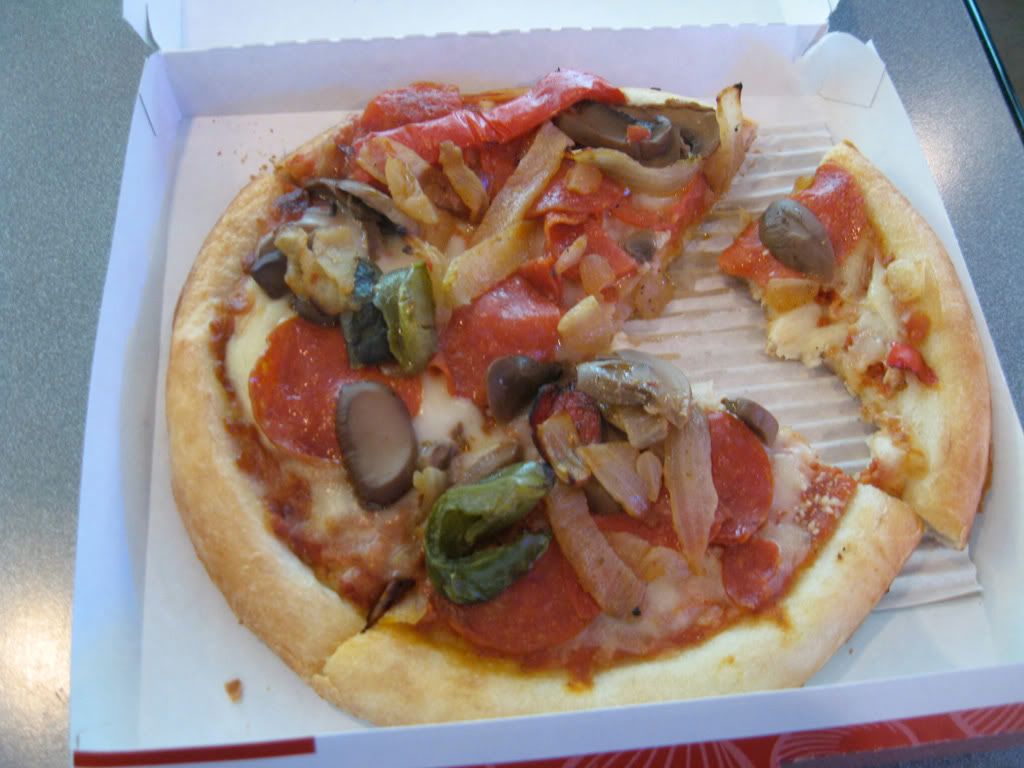 Pizza...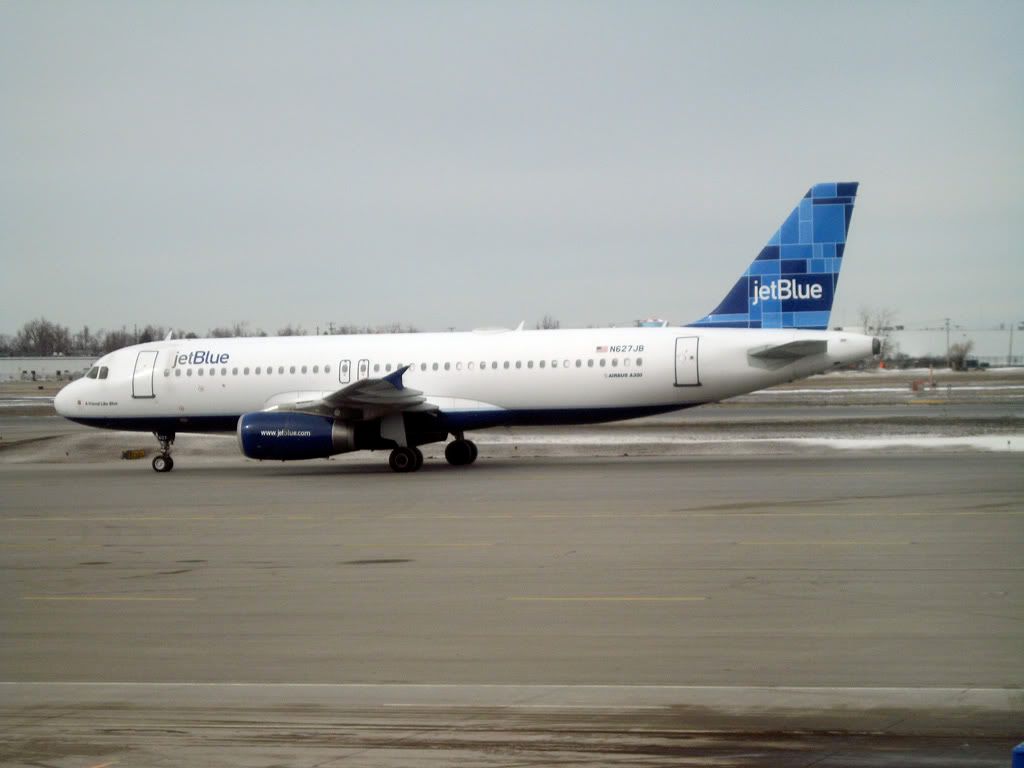 jetBlue Airbus A320
After lunch, I hung around the terminal for a bit, watching some of the flights arrive and depart. Finally, our aircraft, a Colgan Air Q400 pulled up to our gate (24). As I took a picture of it, an employee came up to me and asked if I was with any agency, presumably since this was only two days after another Colgan Q400 crashed while on approach to Buffalo.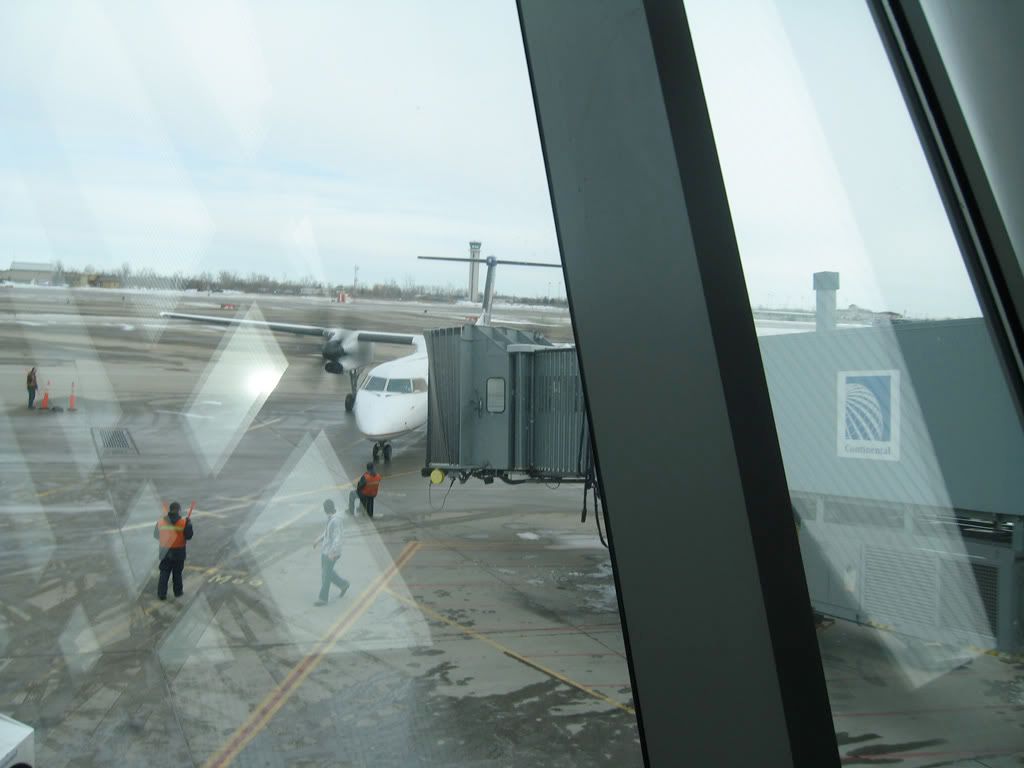 Sorry for the poor quality...
Boarding commenced at around 1:15pm or so. The flight was oversold, and the gate agents were looking for volunteers to be bumped off the flight.
Flight Information:
Continental Connection Flight 3259 operated by Colgan Air
Depart: 1:30pm, Saturday, February 14, 2009
Arrive: 2:55pm, Saturday, February 14, 2009
Seat: 8D (Coach)
Aircraft: Bombardier Dash 8 Q400
Registration: N199WQ
Load Factor: 100%
As soon as I entered the aircraft, I was greeted by two friendly flight attendants. It must have been much more difficult for them considering the crash that occurred two days prior to this, but they retained their professional and courteous attitude, and I really appreciated it. We pushed back, and after the usual safety demonstrations, we took off a rather cloudy Buffalo for Newark.
After the seat belt sign was turned off, the cabin crew announced that approved portable electronic devices were now permitted for use. However, the flight attendant saw my camera and kindly told me that the use of cameras were not allowed at any point during the flight. Alas, there aren't any pictures from this flight. A light snack that consisted of pretzels, along with a drink was served. I got some Sprite (or the equivalent).
The short flight to Newark was nearing the end as we began a rather bumpy, but scenic descent into Newark. I wish I could have taken a picture. Oh well...
After we touched down, we had a rather short taxi to the gate.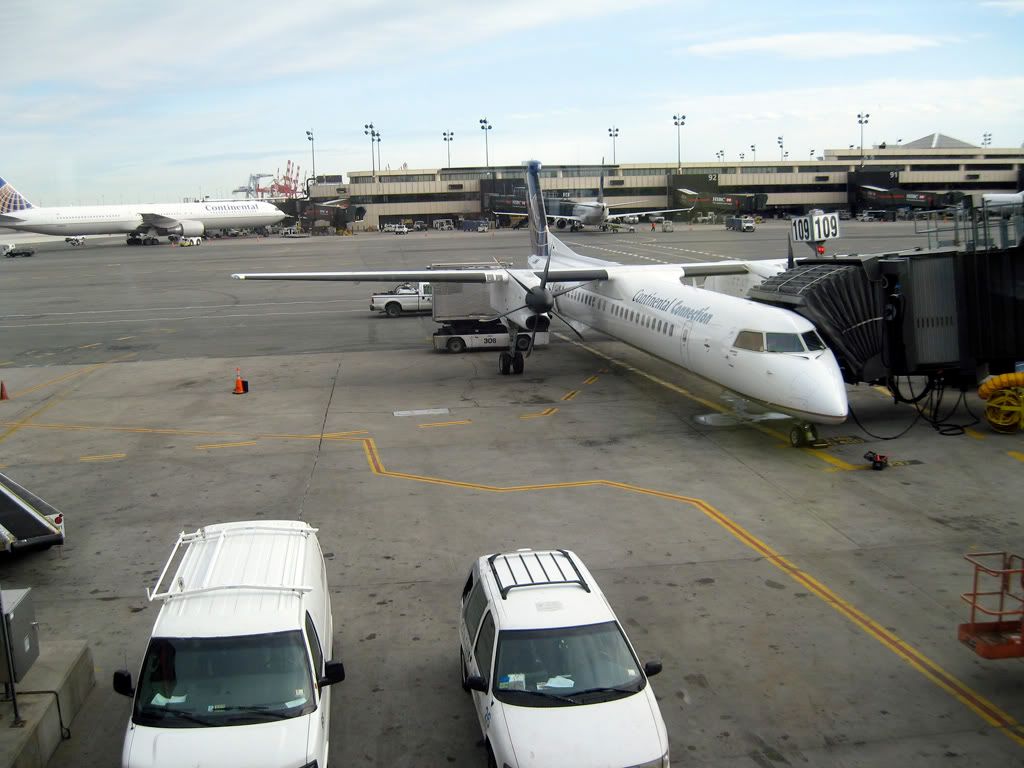 Our Q400 at the gate
Since I had around two hours at the airport, I decided to do a bit of spotting.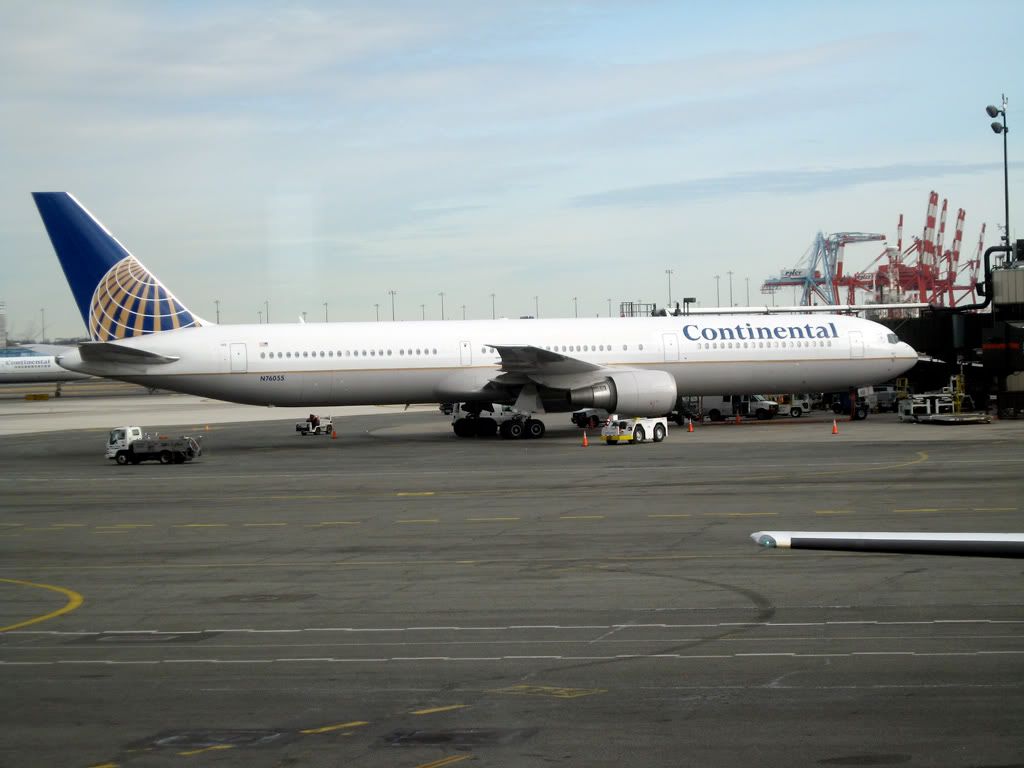 767-400ER
757-200
I encountered a place that sells deep dish pizza, and I couldn't resist, since it's been so long since I've tried some. The outlet had some excellent views of the planes.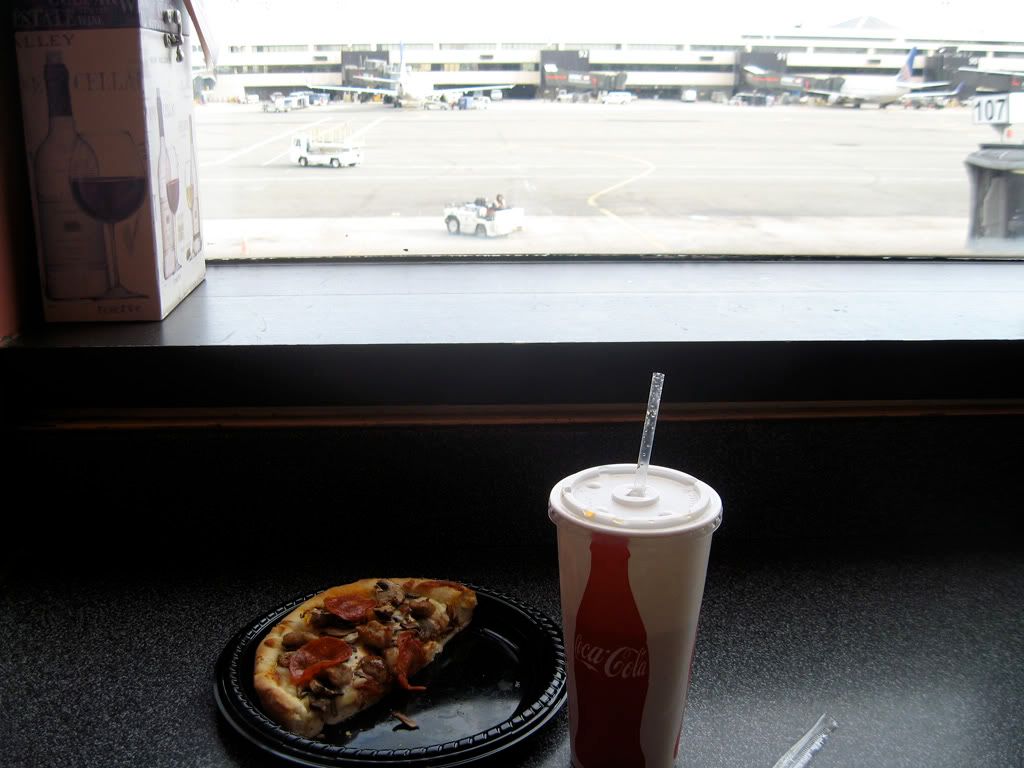 After that, I proceeded to the "new" part of the terminal, which looked rather modern and fresh. However, I really cannot give any A's for cleanliness: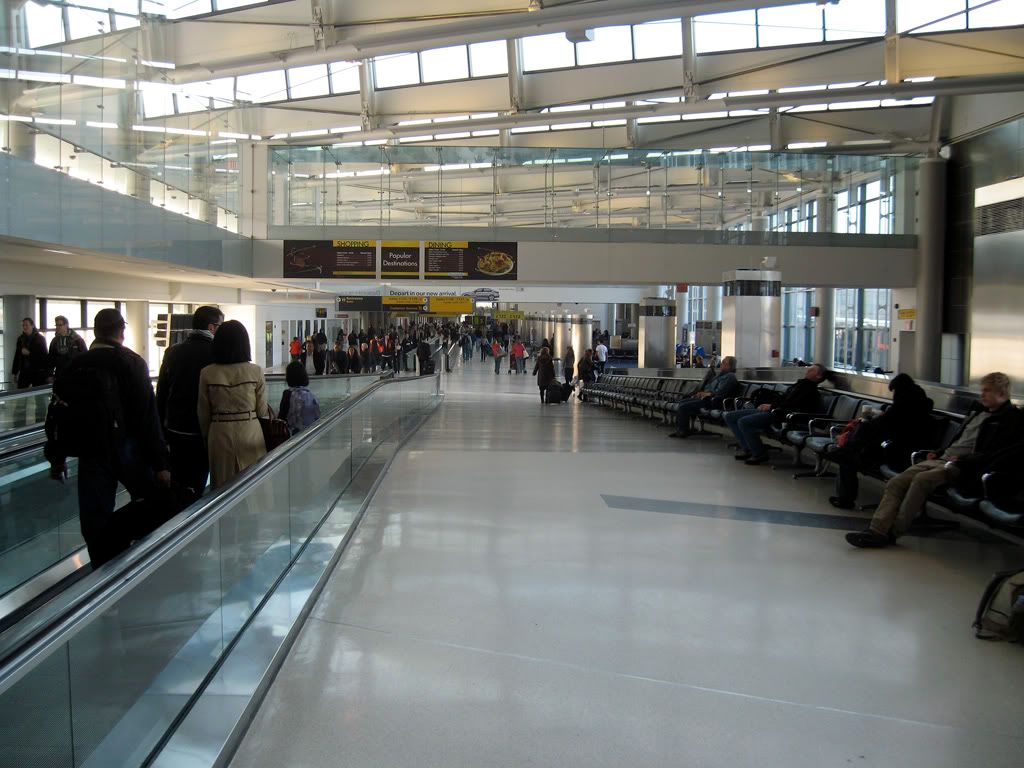 After doing some spotting and getting to see all CO mainline aircraft types, the time to board my flight to SFO finally came.
Flight Information:
Continental Airlines Flight 41
Departure: 4:35pm, February 14, 2009
Scheduled Arrival: 7:56pm, February 14, 2009
Actual Arrival: 8:40pm, February 14, 2009
Seat: 22F (Coach)
Aircraft: Boeing 737-824/WL
Registration: N73251
Load Factor: Full, from the looks of it
The boarding process itself was orderly, although the flight was completely packed. As soon as I entered the plane, I was greeted by very enthusiastic cabin crew, and I realized that I was in for a good flight. I settled into my window seat, and since it was a full flight, I didn't expect the two seats next to me to be empty, and I was correct.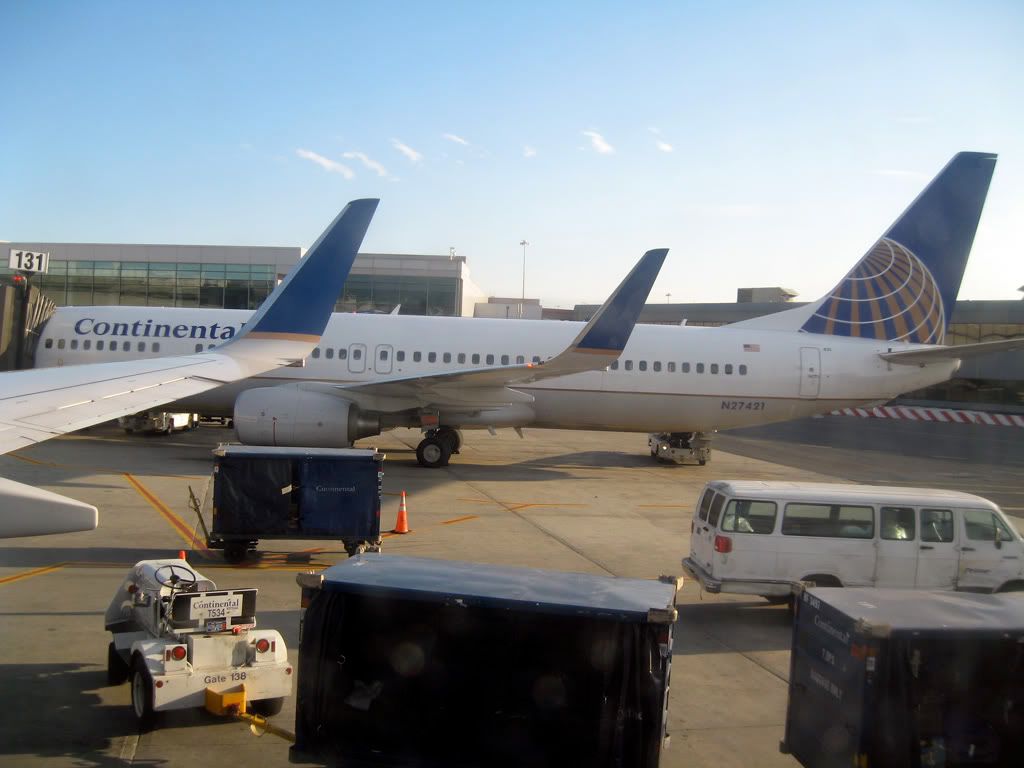 Parked next to a brand new 737-900ER
We pushed back, and the safety demonstration was shown through the overhead screens. The flight crew also went on the PA to inform us of our longer flight time, as we were being re-routed further north. We taxiied past the International Terminal, and I finally got to see some other airlines for the first time at EWR. CO's presence at this airport is truly immense.
There were around 2-3 planes in front of us, and after we waited for those planes to take off, we took off into the beautiful sunset.
http://www.youtube.com/watch?v=YSKYgyQCAu8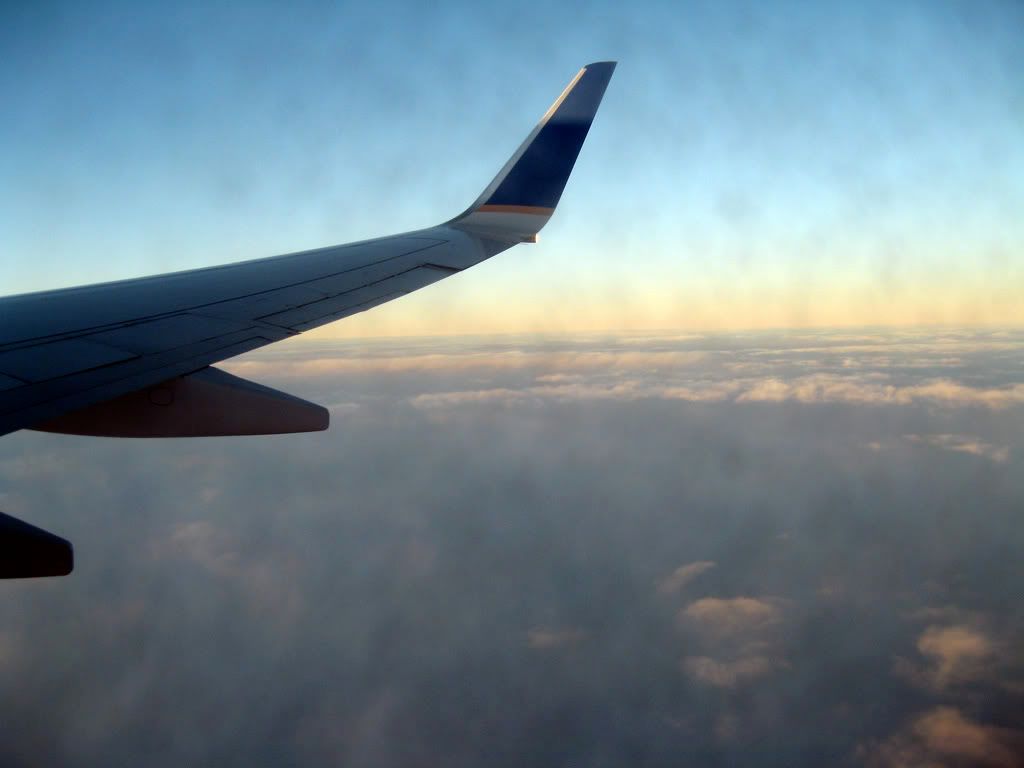 About an hour, maybe less, into the flight, hot meals were served. I got a tasty chicken burger with some salad and some assorted snacks. Beverage service followed shortly after, and I was given a whole can of ginger ale.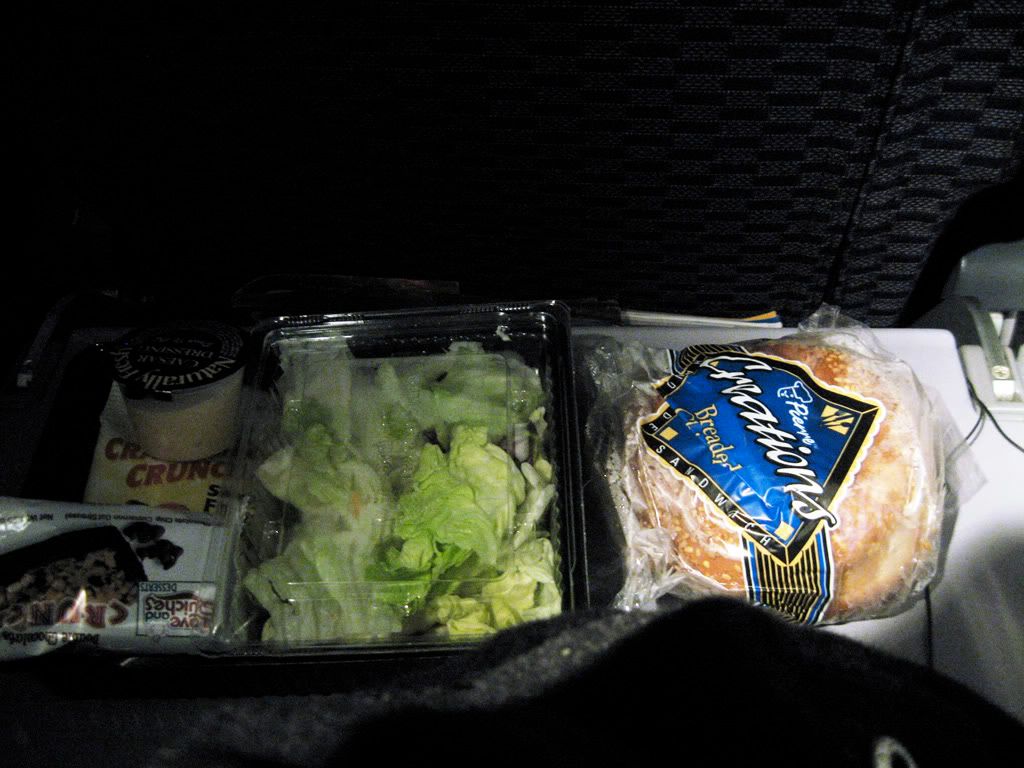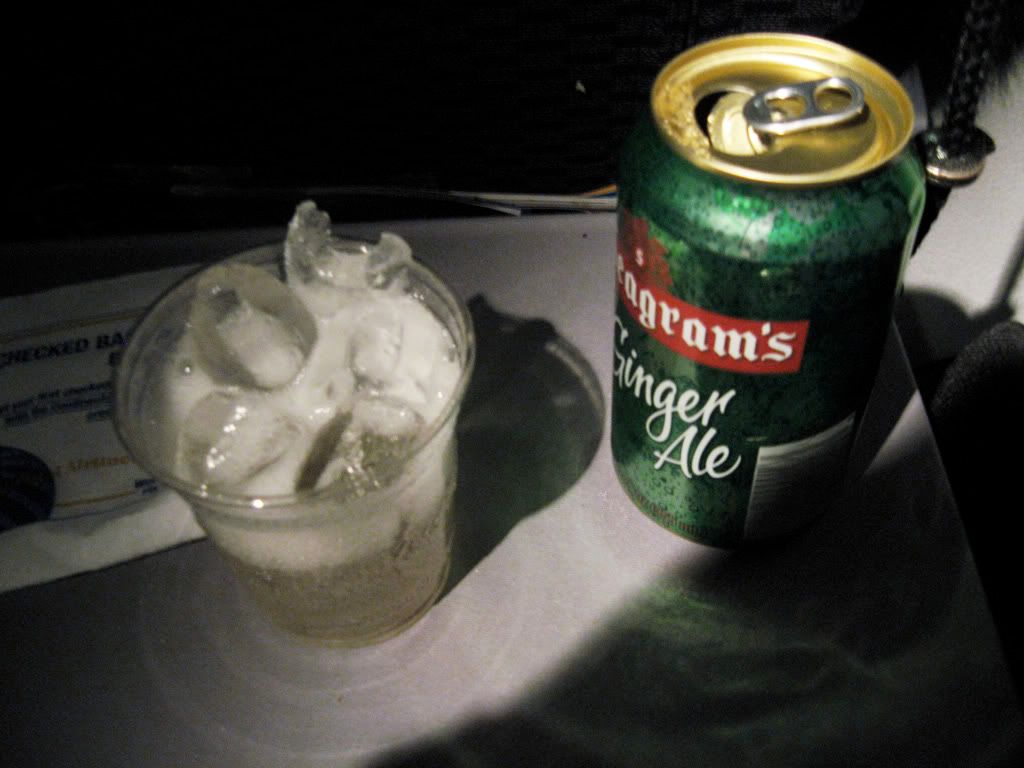 The in-flight entertainment system had already turned on at this point, and they were showing High School Musical 3, which I was not interested in. It's such a shame that they don't have the inflight moving maps. I wasn't very impressed with the selection of audio channels, so I took my iPod out and listened to it while browsing through the Continental in-flight magazine, creatively named "Continental".  
We must have been flying over some very rural areas, or it must have been overcast. The only thing visible out of the window were the wings, the winglet and the lights, until we were on final approach to SFO.
There were
TWO
more rounds of drinks, which was completely beyond my expectations, along with snacks. I was thoroughly impressed. They also gave me the whole can again...
After a very long 7 hour flight (for a 737, at least) we made our final descent toward San Francisco, and we were treated to a very nice view of the city, Golden Gate Park, the Presidio and the Golden Gate Bridge. After we overflew the city and flew over the Pacific, we made a turn towards the bay and descended towards SFO.
http://www.youtube.com/watch?v=ElK-R4Ghx-U
After we touched down, we made a short taxi to our gate, and I phoned fellow a.net member Superfly to inform him that I have arrived, and to discuss about the a.net meetup that was to be held the following day.
The disembarkation process took rather long, and after I left the plane, I took the convenient SFO AirTrain to get to the BART station. The BART ride to the city was relatively quick.
The following day, I attended an airliners.net meet-up in Millbrae, and got to meet some airliners.net members, including JeffSFO, Superfly and DocLightning.
I had an extraordinary stay in San Francisco, especially thanks to the warm hospitality of the people (including a.net members) that I have met.
Superfly, JeffSFO, DocLightning, Confuscius et al, If you're reading this, I am very thankful for your kindness and hospitality, and it was such a pleasure meeting you all!
Here are some pictures from San Francisco: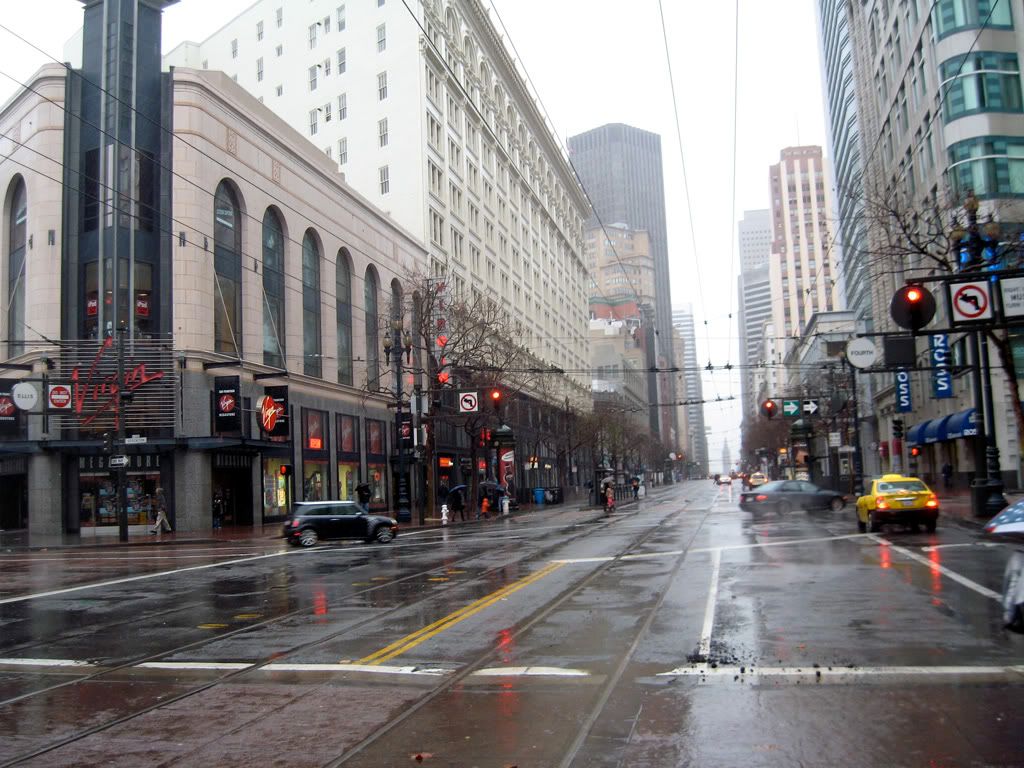 Market Street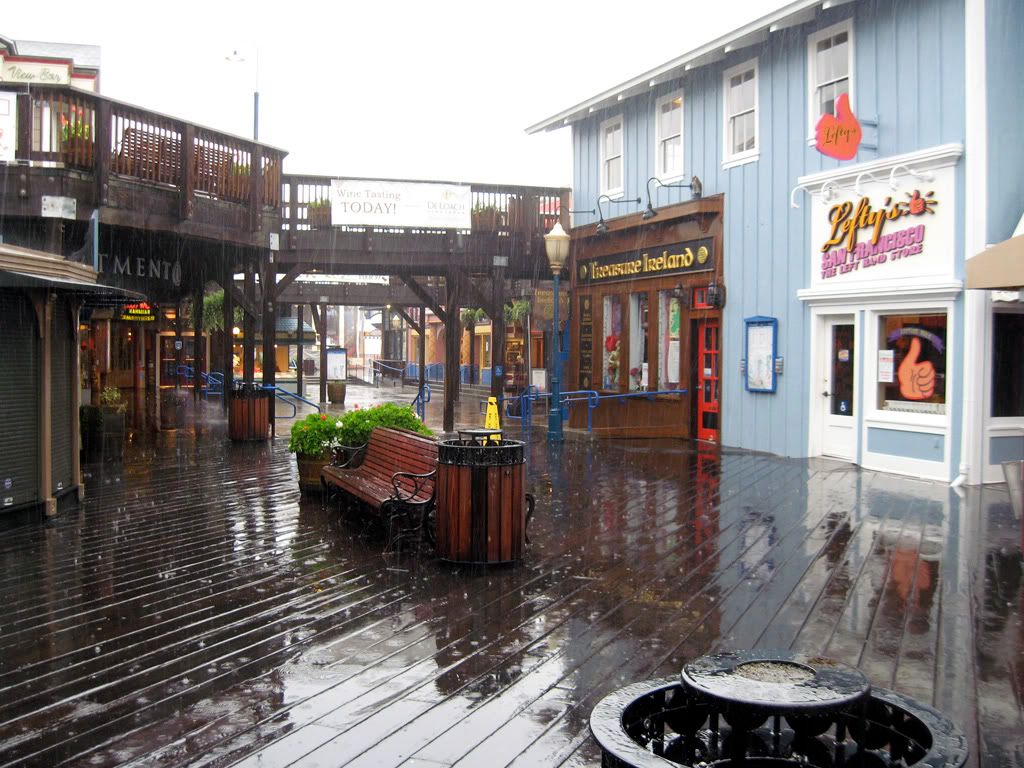 Fisherman's Wharf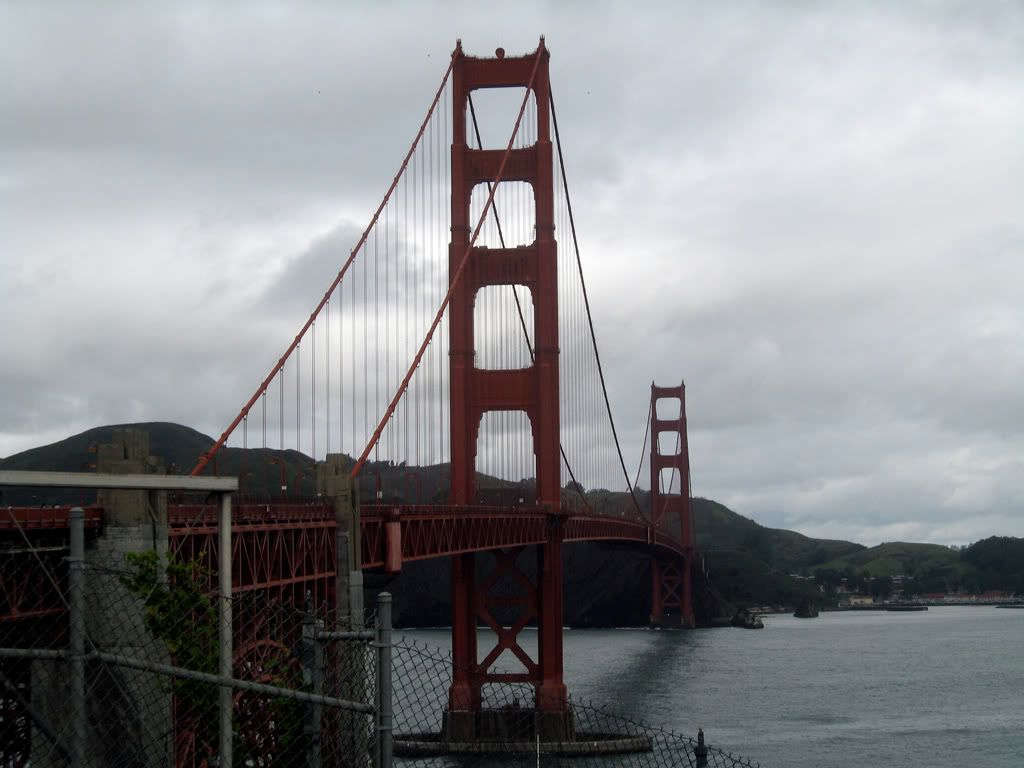 Golden Gate Bridge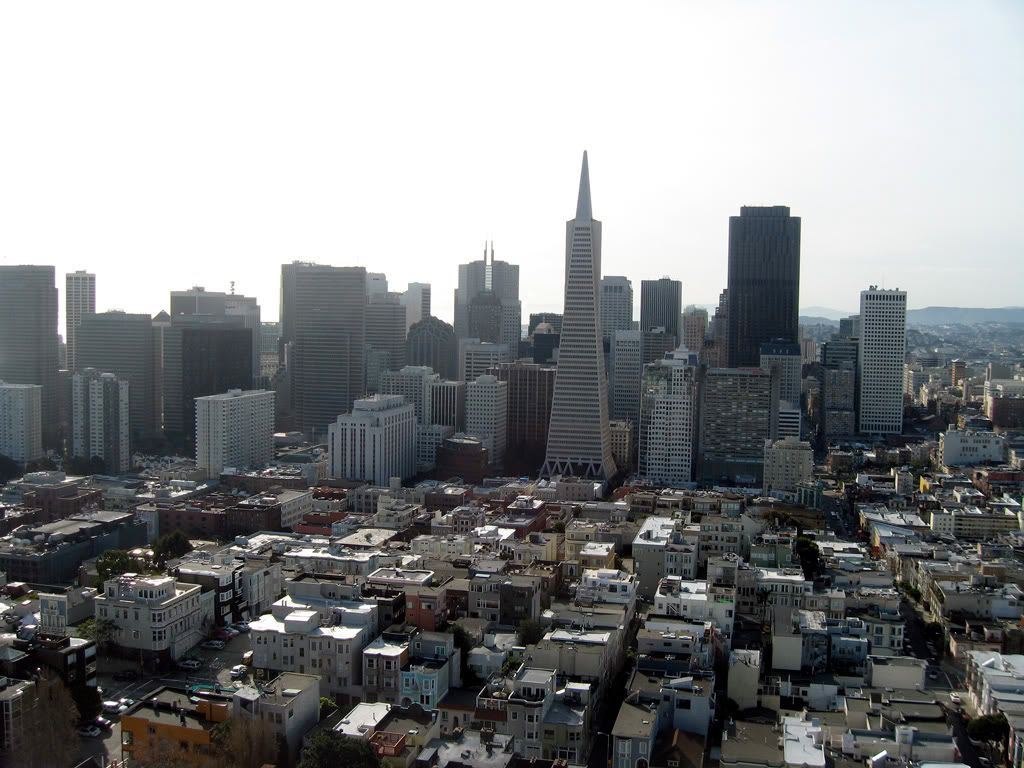 View of the Skyline from Coit Tower
On Tuesday, I went up to Sacramento and saw Captain Sullenberger and Arnold Schwarzenegger at the Capitol building, at an award ceremony:
http://www.youtube.com/watch?v=uLTjr0AQPcA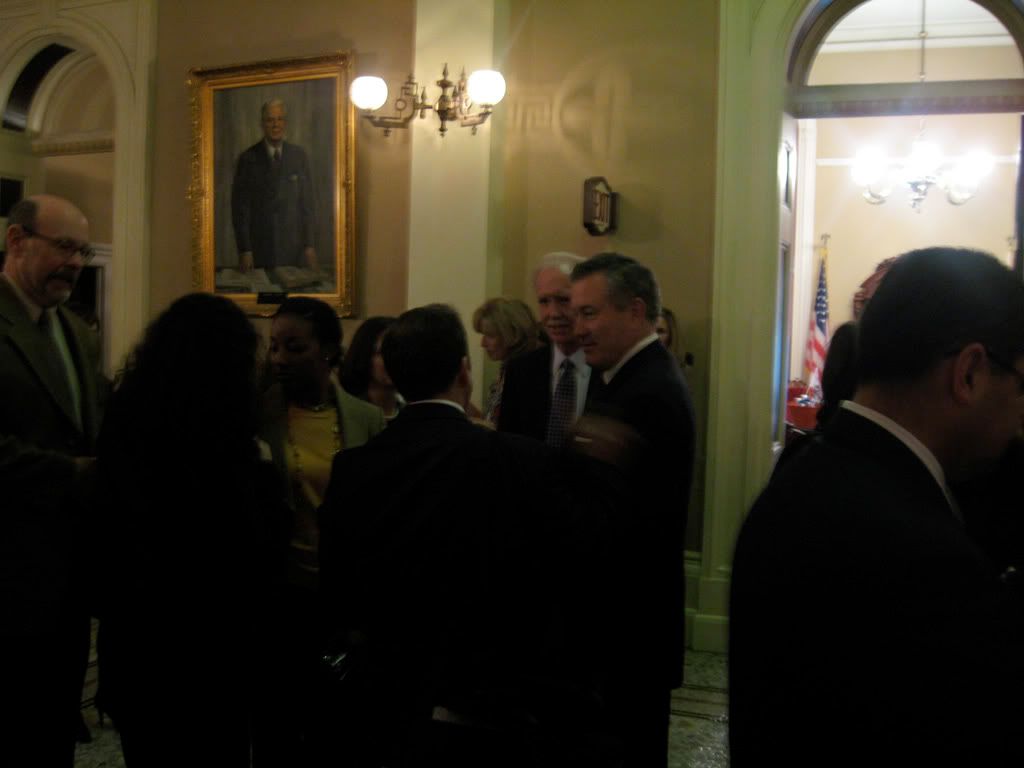 The 6 days that I have spent in San Francisco passed by at lighting speed, and it was time for me to (reluctantly) return back to Toronto. On my last day, I met up with a.net members Superfly and Confuscius, and they were very kind to show me around. What a great way to wrap up my trip!
After walking around town with Superfly, it was already around 8:15-20pm-ish, and I had to grab my suitcase and rush to the airport to catch my 10:15pm flight! Thankfully, the Stockton bus and BART train was really fast, and I arrived at Terminal 1 at 9:35pm. Since I had already checked in online (thank god), I just proceeded to security (which was friendly), and my flight was already in the process of boarding.
Flight Information:
Continental Airlines Flight 1829
Departure: 10:15pm, February 19, 2009
Arrival: 6:32am, February 20, 2009
Seat: 23A (Coach)
Aircraft: Boeing 737-824/WL
Registration: N27239
Load Factor: Don't know the exact percentage, but it appeared to be full
The friendly flight attendant, with a strong southern accent, greeted me and I proceeded to my seat. At this point, most of the passengers had already boarded, and the overhead compartments were packed. I had to store my carry-on inside the compartment a few rows ahead of my seat. It was very hot and stuffy inside the plane, and the personal air vents were such a relief.
The flight pushed back on time and we taxiied towards the runway. As we took off into the dark skies, I stared at the window, looking over my new favorite city as I leave it behind. I promise myself to return as soon as I possibly can.
The cabin lights were dimmed shortly after, and we were served a drink and a snack. I got some Pibb. Since this was a red-eye flight, there wasn't really any service after that. I fell asleep, and stayed asleep until I was woken to a beautiful sunrise as we were making our final descent into Newark. The approach into Newark was extremely bumpy and scary. Apparently, it was very windy in Newark.
I'm sorry that I wasn't able to provide that many details for this flight, due to its nature (red-eye). There wasn't all that much going on, so there isn't much to write about.
We arrived at Newark during daybreak, and I walked over to Gate C71 to catch my transfer bus to the A terminal. Took a picture of this CO 753: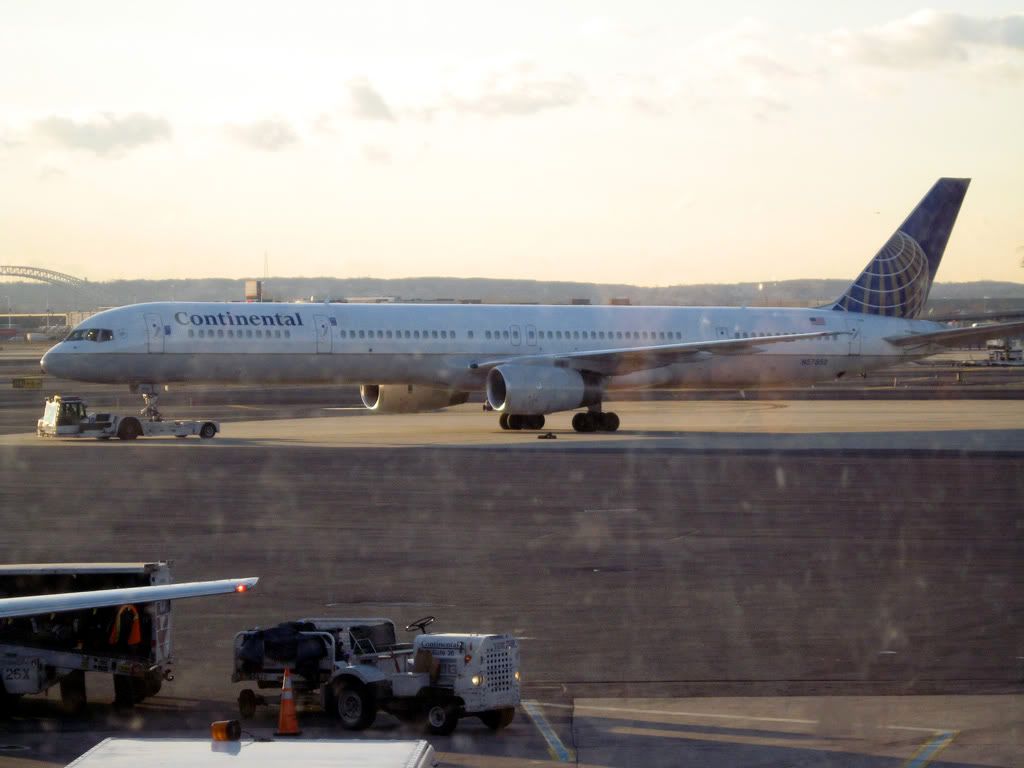 The A Terminal was better than I expected, and had a couple of food stalls at the center.
About an hour later, we began boarding, and the gate agent informed us that there is a major snow-storm in Buffalo. Quite disconcerting!
Flight Information:
Continental Express flight 2712 operated by ExpressJet Airlines
Departure: 8:15am, February 20, 2009
Arrival: 9:37am, February 20, 2009
Seat: 15A
Aircraft: Embraer 145
Registration: N14953
Load Factor: N/A, appeared to be rather full
The lone flight attendant on this flight was in a good mood and very friendly. After all of the usual procedures (safety demonstration, announcements etc), our short flight to Buffalo commenced as we took off to the bumpy skies of Newark. The personal air vents suddenly stopped working shortly before takeoff, and it was very hot inside the plane.
http://www.youtube.com/watch?v=P3ONNp0MSuU
Take-off video
There was a drink service on this flight, and a bag of pretzels were served as well. However, this flight was very unpleasant since the personal air vents were not on. I brought this issue up to the flight attendant, and it was fixed a few moments later.
We began our descent into Buffalo, and it was very overcast and bumpy. The whole area was covered in snow, and there was a serious snowstorm going on.
The flight arrived at around 9:40am, and it was very evident that the snowfall was very significant and serious.
My bus to Toronto leaves at 3:15pm, so I decided to hang out at the terminal for a while, taking advantage of the nice massage chairs, wireless internet (not free!) and food outlets. What a great terminal! Meanwhile, a lot of flights were delayed or cancelled as a result of the heavy snowfall, and a pilot was on the phone commenting on how cute it is that the snow is falling
vertically
. I look out the window, and it indeed appears so!
Having nothing much to do, I attempted to take some pictures of the planes that were around.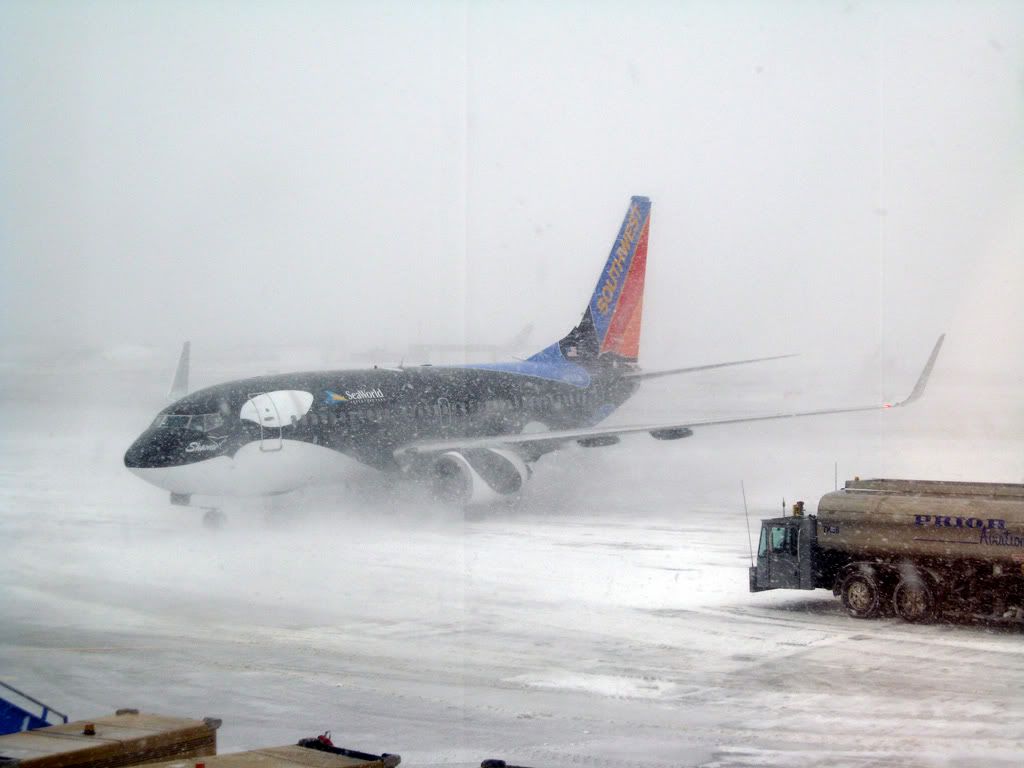 Time passed by rather quickly, and I went outside of the terminal to catch my bus back to Toronto.
To wrap this up, flying Continental Airlines was a very enjoyable experience that came with some unexpected delights. I would love to fly them again, but alas (for me), they're switching over to Star Alliance, which I'm not really loyal to. San Francisco became my new favorite city, and I am strongly longing to go back.
Thanks for reading!
[Edited 2009-03-01 21:43:33]