Singapore Airlines Trip Report-Part 1-SFO-HKG-SIN
Well, the day was finally here. I had been waiting nearly 9 months for this moment, ever since placing that initial phone call to the Delta Partners Awards desk and securing 1 F seat on SQ1 SFO-HKG-SIN and SQ 12 SIN-NRT-LAX, respectively.
At the time of booking (as many of you already know) SQ1 and SQ12 were being operated by the 744. A few months ago, SQ switched SQ1 to the 77W with the brand new F seats. Since my seat was booked before the switch, and before the zeroing out of the award inventory, my reservation was honored in this brand new cabin. While I must admit that I was a bit disappointed at the time, I realized that these new seats were even nicer than those on the 744, and that this situation will afford me the unique experience of trying both the 77W and the 744 First Class offerings.
Prologue
A myriad of feelings begin to fill both the conscious and subconscious a week or so before departing on such a trip. Anxiousness and excitement help fuel dreams of unimaginable detail. From forgetting my passport, to my connecting Delta flights being cancelled, and even coming down with some rare form of illness not yet known to western medicine; These were all topics that filled some of the dreams that began the lead up to the biggest trip of my life thus far.
It begins; February 23rd, 2009.
Being a Monday morning, and not wanting to make the trek from Riverside, CA to Los Angeles at some ungodly hour in order to avoid the over caffeinated marathon that is early morning weekday traffic on I-10, I decided to book a room at the LAX Hilton the night before my 10:10am Delta flight to SLC. I chose a room on the executive floor which included breakfast and a king size bed, as I knew my HH Silver status was not going to afford an upgrade (I am more of a Priority Club person myself). I arrived at the hotel at about 9:30pm and was in my room by 9:45. The room was sufficient for a one night stay, but I was not impressed with the size of the bathroom, the water pressure, or the lack of consistent AC and heating (the air vent, although presenting the options of Cold and Hot, was blowing only the "house" air). I should mention it was warm in the room when I arrived, and having one of the fastest metabolisms of people I know, I tend to sweat as though I had played every minute in the 4th quarter of an NBA finals game. For $200.00 plus a night, Hilton can do better.
As is typical the night before any big trip, I attempt sleep, but typically settle for an unconscious state that I hesitate to refer to as sleep. I awake before my 730am alarm and I gradually got out of bed, took a (just sufficient enough) shower, got some breakfast in the executive lounge (adequate, but nothing to send a letter home about), and left the hotel room, not knowing exactly how many hours it would be until I found myself in a stationary bed again. The hotel shuttle (which is advertised as running about every 20 minutes) happened to be waiting right when I got curbside, and by 9pm I was waiting in the FC check in line at Delta's home at LAX, terminal 5. Airside by 9:10pm, I proceeded to the CRC room. Knowing that technically (love this word with Delta, taken with some salt) I was not allowed into the CRC on this domestic portion of my location to the SQ gateway, with a quick show of my PM card and some nice conversion, the agent had no problem letting me in. Boarding was called promptly at 9:40am and I made my way to the gate.
Flight #1: DL1176_ LAX-SLC
Seat: 2A
Cabin: First
Equipment: MD-90
Actual flight time: 1hour 13 minutes
Load in F: 100%
Load in Y: 100%
No need to really go into this flight at all. Typically short domestic hop over to SLC. Arrived on time and made my way to the CRC in SLC.
I attempted the same strategy as I had in LAX in order to gain access, this time it was granted under the pretense of "Just this once, now." I had about 2 hours until my next flight was due to depart, so I spent some time surfing the internet, getting a quick shoeshine, and attending to some other personal matters. As I was seated in the lounge, I noticed that most of the SFO bound flights were taking delays today, one of substantial length. A quick check of the weather revealed the massive storm front that had been pounding the pacific states since Saturday was still very much in tact. When it came time for my flight to board, a quick check of the departure board said nothing of a delay, so I packed my things and headed off to the gate, unsure of exactly what to expect.
Flight #2: DL5737_ SLC-SFO
Seat: 2A
Cabin: First
Equipment: CRJ-900 operated by Masaeba.
Actual flight time: 2 hours 3 minutes
Load in F: 100%
Load in Y: 60%
We boarded on time and I was surprised as it seemed as though we were destined for an on time departure. My hopes were dashed minutes later as the captain got on the horn and announced inbound traffic management would cause us a 30 minute delay into SFO. Not really concerned (I had 8 hours to kill), I put on the ol' bose headset and tried to do anything to take my mind off just what would happen if we never made it to SFO. (Note: My anxiousness was not helped by the fact that earlier that day I had checked the status for this flight over the last 2 days and saw that it was cancelled…both days).
This was not to be the case today, and right at about 30 minutes behind schedule, we pushed back and headed off to SFO.
As is per the norm, nothing truly notable about this flight either, except for the very strange approach we took into SFO; going way out over the pacific, crossing the golden gate bridge (had a chuckle at the wording here), and making a hard right on our way to touchdown. We landed about 40 minutes late and I quickly made my way to the Aitrain, down to Bart, over to Caltrain, and down the Peninsula to one of my favorite restaurants located a block from the train station in Menlo Park, CA.
I finished dinner at about 8:30pm, and had the hostess call me a cab for SFO. I could have just as easily taken the reverse of my routing to the restaurant, but it had started to rain, and the thought of waiting out in the rain for a train, twice, didn't sound too appealing (Ah yes SQ, you see, you not only encourage spoiled attitudes in the air, but also in the hours leading up to your flights. Shame, shame on you).Within minutes the cab arrived, and I was off to SFO to finally begin the main event.
And the main event: February 24th, 2009. SQ1 SFO-HKG-SIN.
Flight #3: SQ1 SFO-HKG-SIN
Seat: 2A
Cabin: First
Equipment: 77W (777-300ER)
Actual flight time: 14 hours 53 minutes
Load in F: 5/8 taken
Load in J: 85%
Load in Y: Absolutely no Idea
I arrived at the airport in plenty of time and made my way to SQ First Class check in. With no one in line, I had my red FC boarding pass and was on my way airside within 5 minutes. After clearing security, I made the hard right and proceeded past the UA red carpet lounge and into the SKL. I was directed to the smaller "First Class" section on the left hand side. I immediately inquired about a shower and was told the room was ready. Relieved, and desperately needing a shower, I took out a change of clothes and proceeded into the shower room.
First Class side of the SKL in SFO: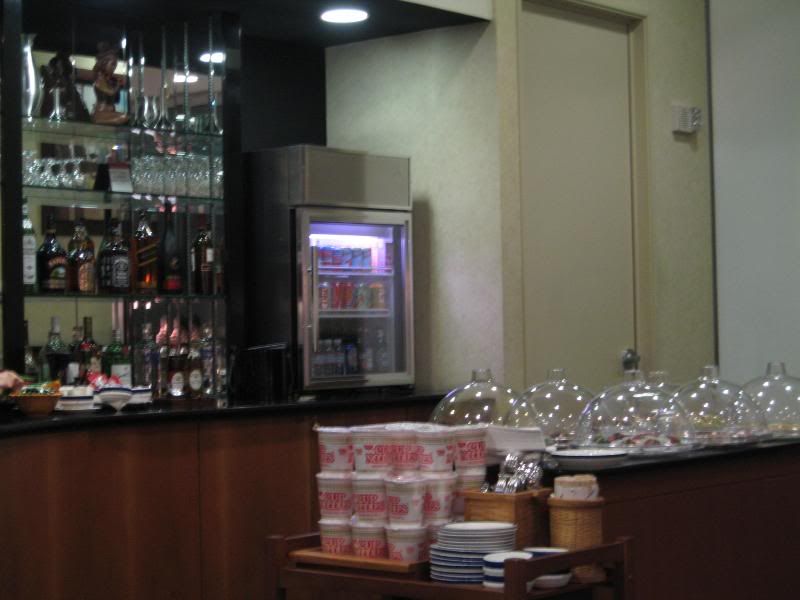 Shower room: Okay, so, whoever mentioned on FT that it takes FOREVER for the hot water, they would be accurate. It took about 10 minutes of constantly running water for it to get hot. Then, once it gets hot, it stays hot. The shower was nice, not amazing; certainly sufficient (I seem to reach for this word a lot in the first part of report…you will notice I don't do it much from this point forward : ) ).for what I needed it for.
Feeling refreshed, I decided to take a quick walk down the boarding gate just to try and catch a glimpse of the big girl. While it wasn't the best visual, I did manage to get a nice view of my 77W awaiting her long flight to HKG. I returned to the lounge with about 30 minutes left before boarding. Promptly at 11:15pm, 50 minutes before scheduled departure, boarding was announced and I made my way to the gate. When I arrived I was told that we were not quite ready to board. I mentioned to this particular GA that the lounge dragon (did not use that wording, specifically) had announced boarding. Seeing my red BP, he quickly turned around and asked one of his coworkers something in Chinese. When he turned back to me, all he said was "Right this way, Sir" and lead me up to the front of the First/Business Class boarding line. My BP was torn (hated this), I was handed the little red stub, and the doors were opened, inviting me to make my way down the steps and into the SQ First Class experience.
Upon entering the door, the lead FA took my boarding pass (stub) and lead me to my seat. As soon as I entered the cabin, I knew I was in for the experience of my lifetime. He showed me to seat 2A and told me to enjoy the flight. 30 seconds later a female SQ girl arrived and asked how I would like to be addressed, "Mr. DLATL777" I told her. With a smile, she repeated my name, and asked if I would like some Dom Perignon. Needless to say, I obliged. As she left, I sat in amazement and what I had below me, in front of me, next to me…you get the idea. Never in my life had I seen or experienced this level of sheer luxury, opulence, beauty, and efficient usability of space all in one place. The seat itself was just massive. I made the comment to my friend that I could have easily fit 3 of me side by side in this seat, and still not feel cramped. The TV screen was absolutely huge. Rather then just ramble, I have organized my thoughts into break-downs of specific aspects of the cabin.
Glass of Dom and FC on SQ, what else do you need?
Seat:
Bathroom:
Menu:
Our Flight:
Routing:
KrisWorld entertainment options:
Seat Controls:
Mood lighting in F: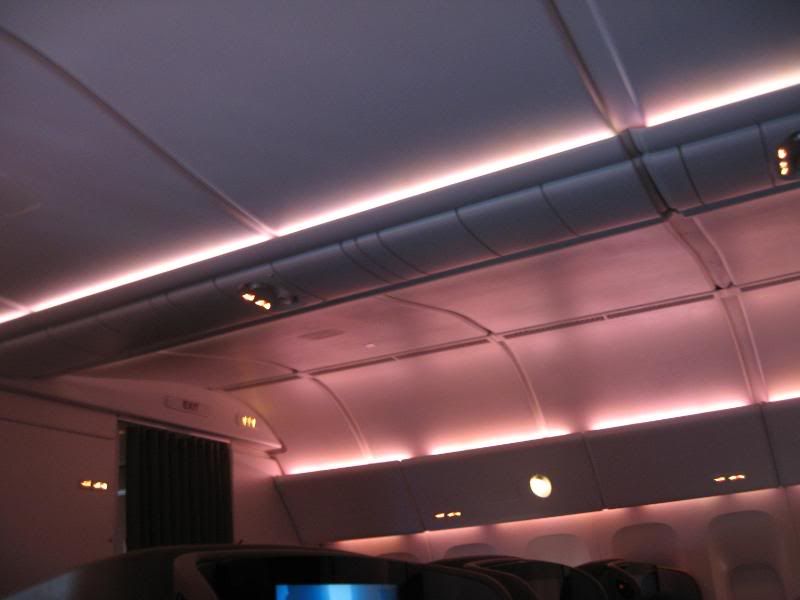 Seat:
By far, better then any single First Class seat I have ever flown in. Now, to say that requires a bit of explanation on my part. I have only flown TRUE international first class twice prior to this, and that was UA to Sydney about 8 years ago. All my other experiences have been in Business or whatever cabin the particular US carrier feels like calling their premier service. So, let's make the statement a bit more accurate and say the best seat I have ever sat in. Their, as easy said as done.
The sheer size of the seat is what was astounding. I did find that it was hard to get comfortable if one sat directly in the middle of the seat. It was just too wide and you almost had to lean over to rest your arms on the side. I found the best way to deal with this was to position myself on one side of the seat, so that I leaned my arms on one side (I generally chose the window side, of course). KrisWorld and the controls for the seat also were very well designed and worked flawlessly. Both seat, screen, and entire area were immaculate.
In sleeping mode, yea, this is where the true differences are noticed. It was as though I were sleeping on an incredibly comfortable double-sized bed. I will refrain from saying it was the most comfortable double bed I have ever slept on, as the only real comparison I could manifest was that of a dorm room. The seat does have to be manually folded down by the FA, but it is not much of a problem. Just ask before you go in to change into your SQ PJ's and they will be happy to oblige before you get back.
I did not use the seat much in lounge mode to be honest. I spent the majority of my time when awake probably reclined a few inches and having the leg rest up.
Lighting: Well, the 77W does have the mood lighting, and it is very soothing. No complaints here. The personal lighting on the seat was also more then one really needed (as forewarned, no mention of mere sufficiency here!), with 2 lights on either side of the seat (which, looking back, is necessary for such a wide seat) and one bright overhead light above.
Food: What can I say, I'm glad it was vacation. I ate like a king. It took nearly 2 hours to finish the meal itself, and that was with pretty much constant consumption. (Note: New idea, on flight memory we need a MSE (Minutes/Miles? Spent Eating) chart, I have a suspicion SQ would always top it).
Amenity Kits/PJ's: Ferragamo amenity kits; having lived in Italy, this made me feel a bit at home. Very nice and very high quality ratings for both of these.
Back to the Flight:
After a few glasses of Dom and a long boarding procedure, we pushed back 5 minutes behind schedule, about the time that mother nature decided to try everything in her power to make sure SFO was underwater by daybreak. It truly rained harder then I have seen in quite sometime. Surprisingly, we began our roll as soon as we got pushed back, without mention of delay. Unsurprisingly, we soon sat for 15 minutes. When SFO felt we had served enough of a time out, it appeared that SFO control decided to change the departure run-way. We then had to taxi the entire length of the airport to get over the other runways, which took us about 25 minutes. 3 planes (including the DL SFO-ATL red eye) were already waiting, but we came up the opposite side and were allowed to go ahead. What a powerful, loud, take off. Take off itself was quite a site, as water poured from ever single inch of the plane as we began our roll. Once air born, it took only 5 minutes to get above the clouds. The second we broke through the clouds the captain turned the seatbelt sign off (thanks SQ, I love you already) and within 10 seconds (yes, I timed them) the FA's (or how about the Singapore Girls) had all four curtains latched and were straight back into the galley to prepare for dinner.
Dinner:
First Course
Second Course, My Book the Cook Lobster Thermador (Unbelievable!):
Dessert:
After dinner I decided it was time for bed. I went into the bathroom to change into my size M PJ's and asked if the SG's wouldn't mind making up my bed. The lead male FA, dressed in a nice suite and carrying the SQ nametag (I later noticed this is the norm on SQ) made my bed for me and it was ready when I returned from the bathroom.
Asked for a glass of water (and take note DL: a GLASS of water, although thank you so much for the reminder that the Dasani mini-bottle is located in front of my face), popped
a sleeping pill, and was soon off to la-la land.
Bed in Sleep Mode:
I slept a good solid 5 hours. I tried to get more sleep, but excitement was keeping me awake. I watched a few movies, did a bit of work on this report, and decided to skip the mid-flight meal. Breakfast time came all too soon and I had the works:
First Course.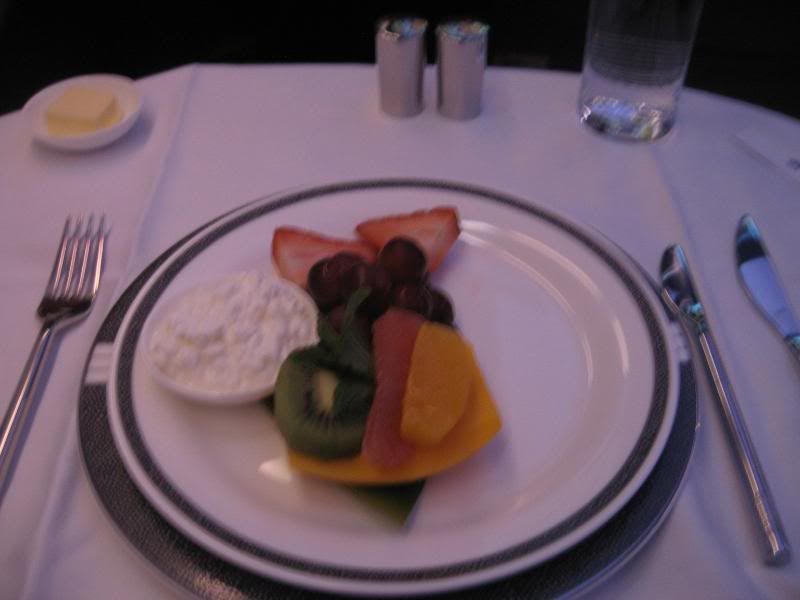 Second Course.
Sunrise over the pacific:
Sunrise over the seat(ha):
Sunrise in the cabin(I'm sensing a trend here):
With about 14 hours behind us, the captain came on the horn and let us know we would soon be beginning our (behind schedule) decent into HKG. I realized the longest flight of the trip was soon ending, and I grew slight disappointed. I think this is about the time I pulled out my dictionary to insure that under insanity there was no mention of being disappointed in flights that failed to amount to more then 16 hours. Okay, good, nothing there.
Almost in Hong Kong:
We landed in Hong Kong almost 45 minutes behind schedule. I had mentioned to the FA over 5 hours before landing if I would be able to take a quick shower in the F lounge at HKG before returning for the remaining leg to SIN. He said he didn't think so. Well, as soon as we landed and the door opened, he rushed back to me saying "Mr.DLATL777, I have spoken with ground crew and they will let you take a shower in the lounge. Enjoy." Surprised but thankful, I grabbed my things and hurried through transit customs and up to the lounge. The lounge dragon saw my boarding pass and got a funny, concerned look on her face. She said in a very discouraging tone, "I'm sorry Mr.DLATL777, but the light in the shower room is flickering, is that going to be okay for your shower?." Feeling a sigh of a relief, fearing from her initial reaction that my onward flight might be cancelled or something of equal severity, I smiled, told her that was fine, and she escorted me through the F lounge to the shower room.
First Class shower room in the SKL at HKG:
First Class food spread in the SKL at HKG:
February 25th, 2009.
Flight #4: SQ1 HKG-SIN
Seat: 2A
Cabin: First
Equipment: 77W (777-300ER)
Actual flight time: 3 hours 18 minutes
Load in F: 6/8 taken
Load in J: 85%
Load in Y: Absolutely no Idea again
After a refreshing shower, I was no sooner out of the room when boarding was announced. I made my way back to the 77W and was greeted by the new crew with a "Welcome back Mr.DLATL777." Now, here is time for my ONLY complaint on these flights: The meal from HKG-SIN is the EXACT same as the breakfast served on the initial flight in from SFO. So, this meant no lunch today. A bit disappointed, I requested some coffee, fruit, and a croissant in order to keep me feeling full (stuffed).
The big girl getting ready for her onward flight to SIN:
Second breakfast:
Working on this report:
On Approach to Singapore:
Singapore A380:
The flight was uneventful and before I knew it we were landing in SIN. I thanked the cabin crew for all their help, and made my way into Changhi international. The funniest thing about SIN (this was my first time through), and I will tell you this is what stood out to me first, is that there is no "international terminal" per say, I don't think it would be possible to have a domestic Singapore flight. For this reason, you can come right off the plane and into the concourse if you have a connecting flight. Makes this process extremely quick and easy, and as I had a 4 hour layover before my flight to DPS, I was thankful.
Thanks SQ: SIN-DPS back up in J
Now, here is where things got interesting. Megatoplover has written and others have experienced the problem with obtaining intra-Asia business class through the DL awards. My ticket was no exception and both legs of my Indonesia flights were in whY. But, as Megatoplover has discussed, he has found that some ticketing agents in the SKL's will actually clear you into J. It is vital however to have DL put a notation in your PNR stating that ample miles were withdrawn for F. Backed with the knowledge and confidence (I think this is often key with dealing with the airlines) I proceeded to the SKL located in my next departing Terminal; 2. When I arrived, I immediately showed the lounge dragons (they sure do guard the lounge like dragons in SIN) my inbound F boarding pass. For those that don't know, SQ only uses lounges for departing purposes. Because of this, I was merely showing my boarding pass for purposes of credibility. They saw it, and reacted as though I had just taken out a blank sheet of paper, asking me immediately for my outbound boarding pass. As I was taking this out, I explained to them situation, making sure to say the entire story before letting them see the green "Economy Class" boarding pass. I also made sure to use sayings like "waitlisted for business class", "Spoke to SQ", "Problem, need to see ticketing agent" in order to help things along. After a bit of further explaining, it was clear that either the dragon wanted to get this fixed for me, or had just had enough of me. Either way, I was then led to the ticketing agents in the SKL.
To make a long story short, I explained the situation one more time, and within 5 minutes had a confirmed business class seat SIN-DPS. They even let me use the First Class side of the lounge. I asked whether they could do something about the return leg from DPS, they said no, but that they would be sure to put a note in their for me. I had 3 hours left before my flight and I knew what I needed to do; Shower, then to the nap room. The lounge itself was very nice, and I enjoyed the fish tanks, free wifi, and large food selection. The showers were also plentiful and immaculate. The rest rooms, eh, they were okay. The nap room chairs were not the most comfortable and I spent the majority of my time in there relaxing and playing solitaire on my Iphone.
First Class SKL, Terminal 2 shower room:
First Class SKL, lounge and food spread: