March 2, 2009.
Flight #9: SQ12 SIN-NRT
Seat: 2A (Switched to 2F)
Cabin: First
Equipment: 744(747-400)
Actual flight time: 5hours 54 minutes
Load in F: 50% 6/12
Load in J: 100%
Load in Y: Absolutely no Idea….again
The day began with a 6am wakeup call. I gathered my things and made my way down to the lobby where my requested Mercedes was awaiting me for my short try to Changi international one more time. When I arrived at the First Class specific check in area, I was greeted by 3 lovely Singapore airlines employees, my luggage was taken, and I was escorted into the check in area. The room was very nice and if I had to wait to be checked in for some reason, I would certainly be fine doing it in this room. Just for the heck of it, I thought I would ask if they could put me back on the same flight I came in one (honestly, to see if they would do it). They said they would take care of everything and I had a seat in one of the many plush lounge chairs in the check in area. As expected, 5 minutes later, the agent checking me in came over and very apologetically told me it couldn't be done since this was an award ticket. Not surprised, I thanked him for looking. From here, I had my boarding pass within 5 minutes and made my way through the private first class security and customs check. Once cleared, I headed straight up the stairs and into the beautiful T3 First Class lounge. It was busy this morning, but the lounge is so big it did not seem that way. I sat down at the cook to order station and had an omelet for breakfast. After breakfast I checked out the beautiful shower facilities (and by check out, I mean I couldn't resist another shower), and sat down to watch some football before heading down to the gate. I must say, this was the best SKL I have been in. To you SKL experts, this is the best one, isn't it?
I also noticed the room labeled "Private Room" in the back that had a few passengers with escorts being lead in there. I asked about it and was told this was by invitation only. Again to the SKL experts, is this room for Suites and Full Fares only?
With my gate being waaaayyyy down at the other end of the A gates, I left myself plenty of time and headed down to the gate about 50 minutes prior to departure. When I got to the gate boarding was already in full swing so I just joined the masses (even on the J/F side), and proceeded on board. I then had the privilege of stepping on board my first SQ 744, and in F!
The flight itself:
The lead SG came over to me, looked at my boarding pass, again addressing me by name and leading me upfront to seat 2A. After taking my coat and stowing my things, I began to get a feel for the cabin. The cabin, while very spacious, was certainly not as private or as nice as on the 77W. It also felt a little bit worn, with scratches on some of the screen, some of the wood was chipped, and some of the overhead panels were beginning to droop. The bathroom also has nothing on the 77W. But what am I complaining about, I am in the nose of a 744! At 10:00am I declined the Krug/Dom, but did have a nice glass of orange juice as I watched the masses continue to file into the plane through the jet bridge. As I waited, I decided to go ahead and turn on the KrisWorld flight tracker, as I like having this on during takeoff. As soon as I touched the remote, I knew there was going to be a problem. The screen starting flickering and the remote seemed very sluggish. Noting the cabin only had 6/12 seats occupied, and the identical seat on the other window side (2F) being open, I decided I would probably just switch after take off.
Boarding completed right on time and we made our short taxi over to the runway. We were just about to head over the waiting line when we stopped suddenly and sat for over 10 minutes. The pilot came on the horn to let us know that reason we had stopped was due to "other aircraft operations in the area" whatever that meant. A few minutes later we passed over the line to the active, throttled up with no delay, and airborn less then a minute later. As I did with the first flight, I will break-down the key observations.
Seats in First Class cabin on the 744:
Seat in Lounge Position:
My Seat: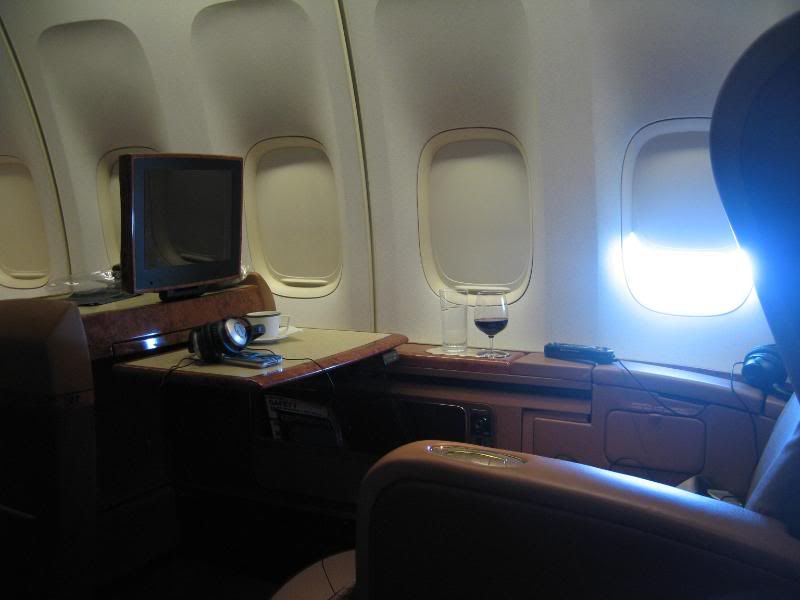 First Class cabin on the 744:
Seat: Very comfortable, certainly the 2nd most comfortable F seat I have ever been in (behind the one a week ago, of course). The space was fine, I would say it lacks about 1/3 of width on the 77W seat however. The recline position was comfortable, as was the sleeping position. With the mattress pad down, comfort wise I felt very little different between the 744 F seat and that on the 77W. The biggest surmountable different was the width. The width on the 77W was unbelievable and the 744 was not wide enough for me to curl my legs when sleeping on my side (I'm 6'1) while the 77W allowed me to do this comfortably.
Food: Same as SQ1, perfect, and filling.
Cabin crew: Amazing, only behind the initial SIN-HKG crew.
Amenity kits: Surprising also Ferragamo, also with the same Givenchy PJ's as handed out on SQ1.
Complaints: My only complaints were with my initial seats IFE not working (which would have been a bigger problem had the cabin not been so empty), and that the bathrooms are located right between J and F as is typical on the 744, but problem is that while these bathrooms are labeled "F Only" this was not enforced and J passengers would often just come up and use them anyway. This was very different then on the 77W where the bathroom was located in the very forward galley area and was used by no more then 3 people (the 3 of us on the left 3 seats in the F cabin) the entire flight.
Back to the flight:
10 minutes after take off the lead SG came over and knelt time beside me to confirm that my BTC 8oz steak had been loaded. As she was leaving, I drew her attention to the screen not working. A very worried look came over her face and she vowed to fix it immidetaley. After about 5 minutes (and apparently having re-set it manually through the system) she returned to see if the system had fixed itself. Seeing it had not, she was quick to ask if I wouldn't mind moving to 2F. Having already expected this, I was ready to go and moved my stuff over there. 2 things that impressed me immensely then happened. The first was that the lead male FA came over to me, addressed me by name, and apologized profusely for the seat malfunctioning, saying it was "embarrassing" and "unacceptable". I thanked him and returned to the galley area. 5 minutes later the lead SG came back over to my seat and asked me if my new seat was fine. When I said yes, she replied that she will send a message to the ground staff at NRT to not block seat 2A, but also to insure I had this seat the entire way to LAX, so as not to "inconvenience" me in anyway by having to move to another seat in the massive F cabin : ). I thanked her and she too returned to the galley.
After this they began what I thought was lunch:
But apparently not. This was the strange thing about this flight. They did not start the one lunch meal service on this flight to NRT until almost an hour and a half into the flight. I had intentionally not eaten since breakfast and was quite hungry, so the wait seemed longer then it actually was. Finally, my table was set and the meal commenced.
Glass of White with a view:
Starter: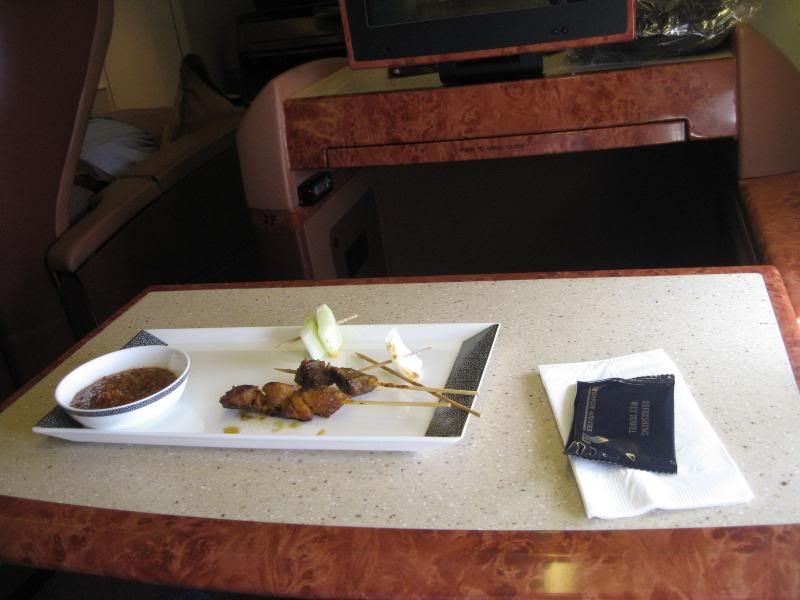 Course 1 (served about an hour later):
Course 2:
Course 3: My 8oz Filet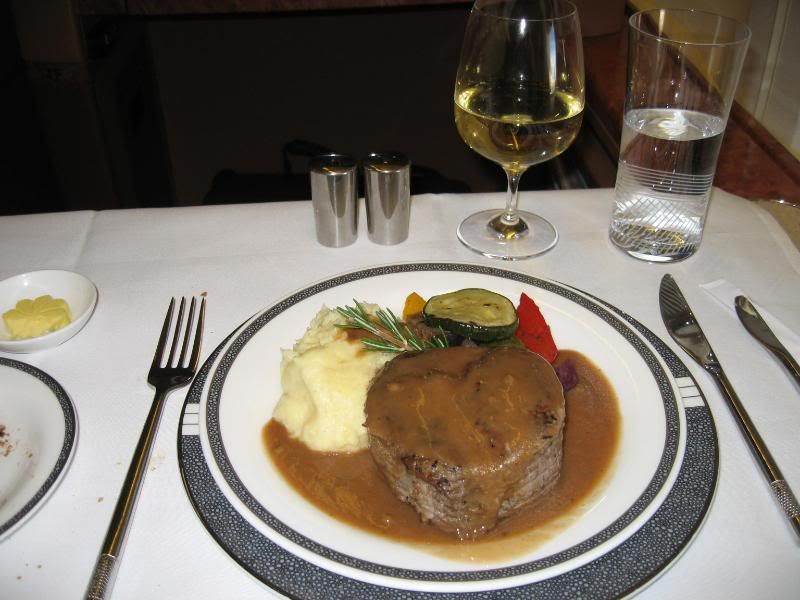 After lunch I worked a bit more on this report and before I knew it we soon began our accent into NRT. As we taxied to the gate, I noticed a DL 757 in the parking area near the east end of the runway. I assume this is just a NW plane in DL colors?
DL Plane:
As I deplaned, I thanked the cabin crew and made my towards transit security. Before I reached security, I rounded the corner to a sign with my name on it and a mention of SQ12. I looked at her and gave her a sort of smile, indicating that was me. "Mr.DLATL777, we received the air message about your seat. Here is your next boarding pass, I am so sorry for the inconvenience, and have a pleasant flight. The ANA first class lounge is right around the corner from security on the left." You did it again SQ, you did it again!
After clearing security I rounded the corner and headed into the very nice ANA F lounge that SQ lets it's passengers have access. I showed by BP and was led into the lounge where my drink order was taken. I opted to just have a beer and a bit of sushi as I did not want to spoil my next meal.
My 744 taking fuel/supplies during short layover in NRT:
30 minutes later, boarding was recalled and I made my way back to SQ12 for the final leg, and the final flight for this trip, on SQ. Again, upon entering the flight, I was greeted with a welcome back and lead to my seat. This time I did opt for a few glasses of Dom and enjoyed what was left of sunset as we continued to board. Push back was right on time and a short taxi later we were airborne over Japan and heading for the (normally) turbulent air of the north pacific.
About 30 minutes after take-off, dinner began:
Course 1: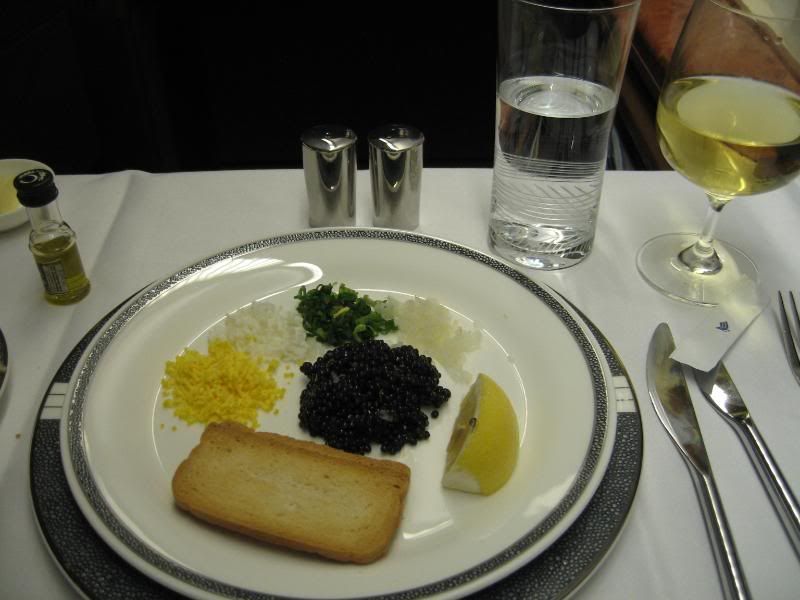 Course 2:
Course 3: My BTC Sea Bass
Course 4:
After dinner I opted for a Baileys on the rocks and finished up what was left of "Slumdog Millionaire before changing into my PJ's and having my bed made up.
Bed made up in sleep position:
I slept for probably 2 hours as it was quite turbulent across the north pacific tonight, and I was awoken by the lead SG with exactly 2 hours left in the flight for breakfast. Still feeling full from the massive dinner, I decided I would commit to stuff myself as it would be sometime before I found myself again in SQ F.
Course 1: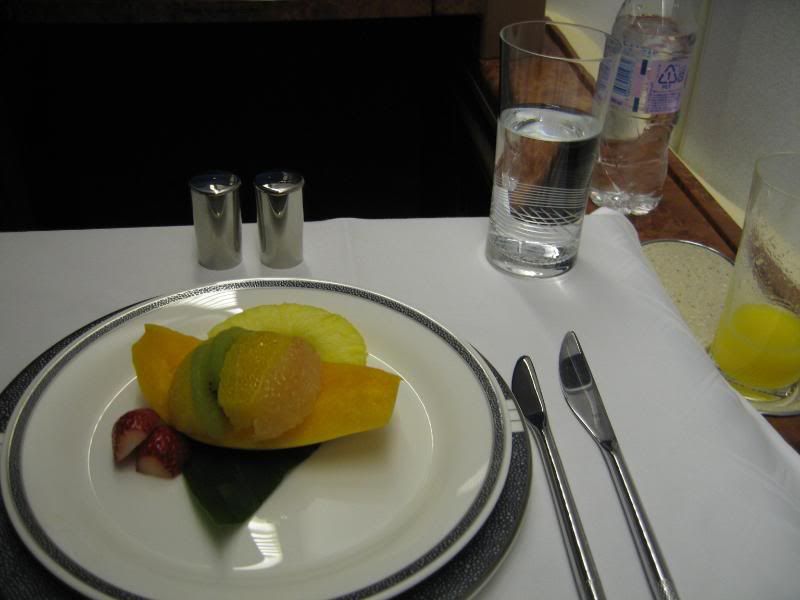 Course 2:
Just as I completed breakfast, our decent began into Los Angeles. After freshening up in the bathroom, I return to my seat and road out the rest of the flight in silence, just reflecting on my trip and on the whole experience itself. Touchdown in LA was 5 minutes early and we were soon at the gate, and all too soon the SQ First Class experience would have to come to an end.
Rant: Okay, so as we were landing a thought came to my mind. After experiencing such great airport handling, whether it be NRT, KUL, or SIN, every international airport I had been to on this trip, or even recently with other airlines, (DXB, PVG, etc), they always handled the jet bridge correctly; hooking the first ramp up to L1 for F/J and the second one towards the rear for whY passengers. The pessimistic thought that popped into my head was watch LA screw that up. Sure enough, as though they had heard me through the air, LA was ready to drop the ball. As we were pulled in, the women working the first jetway (which I watched in utterly astonishment through the window) acted as though she had never operated a jetway before…let alone anything with a mechanical aspect to it She had the thing going all over the place, and never getting any closer to our door. The FA's in F where equally as astonished and felt quite embarrassed. Willing to give the woman the benefit of the doubt, I assumed there was a problem with the jetbridge. Well, within 3 minutes she had made no progress and I could hear the scurry of passengers through the closed curtain in J, signifying that the rear door was already open. A bit annoyed, as I had a very close connecting train (can I even say that on here when referring to one from a plane to train?) I needed to catch over at Union Station, I began to head back towards J. Just for the heck of it, I decided to look over my shoulder to see how ms. Shoemaker was doing with the wild bull. What I saw didn't help matters. She had been removed by another women, who had quickly put the jetbridge in the correct position, and just about the time everyone in J was already out, L1 was opened…..come on LAX, seriously? Apologetically the FA's stepped out of the way and offered us in FC to use the door. I thanked them for a great flight and headed into the bowels (literally, this construction is not going quick enough) that is Tom Bradley international terminal at LAX.
Reflection:
What an experience. All I have to say. SQ really does set the bar for international travel. I have not experience CX EK in F, I hear they are also quite good, but SQ has certainly accomplished its goal in setting the bar extremely high. For every one of the SQ employees, to the ground staff, to the Singapore Girls, to the other FA's onboard, I have to thank all of you for making these the greatest trips of my life, and continuing (furthering) my love for air travel.
Thanks all for reading, I hope you enjoyed it.