Qatar Airways Dubai-Cairo 777-200LR Report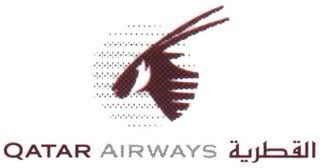 Introduction
Hey! This is my first trip report. After lurking on Airliners.net for months, I decided to write a real report with pictures and everything. I got a new Canon Powershot for Christmas, and finally worked up the courage to take photographs in public places.
Many a time I'd seen a rare and exotic bird at an airport- a Cathay Pacific 747 or an Iran Air 747SP. I'd wish that I had a camera to record these rare moments to remember them by. Well I finally had the intuition to go out and get one.
Since I hope this report is the first of many, I'm still trying to find a unique format for my reports. Wish me luck for that!
Last February I booked a ticket for a 10-day visit to Dubai. Usually I choose either Gulf Air, Emirates or Egypt Air but I opted on Qatar Airways-I'd never flown them on that route before and I knew that on my inbound I'd be getting a Boeing 777-200LR aircraft, which were operating Doha-Delhi/Cairo/Dubai trial and familiarisation flights before entering service on the Doha-Houston nonstops. Not to mention the price was right as well
Getting to the airport
I woke up at 0700 and showered and was ready by 0800. At 0830, I left home and was at Dubai International Airport by 0900. I live near City Centre, so it's a very short hop. Very soon, we had entered the airport perimeter:
A lovely fountain: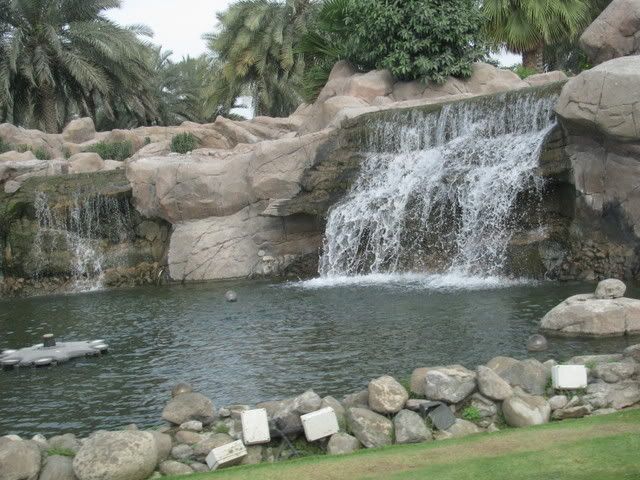 A very interesting camel:
We then parked the car at the short-term parking at Terminal 1. Here are some snaps of the exterior of Terminal 1: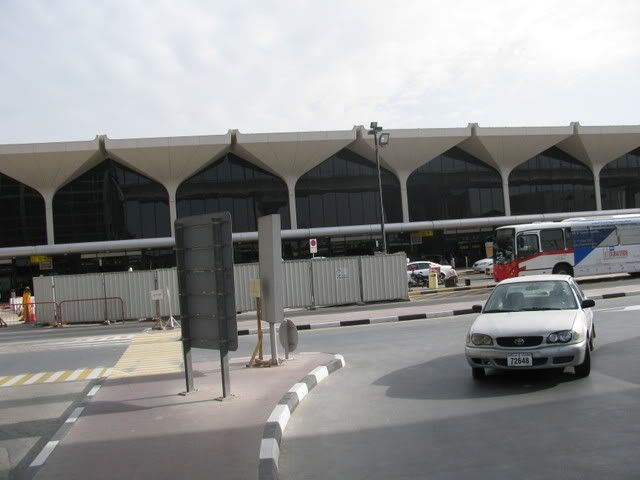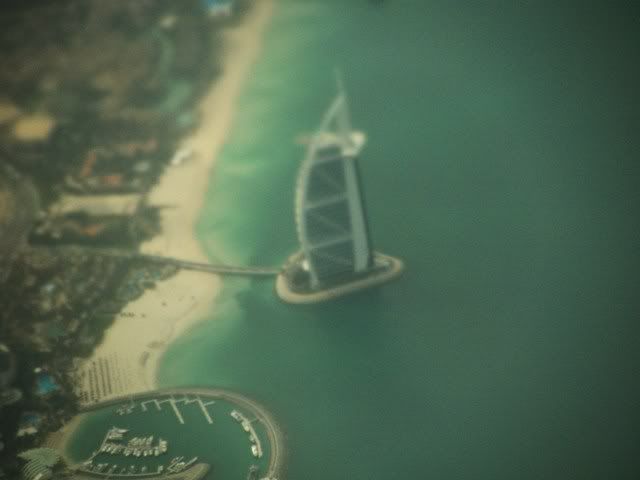 I entered the departures area, and bade my father goodbye. I found out that Qatar Airways had moved its check-in facility from Area E to Area A.
Here is a shot of the check-in info screen: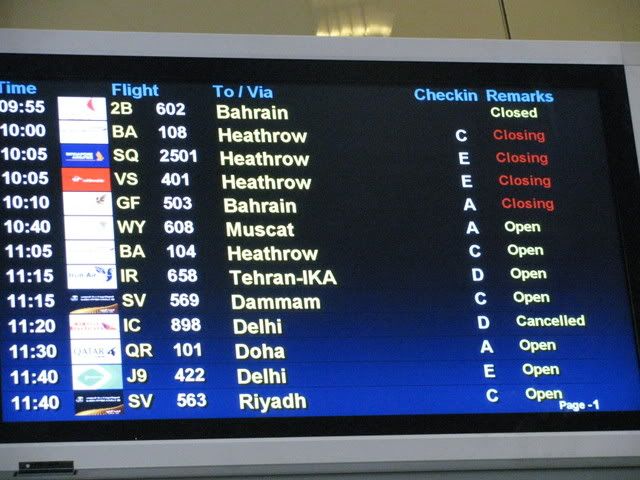 The pre-check-in area of the terminal:
I went through preliminary security, then towards check-in. Here is a snap:
Check-in Area A: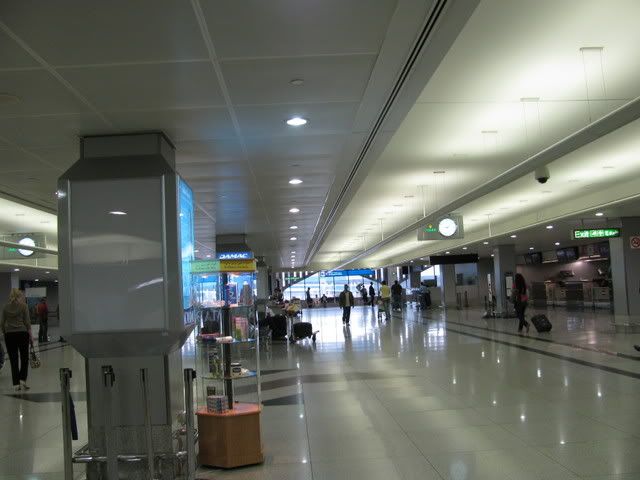 My flight:
Check-in was relatively empty, with only a few people at the counters. At check-in, I requested window seats for both legs. Usually I would have OLCI'd (online check-in) but since my ticket had been reissued the night before I didn't get a booking reference. There were no seat maps for this particular 777 and I didn't want to end up anywhere near the wings. As luck would have it, I was assigned seats close to the wings. The agent complied and within 2 minutes my bags were tagged and I was checked-in.
After completing the procedures, I went through passport control, which was empty. The passport control guy was silent, without so much as a 'goodbye', 'hi' or 'OK'. I find those working passport control in the UAE very full of themselves, and adopt a patronising attitude when they encounter a traveller of Arab origin. In fact, I routinely see them being nice to Europeans, making small talk with them and their children. Arabs, Indians and everyone else get the silent treatment. I'm not saying those people should be nice all the time, I'm just saying it's unfair to be nice to people based on their appearance, and that it's not just the Europeans who make Dubai work, but everyone involved. It's this attitude that tends to put people off.
After getting through passport control, I went through another security check then was on the walkway to the Sheikh Rashid Terminal. It was fairly crowded, even though Emirates had left the Terminal and the morning departures rush was starting to end.
Dubai Terminal 1 Duty Free: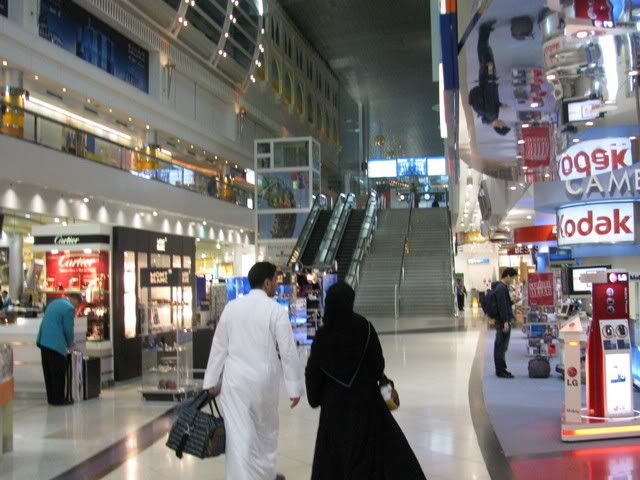 The lovely Aishwarya Rai in an ad:
With time to spare, I made my way to Terminal 3. It was extremely crowded (0745-1030 is the Emirates departure bank for Europe and Australia), although by 1015 most of the flights had already boarded. It's a large facility, and I can't believe that all of these flights had been served from Terminal 1 not too long ago.
At 1100 I was at Gate 117, and just as I was inside the gate boarding began. Next to us was a Blue Sky Boeing 747. It's a regular visitor to DXB, but for some reason I can't find any info on where this 747 was headed, or indeed, where the airline itself is based.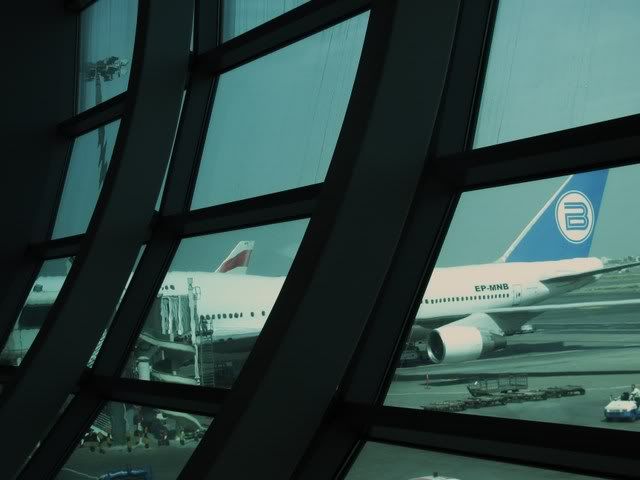 I saw the 777-200LR for the first time, and it was 'Gaza', named in memory of the Gaza 2008-2009 bombings. A7-BBB had been delivered less than a week before I flew on it.
My first glimpse of the Boeing 777-200LR, A7-BBB غزة: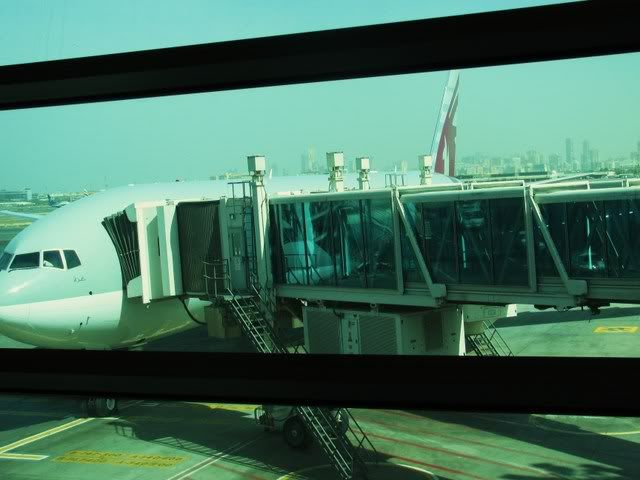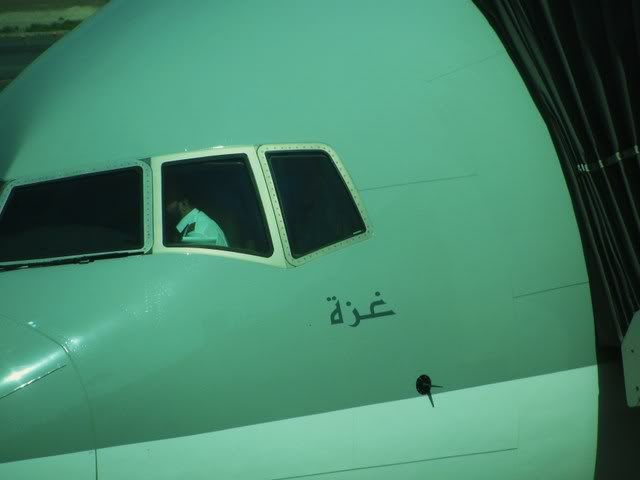 During my short hike down the jet way, I saw an Emirates A380: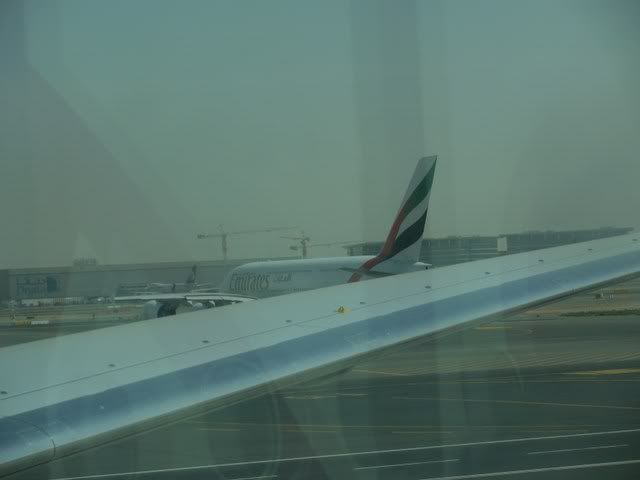 QR 101
DXB-DOH
Dubai-Doha
Operated by Boeing 777-200LR A7-BBB 'Gaza'
Departure 1130
Actual 1130 (takeoff 1135)
Arrival 1130
Actual 1120
Flying time: 45 minutes
Load factor: Roughly 75% in Y
I was one of the first on the plane and took a few photographs.
A brief shot in the Business Class cabin.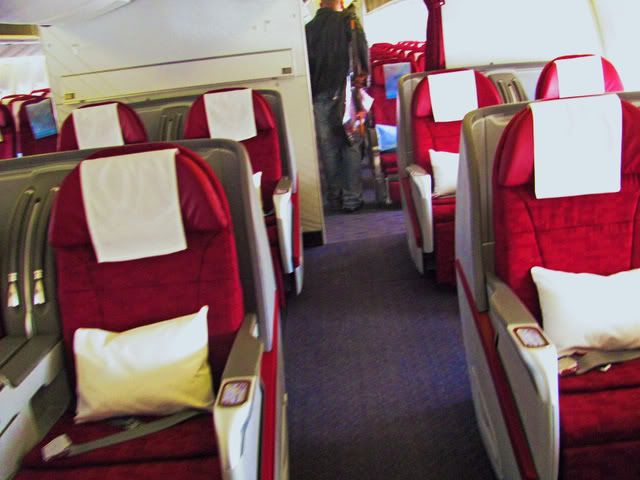 Economy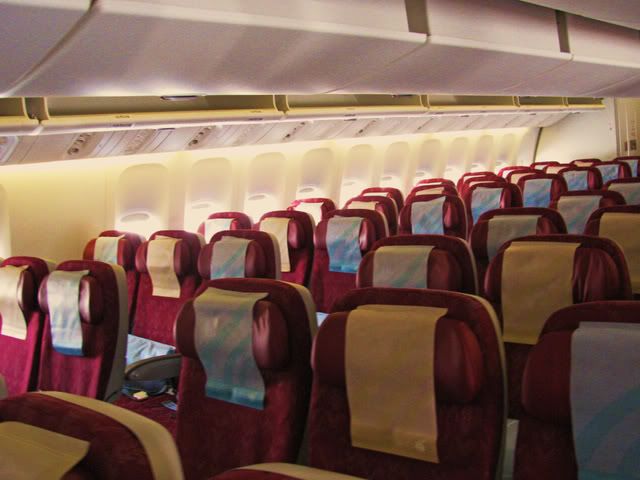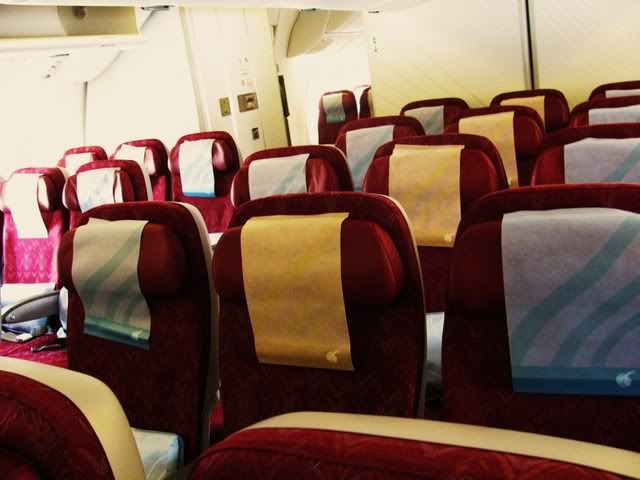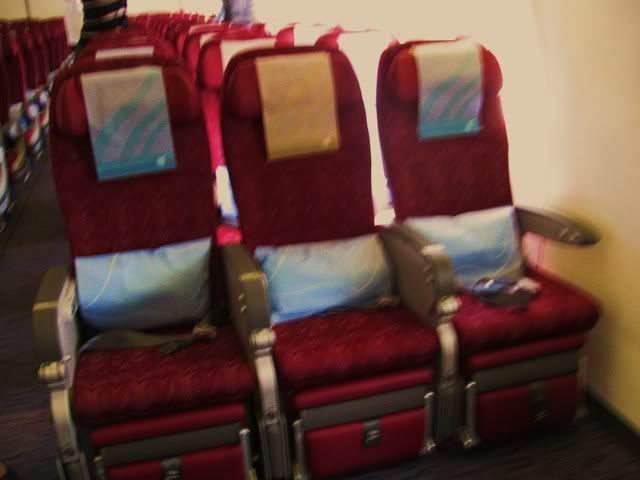 My seat 28A: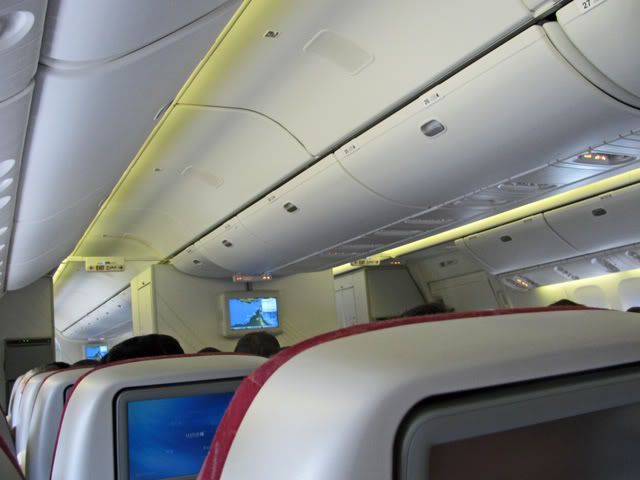 I was seated by an amiable Asian flight attendant in 28K. The seat next to me was empty. I took a few photographs:
A 747-400 in United Arab Emirates colours, presumably flying for a senior member of the ruling family. It was first flown in 1991 for Air Canada (under C-GAGM), then briefly served Air India (VT-AIM) before settling with Dubai Air Wing.
Up close and personal
The 747 in its entirety (almost):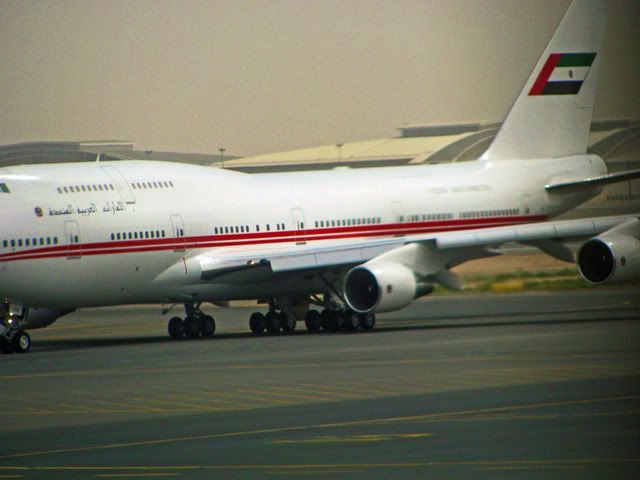 The tail, and the registration A6-COM clearly visible: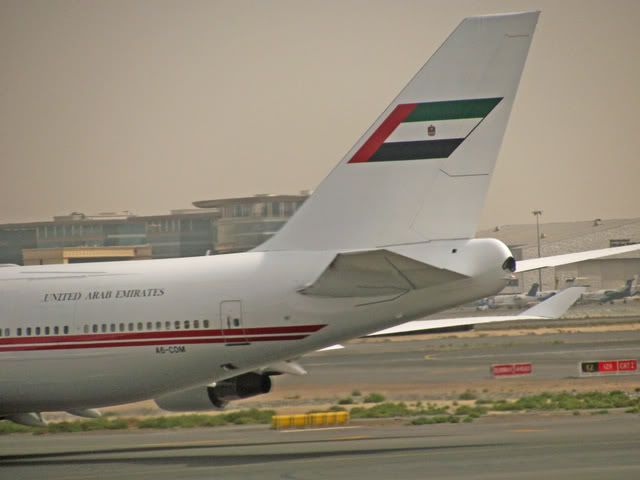 An Emirates Boeing 777-300ER with the United Arab Emirates 747 taking off in the background: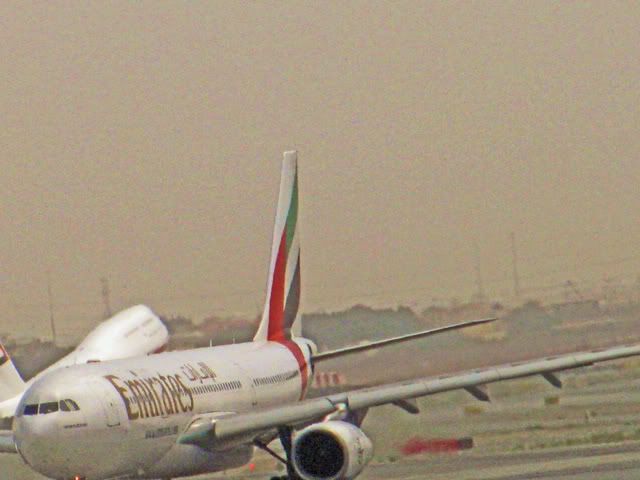 British Airways Boeing 767 taxiing out to operate the 1105 service to Heathrow.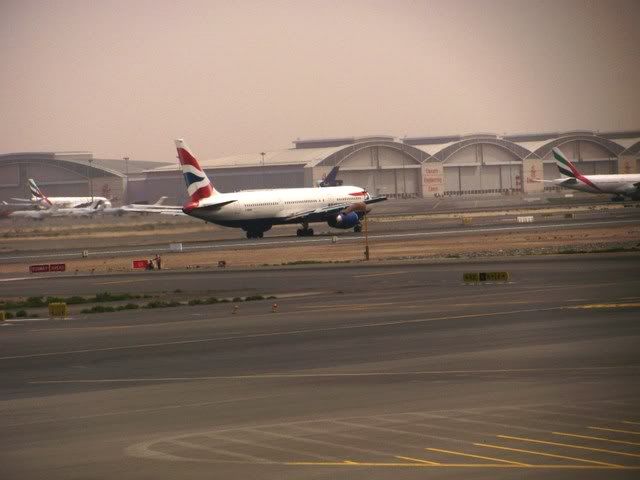 Iran Air EP-IBP A310:
Cathay Pacific Cargo 747 in the distance: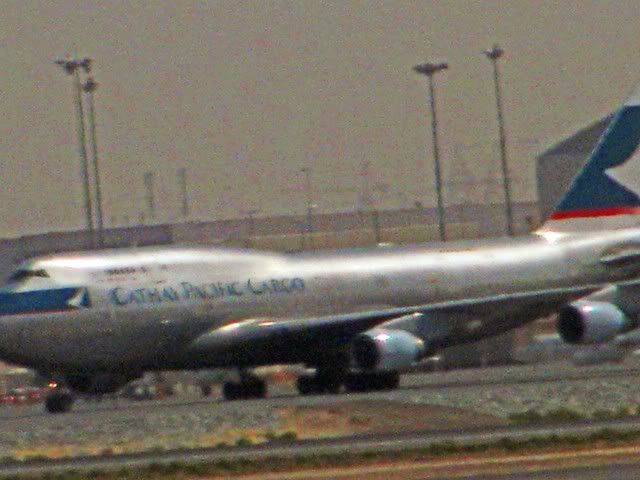 The captain welcomed us on board, and gave us our flying time (45 minutes) and a promise of some expected turbulence. The safety video was played (dreary and long, needs to be changed) and everything was orderly. Flight was around 70-75% full in Economy.
At precisely 1130, we pushed back and since we were on the runway side of the terminal, no awfully long taxi to 12L/30R.
We took off at 1135 after a powerful but relatively short takeoff roll of 35 seconds. I could appreciate the sheer power of the engines, the very engines that would one day power the 777 al the way to Houston. We rose through the Dubai haze, which was foggy and one couldn't see much.
Moments after takeoff from Dubai
Jumeira and the Palm Jumeira: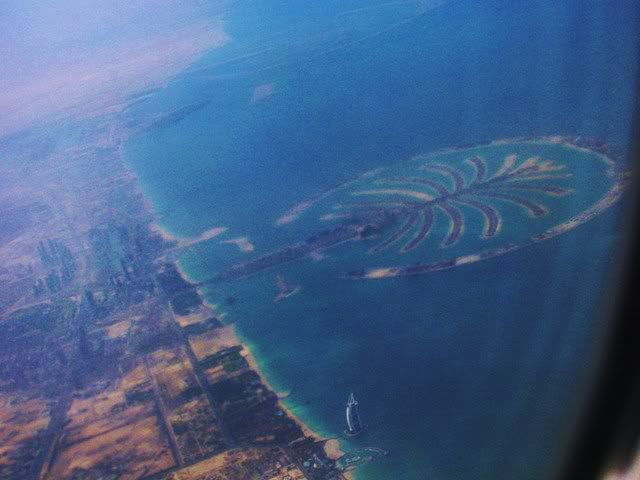 Burj al Arab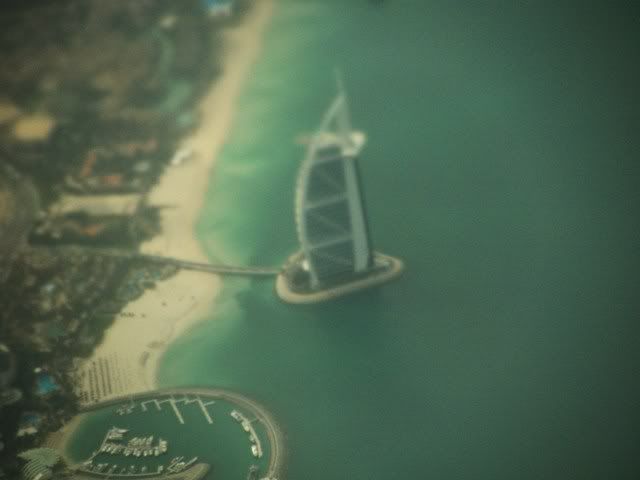 Palm Jumeira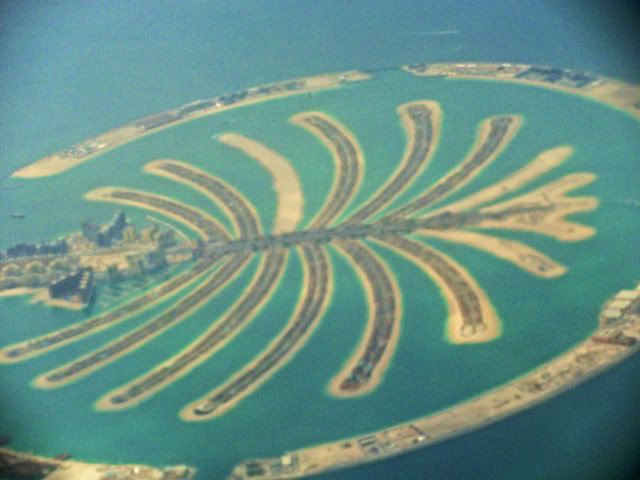 Sheikh Zayed Road
More skyscrapers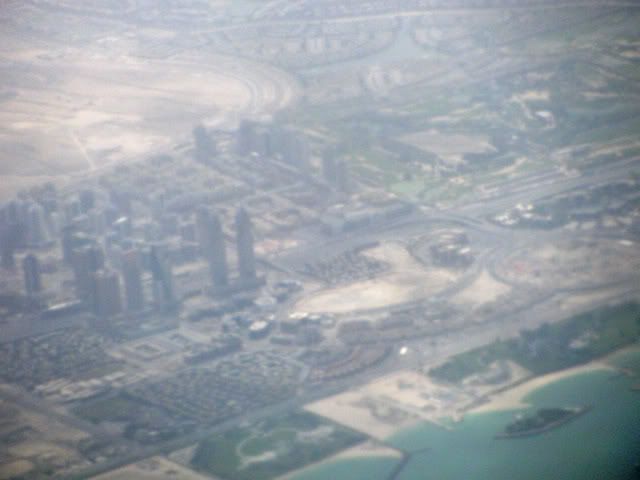 However, I was afforded some lovely views of Jumeira, the Palm Jumeira and Burj al Arab. I took a few snaps which I have since colour corrected.
Around 10 minutes into the flight the seat belt signs came off and the 'service' began. Economy passengers were served a small but somewhat tasty roll filled with spinach, cheese and lack if memory serves me correctly.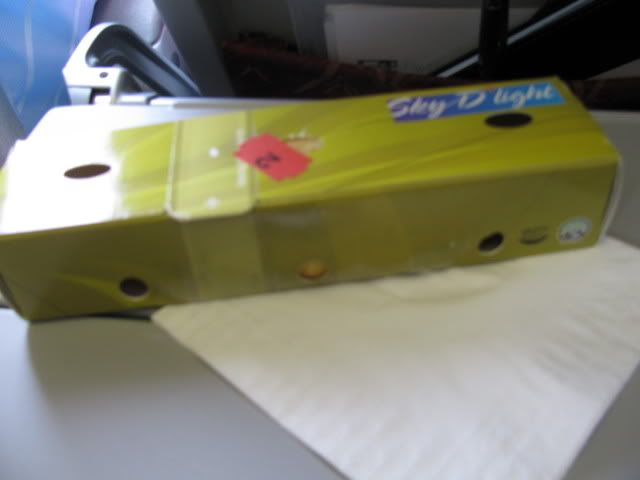 after an additional 10 minutes, we began our descent into Doha. Weather wasn't too pleasant (dusty) and just as we were parallel to the city of Doha, we made a sharp left turn and dived down so that DOH was directly in front of us.
Descending from the clouds:
The eastern coast of Qatar: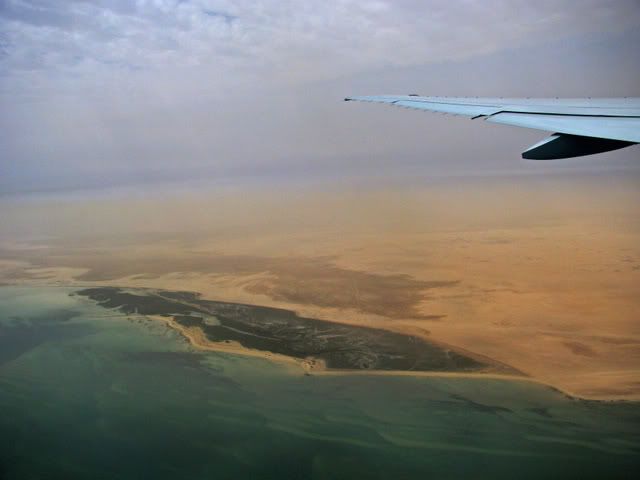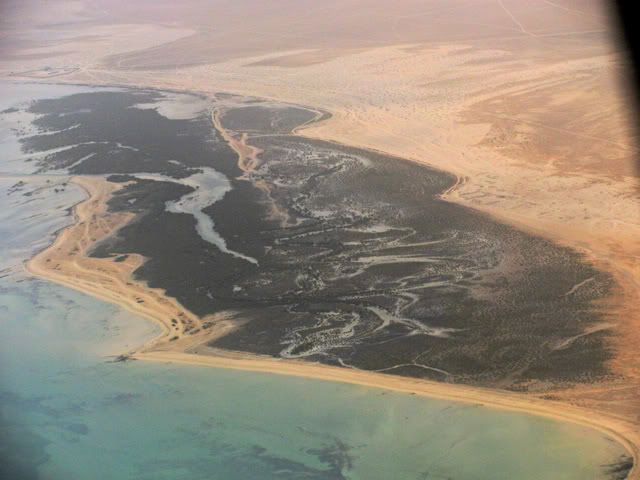 Finals over Doha: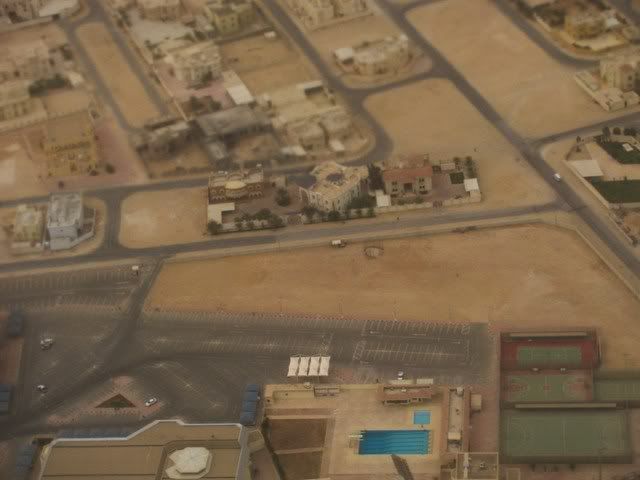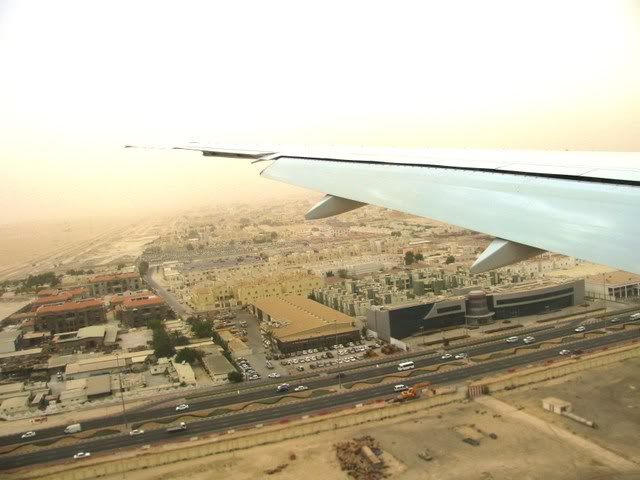 Touching down: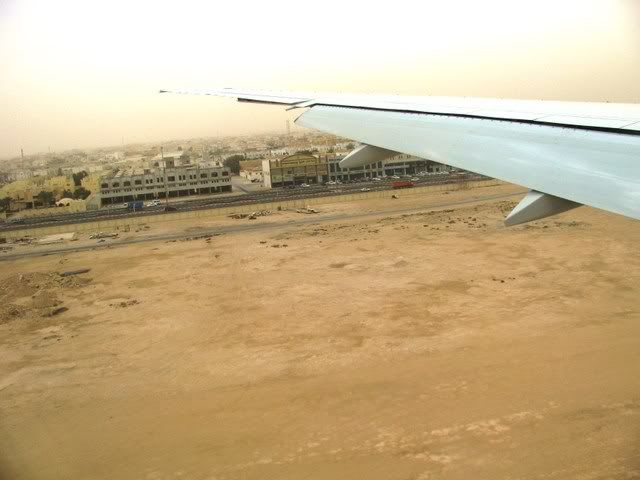 Finally…ladies and gentlemen, welcome to Doha International Airport, State of Qatar Airways: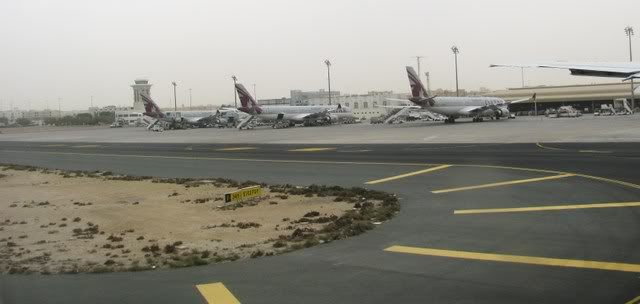 An interesting shot: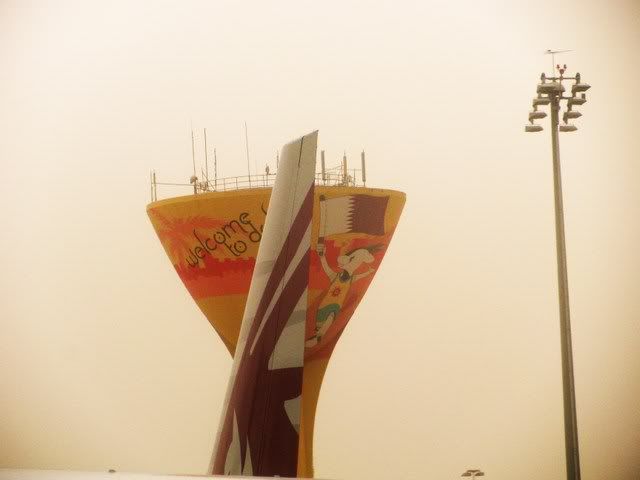 A host of buses come to collect passengers: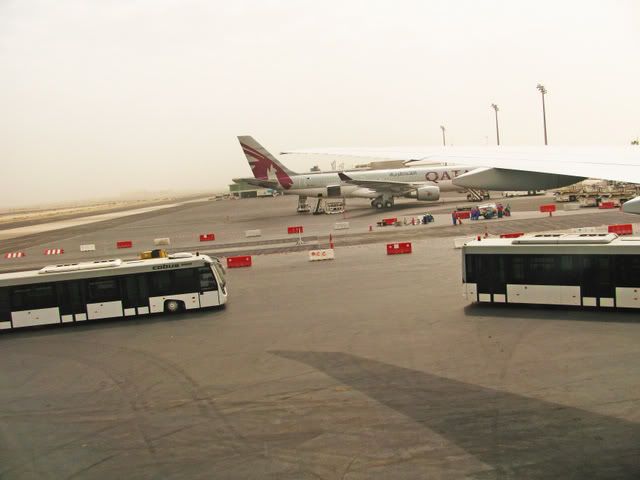 Doha Airport Terminal: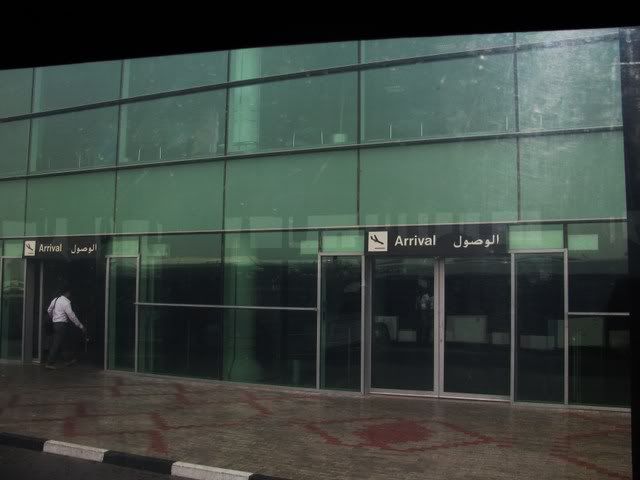 A multitude of people headed for Transfers: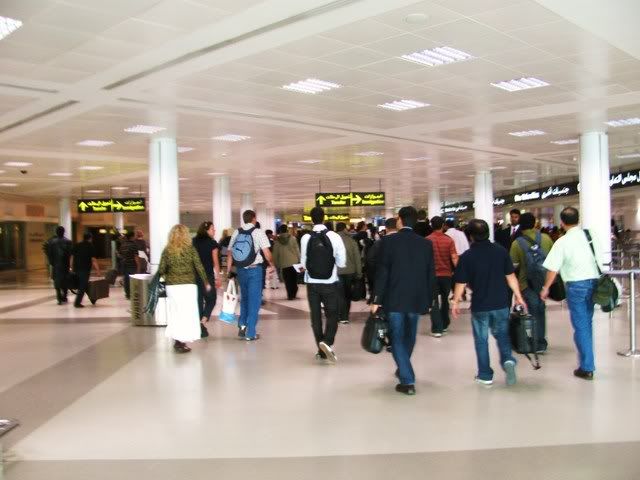 But entry lines to Qatar itself are quite large: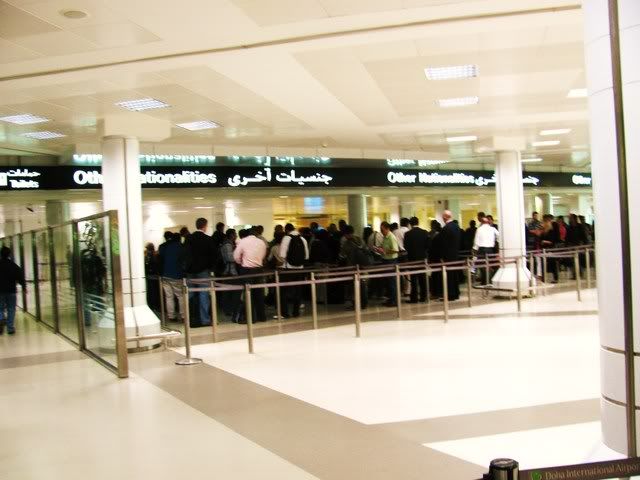 Queuing up for security check-it's a long line: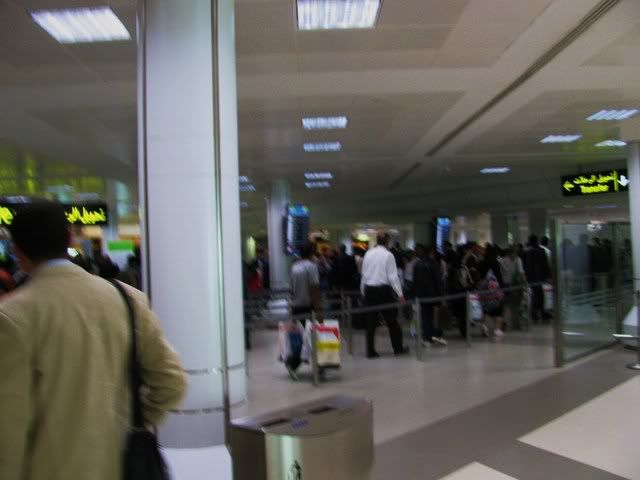 Departures Info Screen: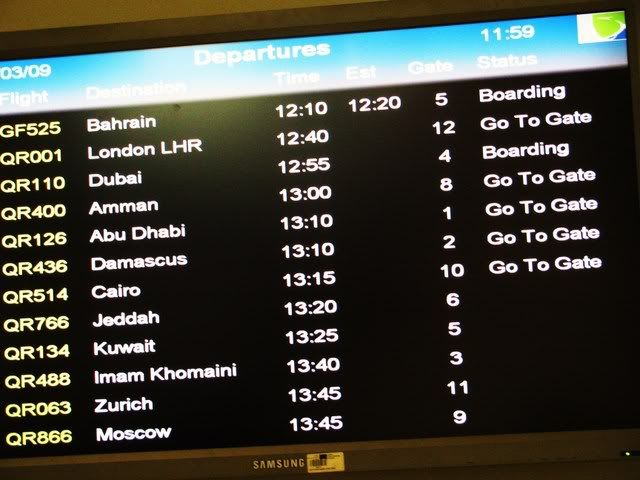 Doha International is a well-organized and efficient hub. It is moderately sized, pleasant, clean and easy to navigate. It can get boring with 4h+ layovers but I believe it has at least one pay-for-access lounge. Boarding is all done via stairs, which isn't so bad but definitely not as efficient as using bridges.
Here are a few snaps from inside the terminal, photos I took on previous visits: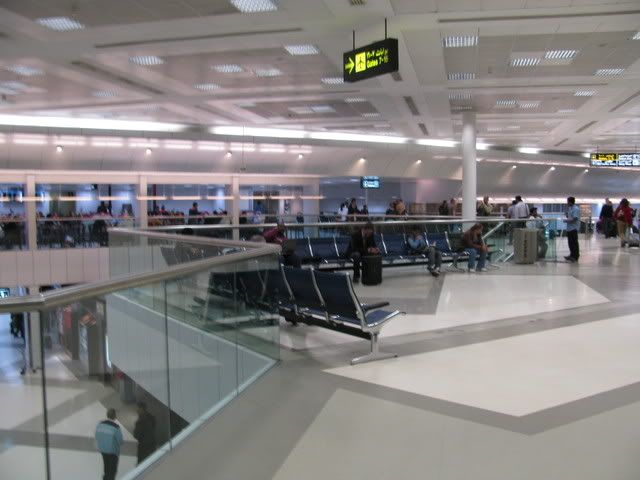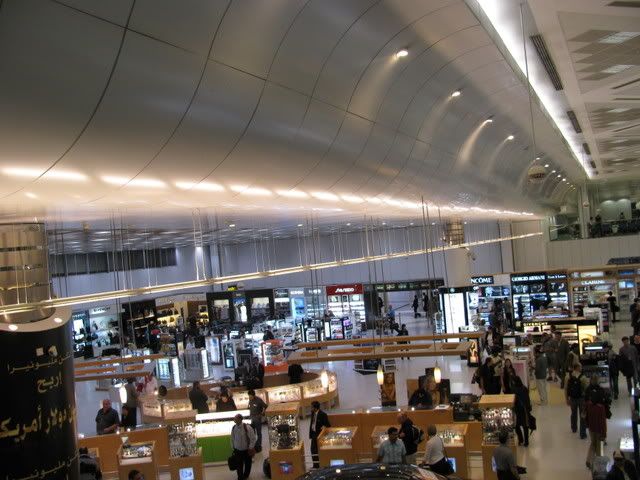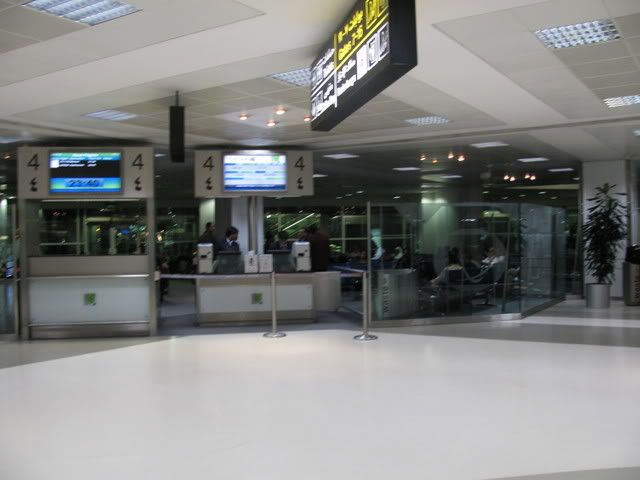 I decided to sit down in the spacious waiting area. I spent around 10 minutes listening to my iPod and at 1210 the 'final call' (probably to intimidate passengers into being at the gate early) for my flight to Cairo was called.
Exterior of one of the Oryx Lounges in the main Terminal: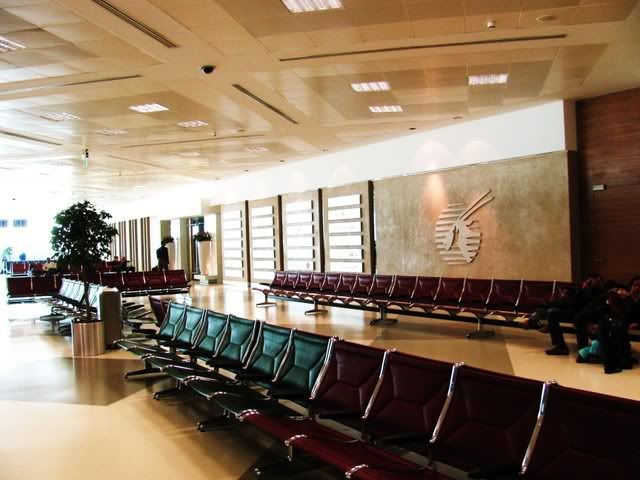 Hazy shot of the queue for Gate 10. Easily the longest line in the Terminal.
I headed to Gate 10, which was on the Upper Level of Departures. I stood at the back of an orderly queue (queues are a rarity for anything involving Egypt or Egyptians so I took this to be a good sign) for around 15 minutes before someone told us to sit down. Clearly the aircraft wasn't ready (no way can you turn a 777 around in 30 minutes!) and passengers would simply go through the 'gate' (really a small waiting area at the bottom of some escalators, no in-gate seating area) and wait in an overcrowded pen.
At around 1245 the buses began moving from Gate 10 for the 777-200LR, parked in the exact same place.
QR 514
DOH-CAI
Doha-Cairo
Operated by Boeing 777-200LR A7-BBB 'Gaza'
Departure 1310
Actual 1313 (takeoff 1320)
Arrival 1605
Actual 1532
Flying time 3h12
Load factor: 95-100% in Economy, 80-100% in Business/First
Massive underbelly of the 777-200LR: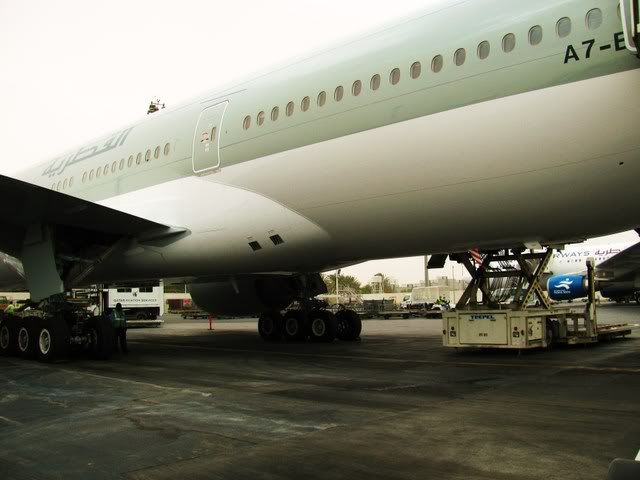 Impressive wingspan: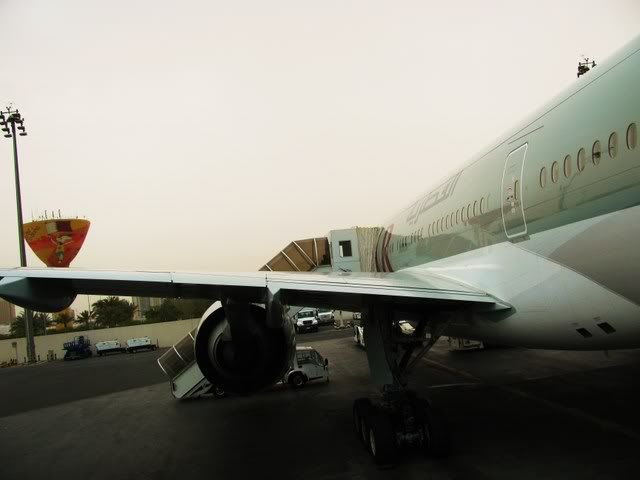 The Oryx, in all its maroon glory. My favourite snap: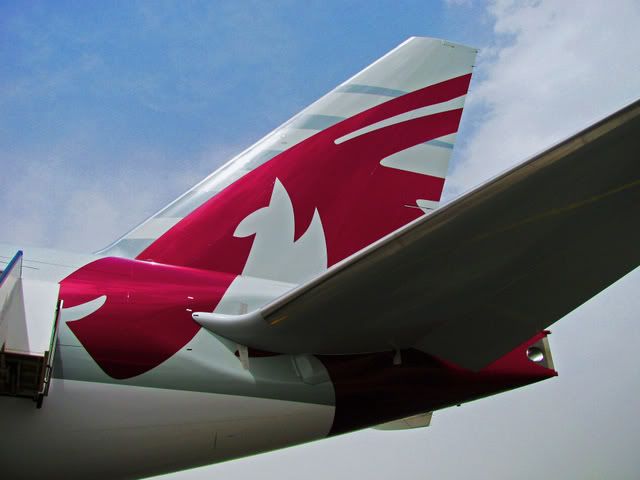 Qatar Airways A330-200 still painted in Asian Games 2006 colours: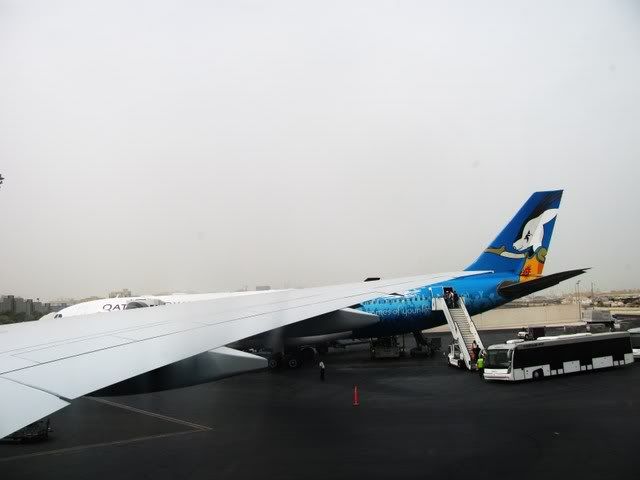 More interior cabin shots: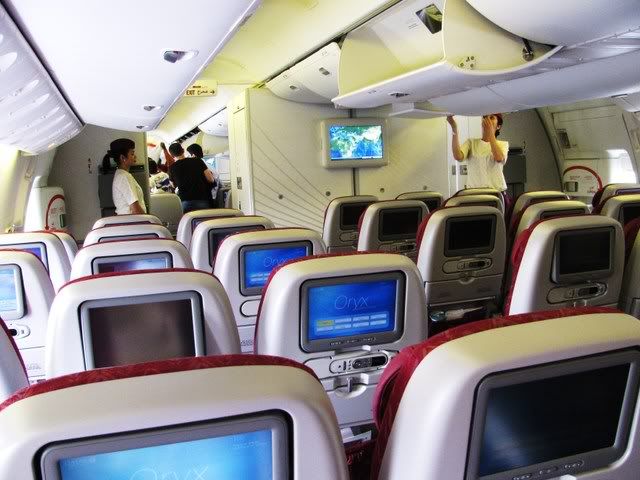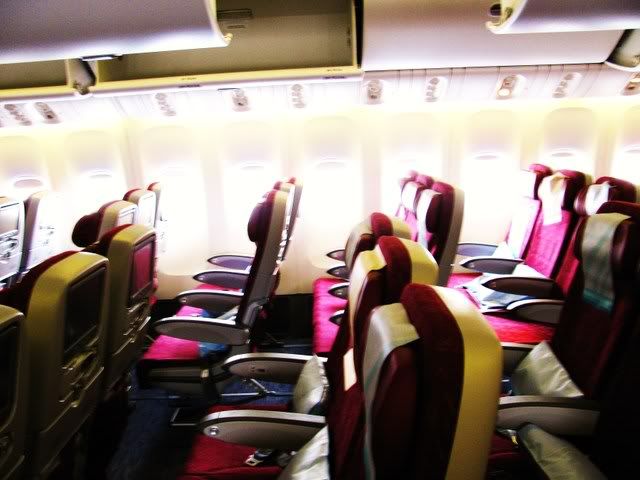 Shortly after takeoff from Doha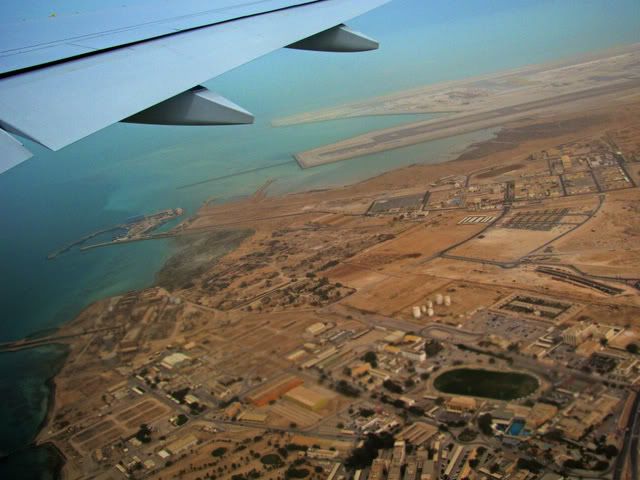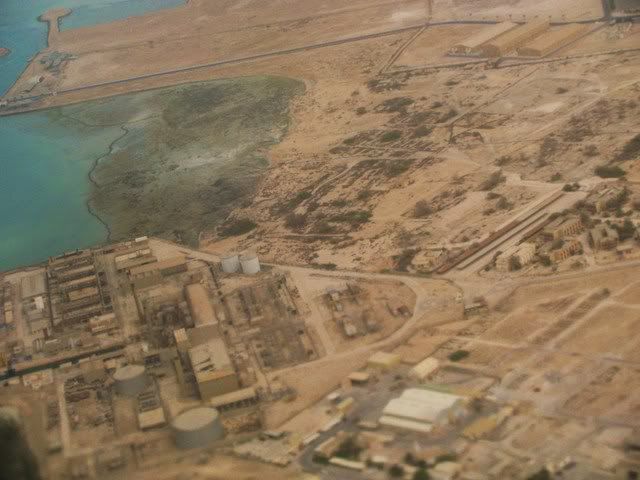 Random sea vessel: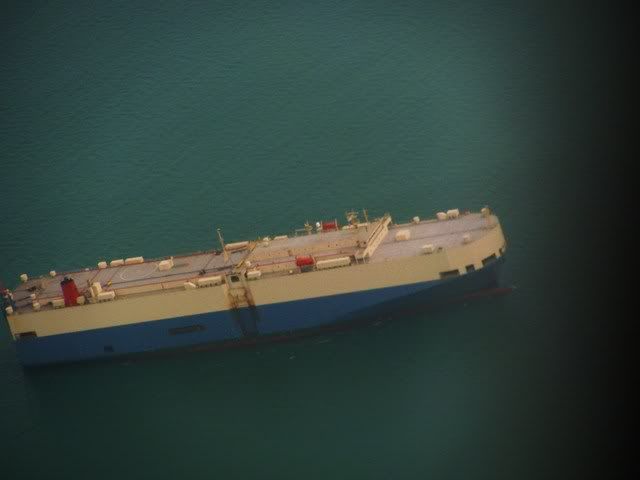 Qatar is a vital shipping point: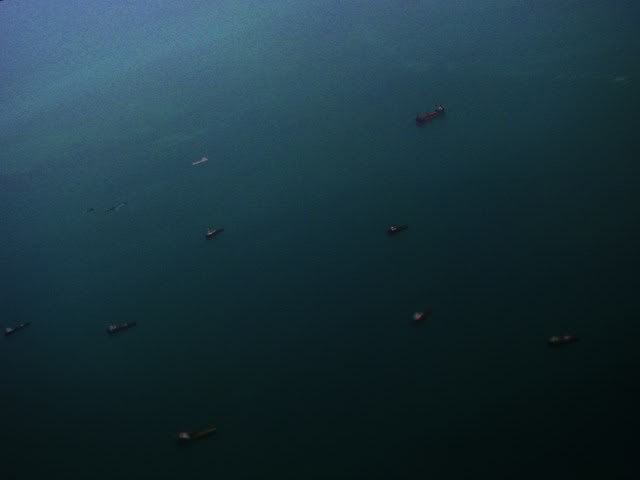 Some new development:
Meal service:
Shortly after takeoff from Doha, the meal service began. Passengers were the given the option between lamb and chicken. I opted for lamb, and it was served with spinach and rice with vermicelli. A tasty entrée, but I'd had the exact same dish on the Cairo-Doha sector 10 days prior. Qatar Airways should diversify its catering for fear of boring its passengers.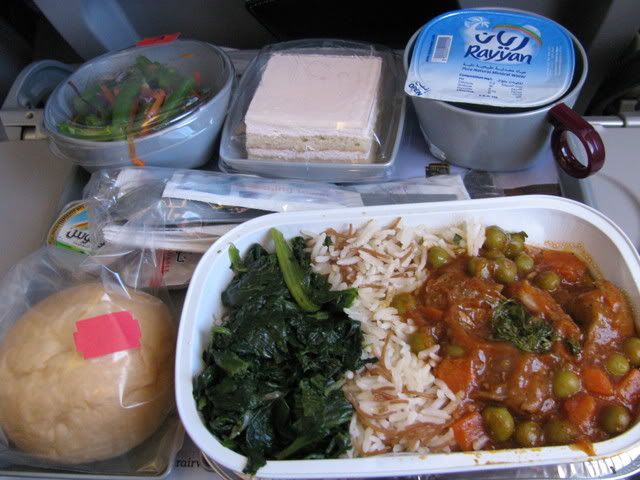 The entrée came with a delicious bean salad, which although didn't have any dressing, was substantial and filling. It was a far cry from the usual 3 cucumber slice-one olive-one shred of lettuce combination we usually get.
There was a good supply of drinks available, including alcoholic drinks. Cabin crew seemed to be generous enough with the liquor-the man in front of me got his own mini-bottle of whatever he was having. Members of cabin crew came around with tea/coffee and concluded a satisfactory dining experience.
Oryx In-Flight Entertainment:
Nowadays, I can't fly medium or long-haul without IFE. I mean, I can fly, but I end up dreading the experience days beforehand. But I didn't have such an experience before my flight. The IFE on Qatar Airways is well-organized, well-stocked with plenty of film and music options to keep even the most fidgety passenger occupied. Good news is the system wasn't reset and I didn't have any problems (maybe because I was one of the few people using the IFE anyway).
I ended up watching the recent BBC adaptation of Jane Austen's 'Sense and Sensibility' (I'd recently seen the 2006 version of 'Jane Eyre' at school, so I was in the mood for such a film. For what it's worth, this version is a replica of the Ang Lee version starring Kate Winslet and Emma Thompson, only the Ang Lee version is far superior).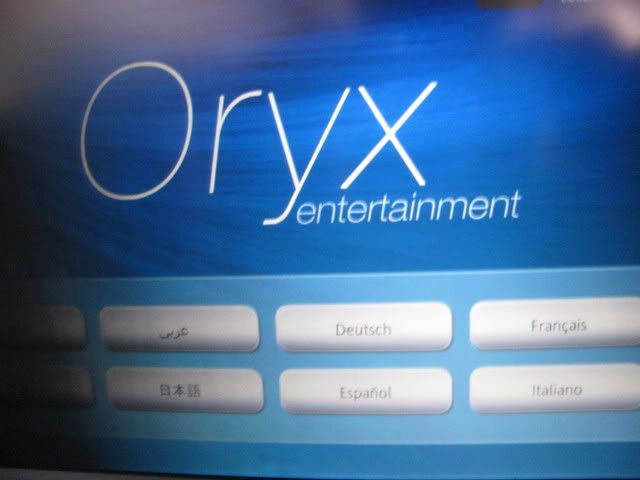 One note about the IFE system-the earplugs supplied are of poor quality. Passengers are told that they are 'complimentary' yet they are useless since they have two pins, so I can't use them again. Qatar Airways should invest in proper, good quality sets and for all I care it can collect them back at the end of the flight. Or, at the very least, passengers with their own earplugs should be given the option of using them, but at the moment I can't because the audio socket are meant for sets with two pins, not one.
Each seat comes with a USB port which comes in handy. I could have sworn the 777-300ER seats had power outlets for laptops but sadly 777-200LRs don't.
Overall, very good, but Emirates' ice system is the winner of course.
Mid-flight: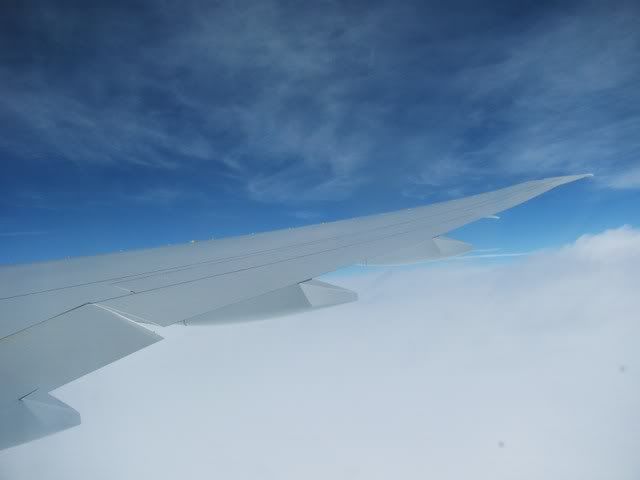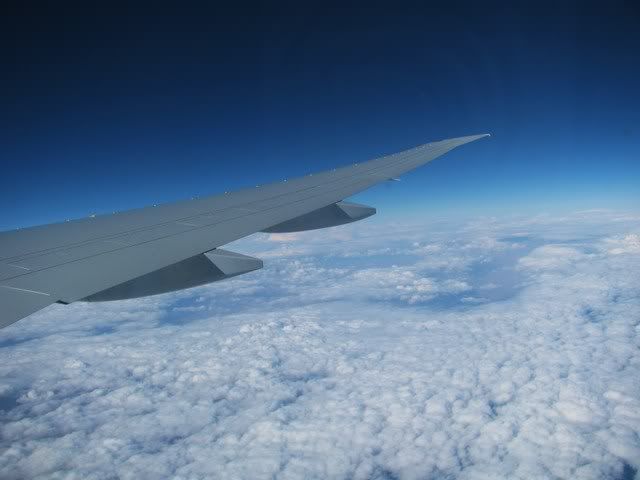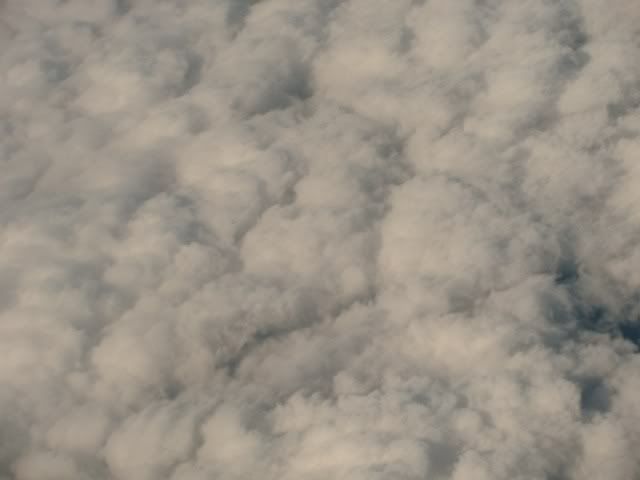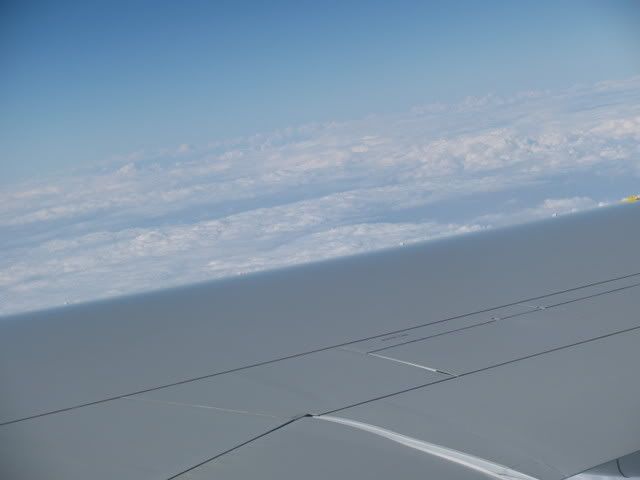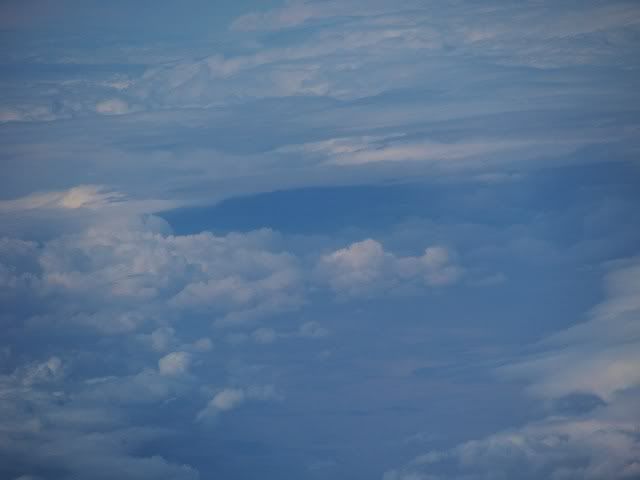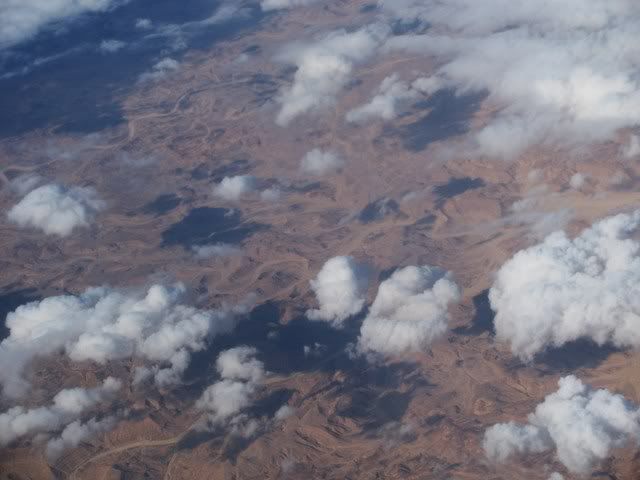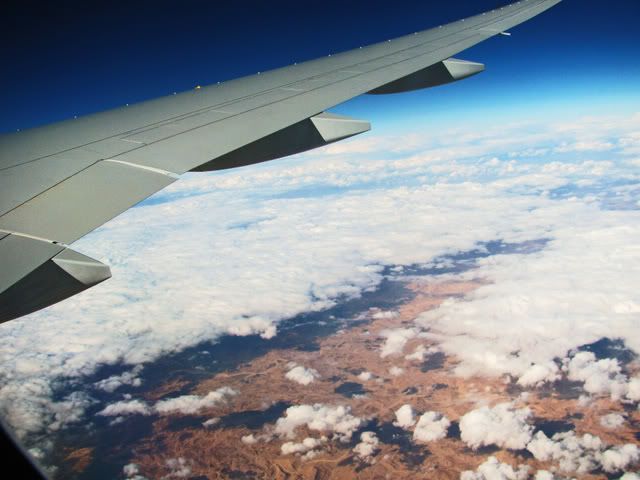 The Arabian Peninsula coast is now behind us: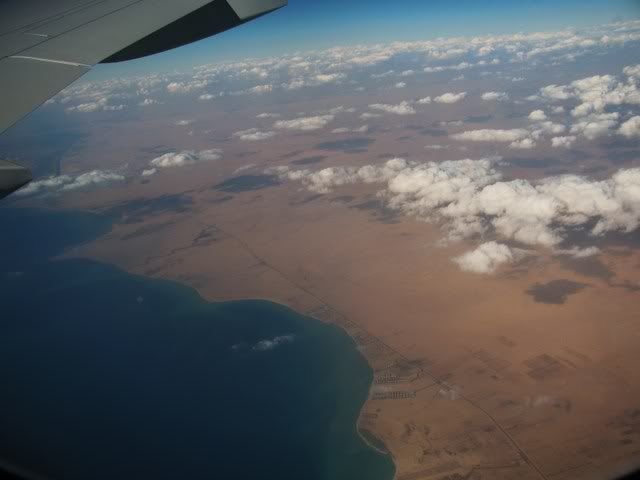 Entry to the Suez Canal: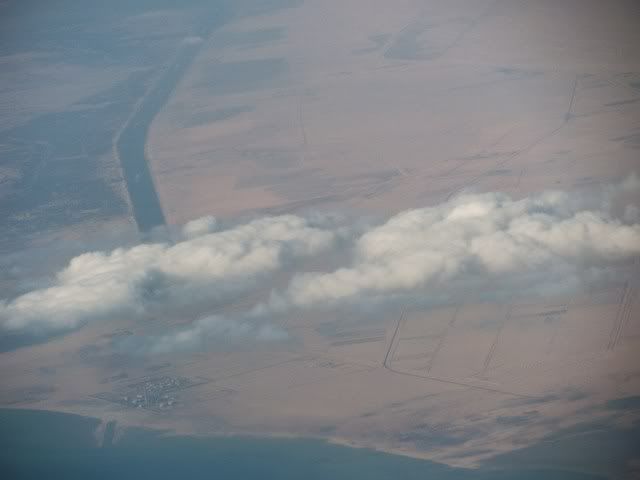 The Suez Canal and the city of Suez itself:
The seaside resorts of Ain Al Sokhna (lit Spring of the Hot, or Hot Springs) are now beginning to appear. Sokhna (as Egyptians call it) is a popular getaway for people. It is just an hour's drive from the edge of Cairo: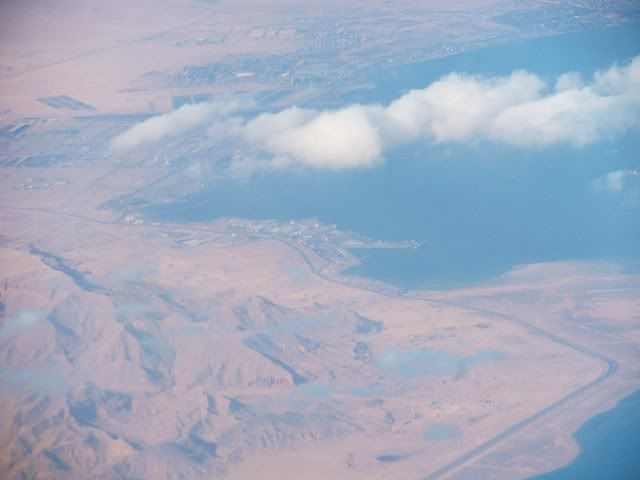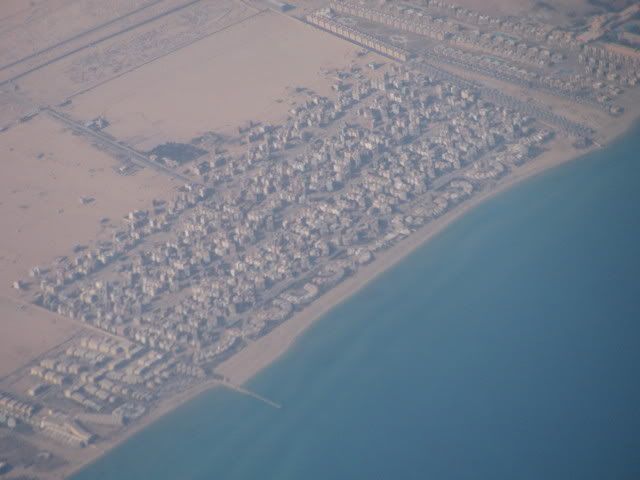 Probably a ceramics factory: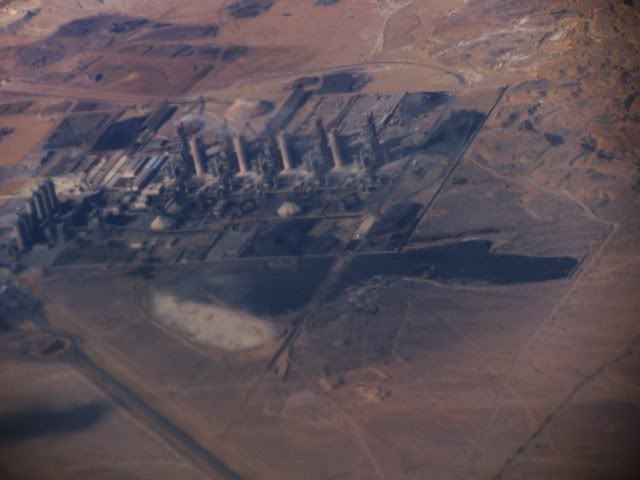 An outside suburb of Cairo. Boy, I never knew there were so many swimming pools in Egypt!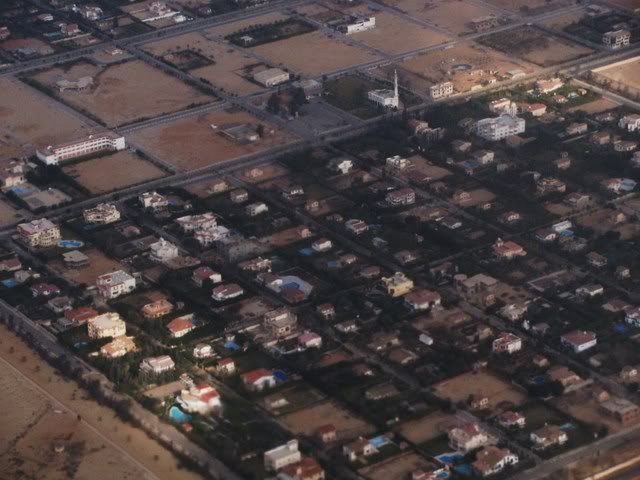 Shortly before landing: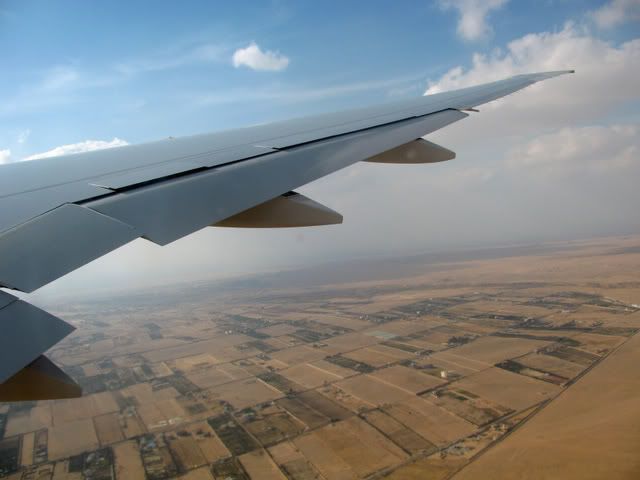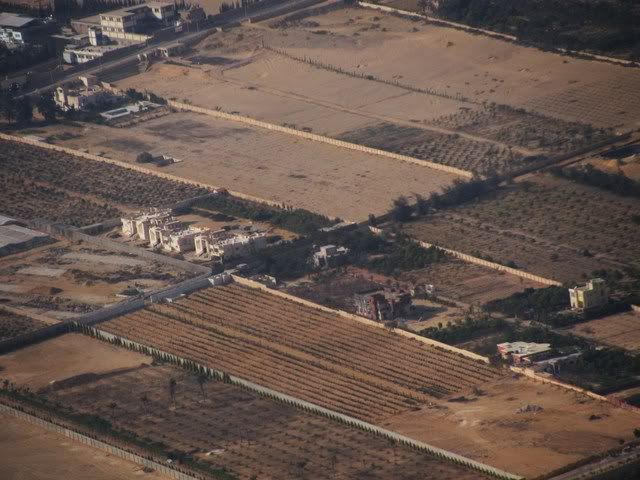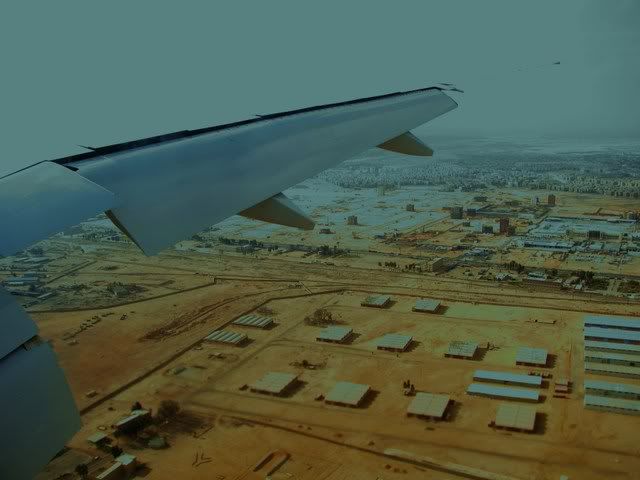 Array of old, unused 737s :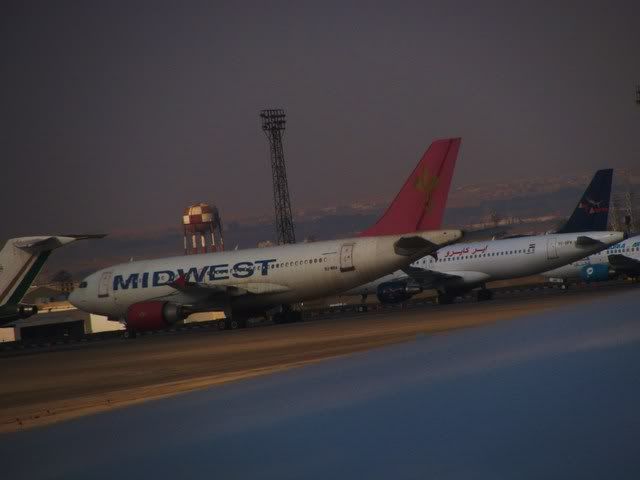 This is 5 seconds after touchdown. People already standing up??!
Landing:
We began our descent when we entered Sinai. I'd been hoping we'd approach after a full encircle of Cairo, taking in the entire city, but alas, this was not to be. We had a fairly boring
approach from the desert before touching down.
Just after touchdown, people began to stand up. Now, I'm used to such scenes. I've been flying between Egypt and the Gulf long enough to expect such behaviour, but on this particular flight, a LOT of people stood up. Clearly this is a violation because the aircraft is still going at a speed of 350 km/h and we 'are not there yet'. Usually, it's just one or two people who do this, but on QR 514, a lot did this. Cabin crew had to get up and tell them to sit down, at risk to their own safety. So far I've never seen a passenger who fell down and was injured during taxiing but it's only a matter of time, and I feel that this needs to be stressed more.
I wish I'd filmed the entire sequence, because then I could've posted it on YouTube. I warrant it would've been a big hit.
The zoomed-up engine of a Tupolev previously operated for Central African Express, or a similarly named carrier: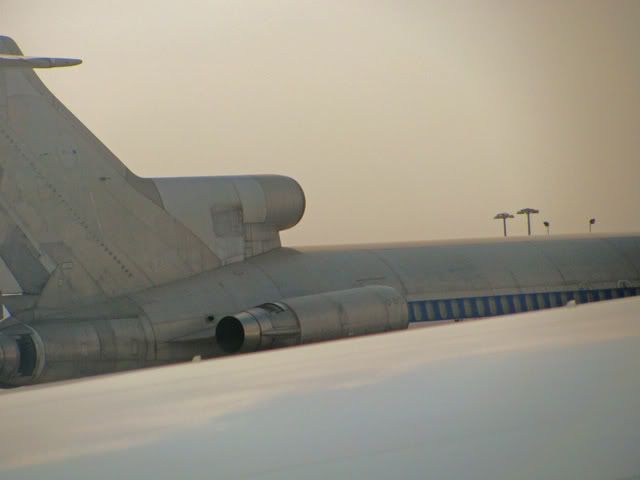 Air Cairo: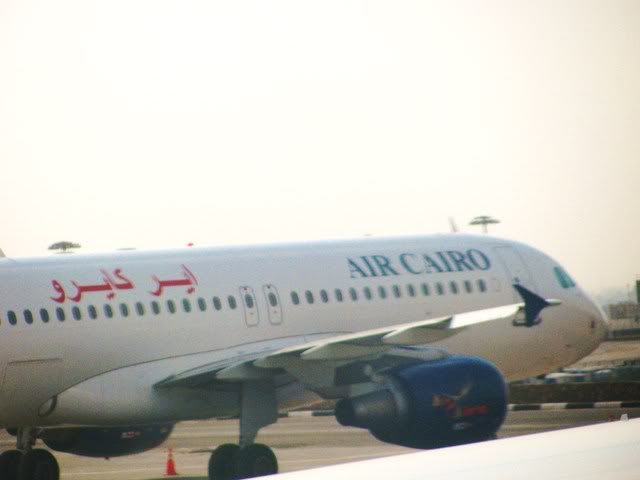 Lufthansa A340 bound for Frankfurt: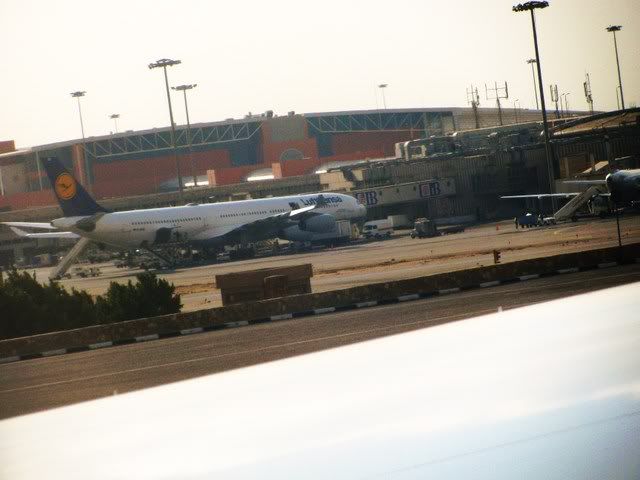 Jetairfly A330 incoming from Brussels: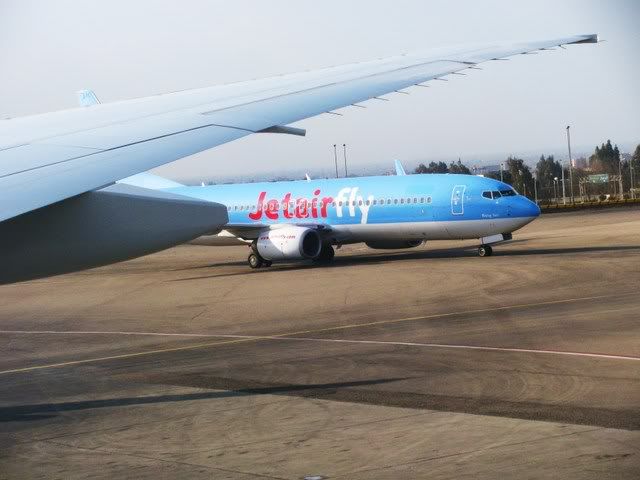 Austrian Airlines OE-LBN A320 bound for Vienna:
Clearly CAI is well served by Lufthansa and its affiliates. By increasing frequencies and capacity, code-sharing with Egypt Air and supporting Egypt Air's entry into Star Alliance, CAI is set to become a growth market for the alliance. There was also a Swiss International Air Lines A340 but unfortunately I did not take a snap.
Crew friendliness:
Crew in Economy rarely have the chance to be friendly or to really 'shine', especially on relatively short flights. Some can be outright rude, but the best they can do is welcome you on board, give out the out sweet or blanket, and serve the meal as efficiently as they can. Qatar Airways is no exception-I didn't 'bond' with any cabin crew, and I don't expect to. On the Doha-Cairo sector, there was a pleasant male Indian crew member who always had a smile on his face, then there was a female Filipina who although didn't shout didn't have a smile. But then, I'm just nitpicking. As an Economy passenger, I expect the airline to get me from A to B on time with my luggage safely with good IFE and comfortable seats. Anything else is gravy.
Another thing-the flight was full of contract workers living in Doha and other points in the Gulf. Now, contract workers enjoy the novelty of being on a plane, and being served, and very often ask for water or tea at random times just for the sake of being served. Although these people have paid for the same ticket and are theoretically entitled to these things, it gets ridiculous when at least 150 people are ordering random things just for the heck of it. Cabin crew on the flight rarely, if ever, heeded to these requests, and would say okay without fulfilling the obligation. It's something I noticed and thought was worth noting. Should such passengers be heeded or should cabin crew pick and choose between those ordering on a whim or those who really need the tea/water?
Overall:
Qatar Airways is an extremely solid airline and a refreshing change. It has proven to be quite competitive on the European routes (in my experience) and its success story is the envy of many. Qatar Airways has a reputation of being a five-star airline and as we all know (thanks to those CNN spots that pop up every ten minutes or so) the airline has won numerous awards. While the experience is not perfect (at least in Economy) it is certainly solid, and one of the superior long-haul airlines out there. Their Doha hub is well organized, efficient enough and orderly, not to mention ideally suited. I would not hesitate to fly Qatar Airways again. I hope that they keep up their current standards and I definitely recommend them.
Qatar Airways tail from the parking lot. Goodbye!
Notes:
I use a Canon Power Shot, which although isn't what a skilled photographer would use, is easy to use, affordable and has the best zoom a camera of its size could have. A lot of the photographs turned out grainy because of the zoom, and the Photoshop programs I use are very basic, but I still took the liberty of colour-correcting many shots. These shots tend to look worse when magnified but was an artistic decision I took.
I'm also trying to find a 'style' for my reports (e.g. distinct font size, colour, style etc.)
I'd appreciate any feedback, and any criticism would be welcome-it's my first try and I hope that I get better with time!
But most of all, I hope you have enjoyed reading this report. Adieu, till next time!