Introduction
During the winter of 2008/9 I set myself a challenge – to see the Northern Lights for under £100. My initial plan of using a combination of Ryanair and public transport through Scandinavia suddenly became less appealing when, in the wake of the Icelandic economy crashing, Icelandair unveiled a raft of tempting offers! Iceland is somewhere that my girlfriend has always wanted to visit so, although I had already been there, it was too good an opportunity miss; she and her sister booked together for just £199 each, including return flights and three nights accommodation in Reykjavik, whilst my trip cost £269 – I'm not sure if that was because nobody else decided to come in the end and I booked on my own, or if the price went up in between us making our bookings, but it was still an incredibly good price for the trip.
Tuesday 17th February
The previous evening I had attempted to check the three of us in online, however it appeared there were some significant bugs in the process. Should you select a seat, say 10A, then deselect it for any reason, it is impossible to then reselect it again – you simply receive and error message telling you that the seat is 'unavailable'. We were supposed to be sitting in a row of three, but could not select 10C again, so in the end I had to sit my girlfriend's sister in the row behind – not very impressive to be honest, especially after then spending 15 minutes listening to some god awful music whilst on hold to the Icelandair helpline, before giving up.
London Heathrow isn't the most convenient of departure points when you live in the South West as we do, however fortune was on our sides as we both needed to travel up country anyway on the previous Friday, and my girlfriend's parents happen to live just outside of Oxford. The drive early on Tuesday morning from their house to Heathrow took around an hour, whilst finding how to get
into
the "Q-Park" car park proved a challenge – typical SatNav sending us to the wrong location, although on the plus side it timed a view of Turkish's new B773ER on final approach perfectly! A ten minute ride aboard the shuttle bus brought us to a deserted Terminal 1 and the Icelandair check in area at Zone L - it felt eerily quiet inside; a lot of new carriers have moved across in preparation for what will become the Star Alliance terminal, but it was still dead compared to the regular mid morning scene when BA was still in occupancy. Pleasantly there was no queue, being served immediately by a helpful member of staff who issued our boarding passes which we had been unable to print the previous evening, although 10C had by now been taken by another passenger.
The security screening process was a breeze, no wait at all, and only the minor hassle of having to take my hiking boots off to be X-rayed – they are so clumpy that it was either wear them whilst traveling or take a bigger hold bag! Some mild retail therapy followed and then lunch at
The Bridge Bar
. According to our passes, boarding wasn't due to begin until 12:35, but at 12:15 the information screens suggested otherwise and by 12:20 they were flashing up 'Final Call'! After rushing down the pier to Gate 25 it was annoying to find that boarding hadn't even started, I suppose it makes people hurry up and get to the gate, but it would be a lot more convenient if they would show an earlier boarding time on the boarding pass.
Today's flight was being operated by
Valdis
, a Boeing 757-200 delivered new to Icelandair almost ten years ago and now sporting a set of blended winglets, this being my first flight on a 757 equipped with them. Boarding took place through door 2L, emerging into the newly refurbished cabin to find our seats in row 10 and 11 at the very front of the economy section.
LHR-KEF
London Heathrow to Keflavik, Iceland
Carrier:
Icelandair
(1st flight on carrier)
Flight:
FI451
Aircraft:
Boeing 757-208(W)
(13th flight on aircraft type)
Registration:
TF-FIO "Valdis"
(1st flight on aircraft)
Date of First Flight:
24.03.1999
Seat:
11A
(10B taken)
Block Departure Time:
13:00
Actual Take off Time:
13:11
Block Arrival Time:
17:00
Actual Touchdown Time:
16:53
Distance Flown:
1180 miles
Total Flying Time:
2 hours 42 minutes
Fare:
£269rtn
(including 3 nights' accommodation)
My partner is a nervous flyer to say the least, so I took the middle seat and let her have the best view out of the window. As a result I didn't get to see much of the take-off itself, barely noticing as the plane rolled onto the threshold of 27L just a few minutes after block time. With aircraft queuing up behind us there was no time to pause; take off power being applied straight away to embark on a long roll, rotating steadily into a steep climb - rushing up to meet the thin layer of grey cloud blanketing the South of England. Breaking out into the sun the climb rate arrested, a series of right hand banks then being made to direct us North towards Manchester at first.
About ten minutes after take-off the IFE became active, I'd been impressed straight away at the size of the screen and once available it proved easy to use and navigate through, although from time to time it would stick a little before changing pages.
A good selection of movies, games and TV shows were available, so we pulled the window covers shut and settled down to watch
The Duchess
on my screen, setting the other to the moving map so that we could keep a track of progress. Headphones can be purchased for €3 or, as it's a single jack socket, you can just use your own regular earphones - likewise there is a small USB socket which allows you to plug your own play station controller in to play games with, alternately you can buy one onboard for 2000ISK, or about £13. I was impressed with the picture quality of the screen; good detail and very clear, the width proving especially useful for the widescreen films.
During the flight a single bar service was carried out; in Economy class only tea, coffee and soft drinks are complimentary along with a light snack, whilst Economy Comfort class entitles you to free wine, beer and a full meal. I had a cup of coffee and a glass of orange juice, but don't seem to recall receiving a snack, although I'm not sure if this is because I didn't ask, or if they didn't have any. Considering that this policy also applies on their lengthier flights to North America, I can imagine there being a lot of takers for the 'buy on board' meal service.
By the time the film had finished there was only about forty minutes left to run, so I returned my screen to the map. There is a very informative cycle feature which runs through all the details, including airspeed, altitude, heading and temperature along with a series of different scaled map views. We were flying high at 40,000ft, but still proceeding into a strong headwind which had the groundspeed down to 470mph at one point.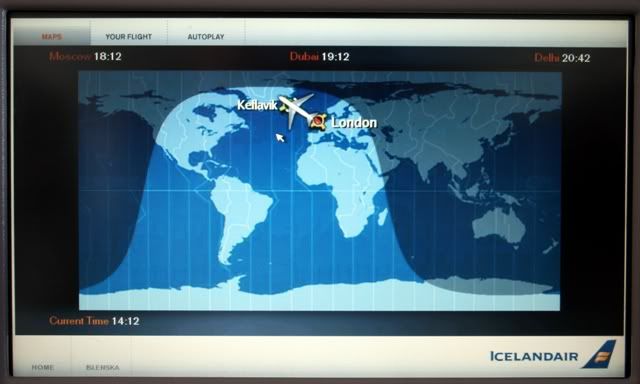 Like England, it appeared the whole of Iceland was blanketed beneath a layer of dusty grey cloud, certainly not looking hopeful for seeing the northern lights. Contorting myself to take pictures was a little difficult, so in the end my girlfriend took them – a very impressive first start to aviation photography I think!
The wind was from the south today, meaning we had to fly a short way north of the Keflavik peninsular, banking steeply left through 180 degrees, to make a final approach towards runway 20.
Touchdown was firm but not too heavy; the wheels meeting the tarmac after 2 hours and 42 minutes flying time, making it my longest segment to date on the B757, as I am yet to have the pleasure of flying one transatlantic. I thought the flight had passed quite quickly, certainly helped by the IFE. One benefit of being seated at the very front of the Economy cabin was the additional space; like most European business classes, the Economy Select seats on board Icelandair are identical to Economy but feature 33 inches of legroom at the front instead of 32 and have the middle seat blocked off, so depending on the Select cabin's size, the front rows of regular Economy will also unwittingly benefit - as I'd hoped when selecting the first row. The seats themselves were comfortable, featuring a footrest if you wanted to raise your legs up slightly, with adequate room for my knees when I tried. Other people were however encountering difficulties with the IFE; the aisle seat next to me was working very spasmodically – clearly winding up the guy trying to use it, and my partner's sister couldn't even get hers to turn on, not great when the roll out began just a few months back in November 2008.
Just moments after docking with the air bridge, door 2L was opened and passengers began to disembark - the downside of using this door though was that passengers in SAGA class ended up exiting the aircraft after the entire Select cabin and many Economy passengers had done.
I remembered this area of the terminal from a previous visit to KEF some years ago; the design is great and, although I don't know if I'm right or not, I interpret it as being symbolic of the tectonic plates pulling apart – a spacious light filled void between two opposing faces. Regardless though, lots of natural light and space is exactly what you need after being cooped up inside an aircraft for hours.
Only two officers were present to check people's passports, meaning that a long queue formed within moments, but on the plus side our bags were on the carousel by the time we arrived into the reclaim hall. Unfortunately transfers to the hotel were not included in the price, so we took the FlyBus, costing 4000ISK (£25) for a round trip to the hotel, from the front of the terminal. I got the feeling that most people on the bus were travelling on the Icelandair package, with many also staying at the Hotel Cabin. It was the cheapest option available and we'd heard that the rooms were tiny and service was quite poor, all in all though it didn't take too long to check in, and you could just about swing a cat in the room - the only problem I found was that the single beds (no doubles available) were very narrow; being used to a King sized bed I would go to roll over and either find myself head-butting a wall or falling onto the floor!
However breakfast was included in the price, and you certainly couldn't complain about the view:
Although I had been to Iceland before, I certainly wasn't going to turn down another opportunity to go on the Golden Circle, it's a great way of seeing the major sites around Reykjavik, and was given to me by my partner as a very nice Birthday present. In order, the pictures show the valley where North America meets Europe; the Gulfoss waterfall; and the Strokkur Gesa.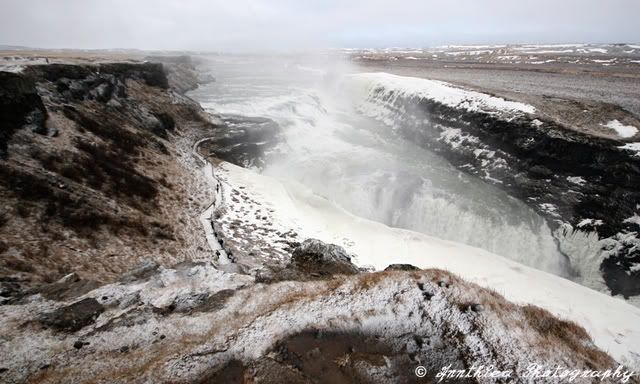 The evening was to provide a special treat though; whilst having a drink in our room I happened to look out and see a beam of light shooting upwards - I did a double-take at first; I knew what it was, but I also knew it was impossible! The
Imagine Peace Tower
is a memorial to John Lennon from his widow, Yoko Ono and is illuminated from the 9th of October until the 8th of December (the date on which he was shot), yet here it was on the 18th of February, projecting thousands of feet into the sky. Although it was snowing heavily I set off and walked a couple of miles until I found a good vantage point to take pictures from, at which point the sky cleared and even the Northern lights came out to play, although I didn't actually notice until my girlfriend looked at the pictures when I got back to the hotel room, where-upon we rushed back out again!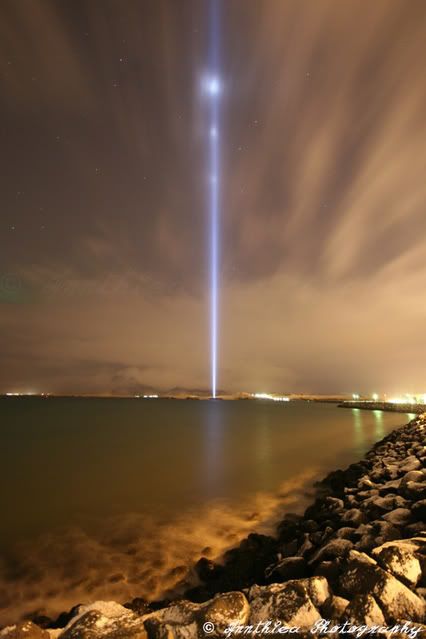 And there they were - the northern lights, not the brightest, but considering we were stood on the sea front in downtown Reykjavik I didn't think they were bad! It would have been nice to stay in this hotel, with a view out over the runway of RKV, the city airport, but you can't have everything I suppose.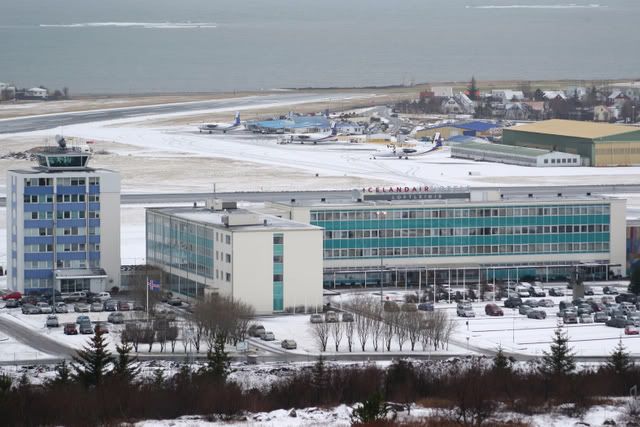 Friday 20th February 2009
Unfortunately I had to return to London on an earlier flight than my girlfriend and her sister; the short time between out bookings meant it would have cost me an extra £200 to take the same flight, which was a little too steep for me, hence I elected for the earlier service and a cheaper price. I'd checked us all in the night before at Icelandair's self service machines in the Hilton Hotel Reykjavik, which was nice and easy; no problems this time selecting seats and our boarding passes and luggage tags were all dispensed correctly. As I was flying on my own this time, I would be sitting by the window, so I selected 24A for a good view of the winglet.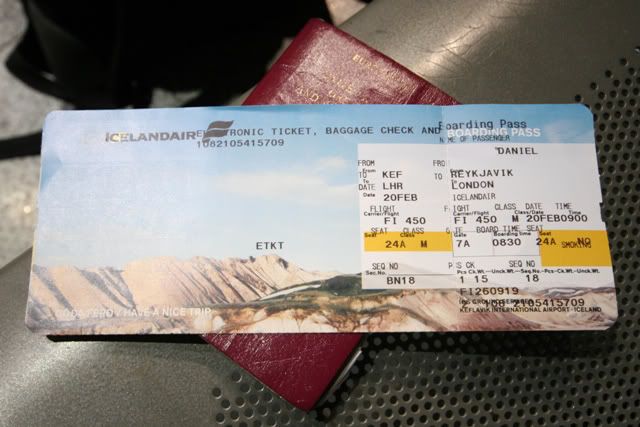 Because my flight was early I had to be on the FlyBus to the airport at 5am - a very unsociable hour, arriving at just gone 6am. Once I'd said goodbye to my Bergen at the baggage drop there was still loads of time to kill, so I sat down with my laptop and began to write this report, until after an hour or so the battery died and I realised the power cable was in my checked bag. It was just gone 8am now, most flights were boarding and the check area was almost empty, so I took a few pictures.
There was still some time, so I braved the cold and wind to take some pictures of the airport's two best known sculptures. The first, by Magnús Tómasson, is called "A Jet's Nest" whilst the second, by Icelandic artist Ruri, is called "The Rainbow". In the background is the Leifur Eiriksson Air Terminal itself.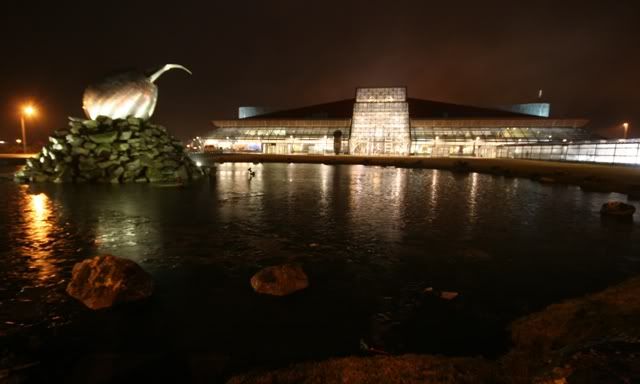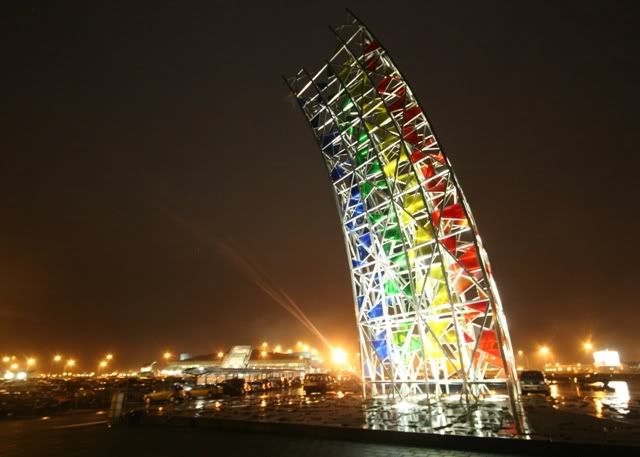 With just under an hour left until departure to London I headed back inside, proceeding upstairs to security which was completely deserted as I had hoped - there was no point rushing straight through when hundreds of other people were trying to make earlier flights.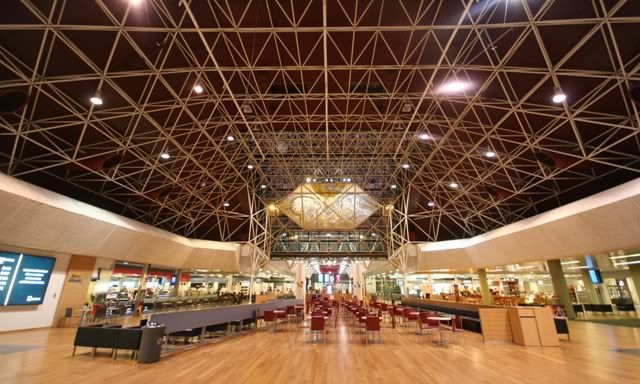 The centre of the departures lounge is cavernous and, like the security channel, completely empty - which made it feel even bigger. Icelandair's London flight is the last of their morning flights, taking off an hour after their services to ARN, CPH, CDG and OSL have all departed within half an hour of each other. At the entrance to the departure pier is another sculptural piece, by Steinunn Þórarinsdóttir, depicting humanoid aluminium casts as the four points of an outfacing compass.
Compared to the rest of the terminal the pier is pretty boring; it looks more like a child's' plastic toy than part of an international airport, opening out again the other end to the back of the contemporary passport control area.
As can be expected, my flight was departing from the non Schengen area and would be operating from gate 7A today, where most of the passengers had already boarded when I arrived. I just had time to get a couple of pictures in the murky light of dawn before walking down the air bridge to where TF-FIV,
Gudridur Porbjarnardottir
was waiting to fly me to London, another new build aircraft for Icelandair, having first flown almost exactly 8 years previously. This aircraft also flew the returning Icelandic Olympic medalists from Keflavik to Reykjavik City Airport on a special charter flight, making a spectacular low pass before landing and captured perfectly by the photographer of the shot below!
View Large
View Medium


Photo © Baldur Sveinsson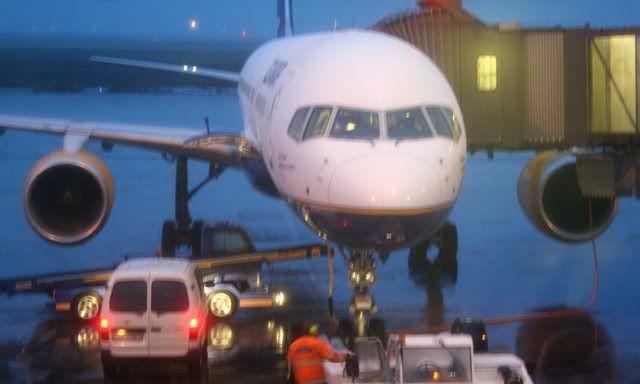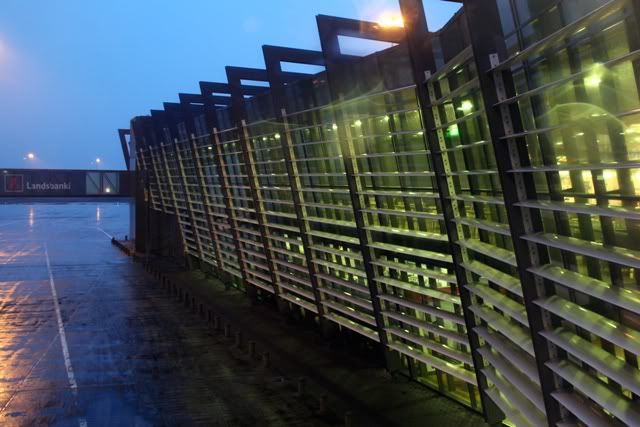 KEF-LHR
Keflavik International, Iceland to London Heathrow
Carrier:
Icelandair
(2nd flight on carrier)
Flight:
FI450
Aircraft:
Boeing 757-208(W)
(14th flight on aircraft type)
Registration:
TF-FIV
(1st flight on aircraft)
Date of First Flight:
21.02.2001
Seat:
24A
Block Departure Time:
09:00
Actual Take off Time:
09:06
Block Arrival Time:
12:00
Actual Touchdown Time:
11:36
Distance Flown:
1180 miles
Total Flying Time:
2 hours 30 minutes
Fare:
£269rtn
This time I was sat towards the back of the cabin and upon arriving at my row was asked by a stewardess if I would like to move so that two people could sit together. 'So long as there is another window seat, then yes', I replied. Unfortunately though the flight was full and there wasn't, now if this had been a parent and child then I'd have moved without question, but considering it was just a couple of guys in their mid 20s I figured they could probably handle being separated for a couple of hours, although in the end someone else moved aisle seats so they could sit together.
By the time this had been sorted the aircraft was pushing back from its stand, ready to taxi the short distance to runway 11. Once lined up there was a short pause before the two RB211 engines roared into life and blasted the aircraft down the tarmac, lifting barely a few hundred feet into the air before disappearing into the cloud base, reappearing above them a few minutes later in the morning sun which cast a pinkish tint onto the cotton like formations.
On this occasion it took a frustratingly long time for the IFE to flicker into life, and even then for the first ten minutes if was taken up by advertisements, so that Iceland was far behind by the time I got the map up: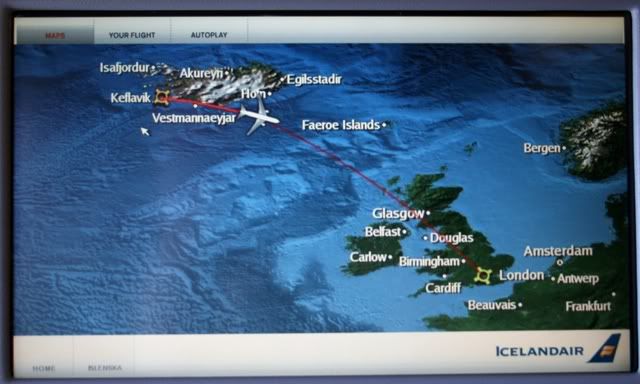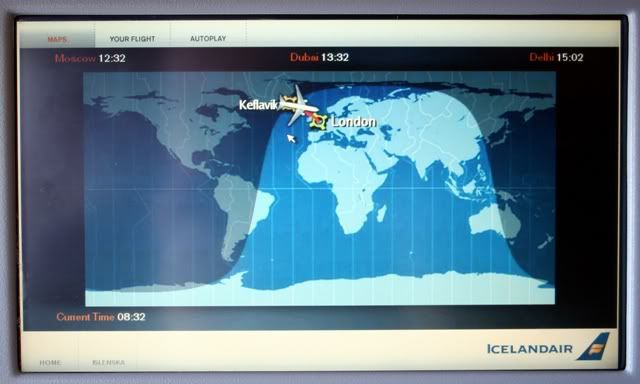 Being over the middle of the Ocean there wasn't much to look at outside, so I decided to watch another film;
Minority Report
, only I should have noticed that it was longer than the remaining flight time, so I wouldn't get to see the end of it. Along the way I kept half an eye out of the window for the occasional white vapor train being laid out behind a tiny silver object, taking the odd picture of the wing and winglet. If ever there was an aircraft which suited the winglet it's the 757, especially with Icelandair's livery on it – I always promised myself that I'd never use the word 'sexy' to describe a plane, but it's almost deserving of such a term!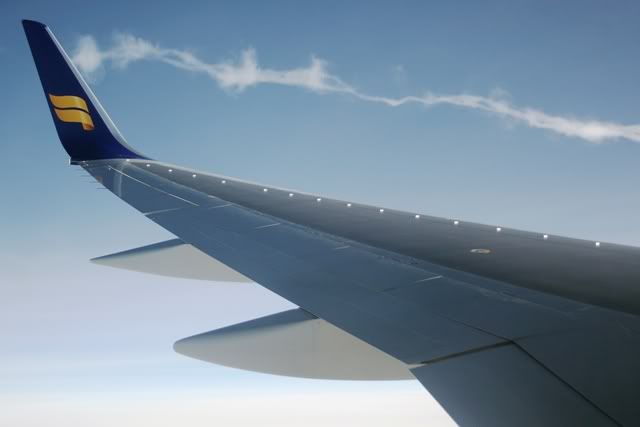 It took quite some time for the drinks service to reach the rear of the cabin as many people were purchasing food, I took a coffee and orange juice, but again there was no snack served – perhaps they have now dropped this from the service? With a strong tail wind the flight was rapidly eating up the distance to London, cruising at nearly 600mph most of the way, initiating the descent over Manchester and slowly losing height as we passed over the Midlands towards Oxford, with still almost an hour before the flight was scheduled to land.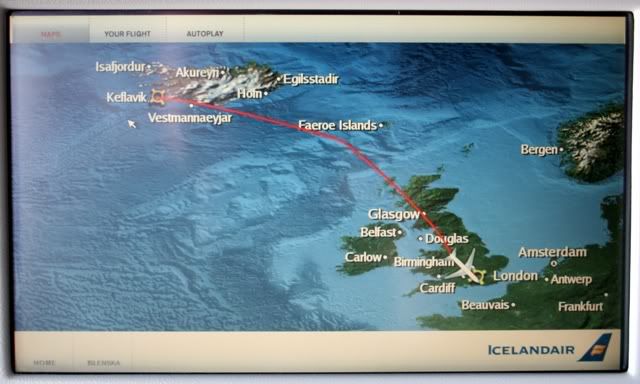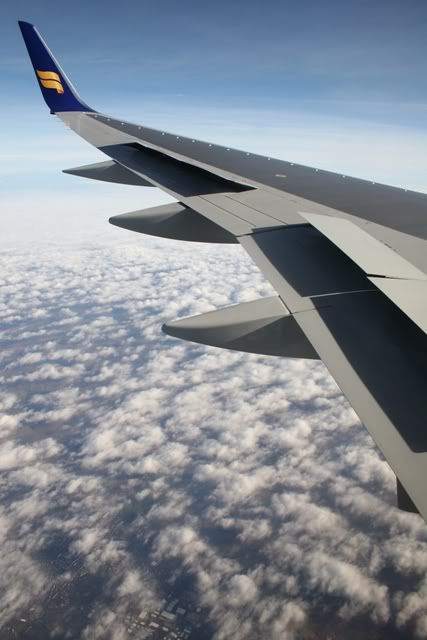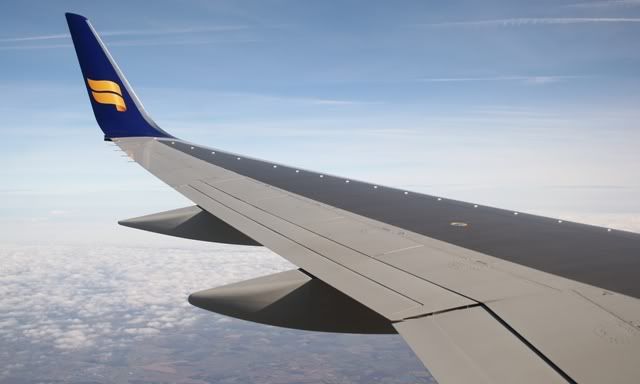 Being early at Heathrow isn't necessarily a good thing though, as you tend to just get shoved in the stack until nearer to your allocated arrival time, which is just what happened to this flight, taking two trips around the Bovingdon Hold before flying North across London.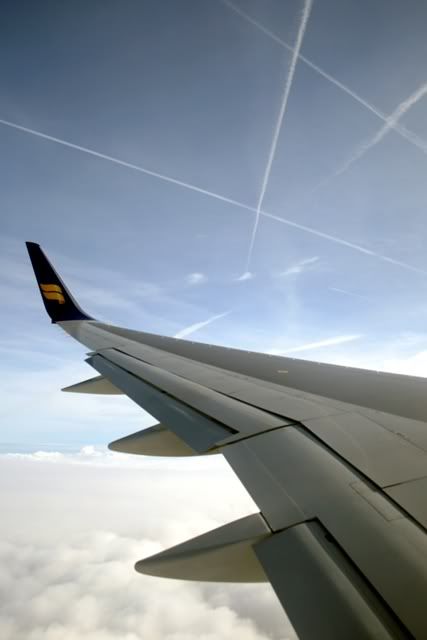 Arrivals were landing on 27R this morning, with my flight making a steady approach but a heavy landing, slamming the engines straight into reverse and raising the spoilers. I'm not surprised either, there was a BMI A319;
G-DBCA
hot on our tail, which was followed in turn by one of Air Canada's Star Alliance logo jets;
C-GHLM
– an A330-300.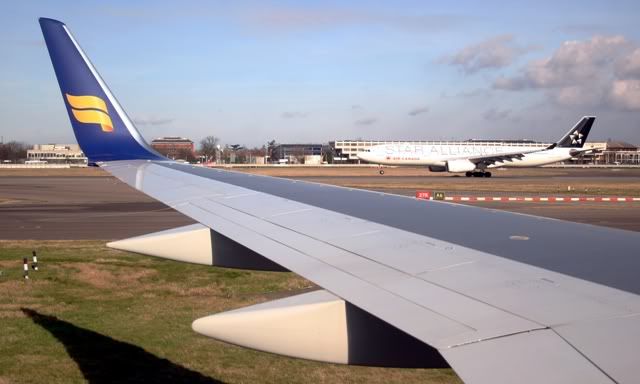 The arrival gate at Terminal 1 was a mercifully short taxi away – sometimes, when landing on 27L at LHR, you can circumnavigate the entire central Terminal 1,2,3 area only to end up virtually back where you started – one taxi to Terminal 2 in an Iberia A321 lasted 25 minutes! Once arrived at the gate I lingered, letting most of the passengers exit, before asking if it would be possible to take some pictures of the new cabin – the crew were most accommodating and also allowed me to take some pictures in the cockpit.
I don't think the extra inch of legroom I had available on the way to Iceland made much difference; 32 inches is still pretty generous by European standards - my legs had plenty of space and weren't jammed up against the seat in front. I was interested to see that the Saga Class seats share the same sized PTVs as the Economy seating, I found this a little odd and would have expected to see something bigger to make up for the extra pitch of 39 inches.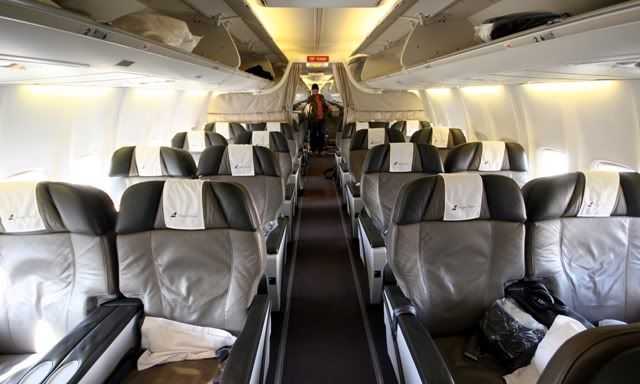 I was last of the aircraft, which seemed to cause a headache for the ground handling agents, as they thought all passengers had exited and thus changed the door orientations to let departing passengers back into the gate lounge – oh dear! It was a long trek to passport control – up and down escalators and stairs, and another escalator down to the reclaim hall, where I assumed my luggage would probably already be waiting knowing how long I had taken to get off… but oh no, this is Heathrow, it took an hour after pulling up at the gate for the first bag to appear.
I now had six hours to kill and as it was a beautiful winters day I knew exactly where to head; the arrivals end of 27R! I dropped by Bergen off at the luggage store, it was far to clumsy and heavy to lug around, then caught one of the free parking busses out to the area I wanted to be in – I didn't think you were supposed to do this, but it was suggested by the information desk, so gave it a go. The light wasn't bad to start with, so when the runways switched at 3pm I walked over to Myrtle Avenue, but soon afterwards it really deteriorated, nevertheless, it was nice to shoot some LHR arrivals for a change; please excuse the very rough edits on most of them:
TAP Portugal
; A321-211;
CS-TJG
: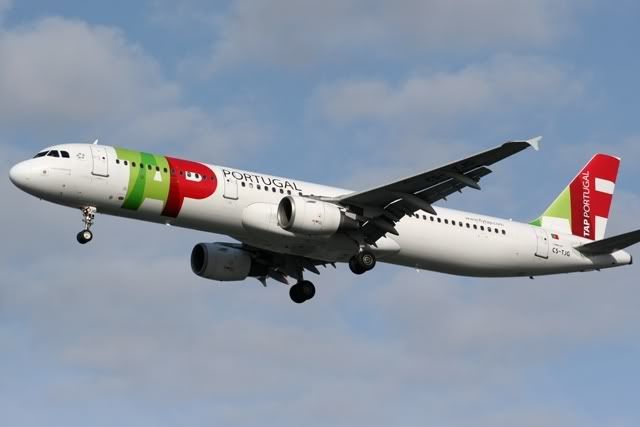 British Airways
; B747-436;
G-BNLF
: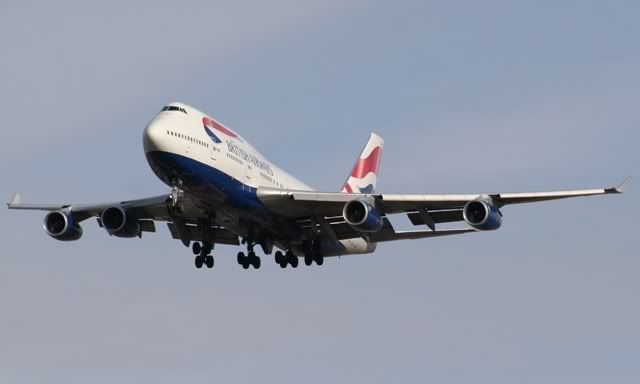 British Airways
; A321-231;
G-EUXM
: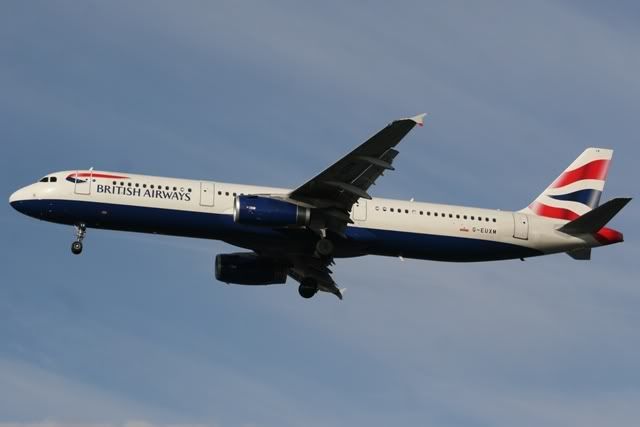 Virgin Atlantic Airways
; A340-642;
G-VWEB
:
British Airways
; B747-436;
G-BYGG
: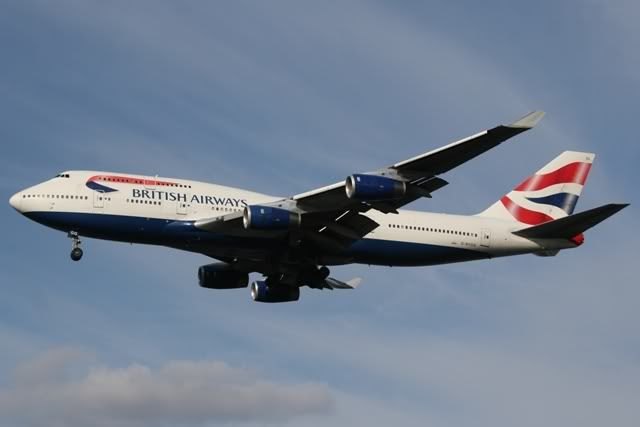 Cathay Pacific
; A340-313X;
B-HXL
:
Gulf Air
; A340-313X;
A9C-LH
:
ANA
; B777-381ER;
JA780A
:
British Airways
; B777-236ER;
G-YMMI
: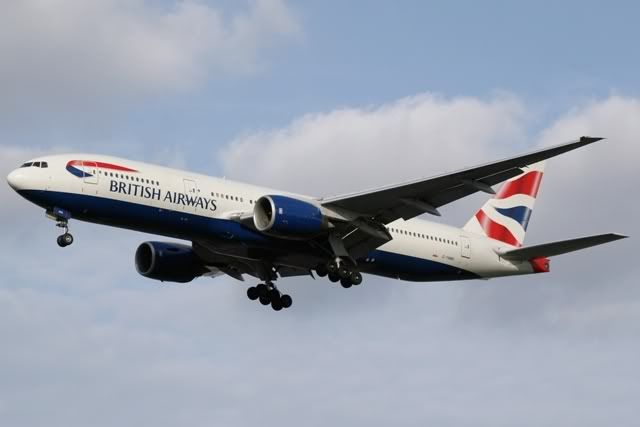 TAM
; B777-32WER;
PT-MUD
:
Malaysian Airlines
; B747-4H6;
9M-MPM
: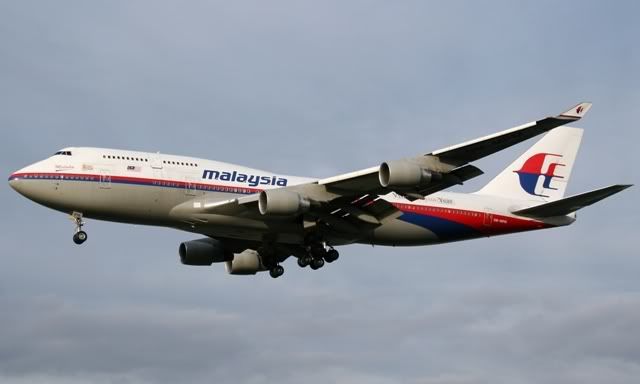 British Airways
; A320-232;
G-EUUL
: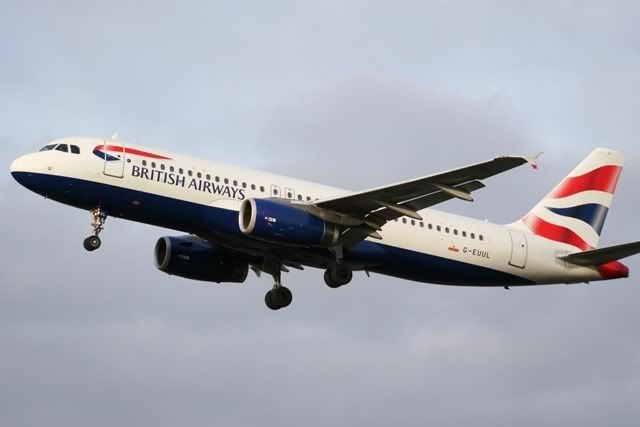 Kuwait Airways
; A340-313;
9K-ANB
: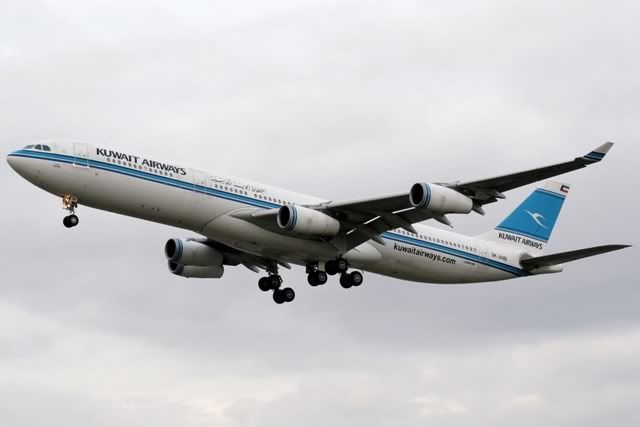 Egypt Air
; B777-266ER;
SU-GBS
: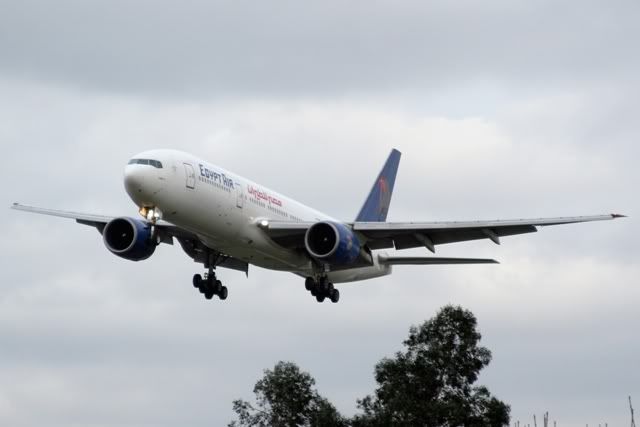 With dusk upon me I headed over to Terminal 5 for my first look inside, and I wasn't going to be disappointed - it's beautiful, spacious and really well laid out – everything Heathrow didn't used to stand for basically, I found it reminiscent of Hong Kong International in some ways. Finally I rang a friend and we decided to meet up by Terminal Four, on an embankment with a view of 27L, and from where I watched my girlfriend's flight touch down just before 7.30pm. I walked back to Terminal 4 in order to catch the Heathrow Express into the central area, it was in a similar state to T1 – lacking the huge number of passengers who had once thronged through its doors, on their way to the far corners of the British Airways long haul network.
Like my own, it took forever for their luggage to arrive and, whilst they had enjoyed a day at the Blue Lagoon, the flight hadn't been so good; the plastic surround and scratch panel on the window had chosen to wait until a really nervous flyer was sitting beside it to come lose and then fall off. Being a completely full (overbooked) flight there was nowhere else to move, so I get the feeling we won't be flying on Icelandair again for a little while – I know it's only superficial and the crew were very reassuring that it wasn't a problem, but still, it really freaked my girlfriend out and at the end of the day shouldn't have happened. I then collected my bag from the store and we headed to the car park, the drive back to Oxford taking around an hour, followed a couple of days later by another five hour drive home to Devon.
In conclusion I found the return flights very pleasant – the economy product is good, with a nice IFE system, good legroom and comfortable seats, my only criticism would be the lack of complementary meals. On a relatively short flight from London I have no problem, but several times I've had the option of flying Icelandair to America, so if I saw a tempting fare in the future then I would have to consider whether the benefits of the seating and entertainment outweigh the additional cost of purchasing meals onboard, not to mention the extra time associated with making a pit stop in Keflavik. The overall holiday package was incredible value for money and compared to my previous visit the exchange rate was far more favorable, whilst restaurant prices were also significantly cheaper – now is certainly the time to visit Iceland as it's relatively cheap, although I hope for the sake of the country and it's citizens that the economic crisis is not prolonged any further. Most importantly though, we got to see the northern lights, which is something I have always dreamed about since I was young.
Thank you for taking the time to read this report, please feel free to comment and ask any questions which you may have.
All the best,
Dan