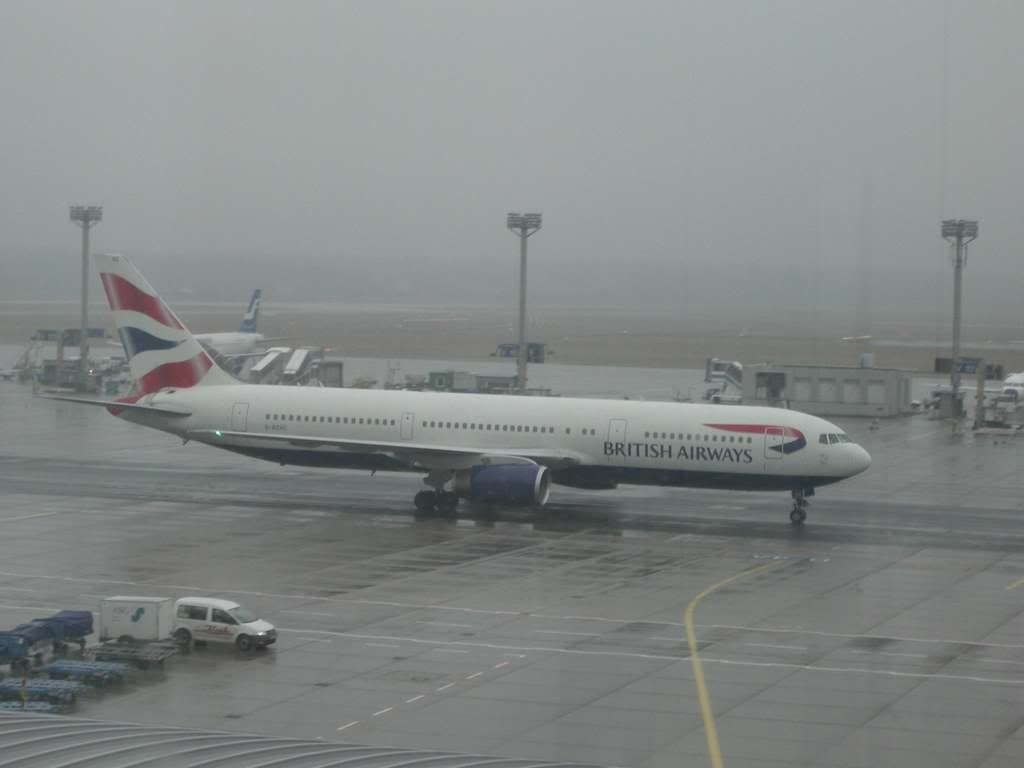 Portugal 1/3: BA´s classic 763 and TAP to Madeira
Hello, dear readers,
four biz weeks gone by, since my arrival from Morroco:
http://www.airliners.net/aviation-fo...ums/trip_reports/read.main/142610/
Let´s start another mission.
The BAE ATP is a very rare plane type here in Europe. Flown in freighter configuration for example by West Air Sweden and only operated for
passenger services also in Sweden by Nextjet or in Portugal by SATA Air Acores.
And it was missed from my log, till now.
I´ve done plan´s for that ride for several times and when I´ve read that SATA ordered Dash 8 machines to replace the ATPs, I´ve fixed my
bookings for late February this year.
Two nights/three days around the BAE ATP.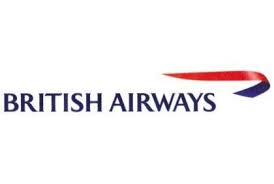 Sunday, 22.02.2009
FRA (Frankfurt-Rhein-Main) Not that really cold, but wet, 5 degrees centigrade
LHR (London-Heathrow) Windy and mild, 12 degrees centigrade
Duration: 1 hour 15 minutes announced
1 hour 40 minutes actual

Service BA 903 operated by British Airways Boeing 767-300 G-BZHC
Scheduled: 11.15 // 12.05 (-1 hour time difference)
Actual 11.45 // 12.25
Gate: D4 Seat: 39A
Load factor: Near 100%
Fare: 79,72 EUR
That was, for sure, not that funny ride to STR that sunday morning, completely snow covered roads, not more than 60 km´s per hour possible.
At the airport at around 06.45 am, parked the car quickly and down the stairs to the train station. Departure 07.08 am to Stuttgart
main train station, where I've changed to the ICE high speed train, directly to FRA airport. BA´s STR-LHR service is usually operated by A319´s,
so I´ve decided to fly out of FRA to catch the 763.
My last flight on this type was some ten years ago.
Both, suburban train and ICE departed ontime, the ICE was overbooked, so it seems, lots of people without seats, as usual during vacation times.
Arrival at FRA´s high speed train station ontime.
My train is departing from FRA: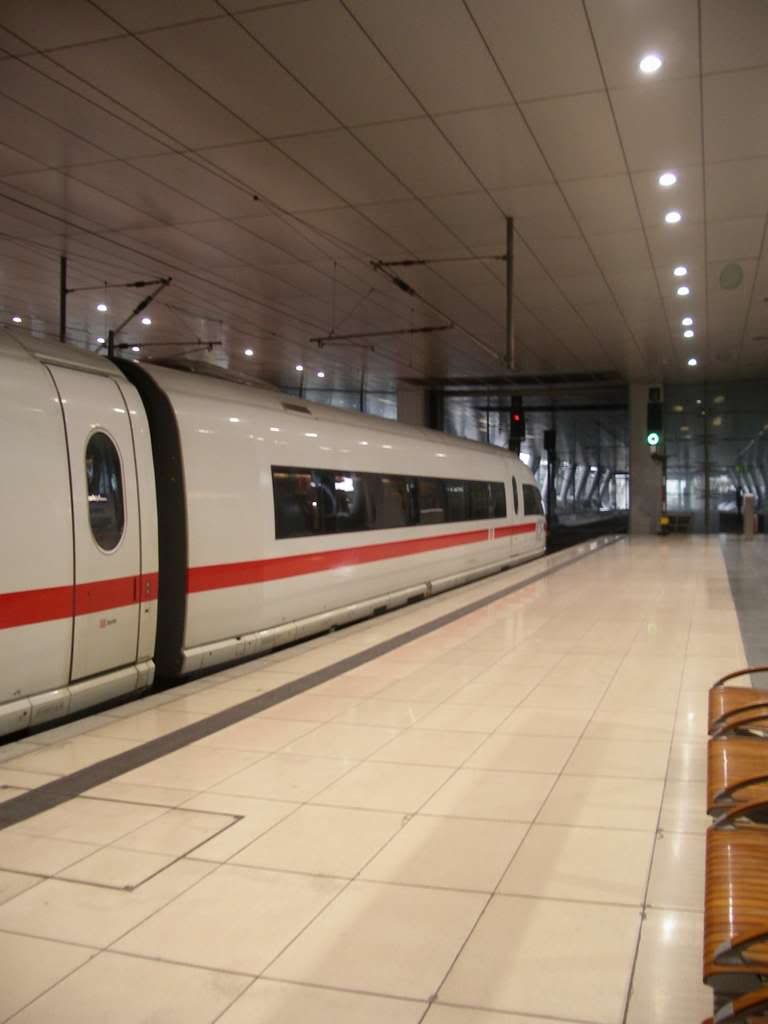 With the train station near Terminal 1 and BA´s operation from Terminal 2, I took the Skyline for the change.
BA check-in was done online the night before, secured my preffered seat, you know, window last row. Not more than five minutes and my boarding pass was changed for a classic one and my bag was send to LHR by a friendly older female agent. She asked me for more flights today, but I´ve decided to check-in my bag further at LHR.
No time to wait at passport control and also at security. Only six gates there in that area, mainly used for flights to the states.
A few minutes later I saw the nice BA colours out on the taxiway between the two parallel runways. These colours looking really good on the 767-300.
Nice colours in the distance:
Something new for DL:
Well known MH: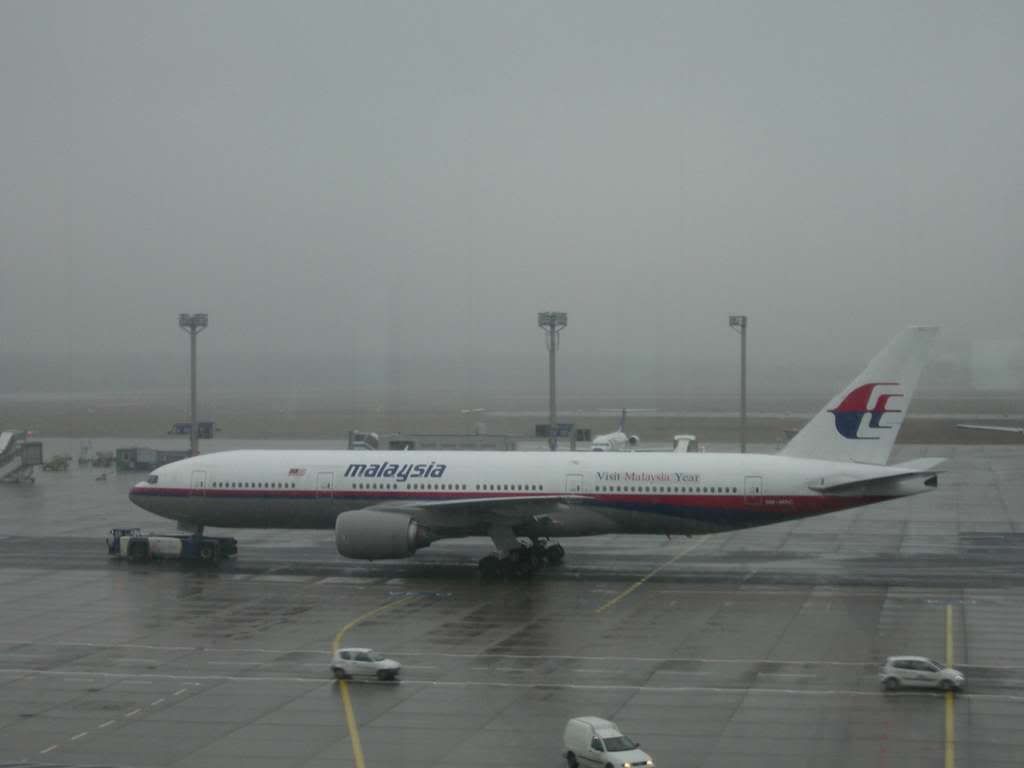 That will be my third ride on the B763 only, with the last two legs, both on DL machines, more than ten years ago, so I´am looking really forward to it.
Todays plane G-BZHC remained its entire career with BA, delivered on 19.06.1998.
And it´s the newest machine in BA´s 763 fleet with 21 examples.
The plane passed by, well positioned for me doing pictures and parked at the finger at gate D4.
My machine:
And once more: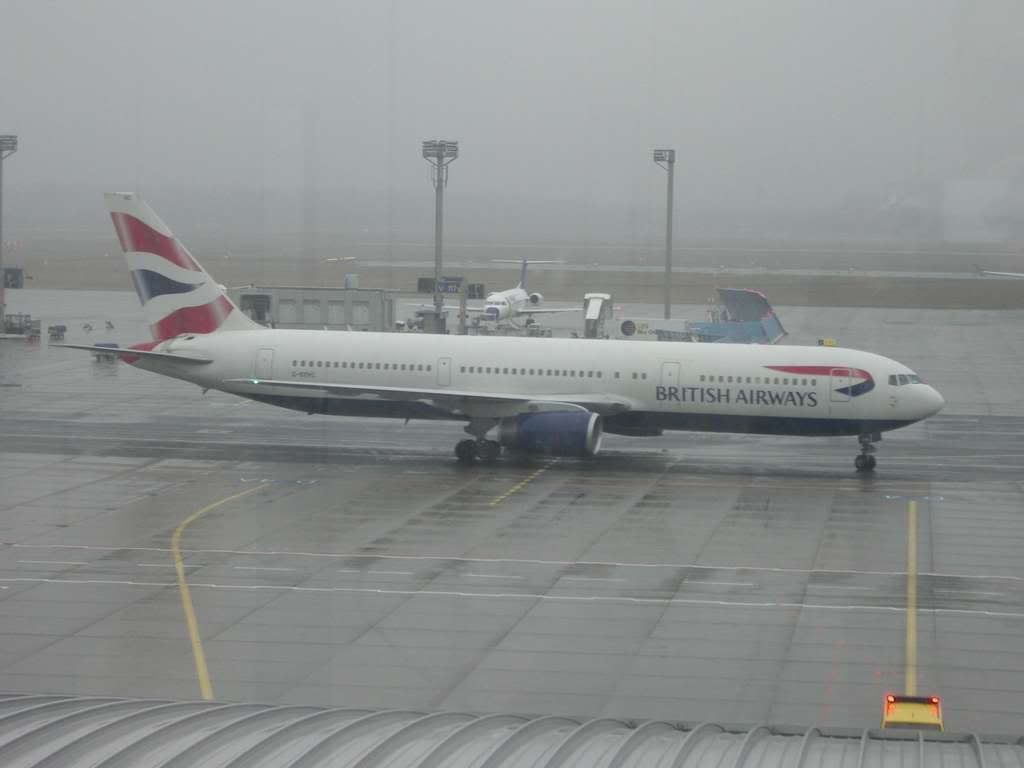 Only a very low number of pax deboarded, later I´ve learned about 26 pax inbound, a bit more than a 10% load!.
But according to the heavy numbers of pax at the gate, the outbound will be much better loaded, 221 pax over all.
Boarding started and I´ve entered the cabin, a welcome only at the door, no notice from the other crew members standing at their positions.
Let me say, that was a real experienced cabin crew, very professional but not especially friendly.
One male, five female FA´s.
The UK captain was on the speakers with lots of detailed informations during boarding. He apologized for the late departure, according to weather related traffic
separations around FRA.
We had to wait some more minutes till pushback and he informed us two or three times more.
The cabin fitted with oldfashioned blue fabric seats. The interior looks slightly outdated, not that really clean, but legroom was ok.
Old fashioned center cabin monitors, not in service today.
My seat:
The cabin: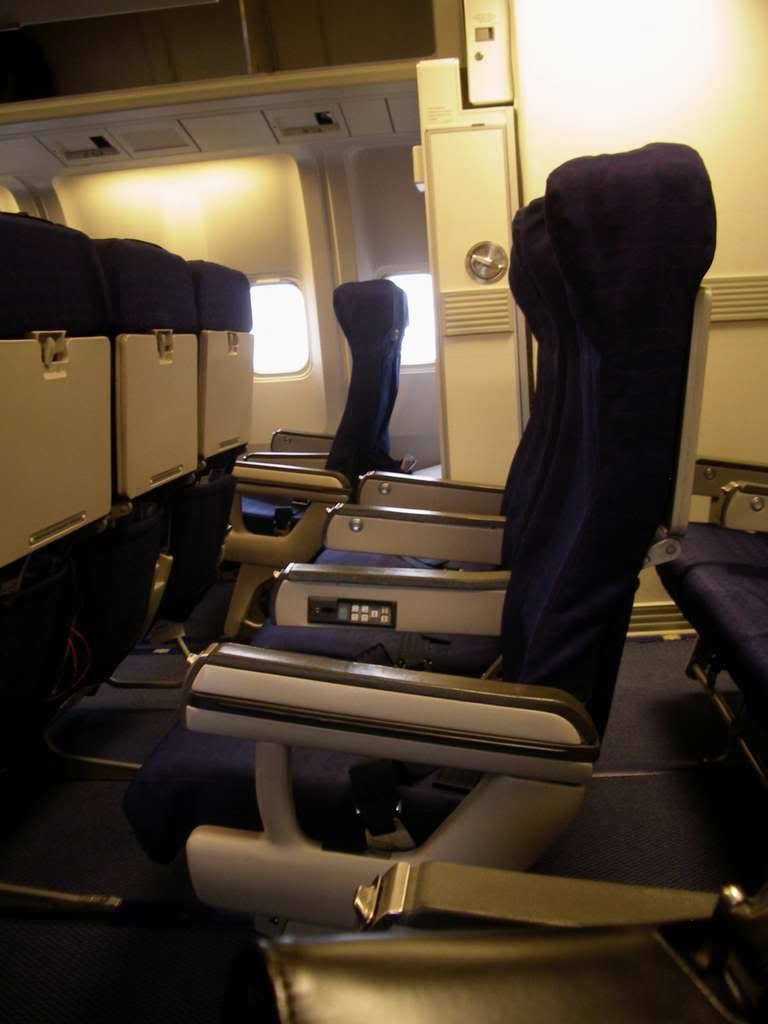 At around 11.45 am we´re ready for departure from FRA´s 4000 meter long runway 18.
Also with that good load, the departure was fast and impressive.
Crusing level 34000 feet, cloudy skies above BRU and Oostende.
Above the clouds:
Traffic:
One time free beverages and a cereal bar from the service cart.
The pilot informed us later about the usual holding prior to landing at LHR. Some ten minutes today.
It looks like London:
Landing on the 3901 meters long runway 27R some minutes late and taxi to T5. My first time there. A good impression. Finger deboarding.
Nice Virgin machine:
BA One World: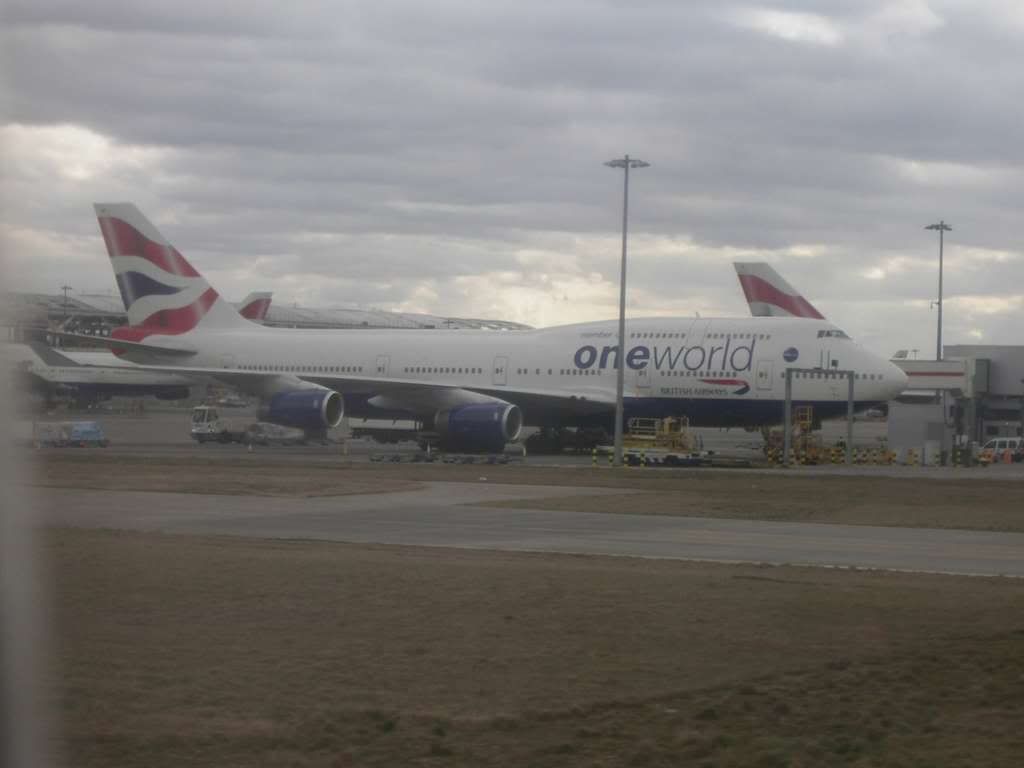 Heavy towing:
Bye-Bye G-BZHC: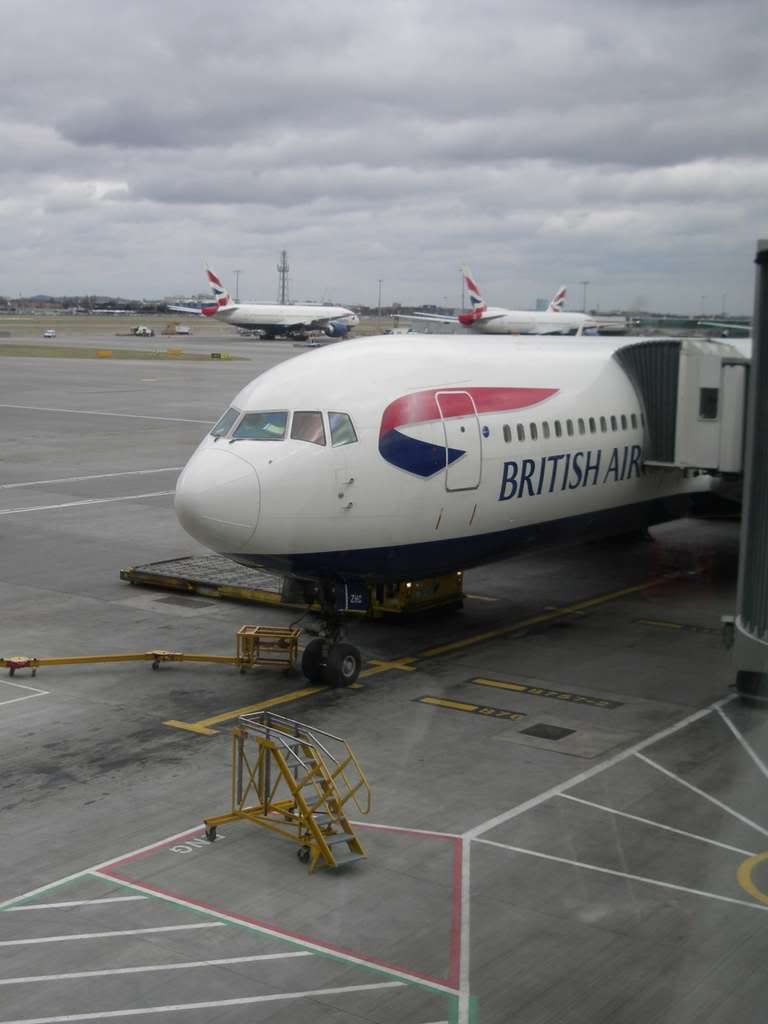 Only some very few minutes at passport control, my bag was quick on the belt. So time to change for Terminal 2 by the Heathrow Express train,
free for the intra-terminal ride.
Sunday, 22.02.2009
LHR (London-Heathrow) Windy and mild 12 degrees centigrade
FNC (Funchal-Madeira) Cloudy and windy, 18 degrees centigrade
Duration: 3 hours, 10 minutes announced
3 hours, 30 minutes actual

Service TP 391 operated by TAP Portugal Airbus A320 CS-TNE
Scheduled: 16.25 // 20.15
Actual: 16.30 // 20.00
Gate: 8 Seat: 28F
Load factor: Around 95%
Fare: 94,27 EUR
TAP´s online check-in was a complete joke.
Identifikation needs a Victoria member number, TAP's frequent flyer programm. I´am not a member.
The other opinion is your E-Ticket number, LHR departures switched to LH´s website which is responsible for the check-in there.
And when you check LH´s website, there is no place for the e-ticket number, the booking reference was also not accepted.
Time enough here during my change at LHR, so I decided for classic counter check-in, no other way possible.
Arrived at T2 well ontime, three counters open, only one with a family there. The guy was not unfriendly, no problem there to secure my preffered window last row
seat and once again my bag disappeared in the belly of LHR.
Surprisingly not a minute to wait at security, strict with shoes off and I was in LHR´s gate area.
Some shopping with, thanks to the strong EURO, very good conditions.
And time to walk around. LHRs T2 offers not that much quiet and interesting places for us enthusiasts, but the time goes by with exploring T2 and also T3.
JAT to BEG:
Something big in the distance: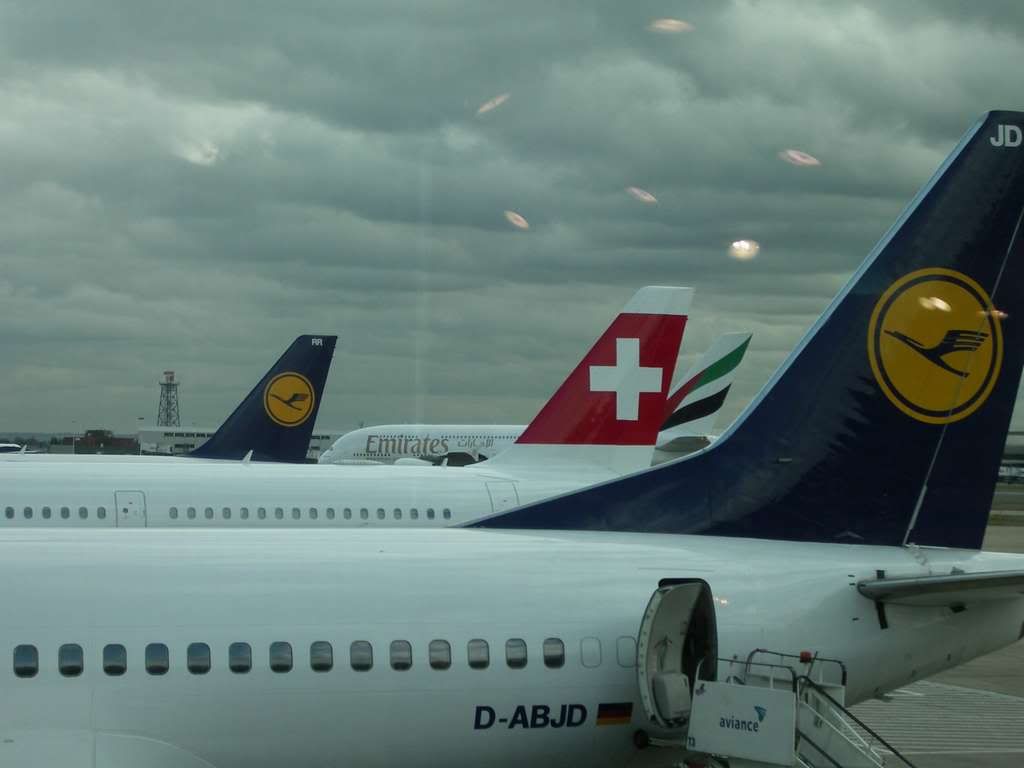 Maybe, its the EK A380?: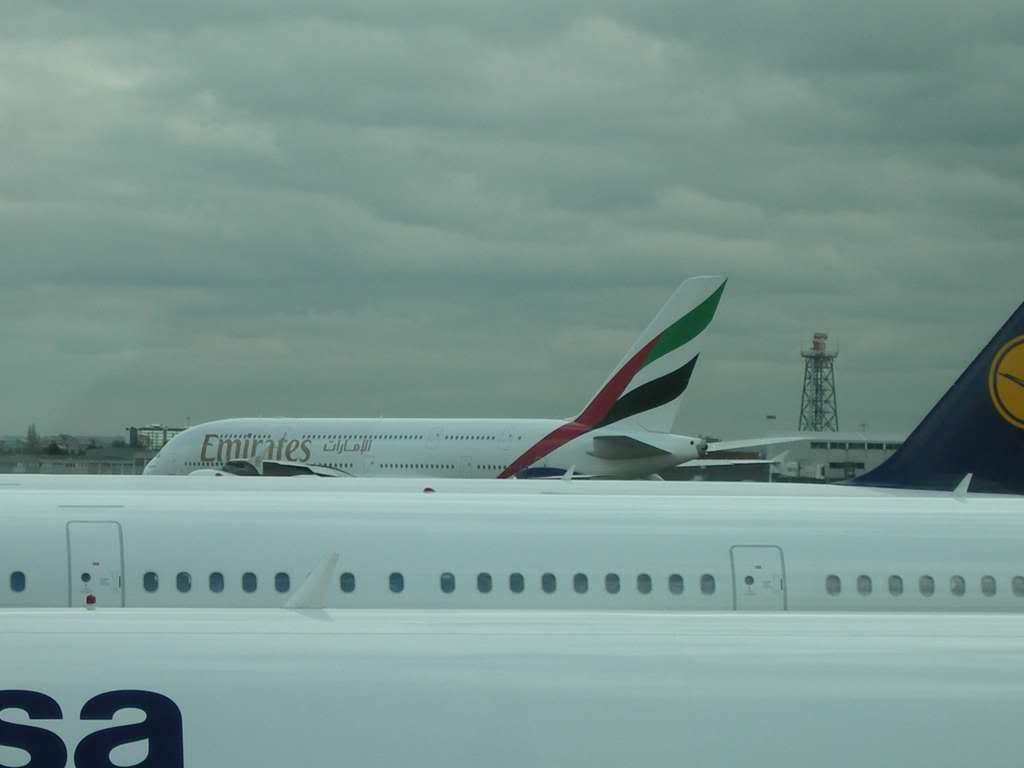 Yes thats it: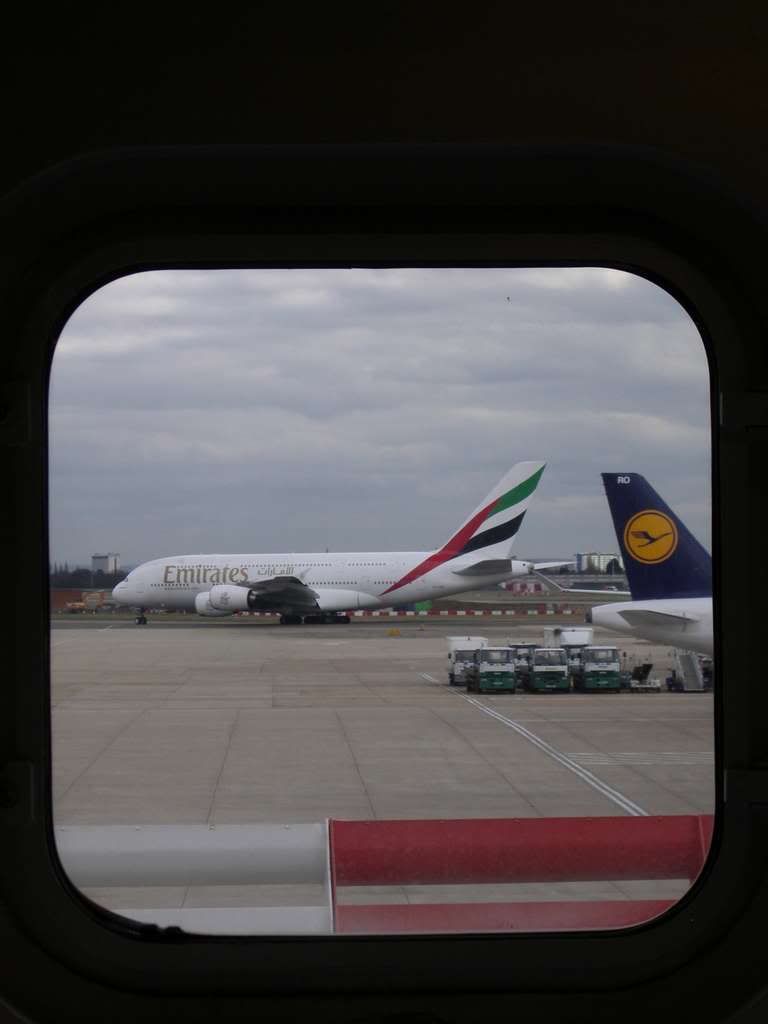 IB One World:
And something for Phil/OA260 in the distance:
My machine:
Phils machine: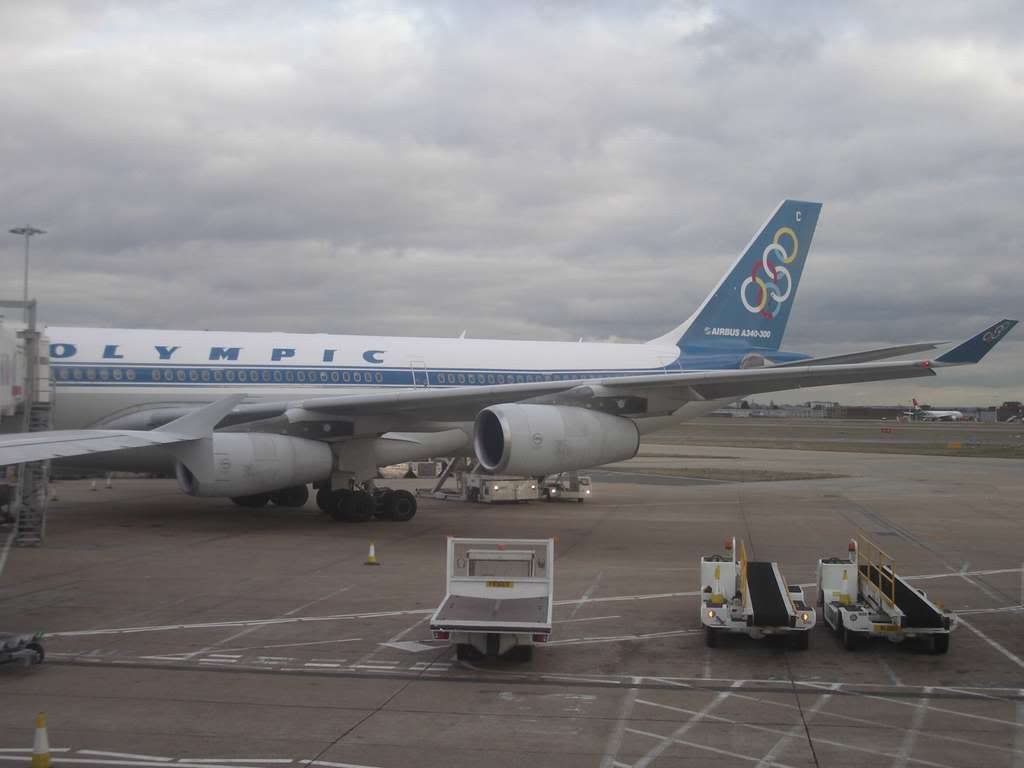 I´ve missed my planes arrival, the gate shows up on the screen, the usual run from the central waiting area started and the small gate area filled quickly up.
Looks like another good load here. Only minutes later finger boarding started.
CS-TNE, named "Sa de Miranda" was my machine today, a plane with an interesting history.
Delivered for the first time to TAP at 03.03.1993. In service with now defunct Portuguese charter carrier Air Luxor from 21.03.2000, later leased to Novair from Sweden
at 01.06.2002, back to Air Luxor at 27.03.2003 and the second time in service with TAP since 10.03.2004.
TAP´s A320 fleet counts 16 machines at all and thats one of the oldest examples.
CS-TNE was a new entry to my, by now with 44 flights covered A320 log.
Three male, two female FA´s. Bright grey fabric seats. Looks somewhat oldfashioned, clean, the legroom was ok.
Seats: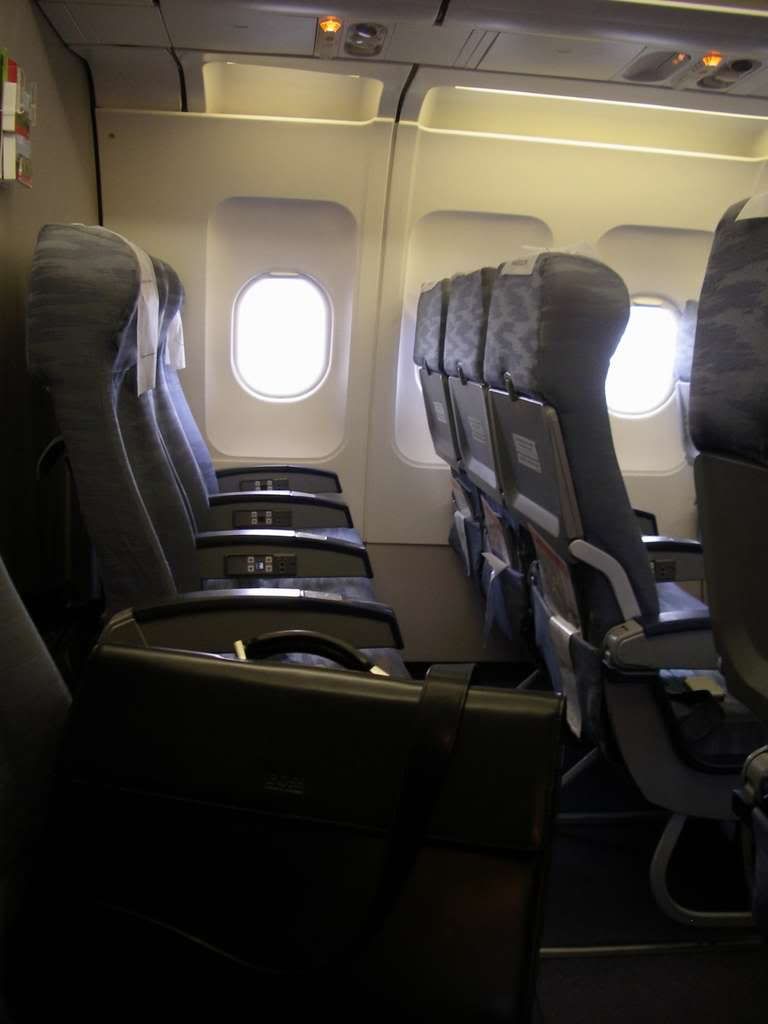 Cabin overview: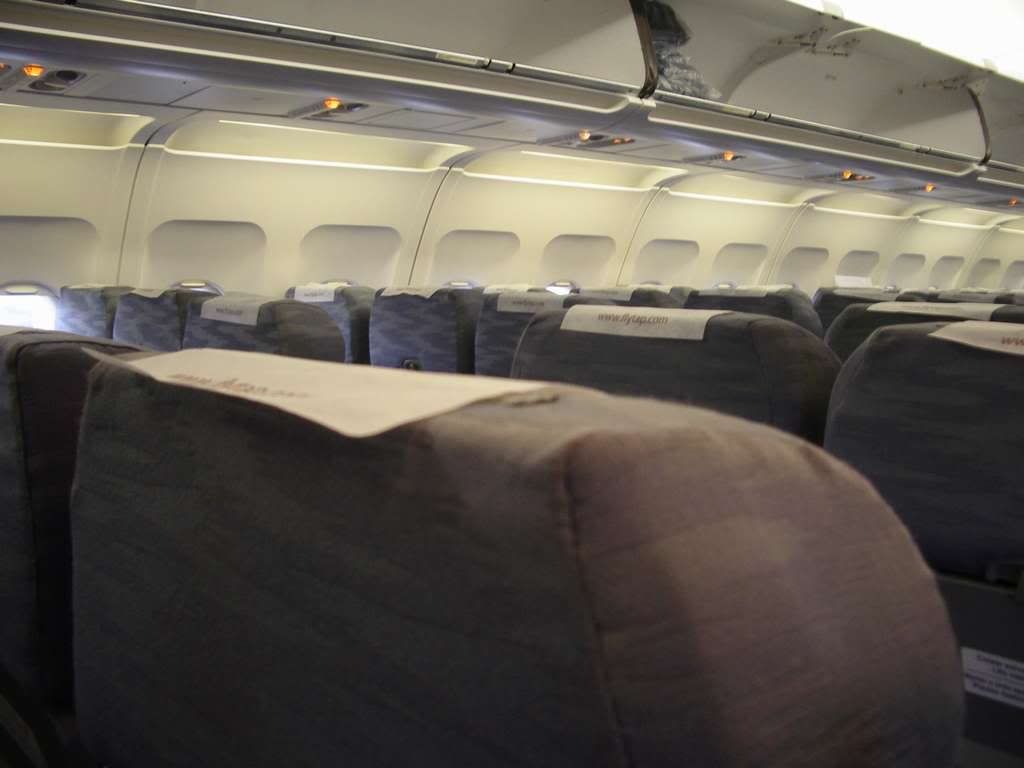 Center cabin monitors but only used for the safety demo and some advertissements.
We´re ready for departure from again runway 27R at around 4.30 pm.
The route gone mostly over water, no waypoints along the spanish and portuguese atlantic coast.
Short after departure from LHR: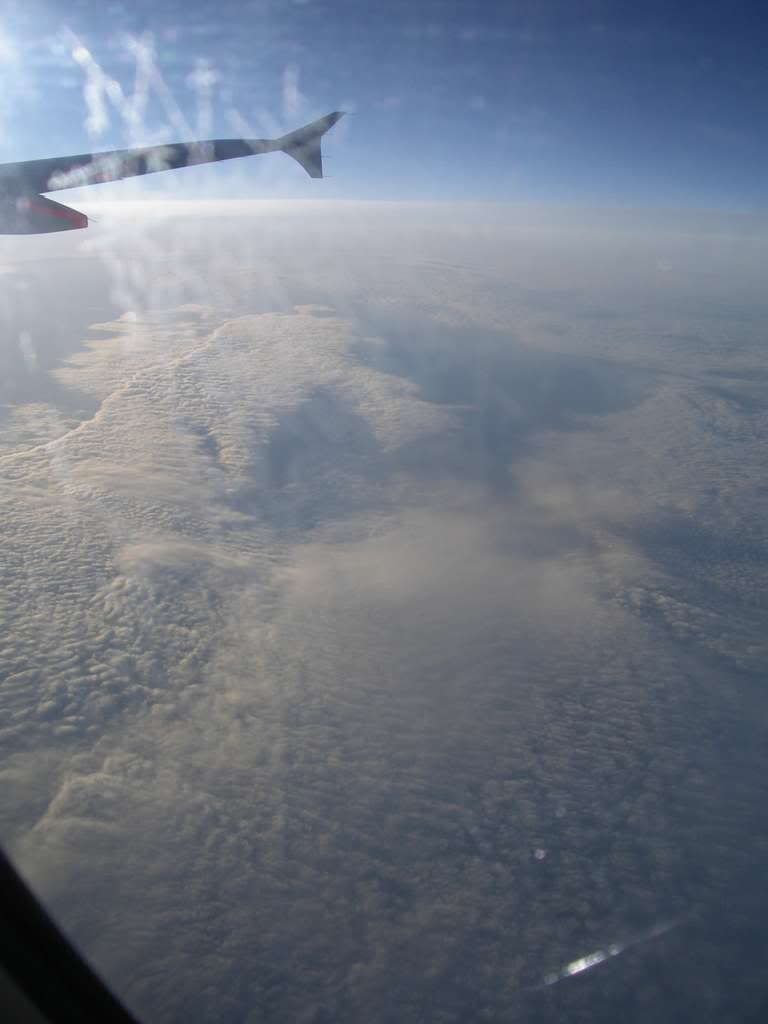 Cruise level 37.000 feet. The female captain was later on the speakers with friendly and real detailed flight informations.
Service was a hot meal italian style and twice time free drinks.
Hot meal: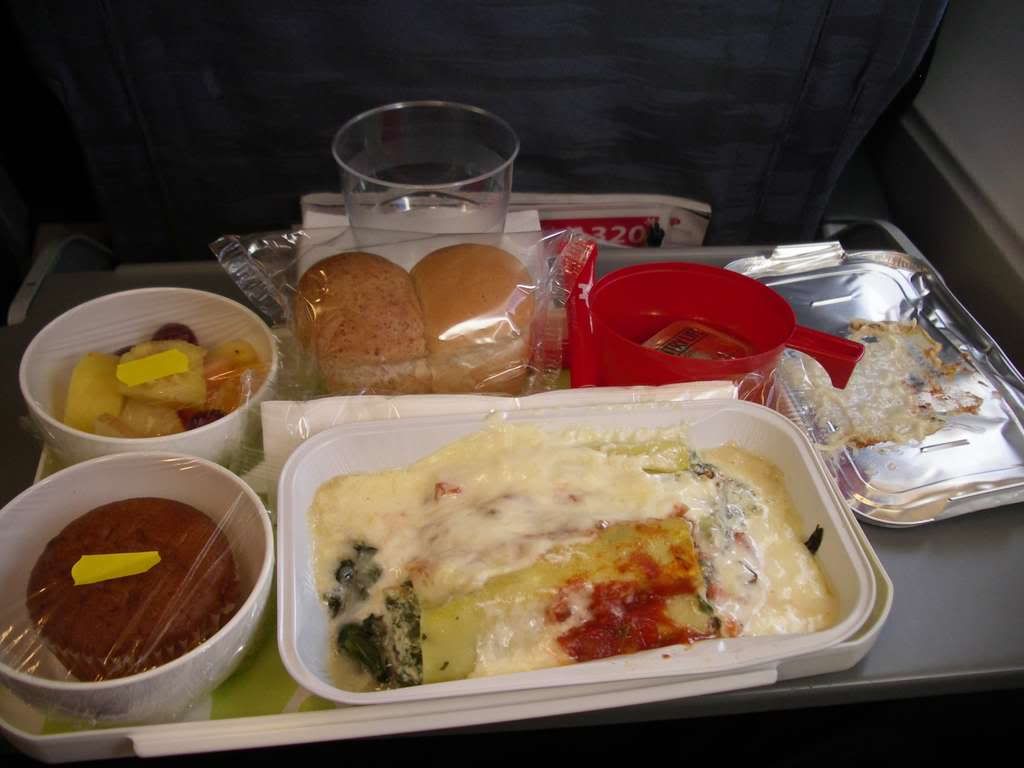 Sundowner: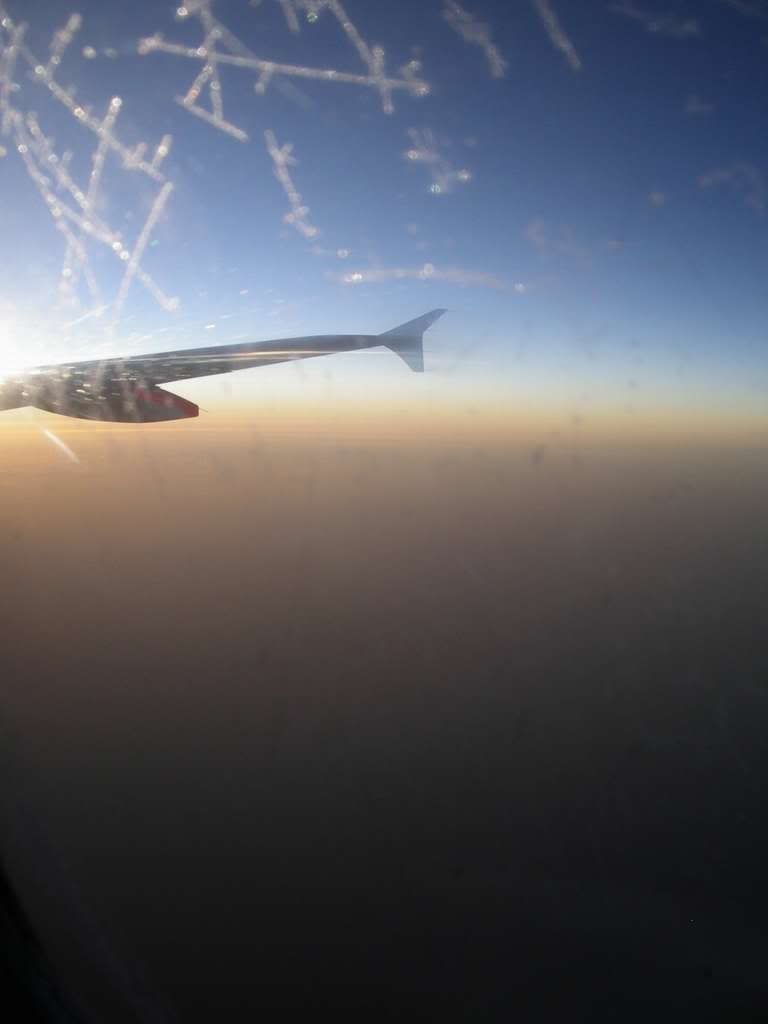 Approach was real stunning, along the coastline and the runway, a low level sharp right turn and further with all the lights from Santa Cruz beneath me for touchdown on the 2777 meter long runway 05. Remember, no ILS here at FNC!.
A short taxi, parked on the apron in front off the terminal building and self service to the entrance.
A quick passport control, my bag was also fast. I've decided to go on the terrace for a nightly plane picture, but it was to low in quality for posting here.
Only five minutes by taxi to my hotel, the Vila Gale Santa Cruz, a newly built, modern designed and real recommendable accomodation, also for our aircraft
enthusiasts special needs. There was a perfect view from the hotel pool area to all approaching planes. A picture will follow in the second report.
Flying BA was ok, not an especially friendly crew, but a special aircraft on these intra European routes.
TAP was also ok, the FA´s a bit lower friendly than average, no airshow, but legroom and comfort was ok.
Both flights ontime, reasonable priced.
Will I finally catch the ATP and what about the, as usual, non direct way back home to STR?.
Something more will be online soon!.
Comments welcome,
Markus (FLIEGER67)