Well, since I hadnt been on a plane since November and hadn't flown with BA since December 2006 I thought it was about time for a day trip to Europe.
I would be travelling on standby as I am airline staff and would be accompanied by LHR380 (Jack) and Myt332 (Alex). The destination we had chosen was ZRH because it had a viewing area and it also offered an airport tour which I was quite excited about. I had never been to ZRH before and booked my flighhts departing from NCL through ZRH and back at a total cost of around £80.
I was going to travel to LHR on Tuesday 3rd March, to ZRH on 04th March and back to NCL the same day.
Tuesday Morning arrived and I got my bag together with some overnight things and my Camera. My wife drove me to the airport at I arrived at 1050 for my 1215 flight with BA to LHR.
BA1327 / 3rd March
NCL-LHR
STD - 1215
ATD - 1215
STA - 1335
ATA - 1334
Seat 17F
A320-200
Reg: G-BUSH
Luckily even though I was on standby there were plenty of seats left on this flighht and I was able to check-in at the self service check-in machine. I answered all of the questions and allocated myself seat 17F, a window on the right side of the aircraft and then made a quick phonecall to LHR380 to let him know that I was on the flight and would be in T5 at around 1340.
I then made my way upstairs and through security which didnt take long at all and then straight to the bar
I ordered a pint of Coors Light and then grabbed a seat by the window overlooking the ramp.
My View of G-BUSH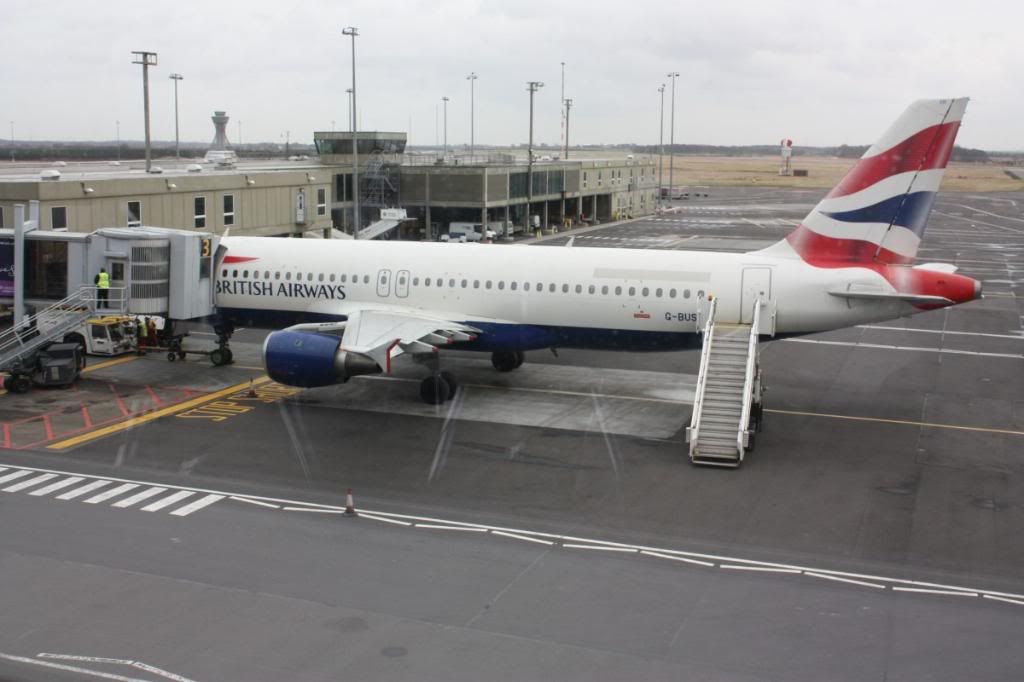 Another View.....dones anyone know what is blanked out by the grey strip towards the rear section?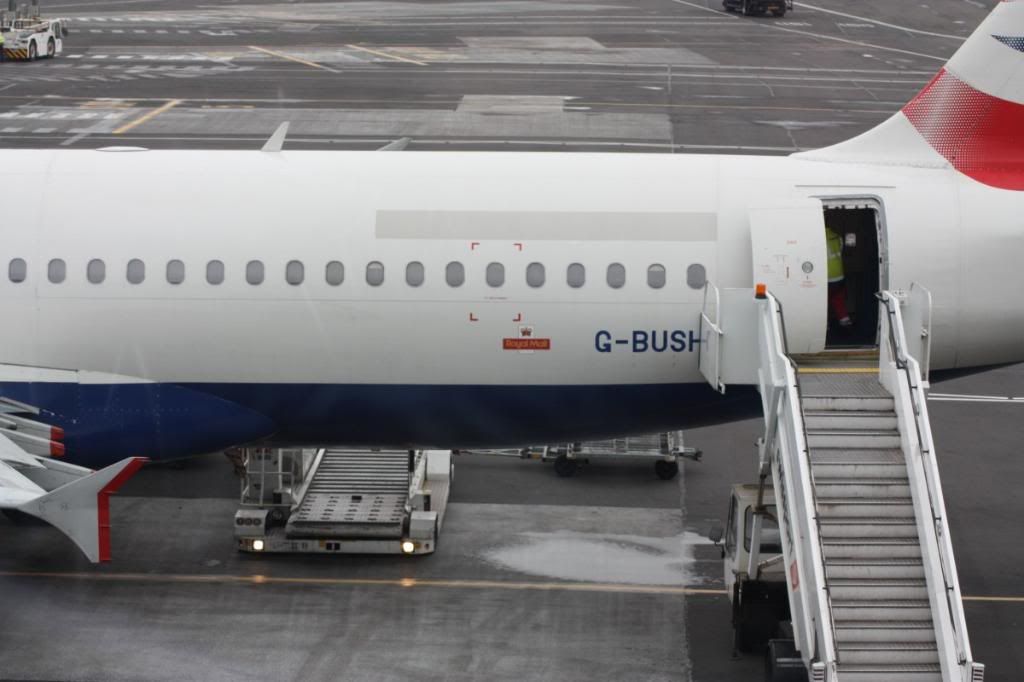 I then remembered that the EK flight from DXB was due to arrive at any second so kept my out for the landing lights in the distance. At around 1120 EK15 touched down.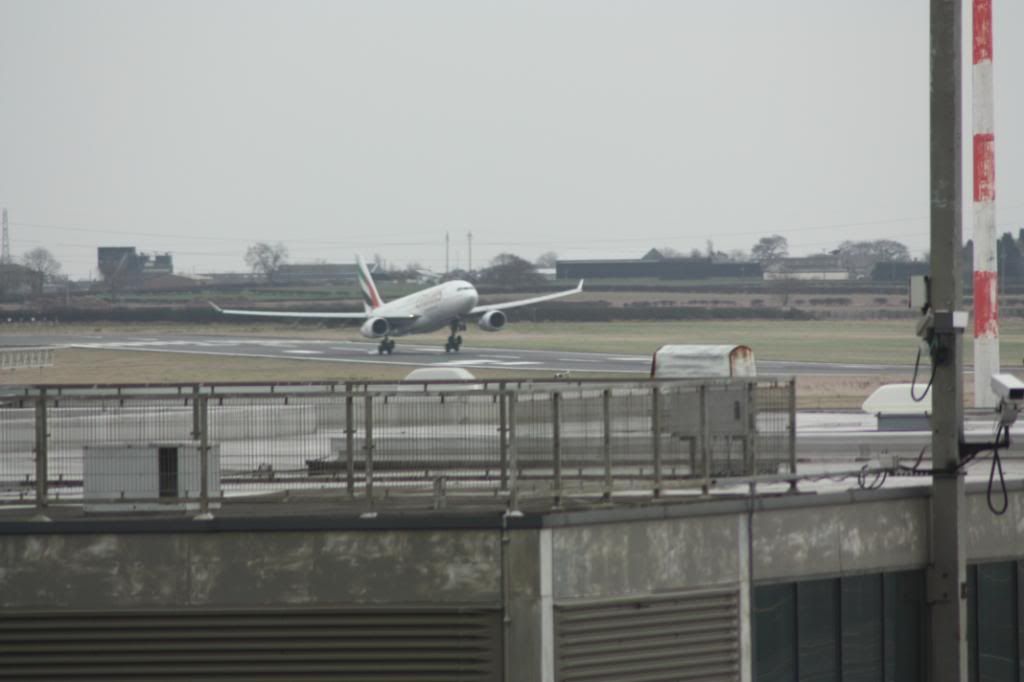 Jet2 757 - will hopefully try and get on this later in the year with the free tickets I won with Jet2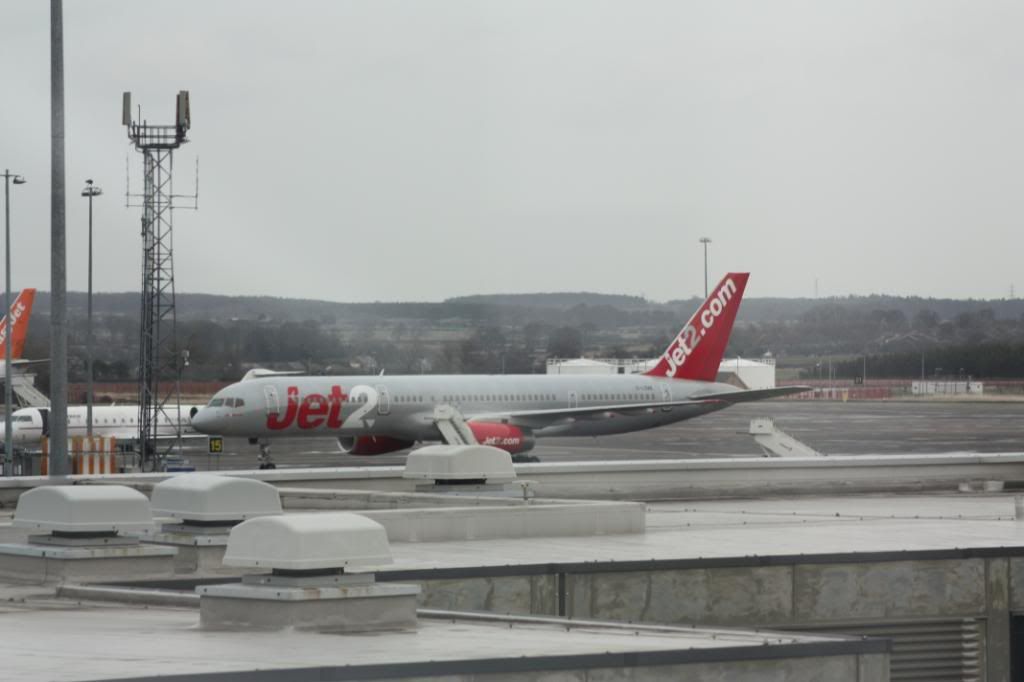 Easyjet 737-700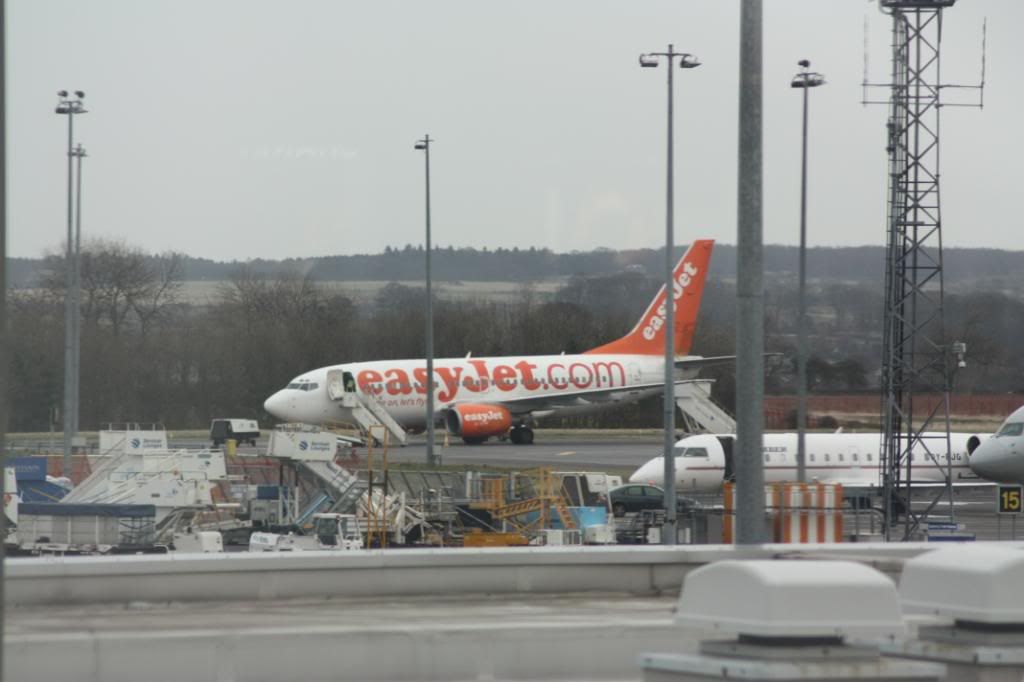 EK flight taxiing in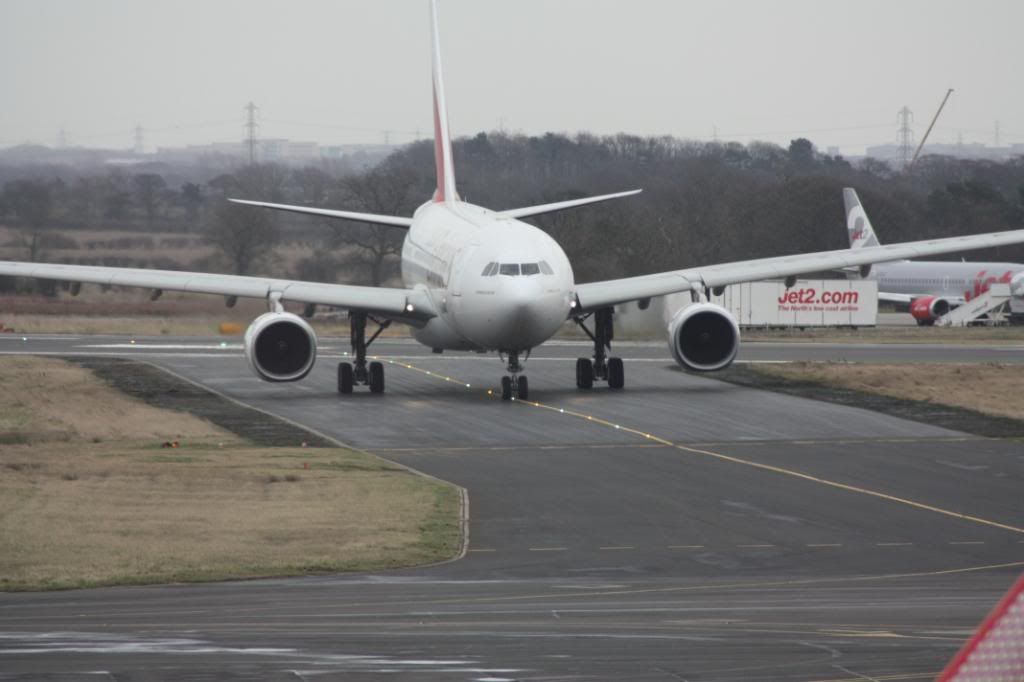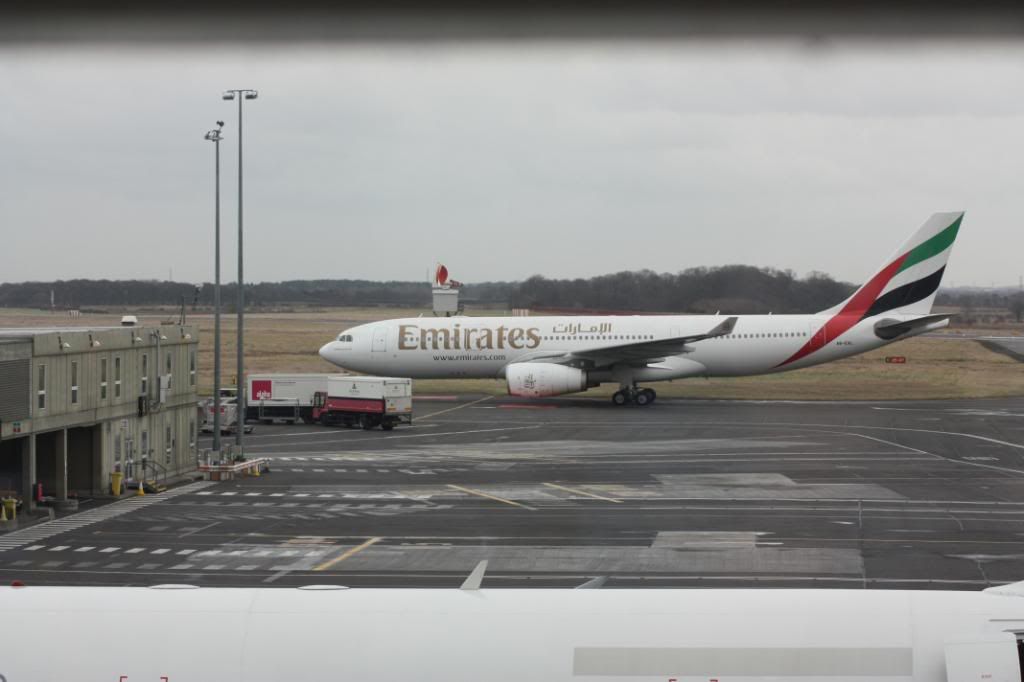 Flybe Dash8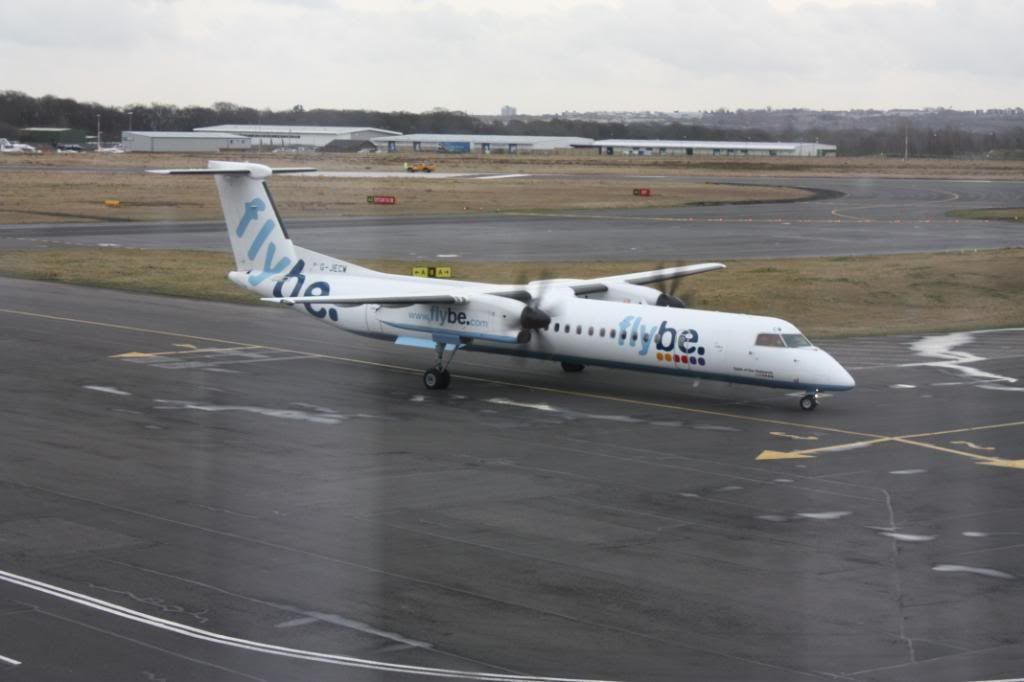 AF (Britair) flight to CDG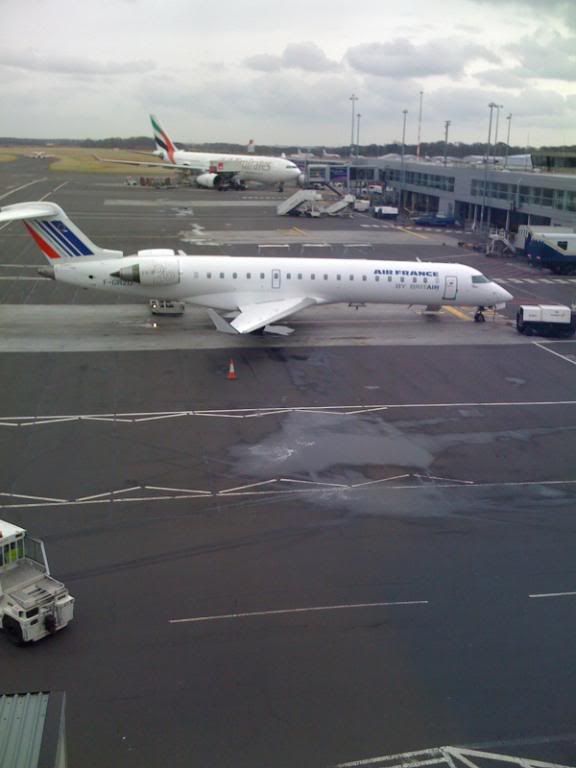 Boarding time arrived at 1145 and I made my way to gate 3. When I got there boarding had already commenced so I handed over my boarding card and entered the jetbridge to the aircraft. I was greeted by a very happy female attendant who advised me of the location of my seat.
View from my seat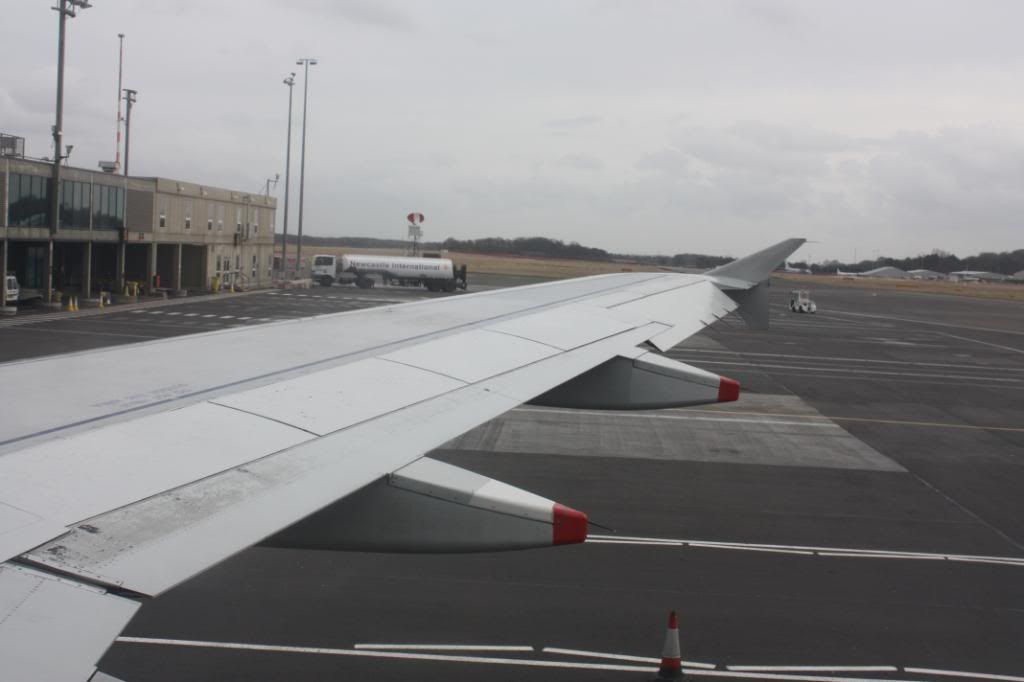 The captain came on to announce that our flying time would be 55 minutes today, the doors were already closed and we were just waiting for our pushback clearance. Around 2 minutes later he came back on to announce that there had been a computer malfunction with ATC at LHR ( he could have meant Swanick) and we may be delayed but he will be getting an update very shortly.
As true as his word he came back on 4 minutes later to let us know that there would be no delay and we were pushing back now.
We pushed back at 1215 and taxiied to runway 25 for a South Westerly take-off. As we enetred the runway we just kept on rolling and power was applied for a swift take-off.
Flaps - Ive never noticed the actual markings on the flaps before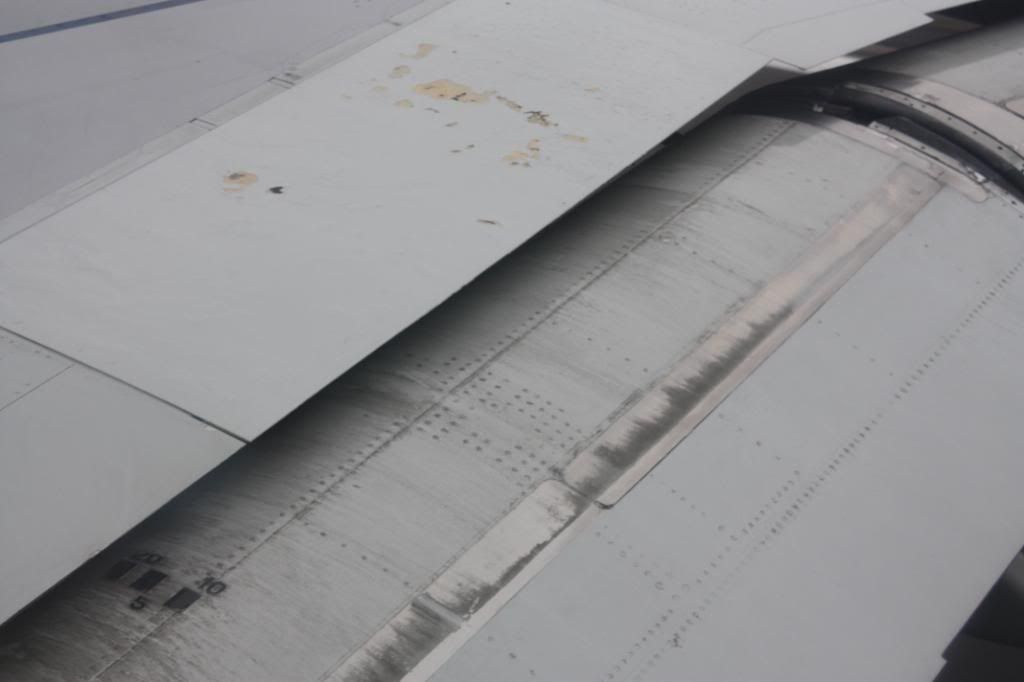 NCL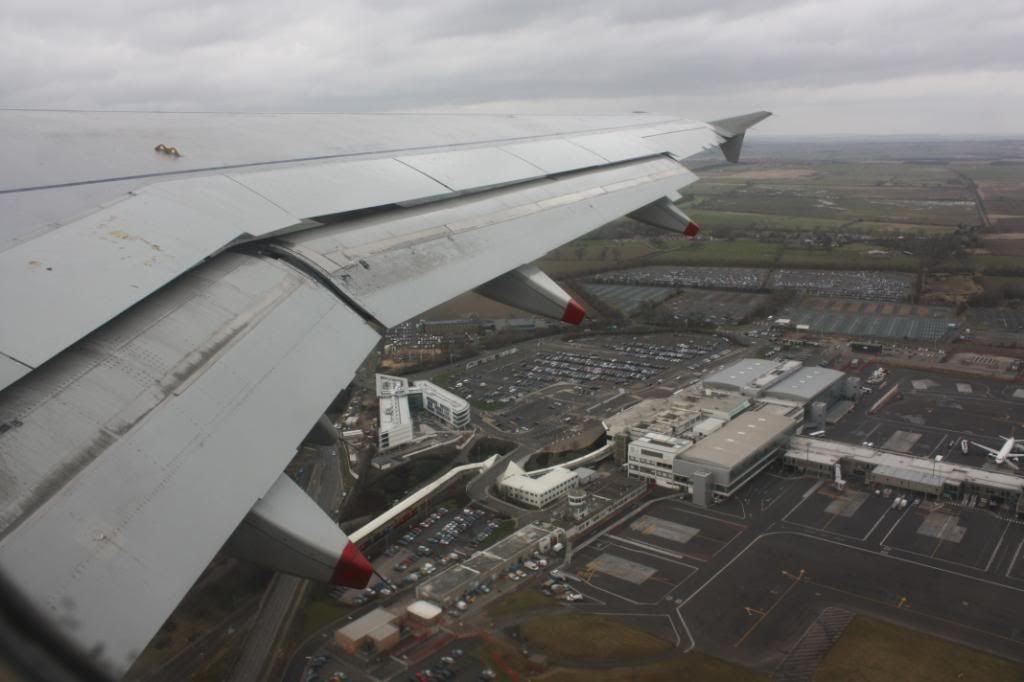 The seat belt sign was on for the obligatory 10minutes or so and we were well on our way to London. Service soon started and I was handed Snackbox which contained a Ham, Cheese and Pickle snadwich as well as a Tuna and sweetcorn sandwich. It aslo included a Breakaway chocolate biscuit.
I ate the Ham sandwich which to be honest wasnt great and then ordered a Gin and Tonic to take the taste away
Lunch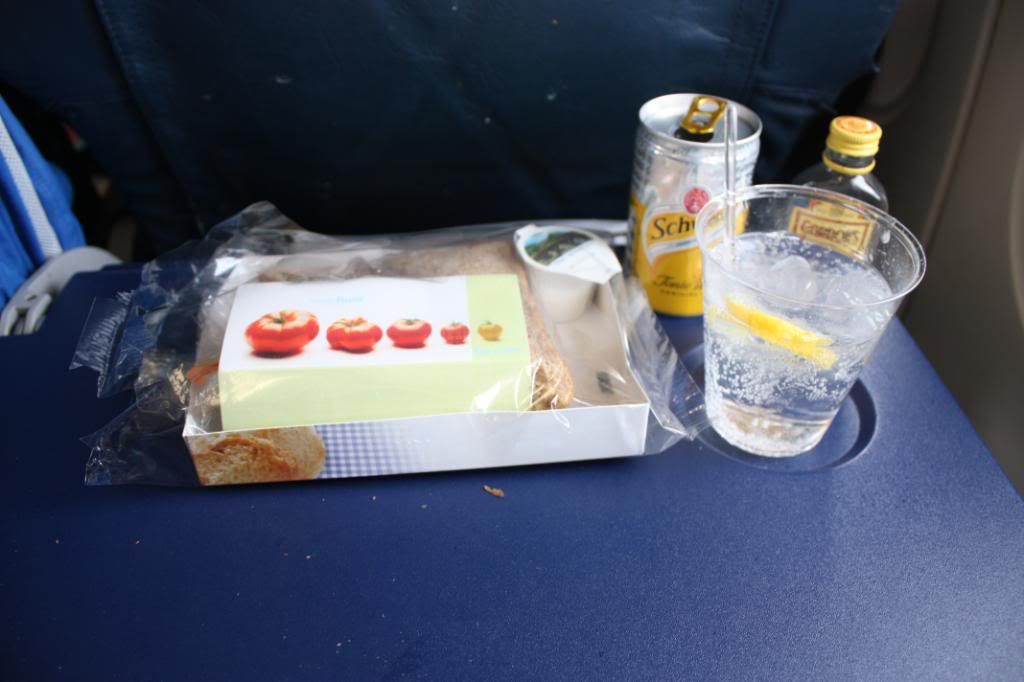 There were no IFE screens on this aircraft so I couldnt see our routing and the Captain only made one announcement throughout the flight and that was to advise that we would be going into the hold North of LHR for 5 minutes or so.
Again, true to his word we were only there for 5minutes or once around the circuit and then the "cabin crew, 10 minutes to landing" announcement was made.
In the hold, Lambourne I think
We then routed over central London to start our descent into LHR, runway 27R
Buckingham Palace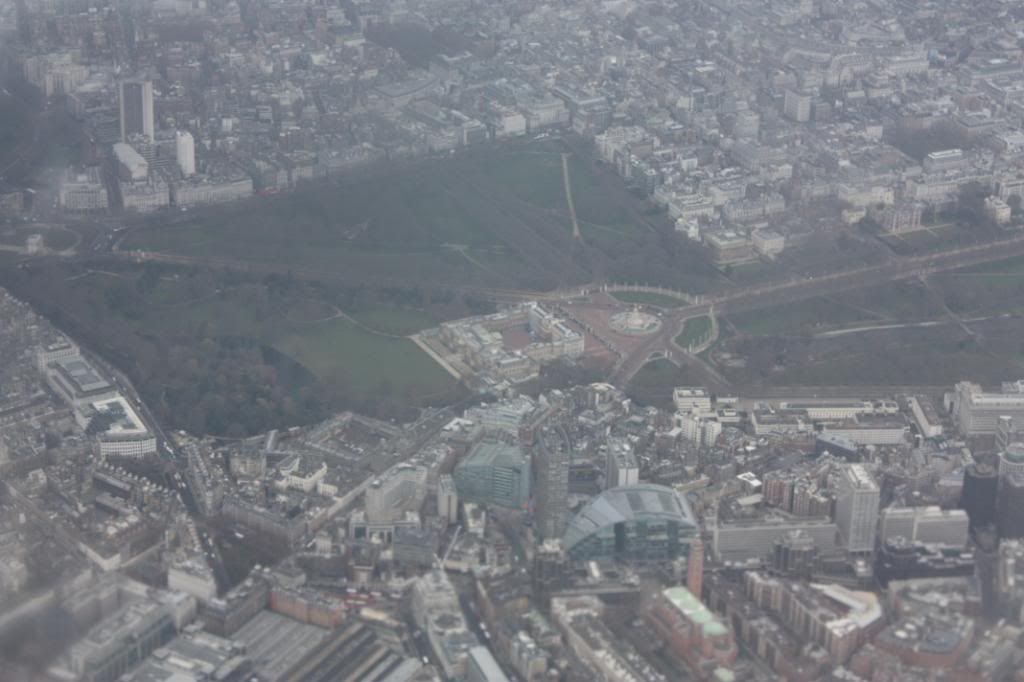 The Royal Albert Hall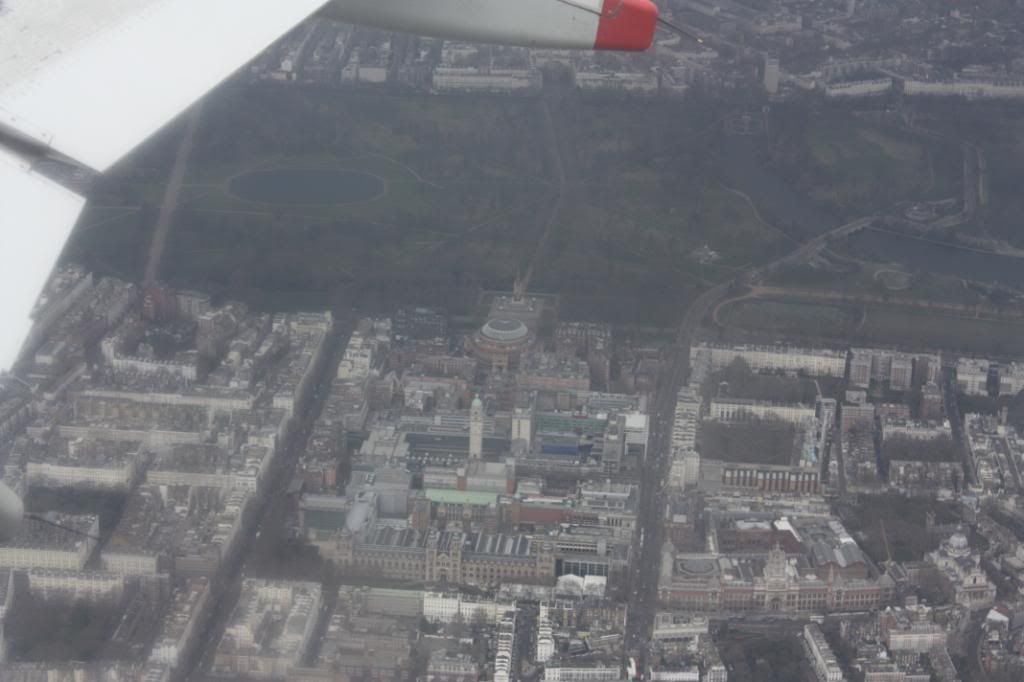 I also managed to grab a view of Arsenal's football stadium and Wembley
Landing was a bit breezy with a South Westerly wind at about 20kts and we were being buffeted around until we were about 50ft from the ground. The ladnig was smooth and we rolled pretty much all the way down to T3 before exiting the runway
Spoilers still deployed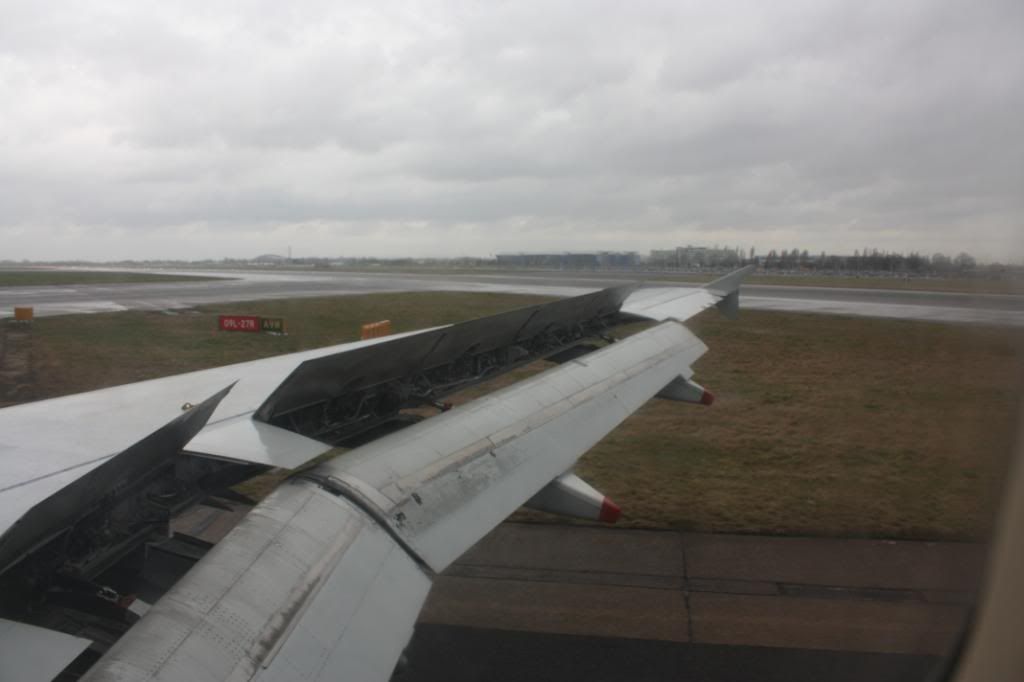 We quickly arrived at the gate and as soon as engines were off the ramp rats started their jobs and what a very efficient bunch of guys they look to be.
A quick qalk through the arrivals area of T5 and I caught a couple of escalators to the Departures level where I met LHR380 and Myt332 in the 5 Tons pub. A couple of swift pints and we headed over to Hatton Cross on the bus (as its free) and from there it was a walk to TGM (The Green Man). It was getting quite windy at this point and also starting to rain. Despite this we still sat outside in the beer garden and watched the arrivals onto 27L.
The weather got progressively worse and some of the smaller aircraft were being thrown all over the place with even the larger ones crabbing their way to the runway.
By the time we had something to eat and I drank more beer, Alex drinking Smirnoff Ice may I add, the weather had turned quite nasty. We walked back to Hatton Cross at 2100ish and from there whilst waiting for our bus to Jack's house we saw 3 go-arounds in a row, a BA A319/20, a Cathay 747 and an EI A321.......Jack works at LHR and said he hadnt seen 3 in a row before.
After arriving back at Jack's house we crashed pretty early as we had an early morning the next day.
The next thing I know is the alarm on my phone going off at 0400.........theoretically this is the middle of the night for me.
We got out stuff together, grabbed a shower each and headed for T5.
One thing I noticed whilst waiting for the bus to Hatton Cross was the very quite approaches of the aircraft onto 27R ( BA, SQ, CX etc)
The bus turned up and we had the pleasure of being right under the flight path when the SQ A380 went over our heads.
Arriving at T5 at 0550 we met up with Alex and headed ot the SSK's to see if we could be accepted straight away for the flight to ZRH. Unfortunately the flight was looking full so the SSK avised us to go to the Staff Travel room which is located in Zone A of the terminal.
BA have a new policy in place for staff travel where your flight will be displayed on a flat screen monitor with all the PNR's of standby passengers shown directly beneath this flight number. If they can the onload team will make you aware no later than 1 hr before departure whether you have been accepted or not. Ifthe flight is busy, as was ours, then they will leave it until 45mins before departure to make you aware if you are confirmed or not.
Luckily this morning we had been accepted
Standby Monitor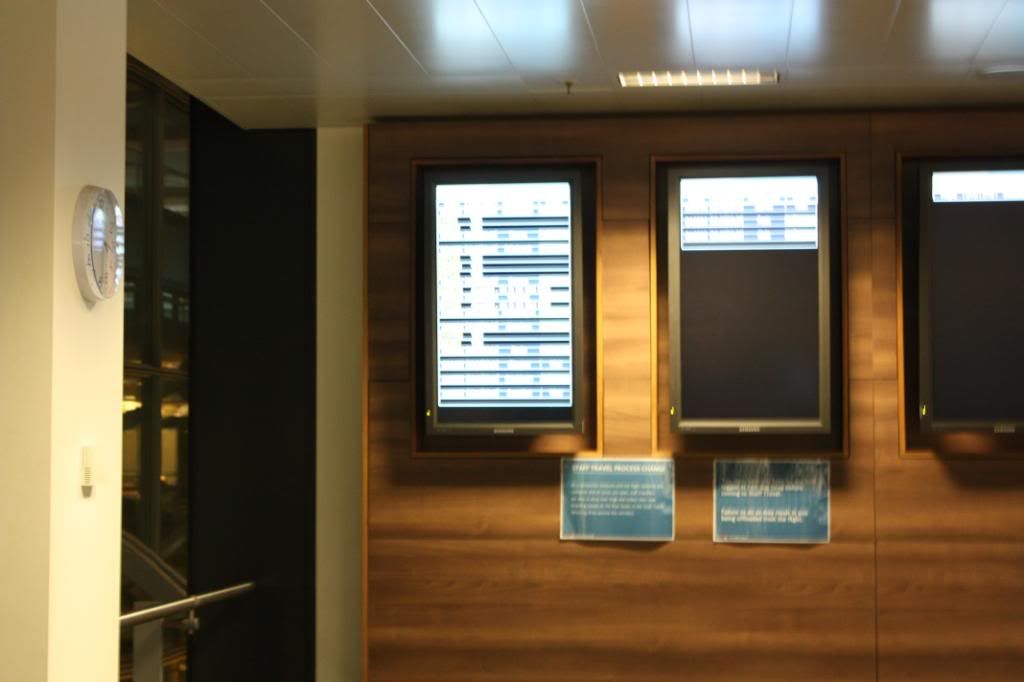 Alex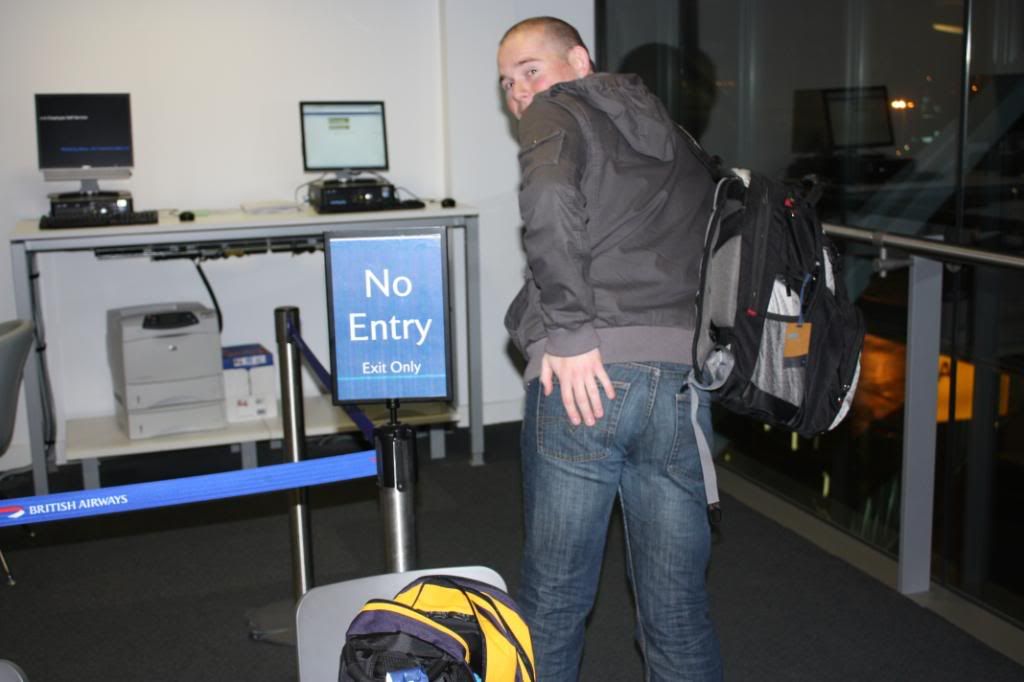 BA710 / 4th March
LHR - ZRH
STD - 0715
ATD - 0713
STA - 0955
ATA - 0929
Seat 19C moved to seat 22A
A319-200
Reg: G-EUOG
The flight was very busy this morning with a lot of business travellers and Club Europe completely full.
After everyone had boarded I noticed that seats 22 and 23 DEF were still empty. I mentioned to Alex that I was going to try and grab a window seat for the flight. When the crew next passed me I asked if it was ok to move and she advised that she would be moving a family with two children into those two rows but I was more than welcome to move to seat 22A. Well, Im never one to look a gift horse int he mouth so I moved before anyone else could snap the seat up.
The captain announced that we wrere ready to leave and were waiting for a couple more minutes as one passenger had not turned up but if he wasnt he shortly the doors would be closed and we would be on our way ( luckily he had hand luggage only).
At 0713 the doors closed and we puck from gate A11. I got a good view of the BA Oneworld jet although the window I was sat at was filthy so the pics I could get arent the greatest.
We taxiied out to 27L where we waited for a couple of other aircraft to depart before us and it wasnt long before we were thundering down the runway.
Taxi out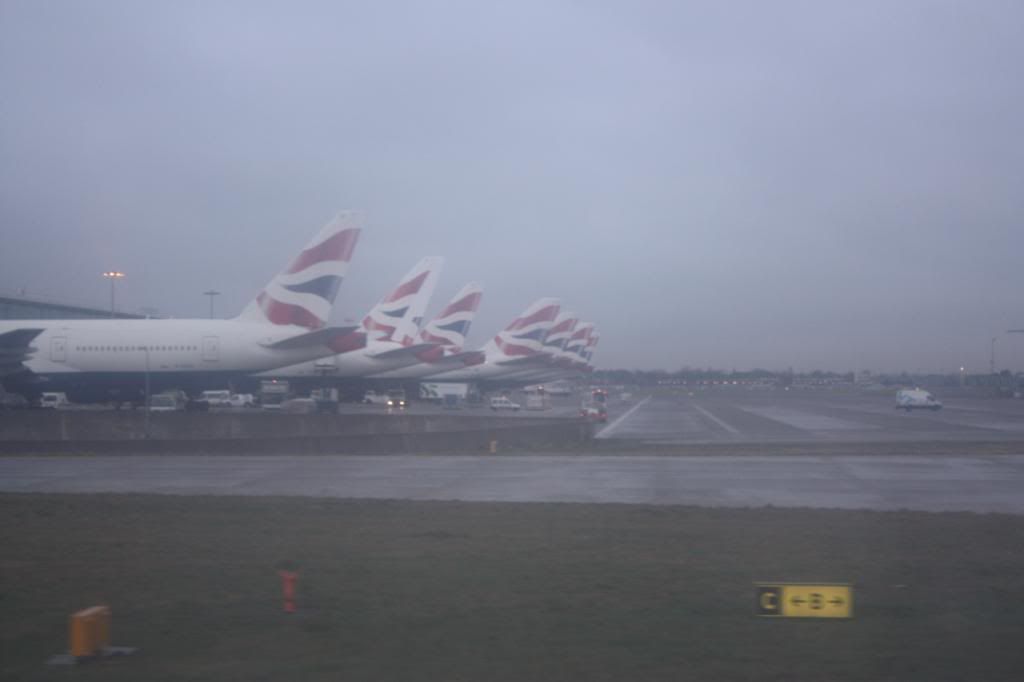 Take-off view of T4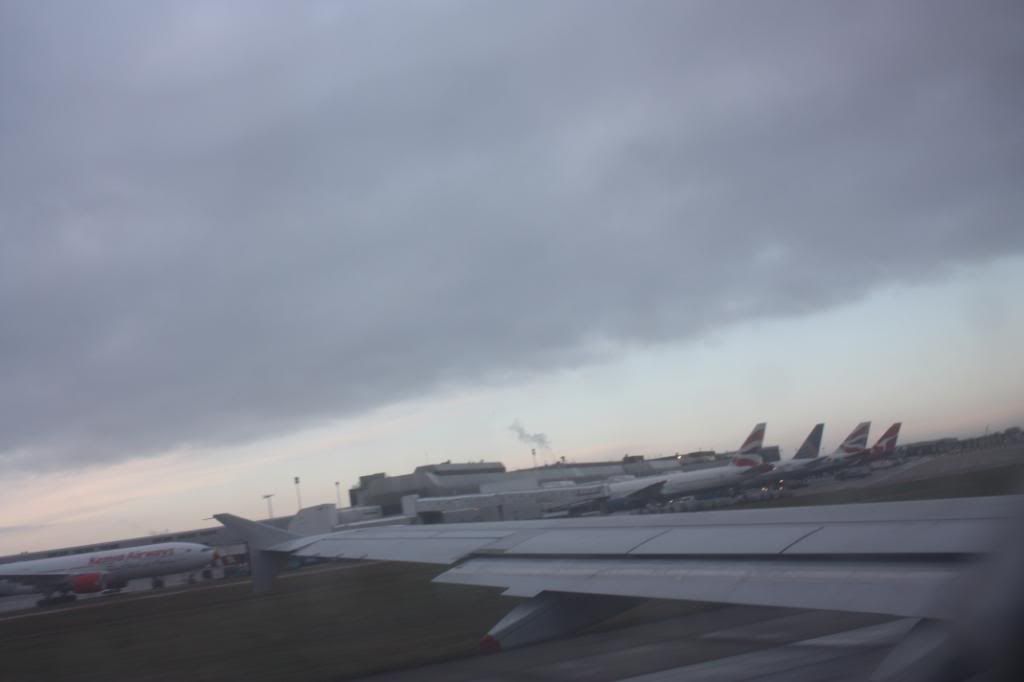 After take-off we made a left turn and started in the direction of Europe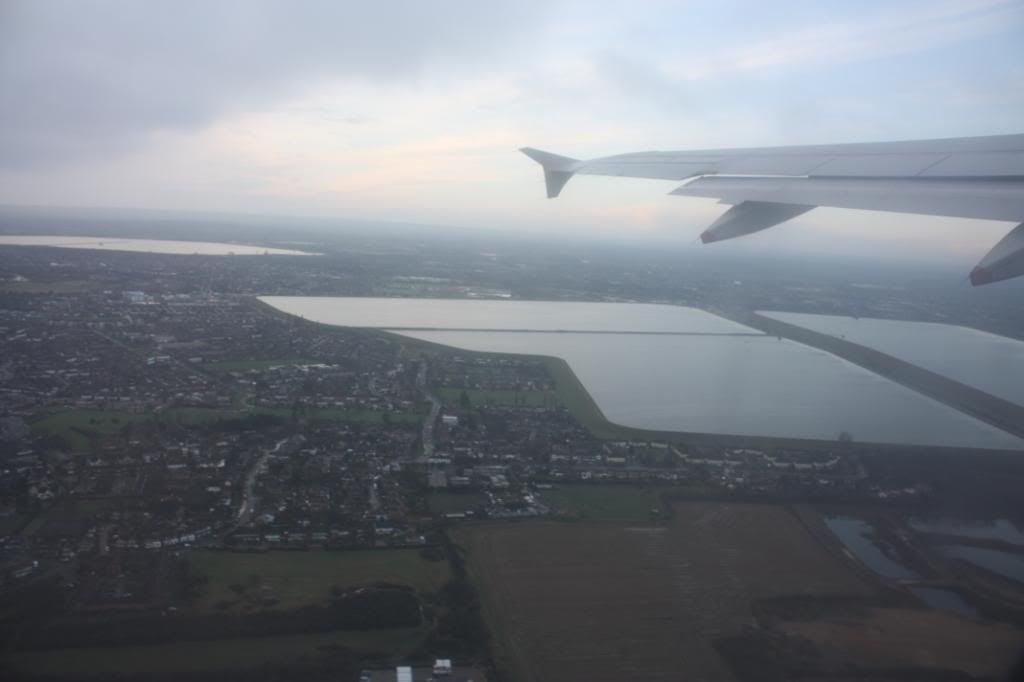 View of the airfield
The flight was quite bumpy as we climbed to our cruising altitude and it wasnt until around 20 minutes after take-off that we cleared the top of the clouds into blue sunny skies.
The crew started their service and I was given a cold bacon and egg sandwich with tomato chutney. I had 3 or 4 bites and thats about all I could take. What is going on with shorthaul food? Even on the morning shuttle flights you get a hot breakfast.
I took a water and an orange juice to go with my just edible sandwich and not long after the purser, Fiona came around offered myself, Jack and Alex a bottle of Pommery champagne. Now Im no expert in Champagne so I dont know if its one of the best on the marketor not but it certainly helped take the tatse of that sandwich out of my mouth. It also helped me wake up a little bit.
Champers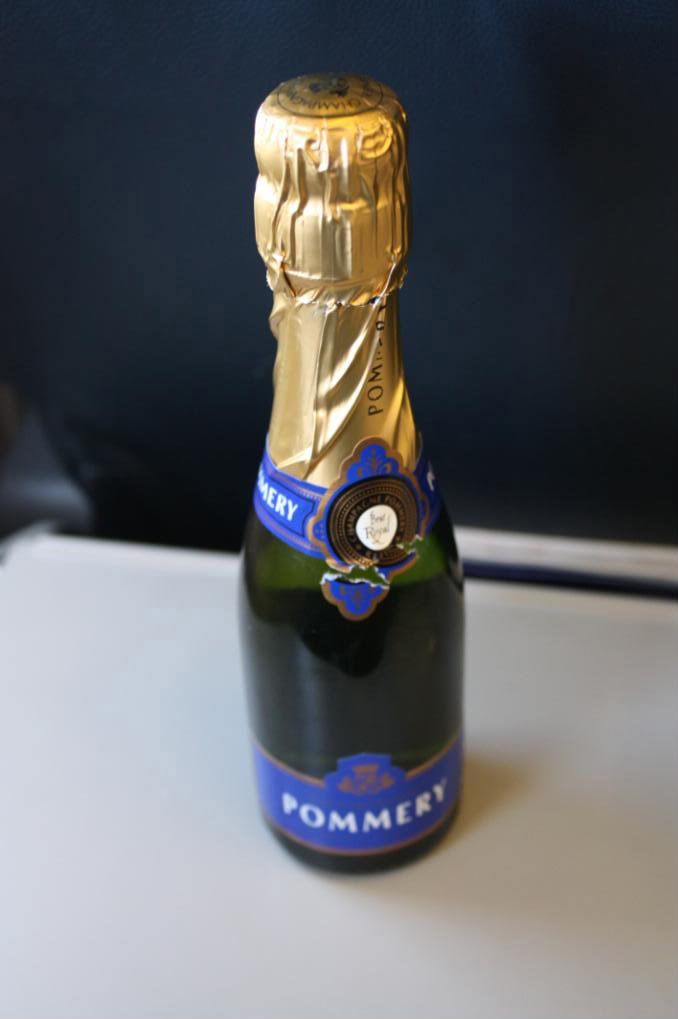 I turned up the tunes on my iPhone and settled in for the rest of the flight.
At cruise altitude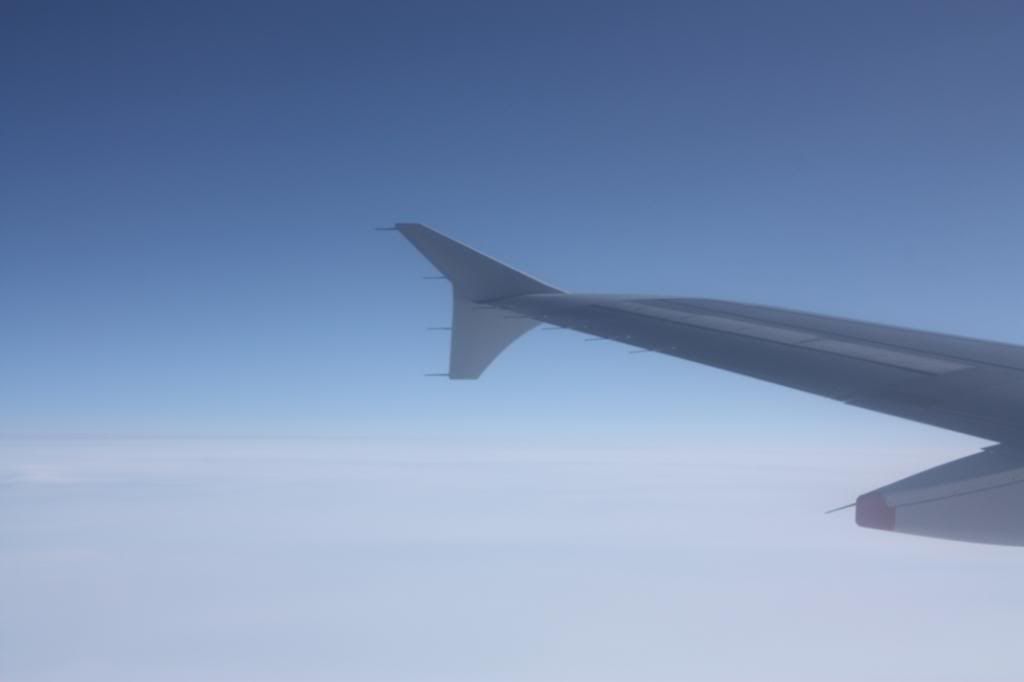 At about 0900 we started our descent into ZRH and the cloud seperated for pretty much the first time during the flight.
River - anyone know which river this is?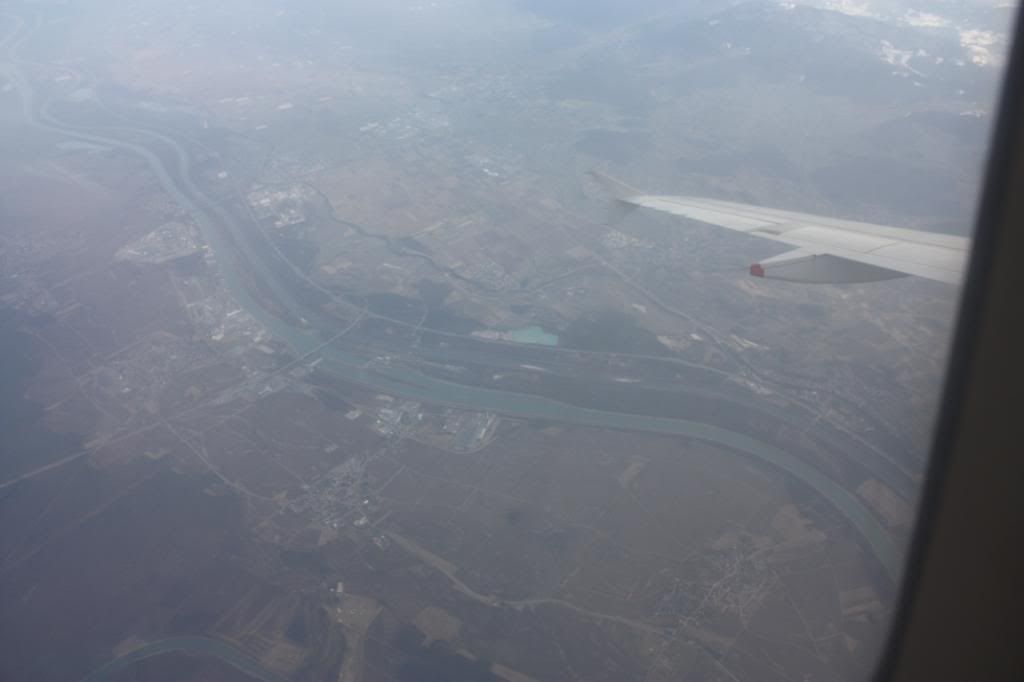 Foothills of the Alps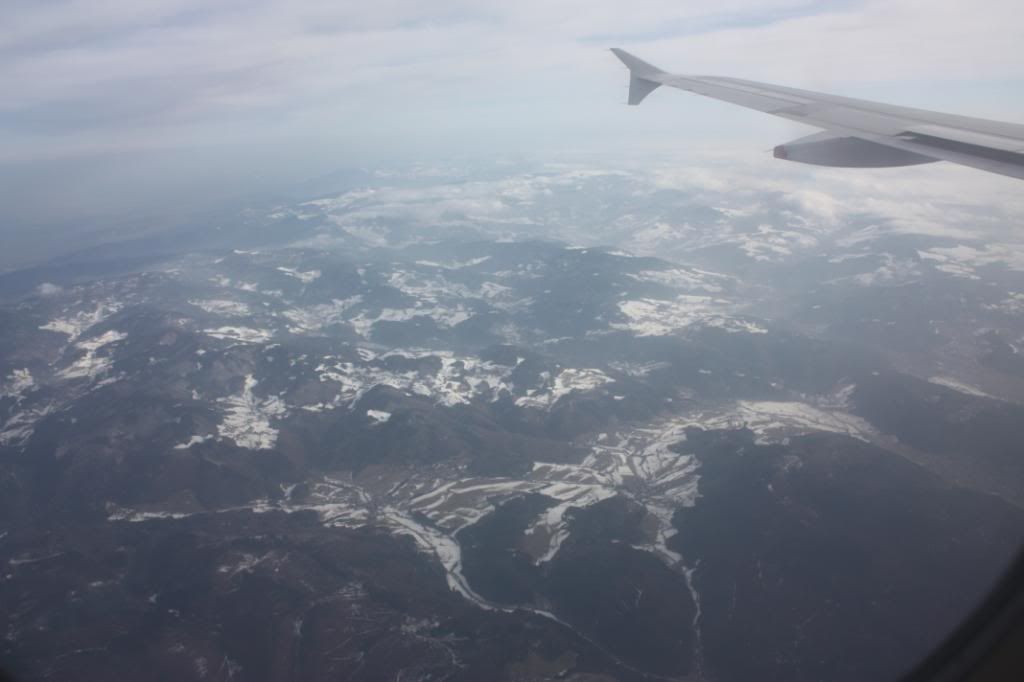 We descended over the mountains and the rough air was bumping us around a bit but it was to expected really. We entered the cloud and kept on descending until the clouds were now above us and we were about 3000 feet from the ground.
We touched down smoothly on runway 14 and taxiied to Dock E.
I was one of the last people off the aircraft and thanked the captain and purser for a good flight and some good service. I caught up with Jack and Alex in the terminal and we headed for the SkyMetro to take us to the main terminal.
If you havent been on tihs SkyMetro train before it is basically a automated train that runs between the main terminal and dock E. We were enjoying the ride and we suddenly heard cow bells. We just looked at each other as others in the carriage did as well. The people who had been here before, or who lived here just had wry smiles on their faces. I noticed a flashing reflection on the window in front of me so turned around and was greeted by a hologram type effect of a Swiss milk maid waving and wiggling her cleavage at me ( What a rack it was as well).....Welcome to Switzerland!!!
We cleared passport control and went to the tourist information desk to ask the location of the ticket desk where we would purchase the tickets for the airport tour. The old guy at the tourist information desk had me quite worried when he said he didnt know of any airport tour and the only things he knew about where booked direct with Swissport.
I told him I had a telephone number for a guy I had contacted via email and just as I was reading the number to him he said that that was the one he was dialling.
Within a couple of minutes we were on our way to the ticket desk which opened at 1030, ten minutes wait for us.
We booked onto the "Rundfahrten" airport tour which was a guided tour coach which took you around the airport and to the viewing area and it lasted a total of 90mins.
This ticket shop area is also where you purchase tickets for the Dock E viewing terrace, priced at 2CHF
We went back through a security area and into a waiting area which had a map of the airport and the layout of the runways.
It was when we were in this waiting area that we saw a Yak 42 pull into a remote stand. You dont see these in the UK very often anymore and this was a first for me.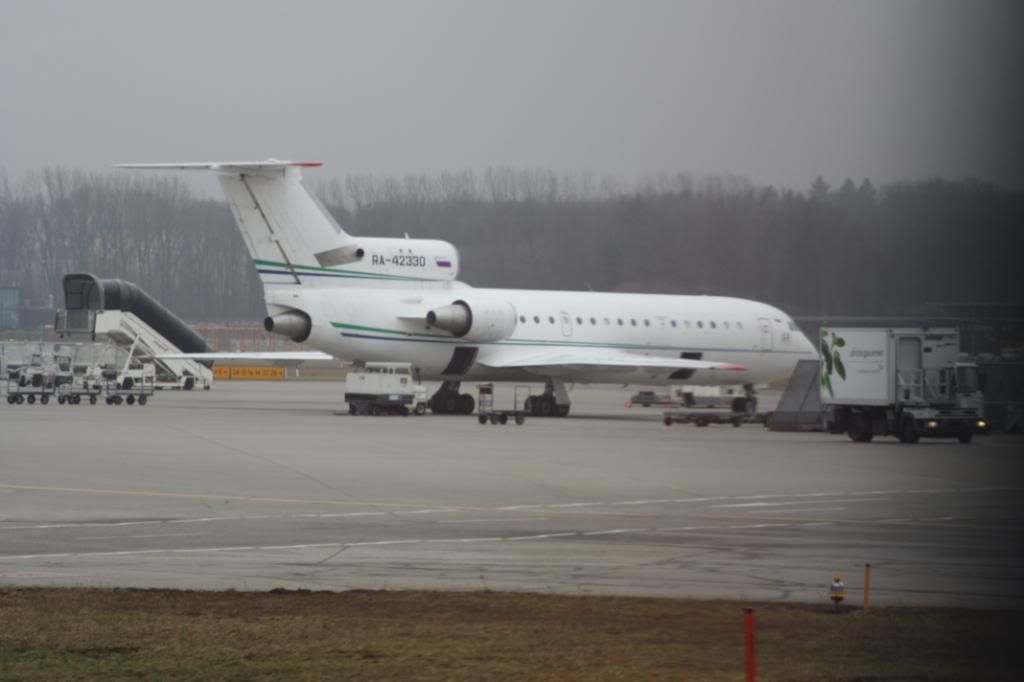 Eventually the bus came and along with about 10 others we boarded and started our journey around the airport.
The tour was quite good and I suppose it was quite informative but unfortunately for me, Jack and Alex it was all in German which we dont speak...... I understood a few words and me and Alex had a laugh everytime he described an A320 as an Airbus drei hundert, zwanzig. It just sounded as if he was calling it an A300......... it made us chuckle anyway.
First of all, does anyone know exactly how many A330's Swiss have parked up at ZRH. It seemed that every corner we turned there was one parked and out of action.
Parked A330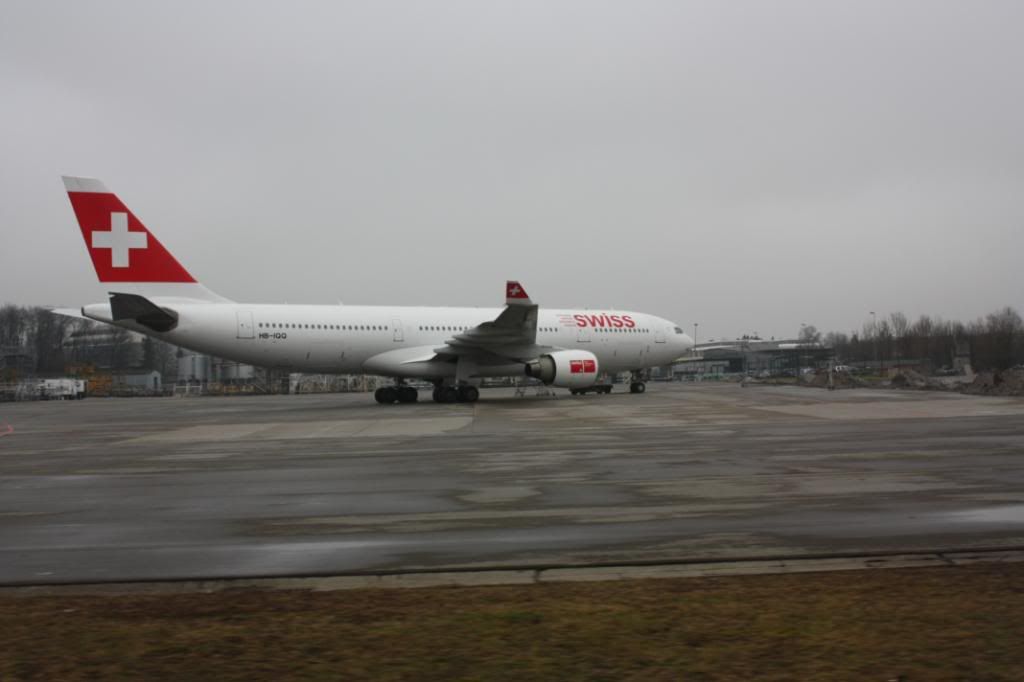 There was also some other sights to see such as a Eurofly 767, an Air Berlin 757 and 2 or 3 Hello MD80's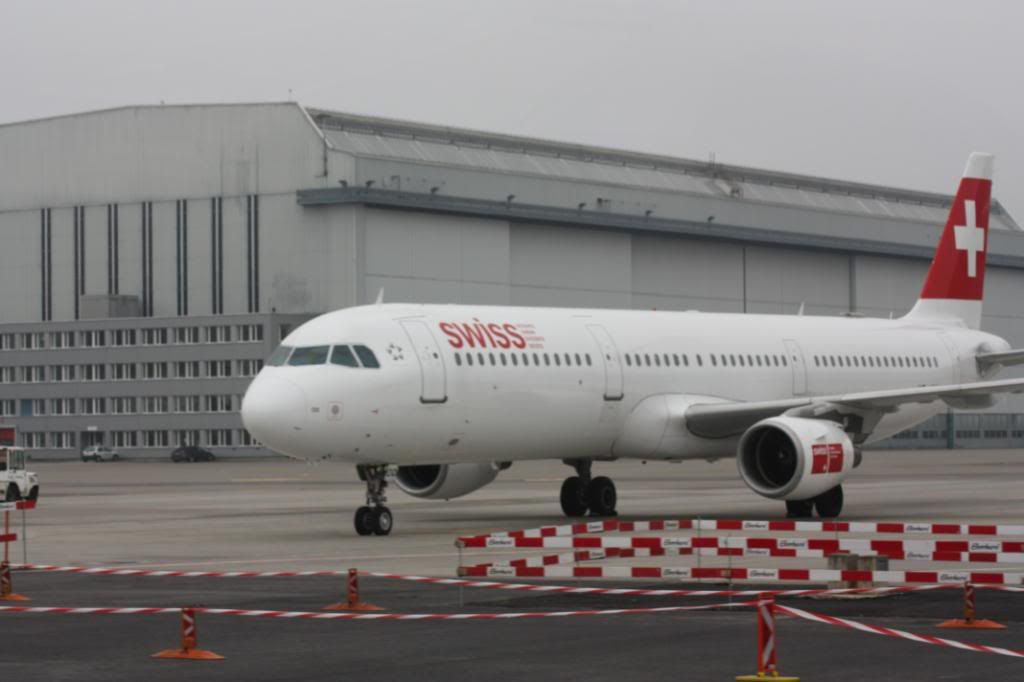 Air Berlin 757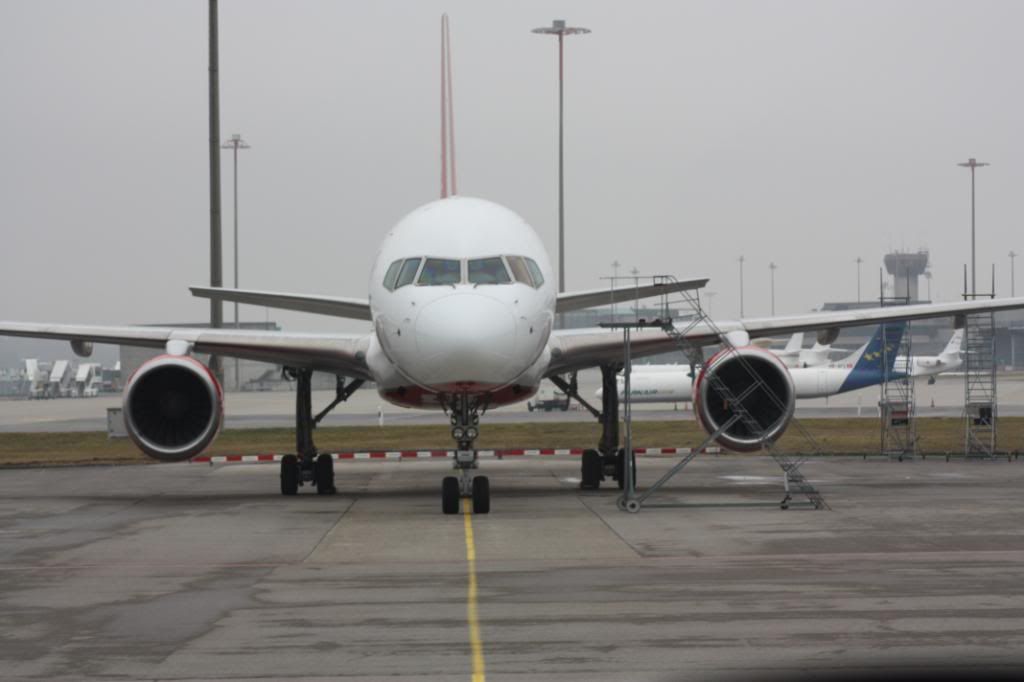 The tour then took us inside the maintenance area for the airport services team and we got see some snow ploughs and trucks etc.....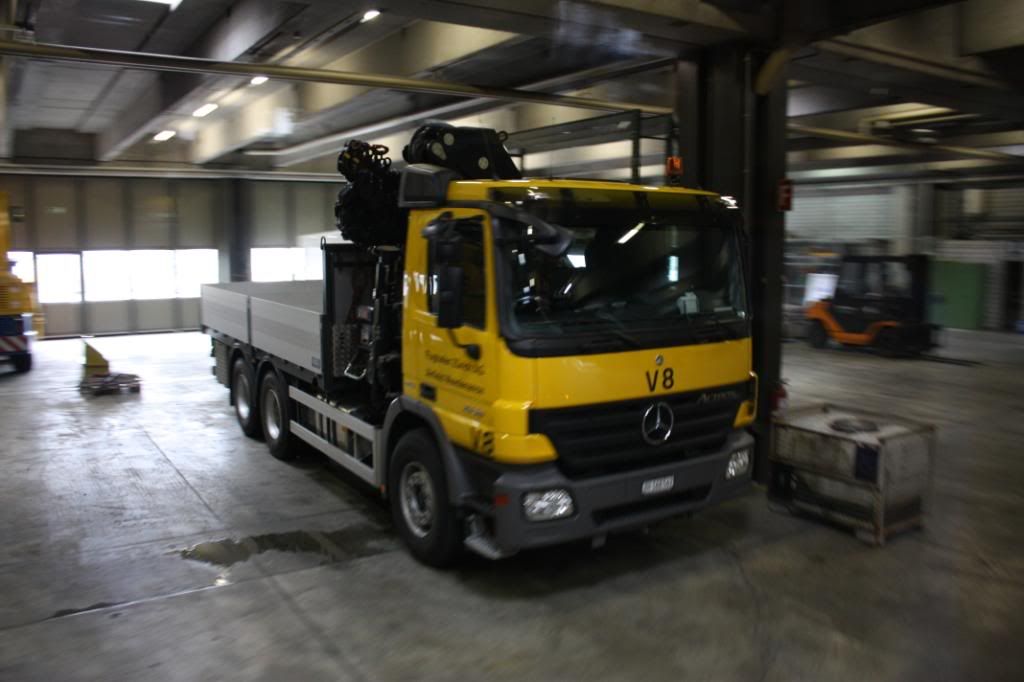 Some guy washing something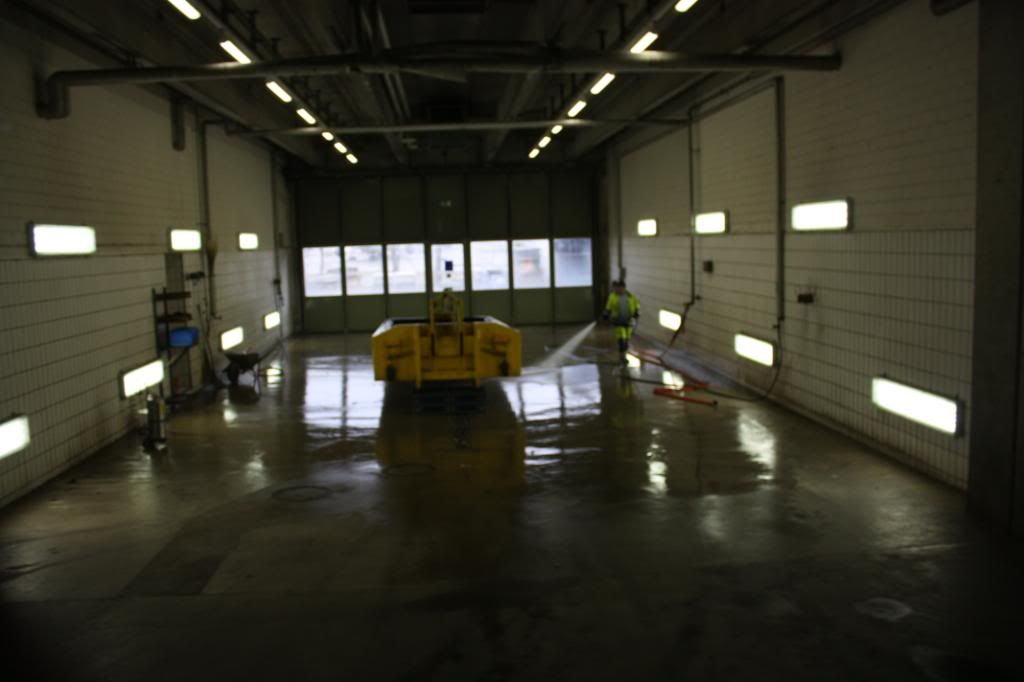 Control tower for airport services and fire station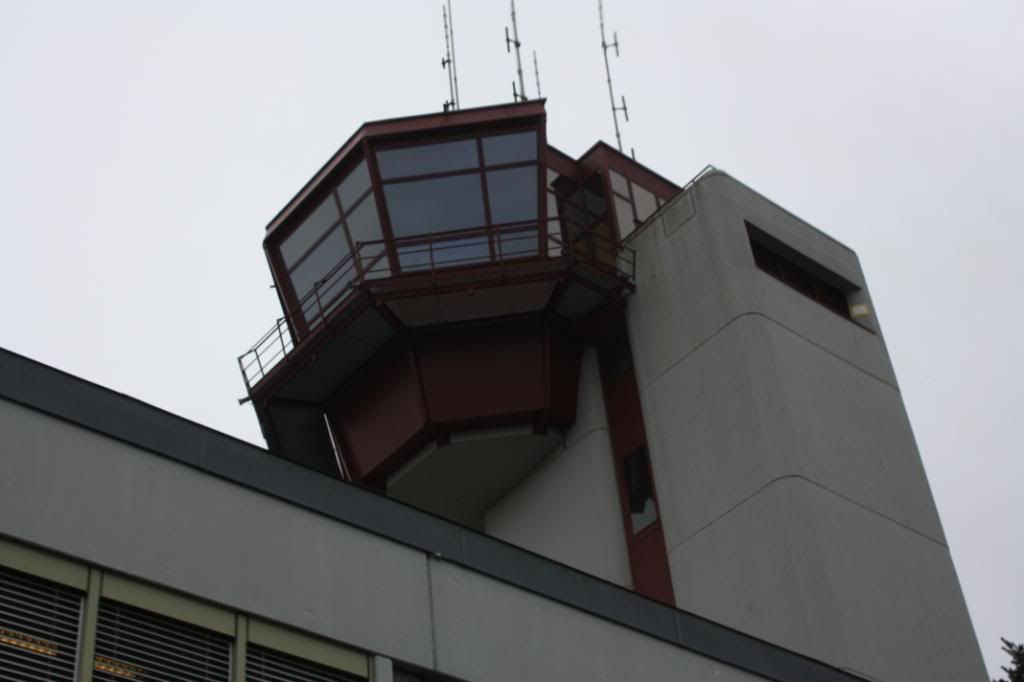 After touring the bottom part of the airfield it was time to make our way towards the viewing area at the apex of the two runways. Just as we pulled up we noticed a SQ 777 pulling onto runway 16 ready to takeoff.
We all dived off the bus and there is a loud speaker system that has a button you can press and it transmits ATC from the tower. Kind of like a very loud airband radio.
SQ777
Getting closer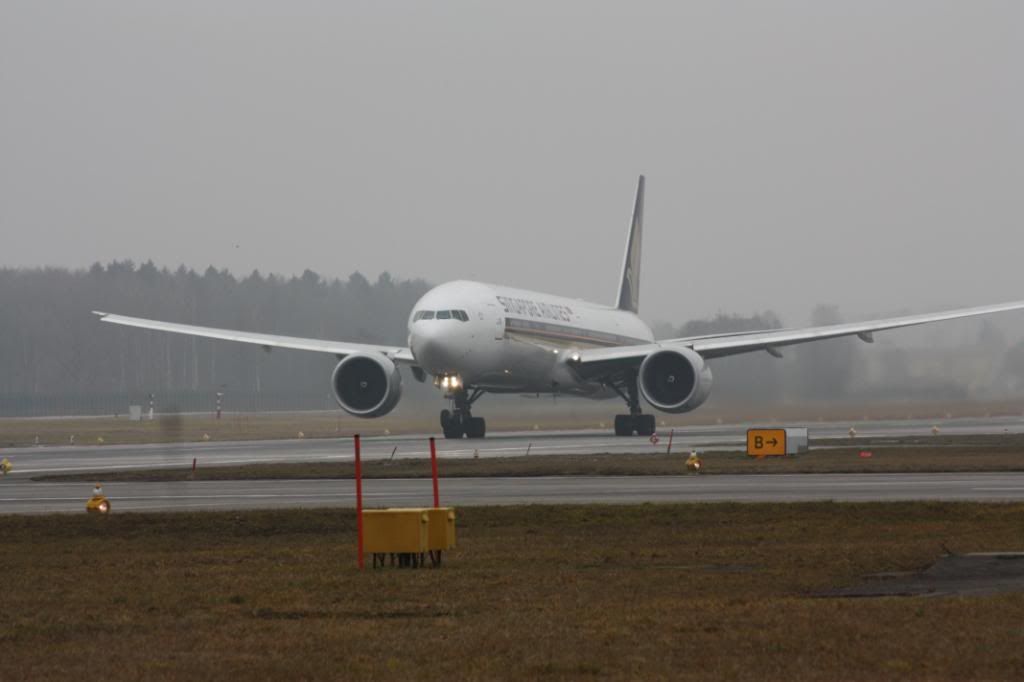 Close up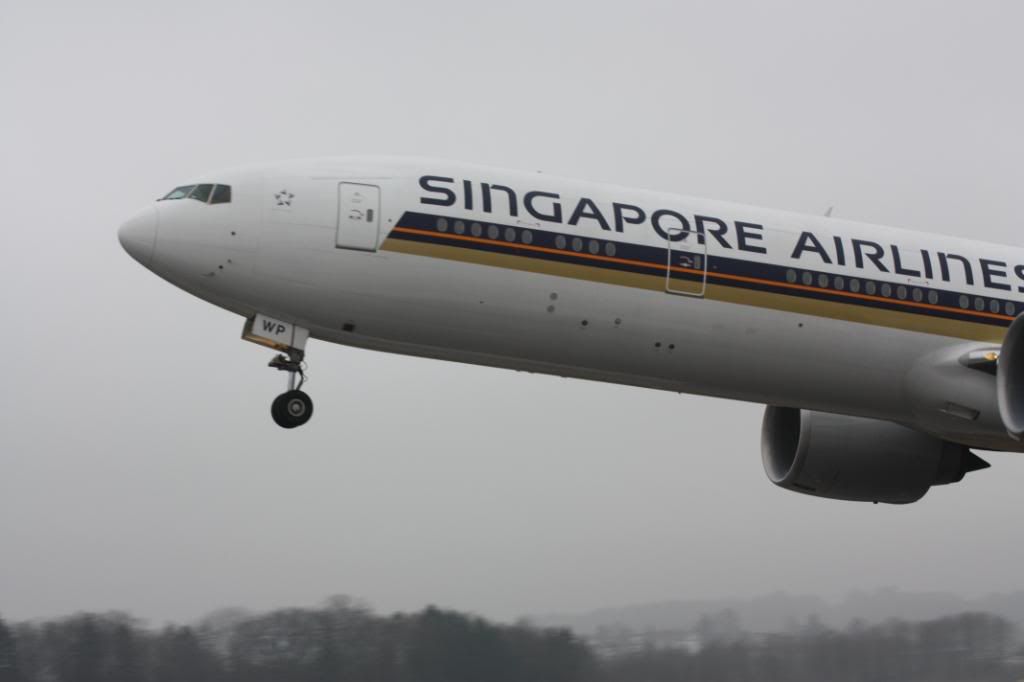 I would say we were no more than 40ft away frim the runway, well it at least seemed like that close. The noise those engines make is tremendous!!!
Turning to my right I could see a Germanwings A319 lining up on runway 28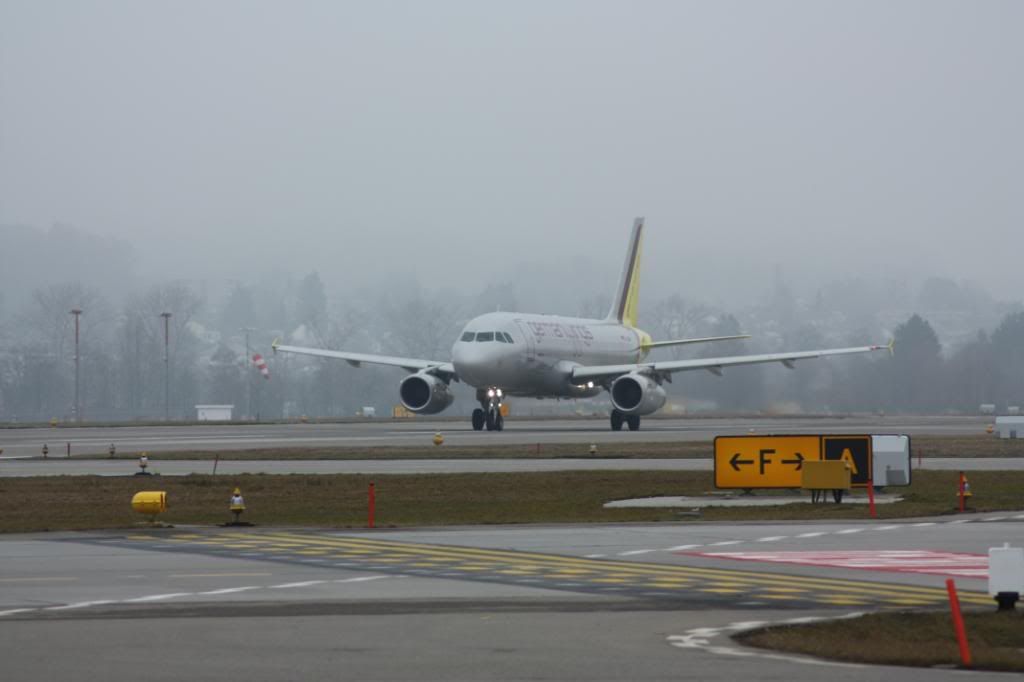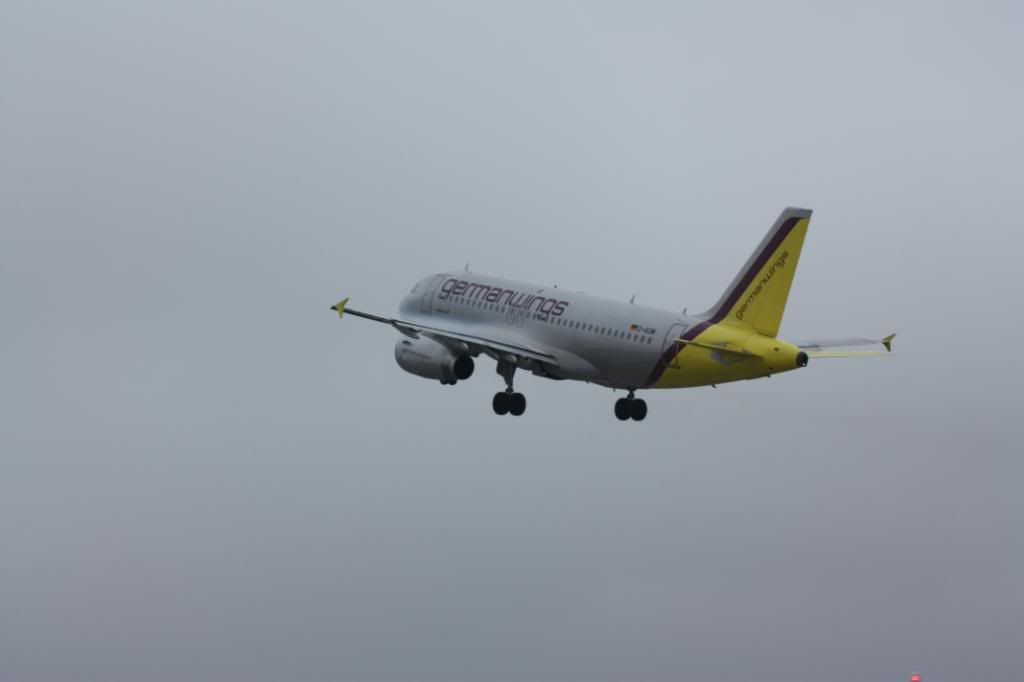 A few more views from the centre viewing area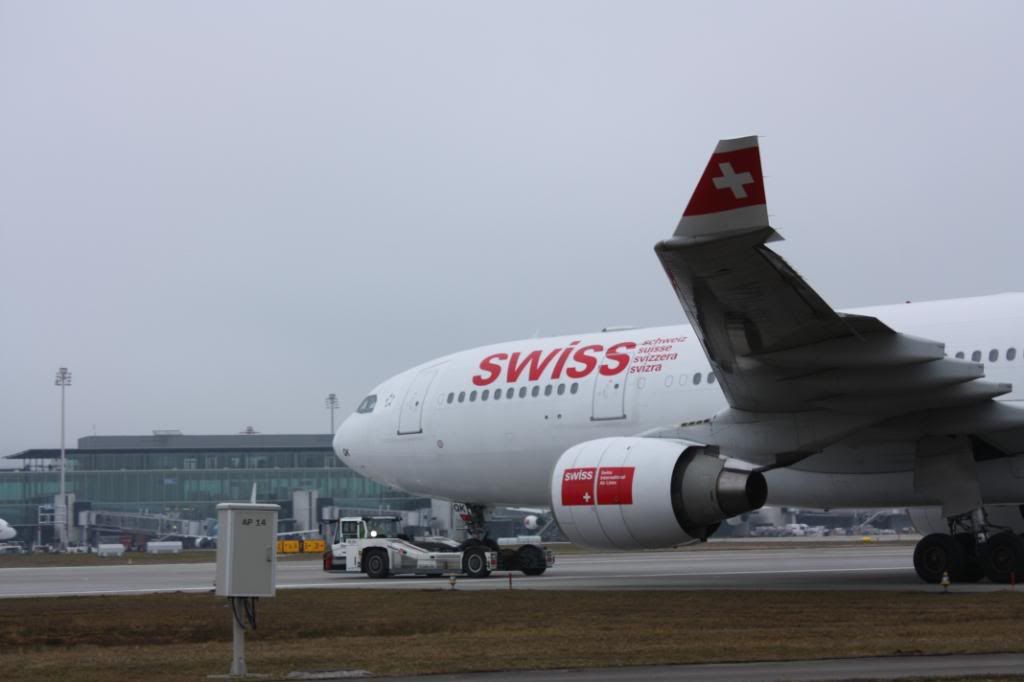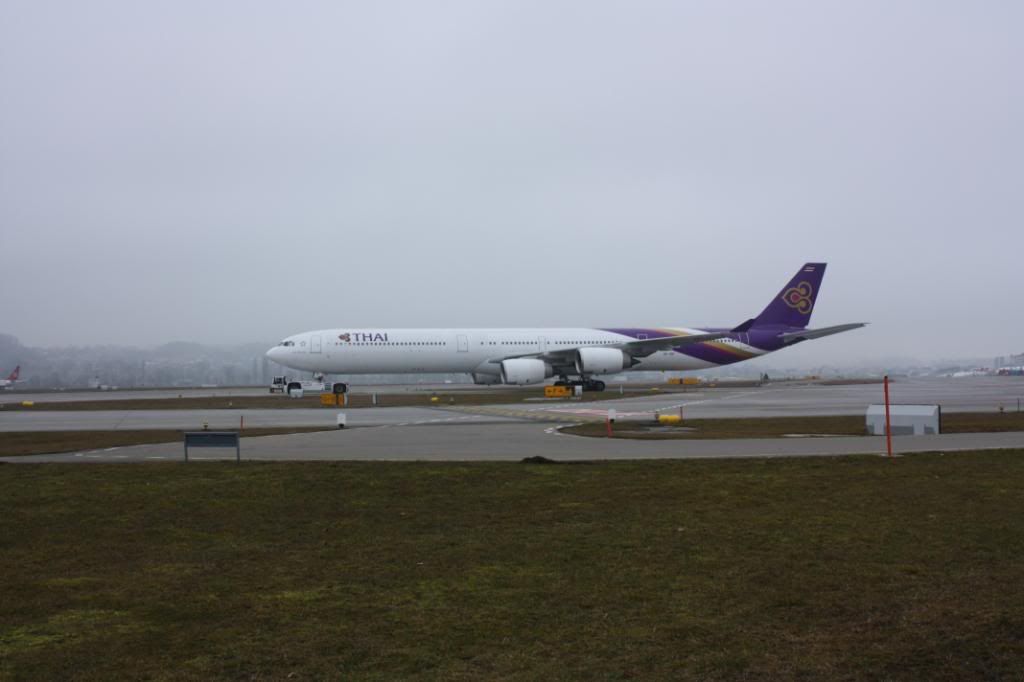 How many engines on this RJ?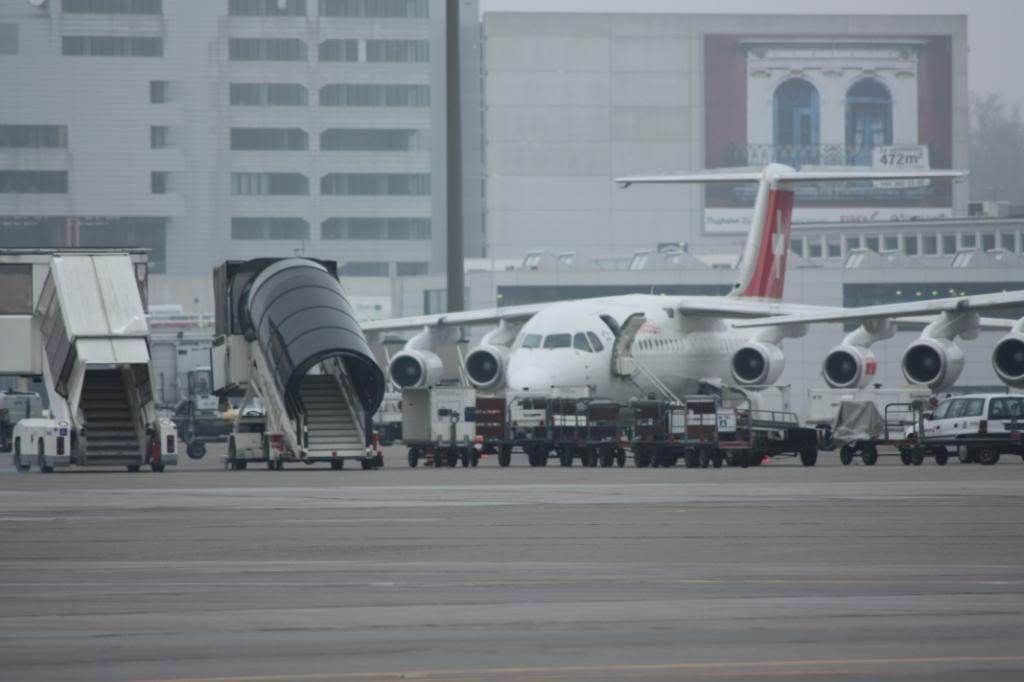 The bus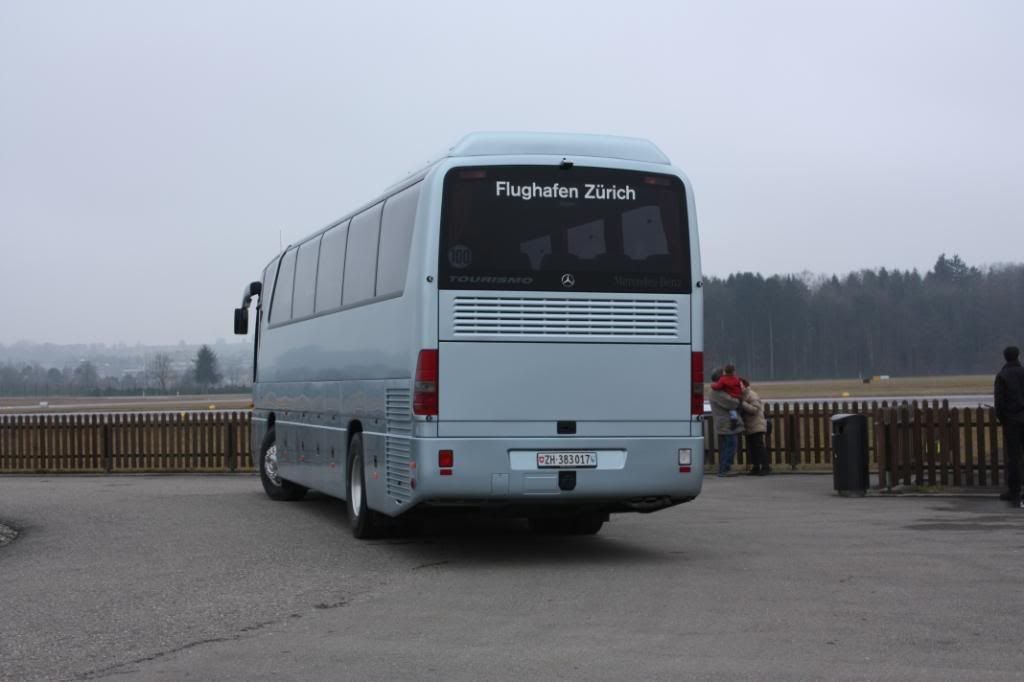 Back onto the bus we headed towards the main terminal and Dock E
Helvetic Fokker 100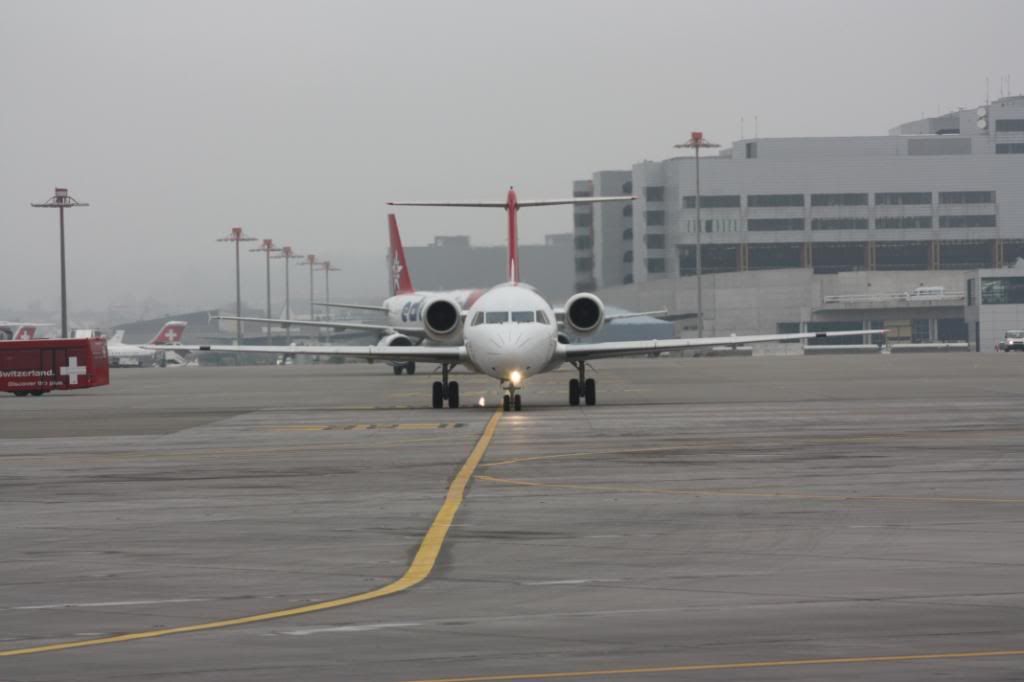 Another RJ in a special livery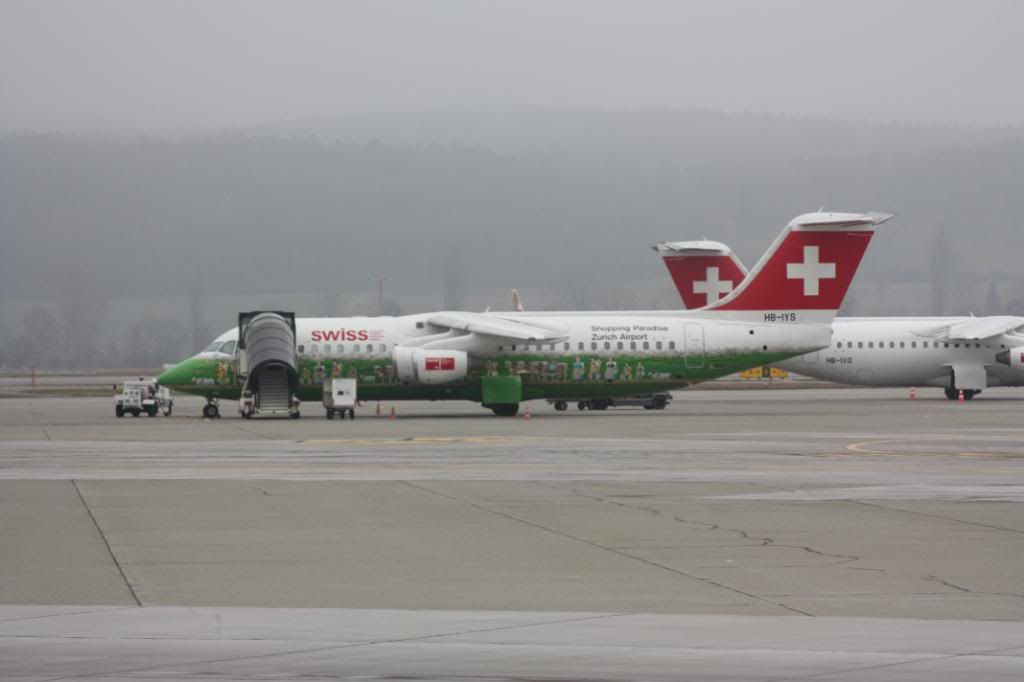 Edelweiss A320
Engine close up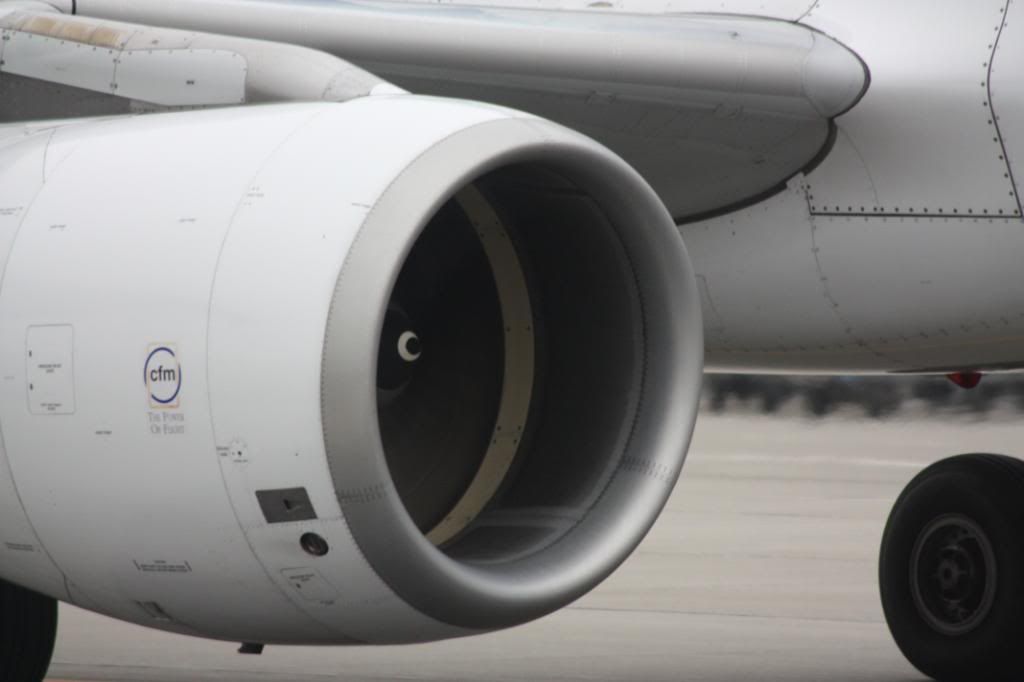 FO - he did give us a wave but I missed it
Ukrainian 737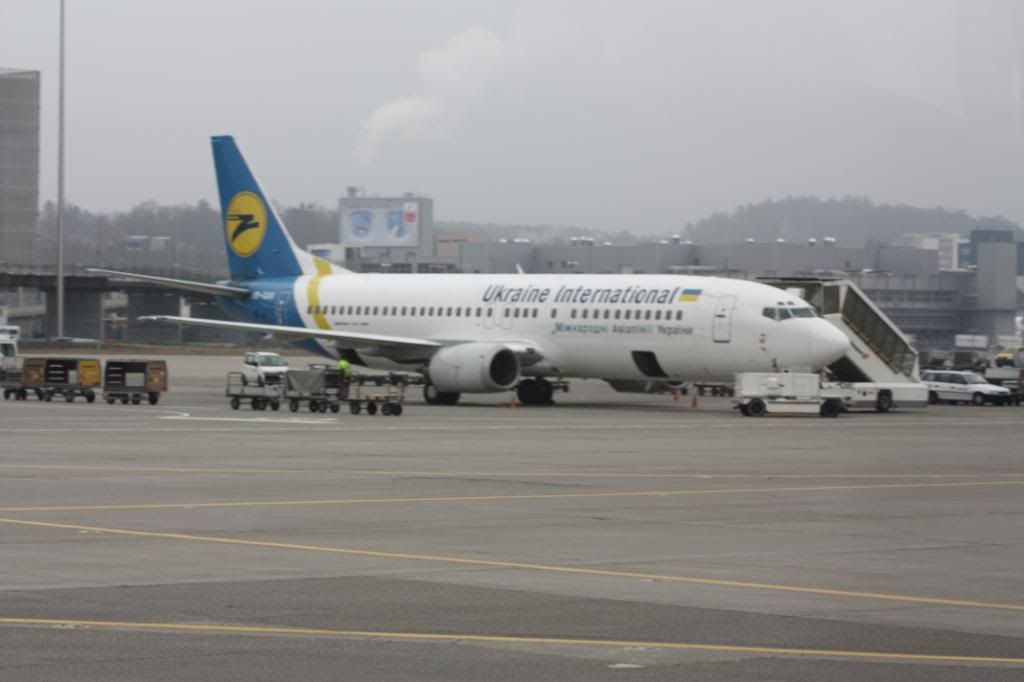 Another RJ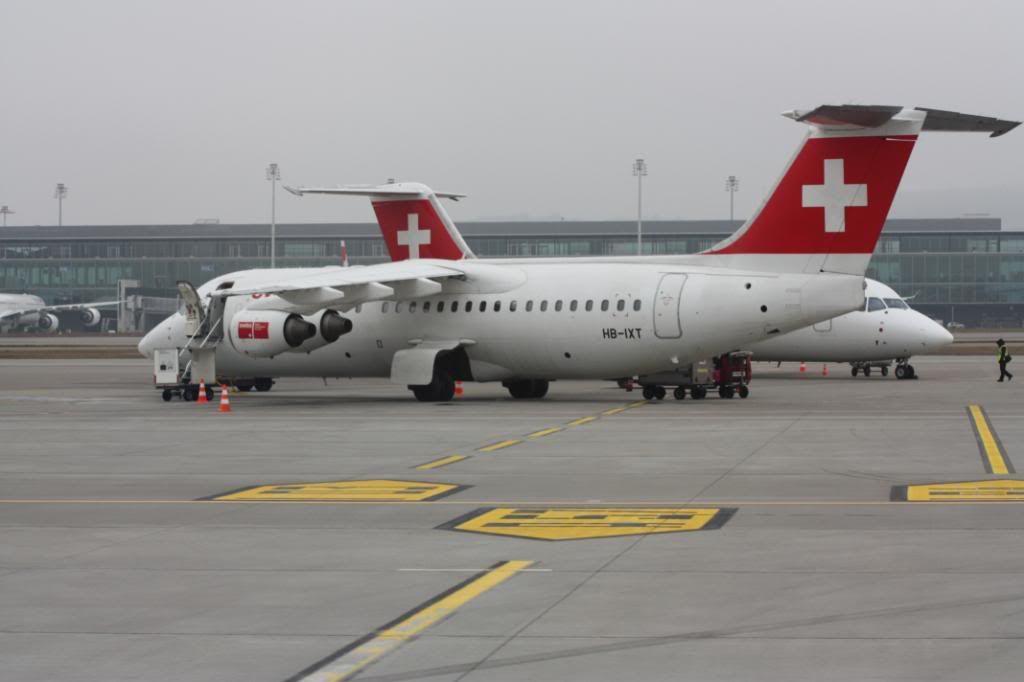 Fokker 100 in *A colours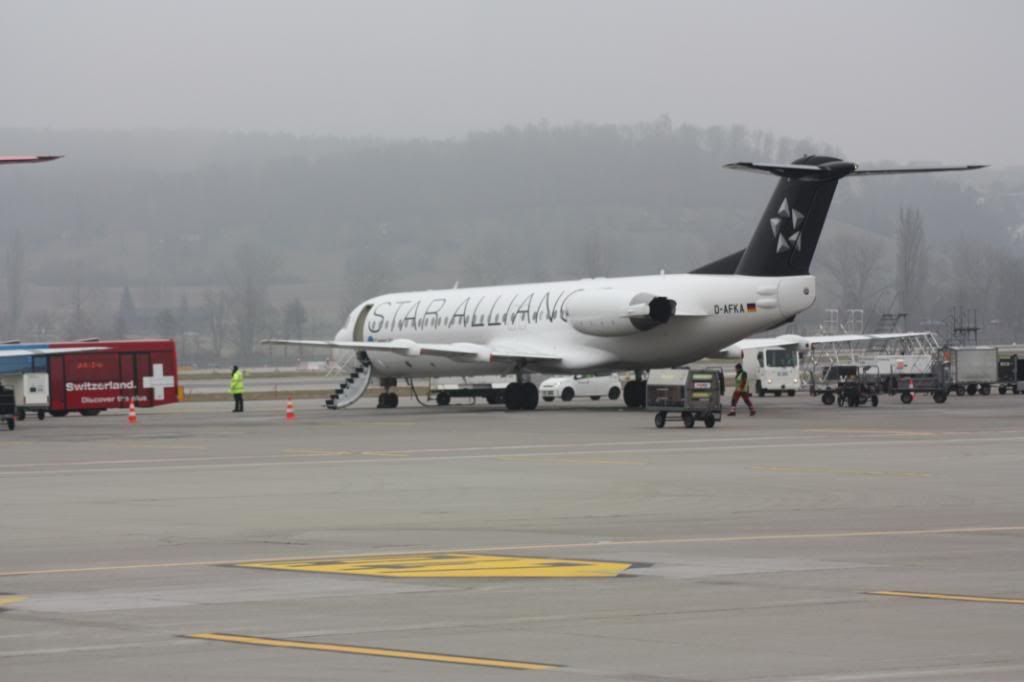 Another view of F100 - btw does anyone know who Contact Air are affiliated with? It is a German reg so I assumed it would be LH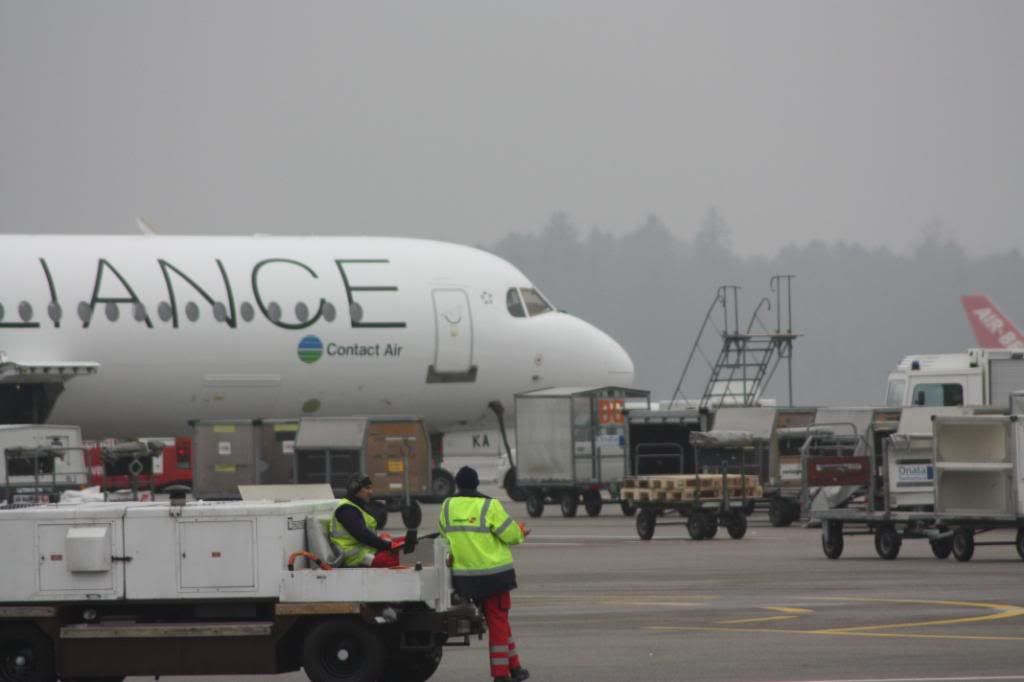 Private Jets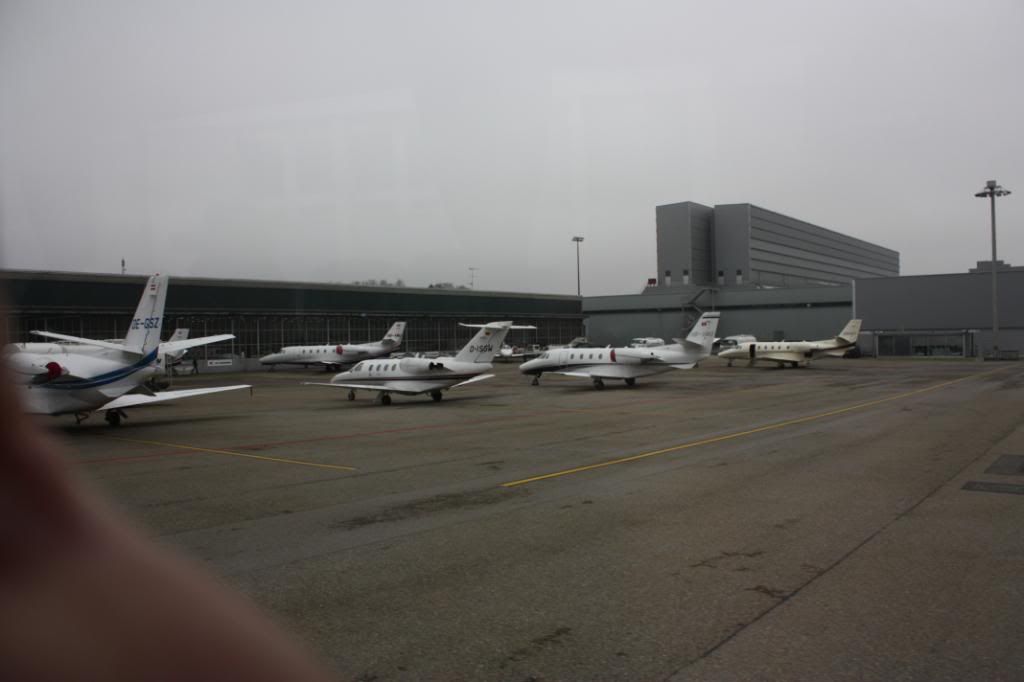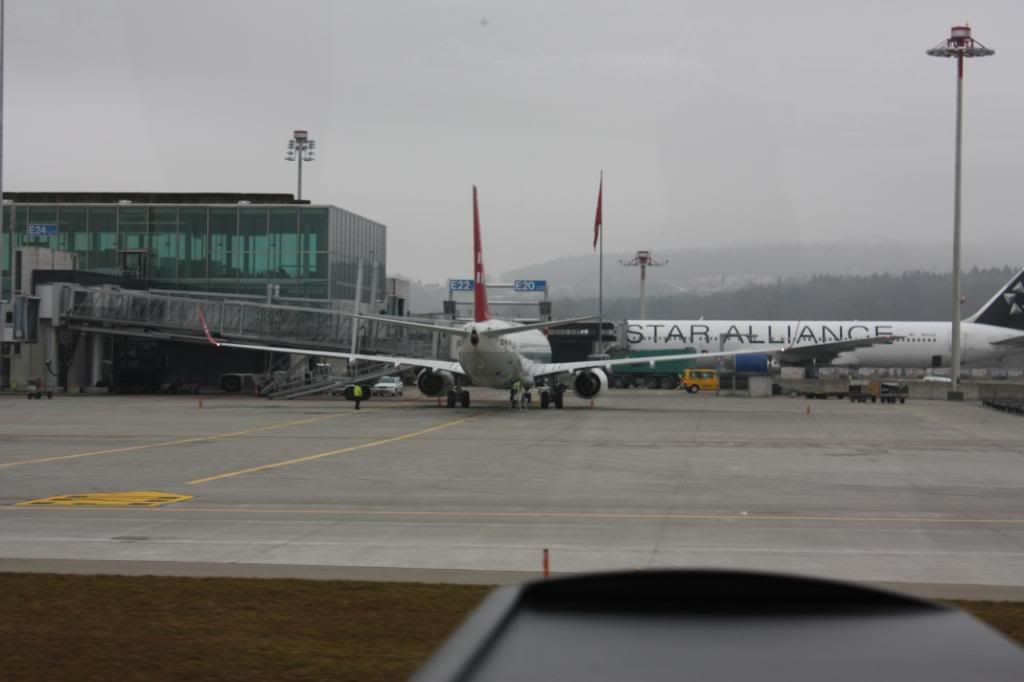 Swis A330's and a Thai A340 in the background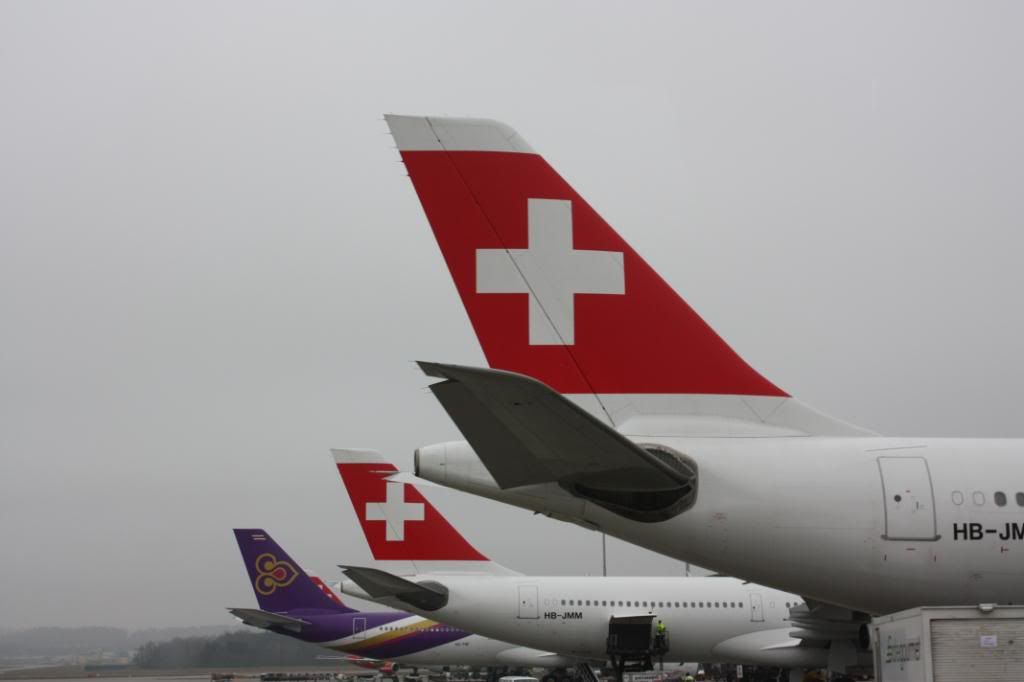 Bulgaria Air - check out their website.....it sounds like an amateur outfit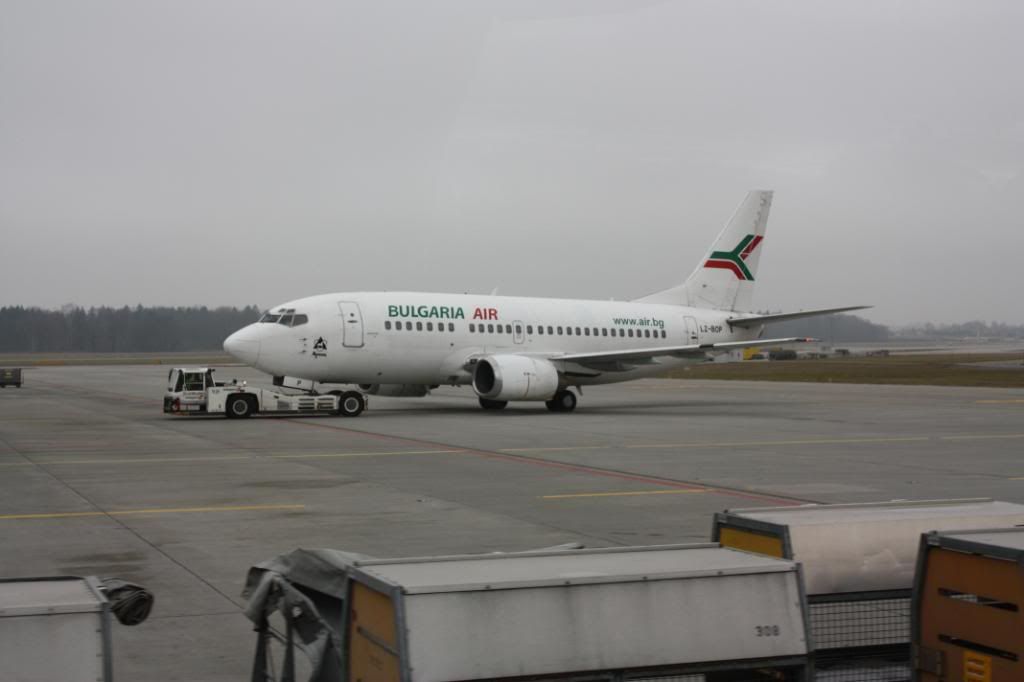 Baggage dollies
Another LX aircraft landing on runway 14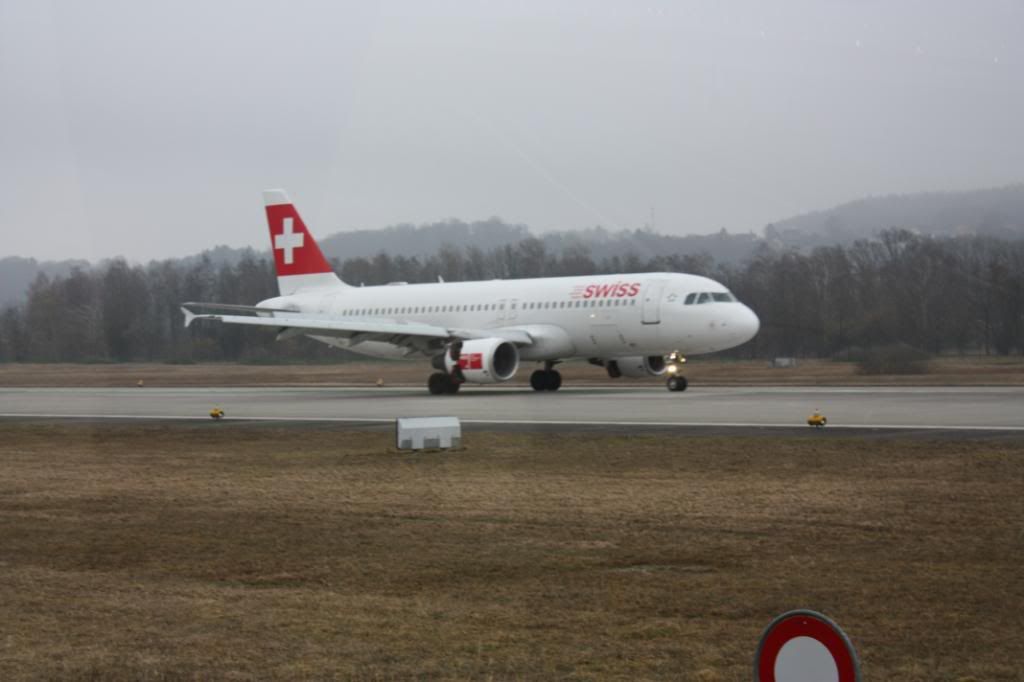 Gun range for the Polizei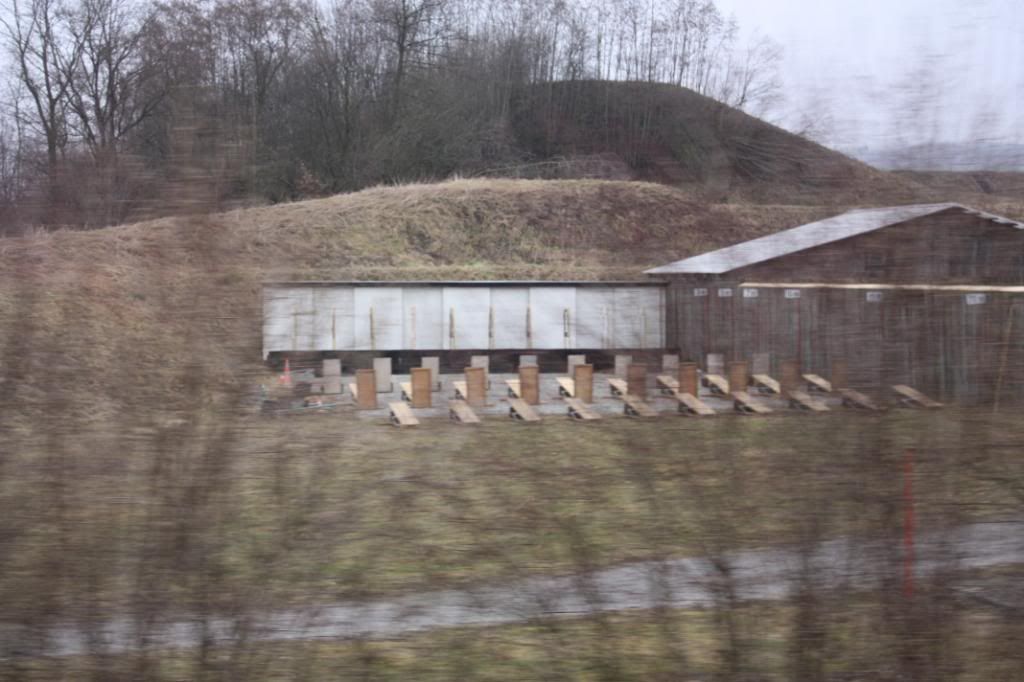 and people say BA dominate LHR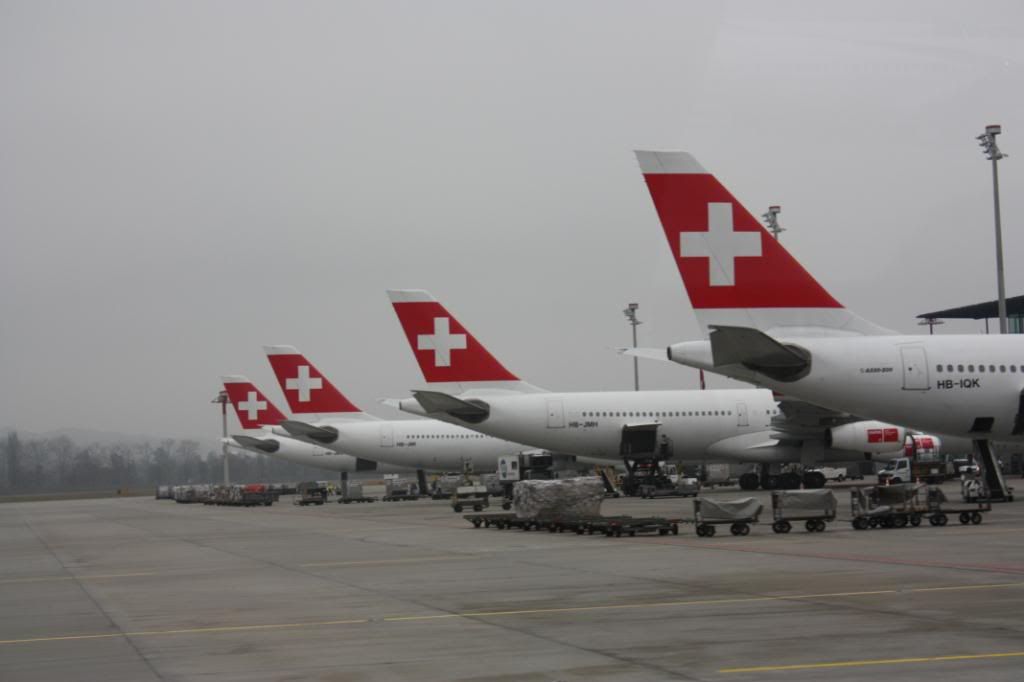 The bus then pulled up at Dock E so we could go and view the aircraft from the viewing deck. Everyone disembarked and made our way to the roof of the building.
There were a lot of people here considering it wasn't a great day for spotting and I must say how surprised I was at the amount of families there were.
If only BAA could organise something like this at LHR, us spotters may forgive them for some of the other decisions they make.
There was also a lot of photographers up here and we all saw them running to grab shots of this particular aircraft. Does anyone know who this is?
I searched on the internet for the reg but couldn't find anything and again, nothing here on a.net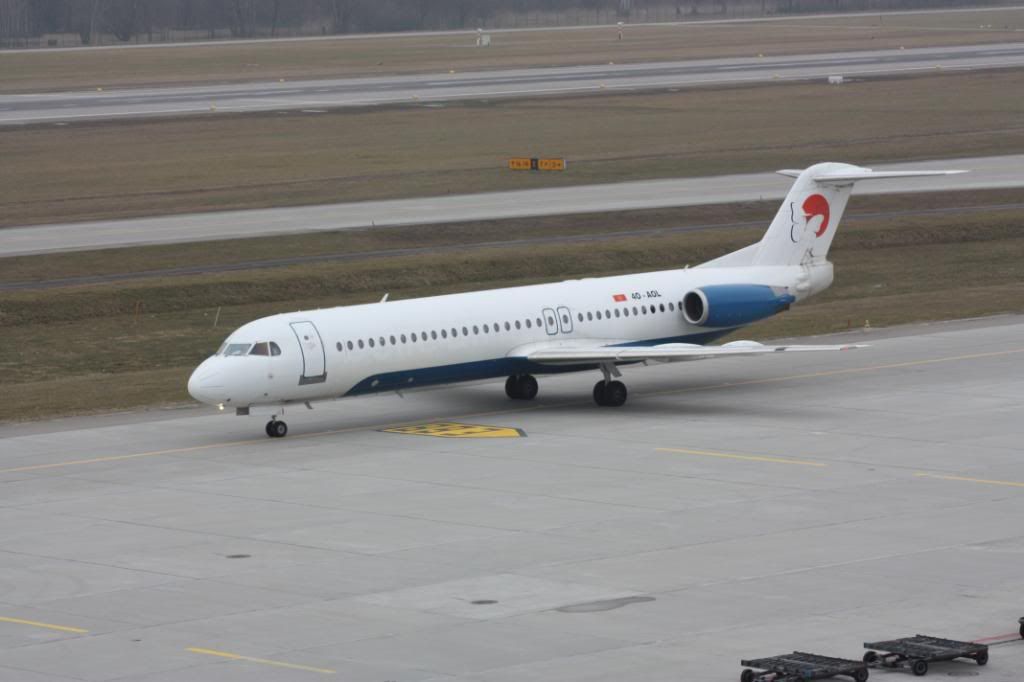 and again
Some more views from Deck E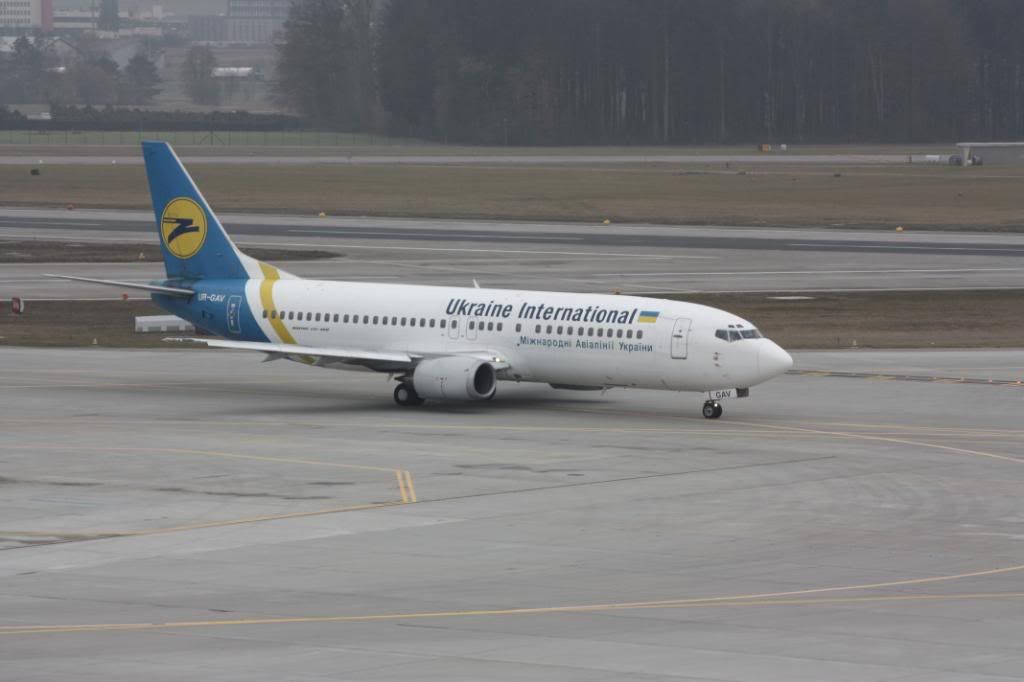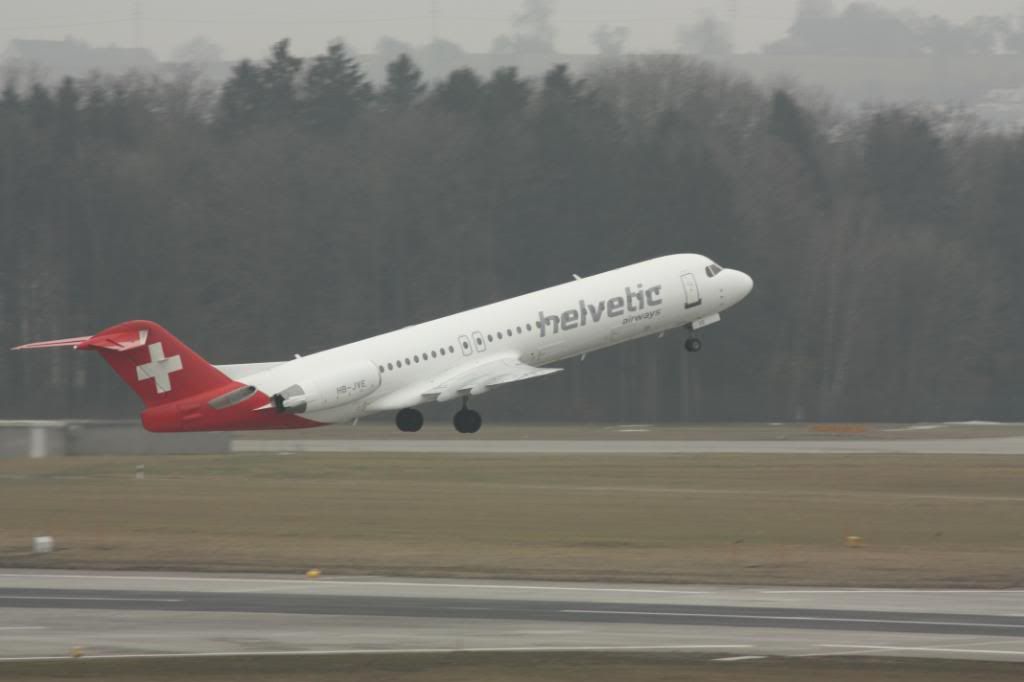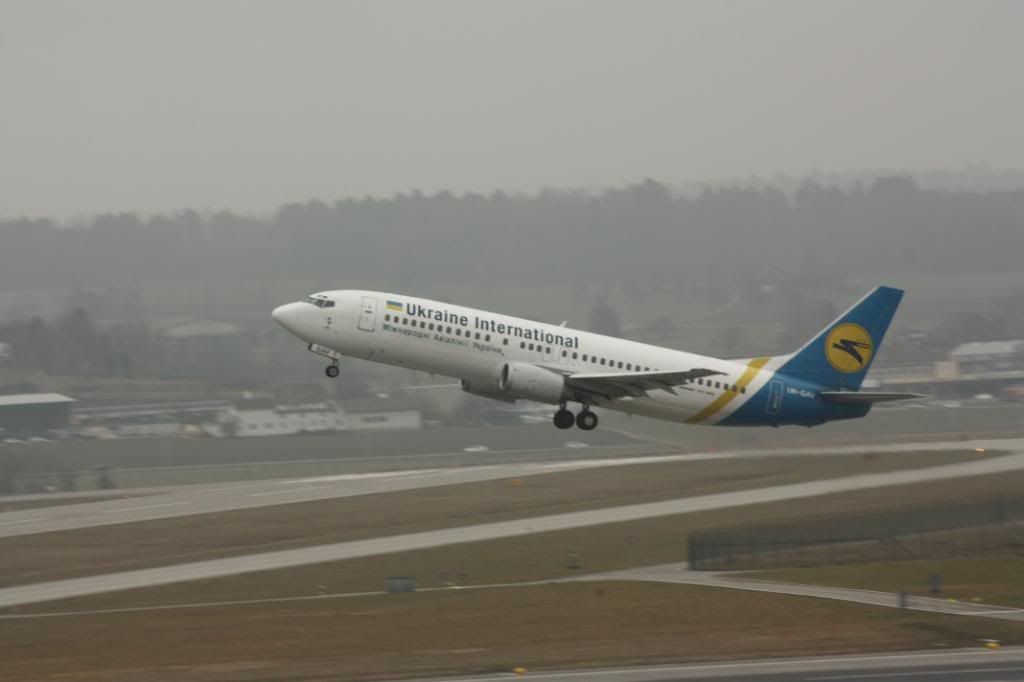 BA Crew relaxing before their flight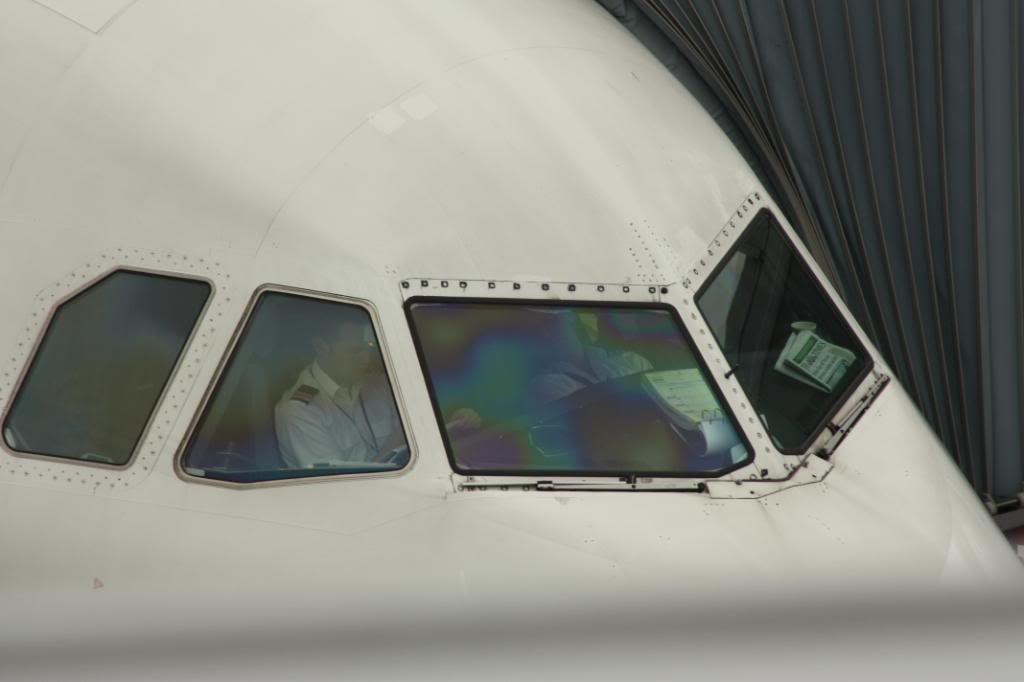 LX taxiing to runway with Contact Air taking off in the background
KL 737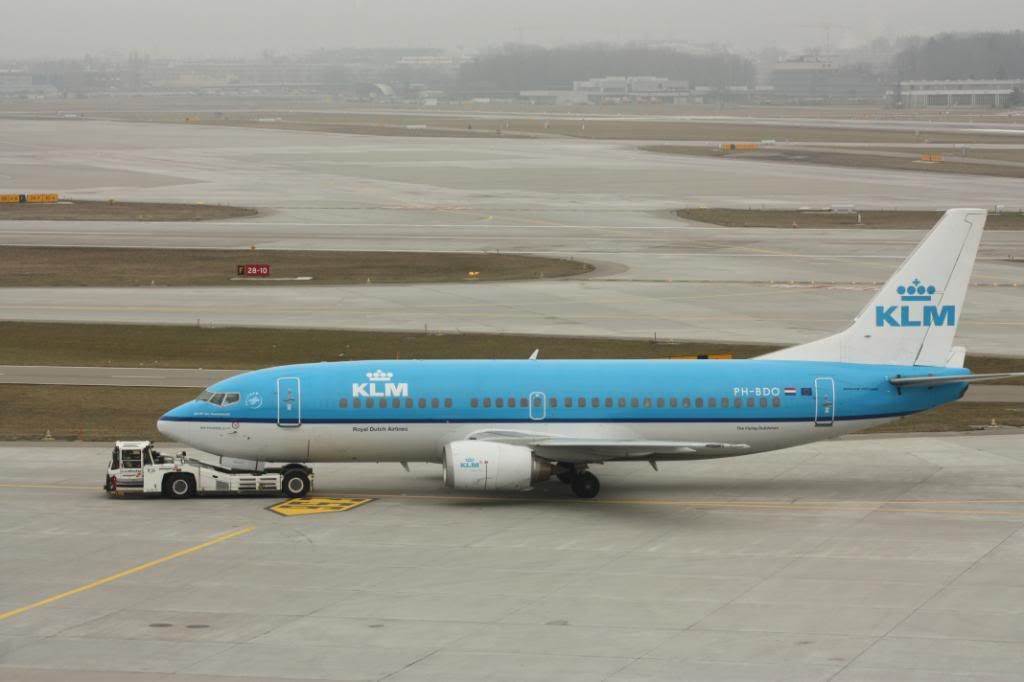 LX A320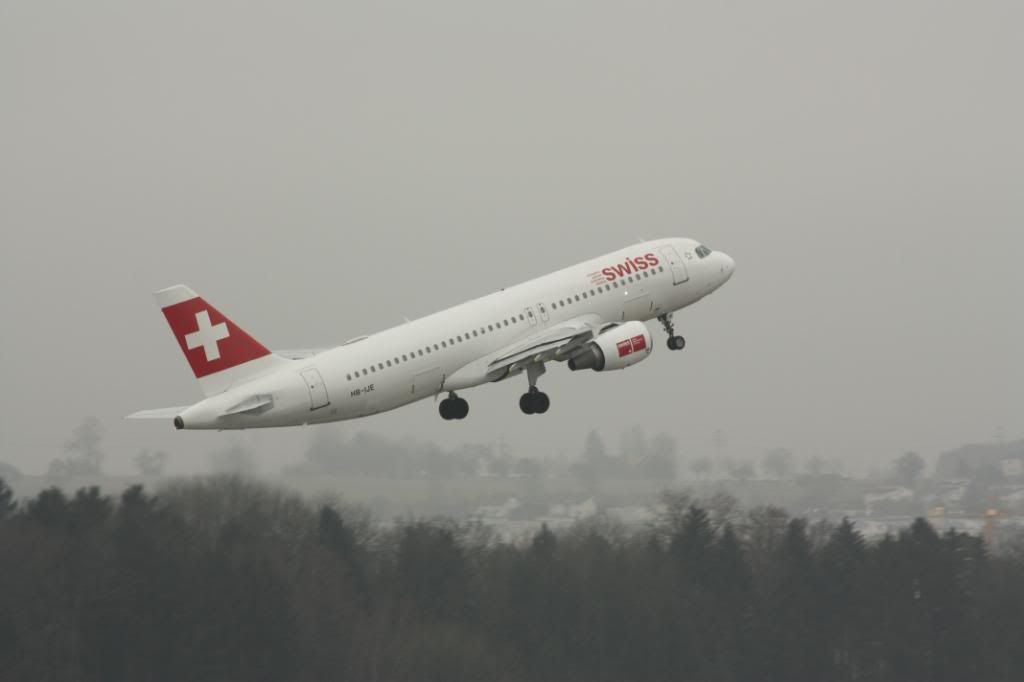 Avro - this aircraft made a very shallow climb out for the first 10-15 seconds and then the nose just pointed skywards and it was like a rocket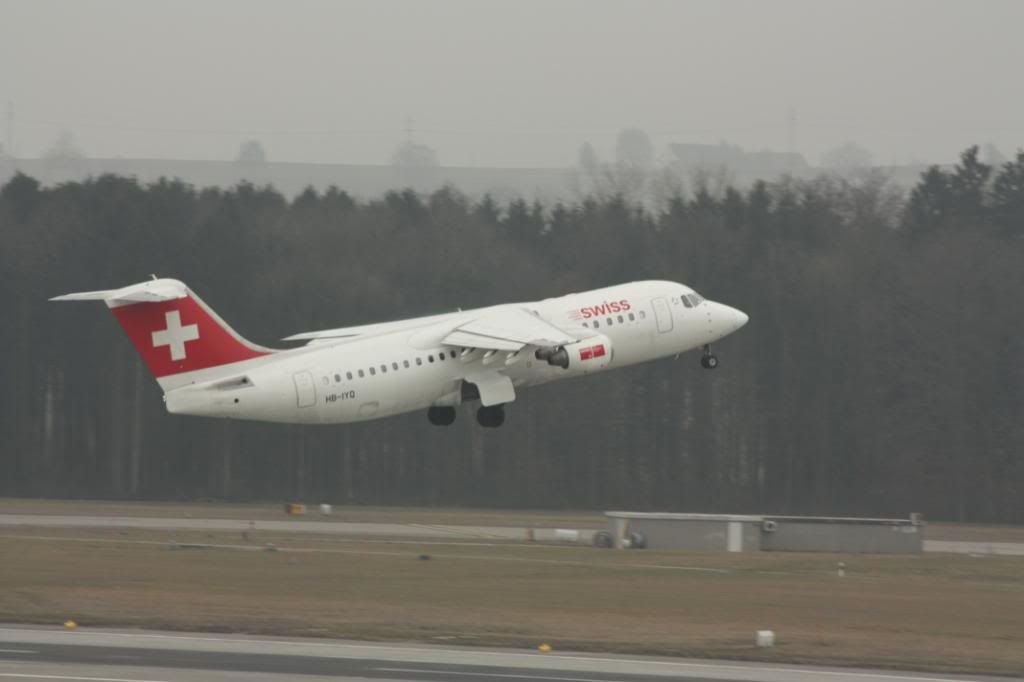 LX 321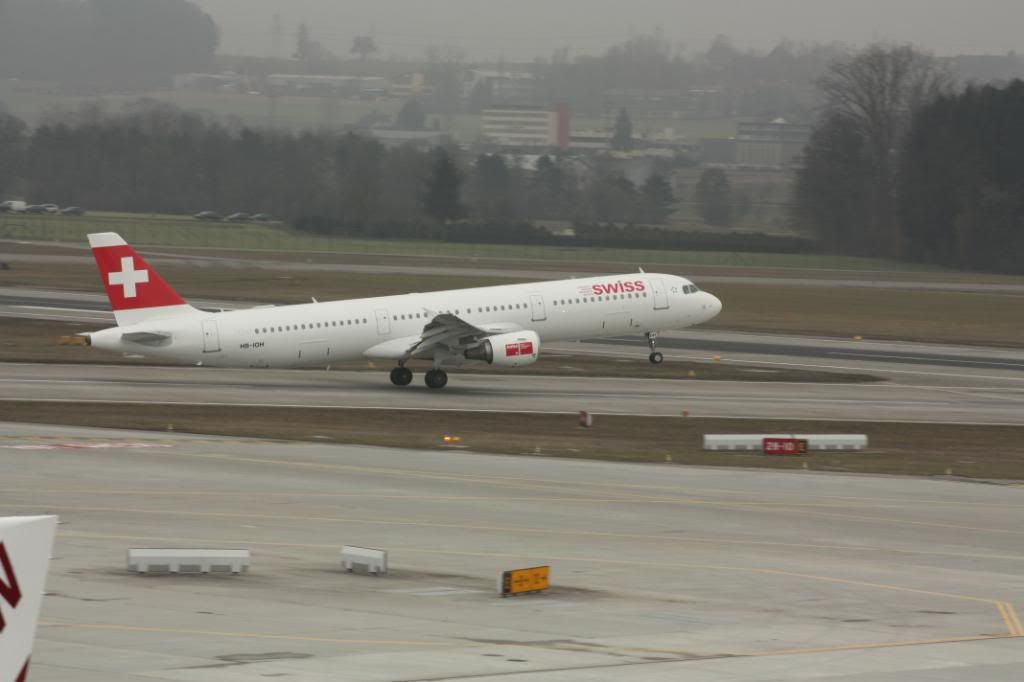 KL 737 taking off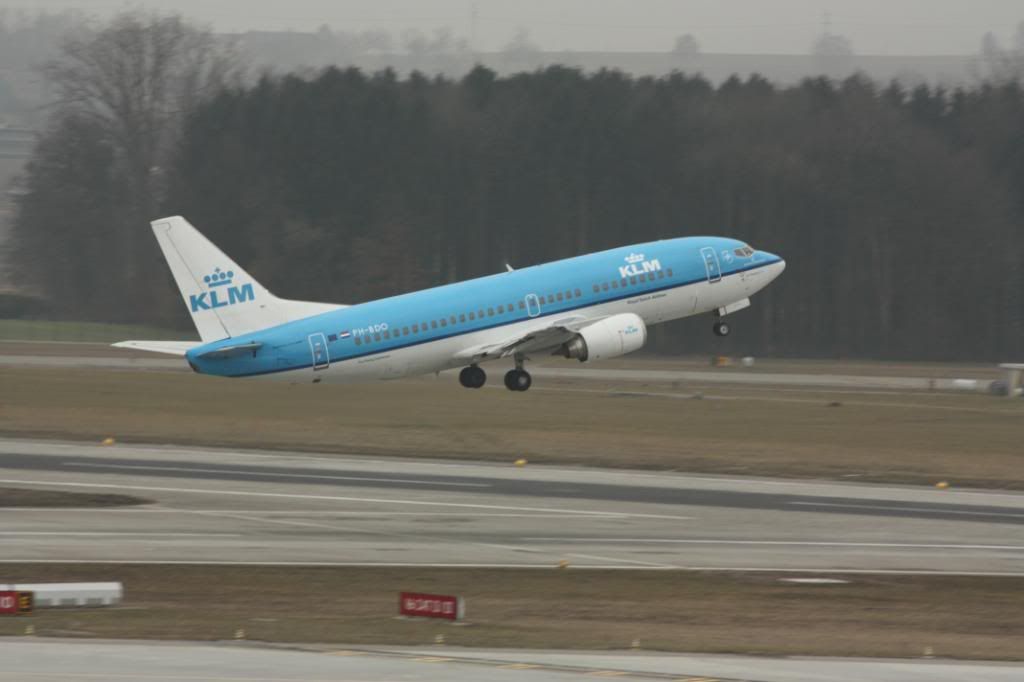 LX A330 lifting off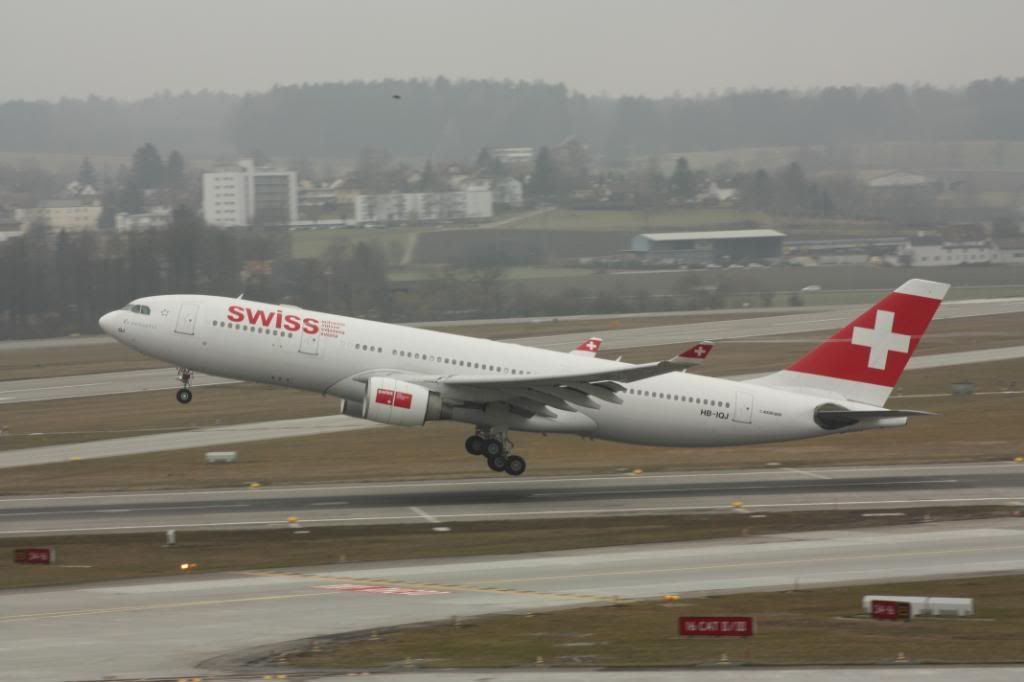 We decided that it was time to head back to the main terminal for our flight. We were originally booked onto the 1625 flight from ZRH but due to the crappy photog weather and the fact that we were all knackered we decided that we would try and catch BA715 which departed at 1450
We jumped on a bus which took us back to the area we were originally picked up at and made our way landside again.
As we were going up to the departures level I noticed a woman with a dog. She actually took the escalator and whilst she held the lead the dog took the stairs.... one of the funniest things Ive seen in a long time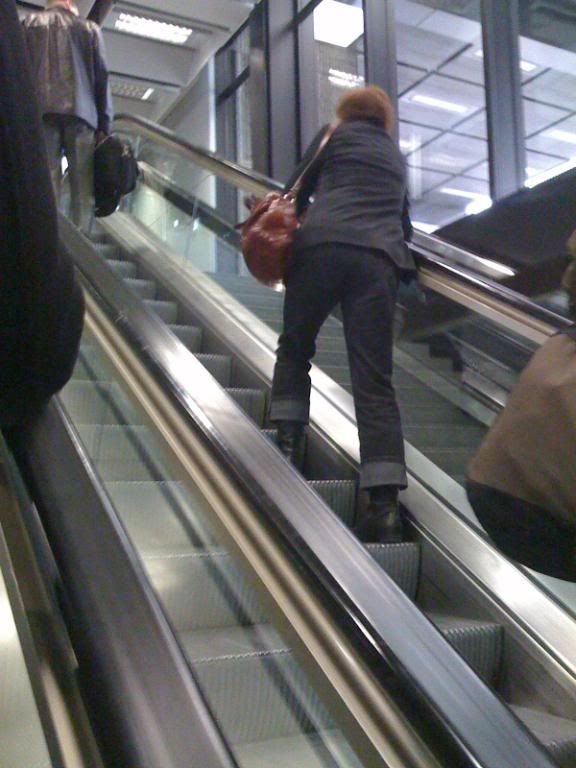 The ground staff at the ticket desk were kind enough to change our tickets and we checked in for our flight. The ticket desk staff member advised that she had changed our tickets and we could chekc-in using the SSK's. This didn't work so we had to go to the normal check-in desk and check-in old school style.
From here it was through to the departure lounge and to find the nearest bar. I couldn't believe how quiet and deserted this terminal felt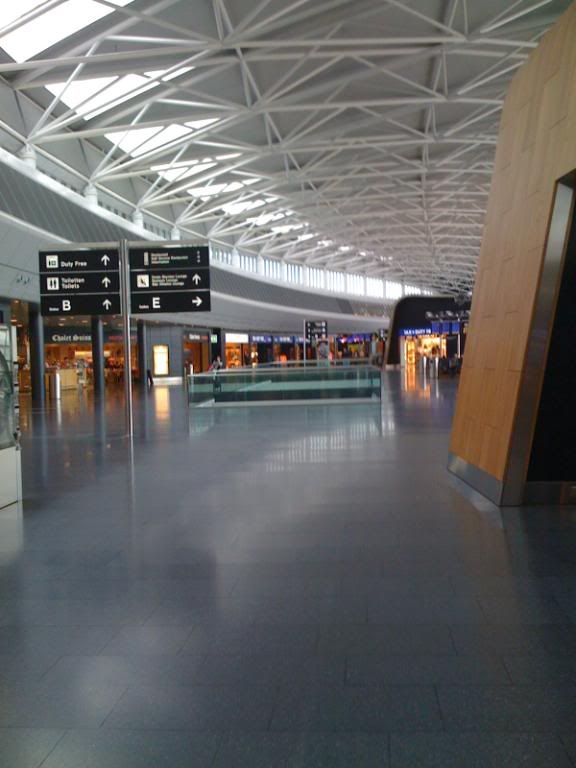 We found a bar and ordered some food and beverages although Jack let the side dwon by only drinking Diet Coke...tut tut tut
Alex without a drink in hand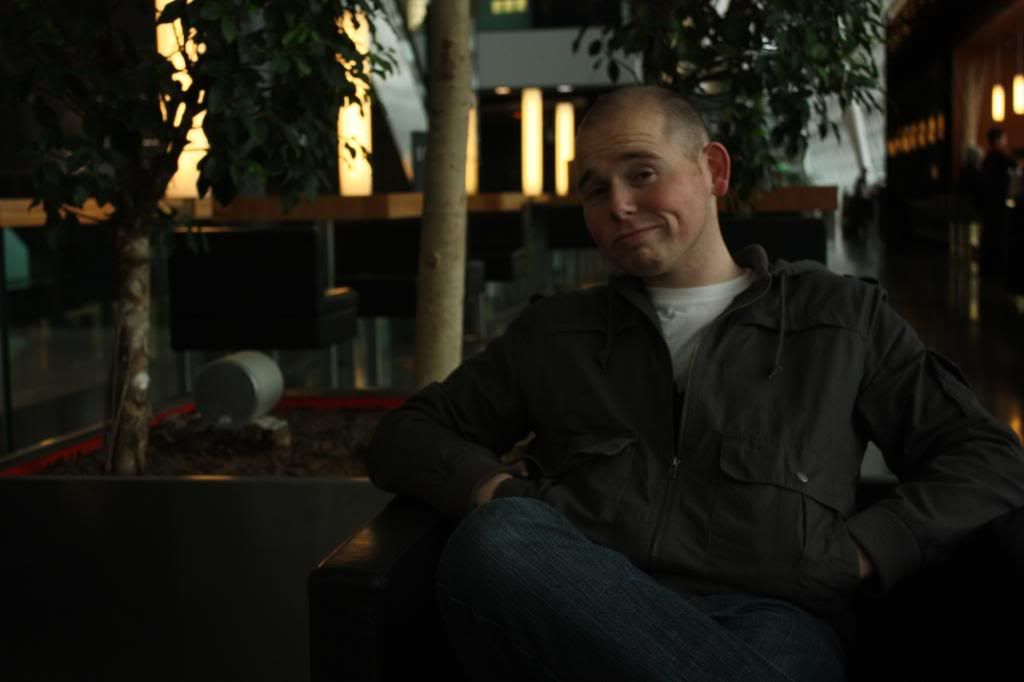 After sitting watching planes and drinking beer we decided we better head through to Dock E for our flight as it was getting on to 1400.
Again, we took the SkyMetro but unfortunately this time there was no maid
Security was a bit of a mess to be honest with people not having their items ready to be screened, laptops in bags etc so it took me about 15 minutes to clear.
Our flight was departing from gate 54 ( I think) and this area looked quite busy but this was because of the other flights in and around the area, a NIKI flight to DUS and another to somewhere esle in Germany.
I checked my iPhone to see what time the BA flight was due to arrive as it was 1415 and there was no aircraft to be seen as yet. I found out that the flight had been late departing LHR so would be arriving into ZRH shortly.
BA715 / 4th March
ZRH - LHR
STD - 1450
ATD - 1502
STA - 1540
ATA - 1534
Seat 17F
A319-131
Reg: G-EUPR
It was quite a quick turn-a-round, especially for BA, as boarding was announced at 1450. I made my way down to row 17 where I was to be seated in F with Alex in 17D and Jack in 17C, with seat 17B staying free. Once everyone had boarded the captain apologised for the late dpearture but that it was due to a delay in Basle on the first flight of the morning which had had a knock on effect for the rest of the day.
We waited for the NIKI flight on the adjacent gate to push back and then it was our turn.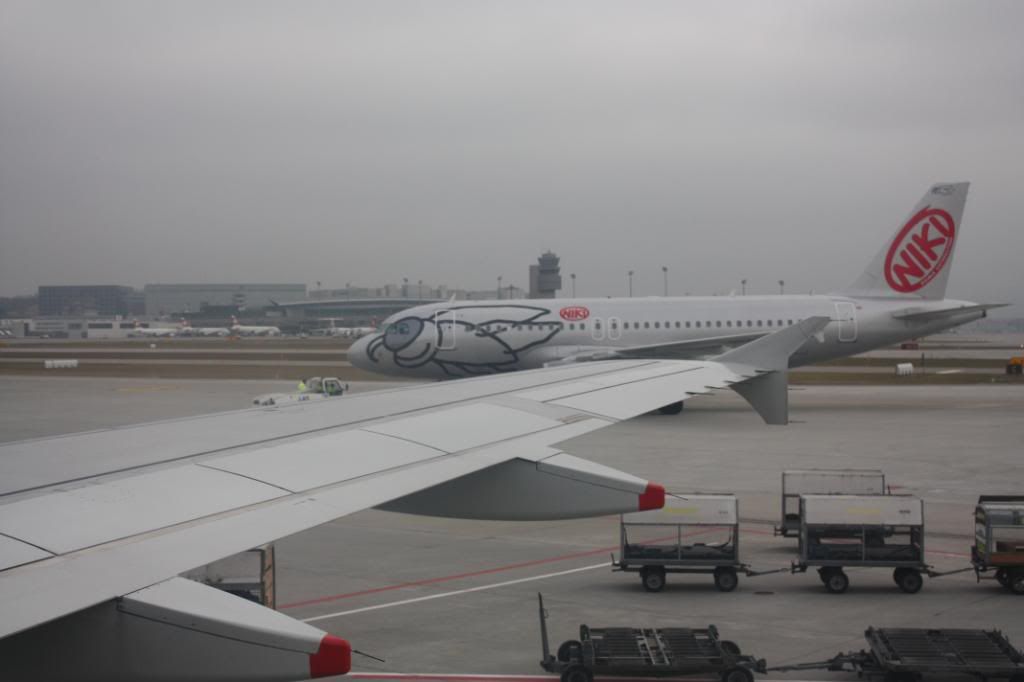 It was then our turn and we pushed back, engines started and we were off to runway 28 for departure. Another rolling start and we were off down the runway and upto V1 quite quickly.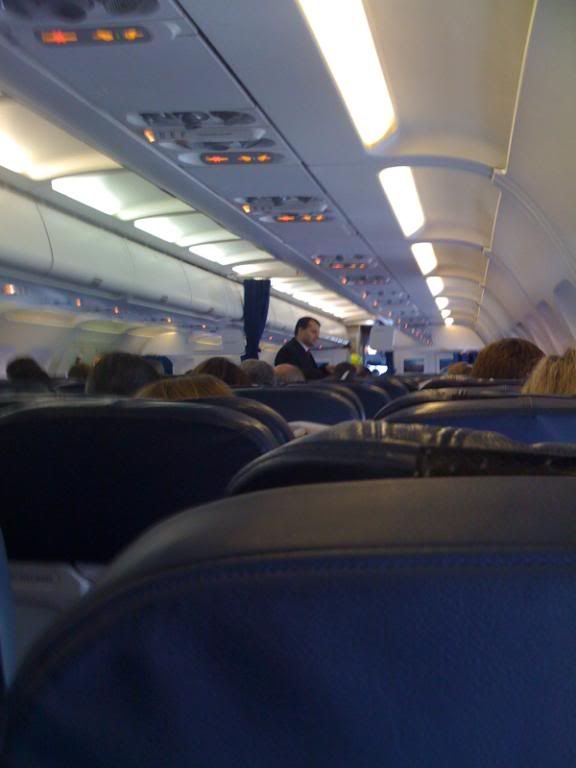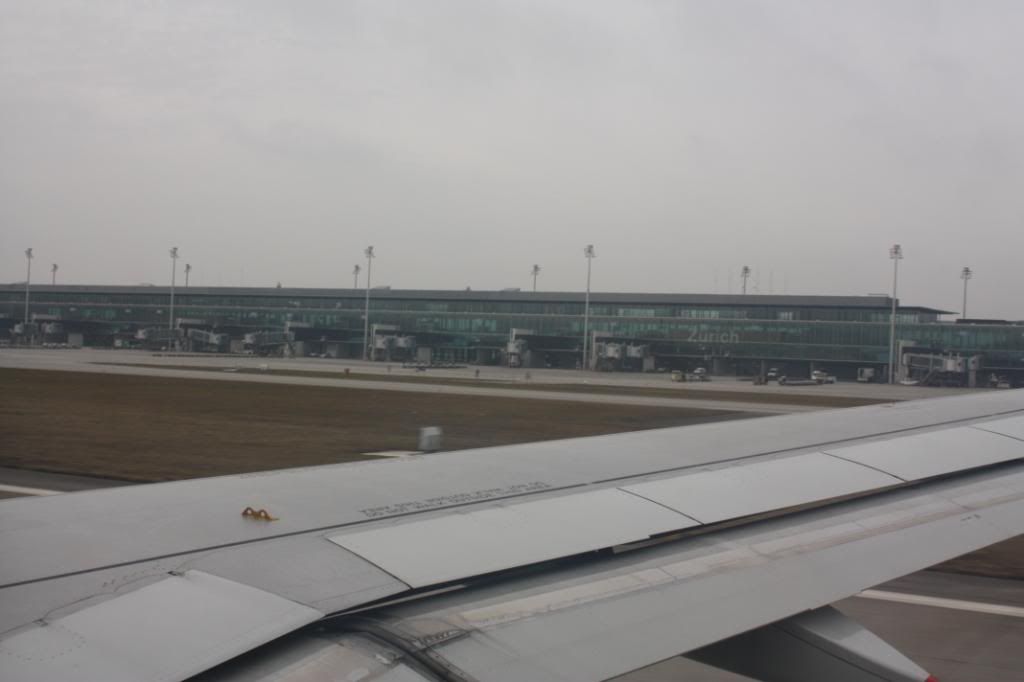 crossing runway 16/34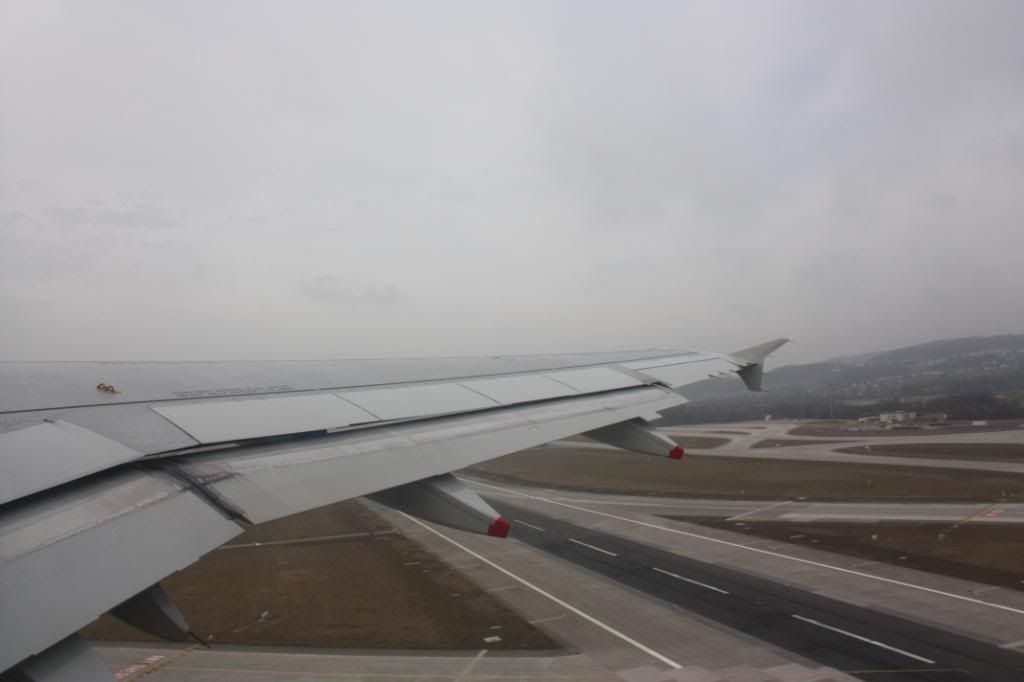 Is this the village of Kloten?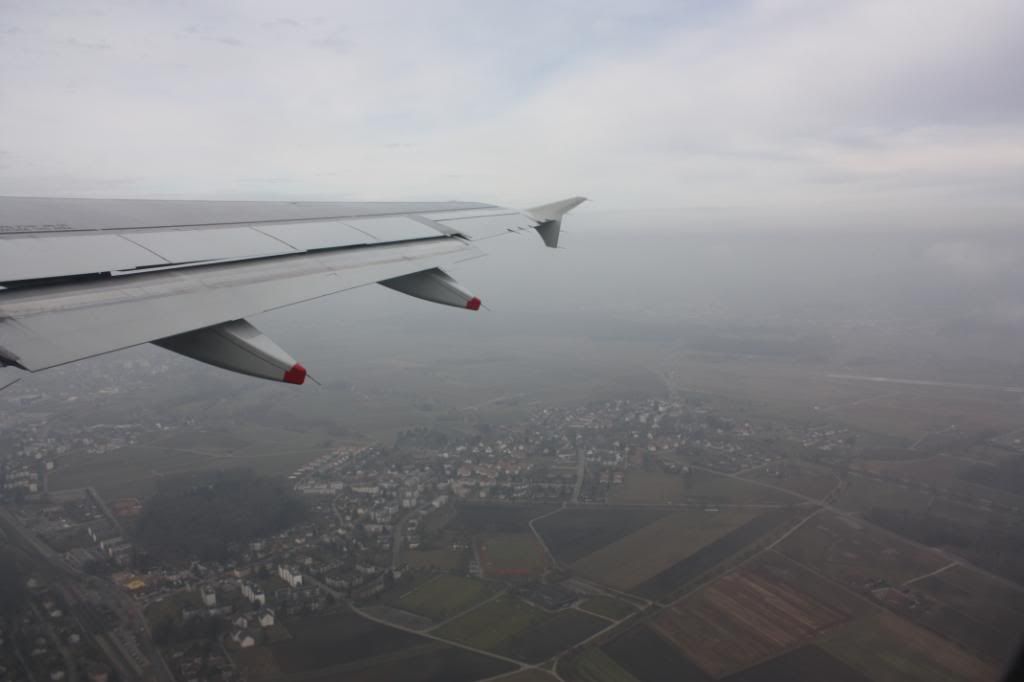 The captain had made us aware that we would be passing through some clouds but that once we were through that, with no turbulence expected, it was on to clear blue skies and a significant tailwind. This would give us a flying time of only 1hr 20mins.
The aircraft was turning left and then right and then left again and then I saw why we were making these manouvers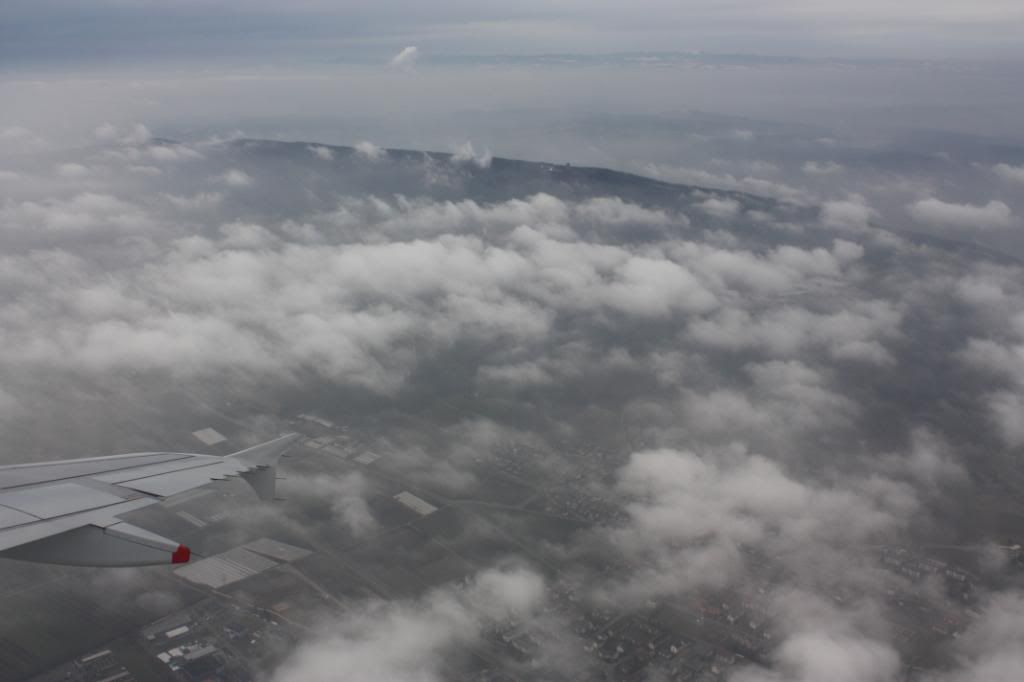 It was about 15 minutes into the flight when the cabin crew started the meal service although I was again extremely disappointed to see that all we would be getting to eat was two bags of pretzels. To drown my sorrows I ordered a Gin and Tonic
Alex decided on a Heineken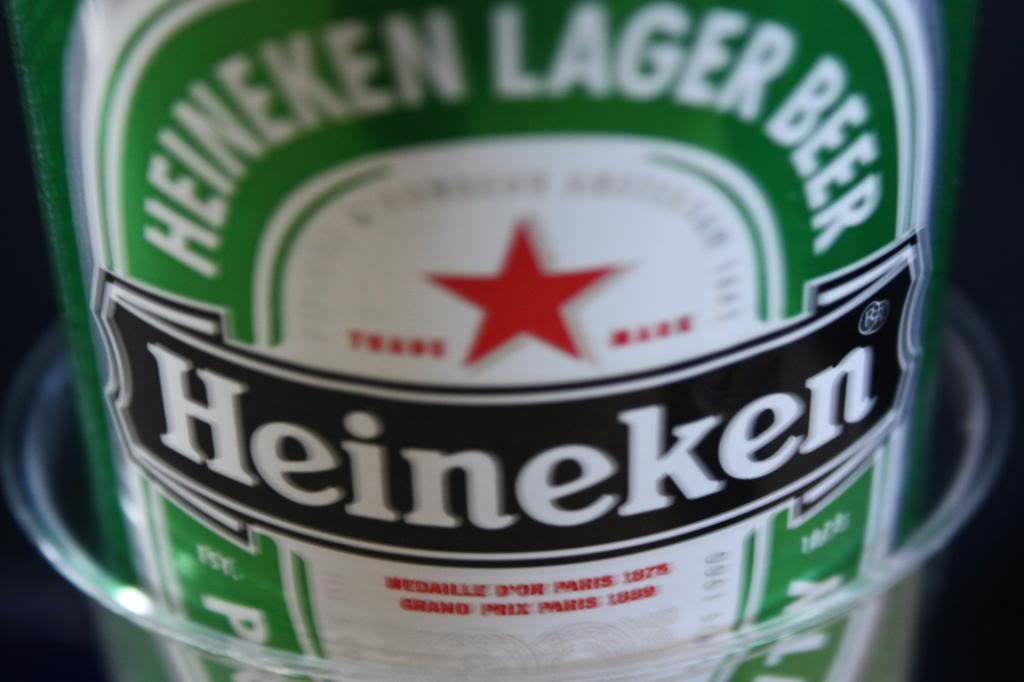 Me coming back from the little boys room being attacked by the Financial times sitting in 21C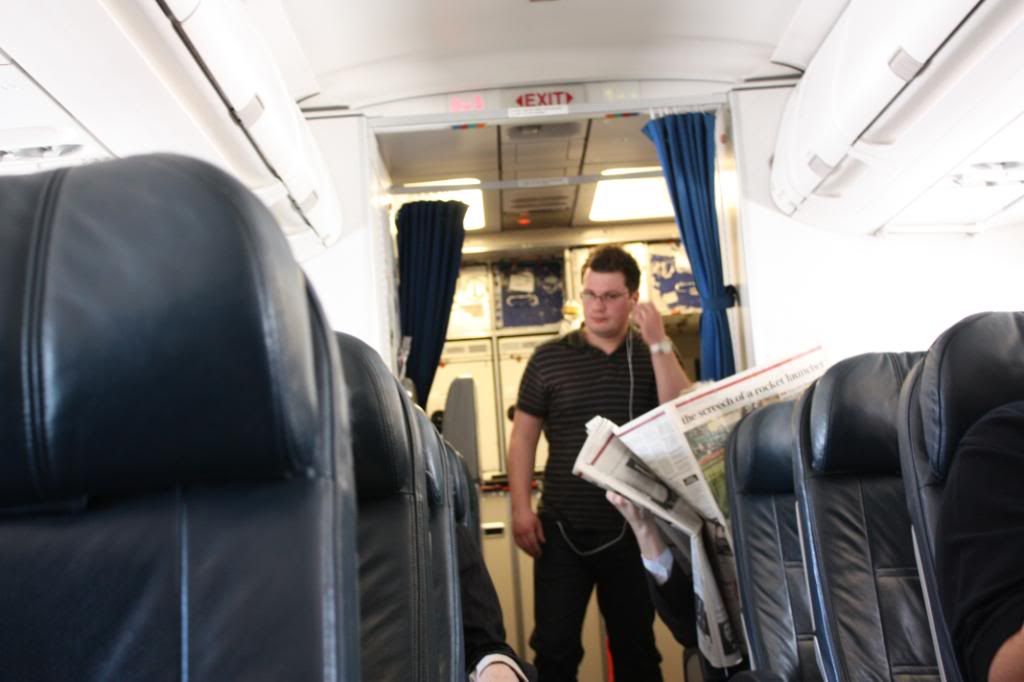 The clear blue skies we were cruising through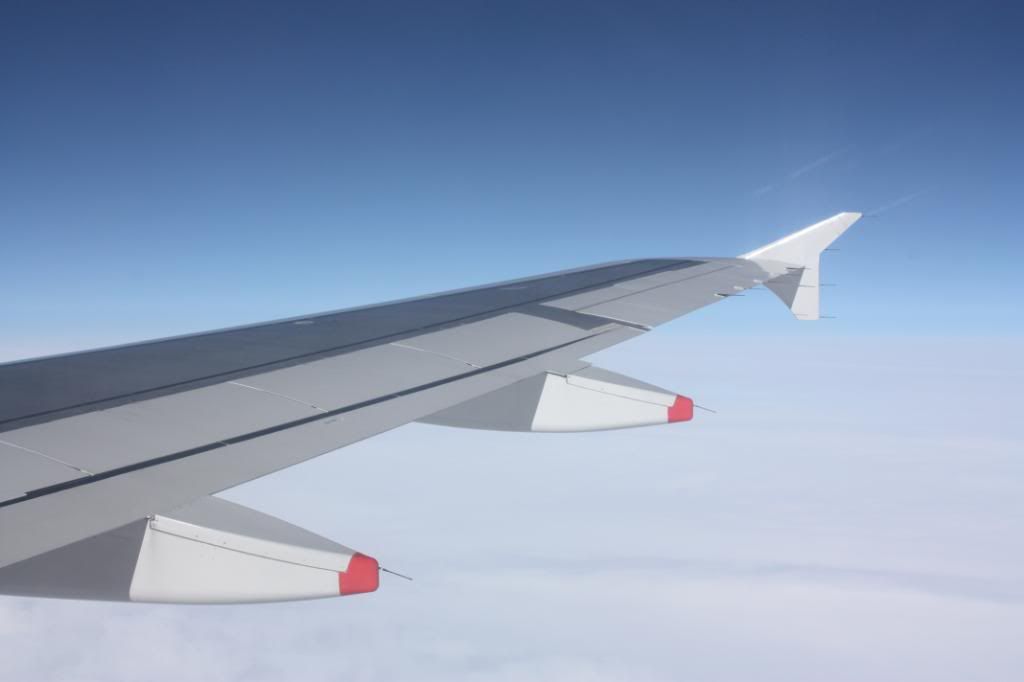 The routing we took was Zurich, Basle, Dole, North of Auxerre, Amiens, crossing the channel at Dunkerque.
We had already started our descent when the FO announced that we would be delayed slightly and would be holding for about 10 minutes.
We entered Biggin Hold and I managed to grab a picture of the Thames Estuary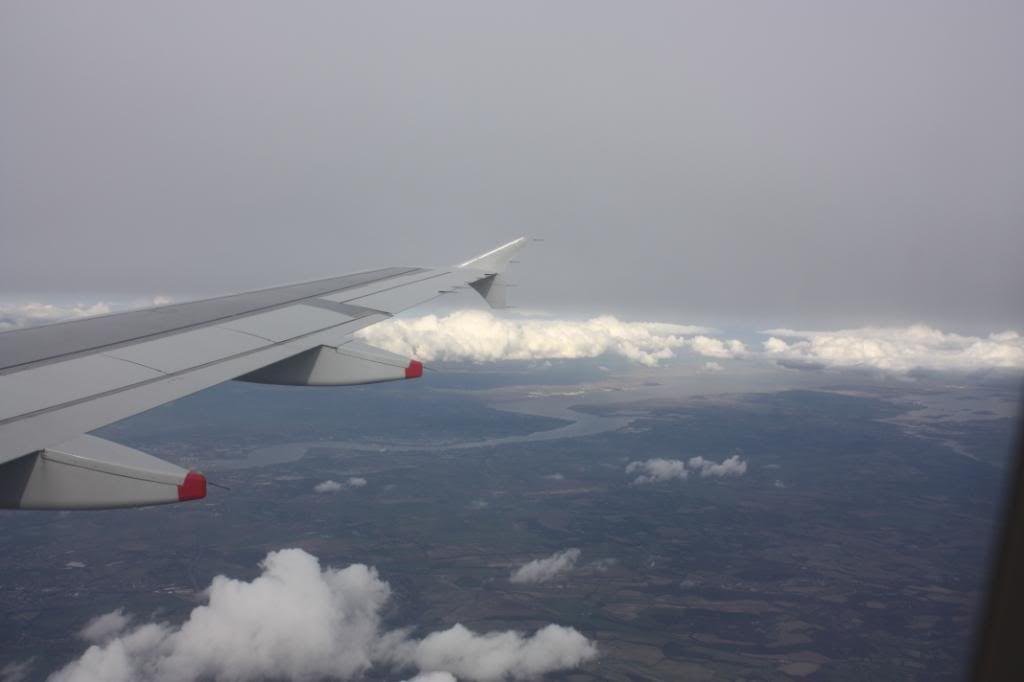 Twice around the hold and we descended even more and headed towards LHR via central London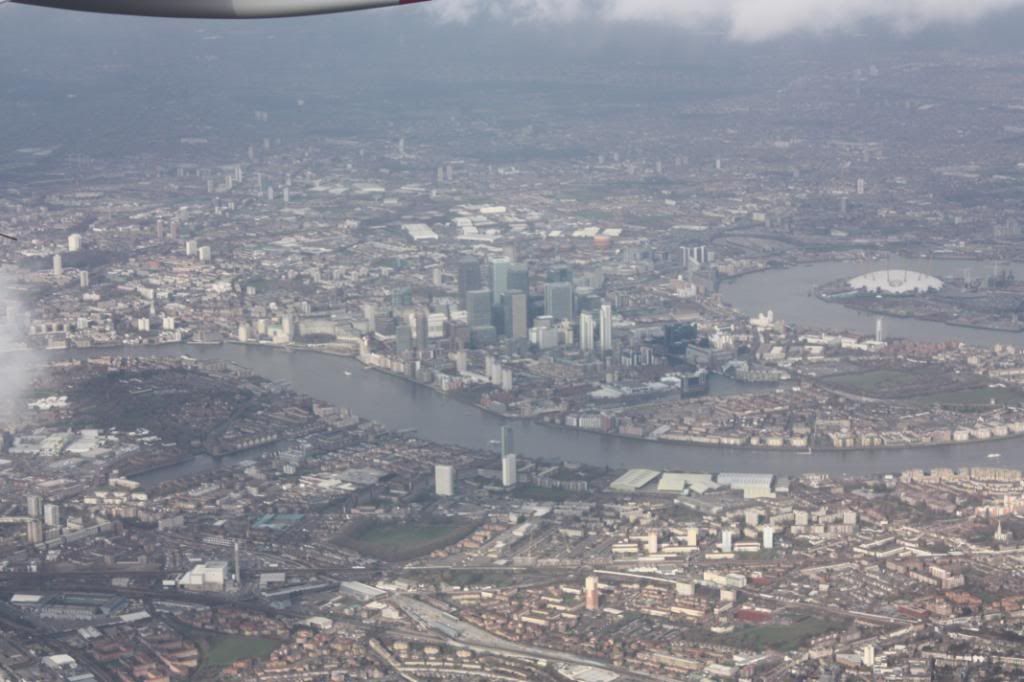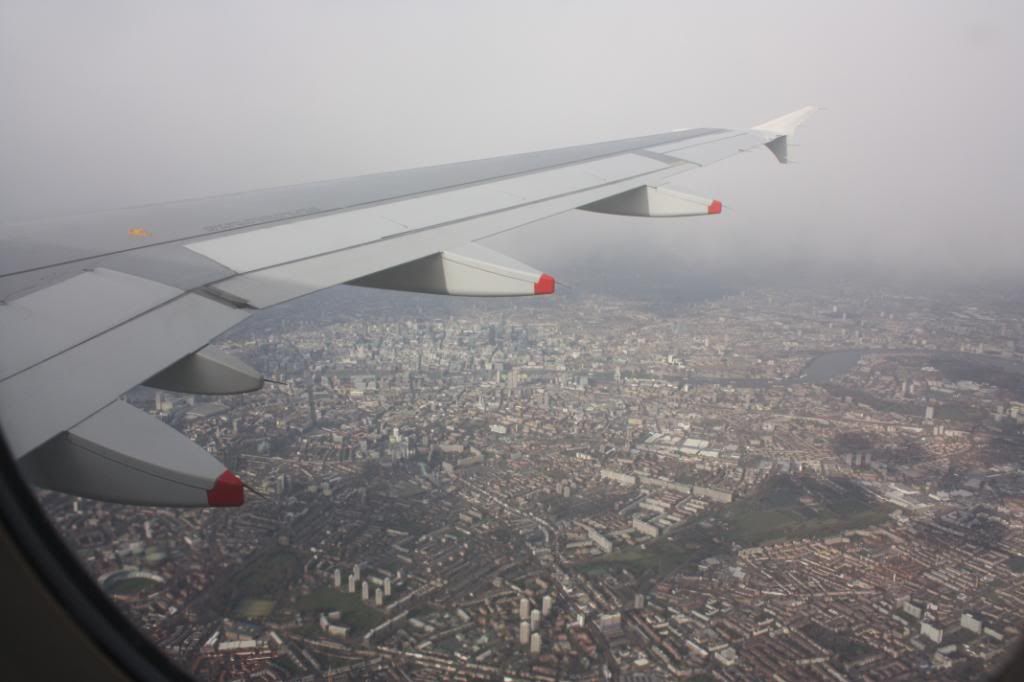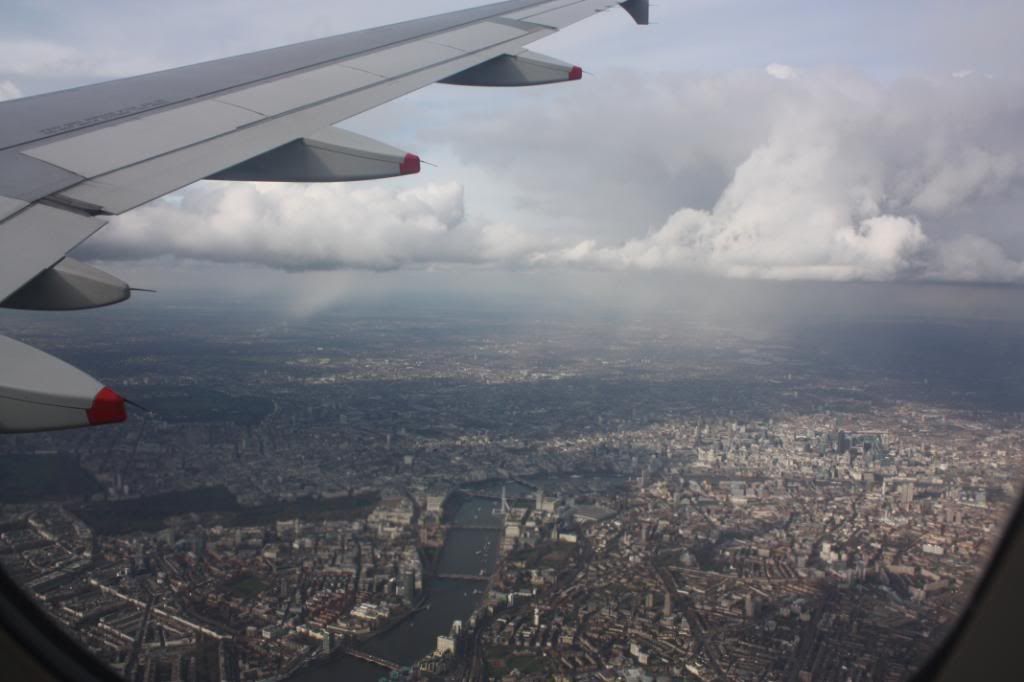 At one point the aircraft was being bounced around a little bit by the NW breeze the captain had made us aware of but we soon touched down on 27L.
We exited the runway about 2/3's down and the view was a bit like being in ZRH just with different colour tail fins
JAL 777-300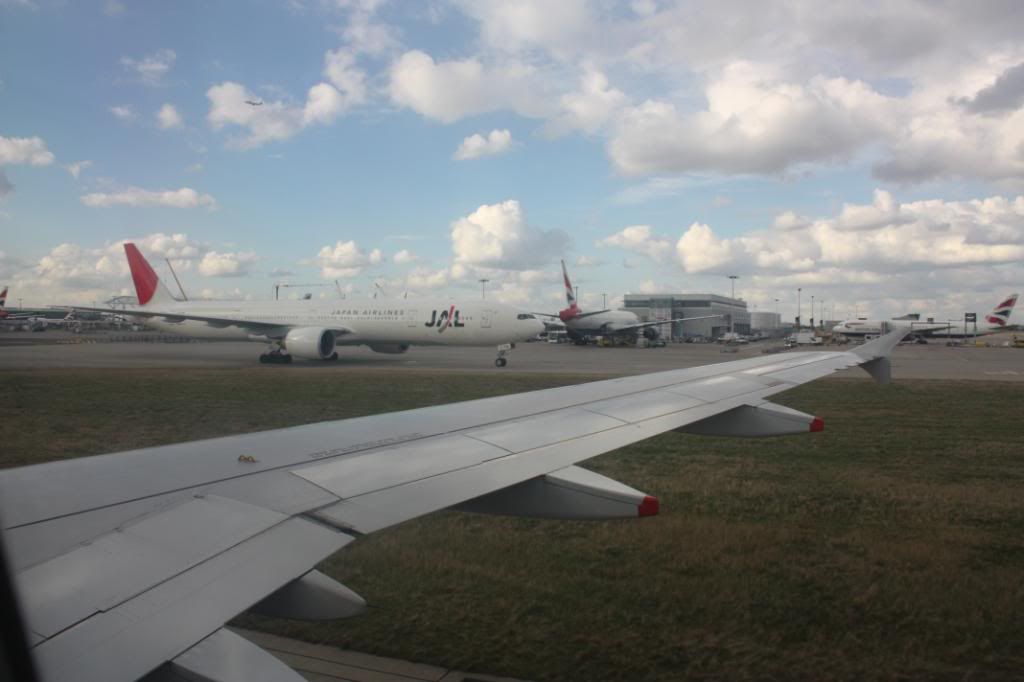 BA 747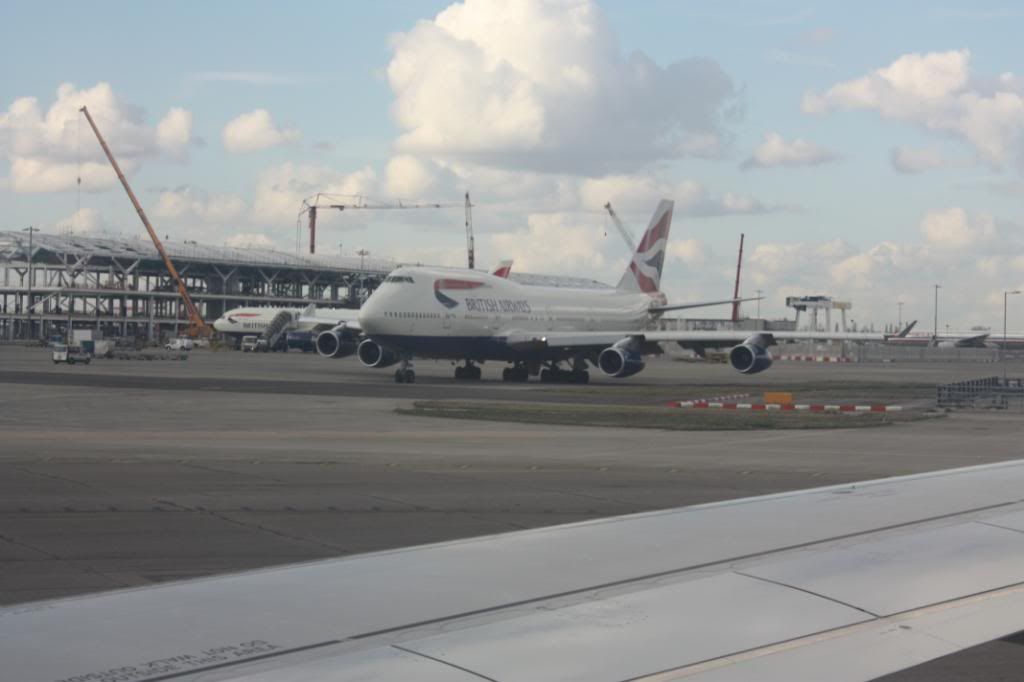 BA 777 with an abundance of BA longhaul a/c in the background
The aircraft pulled onto gate A14 and we disembarked by jetbridge as most European flights do at T5.
After very quickly clearing customs and immigration Me, Alex and Jack said our goodbyes, I thanked Jack for letting me stay at his and then I headed to level 5 departures.
Now, because we were originally not due to arrive back into LHR until 1730 I had booked the latest departure to NCL which was at 2020. I decided that I would see what the earlier 1730 flight to NCL looked like and if I could I would book on that one instead.
My luck was in, I amended my flights and then returned to the SSK in the main terminal and checked in. I was a bit gutted that there were no window seats available but I suppose that is the price you pay literally for the price you pay. I chose seat 12D as 12E was still free and hopefully it would stay this way.
T5 from zone A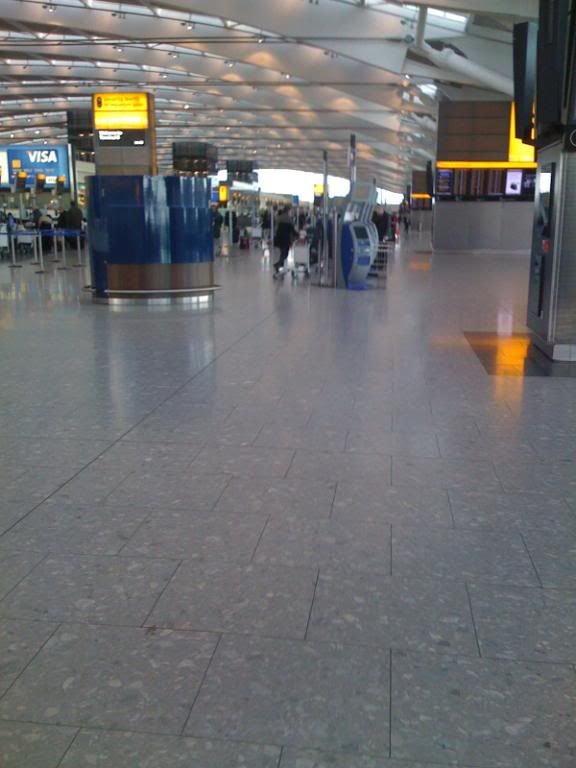 With it being pretty much rush hour for domestic and European flights I headed through scurity straight away. Im pleased I did as the queues here were quite big and it took about 20 minutes for me to cleared.
Next on the agenda was WH Smiths to buy Airliner World magazine which I had purchased the day before but happened to leave on my flight to ZRH. I wasnt to know it yet but I would actually leave this newly purchased magazine on the aircraft upon my arrival in NCL
Magazine purchased I headed over to the pub by gate A5 ( cant for the life of me remember the name) and ordered a nice cld Heineken. My flight to NCL wasnt for another hour so I treated myself to a second beer.
The status of my flight had changed to boarding on the departure info screens so I walked the 50 yards or so to gate A2 and handed my boarding card over to the very jolly BA ground staff.
BA1336 / 4th March
LHR - NCL
STD - 1730
ATD - 1729
STA - 1840
ATA - 1834
Seat 12D
A319-131
Reg: G-EUPV
Boarding was quick and everyone was seated by 1715. Thankfully as hoped earlier, seat 12E had stayed free.
Pushback was earlier which is becoming a bit of a regular occurance in T5 I hear. This is good for BA as it will hopefully erase the memory of T1 and T4 punctuality.
We taxiied to 27L where we were number 1 and I experienced yet another rolling take-off.
The flight was pretty much the normal BA shuttle service with terrible food ( Wensleydale and carrot or cheese savoury) and this time I decided on a nice glass of white wine to end the day.
We made great progress and were up to our cruising altiitude of 28,000 feet somewhere over LTN. From LTN we routed towards Sheffield and this is where we started our initial descent. I was quite surprised by our progress as we had reached Leeds within 21minutes of taking off.
The crew came around and took all of the rubbish from us and the captain anounced to the crew that it would be ten minutes to landing. The passenger sitting in 12F made his first look out of the window since leaving T5 just as we passed over the North east coast for finals into NCL, runway 25. Why is it that people book a window seat but never look out of the window? Their choice I know but it frustrates me a little
Another thing that frustrates the living daylights out of me is when people take their seatbelts off before the seatbelt sign has been extinguished, which I would say at least 30 or so people did when our aircraft reached the stand.
From here it was off to the car park to meet Mrs Sketty222 who would drive me home where nice relaxing glass of wine ws had before an early night as I was worn out.
Some pics from the domestic flight - Taken on my iPhone as my Canon was in my bag and I didnt have the energy to stand ....queue the violins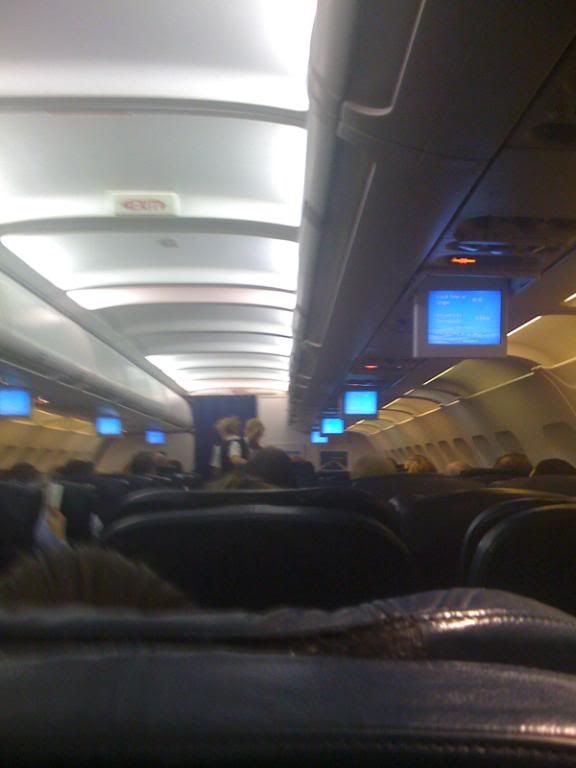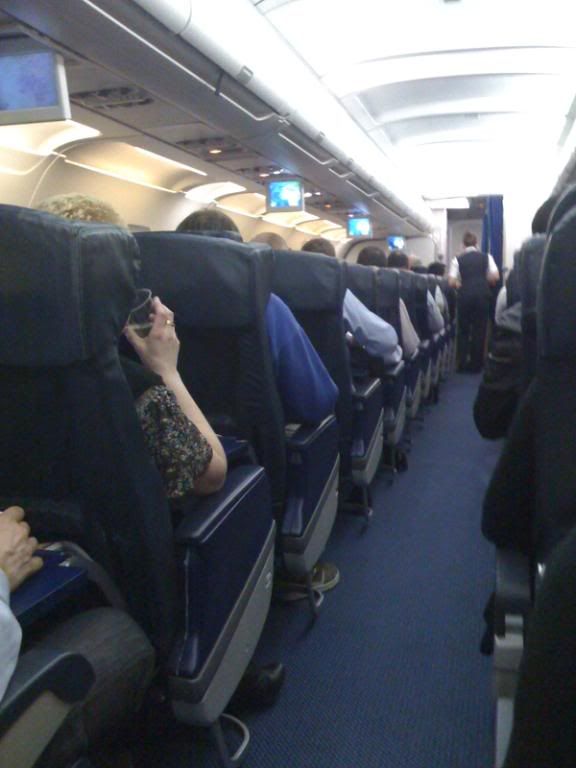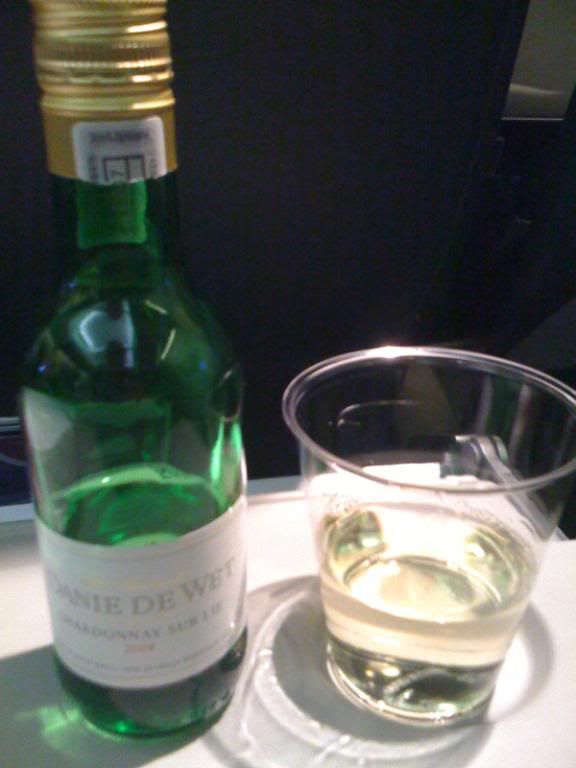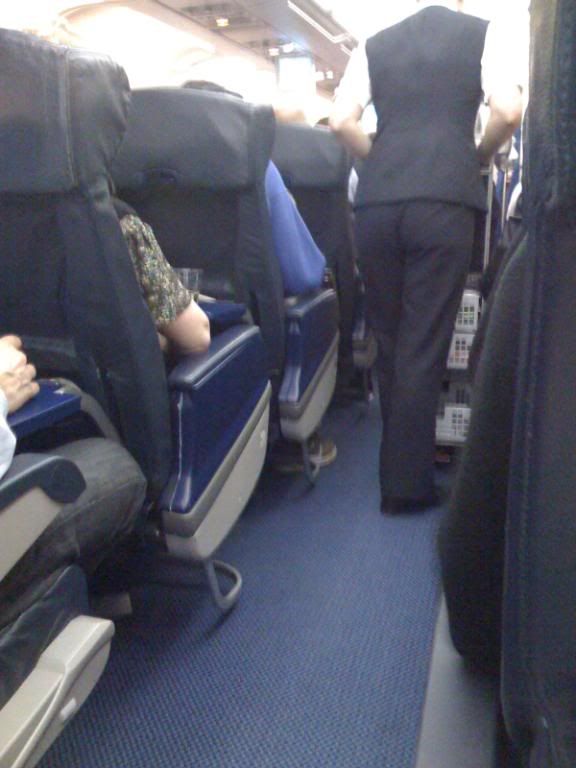 Overall I had a great time and would gladly do it again but preferably when the weather was a little better in ZRH. I would recommend the airport tour for anyone who doesnt work in or around an airport but would suggest that they maybe learn German before doing so
The viewing area at ZRH is really good and gives great views of the departure runways during the core hours of the day 0900-1700.
feedback welcome guys
Lee