After last year in february 2008 using Oasis Airlines to Hong Kong and Air Asia to Thailand I decided this february 2009 would be nice to visit Hong Kong once again.
When booking this trip in Augustus from Amsterdam or Frankfurt there were no good deals available, but I found on the website from Finnair an attractive fare to Hong Kong for only 398 Pound, or at that time around 480 Euro.
Air Asia had promotions as well so I decided to go ahead and book the rather unusual route.
EIN-STD-LHR-HKG-MAC-BKK-JKT-DPS-BKK-MAC-HKG-HEL-LHR-AMS
As I travel light, I could easily take Ryanair from Eindhoven on the first flight, and for only 10 euro's one way including credit card charges one can't complain.
February 11, 2009
Eindhoven (EIN) - London Stansted (STD)
Flight number; FR9274
Departure; 19:35 (19:40) - 19:35 (19:55)
Aircraft: Boeing 737-800 (unknown)
Load Factor: 79%
Seat: 12 C
The flight itself slowed a delay of 5 minutes... You gotta love Eindhoven airport, since there are not so many flights the person managing the notification screens just want to have something to do and put in even 5 minute delays...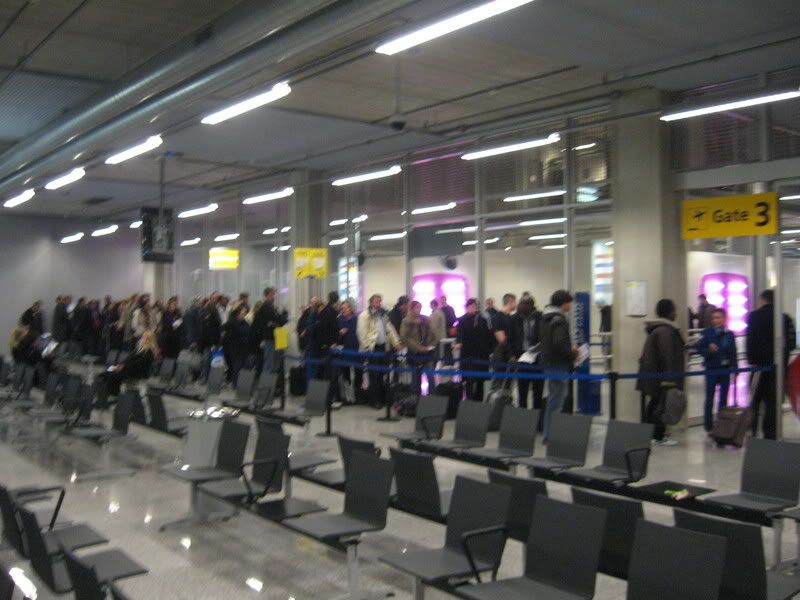 I was one of the last people to board, I rather let everybody fight to get on board, and was surprised to see the emergency aisle seat and middle seat was not taken, so I put myself down in that seat, although a short flight, some extra legroom is always welcome.
The flight itself was uneventfull, only at arrival we had to wait until we could turn into a gate, strange given there was no other airplane at any of the gates around us...
The trains showed severe delays so I opted for the National Coach to central London. This option is not too bad, with 10 pounds one way it is cheaper then the train, but it does take double the time.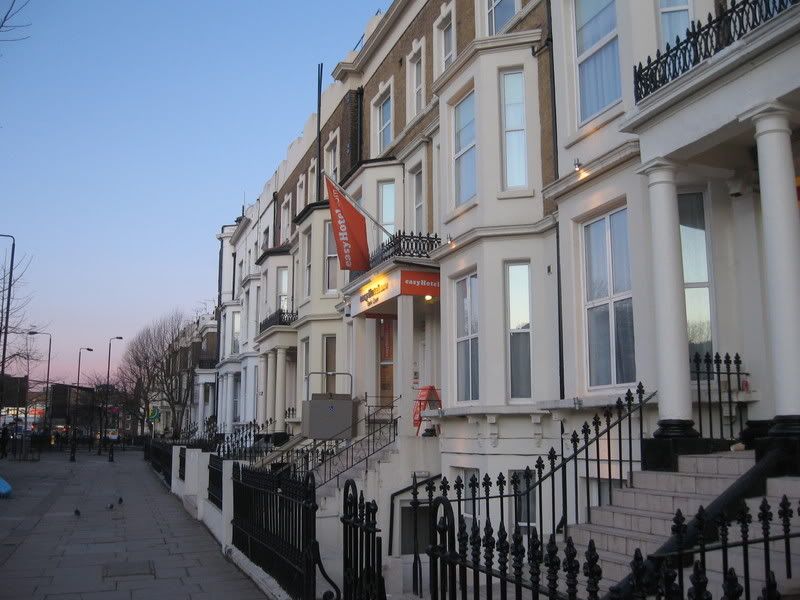 The Easyjet Hotel in Earls Court was not too bad either, a small but room, but for 25 pounds a night including shower and toilet in your room and quite clean I consider this quite a good deal for London.
From the hotel I took the tube to London Heathrow, this is convenient and does not take that long at all. Finnair uses terminal 3 and it did remind me (inside) a bit like London Gatwick.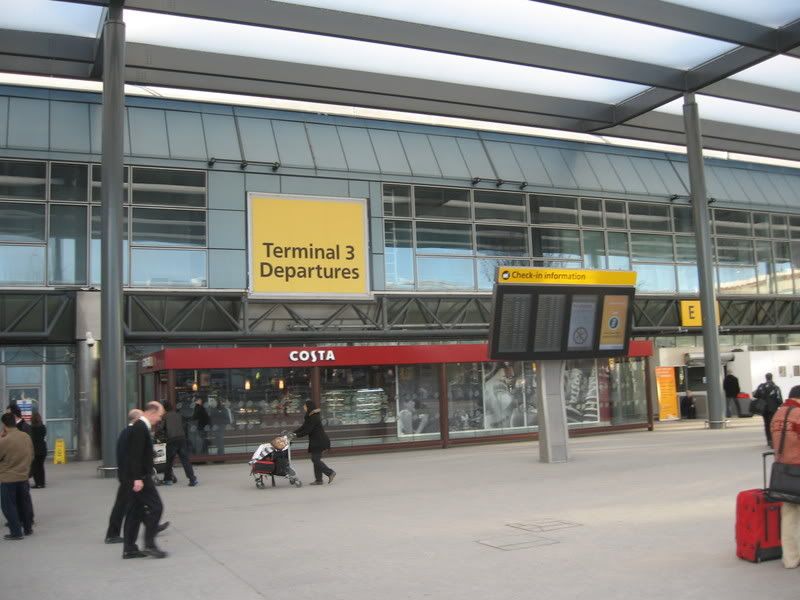 I did not take my shoes off, since whenever there were people in line other people were allowed to pass this useless security measure.... (If you decide to check people's shoes, do this at the security screening itself and not at a place after the security check where people could have changed their shoes already or can just pass this check).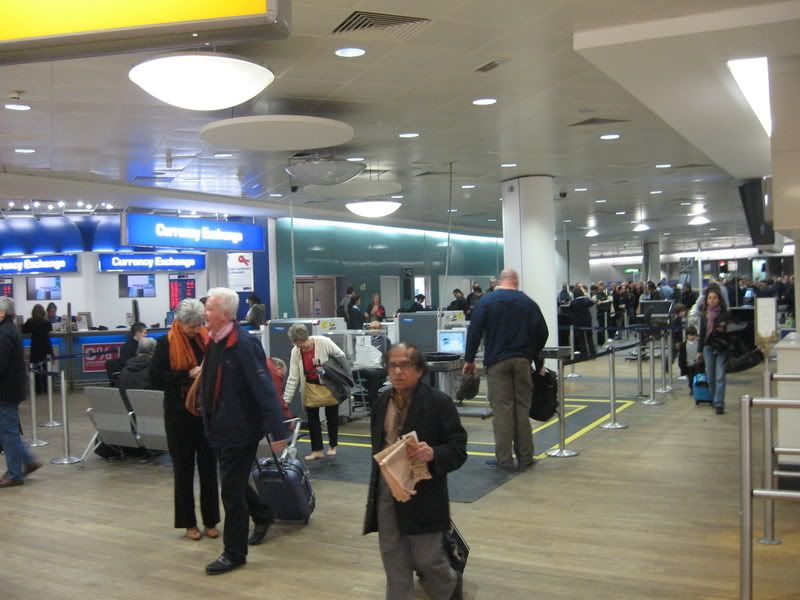 There my Finnair flight just arrived
February 12, 2009
London Heathrow (LHR) - Helsinki (HEL)
Flight number; AY832
Departure; 10:20 (10:25) - 15:15 (15:25)
Aircraft: Airbus 320 (OH-LXM)
Load Factor: 96%
Seat: 14 C
The flight was quite full, but the middle seat remained empty so you have just that more space for this 3 hour flight.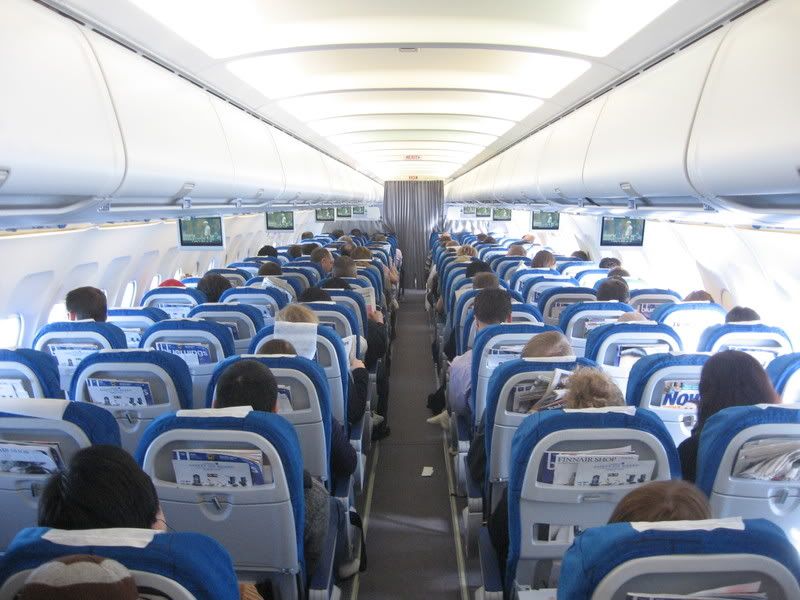 There were small screens, and when taxi and at take off they did show the front camera, which is a nice add on.
Inflight, still close to the UK.
I did not take pictures of the catering, since, and this is a very bad point for an airline pretending to be a 4 star airline, you can only select a vegetarian or religious meal in economy. But since I just cannot eat any hot food in the plane this is to no use, they have fruit meals or uncooked vegetable meals but those are only allowed to order in business classe.
So for me just a drink..... (In fact, the meals they did distribute were quite small and did not look that appealing).
At arrival, the temperature in Finland was below zero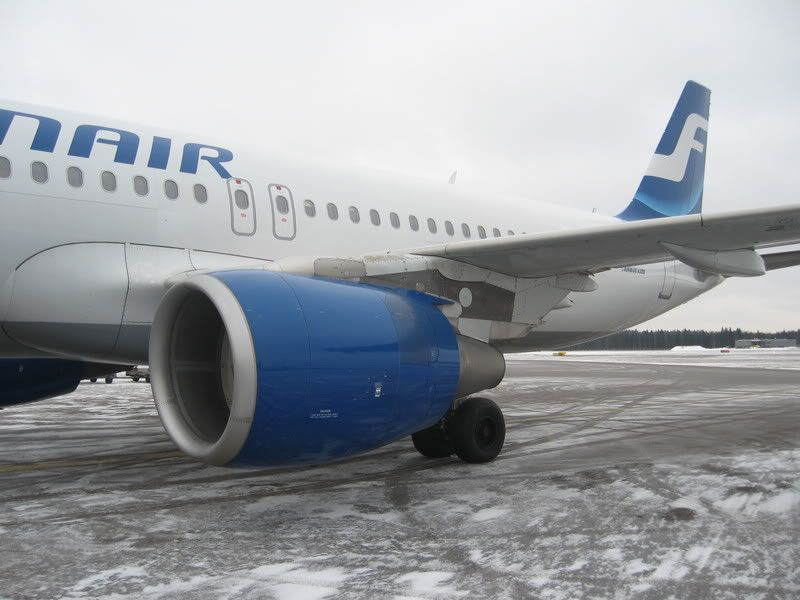 Transiting at Helsinky airport is easy, my connection time was 1 hour sheduled, but one can do it in 2 minutes, from UK/SCHENGEN --> Helsinki --> final destination there is no other security check needed and you arrive close to the departure gates.
The A340 ready for departure
I like the carpet
February 12, 2009
Helsinki (HEL) - Hong Kong (HKG)
Flight number; AY067
Departure; 16:20 (16:25) - 07:59 (08:05)
Aircraft: Airbus 340 (OH-LQD)
Load Factor: 97%
Seat: 28 C
The de-icing was pre-done, they only put off some visible ice from the wings and we were ready to go.
The PTV screens are quite big for economy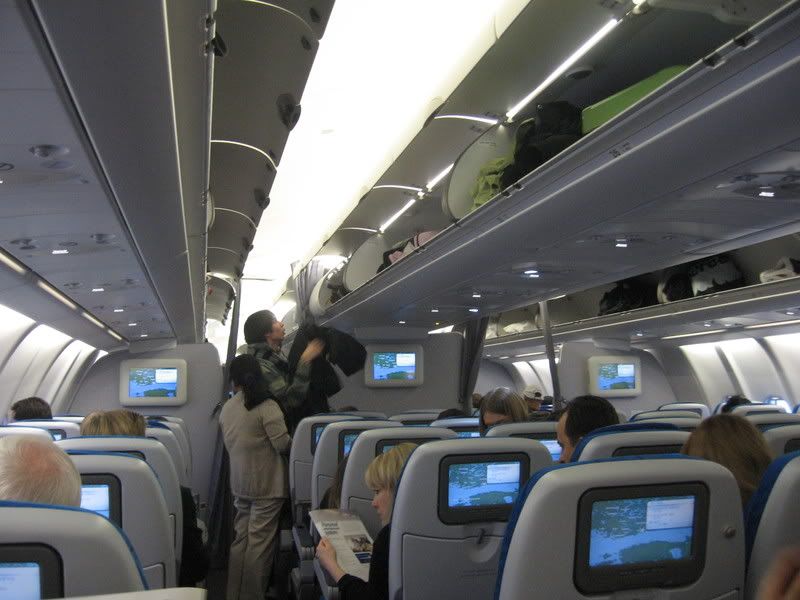 The PTV screens as mentioned are quite big, but apart from The Simpsons and The Family guy the selection and amount of movies available was not that impressive, in fact, I found this rather dissapointing.
Nevertheless, my favourite screen is the flightmap, and since this is a night flight I did sleep quite a lot.
Not that far from Hong Kong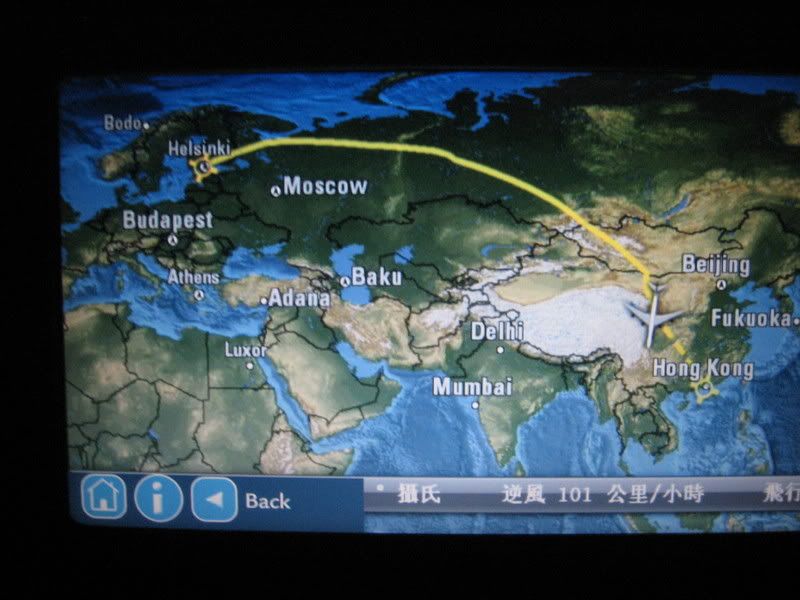 Some turbulence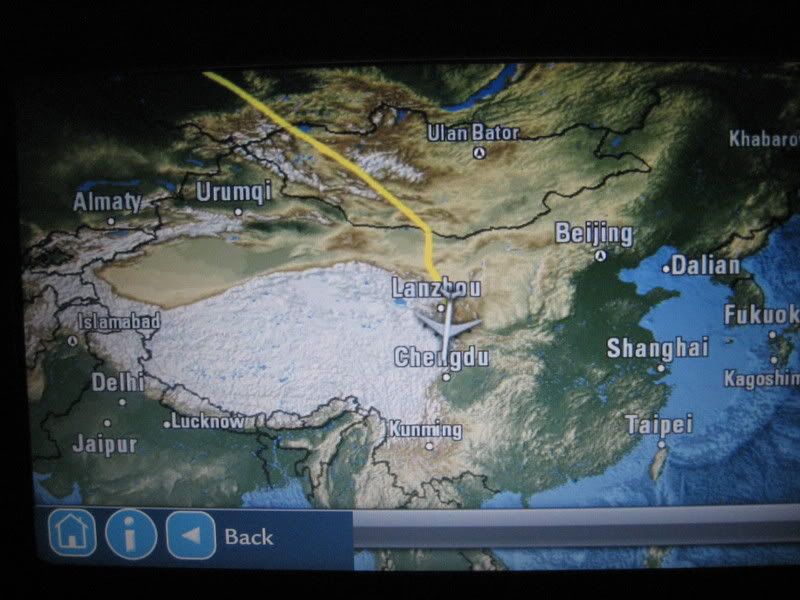 I do not know much about air routes, but it seems to me odd they overfly the last part off the massive mountainarea as you can see in the screen. This caused some turbulence, and while for me this is not a problem, there where quite a few people having to throw up.
The catering was not that good, and the only things I could eat, snacks, where only available for purchase.. The prices were not that expensive, but for a 4 star carrier you expect some sort of service, and charging for a small chocolate bar is not one of them...
The landing itself went smooth, and the taxi to the gate was long, but quite quick for an A340. Hong Kong Airport this time decided that opening some more passportchecks is a good idear to clear the lines, this is way better then february 2008 when I waited for 40 minutes just to get my passport checked.
The luggage was already on the belt when I was through the immigration in 15 minutes.
I spend the night in Hong Kong, in The Harbourview Hong Kong, overpriced if you pay full rate, but with a nice discount from Hotelclub, 49 US dollar, I only paid 25.
From Hong Kong to Bangkok is possible, but Air Asia from Macau was only about 30 euro one way including taxes and hold luggage I rather get an extra stamp in my passport.
Macau Airport
I had some time to spend, so I walked to the Ferry terminal on Taipa Island where you have a good view of the airport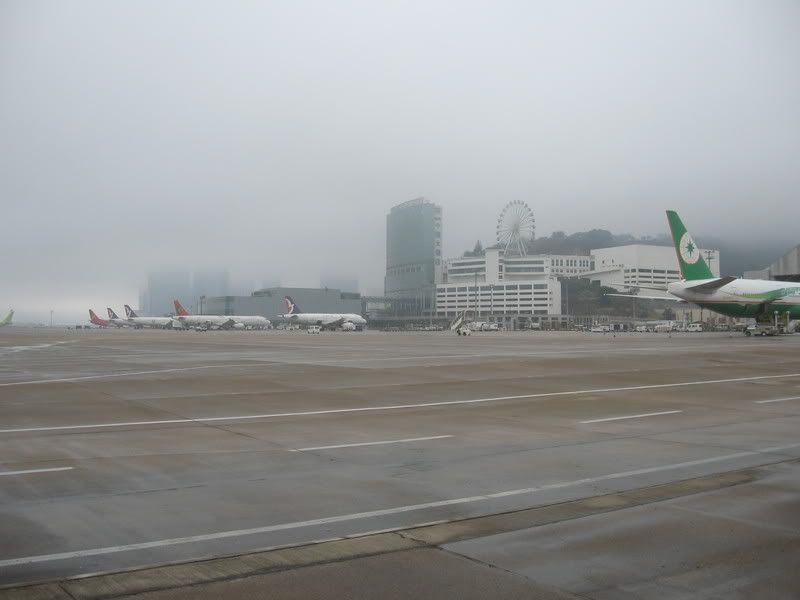 Check in went smooth, and the lines for security check, there was simply no line!
February 14, 2009
Macau (MFM) - Bangkok (BKK)
Flight number; FD3603
Departure; 14:10 (14:08) - 16:00 (15:45)
Aircraft: Airbus 320 (HS-ABB)
Load Factor: 47%
Seat: 25 C
Walking to the aircraft
Somehow all the people want to sit in the front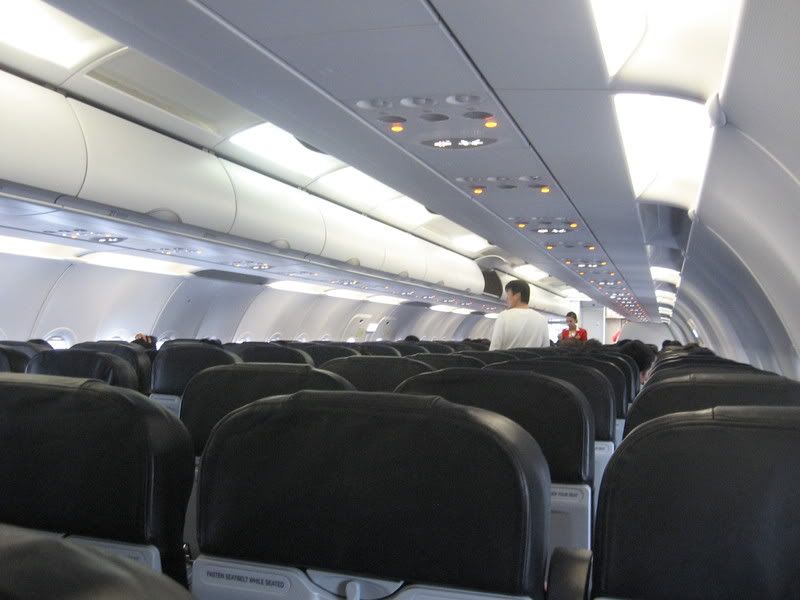 Taxi for take-off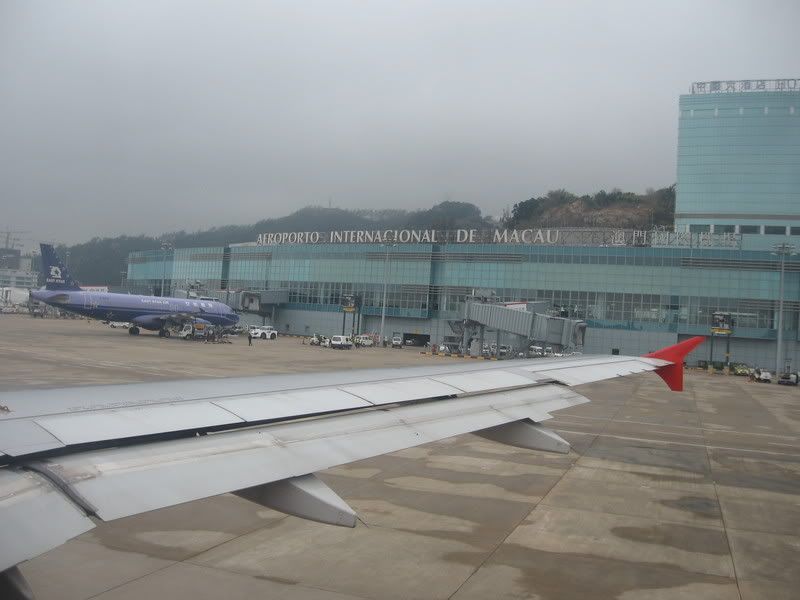 This is the view 1 minute after take off and would be the rest off the flight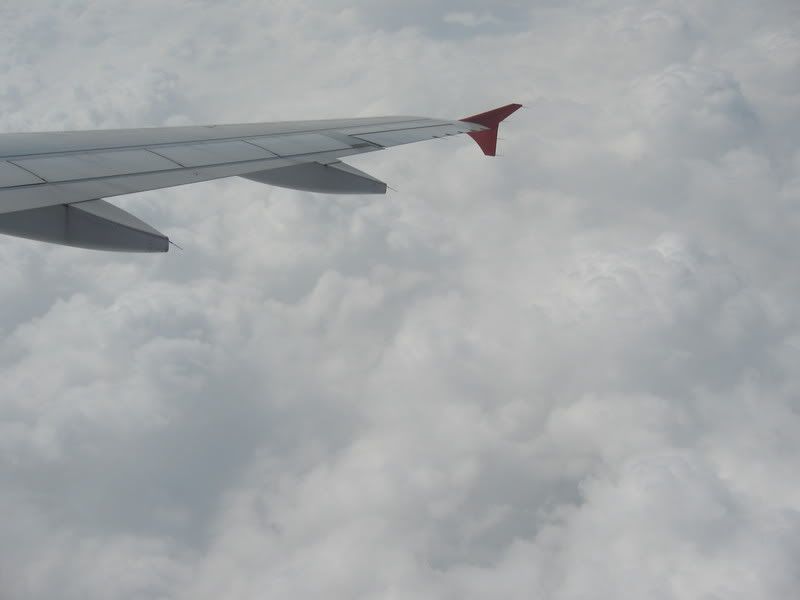 This was the last flight of Air Asia with free seating, which was nice since this flight the load was quite low so everybody could find some good seat. But good they eliminated the free for all boarding scrum which are all to common normally when I take Air Asia flights
Almost in the finals for Bangkok approach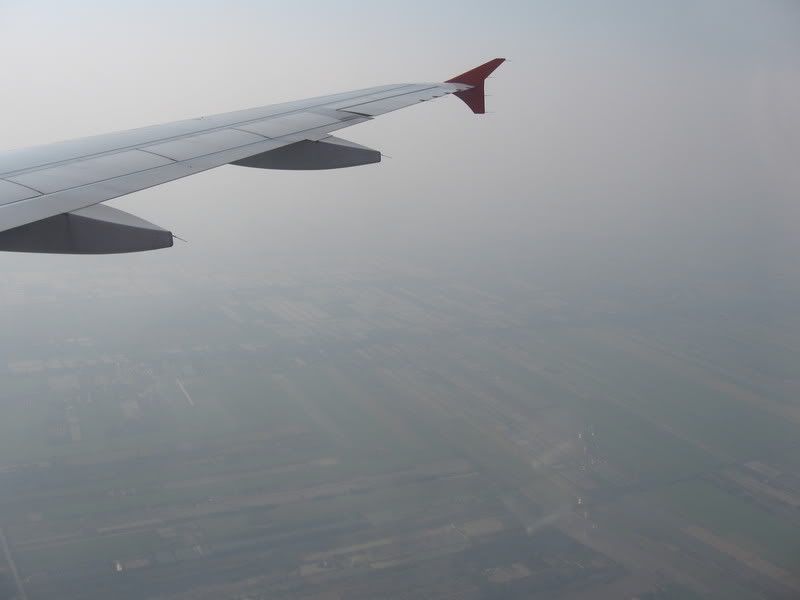 Landing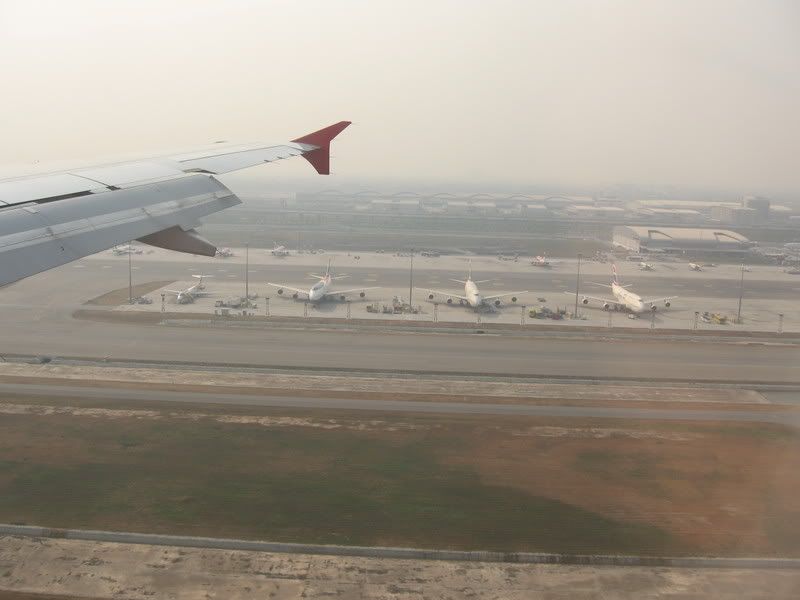 Nice view of Bangkok Airport
After some nice days in Chonburi / Bang Saen I went to the airpot to catch my flight to Jakarta. Air Asia have changed my flight times 3 times before cancelling my original flight and put me on the late night flight, the one I wanted to avoid... (If you ever driven in a taxi in Jakarta after midnite u will understand why).
After all it was not too bad, and they canceld the earlier flight to make room for the Bali - BKK flight which I happily booked when came available because it saved me to backtrack from Denpasar to Jakarta to get back to Bangkok.
February 19, 2009
Bangkok (BKK) - Jakarta (CGK)
Flight number; QZ7717
Departure; 20:15 (20:16) - 23:45 (23:30)
Aircraft: Airbus 320 (unknown)
Load Factor: 74%
Seat: 12 A
Okay cabin layout
I was originally seated on 8A but the aisle seat was blocked by another person. Just for take off 2 people not want to sit at the emergency exit seat, and I was quick to politely ask to change seats to there so I would have some more legroom. The cabin crew member did not object so I changed to there.
The flight itself was uneventfull and because of the on time departure we arrived even early in a deserted terminal. The visa on arrival line for this reason was smooth and quick, although it takes some convincing I only needed a 7 day visa for 10 U$ rather then a 30 day visa, just keep smiling and keep the 2 coupons, 1 you need to get the visa in the next window, the other one they will ask for when you leave Indonesia, failure to show this coupon might set you back some tea money for the immigration official at departure.
After 2 days Jakarta it is time to leave this city for some cleaner air.
Jakarta Domestic Terminal C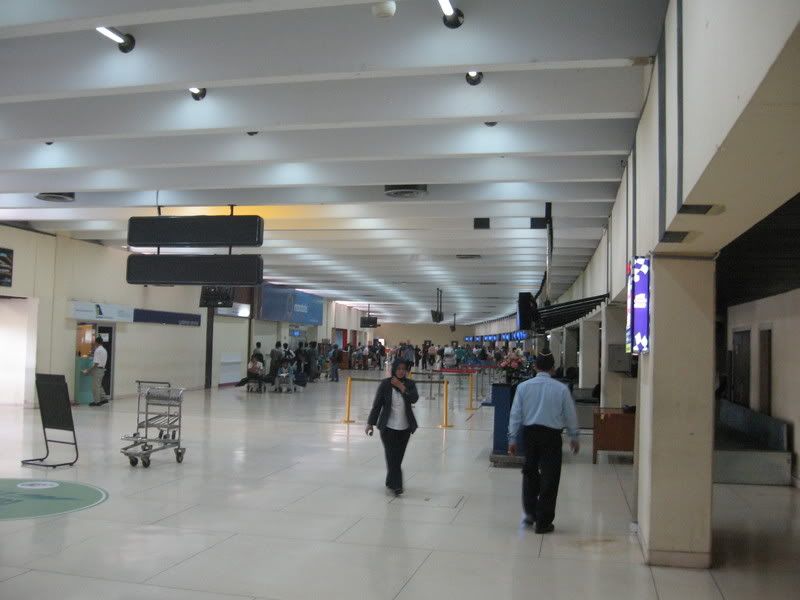 I rather like the style of the domestic terminal of Jakarta Airport
February 21, 2009
Jakarta (CGK) - Denpasar (DPS)
Flight number; QZ7510
Departure; 10:40 (10:45) - 13:25 (13:30)
Aircraft: Boeing 737-300 (PH-AWU)
Load Factor: 72%
Seat: 12 A
Walking to this rather tired looking 737-300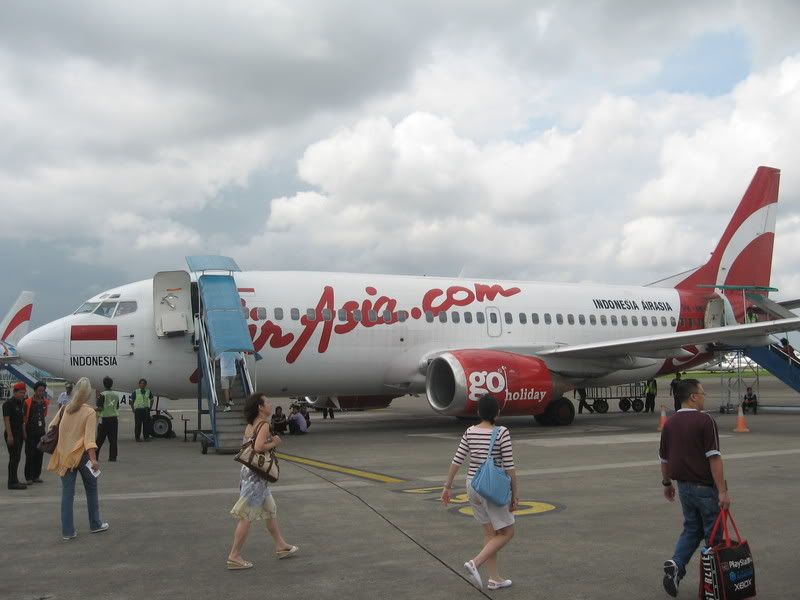 Domestic flying in Indonesia is just as taking the bus. You are allowed to bring even you own waterbottle through security, no liquid rules for domestic flights and when you walk to the plane, there are so many people standing around that you feel you just at a bus station.
This 737-300 looked rather old, even the old style flush toilets with nice blue liquid (no I did not take pictures of the toilet) and at take off the plane did shake quite bit.
Taxi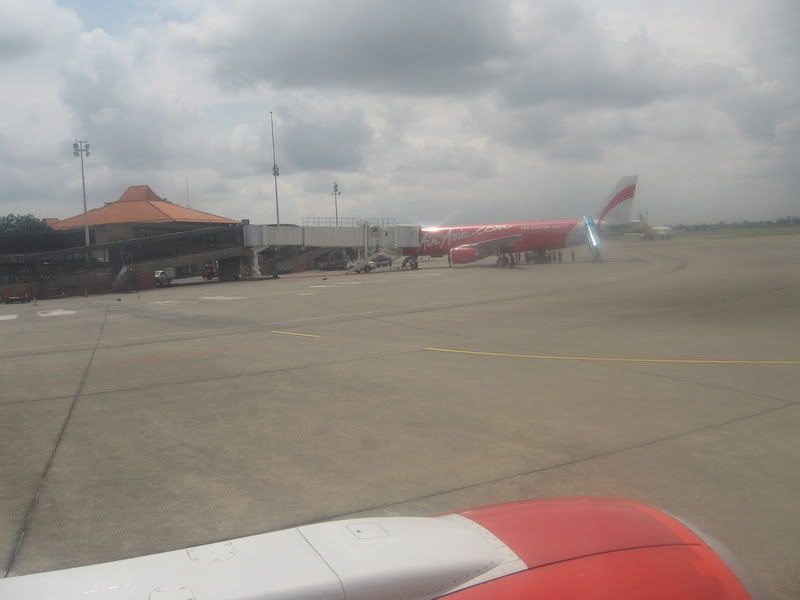 Take Off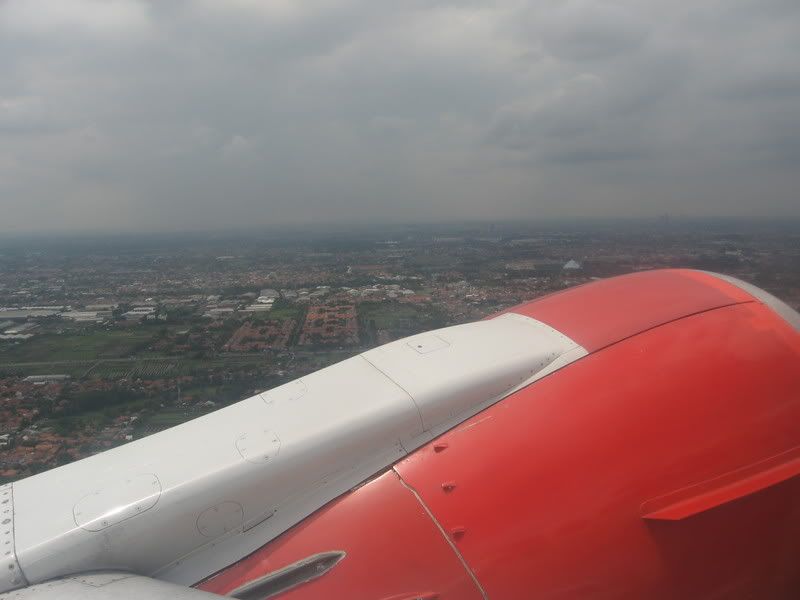 We kept most of the flights away from these clouds
Finals at Denpasar
Walking from the plane on arrival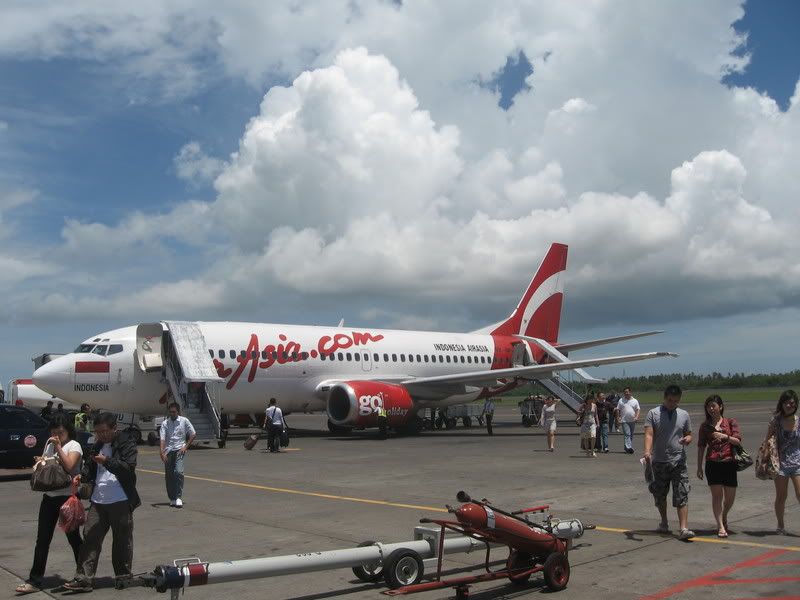 After 2 nice days in Bali it was time to get back to Bangkok, while Indonesia is nice, especially Bali is quite expensive, probably since it could be easily an Australian State, and the food in Thailand is better, but probably because I like the Chinese influence in the thai dishes.
February 23, 2009
Denpasar (DPS) - Bangkok (BKK)
Flight number; FD3678
Departure; 11:55 (12:20) - 15:20 (15:30)
Aircraft: Airbus 320 (HS-ABF)
Load Factor: 62%
Seat: 30A
I was travelling with my girlfriend, but at check in we were allocated 17A and 18A... quite strange since we travel together on one booking.
At Bangkok airport the check in staff can change the seats, but appearantly in Indonesia they cannot do this.
We were not the only one, but since we board last, after some convincing I could secure 30A and 30B rather then sit locked in the rest of the flight with 2 strangers.
This crew was however very strict in not let anybody sit in the emergency exits, even after take off people were not allowed and when they tried they were sent back to their original seats. (they state this were seats one have to pay extra for).
So eventhough the loadfactor was low, most people would have a cramped flight, since originally they would not allow to seat people on the last 5 rows also. (As the first 5 rows, but this is understandable because some people where sitting there and had paid extra for those seats, allowing people to sit there would undo the extra value of these seats).
I am not to sure what to think of these cabin crew member, while I understand you not let people sit at some places before take off, after take off and the seats / rows are empty people should really be able to sit where they want.
View from row 30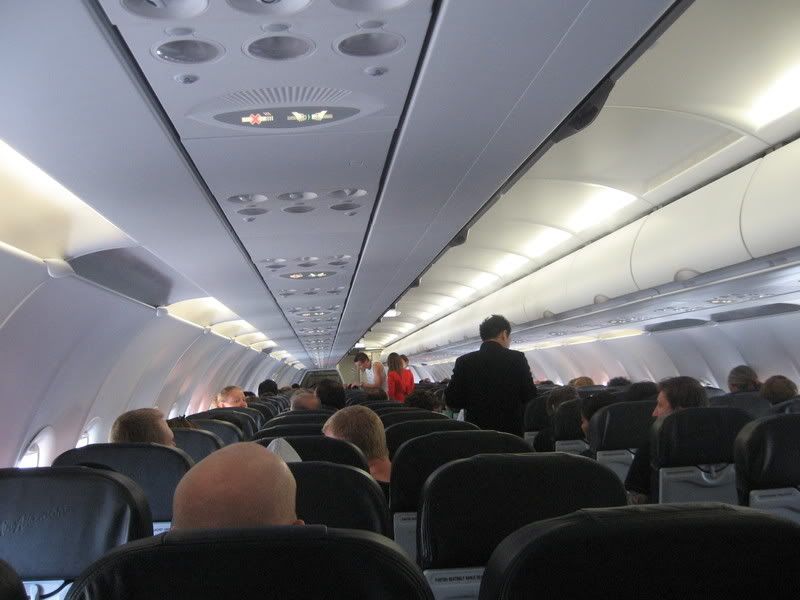 The ground almost dry after a rainshower 30 minutes ago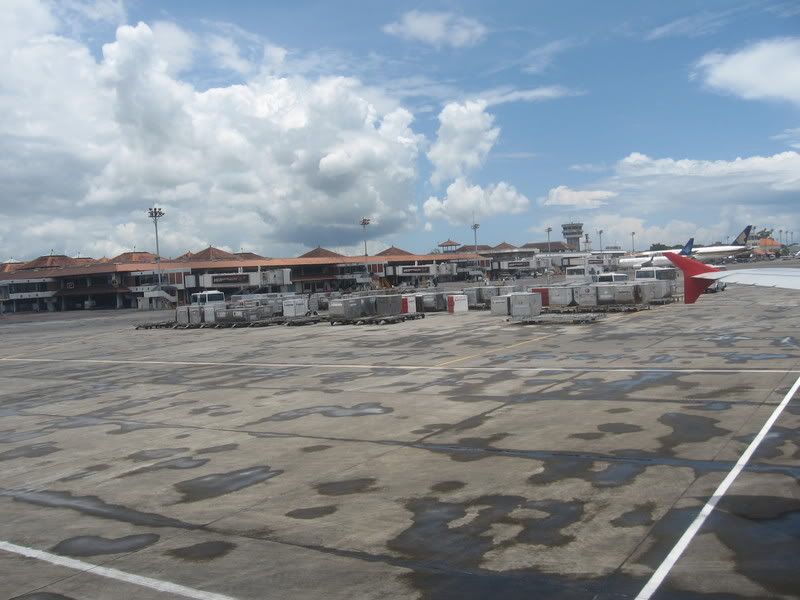 Take off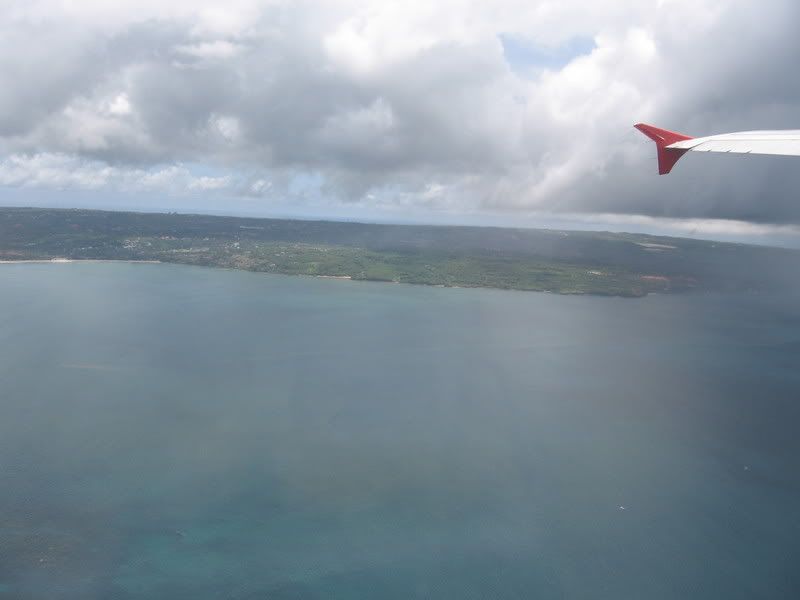 Approaching Thailand
I think this is Chonburi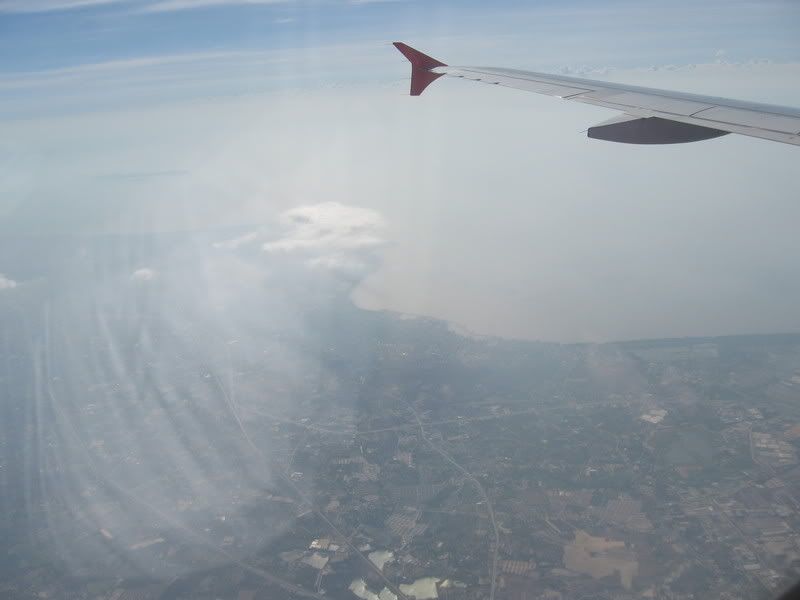 The red Air Asia plane looks nice
After some final days in Thailand, relaxing at the beach it was time to get back to Europe to get back to work, but there were still 4 flights to take.
March 1, 2009
Bangkok (BKK) - Macau (MFM)
Flight number; FD3602
Departure; 10:10 (10:20) - 13:40 (13:40)
Aircraft: Airbus 320 (HS-ABB)
Load Factor: 87%
Seat: 12 F
Boarding the very same HS-ABB who brought me into Thailand
I was originally assigned 14 C, but the emergency exit seats remained empty, so after take off I quickly moved into 12 F, in fact, the boarding scrum now is inflight, after take off, since there were more people who would like to sit at those seats, hmzzz now I understand why probably the other crew not want people changing after take off....
Quite good load for this flight, but at the emergency seat it does not feel cramped
Inflight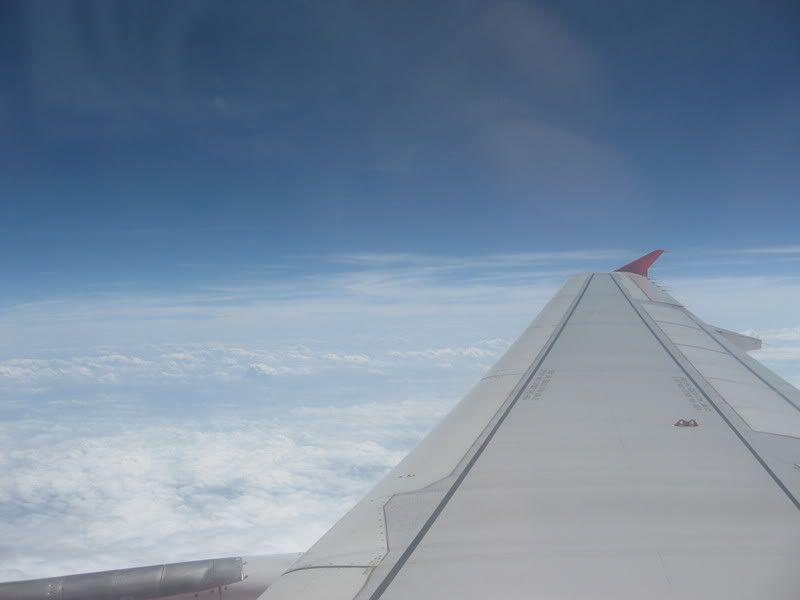 I was still in my Thailand outfit, shorts and T-shirt, but on approach Macau I realised it was not that warm anymore, low clouds and with 22 degrees it felt quite cold... luckely I was only there for taking the Ferry to Hong Kong. If you not pre-arrange this, you will have to walk to the ferry terminal, 10 minutes or so or take a taxi. Since I had some time I opted for walking... it gets you warm! But inside the ferry you are quickly cooled down, because they put the aircon at full blast... eventhough outside it was not warm at all...
The next day it was time to really get back, starting with Finnair.
Not too busy this time off the day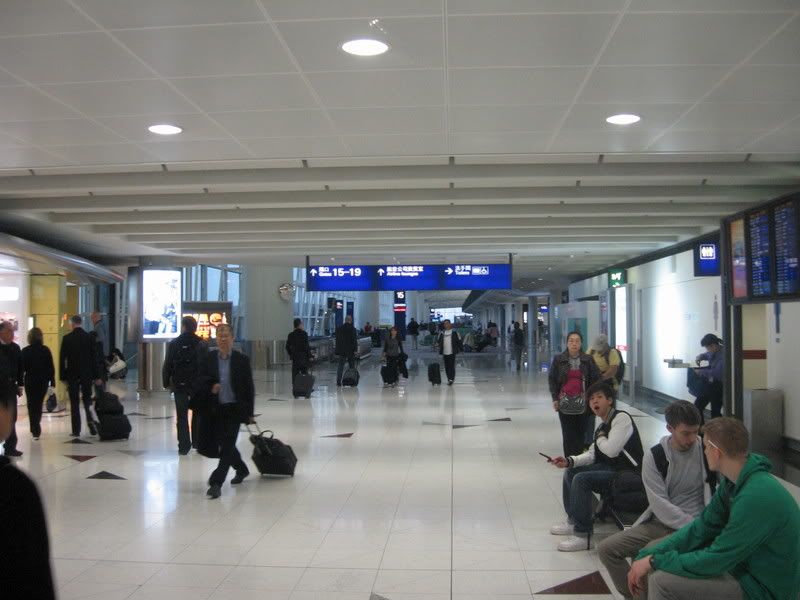 Inexpensive foodcourt
Almost ready to go
March 2, 2009
Hong Kong (HKG) - Helsinki (HEL)
Flight number; AY068
Departure; 09:45 (09:50) - 14:40 (14:05)
Aircraft: Airbus 340 (OH-LQE)
Load Factor: 92%
Seat: 30 C
It was quite an early start, and I was hoping for no delays, since I had a relative short connection at Helsinki.
But there was no need to worry, the flight arrived on time and departed on time, because of the good flight route the estimated travel time was below 10 hours.
Onboard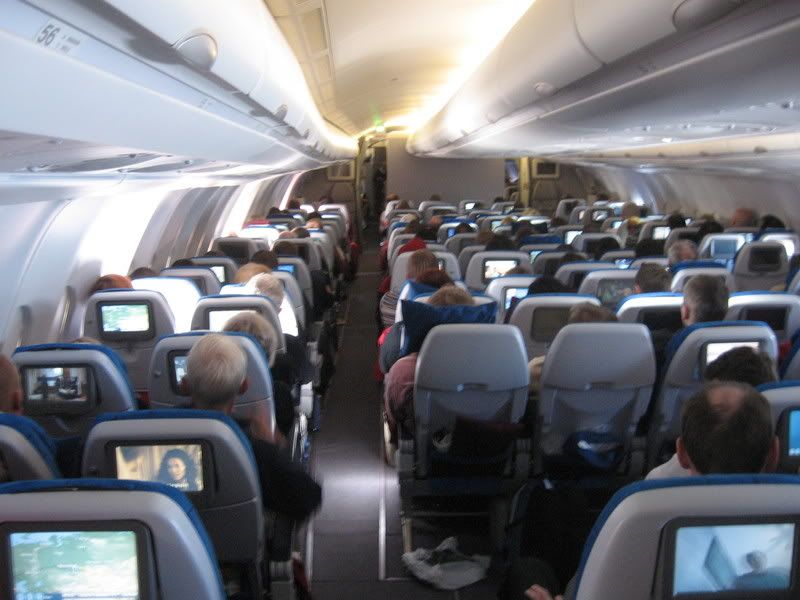 Only 4 hours to go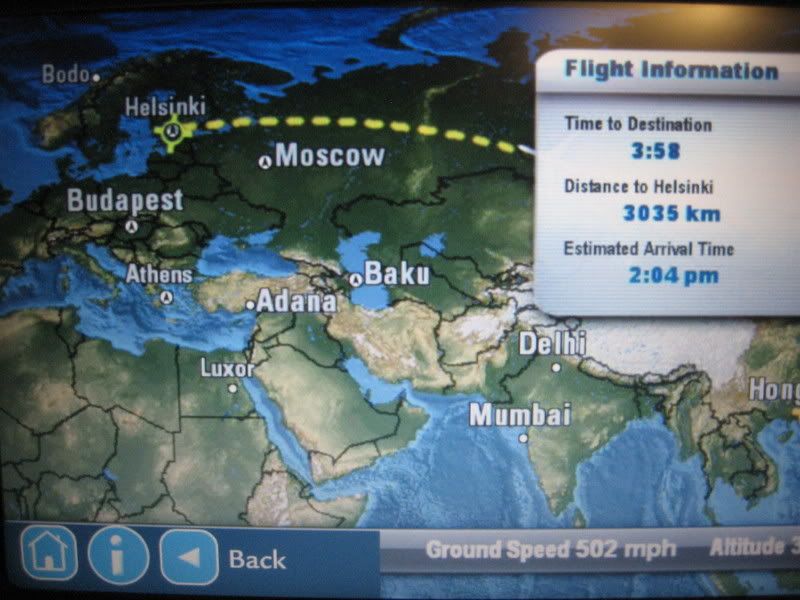 The onboard catering was even worse then the outbound legg, luckely I anticipated on this and I brought some snacks along. Good thing for the aisle seat is you can walk around whenever you want to, and additional drinks where available in the galley.
The trip went by quite fast, to watch Family Guy and Top Gear on the PTV did help. The music available was really dissapointing, but maybe not so much an issue as everybody bring their own mp3 or mp4 player anyway.
Just landed
When arriving from Asia you have to get to security control to get at the departure gates. As Finnair have loads of connection passengers, the lines of these security checks are long.
Alternatively you can just go through passport control and enter Finland, you then go up one floor and go to security control there where there is almost no line at all.
I opted for this and walked around outside the secure area, especially since the earlier arrival meant that I had to wait longer for my connecting flight.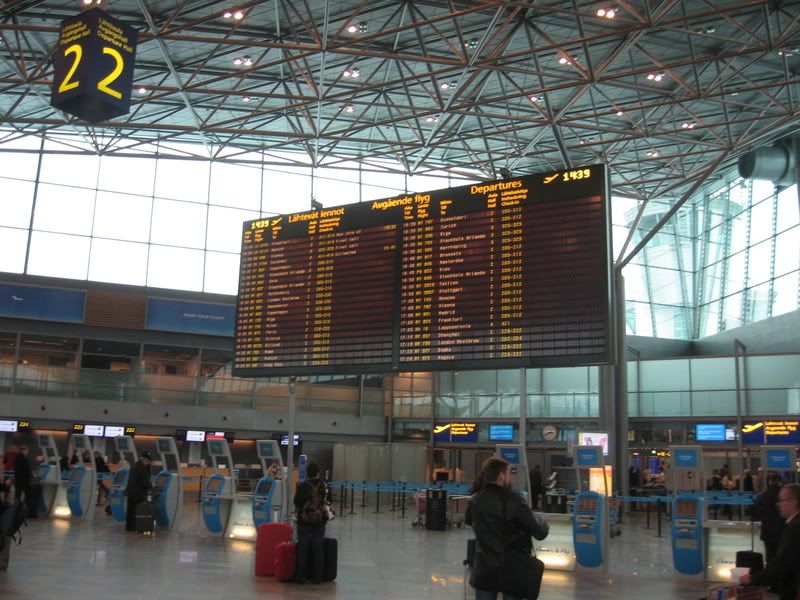 It was rather cold outside, but felt nice to breath some fresh air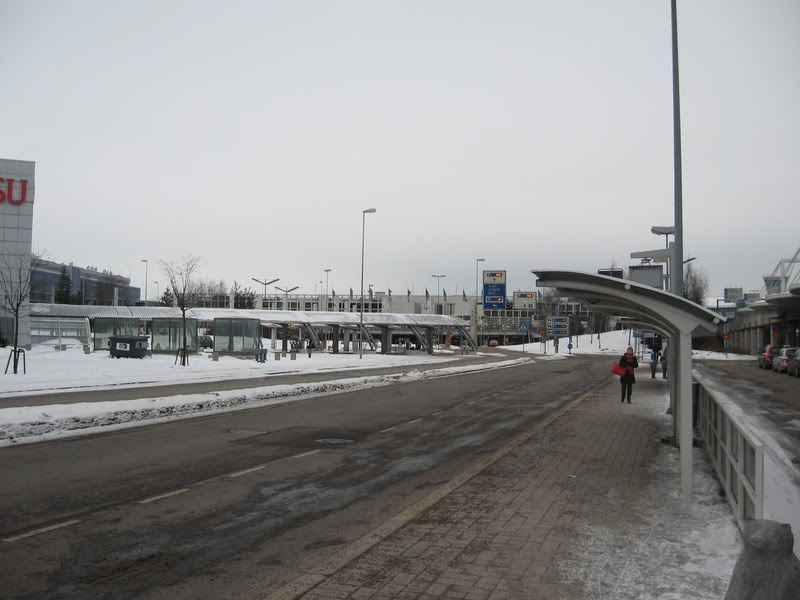 Inside the secure Schengen Area again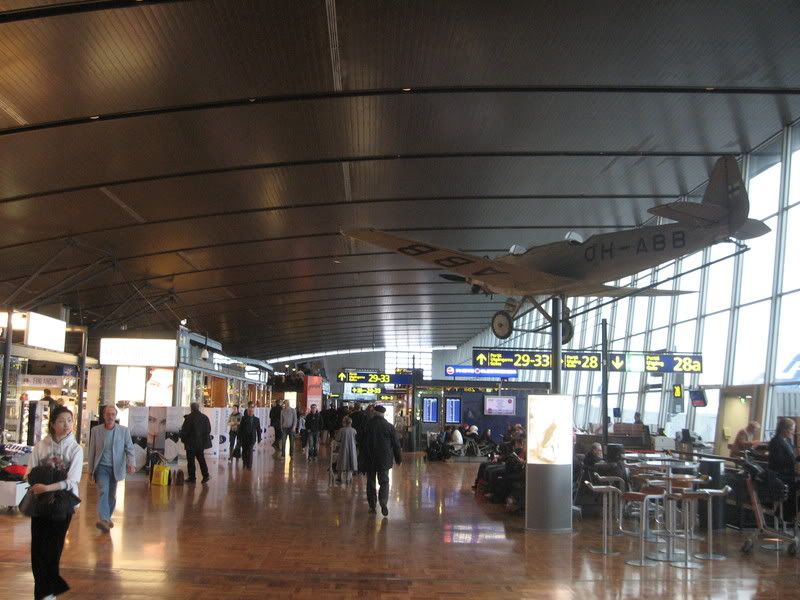 There my plane waiting for departure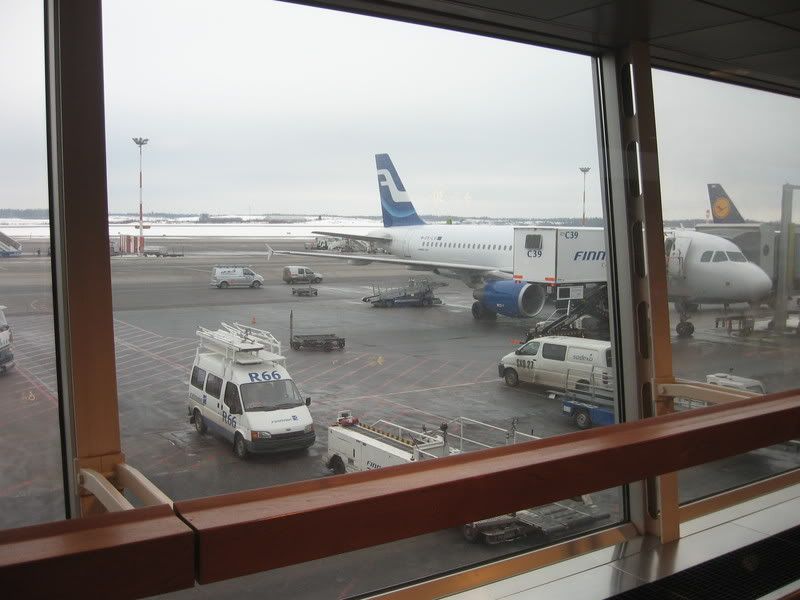 March 2, 2009
Helsinki (HEL) - London Heathrow (LHR)
Flight number; AY833
Departure; 16:00 (16:05) - 17:10 (17:15)
Aircraft: Airbus 340 (OH-LXI)
Load Factor: 87%
Seat: 14 C
The middle seat remained empty again so you have just that more space for a 3 hour flight, because boxed into an window seat would have felt cramped.
Onboard
We departed nearly on time and arrived early in the neighbourhoud of London, but London Heathrow is always busy so we had to circle around for a while, which allows nice views of the city, sadly I was in the aisle so could only see a little bit.
Arrival at the gate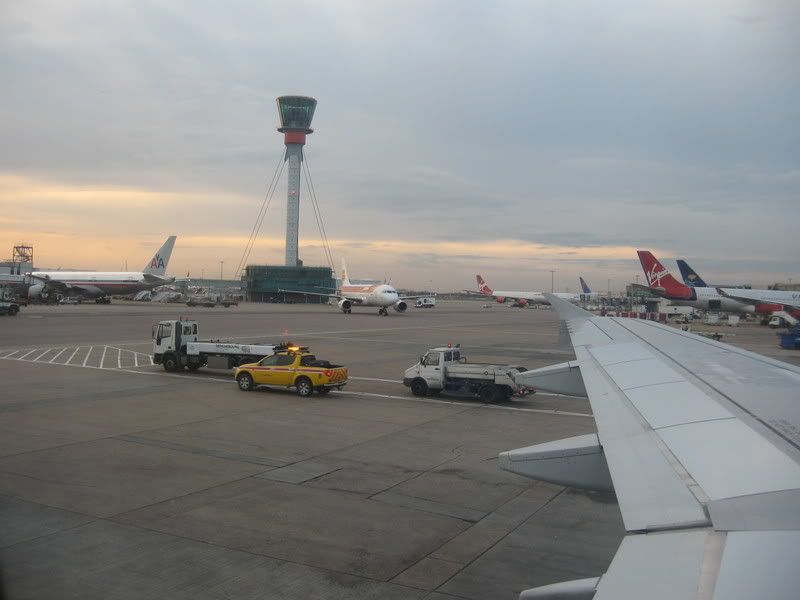 I had 2 hour and 30 minutes to connect at London Heathrow, luckely my next flight was with BA (another ONEWORLD member) so from Hong Kong I could tag my bags to my final destination Amsterdam.
Because my bags were tagged along I could make it from arrivel at the gate at terminal 3 to check in in Terminal 5 in 35 minutes.
Because my bags were checked in you have to go to the counter to get your boarding pass printed, the check in girl did look puzzeled for this strange route, HKG-HEL-LHR-AMS, but assured me my bags would make it to the BA flight!
This was my first time at Terminal 5, and while it looks nice, it is not superspecial.
After security control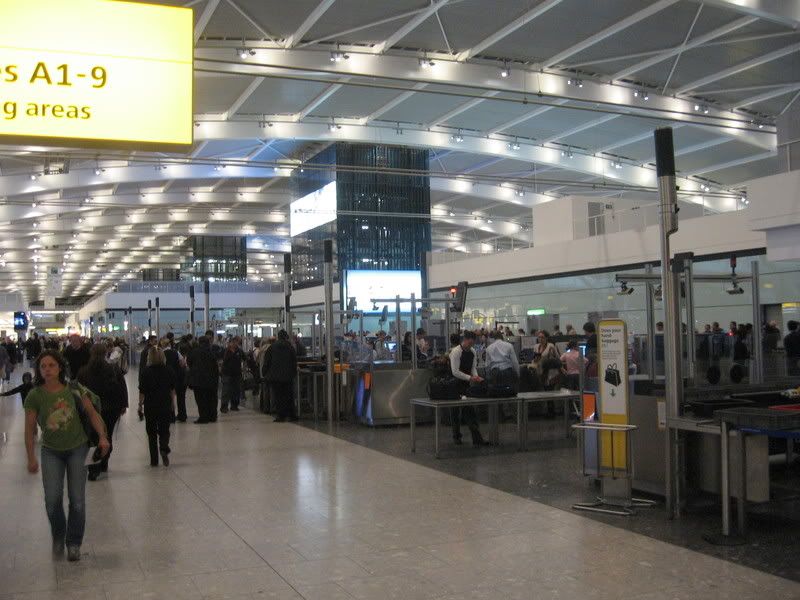 The security lines were not too bad, only 5 minutes waiting or so, but for some reason in the UK the people working there want to make this an stressfull experience.
Only in the UK I encounter staff shouting move along, and just general have an unpleasant tone when they instruct something, this is so much better in Helsinki, Amsterdam, Hong Kong, Bangkok or everywhere else really there are no people shouting at people for whatever reason which makes it more pleasant.
I grabbed a meal deal from Boots, which in my opinion is good value and proceeded to my gate.
March 2, 2009
London Heathrow (LHR) - Amsterdam (AMS)
Flight number; BA0444
Departure; 19:40 (19:50) - 21:55 (22:05)
Aircraft: Airbus 319 (G-EUOD)
Load Factor: 40%
Seat: 20 A
We were boarding complete 10 minutes before sheduled departure time, but we only get moving 20 minutes later. The line for take off was quite long, and we were only airborne by 20:15 local time.
What Finnair could not do in 4 flights did BA in 1, giving out something decent to eat, an grilled chicken wrap. As I was hungry and not many people want those, I ended up eating 2 on boad for this 45 minute flight and bring 2 more along for my train ride home.
We arrived only 10 minutes after sheduled arrivel time, and I was surprised to see my bag being the first on the belt. Good, since I was dead tired and wanted to go home.
Thank you for reading this trip report, I understand this is quite long. Overall I am satisfied with Finnair, a nice touch is a water bottle in economy for long haul flights, and the big PTV AVOD screens. The easy transiting in Helsinki is a plus also, especially since I not saw any delays of Finnair.
But I would not consider Finnair as 4 star, not allow economy passengers to order Fruit or Raw vegetarian meals and selling snacks as a cost cutting measure..., I am not too sure this is the way for a 4 star airline to go. Also, the portions looked rather small, for the people who did eat the offered food.
Apart from the food, PTV is nice, but the amound and choice of movies and music could be better.
Otherwise they will only be filling their seats when they offer cheap prices.